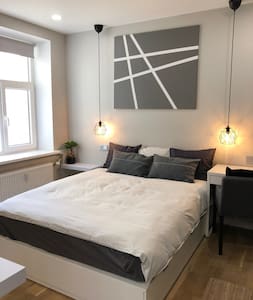 SUPERANFITRIÓN
Apartament sencer · 2 hostes · 1 llit · 1 bany
Studio apartment with bathroom and kitchen No26
NEW - compact studio apartment with bathroom & kitchen only 10min (7 stops) away from Old town by tram. Newley renovated and styled studio apartment with your own fully equipped kitchen and bathroom. This flat has been fully renovated on Feb 2018 and styled with quality furnishings and equipment. *Please be aware the flat is not far from old town but not walking distance (if you will decide to walk - it takes 30min) - it takes 10 min (7 stops) by tram to get in the old town.
L'opinió dels hostes:
"La ubicació encertada és bona. A prop del centre de la ciutat. Iva ser fàcil de comunicar amb Ivars. Els hipermercats, són bons restaurants a prop. El transport és convenient. L'estudi era realment còmode, net. La dutxa era agradable. podeu utilitzar Netflix, YouTube a la televisió. Estufa, microones, tot allò que necessiteu que trobareu a la cuina Recomanem!"
Lovely place in historical building. Very quiet & steps away from all Riga's attractions. Perfect for couples, romantic and with kids of any age. We have 3 apartments in 1 building and it's a good opportunity to travel with friends and family! Family friendly apartment! Baby cot and baby set on request! Towels and bed linen included. There is a famous B-Bars on the first floor. You could try delicious cuisine there. On the second floor there is a OraculeTangSpace Co-Working Our apartments are located in the center of Riga, close to the Dome Cathedral, and are surrounded by the best small restaurants, cafes, museums, and tiny shops. We opened apartments at the end of April, 2016. To make them a true homelike place we had invited best designers and had thought over every little thing you may need when staying in Riga. Choosing our apartments you plunge into the unique Riga atmosphere and enjoy the beauty of sights surrounding you! And we carefully keep our apartments clean! We also provide you with a small guide with useful information, tips and contacts - the city map, places of interest, and taxi services. In each suite there is everything you need for a comfortable accommodation, including kitchen accessories and ware, extra blankets and towels, and also small sets of beauty products (shower gel, soap and shampoo). If you need a comfortable place to work, you can get to the second floor of our building and enjoy our coworking area - oraculetangspace. We will make our best to turn your staying in our apartments into a fine reminiscence of your travel! There is a famous B-Bars on the first floor. You could try delicious cuisine there. Mūsu apartamenti atrodas pašā Rīgas centrā pretī Doma baznīcai. Blakus atrodas labākie restorāni, kafejnīcas, muzeji un veikaliņi. Esam atvērti kopš 2016.gada aprīļa beigām un remontam esam piesaistījuši labākos dizainerus, pārdomājuši visus sīkumus un izveidojuši Jums īstu mājvietu Rīgā! Apmetoties mūsu apartamentos Jūs varat izjust Rīgas neatkārtojamu atmosfēru un izbaudīt apskates objektus Jums apkārt! Mēs uzraugam, lai apartamenti vienmēr būtu tīri. Katrā numurā Jūs varat atrast nelielu ceļvedi ar noderīgiem padomiem un kontaktiem, tādiem kā taksometra numuri, vietām, ko iesakām apmeklēt, kā arī pilsētas karte. Katrā numurā ir viss nepieciešamais komfortablai dzīvošanai ieskaitot virtuves piederumus un traukus, papildus dvieļus un segas, kā arī dušas gēlu, ziepes un šampūnu. Ja Jums ir nepieciešama komfortabla darba vieta, Jūs varat izmantot coworking oraculetandspace mūsu ēkas 2.stāvā. Mēs mēģinām izdarīt visu iespējamo, lai Jūsu uzturēšanās mūsu apartamentos kļūtu par Jūsu brīnišķīgām atmiņām par Jūsu ceļojumu! Doma laukums - there is a heart of Riga. Our apartment situated just in front of the Doma Cathedral. От железнодорожного вокзала или автобусного вокзала до нас можно дойти пешком, не более 15 минут пешком, через центр города. У нас нет бесплатной парковки. Ближайшая платная парковка стоит 15 евро в сутки Jekaba Arkade - Z.A. Meierovica bulv.8, Riga Panda taxi Riga Family friendly apartment, we offer for our best guest baby cot and baby seat.