Rákoskeresztúr bekannt Zentrum ist 15 Minuten mit dem Bus von der grünen Zone házikó.Bevásárlóközpont Familie Bus 10 Minuten. Frische Bergluft, entspannt környék.Családosoknak empfohlen erklärt. Englisch und Spanisch sprechenden Gastgeber.
Tipus d'habitació
Casa/pis sencers
---
Tipus de propietat
Casa
---
Capacitat
2
---
Dormitoris
Budapest, Hongria
Mé místo je 30 min jízdné a to jak z letiště a od centra města -Keleti st.- (od předměstí vlak), v klidném prostředí. Budete jej milují, protože z chill, pohodlné velké místnosti a domácí marmeládou. Je to dobré pro páry mají zájem o místní kultuře. Přistýlka je k dispozici. Zvířata mohou sdílet kuchyň s mým psem. Chcete-li zachovat svůj domácí klid nemám hostit lidi přijíždějící příliš pozdě, nebo mít party. Ve svém požadavku pls napsat o svém záměru. Nevím víc než 3-6 měsíců předem, pokud v místnosti budou k dispozici.
Tato chata je rodina dědictví. Tradiční a moderní zároveň. Pokoj je velký a útulný a koupelny byl nedávno rekonstruován. Použil jsem k tomu sám hodně jam a já koupit jídlo od místních výrobců. To vše chutné jídlo si můžete vyzkoušet na Beakfast. Pokud nejsem doma, tam je samoobslužná snídaně.
Jedná se o poměrně sousedství. Mnoho možností, jak jezdit na kole nebo si zaběhat. Dětské hřiště, cukrárna, potraviny na trhu jsou do 10 minut chůze. Chcete-li dostat do centra města (Keleti nádraží) trvá 20 minut pomocí předměstí vlak, který jede každou hodinu / půlhodině depands na denní dobu. Vlakové nádraží je 10 minut chůze. Vlak jede až do půlnoci. Je také možné, aby se vrátil domů s nightbus.
Un grand Merci à Aniko qui nous a réservé un excellent accueil. Elle nous a guidé et aider à visiter la ville de Budapest. Elle nous a fait découvrir des lieux insolites qui ne peuvent pas être marqué dans es guides touristiques. Elle a su nous mettre à l'aise chez elle. Nous avons partagé d'excellents moments à ses côtés. Nous avons passé une excellente semaine avec elle. Merci Aniko.
Thomas
2016-09-04T00:00:00Z
Anyko was great with me, very nice and always smiling. She was waiting for me at the bus station, and it was very easy to go to her house where her little mojo, a very cute dog, was waiting. Besides, she has explained me very clearly how to go to her house. The house is very cosy, very clean, well organised and the room was spacious and comfortable. She also offered to use everything from her kitchen and the frige. By the way, thank you for the delicious rhum! I recommend her for sur!
Nora
2016-08-19T00:00:00Z
We loved our stay with Aniko, Aniko was a great host who made us very welcome, helped us with transport to city. A lovely experience, living with true Hungarians who appeciate life, her local knowledge was facinating, she taught us a lot, thank you Anitko for sharing your home with us. Maureen & Steven (aussies)
Maureen
2016-09-20T00:00:00Z
Tipus d'habitació
Habitació privada
---
Tipus de propietat
Casa
---
Capacitat
3
---
Dormitoris
Budapest, Budapest, Hongria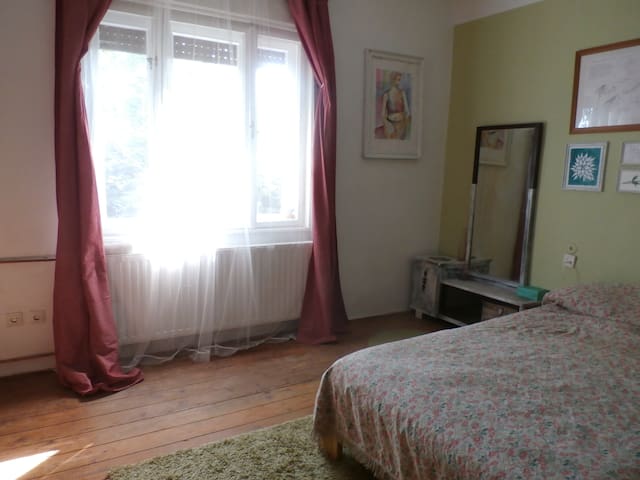 Pokud hledáte pro klidnou rodinnou oblasti, ale stále mají město za 15 minut, to je dům chcete. Se všemi komoditami velkém domě a prostornou zahradou. Ne jen Budapešť blízko, ale máte také: Gödöllő, Hungaroring, Lázně ...
Natalia is an exceptional host. She was always fast, kind, helpful and accurate in her communication. The house is in the close vicinity of Budapest in a new residential area. If you like a bit of convenience you might need a car to get into the city. The house is new and well equipped with everything you need even for a bit longer stay. We spent Christmas there with two small children and we had everything we needed. Dishwasher, washing machines, ironing, lot of toys can save your day during your stay. Everything was as it was described, no surprises at all. I recommend Natalia and her house without reservation and we will definitely go back again.
Zoltan
2017-01-02T00:00:00Z
Natalia was very kind and helpful with everything we needed. The house is very big and comfortable. It's also perfect that we could park the car inside. The racetrack is not far and also the city is within a few minutes drive. I'd definitely come back if i race there again.
Lenny
2016-09-25T00:00:00Z
This is my second time in Natalie's house. She is really helpfull about everything you need. House is big and have nice furnitures. Thank you for everything.
Kubilay
2016-05-31T00:00:00Z
A single thing that I can regret is that we stayed here only for 2 days. It's an amazing house with all you need to live a week or more in a quiet place. The house is much bigger than than you can imagine on photos. There is no air conditioner but there is no need because inside the house is really nice even when outside is 35°C. A huge salon, big bedrooms, fully equipped kitchen, 3 toilets/bathrooms, very clean and comfortable. We love this big table in the salon that can be used for a dinner and for work simultaneously. All required chemicals for dishwasher and washing machine were available. There is a grocery store in 5 min walk, we found an excellent fish restaurant in 15 min by a car. Natalia was available all the time by SMS, someone even helped her to throw out a garbage cans. Highly recommended for families and friends. It's really inexpensive for what you receive.
Roman
2016-07-27T00:00:00Z
The house was perfect for us. The neighborhood was quiet and the house very secure. The location was perfect for us, easy to drive into Budapest and close to Godollo. It was a great experience and the house made it even better, thank you. Kosonom! I know I spelled it incorrectly, but I tried.
Michael
2016-08-12T00:00:00Z
We have used airbnb about 11 times now and our experiences have all been good. Our stay in this house of Natalia was fantastic. We were met, on time, by a friend of the owner who gave us the keys, explained how everything worked and left us a phone number to call if we needed help with anything, which we didn't really need because everything worked fine. The house is very spacious, well built and only 20 minutes to the center of Budapest by car. This was a good feature because we could spend a whole day in Buda and at night return home to peace and quiet. We highly recommend this house to anyone who wants to enjoy the city but not spend the night amidst the noise of the city. The two separate bedrooms are on opposite ends of the house and each is very spacious. Natalia was always quick to answer any questions we had before we arrived. The house has it's own garage with a security gate. There is no comparison for the cost of rental. We considered it very inexpensive when compared to staying in the city. Of course, parking in Buda is expensive but there are free areas for parking and easy access to different areas of the city via bus or tram. We would almost like to keep this place as our own secret place to stay but that wouldn't be fair to Natalia who made this all possible by listing her house for rent. The house is completely your own while you stay so if you want a good experience, we do recommend this place.
David
2015-10-01T00:00:00Z
Great place to stay at very nice house! Everything you need and wasnt too far from the Budapest centre. Highly recommended!! Thankyou for a great place to stay at!
Alex
2016-01-24T00:00:00Z
Very Welcoming Lovely house Only 20 minutes drive from Budapest city centre along M0 and M3 (but make sure you have a motorway vignette!) Well equipped kitchen currently 1 bathroom under reconstruction 2 usable bedrooms, one en-suite
Tony
2016-07-11T00:00:00Z
Tipus d'habitació
Casa/pis sencers
---
Tipus de propietat
Casa
---
Capacitat
4
---
Dormitoris
Nagytarcsa, Pest County, Hongria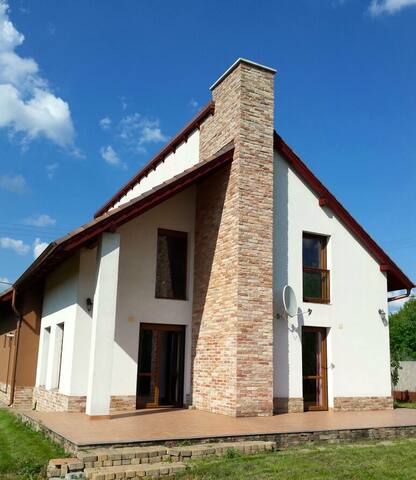 Nem hagyhatja el a kutya otthon, de nem tudja, hogy neki / neki mindenhol van? Mi a legjobb kutya napközi közben nyaralni. Minden nap napirend órányi játékidő kedvence, beleértve a szociális időt más kutyákkal. És mi mindig biztosítja a biztonságos, pozitív élményt nyújt mindenkinek. Tudjuk, hogy szeretné, hogy kutyája érzi, a legjobb, és része, amely tanítja őket, hogyan kell viselkedni. Ez az, ahol a pozitív Kutyakiképzés programot kerül szóba.
Kutyák maradhat: a házban, a kertben, egy nagy dobozban. Vannak mezők, erdők és tavak a ház közelében, így a kutya is élvezni minden pillanatát a napközi.
Tipus d'habitació
Casa/pis sencers
---
Tipus de propietat
Casa
---
Capacitat
2
---
Dormitoris
Ecser, Hongria