Our kids are gone so we need someone to come and enjoy our amazing home. Beautiful home on 20 acres, 2 bedrooms, family room and private bath. Outside enjoy hiking trails. stocked pond & zip line, swimming pool, BBQ, horseshoe pits & R/C race track.
Although I clicked whole house it is only the downstairs, there was not an option for that. I just want to be clear, we are renting out the downstairs portion of our home. I also clicked eight people, but you can have more, we can have eight comfortably, more is up to you. Plenty of room to crash on floor or take advantage of the camping equipment. 2 Bedrooms one with King Waterbed and Futon, 2nd with a King Bed, Living room has a sleeper sofa and bunk bed w/futon. Two roll away beds and blow up mattress are also avail. 1 Full-Bath, and family room. Comfy couches and recliners in family room. Camping equipment available for the kids or those who want to "rough it" Family room has mini-fridge, coffee pot, pool/ping pong table and even a slot machine! Step outside family room to the covered back patio complete with comfy patio furniture, BBQ and swimming pool just steps away. Across the backyard is the 1 acre pond stocked with catfish, bluegill and bass, dock, swimming area, kayaks, 11' sailboat lots of floaty things and even a zip-line across the pond. Horseshoe pits and Fire Pit available and we provide firewood and S'mores! We also include a huge bonfire (dependent on fire risk conditions) for one night of your stay! Beautiful walking trails through out property. We even have a R/C track available! Our home is very secluded yet only blocks from the Lake of the Ozarks and 8 miles from town and Truman Lake. This truly is a place to come to relax and enjoy yourselves. We have worked very hard creating a space that is relaxing yet a whole lot of fun! We have been told by guests that our home is more like a resort than just a place to stay!
Quiet and secluded, yet only blocks away from the Lake of the Ozarks and 8 miles from town and Truman Lake. Nice places to visit are; Truman Dam, Harry S Truman Visitor Center, Lost Valley Fish Hatchery, Historic Downtown Warsaw and Harbor area, we also have a world class biking trail, Truman Lake Mountain Bike Park, we also have one of the ten top buffet restaurants in the US, Charley's Buffet!
Our stay with Kim and Pat was splendid. Such a great property and gracious hosts. Would definitely spend another weekend there. We took our dog, and he had the biggest blast out of all of us. Got along with their dogs, so much for him to do on the property. Highly recommend for someone traveling with their pup. We thought that a day of rain would have made the weekend less enjoyable, but they have so many games/toys/amusements that we were happy even staying indoors. Thanks guys!
Ed
2016-05-02T00:00:00Z
Kim made us all feel incredibly welcomed! The property was even better than the pictures and there was so much to do! The neighborhood was nice but I think the main charm of Kim and Pat's home is that is really is a secluded home at the lake. It was a little pocket of fun!
David
2015-07-27T00:00:00Z
Kim was great hosting our techs during a weekend project. Indeed very secluded and serene place, would be great for holidays.
Brad
2015-08-17T00:00:00Z
We reviewed already in July because we stayed 4-7 and came back for another vacation 10-14. I stand by everything in my last review, and want to add that Kim is an AMAZING cook, and Pat is one of the funniest people my husband and I have had the pleasure of meeting. We seriously love them, and can't wait for next summer and the summer after that! My husband also tried the zip-line this time around, and he LOVED it. LOL I made him do it repeatedly so I could get a good shot with my camera, and by the end of it his arms were sore and he had had so much fun. Even when it rained we still had fun! We visited the Truman Lake/Dam visitors center with Kim and Pat, and that was pretty cool! Wish we had more time to explore but there was a random rain storm that just started during our picnic that day. We swam in the pool with our dogs, during the rain and in the spots between when the sun would shine! The AC works GREAT, thank god for that because it was hot outside all week! We stayed up late watching movies and playing board games with them, and fishing at all hours of the day/night with Pat. Overall, it's an amazing experience at their "Bear Creek Retreat" home getaway. They put alot of work into their property and it really shows. Don't be intimidated by the long windy path to this secluded little gem, because it's worth it in every single way. AND DID I MENTION NO FLEAS/MOSQUITOES/TICKS?! :D :D (that's a big plus in my opinion)
Elizabeth
2016-07-15T00:00:00Z
We actually stayed at Kim's Place before she started listing with you guys. Kim and Pat are amazing. We will go back their every year for a while, at least while the grand kids are young.
Tim
2016-06-28T00:00:00Z
This is my 3rd staying and I enjoyed it sooooo much. We had 4 people and 3 dogs, everyone of us are having a good time. There is so much fun to explore at this great home. I'm thinking of visit again during October. Thanks for hosting us!!
Yi
2016-09-11T00:00:00Z
What a GREAT place! We had an awesome time hanging out by the pool and the lake/pond! There was everything we needed from towels to tinfoil in order to enjoy our weekend! I would definitely recommending this place to anyone!
Laine
2015-09-08T00:00:00Z
Kim and Pat were the best! This was our first time using AIRBNB, and we went for 3 nights, ended up having to leave after 2 nights because a family emergency, and decided we would come back the next week! So we're headed back already this coming Sunday because we love it so much!! The property is HUGE, we played card games with her and her husband and their hospitality in every way is over 9000%! We grilled each day, let our dogs swim in the pool and play by the lake/pond (which is freakin' huge and fun to fish in!) They spray for ticks and fleas so we didn't have any problems with that. They spray for bugs so honestly I have not ONE bug bite, and I didn't use any bug spray so I'm pretty astounded by that. Honestly overall this is going to a be a new annual thing, we love them so much and they are such funny hosts! WE LOVE THEIR DOGS, and we loved not having any cell phone service. At first not having wifi or any phone service was scary, but after a few hours my husband and I looked at each other and were like "We love not having phone service!!" If you're looking for a resort like place without all the resort fees and busy tourist spots, this would be it. It's no wonder so many people love it here, we definitely recommend you check it out!
Elizabeth
2016-07-07T00:00:00Z
Tipus d'habitació
Casa/pis sencers
---
Tipus de propietat
Casa
---
Capacitat
10
---
Dormitoris
Varsòvia, Missouri, Estats Units
Enjoy! Come Stay! and Play! Honeymooners Welcome! Treat yourself to a wonderful vacation. Our spacious Lake Home is located in Saddlebrook Estates.There is fishing on the property.Boat slips are 100 yards away.Beautiful views.Barbecuing on the deck.
Enjoy! Come Stay! and Play! Honeymooners Welcome! Treat yourself to a wonderful vacation. Our spacious Lake Home is located in Saddlebrook Estates in Warsaw off of the MM Loop. We think the best part of the house is the deck off of the kitchen area, where you can barbeque and enjoy the View with family and friends. Dine with a VIEW! You will enjoy waking up to the sun glistening off of the water. Beautiful View! Two upper decks overlooking the Lake. Four French doors with views. Two queen-size beds plus additional sleeping. Jacuzzi tub in master bath. Watersports, hunting, fishing, caving, or just plain relaxing, this is the place. Private Cove, if you enjoy fishing, we have a great fishing area. If you enjoy WATER SPORTS, the boat launch, and slip rental is 100yds away. If you enjoy spelunking there are a number of area caves. LOCAL ATTRACTIONS: Downtown Antique and Gift Shops, Shawnee Bend Golf Course, Drake Harbor, Harry S Truman Dam and Visitor Center, Historic Swinging Bridge, Lost Valley Fish Hatchery and Visitor Center,Truman State Park, Benton County Museum. Enjoy Your Stay! Keywords: vacation rental warsaw, lake house rental warsaw, cabin rental warsaw, cabin rental truman lake, vacation rental truman lake, lake house rental truman lake,
The Olson Family Lake House is located in the Saddlebrook Estates. We are lakefront property.
It was perfect for my friends and I to have a relaxing weekend. The only issues was there was a wasp nest so we couldn't use the deck. The lake was hard to access because the back was so steep to walk down. It was smaller then the pictures made it look. All in all it was an okay stay.
Rachael
2016-07-25T00:00:00Z
Its a beautiful house. The listing was accurate.
Kedar
2016-05-04T00:00:00Z
The house was exactly as it was listed in the description. I took a group of 6 students on an officer retreat. There was plenty of room for the 4 girls, 2 boys, and myself. There was direct access to some great fishing. The kitchen was fully stocked with everything we needed to cook all of our meals. There were some great spaces outside for us to sit and visit, as well as the large living room where we did most of our meeting. The only negative was that the air conditioner struggled to keep up during the afternoon heat, but it was over 90 degrees each day during our 3 days there, so it is understandable.
Tiffany
2016-06-17T00:00:00Z
Tipus d'habitació
Casa/pis sencers
---
Tipus de propietat
Casa
---
Capacitat
8
---
Dormitoris
Varsòvia, Missouri, Estats Units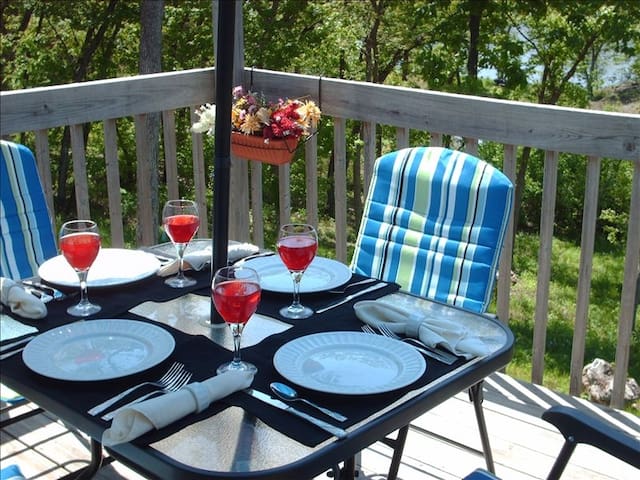 Located in a peaceful rural setting near lakes, marina, golf course, and minutes from town & several restaurants. Room has private entry, desk, satellite TV, wifi, coffee maker, fridge, private bathroom, & more. Outdoor amenities include screened porch overlooking creek, bbq grill, fire pit, boat parking, & large dog pen (upon request).
A perfect home away from home for couples or singles! The lodge room has a private entry, desk, satellite tv, wireless internet, coffee maker, fridge, microwave, private bathroom with walk-in shower, & door into the main house that may be locked when hosts are away. Locals call our house the castle because of the unique architecture, 5 acres & small bridge to island with a creek running around that looks like a moat. Outdoor amenities include screened-in back porch overlooking a creek, bbq grill, fire pit, ample parking, & a peaceful rural setting close to town & several restaurants. A large dog pen is available upon request.
The neighborhood is great for walking around Gatliff Lake. We're just 4 miles from Osage Bluff Marina, and we have plenty of space for parking boats or personal watercrafts. We are located near Truman Lake, Lake of the Ozarks, Harry S. Truman Dam & Reservoir, Lost Valley Fish Hatchery (largest fish hatchery in state), premiere bass fishing, one of the few spoonbill fishing locations in US., shooting ranges, marinas, equestrian trails, 400 acre ATV & dirt bikes Cooper Creek riding area, hiking trails, boating, sailing, hunting (deer, turkey, duck, geese), Jubilee Days festival in June, & Heritage Days in October, Drake Harbor, & several parks & marinas. We're also just hours from Bass Pro Headquarters, Wonders of Wildlife Museum, NRA National Sporting Arms Museum, & Branson (music capital of the Ozarks).
Cheryl was such an amazing hostess! She went above and beyond to make sure my stay was great. I honestly felt like part of the family while staying there. The room is adorable, everything was always extremely clean and she is an amazing cook! This was by far the best experience I've had. I will definitely stay again when I'm in the area.
Katie
2016-08-23T00:00:00Z
This is a beautiful home just outside Warsaw, MO. The room we had was tastefully decorated in a lodge theme and nicely equipped, and the hosts, Cheryl and Don, are lovely and welcoming people. The breakfast Cheryl served was incredible. The house is located outside Warsaw, so most activities will require driving (but it is Warsaw, so everything is pretty close).
Larry
2017-01-29T00:00:00Z
Cheryl thought of everything to make this space perfect for me. I feel honored to be her first guest and she had fruit and homemade chocolate chip cookies for me on my arrival. There was coffee, tea, hot chocolate and ice water in the fridge. There was also a microwave and everything you could possible need for a wonderful stay. You will have your own private room with your own bathroom and a private entrance into the house. The location is lovely as the house sits on five acres and there is a stream that runs through the property, plus this area is great to explore if you like the great outdoors. The Harry S Truman dam is close by and the visitor center is free and well worth checking out. There are other things to do, but I was there for just the one night; I would like to come back for a longer visit next time. Don, Cheryl's husband was also very welcoming and I had some great chats with both of them. Another big plus for me was their sweet dogs, Sassy and Oscar, and I loved playing with them. I was also pampered with the delicious pastry that Cheryl made for breakfast; she even sent me off with an extra serving of the treat to enjoy on my drive back home. You would be very happy at this great location!
Colleen
2016-07-11T00:00:00Z
Cheryl is an absolute AMAZING host! She was very friendly, sweet, clean, attentive and such a good cook! She made sure we had everything we needed our entire stay! Looking forward to going back! She has a heart of gold!!
Hollyann
2016-11-13T00:00:00Z
What a beautiful setting for getting away from it all. Cheryl and Don felt like old friends by the time we checked out. The room was beautifully decorated "lodge style" and very clean and inviting. Cheryl definitely went above and beyond with her treats left in the room and a wonderful breakfast. Don was very helpful with information on local spots to explore. We will definitely return on our next trip to Warsaw.
Jon
2016-11-18T00:00:00Z
It was a wonderful experience staying with Cheryl. She did everything to make us feel welcomed.Her two dogs and homemade cookies and breakfast made the stay feel like home. I will stay there again anytime I am in the area.
Nathan
2016-08-08T00:00:00Z
Tipus d'habitació
Habitació privada
---
Tipus de propietat
Casa
---
Capacitat
2
---
Dormitoris
Varsòvia, Missouri, Estats Units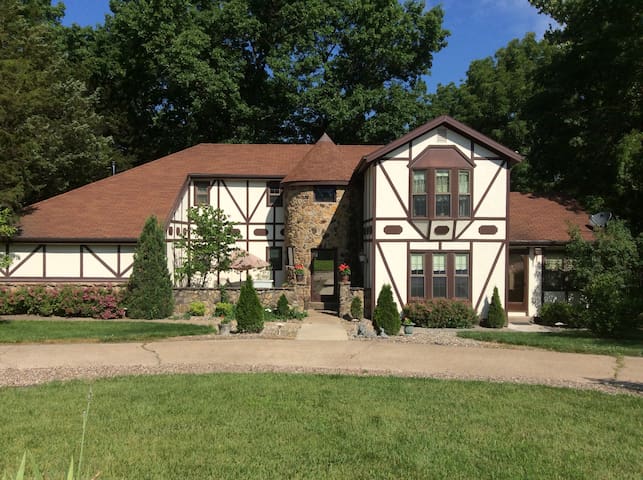 You'll love the place because of Location has the best view on Truman Lake on the Tebo arm, 1 bedroom, 1 full bath, full size sofa sleeper, screened in porch, 2 boat ramps, swimming, close to , Long Shoal, Sterett Creek Marina's , Coffee in freezer fully furnished kitchen all dishes, microwave, coffee maker, silverware, baking ware, 48" TV in living room there is no But there is tv service, DVD/VCR, charcoal grill, please feel free to email for more information on home. Bring your own food.
Small quant but very clean
very quiet, peaceful, walk 300yards to lake for swimming, fishing, boating. Sorry no WIFI , only 2 companies that do provide service but too expensive to have at this time.
This place is a hidden gem. There are very few people, boats, docks, and houses on Truman Lake (disclaimer, we were there on a weekday and it might be a bit different on a weekend). The best part is the lake access at this wonderful point. It is a short walk down the hill. It has two features. First, the is a boat launch part, and the lake is ideal for kayaking, boating, fishing, and even sailing (there was a good breeze). Second, it has these great rock ledges that make for an amazing beach and great swimming. And, we were all alone. The point is shared among a few neighbors, but for all intensive purposes, you have privacy. The house is cute, clean, and Cindy, the homeowner/host, is great at communicating everything you need to know about your stay. Great for a nice little break! Warsaw, 25 minutes away, is a cute town with reasonable food and a Walmart.
Jeff
2016-07-14T00:00:00Z
Tipus d'habitació
Casa/pis sencers
---
Tipus de propietat
Casa
---
Capacitat
4
---
Dormitoris
Varsòvia, Missouri, Estats Units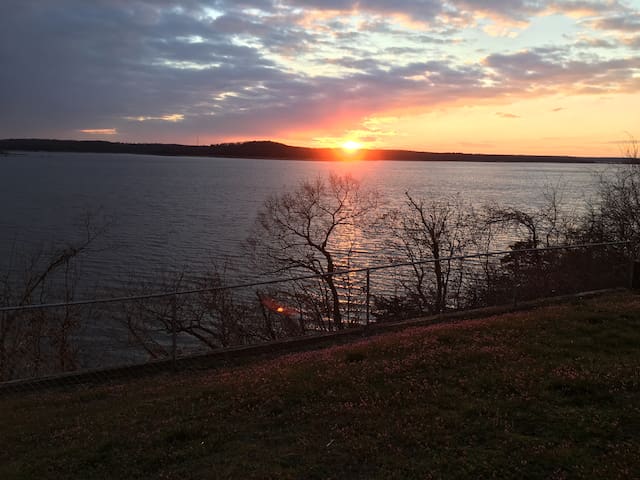 Welcome to our cozy two level lake house. Enjoy the view from the deck or fish right off our dock. Step out the back door and walk a few steps to the lake for a swim. Enjoy being outdoors during the day and sleep in a comfortable bed at night. ** If you are interested in a weekend stay please message us for availability. **
Waterfront property. Great home for a vacation, and getaway. The main level has the kitchen, living room, dining room, bathroom and master bedroom. You can find the additional bedroom downstairs in the basement, as well as a day bed. Lake of the Ozarks is about 90 miles long. We are on Lake of the Ozarks at MM 84. Osage beach (aka party cove) is MM 19. Please message us with any additional questions.
We had a perfect lake vacation at Russ and Roses place. Before we arrived they communicated all the details and made sure we were able to get in okay. As soon as we opened the door we knew we had picked the right place for our nature getaway. They had even left snacks for us knowing we had been on the highway. The house is as described and has a peaceful charm about it. We enjoyed the lake view and being able to walk out the door directly to the lake. Everything we needed was available to cook and relax. We went in town for groceries and never left the property until we checked out. The location is perfectt and the grocery store,etc isn't far away. We enjoyed fishing and grilling and enjoying being on the patio watching boats go by. They made sure we had charcoal and lighter fluid when we asked about the grill. We brought our own books but was intrigued by the book collection at the house. The bed was extremely comfortable and we enjoyed lazy mornings eating breakfast on the deck. We are thankful we had the opportunity to stay at this wonderful retreat. We are looking forward to returning to stay at the Russ and Rose haven as soon as we can break away from the busy city life.
Janice & Bobby
2016-07-07T00:00:00Z
Russ and Rose's cabin is a great location for a visit to the Ozarks. It's a comfortable home with all of the necessary amenities. The deck is a great space for morning coffee. Russ was very responsive to our questions and helpful to us in navigating the area. Since our family has a cabin in another area of the lake, we will be back.
M K
2016-08-13T00:00:00Z
We really enjoyed our stay here! The beds were very comfortable, and the shower was great as well. We spent our days on the water and evenings on the dock and back porch. We didn't have very good cell phone reception, but we loved just being able to unplug and relax for a few days :-)
Lynn
2016-07-03T00:00:00Z
Our host were very helpful. They answered my questions and offered suggestions. They let us enjoy their property without interfering with our time. They house was clean, well organized and had everything we needed. We enjoyed a calm, relaxing weekend.
Cathy
2016-07-25T00:00:00Z
One very important aspect that is important to me when booking and utilizing Airbnb properties is the host. The host makes the experience wonderful or it can make the experience a non-successful event. I must say that Russ and Rosa were the most excellent host during this event. They made sure that they communication with us not only during the trip, but there we extensive communication prior to our travel. They went to the extreme in making sure that we had the appropriate information in regards to traveling to the destinations. The most important and impressive part is they wanted to make sure that no details were left unanswered. Our reason for traveling to this area was for my husband to lake fish. We were celebrating his birthday and also Father's Day. They made it especially accommodating for us to dock our boat at their home and had live bait waiting for us. An even extra and special treat was the little playing toy they left for our little Doggie Elgin. They informed us in advance of a possible flea outbreak in the community and wanted to make sure that we protected our little one from such a problem. They have no idea how much this meant to us. What was so pleasing to my husband and I is that we had an opportunity to meet the both of them and immediately felt comfortable and knew that we had chosen the perfect spot for our weekend getaway. Each experience with Airbnb had a different meaning and thus far each bookings met the need of each purpose for travel. I will never stay at a commercial hotel again and will probably not use any other vacation service other than Airbnb.
alfunsia
2016-06-20T00:00:00Z
Tipus d'habitació
Casa/pis sencers
---
Tipus de propietat
Casa
---
Capacitat
5
---
Dormitoris
Varsòvia, Missouri, Estats Units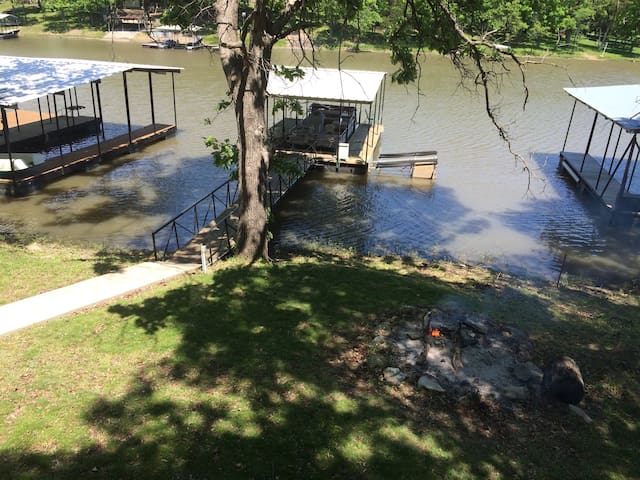 My place is close to the Lake. You'll love my place because of the coziness. My place is good for couples, solo adventurers, and big groups.
Tipus d'habitació
Casa/pis sencers
---
Tipus de propietat
Casa
---
Capacitat
8
---
Dormitoris
Deepwater, Missouri, Estats Units
Our comfortable home away from home. Everything you need is here. You don't share the space you are our only guest.
You are our only guest. This 100 year old home has both an old and new feel. You will love relaxing on our front porch and exploring our busy little town. We are a short drive to both Sedalia, Warsaw, Lincoln , Stover and the Lake of the Ozarks.
Antique stores, restaurants , pool visiting family. Close to Missouri State Fair grounds, Truman Lake. Just minutes to fishing and boating
Great place, easy to find.
Adam
2017-03-19T00:00:00Z
I was in town for the Tough Mudder race in Sedalia with my girlfriend. This was the perfect place for a restful stay prior. I wish we could have stayed longer! Lovely home and very attentive management!
Andrew
2016-10-08T00:00:00Z
Nice place to stay. Since it was Thanksgiving we spent time watching the Macy's parade and of course football. The living room was easy to relax in and provided the comforts of home. The large round table was nice for eating out Turkey dinner and for playing lots of cards. The kitchen was well stocked and we found everything we needed. Thanks
Dona
2016-11-27T00:00:00Z
Beautiful charming home in a quaint little town! Loved everything she did to make us feel like we were at a home away from home. Every little detail was thought of. We thoroughly enjoyed our stay!
Ann
2016-08-21T00:00:00Z
place is beautiful
SRUJAN
2016-08-08T00:00:00Z
Tipus d'habitació
Casa/pis sencers
---
Tipus de propietat
Casa
---
Capacitat
6
---
Dormitoris
Cole Camp, Missouri, Estats Units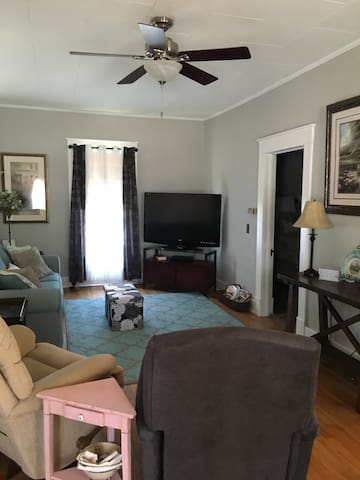 deep in the woods quiet ,30 minutes from bars and restaurants and mini grocery store just 20 minutes south of Cole Camp on b hwy high speed internet and all the amenities very clean and trails great fishing a covered dock to swim off or sit on swing
wifi phone service great secluded area plus additional camping area if you desire to camp as well
Tipus d'habitació
Casa/pis sencers
---
Tipus de propietat
Casa
---
Capacitat
4
---
Dormitoris
Lincoln, Missouri, Estats Units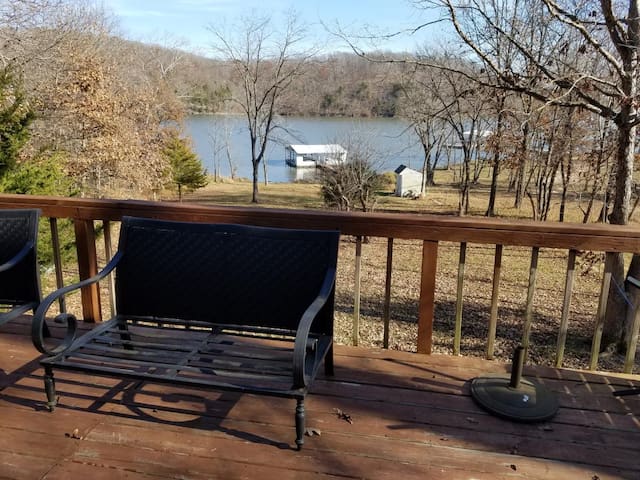 Our wonderful surreal home sits on the lake of the ozarks. It is on the 45mm and gives you great water. It is a spacious 1800 sq ft home with wonderful wood work.
Tipus d'habitació
Casa/pis sencers
---
Tipus de propietat
Casa
---
Capacitat
8
---
Dormitoris
Climax Springs, Missouri, Estats Units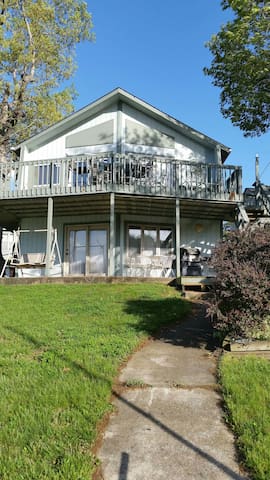 20 minutes from Truman Lake, 30 minutes from Pomme de Terre Lake, an hour from Springfield, and 1.5 hours from Lake of the Ozarks/Kansas City/Branson, my place is "in the middle of everywhere!" A private setting amongst the trees, I'm a few minutes from the river's edge and from Hwy 13: prime locale for hunting/fishing/hiking/kayaking. I have one Corgador that will be eager to greet you, but don't worry - he's a licker, not a nipper! Hope to meet you soon!
While this is an earth contact home, the floor plan is open, with plenty of windows and lighting! Very much like a cottage in the woods!
Review for Anna
Pat
2016-09-26T00:00:00Z
Quiet location, gracious host, comfy bed, and clean bathroom!
Donna
2017-03-16T00:00:00Z
Very clean and nice home. Just wish there would of been a little more privacy.
Amy
2017-04-02T00:00:00Z
Anna is a wonderful host. We had time table issues and car trouble and she was extremely gracious and kind. We also had to leave super early and she was very accommodating! We recommend her beautiful place!
Rodney
2017-01-12T00:00:00Z
Cozy, clean and comfortable, friendly and easy going hostess, gorgeous peaceful woods.
Jeanne
2016-09-24T00:00:00Z
Tipus d'habitació
Habitació privada
---
Tipus de propietat
Casa
---
Capacitat
2
---
Dormitoris
Osceola, Missouri, Estats Units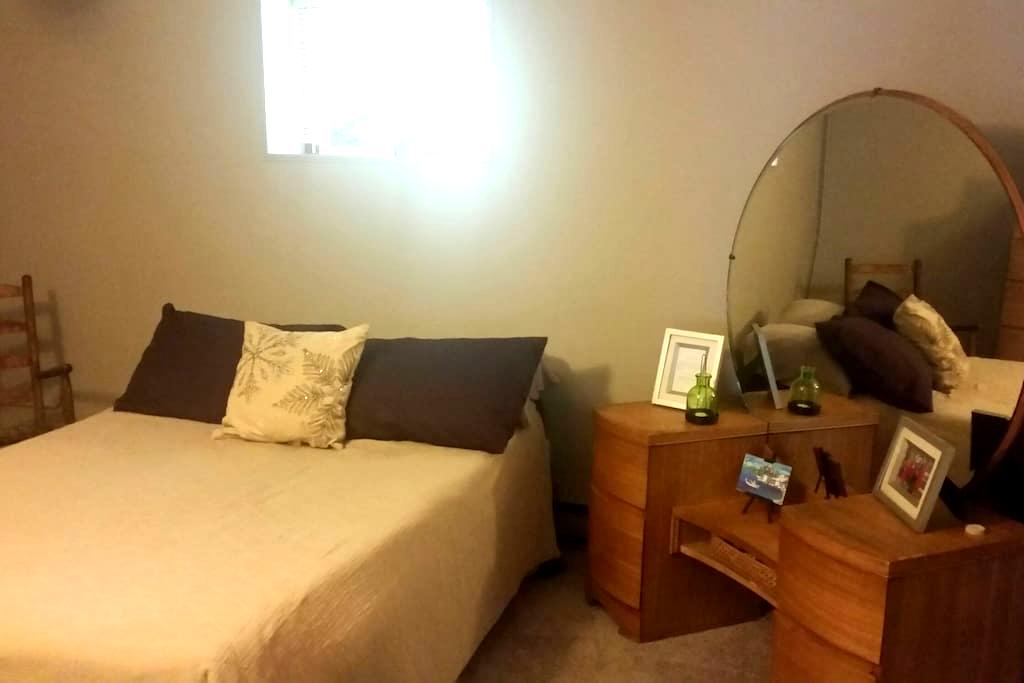 Our house sits right on the beautiful Lake of the Ozarks with breath taking views. Located two coves from the infamous Big Dicks Halfway Inn Bar and Grill. The home is 3 bedrooms, 1.5 baths and a large living room with a couch for extra sleep space.
Our house sits right on the beautiful Lake of the Ozarks. Located two coves from the infamous Big Dicks Halfway Inn Bar and Grill. The home is 3 bedrooms and 1.5 baths. Full kitchen, small dining room and full living room with couch, love seat, two chairs, and TV with dvd player. Gorgeous view of the lake out of the windows lining the front of the home. Has gazebo, and outdoor grill as well as two additional outdoor seating areas. All the amenities, including a washer and dryer, stove, refrigerator, and microwave. A dock on the property to park your boat, fish from(there is great fishing from the dock) and swim from.
Great place to stay for the week of 4th of July! Everything was clean and the house was very comfortable.
Nicole
2016-07-08T00:00:00Z
Had a good time. House was neat and clean. Nice view of the lake. Had everything we needed to cook and enjoy the weekend
Misty
2016-04-17T00:00:00Z
Thomas was one of the best hosts. We loved it and hope to be back very soon. I would say that in the future would love to have the fireplace working and shades on the patio door but other than that very cozy, clean and spacious. Beds are comfy too which is rare to be honest but we truly felt like we were home with comfy kitchen, sofas, full cable tv and wifi. Very nice patio to enjoy the morning breakfast with the feeling of the ocean and rooms are very spacious.
Indeedbaku
2016-11-06T00:00:00Z
Our group loved the house and the beautiful view...had everything we needed & we found things easily which isn't always the case when you travel. He warned us the dishwasher broke before our arrival & he was waiting on a part, but he left us paper products to use plus we had some as well. Neighbors were wonderful & we visited with those on each side of the Lake House & another as we walked on the road. We had fantastic weather so spent time inside & out. We picked the place because the table looked perfect for card players...and it was. We left the hubbies home for our annual girls retreat and this house was perfect for our group. All 3 beds were comfy & we slept great after those late night card games! Three of us were celebrating birthdays & this was a perfect place to turn 70.
Karen
2016-11-13T00:00:00Z
We stayed last weekend, the house was exactly what the listing said it would be. For my first experience in the Ozarks it was amazing, very family friendly. The house was beautiful, and very comfortable. The fishing off the dock was great, we caught plenty, the scenery was breath taking. Very peaceful, and relaxing. Exactly what my family needed for our getaway. We hope to spend more time there in the future. My daughters said it was the best trip they have ever taken, and are already asking when we can go back! The house was completely stocked with everything you would need to cook with. If you are looking for a place to spend time with your family I strongly suggest that you consider Thomas's lake house for your next getaway, you will not be disappointed!
Katie
2016-06-20T00:00:00Z
Very spacious and comfortable home with a great view. Enjoyed our stay!
Brian
2016-03-14T00:00:00Z
We were here for a weekend in late September and had a great stay! It is definitely a place to go and get away from the city. It was comfortable and clean. The owner answered a couple of questions within just a few of minutes after texting. Everything was as it is stated in the description. We fished and enjoyed the peacefulness.
Cathy
2016-09-25T00:00:00Z
Yes
Elliot
2016-10-23T00:00:00Z
Tipus d'habitació
Casa/pis sencers
---
Tipus de propietat
Casa
---
Capacitat
7
---
Dormitoris
Gravois Mills, Missouri, Estats Units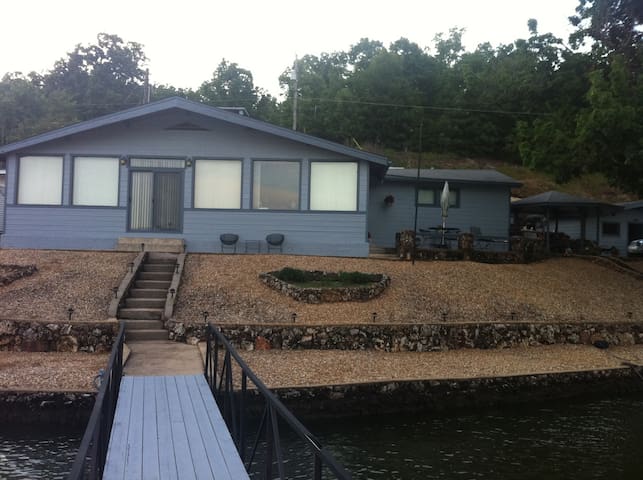 This home was built by my grandparents as a cozy retirement home. The house sits in a quiet cove, featuring a swim dock and a wonderful view of oncoming storms. There is a covered patio with a porch swing and an all seasons room to maximize the lake experience. There is a fire pit and plenty of space to grill and play lawn games. There is also a Ping pong table in the basement. The family room features a large fireplace and cozy furniture.
Nice home in a secluded area for a quiet stay.
Brett
2017-03-13T00:00:00Z
Tipus d'habitació
Casa/pis sencers
---
Tipus de propietat
Casa
---
Capacitat
12
---
Dormitoris
Climax Springs, Missouri, Estats Units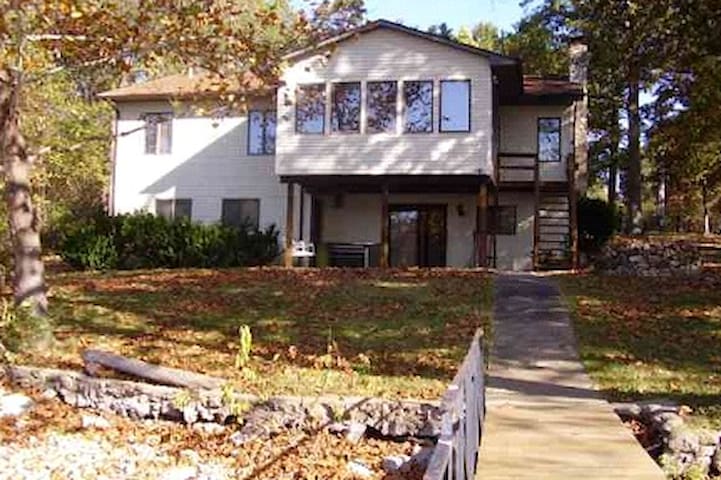 Out undated house sits on a rocky bluff about 100 feet above Truman Lake facing west. The sunsets are spectacular. Watch the Bald Eagles fly below you as the scout the llake for fish.
Tipus d'habitació
Casa/pis sencers
---
Tipus de propietat
Casa
---
Capacitat
5
---
Dormitoris
Clinton, Missouri, Estats Units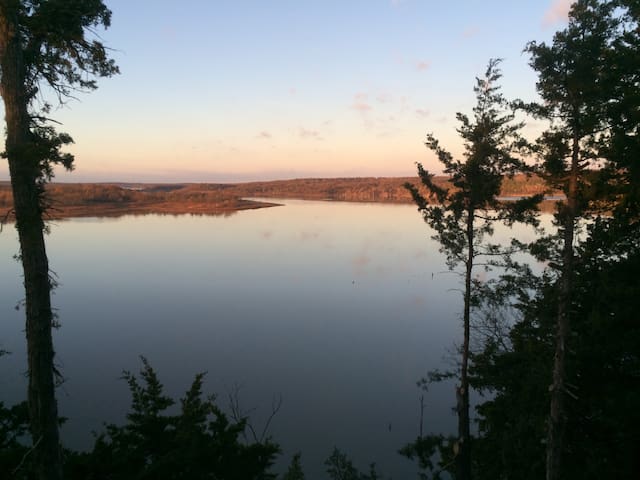 47 MM Roach, MO quiet area. Great area for family fun. This lakefront home's view is just stunning. Even better, you can enjoy it on either the upper deck or the lower decks. They are both covered. Enjoy fishing on the dock or reading a good book. On the inside you'll find the new owners just finished the renovation . Open kitchen area to the upper family room. Downstairs offers walkout to the lower deck, game area for family fun and 3rd bedroom. Fire pit area along the shore, swim off the dock
1900 sq ft private vacation home on the Lake. More pictures will be posted as remodel rooms are completed. We are excited to offer this new listing on our site. Professional Service Enterprise has a lot of pride along with our owners, that our guests have clean, safe vacation home. Full remodel in the kitchen with new cabinets, counter tops, and open upper level floor plan. Ceiling to floor new fresh paint. All new beds, and great vacation home for family fun and memories.
Family area
Tipus d'habitació
Casa/pis sencers
---
Tipus de propietat
Casa
---
Capacitat
10
---
Dormitoris
Roach, Missouri, Estats Units
last house on road in wooded area in back big buffalo cove very peaceful quiet unbelieveable wildlife spotings rare birds ect. great fishing better pictures of house to come
very remote very quite lots wild life you dont normaly see
one neighbor retired has nice dock swim area
Tipus d'habitació
Casa/pis sencers
---
Tipus de propietat
Casa
---
Capacitat
5
---
Dormitoris
Lincoln, Missouri, Estats Units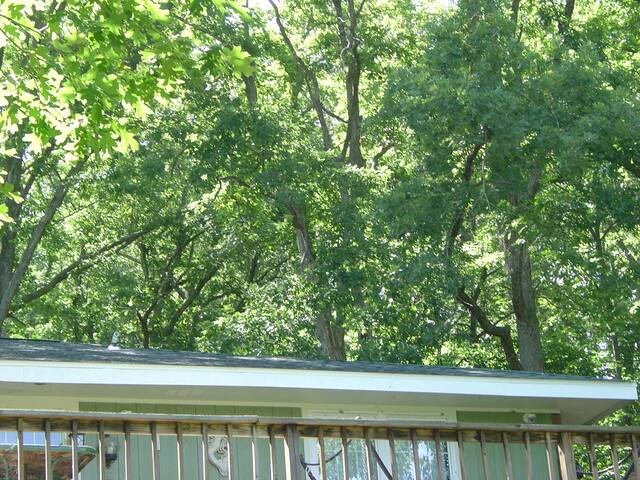 Large lodge in a quiet area of the Lake of the Ozarks at the 58 MM of the Osage arm, which the the lakes main channel. The property is beautifully landscaped and has a concrete swim dock with one slip available for your boat.
Tipus d'habitació
Casa/pis sencers
---
Tipus de propietat
Casa
---
Capacitat
15
---
Dormitoris
Stover, Missouri, Estats Units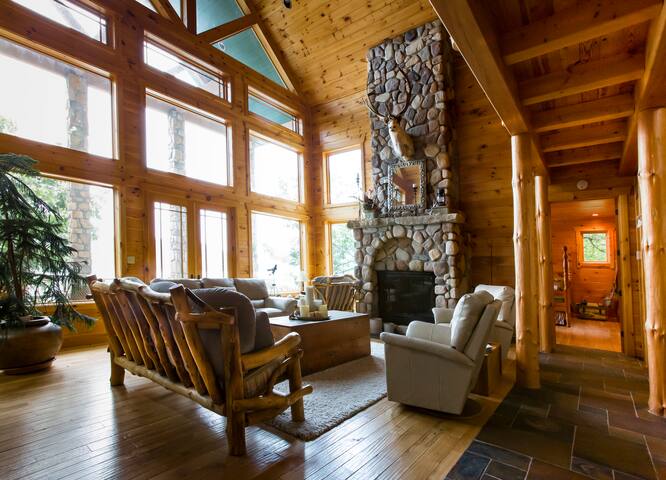 This is truly Paradise in popular Proctor Cove at the 55mm with 120' of lakefront. Tons of upgrades in the last year. Outside gas fire pit, Large dock with slip for your boat and tiki bar, large swim platform with composite decking for entertaining.
The home has a Lodge feeling to it both inside and out, from the Peaked points and Cedar sided exterior, to the large beams, light fixtures, fireplaces, Bedroom furniture, and even the Alaskan Caribou overlooking the Great Room inside. It is 4 bedrooms, 3.5 bath, also has a loft with a day bed and trundle bed, a Queen size convertible sleeper couch in the Great room, and Queen size convertible sleeper in the down stairs living area. so it will sleep up to 14 people in beds. There are three levels, the main level consists of Master bedroom with king bed, rustic log headboard and log night stands, dresser and large closets, flat screen with Roku internet connection. There is a huge master bath connecting to master bedroom, tiled shower, and whirlpool with jets, his and her sinks, and separate lighted makeup vanity. There is also a separate half bath on the main level. Great room is very plush and welcoming with its 25' vaulted ceiling peak and beams, and 18 large, mirrored tinted windows looking out to the beautiful lake, It consists of a fireplace, with large interior stone chase going all the way to the roof. All new Leather furniture including Queen convertible bed/couch, Love-seat with center console, and double recliners, and also a matching stationary recliner, coffee and end tables. 60" flat screen TV, Surround sound stereo/theater DVD system , Free high speed fiber optic WiFi internet throughout house, Como connect satellite TV programming, and signal booster for Verizon cell phone users. Kitchen has stove, microwave, refrigerator with ice maker, dishwasher, coffee maker/filters, toaster, deep fryer, crock pot, and all the common utensils, dishes, pots and pans you should need. The kitchen is separated to the great room with a L shaped counter top, and bar stool seating for 2, next to the dining room that consists of table seating for 6, there is also a folding table and chairs for additional seating for larger groups. Outside the patio doors off the dining area is a large deck with gas grill, table seating and umbrella that overlooks the dock and lake. There is a open staircase leading up to the loft overlooking the great room that has seating for a breathtaking second story view out to the lake. There is also a day bed, with trundle bed that tucks under and will pop up to match to the day bed for sleeping for two, or keep separated for twin individual sleeping. There are two good size bedrooms on the second level with vaulted ceilings and beams, large closets ceiling fans and dressers, along with a large bathroom with vaulted ceilings, beams and chandler lighting. The basement consists of a large rec room area, with a second fireplace, bar, and bar stool seating next to the 4 large windows looking out to the lake, along with a walkout door to access the lower deck on the lakeside. 55" flat screen TV with Roku internet connection, DVD and surround sound system, along with a new leather Queen sofa sleeper, and recliner. There is also a full bath and a 4th bedroom downstairs with a queen bed, closet, and dresser. Utility room has a upright deep freezer, washer/dryer. All the beds, furniture, paint and carpet throughout the entire house are new (2015) along with master bathroom being completely renovated. The large wrap around deck on the outside is also new (2015). There is also plenty of parking for your vehicles or boat trailer. We stock the home with propane for the grill, coffee & filters, dishwasher tablets, toilet paper, some paper towels, however most ppl do bring toilet paper and paper towels to replenish what they've used. There is concrete steps going down to the dock and Martini Deck that sits atop of the sea wall on the waters edge. The dock is a very fun place for entertaining and hanging out on the water. There is a beautiful log Tiki bar, small fridge, and radio along with table seating in front of it. There is also a large swim platform with additional table seating, a ladder to get out of water when swimming, and composite decking (no splinters). There is a covered slip for your boat and a good 15' of water depth. All of this towards the rear of the beautiful 1.5 mile long cove off the main channel of Proctor cove. The view is outstanding as the home faces directly south, looking all the way down the large cove out to the main channel. There are 9 bars/restaurants within 8 miles by water. There is a nice concrete ramp in the rear of our cove at Mallard Bay Campground to launch your boat, they charge $10 launch fee, free to take it back out. It is less than half mile by water, or 5 min by land from the house. They also have gas and ice, and there is also a marina a few miles down the lake. Our location is somewhat remote which makes it a very desirable and pleasurable experience to enjoy the calm waters. We are about a 20 minute drive to Laurie, which has anything you might need including groceries, restaurants, etc. There is also a convenience store about 10 minutes west of the property that has about anything you might need. There is so much to do within an hours drive of the home. Caves, winery's, a brewery, a distillery, outlet shopping, national landmarks along with the breathtaking HaHa Tonka State park and so much more. I have a map I send out to all guests that has all the bars/restaurants, marinas, boat launch, etc marked on it for convenience, and will be happy to answer any questions you may have.
Our area of the lake provides calm water to be able to tube, ski, fish, and just enjoy the lake in general.
Tipus d'habitació
Casa/pis sencers
---
Tipus de propietat
Casa
---
Capacitat
14
---
Dormitoris
Stover, Missouri, Estats Units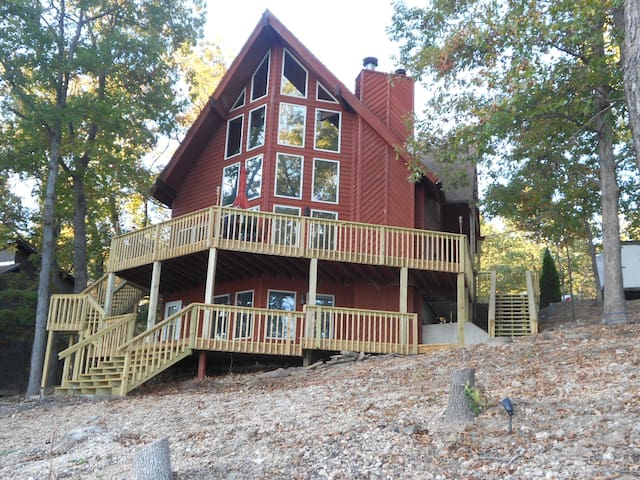 Varsòvia - Airbnb
:
Mitjana de

4.75

estrelles sobre

5

a partir de

81

avaluacions d'hostes
1

-

17

de

17 Lloguers de Cases
Introdueix les dates per veure el preu total. S'aplicaran tarifes addicionals. És possible que també s'apliquin impostos.