Enjoy a weekend of mountain biking and relaxing. Why would you NOT want to wake up on a ranch ?? Coffee on the patio in the morning, happy-hour in the evening complete with Gorgeous Sunsets. 2 bedroom apartment located on a 100 acre Longhorn cattle ranch with 8 miles of challenging mountain biking trails. Two fishing ponds, canoeing, swimming. Located between La Grange and Giddings.
The apartment is two bedrooms, kitchen, living/dining area, small bathroom, and outdoor covered patio which is shaded in the afternoon. Additional bath facilities are available in the barn and at the main ranch house. It is on an operating Mountain Bike Ranch, named Bluff Creek Ranch. There is also a herd of Longhorn cattle on the property that occasionally comes up near the patio. They typically are in one of several pastures on the property. They do not come into the barn. There is a horse named Sabor that has a stall in the barn; there are no animal smells inside the apartment. Charley the barn-cat is on patrol 24/7 and likes attention from people. There is a large upper story loft area in the barn that contains 5-6 cots that will occasionally have overnight guests. Quiet hours are 10 pm to 7 am. The barn itself has an additional half-bath and a separate large shower area which you may use; it is also used by the over-nighters and any campers who may be a staying at the back pond. The main ranch house is about 150 feet away and also has two complete private bathrooms that are attached to the carport and are accessible to everyone at all times. Mountain bikes may be rented. Canoe rental fee is zero, life jackets available and required. Swimming in the back pond is allowed. A fishing license is not required. The Mountain Bike Ranch operation is an entirely separate enterprise. Ranch amenity fees are included in your Airbnb reservation. You will be required to sign a Waiver of Liability prior to participating in ranch activities. Look up "mountain biking Warda" for more info on the amenities. There are several campfire rings around the property which you may use if not already claimed by a group of campers. There is a new fire pit near the patio, away from the campers. You may gather firewood on the property; there is plenty of it; ask Allen for locations of wood. There is a gas grill at the main ranch house. Ice is also available there, no charge. A well trained and well-behaved pet is welcome in the apartment. There is also an outside kennel available. Please visit the Bluff Creek Ranch site on the internet and review the rules for guests
Great spot! If you want to get away, star full of skies, quiet countryside but close to some great towns with lots of things to do this is the spot for you. If you are a mountain biker bring your bike. There are some really great tracks right on the property. The house has everything you need to cook (including BBQs) and a great picnic table just outside to have dinner while enjoying the sunset. Highly recommended.
Giselle
2017-02-12T00:00:00Z
We loved staying here! It was a great place to "unplug" and enjoy the quiet. The apartment was fully furnished with everything we could possibly need. We loved having the horse and cows just steps away. My son enjoyed feeding carrots to the horse. Ray was so thoughtful and helpful from the time of booking throughout our stay. We are definitely looking forward to staying here again for another trip!
Anna
2016-09-28T00:00:00Z
Gayle was very sweet and greeted us upon arrival with a quick tour. We wished we had more time to spend on this beautiful property. Very comfortable, clean and serene setting. Everything we needed! Great girlfriend getaway -- hoping to come back with our husbands. Highly recommend for a peaceful respite from city life.
Cynthia
2016-09-28T00:00:00Z
My host made us feel very welcome! The property was beautiful and we thoroughly enjoyed our time outdoors.
Lauren
2016-11-27T00:00:00Z
It was like having my own ranch. No other houses as far as I could see. Stars by billions because it was so dark we sat on top of the hill with the top down and just looked up. And the beautiful pond. It was perfect. And the host was very welcoming and checked in a couple times to make sure all was ok but other than that it was like I was alone there !!
JOHN
2016-10-23T00:00:00Z
Had a great weekend mountain biking. Apartment had everything you could need.
Glen
2017-01-01T00:00:00Z
We loved everything about Ray's place! It was so quiet and beautiful out there! The accommodations were perfect! Thank you, Ray! You were the best!
Lori
2017-03-31T00:00:00Z
Great place. Great hospitality.
Terri
2017-04-02T00:00:00Z
Tipus d'habitació
Casa/pis sencers
---
Tipus de propietat
Pis
---
Capacitat
4
---
Dormitoris
Giddings, Texas, Estats Units
This. place. is. AMAZING! We absolutely loved it. From the moment we walked in, we had the biggest smiles on our faces. The Cabin is in the middle of the woods. It is so beautiful and peaceful. There was a great fire pit and patio set that you can sit outside and enjoy the scenery. (we had dinner and drinks outside every night!) The cabin itself is fabulous. It was SO clean! The decor was perfect and we felt right at home. This place is the perfect getaway. We went here for Texas Antique week and it was in the perfect location. We would definitely stay here again.
Jeniece
2017-04-02T00:00:00Z
Such a wonderful getaway! Complete perfection if you are looking for something romantic or even a girls weekend away from all the hustle and bustle of everyday life. Everything was perfect and ready for us when we arrived. Decor was spectacular. It is quite aways off the highway so I would recommend a truck or SUV for the trip. Will definitely book again the next time we are down.
April
2017-03-26T00:00:00Z
Real spot of heaven an EASY drive from Bastrop. The pictures don't do it justice, IT'S EVEN BETTER. Cozy inside, rain-proof porch, and WHAT A HIKE! There's this natural corridor of trees running along the pond that leads to the canoe. Wonderful time with my daughter tooling around the pond in TOTAL SILENCE. Also, kitchen was well-stocked with necessities, Kerig coffee and teas, dishware, utensils, popcorn, and a big ice-maker. Games, cards, books, and stacks of magazines. Can't recommend this place enough and look forward to visiting again!
Jace
2017-03-12T00:00:00Z
Our stay here was one of the best trips we've ever taken. The cabin is beautifully decorated and we loved the country elegance. I want their decorator! The kitchen was updated and easy to cook in. The beds were so comfortable and stylish. The art and light fixtures were so charming. We lived the stone steps, the comfy porch chairs, the hammock, and outdoor table. During our stay we hiked the 20-acre property and visited both a sweet little creek and a pond. The woods were gorgeous and so secluded. We went on hikes, played cards and dominoes, and just enjoying the quietness of country life. We loved not having a TV or any of the distractions of the world. Our hosts were wonderful an accommodating. When we got there the cabin was lit with jazz music playing. There was coffee and water and so many other creature comforts. We will definitely return here!
Cyndi
2017-03-14T00:00:00Z
Tipus d'habitació
Casa/pis sencers
---
Tipus de propietat
Cabana
---
Capacitat
4
---
Dormitoris
La Grange, Texas, Estats Units
Our family of four (including two young daughters) had a great time! We spent the days visiting Smithville and Bastrop and La Grange. Our evenings were spent enjoying the cozy accommodations. Our hosts were so kind; they allowed our girls to feed the cows, and set us up with a beautiful bonfire on our last night (smores for everyone!). The lodging had everything we needed for our stay; we brought some food but lots of small sundries were provided. It was evident from the moment we arrived that a lot of thoughtfulness, care, and heart went into the design and decor of the cabin. We'd like to return one day.
Francisco
2017-03-14T00:00:00Z
Jackie was a wonderful host and we felt extremely welcomed! The barn was absolutely perfect and had everything we needed for the perfect stay. Thank you Jackie...we will definitely be back!
Kristel
2016-05-16T00:00:00Z
Jackie has taken time to be sure your stay is enjoyable
Pam
2017-04-01T00:00:00Z
We loved the Rustic Barn! Jackie and DeWayne were very accommodating and made our stay very easy! Everything was just as described and anything we needed was ready for us. The ranch is beautiful and getting up and seeing deer from the kitchen window was great. Unfortunately, we didn't get to stay very long but I would definitely return and I would recommend the place to anyone! Thank you :)
Lindsay
2015-11-22T00:00:00Z
Jackie and DeWayne are excellent hosts. This was our first experience with Airbnb and could not be more pleased. The Barn is very comfortable and is a great escape from the city and from the ordinary.
M
2016-02-07T00:00:00Z
We loved this place! I stayed with my husband and two other couples and we had such a blast! We spent lots of time on the porch and at the bonfire. The weather was great and Jackie and Dwayne were very accommodating! We look forward to coming back.
Bonnie
2016-03-06T00:00:00Z
The bungalow was very clean and well appointed with amenities and cute decor, allowing for a relaxing and remote stay in the country. The hosts were extremely nice, gracious and accommodating.
Stephen
2016-06-27T00:00:00Z
We had a great experience at the Rustic Barn Bungalow! Jackie & DeWayne were very accommodating. We had a long drive and when we arrived they had dinner suggestions for us, maps, etc, that were very helpful the entire stay. We will definitely stay again, hopefully in the near future!
Jackie
2015-10-04T00:00:00Z
Tipus d'habitació
Casa/pis sencers
---
Tipus de propietat
Casa
---
Capacitat
6
---
Dormitoris
La Grange, Texas, Estats Units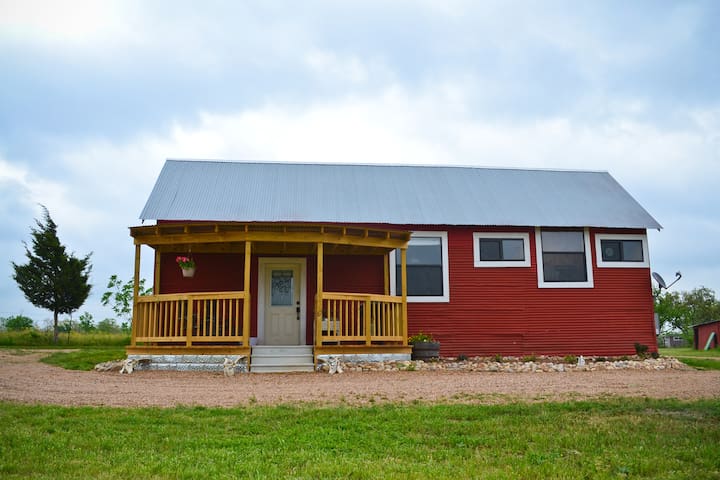 We had the most amazing time at Night Bird Ranch! My boyfriend lives in Austin and I live in Houston, Night Bird Ranch is directly in the middle and is a perfect place to meet up to see each other. Kiki and her husband (sorry I forgot his name :/) were the most amazing hosts! Super responsive on the app, we're able to answer all my questions and were so friendly when we finally met. The room we stayed in was so cute and clean and they even gave us koozies as a gift! The dinning hall was awesome as well...we were able to bring our own food to cook dinner on the grill and eat in the presence of the sweetest most beautiful dog named Garth. After dinner we hooked up our music to the speakers in the dinning hall and danced all night long
Lindsay
2016-07-14T00:00:00Z
We had a wonderful stay at the Night Bird Ranch! The peace and quiet and opportunity to fish 100ft away was priceless and much needed during a busy Christmas season. It was my first time to fish and I caught one! It was a very spacious property, and although the cute room was small, the next building was very large and had TV, fridge, microwave, games and a piano. I can see it being the perfect location for a small wedding someday. The hosts were very welcoming and we felt right at home. A fully cooked breakfast and privacy, you can't beat it! Not far from 290 and only an hour and half from Houston.
Haea
2014-12-15T00:00:00Z
I had a great stay at the Night Bird Ranch. It was exactly what I was looking for in my time in Texas. My hosts were friendly, accommodating, and exceeded my expectations. I hope to return for another stay and would recommend this charming B&B to my friends and family.
Amy
2016-05-05T00:00:00Z
Food was great. Room was clean with all the listed amenities. Got to meet the miniature donkey and take pics. All in all, a nice pre-concert experience.
David
2015-09-06T00:00:00Z
We spent one night at Kiki's and Don's lovely ranch and it was a beautiful highlight of our 3-week trip through the US. Travelling through Texas, you should definitely visit them. It is a great place to stay, the rooms are beautifully decorated, very clean and have great beds. Breakfast was delicious and we had really good time listening to Kiki's and Don's entertaining stories. 100% recommendation (:
Kirsten
2015-10-24T00:00:00Z
Just loved the Night Bird Ranch! Perfect place for my friend and I after a fun day at Round Top. Can't wait to come back with more friends and family. Really appreciate the hospitality!
holly
2015-10-03T00:00:00Z
Kiki's location is almost on the half of the way between Austin and Houston. I can recommend this place because there is all you need to sleep and have a classic Texas breakfast. Kiki and her family are very friendly people who can tell you what you should visitWifi signal could be better. neighborhoods. I would recommend unique Round Top and local vineyards to test real Texas wine.
Mateusz
2015-07-03T00:00:00Z
Serene, beautiful, secluded acreage make this property worth the trip down some back roads. The directions were easy to follow and the hosts were welcoming. It's newly renovated, with trendy decor.
Dallas
2014-10-12T00:00:00Z
Tipus d'habitació
Habitació privada
---
Tipus de propietat
Bed & Breakfast
---
Capacitat
2
---
Dormitoris
Ledbetter, Texas, Estats Units
Our stay was a group of 10 women. The accommodations were great. Everything was as we expected...large, airy and never felt that we were on top of one another. Loved the setting and the spacious covered porch. Would definitely consider a return stay
Bonnie
2016-09-26T00:00:00Z
Ten women stayed for a reunion and shopping for the Fall Roundtop Show. The house was prefect for our stay. The large, open entertainment space, as well as the porch allowed us ample space to enjoy ourselves. The location was perfect for the occasion. The hostess even left fresh farm eggs for us. We would definitely return.
Shelly
2016-10-03T00:00:00Z
We found this ranch while looking for accommodations during our antiquing trip to Round Top. There were eight of us and the open floor plan suited us perfectly. It's like having your grandparents let you use their house while they go on vacation. Lovely rustic setting with all the basic amenities you need. Very quiet and relaxing. Loved watching the deer in the yard! Bottom line, if you are looking for 5 star accomdations, don't book this house. However if you are open to a homey feeling house with basic accomdations you will be pleased with your stay here.
Stacy
2016-09-29T00:00:00Z
Tipus d'habitació
Casa/pis sencers
---
Tipus de propietat
Casa
---
Capacitat
12
---
Dormitoris
La Grange, Texas, Estats Units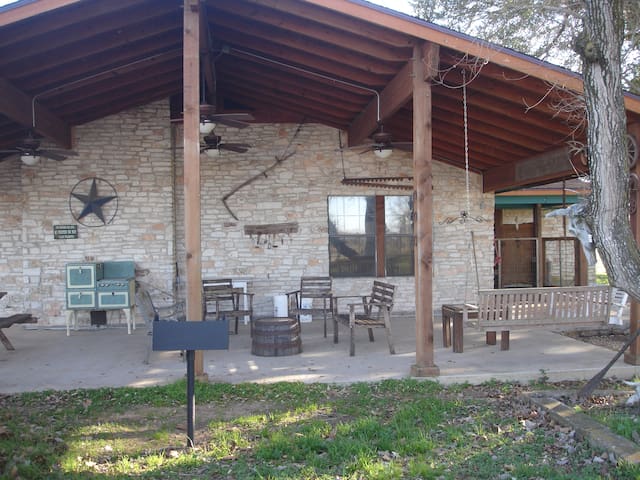 Tipus d'habitació
Casa/pis sencers
---
Tipus de propietat
Cabana
---
Capacitat
16
---
Dormitoris
La Grange, Texas, Estats Units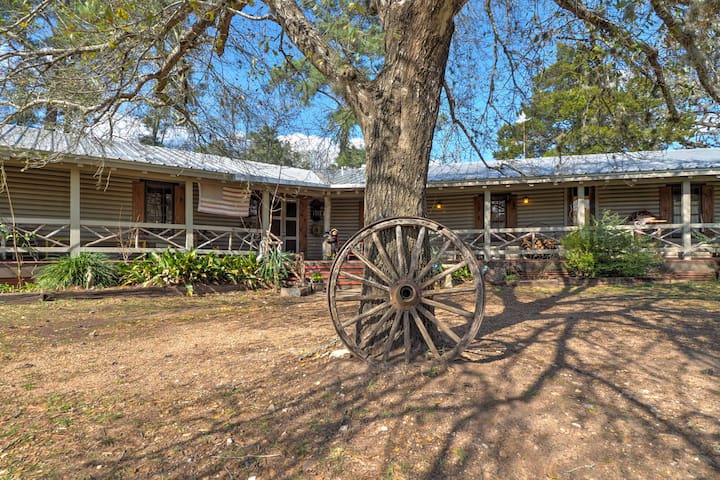 Barbara was helpful and responsive in setting up the reservation. The house and property made a great weekend getaway for our family!
Maria
2016-11-20T00:00:00Z
Loved our stay in this house! It was charming and provided a serene environment to come home to after shopping among the throngs of people in town for the Antique Show! The house is exactly as described and was very neat and tidy. There is no wifi and even a cell phone signal was hard to pick up at times. But, hey, the house IS in a rural area in the middle of the countryside. So, it wasn't that surprising and we were able to work around it. Since the house is on a beautiful farm, there is wildlife all around you. There are also some very vocal coyotes that will actually come up near the house and start howling. Everyone thought it sounded like a human and it was rather comical at the ruckus a coyote could cause among 3 scared women! We eventually figured out what it was and we all died laughing. Coyotes are generally more afraid humans than we are of them. But, that night was the exception! I would absolutely recommend this property to someone who is looking for something away from the bustle of the city. We sat on the porch and watched the most beautiful sunrise....and you just can't put a price on that!
Dayna
2016-10-02T00:00:00Z
Fantastic experience at the home! Has everything we needed and was a very relaxing and quiet weekend. Kitchen was stocked with everything you would need for cooking, bathroom had plenty towels/shampoo/etc, beds were comfortable, AC worked well! There was a TV with a DVD player and some great movie options and lots of cook books to browse through. This is as described and does not have anything flashy, no cable, no wifi, some cell phones didn't even have service due to its location but that is exactly what we wanted and knew so there were no surprises. Check in and check out were easy and flexible! The dogs had plenty of room to run around and roam while we sat on the porch relaxing and talking. Would ABSOLUTELY visit again!
Bojan
2016-08-01T00:00:00Z
Barbara is a wonderful host, they answered all our questions quickly. The home had everything we needed and the kitchen was well equipped for cooking. The property was fun to explore and it's in a great area close to lots of things to visit.
Emily
2017-01-08T00:00:00Z
If you are looking for a serene, quiet, in the country experience, this home offers it all. Rooms are spacious and comfortable. The best part was drinking coffee early in the morning rocking on the porch and enjoying vistas of countryside with not another soul in sight. Best part was being close to all the small small towns for good food, antiques, junking and being with friends.
Rhonda
2017-03-26T00:00:00Z
If you are looking for a country get-away where you can take deep breaths, drink wine on a front porch, and watch cows for entertainment (we did!) this is your place. But in all seriousness, it is an excellent spot to do some Roundtop antique-ing and hang with girlfriends. We loved it!! Thank you Barbara!
Laura
2017-04-02T00:00:00Z
We had a fantastic time at Barbara's Ledbetter farmhouse! She was extremely helpful in terms of directions and with answering our (many) questions. The house is exactly as described, but the views were FAR more beautiful than expected! We spent our evenings in the front yard watching the sun set and the dogs play. The house was a rough 20 minute drive to Round Top and 25-30 to La Grange. All in all, we had an excellent time and I would definitely recommend this house to anyone looking for a relaxing, serene escape!
Cole
2016-03-01T00:00:00Z
This 1920's farmhouse is the ideal, remote getaway where we enjoyed a weekend away from the hustle and bustle of Austin city life. The hour long drive was a breeze, (SENSITIVE CONTENTS HIDDEN) maps gets you right to the front gate. Driving in you immediately notice the tank, then the charming farmhouse surrounded by a fence and shade trees. The interior of the house was clean, inviting, comfortable and filled with all the amenities you'd need for a weekend trip. We bought extra paper towels, which we ended up using. The beds were extremely comfortable for each of us. The well water smells which can by typical on a remote farm, and it was discolored but thankfully Barbara provides a water dispenser which we used for cooking and drinking. The yard is ideal for dogs, plus plenty of room to walk and hike around the property. My dog didn't want to leave! Barbara was always quick to respond to any questions I had. My friends and I will definitely return to this gem of a place, once the temps cool down. Plenty of great memories made with dear friends over this past weekend, and hopefully more to come next time I plan a getaway. Thanks Barbara!
Melaney
2016-07-18T00:00:00Z
Tipus d'habitació
Casa/pis sencers
---
Tipus de propietat
Casa
---
Capacitat
6
---
Dormitoris
Ledbetter, Texas, Estats Units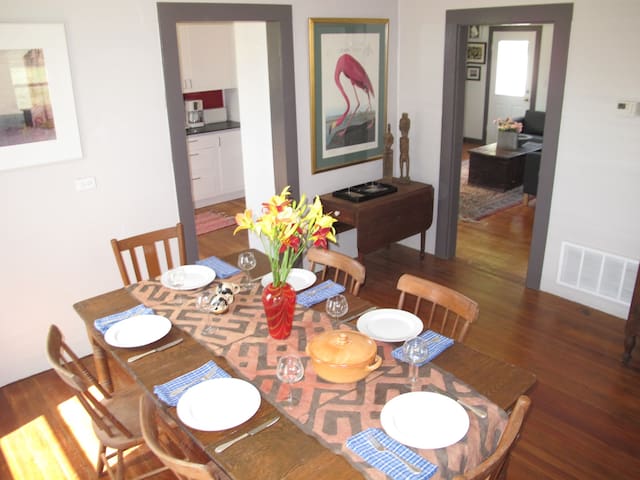 Awesome place to stay!!
Mona
2017-03-31T00:00:00Z
Perfect spot if you're attending the Round Top Antique Fair. It's only 20 minutes from the fair and about 15 into town where there's a cute restaurant and wine bar. The home is comfortable and very clean. The backyard is peaceful and gives you a taste of country living. There's a larger sized kitchen which is a plus for most people traveling and planning to cook. Judy responded to us very quickly abd made the process easy. Only downfall was no wifi. Other then that we had a great stay
Elyse
2017-04-01T00:00:00Z
Such a lovely home like something out of a magazine.
Katie
2017-04-09T00:00:00Z
This super cute cottage is in a perfect location for the painted churches tours and the Warrenton antique shows. It's super clean and the beds are comfy!
Darla
2017-03-17T00:00:00Z
We really enjoyed the cutely decorated Butterfly Cottage! It is quite comfortable for two couples and has plenty of room for privacy when needed. The back yard cabana has a nice view of the countryside. Location is close to La Grange and for antique shopping in Warrenton and Round Top.
Polly
2017-03-03T00:00:00Z
You will love this cottage. Front faces a pretty busy road but you don't notice. Ecause the back yard and gazebo are fabulous. La Grange is about 6 miles away for eating and shopping. My sister and I didn't want to leave the cottage.
Narcissa
2017-02-25T00:00:00Z
Thank you Judy
Josh
2017-03-27T00:00:00Z
Charming, country cottage convenient to Antiques Weekend shopping as well as downtown LaGrange. All interior is up-to-date and well thought out to comfortably accommodate our group of 4 women. Delightful outdoor sitting area for kickin' back after a hard day of shopping. I can't say enough... we loved it :)
Nancy
2017-03-19T00:00:00Z
Tipus d'habitació
Casa/pis sencers
---
Tipus de propietat
Casa
---
Capacitat
5
---
Dormitoris
La Grange, Texas, Estats Units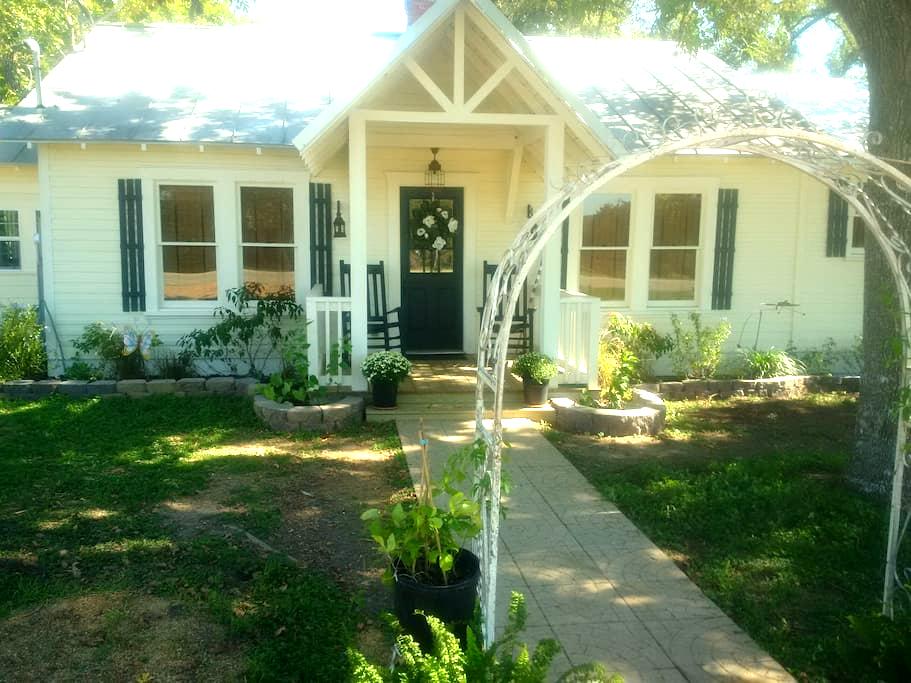 Tipus d'habitació
Casa/pis sencers
---
Tipus de propietat
Casa de vacances
---
Capacitat
10
---
Dormitoris
La Grange, Texas, Estats Units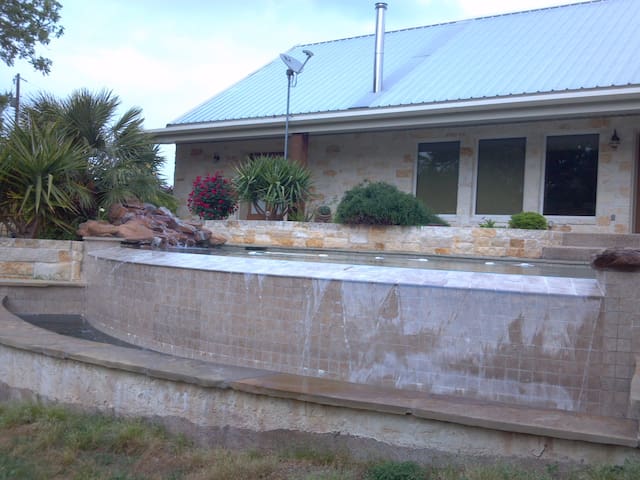 We've all seen Shipping Container homes, but how many of us can say we've actually stayed in one? Built from recycled shipping containers, these simply amazing, durable, iron boxes were once used to ship just about anything imaginable around the globe by land and sea. Now, with a new lease on life, FLOPHOUZE has transformed these containers into unique, comfortable, cozy living spaces. Come Stay, you won't want to leave. FlopHouze II sleeps 4 comfortably by offering two twin beds and a full size pull out couch. An efficient hollywood bathroom separates the space with an iron and hair dryer. Outside, each houze has its own firepit, hammock and chairs. Inside, the kitchenette features a sink, microwave, mini fridge, tea kettle and coffee maker for the morning get up an goers! The interiors are cladded with sustainably harvested wood from our farm in upstate New York and reclaimed lumber from a distillery in Kentucky. The windows were salvaged from a school in Philadelphia that was slated for demolition, and provide tons of natural light. On a playful note, we installed kitchen cabinet bases from an FDA laboratory in Brooklyn, and old bowling alley floors from Texas for the countertops! Upon your arrival, each houze will have complimentary coffee and tea, Topochico sparkling water, and Mexican Cokes. Just a short drive away in Round Top, there is a market for light snacks and other goodies. Every detail has been carefully crafted to ensure that your stay is a memorable one
This unit can accommodate up to 4 people. There are two twin size beds at one end and a fullsize pullout couch at the other end of the 300 sq. foot container. An efficient hollywood bathroom separates the space. The kitchenette features a sink, microwave, mini fridge and coffee maker for the morning get up an goers! The interiors are cladded with sustainably harvested wood from our farm in upstate New York and reclaimed lumber from a distillery in Kentucky. The windows were salvaged from a school in Philadelphia that was slated for demolition, and provide tons of natural light. On a playful note, we installed our kitchen cabinet bases from an FDA laboratory in Brooklyn, and old bowling alley floors from Texas for the countertops! Every detail has been carefully crafted to ensure that your stay is a memorable one.
Flophouze is located on an old farm-to-market country road only 5 miles from the infamous Round Top Square. Be right up in the action with Round Top Antiques Fair, one of the largest and best antiques shows in the nation. Not bad for a Texas town with a population of 90. The original Round Top Antiques Fair is held twice per year, the first full weekend in October and again in April. Being in Round Top is almost like taking a step back in time when things were slower and life was a little simpler. When the fair is not in season, many antique stores stay open year round. Round Top is and always will be a breath of fresh air away from the busy city. It truly is a magical place
Tipus d'habitació
Casa/pis sencers
---
Tipus de propietat
Casa
---
Capacitat
4
---
Dormitoris
Round Top, Texas, Estats Units
Nur 15 Minuten zum Antique Fair! Mein Platz ist in der historischen Innenstadt von La Grange. Sie Abstand von Restaurants, Einkaufsmöglichkeiten, Weinbars und Cafés zu Fuß. Es ist neben dem Texas Quilt Museum, La Grange Train Museum und aktive Bahngleisen. Dies ist eine im Obergeschoss Einheit mit eigenem Eingang. Mein Platz ist gut für Paare, Solo-Abenteurer, Geschäftsreisende und Familien (mit Kindern).
La Grange, Texas liegt zentral zwischen Austin, Houston und San Antonio. Wir haben für jeden etwas zu genießen! Nehmen Sie an einem unserer Innenstadt von Aktivitäten oder wagen sich in die Grafschaft für mehr Weinprobe, Einkaufen, Essen und Spaß!
Schauen Sie sich unsere kommenden Veranstaltungen in der Nachbarschaft heraus! um die Grafschaft Es gibt etwas, das ganze Jahr lang passiert. Hoffe, dass Sie in dem Spaß verbinden wird. Für weitere Informationen zu La Grange Main Street & Tourismus oder besuchen Fayette County Websites. Einige unserer kommenden Veranstaltungen unter: 15. Oktober: Meist Ehrlich Musical Die wahre Geschichte von Bonnie & Clyde 15. Oktober: Wanderung von La Grange Downtown (kostenlos) 1. Dezember: La Grange Jahres Wassail Schmecken & Christmas Celebration Buchen Sie frühzeitig für die nächste Antique Show! 19. März 2017: La Grange Uncorked (Wine & Food Festival)
We loved our stay here for a girlfriends weekend! This little apartment is very charming and right on the square, walking distance to everything. There is a train track right next to it which was a bit loud, but not enough to not want to stay here again.
CHERYL
2016-09-25T00:00:00Z
Comfy beds! Cute apartment!
Jessica
2017-03-19T00:00:00Z
Cute and comfy apartment on the private 2nd floor of an historic building. Our hostess was welcoming and responsive. We loved the location, convenient to shops. The train came by twice during the night, but I was able to go right back to sleep.
Stephanie
2016-10-03T00:00:00Z
Wonderful location close to round top! Adorable place and impeccably kept! Very responsive host!! Thank you !
Heather
2016-09-28T00:00:00Z
Our stay at Jessica's remodeled historic little apartment was just what we needed while attending the Round Top Antique Fair. Recently restored, it is a sweet, cute little historic apartment in the quite downtown area of La Grange. Jessica provided us with area info before our arrival and was the gracious hostess, making sure we had everything we needed. We will visit again and would certainly recommend to friends!
Ellen
2016-09-27T00:00:00Z
Super cute upstairs apartment in home near the square. The bed was very comfortable. Jessica sent us all the info and left several printouts and brochures for the town. I would definitely recommend this place and stay again.
Amanda
2016-09-24T00:00:00Z
Super cute carriage house. Only a small double bed in bedroom and one twin with additional trundle in living room. Crickets loved the bathroom ( not sure how they got there) . We loved seeing the claw foot tub , but was bummed out when we found it was just a shower, not shower/tub combo. BEWARE OF TRAIN HORN ! This train horn blew at all hours even on Saturday/Sunday. It was an interesting wake up call at 5:30 and 6:30 am. Overall super cute and perfect for antiquing .
Lauren
2016-10-02T00:00:00Z
Kelsey was very accommodating! The space was adorable and made th perfect place to rest after a day full of shopping in Warrenton! I highly recommend and will be staying again next year!
Natalie
2017-03-21T00:00:00Z
Tipus d'habitació
Casa/pis sencers
---
Tipus de propietat
Pis
---
Capacitat
4
---
Dormitoris
La Grange, Texas, Estats Units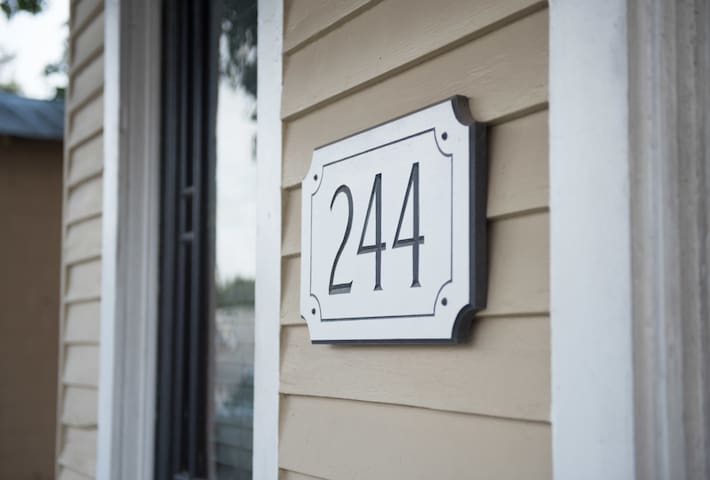 This rental was one of the very best we've ever stayed. The pictures just don't do it justice. It's absolutely gorgeous inside and out. The house is spacious and comfortable and has a great layout. I loved the extra touch of the fresh flowers on the table and in the bathroom. The beds were so comfortable and the kitchen had everything needed to cook a great meal. We loved the house but didn't spend much time inside because there was so much to do outside! We went on many family hikes and had a great time hiking all the way around the lake. We did a lot of fishing and really enjoyed the floating dock! We had a wonderful picnic lunch out there. We also really enjoyed the fire pit. We cooked hot dogs and smores everyday. Our kids were never bored. The porch was a wonderful place to relax and take in the beautiful peace and quiet. I just can't say enough wonderful things about this place. We can't wait to come back to make more memories.
Dallis
2017-03-15T00:00:00Z
Tipus d'habitació
Casa/pis sencers
---
Tipus de propietat
Casa
---
Capacitat
14
---
Dormitoris
La Grange, Texas, Estats Units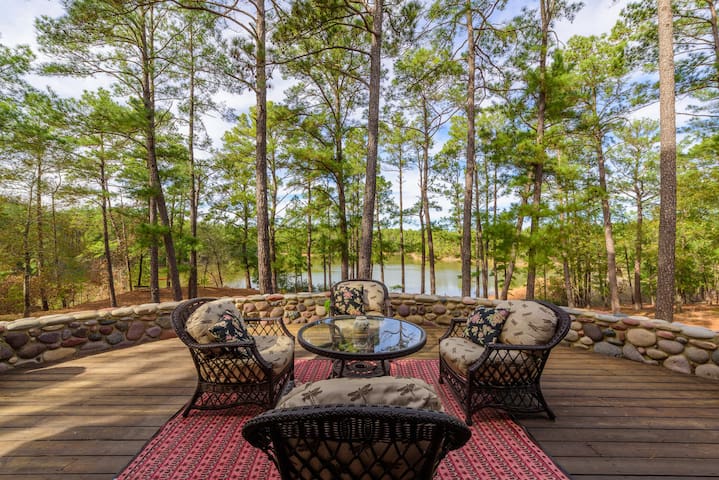 Scarlett is our biggest glamper and is a guest favorite! She has a full size bed and a couch that makes into a single bed. There are shower & restroom facilities located just steps away inside LSG. Be sure to pack like a camper, BYOB(bedding). Scarlett does not have her own a/c but the building itself is air-conditioned. Welcome to the Great INdoors at the Lone Star Glamp Inn!
Please remember Scarlett is vintage, be gentle:)
Parking for our guests is directly behind the building. It is an unpaved lot, so watch your step as you come around to the front. At the front bar, we will issue you a parking pass, wristbands, and a key to the side doors, which will allow access through the main gate during your stay with us.
Friendly, fun and located right in the heart of it all!
Catherine
2017-04-02T00:00:00Z
Kaci and Sterling are gracious hosts who immediately make you welcome and ensure your trip is everything you expected!! We were delighted to see they've expanded, with more Glampers and Tents available for more friends to join us!!
Noreen
2017-03-28T00:00:00Z
We absolutely loved our stay at the Glamp Inn and Scarlett was fabulous!! Wifi, bathrooms, sitting areas and so much more to make the most out of our antiquing adventure and located right in the center of it all, just could ask for anything more...except maybe more availability since it may already be booked up for our next trip, doh! We loved staying at the Glamp Inn and Kaci & Sterling were fabulous hosts! Thanks so much!!!
Noreen
2016-09-28T00:00:00Z
Kaci, her husband, and her crew are amazing! Very welcoming and just fun to be around! The "glampers" have comfy little beds to rest your over shopped head (we stayed in a couple of different ones), and clean showers to wash-up in! It is right in the middle of all the fun too...including a close walk to the Zapp Hall nightlifeOur stay could not have been more fun and I can't wait to stay again! A new tradition for my friends and I! Thank you!
Brzozowski
2017-03-26T00:00:00Z
Kaci and Sterling were so friendly and accommodating. They made us feel like we were staying with family! The other "campers" we met were great too. We thoroughly enjoyed staying in the vintage trailers and we have already booked 6 days for the Fall Antiques show!
Sharon
2016-04-01T00:00:00Z
This is a wonderful way to shop Warrenton and Round Top!!!
Judy
2017-03-24T00:00:00Z
This is such a fun adventure and such a treat! The trailers are darling, the hosts are fabulous, the concept unique! For us, it was a great alternative to a hotel bc we are not much into using someone else's home. And we aren't campers so it was a great experience. Trailer was really clean and the bathrooms had a great shower and were clean. If coming to the Round Top Antique fair, this is a fabulous location! Sterling and Kaci (the hosts) are absolutely wonderful. I can't say enough positive about this. Ideal situation would be to have all of my friends in each trailer and shop until I'm broke at the antiques fair....maybe next year! Oh one more thing! There aren't a ton of options for food so either being your own or be willing to eat out of food trucks (during the antiques fair). The food trucks were good but at night your choices are very limited and in the morning the choices are non existent. Speaking from experience here..... Overall tho....who cares. I could go without eating one or two meals and be alright!
Deene
2016-09-30T00:00:00Z
This place is wonderful. It's in the middle of everything, Kaci and Sterling are superb....everyone needs to try this place out!
kellie
2016-09-26T00:00:00Z
Tipus d'habitació
Habitació privada
---
Tipus de propietat
Autocaravana
---
Capacitat
2
---
Dormitoris
Round Top, Texas, Estats Units
My place is close to Round Top Square, Round Top Antique Festivals, art and culture, great views, restaurants and dining, family-friendly activities. You'll love my place because of Location, Location, Location in the heart of The Round Top Antique Shows. My place is good for couples, solo adventurers, business travelers, and families. Weekly and monthly discounts. 2.3 Miles from Round Top Square
Most amazing Tiny House Experience! Thank you For making our Round Top Experience unique in every way!
Resa
2017-03-24T00:00:00Z
This tiny home is ideal for the Spring and Summer abriquettes shows! Its perfect for 2 gals wanting to hardcore shop but still be soooooo close to stop and refresh or drop off your treasures throughout the day! The location was unbeatable!!
Ashley
2017-03-29T00:00:00Z
Tipus d'habitació
Casa/pis sencers
---
Tipus de propietat
Bungalou
---
Capacitat
3
---
Dormitoris
Round Top, Texas, Estats Units
Had a wonderful stay! The rooms were so cozy and the breakfast yummy:) We will be back!
erica
2015-03-28T00:00:00Z
Host definitely made us feel welcome! We loved how peaceful and well-maintained the property was. We weren't expecting the donkeys, cattle, or dogs, but they were the sweetest creatures. We've already discussed staying here again next year! Room was quaint and had a surprise mini-desk by the window that's idyllic for writers like us. The breakfast was amazing too-- biscuits, gravy, and eggs-- home cooking at it's finest.
Nancy Lili
2016-04-16T00:00:00Z
Ha - there is no neighborhood. A couple more guiding signs along the road would be helpful, but Kiki sent and email that described exactly how to find the place. Wouldn't want to do it at night though. The room was very clean and was a great stop over on our way to Round Top.
Vicki
2016-10-30T00:00:00Z
Great place. If you want quiet, clean, comfortable, and hospitable then this is your place.
Les
2017-03-11T00:00:00Z
Thanks to Kiki and Don, who are fantastic hosts, my stay at Night Bird Ranch could not have been better. My plans included staying only one night, following an exhibition opening at The Gallery at Round Top, which meant that I would be arriving at the ranch after dark. Kiki provided thorough driving directions (even before I had a chance to ask for them!) that took me from Round Top to the ranch in minutes. Upon my arrival, Kiki greeted me and pointed out where various things, e.g., TV, refrigerator, etc., could be found. Regarding the room itself, everything about it is great, particularly the bed -- so comfortable, and with super-soft sheets! The room is nicely furnished and decorated in warm, earth-tone colors -- it's clear that much thought went into decorating the room. There were guests staying in two of the other rooms, but I didn't hear them, only saw their cars. (Parking is convenient -- you can park steps away from your room's door.) Stating the obvious, but still: If you stay at Night Bird Ranch on a clear night, be sure to look up at the stars. And enjoy the quiet atmosphere and sounds of nature! The next morning, after a good night's sleep, I joined the other guests, and Kiki and Don, in the dining hall. The breakfast spread included more options than many restaurants offer -- I'm pretty sure there's something to satisfy everyone's taste buds and hunger levels here. I filled my plate with scrambled eggs, sausage, and biscuits that are much better than anything I ever cook at home. (Thanks, Don!) Also noteworthy: Really great coffee and huge, tasty muffins. (The country gravy, pancakes, and other items I didn't try looked good, too!) I didn't need to hurry back to Houston or to anyplace else, so I enjoyed spending time sipping coffee and visiting with Kiki and learning about how she and Don came to acquire the ranch and proceed to upgrade it to the level of quality that exists today. And chatting about photography and more. Before leaving, I checked out the ranch's private lake and took some photos -- the ranch is quite scenic! (A drawback of arriving at night as late as I did is that you don't get to see what the ranch really looks like until the next morning!) I could envision Night Bird Ranch being a fantastic setting for events such as weddings and retreats. I left Night Bird Ranch feeling like I was a member of the Teague family. I suspect that most guests leave feeling the same way. In the future, when I'm in need of a place to stay in the Round Top-Warrenton area, I definitely would stay at Night Bird Ranch -- and encourage others to stay there, too!
Molly
2015-02-22T00:00:00Z
Kiki was great! A very warm welcoming at check in. So peaceful wish I would of booked more days, a must come again to place!
Ileana
2016-06-27T00:00:00Z
The ranch was a perfect spot to stay during antique week in Round Top. My buddy and I really enjoyed the animals and the s'mores by the fire pit each night; the weather couldn't have been better! Kiki and her husband were delightful and great hosts. We will definitely be back on our next adventure to Round Top!
Melinda
2015-10-05T00:00:00Z
We were greeted with a big smile.! I had requested king or queen bed and Kiki went out of her way to put the twin beds together to make a king. She asked about breakfast, if there was anything we could not eat. Loved the conversations at breakfast and was just made to feel like we were the only guest. You can tell Kiki and her husband enjoy their business,
Gene
2014-10-03T00:00:00Z
Tipus d'habitació
Habitació privada
---
Tipus de propietat
Bed & Breakfast
---
Capacitat
2
---
Dormitoris
Ledbetter, Texas, Estats Units
Kai Jai's place is conveniently located just outside of Warenton. Clean and accommodating. I made a last minute decision to register for a bike ride in the area and then needed to quickly find a place to stay the night. Kai Jai was extremely helpful and friendly throughout. Very responsive. Would highly recommend!
Michael
2017-02-26T00:00:00Z
KJ is a very gracious host who provided a very clean space in a great part of the countryside with amenities and other details that were exactly as described. She was also very responsive regarding booking and other arrangements. Overall, she was accommodating, hospitable, and gracious during my stay; I would be more than happy to stay again at KJ's place.
Michael
2017-01-09T00:00:00Z
Neat place. The cats are super friendly and the lighting is keen
Keiffer
2017-03-11T00:00:00Z
Tipus d'habitació
Habitació privada
---
Tipus de propietat
Casa
---
Capacitat
2
---
Dormitoris
Fayetteville, Texas, Estats Units
This 700 sq foot guest cottage is small in size but large in charm and amenities. Full bath, fully equipped kitchen, desk, full size futon, front and back porches. There is a ship ladder stairway that leads to a bedroom with queen size bed.
The hosts and their guest cottage could not have been nicer. Donna was very accommodating and helpful and very nice to offer coffee and breakfast goodies at her house in the morning. The cottage is so sweet and has all that you could need, including a beautiful back yard where you can sit on the porch and enjoy the wildlife and view. Our minor disappointments were the sound of the traffic during the night ( surprising for how far off the road the cottage is) and the long path back to the cottage. It was a bit tough schlepping our treasures from the antique fair back and forth from our car, though we did have access to their wheelbarrow which certainly helped.
Beth
2016-04-02T00:00:00Z
What a lovely "cabin" and gracious hosts! Perfect for our trip antique shopping in Warrenton, TX. The Cardinal House is at the back of the property so it is quiet from the main house and road. Donna and Tony were on site to answer any questions but leave you to enjoy their property in peace. Our favorite spot, the back porch, was the perfect place to sit and have coffee in the morning and watch the bird feeders. Everything we could possibly need was available. We toured the main house and saw the other rooms available. They are tastefully decorated, comfortable and private. Check out the old photographs Donna has used to decorate with, they are very interesting. A lot of love has gone into this old house and it shows. We'll be back next year, Thank you Donna and Tony!
Kathleen (Kat)
2016-03-24T00:00:00Z
Thank you Donna. I'm missing the cottage tonight. From greeting us at our late night arrival to hugs at departure, our visit to The Cardinal House Cottage was a real treat. Donna was so helpful with her communications and Tony assisted with making us feel so welcomed. Charming is an inadequate word but it's a start. Attention to detail doesn't fully capture the accommodations but it's a start. Hope to visit you again in the spring. A visit to Cardinal House would be a treat for anyone. Thanks for spoiling us. The hospitality was much appreciated.
Tina
2016-09-30T00:00:00Z
Donna was wonderful and it was a very comfortable place to stay. The grounds are beautiful and the hummingbirds were fun to watch. We will be coming back for sure!
Miriam
2016-09-26T00:00:00Z
Thank you so much for making our stay so lovely!
Shannon
2016-09-29T00:00:00Z
Tipus d'habitació
Casa/pis sencers
---
Tipus de propietat
Casa
---
Capacitat
3
---
Dormitoris
Round Top, Texas, Estats Units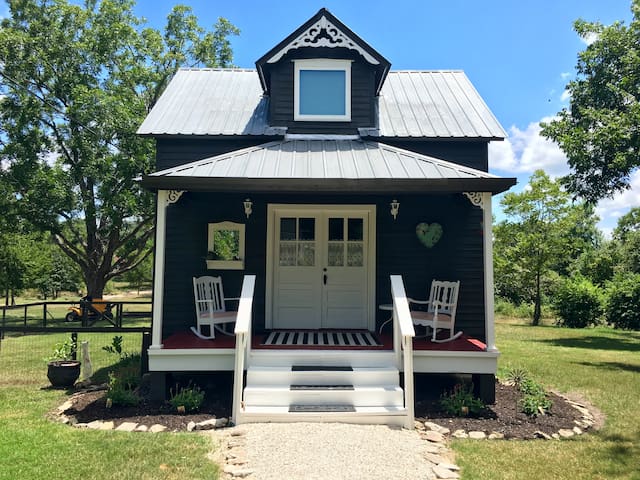 Our place is close to Round Top, Fayetteville, La Grange, Carmine, the Antique Fair, Hill Country Yarn Crawl, the Independence Wine Trail, and the Bluebonnet Wine Trail. You'll love this place because it is located on a working farm, and comes with a king size bed . It is a private space. The cabin is good for couples, solo adventurers, friends and business travelers. We also provide a queen size air mattress in the closet along with linens for maybe a third person or a couple of children.
The cabin has hardwood floors, ship lap walls, vaulted ceiling with reclaimed barn beams. Vintage breadboard and tin ceiling tiles adorn the bathroom ceiling. Quiet and spacious and comfortable.
We are Blue Mule Farm. We are located on 11 rolling acres and have dogs, free-range chickens, Guineas, miniature sheep and 3 Angora goats. There is a barn that has one section built around 1825, and a small vineyard. We also own Blue Mule Fiber....producers of wool and Mohair yarn....and Blue Mule Wines...produced at Rohan Meadery in La Grange....about 8 miles from the farm.
The Cozy Cottage at Blue Mule Farm was fantastic! My daughter and I stayed there and the room was darling and super comfortable. Beth was amazing. What a beautiful person she is. So kind and caring and a wonderful host! And we loved her animals too! We would stay here in again for sure!
julie
2016-09-30T00:00:00Z
Beth was so hospitable and her cottage was adorable and perfect for a girls weekend to Round Top! She showed us all the back roads so that we didn't have to get stuck in the antique fair traffic! She also showed us her fiber work and the yarn that her family makes from the goats on the farm. Such an amazing experience and we will definitely be back!
Rita
2016-10-02T00:00:00Z
The cottage was decorated so nicely and the fridge was stocked with drinks and we had coffee! She even brought in muffins one day! It was a great trip
April
2017-03-15T00:00:00Z
Great and very clean place to stay. Wonderful folks to visit with. Will definitely stay there again.
Denise
2017-04-02T00:00:00Z
Could not have asked for a better place to stay for our first trip to Roundtop. It was the perfect location for antique shopping. Beth and her family were so kind and helpful with everything we needed. My 16 month old LOVED the farm animals too!! Very quiet and beautiful place to stay. Would definitely go back!!
Sarah
2017-03-31T00:00:00Z
My parents stayed at this Airbnb and had a fantastic experience. They loved the keurig, the cute decor, the bed was very comfortable, and the property was beautiful. They really enjoyed taking walks and seeing the animals. It's very close and convenient to Round Top.
Erin
2017-01-29T00:00:00Z
This is by far the quietest, cleanest, most convenient cottage we have ever stayed at. I've been going to Round Top for over 10 years and this was the very best stay ever!
Melinda
2017-03-18T00:00:00Z
Tipus d'habitació
Habitació privada
---
Tipus de propietat
Casa
---
Capacitat
4
---
Dormitoris
Round Top, Texas, Estats Units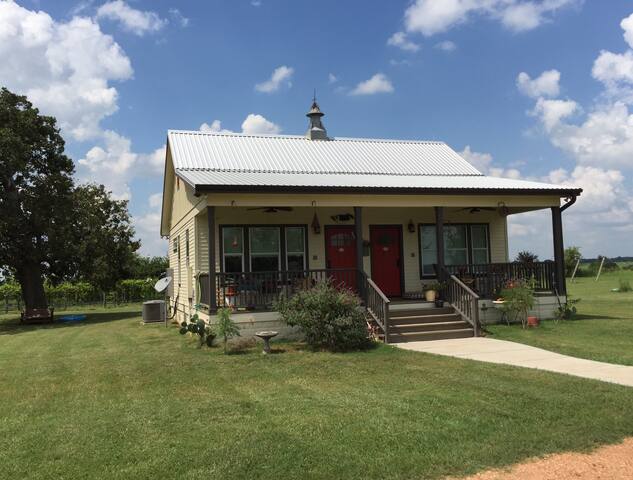 Introdueix les dates per veure el preu total. S'aplicaran tarifes addicionals. És possible que també s'apliquin impostos.