Soukromé ložnice / vana apartmá s dvěma lůžky a knihovnu plnou knih prozkoumat. Připojený lázeň je vybaven velkým, walk-in dlaždice sprchový kout s masážními tryskami "." Tato soukromá ložnice / vana apartmá spí dva. Jeden z lůžek přemění na křesle. Tam je další ložnice pro třetí osobu v případě potřeby. Sdílet společný prostor s ranní kávou bar, venkovní jídelnou a obývacím pokojem s TV s velkou obrazovkou pro sledování DVD.
Tato ložnice se nachází v krásné designer doma s otevřeným obývacím prostorem a gurmánské kuchyni. K dispozici je velká, wrap-around balkon / Lanai s posezením a jídelním koutem. Je obklopen tropickými stromy, květiny a rostliny.
Existuje několik pláží a turistické oblasti v krátké jízdy. Je to venkovská oblast a má maloměstský pocit. Jsme nachází na půl cesty mezi dvěma velkými městy Kailua-Kona a Hilo. Hosté se často používají toto jako základ pro cestovat po celém ostrově na jednodenní výlety.
Karen's house is beautiful! And close to black sand beach, green sand beach and south point. The room is spacious and has a great bathroom! Karen was a fantastic host and we had a wonderful stay.
Meaghan
2017-01-18T00:00:00Z
Peaceful house and room and lovely surroundings; all as described. Karen is a thoughtful, gracious and informative host. We would stay again!
marika
2017-02-28T00:00:00Z
Karen's home in Waiohinu is a real gem — extremely beautiful and tranquil. We particularly appreciated sunny mornings with coffee on the lanai with her cats surrounded by the lush garden. We learned a lot about the area from Karen and her wonderful library. A superb value. Highly recommended!
Brenda
2017-01-30T00:00:00Z
Fresh picked fruit from the garden for breakfast and easy drives to green and black sand beaches, as well as the national park. Karen was a great host and the room was exactly as described.
Kat
2017-01-15T00:00:00Z
Karen's home was just so beautiful and peaceful. Huge lanai and incredible trees. Karen as a host and person was/is incredible! She is lovely and was so helpful to us. We truly met a new friend. I really admired her Artist Heart and love of the Hawaiian Culture. The area was unspoiled and charming. Our stay was truly magical!
Ka'Haiya
2017-02-20T00:00:00Z
Karens place was awesome, clean, cozy and welcoming. We loved her house and herself as a host. She is amazing and super easy going. No complication with the check-in although we were delayed. She made us a super lovely breakfast with the deliscious pastries. Will definately stay in touch as she is a great person!
Ce
2017-03-05T00:00:00Z
Karen is an amazing person very nice and her house is beautiful you see gekos every morning in the sun on her porch. Its a little far from kona and hilo but the view is beautiful.
Maya
2017-01-12T00:00:00Z
Karen was an excellent host and the house/property was beautiful. She gave us a lot of great info about the area and the rooms were immaculate and tastefully decorated. Peaceful and relaxing.
Andrew
2017-01-24T00:00:00Z
Tipus d'habitació
Habitació privada
---
Tipus de propietat
Pensió
---
Capacitat
3
---
Dormitoris
Waiohinu, Hawaii, Estats Units
ハワイ島の静かな隠れ家をお楽しみください是非!快適な2BR / 1BTHハウスは、幹線道路に近く、まだ、非常にプライベートと人里離れたです。近所の物事はサウスポイント、Punaluuブラックサンドビーチ、グリーンサンドビーチ、火山などがあります/参照してください!
この快適な家はナアレフの町の近く、多くの自然のアトラクションの近くに位置しています。 Punalu'u黒い砂のビーチ、ネスティングウミガメを見て、海岸をハイキングするには絶好の場所に18分のドライブ。緑の砂のビーチに20分Kalaeサウスポイントにドライブやハイキング。ハワイ火山国立公園へ車で45分。レストランや有名なPunalu'uベイクショップのカップル特徴ナアレフの小さくて美しい町へ車で5分(偉大な甘いパンや軽食を!)。 プロパティは、(簡単には幹線道路から到達することが)非常に静かで人里離れたです。あなたは緑の牧草地、丘や海への直接ビュー(3マイル離れた)が、何も表示されません。多分時折牛。 これは、途中コナとヒロとマウナケアに望遠鏡を訪問するコナとヒロの間、または旅行のための便利な中心点との間で、絶好のロケーションです。
ナアレフ、ディスカバリーハーバー、オーシャンビューは小さな市場やレストランを備えた、すべての近くにあります。ハナ侯のレストランでは、素晴らしいマックナットパンケーキ、自家製パイを提供しています。 Punalu'uベイクショップは甘いパン、焼き菓子、とランチに人気の駅です。カウコーヒー購入する多くの場所があります(コナよりも良いが!)。
If you are looking to getaway for the normal hustle and bustle this is the place! Celeste has a very quick response time and is willing to answer any questions that you may have. The home was a little tricky to find but worth it. Very clean home with breathtaking views of the ocean. You can sit under the trees and enjoy more cup of locally farmed coffee as you watch the sunrise or, take your dinner outside with a glass of wine and take in the view. We look forward to our next trip to Ka'u and hope to do business with Celeste again.
Sharalyn
2016-01-17T00:00:00Z
Tipus d'habitació
Casa/pis sencers
---
Tipus de propietat
Casa
---
Capacitat
4
---
Dormitoris
Waiohinu, Hawaii, Estats Units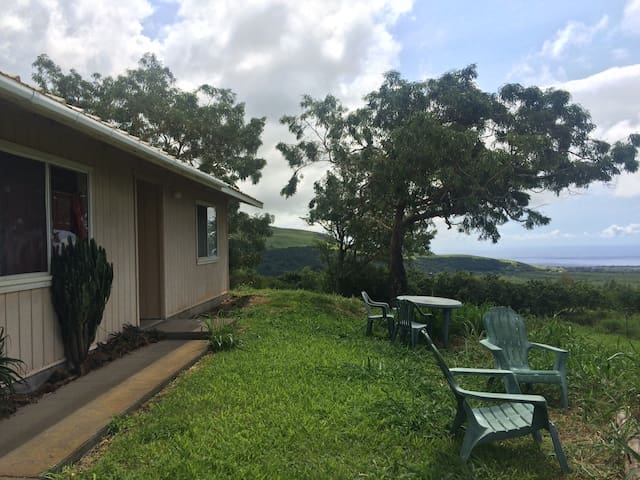 Dieses helle Cottage verfügt über ein Bad mit Badewanne, Internetanschluss (WLAN), Wohn- und Schlafbereich und einen Balkon mit Blick in den Garten.
Machen Sie Ihre echte Hawaii erleben weg von den Touristenmassen und finden Sie Frieden, Ruhe und insgesamt von einem üppigen tropischen Garten umgeben Privatsphäre. Versteckt von der geschäftigen Hektik, unsere 1,4-Morgen-Eigenschaft im Bezirk Ka'u, auf der Insel Hawai'i (Big Island), bietet das perfekte Refugium für Ihren Urlaub Abenteuer. Die Hütte befindet sich 3/4 Meile entfernt von der Hauptstraße, so bietet Privatsphäre und Abgeschiedenheit für Ihr Urlaubsparadies. Cottage Hale Huna (versteckte home) verfügt über ein Bad mit Badewanne, eine Dusche im Freien, Wohn- und Schlafbereich, Highspeed-Internetzugang und eine Veranda mit Blick auf den Garten. Wake up, um den schönen Gesang der Vögel und starten Sie Ihren perfekten Tag mit einem reichhaltigen Bio-Frühstück mit frisch gepflückten Früchten und hausgemachtem Brot auf Ihrem privaten Deck. Genießen Sie einsame Wanderwege in der Umgebung, Erfahrung Küste Wandern Vergangenheit Ka'alu'alu Bucht und Green Sand Beach, oder Vulkankrater und tropischen Regenwald. Wir sind ideal gelegen zwischen Hilo und Kona, auf den letzten 80 Meilen von unbebauten Küste im US-Bundesstaat Hawaii. Es ist 15 Minuten zum South Point, 5 Minuten vom südlichen Eingang des Volcano National Park (Kahuku), 40 Minuten zum Haupteingang und 20 Minuten von der berühmten Punalu'u Black Sand Beach, wo die Hawaii-grünen Meeresschildkröten zu sehen ist aalen auf dem Sand. Nehmen Sie an kostenlose Schnorchelausrüstung, einem Boogieboard und Kühler für einen tollen Tag am Strand. Bis bald! Wenn Sie den echten Geschmack von Big Island erleben wollen, ist dies der richtige Ort! Es wird empfohlen, einen Jeep oder SUV zu mieten, da viele Straßen auf der Big Island ungepflasterten sind (wie die letzte 3/4 Meile zum Haus ist) und Mauna Kea ist nur für 4-Wheel Drive zugegriffen werden. Bitte beachten Sie: Das Hawaii State Tax von 13,42% bei der Ankunft fällig und kann in bar oder US $ persönlichen Scheck bezahlt werden.
Schon Mark Twain war von Waiohinu so verzaubert, dass er hier 1866 einen Monkeypodbaum pflanzte, dessen Ableger zu einem stattlichen Baum gewachsen ist. Ka Lae ist der suedlichste Punkt der hawaiianischen Inseln und vermutlich der Ort, an dem die ersten Polinesier an Land gekommen sind. Bisher gilt die Suedspitze noch als Geheimtipp. Hier gibt es sowohl die schoensten Sonnenaufgaenge, als auch atemberaubende Sonnenuntergaenge zu sehen. Die Suedkueste ist die letzte unbebaute Kueste Hawai'is. Man kann taeglich beobachten, wie Hawaiianer ihre Fische fangen oder mit der ganzen Familie ihr Wochenende hier verbringen. Morgens kann man meist ganz alleine an einem der schoensten Straende (Papakolea) in die Wellen springen oder die Wasserschildkroeten beim Schwimmen beobachten. Auch die hawaiianische Robbe ist hier manchmal zu sehen. Am Punalu'u Strand waermen sich taeglich grosse Wasserschildkroeten in der Sonne. Wer gerne wandert, kann direkt von seinem Cottage aus eine Tageswanderung durch die Natur an einsame Buchten unternehmen, oder an den Wochenenden den neuen Suedteil des Vulkanparks erkunden. Auf dem Weg zum 40 Minuten entfernten Haupteingang des Vulkanparks befindet sich ein Buddhistischer Tempel, in dem seine Heiligkeit der Dalai Lama bereits mehrfach gewohnt und unterrichtet hat. Im Vulkanpark wohnt Pele, die Goettin des Feuers. Beobachten Sie gefahrenlos ihr Treiben und fuehlen Sie sich wie auf einem anderen Planeten.
Pete is an awesome host! We didn't get the chance to meet Sara but they must make a great team! The room was beautiful! The breakfast was beyond delicious! Even the geckos were super friendly! We really enjoyed our time there. Thank you for sharing your piece of heaven with us! Mahalo!
Sarah
2016-05-16T00:00:00Z
First off, Iris was extremely accommodating even before we arrived. Our stay started on the Thanksgiving Eve. Iris asked if we would arrive a bit early so she could have thanksgiving dinner with family after checking us in. We promised! Unfortunately, our flight that day delayed by more than 2 hrs. We tried to grab some fast food in town before heading down to the cottage, but the pre-black Friday traffic didn't cooperate. We communicated with Iris to let her know of the situation. She was very understanding and moved her thanksgiving dinner early for us. Finally we arrived fairly late after dark, and Iris was standing there with a flashlight waiting for us. I couldn't have thought of a better host! The cottage was fantastic and had all essentials. We loved the beautiful tropical garden/farm with avocados, limes, and grapefruit on the trees. Iris was kind enough to ask our preference of coffee or tea for breakfast. The breakfast also included bread/omelet, vegetables, cheese, as well as local honey, jelly, and fresh fruits. We would probably have to pay $20 per person if having the same breakfast in a brunch restaurant. Iris gave us plenty of privacy while also provided quite some advice and local information about where to go and what to see. This was the first stop of our Hawaii trip and we felt like at home!
Huan
2015-11-30T00:00:00Z
Un petit coin de paradis. On se retrouve au milieu d'un magnifique jardin, seul au monde… la maison possède tout le confort nécessaire et est très bien entretenue. On se retrouve dans une atmosphère complètement zen. Iris est une hote adorable, pleine d'attention et d'une gentillesse extrême. Le petit déjeuner, qu'elle vous apporte au petit matin sur le porche, est excellent! Nous le recommandons vivement!
sam
2015-08-20T00:00:00Z
The place is just beautiful and very quiet; we slept wonderful! Cottage is clean, spacious and furnished with taste. Breakfast on the own veranda just as wonderful with self-baked banana bread and rolls! The perfect place to stay a while; next time we stay 2 nights, thank you Iris!
Gabriel
2015-03-08T00:00:00Z
Iris was a great host and the cottage is exactly as described. The cottage is situated in an idyllic part of her garden and is surrounded by many large native trees, a fruit orchard and a beautiful array of flowering plants of all types. If tranquility and getting close to nature is what you are looking for then this is the place. From a logistical point of view, having a rental car is essential. The nearby towns are some distance away and there is very little in the way of any meaningful restaurants or night life. We made a point of having to pick up any essential supplies en-route, but any shortcoming in this regard was quickly surpassed by the most tasty breakfasts you can imagine. We made friends which lots of friendly green geckos who new exactly when breakfast was being served. Although clearly well off the beaten track, Cottage Hale Huna is definitely a jewel in the crown of the Big Island paradise.
Derrick
2015-10-26T00:00:00Z
We arrived just before dark and the directions to get to the cottage were accurate. Iris came out to greet us in the driveway and was very kind and welcoming. She showed us to around the cottage, which well appointed. The garden here is magnificent and one is really tucked away and hidden. Great for folks that really want to hideaway in a little piece of paradise.
Nicholas
2015-12-14T00:00:00Z
Pete and Sara's Hawaiian Hideaway is a hidden gem for those who love to stay off the beaten path. Pete greeted us when we arrived and served up an awesome breakfast. I would highly recommend this place if you love tranquility and waking up to the sound of nature.
Nathan
2017-03-24T00:00:00Z
Very beautiful cottage, absolutely clean and well decorated. Iris is taking care of it as much as she took care of us! We followed all sightseeing advice and tips she gave us and it made our experience in Big Island unique. Another big plus: the fresh organic breakfast Iris is preparing for us every morning! A must! We would recommend this cottage with no hesitation!
Sibylle & Joseph
2015-09-02T00:00:00Z
Tipus d'habitació
Casa/pis sencers
---
Tipus de propietat
Bed & Breakfast
---
Capacitat
2
---
Dormitoris
Naalehu, Hawaii, Estats Units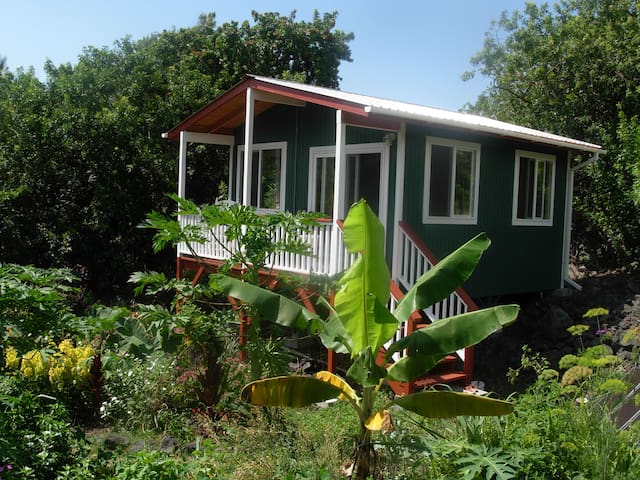 Artistic & peacefully private, spaciously TINY self-contained cabin. Out door shower. Bright outhouse. Comfortable queen air bed. Refrigerator. Full kitchen with stove/oven. Stainless steal pots and pans. Lots of hot water. Wifi on front porch for some computers and phones. Starry sky at night, with bird songs to wake you. No neighbors connected to the land. Qigong lessons available. Set on a bamboo farm.
My farm was developed 24 years ago by my husband and I. We love bamboo and have several varieties. We also have fruit trees, and macnuts. This tiny cabin was a sacred art project honoring the Tibetan culture. A large banana patch is in front of the cabin. Very private. The outdoor shower is private and spacious, next to the cabin, with sink, and lots of hot water. The outhouse is aprox 15 feet from cabin, with bright colors, and clear roofing for light. The outhouse has a bucket, with saw dust to cover after each use. The dirt road is an easy short drive, remember to print out directions, and set your GPS, if you want...easy. THIS IS A NON SMOKING ENVIRONMENT, AND PREFER LITTLE OR NO ALCOHOL.
This neighborhood is rural and very quiet. No street lights, so lots of stars at night. The roads are dirt and can be driven by all cars. Just a couple of streets down from the main paved road. All you need to remember is to print out directions and follow them, and if you use GPS it will get you right here. Inviting you to be happy while driving slowly!! There are no houses directly connected to this property or across the road.
It's great experience in my life. The host prepared many toys for my little boy. Thank you so much.
Jack
2016-06-22T00:00:00Z
Shary's cabin was wonderfully placed among lush vegetation and in a peaceful, quiet neighborhood. She shared some of her home grown fruit with her which was delicious. There is also a kitchen an outdoor dining area which was great although we didn't have the time to use it. The cabin was extremely colorful and airy which was very enjoyable in the early morning and the outdoor shower was extremely clean and well maintained. Shary is also great host with great recommendations and is extremely kind. Our stay here was excellent and highly recommended.
Varvara
2016-01-14T00:00:00Z
Shary sent us a description about the best way to drive to her. The cabin is beautiful and clean between banana trees. Pure nature and fantastic recovery.
Sabine
2016-09-27T00:00:00Z
Shary's cabin is fantastic- far enough off the beaten track to give complete privacy and peacefulness, but very easy to find and access, and situated pretty much in the middle between both Kona and Hilo. Shary was very welcoming and communication was great before and during my stay. The cabin itself was fantastic- beautifully built and decorated, with everything you would need to enjoy a simple stay. The cooking facilities are great, and the private toilet and shower outside were more than adequate. In addition, the cabin is situated next to the banana trees which Shary grows, making the spot even more unique. I would thoroughly recommend Shary as a host.
Iain
2016-02-03T00:00:00Z
We enjoyed Shary's place. It's a great get away for a couple!
Leonard
2017-02-02T00:00:00Z
Shary was really welcoming and always responded fast to messages. She gave me tips where to go to and was always very helpful. Thank you for a nice stay!
Sabrina
2017-03-27T00:00:00Z
I want everyone to know what a perfect little cabin this is and what a great hostess Shary is!! First of all, we arrived and Shary showed us around the cabin and property. She is very friendly and informative. This property shines as an example of what sustainability looks like when combined with comfort. Shary has banana, avocado, lemon, starfruit and other citrus trees on her property. She was kind enough to share a bunch with us. The outdoor shower was simply divine! Shary is extremely accommodating and welcoming. She also teaches qi gong classes in her studio on the property.
Kasey
2015-12-14T00:00:00Z
Shary was an excellent host and her place was dreamy. Tucked in a private little banana & avocado grove, the cabin was cozy, and very very well-equipped. Coffee, honey, fruit, fridge, stove, etc. Shary was communicative & kind, and thoughtful of every need or question we might have. (What do you do if your towel won't dry because you're in a rainforest-like climate? She has a second dry one ready for each of you!) I couldn't recommend her enough.
Meredith
2016-08-28T00:00:00Z
Tipus d'habitació
Casa/pis sencers
---
Tipus de propietat
Cabana
---
Capacitat
2
---
Dormitoris
Na`alehu, Hawaii, Estats Units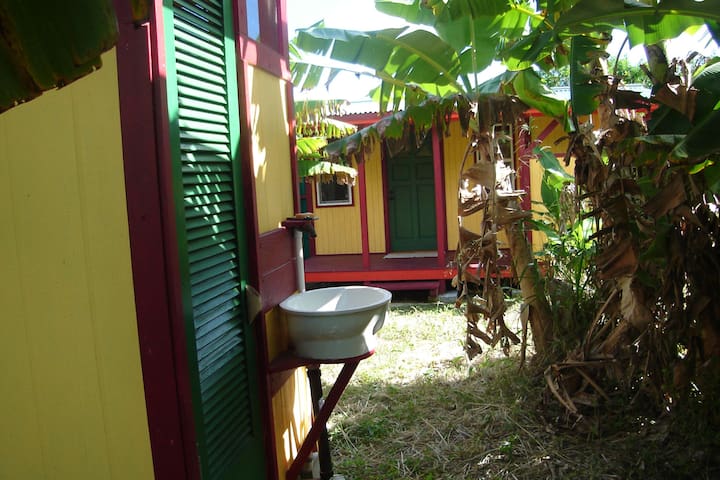 Home est 1 chambre à coucher, avec salle de cuisine, salle à manger et salle de bain, lave-tv et wifi. Situé sur une ferme de fleurs rural, Il y a un café sur la propriété pour profiter du café, smoothies latte du thé et des pâtisseries fraîches dans les jardins. 1 mile sur pointe sud rd off hiway 11 et 40 minutes pour Volcano National Park. National Park Kahuku 1,5 miles. Le sable vert plage, South Point, Punaluu noir plage de sable et Honuapo parc de la plage sont tous à proximité. Yoga dans la serre Sun 9:00 -10: 30 h et jeudi 17:15-à-19h00
Obtenez le hiway 11 en direction du sud. De l'aéroport à environ 60 miles. Vous arriverez à un point route signe sud. Vous ne pouvez tourner vers le bas de manière tourner sur la route de point au sud et aller exactement 1 mile nous sommes l'allée sur la gauche. Il y a des signes sur la route 1. Kalae café et 2. fleurs hawaïennes. Aussi 3 drapeaux bleus sur route. Alors tournez dans l'allée et la tête vers le bas de l'allée delà de la première maison et vous êtes plus petite maison dans le dos. Si vous arrivez après la tombée, nous allons laisser les lumières pour vous et l'accès sera ouvert. Coffee shop est ouvert tous les jours 8-5, l'adresse physique est 94-2166 route pointe sud Naalehu Hawaii 96772
Volcano National Park est à 40 minutes. Nous avons National Park Kahuku 1,5 miles de distance, ils sont ouverts vendredi samedi et dimanche seulement pour la randonnée. Point Sud, plage de sable vert, plage Punaluu Black Sand, Honuapo parc de la plage, sont à proximité. Marché paysan est Mer à Naalehu. Yoga sur la propriété dimanche 9 heures-10 heures 30 et jeudi 17:15-à-19:00 dans la serre avec les fleurs.
Very nice, clean, and private place. Very spacious - you have everything you need there - even a coffee shop in the backyard! Marla is very nice person and she was a great host. Can recommend to everyone.
Pavel
2016-10-28T00:00:00Z
This was a nice spot for the location. Very quite town on remote part of the island
Trish
2016-12-14T00:00:00Z
This place is wonderful , family oriented , friendly , great coffee , great people , beautiful flowers and surroundings , and a real feeling of peace and relaxation . We would go back in a heartbeat.
John
2016-08-15T00:00:00Z
Extremely easy to find, close to south point, comfortable and spacious back house. The coffee from the coffee shop on the land was delicious as well!
Ryan
2016-10-22T00:00:00Z
A little bit of island paradise. Turn into the drive and go past the house; you have your own private place between it and the coffee shop/flower arranging workspace/orchid greenhouses. Have your morning espresso in one of the lovely outdoor garden tables or watch Marla make up a beautiful orchid arrangement. Listen to the frog song at night. You're near sleepy, charming Naalehu and the beauty of windswept South Point; chose between black sand or green sand beaches nearby.
Leah
2016-12-10T00:00:00Z
We liked the instant book option, because we needed a place the next night. Beautiful location, very quiet and private. Marla is very attentive and helpful. She can offer great travel advice. Really comfy bed :)
Melissa
2016-07-21T00:00:00Z
A friend and I stayed here for one night whilst traveling around the island. The rented space is a whole house which has a lot of space. During the evening and night a lot of birds were singing. It felt great to experience nature like this. We really enjoyed the stay here and just regretted that we only booked one night.
Fabian
2016-08-21T00:00:00Z
Perfect place for splitting my time between Kona and Hilo. Love the property, beautiful orchard farm and yummy coffee shop. Great for sharing with 3 friends.
Jaime
2016-10-18T00:00:00Z
Tipus d'habitació
Casa/pis sencers
---
Tipus de propietat
Casa
---
Capacitat
3
---
Dormitoris
Naalehu, Hawaii, Estats Units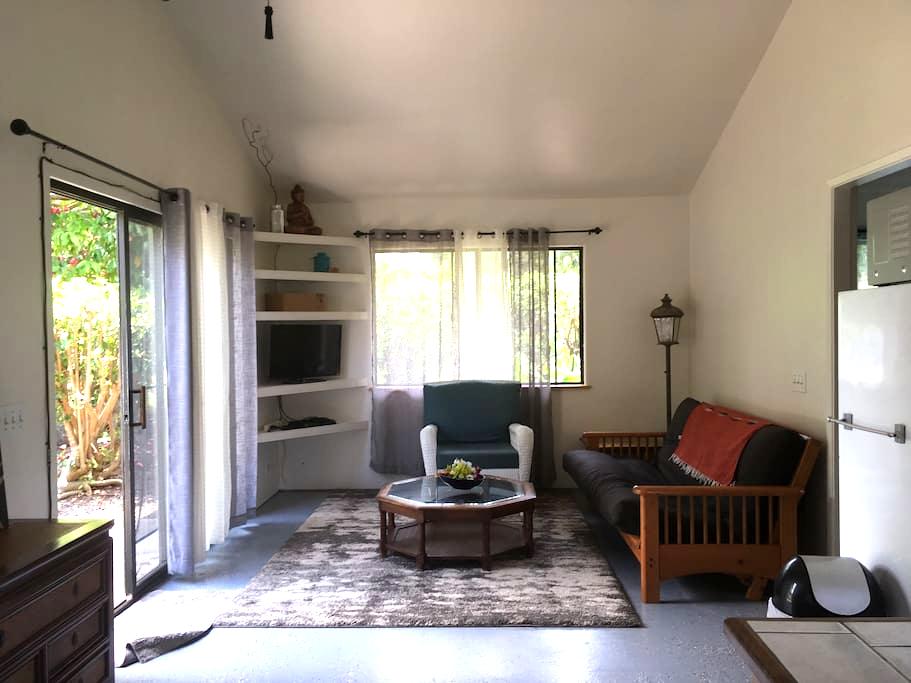 Ein gemütliches komfortables Zimmer mit einem hawiian Anpflanzung Ambiente. Wir sind ein Zwei-Zimmer-Motel und jede Einheit ist eine eigene Kabine. Es befindet sich in dem Land am südlichen Ende der Big Island von Hawaii. Hana Hou Restaurant ist nur über die Art und Weise für eine gute hausgemachte Speisen.
Aloha! Hana Hou Cabin-Motel bietet die Möglichkeit, sich zu entspannen und Ihren Aufenthalt in einer Kleinstadt im ländlichen Hawai'i genießen, auf der Big Island. Das Hotel liegt neben dem Hana Hou Restaurant, müssen Sie sich keine Sorgen über das Kochen oder für ein gutes Essen zu suchen. Die Kabinen sind auf halbem Weg zwischen Kona und Hilo, im Ka'u District. Denken Sie daran, dass Sie sich hinter einem beliebten Arbeits Restaurant sind, und es hat noise.Also Sie im Land sind und hören Vögel und Hühner vielleicht eine Ziege oder Kuh ... das ist kein Urlaub Wohnung ist es ein ländliches hawaiische Motel, aber die Betten .. sind neu und bequem die Zimmer sind sauber .. und das Wasser ist hot.Cable tv und im Zimmer wi-fi sind ein Plus. Wir sind eine Klimaanlage kostenlos und nutzen die offenen Fenster und Winde zu uns bequem machen. Es ist ein schöner Ort zwischen Kona und Hilo und perfekt für Sie bleiben während erforschen, was der südliche Teil der Insel zu bieten hat. Wir haben einen sehr schönen eingezäunten Hinterhof und kleinen Pavillon für Ihren Genuss. Entspannen Sie jetzt in Hawaii sind. Nutzen Sie in einer Stadt wohnen, die in der Nähe von verschiedenen Sehenswürdigkeiten entfernt, die alle die Bedeutung von "Old Hawai'i" ausstrahlen. Ka Lae (South Point), The Green Sand Beach und Punalu'u Black Sand Beach, gehören zu einigen der unberührten Küsten hier in Ka'u. Weitläufige Ranch Land, Bergwandern, die berühmte Hawai'i Volcanoes National Park und dem neuen südlichen Teil von Kahuku sind nur entfernt ein Laufwerk. Entdecken Sie Lavahöhlen, Schnorchel, eine Kaffee-Farm oder den Vulkan Weintour und von der Quelle kaufen. Ka'u ist die perfekte Öko-Touristenziel, und die Kabine-Motel ist perfekt für eine Nacht, als der Vulkan zu besuchen. Beseitigen Sie die lange Fahrt zurück nach Kona oder Hilo und besuchen Sie die anderen Sehenswürdigkeiten in Kau am nächsten Tag. Jede Kabine verfügt über ein eigenes Bad mit Dusche und Pflegeprodukten. Es gibt einen schönen privaten Garten für Sie in der Morgensonne Faulenzen genießen oder in der kühlen Brise Ka'u entspannen, die den ganzen Tag über fließt. Ergreifen Sie etwas Frühstück von unserem Restaurant und speisen wieder im Pavillon. Treffen Sie einige der freundlichen Leute, die Na'alehu ihre Heimat sowie unsere gastRestaurantPersonal rufen. Jede Kabine ist mit einem brandneuen Queen-Size-Bett, frische Bettwäsche und flauschigen Kissen ausgestattet. Die Zimmer sind ideal für Singles oder ein Paar. Wir haben Boden Futons für die Kinder. Für Ihre Bequemlichkeit bieten wir auch einen kleinen Kühlschrank und eine Kaffeemaschine, die den berühmten regionalen Ka'u Kaffee enthält in Ihrer Freizeit zu brauen. Ein kleiner Kühler ist für Eis und frei Minen zur Verfügung gestellt zur Verfügung, wenn das Restaurant geöffnet ist. Sonderpreise für längere Aufenthalte zur Verfügung. Wir haben eine Bar auf der Straße ein Lebensmittelmarkt über die Sie ad Straße kann zuwinken der Hele Ein Bus überall in der Stadt. Der Busfahrplan ist im Internet verfügbar. Hana Hou Restaurant Zeiten sind von 8.00 bis 20.00 Uhr 7 Tage die Woche ruhige Zeit ist von 21.30 bis 07.00 Uhr. Rauchen nur im Freien. Studio Kabine - $ 60 pro Nacht 1-BedroomSuite Kabine - $ 75 pro Nacht Es wird eine 48 Stunden Stornierungsbedingungen gelten. Wir akzeptieren Visa, Mastercard oder Cash. Mieten unterliegen 13.25% Steuern.
Patty was very helpful when I had issues with booking on the airbnb site due to internet issues. She returned my call promptly after I was able to get it through the restaurant. The place was cute and clean, loved the garden outside. Somehow the hatch on our car came open in the night, the neighbor in the other unit alerted me to it in the morning, nothing missing, a safe neighborhood. We ate at the restaurant, they were able to accommodate my food allergies and the food was very good!
Marci
2016-05-14T00:00:00Z
Convenient location and Patty the owner was great with communication.
Phuong
2017-03-23T00:00:00Z
Location is perfect for us. Restaurant within the property was convenient. The availability of washer and dryer for us to use was a big plus. We never met Patty. Everyone else at the restaurant helped us fine. Check in and out was smooth
Edwina
2016-11-15T00:00:00Z
Patty was awesome and very easy to work with on a last minute booking. My girlfriend had a lovely time and slept amazing in their very comfortable beds.
Matthew
2016-12-10T00:00:00Z
Patty was out of town when we arrived but check-in was easy. The room was clean and comfortable. We stayed here after going to the south point and on our way to Volcanoes National Park. If you are looking for a place near the south point, this is a great location. Otherwise, there isn't much nearby. The restaurant next door has decent food.
Bruce and Amy
2016-05-31T00:00:00Z
Everything was great! The suite was very clean, Wi-Fi worked well, and it was advertised accurately. The Hana Hou macadamia nut cream pie and lilikoi cheese cake were delicious. This was a great place to stay and have a hot shower after a day at Volcanoes National Park, followed by Mauna Kea, on our way back to Kona. Thanks!
Camille
2016-11-14T00:00:00Z
Patty was very accommodating with our schedule and made it very convenient for us to check in late. The suite is very charming, extremely clean and well equipped. There are also amenities like a microwave and washer dryer that is shared with the other suite. Its a great base location if you are visiting the green sand beach or the volcano. Also don't forget to eat at the restaurant.
Arpan
2015-05-02T00:00:00Z
We had a very pleasant stay at Patty's Motel, everything was clean and tidy. Good location for a stopover between south point and Volcanoes National Park (30min drive each). Cabin's are spacious and well furnished!
Marina & Nicolas
2016-07-29T00:00:00Z
Tipus d'habitació
Habitació privada
---
Tipus de propietat
Pis
---
Capacitat
3
---
Dormitoris
Naalehu, Hawaii, Estats Units
échapper vraiment à tout ce que rustique South Point a à offrir, avec le luxe d'un chalet moderne et pittoresque adorable. Ce petit bijou est à l'énergie solaire et se trouve au sommet du point de notre propriété le plus élevé, vous donnant des vues incroyables de nos jardins luxuriants, l'océan, les étoiles et tous les levers et couchers de soleil vos désirs de coeur! Votre chalet est également livré avec des fruits frais biologiques de notre propriété. Rendez-vous au paradis!
Profitez de l'intimité totale dans ce chalet à distance, situé à 15 minutes de Ka Lae (Southpoint), à 10 minutes de Kahuku (entrée sud du parc national de Hawaii) et à 20 minutes de la célèbre Punalu'u Black Sand Beach. Situé sur 1,4 acres de jardins biologiques, chalet Hale Moana offre le refuge parfait pour vos aventures de vacances. Ce chalet ne vient pas avec le célèbre petit-déjeuner de Pete, mais des exceptions peut toujours être faite.
Nous sommes idéalement situés entre Hilo et Kona, sur les 80 derniers miles de la côte sous-développés dans l'État d'Hawaii. Il est à 15 minutes de South Point, à 5 minutes de l'entrée sud du parc national du volcan (Kahuku), 40 minutes à l'entrée principale et à 20 minutes de la célèbre Punalu'u Black Sand Beach, où les verts Hawaiian tortues de mer peuvent être vus prélassant sur le sable. Il y a 2 restaurants et une boulangerie dans la petite ville de Naalehu. Shakas Bar and Grill et Hana Hou. Il y a aussi quelques restaurants à Ocean View. Ka Lae Garden Thai et Bar and Grill Mehe. Prenez le long de notre matériel de plongée gratuit, boogie bord et refroidisseur pour une belle journée à la plage. À bientôt!
WOW! The cottage and the views are absolutely legendary. It's 100% nature. Everything was exactly as described and clean. Pete and Sara were very communicative and extremely friendly. Upon arrival Pete was there to greet and guide us. We would definitely stay again and recommend this to anyone. Mahalo!
Felix
2017-03-16T00:00:00Z
This place was amazing, and beyond our expectations. beautiful cottage, with a spectacular view! Pete and Sara were excellent hosts and the breakfast is a must! The cottage was clean, and so cute, with a great location. Green/black sand beach were both very close, and volcano only about 30 min drive. We really enjoyed our stay here, and will be booking again on our next trip to the big Island! Thank you pete & Sara
Corey
2017-03-22T00:00:00Z
Great place to stay off the beaten path, stunning view every morning, very quiet, excellent breakfast and awesome hosts. The instructions to get there are a bit like a treasure hunt, but once you arrive it's totally worth it. Get the breakfast!
Matthew
2017-02-24T00:00:00Z
First point: definitely rent this place for wonderful peace and quiet - nice and breezy - very clean - nice hosts - all pretty great - but ONLY come down the long bumpy road in at least an SUV - no small cars. And allow an extra 20 minutes to all your day tripping plans. Well worth it though.
Les
2017-03-05T00:00:00Z
You won't want to leave! This was our favorite place on the big island (out of 5 on our trip). The cottage is set on a beautiful property with fruit trees and a tropical garden-like setting with expansive ocean views towards south point. You are greeted with a basket full of fruit and warm pineapple banana bread (I'm sure it changes per stay). The place is well stocked with all necessary cookware, condiments, coffee, kitchenware etc and you see the sunrise right from your bed. Other items are also included like snorkel gear, boogie board, beach towels, games and books. The balcony and hammock are great for hanging out and enjoying the views and seabreeze. Pete and Sara live nearby and were very helpful and friendly; I recommend having the breakfast at least one morning if not included with your booking. Fair warning it is a little off the beaten path down a dirt road for a few minutes but only about 10 min from Na'alehu, 20 min from Ocean View and about 25 min to South Point. We would definitely recommend the Hawaii Hideaway Cottages and hope to visit again someday.
Miguel
2017-03-12T00:00:00Z
Anytime again! Feb. 2017 We enjoyed our stay at the Hawaii Hideaway, very much. This peaceful and quiet place gave us a perfect slow down. Pete and Sara where great hosts, they spoild us with delicious pancakes (the pineapple one was our favorite!), fresh garden fruits and very good homemade bread! We can warmly recommend this place.
Monica
2017-02-20T00:00:00Z
Pete was there to greet us, very friendly guy. wonderful place would definitely go back. Bed was super comfortable!
Michael
2017-03-09T00:00:00Z
Nice place, clean and quiet. Perfect to rest after spending the day hiking in the volcanoes park or taking sun at the beach. Location is really a big plus. I would really suggest to use a SUV or 4WD car to reach Pete and Sara place (as a side note, trust Pete on directions, not your GPS if you don't want to make a rally on unpaved roads). The cottage is well furnished with everything you may need. Speak with Pete about his special breakfast, it's awesome. We will come back for sure!
Romain
2016-10-20T00:00:00Z
Tipus d'habitació
Casa/pis sencers
---
Tipus de propietat
Casa
---
Capacitat
2
---
Dormitoris
Naalehu, Hawaii, Estats Units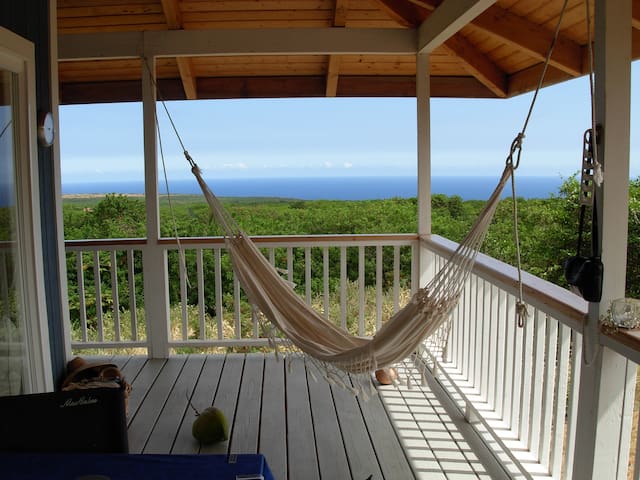 Оставайтесь с нами и ПОДДЕРЖКА Органических Фермах Мы растем и ROAST наши собственные K`AU КОФЕ НА САЙТЕ! Вы бесплатно получаете образцы нашей темноте и средней степени обжарки кофе в нашем `Ohana! Органичный ФАРМ находится недалеко от PUNALU`U Black Sand Beach, зеленый песчаный пляж, Hawai`i Вулканы Национальный парк Новый Южный вход. Вы будете любить нашу область из-за WILD первозданной природы! Отлично подходит для пар, сольных авантюристов, семьи (с детьми), и большие группы, встреч, мини-искусства или Йога ретриты. У нас есть 2 больших фермерских домов, а также. ПРОСИТЬ!
ВЫ SAFE на огороженной 20 акр Organic Farm Estate! Вы можете дышать чистым воздухом, и вы и ваши дети могут катиться на чистую здоровую траву без страха химических веществ. Мы предлагаем одни из лучших Родниковая вода в мире в наших многоразового использования 5 кувшинах галлона насоса. Вид здоровых ошибок будет заверить вас, что Земля все еще живы и здоровы на нашей ферме! Наш `Оана является одним из наших трех домов на имущество. Каждый дом находится на его собственные 4 или 5 акров так что ваша конфиденциальность гарантируется. Тем не менее, мы рядом, если вы нуждаетесь в нас. СВЕЖИЕ ФРУКТЫ & ORGANIC ORGANIC LAMB изобилует в наших садах. Пожалуйста, дайте нам знать заранее, если вы хотите заказать любой из баранины или сельскохозяйственной продукции, чтобы они ждут вас в вашей аренды единицы. Вы можете бросить свой влажный мусор через забор к биодеградации. Есть утилизация контейнеров, а также для сбора мусора.
Наш K`au район (около девятого нашего острова) больше, чем весь остров Оаху! Тем не менее, у нас есть только 7000 жителей ... Йеай! Мир и спокойствие это название нашей игры вместе с девственными пляжами бурных что вы можете иметь все себе
The host canceled this reservation 22 days before arrival. This is an automated posting.
Mary
2016-11-22T00:00:00Z
I highly recommend staying here. Barney and Elizabeth are great, and so is Winston the wonder dog! The location is fantastic, easy access to either side of the island. Coffee-amazing! We would love to come back again!
Blain
2016-12-24T00:00:00Z
Tipus d'habitació
Casa/pis sencers
---
Tipus de propietat
Pis
---
Capacitat
3
---
Dormitoris
Naalehu, Hawaii, Estats Units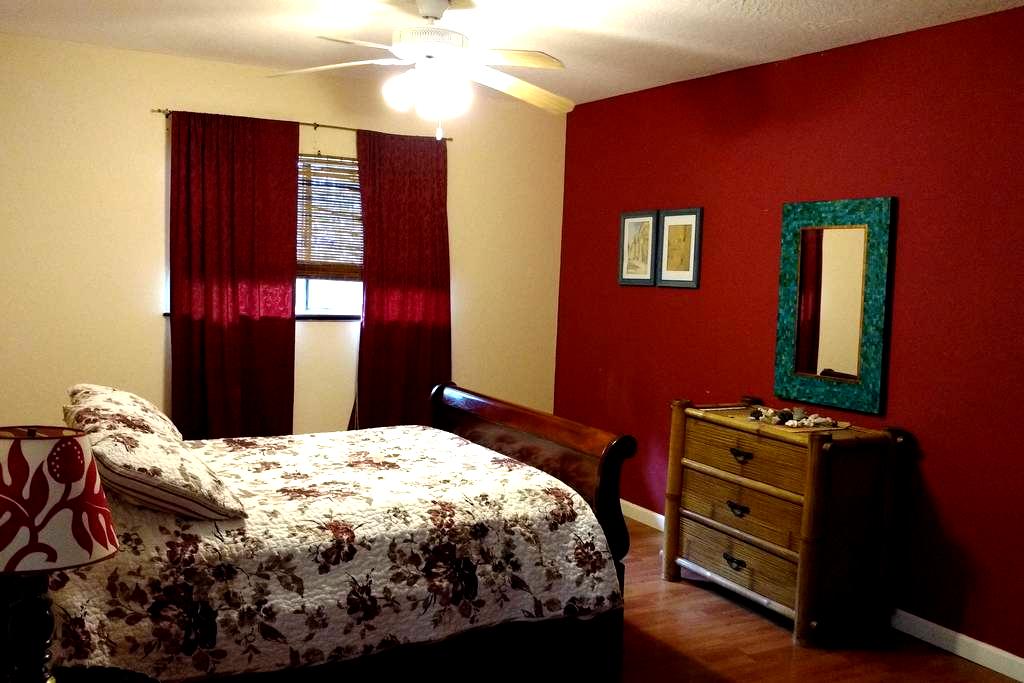 Venez vous détendre et profiter de notre escapade traditionnelle hawaïenne sur la grande île d'Hawaï. Notre chalet est situé dans la ville de Naalehu, la ville la plus méridionale des États-Unis. Pendant votre séjour, vous pourrez profiter du vert Sands Beach mondialement célèbre, Black Sands Beach (où le nid de tortues de mer), Punalu'u Boulangerie, Bar Shaka, le célèbre Point South Point jump-off, et deux magnifiques terrains de golf. Il y a beaucoup d'activités pour les amateurs d'aventure et des plages pour profiter de la détente. Profitez de certains Aloha!
Big Island Cottages est l'endroit idéal pour ceux qui cherchent à vivre comme les locaux pendant leur temps sur la côte sud de Hawaii (Big Island). Il est à distance de marche de la ville et offre un accès pratique à de nombreuses plages, Hawaii Volcanoes National Park et South Point. Le chalet a beaucoup de lumière naturelle et de l'espace pour un maximum de 6 personnes, et il est l'endroit idéal pour se détendre après une journée de découverte de tout ce que Hawaii a à offrir. Tout ce que vous avez besoin pour votre escapade est juste dans le chalet - cuisine entièrement équipée, des lits confortables, un salon pour se détendre, et belle Hawaii à votre porte.
Naalehu ( "les cendres volcaniques" en hawaïen) est la ville la plus méridionale des États-Unis Si vous cherchez à échapper à la foule, profiter des plages parfaites, et être entouré par la beauté de la vieille Hawaii, Naalehu est juste pour vous. Il y a un sens de la communauté et le respect de la nature que vous ne trouverez nulle part ailleurs. Il y a aussi un marché de producteurs locaux le mercredi et le samedi, vous ne voudrez pas manquer!
The perfect cottage in Naalehu... Communication through the process was immediate. Wonderful arrival and generous host! If you are in the area there is no better value and the house was well equipped and very comfortable. PS: Cherie makes a great tostada!
edward
2016-11-01T00:00:00Z
Tipus d'habitació
Casa/pis sencers
---
Tipus de propietat
Casa
---
Capacitat
2
---
Dormitoris
Naalehu, Hawaii, Estats Units
Genießen Sie aufwachen, um Aussicht auf das Meer, in Ihrem eigenen Studio mit einer kompletten Küche und ein großes Bad. Wanderer-Paradies mit grünen Sand, den Vulkan und Südspitze Wegen der Nähe! Nehmen Sie eine kurze Fahrt zum südlichsten Teil der USA, genießen einen atemberaubenden Blick auf dem Weg.
Genießen Sie Ihre eigene Küche, Bad, Terrasse und Wohnraum, umgeben von üppiger Landschaft und tropischen Pflanzen. Die Veranda wird von einem grasbewachsenen Hof mit 180 Grad Meer und die Berge umgeben. Es gibt zwei Hunde und eine Katze, die auf dem Grundstück. Sie sind sehr freundlich und können Sie gelegentlich begrüßen. Es gibt einen zusätzlichen Raum mit Queen-Size Bett für Großfamilien oder mehrere Gäste, wenn nötig. Dieser Raum ist getrennt von dem Studio und von der Küche aus zugänglich. Toller Ort zum Übernachten und die Insel zu erkunden! Mit Volcano National Park, Grünstrand, Black Sands "Punalu'u" und South Point in der Nähe. Sehr ruhiger Ort, um nach Hause zu kommen nach langen Wanderungen und Tage zu erkunden.
Das Frühstück wird in Ihrem Aufenthalt inbegriffen. Wahrscheinlich ein Puna Papaya, Brot Punaluu Bäckerei mit hausgemachten Lilikoi oder Passionsfruchtgelee und eine frische Tasse preisgekrönten Ka'u Kaffee. Sie können es auf Ihre private Veranda genießen. Das Studio ist neu mit Teppich umgebaut, Farbe, Fliesenböden und Granit. Es kommt komplett mit sauberer Bettwäsche, Handtücher, Seife, Teller, Tassen und Besteck. Die Küche verfügt über einen großen Kühlschrank, Herd, Backofen, Mikrowelle, Toaster und Kaffeemaschine. Die Waschmaschine und Trockner ist eine Tür aus der Küche entfernt, sowie eine kleine Bibliothek mit meist Kunst und Insel Bücher zu erkunden. Es gibt auch einen Grill zu benutzen.
Loved our stay here. Very clean, and even nicer and more spacious than pictured. The full kitchen was great: we made some gourmet meals (and drinks) with the fruit provided, and the pastries were perfect for breakfast. Very convenient location for exploring Ka Lae, yet nice and quiet tucked away in our own private area. Highly recommended!
Alyssa
2017-03-01T00:00:00Z
Comfortable accommodation, very good facilities. Everything was ready by agreement. Linda is exceptionally lady. Breakfast we were very pleased.
Radek
2017-03-15T00:00:00Z
Really a nice spot with access to nearby green sands beach and volcano national park. Very friendly dogs that Linda will let you play with it you are not afraid of dogs. LOTS of fresh fruit trees on the property.
David
2017-01-03T00:00:00Z
Paul and Linda are excellent hosts! Quiet, clean, comfortable place whith a well-equipped kitchen. The location is great for exploring South Point and its surroundings. Highly recommend staying here!
Eduard
2017-04-04T00:00:00Z
We had a wonderful experience here. The place was beautiful and had everything we needed (comfy bed, full bathroom, well stoked kitchen). It was great having Linda right next door to answer any of our questions, and the dogs on property were so cute and sweet! We would definitely stay here again.
Kiersten
2014-12-17T00:00:00Z
Linda and Paul were exceptional hosts, very helpful and kind. The studio is beautiful, with lots of space, a full kitchen, bath, and a private yard with ocean view. The dogs are super cute, friendly, and loving. The studio is close to green sands, south point, and punuluu bakery. We enjoyed our stay, thank you.
sean
2015-06-27T00:00:00Z
The private apartment is incredibly cute and comfortable. It has its own fully functional kitchen and is exceptionally welcoming. Linda, our host, displayed all the warmth and hospitality you could ask for. She gave us a tour, then left us on our own to enjoy our little paradise. She even left us the most perfect papaya ever. It is about as close to green sand beach as you can get, 20 minutes from south point, 20 minutes from the black sand beach and 40 minutes from Volcano. Be sure and and call before you arrive because the grass driveway is easy to miss. Overall a fabulous experience.
Lachlan
2014-10-28T00:00:00Z
I had a very pleasant stay in this apartment. Linda welcomed me and showed me around, and provided fruits and breakfast, which was very nice. The studio is very well equipped. There are so many details that make you just feel welcome. I really enjoyed staying there, many thanks!
Katrin
2015-01-13T00:00:00Z
Tipus d'habitació
Casa/pis sencers
---
Tipus de propietat
Bed & Breakfast
---
Capacitat
4
---
Dormitoris
Naalehu, Hawaii, Estats Units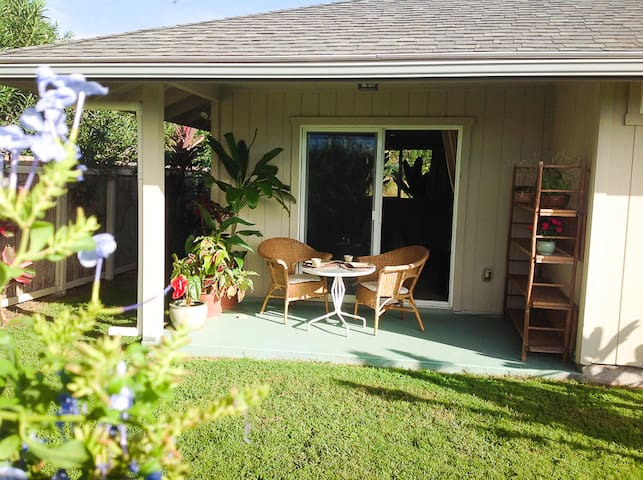 Dieses malerische Häuschen umgeben von tropischer Vegetation befindet sich in einer ländlichen Gegend am südlichen Ende des Big Island. Es ist bequem an der Autobahn, aber dennoch ruhig und privat, mit eigenen Parkplatz. Die Einrichtung ist künstlerisch und romantisch. Wir sind nah an den Attraktionen von South Point, Green Sand Beach, Black Sand Beach, Ka'u Kaffeemühle und leicht mit dem Auto zu Volcanoes National Park.
Stayed here for 5 nights and loved it! Karen is very sweet and inviting. The place was extremely nice and clean when we arrived and it made us feel at home. Thank you!
Drake
2017-04-02T00:00:00Z
A really nice and cozy place which is directly in the beautiful nature of Big Island. It has everything you need for comfortable stay and Karen was also super nice. We can definitely recommend it. If you stay here you shouldn't be scared of geckos or spiders as they are all around. :)
Daniel
2017-03-26T00:00:00Z
Tipus d'habitació
Casa/pis sencers
---
Tipus de propietat
Cabana
---
Capacitat
2
---
Dormitoris
Naalehu, Hawaii, Estats Units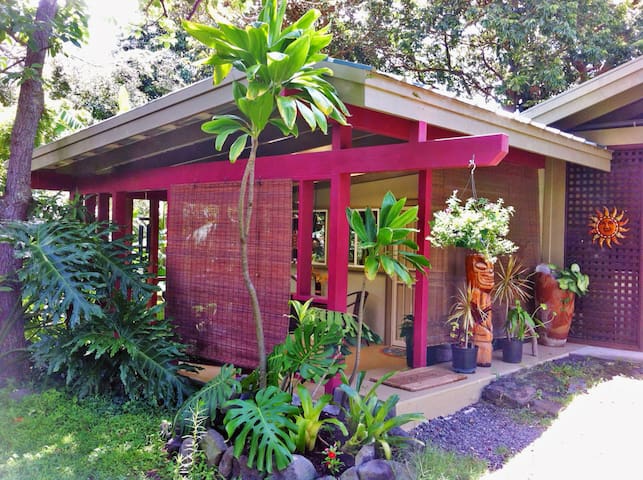 Ma place est à proximité des transports en commun, Parc national du Volcan, Vert Sands Beach. Vous allez adorer ma place à cause du privé, ultra moderne et New. Ma place est bonne pour les couples et les familles (avec enfants).
Nice place, well laid out. Wonderfully firm but not hard bed. Very clean and comfortable. Wesley is a thoughtful host and brought us freshly roasted coffee beans to enjoy in the morning. Great Ka'u coffee very darkly roasted. Yum! This is a great place to access black and green sand beaches!
Jeri
2017-02-28T00:00:00Z
The guest house was nice and private! It's very close to the southern point and green sand beach! The house was clean and welcoming. My husbands only complaint was no tv (which was fine because we watched a show on our iPad) and he wished there was curtains... this was our first airb&b experience and it did not disappoint. Wes was super sweet as well as Bella the dog! I would stay again!
Nikki
2017-03-18T00:00:00Z
Nice house.
Josef
2017-02-09T00:00:00Z
Wesley's place is great! Perfect spot to stargaze on the back porch at night.
Katelyn
2017-03-28T00:00:00Z
The place was absoltely beautiful. It was clean, modern, high cielings, secluded but in a strategic location. It had all the amenities necessary, a fully operational kitchen and bathroom, and an incredible view from the lanai. Wesley was a wonderful host and very easy to reach.
Dale
2017-03-26T00:00:00Z
Wes was simply amazing. He has a a beautiful home and does a great job making guests feel very comforatable. I would absolutely stay there again. The place is very clean and quiet.
Elaine
2017-04-01T00:00:00Z
Secluded, clean, modern, very well priced.
Sean
2017-03-31T00:00:00Z
A comfortable place, nicely furnished and very clean. The little town of Naalehu, is just 10 min away by car. The town has the southern most bakery in the USA. Shake restaurant and bar has good food. The is golf close by and Black Beach and Green Breach are a easy drive, as is Volcano National Park. Hilo and Kona are one and half drive away. Well worth the trip.
Douglas
2017-03-17T00:00:00Z
Tipus d'habitació
Casa/pis sencers
---
Tipus de propietat
Pis
---
Capacitat
2
---
Dormitoris
Naalehu, Hawaii, Estats Units
Tato malá kabina je tak příjemný, je to jako váš domov daleko od domova. Najdete zde největší vše, co budete potřebovat při pobytu zde. To je zastrčený mezi stromy s sopky národní park přímo na dvorku! Budete přát, abys mohl zůstat déle!
하와이의 또 다른 경험은 당신이 찾고있는 무슨 경우 다음이 당신을위한 장소입니다. 키가 큰 Ohia 나무와 당신을 세레나데하는 열대 조류의 제비에 의해 둘러싸인 숲에 자리 잡은이 귀여운 아늑한 오두막을 경험 가자. 빅 아일랜드의 남부 대부분의 경우에 토지의 문, 평화로운, 매우 개인 20에이커 조각에, (이 시간에 추운 비트를 얻을 수 있습니다 의미) 2000 '고도, 화산 국립 공원의 가장자리에 위치하고 있습니다. 식료품 점과 레스토랑 코나와 힐로의 중간에 위치한 근처에 삼십마일는 용암 15 마일 유명한 녹색 모래 해변과 Punalu'u 검은 모래 해변에서 바다로가는 볼 수있는 하와이 화산 국립 공원 당신은 모래에 sunning 하와이 모 거북이를 찾을 수 있습니다. 오두막은 퀸 사이즈 침대가있는 침실, 수요 뜨거운 물, 완벽한 부엌을 많이 한 욕실이 완전히 자기 충분하며, 그리드 오프 - 태양 광 발전, 물 집수, 프로판 제품. 리넨, 식기, 냄비와 프라이팬, 믹서기, 및 커피를 눌러 사용자의 편의를 위해 사용할 수 있습니다. 전원이 태양, 아니 헤어 드라이어, 헤어 아이언, 또는 자연의 사물에서이기 때문에 사용할 수 있습니다. 엔터테인먼트를위한 영화의 다양한 DVD 플레이어가 있습니다. 대부분의 휴대 전화는 여기에 일을하고 인터넷을 선택합니다. 흡연은 외부 허용. 어떤 외부 손님이나 방문객이나 애완 동물을 기쁘게하지 않습니다.
화산 국립 공원 Kahuku 단위가 바로 옆이고 당신의 운전과 금요일, 토요일, 일요일에 주위에 하이킹을 할 수 있습니다. 당신이 자연과 쉽게 하이킹에 있다면, 그것은 수행해야합니다.
Connie's place is fantastic. We loved everything about it. Very relaxing, peaceful, and private. Connie was a great host!
George
2015-07-05T00:00:00Z
The Cabin was Perfect for us. It was a really Great experience to life off the grid for a couple of days. Connie was really helpful, especially before arrival to make sure that we would find everything. We would definitely stay here again.
Wiebke
2016-01-17T00:00:00Z
Connie's place is delightful, as well as unusual. The setting couldn't be lovelier, well removed from busy roads and resorts and immediately adjacent to national park land. Further, thanks to Connie's artistry, the entire driveway and area surrounding the accommodations are beautifully landscaped. The independent home/apartment is comfortable, immaculate, and well furnished. It was a pleasure to meet and chat with Connie, too, who is friendly and personable, and who clearly takes pride in her success of living "off the grid." We appreciated her communication with us both prior to and during our stay, and we definitely recommend her place to other airbnb travelers.
Robert & Candice
2015-04-26T00:00:00Z
It was my third stay at this peaceful house. That says everything, I think. My girlfriend and I arrived later than expected in darkness. I called Connie and she was nice as always. When we arrived she was already waiting for us at the gate. A perfect host! Even though we had quite a bit rain, this place amazes me again and again. Thanks you very much Connie
Gianni
2015-05-22T00:00:00Z
Connie is wonderful! Quick responses, great at communication, and a genuinely kind person. Her cabin is a great value, and offers a comfortable and serene stay.
Charles
2017-03-19T00:00:00Z
Fantastic spot - very private and secluded cabin. Beautiful view of the hills and surrounded by greenery. Not much nearby but that's exactly what we wanted - very well equipped space (fully functional kitchen) and spotless. Our interaction with Connie was brief but very pleasant. Would definitely recommend and stay again next time!
Hussein
2017-02-10T00:00:00Z
The cabin was lovely,private and it is in a secluded and beautiful tropical setting. Connie kindly provided some coffee and treats and was a gracious and considerate host. We would have loved to stay longer had our travel plans allowed.
Susan
2014-09-08T00:00:00Z
Connie gave us a very warm welcome, even though we came very late in the evening. Her little cabin is furnished with a lot of taste and is absolutely lovely. When we woke up in the morning we were really overwhelmed how beautiful the view into the pasture is. And we simply fell in love with her piece of land which she has turned into a green paradise. We really enjoyed our stay which was definitely too short and stay longer to have a chat with you Connie. Mahalo!
Tobias
2012-09-19T00:00:00Z
Tipus d'habitació
Casa/pis sencers
---
Tipus de propietat
Cabana
---
Capacitat
2
---
Dormitoris
Naalehu, Hawaii, Estats Units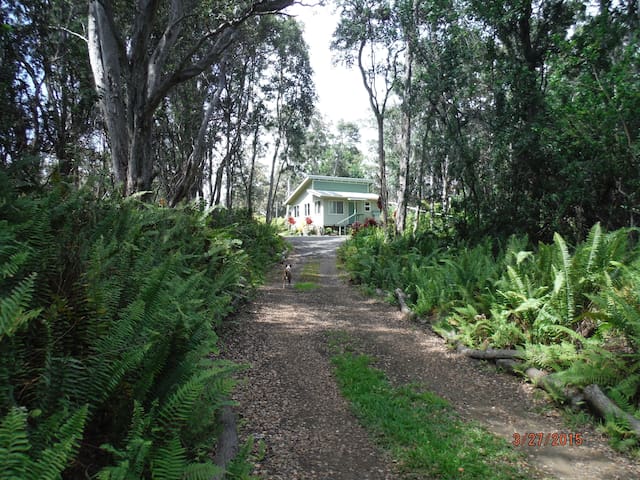 Waiola Guesthouse est hors des sentiers battus sur l'île de Hawai`i. Si vous êtes à la recherche d'une expérience vraiment unique Hawaiian loin de l'agitation et du bruit des taches de destination touristique, Waiola Guesthouse & Zen Garden est pour vous.
Waiola Guesthouse est situé sur une ferme de 10 acres durable, et de la nature qui nous entoure est la source de notre eau et de l'énergie. Le système électrique alimenté par le soleil fournit tous les équipements standards. l'eau de pluie douce est triple filtrée et stérilisée UV. Le Guesthouse comprend une cuisine entièrement équipée, lave-linge et sèche-linge, lit queen, et la télévision par satellite avec HBO. Waiola dort confortablement 2, et le logement peut être faite pour un enfant sur un futon dépliable. Waiola est parfait pour une retraite paisible, une escapade romantique ou un staycation. Les soirées et les matins peuvent être fraîches avec des averses occasionnelles de sorte que vous apprécierez une veste légère ou un pull.
Calme, hors des sentiers battus Hawaii est ce que Waiola Guesthouse offre. Il y a un marché d'agriculteurs à Naalehu sur Wed. et le samedi, et à Volcano sur Sun. Les gens sont sympathiques, le café Ka`u est le meilleur, et vous ne l'avez jamais vu autant d'étoiles dans le ciel nocturne!
This is probably the nicest place that either of us had ever stayed. Wendy's coordination with us on arrival and explanation of the minor quirks of the house were useful and very thoughtful. The apartment itself is beautiful, and was equipped with anything we could have wanted - guidebooks, kitchen equipment, beach towels, etc. All of that, looking over a field of Wendy's rescue farm animals from a lovely little balcony. Extremely clean, and a good jumping off point for local attractions at Volcanoes National Park and black and green sand beaches. I can't recommend the guest house enough, and wouldn't hesitate to stay again. Two notes, however: if your vacation hinges on sleeping in, the guest house does tend to be bright in the morning. Also, the road down is a little treacherous - not worth worrying about, but had I realized I might have rented a sturdier rental car.
Amelia
2014-12-25T00:00:00Z
My girlfriend and I were stunned when we saw the property. It's a two-story house in a forest. You see beautiful birds and wild turkeys when you walk to your patio each morning. Wendy and David are about the most loving and caring hosts we've ever met, and you can feel their love for nature and life while you stay here through every detail of the house.
Steven
2016-12-28T00:00:00Z
Wendy and David are the kind and courteous hosts of this quaint, clean guest house. The land is lush, green and well kept. Beautiful lawn to practice yoga, meditate or relax on the lawn chairs. This house has everything you need! Stop at the Ocean View market before coming, that's your only option for food unless you bring it from Kona/Hilo. Cook dinner in the kitchen or head to Na'alehu and eat at the only restaurant - Hana Hou. Decent fairs for the hungry. This house is conveniently close to South Point, Green Sands and Volcano Nat'l Park. Highly recommended!
Danielle
2017-03-01T00:00:00Z
This place was amazingly peaceful and wonderful. If you are like us and prefer a slightly cooler temperature, this place is about 1800' above sea level and had cool mornings and evenings, but warm days. The grounds are lovely and serene. Plus, you were far enough away from the tourist crowds yet still close enough to some pretty epic beaches. Wendy and David were great hosts and gave us good insights to some of the National and State forest reserves in the area. Not to mention the fresh farm eggs were a huge hit. We could not have asked for anything better on this island!
Toréa
2014-06-09T00:00:00Z
Wendy and David were fantastic hosts. They were more than accommodating when we informed them that our flights were arriving late to Kona and would be checking in late as a result. All of the essentials for beach days and adventures are readily available - towels, chairs, etc. and we had the perfect amount of space for our own food, drinks and snacks. Overall, the property was secluded, quiet and clean - everything you need for an active or relaxing vacation in Kaʻū.
Ben
2016-08-24T00:00:00Z
Wonderful, tranquil, comfortable, all one needs in a simple studio apt. Wendy and David were so gracious, made us feel very special and generously offered to provide anything we needed.
Lynne
2016-04-06T00:00:00Z
Wendy and David were amazing hosts. We ran a few hours late and they were sweet enough to come up to the highway and show us the way to their place. If you are looking for a peaceful & cozy place to stay and want to feel close to nature, this is hand down the best pick. We stayed at a couple of places in big island and this was the best of them. The location was perfect to visit volcanoes, black and red sand beach. It was also close to the southernmost coffee shop and restaurant in the US which was pretty cool.
Swetharaksha
2016-12-19T00:00:00Z
Just off the main road at the south end of the island but feels like you are miles from anything in that it is quiet and beautiful. A darling individual unit secluded from neighbors, overlooking acres of lush pasture and forest but a short drive into Na'alehu or Ocean View for restaurants. Also close to south point, the black sand beach and the green sand beach, and only an hour from Volcano. We choose to stay closer to the southern point rather than Volcano because it gets rainy and cold (increased elevation) as you turn toward the east side of the island.
Carol
2017-01-08T00:00:00Z
Tipus d'habitació
Casa/pis sencers
---
Tipus de propietat
Casa
---
Capacitat
2
---
Dormitoris
Naalehu, Hawaii, Estats Units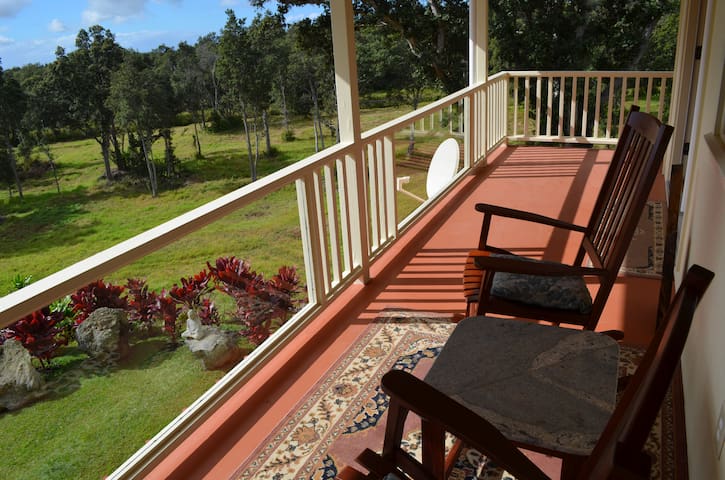 Nous exploitons style Motel .Cet est une chambre simple, propre et confortable avec salle de bain privée, télévision par câble et gratuit dans la chambre Wi Fi. Juste à côté de l'autoroute 1/2 bloc
Aloha! Hana Hou Cabin-Motel offre une occasion de se détendre et profiter de votre séjour dans une petite ville à Hawai'i rural, sur la grande île. Situé à côté du Hana Hou Restaurant, vous ne serez pas à vous soucier de la cuisson ou la recherche d'un bon repas. Les chalets sont situés à mi-chemin entre Kona et Hilo, dans le district de Ka'u. Rappelez-vous êtes derrière un restaurant populaire de travail et il y a noise..You sont dans le pays de sorte que vous allez entendre les oiseaux et les poulets. Ceci est un motel rural dans une petite ville ..pas vacances condo..but les lits sont des salles de ..les Comphy sont propres et l'eau est chaude. Nous sommes la climatisation gratuite et d'utiliser la fenêtre ouverte et la brise agréable pour nous faire confortable. Si le bruit est un problème pour vous peut-être envisager une mise à niveau à notre plus grande cabine située plus loin de la cuisine du restaurant. Il a les mêmes commodités. Profitez d'un séjour dans une ville qui se trouve à proximité de divers lieux d'intérêt, que tous respirent sens de, 'Old Hawai'i'. Ka Lae (South Point), la plage de sable vert et Punalu'u Black Sand Beach, sont parmi quelques-unes des côtes vierges ici à Ka'u. Tentaculaires terres d'élevage, la randonnée en montagne, le célèbre parc national Hawai'i Volcanoes et la nouvelle section sud de Kahuku se trouvent à seulement un lecteur. Explorez tubes de lave, tuba, visiter une ferme de café ou de la cave du volcan et acheter de la source. Ka'u est la destination éco-touristique parfait, et la cabine-motel est parfait pour un séjour d'une nuit lors de la visite du volcan. Éliminer le long trajet de retour à Kona ou Hilo et visiter les autres sites en Kau le lendemain. Chaque cabine dispose d'une salle de bains privative avec douche et articles de toilette. Il y a une belle cour privée pour vous de profiter prélasser au soleil du matin ou vous détendre dans la brise fraîche Ka'u qui coule toute la journée. Prenez un petit déjeuner de notre restaurant et dîner dans le Gazebo arrière. Rencontrez des gens sympathiques qui appellent Na'alehu leur maison ainsi que notre personnel du restaurant accueillant. Chaque cabine est équipée d'un tout nouveau lit queen size, draps et oreillers moelleux. Nous n'avons futons de sol pour les enfants. Pour votre confort, nous fournissons également un petit réfrigérateur et une machine à café, qui comprend le célèbre café Ka'u régionale pour brasser à loisir. Un petit refroidisseur est fourni et les recharges de glace libre à tout moment le restaurant est ouvert. Tarifs spéciaux pour les séjours plus longs sont disponibles. Il y a un bar dans la rue et l'épicerie marqueur dans la rue et bus public qui peut être fait à Naalehu matin et après-midi. Son appelé Hele Le bus et le calendrier est sur l'Internet. heures Hana Hou restaurants sont 8 heures-20 heures. Nous avons la musique locale en direct vendredi et samedi 6 à 8 veilles pm JOUR QUIET est 21:30-7 heures. Fumer à l'extérieur seulement. Nous acceptons Visa, MasterCard ou Cash. Les locations sont soumises à 13,25% de taxe.
My stay was very cosy and comfortable. Had good dinner at the restaurant. Nice place on the road :-)
Eric
2013-10-19T00:00:00Z
Patty's Place was clean and cozy, with a comfy bed. Patty was very welcoming and helpful. The restaurant next door is also very nice. The place is close to a lovely Portuguese bakery and a Kava bar - definitely worth checking out! It is close (by car) to wonderful nature spots such as the amazing Green Sand Beach. Had a great stay overall - definitely recommend Patty.
Guillaume
2016-02-26T00:00:00Z
Quiet, simple accommodations, perfect for exploring the south point area.
Jeffrey
2017-03-11T00:00:00Z
This private room was perfect in the south of Big Island. Communication with Patty was good and the check-in easy. We didn' t have the chance to meet Patty. Everything was clean and we appreciate the details like coffee machine and fridge. We really appreciate the quiet neighborhood!!!
Damien
2016-12-28T00:00:00Z
Patty provided us with the ultimate of convience and hospitality. Her clean and private abode is right next to a perfect restaurant and other Naalehu attractions. I highly recommend Pattys Hotel. Thank you for a great visit!!
Kay
2017-01-02T00:00:00Z
Patty's place is a simple little group of cabins located directly behind the Hana Hou restaurant. Located smack dab in the middle of town, makes for easy walking to get food, local markets, or tour the sweet bread factory. Naalehu is a very small little town, but a good stop over point that gives easy access to either Volcano National Park, or the Green/Black sand Beaches of Southern tip of the big island. This place is worth a night stay, just to cut down on driving, giving yourself a little more time to enjoy these special places.
Samuel
2017-03-29T00:00:00Z
Patty offers very clean and centrally located rooms. Do not leave town without eating at the restaurant! Just amazing food. Patty was able to give us tips on what to see, the best way to get there and the best times to go. She is awesome! She even packed us a picnic breakfast because we mentioned we would be viewing the volcano at 4:00 am! I can't say enough good things about our stay and her facilities. We stayed in 3 different places on 3 different islands, this was our favorite place to stay and the nicest, sweetest hostess. Thank you Patty for all your hard work in making our trip wonderful.
Marguerite
2017-03-25T00:00:00Z
Patty's place was great and who wouldn't love staying behind a restaurant (food was great and reasonable)
Gene
2017-02-12T00:00:00Z
Tipus d'habitació
Habitació privada
---
Tipus de propietat
Pis
---
Capacitat
2
---
Dormitoris
Naalehu, Hawaii, Estats Units
Punto Sur, Verde, Negro Sands Sands (Punalu'u Beach), Kahuku Park, Punalu'u Bakery.There son actividades para la familia, el arte y la cultura y la playa a unos 20 minutos. Siéntase libre de comer de los árboles frutales y de nueces en la propiedad. Te encantará mi lugar porque está en un hermoso pedazo de tierra en un barrio con palmeras en abundancia.
La casa es una casa acogedora rejilla, con cocina de propano, refrigerador pequeño, luz solar, y un baño situado a unos 25 pies fuera de la casa. Hay un montón de ollas, sartenes, platos y todo lo que necesita para hacer una comida. Aquí tienes lo mejor de ambos mundos con WIFI y electricidad y, al mismo tiempo que el país pacífico, sensación de isla .. Mi lugar es bueno para parejas, aventureros en solitario, viajeros de negocios y familias.
Este es un barrio único, sólo un bloque de un camino de tierra de la carretera pavimentada, es tranquilo y sereno y tiene un complejo, sin embargo, países como sensación. Se puede escuchar canto de los gallos en la distancia y de vez en cuando escuchar las olas rompiendo. ¡Es bonito!
Sheryl is a Wonderful & Adorable host ! :) Very welcoming , attentionate and an extraordinary human being . It was a blessing to meet her and to arrive at her place :) The studio is agreeable, spacious with very good vibrations, all surrounded by beautiful nature fruit trees , palm trees ... what a sublime place on earth, a piece of paradise :) it's a good place to feel the roots of Earth Conscious and also all the Sweet & Good Fruits that can be given Simple and Essential life , I totally recommend to stay at Sheryl's Luminous place and to feel all this goodness.
Julia
2017-01-01T00:00:00Z
This place was awesome. You get a lot for what you pay for. It had everything we needed. The host was extremely easy to communicate, which made our stay great. HIGHLY RECOMMEND.
Stryder
2017-03-23T00:00:00Z
Such a good experience! We LOVED the stars!!!!
Aubrey
2017-03-28T00:00:00Z
great communication with Sheryl, clean stay and affordable.
Dave
2017-03-01T00:00:00Z
Tipus d'habitació
Casa/pis sencers
---
Tipus de propietat
Pensió
---
Capacitat
4
---
Dormitoris
Naalehu, Hawaii, Estats Units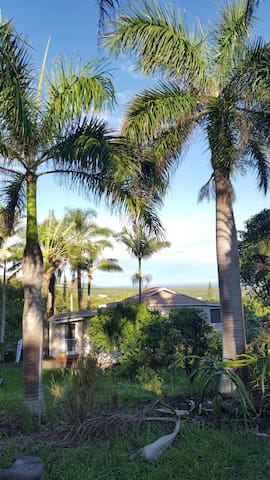 Aloha und willkommen in unserem Bio-Ecke des Paradieses. Diese riesige 1600 Quadratmeter großen 2 Schlafzimmer, 1 Bad Wohnraum ist in der Nähe von seltenen Green & Black Sand Strände auf einer 20 Acre Organic Farm Estate. Wir wachsen und braten unseren eigenen Kaffee, produzieren die besten Bio-Macadamia-Nüsse auf der Insel, und Schokolade Macadamia-Nuss-Butter zu machen! Es gibt viele Lämmer und Puten das Land wandern. Frieden, Sicherheit, Ruhe und die Schönheit der großen Natur gibt es zuhauf. Unterstützen Sie diese Biofamilienbetriebes von hier bei Ai Lani Orchards bleiben.
Wenn Sie eine große Gruppe von Familientreffen haben Sie sich über unsere Große Bauernhaus!
Neighborhood ist FARM LAND und SUPREME NATURE so Wandern, Vogelbeobachtung, Cliff Diving in South Point, Schwimmen, boogey Boarding und Schnorcheln sind alle in der Nähe
Lovely stay at this quiet farm. Will miss the fresh fruit and the friendly sheep!
Joshua
2017-04-01T00:00:00Z
Lovely house on a real organic farm. Dated furnishings, but clean and met all our needs. Good location...close to green sands and black sand beaches. Also close to Volcanoes National Park. There's a 76 gas station in nearby Naalehu that is well stocked with groceries and basic essentials.
Varaprasad
2017-04-05T00:00:00Z
Tipus d'habitació
Casa/pis sencers
---
Tipus de propietat
Casa
---
Capacitat
4
---
Dormitoris
Naalehu, Hawaii, Estats Units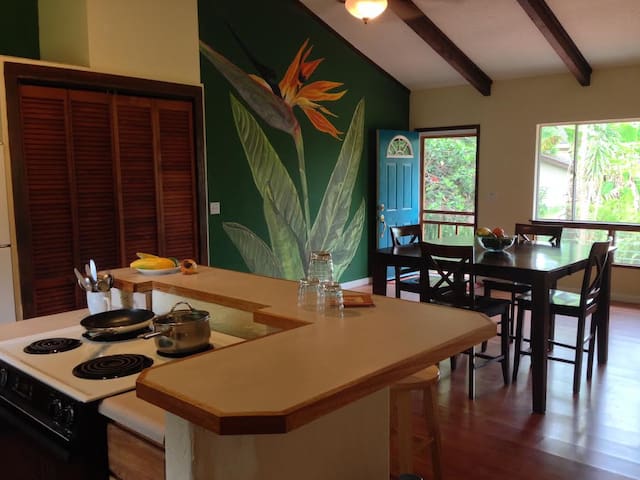 我々はKe'enaルアナ、ヘイルKauluaという名前の新しく建てられたカスタムホームのオーシャンビューを持つ2つのベッドルーム、素敵なキッチンとバスルームにあなたを歓迎します。カウ、ハワイ島の最南端の場所、この見事な、きれいな、静かで、モダンで快適な家は、便利なコナとヒロ、45分の間に位置しています。サウスポイント、グリーンサンドビーチ、Punalu'uブラックサンドビーチの近くの火山国立公園、から。マスタースイートKe'ena Naneaは、余分なプライバシーのため以外に借りることができます。 、日本のドイツ語&フランス語OK。
我们期待着欢迎您到我们的新建硬朗Kaulua的Ke'ena卢阿纳。因为它是由太阳和风力在您的现代便利永远不会危及供电的这家是非凡的。现代的乡村氛围邀请放松。坐在外面的草地上在夜间或白天观星晒黑。漫步或步行整个18洞的"居留唯一的高尔夫球场"了回来(我们已经接近孔6),甚至玩了2个高尔夫球杆组有供你使用一个圆形。我们还努力为客户提供免费的刺激性化学物质的环境中,我们回收和堆肥
これは非常に静かで趣のあるコミュニティが提供するためにたくさん持っています。あなたはゴルフ、泳ぐ、シュノーケル、サーフィン、ハイキング、洞窟探検、ヨガ、ZUMBA、絵画、バードウォッチングや読み出しを行うことができます。
Fantastic views of distant ocean, sunrises and starry nights! Host excellent and attentive to guests needs.
Janet
2017-01-31T00:00:00Z
This is a wonderful home to stay in with views of the ocean, gold course, and a beautiful garden setting. The house is decorated European style with beautiful wood decor. It is very well stocked and clean. We recommend this house as a great location to visit Green Sand Beach, Black Sand Beach, the Volcano and Southpoint. Lex and Cheri
Lex
2017-02-05T00:00:00Z
The best experience I've ever had in Airbnb. Place is great, clean, cozy, modern, brand new. There is everything you need. The view!!!! I really wanna come back to this place. We enjoyed our time here
Vera
2017-01-23T00:00:00Z
Tipus d'habitació
Casa/pis sencers
---
Tipus de propietat
Casa
---
Capacitat
6
---
Dormitoris
Naalehu, Hawaii, Estats Units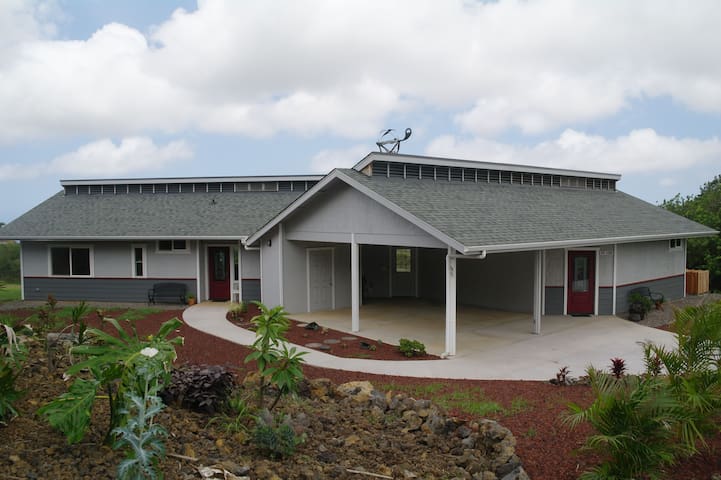 Introdueix les dates per veure el preu total. S'aplicaran tarifes addicionals. És possible que també s'apliquin impostos.