Casa di Nonna Nuccia is in Varano district, just 6 km from Fabriano and is set to host 6 people. The structure is divided into two floors: at the ground floor there is a kitchen and a large living room with a long table, sofas and a cozy fireplace.
We enjoyed staying at Casa di nonna Nuccia and felt very at home there. We'd booked on the evidence of the AirBnB photos and weren't disappointed. The house is part of an eighteenth century farmstead made out of buildings that were once a monastery (there is still a chapel) and are now divided into three properties, but all belonging to the same family. It stands on a spur between two valleys, surrounded by woods and fields and landscaped with terraced lawns and little groves of ash and bamboo. There is a walnut tree by the front door. There were red squirrels capering about in the early morning, and lizards when the sun came out. At night you can hear owls and cicadas and see every star in the sky. It feels miles from anywhere, but is only about ten minutes drive from Fabriano, which has a fine mediaeval town centre that would probably be world famous in most other countries. It is easily within reach of Assisi, Gubbio, Ancona, the caves at Frassassi, and Urbino – a beautiful drive over the hills. The house is recently and comfortably modernised, but hasn't lost its character. We were welcomed as if we'd been part of the family and looked after in an unobtrusive way for the rest of our stay.
Michael
2015-09-15T00:00:00Z
What a lovely place! We loved staying here and we got such a warm welcome from Andrea, Lina and Davide. The setting is fantastic and it was so peaceful. The inside of the house is a lot darker than it appears in the photos, but it was well equipped and they were so generous with the things they left for us. Homemade cake, prosecco, coffee, tea, milk.... Lots more, which made our stay even easier. We had a great few days, visiting the Frasassi caves, Gubbio, Fabriano, swimming in the river near the caves. And for us the highlight was a day canyoning in the Parco del Monte Cucco with Mirko Berardi. Fantastic experience. Fabriano has some great pizzerias and gelaterias. Andrea was charming and had lots of great suggestions of places to go and to eat. Thanks so much!
R
2016-07-30T00:00:00Z
Casa di Nonna Nuccia is an excellent place for vacances in Italy. Everybody who is looking quiet but good situated house will be happy of staying there. For my family the stay in Casa di Nonna Nuccia was a time spent in a paradise! The hosts are very kind and sympathic, the contact with them very quick and informative. I highly recommend their house, and wish to go again there any time. There is a plenty things to do in the nearest vicinity: Marche region is very worth to be discovered for all Italy-lovers. Enjoy it!
Tomasz
2015-07-31T00:00:00Z
Il soggiorno è stato superiore alle aspettative, un posto immerso nella natua, l'host è sempre disponbile. Consigliato per chi vuole immergersi nella natura.
Angela
2016-03-28T00:00:00Z
Our host, Andrea, was surprised that we had found the location on our own but came out quickly when we called and showed us around the property and house and gave us the keys. (He speaks very good English.) His grandmother, Lina, had made a delicious breakfast pastry and all the essentials - milk, coffee, juice were provided - as well as toiletries and linen - and a bottle of sparkling wine! Since it was almost dark and too late to shop, Andrea led us into Fabriano and a very nice pizza restaurant and visited with us a bit before leaving. (He pointed out places to shop on the way in.) He gave us simple directions back to the property about 10 minutes out of Fabriano and we were able to find our way back in the dark. The property is a renovated farmhouse out in the country & hills. It is somewhat isolated and very quiet and peaceful with lots of area to rest and relax and views of the surrounding hills. Lots of flowers! The house is tastefully decorated with older, beautiful furniture. The older kitchen appliances work fine - the stove has a spark button to light. The bathroom is very nice with a toilet, bidet, double sink, and shower. The two bedrooms upstairs that we used have plenty of storage and large, comfortable queen or larger beds. There is no washer or dryer. It is not a deluxe, new house, but very comfortable and it grew on us. Andrea met with us the day before we left and we were in contact by phone several times in-between. His mother picked up the keys and visited with us the day we left. We were surprised to find that Fabriano was an interesting city in its own right - being the center of paper manufacturing in the Middle Ages and is still doing that today. (You pass through an industrial area on your way into Fabriano.) Don't miss the Paper and Watermark Museum downtown. The center of the town has a nice feel. Fabriano is centrally located for exploring the Marches and nearest areas of Umbria. We did day trips to Assisi, Gubbio, Urbino, Ancona and Loretto, Macerata, Sassafratto, and Ascoli Piceno. We love art and visiting churches, palaces, etc. Travel through the mountains is very slow but beautiful if you have time. However, Fabriano is on a highway being built from Ancona to Rome and most of the road from Ancona is four lane. There is also a fast four lane toll road along the coast. It was two and half to three hours from Bologna to Fabriano. If you like being in a city and all its activity, this listing is probably not for you. If you like privacy, views, and quiet, this is a great place! (We were the only ones staying there although they may rent out another area of the house.) You are also in the Apennines and weather is changeable.
Elmo Kevin
2016-05-24T00:00:00Z
Notre séjour dans la maison de Nonna Nuccia était fabuleux : panorama superbe, maison confortable, à la campagne, dépaysement total. Nous recommandons ce lieu pour ceux qui souhaitent couper pendant les vacances et être au calme dans la nature. Andrea et sa famille ont été très accueillants et disponibles. Merci à eux.
Pierre
2016-08-14T00:00:00Z
My friends and I spent a night at casa di nonna Nuccia! The location is exactly as we were hoping for: peaceful, cosy and in the middle of nowhere. Andrea was very kind with us: he suggested to meet at the train station so that it was very easy to find his place and also recommended a beautiful place to have dinner in Fabriano. The house itself is very nice and big, breakfast was also left for us to enjoy! It's a shame we couldn't spend more time in here, I would strongly recommend it for someone who's looking to spend a relaxing family or group holiday!
Chiara
2015-10-05T00:00:00Z
Casa di Nonna Nuccia was absolutely fabulous! It is an very old building with thick wall and high ceilings and therefore cool inside, even in hot Italian summers. The house is very nice decorated and made us feel welcome and at home right away. But the garden with its views and the location in the hills of the Marche, made the most impression to us. Its absolute quite there and still within 10 minutes you are in beautiful Fabriano. David gave us a very nice welcome and tour in the house and over their property and Andrea visited us to tell us more about their house and history. Their father left us a delicious Spumante and their mother backed a delicious "Tarte di Nonna" The place seems isolated, but the beautiful cities in Umbria and the Marche are close by, The famous Grotte di Frasassi are very close by and even the Sea is not so far to drive. We really can recommend this house to others, looking for a beautiful house and quite location in the Marche
Joris
2016-07-26T00:00:00Z
Tipus d'habitació
Casa/pis sencers
---
Tipus de propietat
Casa
---
Capacitat
6
---
Dormitoris
Fabriano, Marche, Itàlia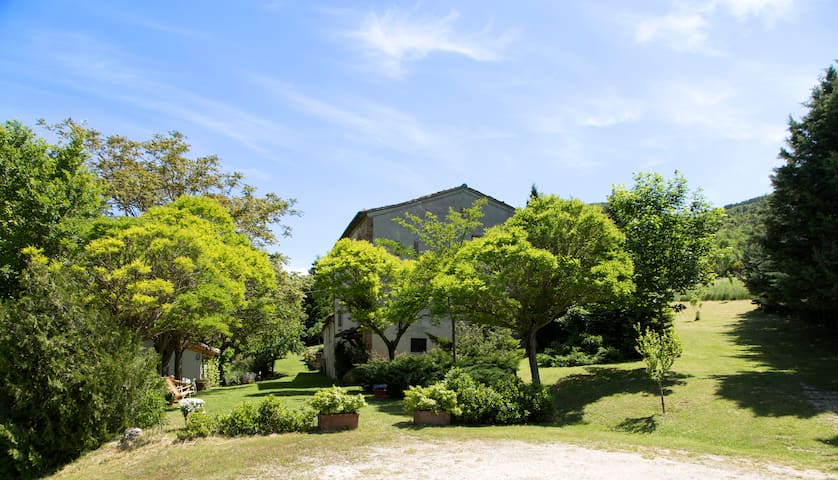 La Romitella vi accoglierà con un inconfondibile stile antico e rustico, che vi porterà a vivere un soggiorno all'insegna del passato e del rapporto con la natura.
Nella struttura di 140 mq distribuita su 2 livelli è presente un ampio soggiorno con camino e soppalco, un piccolo cucinino attrezzato con piano cottura e forno, una sala da pranzo, due camere matrimoniali e tre camere singole, due moderni bagni con doccia. Per pranzare all'aria aperta o prendere un po' di sole è presente una piccola terrazza.
Situata ai piedi dell'eremo di Val di Sasso recentemente ristrutturato, la Romitella è una casa per ferie che offre la possibilità di un soggiorno di relax e riposo immerso nel verde delle montagne che circondano Valleremita, ad un passo dalla città di Fabriano e dalle grotte di (URL HIDDEN) casa richiama uno stile rustico.
Tipus d'habitació
Casa/pis sencers
---
Tipus de propietat
Casa
---
Capacitat
7
---
Dormitoris
Fabriano, Marche, Itàlia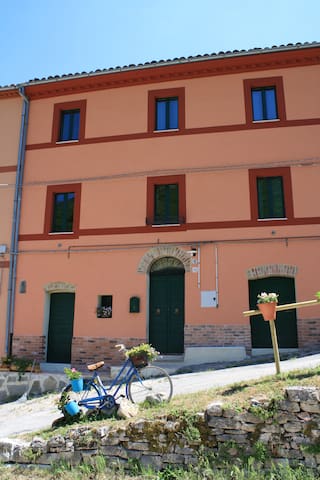 strategically located in the heart of Umbria-Marche Apennines, close monastery Valdisasso, Frasassi caves and Monte Cucco, museum of all brands of Fabriano paper and Umbria, wines and cuisine, department stores,
Composed of 2 separate or studios can accommodate 2 to 5 people. The upstream side of the area also has access to the room below excavated in the rock where is the bathroom, the tub in which you can swim in most people, wood stoves .. Restored to its original pink stone is a cozy little place and comfortable. Its location on the border between Marche and Umbria gives endless possibilities of movement. In the green of the mountains, in a nature remained wild as protected and become the park, you can spend time relaxing with walking, cycling, riding and / or visit the beautiful villages and towns in the Marche and Umbria. For those who want to combine nature and fun you can quickly reach the coast with its famous resorts - Riviera del Conero - Senigallia - Recanati .... Near the Monte Cucco offers, in addition to traditional restaurants, the visit to the cave also excursions in gorge and guided walks. Among the extras there is also the possibility of holistic massage - you have to drive with -spostamenti chauffeur to and from the airport- to have a guide-and interpreters for any language. The possibility also of carriage rides with horses, both for walking and for visiting the nearby caves and wonderful Frasassi or museums, even for rides historical center in Fabriano with a guide if required, will make your stay an unforgettable moment ...
Nice to sit in the warmth of the fireplace, perhaps with the snow that falls in winter Beautiful the surrounding green in spring - summer rivers, lakes, caves Frasassi and Monte Cucco, the Sibillini, beautiful mountain landscapes, hills, and maritime (Conero), medieval villages of art (Urbino - Recanati -Ascoli Piceno ..) in addition to many famous brands that you can buy in price of costly Tod's (Hogan, Della Valle) Prada, Fabi, Armani store, Vic Matie, Piero Guidi, Paciotti, Jeckerson, Cruciani, Cotton Club, Emamon, The jargon, Fendi and many others
Il posto è davvero splendido dall uscio di casa si vede l eremo immerso nella natura! La casa è così come viene descritta con un bellissimo camino a creare atmosfera!! sono stati dei bellissimi giorni all insegna del relax!
Marina
2016-01-01T00:00:00Z
L'appartamento è sito in un'ambientazione fantastica, tra il verde delle colline marchigiane, a pochissimi chilometri dall'umbria...Accoglienza perfetta e cordiale da parte della proprietaria, utilissime le sue informazioni riguardo il territorio
Giovanni
2013-10-28T00:00:00Z
The reservation was canceled 16 days before arrival. This is an automated posting.
Pat
2015-04-23T00:00:00Z
My time spent at the GufoRomito residence was very relaxing and peaceful. Giuliana as waiting for me when I arrived and she went over everything that I needed to know to have a comfortable stay. She even reviewed the local attractions - OK Italian is not my best language (I am learning) but we somehow made it though the check-in process. Even though I was working most of the day, it was nice to hear "nature" when waking up instead of "city" sounds. The small town itself seemed very quiet - especially when I walked around during sunset. I would recommend this place for anyone whom wants to just get away and relax.
Gregory
2016-04-23T00:00:00Z
We spent one night in Fabriano, after the host contacted us that the place in Valleremita was no longer available. The hosts, was very helpful. The place was clean. We can recommend this place to anybody.
Reinder
2014-01-02T00:00:00Z
Siamo arrivati a Valleremita di sera durante una bufera di neve. Giuliana è stata molto gentile e premurosa. La casetta è deliziosa e dotata di tutto, ci siamo trovati molto bene, soprattutto grazie al fuoco del camino!
giuliano
2014-12-29T00:00:00Z
Siamo stati ospiti per tre giorni, la casa è molto bella e accogliente e nei dintorni c'è molto da vedere e fare. Giuliana è stata gentilissima, consigliamo il posto.
Francesca e Luigi
2014-04-28T00:00:00Z
Casetta magica in un paesino magico. Io, la mia ragazza e la nostra cagnolina ci siamo trovati molto bene, immersi nel verde e isolati dal mondo. Tante passeggiate e trekking disponibili, con sentieri che partono direttamente dal paese o dal vicino monastero. Inoltre la bella Fabriano è a pochi minuti di macchina, e da lì con il treno in meno di un'ora si può andare a Gubbio, Spoleto, Ancona, Foligno...insomma, il meglio che l'Umbria-Marche può offrire. Grazie alla gentilissima Giuliana per la sua ospitalità! Ah, e non dimenticate di lasciare un gufetto-ricordo nella casa... Lorenzo, Serena e Gea
Lorenzo
2016-08-19T00:00:00Z
Tipus d'habitació
Casa/pis sencers
---
Tipus de propietat
Casa
---
Capacitat
5
---
Dormitoris
Valleremita, Marche, Itàlia