Our apartment is located by the sea and close to the natural park of Arta, surrounded by peaceful and unspoiled beaches. You will love the location, the views and its privacy. It is a perfect place for people seeking peace and calm.
After an important remodeling, our place is finally decorated and ready for you to feel like at home. This apartment was built at the end of the 60's and we have tried to evoke those times by keeping a cozy and quite style.
Situado en una de las zonas mas tranquilas de Mallorca y sin masificación hotelera.Ambient acegedor y humano
This place is absolutely great if you are looking to get away from touristy locations or cities. It is a truly a small quiet town, surrounded by mountains and right by the beach. We could ask for nothing more, except maybe Wifi.
Emma
2017-04-03T00:00:00Z
Tipus d'habitació
Casa/pis sencers
---
Tipus de propietat
Pis
---
Capacitat
5
---
Dormitoris
Colonia de Sant Pere, Illes Balears, Espanya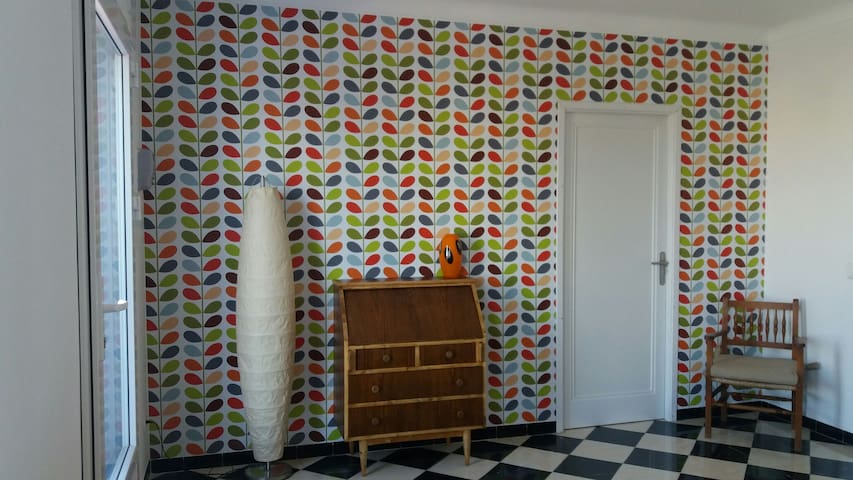 A two bedroom apartment of 44 square metres located on the first floor, simple and comfortable in a central, quiet and reserved area with a minute from the sea, shops and supermarket. Located at Colonia de Sant Pere which is at the northeast of the Island. One can stay until very late on the beach while the wonderful sunset.
Ideal for two people, but in any case can accommodate four people, there are three beds of 90 and one of 80, in bed trundle. There is air conditioning, hot and cold, in both bedrooms and in the living room. Nice place in any season of the year.
The neighborhood where the apartment is located is very quiet and close to all services such as doctor, pharmacy, every Saturday market, supermarkets, shops, nightclub, sea and beach, village square, catholic church, playgrounds, restaurant, library ...
Tipus d'habitació
Casa/pis sencers
---
Tipus de propietat
Pis
---
Capacitat
4
---
Dormitoris
Colonia de Sant Pere, Illes Balears, Espanya
Perfektní dovolenou útěk pro rodiny s dětmi, tuto nemovitost nabízí kompletní balíček pro relaxaci. Vstávejte s krásným výhledem na moře, ochladit s osvěžující poklesy u bazénu nebo si vychutnat svíčku zapálil večeře pod širým nebem na své soukromé terase. Čistá blaženost. Air con nefunguje. Každopádně je to nábřeží byt ve stínu a teplota je příjemná.
Nachází se v malebné a nedotčené města Colonia Sant Pere, jen kousek od zálivu Alcudia, vlastnost se chová jako skutečný útočiště pro turisty, kteří chtějí kick zpět a relaxovat v klidném prostředí. Ještě velmi nevyvinutý obec zachovala svůj autentický a přirozenou krásu, což je zázrak pro ty, kteří hledají trochu klidu. Užijte si probuzení a breakfasting se krásným výhledem na moře z vaší vlastní terasu před přijetím osvěžit nebo lenošení u bazénu, přičemž v letním slunci. Ať už jsou vaše záliba pro relaxaci, tento byt jistě bude obstarávat na to. Vlastnost pojme až 6 osob více než 2 dvoulůžkové ložnice, 1 s manželskou postelí a 1 s oddělenými palandami, komunální bazén, terasa velkorysým prostorem, kuchyň, 2 koupelny a obývací prostor s veškerým vybavením. K dispozici je také parkování na místě dělat to velmi šikovný pro ty, kteří s pronájem automobilů.
Nachází se na severovýchodě Mallorky v malebné a nedotčené pobřežní vesnici Colonia Sant Pere, jen kousek od zálivu Alcudia, vlastnost se chová jako skutečný útočiště pro turisty, kteří chtějí kick zpět a relaxovat v klidném prostředí. Ještě velmi nevyvinutý vesnička si zachovala svůj původní a přirozenou krásu, což je zázrak pro ty, kteří hledají trochu klidu. Existuje spousta barů, restaurací a obchůdků ve městě a jsou součástí obce Arta, také nejsou daleko od starobylého tržiště, divoký terénu a cyklistických tras. Tam je malá bílá písečná pláž v blízkosti přístavu s dalšími kavárnami a restauracemi, ale pokud se cítíte něco trochu živější, výlet do většího pláži letoviska Can Picafort Další volby.
Wir hatten einen wunderbaren Urlaub. Man sieht das Meer von der Terrasse, es ist alles so wie es sein soll.
Christoph
2016-10-09T00:00:00Z
Great apartment in a relaxed location, away from the crowds. 5 – 10 min walk along the coast to the centre and the beach. Nice restaurants on the promenade with amazing sunsets on the Tramuntana. Prompt and friendly communication with the host. Only downsides: aircon not working and key pick-up in Palma, as per the description.
sebastien
2016-09-17T00:00:00Z
My host and her team were very welcoming. The location was suberb just as described, unspoilt quiet tranquil an ideal place to relax and explore the natural coastline. There were a number of small local bars and restaurants all welcoming and of high quality. I will return home with good memories and totally relaxed.
Mike
2016-06-17T00:00:00Z
Schöne und gut ausgestattete Wohnung in angenehmen Umfeld. Ansprechende, saubere und ruhige Poolanlage. . Gute WLAN-Verbindung. Wer ruhige Urlaubstage verbringen will, wird sich in Colonia San Pere wohlfühlen. Sehr guter Gesamteindruck.
Gunter
2016-08-29T00:00:00Z
Wir waren von der Unterkunft sehr angetan. Die ausgesprochen schöne Lage, der großzügige Pool und die direkte Nähe zum Meer, großartig!! Die Wohnung verfügt über alles was man braucht, sehr gepflegt, schöner Schnitt und geschmackvolle Ausstattung. Meine Familie und ich haben uns sehr wohl gefühlt. Kommunikation top!! Vielen Dank, wir kommen gerne wieder!!
Tanja
2016-10-20T00:00:00Z
Positiv: Die Wohnung war wirklich sehr schön und voll ausgestattet. Es ist wirklich hervorzuheben, wie sauber alles war. Ich war schon in vielen Hotels aber so gut habe ich es noch nie erlebt. Also an dieser Stelle noch einmal ein großes Lob! Auch der Ort ist sehr schön und gut zu Fuß erreichbar. Man muss bis ans Ende der Promenade gehen um die guten Restaurants zu erreichen (es gibt insgesamt etwa 7 Stück direkt am Meer). Es gab im Supermarkt um die Ecke (5 Minuten Fußweg zum Hafen) Brötchen und auch eine Möglichkeit sich mit dem Nötigsten zu versorgen. In der näheren Umgebung gab es einige schöne Wanderwege und auch einen langen Sandstrand. Man muss sich, wenn man aufs Wasser schaut, linker Hand halten und die Küste entlanglaufen (auf dem Wanderweg). Dann kommt man an 2-3 kleineren Stränden vorbei, bis man nach 45 Minuten auf den Hauptstrand stößt. Diesen kann man aber auch in 7 Minuten mit dem Auto erreichen. Negativ: Man brauch grundsätzlich einen Mietwagen wenn man die Wohnung nutzen möchte, da der gesamte Ort infrastrukturell schlecht erschlossen ist. Der Pool ist dem Grunde nach gut angelegt, leider sind die gemeinsam genutzten Liegen und Sonnenschirme schon stark abgenutzt und dadurch nicht wirklich bequem. Man muss den Müll sammeln und dann zum Müllplatz bringen. Leider gab es keinen Grill (das war wirklich das Einzige was fehlte) Fazit: Ich würde jederzeit wieder in diese Wohnung gehen. Es war ein toller Urlaub, in einer tollen Wohnung, mit tollen Gastgebern.
Burkhard
2016-10-02T00:00:00Z
I had an excellent stay at the apartment. The location in a quiet village was just what I was looking for as a solo traveller looking to recharge my batteries. It would also be ideal for a young family, having a great pool, small nearby beach and a nice selection of restaurants along the waterfront. The apartment was clean and tidy, well maintained, and well apportioned with both a good wifi and TV (NB only Spanish channels though!). I had a really relaxing time. The owner had also provided two bicycles which were great for exploring nearby, although as a more committed cyclist I rented a better long distance bike from (URL HIDDEN) in nearby Can Picafort. My stay was really great - my first AirbnB experience and won't be my last. I would definitely consider coming back. Thank you!
David
2016-07-03T00:00:00Z
+ great appartment on ground Floor with superb pool with wonderful views + in really great and relaxed village, sea, beaches, shops, great restaurants all really close by (with 5-10 min Walks) - airco not properly working... And it can be really really hot when there is no sea wind. - not an airbnb experience: no local tips / ideas provided, no local contact or anything like it. Hire through agency, key pick Up in Palma, lot of miscommunication with agency, And they were not very friendly in the End, also we did not get any promised refund so far... - hard to find, if you do not know where to go And the provided address was not correct... So give them a call before hand to be sure.
Leonie
2016-08-09T00:00:00Z
Tipus d'habitació
Casa/pis sencers
---
Tipus de propietat
Pis
---
Capacitat
4
---
Dormitoris
Urbanització Montferrutx, Illes Balears, Espanya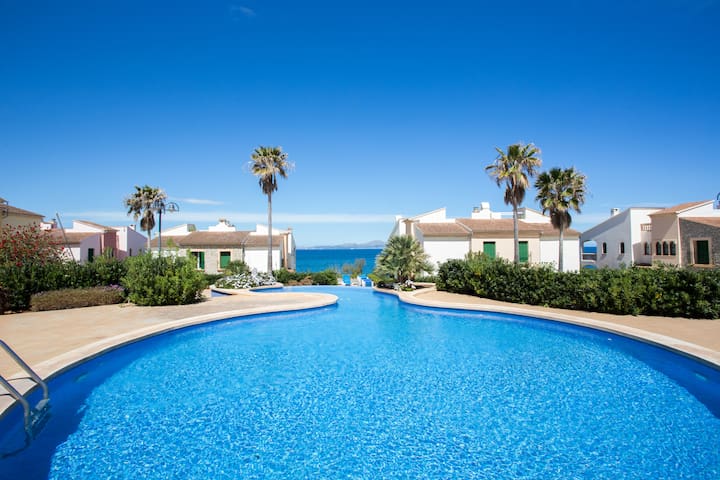 Idílico apartamento a primera línea de mar, con vistas a la montaña en un pueblo donde cerca están las playas más naturales de la costa mallorquina ideal para amantes de la naturaleza y tranquilidad, cerca de montañas donde se puede dar un paseo.
Bonito apartamento en primera línea de mar, muy tranquilo, ideal para amantes de la naturaleza.
Un pueblo cerca del mar, con vistas espectaculares, muy tranquilo y bonitas calas.
Margaritas Appartement was as we expected. Everything you need for a two week vacation is there. The view from the terrace is simply beautiful. Opening the Terrace-Door was a little difficult, just for strong men ;). We had a great time there!
Salia
2016-08-01T00:00:00Z
Ha sido todo fantástico. El Paraiso
Beatriu
2015-07-08T00:00:00Z
Margarita ci ha accolto puntuale nel suo appartamento ed è stata gentile e molto disponibile. Tutto era perfetto, molto pulito e ordinato. L'appartamento ha una terrazza bellissima sul mare perfetta per rilassarsi e godersi il tramonto. A piedi si possono raggiungere numerosi ristoranti di Colonia S.Pedro e passeggiare sul lungomare. In auto, a pochi minuti dal paese si possono raggiungere le più belle spiagge della zona. Torneremo sicuramente!
paola
2015-08-17T00:00:00Z
Really nice and clean appartment with great sea view. Marga and her family were really friendly and helpful :-). And Colonia de Sant Pere is a nicy little village. 5 minutes by foot is a supermarket. It was easy to find the way to the appartment.
Lena
2015-04-07T00:00:00Z
The host canceled this reservation 222 days before arrival. This is an automated posting.
javier
2015-11-23T00:00:00Z
Tres bel appartement ! L'annonce correspond exactement à ce que nous avons eu. L'appartement était propre et tout était correctement disposé en arrivant. Malgré la barrière de la langue, notre hôte a su nous indiquer les principaux centres d'intérêts du quartier. La porte fenêtre du salon est effectivement une épreuve ;) Le quartier est vraiment bien. C'est calme tout en disposant de tout ! Supermarche, plage, bar et restaurants ! Nous étions à 1h20 de soller et 1h de Palma. Attention, gare aux moustiques le soir !
Laetitia
2016-09-08T00:00:00Z
She met us on arrival. Very friendly and accommodating. There was a welcome snack, milk and juice in the frig. A nice touch!
Beth
2015-07-21T00:00:00Z
Das Appartement ist sehr gut eingerichtet. Wir haben Margarita und ihre Familie als sehr unterstützend und sympathisch erlebt. Der Blick auf Meer und Berge ist phantastisch. Wir kommen sehr sehr gerne wieder. Herzlichen Dank!
Caroline
2016-05-09T00:00:00Z
Tipus d'habitació
Casa/pis sencers
---
Tipus de propietat
Pis
---
Capacitat
3
---
Dormitoris
Colonia de Sant Pere, Balearic Islands, Espanya
Se trata de un estudio totalmente reformado situado a 10 metros del mar. La Colònia de Sant Pere es uno de los pocos pueblos de costa genuino y auténtico con mar y montaña que queda en nuestra isla de la calma !
It´s an apartment located a few steps from the promenade. It is equipped with a double bed, dining table with four chairs, breakfast bar with two stools, kitchen and fully renovated bathroom. It has been decorated thinking of creating a pleasant and comfortable atmosphere. Combining designer furniture with handcrafted furniture Mediterranean style. If our guests stay with a baby, we have the possibility of adding a cot and a highchair.
The village where our small apartment has the distinction of being an area with no mass tourism and hotels. It is a very picturesque, near mountains and a promenade to stroll and enjoy delicious fish restaurants, paellas and Mediterranean food area.
Hemos estado muy a gusto en el apartamento! Es pequiñito pero muy bien aprovechado y muy acogedor. Colònia de Sant Pere es un pueblo muy tranquilo y cerca de playas fabulosas. Marga y su familia nos han hecho sentir como en casa, recomendable 100%!
Laia
2016-08-02T00:00:00Z
Wir waren die ersten Gäste in diesem wunderschönen kleinen Apartment. Marga hat uns sehr nett empfangen und uns alles gezeigt, inklusive der tollen Dachterrasse. In der kleinen aber feinen Wohnung haben wir uns sehr wohl gefühlt. Für uns als Paar war sie perfekt, zumal wir tagsüber ohnehin immer unterwegs waren und nur morgens und abends in der Wohnung waren. Die Küche ist gut ausgestattet mit allem was man an Geschirr etc. so braucht. Die Lage in Colonia de Sant Pere war Mitte Mai sehr ruhig und gut für die Erkundung des Nordostens der Insel. Wir würden diese Wohnung wieder mieten!
Lena
2016-05-17T00:00:00Z
We voelden ons direct na de verwelkoming van de broer van Marga welkom. Een week hebben wij doorgebracht in haar gezellige en smaakvoil ingericht appartement. Vlak voor ons vertrek kondigde zich nog een moeilijkheid aan. De buren van het appartement gingen een verbouwing beginnen waarvan Marga dacht dat het lastig voor ons zou zijn. Heel snel kwam zij met een aanbod van een alternatief duurder appartement in Palma voor dezelfde prijs. Helemaal TOP !!
Wim en Betsie
2016-10-27T00:00:00Z
Very cosy and lovely flat. We felt very much at home and would return anytime! Thanks also for the friendly and helpful communication :)
Beatrix
2017-03-25T00:00:00Z
Wir hatten das Apartment zu zweit für 10 Tage gebucht. Es ist recht klein, jedoch fehlt es an nichts. Die Einrichtung ist, wie die Bilder schon zeigen, mit Liebe ausgewählt und es ist sehr sauber. Die Küche ist voll ausgestattet und die Dachterrasse lädt zu einem Sundowner ein. Der 360 Grad Blick über Berge und Meer ist wirklich klasse! Colonia de Sant Pere ist ein ruhiges Örtchen ohne Hotels. Trotz des beliebten Reisezeitraums sind uns dort wenige Touristen begegnet. Die nah gelegene Promenade lädt zum Schlendern ein und bietet abwechslungsreiche Restaurants. Größere Städte wie Arta, Alcudia oder Manacor sind in weniger als 30 Minuten mit dem Auto zu erreichen. Der Ort bietet 2 Strände, die bei uns recht wenig besucht waren. Ein grober Kiesstrand, bei dem der Wellengang meist recht stark war und ein feinerer Strand, der durch Wellenbrecher geschützt wird. Hier kann man auch ohne Badeschuhe ins Wasser und super relaxen. Liegen mit Schirm sind dort keine vorhanden, im Apartment gibt es aber einen Sonnenschirm, den man sicher auch mitnehmen darf - wir haben ihn jedoch nie genutzt. Beide Strände sind in wenigen Minuten zu Fuß erreichbar. Wir haben uns bei Marga sehr wohl gefühlt. Sie ist eine tolle Gastgeberin und wir kommen gerne wieder!
Sabrina
2016-09-15T00:00:00Z
La descripcion es muy real y la localizacion perfecta!! La terraza es comunitaria pero vaya vistas!! Muy recomendable hasta con niño!
Esther
2016-08-19T00:00:00Z
An apartment too expensive for the amenities provided (especially the fact that the internet connection is truly bad). Besides this, the location is amazing. Antonia (marga´s mom) was an excellent host and we had everything we needed. We had an wonderful stay, the apartment is cozy and the restaurants near by are top top. Nice experience, a place to visit and rest hearing the sound of the waves...
Catarina
2016-08-13T00:00:00Z
We stayed in Marga's flat for 11 nights. The flat is modern and was spotlessly clean when we arrived. The little kitchen is well equipped and has everything you need to make breakfast, lunch or dinner. The flat is in a perfect location right on the seafront and at the end of the main promenade. You can walk to everything including all restaurants, the bakery, supermarket, bank and at least 3 beaches. Marga was an amazing host, she showed us everything we needed to know and gave us some good advice on local beaches and restaurants. The shared terrace is great for a sunset photo or cheeky pre-dinner drink. The town itself is super chilled and didn't feel overrun with tourists. We had some really good dinners at the local restaurants and would happily revisit in the future. We'd definitely recommend staying here if your looking for a relaxing time.
Richard
2016-07-26T00:00:00Z
Tipus d'habitació
Casa/pis sencers
---
Tipus de propietat
Pis
---
Capacitat
2
---
Dormitoris
Colonia de Sant Pere, Illes Balears, Espanya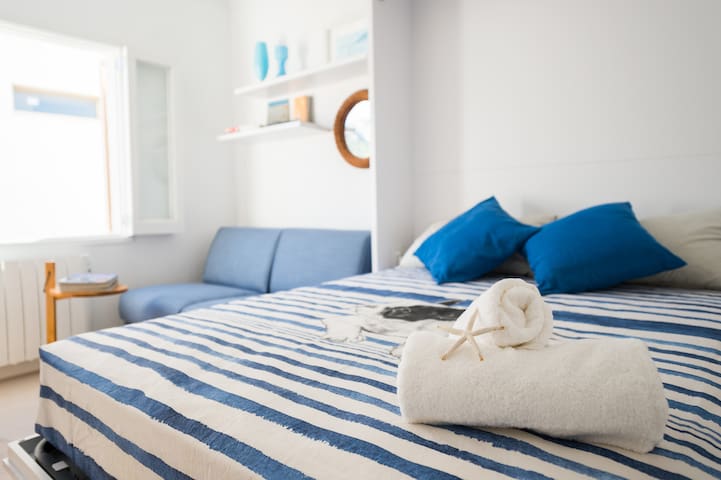 Apartment located on the north-east of Mallorca, a sea and mountains village. The apartment at Sa Colònia de Sant Pere has been recently renewed and redecorated, making it a very charming and comfortable place, even addictive.
The apartment Sa Colònia de Sant Pere has been recently renewed and redecorated, making it a very charming and comfortable place. It is located on the seafront, with views to the bay, the jetty, and the mountain bareer of Sa Talaia, Ferrutx, Xoroi and Tudosa, giving the village a very nice landscape character. Sa Colònia de Sant Pere offers a variety of restaurants and cafés with terraces, in which you can enjoy different meals as well as the views to the jetty with its fishing boats, yachts and regatta boats. At the village you will also find supermarkets, a chemist's, a newsagent's, a health centre and a bank. The village has a population of 250 inhabitants, which sensibly increases in summer and at the weekends. It is mostly inhabited as a second residence by Majorcan people from Artà. The beach is 5 minutes walking from the appartment, and it's 100 m long and surrounded by small coves, such as S'Estanyol, Cala Tono, S'Estret, S'Arenalet dels Ermitans, Ca Los Cans, Na Clara and Es Caló; some of them with sand or small stones, which makes them ideal for swimmers. The apartment has 3 double bedrooms, 2 bathrooms (one of them en-suite), a fully-equipped kitchen, laundry, a living-room, a dining-room, a terrace with views to the bay, a private parking, and a garden with barbecue. The living and dining-room has access to the terrace, from which you will enjoy undescribable views to the bay. The terrace also has a table with chairs so that you can enjoy one of the most beautiful views of Mallorca while having dinner with your family and friends. The front bedroom can be a bit noisy in the mornings, but not the other 2 double bedrooms (that's why it's advertised for 4 guests, not 6. However, the apartment can accomodate up to 6 adults plus 3 babies) The inhabitants of the village consider it to be a very addictive place to stay, you must come and try it.
The apartment was beautiful and provided everything needed for a comfortable stay. It is in a very convenient location above a small, but adequately stocked supermarket. The location is quiet in the evenings and the view from the veranda overlooks a small port. There are many fine restaurants within walking distance and a small uncrowded beach. I cannot describe how beautiful this place is, but I would go again soon. Bel is an excellent host and provides you with plenty of info when you arrive. The house is very clean and we'll maintained. They have very good WiFi.
Daniel
2015-09-21T00:00:00Z
Bel was exceptionally helpful upon arrival and checking out. The apartment was immaculate. We had everything we needed to make our stay comfortable for two nights rest and recovery from long days of exploring the gorgeous north of Mallorca. Thank you for the locally grown cherries!!!!
Erik
2015-06-12T00:00:00Z
Bell was very helpful, especially at arrival (it was quite late). Everything was prepared perfectly. The front room was bit noisy over the road, but otherwise the apartment is very nice. I wish the beach would be opposite the apartment. Bell, know the area well and was very informative.
Peter
2016-09-03T00:00:00Z
Die Wohnung liegt wunderbar ruhig gelegen mit direkter Sicht auf den Yachthafen. Ein kleiner Sparladen versorgt mit allem was nötig ist und die Einrichtung der Küche und der Wohnung erlaubt eine problemlose Selbstversorgung und einen erholsamen Aufenthalt. Schlüsselübergabe, Abgabe alles sehr unproblematisch, sehr nette Nachbarschaft und bei Bedarf auch sehr gute Restaurants in näherer Umgebung. Wir hatten einen sehr schönen Urlaub und können die Wohnung gerne weiterempfehlen.
Wolfgang
2016-05-31T00:00:00Z
Selv om vi ankom meget sent om natten, blev vi venligt modtaget af Bel, som fortalte os om alt det nødvendige, vi burde vide. Lejligheden svarede helt til beskrivelsen og billederne. Vi blev meget positivt overrasket over den lille og private terrasse og gårdhave ved indgangen. Den er i gadeniveau og østvendt, der er læ, grønt og stille. Børn vil fint kunne lege her. Der er sol her indtil sent eftermiddag, hvorefter der er sol på balkonen ud mod lystbådehavnen. Lejligheden var meget fint rengjort, der var god plads op til 6 personer, sengene var meget komfortable og vist nok helt nye. Der var alt hvad vi skulle bruge i lejligheden, også en fin ny gasgrill. Dog kunne vi godt have ønsket os et par liggestole i gårdhaven. Lejligheden ligger perfekt ved kysten, hvor der er flere afmærkede vandreruter og man er hurtigt ude i naturen, hvor der hverken er store bygninger (hoteller) eller traffik. Det lille supermarked, som ligger under lejligheden, havde alt hvad vi havde brug for. Lige fra fris ferskt kød til nybagt brød. Vi kan kun anbefale et ophold i denne lejlighed.
Ervind
2017-04-05T00:00:00Z
A very nice and clean appartment that is fully equipped with everything from an iron to a dish washer with a nice view and Close to a lot of restaurants by the sea.
Louise
2015-07-29T00:00:00Z
Bel's apartment was the perfect quiet holiday getaway. The apartment was very spacious but the best aspects were that it was directly above a supermarket and only a minute away from a gorgeous local beach with many nice restaurants. Bel was very helpful and was very quickly to help with anything we needed. In fact she had even left some nice food and drinks for us in the fridge which was amazing. ! Overall it was a fantastic experience and we would definitely come back again ! A big thanks to Bel for everything.
Samuel
2015-07-20T00:00:00Z
Appartement agréable ,très propre et extrêmement bien équipé...fidèle à la description avec une jolie terrasse ...seul bémol ...quelques nuisances sonores du Spar le matin Merci Bel pour votre chaleureux (URL HIDDEN) recommande cette location .
Catherine
2015-08-03T00:00:00Z
Tipus d'habitació
Casa/pis sencers
---
Tipus de propietat
Pis
---
Capacitat
4
---
Dormitoris
Colonia de Sant Pere, Illes Balears, Espanya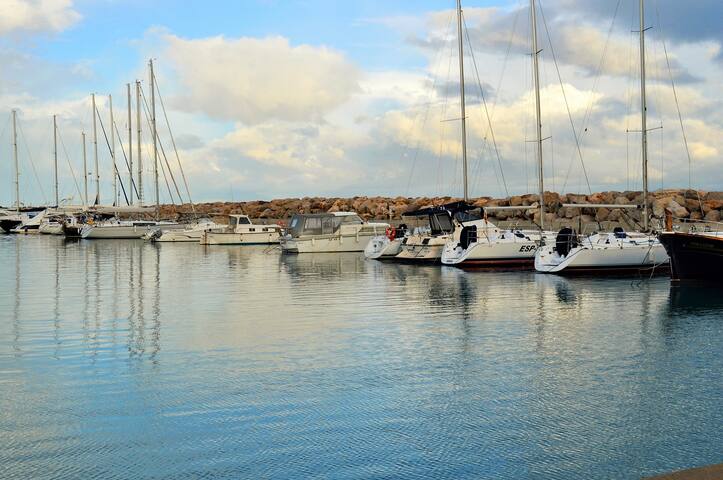 "Paseo del Mar", 5-pokojový byt 115 m² na 2 podlažích, v přízemí.
Objekt vhodný pro 7 byl překročen. Prostorné, velmi komfortní a útulné zařízení: obývací pokoj s oponou panoramatickým oknem, TV, plochá obrazovka, rádio a hi-fi systému. 1x pokoj, 1x francouzské lůžko. 1x pokoj s dvoulůžkem s panoramatickým oknem, 2x lůžko (90 cm). Otevřená kuchyně / obývací pokoj (trouba, sklokeramická deska 4 plotýnky, mikrovlnná trouba, mraznička, elektrický kávovar), jídelní stůl. Vstup na terasu. Vana / sprcha / bidet / WC. Ve spodním patře: (žebřík), 1 dvoulůžková ložnice s světlíku, 2x lůžko (90 cm). 1x velký pokoj, 1x francouzské lůžko (90 cm). Koupelna / sprcha / WC. Komfortní zařízení ve venkovském stylu. Malá terasa. Zahradní nábytek. Velmi krásný panoramatický výhled na moře, na hory a záliv. Vybavení: pračka, žehlička, dětská židlička, dětská postýlka. Vhodné pro rodiny s dětmi.
Colonia de Sant Pere: Meget hyggeligt, komfortabelt 2-familiehus "Paseo Del Mar", på 2 etager. I byen, rolig beliggenhed, 1 km fra kanten af skoven, 25 m fra havet, 25 m fra stranden, direkte adgang til stranden, i en gågade. Privat: terrasse, havemøbler. I huset: vaskemaskine. Parkering ved huset. Købmand, supermarked 200 m, restaurant, bar, bageri 100 m, pub have 150 m, busstoppested 600 m, sandstrand 190 m kiselstenstrand, stenstrand, klippestrand 25 m, dykkercenter 500 m. Lystbådhavn 280 m, golfplads (18 hul) 25 km, legeplads 500 m. Bemærk venligst: velegnet for familier, velegnet til seniorer. Objekt velegnet til 7 voksne grupper af teenagere på kun anmodning. Af- og pålæsning af bagage er mulig ved ferieboligen.
Tipus d'habitació
Casa/pis sencers
---
Tipus de propietat
Pis
---
Capacitat
7
---
Dormitoris
Colònia Sant Pere, Espanya
This is a beautiful and modern house located in Colonia St.Pere, next to the beach in one of the most exclusive and beautiful areas of the island.
This is a beautiful and modern house located in Colonia St.Pere, next to the beach in one of the most exclusive and beautiful areas of the island. With all the amenities, its terrace offers wonderful solarium and also on the terrace you can enjoy a drink at sunset or a nice summer dinner. It has a barbecue for lovers of meat and 2 sunbeds. The accommodation has 2 bright bedrooms, 1 with double bed and the other with 2 bunk beds and a bathroom. The living / dining area has doors opening onto the terrace. It has a fully equipped american kitchen with dishwasher. The house is only 100m to an amazing sand beach, and near a wonderful natural national park area. It is in a family and very quiet area, near the downtown, where you will find supermarkets, shops, local restaurants and bars. There is free parking in the area and bicycles are available in the house!
The house is only 100m to an amazing sand beach, and near a wonderful natural national park area. It is in a family and very quiet area, near the downtown, where you will find supermarkets, shops, local restaurants and bars.
really good accommodation, clean, has everything you need and only a 5 minute walk from shops, restaurants and beach. lovely holiday
claire
2016-08-14T00:00:00Z
Tipus d'habitació
Casa/pis sencers
---
Tipus de propietat
Pis
---
Capacitat
6
---
Dormitoris
Colonia de Sant Pere, Illes Balears, Espanya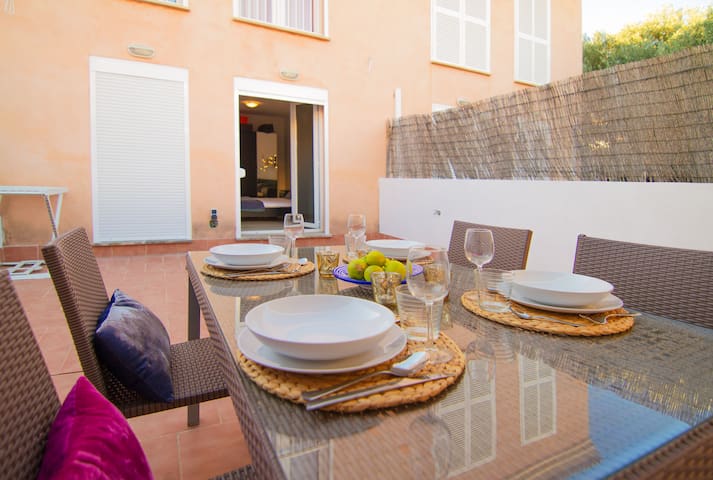 En el norte de la isla, rodeado de playas naturales,calas preciosas, parajes impresionantes. , . Es un antiguo pueblo de pescadores, donde no ha llegado el turismo, no hay hoteles, supermercados, panaderia, a pocos metros del apartamento, una playa muy recogida, si prefieren hacer excursiones, estan rodeados de playas naturales, Son Serra de Marina., .. Mi alojamiento es bueno para parejas, aventureros, y familias (con (URL HIDDEN) gastronomia
The host canceled this reservation 26 days before arrival. This is an automated posting.
Lauge
2016-07-06T00:00:00Z
Tipus d'habitació
Casa/pis sencers
---
Tipus de propietat
Pis
---
Capacitat
5
---
Dormitoris
Colonia de Sant Pere, Illes Balears, Espanya
Agradable i còmode apartament a la Colònia de Sant Pere de 96m2 més 50m2 de jardí, situat a 50m de la mar perquè la vostra estància sigui agradable i relaxada. La Colònia està situada al nord de l'illa, un lloc tranquil on podeu gaudir d'excursions a peu o en bicicleta per les cales verges que hi ha a aquest lloc. Es poden observar les millors postes de sol de tota l'illa, són meravelloses, poden contemplar i gaudir de la posta de sol. És un apartament ideal per disfrutar Mallorca amb la seva parella o família. L'apartament consta de dos dormitoris, un doble amb bany complet i armari, a l'altra hi ha dos llits individuals, un bany, la cuina completament equipada (gelera, vitroceràmica, forn, microones, rebost amb tots els estris de cuina, rentaplats) i una bugaderia amb rentadora. A més, hi ha un gran saló menjador amb TV-satèl·lit, terrassa moblada per disfrutar del sol o per sopars romàntics. Si sou més de 4 persones es pot afegir un llit adossat o una cuna per bebès. El preu inclou subministr de llençols i tovalloles. La Colònia de Sant Pere es troba al nord de Mallorca, a pocs km de Can Picafort, Son Serra, Alcúdia, etc. Esperem que les vostres vacances d'estiu siguin les més agradables i que la vostra estància en el nostre apartament sigui de lo més agradable.
La Colonia de Sant Pere en un lugar muy tranquilo,podeis pasear por el fresco de la noche sin ningun problema.
Hem passat uns dies fantàstics a l'apartament de na Caty. L'apartament es correspon completament a la descripció i a les fotos, i està molt ben situat; a prop de la platja i dels comerços. Na Caty ens va rebre amb fruita i refrescs, i tot varen ser facilitats durant la nostra estada a la Colònia de Sant Pere. Cent per cent recomanable!
Maria
2016-08-08T00:00:00Z
The host canceled this reservation 216 days before arrival. This is an automated posting.
Ana
2016-12-26T00:00:00Z
Caty greeted us and despite the language barrier, we felt very welcome. Fresh fruit in the fridge. Location is perfect for the beach and sea front restaurants. Highly recommended
Peter
2016-09-15T00:00:00Z
Tipus d'habitació
Casa/pis sencers
---
Tipus de propietat
Pis
---
Capacitat
5
---
Dormitoris
Colonia Sant Pere, Espanya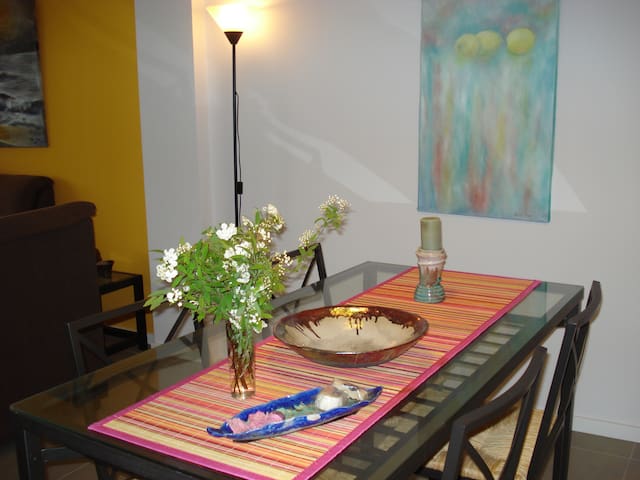 Un bellissimo e moderno appartamento con vista sul mare a Colonia Sant Pere con spazio per quattro persone.
Questo bellissimo appartamento di recente costruzione gode di un design molto particolari. Un luminoso soggiorno con aria condizionata e una bella vista vi invita a rilassarsi o guardare la TV (TV satellitare). La cucina è ben attrezzata e non ti dispiacerà passare un po 'di tempo. E 'dotato di elettrodomestici in ceramica e moderni. Sia il salone e la cucina hanno accesso ad una terrazza ideale per godersi una splendida serata con gli amici una famiglia. Ci sono due camere da letto con letti matrimoniali, aria condizionata e armadi, camera da letto matrimoniale ha un bagno en-suite con doccia. Inoltre, un secondo bagno, anche con doccia, disponibile per tutti gli ospiti. Su richiesta mettiamo a disposizione una culla e un seggiolone. Una lavatrice, ferro e asse da stiro sono disponibili. La terrazza superiore è dotato di barbecue e due lettini, e può essere un bel posto per sentire la brezza del mare morbida e fresca. Per il complesso residenziale dispone di un ampio giardino in comune. Ci si sente un po 'come in Paradiso. Nota: affitto La struttura è effettuata in base alla legislazione spagnola, in particolare la legge 29/1994 del 24 novembre sulle locazioni urbane. Per questo motivo, la proprietà sarà disponibile per uso stagionale. In questo contratto, egli non sarà offerto alcun tipo di servizi turistici. Il presente contratto consiste solo della cessione del utilizzo e il godimento della proprietà. Si prega di contattare l'inserzionista per eventuali costi aggiuntivi. Partys un evento privato di è proibito. Non è possibile ospitare animali domestici nella proprietà. C'è spazio parcheggio privato per 1 auto in garage. L'accesso alla casa è attraverso il garage.
La casa si trova nella Colonia de Sant Pere, una zona costiera con bar e ristoranti e belle spiagge e calette come Cala Na Clara, noto per le sue acque cristalline. Trovare il tempo addolcire o con una passeggiata lungo il porto o fare un viaggio da qui in barca. Circa 10 minuti di macchina si raggiunge la spiaggia di Son Serra de Marina, anche caratteristico per le sue acque limpide. Si consiglia una visita al villaggio di Betlem e suo eremo.
Tipus d'habitació
Casa/pis sencers
---
Tipus de propietat
Pis
---
Capacitat
4
---
Dormitoris
Urbanització Montferrutx, Illes Balears, Espanya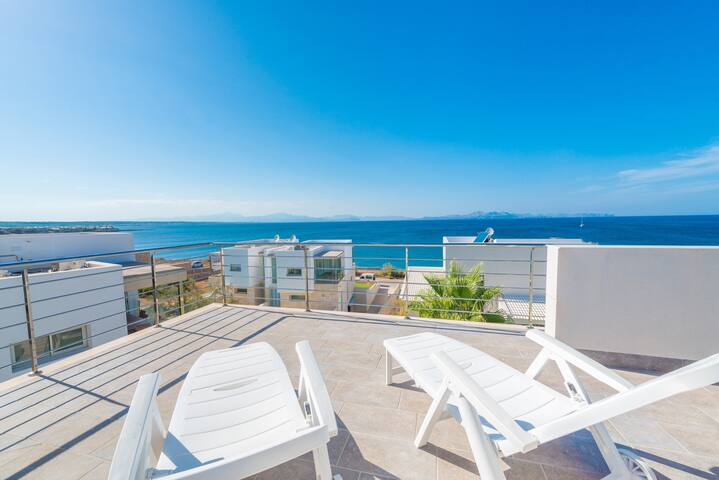 Die Wohnungen (43 qm) haben jeweils 1 Doppelschlafzimmer, ein Wohnzimmer mit Schlafcouch für 2 Personen, Küchenzeile oder Küche, Bad/Badewanne/WC, Balkon oder Terrasse am Schlafzimmer, vor dem Wohnzimmer spendet der Platz im Laubengang Schatten.
Das Haus liegt zwischen Bergen und Meer in einer ruhigen Siedlung in der Bucht von Alcudia. Das Haus ist umgeben von einem Garten mit Pinien, Blumen, Kräutern und Zitronen. 500 m zum Sandstrand mit wunderschönem Ausblick auf die Bucht von Alcudia.
Colonia Sant Pere liegt im Nordosten von Mallorca in der Bucht von Alcudia. Ein ruhiger Ort ohne große Hotelburgen, aber mit allem, was man für die Verpflegung, die Erholung, das Vergnügen, das Kennenlernen der Menschen und der Region braucht. Mehrere schöne Restaurants an der Strandpromenade und im Ort, Cafe Central - wo ihr die Einheimischen trefft - am Markt- und Kirchplatz.
Tipus d'habitació
Casa/pis sencers
---
Tipus de propietat
Pis
---
Capacitat
4
---
Dormitoris
Colonia de Sant Pere, Illes Balears, Espanya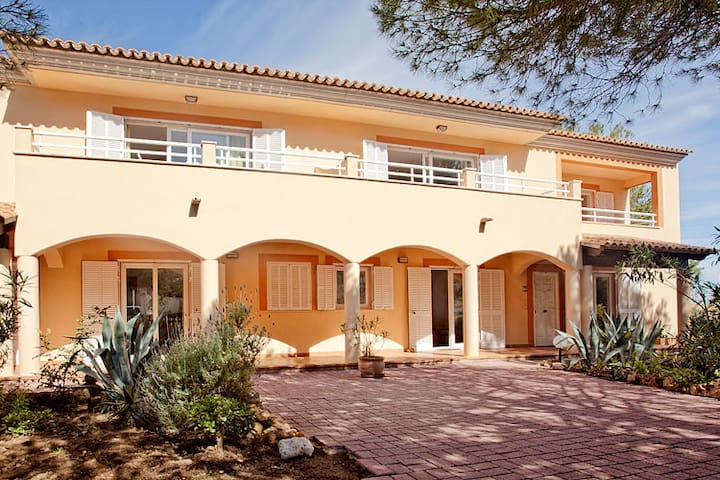 Welcome to the Mallorca's quietness! It is hard to describe with words the feeling when you stay at 10m from the sea in this magical location of Mallorca, Colonia de Sant Pere.
Located in first line, with sea views, this ground floor apartment is the escape way form the busy cities and the crowded points. Enjoying the clear water beaches around, walking trough nature, hiking, cycling or just having a relaxed time, are some of the things you can do if you stay in La Colonia de San Pedro. The property, with its 156 sqm interior living space, can host 6 adults comfortably. There are different living areas, 3 double bedrooms, different dining places and a 50 sqm backyard. The apartment has mainly classic decoration style and it is in very good condition and good quality. More details: - First Line with sea views. - Big entrance area. - 2 separate living areas. - 3 double rooms. - 2 bathrooms. - Open kitchen. - Backyard with exterior dining place. - It is provided all necessary for living like clean bed sheets, towels, etc. - Hair-dryer, iron. - Good internet connection. Wiffi. - Fire place. - Public parking place available for free in front of the house and on the streets. Available for weekly and mid-term rental.
This ground floor apartment is the only property on this lever and is part of 2 floors building. There is just one more property above in the first floor. The environment is quiet, perfect for relaxed stays. La Colonia is an attractive Mallorquin town that incites to rest and disconect from busy cities, for its tranquility and the absence of crowds at any time of year ; the proximity to places of outstanding natural beauty as Cape Farruch , Betlem and the natural park of Sierra de Levante make an exit point of sightseeing tours ; in the vicinity there are numerous coves small beaches that go unnoticed for those who are unfamiliar with the area.
We really enjoyed our stay, ideal place for a big company/family with lots of space inside the house and a small private resting area outside where you can get some tan. The seaside is also very close with sand beach, one can see the sea from the windows. The landlord was very responsive and helpful. Would highly recommend this property.
Dmitriy
2016-08-09T00:00:00Z
Tipus d'habitació
Casa/pis sencers
---
Tipus de propietat
Pis
---
Capacitat
6
---
Dormitoris
Colonia de Sant Pere, Illes Balears, Espanya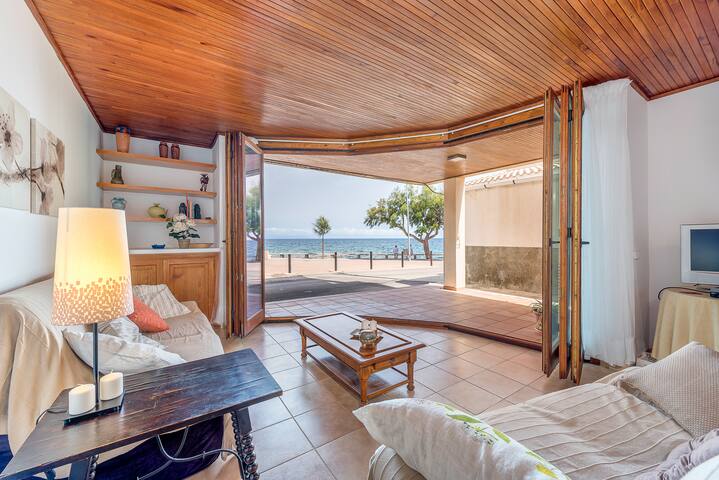 Wonderful apartment in first line in Son Serra de Marina suitable for 6 people. 3 double bedrooms. Bathroom with bath and separate toilet. A covered terrace overlooking the sea with sliding windows to leave closed the terrace. Front terrace with BBQ.
Wonderful apartment in first line in Son Serra de Marina suitable for 6 people. It has 3 double bedrooms, one with super king size bed, another one with 2 single beds of 90 cm. and the third with bunkbed. Bathroom with bath and separate toilet. Living room with flat screen TV, DVD player and satellite. Fully equipped kitchen with hob, oven, microwave, dishwasher, refrigerator, espresso machine and all kinds of utensils. A covered terrace of about 25 m2 overlooking the sea with 4 armchairs and table and chairs for 6. It has sliding windows to leave closed the terrace. Another front terrace of 10 m2 with table, chairs and two sun loungers. It has a gas barbecue with volcanic stones. Lower terrace with shower and bikes to enjoy a ride through the town´s streets. Free WIFI Internet access throughout the apartment.
Son Serrra de Marina is a small seaside resort in the Alcudia Bay and also a popular area for individualists who are seeking for the most authentic side of the Balearic islands. The beach is great for kite surfing, backs on to sand dunes and unspoiled countryside. Son Serra is situated between Can Picafort and Colonia San Pere. The Parc Natural de s'Albufera is a few miles away, like the Parc of the public estate of Son Real (unique natural landscape riddled with archaeological sites). Along the northern coast, walking, cycling or horse riding is perfect for nature lovers and typical mediterranean ports or mallorcan villages as Puerto Alcudia, Alcudia, Puerto Pollença, Pollença or Inca and of course also Palma de Mallorca, the capital are worth a visit. If you like to discover Mallorca with comfort and autonomy we recommend renting a vehicle. From Happy Mallorca we can provide very competitive rates, so for this option, please contact us and we will give you a quote. Dare to discover the secrets of this wonderful island!
Very nice place
Surabhi
2016-12-15T00:00:00Z
Diese Wohnung war schlicht und einfach ein Traum! Es ist alles sehr sauber, gute Aufteilungen der Zimmer und das Highlight ist der "Wintergarten". Diese Aussicht haut uns täglich aufs Neue aus den Socken. Zu Wellenrauschen einschlafen, die frische Meeresbrise am Morgen und die ruhige Nachbarschaft - wir sagen danke und kommen bestimmt wieder! Mateu war leider nicht anwesend, dafür hat uns eine Freundin, Marille, herzlich empfangen. Es hat alles wunderbar geklappt und auch beim Check-out zeigte sie sich sehr flexibel. Alles in allem: The best!
Michael
2015-05-25T00:00:00Z
Great apartment, wonderful view. Anytime again.
Wanja
2016-07-04T00:00:00Z
Perfekt! Wir sind rundum zufrieden und werden wiederkommen! Vor allem die reibungslose Autovermietung am Flughafen ist erwähnenswert. Danke Mateu!
Volkhard
2016-10-25T00:00:00Z
Idéal en famille endroit calme et paisible vue imprenable sur la mer et la montagne avec levé et couché du soleil
Anne Sophie
2016-09-23T00:00:00Z
Wir wurden sehr nett von Natali empfangen und haben sogar noch eine kulinarische Spezialität erhalten. Die Wohnung mit dem Ausblick auf das Meer ist grossartig. Die Umgebung war uns ein bisschen zu ruhig. Wir hätten uns ein bisschen mehr Dorfleben gewünscht, um abends nicht mit dem Auto in ein Restaurant fahren zu müssen. Die Umgebung sonst ist aber sehr gut gelegen und in 30 Minuten Fahrt sind wundervolle Calas und Ortschaften zu erreichen. Herzlichen Dank Mateu für den schönen Aufenthalt!
Daniela
2016-07-29T00:00:00Z
Host is very kindly. this house have amazing view and so be silent. especially welcome food by host can't forget. So delicious!! Thank you for your kindly!!
JungJIn
2016-10-21T00:00:00Z
Todo muy bien, la cocina, las vistas, el apartamento en general. Lo único negativo fue la dureza del colchón de la cama. Muy incómodo para descansar. Ibamos con idea de pasear con las bicicletas del anuncio pero no estaban. Por lo demas todo perfecto.
Lolo
2016-12-08T00:00:00Z
Tipus d'habitació
Casa/pis sencers
---
Tipus de propietat
Pis
---
Capacitat
6
---
Dormitoris
Son Serra de Marina, Illes Balears, Espanya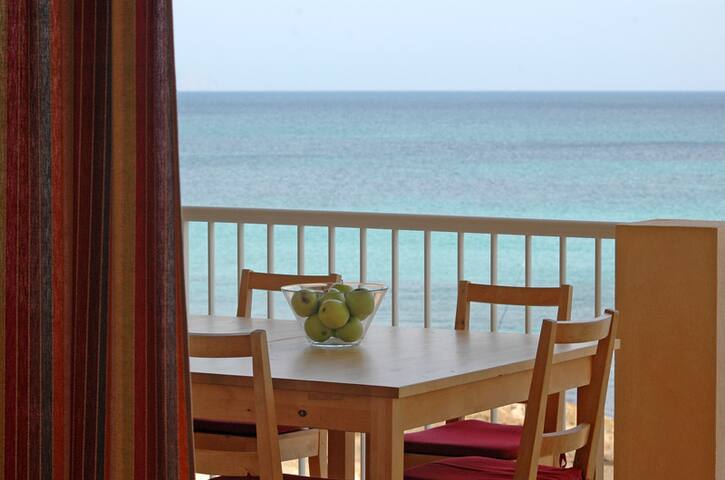 Casesambaire are two new apartments in front of the sea with capacity for 6 people each. On the main floor you will find the kitchen, dining room, living room and bathroom, on the first floor there are two double bedrooms with bathroom and on the lower floor there is a double bedroom and living room-studio or games according to the needs. Each has a private pool and barbecue area.
The apartamnet is for 6 people but Check availability if you wish to rent both apartments, with a total capacity for 12 people.
The main attraction of Son Serra de Marina is the incredible coastline stretching from Alcúdia to the peninsular Cap Farrutx. The beach of Son Serra de Marina is sandy, approximately 400 meters long. Within walking distance, you can find more natural beaches, both towards Son Real beach in one direction and Sa Canova beach in the opposite direction. The village is not a major tourist destination, but its unspoiled nature makes it an excellent choice for those seeking natural coastal areas. In this area you will find mainly tourists travelers most of them making simply a visit during the day. Son Serra de Marina has a small selection of restaurants, the relaxed bar 'El Sol', located next to the beach, is rated as one of the hidden restaurants favorite of tourists and Mallorcan. In Son Serra de Marina everything revolves around outdoor sports. Specifically, the village is known for the practice of exciting adventure sports such as surfing, windsurfing, hang gliding and kite surfing. You can also find sports such as horse riding, canyoning, speleology, canoeing and scuba diving. For those looking for something less strenuous, this is the ideal place for walking, biking, bird watching or just relaxing and enjoying nature. It is a beautiful stretch of coastline where you simply enjoy a pleasant walk. During the last week of July and the first of August there is a 10-day party with numerous sporting events, live music and other celebrations.
Tipus d'habitació
Casa/pis sencers
---
Tipus de propietat
Pis
---
Capacitat
6
---
Dormitoris
Son Serra de Marina, Illes Balears, Espanya
Small, cozy and quiet apartment in Mallorca with wonderful views over the bay of Alcudia and ideal for families and couples looking for a holiday Pollensa relaxation
The apartment is ideal for those seeking a holiday of relaxation and tranquility, away from large urban centers
It is a small very quiet apartment community with guests and families seeking tranquility and relaxation
Les meves convidades varen passar un molt bon moment a l'apartament d'en Sebastian, vistes i entorn incomparables i bona disponibilitat de l'amfitrió!
Aïda
2015-09-01T00:00:00Z
Hem passat una setmana fantàstica a Betlem, una zona molt tranquila de Mallorca. L'apartament tenia tot el necessari per passar uns dies, net i acollidor. Unes vistes espectaculars del mar i la badia! Ens hem sentit molt ben acollits per Sebastià. Ens va rebre per ensenyar-nos tot com funcionva i el vam poder trucar sempre que feia falta. Amable i atent en tot. Cap crítica ni aspecte negatiu, potser posant cortines fosques per la nit aniria millor. Recomanem l'apartament a parelles o famílies amb un fill petit per la calma general. La piscina també és genial, neta i tranquila, amb tumbones! Repetiríem sense cap dubte!
Eva
2014-07-31T00:00:00Z
Très sympa comme séjour! Mais nous ne sommes resté que deux nuits. Pas sur que ce soit supportable beaucoup plus.. Le manque de volets ou rideaux opaque, et vraiment compliqué. Au bout du séjour, nous étions fatigué par des nuits trop courte. Le resto du bas est très sympa. Au pire il y en à un autre à Betlem plus proche de la cala si on se donne la penne de chercher un peu... A 5 km vous trouverez un "vrai village" avec une armée de restaurant, bar, et même un petit supermarché aux tarif plus intéressant qu'à la superette du bas de chez Sébastian! Sinon la vue est sublime, l appartement est très bien!
Florian
2016-06-13T00:00:00Z
The host canceled this reservation 18 days before arrival. This is an automated posting.
Anne-laure
2016-04-17T00:00:00Z
Hammer Ausblick : Gebirge von Betlem bis Formentor, dazwischen Meer soweit das Auge reicht. Und nachts kann man die Lichter von Alcudia sehen. Ruhig und abgelegen in diesem leider etwas künstlichen Örtchen, das den Mallorquinern als Sommerresidenz dient. Wir waren im Winter (November) dort und die Balkontüren waren leider nicht ganz dicht -> leichter Durchzug und Mücken. Man braucht ein Auto um dorthin zugelangen und mehr von der Insel zusehen. Wandern kann man aber auch vor Ort. Der Pool ist tatsächlich so groß wie auf den Bildern und die Baukräne sind mittlerweile weg. Es gibt alles was man in der Küche braucht. Super Wlan, Gesellschaftsspiele, eine Playstation 2 (ohne Memory), Spielzeug für Kinder, Bücher (sogar eins auf deutsch). Tennisplatz ist ebenso vorhanden. Der Kontakt zu Sebastian war reibungslos und freundlich. Hat uns alles sehr gefallen. Empfehlenswert.
Daniel
2016-11-26T00:00:00Z
Todo 100% correcto, tal como se muestra en las fotos (incluso mejor), una urbanización super tranquila y trato con el anfitrión en todo momento.
Julia
2015-07-12T00:00:00Z
Très bon séjour, appartement comme sur les photos. Une vue magnifique, piscine très agréable. Endroit reposant.
Marie
2015-06-21T00:00:00Z
Sebastians Apartement liegt im ruhigen Betlem, die Lage eignet sich super für Ausflüge in die Umgebung. Man genießt einen wunderbaren Ausblick über die Bucht von Alcudia. WIr haben die Zeit sehr genossen und werden bei Möglichkeit gerne wieder kommen!
Roman
2016-10-05T00:00:00Z
Tipus d'habitació
Casa/pis sencers
---
Tipus de propietat
Pis
---
Capacitat
3
---
Dormitoris
Betlem, Islas Baleares, Espanya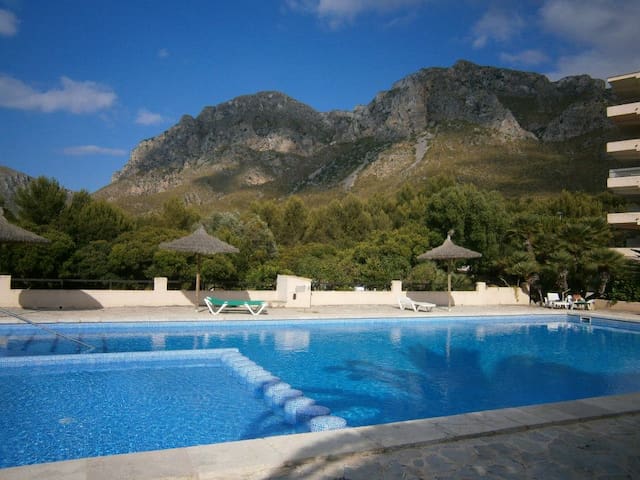 In toller Natur gelegen, Berge und Strand Kein Massentourismus, Schönster Sonnenuntergang der Insel Komplett möblierte Wohnung mit zwei großen Balkonen und großzügiger Sonnendachterrasse. Sehr gute Restaurants an der traumhaften Promenade
Ich kann dieses Ferienhaus nur absolut weiterempfehlen! Wir hatten einen super Urlaub in einer tollen Unterkunft in einem kleinen, nicht touristisch-überlaufenen Dörfchen. Die Kommunikation mit Stefan war unproblematisch und einfach. Tipps und Informationen gibt er gerne weiter. Weil die Ausstattungsmerkmale hier ja nicht sehr ausführlich beschrieben sind und ich die Wohnung wirklich klasse finde, fasse ich das mal kurz zusammen: Es gibt eine Küche, ein Badezimmer, eine zweite, separate Toilette, 2 Schlafzimmer, ein Wohnzimmer, eine Dachterrasse (mit Meerblick) und 3 Balkone, 2 davon schön groß, mit schrägem Meerblick und Richtung Nordosten (klingt erst mal blöd, ist im Sommer aber Gold wert! Warm und hell ist es soundso, da braucht man nicht noch direkte Sonneneinstrahlung, die es unerträglich macht). Im Keller ist eine Waschmaschine und ein Trockner; die Luftmatratze, Strandmatten und ähnliches darf man mitbenutzen. Handtücher sind en masse vorhanden, auch für den Strand, eine kostenlose Parkmöglichkeit ist direkt vor der Haustüre, aber man könnte auch in die Tiefgarage fahren, Klimaanlage gibt es in den beiden Schlafzimmern (reicht auch im Hochsommer, das Haus heizt sich echt nicht auf), Fernseher und ein Föhn sind ebenfalls vorhanden. Was nicht vorhanden ist, sind ein Geschirrspüler und Internet/W-Lan (gibt es gratis in fast jedem Restaurant an der Promenade, wobei die Verbindung dort in der Gegend seeehr langsam ist). Wir waren übrigens positiv von der Größe überrascht. Auf den Fotos sieht die Unterkunft etwas kleiner aus als in Wirklichkeit. (Außer der Küche, die ist wirklich ziemlich klein. ;-) ) Das Meer/ ein Steinstrand/ die Promenade ist in einer Minute zu erreichen, ein Sandstrand in weniger als 10 Minuten. Vormittags waren wir dort so gut wie alleine. :) Nach Möglichkeit kommen wir bald mal wieder!
Lydia
2016-08-15T00:00:00Z
The host canceled this reservation 20 days before arrival. This is an automated posting.
Mar
2016-07-07T00:00:00Z
Fantastic place and fantastic host!!! Perfect travel
carlota
2016-08-21T00:00:00Z
Tipus d'habitació
Casa/pis sencers
---
Tipus de propietat
Pis
---
Capacitat
4
---
Dormitoris
Colonia de Sant Pere, Illes Balears, Espanya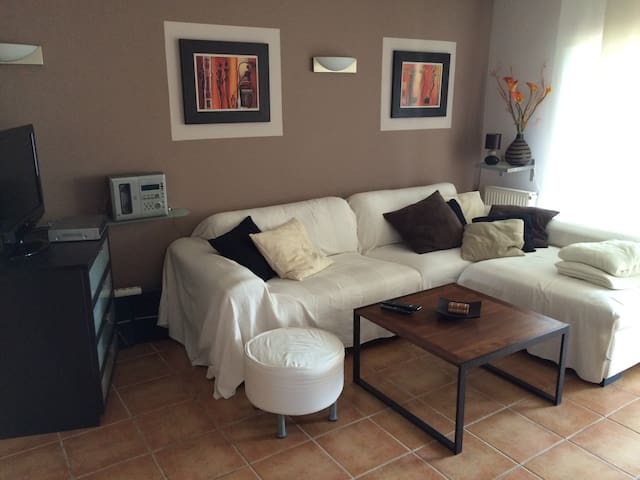 Mallorca Beach front line apartment sleep 6 Son Serra beach front line family apartment This sea - beach front lovely apartment is located in Son Serra next to Can Picafort a sandy beach famous. Perfect family apartment for up to 6 persons. From the terrace you will enjoy the sea views. Decorated with style to offer maximum comfort to the guests. An open plan living/dining area with well-equipped kitchen and fittings along with a lovely bright interior. There are stunning sea views from the terrace as well the dining area. The lounge area offers T.V. and has a sofa perfect to enjoy a relaxed holiday in a peaceful location. Patio doors open onto the terrace furnished with a table with chairs. There are three bedrooms, two with two double beds and one single beds. There is a bathroom with bath and shower. The apartment is equipped with hot and cold air conditioning on the leaving room. Amenities/Facilities: Fridge/Freezer, Hob/Stove, Iron, Microwave, Oven, Washing Machine, aircond, come maker, TV, DVD, sun loungers, space to keep bicycle's. More information….. Son Serra is with many great restaurant (special for fish) and cafeterias, shops and supermarket. Many beaches and cala close by.... Can Picafort, Playa de Muro, Alcudia or Arta. From Palma airport it is just around 1 hour with car. All facilities within walking distance, very central with advantage of being near beach and promenade next to the sea. Information important: The rental of this property is based on the Spanish Law on Urban Leases ((PHONE NUMBER HIDDEN)th November). According to this law the property is available for seasonal renting, however, the contract does not offer any tourist service. It is only for the use and enjoyment of the property. Rental starts at 14:00 hours and finishes at 11:00 hours on the last day of the contract. Prices are for this property in Euros. Long winter rental prices on request. Refundable deposit required for any wilful damage to the property or its contents, to be paid upon arrival. Rentals also taken for December through to March. For hand over of the keys after 20.00 it is possible, please ask for more details.
Tipus d'habitació
Casa/pis sencers
---
Tipus de propietat
Pis
---
Capacitat
6
---
Dormitoris
Son Serra de Marina, Illes Balears, Espanya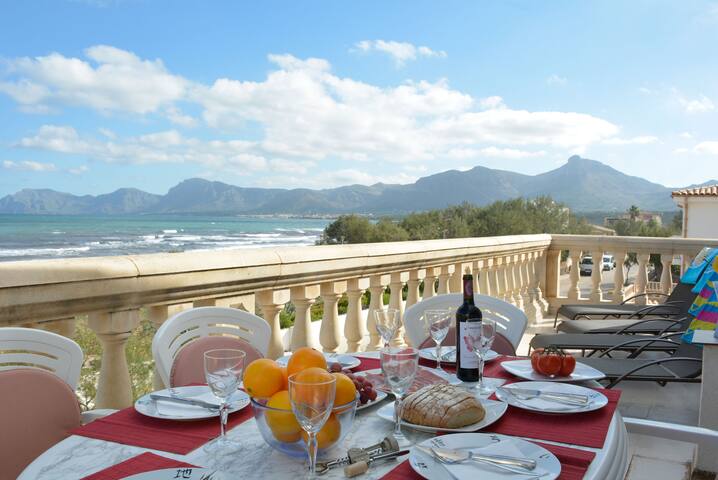 Urbanització Montferrutx - Airbnb
:
Mitjana de

4.4

estrelles sobre

5

a partir de

139

avaluacions d'hostes
1

-

18

de

66 Lloguers de cases
Introdueix les dates per veure el preu total. S'aplicaran tarifes addicionals. És possible que també s'apliquin impostos.