casaBARTHEL is a perfect place for a vacation and an artist residency, immersed in the Tuscan landscape only 15' from the Duomo and 30' from Siena. Come and live with us; enjoy our olive trees, the kitchen garden and our family life style away from the working rhythm. By providing wifi only in the communal courtyard we suggest our guests to utilize internet only when is really needed. Taking a break from been connected with elsewhere and enjoy the 'here and now' could be our best present to you!
casaBARTHEL is a perfect place for a vacation and an artist residency, immersed in the Tuscan landscape only twenty minutes' from the Duomo and one hour from Siena. Come and live with us: enjoy our olive trees, the kitchen garden, the tennis court and the small swimming pool. The TREEhouse is a romantic room immersed in the pine trees with fire place for the winter and AC for the summer. It offers a bedroom with a queen size bed, a small kitchenette with stove and fridge; a bathroom with shower, and a private outdoor terrace. And a fantastic view towards the Tuscan landscape! And if you want to see and know more about our passion for the interior design, the arts and crafts, and antiques you should come visit our design and make shop 'Riccardo Barthel' in Via dei Serragli n. 234 r, in the Santo Spirito district of Florence! At the beginning of the 1980 our family moved into the 'Poggio Secco' (Dry Hill) farmhouse, just outside Florence city center, in front of the Certosa dell'Ema. The compound had a big stone villa surrounded by olive trees, a compost hub, a pigeon house, a barn, a tall cypress tree and an old German shepherd dog. Everything in the farm was placed around a large terracotta courtyard, a sort of public square. Thirty years later the 'Dry Hill' is still our home and a small community. We all live here sharing the same love for the countryside, its olive oil, good food and the family lifestyle! The rent includes the use of the communal swimming pool and the tennis court; the dining porch with the BBQ and the wooden oven; dryer and washer; table tennis and football table, plus a car parking inside the property. We are glad to interact with our guests; you will be part of our large family! Galluzzo is a nice small village with everything you need:crocery stores and a nice farmers market open every day. The certosa monastery is a must. Le Corbusier was there to learn! There are public busses in Galluzzo to go to the city center and to go to Siena. But to get to our house and to enjoy the surrounding you should come by car!
Galluzzo is a nice small village with everything you need:crocery stores and a nice farmers market open every day. The certosa monastery is a must. Le Corbusier was there to learn!
La casa de l'arbre és un lloc per fer una escapada tranquil•la. L'atenció de l'Elena és total i et soluciona qualsevol problema. La casa és espectacular i l'entorn fantàstic. Ja pensem quan hi podrem tornar. Moltes gràcies per rot Elena!!!
Gonçal
2017-03-31T00:00:00Z
What can we say, we had a fantastic time at the tree house, the pictures don't do it justice! Elena was a brilliant host and we can't wait to return!
Jess
2014-08-12T00:00:00Z
Bellissima esperienza. Siamo stati solo una notte ma tutta la tenuta è davvero un paradiso. La casa sull'albero fiabesca. Anche gli altri appartamenti sono davvero magnifici. Piaciuto tutto e spero di tornarci presto magari d'estate. Anche la padrona di casa disponibilissima e gentilissima.
Mariahelena
2015-03-22T00:00:00Z
Un posto davvero magico da cui guardare la vita da un'altra prospettiva. Rimarrà per sempre nei nostri cuori, visto che tra quelle quattro mura di vetro, in mezzo la natura, è arrivato il SI che ci unirà per sempre.
Dario
2013-10-29T00:00:00Z
I cant think of a better host than Elena. Would also be difficult to Imagen a nicer place to spend 2 nights than this magical treehouse. 15 min drive outside of the hustle and bustle of the city center sits a beautiful olive farm. A mix between contemporary and rustic with the modern comforts one expects on a cold night in January. the cozy space firsts a comfortable kitchenette and bathroom. We also got a special delivery of croissants every morning. Looking forward to a future visit to Florence, I couldn't think of a nicer place to stay than here.
Daniel
2017-01-04T00:00:00Z
The tree house was great, we stayed there for days and loved it! Florence is just 15m away, Chianti is just 30m away, Pisa is an hour away. The place is very nicely located. The view is spectacular, and casa Barthel is private, intimate, and safe.
Brandon
2017-03-11T00:00:00Z
The treehouse is a really special space to stay in. It's comfortable, romantic, stylish and in a beautiful location. We can't wait to go back someday for longer. PS take a walk 20 mins up the hill to Bella Ciao - great food!
Nikki
2014-09-18T00:00:00Z
It is real romantic and beautiful place. Very nice lady was a great host. One morning we asked about croissants and received some croissants, milk, bread, jam, butter and smile. Thank you very much!
Aleksei
2014-10-20T00:00:00Z
Tipus d'habitació
Casa/pis sencers
---
Tipus de propietat
Altres
---
Capacitat
2
---
Dormitoris
Florència, Toscana, Itàlia
Nota: aquesta és una "veritable llit i esmorzar", amb els propietaris que viuen Insite. Estem sempre de la llicència legal expedit per l'Ajuntament i la Policia local.
Allotjament i esmorzar a Vila de 1700. esplèndida de Vesuviana Té tres dormitoris amb cambres de bany, internet Wi-Fi, aire condicionat, zona d'aparcament. A disposició dels hostes: gran jardí, habitacions amb mobles antics, solàrium. A la seva proximitat al transport públic important (Circunvesuviana, autobús, metro del Mar), el B & B Villa Sant Gennariello és ideal per a excursions a Pompeia, Nàpols, Sorrento, Capri i Ischia, Campi Flegrei. Les excavacions arqueològiques d'Herculano són a poca distància (10 minuts). Habitació doble o doble ús individual: habitació gran i assolellat, amb bany privat, mobles de les antiguitats, aire condicionat, internet WiFi, TV-Dig / satèl·lit, DVD. Llit doble gran o dos llits individuals; possibilitat d'afegir un tercer llit. Junior-Suite: habitació amb dos ambients, mida del rei / llit doble, un sofà-llit doble i un llit individual, bany privat, mobles de les antiguitats, aire condicionat, Internet WiFi, TV-Dig / satèl·lit, DVD. Perfecte per a una família de 5 persones max. Dependència: Pis amb entrada independent, habitació amb llit doble / doble i un llit individual, bany privat, cuina i una petita terrassa amb vista al jardí, aire condicionat, TV-SAT. Bo per llarga estada. Els tipus de les tres habitacions aquí descrits poden ser ràpidament adaptats a les necessitats del client (individuals, dobles, triples, etc.). Recordeu: vostè està reservant una de les tres habitacions; si vostè està buscant llits per a més de 3 persones, si us plau, repeteix vàries vegades la reserva, en una altra sessió (Sala # 2, # 3), fins arribar a la quantitat sol·licitada (màxim 9 persones) !!
Villa San Gennariello is a lovely villa in a great location for archealogical sites. It was wonderful to stay in a 'grand' house and we felt very special. There is an abundance of room and the place is extremely comfortable. It is also very secure. Franceso is passionate about Pompeii, Ercolano, Vesuvius and Napoli and has much information to give about the areas. Emma is gentle and caring and makes delicious breakfasts that include the world's very best blood orange marmalade. Divine. We recommend a stay here.
Christine
2012-03-04T00:00:00Z
What a delightful warm welcome we had! Emma and I had such fun swapping recipes, and I have left with lots of ideas for Italian Easter cakes! Our room was vast and comfortable, and the house is so interesting. It is also extremely well placed for both Herculaneum and Pompie. We hugely recommend a visit.
Ann
2016-04-02T00:00:00Z
Our stay with Emma and her family at this grand villa proved to be a great choice for us. Napoli is located quite far but if you're not into the busy crazy scene, this is a good place to stay and get away. Francesco was always around giving us some advice and letting us in and out of the villa. When I mean villa, this is really a villa. It's huge and has high ceilings with very historical architecture from another century ago. The pics are (URL HIDDEN) believe the hype. FYI, the only drawback is the walk from the train station on Via Liberta is a good 15 minute walk and filled with speeding cars and mopeds so you better ask Francesco to pick you up for a fee (25 euro) or suck it up and walk. Napoli is always kind of frantic so guess you just gotta live with it. I recommend this place but if you need a central location, you should look to other places. Cheers to the Cozzi family.
Adam
2011-11-19T00:00:00Z
The Villa San Gennariello is as beautiful as the pictures posted on Airbnb. Emma and her family are very helpful and friendly. They gave us expert advice on how to get around the area. The town of Portici is real Italy. It is not touristy so you get a feel for the average Italian experience. Our room was enormous and the facilities were very clean. Breakfast was very good. I highly recommend this BandB.
Leanne
2012-03-29T00:00:00Z
We'd been looking for an accommodation in Naples, but chose that villa in small town Portici, that close to Naples. So, we didn't doubt a moment about our choice during the stay. First of all, the allocation is great. You can reach easily Vesuvius, Pompeii, all small towns all around and of course Naples. We didn't have problems to visit even Capri. Portici town itself is very south Italian and non- touristic place. Halls in the villa look even much better than on the pictures. Just small piece of spirit of royal palace. The host tell us nice story about the villa, that used to be royal hunter house in 18 century. The owners were very hospitable, gave us many advises about places to visit and to have a dinner. We've been very happy to take the advises. Also we've been pleasantly surprised to get amazing breakfast that was absolutely not Italian. It wasn't just a coffee and croissant. It is the best place to stay during your visit in Naples.
Liubov
2012-06-23T00:00:00Z
My husband and I highly recommend the Villa San Gennariello as a landing place perfectly positioned at the foot of Mt. Vesuvius with quick access to Naples and all points on the Amalfi Coast. If you're looking for old school Italian flair, this lovely B&B is the place for you. Emma and her family are fabulous hosts. We really enjoyed the hearty, delicious breakfast each morning of our stay, and relaxing in the gardens and on the rooftop terrace. The highlight for us, though, was Emma's home cooked, multi-course Italian dinner on our final night in Italy. The dinner was delicious and a great value. So, don't miss the chance to have her cook for you!
Shannon
2016-08-28T00:00:00Z
This villa is amazing with a cool history. Emma and her son were very kind and helpful. The room was large and the bed comfortable. If the weather is nice you can enjoy their gardens. Two things that we wish we had known before booking: #1 The location is a bit hard to find even with a GPS (hint: we had to take a left and then another left after the GPS said we had arrived) #2 The area around the villa is basically Naples, so not a very nice area and narrow streets without sidewalks.
Joel
2013-03-04T00:00:00Z
Excellent accommodation. Superb breakfasts. We were made to feel very welcome and hosts were very helpful.
Phillip
2015-10-14T00:00:00Z
Tipus d'habitació
Habitació privada
---
Tipus de propietat
Bed & Breakfast
---
Capacitat
3
---
Dormitoris
Portici, Campània, Itàlia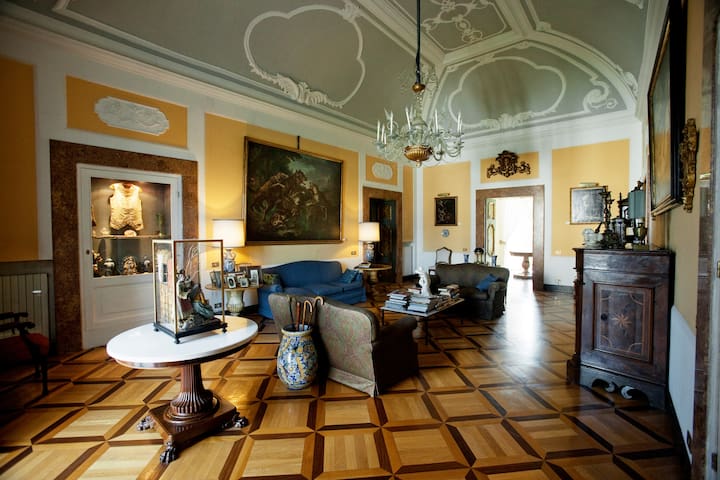 La nostra casa es complau a donar hospitalitat a l'apartament Leccio, és independent i no hi ha espai per a una parella i una tercera persona. Va a descobrir la nostra producció d'aliments orgànics i el nostre estil de vida natural.
Una, l'empresa orgànica de gestió familiar agroturisme situat als vessants pacífiques entre oliveres, vinyes i boscos, amb vistes a la propera Toscana, a una altitud de 480 metres. La casa de pedra, restaurat usant conceptes Bioedilizia (construcció ecològica), prop de la fusta, es compon de la casa principal i dels apartaments de lloguer, cadascuna d'elles consisteix en: cuina, dormitori i bany.
La granja està convenientment situat per arribar a les ciutats artístiques, arqueològiques i naturals més importants de l'Úmbria i Toscana.
Cimbolello was the quiet peaceful sanctuary we had hoped for; and awaking each day surrounded by its lush landscape, where the most industrious sounds jangled from the bells around the sheeps neck, was a pure delight and privilege. Francesco & Luisa were the perfect hosts throughout and we very strongly recommend a visit to their agricultural haven.
David
2015-08-28T00:00:00Z
This quiet little apartment is a great spot to explore the area from. Very close to Citta Della Pieve which is a sweet village with good restaurants. The apt is just big enough for 2 and while basic has all that you might need to cook etc. There is a small dining table and an upholstered chair but no indoor area like a living room. This wasn't a problem as you could sit outside at the picnic table. The apt is built onto the back of the house and is a back split. So it's sunny in the front and a bit darker and cool in the bedroom. Luisa and Francesco are lovely and are passionate about their farm. We bought some homemade cheese and wine from them and took a pasta class and had lunch with them at the farm. This is a very "real" Italy. You will live how a local lives.
Shannon
2014-09-23T00:00:00Z
Petit coin de paradis, très bien situé, au calme et au frais - à mi chemin entre Perugia, Orvieto, Montepulciano... Francesco et Luisa sont très sympathiques. Nous recommandons ABSOLUMENT.
Benoit
2016-08-28T00:00:00Z
We loved our stay on Francesco and Louisa's farm. The hosts are amazing. We did the pasta course and enjoyed a lovely and authentic dinner with the true super hosts. The apartment is perfect. The only thing we regretted was not staying here much much longer. We will be back :)
Jurgen
2016-06-02T00:00:00Z
This is a unique and very special place. Francesco and the whole family were wonderful hosts and the place we stayed was simply amazing, hard to describe. The house is in the countryside, where you only hear birds, it is peaceful and very relaxing. Francesco welcomed us, and left us 12 eggs from the farm, fresh from that very same day. I also recommend trying their produce, as we bought some of their great wine, jam and award-winning olive oil. They were so lovely, they even invited us to some homemade cognac one evening, were we put the world to rights under the stars :) We saw fireflies every night. It was simply perfect. I miss the place already. Highly recommendable for holidays with your partner or the whole family.
Ariadna
2014-06-22T00:00:00Z
素晴らしい時間を過ごしました。美味しいワインやチーズ、タリアテッレ !!!!! フランチェスコ夫妻との楽しい会話、私達は彼らの生活に尊敬と感謝をしています。また、必ず行きたいです。
Eri
2016-11-06T00:00:00Z
The location was perfect for day trips throughout Umbria and Tuscany. The hosts are very friendly. They were very busy with harvesting olives during our stay so we did not have the benefit of the pasta dinner or tastes of their olive oil, jams, etc. The biggest drawback for us was that there are two apartments that share a wall and you can clearly hear everything in the neighboring apartment. We enjoyed the other guests but their voices kept us up late into the night. The other caveat is the apartment is very rustic--cool, limited hot water and water pressure, not the most cozy accommodations. For us, the best thing was the location--we visited Montepulciano, Pitigliano, Orvieto, and other magnificent hill towns. Nice grounds with hammocks and vineyards.
Jamie
2016-10-07T00:00:00Z
What a wonderful time we had at Cimbollelo. Francesco and Luiza were fantastic. The guest cottage was just what we were looking for! They invited us to a traditional pizza luncheon with friends and it really was lovely!
chris
2014-11-06T00:00:00Z
Tipus d'habitació
Casa/pis sencers
---
Tipus de propietat
Pis
---
Capacitat
3
---
Dormitoris
Città della Pieve, Umbria, Itàlia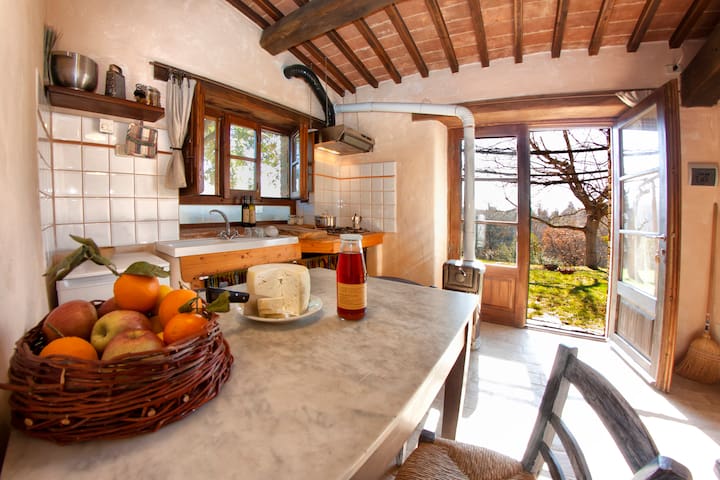 Nuestro apartamento ' una suite de 25 metros cuadrados . a pocos pasos de Campo de 'Fiori , el Ponte Sisto , Piazza Trilussa , Piazza Navona se encuentra en un edificio de 1600 , 3 piso, muy luminoso y tranquilo, la estructura puede ' Hold N 2 person
Our apartment 'a suite of 25 sqm. a few steps from Campo de Fiori, Ponte Sisto, Piazza Trilussa, Piazza Navona is situated in a building of 1600, the third and last floor, very bright and quiet, the structure can 'hold n 2 persons, suite' was recently renovated and is' provided with every comfort, including in the price a delicious breakfast.On request we can arrange a taxi from the center of Rome, and vice versa, from Rome city center airport of departure, this service exclusively for our customers Pettinarihome.Approximate distances calculated as the crow flies from BED AND BREAKFAST PETTINARIHOME CAMPO DE FIORI, for some large point are calculated from the center. Click on the site to see the route. Search within results Palazzo Spada 0.07 km (Rome) Galleria Spada 0.09 km (Rome) Campo de 'Fiori 0.21 km (Rome) 0.23 km Palazzo Farnese (Rome) Barracco Museum (MFA to Baullari) 0.34 km (Rome) 0.34 km National Museum of Rome (Rome) Palace of the Chancellery 0.34 km (Rome) Basilica of Sant'Andrea della Valle 0.34 km (Rome) Burcardo 0.39 km Theatre Museum (Rome) Church St. Agnes in Agony 0.45 km (Rome) Historical Museum of the Teatro Argentina 0.47 km (Rome) Jewish Museum 0.47 km (Rome) Basilica of St. Grisogono 0.53 km (Rome) Lucus Feroniae 0.53 km (Feronia) Piazza Santa Maria in Trastevere 0.53 km (Rome) Church Sant 'Ivo alla Sapienza 0.53 km (Rome) Hospital "San Gallicano" 0.54 km (Rome) Fountain of the Turtles 0.54 km (Rome) Basilica of Santa Maria in Trastevere 0.55 km (Rome) Fatebenefratelli Hospital 0.57 km (Rome) Fountain of the Rivers 0.58 km (Rome) Faculty of Economics 0.61 km (Rome) Faculty of Engineering 0.61 km (Rome) Faculty of Psychology 0.61 km (Rome) Museum of the Discoteca di Stato 0.62 km (Rome) Rome - Christmas Market 0.62 km (Rome) Church of Santa Maria in Vallicella 0.62 km (Rome) 0.64 km Villa Farnesina (Rome) Palazzo Corsini 0.64 km (Rome) Palace of the Oratory of the Philippines 0.67 km (Rome) Basilica Santa Maria sopra Minerva 0.68 km (Rome) Church of St. Louis of France 0.69 km (Rome) 0.72 km Pantheon (Rome) Faculty of Economics 0.74 km (Rome) Faculty of Law 0.74 km (Rome) Church of Santa Maria in Portico in Campitelli 0.75 km (Rome) Theatre of Marcellus and Portico 0.77 km (Rome) Church of Jesus 0.77 km (Rome) Basilica of St. Augustine in Campo Marzio 0.78 km (Rome) Museum of Criminology 0.79 km (Rome) Basilica of Santa Cecilia in Trastevere 0.80 km (Rome) Nursing Parioli 0.80 km (Rome) Hospital "Nuovo Regina Margherita" 0.81 km (Rome) Church of Santa Maria Maddalena 0.84 km (Rome) Church of St. Mary of the Seven Sorrows 0.84 km (Rome) Church of San Pietro in Montorio 0.85 km (Rome) Hospital Regina Margherita 0.88 km (Rome) 0.93 km Museum Historical Photography (Rome) Church of San Francesco a Ripa 0.94 km (Rome) 0.97 km Museum of Palazzo Venezia (Rome) Church of St. Ignatius 0.99 km (Rome) 1.00 km Galleria Doria Pamphili (Rome) Temple of Fortuna Virile Portunus or 1.03 km (Rome) Palazzo Montecitorio 1.05 km (Rome) 1.05 km Palazzo Venezia (Rome) Temple of Hercules 1.06 km (Rome) Basilica of San Giovanni dei Fio(SENSITIVE CONTENTS HIDDEN) 1.06 km (Rome) Basilica of Santa Maria in Via Lata 1.09 km (Rome) Basilica of Santa Maria in Aracoeli 1.11 km (Rome) Museum of the Souls of the Dead 1.12 km (Rome) 1.13 km Piazza Venezia (Rome) Church of San Marcello al Corso 1.13 km (Rome) Lapidary collection Capitolina 1.14 km (Rome) National Museum of Castel Sant'Angelo 1.14 km (Rome) Victorian (Monument to Vittorio Emanuele II) 1.14 km (Rome) 1.15 km Capitoline Museums (Rome) Column of Marcus Aurelius 1.15 km (Rome) Altar of the Fatherland 1.16 km (Rome) Palazzo Odescalchi 1.17 km (Rome) Arco Argentariorum 1.23 km (Rome) 1.24 km Galleria Colonna (Rome) Wax Museum 1.24 km (Rome) Castel Sant'Angelo - Hadrian's Mausoleum 1.25 km (Rome) Church of Santa Maria di Loreto 1.25 km (Rome) 1.26 km Galleria Colonna (Rome) Basilica of the Twelve Holy Apostles 1.26 km (Rome) Basilica of San Lorenzo in Lucina 1.26 km (Rome) Prefecture of Rome 1.26 km (Rome) Basilica Santa Sabina 1.30 km (Rome) Church of Santa Maria del Priorat 1.30 km (Rome) 1.32 km Trajan's Column (Rome) Historical Museum of Sanitary 1.32 km (Rome) Church of Saint Luke and 1.35 km (Rome) Hospital "Holy Spirit" 1.39 km (Rome) Hospital "Bambino Gesù" 1.40 km (Rome) 1.42 km Trevi Fountain (Rome) Mausoleum of Augustus 1.42 km (Rome) Basilica di San Carlo al Corso 1.43 km (Rome) Church of San Rocco 1.47 km (Rome) LUMSA - Free University "Ss Maria Assunta" 1.49 km (Rome) Novità! Fai clic sulle parole riportate sopra per modificare e visualizzare le traduzioni alternative. Elimina (SENSITIVE CONTENTS HIDDEN) Traduttore per il Business:Translator ToolkitTraduttore di siti webStrumento a supporto dell'export Disattiva traduzione istantaneaInformazioni su (SENSITIVE CONTENTS HIDDEN) TraduttorePer cellulariPrivacyGuidaInvia co
Le logement était parfait, charmant, avec tout le nécessaire (et même plus), calme, super bien situé (à quelques minutes à pied du Trastevere etc).
Nina
2015-04-07T00:00:00Z
The appartement was great. The location is maybe even better. Just around the corner of Campo di Fiori and in walking distance of all the highlights. Rita is a perfect hostess.
Patrick
2015-09-04T00:00:00Z
Good location, in the old area of city. Easy to reach to Piazza Venezia. We were enjoying room for rest. No noise of streets. It would be cool in spring and summer time.
Cornelius
2015-12-18T00:00:00Z
Hemos estado mi mujer y yo sólo 2 noches en el apartamento, pero nos hubiera gustado estar más. El apartamento está maravillosamente situado entre el Trastevere y el Campo di Fiori, de modo que es una localización perfecta para visitar a pie los principales lugares de la Roma clásica. El apartamento estaba limpio y cargado de detalles para hacer cómoda la estancia: no le faltaba detalle (hasta una botella de vino a modo de recibimiento). Como pegas, un poco más pequeño de lo que aparece en las fotos, y el baño, al tratarse de una edificación antigua, un poco pequeño, pero bien adaptado. Y la amabilidad de Rita y Fabio excepcionales. Muy redomendable. Si viajo a Roma no dudaré en volver a él.
Jesús
2015-09-21T00:00:00Z
The listing in the description not completely accurate, only because it exceeded our expectations! Rita was so welcoming and stocked the minifridge with yogurt, lemon cello, wine...etc. There were also croissants and snacks. The TV was satellite TV so we got to watch American TV shows which was great. Rita's husband Fabio was also great with driving us to and from the airport. They charge 30 euros which is the legal price for that trip and we would've probably been ripped off by other taxi's there if not for Fabio. Our departure flight was at 7 am and he was on time and picked us up at 5:20!
Audrey
2014-12-21T00:00:00Z
Rita and Fabio picked us up at the airport, as planned, which was very helpful to us and a time saver after a long flight. The apartment was fantastic! Rita left goodies for breakfast, snacks, and coffee. The space was perfect for two of us. The place is very centrally located, and we were able to walk to all sights and find great dinner spots nearby. I'd highly recommend Rita and this space!
Laurelin E
2015-02-18T00:00:00Z
Nuestra estancia ha sido fantástica. El apartamento un poco pequeño pero ideal para una pareja, limpio, cómodo y muy bien situado. Rita y su marido muy amables y simpáticos te dan todas las facilidades para hacer que tu estancia sea perfecta. Sin duda muy recomendable, nosotros repetiremos seguro!
Celia
2014-03-04T00:00:00Z
Rita's apartment was wonderful. My boyfriend and I were only able to stay one night (it was the last night day of our two month europe trip), but I wish we had stayed longer/had chosen this apartment to stay in the week prior when we were in Rome. When I say this place was fully stocked, I mean fully stocked. Rita not only left us a bottle of wine, but the bed was playfully covered in fake rose metals. She supplied complimentary espresso, coffee/coffee maker, a jar of cookies, lots of morning snacks/pastries, breadsticks, and complimentary candies on the bed side tables. The bathroom had all kinds of shampoos, soaps, deodorant, perfumes, and more to use! It was so wonderful and a pleasant surprise at the end of such a long trip. And to top it off, Rita's husband drove us to the airport the next morning and was too sweet. Plain and simple, next time we come to Rome, we'll be staying here again!
Danielle
2014-03-31T00:00:00Z
Tipus d'habitació
Casa/pis sencers
---
Tipus de propietat
Pis
---
Capacitat
2
---
Dormitoris
Roma, Lazio, Itàlia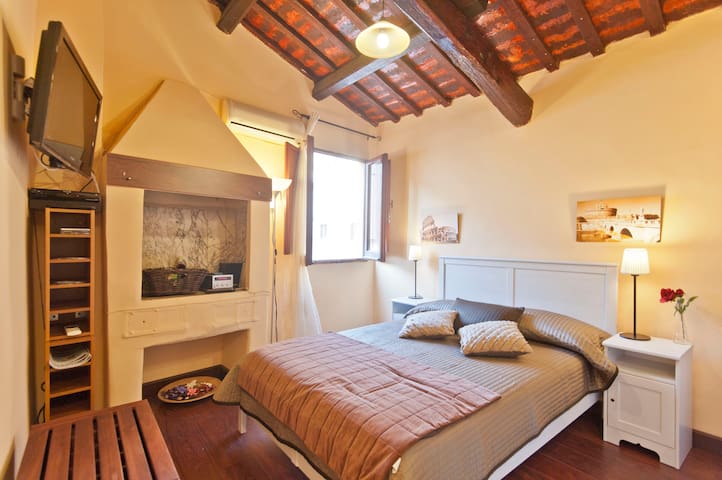 My apartment is very unique and well finished in the Tuscan tradition. He has his privacy in all, well tenuto.C 'kitchen is a living room of about 14sqm with small sofa bed for one and a half, provided fgrigorifero, electric oven, sink, stove, washing machine and all the accessories to be able to safely eat , then there is a well-kept brick bathroom with shower and sink, bathroom, we also have the sleeping area consists of a small room with a French bed, hallway with wardrobe, etc. .... including heating independent heating for the winter period. In the exterior we have a private parking, a swimming pool and a relaxing space to use for breakfasts, lunches and dinners during the summer. All located in the village of Rignano Sull'Arno (just 40 minutes by train from Florence center) served by the national railways to get anywhere, and at the same time enjoys good privacy to relax. P.S. is one of the oldest structures in the country .... I hope that you will visit our facility .. Thanks and Regards, visit online .... I hope to see you soon! ...P.S. It 'better to stay at least two nights, thanks!
We had a fantastic stay at this wonderful place! Leonardo and the family were all so kind and warm-hearted. Our appartment was clean and comfortable. I cannot praise this place enough and I hope that I can come back next year!
Alexander
2015-09-04T00:00:00Z
Thank you for sharing your home with us! We loved it! The view is incredible and we really enjoyed the small town. What a nice break from the busyness of life!
Loretta
2015-06-03T00:00:00Z
Leonardo was an excellent host and the house is truly a great place to stay. I cannot think of a more picturesque scenery for Tuscany than this house and you have the whole guest house to yourself complete with pool and nice yard. Close to the main part of town as well. Will definitely stay again if in Tuscany.
Angelo
2016-05-09T00:00:00Z
We spent 3 days and nights in Leonardo's house and it was very very nice! - The house is very clean, well equipped and very pretty. There is even coffee, cake and fruits for breakfast. - The place is wonderful : on the top of the city, we can admire the valley and mountains all around, a lot of trees and flowers in the proprietary and a swimming pool.You can park your car in the proprietary. - Leonardo was a kind person, which doesn't hesitate to help you, advice best place to visit, and appreciate share with you. If we come back to Toscana, we will sure back to Leonardo's house.
Gaelle
2014-05-05T00:00:00Z
We stayed in Rignano Sull'Arno for 3 nights, and we felt that was the perfect amount of time. This town is so nice, and has incredibly beautiful views. The small guest house by the pool is a great size for 2 people, but it's literally in Leonardo's front yard. So if you're a super private person, it would take some getting used to, but it wasn't and issue for us. Our host gave us a tour of the guest house, had snacks waiting for us and suggested a few things for us to do during our stay. I highly recommend the hike to the abandoned moorish castle, Castello Sammezzano. The views along the way are spectacular. The town is filled with a little store so we cooked in one night while looking at the views. The only negative I can think of is the bed is a little more firm than I'm used to. Other than that, we had an awesome time.
Todd
2016-04-14T00:00:00Z
This is a wonderfully cozy little house with an extraordinary view. Believe the pictures, they are accurate but aren't able capture the beauty of the view! The pool was incredibly clean, cool, and refreshing after a long day of exploring hill-towns. We found the kitchen to be perfect for the simple meals we cooked with fresh local ingredients. Check in and out was easy. Leonardo is very friendly and helpful. He gave us great tips about the neighborhood. There was simple and secure parking for the car. I recommend staying here without reservation and look forward to returning in the future!
brian
2015-06-30T00:00:00Z
This place is great, I absolutely loved it! We wanted to be close to Firenze but also wanted to stay in a quiet little village in the middle of the countryside, and that is what Rignano sull'Arno is. If you want peace and nature you should definitely come here! The house is very tidy, neat and nicely decoraded. There is everything that you will need during your stay -Leonardo even left coffee, milk, water and croissants for breakfast. Leonardo and his family are very accommodating and genuinely nice. They will make you feel at home. The views are amazing. The house is on a hill, and seeing The Tuscany from such balcony first thing in the morning is some experience. The pool, of course, is another token. I highly reccommend this place, the price is reasonable and I would stay here again without any doubt in future visits to the Tuscany!
Lucia
2014-05-18T00:00:00Z
Très bon moment chez Leonardo La maisonnette était très bien un vrai petit chez nous. Conforme aux photos Leonardo est très accueillant et sympathique il nous indiqué comment aller à Florence par le train 30min environ ! La piscine un vrai petit paradis avec un accès propre à notre logement!
Nelson
2015-07-11T00:00:00Z
Tipus d'habitació
Casa/pis sencers
---
Tipus de propietat
Pis
---
Capacitat
2
---
Dormitoris
Rignano sull'Arno, Toscana, Itàlia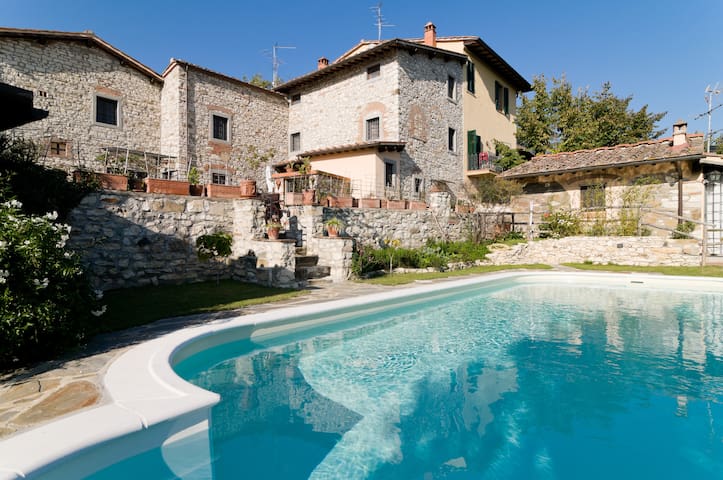 Per viatjar amb estil, provi una experiència palatina de Palazzo Cattolica Art -Apartment!
PALAZZO CATTLOICA és un apartament privat amb una ubicació ideal al cor de la ciutat vella, en un magnífic palau aristocràtic i la mica d'un doble pati imponent privada: més o menys la introducció perfecta a la grandesa decrèpita del centre històric de Palerm. El magnífic edifici de la 18a C, màgicament ens porta de tornada a l'esplendor d'una altra època de grandesa aristocràtica i una estada dins de les seves parets és una experiència única i especial Tot i que espera de restauració, la meravellosa escala d'accés a l'habitatge és molt impressionant, amb una estàtua clàssica sense cap. Hi ha moltes escales per pujar a l'apartament, però són poc profundes, no esgotador, i amb una escala d'edat tals glamour, amb prou feines es nota la pujada. "Tot i els 134 passos per arribar fins aquí, el secret millor guardat de Palerm!" (Irene) L'apartament preciós, tranquil i assolellat, està decorat amb gust, amb molts tocs artístics personals, amb plantes i flors i pintures artístiques. "Tots els articles tenen la seva història, la vida i el pla perfecte en ell" (Elena). L'apartament és una molt recés de pau i es pot caure a casa! Des del balcó assolellat i finestres, es pot gaudir d'un punt de vista per sobre de l'animada ciutat de Palerm de vista. Allotjar-se a Palazzo Art Cattolica Apartament és una experiència molt aventurer i de palau! descripció 2 comunicar habitació sense cap porta entri en un altell, 1 sala d'estar, 1 menjador amb una taula per a 4 persones, cuina, bany amb dutxa, balcó privat amb una gran vista i una taula petita, 1 exterior comuna galeria oberta a la utilització parcial i només en el compliment dels veïns. Superfície: 75 m2 Any de construcció de l'edifici: 1700, Data de l'última renovació de l'habitatge: 2011
Palerm pot ser bella, sinó també valent i sufocant pel que el departament va oferir un respir meravellós. Hi ha diversos molt bons restaurants molt a prop i la majoria de les atraccions són a poca distància. Remy Sheba va escriure: "Hi ha treballadors del cuir, teixidors, joiers i una botiga de roba i accessoris de la verema que rivalitza amb alguns dels millors que he visitat a Londres i Nova York Els propietaris de diversos d'aquests establiments es va prendre el temps per parlar amb mi i per a. compartir els seus coneixements i experiències. jo estava molt encantat per que "
We had a wonderful time in the Palazzo Cattolica Apartment. The location of this apartment in the old and majestic Palazzo right in the middle of the Kalsa quarters is probably one of the best in Palermo. The apartment itself has everything you need. Beds are hard but ok. The terrace in the picture is not a part of the apartment itself, but can partly be used and is a pleasant place to relax. The owner Antonio can and will give you all the information you need including a guide of restaurants and others places of interest that was really useful. I would certainly recommend this apartment to others.
Peter
2015-09-23T00:00:00Z
From the very first communication with Antonio when we decided we would like to stay in his apartment we knew we had a caring host. Antonio responded to all our questions of which there were lots. His quirky apartment in a magnificent and grand Pallizi was delightful and we had been warned by Antonio of the mountain of stairs to reach his "Penthouse". From his apartment we were able to explore the magic of Palermo, and it is a magical city. Our only regret was that we didn't get to meet Antonio on person. But his attentiveness was ever present. Thank you Antonio.
Valentine
2014-09-12T00:00:00Z
Antonio's apartment is located in the Kalsa district, very comfortable to walk anywhere around Palermo. We enjoyed the nereby artisan shops and the ancient focacceria. The apartment is welcoming and a great space to rest your legs after discovering the best streets of Palermo.
Myrtha
2017-01-21T00:00:00Z
Palazzo Cattolica, eine wunderbare Erfahrung, die Eröffnung einer neuen Welt ! Antonio ein Gastgeber mit Stil und Geschmack.
nicole
2015-10-28T00:00:00Z
We absolutely loved staying in Antonio's flat. Antonio was a warm, friendly and welcoming host who provided us with a lot of interesting information about Palermo. The flat was beautiful, full of quirky colourful objects. It was comfortable and a joy to go back to after our outings. Its location was perfect, very central, so we could walk everywhere. We felt spoiled to stay in such a gorgeous flat with a great host. We highly recommend it. Fantastic experience. Tutto perfetto!
Tim and Daniela
2015-10-31T00:00:00Z
This apartment is truly unique, it is not often you get to stay in a palace! My family and I were very impressed with Antonio's apartment. It is very close to some lovely restaurants and bars (there is an amazing one across the road) . The apartment comfortably sleeps 4 adults and is very nicely decorated. It is in a quite yet convenient location and Antonio was very easy to communicate with and very helpful with arranging transfers. I would definitely recommend staying here whilst in Palermo!
Rosemary
2013-07-31T00:00:00Z
Appartamento delizioso in pieno centro. Antonio e la sua famiglia sono stato amabili. Impeccabile!
nicola
2015-06-29T00:00:00Z
Everything Worked fine . We were introduced to the House and the apartment by Bruno who lived in the same House. The apartment was exactly like the photos, very exotic and the place was perfect
Kirsten
2016-07-01T00:00:00Z
Tipus d'habitació
Casa/pis sencers
---
Tipus de propietat
Pis
---
Capacitat
4
---
Dormitoris
Palerm, Sicily, Itàlia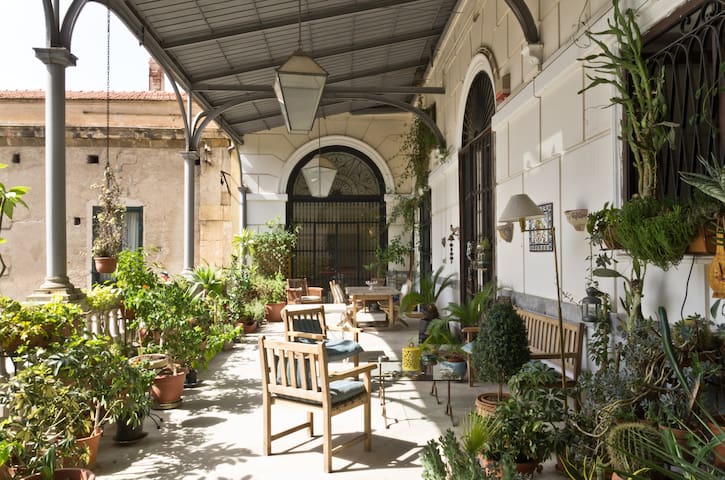 Chalet pietra/legno su due livelli: 1°livello ,con cucina abitabile soggiorno vetrata,divano letto due posti e bagno con sauna, 2°livello stanza da letto matrimoniale . Ampio giardino con veranda e barbecue al coperto con tavolo. Panorama delle colline tra Bellegra e Olevano Romano,NEW abbiamo aggiunto due nuovi posti letto realizzando un TEEPE INDIANO MERAVIGLIOSO per il momento non è affittabile singolarmente poiche i servizi sono nella casa,quindi totale posti letto 6 (due aggiuntivi)
quattro posti letto nello chalet+2 aggiutivi nel teepe,L'alloggio è speciale con vista mozzafiato, una sauna, angoli meravigliosi, rilassarsi e godere della tranquillità; possiamo tirare con l'arco, fare l'orto, zappare le patate, conoscere le api ,oppure se lo desiderate visitare i tanti stupendi luoghi nei dintorni..
La calma, tranqullità.. molti luoghi da visitare nei dintorni, buona cucinabuon vino cesanese e tanto altro, Sciare parapendio rafting ALLORA A PRESTO
Wir haben uns super wohl gefühlt in diesem wunderschönen kleinen Häuschen! Pietro und seine Familie waren total hilfsbereit und gastfreundlich. In ihrem Haus waren wir jederzeit willkommen. Als wir ankamen gab es erst einmal Kuchen und Weißwein. Pietro hat uns auch tolle Tipps für Ausflüge, Restaurants etc. gegeben. Unsere kleine Tochter hatte viel Spaß mit den Katzen. Leider hatten wir zwischendurch etwas Pech mit dem Wetter, aber so ist das eben manchmal. Wir kommen sehr gerne wieder und können die Unterkunft wärmstens empfehlen!!!
Irina
2015-10-03T00:00:00Z
Pietro made us feel very welcome, and his house was lovely. Bellegra is quite deep in the mountains though, so if you're expecting to get in and out a lot it might be some trouble.
Sijia
2016-05-31T00:00:00Z
Un véritable coin de paradis à quelques kilomètres de Rome. Peut être notre region préférée en Italie desormais... merci pour cette fabrique magique dans laquelle nos reves ont été bercées par les étoiles, pour ces étendues de forêts que l'on côtoyait chaque matin en prenant notre petit déjeuner, merci pour ce charme irresistible de ce petit bijou d'architecture et merci pour le meilleur accueil que l'on a eu en Italie. J'espère que d'autres pourront rêver comme nous avons rêvé. Bravo l'Arte
tom
2014-10-23T00:00:00Z
Ottimo soggiorno rilassante e un vero stacco dalla routine cittadina. Pietro simpaticissimo e disponibilissimo. Lo consigliamo a tutti.
erminio
2016-10-02T00:00:00Z
My girlfriend and I had a wonderful few days at this beautiful log cabin. Pietro was very sweet and we really got a feel for the local area as he brought us fresh eggs from his back yard chickens, olive oil from his own olives, home made tart and his own red wine. The cabin was a perfect size for the two of us and although is a little rustic in places, would be comfortable for a small family. The view is beautiful and sitting out on the terrace for breakfast with a strong coffee, fresh bread, local tomatoes, home grown olive oil and mozzarella was everything I could ask for from a holiday in Italy. A day trip to the Monastery near Subiaco was just a 30 minute drive away and is well worth a visit. Pietro stocked up the BBQ with plenty of wood so that we enjoyed a a monuments BBQ to finish the trip with the cats keeping us company. Thank you to Pietro for a fantastic few days of rural escape from the city.
Andy
2016-04-10T00:00:00Z
This was our first experience with airbnb en we were speechless... The house was cozy in a beautiful surrounding garden area with a magnificent view. When you wake up after the first night, it feels like a dream. But it's not and it gets way and way better because Pietro is the best host you can imagine!!
Ruth
2014-08-13T00:00:00Z
Pietro and his family were very hospitable and we had a lovely welcome and really enjoyed our stay. This is a wonderful place and we loved the area, the people and La Casa Tra Li Uliva is very special and quite unique. The views are breathtaking and it is very peaceful. There is plenty to see and do in the surrounding area but we found it quite hard to tear ourselves away from the house and grounds - we enjoyed being there so much. Thank you, Pietro, for a wonderful week. We definitely want to return.
Sally-Ann
2016-08-15T00:00:00Z
Pietro è un padrone di casa gentilissimo, molto disponibile e generoso, capace di riservare ai suoi ospiti una grande accoglienza. La casa, immersa in un angolo di campagna particolarmente bello, ha una posizione invidiabile e dalle vetrate e dai molti spazi all'aperto gli ospiti possono godere in ogni momento di un panorama veramente magnifico. Gli ambienti sono originali, imprevedibili, pieni di cose insolite e di sorprese: impossibile annoiarsi. Raccomandata a chi conserva il gusto dell'avventura e delle cose autentiche, il più lontano possibile da atmosfere asettiche e formali.
Monica
2016-03-27T00:00:00Z
Tipus d'habitació
Casa/pis sencers
---
Tipus de propietat
Cabana
---
Capacitat
6
---
Dormitoris
Bellegra, Lazio, Itàlia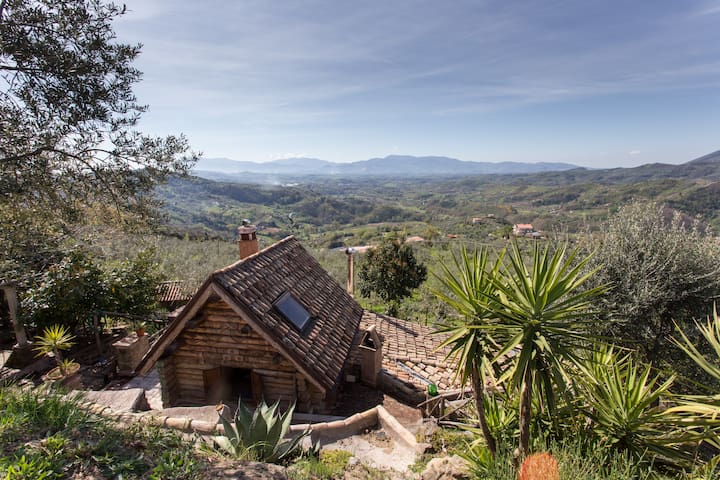 A large terrace offers a panoramic spectacle only the waters of the River Temo, is the strength of this historic apartment, very bright and quiet, with a good climate all year round; We are in the historic center of the city.
L'appartamento è situato nel centro della città, sulla riva del fiume Temo, è vicino a tutti i servizi, negozi, bar, ristoranti e pizzerie, banca, ufficio postale, internet, mercato, autobus, a pochi minuti a piedi si raggiungono grande spiaggia. L'appartamento è volutamente aperto in un unico spazio monolocale di circa 40 metri quadri, , ben diviso e luminosissimo ; dispone di una ampia terrazza dove si può mangiare, con una bella vista dell' alba e del tramonto sul fiume, ha una comoda amaca dove è possibile riposare, il bagno è ampio e confortevole e dispone di una finestra da cui si vede il castello medioevale, la cucina è volutamente attrezzata in modo essenziale, gli arredi della casa sono semplici ma molto curati per trasmettere l'armonia della semplicità Il valore nella progettazione di arredi e interni è manifesto nell'acurato lavoro di progettazione e realizzazione di un design essenziale tra arte e artigianato; i materiali utilizzati sono volutamente semplici e naturali o riciclati; La casa è in continua evoluzione di stile e riflette il mio percorso nella vita. Per i nostri ospiti offriamo un servizio di trasporto privato per l'aeroporto grazie all 'amica Roberta, il suo compenso è legato ai costi che sostiene per la sua disponibilità della vettura, se avete bisogno potete contattarla al suo numero di telefono : (PHONE NUMBER HIDDEN) The apartment is located in the city center, on the bank of the river Temo, is close to all amenities, shops, bars, restaurants and pizzerias, bank, post office, internet, market, bus station, a few minutes walk you reach large beach. The apartment is deliberately open in a single studio space of about 40 square meters, well-divided and bright; has a large terrace where you can eat, with a good view of the 'sunrise and sunset over the river, has a comfortable hammock where you can rest, the bathroom is large and comfortable and has a window through which you see the medieval castle , the kitchen is purposefully equipped so essential, the furnishings of the house are simple but well kept to convey the harmony of simplicity The value in the design of furniture and interiors is manifest nell'acurato work of design and construction of an essential design between art and craft; the materials used are deliberately simple and natural or recycled; The house is in continuous evolution of style and reflects my path in life. For our guests we offer a private transport service to thanks to 'friend Roberta Airport, his compensation is linked to costs which advocates for its availability of the car, if you need you can reach her at her telephone number: (PHONE NUMBER HIDDEN) L'appartement est situé dans le centre-ville, sur la rive de la rivière Temo, est proche de toutes les commodités, commerces, bars, restaurants et pizzerias, banque, bureau de poste, internet, marché, gare routière, à quelques minutes à pied vous atteignez grand plage. L'appartement est délibérément ouvert dans un seul espace de studio d'environ 40 mètres carrés, bien divisé et lumineux; a une grande terrasse où vous pouvez manger, avec une bonne vue de la «lever et coucher de soleil sur la rivière, a un hamac confortable où vous pourrez vous reposer, la salle de bains est grande et confortable et dispose d'une fenêtre à travers laquelle vous voyez le château médiéval , la cuisine est équipée délibérément si essentiel, le mobilier de la maison sont simples mais bien gardé de transmettre l'harmonie de la simplicité La valeur dans la conception de meubles et d'intérieurs est manifeste travail nell'acurato de la conception et la construction d'un design essentiel entre l'art et l'artisanat; les matériaux utilisés sont volontairement simples et naturels ou recyclés; La maison est en constante évolution du style et reflète mon chemin dans la vie. Pour nos clients, nous offrons un service de transport privé à grâce à «ami Roberta Airport, sa rémunération est liée aux coûts qui milite pour sa disponibilité de la voiture, si vous avez besoin, vous pouvez la joindre à son numéro de téléphone: (PHONE NUMBER HIDDEN)
the poetry of the landscape beauty of the streets; It is worth visiting more places through the taste of local products: olive oil and wine of Malvasia. Under the house there is free parking; next to the house there is a shop selling local agricultural products: fruits and vegetables and a few steps from all the services you need: bars, restaurants, internet, pharmacy, travel agency ..; we are in the city center.
Apartament situat just damunt el riu, molt tranquil i amb bones vistes. Nilla va ser molt amable i fins i tot ens va dur figues com a rebuda. Tot correcte. Molt recomanable.
Sebastia
2015-07-08T00:00:00Z
The reservation was canceled 112 days before arrival. This is an automated posting.
Roland
2013-12-30T00:00:00Z
Ein sehr schöner Platz, um während ein paar Tagen die besondere Stadt zu erleben. Die Wohnung ist sehr kunst- und liebevoll eingerichtet. Die Terrasse ist grossartig und hat uns viele spannende Eindrücke in die Weite und das Geschehen auf und am Fluss gegeben. Herzlichen Dank!
osman
2016-10-08T00:00:00Z
Nilla's place was like a dream! Right in the heart of Bosa, with a terrace overlooking the river. The place is accurate with the pictures. Nilla came to greet us with keys and left the place to us. It was very clean and peaceful. I would absolutely stay there again!
Dan
2014-10-08T00:00:00Z
Nilla est charmante. L'appartement très propre, agréable et la terrasse délicieuse. Je recommande!
Loudia
2015-06-18T00:00:00Z
Great apartment with an amazing balcony. It's very easy to do nothing here apart from looking at the view from the hammock.
Philip
2013-09-29T00:00:00Z
Nilla's place is a great place to stay. Close to everything, yet peaceful. Lovely views over the river and the appartment is beautiful and adorned with nice things. A top choice!
Matthew
2017-01-12T00:00:00Z
Nilla's place was beautiful, perfect location - so close to the centre of everything and a lovely balcony overlooking the river. Very easy check in and out despite the language barrier, Nilla was friendly and explained everything very well. Also loved the artistic touches all over the apartment.
Sophie
2015-06-28T00:00:00Z
Tipus d'habitació
Casa/pis sencers
---
Tipus de propietat
Pis
---
Capacitat
2
---
Dormitoris
Bosa, Sardinia, Itàlia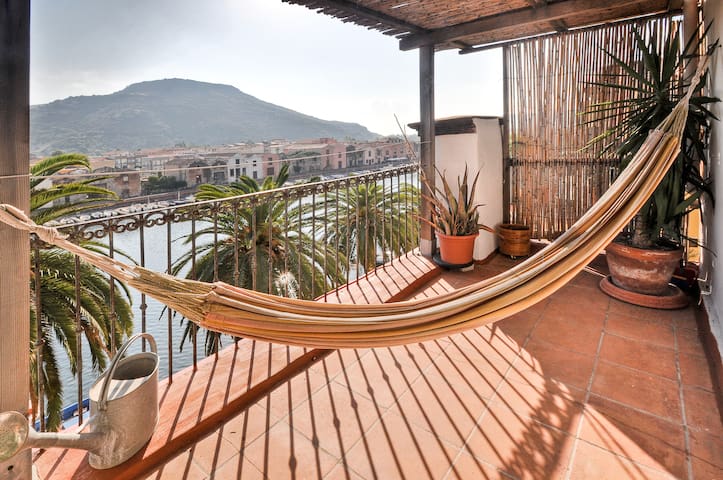 The small tower can accommodate two people comfortably, nestled in the Umbrian and Tuscan countryside, in a protected area for the natural scenic beauty. The splendid view of Lake Trasimeno will be the setting worthy of your holiday.
The tower is created out of the restoration of an old abandoned stable situated in the centre of a small countryside hamlet called Sanguineto. This place takes its name from the famous bloody battle of 217 BC fought between the Roman army and the Carthaginian army (led by Hannibal). Today this area is classified as one of outstanding natural beauty, where traditional farming methods are still very much in evidence, the major crops being olives and wine grapes. The property have been luxuriously finished using traditional building methods and materials combined with the latest technology. It has its own independent liquid propane gas (LPG) central-heating system, with the boiler located outside the building, as well as its own electricity. A pergola, and a private garden giving out onto the surrounding landscape, offering a magnificent view over Lake Trasimeno, complete the building. The tower has two floors, one bedroom, a living room with kitchenette, one bathroom, private garden, and pergola. Swimming-pool.
Lake Trasimeno is a special place to visit Umbria and Tuscany, you can visit all the greats historical cities of central Italy, such as Siena, Perugia, Arezzo, Assisi, Cortona, Rome and Florence. The area of Lake Trasimeno offers the opportunity to visit many medieval villages where you can discover the ancient traditions and enjoy beautiful views, among these we announce, Isola Maggiore, Passignano, Castiglione del Lago, Panicale, Città della Pieve.
Posto incantevole con una sua magia. Solo per veri romantici. Prego di non rovinare questo luogo.
christine
2017-02-26T00:00:00Z
Posto incantevole. Perfetto per distrarsi dalla vita frenetica di tutti i giorni. Un'oasi di pace. I strongly recommend this fairy-tale place!
Elisa
2017-04-02T00:00:00Z
Un posto davvero consigliato per un relax in tutta privacy,grazie
clara
2017-01-05T00:00:00Z
The Tower is in a secluded place, so make sure you have your own car. The place is well maintained, clean and beautiful. The hosts were very nice and helped us choose spots around the tower to go visit. The tower is totally worth it.
Arun
2017-02-10T00:00:00Z
Such a unique place to stay! My girlfriend and I had a great time here and would highly recommend it to those seeking a nice few days away. Local restaurants are great too! You will need a car to get here and make the most of the region.
Andrew
2017-03-15T00:00:00Z
Small, cosy, and well appointed (very comfortable bed): everything you need for a romantic get away. Secluded and idyllic. Beautiful lake view and highly accessible by car to local restaurants, wineries (email ahead in the off season), and sights. Michelle was responsive and accommodating. Communication was accurate and helpful.
Brian
2017-01-08T00:00:00Z
Torre magnifica, finemente ristrutturata. Si trova in una bellissima zona con vista panoramica stupenda. Luogo appartato e romantico. All'interno attrezzata per colazione e per cucinare. Tutto pulitissimo e curato. Il check-inè stato preciso e flessibile così come il check out. Michele è sempre stato disponibile e pronto a rispondere alle domande in qualsiasi momento. Raccomandatissimo! Highly recommended!
Matteo
2017-03-20T00:00:00Z
We had a fantatic stay in this fantastic place, with nice people. Grazie
Louis
2013-07-28T00:00:00Z
Tipus d'habitació
Casa/pis sencers
---
Tipus de propietat
Castell
---
Capacitat
2
---
Dormitoris
Tuoro sul Trasimeno, Umbria, Itàlia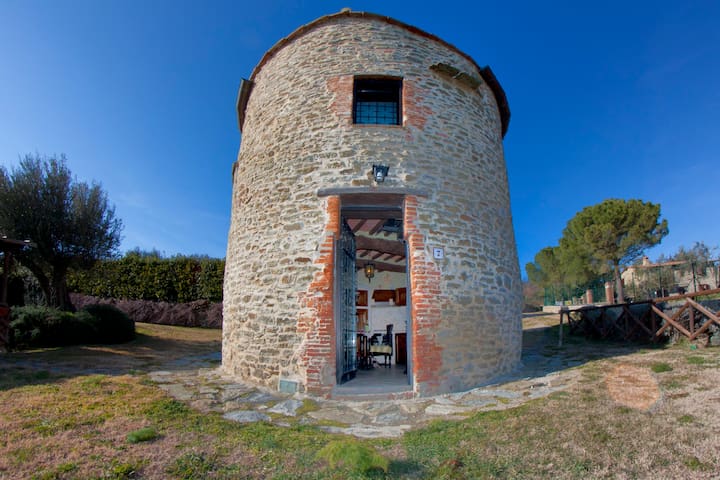 Tipica casa fiorentina su 2 piani, ristrutturata mantenendo tutti i canoni del suo periodo storico, non adatta a chi desidera una casa moderna con ascensore.Nel prezzo è inclusa la tassa di soggiorno
La casa è disposta su 2 piani, la parte inferiore (del 400)camera da letto corridoio bagno, 5 scalini portano alla parte superiore grande stanza con camino tipico toscano con piano cottura soffitto a cassettone pavimento in cotto danno una calda sensazione di accoglienza.Nella ristrutturazione è stato conservato tutto cio che appartiene alla storia della casa, quindi non adatta a chi ama gli ambienti moderni anche per l'arredamento i mobili sono qusi tutti 800 primi 900 autentici, spero possano piacere .
A dieci metri dalle Cappelle medicee, a cinquanta metri da Piazza Duomo, nel cuore di Firenze, vicino a tutto quello che vi può offrire la nostra città. Siamo nel quartiere di San Lorenzo, dove si trova il più grande mercato ortofrutticolo e di prodotti tipici toscani di Firenze. Garage a pagamento a dieci metri dall'appartamento.
The House is great en clean. The living environment is very central and secure. Florence is a great city. Everything within walking distance. Teresa is very nice. There was a welcome tray waiting for us. Very very sweet of Teresa. My experience is that Teresa answers quick to questions (through the mail).
Dusty
2016-02-01T00:00:00Z
Very good location, near train station n have few restaurants nearby. The house is lovely n the host is very friendly
Akiane
2015-12-04T00:00:00Z
L'accueil était plus que bien, plateau de fruits, muffins et bouteille de vin. L'appartement est vieillot mais très sympa. Le charme de la vieille Italie. Tout le nécessaire pour un beau séjour à Florence. le quartier est à proximité de tout.
Hélène
2015-09-13T00:00:00Z
Sólo podemos dar las gracias a Teresa por tu amabilidad y el cálido recibimiento que tuvimos, fue el inicio de unos días muy felices en esta preciosa ciudad. El apartamento de Teresa es precioso, aún más bonito y amplio de lo que se ve en las fotos, estuvimos muy cómodos, como en casa. Todo súper limpio. Teresa tuvo el detalle de comprarles unos súper huevos de Pascua a nuestros hijos y además nos dejo zumo, vino, magdalenas, nueces, fruta, caramelo tos y bombones, ¿qué más se puede pedir? El apartamento está en una ubicación inmejorable, a un paso de la estación de tren y de autobús y de todo el centro histórico, además en la misma calle hay un completisimo supermercado que viene genial para las compras que surjan. Resumiendo: un 10 para Teresa y otro 10 para su apartamento. Esperamos regresar a Florencia y poder volver a este apartamento.
Raquel
2016-03-25T00:00:00Z
Teresa was a great host! The house was very clean and she also left some goodies on the kitchen table for us to enjoy :) Ideal location for trains and sights, Irish Pub across the road also provided a good service if your looking for somewhere to eat.
Jade
2015-10-09T00:00:00Z
위치도 좋고 깨끗한 아기자기한 예쁜 집입니다. 친절하시고 주스 과일 아이가 좋아하는 킨더 초콜렛도 준비해주시는 자상함까지.. 감사인사를 직접 드리지 못해 아쉬웠어요.. 기차역과 두오모 모두 가까운 위치에요~
이예림
2015-10-24T00:00:00Z
Teresa was incredibly nice and she had wine, cheese, coffee and other Italian goodies waiting for us on arrival. The apartment was pretty much exactly as described aside from the AC. It got very hot on the summer nights. However, one night we locked our one key inside the apartment, and that is when we had an issue. Very easy to do as the door locks automatically and she only gave us the one. She comes to let us back in and is as always incredibly nice to us. Her husband/boyfriend came with her and was very drunk. She opened the door and he barged in and stated looking around the place. He was yelling at us in Italian because we were four boys living in a small apartment. He left yelling then came back later banging on the door. He continued to yell at us in Italian with a look in his eye like he wanted to fight us. He then gave us the throat slit gesture with his hands, which we interpreted as "I'm going to kill you." Later that night we found him at the pub across the way and had a nice gentleman interpret for us. He wrongfully assumed we were getting drunk and using drugs in the apartment (we absolutely were not, we did leave clothes around because we are guys). We straightened everything out but without the interpreter we all would have been left terrified by this guy not knowing if he was going to make good on his throat slit gesture.
Dave
2014-06-11T00:00:00Z
Florencia es bella, pero es mucho más bella gracias a Teresa. Un ser hermoso que nos recibió muy acogedoramente. El departamento supero nuestras espectativas. Y Teresa es un sol humano. Si vuelvo a Firenze iré a su casa y la pienso recomendar con todos los que viajen allí. Feliz de conocerla.
Roxana
2014-09-06T00:00:00Z
Tipus d'habitació
Casa/pis sencers
---
Tipus de propietat
Pis
---
Capacitat
4
---
Dormitoris
Florència, Toscana, Itàlia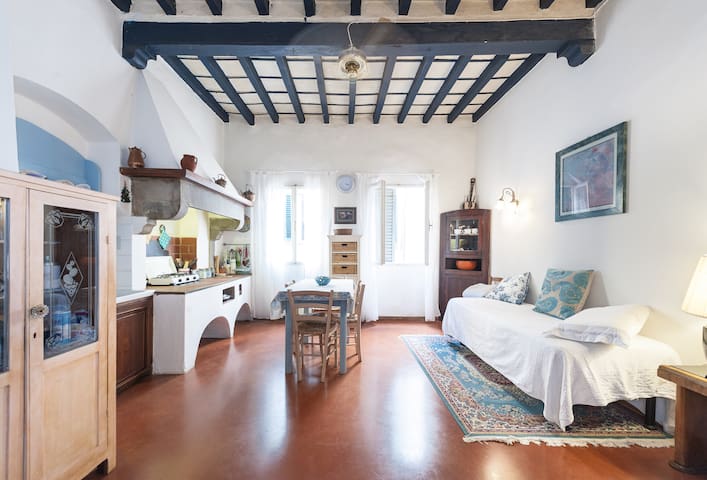 This little B&B is the beautiful house of a chef, sitting within a huge gardens.Situated close to the familly organic farm where you can sample local produce and extravergin olive oil and you are only minutes from Florence ( 18 km). B&B LA CUCINA aims to be a small but significant point of reference in wine and food tourism with its cookery courses, home catering of quality and winetastings. Offering Tuscany Bed and Breakfast accommodation, this little B&B is a beautiful house sitting within 6000m² of gardens. Not an old house, the use of terracotta and local woods means it blends beautifully into the Tuscan countryside. The house is owned by the family who farm the land, producing organic vegetables, fruit and extra virgin olive oil. There are beautiful meadows and fields around the house. Situated in a small village, this Tuscany bed and breakfast has shops, a restaurant/pizzeria, post office and bank nearby. Though in the heart of the countryside,the bus stop is just 3 minutes walking far away ( (300 m) the motorway is just 5km away and the city of Florence 18km. The nearest rail station is 7km away. Eleonora, your host, is a TV chef (with years of professional experience). She will be delighted to offer lessons in Italian and Tuscan cooking (given in English). So B&B La CUCINA is much more than a charming bed and breakfast - it is also a serious school of Italian cookery and on request can become a private and exclusive restaurant opening just for you. Professional body massages can be arranged on request. The very cozy and romantic atmosphere of this house combines the authenticity of Italian way of life where food and art come together. La CUCINA B & B is suitable for everyone, especially to all those who seek a unique and comfortable place where to stay overnight and enjoy a wonderful breakfast seatting in the garden in summer or in front of the fireplace in winter . Nearby you can practice many outdoor activities such as horseback riding, fishing, hiking, swimming. Also for those who love to shop at just 6 km away is the most important center of outlets in Tuscany (the Mall) where there are many shops with the best brands such as Gucci, Armani, Prada, Valentino, D & G, Roberto Cavalli Emilio Pucci etc. The proximity to motorway junction (Incisa Valdarno), the bus stop (Cellai), the train station (Rignano sull'Arno) make the B & B La CUCINA a perfect destination to be reached by any means of transport and a good starting point to visit Tuscany and especially Florence, Arezzo, Siena and all the Chianti region.
Staying at Eleonora's house was a total delight. We stayed there only 3 nights with my girlfriend but we surely want to come back whenever we have the occasion. The place is located in the sumptuous Tuscan countryside less than 30 minute drive from Florence. The house is beautifully decorated and the room and bathroom were super comfortable, I had never experienced that on Airbnb! Really it is perfect. And the host, Eleonora, is super kind and such a knowledgeable cook. We took a cookery class and we were really happy that we decided to do it. At the end of we had a delicious 4 courses Italian lunch prepared by Eleonora including the famous "bistecca alla fiorentina" and it was simply the best piece of meat I ever had! Oh and the breakfasts were also something to remember. Thank you so much Eleonora, we spent a wonderful time in your beautiful house and you really delighted all our senses. Hope we'll come again soon.
Lionel
2015-01-01T00:00:00Z
Our stay at Eleonora's was definitely our favorite and most memorable during all of our trip to Italy! Eleonora is kind, welcoming, and incredibly hospitable. Her place was very beautiful, and by far the most comfortable and homey in Italy. Eleonora's was a welcome retreat after days of touring other cities in Italy. The bedroom and bathroom were very clean, private and comfortable. She's an amazing chef, and we came primarily for her cooking class, but wished we could have stayed a few days longer! Her cooking class was very thorough and technical, and we learned many skills and things we would have never with any other class. My husband and I love taking cooking classes, and we both agree that hers was the best one we've taken. It was definitely one of the best meals we had in Italy, and the class was definitely well worth the money for all that we learned! We hope we'll have the opportunity to take more classes with her in the near future. She's lived and worked in the US before, so her English is great. It is about a 20 minute stay outside of Florence, so we would recommend renting a car to get there... it's well worth it, and the drive is scenic and beautiful! If you're going to Italy and love cooking, we recommend that you make this place part of your itinerary. Eleonora, thanks for a memorable and wonderful stay!
Cathy and Victor
2016-10-06T00:00:00Z
My husband and I used Airbnb for the first time and we can't think of a better experience. We have stayed with Eleanora for two nights, her house is VERY beautifully designed and was a very comfortable! Eleonora speaks perfect English is not what we are ))) Breakfast was fantastic on the beautiful terrace! We couldn't recommend to other travelers and we hope that we have the opportunity to stay here again in future travels! Grazie mille!
Lianna & Konstantin
2014-05-21T00:00:00Z
Our stay was wonderful and we were made to feel very welcome. Beautiful bedroom and enchanting home within which to spend an evening and morning. Beautiful breakfast and all home made foods and drinks made it just that bit special. Sadly no time to stay for the cooking class but we will be back and experience that and the hospitality next year. A little challenging to locate with the sat nav but well worth it when we got there. Had dinner at the little camping site restaurant as we arrived very late at the house (10.15pm). This was basically a pizzeria but very acceptable and good service.
Rick
2014-07-27T00:00:00Z
My sister and I stayed at eleonora's for 2 nights and had an absolute ball. We went truffle hunting, took a cooking class, and had a wonderful dinner soirée. Her place is beautiful and we felt so at home (and particularly well taken care of!). Her pet dogs and duck are also divine. This is an airbnb MUST in Tuscany! Be sure to arrive before the sun sets, though--as American drivers used to huge lanes, the tiny roads at night were a bit scary.
Nancy
2014-07-13T00:00:00Z
We only stayed one night unfortunately--everything was amazing. Eleanora was so sweet and that breakfast could have fed a small army. Beautiful property and so relaxing. Thanks for everything!!
Dana
2016-04-29T00:00:00Z
Eleanora was such a kind host. Her home in Tuscany is beautiful. We especially enjoyed the cooking class we took with her and the breakfast she prepared. The cooking class is a must- she is so attentive and willing to teach you whatever you want to learn, plus the four course meal was the best we had over the two weeks we spent in Italy. She also did wine pairings with the food we prepared. Her breakfast every morning was quite extensive and delicious. She played the piano for us one morning and even let me play it! She gave us excellent restaurant recommendations- we actually went to one of them twice we loved it so much. We rented a car, which made everything much easier, depending on public transportation may be a hassle if you are planning on doing any day trips. We took a day trip to Siena and did another day trip to Torre e Cona a local winery and it was one of the highlights of our time in Tuscany.
Rebecca
2016-08-06T00:00:00Z
Eleanora was the best host I could have asked for. Her house is lovely, our breakfast was unbelievable, and she was extremely warm and generous. I truly cannot wait to come back to this gem in Tuscany and experience this again!
Meghan
2015-06-04T00:00:00Z
Tipus d'habitació
Habitació privada
---
Tipus de propietat
Bed & Breakfast
---
Capacitat
2
---
Dormitoris
La Felce, Toscana, Itàlia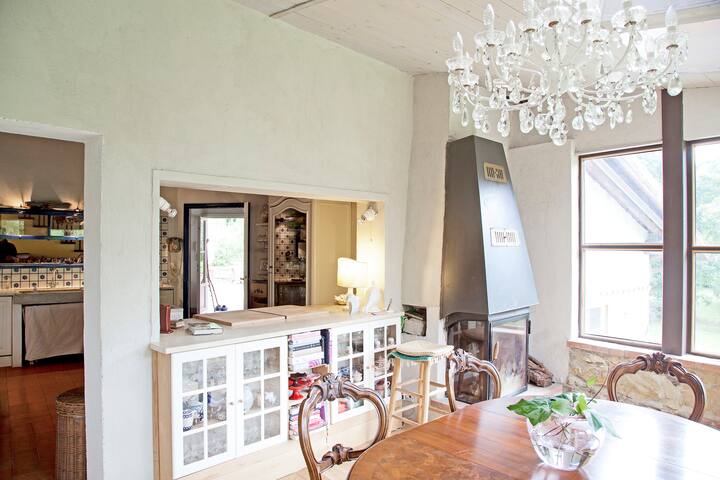 The apartment is part of a Monastery dated back XII century and it's under the Fine Art of Florence. The room is located on the first floor and it's composed by a gorgeous bedroom with original beamed ceiling and bathroom with walk-in shower.
The apt is part of a Monastery dated XII century and it still preserve the original structure in fact we still are under the Fine Art of Florence. You could still see original column as well portal and capitals. We offer the entire first floor, divided by stairs and a beautiful sliding barn door, it is composed by a kingsize bed with private bath and walking shower and with an amazing beamed ceiling (where you could still see a car paw). The bedroom has 2 windows and the bathroom has a window too. We provide a dock station in the room and DVDs player with a wide selection of movies.
The area is the perfect location if you wish to be surronded by gardens, in fact, Settignano and the hill of Fiesole are just next to us. I'm used to go work in the city center by bike and it's about 15 - 20 minutes of ride from the main attraction: the Duomo, the Uffizi Gallery and the Accademia Gallery.
Maria's home is a stunning ex monastery, it is so beautifully finished like a work of art! Maria and her family were so kind and welcoming. We had a wonderful stay in their home and would recommend it to anyone who want to visit Florence. We loved Maria's giant cat, and wished we could have taken him on the rest of our trip.
Beth
2014-05-28T00:00:00Z
Beautiful and quiet. Maria Rita's home is impeccably designed and organized. In a suburb of Florence's core, the house is a short 5 min walk from many bus stops. A simple 10-15 min bus ride brings you directly into the downtown. The AirBnB suite is a bedroom and bathroom located upstairs in this young family's home, making it quite safe feeling. It is worth noting that the family is quite kind and open, though their schedule does restrict use to common spaces such as the kitchen and living room. Wifi connection is weak in the upper suite. So cooking and wifi access are restricted to daytime hours when the family is at work and school. Overall, a lovely, quiet place to stay while in Florence.
Monica
2014-07-24T00:00:00Z
We stayed here for 3 nights over Christmas. What a wonderful family. Fell in love with them and their lovely cat. Nice location with easy bus transport into the old city in less than 20 minutes. Great Pizza place just a short walk away. Ask Maria Rita for directions!
Laurie
2014-12-24T00:00:00Z
Maria Rita et sa famille sont à l'égale de Florence : chaleureuse et hospitalière. La famille est aux petits soins avec ses hôtes, très à l'écoute est pleine de bon conseils. Le lieu est extrêmement calme, pas excessivement loin du centre en transports, et la maison très agréable. La literie est une pure merveille ! Je recommande cet endroit sans hésitation, qui en plus fait l'effort de parler français... Ce fût un coup de coeur et je renouvellerai l'expérience !
Yasemin
2017-04-01T00:00:00Z
I really enjoyed my stay at Maria Rita's. Her home is beautiful, and her family made me feel like I was at home. They were kind enough to let me join them for dinner. I only wish I could have spoken better Italian so I could have talked to her husband more! Great place to stay.
Cathi
2014-09-26T00:00:00Z
We had a delighted 2-night stay at Maria and Alessio's family home. Felt very homey, enjoyed the garden and the cleanliness of the place. Maria is a great, easy going and experienced host. Only takes about 20min by bus (1.2e/ticket) to reach Piazza San Marco and it's nice to get out of the busy centre in the evening. One advice but just the same as everywhere in Tuscany, beware of mosquitos :) Grazie Maria!!
Karim
2016-06-23T00:00:00Z
Maria's family was lovely and we felt welcome as soon as we arrived at first day. The interior of house is bright and lovely as well. Despite that the place is a bit away from city center, but with bus connection it is very easy to reach. Highly recommend.
Chungyen
2015-12-28T00:00:00Z
We had an amazing time at Alessio and Maria Rita's place. We stayed there for 5 days, and we had the whole house to ourselves because they had their own family holiday at the sea. We had a very friendly welcome and felt at home immediately. There was a nice welcoming letter in the room with all the info. Alessio showed us the bus stops, and a very nice non-touristic restaurant on town. The house is a bit out of the center, which is good to park the car (there's even a private driveway in front of the house). The bus connection is pretty good. The house is beautifully renovated and decorated, the room and bathroom are big and clean. There's a kitchen you can easily use and a cute courtyard to have aperitivo. Thank you Maria Rita, Alessio, Duccio, Leone and the black cat Ercole! Would definitely recommend to anyone.
Clara
2015-08-08T00:00:00Z
Tipus d'habitació
Habitació privada
---
Tipus de propietat
Casa de camp
---
Capacitat
2
---
Dormitoris
Florència, Toscana, Itàlia
Beautiful apartment for 4 people, with all the ceilings covered by original frescos in the centre of Florence, in a calm street. The apartment has two bedrooms; one with a double bed and one with a very comfortable double sofa bed. The apartment is located close to the main attractions: Duomo, Palazzo Vecchio, Galleria Accademia etc. It has also a very nice private little garden.
Tuscanyflorence is located right in the historical centre of Florence, just 900 meters from the Duomo. You will be hosted in a very charming apartment, with the whole ceiling covered by original frescos, located in a prestigious house dating back to 1500! You will find a warm welcome at your arrival and we will try to satisfy all your needs during your stay. The apartment has two bedrooms and two bathrooms, a kitchen and a fantastic dining hall. Wi-Fi free, sat tv and hairdryer are provided. Our apartment has also a little courtyard facing the Gardens of La Gherardesca. This provides a calm and quiet atmosphere and it is really nice to have such an option being in the centre of the city!
The central location and charming accomodation of Tuscanyflorence will make your holiday in Florence unforgettable. Just next door is the prestigious Four Seasons Hotel where you will find one of the most famous Restaurants in Italy (one Michelin star) and you could also have access to their Spa and swimming pool. Many other trattorias or little restaurants are walking distance from our apartment and we'll give you all the tips. A few meters from TuscanyFlorence you will find one of the most beautiful squares in Florence: Piazza SS Annunziata and in front of us you will find the most ancient botanic garden in the world!
Wonderful location. We could walk to the most important sites. Location was very safe next to the University of Florence. Cafes were conveniently located, grocery store down the street. Would definitely stay there again. Giuseppe and Cristina were extremely responsive and did everything as promised.
Joanne
2016-09-29T00:00:00Z
Lovely well equipped apartment in a quiet neighborhood. Modern bathroom. Beautiful frescos. Highly recommend this apartment for a comfortable stay in Florence.
Megan
2015-04-25T00:00:00Z
The apartment is located about a 10 minute or less walk from the Duomo and the cathedral's dome can be seen from the sidewalk in front of the door. The apartment itself is beautiful, with exquisite ceiling frescos throughout. We particularly appreciated the garden courtyard, where we enjoyed breakfasts. The flat was very spacious and with two bathrooms, felt almost like we were staying at a private home. Cristina left us a bottle of wine, which was a lovely touch and the apartment had great wi-fi in the front half, which I utilized frequently for uploading photos. It was also nice having the washing machine and a drying rack to hang our clothes on. I felt like a princess waking up in the canopy bed and looking up at the beautiful ceilings. Cristina's friendly property manager was there waiting when we arrived and spent ample time with us giving us recommendations and left us his cell phone number should we need anything at any time. Cristina was excellent at communication and checked in with us during our stay (since she could not be there to personally greet us). Her husband stopped by on check out day to replenish supplies and he was very friendly and gracious, as well. I would not hesitate to return any time and I recommend it to anyone looking for a good value and a beautiful apartment in Florence!!!
Sasha
2016-09-21T00:00:00Z
This apartment is a flowless continuation of Florence palazzios and museums. It's huge, cosy, clean and so beautiful that you might spend a couple of hours admiring it, especially the painted ceilings. Christinas daughter Georgia was so worried she couldn't assemble the baby cod (that she brought especially for us) that she brought another one just in case. And they let us stay until the next evening as no guests were checking in after us. Now that's what I call hospitality! The location is 10-15 minutes walk from all the sights.
Maria
2013-09-30T00:00:00Z
Fabulous apartment and location! This apartment is exactly as it appears in the pictures...beautiful. Very spacious and beautifully decorated with amazing ceilings. We could have stayed forever! This unit is located out of the busy area but within walking distance to everything. We had no trouble navigating around Florence and were given a great map upon our arrival. Our host greeted us as promised and we personally met the owners, who welcomed us with two bottles of local wine. I definitely recommend this property and we are looking forward to going back and staying here again. We can thank you enough for a wonderful trip!
Melanie
2015-12-28T00:00:00Z
Georgiia was very accomodating and met us late in the evening due to our late travel arrangements. She was very friendly and ran through the whole apartment with us and wanted to make sure we were very comfortable with the space.She gave us a lot of great tips on where to go in Florence and what her favorite locations are. The restaurant ZAZA she reccomending near the apartment was AMAZING! The apartment itself was perfect and the location was ideal . We will absoloutly stay here again when we return to Florence! Grazie Cristina et Georgia!
Irina
2013-01-07T00:00:00Z
Wonderful place to stay. I loved it and would recommend it to anyone. I will stay here again when I come to Florence. Such pleasant people and very easygoing. We had a wonderful time in Florence and that was because we stayed here and enjoyed it so much. Thank you Giorgia and Christina. You are great hosts and very professional. Hope to see you in the future. Best Regards Nicole
Nicole
2013-10-17T00:00:00Z
My sister and I loved staying in Cristina's apartment and wouldn't hesitate to book it again. The location is perfect as its right near the Duomo, you can see it from the front door, and the street the apartment is on is nice and quiet. Its very tastefully decorated and very felt very large for the two of us. I would love to go back!
Parveen
2016-05-03T00:00:00Z
Tipus d'habitació
Casa/pis sencers
---
Tipus de propietat
Pis
---
Capacitat
4
---
Dormitoris
Florència, Toscana, Itàlia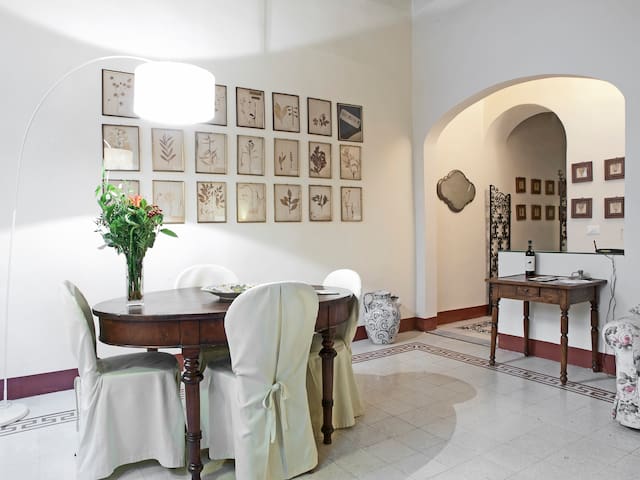 Our home has a perfect Tuscan feeling with its exposed brickwork and glass door facing onto a beautiful garden. Located in the heart of Florence but in a very quiet area, a few steps from the Duomo, train station, Fortezza da Basso & the main bus
Our home has a very Tuscan feeling! We are in the central San Lorenzo district, the most historical in Florence, popular for the Leather market and the Central market where you can buy and taste all of our best products. A very typical area! If you are here for vacation or business, our location is the ideal solution for sightseeing or partecipate in trade exhibitions and events. Our house has been recently renovated. It is very quiet thanks to the historic building dating back to 1300, and is comprised of : -a lovely and very quite double room facing on the garden, -a nice bathroom with shower, -a big open living space with kitchen and dining area (sofa bed for 2 people) -a charming private garden with table and umbrella where in the summer it is fantastic to have breakfast, lunch or a relaxing aperitif at the sunset.
Alles bestens, die Unterkunft war genauso schön wie auf den Fotos und die Vermieterin sehr nett. Die Wohnung ist ideal gelegen und der kleine Garten toll. Nur zu empfehlen!
Babette
2016-09-12T00:00:00Z
Appartamento accogliente a due passi da tutto. Chira disponibilissima e simpaticissima... Ci siamo sentiti a casa..ottimo
Marina
2015-01-05T00:00:00Z
Good communication prior to arrival, and met by our host who showed us around. Food provisions thoughtfully set out made us feel welcome. Great location in easy walking distance from main railway station, but also close to all the things you want to see in Florence. A high quality apartment, and we would definitely stay again.
Mark
2015-05-03T00:00:00Z
Chiara was superbly attentive and helpful. When a lightbulb burnt out, she zipped home immediately to replace it. The flat is lovely and how fun it was to sip a coffee in the garden.
Mateo
2015-08-05T00:00:00Z
Chiaras home was absolutely adorable, we loved staying there! Extremely welcoming and tidy. She was beyond helpful with recommendations on where to go and what to see. Highly recommended staying at her flat!
Michaela
2015-10-15T00:00:00Z
Chiara welcomed us to the flat with a map of the area, a good explanation of places to go while in Florence, and even organized a free walking tour during our stay. The flat was lovely, clean and so quiet! We were surprised given its central location close to the train station, how very quiet it was. The back garden is so private and sweet, just like the pictures. The flat was very comfortable for my husband and I and I would surely stay there again. We appreciated the amenities such as coffee and the like that were left for us in the kitchen as well. Chiara is a very warm and professional host and I would recommend staying in any of her apartments.
Lisa
2016-05-12T00:00:00Z
Charming, beautiful, well-located flat. Chiara was a delight - excellent communication and lots of helpful information for the area. Less than 10 min walk from the train station and short walks to all other landmarks in Florence. Apartment was fully stocked, good bed, beautiful garden. A fantastic home away from from home. Will definitely stay here the next time we visit Firenze!
Nicole
2015-05-21T00:00:00Z
We loved staying here! The location is close to the Firenze train station and within walking distance to everything in town. Chiara was an amazing host and this is by far one of the best Airbnb's we have stayed in. There's air conditioning, updated furnishings, and a lovely garden to sip wine at night. We highly recommend staying here and can't wait to come back! Thank you Chiara!
Beth
2015-07-11T00:00:00Z
Tipus d'habitació
Casa/pis sencers
---
Tipus de propietat
Pis
---
Capacitat
4
---
Dormitoris
Florència, Toscana, Itàlia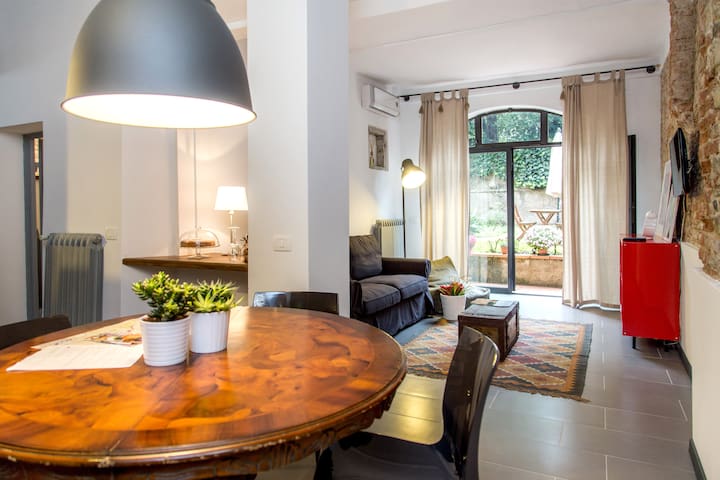 El nostre nou apartament és modern i amb vistes al mar. A prop de la platja (300 metres) i els serveis. A prop del port turístic per a excursions en vaixell i rutes de senderisme / escalada / bicicleta de muntanya. Còmode amb aparcament i internet Wi-fi.We d'esperar a Sardenya! Feu la prova!
El nostre apartament està a la planta baixa d'un complex, situat a 300 metres del mar, al centre de Santa Maria de Navarra, en un carrer cega i tranquil·la, amb aparcament privat. En 2 nivells, el saló està separat de la zona de dormitori. En el primer nivell hi ha la cuina, blanc i elegant, i una petita zona amb sofà-llit relaxar-se. Gran finestral amb vistes al mar cap al Cap de Bellavista de Arbatax i l'illa de Ogliastra. A la planta baixa, un ampli bany amb dutxa i un dormitori doble relaxant. Equip inclou: TV LCD 32 " forn frigorífic / congelador rentaplats rentadora Cuina equipada amb estris de cuina Assecador de cabell Internet sense fil aire condicionat a sala Ferro Roba de llit i bany inclòs. No es permeten mascotes. Mercat 100 metres lluny, el tabac, bar, restaurant, pizzeria, punt d'informació, cashmachine. Molt a prop, a 200 metres de premsa, forn de pa, peix, fruites i verdures botigues. Tots els serveis necessaris durant unes vacances relaxants són a prop de la casa, pel que poden desplaçar-se a peu. Aproximadament a 500 metres es troba el port esportiu, tots els dies de viatges de juny-setembre de inici per al Golf de Orosei de Cala Mariolu, Cala Sisine, Cala Lluna, Grotta del Fico (cova), Grotta del Bue Marino (cova), i altres belles badies. Altres activitats viuen excusions a peu amb un guia, muntar a cavall o amb el terreny. Nosaltres suggerim que guies per caminades o transferències en vaixell.
La zona en la tranquil·litat, la petita carretera i cec. Platja a 300 m, tot al voltant dels supermercats, pizzeria, restaurant, busseig, lloguer d'embarcacions, de manera que l'hoste pot moure a peu al poble. Algunes activitats només funciona de maig a mitjans d'octubre, però si t'agrada el senderisme és l'àrea de la dreta tot l'any.
Wir haben uns sehr willkommen gefühlt. Würden schön empfangen mit frischen Obst und kalten Getränken. Haben jede menge Tolle Tipps bekommen was wir alles machen können. Der Strand war auch super , vor allem zum Schnorchel. Sehr gute Lokalisation, können überall zu Fass laufen. Sehr Leckere Gelateria gleich um die Ecke! Und für Kinder auch ein Tolles Spielplatz. Wir empfehlen sehr die unterkunft.
Anna
2016-08-03T00:00:00Z
This apartment was perfect in so many ways! It is squeaky clean, is well equipped with a washer which is such a bonus when travelling, it stays cool in the heat of the day, has parking right out front, has two levels so you feel like you can get some separation, it is well equipped for cooking at home but you are within walking distance of several decent restaurants, and the pebble beach a few blocks away is beautiful! You can rent a lounger on the beach for the full day for only 6 euros and you can come and go. The marina at the Port, also within walking distance, has boat excursion opportunities for experiencing the magnificent coast which allows you to see all the stunning beaches you read about - we opted to book a zodiac with a private skipper through Nautica so we could dictate the length of time for stops and where we wanted to go - worth every cent and will remain one of the highlights of our trip! Claudia was delightful to deal with - warm and welcoming and responded immediately to all our inquiries. She thoughtfully left some items in the fridge for breakfast along with some drinks. I can't rave enough about this place so if you are looking for something in Santa Maria Navaresse snap this one up! You won't regret it.
Brenda
2016-06-13T00:00:00Z
Max and Claudia were very helpful with tips for the road journey before we arrived, Claudia was in phone contact with us when we couldn't find the apartment and this was a great help. The apartment was lovely, clean and with everything we needed. We thoroughly enjoyed driving around Sardinia (824 Kms). Roads are safe but windy. We would recommend this accommodation for other users and would love to come again another time. Thanks again Max and Claudia
Jane
2016-04-23T00:00:00Z
We were drawn to Max and Claudia's property as it looked bright and modern. We were not disappointed. The place is absolutely lovely. Bright, clean and comfortable. Our hosts were also very good at communicating with us on our arrival and very helpful in suggesting places to visit. They also left us some lovely treats
Tracey
2016-11-11T00:00:00Z
We had a wonderful stay at Massimiliano's apartment. We didn't met him in person but we met her wife and his parents, who were all very nice and friendly, alway ready to help. The apartment was spacious (enough for 3 persons), clean and well decorated, with everything you need. You can even see the sea from the window! Santa Maria Navarrese is a very quiet and peaceful little village, with awesome beaches and landscapes around, but we recommend to rent a car, it is more convenient. Perfect place to chill out and relax
Léa
2013-04-28T00:00:00Z
Wunderschöne, helle und saubere Unterkunft mit allem was das Herz begehrt! Max und Cla sind unkomplizierte und hilfsbereite Gastgeber. Unsere Reise war ei Traum!
Steffi
2014-04-25T00:00:00Z
We really had some beautiful days in Santa Maria. Max and Claudia are awfully nice, uncomplicated hosts. They gave us valuable hints and quickly were available whenever necessary. The little apartment was very clean and equipped with everything necessary for some relaxing days. It is situated in a quiet environment but very central. However, a car is a must in order to be able to discover all the nice beaches located in the southern area. To visit some of the dreamlike northern beaches we hired a boat for a day at the marina which was definitely worth the money. We can highly recommend this apartment. Grazie mille ancora Max and Claudia!
Frank
2014-06-02T00:00:00Z
We really enjoyed our time with the family in a lovely quiet town, the purest and most transparent sea that we have ever seen. Lovely apartments, equipped with absolutely everything. We do not need anything and remember for a long time the sweet moments of relaxation. Claudia perfectly met us and told all about the city and suites, and left us cold drinks and peaches from the own garden, it was very nice, especially after a long way from the airport. Apartments meet all the requirements and is the same as seen in the photos, the house always coolness that is very nice on hot days, we never used the air conditioning. Especially nice birds singing under the window in the hours of sleep. Near excellent pizzerias and restaurants, loved the tour by boat. The city is very clean and friendly, gorgeous myrtle garden on the way to the sea, delicious fresh mozzarella, ricotta, pecorino, crispy bread and basil, honey, torrone, sebadas and aranzada. What could be better.!!! Perfetto!!! Really want to go back again, two weeks still is not enough, though, would need three). P.S. Massimiliano, we are delighted with your photos. Excellent job.
Svetlana
2013-06-28T00:00:00Z
Tipus d'habitació
Casa/pis sencers
---
Tipus de propietat
Pis
---
Capacitat
3
---
Dormitoris
Santa Maria Navarrese, Sardinia, Itàlia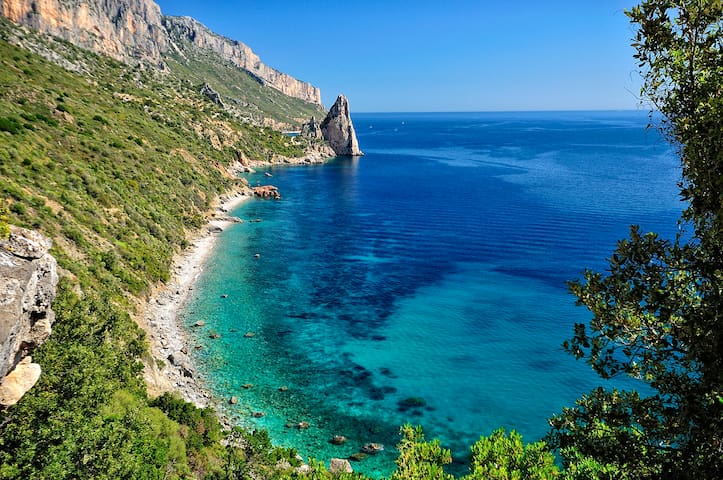 Located in the historic centre of Florence lies La Magione, a haven of peace in the midst of a monumental garden, apparently miles away from the noise and the crowds Open-planned, luminous, cozy, stylish bohemian garden apartment on 2 levels, 1 double bedroom, open-space en-suite bathroom (with bath tub -if looking for a shower this is not the right place!) on the mezzanine level, living room with fire place. Kitchen, private garden, car space for a small car (fiat 500 panda and so on, entrance to the garden with car is narrow and tricky) The guests welcome includes: a house book with local information about the city, a list of favourite restaurants and food shops, and a bottle of our best vintages. The appartment is now equipped with WyFy connection! The train station is only 5 minutes away and the city attractions are all within walking distance. no worries about pubbblic transport! Guests coming to this appartment seldom look forward to their next destination without wishing they could plan a longer stay.
My husband and I really enjoyed our stay in the Sabina's Garden Loft. The property is exactly as it is shown in the photos although we enjoyed learning and discovering its quirks and exploring the large garden. The location of the property is very convenient for exploring Florence. It was less than a 10 minute walk from the train station (and easy to do lugging suitcases) and and easy walk to the river and into the more touristy sections of the city. We only used transportation (other than our feet) once. Sabina was a lovely host. After checking us in, she left us with tips for restaurants & a brief write up of the history of her family (fascinating.) While we didn't need any assistance during our stay, she was completely accessible. If you're looking for a unique stay in Florence, this is the place to be.
Jay
2014-04-18T00:00:00Z
We had a wonderful stay at Sabina's apartment. It is beautiful, clean, bright and inviting. We felt very comfortable and were touched by the effort she made to make us feel at home -- fresh flowers, recommendations for restaurants etc, food for breakfast, a little chocolate Easter bunny for the holiday etc. She greeted us when we arrived and left. This is a great spot in the city if you are traveling by train as it takes under 10 minutes walking.
Theresa
2013-03-31T00:00:00Z
I can't really begin to describe Sabina's place - a beautiful spacious, quirky, bohemian apartment converted from an old store area in the corner of the palace gardens. And that doesn't really begin to do it justice! Sabina was busy hosting a glitzy fashion show in the palace gardens on the evening we arrived (which we joined later on for a couple of G&T's!) but she really took time to show us around the house - she was lovely and made sure we had a great reception. Her family have a fascinating story, going back hundreds of years as one of the most important Florentine families, and it was fun imagining what had taken place at the Palace over the years! The apartment has a great kitchen with all appliances, aircon, wifi, relaxing places to sit and unwind, and a very comfortable bed (most importantly!). The main entrance is into a small rustic gatehouse which leads through private gates onto the busy street outside - such a world of difference once you step through the gates! You can also access the gardens directly from the kitchen. The gardens are so peaceful and a beautiful place for a relaxing walk in the morning or the evening - it was very uplifting playing with the dogs and seeing the tortoises, smelling all the beautiful plants, and generally just recharging the batteries after a long day walking the busy streets. I can't fault Sabina or her hospitality and the apartment is just amazing - we would love to stay again some day. My main concern is that this place will be booked constantly once you discover it!
Colum
2016-06-21T00:00:00Z
Located a short walk from the historic sites, Sabina's home is a magical oasis in the already beautiful city of Florence. Sabina provided a very helpful handbook with fantastic recommendations of restaurants, shops, important numbers (such as how to call for a Taxi) as well as a brief history of the Corsini family/property (loved this!!!). We wish we had more time to spend in the stunning gardens with the turtles, the dogs, the lemon trees... It was like a dream. Will definitely return.
Lauren
2016-06-05T00:00:00Z
Lovely and homey house plus the beyond expectation garden. It's a really amazing experience. Love the collection of travel and art books there. Sabina and her neighbour are very warm and welcoming.
Stephanie
2014-07-24T00:00:00Z
Sabina's garden loft is something straight out of the movies. Behind the high walls of a busy street lies a quiet garden paradise and lodgings fit for the "princess and the gardener". The interior is beautifully done. It's a very personal, charming space and we loved staying here. Sabina welcomed us with fresh cut flowers from her garden and set us up for a lovely stay. The apartment is super close to the train station and you can walk into the city center on foot in about 10 Minutes. We would absolutely go back if we ever visited Firenze again. This one is a true gem!
Franziska
2016-05-06T00:00:00Z
My husband and I stayed for three nights at the end of our trip in Florence. Sabina made us feel welcome right away and gave us a bottle of wine from their vineyard. This really was a magical place. I didn't want to leave! Their garden is amazing and we enjoyed relaxing there with our coffee or wine. We stayed in one night to make our own dinner in the full kitchen. I would definitely like to stay again the next time we are in Florence.
Ryan
2015-07-04T00:00:00Z
Sabina's place is the reason for AirBnB to exist. When I say magical, I mean magical. The place is part of an old Italian complex. So when you stay here you get the garden apartment as well as lovely grounds you can walk. I will not spoil the surprise, but I mean magical like The Secret Garden. Besides this being an amazing place to stay, Sabina is a super host. When we arrived we were greeted by her lovely sister who showed us around the apartment. Sabina left us a sheet with important information as well as restaurant recommendations and things to do. In the kitchen, there was a bottle of wine from her family's estate as well as tomatoes from her garden and a bottle of sparkling water - perfect way to welcome a weary traveler. When Sabina arrived, she dropped by to meet us and brought us another basket with eggplant, tomatoes and basil. There are four dogs on the ground who are incredibly sweet. We ended up extending our stay because we loved the place so much....Our second review will tell people to just read this one. One thing...there is no internet at Sabina's place, so if this is important to you, grab yourself a tim or wind card. The location is amazing. You are a short walk away from all tourist attractions and museums. There is a supermarket around the block as well as a bakery which is run by an American expat (makes it much easier to shop). There is an American bar as well where you can hear cover bands (Pearl Jam). Every time we came home to Sabina's place, we completely forgot we were in the city. It felt like one of those Shakesperean pastoral settings where all cares disappeared. Sitting on the swing watching turtles and dogs frolic. We'll be back next year - thank you Sabina. You place is more than "traveling like a human" it is "living a fairy tale".
Cunei
2011-07-29T00:00:00Z
Tipus d'habitació
Casa/pis sencers
---
Tipus de propietat
Pis
---
Capacitat
2
---
Dormitoris
Florència, Toscana, Itàlia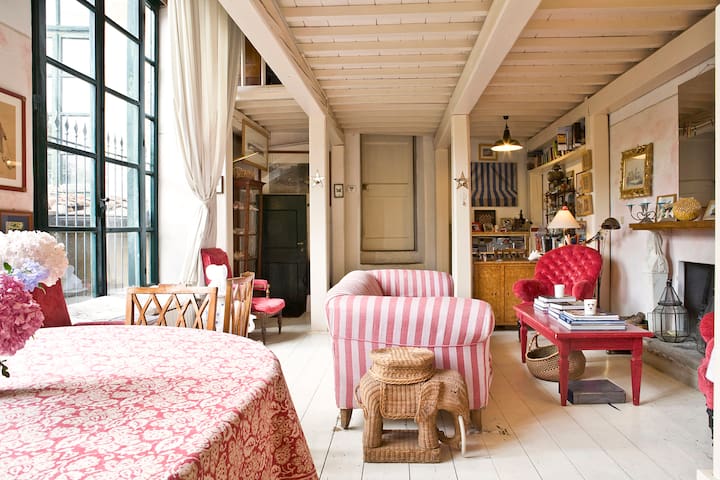 PLEASE VIEW THESE OTHER MY LISTINGS Deluxe apt 15 min walk to Colosseo https://www.airbnb.com/rooms/211507 Brand New Suite https://www.airbnb.com/rooms/4284997 Cozy Quiet Gem, nice price !!! https://www.airbnb.com/rooms/1351207 THANKS SO MUCH !!!
Amazing new miniloft, completely renovated in August 2012. Located in the historic area of San John it's a 1 minute's walk from the subway with which a few stops you can reach the most desired destinations in the city. Equipped with every comfort it's the ideal place to spend a wonderful holiday in Rome. The district is very lively and full of restaurants, pizzerias, pubs, bars, boutiques, shops of all kinds. Near to flat, the Basilica of St.John in Lateran, the Basilica of the Holy Cross in Jerusalem, the Lateran Palace, the Scala Santa, the Lateran Baptistery, and many unique places in the world. PLEASE VIEW THESE OTHER MY LISTINGS Deluxe apt 15 min walk to Colosseo https://www.airbnb.com/rooms/211507 Brand New Suite https://www.airbnb.com/rooms/4284997 Cozy Quiet Gem, nice price !!! https://www.airbnb.com/rooms/1351207 Elegant apartment, central & cheap https://www.airbnb.com/rooms/924691
the mini loft is a really good place to visit Rome :) it looks like on the photos and you have everything you need, a cosy bed, a full equipped kitchen, a nice bathroom and more than enough space for a couple. the loft is just 5 metro stations to the downtown, so it´s perfekt for sightseeing. for breakfast there is a cafe in the next building and about 2min. walk there is a supermarket. Claudio is a very nice, friendly and helpful host and communication worked prompt and easily, just perfekt. thank you very much for the nice accomodation :) lg martina & matthias
Martina
2013-02-22T00:00:00Z
NOUS AVONS PASSE 4 JOURS FANTASTIQUES DANS CE MINI LOFT APPARTEMENT MIEUX QUE SUR LES PHOTOS TOUT EST NEUF, TRES COLORE IL Y A TOUT A L'INTERIEUR DU STUDIO (CUISINE, MACHINE A LAVER, MICRO ONDE, SECHE CHEVEUX, LISSEURS. CLAUDIO EST TRES SYMPA, ACCUEILLANT LE STUDIO EST SITUE A 1,5KM DU COLYSEE A PIEDS ET A 300 METRES ENVIRON DU METRO ENFIN STUDIO SITUE A COTE DU BAR POMPI OU SE TROUVENT LES MEILLEURS TIRAMISUS DE ROME A CONSEILLER VIVEMENT
Audrey
2013-03-19T00:00:00Z
Claudio's place was great - very convenient location (right off metro) and excellent communication with Claudio for arrival/departure. Apt was clean and perfect for 3 people. Would recommend and stay again if in Rome.
Lisa
2016-07-04T00:00:00Z
My sister and I had the most wonderful time staying at Claudio's place. He has been the most accommodating host a guest would be so lucky to have...He took time out to meet and accompany us to store our luggage in his other place during ourlast day as we have requested for a late check out...I would absolutely recommend his lovely place to anyone who plans to visit Rome...And really, it's few steps away from the metro which makes it so convenient to roam around the city.. Place's clean, nice and fully equipped with your everyday needs and with fast internet connection. oh and really, i can attest that the nice coffee shop beside his place is the best tiramisu in the city....Claudio has been such a sweetheart and it felt like we were old friends...Definitely recommended!!!!
Loudette
2015-10-05T00:00:00Z
Que dire de mieux que le séjour était parfait, l'accueil, la propreté du logement et sa localisation!!! Si nous retournons à Rome, nous retournerons chez Claudio!!!
valerie francky
2016-02-14T00:00:00Z
Claudio was easy to communicate with and met us at the apartment. Great location close walk to the colleseum. Very newly updated and renovated great apartment !
Esther
2016-06-18T00:00:00Z
This was an awesome experience. The apartment has a wonderful location, closer to the metro and to restaurants. Claudio was an incredible host. He is kind, approachable and helpful. The apartment was impeccable and met all the requirements as advertised. Claudio was very accommodating to our schedules and he was useful in allowing us to storage our luggage in his place the last day of the journey. I highly recommend Claudio and his apartment. This was a very positive experience in Rome. Kudos to you Claudio!
William
2015-07-28T00:00:00Z
Very nice flat, well decorated and with full amenities. Claudio was very nice and welcoming. Perfect location to join Termini Station (where you can find buses to go to the old city) or to join Coliseum. We recommend Buono Ristorante (young and family customers, very nice food), which is only 5 minutes walk from the flat (Via Albenga 1) and to test the Paticceria "Pompi" (the best Tiramusu in Roma).
Alice
2013-02-26T00:00:00Z
Tipus d'habitació
Casa/pis sencers
---
Tipus de propietat
Pis
---
Capacitat
4
---
Dormitoris
Roma, Lazio, Itàlia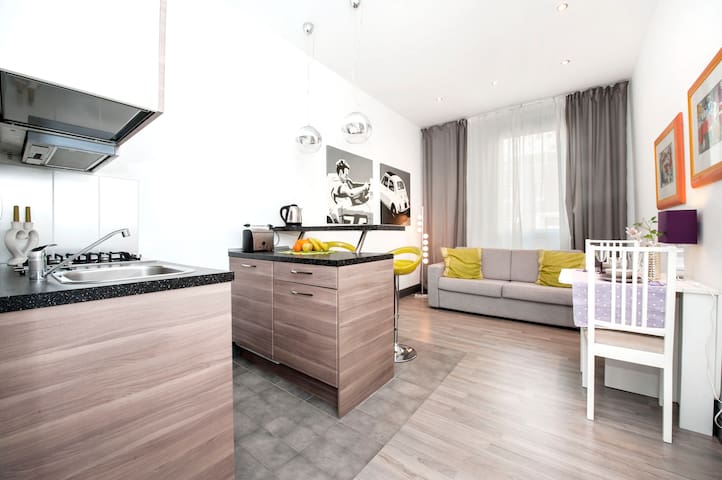 Welcome to this spacious studio apartment located in the historical city centre, only two steps from the Duomo cathedral, which you can admire from our gorgeous terrace.
Our quiet nest is located on the top floor of a historic building (without elevator). All the major sights of the city such as Gli Uffizi, Ponte Vecchio, the Duomo and Galleria dell'Accademia are at walking distance and there are several restaurants, shops and grocery stores in the surrounding area. The train station Santa Maria Novella is only 10-15 minutes by foot. The apartment has a spacious newly renovated kitchen, a dining area, a living room/bedroom, one newly renovated bathroom with shower and a beautiful terrace that is kissed by the sun from noon until sunset - perfect for lunch, aperitivo and dinner. The apartment is on the 5th floor and please note that there is no lift available in the building.
Via dei Servi and piazza Santa Annunziata is a lovely and vivid area. Right across the street you have Robiglio, one of Florence best pastry shops, and around the corner you'll find no one less than David...yes, that David. The hip neighborhood Sant' Ambrogio, with its local food market and authentic restaurants Bistro Gilda and Trattoria Cibrèo, is only 10 minutes by foot. If you go the opposite direction, towards the central train station you'll find another must-visit food market, il Mercato Centrale, the popular restaurant ZaZa and the newly opened concept space La Menagere which includes a restaurant, jazz bar, coffee shop, flower and decor shop. We could continue with tips of restaurants and other hidden gems but we'll keep that for when we meet...
We had a wonderful stay at Jennifer's apartment, and would definitely recommend to others! The space was spotlessly clean and beautifully designed, and with the stunning views from the terrace it really did feel like a luxury holiday. The climb up the stairs to the top floor was good exercise every day but totally worth it. Location was perfect, right in the middle of everything, but you wouldn't know it from how quiet it was. If we come back to Florence we would definitely want to stay here again. Thank you Jennifer!!
Donna
2016-08-10T00:00:00Z
We had a great stay at Jennifer's apartment while visiting Florence. It was conveniently located a few minutes walk from the Duomo. We enjoyed the stunning views from the balcony. Jennifer left us some snacks for breakfast and a Florence tip sheet which was much appreciated!
Risa
2016-11-13T00:00:00Z
Jennifer is an amazing hostess. The place is beautiful, quiet, and very clean. List of recommended places was a nice touch! Didn't have much time to hit all the places but the ones I did see were great. Bookmarked this apartment so next time in florence I can try and stay here again! Had an amazing time.
Jenny
2016-04-23T00:00:00Z
We had a really great stay at Jennifer's apartment, ideally located in the city center, we were able to discover the city just by walking. The apartment itself is bigger than it seems on the photos and had all we need, even a washing machine, and the view from the terrace was wonderful. Jennifer sent us messages to prepare our arrival and we met her boyfriend Nicola at the apartment to welcome us. Thanks to the addresses given by Jennifer, we discovered excellent restaurants and gelaterie. We had a very nice experience in Florence and I recommend Jennifer's apartment if you would have a great experience too !
Jérémie
2016-04-06T00:00:00Z
Jennifer made an extra effort to meet us and hand the key early. Her apartment is spacious and tasteful, located smack next to the duomo and walking distance to every attraction in Florence. Very convenient. We also used the produce from the "mercato" to cook and enjoyed the terrace in the evening. The apartment is at the top of the building so one needs to be ok with what comes with that.
Arkadiusz
2016-06-09T00:00:00Z
This apartment was great, very centrally located and we were able to stop by often for quick breaks during our exploration of Florence. It was decorated very beautifully, and we enjoyed having our own private balcony where we could watch the sunset. Definitely had the best water pressure for showering out of all the Airbnb's we have stayed in Italy, too. It's a climb to the top floor, about five flights, but if you don't mind that then it is all good!
Emily
2016-05-24T00:00:00Z
Jennifer's apartment was amazing! It was right next to the duomo and right in front of the cutest little cafe. We walked almost everywhere we visited and felt so lucky we stayed in such a great location. The apartment has a beautiful decoration and a stunning terrace! The best part was the guide Jennifer left for us; even if you don't have anything planned for your visit, this guide will help you get started on where to go and where to eat. We will always remember Florence and the beautiful apartment we were so fortunate to stay in!
Miguel
2016-09-07T00:00:00Z
Je recommande cet appartement de grande qualite et tres bien situe Jennifer nous à tres gentiment accueilli et tres sympathique.
laurent
2016-04-09T00:00:00Z
Tipus d'habitació
Casa/pis sencers
---
Tipus de propietat
Pis
---
Capacitat
2
---
Dormitoris
Florència, Toscana, Itàlia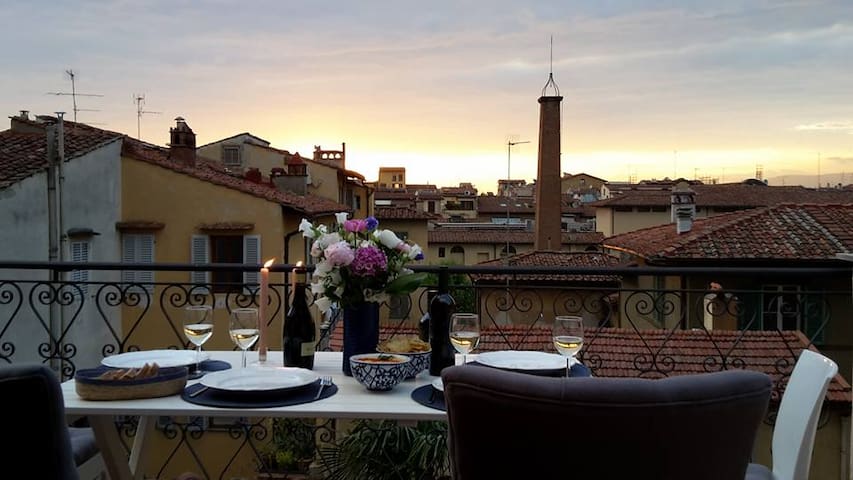 Tyrrhenian Sea - Airbnb
:
Mitjana de

5

estrelles sobre

5

a partir de

3150

avaluacions d'hostes
1

-

18

de

Més de 300 lloguers
Introdueix les dates per veure el preu total. S'aplicaran tarifes addicionals. És possible que també s'apliquin impostos.