Private apartment with fully equipped kitchen located a 5 to 8 minute walk from the world-reknowned Ojo Caliente Hot Springs and 1 minute walk from "Ojo restaurant row". Passive solar space with comfy queen sized bed and comfortable quality futon couch.
Pleasant homey space with adobe/frame construction. Holds both warmth and coolness as seasonally appropriate. Just like home, we offer a full kitchen, cooking equipment, microwave, oven, full-sized fridge/freezer, toaster oven, French Press coffee-maker, Dark Roast beans and coffee grinder and most everything that you may need. Teas and some welcome snack foods are also available. Apartment has both a front and back door allowing for cross-breezes. Very comfortable for two people, but another one or two could sleep on the futon. (Note there is an extra charge for more than 2 occupants)
Ojo Caliente shares the varied Indian and Hispanic history of small towns in northern New Mexico. Ojo was along a migration trail and ghosts of Apache warriors and Spanish explorers have left tales of days past.
Very nice place in a great location! The apartment is exactly as described, and very conveniently located for the springs. Vincent provides a lot of information, and keeps a clean and cozy place.
Joseph
2016-08-31T00:00:00Z
He was wonderful and very thoughtful
Heather
2016-07-16T00:00:00Z
Vincent's place was easy to find and very comfortable. It's within walking distance of the mineral springs and offers a lot of value for a quick night or two in Ojo Caliente. The next time we return, I will probably try to stay at Vincent's casita again. We had everything we needed plus so much more.
Scott
2017-01-02T00:00:00Z
Host was friendly and informative. The neighborhood is typical of northern New Mexico...dry, hot, quiet.
Kathy
2016-07-29T00:00:00Z
Vincent's listing is such a cozy spot. We really appreciated it's closeness to the Ojo Caliente resort, but also loved being able to go back to such a private place. Don't miss out on staying here!
Fabricio
2016-04-01T00:00:00Z
Great all the way around. Vincent is a great host!
Jennifer
2016-09-08T00:00:00Z
Vincent was fantastic! Can't say enough good things about him or his comfortable dwelling. It was me and my special lady's 3rd year anniversary and we wanted to spend it at those amazing hot springs. Vincent was honest about all his descriptions and was super helpful. 10 out of 10 would recommend and I am very honest when it comes to that. Very nice place.
Dave
2016-04-21T00:00:00Z
Vincent was such a gracious host and above and beyond helpful. He went out of his way to give me information for planning my trip, as I had never been there before. He allowed us to check in early, and greeted us when we arrived to make sure everything was ok. The local is perfect to access the Caliente Hotsprings resort, which was the purpose of our trip, and we saved a pretty penny by doing so. The space was VERY clean and a perfect space for two. Everything was in great working condition, fridge, stove, facilities. Coffee & tea provided! He also gave great detailed instructions for everything regarding his space and even provided local menus. The suggested walk time to the resort seemed a bit farther than advertised, but that's not fully confirmed because we drove anyway because of the heat. I fully plan on visiting Vincent again and would highly recommend it for up to two people wanting to spend a few days at the hot springs, but not wanting to pay the inflated room price.
CHIARA
2016-07-05T00:00:00Z
Tipus d'habitació
Casa/pis sencers
---
Tipus de propietat
Pis
---
Capacitat
4
---
Dormitoris
Ojo Caliente, Nou Mèxic, Estats Units
Beautiful, adobe, studio apartment conveniently located minutes from downtown Santa Fe and the Railyard Arts District. This eclectic gem boasts high ceilings and vigas. There is a queen size bed, sofa bed and a desk area for working and dinning. Enjoy a full kitchen and bath. Enjoy fresh air dining and relaxing on the outdoor, private patio. Walk to restaurants, bike to the railyard/downtown. It's a perfect spot for couples, solo adventurers, and business travelers.
This lovely studio adobe apartment is a great place for you to call home while visiting Santa Fe. It is conveniently located minutes from downtown Santa Fe and the Railyard Arts District. The 300 sq. ft. home is an open concept living room and kitchen; featuring modern touches while maintaining an old Santa Fe feel with saltillo tile, high ceilings, vigas and eclectic Mexican inspired decor. Enjoy fresh air dining and relaxing on the outdoor, private patio. The home is located within walking distance to 2 local favorite restaurants, Tune-Up Cafe and Counter Culture. The Railyard Arts District is a 5 minute drive away (1.1 mi) and the historic plaza is less than 10 minutes (1.8 mi). There are nearby walking/biking paths that lead directly downtown. The Acequia Trail will have you to the Railyard in 10 minutes on a bike and 20 minutes on foot. The River Trail will have you on the Plaza in 15 minutes on a bike and 35 minutes on foot.
We love the neighborhood. It is a mix of young families, millennials, artists, Santa Fe transplants and people whose families have called Santa Fe home for generations. Walk to restaurants and cafes. This location makes getting anywhere in Santa Fe easy.
Perfect spot for a solo stay! This small studio apartment was exactly what I needed for my trip to Santa Fe. Dennis and Inga were helpful and responsive, the place was clean and functional! Bed wasn't the most comfortable but otherwise great.
Alexa
2017-03-27T00:00:00Z
Cozy apartment in a quiet location
Liz
2017-03-28T00:00:00Z
Super cute place, Dennis and Inga were quick to respond and very helpful. We had a comfortable nights sleep and nice hot showers. We were surprised at how quiet the place was given it's central location. Would stay here again!
Katie
2017-03-23T00:00:00Z
Great little place!
Lisa
2017-03-24T00:00:00Z
Tipus d'habitació
Casa/pis sencers
---
Tipus de propietat
Pis
---
Capacitat
3
---
Dormitoris
Santa Fe, Nou Mèxic, Estats Units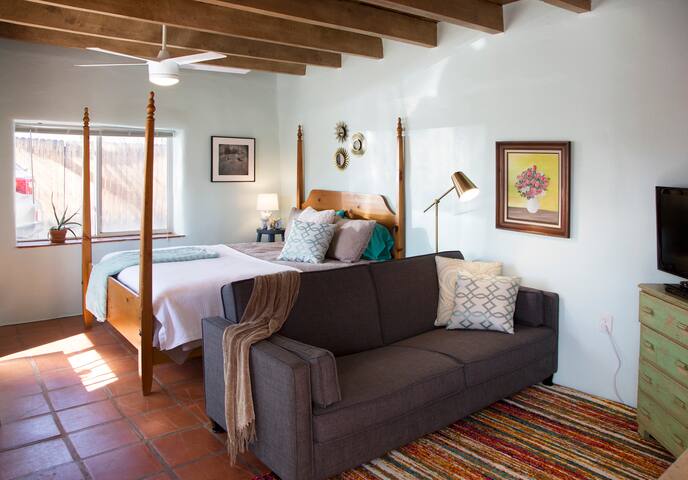 Santa Fe Zen on the grounds of a pottery studio. Peaceful garden designed by a garden architect. Clay plates and glasses created and fired on the property by your host. Studio apartment thoughtfully appointed. Close to historic downtown Plaza Area, Capital building, Museums, great restaurants, galleries, hiking/biking trails, Canyon Road, swimming, Trader Joe's, Whole Foods, public transportatioin. Close proximity to everything in downtown Santa Fe while maintaining a country feel.
This house is one of three on the property. I live in one and there is a neighbor in the conjoining apartment to yours so quiet after 9:00 is appreciated. The former owner of this house was a landscape architect and there are beautiful plantings on the property. You can step outside the front door for a ski report by looking at the ski basin. Or sit on the front porch and enjoy a glass of wine. Hardwood floors inside and traditional Mexican tile in the bathroom. The kitchen has everything you might need to create a gourmet meal to be eaten on handmade (by me in my studio in the back yard!) pottery dishes! In the kitchen, you will also find your own washer and dryer. Three steps lead up to the sleeping area and living room which are one combined area. I am excited to be your host and share this special accommodation with you!
Very close to the historic downtown area including galleries, restaurants and museums.
Real nice place and Michael was a pleasure to talk to! All we could ask for.
shaun
2017-04-01T00:00:00Z
Though located a bit of a ways from the action, this was a wonderful place to stay. It was comfortable, spacious and filled with Michael's incredible pottery. The kitchen was amazingly stocked with dishes, pots pans, appliances and even sharp knives. Everything you might need to create a meal was within easy driving or even walking distance if you liked to walk. Just one note. The kitchen is several steps below the rest of the space. Not a big deal for me, but was a bit of a challenge for my husband who is slightly handicapped.
Gable
2017-02-23T00:00:00Z
Michael was a really nice host. We only stayed there one night but he was very accommodating and super friendly.
Ryede
2017-02-26T00:00:00Z
This place is really clean envite well organized Michael want it to be sure that we have everything we needed . He was there to welcome us and I give us a tour of the place . The room was comfy, warm and cozy very relaxing place we love it . Thank you! Michael !
Susana
2016-11-30T00:00:00Z
This location is great! Close to downtown yet in a very quiet area. The space is quite comfortable and spacious - and nicely decorate. Everything you would need is provided and the space is very clean. I would recommend this place and plan to stay here again.
Tammie
2016-10-16T00:00:00Z
I had a wonderful stay here. It was quiet and comfortable and exactly what I was looking for.
Jena
2017-03-24T00:00:00Z
What a lovely, private space! Located very close to downtown Santa Fe, it was easy to find, and a swift drive from any central restaurant. Michael was a friendly and kind host. I had a great time!
Sarah
2016-10-23T00:00:00Z
Michael's place felt like home! Private and very well equipped. Made use of the washing machine. Very quiet neighbourhood. Close to the "thick of it"
Paul
2016-09-22T00:00:00Z
Tipus d'habitació
Casa/pis sencers
---
Tipus de propietat
Pis
---
Capacitat
2
---
Dormitoris
Santa Fe, Nou Mèxic, Estats Units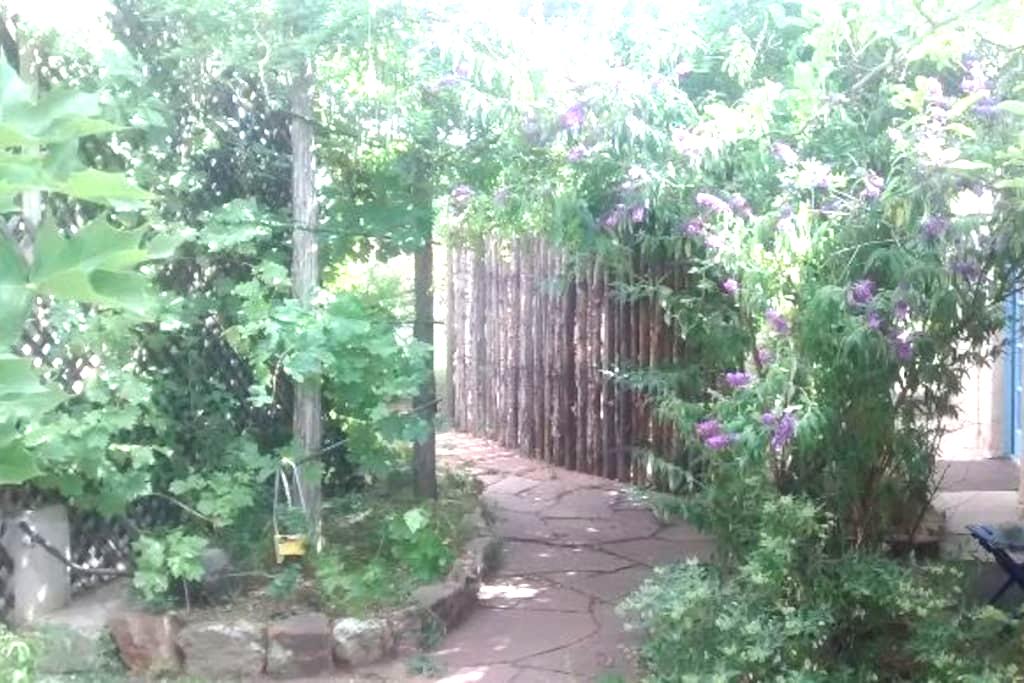 My place is 1.2mi from the plaza in a convenient neighborhood just 0.5mi from the Railyard District & Farmer's Market. The studio has a private courtyard (through Turquoise gate) and a kitchen, small dining area, sleeping nook with murphy bed, and basic bathroom with shower. It is privately tucked into the back of our property, and attached to my home where I live with my partner, our son, and two fuzzy dogs!
With a beautiful courtyard that also is home to my attempt at vegetable gardening, you are welcome to sit outside at the table & chairs under the lilac & trees to have a glass of wine or a sunny morning coffee. Inside the studio is a sunny sitting area with a full couch & chair, as well as a dining table for two. The newly remodeled kitchen features handmade Italian tile, full size gas range, pots & pans, kitchen tools, & tableware. The half-size refrigerator should hold your leftovers or delicious finds from the Farmer's Market that is open Tuesday & Saturday and just 0.5mi away! Santa Fe enjoys an average of 320+ days of sunshine per year - and capturing the light & clean air is a big part of being here. The studio really takes advantage of that, all of the windows face private areas (except the window behind the bed) that cannot be seen by the neighbors or the street. So although we have curtains for your privacy - feel free to throw them open and let the outside in! The studio is tucked way back on the property, although it is attached to our house. The sleeping nook has a full size handmade murphy bed that easily stores away if you'd like the extra space. We've provided sheets, pillows, a down comforter, and plenty of extra blankets should you need them (Santa Fe can be very cold at night!). We have stocked the bookshelf with a strange selection of mostly fiction - help yourself to reading them, but please do leave them here - some of them are very special to us. Also, the book by Beverly Ungar was written by my mom - she loves a mystery! The bathroom is small, simple, and sunny. With a pedestal sink and new low-flow toilet, we've got fluffy towels ready! I feel that the shower is a bit basic, the fixtures are old and we hope to update it sometime soon. Please keep in mind that Santa Fe has some of the the lowest water consumption per person in the US, with our per person rates averaging 95 gallons per person per day, compared to the national average of 150! We therefore ask you to be mindful of your water use in our dry city. Also, you will be sharing the water heater with us, and we will try to restrict heavy use to nighttime. Finally, the property has three separate living spaces. In front is a gate to the guesthouse where our tenant has lived for many years, around the back of the guesthouse are two more gates, one leads to our house, and the last one is yours! Tucked privately in back, our sunny studio is a gem.
My neighborhood is great! The location is amazing in that it is close to everything, without being in the middle of everything. It is a typical neighborhood in Santa Fe, which means it isn't really typical of anything. It is a residential street, although you won't find any lawns or that sort of thing, most of the residences here are behind adobe walls. It's residential, yet just two blocks away from St. Francis, which is one of the larger thoroughfares in the city. The "Tune Up" cafe, which was featured on the Food Network, is just three blocks away, as well as a laundromat two blocks in the opposite direction. If you like to cook or dine in, there is a Sprouts, Albertson's, and CVS about a mile away at DeVargas Center (there are restaurants & shops as well). During the summer months, the Farmer's Market is a very popular place for local organic produce & other products. The Railyard District has a Violet Crown movie theater, restaurants, shops, galleries & events just 0.5mi down the street. Canyon Road & the Santa Fe plaza are about 1.5mi away and offer endless choices for dining, gallery strolling, and shopping all steeped in 400 years of history. The plaza (or downtown) area is about a mile away and has zillions of shops, galleries, and restaurants as well as one of Santa Fe's specialties - museums! The New Mexico History Museum, Georgia O'Keeffe Museum, Governor's Palace, New Mexico Museum of Art, & famed Institute of American Indian Art are all right there (not including our own Museum Hill, with a handful of other museums there!). If you're taking a day trip up north to Chimayo or thereabouts, simply hop on to St. Francis and you're already on 285 north. If you'd like to head up the mountain for snowboarding or hiking, swing around Paseo de Peralta to Artist Rd & you're on your way.
Liz's place was in a perfect spot to explore the town by foot! We absolutely loved staying in her comfortable and quaint place. It was perfect for a little getaway!
Catherine
2016-12-13T00:00:00Z
Very clean, spacious, airy and comfortable. Walking distance to the galleries and restaurants of Santa Fe and yet secluded enough to feel quiet and restful. Would have liked to spend more time there just reading and enjoying the garden but there was too much to do. I especially appreciated the refreshments after a long flight.
Debra
2017-03-01T00:00:00Z
Liz and her family have a gem of a place. Very responsive and baked fresh muffins for my arrival! I would love to stay at her place again.
Troy
2016-12-04T00:00:00Z
Liz's place is perfect for walking, biking and ease to get to the Co-op, Farmers Market, downtown and up to the Tea House up Canyon Road. It is so light and bright and quiet. I really enjoyed my three week stay while in school. Thank you Liz for providing such a wonderful space!!!! I'll be back.
Linda and Andrew
2017-02-17T00:00:00Z
So perfect!
Zandy
2017-01-20T00:00:00Z
I love my stay at Franklin st. The place is spacious and tge private yard is wonderful. It is a 5 min to the Tune Up Cafe where I had many meals: breakfast, lunch, dinner, The only wish I had was that there would be a microwave on the place instead of having to cook on the gas range. Otherwise, this is the perfect setting, close to the Plaza and plenty of free street parking
Jacques
2017-01-04T00:00:00Z
Had a great experience here seeing Santa Fe for the first time. The studio is clean and comfortable and walking distance from downtown, Whole Foods, and some great restaurants. Would definitely like to stay again!
Benjamin
2016-12-08T00:00:00Z
My friend and I traveled to Santa Fe for just a couple of days, and this was an ideal place to stay! It's close to site santa fe and the plaza, you can walk to everything you need. The adorable apartment was everything we hoped for.
Megan
2016-12-12T00:00:00Z
Tipus d'habitació
Casa/pis sencers
---
Tipus de propietat
Pis
---
Capacitat
2
---
Dormitoris
Santa Fe, Nou Mèxic, Estats Units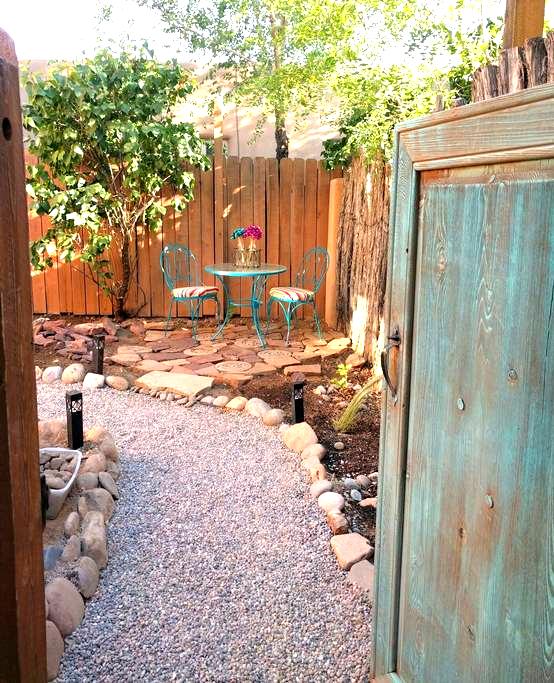 Come and bask in the snow, sunshine and fresh air of Taos, and take in the beautiful light and richness of northern New Mexico. Enjoy the artistry of the intimate studio, and close proximity to the Plaza, the heart of Taos. Hope to see you soon!!
Our private adobe studio has a full bathroom, stocked full kitchen and beautiful architectural features. It is cozy, quaint and comfortable for two people with lovely views! It has a very satisfying and easily operated full-size IKEA pull-out bed with plenty of linens, towels, and a down comforter. Parking is provided on-site, near the casita. Valverde is a quiet neighborhood street, with open-space Sunset Park bordering the western side of the property. It is within walking distance to the Historic Taos Plaza, the world-renown Honuman Temple, and has easy access to shopping, galleries and restaurants. Taos Ski Valley is a 21-mile drive away, or take the Taos Chile Line Shuttle for $1 each way which picks up about 1/2 mile from the Studio. Other nearby attractions include the Rio Grande Gorge Bridge, Twirl Toy Store and Playplace, the Kit Carson Home and Museum, Taos Pueblo, the KTAOS Solar Center, the Harwood Museum of Art, the Millicent Rogers Museum, and thousands of acres of National Forrest and hiking/cross country skiing trails. Cid's Market, a natural food grocery store, is also a walkable distance or a short drive away. We love animals, and allow pets on a case-by-case basis, with a required $15.00 cleaning fee for pet guests. We ask that you respect our space and property and clean up after your pet. This is also a non-smoking environment. Please do not smoke inside, or near any open doors or windows. Thank you!
This is a great, quiet neighborhood, with a classic Taos feel. It is safe to walk around and close to many of the unique sights Taos has to offer!
Ken's place in Taos is awesome. So comfortable and a perfect place from which to venture out in this idyll. Highly recommend.
Ned
2016-04-23T00:00:00Z
As described, this place is cute. I hesitated to book this place after reading that the bed was a pull out futon. The reviews assured us that the bed was comfortable so we decided to try it. Maybe 20 years ago but at 64, it was not so comfortable for us. Also, it could have been cleaner as there were dust bunnies under the couch (we noticed when we opened to a bed) and spider webs around the kitchen window. OK, that said, I would rate Ken's place 3 1/2 stars. The price and location are hard to beat. We only stayed one night and truly enjoyed Taos. Thank you for sharing your place. Charlie and Sheila
Sheila
2014-10-24T00:00:00Z
Wonderful. Cottage studio exactly as pictured. Ken made sure everything was cool.
Red
2015-12-01T00:00:00Z
Cute little studio in a convenient location. We stayed one night as we passed through and it was perfect. Fold out sofa was surprisingly comfortable!
Jody
2015-12-22T00:00:00Z
Ken's place was great and was perfect for me and my boyfriend. It was cozy, cute, and easy walking distance to restaurants and shops in the Plaza. Ken was super helpful and checked in with us during our stay. He was flexible with our checkout time, which we definitely appreciated. Thanks for a great stay, Ken!
Jen
2015-01-12T00:00:00Z
Great spot in Taos. Very convenient location. The space is all that you need for one or two people. When I was there, the futon couch had been broken by the previous guests and it wasn't able to fold down into a full mattress. Not ideal, but definitely not Ken's fault. He even tried to cut me a deal because of it. There was some coffee there to make in the morning, and even some fresh creamer in the fridge. A nice surprise. The only complaint would be the 1-ply toilet paper, haha. Probably doesn't matter to 90% of guests, just a personal pet peeve. Great place, would definitely stay there again! Thanks Ken and I hope everything worked out with fixing the futon!
Eli
2016-05-14T00:00:00Z
Had a great stay - really interesting neighborhood within easy walk to plaza
Rob
2014-04-14T00:00:00Z
I loved spending two nights in this cozy studio! The location was great because it made exploring different areas easy (Gorge bridge, the plaza, Taos ski valley), and it was convenient to the main road while remaining nice and quiet. I didn't meet Ken in person but he was extremely kind and attentive- checking-in was a breeze, and he even forewarned us when a winter storm was approaching the area. The listing is priced accordingly, seeing as it's a smaller space with a futon, but in no way does it feel cramped or under furnished. It is very cozy, I loved the decor, AND I found the firm mattress on the futon to be quite comfortable. Thanks Ken!
Eva
2015-01-31T00:00:00Z
Tipus d'habitació
Casa/pis sencers
---
Tipus de propietat
Pis
---
Capacitat
2
---
Dormitoris
Taos, Nou Mèxic, Estats Units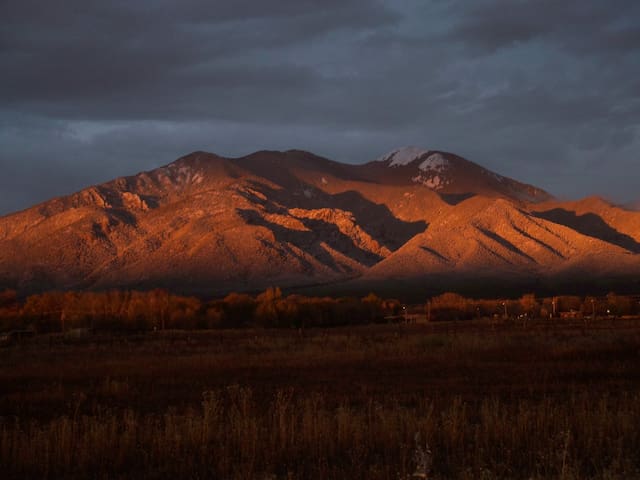 This charming studio is perfectly located for visitors on Don Gaspar Avenue within walking distance to the Plaza, the Railyard, Canyon Rd. and half a block from the State Capitol Rotunda. It is part of a historic adobe house, but a separate private unit.
The home is a territorial adobe set in a historical house built when Santa Fe was a part of Mexico in the mid 1800's and retains many original features. My family has lived in this property since 1952. The studio apartment is a separate part of the home, which measures approximately 500 sq. ft. and can comfortably accommodate 1 or 2 people. The studio is totally self-contained with a small 3/4 bathroom (shower). In the small back room, I have just added a kitchenette with an electric stove, a refrigerator, a stacked washer/dryer and a sink not pictured in the photo section yet. The back porch has a large round table and chairs plus all around the studio there is a patio with outside furniture.
As a native Santa Fean, I can provide any information on dining, shopping, local attractions, events and local history you may need. I can provide guided historical tours of downtown Santa Fe as well. I love to interact with my guests and would be happy to give you a tour around town. We could have coffee or lunch together or share beer/wine on our patio with my German husband, Eduard, when available. Just ask me a.s.a.p. when you arrive or before, so I can plan for it ahead of time. Also, I give my guests who prefer privacy -- space, but we are here in the separate apartment upstairs when needed.
Virginia was quite welcoming and informative. The studio was also super cute and close to the main square so we could walk many places, and it was well-equipped for all of our needs, including fridge and coffee maker. The only issue we had was with the shower. The water pressure was very, very poor. I opted to wash my hair in the sink because it was faster.
Kodie
2016-06-19T00:00:00Z
We had a wonderful stay in Santa Fe thanks to Virginia! From the moment we arrived, Virginia was a great host and even had a bottle of wine and chocolate waiting for us. The loft was so cozy and we felt right at home. Virginia gave us a perfect recommendation for a local breakfast spot, and from then on the loft was the perfect spot to explore the city by foot, which was the experience we were hoping for. Would highly recommend to anyone looking for a cozy place to stay in Santa Fe! Thank you, Virginia!
Bryson
2016-03-17T00:00:00Z
This is a very comfortable studio just a 5 minute walk from downtown. Virginia is a very nice host, and there is a great patio outside for dining or relaxing. Highly recommended.
kevin
2016-05-10T00:00:00Z
Virginia was wonderful and very welcoming. It was so interesting to hear about the history of her home and her family. The studio is large, cozy and very clean with everything you need, even a bottle of wine and chocolates. The location is so convenient and very quiet, yet the center of town, great restaurants, the Farmers Market, Canyon Road with its art galleries are all a short walk away. This was not our first time in Santa Fe, and we already look forward to our next visit.
Myriam
2016-04-25T00:00:00Z
I spent more than 3 weeks in this apartment when I came to Santa Fe for business at the New Mexico Capitol. I cannot say enough about how nice it was to stay there. The apartment was immaculate, well- appointed, and super-close to the Capitol and the heart of Santa Fe. Virginia was the ideal host -- always responsive, warm and gracious. She and her husband Edward occupy the attached house, and it was a pleasure to get to know them. Highly, highly recommended!
Brian
2016-02-18T00:00:00Z
What a delightful little studio in the heart of Old Santa Fe. Virginia is a natural storyteller and mistress of the household. She made us feel welcome, secure, and comfortable. The studio is adorable and unique, and had everything that we could think of...including chocolate and wine! We couldn't ask for more. I will return the next time I am in Santa Fe.
Karena
2016-03-29T00:00:00Z
Virgina was an excellent host. She was very hospitable, friendly and flexible with our check-in/check-out times. The studio felt inviting, warm and cozy with amenities such as mini-fridge, microwave, books, DVDs and tableware. The studio is in a perfect location in a safe neighborhood and is within walking distance of the New Mexico State Capitol, Plaza and other attractions. I would like to thank Virginia and Ed for hosting me and my wife. I strongly recommend this studio to anyone who intends to visit Santa Fe.
Santosh
2016-03-26T00:00:00Z
The apartment was clean, spacious, very well located and exactly as described in the listing. Virginia was a very thoughtful and thorough host - she took the time to describe the city and sights, as well as checking in regularly to see if I needed anything. Overall, a very pleasant experience and would love to go back.
Anand
2016-08-09T00:00:00Z
Tipus d'habitació
Casa/pis sencers
---
Tipus de propietat
Pis
---
Capacitat
2
---
Dormitoris
Santa Fe, Nou Mèxic, Estats Units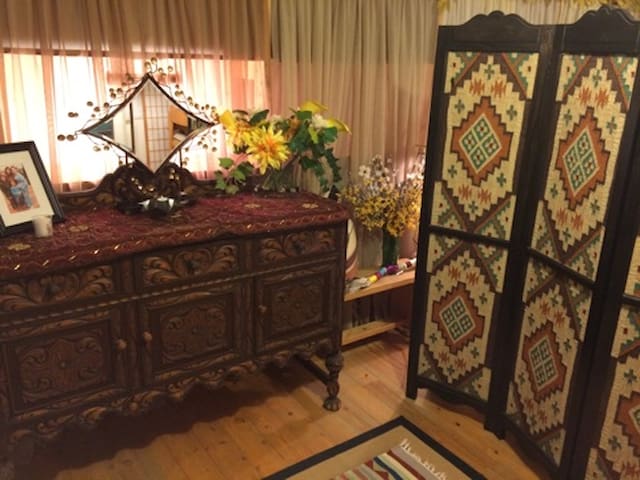 This secluded location offers some quiet meditation and retreat a walk away from all the stimulation Santa Fe has to offer. Situated in an original mid-century Spanish family compound, "Casita Agosto" has been recently renovated for a clean refreshing feel with an eye for detail. With onsite parking for one vehicle, Agosto is minutes by foot from some of the finest restaurants in Santa Fe, movie houses, an organic grocery store, numerous cantinas, museums, great walking tours and more.
A Santa Fe adobe structure with some solid history and Saltillo tiling, Casita Agosto is a studio vacation rental with a bedroom, adjoining modern kitchen and a new bathroom, completed with a stonework shower.
Full range of awesome restaurants. Just ask and I will guide you to a great meal. There are also several great coffee shops in walking distance as well as the Plaza at historic city center all within walking distance.
Robert's place in Santa Fe is a truly lovely place to stay. It is adorable and clean and comfortable. The complex is small and private, and the outdoor space is great! We loved the 15 minute walk to Santa Fe Square every day and there were many other walkable destinations as well. Robert was a wonderful and attentive host as well. I would highly recommend staying here if you are in the market for a low-key, relaxed trip to Santa Fe.
Faye
2017-03-31T00:00:00Z
We LOVED Casa Agosto. It was everything we were hoping for: within walking distance of cultural and fun things to do, quiet, full kitchen, nice big bed, modern and tasteful but also a little rustic feeling. It was warm and cozy when it snowed on us and it was cool when it warmed up outside. The converted wood burning stove in the main room was awesome. One night after a very full day we cooked dinner at the Casa and caught a movie on cable, and it was perfect.
Joanne
2017-04-02T00:00:00Z
Tipus d'habitació
Casa/pis sencers
---
Tipus de propietat
Pis
---
Capacitat
2
---
Dormitoris
Santa Fe, Nou Mèxic, Estats Units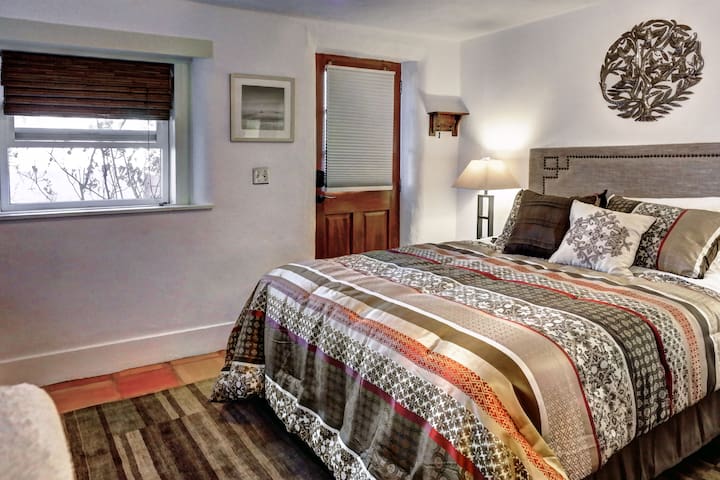 An older one bedroom casita in a complex with other casitas that is located 5 minutes walking from the downtown Plaza. walking distance to restaurants, bars, museums, movie theatre, Saturday Farmers market.
In a neighborhood with the traditional Santa Fe adobe style houses. Less than 10 minute walk to downtown Parking: 1 Spot available in front of the house. There is safe 24 hour non permit parking at the teen center very close across the street.
Walking distance to the Plaza. In a unit with multiple casitas. Across the street from the teen center
Tipus d'habitació
Casa/pis sencers
---
Tipus de propietat
Pis
---
Capacitat
3
---
Dormitoris
Santa Fe, Nou Mèxic, Estats Units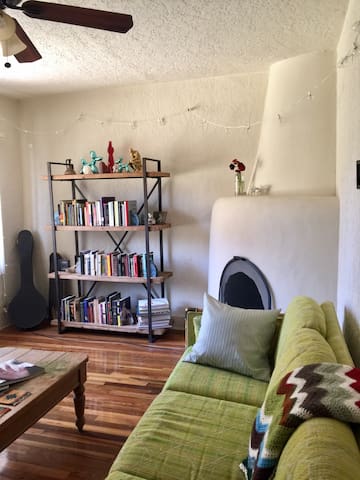 This lovely little studio has privacy, comfort, and a great location in the historic South Capital neighborhood. It is easy walking distance to the Railyard District, the Plaza, Trader Joes, Whole Foods, and many restaurants are within a few blocks. You'll love the peaceful ambiance. Good for couples, solo adventurers, and business travelers.
This peaceful and serene refuge, with it's unique Santa Fe style, will charm you and relax you. It is my pleasure to provide you with a coffee maker, organic decaf and regular coffee, an assortment of teas, and sugar. We are LGBTQ friendly and welcome people of all cultures and persuasions. The studio (14' X 12' plus bathroom) has a comfy double bed, mini-kitchen in one corner (kitchen sink, below counter fridge, toaster oven, two burner hotplate, and small cabinet with dishes), and a dinner table/desk looking out into the garden. The bathroom includes a shower (no tub) and a washing machine (no dryer). Outdoor amenities include a beautiful yard furnished with umbrella-covered table-and-chairs on a patio next to a lovely pond with a water fall. Please note, there is no television. The studio is situated on a spacious lot, which is shared with other guests, and my home. The yard is lush in the spring, summer, and fall, with fruit trees and flowers. Winters can be cold and snowy between November and March, but maybe not.
The South Capital neighborhood (between Don Diego and Old Santa Fe Trail, and Paseo de Peralta and Cordova Road) is a lovely neighborhood of homes with gardens and staggered streets to keep the traffic down - perfect for quiet neighborhood walks.
We loved how cozy Catherine's place was and how close to everything it is. The garden is a great feature too. This is a great place for couples to stay for a weekend adventure.
Anthony
2017-02-05T00:00:00Z
This is a spotless small studio that is within walking distance of downtown Santa Fe. There is a closed and interesting backyard that must be fantastic in warm weather.
peter
2016-12-01T00:00:00Z
Very convenient location. The plaza is about ten minutes by foot.
Xavier
2016-12-30T00:00:00Z
This was cozy little place; it was very nice that it included a kitchenette, and the bed was really comfortable. It was exactly as listed, and was very clean. Catherine was also quite responsive and helpful. The only issue was the WiFi, which was at only one bar of service 90% of the time. As this was a business trip, I ended up needing to purchase temporary passes from Xfinity (luckily there is a hotspot nearby) in order to get my work done. This added to my expense, and I was disappointed because the listing says it includes WiFi. I probably wouldn't stay here for another business trip, but for personal/recreational travel, I think it's great! The gardens and pond are beautiful, and I loved waking up to the birds singing.
Molly
2017-01-23T00:00:00Z
Perfect little unit. Cozy and conveniently located.
Jeff
2016-11-01T00:00:00Z
The guest house has everything you need to feel comfortable. It is close to the centre of Santa Fe and to some supermarkets. The garden is very pieceful and nice. I highly recommend Catherine's place.
Charlotte
2017-03-06T00:00:00Z
Great private room close to Downtown. Catherine was incredibly helpful but also gave us our space during our stay.
Mariah
2017-01-08T00:00:00Z
Catherine was a wonderful host. The studio apartment was a lovely place to stay while in Santa Fe, in one of the handiest locations in town! There was a fabulous apple tree in the garden with delicious apples as well. I'd be more than happy to stay again.
Oona
2016-11-14T00:00:00Z
Tipus d'habitació
Casa/pis sencers
---
Tipus de propietat
Pis
---
Capacitat
2
---
Dormitoris
Santa Fe, Nou Mèxic, Estats Units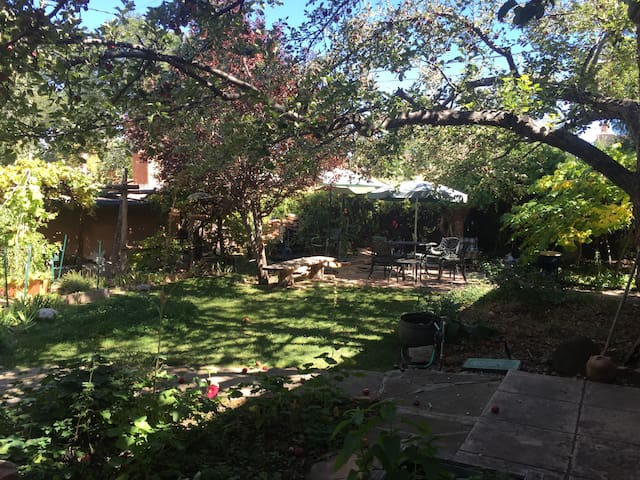 Farmhouse Casita in scenic Llano San Juan 10 minutes off the High Road to Taos. Full kitchen and bath with washer dryer. Private fenced yard with garden, patio table and lounge chair. Fire pit with wood. Spectacular mountain views and 10 farm acres to roam. Pets are OK but only small dogs inside. (kennel and/or fenced yard available for bigger dogs). Designated parking space and room for RVs. Wifi is available and soon we will have TV with streaming Netflix. Pool table available on premises.
The Farmhouse Casita can sleep 4 ( one queen and a double sleeper sofa) An extra loft room in my house (queen mattress & twin bed) can be rented in case you need extra space. The Casita is part of an artist residence... art supplies are available upon request, an art studio/gallery is 10 minutes away for classes and space to explore creativity. We are in a quiet neighborhood on a dead end road so it is very quiet and peaceful with dark skies at night for star gazing. Our farm is next door to the old HogFarm commune (now an organic farm with taiji classes) and the Road Hog (a famous historical bus) is on our premises. Several friendly donkeys summer here.
Peñasco (the nearest Village) has several art galleries, the Sugar Nymphs Bistro (an excellent eatery), the Peñasco Theatre, several gas stations and mechanic shops, two small grocery stores, a hardware store, and a Family Dollar. There are many churches available as well as a Family Health Clinic and Forest Service Office. Picuris Pueblo is located right down the road and visitors can visit. They have fishing ponds, and exercise room and a bison herd that is sometimes visible. Their annual feast day is August 10th. Santa Barbara campground is right up the road with a river for fishing, space to camp and hiking trails leading into the Pecos Wilderness. The High Road Art Tour takes place the last two weekends of September and is an excellent time to visit over 30 local artists in their studios.
Tipus d'habitació
Casa/pis sencers
---
Tipus de propietat
Pis
---
Capacitat
4
---
Dormitoris
Vadito, Nou Mèxic, Estats Units

Casita de la Luz (House of the Lights) is close to Canyon Road Art District, St. Johns College, and Museum Hill. You'll love my place because of mountain views, authentic Adobe style, and proximity to hiking trails and fine dining.
Amy's place was great! The casita and surrounding neighborhood were beautiful. The bed was comfortable and the kitchen was stocked with breakfast goodies like yogurt, granola, tea and coffee. If you are an early(ish) riser, head up to the rooftop patio for some spectacular morning views! Thank you, Amy. I look forward to a return trip to Santa Fe!
Jaimie
2016-10-29T00:00:00Z
Great spot from which to explore Santa Fe. The casita was as described and Amy was a great host. We look forward to a return visit - highly recommend.
Lynn
2016-08-13T00:00:00Z
Great accommodations. Beautiful home. Loved it.
Ray
2017-03-17T00:00:00Z
Our stay in the Casita was very relaxing! The view from the rooftop deck was fantastic and we were grateful for the breakfast snacks the host provided. We loved being so close to Canyon Road.
Lauren
2016-11-10T00:00:00Z
Very cool and cozy space. Amy was very nice and helpful
Hannah
2016-11-05T00:00:00Z
Amy stopped by to introduce herself and provided some helpful high altitude tips. The casita was located in a very private area, yet close to the galleries on Canyon Road. Loved the amazing view from the roof-top deck.
Betse
2016-09-21T00:00:00Z
Amy greeted us immediately upon arrival and seemed to sense that this was all we needed. My one and only got up early for yoga on the first morning and I was really happy that our host had provided all the necessaries for good coffee without leaving. The space is private and cozy. If the location and weather and town weren't so incredible we would have spent more time there. Will definitely be back and would love to stay here again.
Tyler
2016-10-02T00:00:00Z
This lovely retreat is located in my favorite neighborhood. Amy is a delightful, gracious host. I enjoyed every minute and hope to return again soon!
Jennifer
2016-10-16T00:00:00Z
Tipus d'habitació
Casa/pis sencers
---
Tipus de propietat
Pis
---
Capacitat
2
---
Dormitoris
Santa Fe, Nou Mèxic, Estats Units
Light-filled, detached guest house in award-winning, contemporary architectural setting. Located in the Second Street District steps away from Iconik Coffee, great restaurants, and the Santa Fe Rail Trail. Convenient to the Plaza, Santa Fe Railyard, and Ski Santa Fe. Queen bed, private balcony, AC, heated hardwood floors, kitchen, and laundry in-unit. WiFi, Bluetooth audio, and TV with premium channels. We operate in full compliance with the Santa Fe Short Term Rental Ordinance.
This architect-designed, 400 sf guest house has a queen bed, wardrobe, and lounge seating area with a sofa and TV. It has air conditioning and comfortable radiant floor heat. The kitchen is suitable for preparing breakfast and small meals. It is equipped with an under-counter refrigerator/freezer, electric cooktop, microwave, coffee maker, toaster, kettle, pots, pans, and utensils. There is a large shower in the bathroom, a washer and dryer in the unit, and a private balcony with an outdoor table and chairs.
The Second Street District, or Midtown, is an eclectic older neighborhood that is home to artists, newer live/work lofts, and many terrific local businesses. Iconik Coffee, Biadora Bakery, the Second Street Brewery, Backroad Pizza, Midtown Bistro, Verde Juice Company, Counter Culture, Sweetwater Harvest Kitchen, Bodega Prime, and the famous Pantry Restaurant are all within walking distance.
Kevin was an amazing host and he has thought of every little detail to make your stay at the studio perfect. It is a very welcoming and calming space. I will definitely stay here again and couldn't recommend it more highly.
Rob
2016-09-14T00:00:00Z
Kevin's guest house in Sante Fe was absolutely incredible. The space is beautifully designed, furnished, and decorated. Every detail is considered to make the stay comfortable in terms of stocking the kitchen, bathroom, and other misc. conveniences. Timely and clear communication for our stay. Our best AirBNB experience, and an incredible bargain. Thanks so much!
Samuel
2017-01-28T00:00:00Z
Kevin was a terrific host-
Terry
2016-10-16T00:00:00Z
Kevin was an amazing host--so kind and thoughtful, he seemed to anticipate my every need:) The space was gorgeous and nicely private, tucked away behind the main house. Very comfy bed, nice bathroom, simple and elegant kitchen set up. There was even a washer/dryer! The neighborhood was great. Very lovely little coffee shop Ikonic was a ten minute walk down the street and everything else in town was a 5-10 minute drive. Highly recommended!
Hilary
2016-09-26T00:00:00Z
This is a great place to stay. Comfortable, reasonably priced, stocked with all you could need, and just a few minutes drive to all places in Santa Fe. Kevin is an outstanding host. He was so easy to reach, gave us all kinds of recommendations and checked in after our first night to make sure we were comfortable. We would definitely stay here again.
Luther
2017-02-26T00:00:00Z
The Second Street Studio was exactly what we were looking for and exactly as it appeared in the photos-even better. Kevin was punctual and there when we needed, But he also provided us the privacy and space we wanted. This is a little gem of a place, clean, tasteful and centrally located in Santa Fe, right next to walking and biking trails, nothing was out of reach. We'll be back.
Peter
2016-06-26T00:00:00Z
Kevin's place is an absolute joy to stay at. It's just a short drive to many of Santa Fe's attractions and even within walking distance to some excellent eats. We loved staying here and will certainly make it our number one choice in Santa Fe!
Collin
2016-10-29T00:00:00Z
We thoroughly enjoyed our stay. Kevin's modern studio has everything you could want or need. We so appreciated the attention to details. The studio has great natural light, a spacious shower, a comfortable bed, and comfortable sofa. The kitchen allowed us to easily make coffee and breakfast for ourselves. Kevin made us feel right at home. We enjoyed our stay here more than previous stays at expensive hotels in Santa Fe. Thanks, Kevin.
Morris
2016-09-17T00:00:00Z
Tipus d'habitació
Casa/pis sencers
---
Tipus de propietat
Pis
---
Capacitat
2
---
Dormitoris
Santa Fe, Nou Mèxic, Estats Units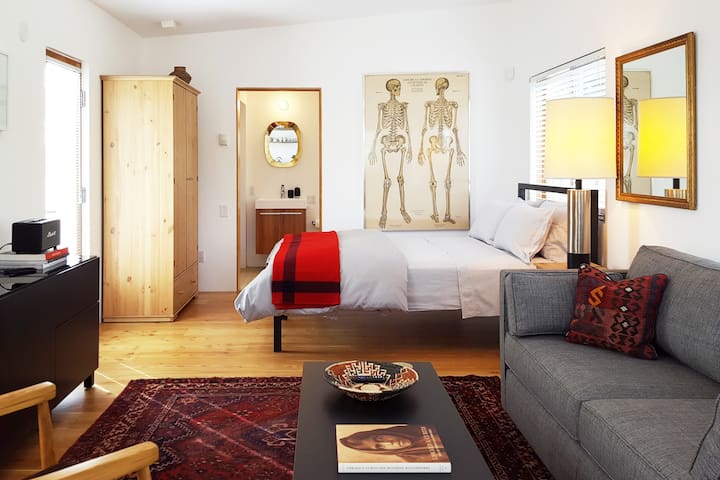 Newly remodeled, city-style apartment on Eastside backstreet, this cozy one bedroom apartment has refined design and amenities. Stay a block from Santa Fe's famed art and restaurant district, Canyon Road. Walking distance from the Plaza. Fireplace, patio and parking. Pet friendly and people positive!
Eastside Jewel is very convenient! As it indicated in the listing, it is walking distance from the plaza, restaurants, and art galleries/museums. So it made for a nice stroll to start off the day. The space offered limited privacy (the bathroom was off the bedroom) so only recommended for three very close friends or a romantic couple on their third trip together. The home was warm and cozy, and the setting relaxing. Rely on (SENSITIVE CONTENTS HIDDEN) map for exact address instead of the tom-tom gps; the tom-tom threw us a few houses off. Overall a nice and relaxing three day ending to our 10-day stay in New Mexico.
Cilvia
2016-10-22T00:00:00Z
This apartment was cozy and amenity-rich. Beautiful neighborhood for strolling and close enough to walk to the square.
Paul Chance
2016-11-23T00:00:00Z
Amazing location , authentic Santa Fe feel. I loved the intimacy of this neighborhood. Katie provides all the amenities you could think of and is so easy to communicate with. You feel completely at home and we couldn't wait to get back and be cozy after a long day of hiking or horse riding. Amazing kitchen, brand new. Super convenient to have a washer and dryer inside, we could pack less knowing this. Lovely back patio and inviting kiva. Super safe and quiet area. Highly recommend!
Yael
2016-11-12T00:00:00Z
We stayed 4 nights. This is a lovely apartment with plenty of space for a couple, even shelf space to put your things on. The bed is super comfortable and we were warm and cozy, despite frigid weather outside.
Leah
2016-12-20T00:00:00Z
This was an adorable little bungalow close to canyon road (5 minute walk). The place is stylish and modern and very comfortable. The kitchen is well appointed and the patio is a nice addition. The champagne was a wonderful welcome!! This is a tiny place though without a lot of privacy between the toilet and the rest of the bathroom and bedroom- I wouldn't choose this place for a romantic getaway for a new couple, it could get a bit awkward! Otherwise we loved having this little place to ourselves.
Jaimee
2017-03-12T00:00:00Z
Great place! Very cozy and comfortable! Would recommend!
Colette
2017-03-08T00:00:00Z
The apartment was just as described. Katie made sure we were informed, welcomed and at home. It was a delightful stay. We look forward to returning soon. Highly recommended!
Barb
2016-12-27T00:00:00Z
Everything was amazing!
julie
2016-12-23T00:00:00Z
Tipus d'habitació
Casa/pis sencers
---
Tipus de propietat
Pis
---
Capacitat
3
---
Dormitoris
Santa Fe , Nou Mèxic, Estats Units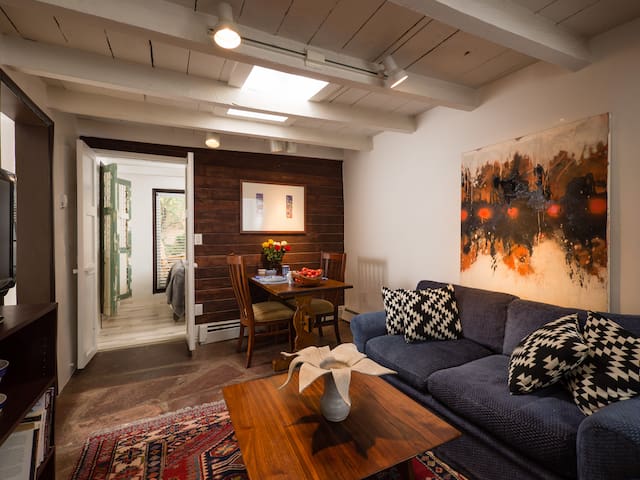 Beautiful and bright 950 sq ft studio apartment conveniently located close to town and just steps from the Taos foothills. This tastefully appointed apartment features great natural light. Outside there is a fenced yard, just off the back deck perfect for enjoying the famous Taos sunsets. Our apartment is on the second floor, above a heated garage. It provides the guest with their own space and privacy.
Our apartment is all about the light. Large windows on either side provide great views of the Truchas mountains to the South and famous Taos Mountain to the North. There are hiking trails within walking distance and Taos Plaza is easily accessible via a quick 10 minute car ride. Guests will enjoy the availability of an onsite washer and dryer and a private fenced yard, great for pets. There is WiFi but no TV. The large vaulted ceiling highlights the beauty and functionality of the tastefully appointed living space.
It is in a quiet neighborhood with amazing mountain views. It had everything that our family needed for our stay. The welcome candy was a nice touch. Great location for hiking.
Lallie
2017-03-18T00:00:00Z
Angelica's place was great. Check in was a breeze and the place was just as described. She even provided some excellent touches like high quality coffee, half and half, teas, and fabulous local honey. we struggled to get the futon down for the kids to sleep, and she was very prompt in responding to my email asking for guidance. A great value and a pleasant stay! Traveled with a family of four- 2 adults and 2 kids (8 and 6).
Stacy
2017-03-14T00:00:00Z
Angelica is a great host, and here place is cozy and clean. This was a great experience.
Jaime
2017-03-25T00:00:00Z
Big windows on all four sides with great views made this the perfect spot for a quiet weekend getaway. Loved the open floor plan, nicely supplied kitchen and away from busy downtown environment.
Dinah
2017-03-28T00:00:00Z
Tipus d'habitació
Casa/pis sencers
---
Tipus de propietat
Pis
---
Capacitat
4
---
Dormitoris
Ranchos de Taos, Nou Mèxic, Estats Units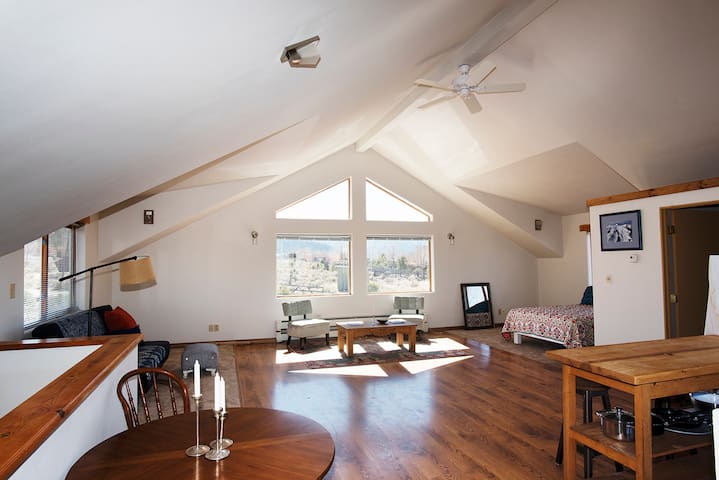 GREAT FOR A COUPLE/SMALL FAMILY. OUR ONE BEDROOM CONDOMINIUM IS SO ADORABLE (And two studio sofas make into single beds). YOU WILL ENJOY THIS COZY PLACE ANY SEASON. COMFORTABLE LIVING & KITCHEN. EVERYTHING YOU NEED. ENJOY SHOPS, GALLERIES & RESTAURANTS TRULY STEPS AWAY. SHUTTLE TO SKI is at the corner. We accept family pets BUT YOU MUST TELL US IN ADVANCE......AND YOU MUST LEAVE $35.00 TIP FOR CLEANING STAFF (cash or check).
COMFORTABLE FOR A COUPLE OR SMALL FAMILY. OFF STREET PARKING. GROCERY IS A WALK TO THE CORNER. BEAUTIFUL TREES AND GARDEN.
GREAT COMMUNITY.
It was absolutely delightful staying at your airbnb. When we entered your sheet of explanations was tremendously helpful. All the needs of guests were well thought out, even a yoga mat, if desired. The kitchen well stocked with all kinds of goodies and condiments. The unit is very well decorated and is comfy and has a welcoming affect. My wife and I highly recommend staying at Nancy's unit. Oh yes and the trickle of the fountain in the courtyard is a definite connection to nature.
David
2014-10-06T00:00:00Z
Our host guided us along the way from Durango to Taos. Those who have made this drive realize how wonderful and a little complicated it may be! Nancy Lilly pointed is to places like the Rio Grand River Gorge and Earthship...and sent a message daily to assure we were "okay". Very kind... Is it the kind words of encouragement from Nancy Lilly as we worked our way from Durango? Is it the (all-too-short) time we spent as she welcomed us? Was it the simple luxury of the Unit 7? Perhaps it was the welcoming decor...which included a delightful Taos Drum that has become part of our "family history". Was it the txt message during our stay...wanting to assure "is all well?". It's just not quite possible to put into words our delight with the accommodation, the gentle kindness of Nancy Lilly...all superimposed over the magic of Taos. These are pretty condos...well kept with very alluring court yard. Adequate parking. Wonderful experience and the highlight of a 15 day adventure for my wife and me.
Edward J
2015-10-21T00:00:00Z
Nancy's space was perfect. It fit two people comfortably thanks to the large bed in the bedroom and the two futons in the living room (which were so neat I am looking into getting one!). She left great tips on places to eat and left some treats in the fridge. The location was perfect, just a couple of blocks away from the plaza. Nancy even went above and beyond by leaving a nice birthday card for my mother which was the reason for the trip. Nancy was a wonderful host. I highly recommend booking her lovely condo.
Shawna
2014-11-23T00:00:00Z
Cozy place. Great artwork. Came for a ski weekend. Perfect for our needs.
Alex
2017-01-29T00:00:00Z
WE enjoyed our stay! Nancy was a wonderful host!
Becky
2017-03-19T00:00:00Z
Nancy was very helpful throughout our whole stay, including providing directions to the condo and suggestions on what to do in town before we even arrived. The condo was very cozy and had everything we needed, highly recommended for a small group.
Jake
2016-03-19T00:00:00Z
cozy place, full kitchen, close to old plaza
Kirill
2016-10-12T00:00:00Z
We enjoyed staying at this cute and cozy condo. The decor inside was wonderful and had a great vibe. Nancy was a great host and was very clear about the sleeping arrangements prior to our stay, and also checked in on us to make sure we got there ok. We were comfy with three adults and a baby, not much extra space, but it worked for us. Location was great and the outdoor spaces were nice to sit and relax. We had a great stay!
Chelsey
2016-05-21T00:00:00Z
Tipus d'habitació
Casa/pis sencers
---
Tipus de propietat
Pis
---
Capacitat
4
---
Dormitoris
Taos, Nou Mèxic, Estats Units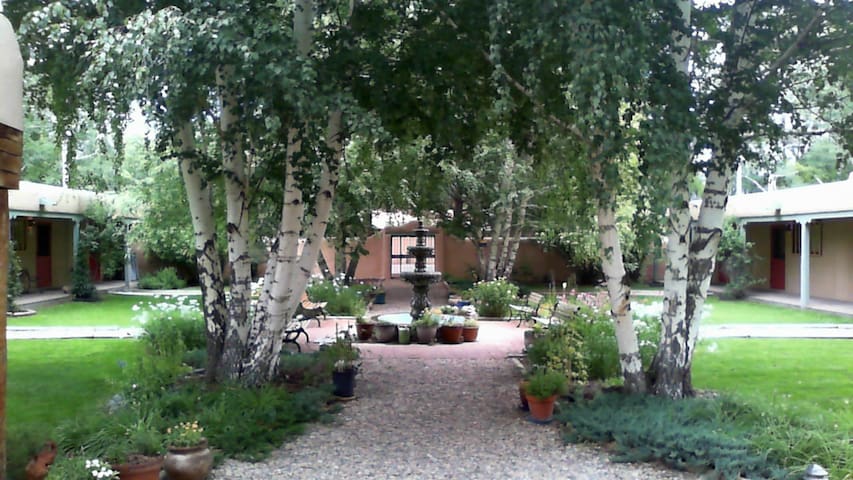 My efficiency apartment is self contained with a private entrance, a kitchenette, a private bathroom and a super comfy trundle bed. We are close to the new Rail Runner Zia Station, 3 miles to the plaza and Museum hill, 2 miles to I-25, close to gocerie stores, restaurants and the local hospital. Our neighborhood is quiet and close to several great trails with wonderful vistas. The apartment is an excellent choice for couples, solo adventurers, and for the traveling worker.
The apartment is light-filled from a large window facing South and overlooking a brick terrace. There are Saltilla tiles throughout the apartment. The kitchen has a small under counter refrigerator, a sink, a profressional hot plate and a microwave. It is stocked with plates, glasses, bowls, silverware, pots and pans, some spices, and salt and pepper. There is a large walk in closet with dresser, hair dryer, iron, ironing board, luggage rack, duvets and extra pillows, and a small heater. The bathroom has a separate room for the toilet and shower and the bathroom sink is just outside the bathroom. I am always adding to the supplies in the apartment and always happy for suggestions.
Liz's place was simply adorable. She greeted us right when we got there and was communicative the whole time. She left us cookies, coffee and fixins, and some English muffins for our first breakfast. She had everything we needed to cook a few meals there. The sunsets from her place are to die for...a clear view of the west sky. We moved the lower trundle bed across the room for a more separate sleeping experience and it worked great. Her place is so convenient to downtown Santa Fe, the highway, and access to all the outdoor things you want to do. Great value and great host!
Sara
2016-11-08T00:00:00Z
A lovely experience all around! Liz was an incredibly welcoming and accommodating host. She set us up with items to make breakfast, cookies, a variety of teas/coffees, and bottled waters. Everything was very comfortable and added to the relaxing Santa Fe atmosphere. Her neighbor hood was peaceful and quiet. Liz's cozy place was quick drive from anything you'd want to see in the area. Our visit could not have been any more perfect, I would definitely recommend staying with her to anyone looking to visit Santa Fe. We hope to come back in the near future!
Sarah
2016-11-14T00:00:00Z
Liz was very welcoming and even left us some pastries & bananas for breakfast! the pictures are very accurate and the house is cozy.
Blake
2016-10-31T00:00:00Z
This is a great place to stay in Santa Fe. Wonderful location; easy to find, easy to get around town, easy, convenient parking. The studio apartment is small but has everything I need to be comfortable. The neighborhood is quiet. Liz is very welcoming. She stocked the kitchen with some basics and even provided fruit and a pastry for breakfast my first morning. I'm eager to book another stay in this little light filled apartment.
Patricia
2016-10-28T00:00:00Z
Liz's place is just as described in the listing -- cozy, quiet/relaxing neighborhood, and a great value! The trundle bed was really comfy, and the shower was roomy with very good water pressure. I appreciated the personal touches that Liz offered as well; I arrived to a handwritten welcome note and some very tasty cookies! Thanks for a good stay!
Daisy
2017-03-25T00:00:00Z
Liz was a wonderful hostess and we were very comfortable in her apartment in Santa Fe! She was very kind, easy to contact, and made sure we had everything we needed. It was nice to be only 10 minutes from downtown, and as cyclists we loved the nearby access to the trail! We could ride our bikes to downtown or the other direction to beautiful scenery.
Elizabeth
2017-03-31T00:00:00Z
Liz' s place is jewels! Clean, simple and functional! Liz makes her guests feel welcome and also leaves them alone so her guests have their own privacy. The location is great, easy reach to the city center and major highways. I highly recommend her lovely home.
Emma
2017-03-23T00:00:00Z
This is a very cute place that I great time on. It is perfect for a short term stay for one person. Liz was an amazing host and very friendly and kept checking in with me and was able to suggest places to go. I would definitely recommend this place!
Tessa
2016-12-14T00:00:00Z
Tipus d'habitació
Casa/pis sencers
---
Tipus de propietat
Pis
---
Capacitat
2
---
Dormitoris
Santa Fe, Nou Mèxic, Estats Units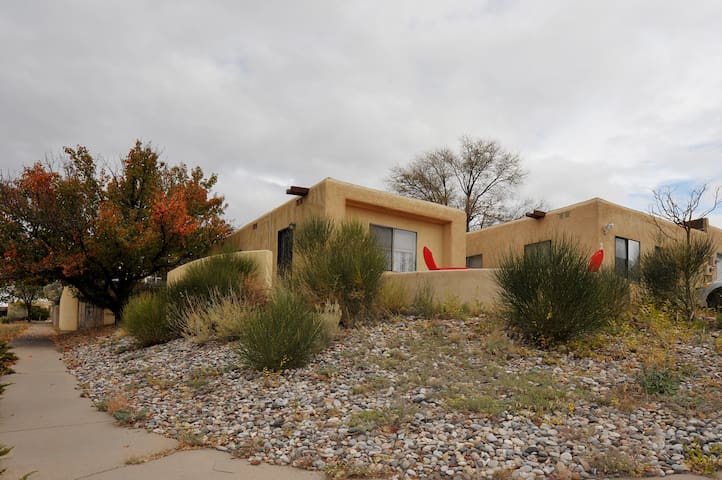 This 1 bdrm condo with an extra queen-sized murphy bed is a short walk to galleries, the Plaza and the Railyard- walk or bike everywhere! The adobe structure dates back to the 1910s and has a private courtyard, washer/dryer and full kitchen and bath.
It is a quiet and private space that is relaxing and conveniently located to everything Santa Fe has to offer visitors. It is a dedicated rental with hand-painted doors, wood floors, vigas, plenty of kitchen space to cook your own meals, a table that seats 6 for entertaining others, outdoor eating area, wifi and cable tv, off-street parking for 1 vehicle. This 1 bedroom is comfortable for 2 with an extra queen-sized murphy-bed at one end of the living room that is perfect for kids or a guest. off-street parking for 1 vehicle private patio washer/dryer full bath no smoking or pets quiet after 9pm for the neighbors I live just down the road and am available 24/7 to help with anything needed, suggestions for restaurants or any emergency. This neighborhood is filled with beautiful adobe homes, historic buildings, easy walks to coffee shops, galleries, restaurants and parks. You almost don't need a car once you arrive at our place. Walk or bike everywhere. You can walk just about everywhere from this condo or you can rent a bike for more mobility. There is off-street parking for 1 vehicle. A neighborhood supermarket is just 1 block away and restaurants just a 10-15 minute easy walk.
This neighborhood is filled with beautiful adobe homes, historic buildings, easy walks to coffee shops, galleries, restaurants and parks. You almost don't need a car once you arrive at our place.
Great value! Paige's apartment was ideal for our needs. The location was perfect -- it was an easy walk to downtown, the Plaza, and Canyon Road, with lots of shopping and dining options along the way. We stocked up at the neighborhood market just a couple of blocks away and were able to keep food costs down by having breakfast and often dinner in the apartment after a full day of sightseeing. The apartment is nicely appointed, and the communications prior to and during our stay were very helpful. We would definitely return for another stay!
Liz
2017-01-16T00:00:00Z
This place is a GEM! You will not go wrong staying here (unless you have more than 3 people.) I used to live in Santa Fe and know the area. This location is perfect...about 4-5 block walk to Plaza..walking distance to other restaurants, coffeehouses, groceries. You need never drive once you arrive. And this place is carved out of an 300 year-old adobe family residence. It has all the charm of real Santa Fe..painted doors, vigas, legit uneven floors and Hispanic art touches. Yet it has all the modern conveniences you need, all organized in a cute and inviting space. We loved the patio...having meals and coffee there..and wine. This is the real Santa Fe. Stay here.
Mary
2015-08-30T00:00:00Z
Paige was wonderful. She was helpful and responsive. The apartment could not have been more wonderful. Don't hesitate. Book with Paige now. You won't be sorry.
Cary
2016-11-11T00:00:00Z
We had a great time in Santa Fe. Paige's place was wonderful and easy to get to the main plaza. Private, off street parking and great little community. I would definitely stay again next time we visit Santa Fe.
Mike
2014-07-03T00:00:00Z
A very sweet apartment within an easy walk to the town square. Highly recommended.
Jon Libby
2016-01-03T00:00:00Z
The Charming Adobe is a spacious one bed room that can easily and comfortably accommodate 3-4 persons with two queen beds (about 700 sqf). There is much counter and cabinet space in a well equipped kitchen to prep food if one chooses. The patio outside is a very nice feature, and the updated bathroom with washer and dryer makes a longer stay quite stress-free . We were very comfortable there. The location of the condo is excellent and the off street parking for that area is particularly a very valuable feature. The place is within a short walk to stores, restaurants and SF plaza. Another great feature of this vacation rental was having Paige as our host. She is a gracious and considerate person that gave us the opportunity to ask for what we may have needed and answered our questions about various locations of town. Also she was very quick to respond to all of my text messages. Finally, in comparison with other vacation rentals in the area, the Charming Downtown Adobe is priced beyond reasonable. I was impressed to find out that keeping the price on the lower side is an ethical decision on the part of our host. In comparison to other rentals in the area paige could have asked for higher rates. We enjoyed our stay in SF and would go back. I recommend this comfortable historic condo to anyone who is interested in an authentic Santa Fe visit.
Haleh
2014-06-20T00:00:00Z
Loved this rental! This is so much better than a hotel. It is in a great location. We didn't have a car and walked everywhere. The apartment is incredibly cute, clean, and well equipped. The apartment is also very private and quiet, and the neighbors were friendly. I loved not having to bring a hair dryer, and that there is a washer and dryer (and detergent!). The kitchen has everything you need if you want to cook. Paige is very quick to respond to questions and provided us with great recommendations on where to eat. Overall, everything with went very smoothly. I can't imagine why you wouldn't stay here. We were in town for a wedding and I recommended it to my friends that live in Santa Fe so they can refer it in the future to out of town guests.
Alison
2014-09-28T00:00:00Z
IT IS IN ALL WAYS I CAN DISCRIBE IT THE MOST CHARMING ADOBE IN TOWN I LOVE IT AND THANK FOR BEING THERE A MONTH
ELLA
2015-09-28T00:00:00Z
Tipus d'habitació
Casa/pis sencers
---
Tipus de propietat
Pis
---
Capacitat
4
---
Dormitoris
Santa Fe, Nou Mèxic, Estats Units
Hi! Thank you for looking at our casita! Our casita is close to art and culture, parks, the city center. Taos Plaza and shops, restaurants and galleries are in walking distance. About 5 minutes away. You'll love our place because of its on a quiet street in the heart of historic Taos. Our casita has a living room/kitchen, full bath and bedroom with a king size bed. Its nice and quite, fully furnished and has a full bath with king bed and a sofa couch.
While the casita shares a common wall with the main house you have complete privacy. You have your own entrance into the fully equipped casita. This is not a space shared with your hosts. Just a common wall In a quiet neighborhood it is a short walk to downtown galleries, shops and restaurants!
Our casita is on a quiet street about a 5 minute walk to the Plaza. There is an adobe wall in the front of the house for privacy and a good size back yard. walking out the back gate leads you to the main street through Taos and there is a new bakery restaurant that just opened up very nearby.
The place was great and Joni as very accommodating!
Christopher
2017-01-21T00:00:00Z
Joni's place is just as described in the listing, a very nice base to explore Taos. It is very conveniently located not far from the main street of Taos and the plaza. It was very quiet at night also. It has everything you might need if you want to cook too. We would certainly stay there again. Joni was very accommodating considering we booked the wrong date and arrived one week earlier than the booking! She was very gracious and luckily for us there was no one else arriving that night! Overall it was a very good experience, especially considering our mistake in the booking.
Martin
2016-10-18T00:00:00Z
Very nicely appointed little place. Just as described. The only comment is that some noise was transmitted from the main house, but this never presented much of an issue!
Aaron
2016-11-06T00:00:00Z
Joni's place is wonderful! Great location walking distance to town and easy off-street parking. The apartment is fully equipped, very clean and well-designed. We enjoyed meeting Joni and will return to Taos!
Deborah
2016-11-01T00:00:00Z
The renta was very comfortable and clean. The location was in a quite neighborhood and a lovely walk to shops and restaurants.
Angelica
2016-11-03T00:00:00Z
Joni's house is very comfy and a real taste of the town. Everything you need is provided. And you are within a block of the main drag with shops, restaurants, and museums. We had a great stay.
Mike
2017-02-23T00:00:00Z
Our stay at Joni's place was perfect. The Casita is very charming and had everything we needed. Plus, the location can't be beat!
Richelle
2016-11-19T00:00:00Z
Great location & very cute place
Ezra
2017-02-04T00:00:00Z
Tipus d'habitació
Casa/pis sencers
---
Tipus de propietat
Pis
---
Capacitat
4
---
Dormitoris
Taos, Nou Mèxic, Estats Units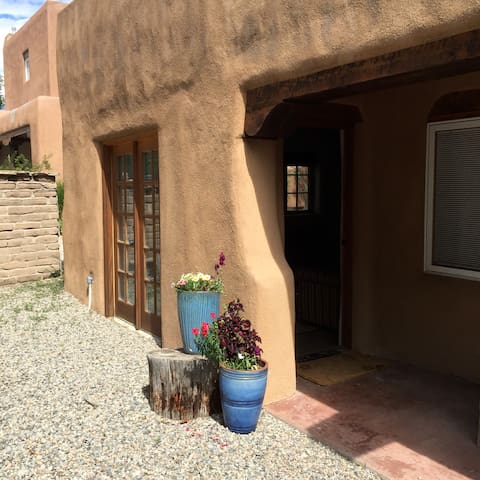 1

-

18

de

218 Lloguers de cases
Introdueix les dates per veure el preu total. S'aplicaran tarifes addicionals. És possible que també s'apliquin impostos.