Located minutes from the vibrant township of Thirroul, this spacious accommodation is fully furnished with all the comforts of home. Private entry and free WiFi available. Close to numerous cafes, bike and walking paths, entertainment venues, cosy wine bars, stunning beaches and bush walks. Transport to Sydney, surrounding suburbs and lower south coast is also nearby.
The space is large open plan living. It is located on the ground floor level of a family home. It has private access and separated from the house above. The space contains a fully functional kitchen with oven, gas cook top, microwave and fridge. There is 1 large separate bedroom with inbuilt wardrobe and comfortable queen size bed. The spacious living area contains a 2 lounges, one of which opens out to a double size sofa bed, Led TV as well as dining table, desk study and reading area. Fast WiFi is available, password is provided on check in. A washing machine and clothes line is provided for your private use. There is a small private courtyard area provided with seating and gas BBQ. A long-board foam surfboard is available for your use if desired. A port a cot is available on request.
Thirroul is a vibrant beachside village with features to suit all tastes. Situated between the escarpment and stunning coastline, Thirroul boasts surfing beaches, beautiful bushwalks, specialty shops and a myriad cafes, restaurants and entertainment venues.
Great place open and comfortably furnished. Had everything we needed in a nice street and close to beach and shops. Great communication and instructions prior to arrival. Would love to have stayed more than one night.
Angela
2016-11-05T00:00:00Z
Amanda and Jase communicated very well in terms of the time and how to check in. The place was immaculate and will definitely stay again!!! :) it's highly recommended!!!
Kristine
2016-09-12T00:00:00Z
Highly recommended! The flat was exceptionally clean and spacious, with all the amenities you'd need. The location is beautiful and convenient, just a short walk to train station and shops, and not much further to walk to the beach. The host was clear and welcoming in the communications. We would definitely stay here again. Thanks!
Daniel
2016-11-08T00:00:00Z
We had a very comfortable stay, just wished it was longer than one night. Everything was presented beautifully and extra beds provided were made up ready to go. The quality of the linen was appreciated and the photos don't do a justice. Thanks Amanda and Jase, we will be back.
Renee
2016-10-01T00:00:00Z
The place is a wonderful spacious area with private bedroom. Amanda & Jase left us to get on with our writing (we're authors). There is plenty space indoors as well as the terrific coffee and eating opportunities in the village. Nearby beach is rugged and natural. Everything inside bespeaks quality and fine taste with a flair for decorating. Especially adored the high quality bed linens. Communications were very prompt and clear. Thanks so much Amanda Jase
Devorah
2016-10-19T00:00:00Z
We really enjoyed our stay here. The place is beautifully and functionally set up! There was a sense of luxury to the space. We were travelling with our baby, and Amanda and Jase provided us with a portacot that was set up with cosy and warm linen! He was a very happy baby! We really couldn't fault our stay.
Ishara
2016-09-26T00:00:00Z
We had a very short time to enjoy this lovely accommodation. The apartment is spacious, beautifully styled, provided all we needed and is in a great location - a short walk from a variety of shops, restaurants and the lovely Thirroul beach. We could imagine spending several days exploring the surrounding area and making it a base to travel to Sydney on day trips. It is close to the railway station, though we never heard a train due to a lowered line and the location of the apartment. Being in an area which provided quick and easy access to major roads was important - though we felt as though we were miles away from traffic. The milk and bottle of water in the fridge were great as we had driven for 9 hours and needed a cup of tea! Pepper and salt, teabags and coffee in the pantry also great. The apartment was spotless, airy and fresh. Very attractive, modern furniture. Excellent value for money. Thoroughly recommended.
Heather
2016-11-19T00:00:00Z
Great place and the town itself is really pretty. Definitely recommend. Lots of living space.
Catherine
2016-11-20T00:00:00Z
Tipus d'habitació
Casa/pis sencers
---
Tipus de propietat
Casa
---
Capacitat
4
---
Dormitoris
Thirroul, Nova Gal·les del Sud, Austràlia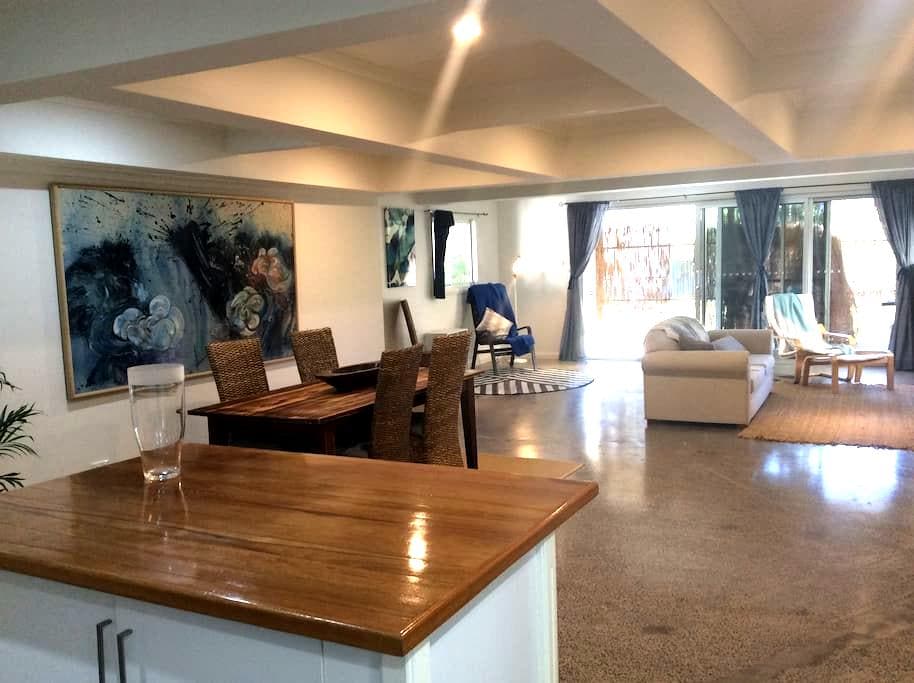 Private entry via dedicated key code to large room, king size bed, wardrobe, storage area, couch, new bathroom. Close to bush walks, cafes, shops, beach, cycle and walking paths. Express train to Sydney and Wollongong. Free wi fi, LCD TV with inbuilt DVD slot, heater, electric blanket, fridge (which you can switch off if too noisy during your stay), microwave for reheating only, kettle/tea making. Iron and ironing board on request. Breakfast not included.
Our space has added appeal because its completely separate from the house giving you total privacy using your own dedicated door entry door code. The large room means you won't feel cramped. Plus it's very cool in Summer. We have a heater and a new electric blanket for added warmth in Winter.
Just 60 minutes from Sydney suburbs, Thirroul is a haven for day trippers and visitors wanting a beach or bush walking experience, a night at Anita's Theatre, or attending a special event. There is a bush track to Sublime Point just metres from our doorstep. Thirroul is home to the Cabbage Palm and has abundant bird life from noisy kookaburras to flocks of cheeky white cockatoos. There are 10 beautiful beaches in the vicinity. Many have rock pools for swimming. Thirroul has its own 50 metre seawater pool - operated by council and its free. At low tide you can stroll along Thirroul beach to the two ocean rock pools on Austinmer beach. Have a dip and sit with a coffee and watch the waves pounding the sand, then wonder back. There are numerous coastal and bush walks, cycle paths, fabulous coffee, cafes and eateries, bars and fine dining restaurants. We recommend Finbox for great coffee and sweet treats, Cuchina has good coffee and food, esp breakkie. And the new Buck Hamblin is great for a light snack. There's also a new Bistro on the beach at Thirroul. Well worth a visit and to sit and contemplate the sea. Good coffee, breakkie and fish 'n chips
Julie was always prompt in her replies. The room was clean comfortable and lots of touches that made it feel just like home !!!!! Wonderful .
Narrell
2016-07-23T00:00:00Z
I had a lovely overnight stay at Julie,s. It was nice and new with a very comfy bed. Very quite and relaxing. The bathroom was big with lots of natural light coming through supplied with shampoo, conditioner, body wash, hand cream which was really nice. Milk and coffee in my own fridge with different teas to choose from and two nice chocolates were yummy. There wasn't much of a view but it was a large room so I didn't feel closed in and felt safe. It was just down the road from a great bush walking track which I got up the next morning to explore. The latter check out at 11 made all the difference. We a beautiful place to stay.....thanks Julie
Michelle
2016-07-04T00:00:00Z
This room was excellent. Spotless, the bed was very comfortable and the bathroom appeared new and of a 5-star hotel standard. The room is located close to shops and restaurants, and is convenient for the drive along the coast road. The host has lovely welcoming touches, including terrific coffee. Highly recommended.
Jerome
2016-06-06T00:00:00Z
We loved staying at Julie's place. It was perfect for our quick getaway from Sydney. Beautifully clean and well appointed- literally a warm welcome with heaters running and romantic music playing and a couple of chocolates for us to enjoy. We liked being close to the walking trail to Austinmer beach and it was a short drive for me to go board riding at Sandon Point.
Lloyd
2016-07-14T00:00:00Z
Really lovey and clean place for my overnight stay. Very cosy and beautiful location. Highly recommend!
Charles
2016-12-11T00:00:00Z
Great place. People. Town. Appreciated
Simon
2016-10-29T00:00:00Z
Julie's place was great for me - an overnight stay seeing Ross Noble at Anita Theatre in Thirroul - self contained basement apartment with such a comfortable bed - shower room was quality too! Thoroughly enjoyed & Julie's place is to be recommended .
Keith
2016-04-24T00:00:00Z
Amazing and very private. You have your own security code to get in and out of your place! Superb!! Thank you!
Trinadad
2016-07-22T00:00:00Z
Tipus d'habitació
Habitació privada
---
Tipus de propietat
Casa
---
Capacitat
2
---
Dormitoris
Thirroul, Nova Gal·les del Sud, Austràlia
The studio is situated on a large block away from our house in Thirroul overlooking a creek from it's private rear courtyard. The space was recently renovated specifically for guests to stay. The studio is 36sqm and the courtyard is about the same again. There is a large lap pool which we are happy to share upon request. Close to Thirroul village you'll enjoy the comfy bed, the new bathroom, beautiful furniture and newly paved rear courtyard overlooking the rainforest and creek.
The studio is located on a large double block away from our house across a small creek. It's well insulated and built to make sure you are comfortable. You will need to walk across the front lawn, cross a small creek and walk past the pool to access the studio. At the rear of the studio you will find a private courtyard where you can sit and ponder the beautiful rainforest growing next to the creek and have a fire or bbq. We have plenty of timber for you to use.
This is a suburban area, however at the end of the street there is a large pub, another smaller bar, many cafes, restaurants and a train station all at walking distance.
Jeremy and Jen were very welcoming and the space is gorgeous. We appreciated the extra touches and responsiveness to all our queries. We would highly recommend a stay here!
Nadine
2016-08-13T00:00:00Z
We highly recommend Jeremy's studio for a relaxing stay. We felt like we were in a tranquil rainforest with the beautiful gardens and creek running through the property. The studio was very comfortable and private, it looked just as the photos depicted. Fruit, cereal, fresh milk and tea making facilities were provided. And an added bonus of a pool being finished soon. Thanks so much Jeremy
Monica
2017-03-01T00:00:00Z
Such a great space. Very peaceful and beautiful. Jeremy was very warm and welcoming. Would highly recommend.
Madalyn
2017-04-08T00:00:00Z
A MUST to see and stay at! Such a quaint and beautifully renovated garden cabin/flat. Very comfortable bed, well appointed and such a lovely relaxing "bush" setting. Walkable to shops, pubs, cafes and restaurants! Hosts were so amenable ! Highly recommended!!
Cathy
2016-12-10T00:00:00Z
This was way above our expectations, nice friendly hosts, the accommodation super clean and comfy, and so many little touches that just make a stay nicer - from the fresh fruit to the fire ready out the back...just lovely.
Liz
2017-03-10T00:00:00Z
Lovely Quiet area close enough to beach and eateries, Jemery was a great host (With an interesting story to tell regarding their house......) Cabin was clean and comfortable with a nice view out to a patch of rainforest. We'll be back!
Claire and Jeff
2017-02-23T00:00:00Z
Beautifully built studio, one of my all time favourite AirBnB's I've stayed in. Great price and sleeping to the running creek just outside the door made this little spot more relaxing than ever, plan to come back again soon!
Erik
2017-03-04T00:00:00Z
Gorgeous cottage and peaceful creek. We wish we had stayed long enough to use the outdoor brazier. Everything is clean and beautifully decorated.
Hannah
2017-03-25T00:00:00Z
Tipus d'habitació
Casa/pis sencers
---
Tipus de propietat
Pensió
---
Capacitat
4
---
Dormitoris
Thirroul, Nova Gal·les del Sud, Austràlia
This light-filled 2 bedroom cottage is 100m from the beach, & next door to the locals favourite cafe "Bread, Espresso &", ranked #1 on Trip Advisor. It is close to restaurants, family-friendly activities, and art and culture. The sun-drenched north-east facing backyard has beautiful escarpment views. It is freshly painted with modern comfortable furnishings. It is suitable for couples, solo adventurers, business travellers, and families. **STRICTLY no parties, functions or pets or smoking**
The cottage comfortably sleeps 6. It has 1 king bedroom, 1 queen bedroom & a comfortable queen size sofa bed. There is air conditioning in the lounge room, and there are ceiling fans in the dining room as well as both bedrooms. Both rooms have wardrobes with hangers. There is a fully equipped kitchen with essentials such as tea, coffee, sugar, milk, butter, olive oil, salt & pepper, vinegar, a water filter, tea & coffee making facilities etc. Supermarkets are 2 minutes drive away. Amenities include: - 2 showers & a separate toilet. There is also a 2nd toilet in the backyard. - Bed linen for 3 beds - Bath & beach towels - Hairdryer & iron. - Full size fridge/freezer - A highchair - 42" Flat Screen TV - DVD Player - WiFi - OPTUS Fetch TV - Bluetooth music speaker - CD player (fairly sad selection of old CDs. Suggest BYO CDs) - A large 100sqm fully fenced level lawn backyard with views to the escarpment - Outdoor tables & chairs with umbrella - 4 burner Gas BBQ. - Washer & Dryer
Thirroul has many cafes, restaurants & shops. It is a coastal town that is full of artists, surfers & people who generally like to look after themselves. There are plenty of local activities to enhance your well-being. And there are many local bush, coast walks & bike tracks that take you in to Wollongong city. Make sure you check out the Sea Cliff Bridge & it's spectacular views. Thirroul Beach is a 2 minute walk away & Austinmer beach is a 5 minute walk. Thirroul has 2 supermarkets, a butcher, liquor store, bars & hotels.
We loved everything about Sandy's place: the cafe with great food and coffee in the front yard, the huge backyard with the magnificent mountain overlooking it, the easy walk to the beach, the beautifully appointed furnishings and appliances; we have had an amazing 4 nights staying there with our 3 little girls and will be back again soon. Thank you!
Clare
2017-01-14T00:00:00Z
Don t have friends around
Anita
2017-03-27T00:00:00Z
Great stay!
Melissa
2017-03-05T00:00:00Z
it's hard to find the house at night.
Yijiong
2017-04-03T00:00:00Z
We had an excellent stay here, the place had everything we needed for a family of 4. Lovely to have coffee and bread from the coffee shop next door. Hosts were both very friendly and available if we needed them. Thanks again.
bhavna
2017-01-06T00:00:00Z
Great house in the perfect location. We enjoyed our stay, and so did the kids. Everything we needed, and more.
Matt
2016-12-26T00:00:00Z
Sandy's place is absolutely beautiful and the views in the backyard were just gorgeous. My group and I had the loveliest time at Sandy's cottage, none of us had ever had such a welcoming short stay. The house is exactly as presented on airbnb and is filled with organic products and nice scents in every room. The beds are also very comfortable and it was easy to maintain the temperature in the cottage. The cottage has everything you need and has a beach, cafes, grocery stores and a train station a short walk away. Wish we could have stayed longer and would definitely stay again if we ever found ourselves in thirroul again. We were very sad to leave! Was a pleasure to stay in such a lovely place and have such a nice host who was very understanding and easy to communicate with.
Christina
2016-12-31T00:00:00Z
Sandys place is exactly as described .. great location .. easy walk to catch up with our friends nearby, get dinner and go to the beach. Big fan of having coffee in my front yard so that was a huge plus as well. House is well equipped for a comfortable, longer stay .. we would recommend for two couples sharing accommodation or a small family for a convenient, beach vibe in Thirroul.
Bonnie Rae
2017-03-28T00:00:00Z
Tipus d'habitació
Casa/pis sencers
---
Tipus de propietat
Casa
---
Capacitat
6
---
Dormitoris
Thirroul, Nova Gal·les del Sud, Austràlia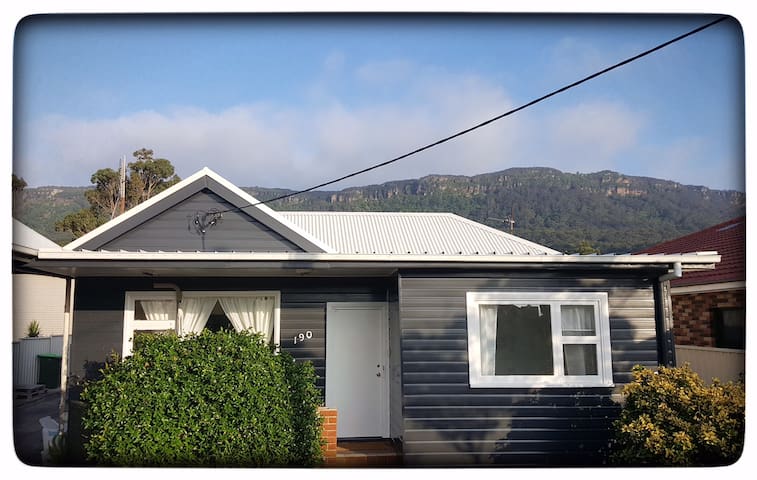 Suitable for stopover only. Own shower, tea coffee only, no cooking. Street parking. Opposite a dog friendly beach, bush walks. 5 mins to train station, shops, club, restaurants, PO, bank, pool. garden view and own private entrance. If you are expecting the Taj Mahal it's not, if you want the latest modern furniture it isn't. If you want the grand welcome you may be disappointed. But if you want a clean, comfortable, convenient, friendly, quiet place at the beach to stay. It is.
Opposite the beach, quiet cul de sac, Bedroom twin beds, TV, tea, coffee facility only. Own private bathroom and amenities. Side passage Private Back door entrance with a view of garden.
Safe friendly community, quiet, convenient, away from the madding crowd.
The host canceled this reservation the day before arrival. This is an automated posting.
Michelle
2017-04-03T00:00:00Z
Great communication with Del prior to visit. Accomodation was great and Del an excellent host.
Georgia
2017-04-02T00:00:00Z
great spot, across from the beach, Del is kind and helpful.
David
2017-04-09T00:00:00Z
Tipus d'habitació
Habitació privada
---
Tipus de propietat
Casa
---
Capacitat
2
---
Dormitoris
Thirroul, Nova Gal·les del Sud, Austràlia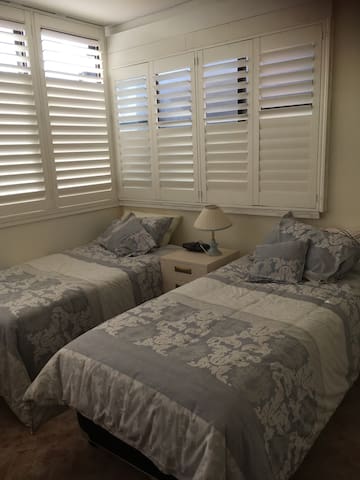 A cute, cosy self-contained cabin cleverly fitted out to accommodate up to four with a double bed in an alcove downstairs and two mattresses on the carpeted floor of the loft which is accessed by a steep staircase - for the agile and stouthearted :)
This little cabin is in our back garden, quite close to our house but private enough with entry from a side gate into the garden. The cabin is fully self-contained with own bathroom and small kitchenette area with a fold-up table and chairs. There's a small fridge, small stove/oven appliance. (two hotplates on top), microwave, kettle, toaster, coffee machine, pots and pans, utensils, crockery, cuttlery and glasses etc. There's enough there to self-cater to a basic standard for four people. Beds are made up and towels etc are provided. It's 7 minutes walk from Thirroul train station. An hour-and-a-quarter train ride to Sydney (Central) It's a 10 or 20 minute walk to beautiful beaches. 10 - 15 minutes walk to restaurants, bars, cafes and shops of Thirroul. The cabin is very small and open-plan. Suitable for a family with older children, or several adults for sleeping as there is a double bed in an alcove downstairs and two, three or four (maximum) single mattresses on the carpeted floor in the loft (mezzanine style.) Due to the nature of the loft stairs and windows, the cabin is unsuitable for children under six and close supervision would be required for children of any age. There is not a great deal of room downstairs, so it would be crowded as a place to stay during the day for more than a couple of people. The downstairs bed converts into a small lounge area, otherwise there is no sitting area, just the bed. The floorplan in the pictures gives an idea of size and layout. The stairs to the loft are narrow and, at this stage have a single railing making them unsuitable for small children and the less agile. The neighbourhood is quiet and leafy. Wifi is available and easy street parking.
Our neighbourhood is quiet and leafy and very safe. It's an easy walk to shops and cafes, a slightly longer walk to the beach.
You're bound to have a fantastic stay at the Cubby House. It offers everything you can think of and has a very relaxing charm. The chooks are super cute too!
Lucy
2017-02-26T00:00:00Z
A lovely host who was very accommodating and made us feel welcome. A comfortable cottage with all the necessary amenities. Would definitely stay there again.
Martine
2012-06-13T00:00:00Z
This is the second time I have stayed at this 'cute garden cabin' and it was as comfortable and enjoyable as the first. The Tim Tams were a nice touch as well.
Michael & Mei-Su
2012-09-09T00:00:00Z
I spend 3 nights in Kathryn and Andrews cabin in lovely Thirroul. It was just perfect, cozy, totally self contained, and an interesting mix of homey and mod. Everything you need is there, including some maps and local information. The downstairs bed was divinely comfortable! Just as described, walking into the town is a matter of only minutes, and just beyond lies the ocean, with a walking/cycle track all the way into Woollongong. Well worth doing. The hosts were very easy going, Kathryn made it clear she was there if i had any questions, but there was no need, as everything easy and straight forward. This is such a lovely area, and staying in the Cubby, just enhanced the whole exprience! An wholehearted recommed. thank you Kathryn and Andrew.
regina
2014-04-08T00:00:00Z
Very nice stay, great location & very private. Will be back!
Daisy
2017-04-09T00:00:00Z
A lovely peaceful place to have a break. A neat and simple cubby (or 'tiny house') where there's a place for everything and everything in its place. Chooks in the garden, plenty of breeze, neat kitchen, a coffee machine that makes a cracking brew, electric fans PRECISELY where you need them, leadlight windows and the whole thing nestled in dappled shade. Fabulous bathroom!
Sally
2017-03-01T00:00:00Z
Highly recommended and excellent value for money
Leanne
2017-03-09T00:00:00Z
I felt at home as soon as I walked into this snug little cubby. Kathryn was a thoughtful host. All amenities were as described. Great little spot walking distance from train station and shops.
Penny
2014-09-07T00:00:00Z
Tipus d'habitació
Casa/pis sencers
---
Tipus de propietat
Cabana
---
Capacitat
4
---
Dormitoris
Thirroul, Nova Gal·les del Sud, Austràlia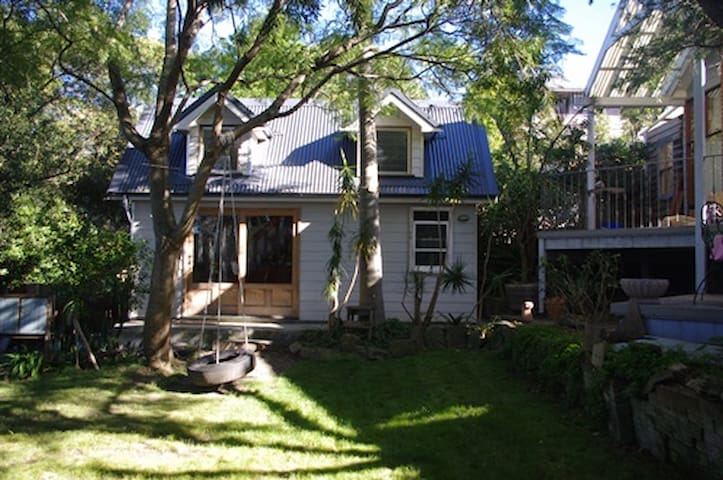 Gorgeous modern 1 bedroom available in beautiful Thirroul. The room features your own bathroom, wardrobe and private patio (courtyard), opposite the beach, Thirroul park and pool. Walk everywhere and enjoy your beach escape via your private entrance & patio. Bar fridge and amenities for coffee and tea provided (no kitchen). Cooling tower provided. No TV - sorry - I trust you can enjoy what nature and the area has to offer instead :)
Lifestyle - Showcasing inspired architectural flair while striking a bold street presence in, undeniably, Thirroul's most desired pocket, this cutting-edge space accommodates a luxury weekend escape and guaranteed holiday feeling....
The inspired setting is embraced by premium properties and is only inches to dreamy parklands adjoining Thirroul Beach, the beach pool as well as cafe/restaurant, plus it is barely a five-minute stroll to village delicacies.
We had a great and relaxing stay at Sabine's place which is very close to the beach. The room offers perfect privacy and is in easy walking distance to cafés, restaurants and bars. Just be aware that other people may have noisy parties at the barbecues in Thirroul Park just across the road.
Hanna
2017-02-25T00:00:00Z
Salt is a truly lovely little base for a weekend exploring Thirroul and surrounds. It's meticulously clean and beautifully styled. Sabine is a delight to deal with and had great cafe recommendations. You may hear the family come and go but the room is very private with its own entrance.
Cathy
2016-03-07T00:00:00Z
This is a lovely room in a perfect location at a great price. Sabine is extremely helpful and it all feels wonderfully self-contained.
Peter
2016-08-27T00:00:00Z
Awesome spot and beautiful little room with all the luxuries you need and a great patio to hang out on. Will stay again with no question.
Jacqueline
2017-03-19T00:00:00Z
Private, cosy accommodation in a great location!
Louise
2016-04-11T00:00:00Z
My Wife and I stayed with Sabine at Salt. The room was perfect, easy access, very comfortable and perfectly located opposite the beach. Additionally close to all shops restaurants and pubs. Great host.
James
2016-02-14T00:00:00Z
This room is sectioned off from Sabine's house, very clean and all you need for a little getaway. Sabine made sure we were well looked after whilst ensuring we had complete privacy!
Brittany
2016-11-19T00:00:00Z
Super comfy and thoughtfully maintained space. The neighborhood itself is a breath of fresh air - only few mins walking to the beach. Sabine was easy to communicate with and responded almost instantly. Definitely recommended space to stay.
Anirudh
2016-07-03T00:00:00Z
Tipus d'habitació
Habitació privada
---
Tipus de propietat
Casa adossada
---
Capacitat
2
---
Dormitoris
Thirroul, Nova Gal·les del Sud, Austràlia
Imagine yourself situated 100m from one of the best surfing beaches in the Illawarra, nestled in-between Thirroul and Austinmer patrolled beaches. Seamist by the Ocean will provide you with everything you require for your visit. Seamist is a newly built two bedroom detached dwelling, with solid timber flooring, modern kitchen, laundry, bathroom, lounge/dining area, outdoor shower and then choose your place to sit and relax- on the front porch or screened back deck.
Seamist by the Ocean is a detached fully self contained newly built cottage. There are 2 bedrooms, the first with a queen bed and the other with a double bed. Both bedrooms have inbuilt cupboards, side tables, full length mirrors and a lamp. The gorgeous new kitchen has everything that you would require pots, pans, kettle, toaster, utensils etc and we will also provide tea, coffee, sugar and milk. There is a USB wall mounted supply in the hall for all your portable charging needs. The lounge room has a TV and Blu ray player (you can bring your own DVDs or ask us for a loan of some of ours).
IGA supermarket, ATMS, Anitas Theatre, local speciality shops, cafes and restaurants are a brief walk from Seamist.
Comfortable and clean place! Modernly furnished. My family and I enjoyed our stay here, feeling very welcomed. We had a rented car, a pity we couldnt park it right at the doorstep, but this wasn't a problem actually! Plenty of parking spaces around. It looks like a place with convenient transportation even without a car. Shops opposite the house, bus stop directly in front of the place. Short walk to the beach too. Lovely!
Shi Min
2016-08-28T00:00:00Z
Great place to stay.
Tung
2017-04-08T00:00:00Z
Thank you George for having us! The location of this space is great and such a short walk in to town where all the great restaurants and shops are. Plus, so close to the beach!
Sammy
2017-02-25T00:00:00Z
The host canceled this reservation 7 days before arrival. This is an automated posting.
Amy
2017-03-13T00:00:00Z
Immaculately clean and in a great location, very hospitable hosts
Theresa
2017-02-12T00:00:00Z
We were welcomed from the moment we arrived - and because it was Christmas there was a festive feel to it all. Great location, minutes from the beach for surf and swims. Great coffee across the road. The accom has everything you need and feels more like a hotel stay. Thanks George and family - happy new year!
Mark
2016-12-26T00:00:00Z
Great spot, enjoyed the stay!!
irene
2017-01-06T00:00:00Z
Great stay
melinda
2017-02-04T00:00:00Z
Tipus d'habitació
Casa/pis sencers
---
Tipus de propietat
Altres
---
Capacitat
4
---
Dormitoris
Thirroul, Nova Gal·les del Sud, Austràlia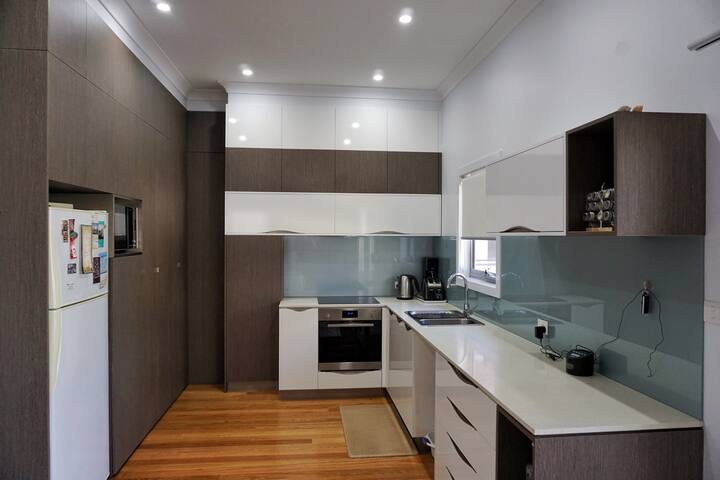 Live our beach lifestyle in our Thirroul Beach Pad.most fantastic location for you to enjoy the area and live like a local. It's a flat easy walk to everything..close to awesome dining options, cocktail bars, beachside dining and Thirroul shopping area. You will love our north facing sunny outlook which overlooks a park and creek with views through to the waves. Its a one minute walk to the beach and a short flat easy walk to pretty much everything Thirroul has to offer.
Our beach pad is located in an amazing location close to beach,parks,shops,grocery store,restaurants,bars, cafes,parks, train, surf club, theatre. It's located inside a 70s style older block but our apartment is fully renovated.
The northern Illawarra suburbs could be described as having an upmarket beach vibe. It's nestled so close between the mountains and the sea making it beautiful and is less than an hour to Sydney. There are plenty of places to eat nearby or a short drive .there are also plenty of surf breaks close by which we can tell you about. The cafes and food are of a high standard and if you have kids there is the park just round the corner which is one of the best in the region. There is also a bike track outside our door which leads all the way to Wollongong if cycling is your thing .
Tipus d'habitació
Casa/pis sencers
---
Tipus de propietat
Pis
---
Capacitat
4
---
Dormitoris
Thirroul, Nova Gal·les del Sud, Austràlia
Step out of suburbia into a 3 bedroom treehouse surrounded by rainforest. This is the entire top level of my house. There's a creek and rainforest for the kids to scramble in. Relax on a sunny covered deck on the Balinese day bed or in the spa. The deck overlooks a large reserve filled with treeferns and birdlife. Indoor outdoor living. Private, well equipped.
Comfy house in the treetops overlooking a rainforest reserve and creek. 5 minutes drive to beautiful northern Illawarra beaches or walk to Thirroul village. Great space for family beach holiday. The whole top of the house. There are 3 bedrooms: double bed, a room with a single and another room with a set of bunks. There are 3 decks outdoors and a lovely bbq area. The kitchen is well equipped and there is wifi. Laundry downstairs with a clothes line and dryer. There is also an outdoor cold shower to rinse off the sand. We have a hot tub/spa in our rainforest back yard: please advise 24 hours before if you want it heated for arrival. Off street parking in a quiet street. Visit a different beach every day, walk to Sublime Point, drive to the stunning Seacliff Bridge. We have loads of DVDs if the weather turns foul and Netflix. The house has aircon and a gas heater; each bedroom and the lounge have ceiling fans. Frogs and birds abound. You may see the water dragon in the creek. Off street parking in a quiet neighbourhood.
The northern beaches of the Illawarra have spectacular scenery, rock swimming pools, bushwalks, views, surf beaches, wild beaches and child-friendly beaches. Great cafes, restaurants, galleries, shops, playgrounds, bike tracks and less than an hour and a half from Sydney! Thirroul is on the Grand Pacific Drive, about 5 km South of the Sea Cliff Bridge. Some of the most spectacular views in Australia are around here. There are weekend markets, amazing bushwalking and we are close to the Royal National Park. Also a variety of bands play locally, there is usually some live music on somewhere in the hood. There are several fine dining options in Thirroul, as well as abundant Thai, fish and chips, Italian, and cafes. Anita's Theatre has some top acts perform. The local pubs are friendly and fun.
Excellent place to stay and Sally was perfect to deal with, really flexible, reasonable and helpful.
Dante
2016-08-29T00:00:00Z
We were grateful to Sally for taking us in over Christmas Eve and Christmas Day. It enabled us to enjoy Christmas with our family in Sydney and Thirroul. Communication with Sally was excellent. The house was comfortable and in an attractive location in the foothills below the Wollongong escarpment - with a lush green garden and lots of birds. It had everything we needed for our 2 night stay. The stairs down from the road to the house are steep, but I managed to carry heavy eskies down and up with my two recently replaced knees. Backing into the carport down a slope trickier and our car bears some scars - better park on the road unless you are really skilled! Access to the internet was good - how did we ever live without it?
Robyn
2015-12-27T00:00:00Z
Sally's house was simply our best air bnb experience. A real home away from home. She went to lengths to make our stay as enjoyable as it was and would not hesitate to recommend or revisit... Simply beautiful! Thanks Sally
Dan
2016-06-14T00:00:00Z
This was a lovely place to stay. The kitchen has everything you might need. There was enough space for our family. The only negative is the driveway to the carport which is very steep. This didn't bother us as we parked at the top so we didn't have to drive in and out. I would recommend this as a nice place to stay.
Marcia
2017-01-01T00:00:00Z
The house was just what I hoped for, very homely, comfortable and private.
Mark
2015-06-22T00:00:00Z
Sally made us feel very welcome, instantly felt at home, spa was bubbling and kids were straight in on our arrival. Lovely area, I'd happily come back again.
Peita
2016-11-19T00:00:00Z
Sally was a great host. Very welcoming and has a lovely house in a gorgeous location
Rebecca
2016-03-15T00:00:00Z
Great house, Sally was welcoming and easy going. No complaints.
James
2016-05-16T00:00:00Z
Tipus d'habitació
Casa/pis sencers
---
Tipus de propietat
Casa
---
Capacitat
5
---
Dormitoris
Thirroul, Nova Gal·les del Sud, Austràlia
Beautiful leafy private outlook with pool, decks, built in BBQ, ocean and escarpment views. Relax on the huge outdoor lounge and watch the friendly parrots. Close to beach and town. 3 double beds +air beds if required. Pet friendly.
It's a wonderful home and a pleasant stay with an incredible view! perfect for a family with kids. We stayed four nights with extra family including a 6 month old and a 6 year old, and along with the out door patio, pool and bbq and the friendly neighbours, it made things that much more memorable. thanks for us Emily! Much appreciated!
Jevon
2014-12-09T00:00:00Z
Great house in a beautiful location. Enjoyed our stay!
Wendy
2016-07-09T00:00:00Z
The place was great, such lovely views and a welcoming home. The host was also great, kept in good contact and answered all our questions, very hospitable and accommodating. We had a good stay and worked very well for our trip.
Amy
2015-05-25T00:00:00Z
Emily was really helpful and prompt with her responses. The house was amazing and exactly as described. We checked in early as arranged with Emily and the cleaners came whilst we were there and they did a thorough job and were lovely and friendly. The house is really well equipped and the surrounding area was beautiful! The beaches along the coast were great and there's lots of lovely shops to explore in Thirroul and Bulli. The pool was lovely and we sat out on the deck many mornings enjoying the sea view. Its great for families as it's got lots of lovely homely details that make you feel comfortable and the decor of the house is beautiful and simple. I would totally recommend this to anyone and we will definitely be coming back! Awesome!!
Kristin
2016-01-11T00:00:00Z
The reservation was canceled 11 days before arrival. This is an automated posting.
Suresh
2015-01-07T00:00:00Z
We spent 4 very comfortable nights at Emily's home. It was homely, well appointed and comfortable. It was close to the main street of Thirroul but as it was up the hill (with stunning views) we found it useful having a car. Emily was warm, friendly and eager to help make our stay comfortable. We would not hesitate to recommend this home to anyone visiting this beautiful area.
chris
2016-02-12T00:00:00Z
Fantastic experience. Emily was extremely helpful, even letting us borrow a bumbo to feed our little one. Perfect house for a family beach holiday including dog & baby!
Elspeth
2015-12-21T00:00:00Z
Great house, would rent again!
Zak
2016-05-17T00:00:00Z
Tipus d'habitació
Casa/pis sencers
---
Tipus de propietat
Casa
---
Capacitat
6
---
Dormitoris
Thirroul, Nova Gal·les del Sud, Austràlia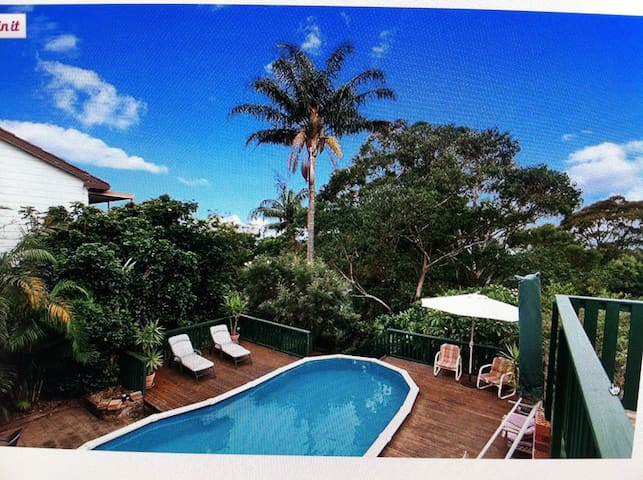 Our place. We have the relaxed feel of a beach shack. You will have your own separate entrance to your own end of our house. There is parking just outside. Our place is quiet and peaceful. There are two rooms, the bedroom and a sitting room. You'll have your own bathroom with a bath, shower and toilet. We are just over an hour's drive to Sydney, or an easy express train ride to Sydney CBD. Children are welcome.
You will have a bar fridge and kettle. Ironing board on request. No meals included. There are lots of cafes and restaurants in Thirroul village. Easy storage for bikes.
Finbox and Buck Hamblin are two great cafes, 1 minute walk from the front door. There are plenty of restaurants and several bars.
Tipus d'habitació
Habitació privada
---
Tipus de propietat
Casa
---
Capacitat
2
---
Dormitoris
Thirroul, Nova Gal·les del Sud, Austràlia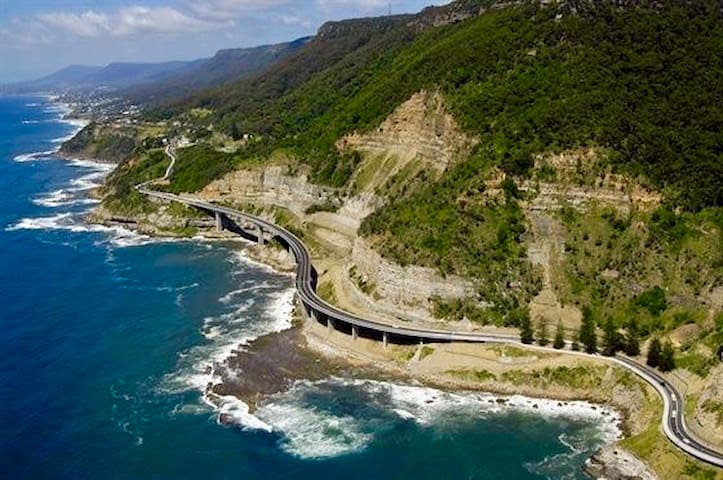 Modern air conditioned / heated living area with exquisite views of the Ocean and Escarpment. 2 bedrooms, Bd 1 double bed & double bunks. Bd 2 Queen bed. Single bed and fold out sofa in large living area. Large alfresco/balcony/outdoor lounge BBQ area. Kitchenette, bathroom. Linen and bath towels provided.The property is perfect for a romantic getaway. It also suits families. Perfect for bridal parties including groomsmen or bridesmaids, family. High chair available for babies.
Harmonious, bright top storey of a residence set among the trees and with goregous ocean and escarpment views. Short walk/cycle/drive to hotels, restaurants, cafe's, shops, Thirroul beach and salt water swimming pool. Easy access to Wollongong and the Illawarra area with many beaches to choose from. Off street parking is available upon request from host for vehicles and/or boat. Normally parking available outside property in quiet street. Built in wardrobes in bedrooms 1 and 2.
Within short drive or walking and cycling distance there are shops, cafe's, restaurants, hotels, salt water pool, Thirroul Beach, swimming, surfing all less than 1.5 km away! No need to drive unless you prefer not to walk back up the hill of Phillip Street. There is a short cut to the shopping centre on foot.
Jennifer's place is exactly as you'd expect. The check-in process is smooth and super flexible - which was perfect for us as my group and I were arriving from a late wedding. Jennifer was very accommodating to my requests and the place is so close to the shops and easy to find, I'd definitely consider staying here again.
Gelina
2016-12-17T00:00:00Z
What a lovey stay! Spectacular views of the water to the east and mountains to the west. The shower was lovely and hot. Enough heaters to give it a really cosy feel when the temperature outside drops. The bedrooms are very spacious. Jen was a very accommodating host. Coffee pods and milk were supplied for us. We had a wedding at panorama house. It was about a ten minute drive from here. I would happily stay here again next time we intend to visit Wollongong.
Elise
2016-08-20T00:00:00Z
Jen is an amazing host who is is always ready to lend a helping hand. This is a super cozy and comfy place to stay. I would love to stay here again in the future.
Felix
2016-12-14T00:00:00Z
Beautiful place in a great location, would stay again!
Rachel
2017-02-03T00:00:00Z
Great place to stay. Was an overnight stay with easy host. Would recommend to anyone staying nearby!
Robert
2017-03-05T00:00:00Z
We had a great stay at Jen's place. Really comfortable and super easy. We plan on returning when are down there again soon.
Tom
2016-07-04T00:00:00Z
Everything we needed! Clean. Beautiful views. Wonderful host.
Rebecca
2017-02-04T00:00:00Z
Jennifer is very friendly and prompt in her response. Check in was easy and fuss free and her place is clean and spacious. A nice and lovely stay! Thumbs up!
Wendy
2016-12-07T00:00:00Z
Tipus d'habitació
Casa/pis sencers
---
Tipus de propietat
Casa
---
Capacitat
8
---
Dormitoris
Thirroul, Nova Gal·les del Sud, Austràlia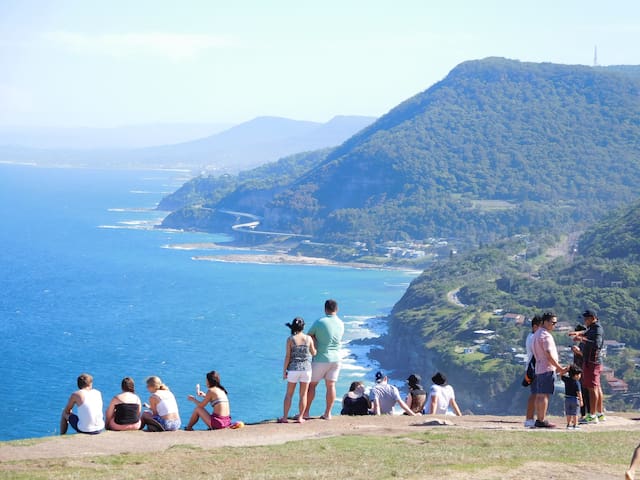 Leave the car at home and walk to everything Thirroul or Austinmer village has to offer! Our modern villa is only a short flat walk to the beaches, cafes, shops, train station and restaurants. Relax in our sun filled yard or enjoy cooking in our modern kitchen or on our BBQ. Plenty of space and things to do for a weekend or week getaway in summer or winter
Our beachside villa is within walking distance to everything you will need for a relaxing beachside holiday. It is modern, clean and comfortable and very relaxing There is one bedroom with a queen size bed. The second bedroom has a double size mattress on the floor which is rather comfortable. There is a lounge room with a large couch which is perfect for watching movies on the large t.v The kitchen is modern and has everything you need to cook with. There is a coffee machine and Grinder that can be used to make a "good" cup of coffee to start your day with. There is a backyard that is private and full of sun. There is a BBQ, outdoor lounge and herbs to be picked if needed. All linen and bath towels are provided so no need to pack them. There is a beautiful creek that runs through the front of the property. There is a lovely view of it through the kitchen windows. High chair, porta cot and change table can also be made available if needed. A selection of baby toys and books can be made available if requested.
Thirroul is a vibrant little village. There are many great cafes, beaches, restaurants and bars. It is a great place to spend the weekend or week in summer or winter. There are plenty of walks and tourist attractions nearby. You can be busy or spend the weekend reading by the beach.
Tipus d'habitació
Casa/pis sencers
---
Tipus de propietat
Casa de camp
---
Capacitat
4
---
Dormitoris
Thirroul, Nova Gal·les del Sud, Austràlia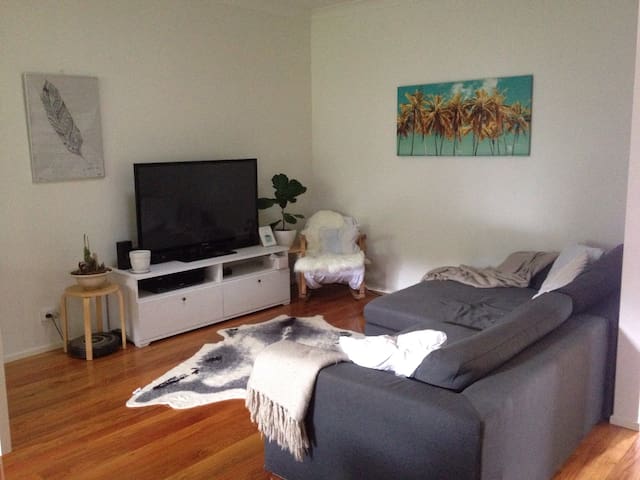 Supremely located just 350m from Thirroul beach, kid's playground, park and the ocean pool this home offers the best of vibrant coastal living all within 5 minutes walk.
Supremely located just 350m from Thirroul beach, kid's playground, park and the ocean pool this home offers the best of vibrant coastal living all within 5 minutes walk. YOU WILL LOVE The brand new interiors and fresh, modern furnishings which combine to create a luxury getaway Enough space to comfortably sleep 8 and ensure that every member of the family has a quite space Walking to the beach, village, pool or for a coffee in under 5 minutes The little luxury extras like the Nespresso coffee machine, WiFi and sumptous linen Ending a busy day in the courtyard which is blissfully cool and private THIS HOME OFFERS Stylish elegance in a fantastic location and a smart layout with the living areas downstairs and the sleeping quarters privately tucked upstairs. BED CONFIGURATION 1 x King. 2 x Queen. 2 x Single. BEDROOMS Master Bedroom Is a huge haven with escarpment views, enjoy the sumptuous king-sized A H Beard mattress and Egyptian cotton sheets. Featuring air conditioning, built-in robe and a spacious ensuite. Bedroom Two Features a queen size bed, built-in robe and private balcony. Also with A H Beard mattress and Egyptian cotton sheets. Bedroom Three Features two single beds with built-in robes. Also with A H Beard mattresses and Egyptian cotton sheets. Bedroom Four Is a private haven with a queen sized bed. Also with A H Beard mattress and Egyptian cotton sheets. LIVING Lovely arched windows and high ceilings create a light, open space with a relaxing atmosphere. With air conditioning, TV, DVD player and a comfortable lounge it is the ideal place for the family to gather and relax. An open plan dining room is a lovely alcove where dinner conversations can linger and the family can slow down and take the time to laugh. The kitchen will inspire passionate cooking with a dishwasher, microwave, four burner gas stove and oven. It is well stocked to create gourmet fare or just enjoy the simplicity of poached eggs and freshly plunged coffee. A cosy sitting area provides a sanctuary to enjoy the Sunday papers or simply finish a magazine with a cup of tea. OUTDOORS Choose between the sunny patch of lawn at the front or the paved undercover courtyard which is blissfully cool, peaceful and private. LITTLE EXTRAS WiFi Washing machine Double garage BBQ with gas supplied Nespresso Coffee Machine
THE LOCATION Boasting a beautiful surf and swimming beach, Art Deco Olympic sized salt water pool with a toddler pool attached, world class dining, theatre and an eclectic collection of boutiques Thirroul village is the coast's hub where all the action happens. Just a few doors down from Bread & Expresso make sure you pop in for a coffee and one of their divine warm Almond Croissants or end the day at Bergies which offers the best fish and chips in town.
We had a great stay at 206@Thirroul. The home was better than the pictures indicated to us - it was truly fantastic and we immediately felt at home. The house is a great size for a family or just a few. It is close to the beach and we enjoyed going for walks along the beach after dinner every night. Thirroul itself is wonderful and we can't recommend it highly enough.
Tim
2016-02-07T00:00:00Z
Beautiful Home, Beautiful Place easy access to everthing. Would stay again for sure.
Angelo
2016-11-26T00:00:00Z
A lovely spacious, light, easy-living house. We were a large family group, with a toddler and newborn, the house was perfect for us. Beach a short walk away and close to a wonderful children's park. Cafe, shops a short walk. (Only caution for families the road is very busy and there are no pedestrian crossings, which is surprising given this is a popular area for visitors. Local council should do something to rectify this). Overall I recommend the house highly.
Melinda
2016-09-27T00:00:00Z
A beautiful and cozy home - we were a family of 10 and the house was spacious enough to accommodate us all. It is nicely decorated and everything was very clean and tidy. Toiletries and towels were provided and the kitchen was fully equipped. There were spices, jams, condiments, etc. in the pantry! All things in the house worked well. It is also located near the beach, which took about 5 mins to reach. There are shops nearby and there is this nice little cafe (Bread, Espresso &) that served really good pies and coffee. All in all, we were very comfortable and our family thoroughly enjoyed our stay!
Helen
2016-06-02T00:00:00Z
We stayed in Tanya's property for 2 nights as we had a wedding in Wollongong over the weekend. The house was very easy to find and upon checking in found the place to be very very clean. All the bedrooms had very nice bedding and were very comfortable. The location of the property was perfect and walking distance to the beach and shops. We absolutely loved our stay in Thirroul and will definitely come back next time.
JAN CARLO
2016-11-13T00:00:00Z
The property is well located, walking distance to the beach, shops and rail station. It offers plenty of space and is comfortably furnished and there is a large two car garage attached. Tanya was pleasant to deal with and easy to contact.
Duncan
2017-02-11T00:00:00Z
Das Haus ist sehr gepflegt und sehr gut ausgestattet. Alle wichtigen Dinge wie Supermarkt, Restaurants und den Strand erreicht man innerhalb von 5 Minuten zu Fuß.
Danilo
2017-04-06T00:00:00Z
Fantastic house in a great location, close by to everything also some great cafés within walking distance
Matthew
2017-03-11T00:00:00Z
Tipus d'habitació
Casa/pis sencers
---
Tipus de propietat
Casa
---
Capacitat
8
---
Dormitoris
Thirroul, Nova Gal·les del Sud, Austràlia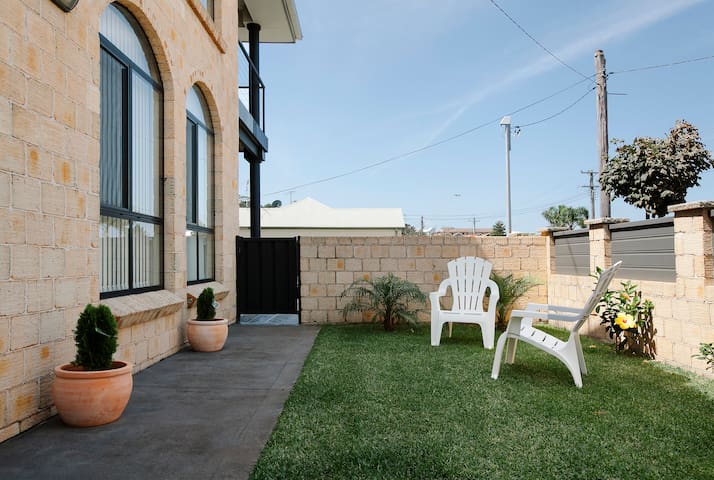 Boutique Centro... New...Sophisticated Holiday Accommodation in the heart of Thirroul. Encompassing Style, Boutique Centros' design includes a spacious living area, alfresco dining, complete kitchen, separate bedroom with Queen size bed & ensuite with bed linen and towels provided. A wonderful place to refresh and explore Thirroul and the Northern Coastal Villages Art & Coastal Lifestyle. The beach is merely a short walk away with plenty of shopping and dining options in between!
Light Modern Bright with fully equipped Kitchen and laundry services. Relax & dine alfresco style on the deck!
Casual and formal dining options available a few steps away, the Beach and Anitas Theatre located a short walk away.
We enjoyed our stay in the lovely, little apartment. New, clean and very convenient with shops near by. It would have been even better if wifi was available or even a DVD player. Thank you, Tracey, for being such a lovely host.
Karice
2017-01-04T00:00:00Z
I'm a repeat customer!
Emma
2017-03-16T00:00:00Z
Beautiful apartment. Tracey was so easy to deal with and worked around our arrival and departure time with zero fuss.
Bec
2017-02-04T00:00:00Z
Great little modern apartment close to shops and a short walk to beach - Tracey was a great host, very organised and communicative.
Claire
2017-01-01T00:00:00Z
Tracey's place is lovely and perfect for my needs. I'm travelling for work so having all the basics available has been really helpful (hairdryer, iron, etc). Check in has been easy, Tracey has been able to offer some places to eat and response quickly to any questions i have had. I will be staying here for future trips!
Emma
2017-03-08T00:00:00Z
Very new building with clean and modern furniture. Tracey was kind to offer us snacks and champagne. Although a great convenient location to town, the traffic noise was the only downfall meaning we didn't open the bedroom window and it was a bit hot with the aircon only in the living area. Great accommodation for a couple on a weekend get away. We were warned not to use the lift. Thank you for having us Tracey.
Maggie
2017-03-18T00:00:00Z
This is a great property- perfect for a couple. The property is on the main road but the traffic didn't bother us too much. Enough kitchen equipment to create a proper meal and beautifully clean. A short walk to the beach and shops. Would thoroughly recommend.
Emily
2017-02-24T00:00:00Z
Fantastic place. So modern and clean. Host was fantastic and nicely laid back. 10/10
Jamie
2017-01-21T00:00:00Z
Tipus d'habitació
Casa/pis sencers
---
Tipus de propietat
Pis
---
Capacitat
4
---
Dormitoris
Thirroul, Nova Gal·les del Sud, Austràlia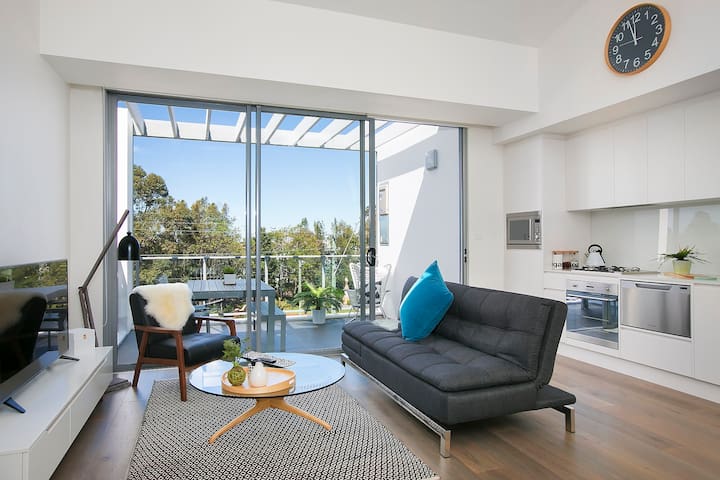 Single room- Come listen to the sound of waves crashing against the shore! The apartment has spectacular beach views as well as views of the escarpment. My apartment has the following features: Check in time is 1 pm Check out time is 10 am 2 large bedrooms with brand new mattresses and beds 1 Queen Size Bed and large bedroom with balcony overlooking the ocean BBQ and table on Balcony 1 Double Bedroom with views of the ocean 1 large bathroom with a shower and bath Wireless internet Brand New Designer Kitchen with Dishwasher, new stove and oven Large living room with a large Balcony, Large dining room Table, Leather sofa, Flat Screen TV and DVD Player, Xbox 360 with Foxtel (pay T.V). The apartment is opposite the beach. The beach is very quiet and you can walk along it for up to three hours in each direction, discovering new beach enclaves along the way. The beach is excellent for surfing and has safe areas for swimming for children. The apartment is a 2 min walk to an Olympic sized swimming pool with fresh ocean water connected directly to the sea. There is also a wading pool for children. The apartment is a few minutes walking distance to the shopping centre, restaurants, pubs, cafes and loads of intriguing boutique shops for women. A perfect location to explore in afternoons after spending a glorious at the beach. Thirroul is a beautiful upmarket beach town with spectacular scenery, away from the bussle of the city. Yet only a hour's drive from Sydney and 45 mins from Sydney airport. The train station is a 10 min walk from the apartment and takes 1 hour 20 mins from central station in Sydney. Come, relax and enjoy a peaceful beach holiday in a majestic location surrounded by national park, breathtaking views and an walks through the temperate rainforest. My place is suitable for 1 or 2 couples, or a family for a romantic adventure. It's a perfect peaceful beach getaway. The apartment was just renovated with a brand new kitchen, new furniture and decorated with local artwork. Nearby attractions: Sri Venkateswara Temple Tumbling Waters retreat Symbio Wildlife Gardens Darkes Forest Ranch Skirmish Paintball Articles Art Gallery Seacliff Bridge Yoga Tennis / Golf Hiking Trails in Royal National Park and 10 min walk to rainforest Kelly's Falls Antique shops and boutiques Local cafes and restaurants If you would like to find out more, please feel free to contact me. Kindest regards, Andrei
The host canceled this reservation 6 days before arrival. This is an automated posting.
lia
2016-09-02T00:00:00Z
Andrei was welcoming and very accommodating throughout the process of booking to checking in. His home space is inviting, with a great relaxed comfortable vibe. The area was convenient to shops and beach. Enjoyed my stay immensely. Thank you Andrei!
Kathy
2016-08-29T00:00:00Z
We spent two nights in Andrei's lovely apartment. It is in a great location; close to the beach, shops and cafes and very well equipped. Both bedrooms boast beautiful ocean views and the apartment gets lots of natural light. I would highly recommend this place for anyone wishing to stay in the area.
Jihan
2013-12-02T00:00:00Z
The unit is a beach-facing two-bedder on the first floor of a 70s block. You can hear and see the waves. It has a cool bakery cafe across the road that does sensational coffee. Andrei was unwell during my overnight stay so I got him a coffee. He still managed to be most hospitable, friendly and helpful. Super comfortable bed and the large private balcony off the bedroom an absolute winner.
Greta
2016-08-24T00:00:00Z
Andrei's apartment is very comfortable with lovely views of the beach from the bedrooms. Breakfast on the balcony off the main bedroom was a feature of our stay. The apartment is in a great area with lots of cafe choices and very close to the beach. Andrei was a great host - although we didn't meet him - and answered all our questions very promptly.
Carolyn
2013-02-16T00:00:00Z
Great location within easy walking distance of the beach and pretty Thirroul. The north aspect from the apartment guaranteed winter sun to keep us warm with terrific views of the escarpment from the balcony. This apartment is good if you get it to yourself. Being two beds, if the second room is also rented out, the walls are thin and the one bathroom is small. Andrei is a nice guy, very approachable, friendly and helpful.
Rob
2016-08-15T00:00:00Z
I couldn't say enough about Andrei, a great Guy at a great location! My first Airbnb experience and it was great... If your looking in the area, you won't be disappointed!
Ryan
2016-07-12T00:00:00Z
Andrei is very sweet and welcoming. He's quick to communicate and was accommodating. The space is very close to the beach and a short walk from town. The outdoor space attached to the room was really nice to have.
Alexandra
2016-07-30T00:00:00Z
Tipus d'habitació
Casa/pis sencers
---
Tipus de propietat
Pis
---
Capacitat
2
---
Dormitoris
Thirroul, Nova Gal·les del Sud, Austràlia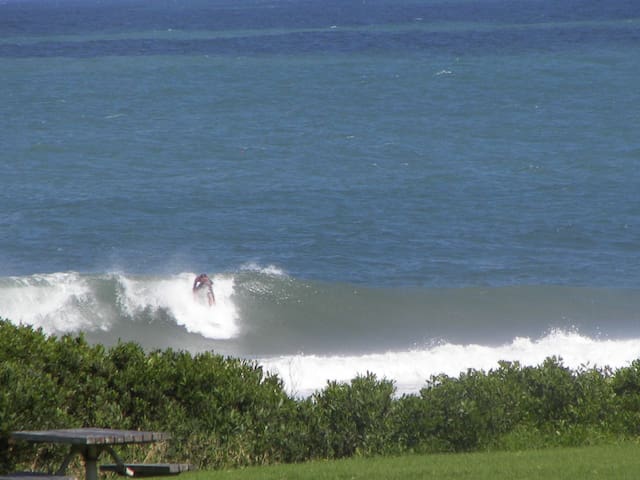 The Thirroul Townie is close to restaurants and dining (2 min walk) and the beach (15 min walk). You'll love it because of the location. It has 3 bedrooms - 1 Queen bed, 1 double bed, and the third room has a cot and an inflatable mattress is provided if needed. The downstairs living/kitchen area opens up onto an outdoor deck with table and chairs and a BBQ, great for outdoor meals. The kitchen is fitted with a dishwasher, appliances and an AMAZING coffee machine (coffee provided).
The Thirroul Townie is a townhouse in the heart of Thirroul, a beautiful coastal town on the South Coast of NSW, around one hour drive from Sydney. The townhouse has three bedrooms and two bathrooms, laundry and open plan living space. The bedrooms have one queen bed, one double bed and a room with a cot and inflatable mattress. The townhouse also has an outdoor deck with a table and chairs and BBQ, perfect for summer nights. The location is a 2 minute walk from local pubs, shops and restaurants. A 5 minute walk to the train station and a 15 minute walk to the beach.
Tipus d'habitació
Casa/pis sencers
---
Tipus de propietat
Casa adossada
---
Capacitat
5
---
Dormitoris
Thirroul, Nova Gal·les del Sud, Austràlia
Introdueix les dates per veure el preu total. S'aplicaran tarifes addicionals. És possible que també s'apliquin impostos.