Quintessential wooden cottage w/ 2 BR, 2 full baths & open floor plan. Enjoy the glass enclosed sun room overlooking mature perennial gardens or walk the carved path through the field of wild flowers. Fully furnished, utilities included.
Nestled in the Berkshire hills and sitting above Lake Garfield our cottage is serene, private and beautiful. In winter the ridges of East Mountain can be seen from the living room windows. In summer you are surrounded by woods, field and myriad flower gardens. Enjoy your morning coffee in the sun room or in the gazebo. Take an afternoon walk down our country lane and view the sunset.
Note: If at some time you are looking for a smaller space in Great Barrington, Ma, we also have a wonderful airbnb 'Private Ensuite in Beautiful Victorian'. A Private room for two with kitchenette and bathroom with private entrance, gardens and a wonderful front porch.
The cottage is very sweet and comfortable, with an amazing winter garden that allows us to enjoy the view of this beautiful woods while not being outside. We had a great time, rested well, felt cozy and enjoyed being there very much. Eileen and Stephen are great artists and communicated very well. A great getaway! Thank you guys!
Dutra
2016-03-29T00:00:00Z
Eileen and Steve met as at their great cottage and made us feel very welcome. They went over all aspects of the cottage, (heat, kitchen appliances, extra blankets, etc.) and attractions in the surrounding area. The cottage was warm and comfortable and we actually were lucky to enjoy the first snowfall of the year sitting in their comfortable living room. We are hikers so there were lots of places nearby as well as great restaurants and shopping in nearby Great Barrington. The area was beautiful and we plan to go back. Thanks for a great stay.
Elizabeth
2014-11-14T00:00:00Z
The cottage was very pretty- perfect for a couple. We particularly enjoyed the glass enclosed front room during the day and cooked regularly in the well-equipped kitchen. Stephen was responsive and helpful throughout our stay
Rebecca
2014-10-28T00:00:00Z
We had a wonderful time at Eileen and Stephen's! Beautiful home and very well kept. Great property with gracious hosts! Highly recommended.
John
2016-02-16T00:00:00Z
The hosts Eileen and Stephen met us at the house and were very welcoming. The house was immaculate, very well stocked and maintained. It has a beautiful kitchen and dining area. We especially loved spending time in the peaceful setting of the sun room . There are beautiful views from all areas of the house. Coming from NYC we really appreciated the quiet setting and all the nature the house has to offer.
randi
2015-10-12T00:00:00Z
My husband and I had a wonderful experience staying at this charming cottage. Eileen and Stephen were there to greet us and had prepared a tailored list of recommendations based on our personal interests. Being our first air B and B experience we were a bit nervous; however, the moment Eileen opened the door to her cottage I was immediately put at ease. The bathrooms are modern and immaculate. The sun room provided us with a relaxing spot to eat breakfast in the morning and stargaze at night. Both bedrooms are very comfortable and the kitchen has everything you would ever dream of needing to cook a multi course meal. The best part (other than the sun room and wonderful hosts) is the grounds... You'd think you were at Giverny visiting Monets gardens. There is a lovely gazebo which we spent a lot of time in reading during the late afternoons. We hope to visit again soon!
Kristin
2015-08-28T00:00:00Z
Eileen and Stephen were wonderful hosts. They were flexible with our arrival time (given unpredictable traffic from the big city), and gave us a very helpful tour of their home along with suggestions for nearby activities before leaving us alone for the weekend. We had a very relaxing ladies getaway weekend at the cottage! We had everything we needed available (spices, appliances, airbed, etc.). We spent our time enjoying the beautiful views from the windows and on walks, and we stayed very cozy chatting into the evenings by the new fireplace. We would highly recommend the cottage and hosts!
Sarah
2015-11-15T00:00:00Z
Thank you so much. What a lovely cottage. We had a wonderful week!
Aimee
2015-01-05T00:00:00Z
Tipus d'habitació
Casa/pis sencers
---
Tipus de propietat
---
Capacitat
4
---
Dormitoris
Monterrey, Massachusetts 01245, Estats Units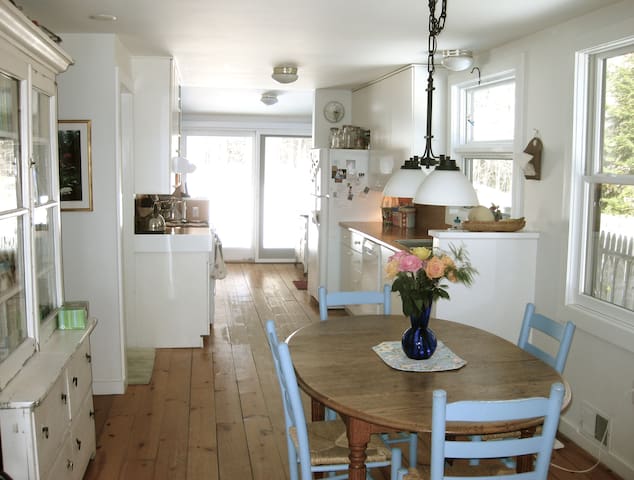 This is the perfect getaway in the perfect environment! A quintessential log cabin overlooking the Buck River. 5 minutes to Gedney Farm, 10 Miles to Butternut Ski Resort and Otis Reservoir. Come enjoy beautiful Berkshire County!
Guests regularly tell me the pictures don't do the home justice. I've taken a lot of care in deciding how to decorate and design the interior of the house. The kitchen is fully stocked with spices and everything you could need for cooking. Note: I don't charge any cleaning fees but the home is professionally cleaned between visitors.
Cute little cabin getaway. Great for unplugging. We found it exactly as described and didn't have any trouble. Would stay here again!
Alina
2017-01-16T00:00:00Z
Great spot for a get away weekend! Perfect place to stay for a weekend wedding at nearby (10 mins) Gedney Farm. Lots of room, clean, with a well appointed kitchen. Nice quiet spot, good excuse to be out of range of phone and internet.
Wendy
2016-10-13T00:00:00Z
This was a perfect break from the city, tucked away in the deep woods. The cabin has everything you need for a "disconnected" trip. We were all pleasantly surprised how much we enjoyed putting down our iPhones (almost no cell reception, and no wifi). There's plenty of place to sleep, eat, and relax. Sitting on the porch at night, you could light a fire and see the stars very clearly while listening to the brook behind the house babbling through the woods. The cabin was fully stocked with everything you would need to cook while you're there, and with plenty of plates, glasses and serveware, even for a large group. We really liked being able to eat in here. The bathroom was also fully stocked with plenty of towels. Admittedly, since we arrived at night, we accidentally drove past the driveway to the cabin a couple of times — keep a good look out for the number of the street hanging next to the entryway to the driveway. All in all, we really enjoyed it here. I would suggest bringing games, books and pre-downloading some music to your device (the cabin has speakers with an auxiliary cable to plug into to play music). Also I would stop at a grocery store along your drive (we stopped in Springfield) to stock up.
Ben
2016-10-23T00:00:00Z
My friends and I rented this cabin for a friend's wedding at nearby Gedney Farm. The cabin was exactly what we needed. Surprisingly spacious and very cozy, my friends and I felt right at home. Though the weather was extremely hot that weekend, the cabin stayed relatively cool. There was a box fan in the closet of one of the bedrooms, but we brought a few of our own to be safe as the cabin is without A/C. The basement was cool and pleasant the entire weekend. Be sure to print out directions prior to heading up - cell phone service is very spotty. I have Verizon and was unable to get a signal all weekend. My friends have AT&T and would only get a signal every once and a while. Lastly, our host Sarah was very responsive and helpful. Such a pleasure to work with.
Dan
2016-08-19T00:00:00Z
Lovely clean and cozy. Enjoyed the wood stove and sitting on deck listening to the brook. Saw a beautiful owl in the tree outside the kitchen window. So cool!
Susan
2016-11-13T00:00:00Z
This is my second visit to Sarah's Cozy Log Cabin and it was just what the doctor ordered. While we missed peak foliage by about a week, we were still able to enjoy the serenity and peace of the location. The cabin is quaint and charming and you really have everything you need. If you are looking for a place to unplug and enjoy quality time with family, friends and loved ones, this is the perfect spot!
Elizangela
2016-10-26T00:00:00Z
Great stay and a beautiful, rustic, cabin! We enjoyed Tanglewood, York Lake, and the town of Otis during out weekend stay. The stream in the back is a lot of fun too.
deborah
2015-07-20T00:00:00Z
This is a small but well appointed cabin in the woods. It can be fun if you plan to be without Internet and tv. A great get away. We found a wonderful waterfall park where my grandkid(URL HIDDEN)could play, wade, and make rock towers. The kitchen is well appointed making cooking easy. We appreciated a selection of staples to work with. Please not the "third bedroom" is really a basement and probably only suitable for older kids. Teens might love their own couch, table and bigger space. For a grandmother it felt a bit unwelcoming.
suzanne
2016-08-01T00:00:00Z
Tipus d'habitació
Casa/pis sencers
---
Tipus de propietat
---
Capacitat
8
---
Dormitoris
Sandisfield, Massachusetts 01255, Estats Units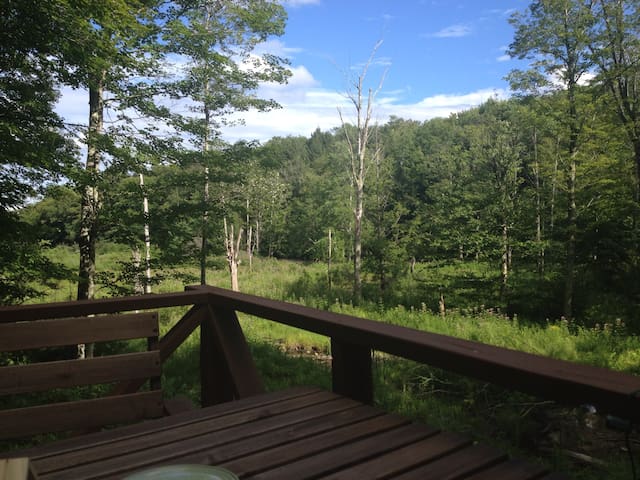 We are close to Butternut (15 minutes); Great Barrington (20 minutes) Tanglewood (40 minutes); home sits on 12 acre private (shared) pond . The house is quiet and peaceful setting. the house is on a dirt road with no through-traffic and only a few neighbors. The home is bright and airy and the wood stove keeps it warm and cozy.. My place is good for couples, business travelers (wifi), families (with kids), big groups, and furry friends (pets).
The house is quiet and cozy, with plenty of room for gathering together - both inside and out. Large kitchen with plenty of seating. Large bedrooms and lots of bright space.
The house was well equipped, spacious, cozy and beautiful! It was quiet, secluded and had lovely views of the lake. I can only imagine this place in the summer! I highly recommend this home for you, your family and friends! Oh and pets are welcome too! Win win!
Frances
2017-01-31T00:00:00Z
Lauren's house is absolutely gorgeous, and I don't think the pictures do it justice. My friends and I had a great time and Lauren was a wonderful host. The only "negative" if there was one was that the closest gas station was quite far away so just a mental note to anyone renting in the future to fill up/get essentials on your way there.
Randi
2017-03-06T00:00:00Z
The open floor plan on the middle level make it a great space for multiple families to relax and dine together, while the bedrooms and bathrooms on the upper and lower floors make sleeping arrangements very separate and comfortable. Very adult, kid and pet friendly!
Kate
2017-02-27T00:00:00Z
I stayed here with a few of friends, it is a beautiful house in a beautiful area. Very spacious and comfortable.
Sara
2017-02-06T00:00:00Z
Tipus d'habitació
Casa/pis sencers
---
Tipus de propietat
---
Capacitat
10
---
Dormitoris
Sandisfield, Massachusetts 01255, Estats Units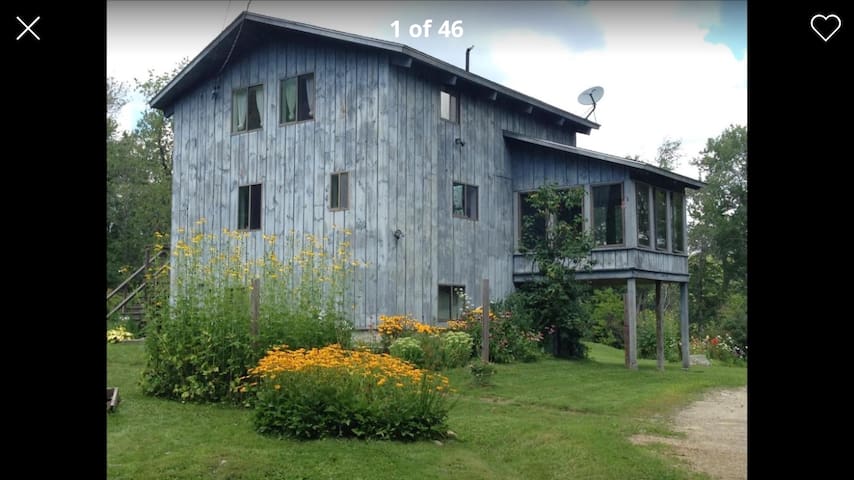 Enjoy a rustic wooded retreat surrounded by nature and wildlife, in a quiet, secluded and peaceful setting, yet close to many cultural and recreational attractions.
Surrounded by woods, nature and wildlife, a rustic and cozy house in a secluded and peaceful setting in rural Sandisfield, Massachusetts, yet close to first-class restaurants, museums, theater and shopping. Enjoy clean air, quiet, and a healthy and allergen-free environment to soothe your soul and refresh your senses.
Situated between Sandisfield and Otis State Forests, surrounded by nature, serene and quiet, no traffic yet only 25 min. to Tanglewood, Norman Rockwell Museum, Kripalu Yoga retreat, Catamount ski and snowboard resort; 20 min. to Great Barrington (named "Best Small Town in America" by Smithsonian mag) and Lee; 15 min. to Jacob's Pillow, Butternut Ski Area, concerts, theater, Appalachian Trail, swimming, craft fairs, farmers' markets and much more! Great breakfast & lunch at the nearby Monterey General Store and the Roadside Cafe; many excellent dinner choices in Great Barrington & Lee - ask us for recommendations!
What a wonderful stay! The mountains were spectacular. George an Annallee were the best hosts. Wonderful breakfast and very accommodating. Great people and so glad to have met them and got to know them. A must stay. I will certainly come back next time I'm in the area.
Clay
2016-07-12T00:00:00Z
We had a wonderful time at George's, his home is lovely and we loved the french toast breakfast.
Amelia
2016-10-13T00:00:00Z
George and Annalee were wonderful hosts and very friendly. They gave us some excellent advice for restaurants to stop at in or near Lee. Breakfasts were lovely - blueberry pancakes one day and eggs and bagels the next. They had family visiting while we were there and we had some time to chat and find out about them and the area. They had local tourist maps that were very useful and also gave us directions to a local goat farm where we bought fresh cheese!
Maria
2015-07-26T00:00:00Z
Jeg og min ektefelle overnattet to netter hos George og Annalee mens vi deltok på et helgekurs i Kripalu Yoga Center. De er to søte, varme og flotte mennesker, som tok seg svært godt av oss. Vi kom litt sent på kvelden og dro tidlig hver morgen, men skulle gjerne ha tilbragt mer tid sammen med dem. For oss var det viktig med stillhet for å kunne sove godt. Det var svært stille, både i og utenfor huset. Vi sov sjeldent godt, helt uten forstyrrelser fra husets andre beboere. Vi vil varmt anbefale dette stedet!
Svein
2016-10-19T00:00:00Z
My stay at George and his wife place was one of our best experiences at ABB. Both were so helpful in every aspect offered a breakfast that meets our dietary needs without us informing ahead of time. They pointed us to a few unique places in the neighborhood. We will definitely will visit them again soon.
Bez
2016-10-09T00:00:00Z
George and Annalee provided the perfect woodland getaway. Surroundings are beautiful, the house is warm and welcoming, and hosts are gracious, easygoing, wonderful people. We highly recommend this Airbnb!
Katie
2016-09-05T00:00:00Z
Excellent host and human being. Recommended!
Sonia
2016-07-22T00:00:00Z
I really loved this room and suggestions what host gave me. The house, including the room where I stayed is very clean and cozy enough to take a rest. Also breakfast was very nice. The area around the house is good to enjoy the nature and wildlife. Definitely I am going to visit and meet George and Annalee again in summer.
Seolhee
2017-02-22T00:00:00Z
Tipus d'habitació
Habitació privada
---
Tipus de propietat
---
Capacitat
4
---
Dormitoris
Sandisfield, Massachusetts 01245, Estats Units
Hand-built cabin at the very end of a private road in the middle of a spectacular New England hardwood forest. Perched high in the trees the cabin has a large wrap-around deck and beautiful Rumford fireplace -- it is a uniquely peaceful setting.
This secluded cabin is nestled into 45-acres of completely private woodlands. The cabin sits at the very end of a private road so you may not see another person for days. The only sound you'll hear is wind blowing through trees. Without tv or internet you'll be able to unplug completely (although if you're addicted there is good cell-phone reception at the cabin and the town library's wifi works from the parking lot and is on 24-hrs a day!) The cabin was hand-built 30 years ago and is truly unique. It is perched high in the trees on the ridge of Long Mountain in Otis which is spectacular in every season. The private road begins at Hayes Pond which is an easy walk from the cabin. The pond is a peaceful swimming spot (no motor boats) and we keep a canoe and a kayak on the shore for your use. The cabin has an open floor plan that radiates around a Rumford fireplace which is the perfect spot to read and relax. On the first floor there is an open kitchen/dining/living area, a full-bathroom, and a cozy private bedroom with a queen-size bed. The second floor is a sleeping loft (centered around the chimney of the fireplace) with a full-size bed and two twin beds with screens for privacy. It has a steeped roof, which makes you feel like you're sleeping in a tree house. The basement has a half-bath, full laundry room, wood-stove, dart board and a full-sized ping-pong table!
Our cabin is a vacation home that we searched for over three years. Our primary search criteria were: privacy, nature, and solitude. We found this property to be unique in its remoteness within its proximity to NYC and Boston.
This was absolutely the most amazing house that I have been to. Everything was prepared and ready for us, and we were so impressed with how perfect the house was. The access to the boats was perfect, and the general set up of the house was great for our weekend away. I honestly couldn't ask for more. Waking up and having a coffee on the deck will be a long lasting memory. The wildlife at night was great entertainment, and we even saw a baby porcupine! Such a great trip, and we will hopefully be back in the near future.
Ashley
2015-08-10T00:00:00Z
The cabin was beautiful -- just the right amount of remote, with all the best comforts of a home and nothing extraneous. It was a beautifully designed space, and within easy striking distance of local hikes and MASS MoCA. An ideal location for friends coming in from CT, MA, and NYC. A great semi-primitive but comfortable alternative to the sub-development, leather couch, big-screen tv vacation homes you see so often described as cabins.
Ian
2014-11-07T00:00:00Z
Such a sweet place! We had 6 people stay for a wedding weekend and it was absolutely perfect. Beautiful and serene. Thanks Mike!
Samuel
2015-09-21T00:00:00Z
An absolutely beautiful property in an idyllic setting. Simple, rustic, stylish charm with all the amenities of home. Even with the electricity and running water and fresh comfy linens, it still has a true woodsy cabin feeling which was just lovely and nostalgic for us. Our 3 year old loved everything about it. Excellent peace and quiet for us nature lovers. The pond was perfect for summer swimming! We would love to come back again. Thank you!
sam
2016-08-10T00:00:00Z
Michael is an awesome host! He left clear directions to his cabin as well as a list of useful information regarding things to do around the town and on the property. Michael made sure we were happy with the place and was prompt with answers to any questions we had about the listing. The cabin sits in the middle of the woods with a deck that's perfect for enjoying nature. On our stay my husband and I watched birds, heard owls, and even saw two weasels playing! On the property there's a pond that's great for canoeing/kayaking. The cabin is incredibly beautiful, clean, and so relaxing. It's a great place to come unwind and unplug. Can't wait to come back!
Elizabeth
2016-06-21T00:00:00Z
This cabin was a perfect place to get together with a group of friends. While the road leading up to the cabin is a little rough, our sporty cars made it just fine. The cabin is nicely secluded with a lovely porch, working fireplace (and wood to go with it), functional kitchen (stove/oven, fridge, all essential utensils/dishware). The sleeping arrangements are quite flexible (4 beds plus extra sleeping surfaces). The interior of the cabin has lots of exposed beams. The host did an excellent job of sharing information leading up to the booking and describing where everything was (via a note on the counter) once there. Highly recommended!
Brian
2015-07-02T00:00:00Z
This was the second time we stayed at Michael's beautiful cabin in MA and was not disappointed at all! We had a great time and each season seems to have it's own specialties. Michael is a great host and provides everything you need. We'd love to come back in the fall again.
Ghazaal
2015-06-01T00:00:00Z
This cabin and the property around it provided a wonderful 'fall break'. We're from a fairly small town also in western Massachusetts, and our city friends think we already live 'away from it all,' but that's nothing compared to the splendid isolation of this cabin, surrounded by mixed forest blazing with color at this time of year ( mid-October). Yet it's also within an easy drive from many great walks and hikes, as well as the attractions of towns such as Great Barrington and Stockbridge. The cabin was clean, comfortable, and outfitted with everything we needed. It's hard to find anything about it that's short of perfection - maybe since we know about wood heat because our home is heated partly with wood, I could mention that the wood provided for burning (the main way the cabin is heated) wasn't the greatest quality, but with care we were able to get fires going. We highly recommend this property.
Stephen
2015-10-14T00:00:00Z
Tipus d'habitació
Casa/pis sencers
---
Tipus de propietat
---
Capacitat
6
---
Dormitoris
Otis, Massachusetts 01253, Estats Units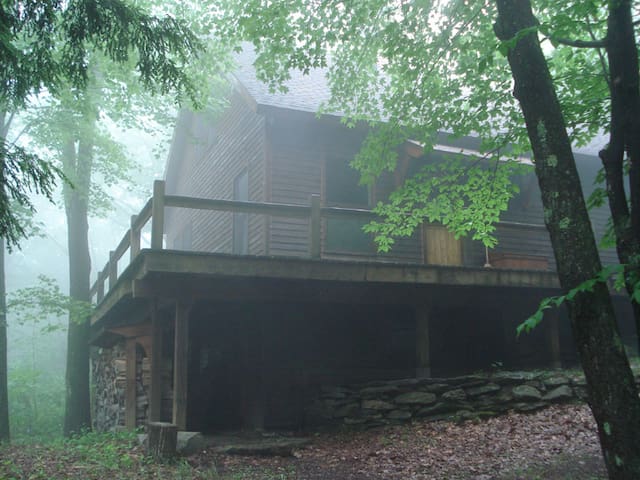 Enjoy a rustic wooded retreat surrounded by nature and wildlife, in a quiet, secluded and peaceful setting, yet close to many cultural and recreational attractions.
Surrounded by woods, nature and wildlife, a rustic and cozy house in a secluded and peaceful setting in rural Sandisfield, Massachusetts, yet close to first-class restaurants, museums, theater and shopping. Enjoy clean air, quiet, and a healthy and allergen-free environment to soothe your soul and refresh your senses.
Situated between Sandisfield and Otis State Forests, surrounded by nature, serene and quiet, no traffic yet only 30 min. to Tanglewood, Norman Rockwell Museum, Kripalu Yoga retreat, Catamount ski and snowboard resort; 20 min. to Great Barrington (named "Best Small Town in America" by Smithsonian mag) and to Lee; 15 min. to Jacob's Pillow, Butternut Ski Area, concerts, theater, Appalachian Trail, swimming, craft fairs, farmers' markets and much more!
Definitely in the Berkshire woods, and away from all the rush and fuss. Beautiful wildlife (George showed me a picture of a bobcat who visited last winter with all the snow). I saw many hummingbirds at their feeder all at once! Downside is mosquitoes. Very humid. George is a natural-born host. Annalee is lovely, and we met a granddaughter. First morning wild blueberry pancakes sitting altogether family style. Yum!
Carol
2014-08-09T00:00:00Z
George and Annalee were gracious and generous hosts during our brief stay in their quiet corner of the southern Berkshires. They were extremely welcoming when we arrived at their cabin and quickly made us feel like we were visiting a favorite set of relatives rather than staying with strangers. They were happy to offer recommendations -- all of which we followed, to great success -- and we ended up spending a lot of time chatting with them. Their cabin is very neat and homey with a wood-burning stove and antiques furniture everywhere. The property itself is tucked away down a long dirt road in Sandisfield, but is a quick drive from the restaurants and shops of Great Barrington. We would love to stay with them again and plan to stay in touch.
Claire
2012-05-01T00:00:00Z
The house was rustic in a very quiet location - latches instead of door knobs and the front door never locked. The hosts are erudite but down-to-earth. They were wonderfully friendly, warm and helpful. They felt more like friends than just business connections .
John
2015-07-28T00:00:00Z
My girlfriend and I quite enjoyed our stay! The location is remote and tranquil, just what the doctor ordered. George was very accommodating and informative, and was a pleasure in conversation. We'd definitely return(URL HIDDEN)
Clinton
2014-07-01T00:00:00Z
George and Annalee are fantastic hosts. They go out of their way to make guests feel comfortable and accommodated. The fresh breakfast they served up was great, and their interest in getting to know their guests is genuine and refreshing. The space is ideal for those looking to get away from it all for a spell. Beautiful old home in back woods Berkshire country, the home is large yet cozy with plenty of unique features. Great for relaxation any time of the year. Really enjoyed my stay, would be absolutely happy to stay with them again.
Brent
2016-09-24T00:00:00Z
The 3 days at George and Annalee were amazing. The two are so wonderful people. The House is also great. Its deep in the woods :-) We had our own clean bathroom and the breakfast was delicious. They gave us many great advices and were very helpful. We had enjoyable conversations and a great time together. Thank you for everything!
Milena
2012-09-09T00:00:00Z
A great place to stay in the Berkshires! Breakfast was great as well. A quiet, comfortable stay.
Charlie
2016-10-16T00:00:00Z
George and Annalee were incredibly kind and generous hosts. They made us feel so welcome in their beautiful home, and I would highly recommend them to anyone looking for a peaceful stay in the Berkshires!
Tina
2016-07-19T00:00:00Z
Tipus d'habitació
Habitació privada
---
Tipus de propietat
---
Capacitat
4
---
Dormitoris
Sandisfield, Massachusetts 01255, Estats Units
Peaceful, quiet location on a dead-end road, overlooking trees, open meadow and with views of the Berkshire hills. On two acres. The house is bright, sunny, and spacious with screened-in deck and grill perfect for outdoor dining. Great for kids.
Downstairs is the fully-equipped kitchen; open living area with couch, love seat, wood-burning fireplace, bookshelves; dining area with large farmhouse table and views of the mountains; spacious half bath; and large deck (half screened in and half open) that runs the length of the house with gas grill, table, chairs, and swinging love seat. Upstairs is the large master bedroom with king-sized bed and en suite bathroom; second bedroom with queen-sized bed and skylight; and third bedroom with twin-sized bed and pullout sofa; and another full bath. All of the bedrooms have ceiling fans and cedar closets; both baths have skylights. The house is great for kids (high chair, baby baths, step stools, stroller, beach toys and towels, books, etc.).
Nearby are dozens of lakes for swimming; walking and hiking trails; state parks with swimming, canoeing, picnicking; and of course all the cultural activities and historic sites of the Berkshires.
We had a lovely time in Melissa's home in Otis, MA! The home is in a quiet area looking over trees and fields and hills. We were visited by deer and turkeys and birdsong and butterflies! The place is quite comfortable and nicely furnished for a family vacation. We had fans to keep us cool and lots of windows to enjoy the view. Melissa is a great host and answered my questions immediately; many thanks for that!
Suzanne
2016-07-24T00:00:00Z
Tipus d'habitació
Casa/pis sencers
---
Tipus de propietat
---
Capacitat
8
---
Dormitoris
Otis, Massachusetts 01253, Estats Units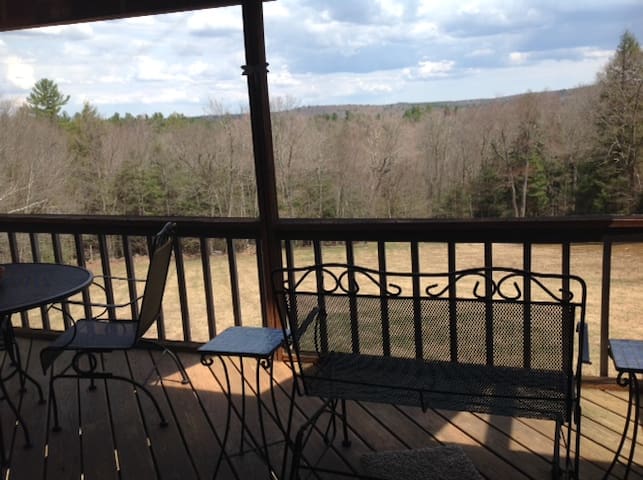 This is a beautiful 5 bedroom Berkshire, post & beam private house nestled in the woods just off the Appalachian trail. Perfect for winter skiing & hiking 5 mins drive to the beautiful local village store & 12 min drive to Butternut Family ski mountain & the Historic town of Great Barrington with local shops & farmers market. Kayaking, fishing, swimming & summer outdoor concerts for Spring & Summer.
The large comfortable house has 5 bedrooms able to sleep up to 12 with a private room downstairs with its own WC and living area. A large wood burning stove, excellent kitchen appliances, outdoor grill, dining areas with deck dining, screened porch dining and large lawned garden with table to fit 8+ with an extra table to fit up to 12. There's a fire pit for smores too! It's very family friendly with a safe garden, swings, toys & books for kids. The house was built in 2006 and has excellent insulation - Heated by Nest, its very well insulated, warm in winter, stays very cool in summer. The famous Tanglewood and Jacobs Pillow are within 25 minutes and the area is rich in entertainment for all ages and very family friendly. The Appalachian trail is only a 10 min drive too if you fancy a long walk. Even though you feel completely in the wilderness, this house is only 5 minutes to the local village with a general store selling local produce and 12 minutes drive from the wonderful family friendly ski mountain of Butternut. Rental Ski equipment store onsite and w/e pass available. Historic Great Barrington is only 20 minutes drive with many excellent local restaurants and shops + local food stores. A Guidos, an organic co-op and Big Y's are within 20 mins drive for all your grocery needs. The house has 5 bedrooms and beds for 10 people, 1 master bedroom with a king bed , 2 bedrooms in Family room with queen beds and 2 other bedrooms with 2 twin beds in each room. Additionally there are 2 twin air beds + 1 queen bed for extra people to stay in either room. There's also a wooden crib and Pack & Play for babies. Accommodating up to 12 people comfortably. As the house was built in 2006, it's extremely well insulated, it's kept very warm in winter and cool in summer. A cathedral living room with windows up to the 30 foot ceiling, an English farm house dinning table seating up to 8, a large comfortable L-shaped sofa and a large Danish leather sofa. A wood burning stove opens to the living room as well as a spacious well equipped kitchen with Whirlpool fridge/freezer and Bosch dishwasher. Two bathrooms one with a roll top bath and two showers plus a guest toilet. There is also a large screened porch with deck chairs for summer dining and entertainment. Downstairs is a private 700 sq ft family room which opens onto the garden; with two separate bedrooms with queen size beds and a separate living room with original Danish furniture. One bedroom has its own third toilet. This is a great family area. Early Check in and Late Check out on request.
Although you have ample privacy, you're only 5 mins to the village with a local store, library & post office. Plus the local swimming lake with sandy beach and life guards. There's loads to do in this area all year round.
I love this house. If you are looking for a peaceful getaway surrounded by nature, this place is ideal. The house is immaculate and very spacious. The common spaces are very welcoming and comfortable. Our host, Richard, was always very helpful and answered all of our inquires swiftly and thoroughly. I would definitely love to rent this home again.
Marcos
2016-11-20T00:00:00Z
Richard was a wonderful host; helpful and responsive with questions about the area, activities and the house which was beautifully prepared with everything we needed upon arrival (even a lovely bottle of wine and thoughtful gift basket). The house itself is very spacious yet cozy; beautifully decorated. The open layout makes for a perfect family getaway as the kitchen (a pleasure!) looks over the dining and living room which is a wonderful place to play games or just relax by the fire. This is a wonderful house for children. So many games, toys and a treasure trove of books. My son loved it and we are already looking forward to a return visit as this place clearly holds something special for every season.
Lisa
2015-12-23T00:00:00Z
My friends and I stayed at Richard's home for 4 nights. The setting was beautiful and secluded. I have a 2 year old and my friend's daughter is 1. The girls loved all the toys and books! It was reassuring that the stairs were protected with gates. Many outdoor toys as well for the grown ups: trampoline, swings and hammocks. The kitchen was fully stocked with every pot and pan you could need. We cooked many large meals for 8 and there was plenty of dishes. Even though we had 2 kids and 8 adults, the house still felt roomy. We made use of the pack-n-play and highchair that they had as well which was very convenient. The house was very clean which was appreciated. We would definitely stay here again, it was beautiful! Instructions were easy getting into the house, so we never needed to reach out to Richard. Thanks again for a lovely stay!
Jill
2015-10-12T00:00:00Z
We had an incredible stay at Richard's house in the Berkshires. The house was clean, welcoming and beautifully decorated. We had everything we need, and Richard's instructions made it very easy to find the house, get in, and get settled. House is even better than the photos. I'm hoping to return soon!
Isaac
2015-12-13T00:00:00Z
Had a great time at Richard's home. It was PERFECT for toddlers/young children- they couldn't get enough of the trampoline and screened in porch full of kiddo toys. The location was beautiful as was the house. Richard was available for questions anytime- a wonderful visit.
Richard
2015-06-11T00:00:00Z
We can't say enough good things about Richard's home. It is immediately cozy and comfortable. Plenty of space to stretch out, a large kitchen to group cook in and plenty of comfy beds. His communication is great. I heard "this place is wonderful" more then once over the weekend from our group. The location is perfect. Far enough into the woods to feel alone, yet close to restaurants and stores for anything we needed. We didn't need much, as the house is furnished with so many extras including a great book selection. Richard also left us a wonderful gift basket of wine and munchies, too. Although it was a bit to chilly to be out at night, we made sure to see the stars both evenings before settling in front of the wood stove. We are already planning to come back and stay again as this was a relatively short drive from NYC and very easy to access. Many thanks, Richard. We had a happy visit. Thanks for opening up your home.
Kathy
2016-11-10T00:00:00Z
We had a great stay at this beautiful house in Monterey. Hope to make it back there some day. The house was perfect for our family. Richard communicated all necessary information in a timely fashion. The house was tidy and perfectly located in the mountains, with easy access to the lake. A total gem.
Justin
2014-06-30T00:00:00Z
This house was the perfect setting for a retreat for my small company. Plenty of open space to all gather in, the kitchen was large enough to allow several people to cook at once, and even with a large group we didn't feel crammed into beds. It was very cozy, even in the snow. I can't think of anything I would have changed.
Megan
2016-10-31T00:00:00Z
Tipus d'habitació
Casa/pis sencers
---
Tipus de propietat
---
Capacitat
12
---
Dormitoris
Monterrey, Massachusetts 01245, Estats Units
Gorgeous, southwestern decor, light filled home with fireplace, tucked into the woods on the Otis/Monterey border - Easy access to Butternut and Otis Family Friendly Ski Areas. Fabulous air, quiet, beautiful snow covered land, and 1 acre fenced in, could accommodate 1 dog - depends on whether I will be home or not the weekend the guest is requestin. Close to Great Barrington, Lenox or Pittsfield for theatre, music, great restaurants, winter activities and dirt road walking in the back country.
Beautiful, private spacious bedroom with queen bed. I also have a 2nd guest bedroom with two twins. Rent one or both (see other listing) - perfect for one couple or one couple w/ two children or for three or four friends traveling together. This home is filled with light and great energy. I will be here to greet you and help you navigate the area. The location is within easy access of all the great things the Berkshires have to offer in the winter. Note: The actual address of this listing is 11 Jamie Lane, Monterey. The AirB&B site would not accept the address because it is on a private road and not listed. The address given is at the corner of Jamie Lane and #23 (Monterey Road).
This is a small private association (Country Circle) of about 10 homes and a mix of 2nd home owners and locals. We are in the Berkshire Mountains and have hawks, owls, bears, possum, fox, coyote, bobcats, and various wildlife in the area. The homes are all beautifully situated on several acres each - but close enough to create a feeling of community. Everyone keeps an eye on everyone else - our neighbors are just great. Next door and across the street are 2nd home owners from Boston and NewYork. And also across the street are long time locals who can help with any emergency. 4 or 5 of my favorite restaurants are in Great Barrington - Prarie Whale, Castle Street Cafe, Bizen Cantina 229, and others
Sunny went above and beyond to make us feel very welcome, from helping us find the home when out gps stopped working, to asking about any dietary restrictions, and providing delicious cookies, granola and fresh eggs. Her home is absolutely beautiful, with lovely smells and unique and beautiful decor accents and sparklingly clean. My husband and I fell in love with Sunny's 2 very well behaved and fun loving huskies, and we miss them already!
Maria
2016-09-05T00:00:00Z
Exceptional stay on all levels. Beautiful house, scenic location, close to Great Barrington, Tanglewood, hiking and nature. Welcoming, accommodating host. Thank you!
Corina
2016-07-07T00:00:00Z
Tipus d'habitació
Habitació privada
---
Tipus de propietat
---
Capacitat
2
---
Dormitoris
Monterrey, Massachusetts 01245, Estats Units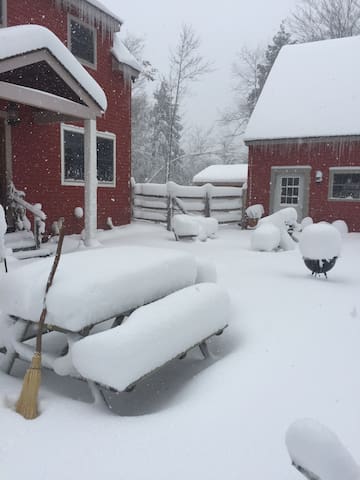 This is a wonderfully "rustic" setting but, once inside, that is where the rustic elements end! This home boasts high end appliances and kitchen accessories, clean fresh sheets with down comforters, flat screen TVs, and so much more...
A beautiful rustic house with great amenities and easy access to Lake Garfield (lake access included). 10 Minutes from Butternut Ski area and Great Barrington, Ma. Upstairs you have another master suite: a lovely tucked away loft with proper closing door, king bed and full bath with shower. The lower ground floor level, which has doors that take you outside, has two twin beds, and a queen sleeper sofa. This is an easy area, greats for kids, but well appointed for adults too. Outside You will find a twisty driveway – we recommend, minimally, a front wheel drive vehicle for winter stays – leading you to this woodsy setting.
Great private woodsy location with truly stunning views of the lake. We really enjoyed the comfortable main floor living area and found the third floor suite very cozy. Will left us a bottle of wine at arrival and was available to answer my questions leading up to our stay. Beds and linens were very nice, as well the kitchen had ample "staples" like coffee filters, spices, etc. The only bad thing about the house - members of our group were really sensitive to the musty odor in the basement. It didn't ultimately effect us much because we didn't need to use the beds or living space in the basement.
Anne
2015-11-10T00:00:00Z
The house was exactly what we wanted. We had a group of 7 women, getting out of the city for a long weekend and lots of R&R. Will welcomed us with a nice note and bottle of red wine. The deck is great -- we grilled every night and enjoyed the view of the lake every morning and evening. It's an easy drive to the Great Barrington Farmer's Market and town.
Annie
2015-06-02T00:00:00Z
We loved the house - it was just as described and had beautiful views of the Lake. We enjoyed the summer air but I think it would be just as cosy in the wintertime. Only drawback is the lack of a garden/lawn - a consideration if you have kids along but the surrounding trails and towns are more than enough entertainment for kids. Monterey is an adorable town and Great Barrington is certainly worth the 15-min drive! We had a great experience and would highly recommend the house!
Karoline
2015-07-30T00:00:00Z
A lovely, comfortable home in a beautiful setting. The house is well furnished with comfortable beds, living room furniture, appliances and supplies. We especially enjoyed hanging out on the deck and grilling our meals. Monterey is a really charming little town with a town beach on Lake Garfield a 5 minute drive away. Will responded promptly to all communications.
Andrea
2016-07-13T00:00:00Z
We stayed here with a group of 8 college friends over New Year's for a skiing weekend. The home is lovely, views are amazing, and the price was great for a group of young folks. Will is a super responsive and flexible host, including letting us have a late checkout on short notice. We had a great time!
Ethan
2017-01-03T00:00:00Z
The view was spectacular, the house was very clean and comfortable and Will was very responsive. We loved being in Monterey.
Minette
2015-08-13T00:00:00Z
We had a wonderful stay!! The house is just as its described. Nice, clean and well appointed. We were all very comfortable with plenty of beds and living space. The view is to die for and we were lucky to see a firework show for Labor Day dead center from the balcony! The grill works great and the kitchen is well stocked with all the items you'd need - we cooked all of our meals. We enjoyed going to the local Monterey Market - very cute spot. The "beach" at the lake is quaint and perfect for an afternoon of lounging. There is ample parking and it's only about 3-4 minutes from the house by car. We loved the fire pit out back! We spent 3 nights enjoying the stars. It gave you that intimate campfire feeling, s'mores and all, but the comfort of heading back inside for a wonderful nights sleep. Overall we loved the house and would recommend it to anyone looking for a nice, relaxing weekend away! We're already thinking about when we can return!
Jordan
2015-09-09T00:00:00Z
Tipus d'habitació
Casa/pis sencers
---
Tipus de propietat
---
Capacitat
10
---
Dormitoris
Monterrey, Massachusetts 01245, Estats Units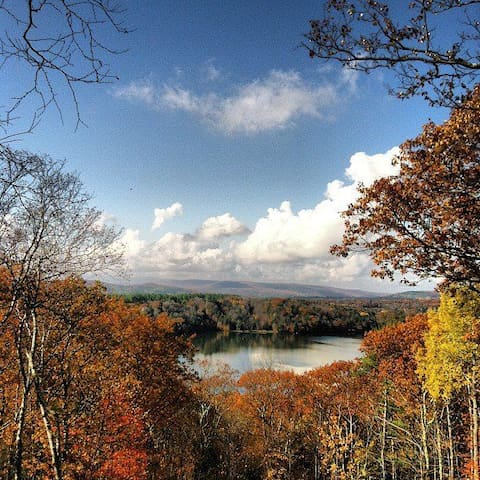 Spend a spectacular weekend in snow country (Monterey) for skiing, snowshoeing, back country road walking, breathing, doing yoga, or eating at any of our fabulous farm to table restaurants. All in the nearby Berkshires. Fabulous air, quiet, beautiful winter light and snow covered land, 1 acre fenced in, one dog could be accommodated, depends. Close to Butternut Ski area and Otis Family Ski Great Barrington, Lenox or Pittsfield for dining, theatre, and music.
Beautiful, clean, new, comfortable home with tons of huge windows, open floor plan, bright colors, spacious rooms, chef's kitchen, dining table for 8, comfortable flax colored linen sectional sofa, indoor plants, humidifiers, healthy, clean air, plenty of O2, stretch out and relax - southwestern decor
Beautiful neighborhood with lots of privacy and space (every house is on a couple acres) but a friendly vibe with some 2nd home owners and some year round residents. Jamie Lane is a circle drive, Country Circle Association with acres of space and woods and a strong feel of the mountains.
Everything about our stay at Sunny's place was exceptional. Her house is beautiful, tranquil and restful, her garden colorful and relaxing. Communication before our trip was easy and once we met Sunny, we had a great time talking and relaxing as if at an old friend's house. Thank you for the great hospitality, we will be back!
Corina
2016-07-07T00:00:00Z
The house was beautiful and the nicest kitchen I have ever had the pleasure of using. Time went quickly as the hostess suggested places to visit and other things to do. I was nervous about a bear that I encountered not only on my bike ride the first night, but a bear was physically at her front door the next day, too. She showed me a video, which exacerbated my anxiety. It was the most money per night for a Stay and I found the accommodations were worth it-except for the bear
Andrea
2016-07-07T00:00:00Z
Our visit with Sunny was WONDERFUL. She is so gracious and welcoming and her home is gorgeous. The peaceful quiet of the woods was exactly what we were looking for. But don't worry about being too far off the beaten path - the proximity to great things to do, like see dance at Jacob's Pillow Dance Festival (why we were in town) and browse the lovely shops in Great Barrington (where we spent too much money) was perfect. We loved going downstairs to pet her beautiful and friendly dog Wolfie, and we were really thankful for the fresh cut organic fruit, homemade granola and delicious coffee in the mornings. She is a kind and happy host, and everything was comfortable and clean. Thank you for a great stay!!
Amy
2016-07-11T00:00:00Z
Tipus d'habitació
Habitació privada
---
Tipus de propietat
---
Capacitat
2
---
Dormitoris
Monterrey, Massachusetts 01245, Estats Units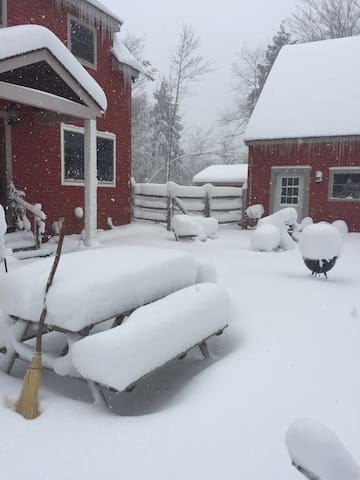 Location: Near Tanglewood, all the Concerts in Lenox, Stockbridge, etc. / ca 12 miles from Great Barrington and Lee,, with many restaurants, shops, movies, food stores, etc. Ambiance: although not far from the lake and Hupi Road, the house feels totally isolated, sitting on a knoll surrounded by woods, pine forests, streams, etc. My place is good for couples, solo adventurers, business travelers, families (with kids), and furry friends (pets).
Karl's place in the Berkshires was a wonderful, quiet retreat. It made a great meet up spot in between New York and Boston. It was a perfect cozy house with a fire place in the living room and luxurious king sized Temperpedic bed in the master bedroom. Karl was very friendly, hospitable, and available.
Noah
2016-11-17T00:00:00Z
Karl's home is homey and rustic - lovely for a getaway from the city. I especially loved the wood burning stove and the serenity - he's close enough to help but at the same time the home is private. Loved that Karl is very well organized; had no questions on where to find things we needed. Beautiful property and I'm sure its absolutely glorious in the warmer months!
Naomi
2017-01-29T00:00:00Z
Wonderful stay! Loved Karl and the beautiful home. An ideal location. We'd love to come back!
Lina
2016-11-30T00:00:00Z
Tipus d'habitació
Casa/pis sencers
---
Tipus de propietat
---
Capacitat
8
---
Dormitoris
Monterrey, Massachusetts 01245, Estats Units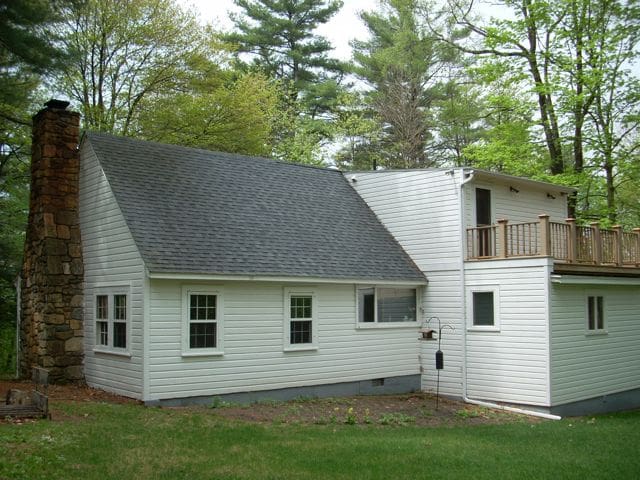 This lakefront private wooded retreat includes a private dock for swimming and boating, kayaks and canoes, and a community tennis court. It is easily accessible to Tanglewood, Jacobs Pillow, the Norman Rockwell Museum, and many other attractions.
Get away from it all at our beautiful Berkshire lakefront wooded retreat. Swim, canoe, kayak, sunbathe, play tennis during the day, then enjoy the evening a short drive away at Tanglewood, Jacobs Pillow, or perhaps go to the movies in Great Barrington. Have dinner at the Red Lion Inn, or one of the fabulous restaurants nearby, or have it at home as you watch the sun set over the lake. This private, modernized, 5 bedroom cottage consists of two floors. The upper floor has a full kitchen (includes a dishwasher), a large great room with a dining and living area, featuring a beamed cathedral ceiling, skylights, a dramatic fireplace, and an entertainment area with a wide screen TV. The dining room table seats eight and overlooks the lake. A screened porch overlooking the lake extends off of the dining area. An open porch overlooking the lake extends off the living room area. The master bedroom, with a study area and a king bed (can be separated into two twin beds), and one full bath are on this floor. Downstairs, three bedrooms (one with a queen bed, one with two twin beds and one with one twin bed) have lake views. The fourth bedroom, with two twin beds, also has a couch which can double as a queen bed. A full bathroom and a utility room with a washer and dryer are on this floor. The middle bedroom has large sliding glass doors which open to a large patio area with a garden, lawn chairs, a charcoal BBQ Grill and two picnic tables. A flight of half-steps (constructed for a gentleman who had just had a knee replacement) leads to the dock and the lake. Two canoes and two kayaks come with this rental. Lake Garfield is managed for weed control (the water is lowered each winter to kill off the weeds) so the water is one of the the clearest in Massachusetts. A magical lakeside retreat with all the comforts of home and easily accessible to the world-renowned art, culture, dining, and entertainment of the Berkshire hills. Look forward to a memorable vacation.
Monterey is a small town but definitely check out the General Store. Not only does it have groceries and supplies, it has wonderful baked goods (be sure to get their pies) and a nice menu for sit-down or take away breakfasts and lunches. Also check out the Roadside Inn and the bakery at Gould Farm. The best part about the location, however, is its easy access to the culture, restaurants, arts and entertainment of the Berkshires. Of course go to Tanglewood (we get lawn tickets and bring along a picnic), Jacobs Pillow, Shakespeare and Co., and the Norman Rockwell Museum. Check out Edith Wharton's The Mount. Have a drink on the porch at the Red Lion Inn in Stockbridge and dinner in the outside patio. Or have drinks and dinner at one of the "Mansions", or in one of the gourmet restaurants in Great Barrington and Lenox. Then when you have sufficiently splurged, take a hike or bike trip. We particularly like the trails on October Mountain. The offerings in the area are endless. You will never be bored.
Tipus d'habitació
Casa/pis sencers
---
Tipus de propietat
---
Capacitat
6
---
Dormitoris
Monterrey, Massachusetts 01245, Estats Units
Renovated Charming Berkshire Lake house with dock on Lake Garfield. 10 Minutes to Butternut Skiing, Great Barrington, & Lee Outlet Center. House fully equipped with Wifi, DirectTV, Games, Bikes, and a fully stocked kitchen. 25 minutes to Tanglewood.
Tipus d'habitació
Casa/pis sencers
---
Tipus de propietat
---
Capacitat
10
---
Dormitoris
Monterrey, Massachusetts 01245, Estats Units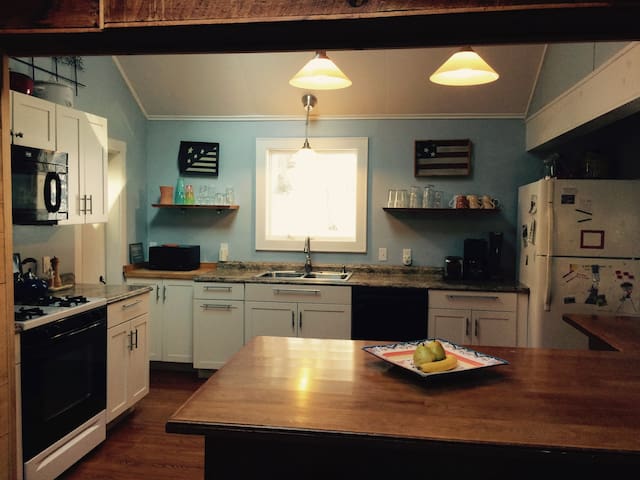 Introdueix les dates per veure el preu total. S'aplicaran tarifes addicionals. És possible que també s'apliquin impostos.