Més de 300 lloguers d'apartaments
The apartment is in the centre of Ognio village, (municipality of Neirone ). It's just off the main church square and is very near to the historical " Trattoria da Pippo", famous for its typical Genoese cuisine. As it's up in the hills a car is indispensable.
The apartment is on the ground floor, it's cosy and can comfortably sleep 4 people, ( 2 adults + 2 children ), there is a double bedroom with a king-size double bed and a single room with 2 bunk beds. There is a living room with dining area and fully fitted kitchen, bathroom with shower, a small private patio area, a washing machine and internet wi-fi. There is no private parking, but free parking is available in the main square or on the road nearby.
The nice thing about Ognio is that it's in a sunny location in the hills directly behind the promontory of "Portofino " and the "Golfo del Tigullio". The climate is temperate in the Val Fontanabuona. The vegatation is lush and the natural beauty of the area is uncontaminated, with frequent sightings of wild boar, deer and other small animals. This valley is one of the most important in the province of Genoa for the excavation of slate rock and there are numerous quarries (le Cave di ardesia) in the Val Fontanabuona. Ognio village is very small, with just a church, post office, primary school and restaurant. The nearest small town is Gattorna just a 15 minute drive in the car (8 km) where you can find supermarkets, chemists, banks and small shops. The main reference town is Chiavari, the city is Genova ( 30 km). Having a car is indispensable to get around as buses are few and far between! Day trips to the beaches by car. Sestri Levante - 39 km - 53 mins. Camogli - 26km - 45 mins. Recco - 24km - 42 mins. Sori - 23km - 43 mins. Chiavari - 30 km - 45 mins. Rapallo - 31.5 km - 53 mins. Santa Margherita Ligure - 34 km - 62 mins Portofino - 41 km - 71 mins.
Amazing place! Ognio is small village, but beautiful. Apartment is very well equipped, clean. Our host - Anna's mother - great woman!! Thank You for all advices :))
Angelika
2016-06-05T00:00:00Z
Wir haben uns sehr wohlgefühlt in der kleinen, hellen, gemütlichen Wohnung. Sie war angenehm kühl trotz hohen Temperaturen. Im Mittelpunkt eines typisch lebendigen, ligurischen Bergdorfes sind wir sehr herzlich aufgenommen worden. Die Mama von Anna ist sehr hilfsbereit und freundlich, wir hatten sehr nette Gespräche auf englisch. Sie hat uns auch manchen Tipp gegeben für Umgebung und Lokale. Wir hatten eine sehr schöne Zeit in Ligurien. Vielen Dank Anna und Mama Manuela und Peter
Manuela
2015-09-10T00:00:00Z
A very restful couple of days spent in Anna's very cozy apartment in Ognio - a traditional village set high in the hills just outside of Genoa. We had the pleasure of Anna's mum as our host - she is a wonderful fun loving lady who has a genuine desire to share the joys of her beloved Liguria and speaks perfect English having spent many years living in England.
Matt
2016-04-03T00:00:00Z
Две недели провели в замечательном месте: Liguria Sea and Mountains. Действительно и море, и горы. Описывать красоты природы нет смысла. Скажу одно : для тех кто ищет тишины, покоя и релаксации - это действительно прекрасное место. Огромное спасибо Анне: все ответы на запросы получали вовремя и четко. Доехали тоже без проблем. Встречала нас мама Анны - Бетти. Замечательный,отзывчивый,неравнодушный человек. Приезд приятно дополнил комплимент ( чай, молоко, кофе, вода и пр.) от хозяек, т.к. приехали достаточно поздно. В аппартаментах все как на фотографиях. Личные впечатления: очень чисто,сделано и оформлено все со вкусом, абсолютно все есть для пребывания и отдыха ( есть утюг и гладильная доска, вентилятор о чем не сказано в описании). Кровать удобная, полотенец и постельного белья дополнительные комплекты. Дополнительные подушки, одеяла для всех сезонов. Еще раз выражает благодарность Бетти: на все наши вопросы мы получили ответы, этот человек очень любит то место, где живет и " очень вкусно " о нем рассказывает отдыхающим. Италия и итальянцы не подвели в очередной раз. Прекрасная страна, дружелюбные и доброжелательные люди. Отдых состоялся! p.s. Анна, может быть в следующий раз на озера :))) ?? Елена, Николай
Elena
2015-10-10T00:00:00Z
We had a beautiful time in Liguria and would chose this apartment definitely again. We were very warm heartedly welcomed by Anna's mum, despite we were late, because the route (and all the curves ;-)) took longer than guessed. The apartment was clean, and is equipped with everything you need. Ognio is a quiet spot in the mountains and while it takes about 45 minutes to reach a destination for a day trip there are plenty of beautiful destinations to reach in this time. We read about the church tower and its bells before. It will ring between 0700 and 2200 (or 2300?) but we got used to it and could sleep quite well. :-) We had many nice talks with Betty and got great tips to explore the region. Thank a lot for your hospitality!
Tim
2016-10-01T00:00:00Z
Anna's place is a cosy flat in a very lovely Italian village. The flat is actually even better than the photos tell. Anna and her mother Betty are both very helpful and forthcoming. They made every effort for a pleasant experience from reservation to our stay and check out. We had a nice time in the flat and enjoyed the peaceful nights in the village. Our little daughter also enjoyed the nearby playground, although the toys were somewhat used (I guess the playground was equipped by the villagers). The only downside is that it is a bit remote and a car is highly recommended. Though I would definitly recommend Anna's place if you want to use it as your base to explore the lovely towns and beaches around.
Ertug
2016-09-14T00:00:00Z
Appartamento grazioso, pulito ed accogliente. La signora che ci ha ricevuto è stata davvero gentile e molto ospitale. La posizione del paese, che è un borgo tranquillo e silenzioso, adatto per chi cerca pace e relax, è un po' scomoda per raggiungere la costa a causa delle strade strette e tortuose. Nel complesso siamo rimasti 4 notti ed il giudizio è assolutamente positivo: mi sento di consigliare certamente un soggiorno.
Antonio
2016-03-26T00:00:00Z
We spent 5 nights at Anna's house and it was amazing. Great place, great views, lots of useful advice from signora Raffo about places to see made our every day an adventure! Situated on a mountain, the house is just 1 hour ride from the sea, which is perfect! In the house, we had everything we needed and more. Here live welcoming and forthcoming people, who were ready help us. We are really happy we chose Anna's house! And a famous (even as far as Genova) trattoria del Pippo with typical cucina genovese added some glamour ;))). We do recommend this place to everyone who wants to see the real, beautiful Italy.
Ivan
2015-09-16T00:00:00Z
Tipus d'habitació
Casa/pis sencers
---
Tipus de propietat
Pis
---
Capacitat
4
---
Dormitoris
Neirone, Genova, Itàlia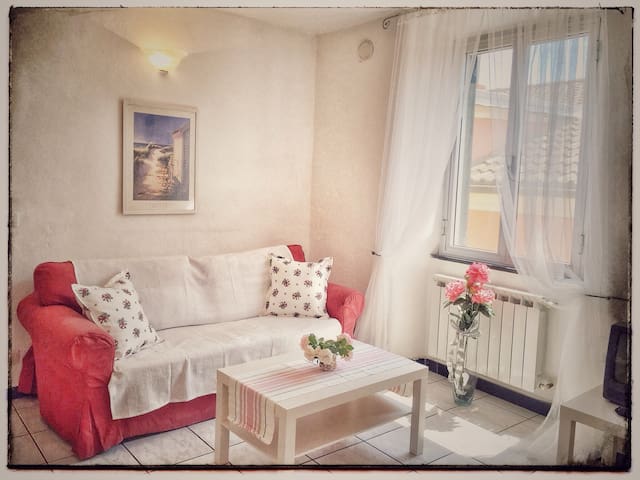 Pepper tree is a small apartment located on the hills behind the Sori village, plunged in a green and very quite spot, 7 Km (10 min. by car) far from Sori main beach in a typical Liguria landscape. We have recently refurbished and now we have available one small apartment with one double bedroom, one living room with a double sofa bed , one bathroom and a kitchen area. Outside garden for relaxing area with deckchairs . A car is strongly recommended, no bus reaching the place.
The apartament is at the ground floor of the house. We are located in a very quite place, that's perfect if you need some relaxing time, Sori main beach is far 7KM. Several hiking trails to the surrounding hills start here, if you like to walk in the countryside there are available short range walks 20/30 min and longer ones 1/1.30 h. Typical Ligurian villages are close to our apartment as Camogli and Portofino.
Nature and green surround our apartment
Des hôtes vraiment acceuillents et très chaleureux. L'appartement très propre et agréable. La vue est magnifique et le petit déjeuner royal. Nous recommandons ce lieu sans hésitations. Marlène & Rémy
Remy
2016-08-10T00:00:00Z
Esperienza bellissima da Lucia, b&b immerso nella natura delle colline liguri, perfetto per chi ama essere fuori dal casino! In macchina in 15 minuti si raggiunge Sori e la spiaggia. Camera molto carina e pulitissima, bagno condiviso solo con un'altra stanza. La colazione è il momento più bello, sul bel terrazzo di Lucia potrete godere di pane fatto in casa e marmellate deliziose! Lucia e suo marito sono degli host autentici, ci siamo sentiti a casa! Torneremo sicuramente!
VERONICA
2016-08-28T00:00:00Z
Nous avons été très bien accueillis chez Lucia et son mari. Un petit coin de paradis au calme, un petit déjeuner servi à l'ombre des parasols sur la terrasse avec vue sur la mer, juste magnifique ! La salle de bain est partagée avec l'autre chambre mais il n'y avait personne lorsque nous étions là. Je recommande vivement.
Estelle
2016-08-09T00:00:00Z
Bella esperienza, Lucia ci ha viziato con le sue attenzioni sulla colazione con torte e crostate fatte in casa. Camera pulita e in ordine, abbiamo apprezzato anche poter usare la cucina. Sicuramente torneremo perché ci siamo trovati molto bene.
Gabriele
2016-08-23T00:00:00Z
Lucia was a fantastic host. So welcoming and attentive. Torta de la Nona for breakfast was a treat. The views are so calming and the village is very quaint. A bit of a trek but worth it in the end. Worth the visit!
Marcela
2016-08-01T00:00:00Z
Nous remercions Lucia et son époux pour leur accueil et leur gentillesse. Le petit déjeuner chaque matin était très bon. Cependant et ce fût une importante déception, contrairement à ce qui est indiqué dans l'annonce, ce n'est pas un logement entier, ce que nous avions très vite compris. Mais surtout, nous n'avons pas accès à deux chambres mais à une petite chambre située en bas de la maison, nous devions partager une toute petite salle de bain avec l'autre chambre dans laquelle il y avait d'autres voyageurs. Ce logement est donc tout simplement une chambre chez l'habitant avec salle de bain commune et convient donc très bien aux personnes à la recherche de ce type de logement.
Marine
2016-08-14T00:00:00Z
Un séjour très agréable. Lucia et son épouse sont très gentils, ils ont fait tout pour nous sentir comfortable.
Simone
2016-08-16T00:00:00Z
Tipus d'habitació
Casa/pis sencers
---
Tipus de propietat
Pis
---
Capacitat
4
---
Dormitoris
Levà, Ligúria, Itàlia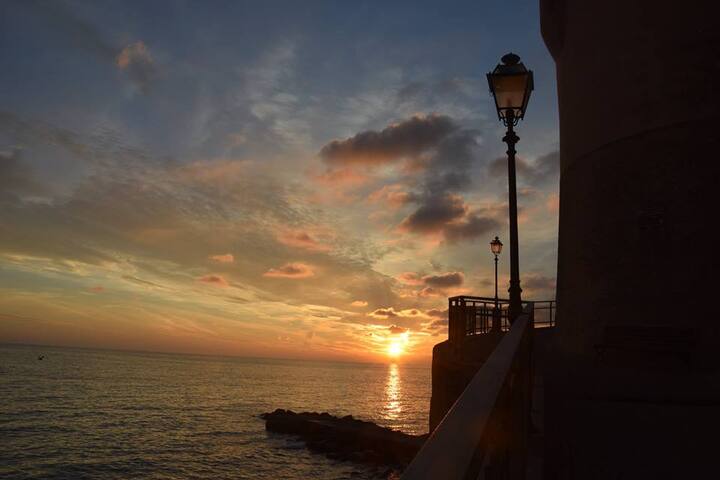 L'appartamento di 90 mq. si trova al piano terra di una villetta a due piani. Circondato da un giardino di 1500 mq, è dotato di parcheggio privato. Immerso nel verde è assolutamente tranquillo e silenzioso. Dista 8 km. dalle spiagge di Recco. Al centro del Golfo Paradiso è una base ideale per gite a Camogli (10 km) e ad altre perle della Liguria come Portofino (23 km), Cinque Terre (70 km). La bella città di Genova (porto, partenza crociere e traghetti, aeroporto) è a soli 30 minuti in macchina.
L'alloggio, completamente arredato, è composto da 2 camere da letto, cucina abitabile attrezzata (frigorifero, lavastoviglie, cucina a gas, forno a microonde, ecc.), bagno (con vasca e doccia separate), soggiorno doppio, terrazza. La biancheria da cucina, da letto e da bagno è fornita. Può ospitare comodamente 4 persone più 2 posti aggiuntivi nel divano letto posto nell'ampia zona soggiorno. In giardino gli ospiti hanno a disposizione due sdraio, lettino prendisole, ombrellone e tavolo con sedie per colazione all'aperto. Gli animali domestici sono benvenuti e i cani hanno una comoda cuccia a loro disposizione, all'esterno, in un terrazzo recintato.
C'è chi dice che l'unica parte del mondo dove vale la pena di vivere è la costa del Mediterraneo... allora il Golfo Paradiso è una delle terre migliori per vivere... e le colline intorno al Golfo sono il meglio del meglio...
A wonderful apartment at a very quite place, with excellent hosts. We enjoyed every minute of it.
Johanna
2016-08-13T00:00:00Z
Maison très spacieuse et au calme. Tout le confort moderne attendu pour une courte période. Tout est très propre. La literie est très confortable. Il y a une place devant la maison pour garer le véhicule. Des hôtes très accueillants et qui parlent français. Une adresse à recommander.
Martial
2016-08-19T00:00:00Z
Adolfo è stato gentilissimo fin dall'arrivo, venendoci incontro con la sua auto. La casa è una delizia, confortevole ed immersa in uno splendido giardino. Grazie!
Filippo
2016-07-11T00:00:00Z
Séjour et accueil très agréables. Parfait. Nous remercions nos hôtes pour nous avoir suggérés des idées de ballade intéressantes qui nous ont permis de découvrir la Ligurie sous un autre visage que celui des cartes postales.
Catherine
2016-08-27T00:00:00Z
Maison fleurie avec vue sur les montagnes. Adolfo et sa famille nous ont superbement bien accueilli. Adolfo parlant correctement le français a pu nous aider dans nos visites italiennes. Nous avons eu la chance de partager un repas ensemble qui fut fort sympathique. Nous recommandons fortement cet hôte.
Jean-C
2016-08-11T00:00:00Z
Nous avons passé un excellent séjour dans la maison d'Adolfo, qui nous a reçus avec gentillesse et un grand sens de l'hospitalité. De surcroît, il parle français.
Lionel
2016-07-23T00:00:00Z
Adolfo ed Emilia sono stati gentili, accoglienti e simpatici. La casa è bella econfortevole. La qualità del sonno è eccellente grazie al silenzio della zona ed ai letti comodi. È stato solo un peccato passare un periodo così breve, ma "Il Giardino delle Ortensie" è rimasto nei nostri cuori e sarà un piacere tornare per visitare altri luoghi incantevoli della Liguria.
Mauro
2016-09-04T00:00:00Z
We had a wonderful time visiting Avegno and the Ligurian coast. The area is rather crowded and busy, but Adolfo created an island of quiet in the midst of all of this. The apartment feels very sophisticated, with many nice details. It is very clean. The balcony has a beautiful view over a valley with trees - nowhere a house or person to be seen. Even when it's warm outside, inside it stays nice and cool. Adolfo is a great host. Upon arrival he was ready to receive us and help us where necessary. He and his wife live in the house above the apartment, but still you have the feeling you have the place for yourself. On the other hand - when we had a question, he was immediately available. The area is rather crowded, like I said. If you're looking for a beach holiday, this might not be the place. I you want to discover the coastal area, it is great. We visited Cinque Terre and Genova, but spent most of our time in the park of Portofino, with beautiful (and deserted) mountain paths along the coastline - don't forget to go to Agririfugio Molino! For swimming, we frequented Santa Margherita.
Tim
2016-08-08T00:00:00Z
Tipus d'habitació
Casa/pis sencers
---
Tipus de propietat
Pis
---
Capacitat
6
---
Dormitoris
Avegno, Ligúria, Itàlia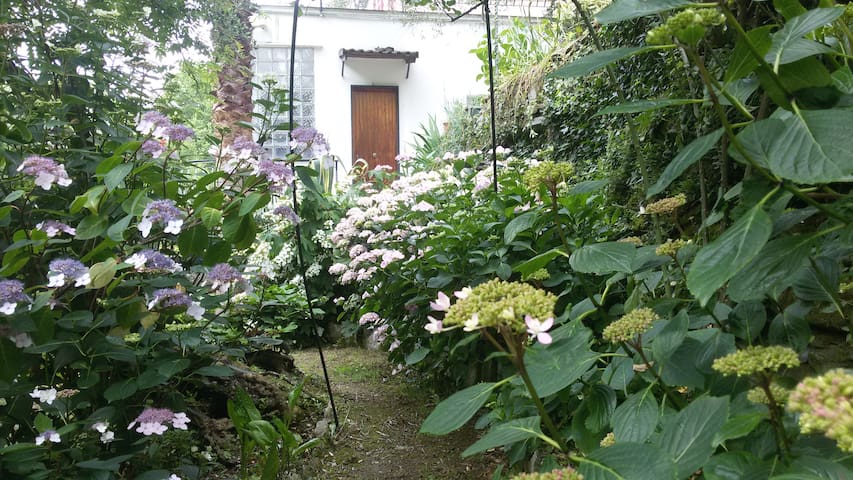 Il mio alloggio è vicino a splendide viste panoramiche, ristoranti e spiaggia. Ti piacerà il mio alloggio per questi motivi: la comodità del letto, la cucina, l'intimità e i panorami. Il mio alloggio è adatto a coppie e avventurieri solitari. A soli 20 Km dalle più belle località della riviera ligure (Portofino, Sestri Levante e Genova)
no WI-FI obbligatorio consegna documenti identità all'arrivo (delivery mandatory photo ID documents) Colazione non inclusa (Breakfast not included )
Tipus d'habitació
Casa/pis sencers
---
Tipus de propietat
Pis
---
Capacitat
4
---
Dormitoris
Ferrada, Ligúria, Itàlia
L'appartamento è ideale per coppie o singoli che vogliono allontanarsi dal caos cittadino. Immerso nel verde e nel silenzio della natura, ma vicino a Genova, l'appartamento fà parte di una Villa d'epoca, con possibilità di parcheggio sotto casa.
Tipus d'habitació
Casa/pis sencers
---
Tipus de propietat
Pis
---
Capacitat
2
---
Dormitoris
Torriglia, Ligúria, Itàlia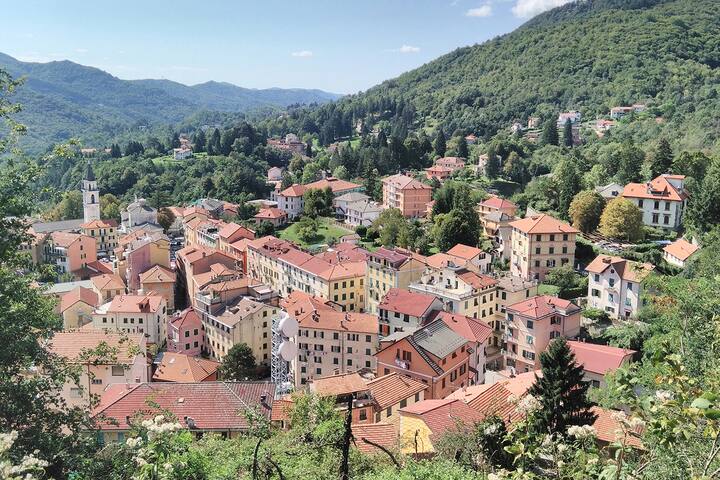 Ampio attico arredato, con ingresso, doppi servizi, 3 camere, cucina, seconda cucina/lavanderia, sala-soggiorno con caminetto, ripostiglio. Aria condizionata in una parte dell'abitazione. Luminoso, 3 balconi con vista aperta sulla vallata.
Tipus d'habitació
Casa/pis sencers
---
Tipus de propietat
Pis
---
Capacitat
6
---
Dormitoris
Uscio, Ligúria, Itàlia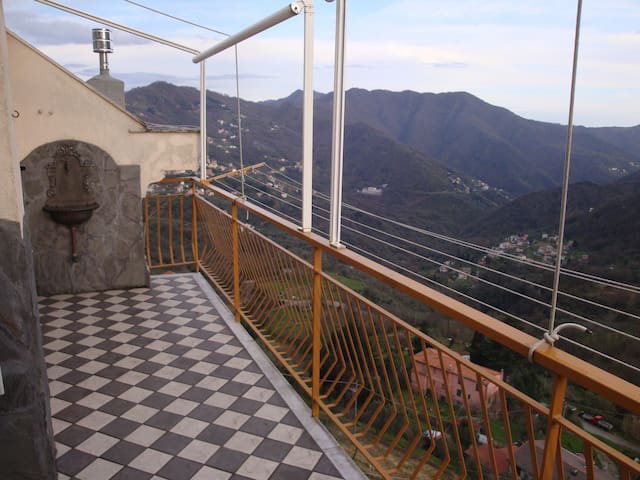 Tassorello, paesino del entroterra ligure, ideale per chi cerca relax, a 4 km negozio di alimentari, posta, maccelleria, pizzeria, ristorante e bar. 20 km da Genova, 30 km da Chiavari. Ideale per chi vuole visitare Genova, Cinque Terre, Portofino, Rapallo.
La casa è composta da 2 appartamenti, con un bel terrazzo dove si può fare colazione o cenare. Contesto molto tranquillo, senza traffico per amanti della natura incontaminata. Gli appartamenti sono forniti di forno a microonde, lavatrice, lenzuola, asciugamani, asse da stiro, ferro da stiro, asciugacapelli, (URL HIDDEN) posteggio si trova sotto casa, ma la cada dispone anche di un garage privato gratuito per gli ospiti.
Tassorello e' un tipico paesino dell'entroterra ligure, molto tranquillo. Con circa 16 abitanti. Ideale per chi ama essere circondato dal verde dei boschi e ama la natura.
Tipus d'habitació
Casa/pis sencers
---
Tipus de propietat
Pis
---
Capacitat
4
---
Dormitoris
Tassorello-Lumarzo, Ligúria, Itàlia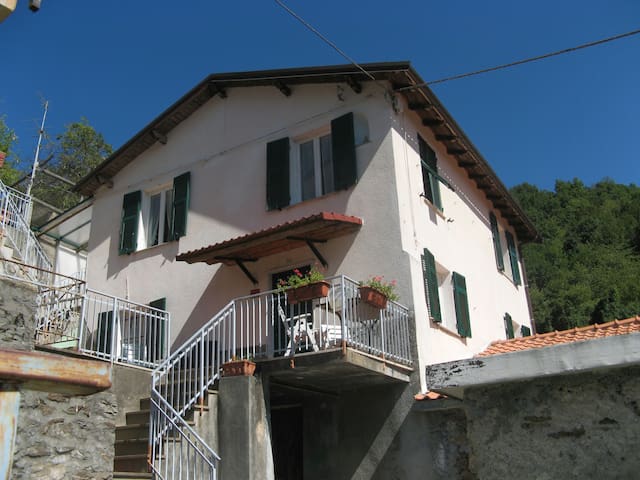 Nella quiete della campagna del golfo Paradiso ma a pochi chilometri dal mare, vi accoglieremo in questo nuovissimo appartamento immerso nel verde degli olivi.
L'appartamento si trova al primo piano di una villetta di recentissima costruzione ed è dotato di ampio giardino e di parcheggio privato. Può ospitare 4 persone, ma è predisposto ad accogliere 2 posti letto aggiuntivi tramite il comodo divano letto situato nella zona soggiorno.
Il quartiere dove è situato l'appartamento dista 4 km da Recco, una piccola cittadina nel centro del golfo Paradiso tra Portofino e Genova. Recco è annualmente sede di uno spettacolo pirotecnico, insieme alla festa gastronomica, nella prima settimana di settembre in occasione della festa del Santo Patrono.
Appartamento nuovo, spazioso e luminoso! Sara é stata davvero gentile e disponibile: abbiamo trovato tutto il necessario e siamo stati molto bene!
Giada
2016-07-31T00:00:00Z
Séjour très agréable , L appartement est grand , fonctionnel , très calme. Sara nous a accueillis très gentiment , elle a répondu à toutes nos questions y compris par sms durant le séjour .bous recommandons vivement cette location permettant de visiter Gènes , portofino , les 5 terres .
Cecile
2016-08-21T00:00:00Z
Fomos muito bem recebidos pelo papai da Sara para nossa estadia de 02 noites na Italia. Casa limpa, calma e confortavel bem de acordo com as fotos. Apenas um detalhe, a cozinha é equipada mas se voce tem interesse de cozinhar na casa, deve se preocupar de levar tudo, como sal, açucar, bucha, detergente. Se nao, tudo perfeito e banho muito gostoso. Nous avons été très bien accueillis par le père de Sarah pour notre séjour de 02 nuits en cette region d' Italie. Maison propre, calme et confortable (matelas inclus) et en conformité avec les images. Juste un détail, la cuisine est équipée, mais si vous avez intérêt à cuisiner à la maison, devrait se soucier de prendre tout le basic, le sel, le sucre, éponge, détergent. Sinon, tout parfait et douche très agréable.
Silvana
2015-08-07T00:00:00Z
Un appartamento nuovo dotato di ogni comfort immerso nel verde. Un ringraziamento affettuoso per la grande disponibilità a Sara e suo padre. Straconsigliato!!!
Nicole
2015-07-26T00:00:00Z
Sara during our stay was on holiday also but contact with her was ok and her brother Stefan welcomed us. The place is new with excellent view on the valley. There is absolutely tranquilly. The car is necessary because its about 6km from Recco where you have beach, shops and restaurant. I recommend Pizzeria Del Ponte. Thanks a lot
Robert&Julia
2015-08-17T00:00:00Z
Sara's apartment was spacious and offers a lot of comfort. I liked that it is very clean. The apartment can be recommended to those who travel by car and want to escape the noise of big cities. However the narrow road to Sara's apartment is not easy and it is better to arrive in daylight. Sara is a very nice person and helped us to plan our holidays. I can recommend her place.
Andreas
2016-07-28T00:00:00Z
A very good spot in order to discover Liguria. The description of the house was as in reality: a brand new house with enough space for at least 3 people. Sara welcomed us warmly and informed us about the surrounding.
Tammo
2015-08-04T00:00:00Z
Todo estuvo muy bien, nos trataron realmente bien. Nos ayudaron a llegar al lugar y todo fue perfecto. El lugar muy tranquilo y a pocos minutos de la ciudad. Es obligatorio ir en auto, de a otra forma es imposible llegar, pero el lugar es unico.
Guido
2015-08-12T00:00:00Z
Tipus d'habitació
Casa/pis sencers
---
Tipus de propietat
Pis
---
Capacitat
6
---
Dormitoris
Avegno, Genova, Itàlia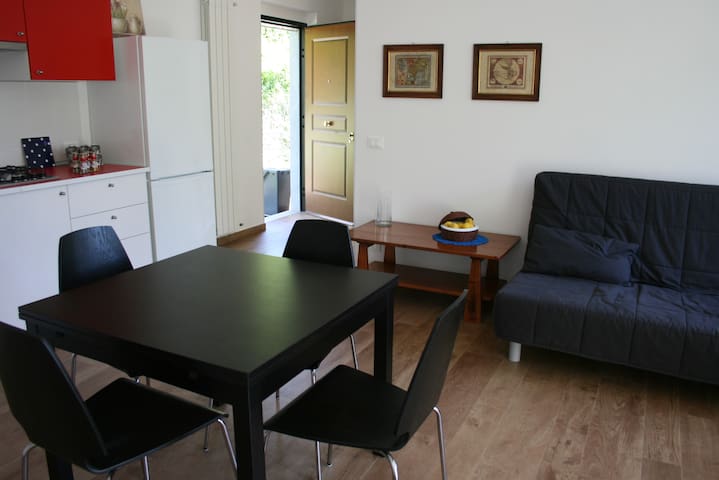 Casa di Annina,soleggiata, ampia e confortevole,posizionata in collina,da l'opportunità di passeggiare nel verde e visitare le vicine frazioni caratteristiche che nei mesi estivi si animano di feste e sagre. Si trova a 10 minuti dalla spiaggia di Sori (raggiungibile con auto)dove sono presenti negozi e lidi,a metà strada da Genova e le bellissime Camogli e Portofino,raggiungibili anche tramite traghetto. Per accedere alla Casa bisogna percorrere un vialetto e salire circa una ventina di scale.
Tipus d'habitació
Casa/pis sencers
---
Tipus de propietat
Pis
---
Capacitat
5
---
Dormitoris
Canepa, Ligúria, Itàlia
600m dalla Spiaggia, Centro città. Al 2°piano di un grazioso condominio con ascensore. Ingresso, bagno, soggiorno-cucina, camera matrimoniale, camera con 2 letti. Posto auto riservato a 3min a piedi (fondamentale a SantaM).
Una delle zone da visitare almeno una volta nella vita! Sulla Riviera di Levante, nella splendida cornice di Santa Margherita Ligure, l'appartamento è situato centralmente ed a due passi dal mare. Le focacce liguri, i colori di Portofino, le passeggiate nei boschi, i tramonti mozzafiato, i locali sul mare e tanto altro ancora, vi aspettano.
Vicinissimo a tutto. La posizione è strategica perchè a 600m dalla spiaggia ed a 350m dal centro storico. Sotto casa c'è un ottimo supermercato a buon prezzo, focaccerie e panifici deliziosi che la mattina faranno entrare un invitante profumo dalle finestre. Molti ristoranti si affacciano nella nostra zona.
L'appartement est semblable à la description. Il convient pour une famille ou groupe de 4 personnes. Le parking est réellement un plus car le stationnement n'est pas facile dans cette ville. Nous avons été bien accueilli et Mathéo s'est montré disponible par téléphone, un couple logeant dans l'immeuble se charge du Check in et out.seul reproche, le bruit lié à la circulation estivale.
Laurence
2016-07-31T00:00:00Z
Нам очень понравилась квартира и район. До центра идти пешком минут 7, но зато мы жили в более тихом районе. Рядом с домом есть вся инфраструктура (кафе, супермаркет). Анна, которая размещает гостей, была очень приветлива, отвечала на все вопросы, и дала нам лекарства и термометр, когда ребёнок заболел. Единственное небольшое неудобство - парковка находится высоко на горе и идти до неё минут 5-7. С удовольствием вернулись бы в эту квартиру.
Maria
2016-07-28T00:00:00Z
This place is a great find. A short walk from the bay of Santa Margherita Ligure, you can find restaurants and a store just steps away, and get transport to other areas like Portofino very easily. Lovely, clean, and a nice place to stay.
Laura
2016-07-18T00:00:00Z
Il quartiere in cui si trova l'appartamento è molto carino, l'appartamento molto ben organizzato e pulito. L'esperienza la potremmo definire ottima, come l'ospitalità. Quindi consigliamo assolutamente a tutti.
Mario
2016-04-16T00:00:00Z
We had a very pleasant stay in Matteo's comfortable and spacious apartment. Matteo was very responsive both prior to and during our stay. All details are well thought of in the apartment. Location is convenient: 10-15 min walk (with a 5 year old) to both the station and the beach. Also it was very clean. Mrs. Anna -who welcomes you- was also helpful during arrival and departure. I would definitely recommend this place.
İlke
2016-05-17T00:00:00Z
Matteo haben wir zwar nicht persönlich kennengelernt. Der Check-in und -out war jedoch mit Anna super organisiert. Der Kontakt mit Matteo lief ansonsten sehr angenehm per Email. Die Wohnung liegt zentral. Bäcker, Supermarkt, Restaurants und Bushaltestellen liegen praktisch vor der Haustüre. Es ist daher fast rund um die Uhr Leben auf der Straße. Im Haus selber war es dagegen ruhig. Die Wohnung ist sehr gut ausgestattet und sehr sauber. Wir haben uns rundum wohlgefühlt.
Wolfgang
2016-09-04T00:00:00Z
We really enjoyed our stay . First of all, location was great, walking distance to everywhere. (We parked the car on first day and we didn't need to move.) Matteo's apartment is clean and has everything. Actually all the rooms are larger than they look in the pictures. While we were staying there for 4 days, Matteo was also on vacation with his beautiful family same time in St Margerita and they were staying next door. He helped with everything we needed; Welcomed us, told us where to eat, what to do. If we go again to St Margerita we will stay same place for sure!
Nilufer
2016-07-07T00:00:00Z
Matteo est très sympathique, il a toujours répondu très vite et s'est montré très aidant. Pour l'accueil, nous avons été reçu par un couple très aimable, qui habite le même immeuble que l'appartement loué par Matteo. Tout s'est parfaitement bien passé. L'appartement: il est tout simplement SUPERBE! Dans un vieil immeuble, rénové, parfaitement équipé (vous y trouverez tout ce dont vous pourriez avoir besoin, et même plus!). Très bien situé, près de restaurants et commerces, à moins de 10 minutes de la mer à pied. Et avec une place de parc à disposition. Matteo a vraiment pensé à tout pour que cet appartement soit parfait et on le remarque tout de suite. C'est un logement extrêmement agréable, confortable et très soigné. Nous le recommandons à 100%, il est parfait! Depuis Santa Margherita, de superbes marches sont possibles. C'est un bel endroit et nous le recommandons vivement. ENGLISH: Matteo was very friendly and helpfull. The appartment is absolutely perfect! Extremely well equipied, well decorated, very clean and very confortable. Matteo thought about everything that we may need and we felt extremely well in that place. We absolutely recommand it! As about Santa Margherita, it's a pretty place, and some great trekkings are possible from there.
Sandra
2016-04-08T00:00:00Z
Tipus d'habitació
Casa/pis sencers
---
Tipus de propietat
Pis
---
Capacitat
6
---
Dormitoris
Santa Margherita Ligure, Ligúria, Itàlia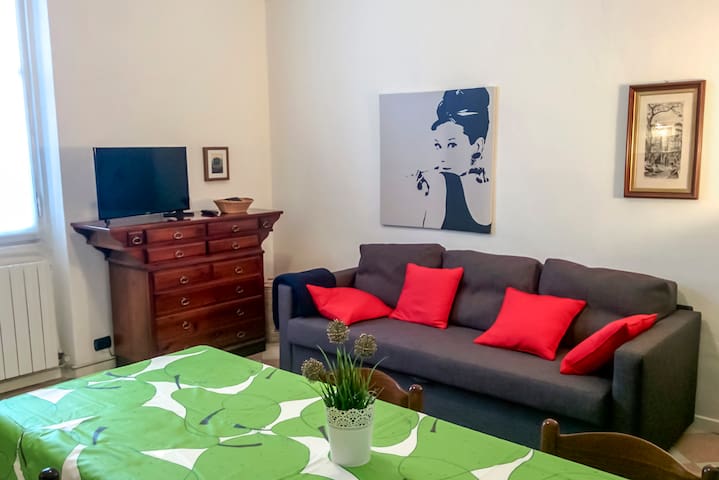 Lovely two bedroom apartment with private garden in a small tipical house very close to the centre, the sea, restaurants and shops. The place is quiet and surrounded by the nature: perfect for a relaxing and restoring break.
Tipus d'habitació
Casa/pis sencers
---
Tipus de propietat
Pis
---
Capacitat
4
---
Dormitoris
Santa Margherita Ligure, Ligúria, Itàlia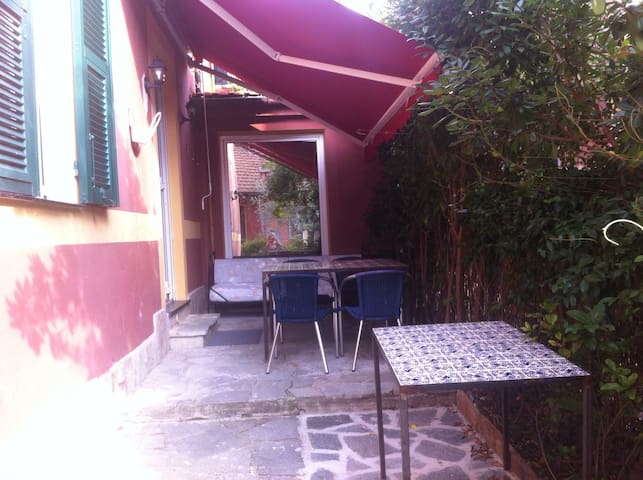 Margaret House is part of a house on three levels. The first floor apartment is occupied by the owner, Chiara, Christian and their son Romeo 5 years. Casa Margherita has a separate entrance and a large covered terrace overlooking the roof of Sori sea and the hills surrounding it. On the ground floor is the garden, the old barn and the small garden of the family. Access to the garden is only allowed to the owners.
The entire house is independent and surrounded by olive trees. It overlooks a beautiful valley that leads your eyes to the sea. Covered terrace you enter the house. A small entrance leads to the kitchen and the large room, in which there are also two bunk beds. The master bedroom and lounge overlooking the garden below and look to the hill country in the face. In the evening the show of lights and fireflies is unique. The bathroom is on the floor.
You can comfortably reach the panoramic road which leads up to Genoa to meet in a typical and magical at the same time, where the hills descend inexorably into the sea. the city of Genoa suddenly appears from the top of the 500m achieved altitude. Casa Margherita is 5 Km from the Golfo Paradiso. You should visit the town of Camogli and Portofino. The nearest town is equipped Sori which is 3 km and is a seaside resort including the railway and bus station. There are local shops, supermarkets, swimming pool, pharmacy. The summer evening Sori is a living country where drink a good glass of wine by the sea. It 'just been renovated throughout the children's play area which is located in the pedestrian area close to beaches and restaurants.
Accoglienza straordinaria e super baby friendly, appartamento bello e molto confortevole. L' host Chiara è davvero disponibile e gentile, ricca di suggerimenti e consigli utili a godersi al meglio il soggiorno. La vista dalla terrazza è da togliere il fiato. Canepa è un piccolo borgo nascosto tra i monti che riserva al viaggiatore il meglio dell'entroterra ligure perfettamente bilanciato con le bellezze delle località di mare. Adatto anche a chi ama le escursioni grazie ai diversi sentieri in zona.
Teresa
2016-07-15T00:00:00Z
Wir haben uns im Casa Margherita rundum wohlgefühlt. Die Lage ist traumhaft und Chiara war eine sehr gute Gastgeberin. Die Wohnung ist mit allem Nötigen Ausgestattet. An kalten Abenden konnten wir den Ofen anmachen. Wir waren sehr zufrieden und können die Unterkunft nur empfehlen.
Thabiso
2016-10-14T00:00:00Z
Chiara est une personne accueillante, ouverte et rigolote. Durant notre séjour, elle a tout fait pour nous orienter. Casa Margherita a été une agréable surprise. L'appartement est spacieux, propre et bien équipé (cuisine, salon..). Nous avons particulièrement apprécié la terrasse. La vue sur la vallée et la mer est splendide. L'endroit est un havre de paix, un petit village typique sur les hauteurs au dessus de la mer. A noter que les voitures sont garées à une minute ou deux de marche. Cela rend le lieu si calme et si paisible. Bref, nous avons passé un super séjour chez Chiara.
Hedi
2016-08-15T00:00:00Z
Es war traumhaft in Casa Margherita ! Vielen Dank für den tollen Urlaub ,den wunderschönen Blick aufs Meer, die Ruhe, die tollen Berge, die liebe Gastfreundliche Art uns mit allen zu versorgen was brauchen: für die Kinder ganz viele Spiele, Eier von den Hühnern, leckere Feigen,etc. Es war so gemütlich, wir haben uns wie Zuhause gefühlt. Wir kommen gerne wieder!
Maria
2016-08-27T00:00:00Z
Tipus d'habitació
Casa/pis sencers
---
Tipus de propietat
Pis
---
Capacitat
4
---
Dormitoris
Canepa, Ligúria, Itàlia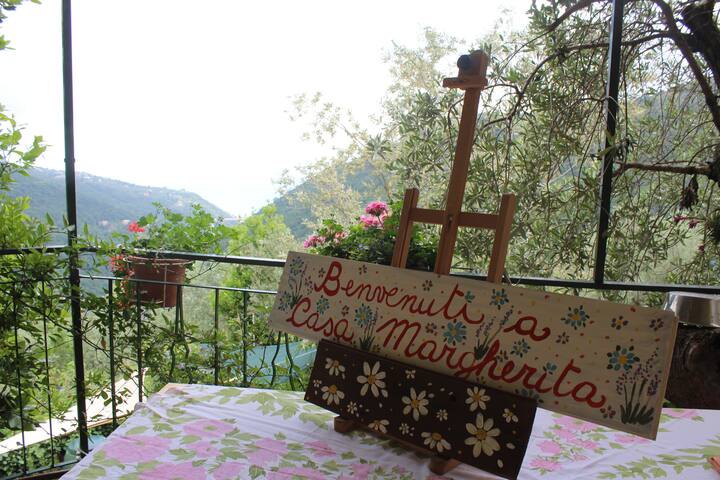 We are located in the green wooded Ligurian countryside, near the seaside town of Sori. The house is steps away from local hiking trails and just 2.6 km from the sea. The house is conveniently located on the road. Guests will be lodged in an independent two-story unit comprising one bedroom, living room (with sofa bed), kitchenette, and bathroom. Pets welcome. Local amenities include restaurants offering typical cuisine, rock-climbing routes and seaside attractions. Siamo non lontani da Genova, in un ottima posizione per andare al mare nonché per le gite sul monte di Portofino o lungo i numerosi sentieri della zona.
Ideale per motociclisti e ciclisti perché c'è il garage(solo per moto e bici) e belle strade panoramiche.
Molti sentieri partono da questa località. Scendendo in mezz'ora si arriva a Sori, salendo si possono raggiungere molti paesi dell entroterra dove si trovano ottime trattorie.
Très bon accueil de la part de Gabriella. Nous avons pu garer la voiture juste devant l'appartement ce qui est un vrai plus ! L'appartement est propre très joli et très fonctionnel ! Le petit déjeuner était copieux et très bon ! Nous reviendrons sans aucun problème ! Un grand merci !
Marie
2016-09-10T00:00:00Z
We had a great time, Gabriella and Waldo were great hosts. We couldn't whish for anything more. Nice location. We have to come back in another time of year to walk the trackings...... Absolute recomendation!
Martijn
2016-08-10T00:00:00Z
Gabriella und ihr Mann waren sehr freundliche, großzügige und entgegenkommende Gastgeber. Sie haben alles dafür getan, dass wir uns wohl fühlten. Die Wohnung war sehr ästhetisch und liebevoll eingerichtet und ich fand toll dass dort ein Klavier stand, obwohl es nicht mehr in dem allerbestem Zustand war...Das Frühstück auf ihrer Terrasse war köstlich und mit viel Liebe und Kreativität zubereitet und Gabriella hat uns viele gute Tipps gegeben für unsere Ausflüge.
Jutta
2016-09-07T00:00:00Z
Logement décoré avec beaucoup de goût, très agréable, très bien équipé, conforme au descriptif. Le petit déjeuner copieux et varié, servi dans le jardin a été un moment privilégié que nous avons beaucoup apprécié. Gabriella et son conjoint sont des hôtes charmants et très prévenants.
Christine
2016-08-13T00:00:00Z
Gabriella ci ha accolto con un gran sorriso e tanta cortesia. La sistemazione, assolutamente rispondente alle nostre aspettative, ci ha pienamente soddisfatto da ogni punto di vista: una casa calda ( considerata la stagione invernale), un letto comodissimo, una colazione curata e varia. Il tutto in una assoluta privacy. In sintesi tutto ciò che si può desiderare da un b&b.
Marina
2017-01-06T00:00:00Z
L´appartamento é grazioso e completo di tutto il necessario. Il borgo in cui si trova é una piccola perla, ed é a poche decine di minuti di macchina da luoghi incantevoli come Camogli, Portofino e Genova. Gabriella é stata un´ospite premurosa e gentile; le sue colazioni sono davvero degne di nota!
Elena E Stefano
2017-01-01T00:00:00Z
Gabriella è stata gentilissima; rapida nelle risposte e molto attenta alle nostre esigenze. l'appartamento è molto carino e un buon punto di partenza per brevi soggiorni per esplorare i dintorni. L'appartamento è carino e molto pulito. siamo stati davvero bene e in futuro per le nostre fughe del week end estive lo terremo nuovamente in considerazione.
Alessia
2016-08-01T00:00:00Z
This quaint little mountain house was so perfect for a nice getaway! The hostess was so nice enough to wait for us till late night to let us in. Close to the beach where people are also nice without tourists.
Remi
2016-09-29T00:00:00Z
Tipus d'habitació
Casa/pis sencers
---
Tipus de propietat
Pis
---
Capacitat
4
---
Dormitoris
località Lago, Sori , Genova, Itàlia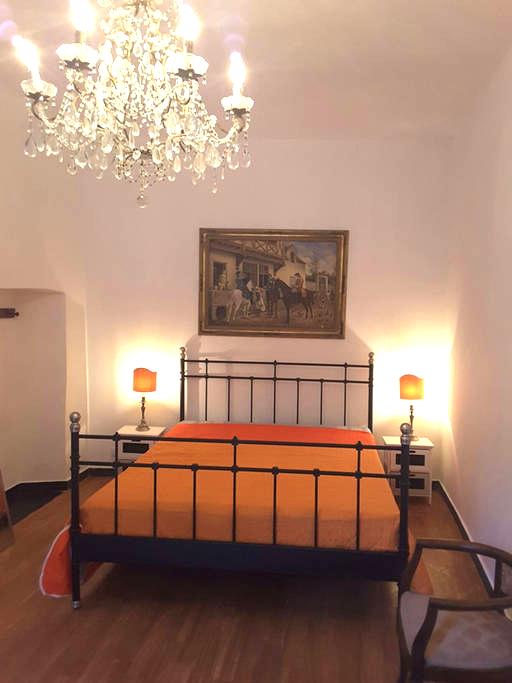 Davagna (GE): Casa Fabio, rural, but only 20 km from the cultural metropolis Genoa and the Italian Riviera, 2-5 persons, 3 bedrooms, garden, pergola, panorama, fireplace, washing machine, wifi, near hiking trails, ideal for children, pets welcome
Davagna (GE): Casa Fabio, rural, but only 20 km from the cultural metropolis Genoa and the Italian Riviera, 2-5 persons, 3 bedrooms, garden, pergola, panorama, fireplace, washing machine, wifi, near hiking trails, ideal for children, pets welcome. Casa Fabio is a 100m2 apartment in a typical Ligurian farmhouse with a garden and a romantic pergola. Casa Fabio, rural and very quiet located at the top of the hamlet Calvari belonging to the municipality of Davagna, is about 20 km far from Genoa. Once withdrawal of a painter, which still bear witness to the many pictures on the walls, Casa Fabio consists of a living room with windows with panoramic views, a fireplace, a country style kitchen and three bedrooms (2 with a double bed, one with a single bed). The furniture is antique. An external staircase leads to the garden with a romantic pergola and panoramic views. A typical trattoria is located 2 km away in the village of Capenardo, where you find a connection path to the famous hiking trail Alta Via della Liguria, which passes nearby. A stroll to the abandoned village Canate di Marsiglia is also worthwhile and you can barely imagine that the cultural metropolis of Genoa and the Italian Riviera with its seaside resorts is just 20 km far. Casa Fabio is ideal for who seeks tranquility, but still wants to take advantage of the great cultural offer of Genoa and the many hiking trails in the area, not least those in the Cinque Terre. Children can undisturbed romp around in the tiny streets of the hamlet and in the garden of Casa Fabio everyone will find his own spot. EXTRA: possibility to rent a private boat at Levanto with skipper who organizes nice trips with 15% discount for guests of Casa Fabio. With water taxi to Cinqueterre (15 minutes), Portovenere (35 minutes) and Portofino (60 minutes) or night watertaxi to restaurants in Cinqueterre. with sailing boat along the coast to the Cinqueterre including lunch or sundowner, with possibility for swimming (90 minutes) individual tours to Cinqueterre, snokeling, dolphin watching, big game fishing for grand tuna and bill fishes. Look for leaflet in the (URL HIDDEN) (URL HIDDEN) - (EMAIL HIDDEN) - (PHONE NUMBER HIDDEN)
Amazing view and comfortable house.
Laurent
2016-08-17T00:00:00Z
we had a great time in this beautiful house in calvari High in the Mountain,nice view,calm,cosy and the beach of Genoua with car is not far away.our host in calvari were very friendly.we recommend this house.we shure going to visit again.thnx
yahya
2014-07-26T00:00:00Z
Tipus d'habitació
Casa/pis sencers
---
Tipus de propietat
Pis
---
Capacitat
5
---
Dormitoris
Calvari, Ligúria, Itàlia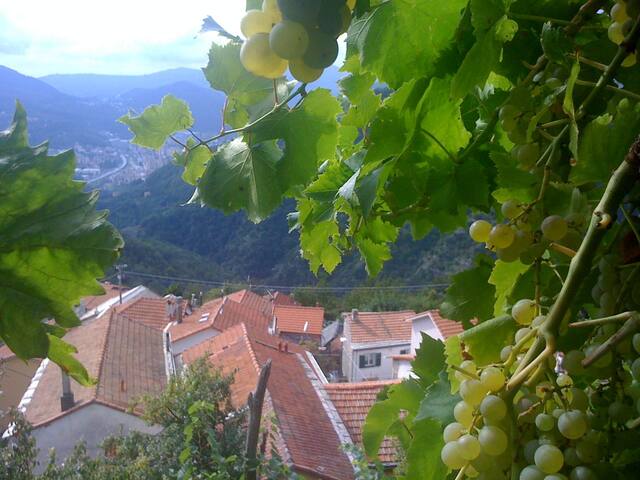 Small & perfect summer apartment. You arrive at the house from a short walk through different houses.Direct entrance from the garden to1 entrance/kitchen room with large table. Cosy double bedroom with rustic rocks pocking out..kind of primitive feeling ..i love it! Bathroom with large shower. Garden to share but the people on top (me or other guests) have their own large terrace so Privacy is quite assured.
Romantic & quiet apartment. If you like rustic primitive & coasy feelings this is the place to be. Private double room & Private bathroom with large shower. Entrance & kitchen room might be of passage to get things in the deposit room just behind it but i wont bother you if you're in..;) Garden to share. Pool for kids. Hammock for all..;)
The house is located within an area of 20/30 houses..the area is very calm, a silent paradise to forget the hiperactive world.You can even forget the car & if you like walking through woods you can reach by foot (10min) the main road where you can find a food market & catch a bus to Recco.
Super séjour chez Gayla. Le cadre était magnifique. Gayla s'est toujours montrée disponible pour nous.
Jim
2016-07-31T00:00:00Z
Die sechs Tage in der Unterkunft in Pietrafitta waren fantastisch. Gayla ist eine extrem hilfsbereite Gastgeberin, die sehr gut Englisch spricht. Dank ihrer Empfehlungen haben wir einige tolle Spots in und um Recco entdeckt (Strände, Restaurants etc...). Die Unterkunft ist zugegebenermaßen etwas abgelegen, aber man kann definitiv die Ruhe genießen. Das Apartment war den Bildern entsprechend sehr schön. Wir haben uns in jedem Fall wohgefühlt und würden jederzeit wiederkommen.
Felix
2016-08-07T00:00:00Z
Gayla's house is absolutely delicious, perfectly located in a remote and romantic environment, but near enough to recco, sori, camogli and a wonderful sea. I hope to be back. :)
Mauro
2016-08-29T00:00:00Z
This warm and welcoming house sits almost on top of a mountain and is therefore a very remote, but lovely location to spend a few days away from it all. When you don't have a car and come by bus, which stops nearby and has good connection with Recco, the shortcut through the woods is quite a challenge for the average hiker. There's a supermarket in the area which is convenient. Gayla and her son Aaron are a fantastic duo and lovely hosts. She is very helpful and tries to come up with a solution for every difficulty. The view from the terrace-garden keeps on mesmerising you. Top location and beautifully renovated house.
Margot
2016-07-17T00:00:00Z
Siamo stati benissimo! Gayla si è dimostrata fin da subito (dai messaggi) un host premuroso, gentile, attento. Le indicazioni per raggiungere la location e la descrizione del luogo erano precise e puntuali. Abbiamo anche fatto ritardo sul check in (con un bimbo piccolo capita!) ma lei è stata sempre gentile e accogliente. L'appartamento è anche meglio di come appare in foto. Ci siamo fotografati nei vari angoli della casa perchè sono tutti particolarissimi. Affascinante, comodo, fresco anche con il caldo fuori, si dorme benissimo (solo portatevi l'antizanzare) ed è vero che la sera si possono vedere le lucciole! Meravigliose! Si dorme in mezzo alla pace e al verde e si è a dieci minuti (veri) di macchina dalla spiaggia di Recco. La sera quando tonavamo a Pietrafitta non potevamo far altro che esclamare "che bello!". Ci sono un po' di scale da fare per raggiungere la porta di casa ma nulla di impossibile, noi abbiamo lasciato il passeggino in auto e siamo scesi a piedi col bimbo. c'è parcheggio per l'auto. Speriamo tanto che Gayla ci ospiti ancora da lei! We had a wonderful stay chez Gayla, she is a caring, gentle and nice host! Instructions to reach the apartment were precise and useful and the description of the flat in the announce is real truth. Indeed the flat is even a lot better than in the pictures! You will be sleeping in the wild and charming nature and as well ten minutes away from the beaches and the centre of Recco. The position is really super. The view from the window is relaxing. Beautiful experience!
Lucia
2016-07-10T00:00:00Z
Gayla's place is exactly as the photos showed. But the artistic feeling inside and beauty of the surrounding will exceed your expectation. Thanks to Gayla's recommended restaurant and ultra friendly hospitality, it was an unforgettable experience. Reserve the room to be the next lucky one!
Ren
2016-08-12T00:00:00Z
We loved staying in Gayla's beautiful home upstairs, the garden and the olive orchards surrounding this romantic little place. We also loved the small little village and the views into the mountains.
Inkeri
2016-09-02T00:00:00Z
Gayla was a very friendly and helpful host, she did everything she could to make our stay interesting and comfortable. The apartment is rustic and romantic, but you still have everything you need to cook properly and the bathroom is very nicely done up. The apartment is in a lovely location - very peaceful and surrounded by trees and hills, but not far from the coast. The closest town, Recco, we really liked, it's a workaday town but all the better for it - there's excellent food shops, the people are really friendly and helpful and there are some good restaurants too. Also from there you can explore the coast on the train. We had a great time, but I would recommend that you have your own transport.
Tabitha
2016-09-10T00:00:00Z
Tipus d'habitació
Casa/pis sencers
---
Tipus de propietat
Pis
---
Capacitat
2
---
Dormitoris
Pietrafitta, Ligúria, Itàlia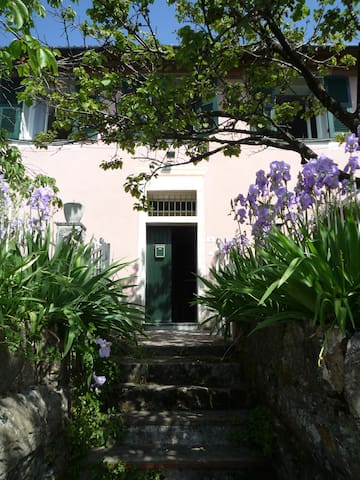 Studio (20 sqm + loft) with independent livable pergola overlooking the Paradise Gulf. In the hills, in the countryside for those seeking peace. Kitchenette, bathroom, double sofa bed + 2 beds on the mezzanine, suitable for families with children.
In front of the studio, large pergola where you can eat, read a book in the shade or simply watch the sunset in silence ...
We are located along the "Riviera" path (Ventimiglia - Luni).
La casetta piccola pero ben sutuata con un giardino e una vista belissima sul mare. Jocelyn e suo marito ci hanno accolto molto bene e ci hanno aiutato sempre quando avevamo bisogno del aiuto (malatia del bimbo etc.). Grazie per la vostra hospitalita e i belli giorni visuti insieme :) Izabela&Marcin
Marcin
2016-07-08T00:00:00Z
Le foto della casa corrispondevano perfettamente alla realtà. Casetta piccolina, rustica e molto accogliente. Casa pulita e in ordine, e una terrazzina panoramica favolosa! Casa ideale per una vacanza rilassante e per amanti della natura. Se siete fortunati la notte riuscirete a vedere anche qualche lucciola! Jocelyn e suo marito sono stati molto gentili, accoglienti e disponibili, ci siamo sentiti davvero coccolati! Ideale per chi ama fare camminate in natura. Da vicino la casa infatti partono diversi sentieri molto carini. Posizione comoda anche per poter raggiungere in macchina località vicine molto carine come Camogli o le cinque Terre.
manuela
2016-06-05T00:00:00Z
L'accoglienza è stata ottima come tutta la vacanza di 4 gg...posto incantevole per gli amanti della natura e della tranquillità. La collocazione .. da sogno...Non raggiungibile direttamente con l'auto ma noi abbiamo apprezzato anche questa particolarita'. Gentilissimi i proprietari...sempre disponibili a fornirci informazioni /consigli e non solo. Ci torneremo di sicuro.
monica
2016-08-26T00:00:00Z
Fantastischer Ausblick, ruhige angenehme Vermieterin, spricht Italienisch, Französisch und Englisch. Kleiner Anstieg und 30 Stufen trennen vom Parkplatz auf dem Kirchplatz das kleine aber vollkommen ausreichende Ferienheim! Wir kommen bestimmt wieder ...
Frank
2016-08-21T00:00:00Z
Waren zu dritt bei Jocelyne und haben die tolle Aussicht und Ruhe sehr genossen. Das Studio ist einfach eingerichtet und genügt um auch mal zu Hause zu kochen, was wir jedoch selten gemacht haben, bei dieser Auswahl an guten und preiswerten Restaurants. Die Gastgeber wohnen im gleichen Haus und haben gute Tipps auf Nachfrage. Toller Ort um auszuspannen oder zu wandern. Kommen gerne wieder
Peter
2016-10-15T00:00:00Z
It was the perfect stay! The view and garden is amazing, the room perferct and has everything you need! Lovely place to swim from the rocks below the house in a little walking distance! We can highly recommend Jocelyne as a host and the whole place and area!
Antonia
2016-09-14T00:00:00Z
Seconda esperienza. Tutto perfetto. Rimando alla mia prima recensione.
ivana
2016-09-12T00:00:00Z
A fantastic little flat with an amazing view! The house was quite and secluded (you park in the town bellow and then its an easy walk to the house) and the owners were very nice. The house had everything we needed and was just big enough for our family of four. The outdoor space was wonderful (we stayed in November so were not sitting outside much, but it would be heavenly in warm weather). The area was very close in for exploring the area, easy drive to several great hikes and picturesque villages, as well as close to Genoa.
Kristin
2016-11-15T00:00:00Z
Tipus d'habitació
Casa/pis sencers
---
Tipus de propietat
Pis
---
Capacitat
4
---
Dormitoris
Recco, Ligúria, Itàlia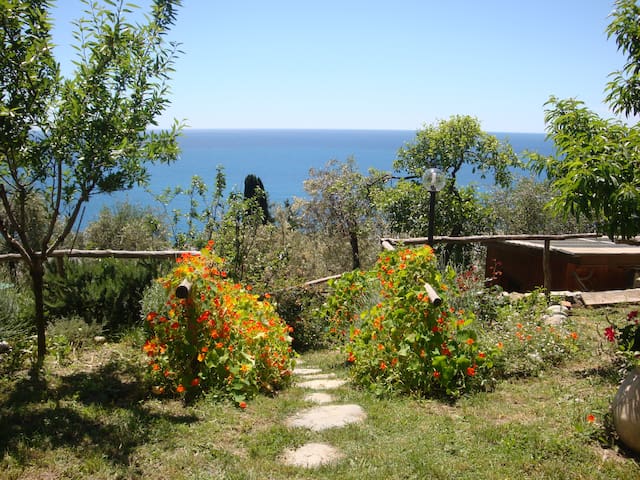 Apartment a short walk from the sea ((URL HIDDEN) context quiet and with a small garden. Convenient to transportation (highway with bus stop, train station nearby). Food supermarket in walking distance. Around Genoa.
Comfortable base for both bathing (cliff, beach Bogliasco reached within a short time) and for tours of the historic center of Genova (Aquarium, Old Port) or a number of resorts in the area: Recco (cheese focaccia) Camogli, Portofino, Tigullio, Cinque Terre. Great seabed for practicing scuba diving.
Ho prenotato un fine settimana di Aprile e Marco si è dimostrato sin da subito estremamente disponibile e cordiale. Risponde rapidamente ai contatti e si è adoperato per rendere piacevole il soggiorno. L'appartamento è molto pulito, tutto perfettamente funzionante ed in una posizione perfetta che vi permetterà di muovervi sempre a piedi,sia verso il centro che verso il mare
Anita
2016-04-04T00:00:00Z
The apartment is beautiful like described and shown in the pictures. We had a realy great time there and especially enjoyed the privacy and the more or less private entrance to the sea. Marco is a realy cool host.He answered realy fast to all questions we had.
Lino
2015-09-20T00:00:00Z
We had a great stay at Marco's place. He was very accommodating. The place was good sized. We could easily walk to the sea in just a few minutes for a swim. We could also walk to the public beach in about 10 minutes. It was clean and comfortable.
Paula
2016-06-26T00:00:00Z
We really enjoyed our stay at Marcos flat. He is really friendly, helpful and a great host. The flat is basic but clean and comfortable enough with all you need for a short stay. It is in a good location very near to a train station (15min to Genova). There is a supermarket and a couple of restaurants nearby towards Bogliasco where there is also a very nice pebble beach. Parking on street is pretty difficult but it seems there are a few areas where you can park for free if space (well...we didn't get a parking ticket!).
Andrew
2016-09-12T00:00:00Z
The host canceled this reservation 75 days before arrival. This is an automated posting.
Iulia
2017-03-03T00:00:00Z
L'appartamento è grazioso e curato. L'accesso privato alla scogliera e il piccolo dehor esterno sono sicuramente le "chicche" di questo posto, oltre al fatto che si è vicinissimi a Genova e a un passo dalla riviera. Marco è stato poi gentilissimo e molto disponibile. Lo consiglio e penso che tornerò.
Ilaria
2017-03-26T00:00:00Z
Great little place where you feel at home. Ideal for a couple. Nice shaddy terrace for lunch, diner and aperitivo ! A few minutes walk from the sea where you can bath. Supermarket is very close and in the small town next to it, Bogliasco, you can find restaurants, shops and beach. Marco was very arranging regarding the arrival and departures time. Definitely recommend this place to people who'd like to feel a bit remote from Genova crowd.
Régis
2016-08-07T00:00:00Z
Il soggiorno presso la casa di Marco e' stato fantastico. Marco e' stato oltremodo gentile e paziente, e' venuto a prenderci in macchina ad una stazione dei treni piu' lontana. La casa e' splendida, dotata di tutto quanto sia necessario per un soggiorno gradevole. E' vicino al mare e al centro abitato. Marco e Cristina ci hanno fatto trovare anche il caffe' cosa che abbiamo molto apprezzato. Grazie.
Alice
2016-07-10T00:00:00Z
Tipus d'habitació
Casa/pis sencers
---
Tipus de propietat
Pis
---
Capacitat
2
---
Dormitoris
Pieve Ligure, Genova, Itàlia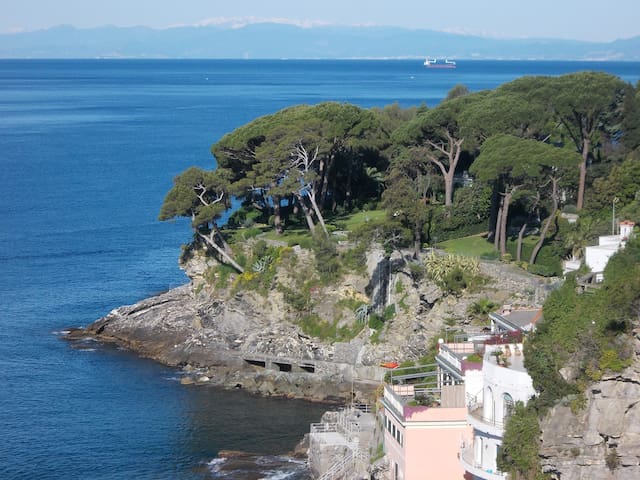 the apartment is located in a building of 3 floors in a quiet location and surrounded by greenery. Nearby there are hiking trails for all levels. There are also many mountain bike trails (ring fieschi .....), play area, great for families and older people who want to spend days in the cool of the campaign.
Tipus d'habitació
Casa/pis sencers
---
Tipus de propietat
Pis
---
Capacitat
5
---
Dormitoris
Montoggio, Ligúria, Itàlia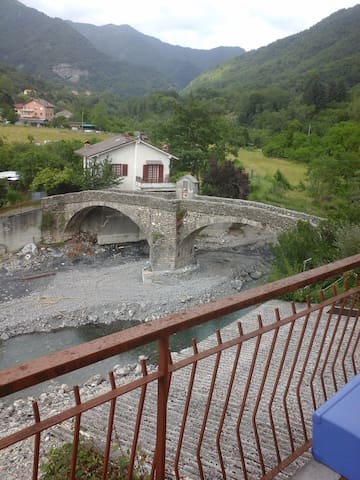 Tassorello - Airbnb
:
Mitjana de

4.68

estrelles sobre

5

a partir de

168

avaluacions d'hostes
1

-

18

de

Més de 300 lloguers d'apartaments
Introdueix les dates per veure el preu total. S'aplicaran tarifes addicionals. És possible que també s'apliquin impostos.