This comfortable, quiet house has a front deck and plenty of off street parking. A nice place with washer & dryer, coffee & tea.
Perfect!! Super clean and friendly! I highly recommend this cute house.
Scott
2017-03-01T00:00:00Z
Really enjoyed my stay at Arlo's! It was a great value as well as being very clean and comfortable. Cant ask for more than that! If your passing through Wyoming I think you will really enjoy your stay in this comfy home.
kevin
2017-03-05T00:00:00Z
Our stay at Arlo's was quite comfortable... he was quick to greet us upon arrival and the accommodations were quite comfortable. Would definitely recommend staying here.
Jared
2017-02-12T00:00:00Z
Cozy house with everything you need. 10 out of 10
Sean
2017-03-06T00:00:00Z
We enjoyed this charming and comfortable home! Arlo was very welcoming and we loved the extra touches (fruit, snacks, nice decor)
Farah
2017-03-07T00:00:00Z
I was so lucky to find this place! After 1-80 closed due to snow, this place felt like a sanctuary. Lots of natural light, free coffee and treats! Catch up on some reading,do some laundry, or veg out. Will definitely try to book this place again on future trips.
Brittany
2017-02-25T00:00:00Z
Tipus d'habitació
Casa/pis sencers
---
Tipus de propietat
Casa
---
Capacitat
2
---
Dormitoris
Rock Springs, Wyoming 82901, Estats Units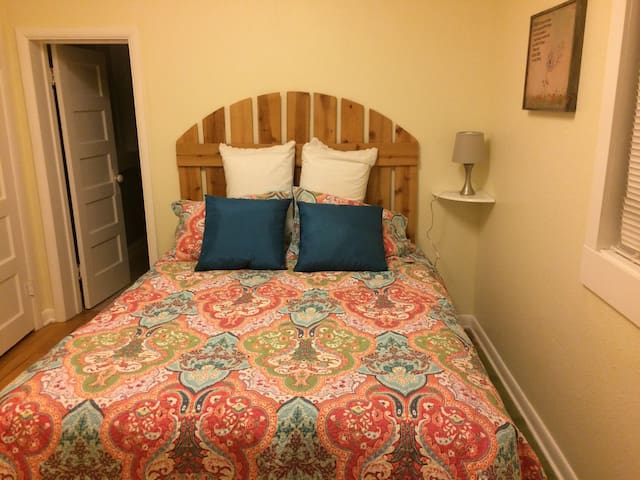 This home is close to the Downtown Area (5-10 blocks). The Flaming Gorge, Green River, Living Sand Dunes are driving distances in terms of the Western Perspective. It's a Gateway off I-80 to Jackson Hole and Yellowstone (3-4 hours). Access to parks, restaurants, recreation center (Lazy River) are about 10 minutes driving. The place has a large kitchen adequately supplied with utensils for cooking. The neighborhood is quiet. My place is a work in progress.
Old part of town.
A great place to stay in Rock Springs. DJ was very helpful and answered all of our questions about the area. She went our of her way to make us feel welcome. We loved seeing the wild horses on the wild horse loop. We would definitely stay there again!
Sam
2016-07-15T00:00:00Z
DJ was very generous with the breakfast fixings, and welcomed us graciously into her home. The house is a bit old and not walkable to downtown Rock Springs, but there are plenty of parks, playgrounds, and sites to see within 10min drive. I took our kids (age2-8) to the community college to look at dinosaur bones; played at parks; viewed wild horses at the BLM facility; and viewed the Gorge. Overall, a Lovely town and a Friendly gracious hostess!
Emily
2016-07-22T00:00:00Z
DJ took very good care of us .......her place was very clean.......we were there only one night but would stay with her again...... Worked out well with our two dogs....... Enjoyed talking with her about the old days back in Missouri........
Shirley
2016-09-09T00:00:00Z
Really great house, DJ has lots of details covered that made the stay super comfortable. There was fixings for breakfast, and coffee!! Everything was super clean and artistic.
Tom
2016-07-15T00:00:00Z
We had such a nice relaxing, down-home experience that it's too bad we had to get back on the road towards home! We had everything we needed, enjoyed baths, the circular nature of the house suited our Australian Shepherd's natural tendencies, we enjoyed the quiet view from the porch and "patio" area - everything was wonderful. Was also great to have eggs and bread, which Debra provided, amongst other things. Loved the art, book selection, comfy beds and other furniture.
Cathie
2016-08-22T00:00:00Z
This home was great. Kitchen loaded with utensils pans etc. quiet neighborhood. Easy off highway. Close to Bitter Creek Brewery/burgers. Just what DJ advertised. Prompt communication. Thx DJ!
Jonathan
2016-08-30T00:00:00Z
DJ was very accommodating with our late arrival. The house was clean and spacious with everything we needed. Thanks!
Dustin
2016-08-26T00:00:00Z
Everything was well taken care of and clean. Thanks
Pushpa
2016-11-23T00:00:00Z
Tipus d'habitació
Casa/pis sencers
---
Tipus de propietat
Casa
---
Capacitat
5
---
Dormitoris
Rock Springs, Wyoming 82901, Estats Units
Check out our DISCOUNTS (week 21% ,monthly 47%) Excellent for, business travelers, couples and families (with kids). perfect for anyone in Sweetwater county for a night, weekend, week or two , or month . It even has its own washer and dryer, Cable TV AND WIFI. Complete lower unit to yourself. We are Here to help you with anything you my need , to make your stay enjoyable.
Quite area , easy access to down town and the mall for shopping and eating out..
The owners treat this as a real business, and I actually felt a level of hospitality that could only be expected from a 4 star or greater hotel.
Luella
2017-01-20T00:00:00Z
Good value and clean place
Chris
2017-02-11T00:00:00Z
We were traveling through on a cross country road trip & found this place last minute. The accommodations were cozy & comfortable. Randy's communication was excellent & it was nice to find a place on such short notice. I found the bed very comfortable. The kitchen well stocked & coffee/oatmeal for breakfast was a bonus!
Petey
2016-12-13T00:00:00Z
We stayed at Randy's place for 6 days. Randy was amazing he called to check on us while we were traveling over 800 miles for the holidays, his communication was the best. Once we got to the house it was so nice, simple but cute. It fit my family of 4 comfortable. The house was very spotless and clean. The kitchen had everything you needed and the bathroom too. The beds were very comfortable so don't let the photos fool you. The master bed was even better than ours at home. We will definitely be stay here again. Thanks again Randy for the best house for our family time with my father in law
Matt
2016-12-29T00:00:00Z
Was a good place to stop in while traveling through with our family. The kids loved it!
Eddy
2016-12-22T00:00:00Z
Randy was very welcoming and tried to make my experience the best it could be he went out and got a tv and movie player for my children and even supplied some old Disney movies for them and left a map to a near by park I was very happy with my experience
Eric
2016-08-25T00:00:00Z
While Randy wasn't able to be there in person, he communicated very well and made sure I had all the necessary information to get into the apartment, and make my stay as comfortable as possible. The apartment is very clean and well kept. No complaints at all.
Stefan
2016-12-18T00:00:00Z
Correct description, overall cozy and spacious for 5 persons. Getting into the house was a bit of a chore: had I not talked to Randy before arriving, it would have made our entry nearly impossible. Make sure you listen carefully to the instructions, otherwise you may not be able to get into the house. Otherwise good follow up from Randy.
Daniel
2016-12-23T00:00:00Z
Tipus d'habitació
Casa/pis sencers
---
Tipus de propietat
Casa adossada
---
Capacitat
7
---
Dormitoris
Rock Springs, Wyoming 82901, Estats Units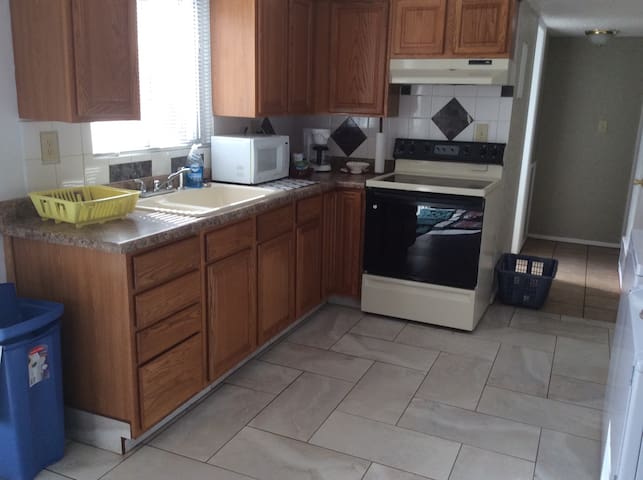 Our newly finished basement with two bedrooms, a bathroom, and living room is all yours to enjoy! One bedroom has a comfy queen bed and the other has a spacious king bed. You will fall in love with the walk in shower while enjoying the over sized rain shower head and heated floors. You can also enjoy the gas fireplace (located in the living room) during cold nights. We do have two very nice dogs but will keep them separate from your living space.
Our neighborhood is within a block away from White Mountain Mall and Smith's Food & Drug.
We arrived late at night and Brett was so kind to stay up for us and even gave us a quick tour when we got there. Everything downstairs looks brand new. The king bed was very comfortable and the heated floors and rain shower head in the bathroom were great too. Will definitely look to stay here again if I'm in the area!
Emily
2017-03-01T00:00:00Z
What a great place and value! Brett did a great job remodeling the whole basement and now it is a nice and quite suite for anyone looking for a comfortable stay. If I need a nice room when I am traveling by rock Rock Springs I will look to see it Brett's accommodations are available first. Love your dogs as well - So friendly!
kevin
2017-02-28T00:00:00Z
Great location near highway, shopping and restaurants, but set in a quiet neighborhood. Very clean and newly finished space at a great value. We were there only one night, but it was exactly what we needed. Dogs were awesome!
Stephen
2017-03-11T00:00:00Z
The host canceled this reservation 9 days before arrival. This is an automated posting.
Alex
Tipus d'habitació
Habitació privada
---
Tipus de propietat
Casa
---
Capacitat
4
---
Dormitoris
Rock Springs, Wyoming 82901, Estats Units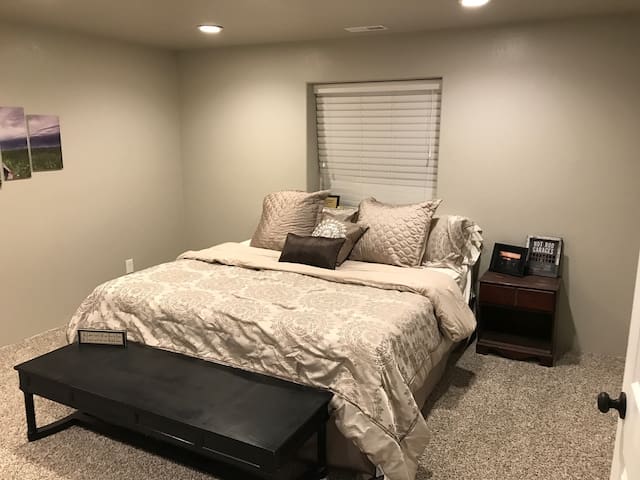 Comfy double bed in spacious private room. The room also has a large sofa. Private bathroom with shower/bathtub. Enjoy access to the kitchen and washer/dryer. Fast WIFI, and plenty of parking. I am a non-smoker, have no pets, and live in the house alone.
Your private bedroom and private bathroom are in a modern single family home in a pleasant, quiet neighborhood. The room is spacious, has a comfy double bed and night stand, a large leather couch, a desk, and a large closet. I am a non-smoker, have no pets, and live in the house alone.
Pleasant residential area, walking distance (half mile) to large grocery store, library, park, restaurants, shopping mall.
We never met the host, but he seemed nice in what communications he shared with us. That's all I can say. It just felt like we were in some person's house.
Scott
2016-08-18T00:00:00Z
Jim was very friendly and accommodating - he was very flexible about arrival and departure times. His home is conveniently located (just off I-80) but only a short drive from the historic downtown. The room feels comfortable and private. Thanks, Jim!
Sara
2015-07-17T00:00:00Z
We had a short overnight stay at Jim's. He is a very nice host, accessible but will give you your privacy. He was kind enough to let us use his oven. The neighborhood is quiet and safe. I would recommend his place, but if there is two of you traveling be prepared for some snuggling in the double bed.
Anthony
2016-09-07T00:00:00Z
Jim is a great guy with good local recommendations. The space is nice and private.
Michael
2015-07-28T00:00:00Z
Jim gave me a hearty welcome, even though I was an hour later than expected. The room is spacious with all the facilities as mentioned. Jim is a nice guy to talk with. His coffee is delicous!!! I lost my phone adapter which he sent to my next address. Thanks Jim!!
Madeleine
2015-08-06T00:00:00Z
I booked last minute as my plans changed and I arrived tired and stressed. Jim was great. He showed me where everything was and then left me to relax, do laundry and go to bed early. Perfect. Clean, comfy bed and a fluffy towel. Would definitely recommend.
Helen
2016-07-17T00:00:00Z
Jim was warm and welcoming, providing a safe place to rest my head as well as the hospitality of tea and coffee in his kitchen. The room and restroom were very nice and private. If you need anything, he's quick to reply and help.
Jack
2016-08-16T00:00:00Z
Jim was very accommodating as I was going to arrive late. He let me take my time as I had a long drive from Yellowstone to Rock Spring. Jim showed me everything and then left me to enjoy my privacy.
Shaheeda
2015-09-13T00:00:00Z
Tipus d'habitació
Habitació privada
---
Tipus de propietat
Casa
---
Capacitat
2
---
Dormitoris
Rock Springs, Wyoming 82901, Estats Units
You are welcome to use my kitchen. I will leave cereal biscuits bread for toast out. Juice and milk in fridge. I have put a small kettle with milk tea and coffee in the room for you whilst you stay.
Tipus d'habitació
Casa/pis sencers
---
Tipus de propietat
Casa
---
Capacitat
4
---
Dormitoris
Rock Springs, Wyoming 82901, Estats Units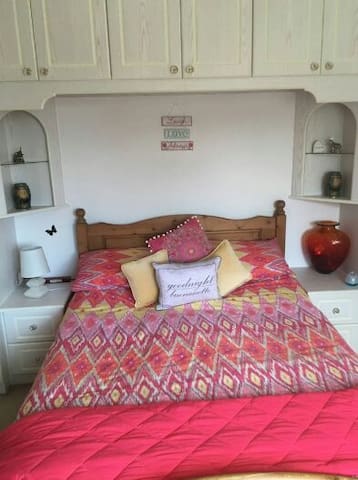 Introdueix les dates per veure el preu total. S'aplicaran tarifes addicionals. És possible que també s'apliquin impostos.