37621 Hwy 190 is located 2 miles above Springville on the river awaits a quaint studio apt. Enjoy a glass of wine on the deck or next to the river. Quiet, relaxing, and on the river.
Steps away from the river, guests can sit in beach chairs in the river to cool off or take a swim. The apt. Is equipped with a window a/c and fireplace heater, cable TV, a hide a bed for extra guests, and endless wildlife. A second room off the main room has a double bed. The guests sleeping in the second room can access the bathroom only through the main room. A variety of birds, deer, raccoon, squirrels and even skunks can be seen around the place! There is a full fridge, microwave, hot plate, electric skillet, and toaster in the kitchenette. You may also use the gas BBQ on the deck. We ask that you be present with children around the property. The pool and river are very dangerous for children unattended. Conservation is a must in our drought. Please conserve water. There is clean drinking water from the reverse osmosis fauct. No pets please.
The house is located on two acres. Neighbors across the river and on one side of us aren't visible nor do we hear them, it is a very quiet and peaceful setting. We live in the main house adjacent to the studio apartment. It is just the two of us and our two dogs. We are very quiet and will respect your privacy.
Hot soup on arrival sauna hot tub beautiful setting this place was very relaxing.
Matt
2016-01-05T00:00:00Z
Staying at Doug and Sharon's place was the last day of our trip. Doug and Sharon couldn't be more wecloming, me and my boyfriend arrived at 830p, they waited for us and showed us all the amenities we could use before they head to bed. We have our own private time at night in the hot tub and it was what we needed. In the morning, Doug and Sharon's dogs follow us to the river and we played. We are both dog people, and we loved it. The river was definitely the reason why we book this place and it did not disappoint us. This house has a very welcoming open space plus the combination of dogs and friendly host. We would recommend this place. The room itself was simple, tidy and clean. We had a good night sleep there.
Peppi
2016-09-22T00:00:00Z
Doug and Sharon were amazing hosts!!! They are very kind and nice. It was amazing experience to stay in their place! first of all, Sharon and Doug they were so kind and it was so fun to getting know them and talk with them. Second, the place was outstanding! you are stay next to the river and you can sound the water and the birds and they have 2 dogs that are so cute playing around! They gave us great recommendations to hike around and for good restaurants! The apartment is very clean!! and comfortable!! We definitely recommend this location to others!! Thank you! Yaya&Michal
Michal
2016-10-17T00:00:00Z
Doug and Sharon (and Abraham and Lincoln too) were exceptionally warm and inviting. We felt so taken care of and absolutely humbled by them. The place has magic far beyond the pictures and description. It was the perfect getaway place for three gals. Simply wonderful. We loved our stay and found it very difficult to leave. We shall return here for sure :)
Rads
2016-04-12T00:00:00Z
Great place to stay, nothing like walking out your door and the river's right there! Sharon and Doug were very gracious, even though we arrived several hours later than planned, thanks much
Greg
2016-03-22T00:00:00Z
My sister and I were staying for one night as we were in town for a wedding. The instructions made finding the place super easy and Doug met us upon arrival, along with their two sweet dogs. There were no surprises as the place was accurately described, which was perfect for our need. Easily my favorite part was the river behind the house which was so refreshing to see and be in nature (we're from LA). In the morning, my sister and I explored the river before check-out, which we loved. It was such a great stay!
Sabrina
2016-04-04T00:00:00Z
Doug and Sharon greeted us upon arrival and gave us a tour of the grounds as well as showed us everything in the airbnb! The bed was very comfortable and the water pressure in the shower was great! It was very nice and the stream was so tranquil and charming.
Jamie
2016-11-12T00:00:00Z
Absolutely beautiful and relaxing get away! Doug and Sharon were very gracious hosts - made us feel right at home! Their dogs are very well behaved, friendly, and wonderful greeters! The apartment was well maintained and comfortable. We loved being able to sit on the lower deck over looking the river while having our morning coffee! We will definitely recommend this place and would love to go back.
Barbara
2016-08-06T00:00:00Z
Tipus d'habitació
Casa/pis sencers
---
Tipus de propietat
Pis
---
Capacitat
4
---
Dormitoris
Springville, Califòrnia 93265, Estats Units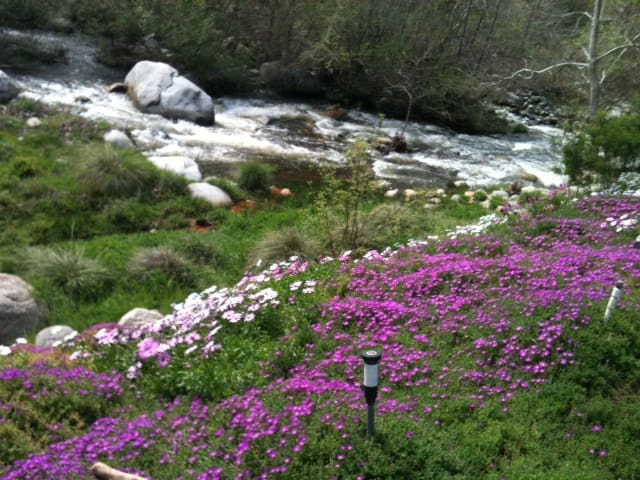 My place is close to Center the Sierra Nevada Mts., Sequoia National Park and has great views. You'll love my place because of its Authentic (the real thing) bunkhouse. You may want me to light the propane heater. THE ELECTRICITY is a 12 volt system and very safe. It is charged by solar panels. The biggest trees in the world are an easy and very beautiful drive up the road. There are thousands of these trees up there. I love them.
Please know this is a WESTERN experience and not the Hyatt hotel. The quaint two story bunkhouse has soft clean beds and sleeping bags and new quilts.
This is horse property with spreads of three to twenty acres. I have good parking. This is an upscale area of the Sierra foothills and is friendly and safe. My town of Springville has a Cowboy / Cowgirl (authentic) cafe for breakfast and lunch. In nice weather you can BBQ outside. Free charcoal no less. You can cut your own wood if you like.
Tucked away near hwy 190, this bunkhouse won't disappoint you if you are looking for a quiet place. It's very close to the beautiful forests that the area has to offer.
Alex
2016-11-25T00:00:00Z
We had an amazing time at Al's bunkhouse: it was very cozy and makes you feel very much like an adventurer! Al recommended great places for us to go to, which allowed us to have a really cool time in the Sequoia National Park. The communication was very good and friendly. We loved it and can definitely recommend it to anyone who wishes to experience the adventures of Sequoia National Park!
Stijn
2016-12-21T00:00:00Z
We loved meeting Alfred and his sweet doggie Lulu! All of our wishes and needs were met. Thank you!
Andrea
2016-12-31T00:00:00Z
Good location, cute town. Check your cell reception map beforehand because I have Verizon and did not have reception in all of Springville.
Cristina Lee
2017-01-03T00:00:00Z
Al was a fantastic host. He kept us updated on when the property would be ready and met us at the Bunkhouse to make sure we had everything that we needed. He greeted our dogs with open arms. Pictures don't do the Bunkhouse justice. The inside reminded us of an authentic western micro cabin. The property is quite and private, and the heater kept us warm during the night. The entire place took about 5-10 minutes to heat up. Overall it was a great experience, and we will stay here again next time we visit family.
Richard
2016-12-20T00:00:00Z
Secluded mountain retreat, keep in mind it's a bunkhouse so it's very quaint and rustic, which was awesome for us! Be aware so there is no disappointment, Alfred will let you know several times to make sure you are aware of what you are getting yourself into, lol! You can hear the coyotes and see all sorts of paw prints near the lake, with raccoons fighting over fish bones by the pond. Awesome experience can't wait to go back!
Maritza
2016-12-06T00:00:00Z
Al's bunk house is awesome! The bath definitely had HOT water. It was cozy, clean and WARM. The Bunk house has towels, soap for the dishes and a small stove that works wonderfully! Al is an amazing host, he provided directions to non-main stream sights that kept us wanting to go back for more. If you love the outdoors and want a quite lovely spot to stay, this is THE place!
Christina
2016-12-16T00:00:00Z
This is a good place for those who want a quiet and cheap place to stay close to some beautiful hikes in the canyon up the 190 and also for visiting the sequoia national Forrest. However, again I would emphasize Al's own words that this is not the Hyatt hotel. It's basically everything you need but is probably ideal for those who are used to camping and who can ruff it a bit. One other thing is the cabin is surrounded by some some tool sheds and a few old junky things so it's not in nature itself. But it's very close to some beautiful hikes and an hour from some of the biggest trees in the world which made it worth it. Practically, it has heating, a good working stove, pots, pans, cutlery and a nice fire pit and mini grill for BBQ. Al was very nice and helpful. He gave us maps for awesome hikes and showed us where we could see some BIG sequoias!
Heidi & Hannes
2017-01-04T00:00:00Z
Tipus d'habitació
Casa/pis sencers
---
Tipus de propietat
Cabana
---
Capacitat
4
---
Dormitoris
Springville, Califòrnia 93265, Estats Units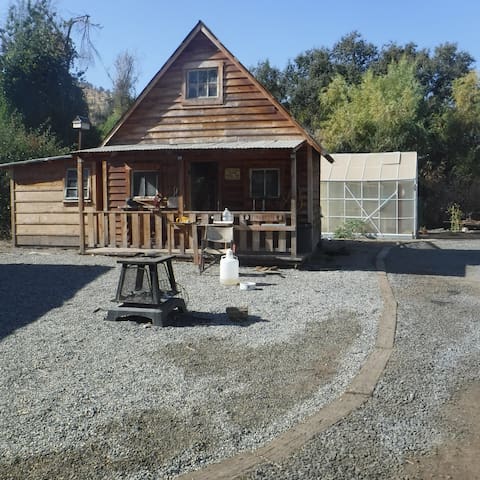 This outdoor room with metal roof sits on 12 acres with sounds of the Tule River near by. We're located on the Giant Sequoia National Monument that is surrounded by mountains sitting on a valley perfect for night star gazing. Ideal for campers who want to be pampered by nature.
Our spaces are perfect for those looking to make an overnight trip to see the Giant Sequoias while on a budget. Our space is very private, no neighbors, completely dark night skies, and is a spiritual as well as recreational location. The Outdoor Bedroom is on the land with our home nearby. It is a unique dwelling open to the view, roofed, and perfectly suited for two. There is an outdoor shower and composting toilet adjacent to the room. No electricity. The listing is for the Outdoor Bedroom which accommodates two.
Springville is the gateway to the Giant sequoias and many recreation opportunities. The town is small and our place is located just out of town at the end of a very rural road.
We had an amazing stay at Mehmet and Xico's place. We only met Xico as Mehmet was away and he was extremely hospitable and friendly. He also had great suggestions for the area. The space is beautiful and relaxing and the animals on the property are friendly and really added to the experience for us! Would definitely recommend! Also, the breakfast is highly recommended. Very delicious! This is probably the best Airbnb that we've stayed at. A very unique experience. Also we recommend taking a bath in the river on the property.
Beth
2016-09-15T00:00:00Z
When arriving at Mehmet&Chico's you relax immediately. They make all possible effort to make you feel comfortable. Chico's breakfast is a MUST. The whole property breathes peace and quietness. Sitting down by the river makes you feel the power of nature. We had a great time and really wish to be able to visit again.
Chantal
2016-07-07T00:00:00Z
Mehmet was an incredible host and his property was AMAZING! There is so much to explore and we felt very welcomed and at home. It is such a beautiful, humble space and hope to visit again. Would definitely recommend this place to friends. Best part, sleeping under the stars!
Malia
2016-09-12T00:00:00Z
Superbe expérience chez Mehmet et Xico ! Une nuit merveilleuse dans un cadre enchanteur, précédée par une baignade magique dans la rivière. Mon fils et moi même avons été extrêmement bien accueillis et avons passé des moments inoubliables ! Merci encore à Mehmed et Xico pour leur accueil et leur disponibilité, et pour ce petit déjeuner digne d'un festin ! Mon fils a également beaucoup aimé les chiens, adorables et protecteurs. Rien à dire sinon" à bientôt ! "
Christelle
2016-08-19T00:00:00Z
I'm so thankful I came across this listing. My husband and I were looking for a peaceful getaway where we could enjoy nature and each other. I can't imagine a more perfect place to accomplish those two things. Mehmet and Chico were kind, gracious, and so hospitable. I feel honored to have been able to enjoy this hidden gem of a place. You'll find the best vibes, weather, and company at this magical shelter. We'll definitely be back! :)
Katherine
2016-02-16T00:00:00Z
There are not enough words to describe how welcoming and warm Mehmet and Xico are. We really enjoyed camping at their property near the Sequoia National Park. Their outdoor room proved to be a priceless shelter during a strong rainy night at la sierra. We look forward to come back in the summer to enjoy the Tule River that passes by their property.
Adriana
2016-11-28T00:00:00Z
If you are looking for an area to rest near Sequoia and other natural areas, this is the place to be! Xico was so accommodating and very communicative. He knew our needs before we even thought of them! He created such a warm and friendly environment of comfort during our stay! It was so beautiful to be right in nature and have our own little dog guide, Tule! Breakfast was perfect and the access to the river was a major plus! Don't look any further and book now! You will love your stay!
Seamus
2016-12-25T00:00:00Z
This place is awesome. We booked the outdoor bedroom for only one night, looking for a place to crash while on a road trip. It is exactly as described. Xico was out of town but Mehmet was an awesome host. He answered all of our questions and explained the land around us. He gave excellent advise on where we should hike and we enjoyed our visit immensely. Their home is a haven. I would like to plan another trip to stay longer and see more. Thank you Mehmet! Keep doing your beautiful work.
Jennifer
2016-08-31T00:00:00Z
Tipus d'habitació
Habitació privada
---
Tipus de propietat
Altres
---
Capacitat
2
---
Dormitoris
Springville, Califòrnia 93265, Estats Units
My place is close to great views Sequoia National Forest. My place is good for couples, solo adventurers, business travelers, and families (with kids).
Close to Lake Success.
Springville House is located close to the Sequoia Forest and a few miles away from Lake Success.
Great place I happened to be her first guest and there were little issues which she fixed in a timely manner. I believe the place will improve really fast and be perfect for the guests after me. I think it's a perfect place for a getaway.
Erdal
2017-02-23T00:00:00Z
it was ok, no sofas at the living room
boaz
2017-02-28T00:00:00Z
Tipus d'habitació
Casa/pis sencers
---
Tipus de propietat
Casa
---
Capacitat
6
---
Dormitoris
Springville, Califòrnia 93265, Estats Units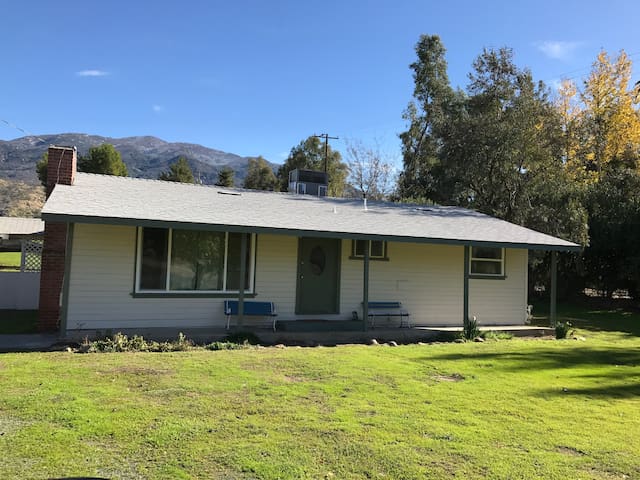 Our quaint studio apartment is located on the Tule River. Wake up to the sounds of the rushing water. One bedroom studio apartment sleeps 2 comfortably. Small kitchenette allows you to whip up some eggs for breakfast or grill steak on the BBQ. Located in the Sequoia National Forest, just minutes from the fifth largest redwood tree!
The studio apartment has a main room with a dining table and TV. Adjacent to the main room is a small kitchenette. A separate bathroom is off the kitchenette. The studio is attached to the main house and accessed by way of the back deck.
The studio is located on two acres right at the edge of the Sequoia National Forest. We are right on the river and our closest neighbor is 3 acres away. If you are looking for quiet serenity, this is the place! Wildlife abundant, you can expect to see deer, ducks, hummingbirds, and even bears depending on the time of year.
Doug was very nice and the dogs are the sweetest ever !! Location was beautiful on the river. I only recommend visiting in the summer so that the trails are all open. Besides that, the stay was perfect. Such a beautiful and secluded place.
Sarah
2017-02-25T00:00:00Z
Tipus d'habitació
Casa/pis sencers
---
Tipus de propietat
Pis
---
Capacitat
2
---
Dormitoris
Springville, Califòrnia 93265, Estats Units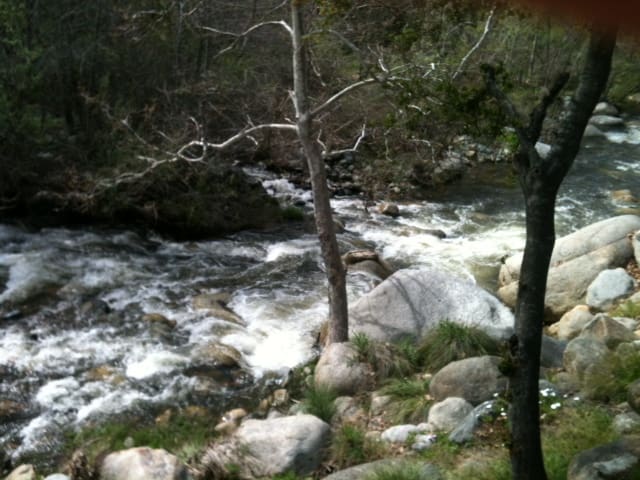 Wildflowers through April!! Hidden in the trees. Awe inspiring views of the Valley below and High Sierra above. Rustic beauty with comforts. A series of waterfalls continue down the mountain below the cabin, carving pools from the granite bedrock. Study the stars in a black sky from a giant granite boulder by a waterfall Off the Beaten Path in Giant Sequoia National Monument. No crowds. No traffic. Bring your dog on the mountain trails. Hug a Giant Sequoia.
See our website at (URL HIDDEN) for more information The Treehouse cabin is a romantic cedar shake cabin with lodge decor, leather sleeper sofa, Franklin wood stove, and open beamed ceilings. Large picture windows on the south and east sides provide natural light and views that distinguish it from other mountain cabins. The Treehouse cabin is in a private location on 1 1/2 acres surrounded by woodland and not within a mountain community or resort development. It is within the Giant Sequoia National Monument at 3800 feet elevation and only an eight mile drive from Giant Sequoia Groves in Balch Park. A series of granite waterfalls carved out of the granite bedrock flows behind the cabin. There are breathtaking view of the mountains to the east and an expansive view of the valley (sometimes to the Coast Ranges) to the west. It has a spacious 'tree house' deck with gas barbecue for outdoor relaxation. Luxury towels, Egyptian cotton linens, Turkish bath robes, and down comforters are provided for a special romantic experience. The cabin is equipped with high speed internet and Wifi. It is a perfect 'out there' couple's retreat for those who want to lose the touristy scene and find some serenity. A comprehensive hiking and recreation binder is provided at the house with maps and descriptions of local hikes, Big Trees, swimming and fishing holes, waterfalls, and scenic drives and horseback rides to help you plan your time. Dog owners can take their dogs on the leash onto the Giant Sequoia National Monument trails in this area as opposed to the National Park where dogs are not allowed on trails.
This is a private, off-the-beaten path location in a natural mountain setting.
The cabin was just as pictured!
Rachel
2016-05-05T00:00:00Z
Wow! Thank you Shelly! This is an amazing cabin in a beautiful and secluded area with so many hidden gems short distances away! We were truly shocked by how much the location has to offer. Here we avoided the tourists, crowds, and commercialism found in so many California adventures. The cabin itself has everything you could possibly need for a joyful getaway. The privacy, views, and amenities were second to none. Shelly is also an exceptional host who provided us with all the information we needed. We hope to be back someday and stay in this exact location!
Shawn
2015-07-03T00:00:00Z
My boyfriend and I had the best 2days at Shellys Cabin! It is a perfect getaway from the crazy city. She makes your stay so easy and so perfect that it pains you to leave! We will definitely be going back as soon as we can find time!
Lily
2016-01-25T00:00:00Z
Shelly's cabin in the woods was the perfect answer to my need to get away from LA for the Thanksgiving holiday! Came in at night, but with perfect directions from her, we entered no problem, and immediately made a fire and sat down to enjoy the cozy place. Fully equipped kitchen--I made Thanksgiving dinner here--and with some things I needed even left by the host, which was greatly appreciated. Bed was cozy, living room spacious, and the patio the perfect place to relax, eat, and enjoy the amazing sunsets over the valley. My son and I enjoyed the trail down to the watering hole from the cabin, and explored some hikes, though due to the season the local parks were closed so they were a bit of a drive though very scenic. The little "town" was perfect for any small needs, and the local coffee shop a must to try. Couldn't have asked for a better place to stay, or a more accommodating host--highly recommend to anyone looking for an urban escape, romantic holiday, or some peace and quiet!
Dawn
2016-12-08T00:00:00Z
My Husband and I were impressed with the cabin. The pics are accurate however they do not convey its coziness nor tranquility and that there is a new BBQ. If you are after peace and quiet this is it! perfect for an escape. I loved that Shelly has really given thought to the finer details; Soap dispensers, pre-prepared fire place, memory foam on the sofa bed and an extra layer to make it even more plush, outstanding guest information and more. The furnishings are fantastic inside and out. The view is beautiful through the trees and you can see the gorgeous sunset colors across the sky from the large windows inside, or on the deck. When the sun goes down the stars are amazing. Shelly thanks for providing this awesome cabin getaway!
Shellie
2015-10-13T00:00:00Z
My husband, the dog and I visited the waterfall cabin over new years and we had the best time. The cabin was cozy and comfortable, and the property was jaw droppingly gorgeous. If you are looking for a mountain getaway with tons of privacy, this is it. I will say that we got lucky and arrived inbetween snow storms and didn't have any trouble getting to the cabin itself. But a lot of the roads to the major sequoia attractions at higher elevations were either closed or needed snow chains to get to. We luckily had some so we made it to Belknap Grove and took a snowy hike to see a few of those big trees. So if you plan to visit in the winter, take Shelly's advice and bring the chains.
Ryan
2016-01-14T00:00:00Z
Our host made us feel welcome the second we opened the front door she had a list of everything we possibly needed to know about the cabin and the surrounding areas. We loved her suggestions and had a blast playing in the waterfalls. The neighbors we all did encounter in the mountain community were all very nice. The neighborhood felt very remote yet very safe. The host was very knowledgable and welcoming!
Paige
2016-07-16T00:00:00Z
Perfect quaint cabin getaway. Even more beautiful than the pictures! Our host had firewood waiting for us in the fireplace when we arrived. Gorgeous views, warm rustic interior, comfy bed, great kitchen. Tons of private land to explore and an amazing waterfall practically right outside the door. Our host provided all the information we needed: including tips for exploring the park. Just a short trip to the giant sequoias! Everything you'd want in a mountain retreat.
Sonny
2016-01-31T00:00:00Z
Tipus d'habitació
Casa/pis sencers
---
Tipus de propietat
Cabana
---
Capacitat
3
---
Dormitoris
Springville, Califòrnia 93265, Estats Units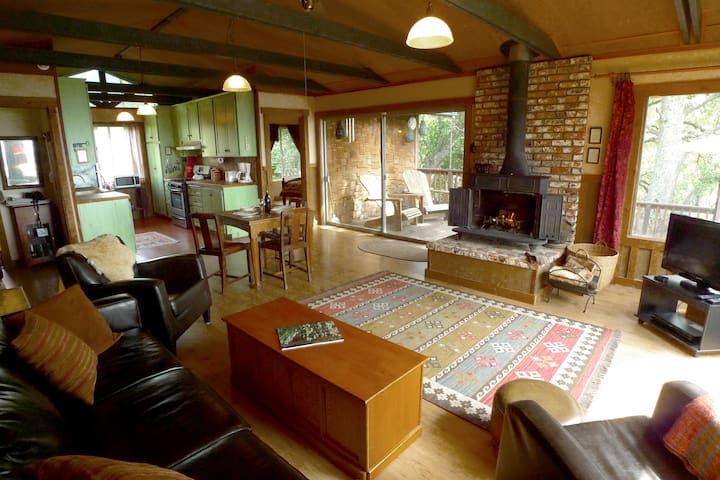 An option for small families with young children, where you are happy to have 2 simple rooms (listing says 1) and share a bath room. You can still use the pool, kitchen and common areas, but this is more economical than booking the suite and studio. And, I live here, will likely be here; it is not a party rental house.
My home is right in the center of Springville; you can walk to the market and the few restaurants. I work during the week, but I will have coffee, tea, and bread for you to make your breakfast.
Springville is safe and quiet and dark enough at night to see the stars. It's a great base for exploring the mountains and the sequoias, and it is before the winding roads. In the summer you will enjoy the pool and the small village. My house is perfect for visitors because though I am surrounded by acres of cattle land, I am also a two minute walk into town (though "town" is only about two blocks long.) There are two Mexican restaurants, a home cooking cafe, and , a burger place, as well as a small grocery store if you would rather cook.
It was absolutely wonderful staying at Michal's place from the beginning to the end. We felt very welcomed, relaxed, almost like being at home. The kids especially enjoyed the pool and sleeping on the deck under the stars- not to mention meeting cute cats ( but they should not be regularly fed as much as when our younger daughter was there!). Michal gave us great advise at what to do, where to eat, how to cope with rattle snakes or any other concerns coming along. Also we enjoyed wonderful chats with Michal. So far the best AirBnB host we had!
Catarina
2015-07-29T00:00:00Z
We had such an awesome experience staying with Michal! She is an incredible woman and her home is comfortable and charming. Having grown up in the area I can assure that there is no better place to stay! Michals good energy bed and brekfast is truly a gem!
Elise
2015-05-25T00:00:00Z
Wir waren sehr zufrieden. Ein toller Ort und eine sehr aufmerksame Gastgeberin!
Adrian
2015-07-18T00:00:00Z
De verhuurder was erg behulpzaam en het was een knus en gezellig huis.
Renee
2016-09-17T00:00:00Z
We had a real nice stay in Michals house. The house is lovely and Michal is a very good host. We were with 3 teenage girls and the swimmingpool is absolute perfect for them. We had a lot of private space and we shared the common room and kitchen with the other guests. The nearby nature is wonderful and we loved the drive to the stagg tree. We want to thank Michal for sharing her special house with us. We also visited sequoia national park which is about two hours drive away. In total we spent 4 nights with Michal and had great time there alternating the sightseeing in the wonderful nature and leisuring near the swimmingpool.
Ferrie
2015-08-02T00:00:00Z
Great night at Michal's house! The place is perfect and peaceful: couch next to the pool, special roof in the trees to watch the stars, confortable bed and bathroom, and finally the kitchen where we were able to cook. Thank you Michal for your welcoming and special congrats for the delicious breakfirst bread!! ;)
Christine
2015-09-10T00:00:00Z
Our stay here was beyond expectation! The house is so relaxing with beautiful views. I went with my 3 kids and they couldn't get enough of the treehouse and the big backyard ... Michal is a great hot with plenty of good tips for touring around the area! Thank you so much ! We hope to be back soon !
arianna
2015-05-29T00:00:00Z
Excellent location in close proximity to lot of activities around Sequoia National Forest. Very comfortable rooms. Michal is very helpful, knowledgable and informative
Rohit
2015-11-29T00:00:00Z
Tipus d'habitació
Habitació privada
---
Tipus de propietat
Casa
---
Capacitat
4
---
Dormitoris
Springville, Califòrnia 93265, Estats Units
Welcome to Springville CA, only 3 hours North of LA and 3.5hours south of San Jose in the foothills of the Sierra mountains. We are 90 minutes South of Sequoia National Park and 45 minutes West of Balch Park, home of the largest trees in the world. Our home is on the 13'th fairway of River Island Golf Club right across the street from the clubhouse. The house makes the perfect getaway for family gatherings, the neighborhood is quiet and private and makes for a great place to stay.
We have worked very hard to provide something for everybody. There are many fun things to do outside like Bocce ball, Corn Hole, Horseshoes & Frisbee. We have 2 BBQs (Gas & deep pit charcoal) and we supply the gas and charcoal. We just built a new game room called "Park" that hosts a Ping Pong table, electronic darts. Sonos music and other fun stuff. It is a playful room that is comfortable, quiet and spacious. It will likely be the favorite room in the house. We have HD Direct TV as well as Sonos music in every room with with Pandora, XM & Spotify music services ready to play your favorite tunes. This is the perfect house for a large group, 5 Bedrooms, 4 baths, (3 of the bedrooms are suites with private baths) and lots of outdoor areas to enjoy. The home sleeps 10 comfortably but can accommodate more, perfect for large groups, weddings, reunions or family vacations. We recently insulated the entire house and installed a new A/C & heater so the house will stay at your preferred temperature during any season. We have a new large Fridge/Freezer with an ice maker and a second one in the game room that can be used if requested. We have designed the outdoor living areas to take advantage of the perfect Springville weather. It is a wonderful house for your large group. River Island Golf Course (The highest rated course in the Central Valley) provides preferred tee times for our guests. This house has 2 large indoor dining tables (One flips over as a professional Poker table) Poker chips and cards are provided. We have a huge 10' picnic table outside to take advantage of the perfect Springville weather. Because the house is so centrally located and is one story, it is the perfect home for all ages. The house is very popular for families with young kids as well as older family members. With new beds and a quiet location, it is a favorite with everybody. We have had a number of groups use the house for the older members of the family for wedding parties and family reunions since access is so easy. Whatever the size or age of your group, purpose of your trip or time of year, we really do have it all. Hot water: Please note that for our larger groups, the hot water supply can be depleted quickly if all the showers are used at the same time. We recommend spacing showers out to avoid this from happening. We also recommend running the dishwasher at night.
This neighborhood is quiet and private and makes for a great place to stay.
The host was awesome! Timely response & the house was great! It was spacious, the sound system was awesome, backyard was really nice! The heater worked great too cause it was a very cold couple of days. Thanks for everything!
Giuly
2017-01-02T00:00:00Z
Great house for a large group; plenty of bathrooms to go around and a big dining room table. Well-equipped kitchen. We didn't use the audio or video but it seems extensive. Could use more comfortable sofa and chairs in the living room. Pool and spa are not heated -- summer use only.
Elizabeth
2016-12-30T00:00:00Z
It is a great house, very spacious with all required amenities for a family and a large group of friends. Sound system is great!!! Location is also scenic within manageable distance from Sequoia/Kings National park. Owner is also very easily reachable for any questions.
Prasad
2017-02-22T00:00:00Z
Was excellent. Inside of house was cool with A/C on.
Moochin
2015-09-15T00:00:00Z
Steve is really kind and helpful, he was really patient to answer all my questions. The location is very nice and easy to find. I have to say that I love the house, it is big with all the nice decorations, that really makes you feel like home.
Ivy
2015-12-02T00:00:00Z
House on the golf course with pool and air conditioning...perfect for our large family reunion. Everyone for 12 yar old twins to 85 yea old grandmother enjoyed our visit.
Nancy
2016-08-02T00:00:00Z
Check in was easy. Everything we needed was there except for the food. Steve provided suggestions for local activities and sights to see. The house was clean and inviting. It's much bigger and spacious than I expect. The pool was great. Its deep and very big. Easily handled our four adults and five kids without feeling crowded. Although it was hot during the mid day, the mornings and evenings were cool and pleasant. This location is far away from it all. But there were still shops and other resources a short drive away. Keep in mind that your might not have reception on your mobile phone in this area and plan accordingly.
Noemi
2015-07-27T00:00:00Z
My family of 10 (2 grandparents, 4 parents, 4 kids ages 5-16) spent a long weekend in this house. Highlights: sitting by the pool in the evenings, watching the kids play; enjoying the darts, ping pong, games and puzzles provided by the hosts; private baths for all couples with an extra one for the children; family dinners with plenty of space for everyone to sit; lovely views of the golf course and hills in the background. The house is less than a 2 hour drive from the center of Sequoia National Park. Dining and shops are a 30-40 minute drive; we really enjoyed lunching in Exeter and walking around the town there. Overall a great trip! The house is a bit dated, as you would expect, but very clean and comfortable with all the basic necessities. There are five bedrooms: 2 have two double beds, 1 has a single double bed and 2 have 2 twin beds. Plenty of beds but be prepared for the smaller double size if you are accustomed to a queen or king. Also, the hosts prefer that you shut down the A/C if you are out for the day, which is understandable, but it can take an hour or two for the house to cool down when you return. The gas barbecue is huge and worked beautifully, definitely a plus. Steve was very responsive to my inquiries and couldn't have been more accommodating as host. We would not hesitate to stay here again. Thank you Steve!
Gretchen
2015-08-11T00:00:00Z
Tipus d'habitació
Casa/pis sencers
---
Tipus de propietat
Casa
---
Capacitat
14
---
Dormitoris
Springville, Califòrnia 93265, Estats Units
A 2 bedroom 2 bath shabby chic 2 story apartment inside a great barn. Located 2 miles outside of the Sequoia Nat'l Forest, Holland Ranch has 7 acres.* ONLY CELL SERVICE is AT&T. It is a very rural area with the full spectrum of wild life.
THE BARN APT is AVAILABLE THROUGHOUT THE YEAR. It is a 2 bedroom/2 bath 1100 square foot APT. with a full kitchen. It sleeps 6. There are 2 queen beds in one bedroom and 1 queen bed in the master bedroom with large second story deck. ** There is ONLY AT&T cell usage in this area.**
This is country living. Neighbors are not right next door. There is lots of privacy. PRICING In calendar reflects pricing for the barn Apt only.
Beautiful spot! Ronn's property and neighborhood are very nice, and we very much enjoyed the barn. Great view of the night sky and the surrounding desert. Just know going in that there's no cell reception and even the internet is limited within the barn, so it might not be the spot to stay if you need to do work or want to watch Netflix during your stay.
Greg
2016-08-15T00:00:00Z
We had an absolutely wonderful weekend! The apartment was clean, spacious, and just as described in the listing. Ronn's directions to the property were spot on...we easily followed his directions and check in instructions to access the property. We were welcomed with fresh flowers, chilled wine, and a fruit basket. Thanks, Ronn, for an easy, relaxing stay!
Paula
2015-09-10T00:00:00Z
Diana was an amazing host!! From making my reservation to leaving the keys she was always friendly, positive, and quick to respond. So much so that I started sharing details of the event and getting ideas for the next visit. This time around, I was visiting for a wedding and I look forward to return for a visit of leisure. Both the main house and the barn house are beautiful and so comfortable. It was like a home away from home. I can't wait to return so we can put that beautiful kitchen and patio to use. It is clear that they love this property as much as their guests do. I can't thank her enough for hosting myself and friends for a very important occasion. For those attending weddings at the Springville Ranch, this is the place to go!! Cheers Diana and thanks a million!!!
nicole
2014-11-20T00:00:00Z
The host canceled this reservation 15 days before arrival. This is an automated posting.
Eugene
The setting is lovely, the barn apartment cozy and welcoming. (Thank you for the basket of oranges!) Everything is as described, but I think the barn and the property itself are even nicer in person. My family had a very restful and relaxing time at the ranch. We enjoyed two of the restaurants in Ronn's guidebook (both thumb's up). We drove every day to our son's camp in the Sequoias. It was a lovely, country drive there and back, but even better to come home to the Barn Apartment.
Anne
2016-07-24T00:00:00Z
We thoroughly enjoyed staying at the Barn Apt. It was private and quiet. There was wildlife around and sitting outside enjoying a drink on the porch in the afternoon was relaxing. The deck just outside the master bedroom gave great views of the area. It was our first trip with our rescued dog and it was great being able to take him. Ronn was friendly and welcoming and made sure we had everything we needed.
Loretta
2016-06-13T00:00:00Z
I was happy staying in the house. It's a wonderful property with amazing views from the patio. We stayed there for 2 nights and had great fun roaming around in the country side. Sequoia national park is just about an hours drive from the property. So it was a perfect spot for us to stay there.
Siddharth
2015-05-27T00:00:00Z
We loved staying at the barn! It was so quiet and peaceful, and the balcony and patio were great places to sit in the mornings and evenings to enjoy the stillness. Everything we needed was there -- kitchen utensils and appliances, towels, etc. -- all we had to do was get some groceries and it felt like we were at home. It was also a great base from which to explore the sequoias -- one day we drove along 190 up through Ponderosa, hiked the Trail of 100 Giants, then stopped at California Hot Springs to swim and soak for the afternoon, and then looped back through Porterville to the barn. It was a good day trip. Ronn gave us all the information that we could have needed and made the stay enjoyable. Thanks!
Beth
2015-08-19T00:00:00Z
Tipus d'habitació
Casa/pis sencers
---
Tipus de propietat
Pis
---
Capacitat
6
---
Dormitoris
Springville, Califòrnia 93265, Estats Units
Our Ranch-Resort has all the amenities you want. Swimming, fishing, hiking, pool, all on our property. Balch park has great sequoia's, horse back riding, fishing, hiking. Balch Park and the Sequoias are less than an hour away.
Todo muy bien
Gilbertto
2016-07-01T00:00:00Z
Jeff's home was better than we could have hoped for, and the pictures don't do it justice. My family and I stayed here for a long needed family vacation, and it was perfect. Springville holds a special place in our hearts anyway, and this home emphasized it, from the stunning views out all windows, the great pool, jacuzzi, and game room, to the lake to fish in and the paddle tennis court....all on one property. And Jeff was an excellent host who answered all my questions promptly, and checked in to make sure we had all we needed. He helped make it a truly exceptional weekend.
Holly
2016-09-20T00:00:00Z
I just have to say, Hafuma Ranch is an amazing place to stay, and Jeffrey is an even greater host. He was careful and attentive to our whole trip. We encountered some minor hot tub issues the first night, and Jeffrey literally had a handyman come over within 30 minutes of calling him. Your whole family will love Hafuma Ranch. There are just so many things to do there. It truly is a magical place.
Brian
2016-11-16T00:00:00Z
The host canceled this reservation 47 days before arrival. This is an automated posting.
Micky
Jeff was a great host. I called him when I first made the reservation, which was a few months before the reservation date, and he answered all my questions and was very friendly. He was also very helpful when I called him the day before the trip with last minute questions. The house itself was huge, beautiful, and great for my group of 9. It was a wonderful place for my extended family to relax and bond. We had a small issue with one of the heaters during our stay, but Jeff was great when I called him about it and his house caretaker was very helpful and went out at midnight to buy some portable heaters to tide us over until the next day, when the handy man could come and fixed the heater. The rest of our stay went great and my dog had a ball running around the huge property Overall a great stay and highly recommended, especially for groups!
Wendy
2016-01-09T00:00:00Z
This place is beautiful and was perfect for our 3 family weekend. The pool and the acreage were the highlights. We'll definitely be coming back.
Darius
2016-08-10T00:00:00Z
Had a great time. A place to relax and unwind and spend time with friends.
Chip
2016-05-24T00:00:00Z
Jeffrey is a fantastic host. He is extremely helpful in helping us getting the location right as the ranch is somewhat off the major roads. Additionally, the house itself is equally awesome with great amenities such as pool table, pool, tennis court, etc. We had six people and all of us can stay in the house comfortably as it has more than enough of bedrooms and bed to accommodate all of us. It took us 2.5 hours to drive to the Sequoia National Park but that was to be expected before we even booked the place. I will definitely recommend this place to others.
Seth
2016-06-01T00:00:00Z
Tipus d'habitació
Casa/pis sencers
---
Tipus de propietat
Casa
---
Capacitat
10
---
Dormitoris
Springville, Califòrnia 93265, Estats Units
My home is close to Sequoia National Park and Sequoia National Monument. You'll love my place because of the ambiance, the light, and the great energy! My place is good for couples, solo adventurers, families, and medium sized groups. I live in my home and offer four rooms, each with a queen bed, to guests. The price here is for 3 rooms for 6 people. The 7th person, if a child, may sleep on a mat on the floor for $25 a night more. Eight people will need 4 rooms which will cost $460 per night.
Michal's home is gorgeous, secluded and very comfortable. I enjoyed our conversations and the opportunity get to know the other house guests. Would've loved to stay longer. I recommend this spot for small and medium-sized groups. Our family of seven had a great time here. Make sure to take a dip in the pool and stargaze on the observation deck. Don't miss this gem!
June
2016-08-14T00:00:00Z
For the family that loves road trips, we could not have asked for a better place to stay than the home of Michal's. We are a family of seven, who can no longer find adequate accommodations easily, and with our summer road-trip through the Sequoias, we found a home away from home here. She had welcomed our big family in, even when the season was busy, and finding a place was difficult. Her place offered us a warm bed with view of the stars, my parents a cozy retreat, and even an amazing outdoor experience for my boys to sleep under the stars. For any weary travelers, whether small or large, Michal offers a beautiful home that is off the beaten path that is sure to feel like you have escaped the tourist bustle. I could not ask for more. We all would highly recommend this little gem to anybody looking for a night or nights to recharge, recoup, and relax on their journey.
Alice
2016-08-07T00:00:00Z
Thank you!
Cara
2016-10-20T00:00:00Z
Tipus d'habitació
Habitació privada
---
Tipus de propietat
Casa
---
Capacitat
8
---
Dormitoris
Springville, Califòrnia 93265, Estats Units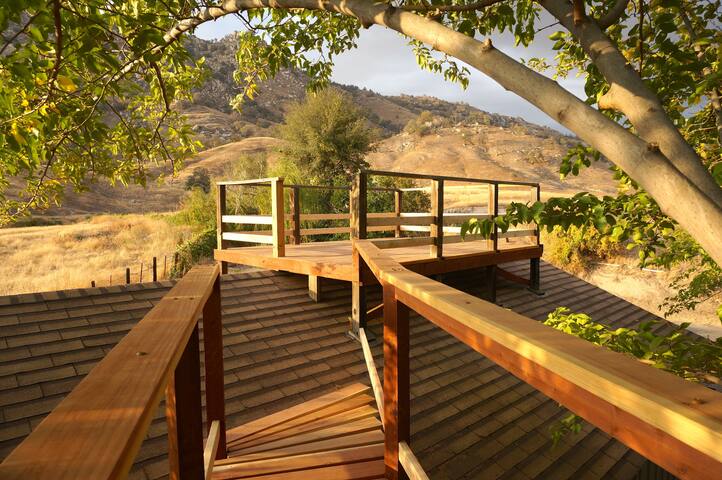 Outdoor Campsites available for 1-5 campers. Bring all your own gear, food, kitchen. Outdoor composting toilet and shower. Hiking, Biking, Climbing tours available for fee. Each site unique w/ outdoor beds, hammocks, platform beds from trees. 15% of our Airbnb proceeds go towards volunteer-driven land and river restoration projects with the local non-profit organization WildPlaces Our guests are invited to volunteer (see (URL HIDDEN) for calendar of events).
Spontaneous decisions are rewarded here. Planning to camp? Camping to plan? A little under prepared? Super prepared? No concept of how seasons work, but with relentless determination to camp? Luckily, you have found the Land that Xico and Mehmet stewards and your request to stay is immediately reviewed. Our little secluded paradise is a blast and accepts exceptional people. Friends from the Aztec, environmental justice, spiritual, and playful communities come here regularly. No camp neighbors, no tourist shuttles, just straight up nature as f*ck. We are both accommodating hosts and are passionate about our community and the environment. Connect with us. Do some brain picking with us or just be surrounded by some juicy-land love. "Chico and Mehmet are one another's dream weaver and run a dazzling array of ranch, nature, spirit and song," says recent guest Iggy. Are you a mentally exhausted Babylonian seeking a quick getaway? On the Land, staying in the little outdoor bedroom-covered shed (Outdoor Bedroom listing) or at a secret camp site (Camping Listing) is "glamping". Beautifully made and furnished with comfortable camping cots and mosquito netting for warmer weathers. You don't need to bring too much...just the personal items and a sleeping bag unless you're persnickety about a specific Dr. Brauners scent (we use tea tree) or how bright you want your lantern (our's is just right). The land has a communal patio equipped with an outdoor kitchen and a comfortable living/dining area next to a camp furnace (affectionally called The Franklin). The entire setup is warm and inviting and it's easy to find yourself cozied-up on a couch next to the fire with a book and their lovely pets. You will inevitably fall in love with the pets -- Tule the tour guide, Belknap the matriarch, Scout and Little Toes the side-kicks. So book away and don't look any further. It's the best you're going to get for the price. It's only $10-$15 more than camping in the national parks but the solitude here is superior to designated camp slots in the parks. It is worth the extra dollars. And if you came to hang out with some Giant Sequoias, the Trail of 100 Giants is just an hour drive from the property. Dome Rock and its climb opportunities is even closer a nice little spot with the perfect view overlooking the Sierra. Xico and Mehmet are knowledgeable locals and they can craft an experience for you if you just ask. Go out there and have fun! Side tip: Visalia and Porterville has an odd concentration of used furry suits in almost all the thrift stores if you're into that...(URL HIDDEN)(Thank you, Iggy, for allowing your words to be used here)
Springville is the gateway to the Giant sequoias and many recreation opportunities. The town is small and our place is located just out of town at the end of a very rural road.
We made a few stops along the way to Sequoia, which postponed our scheduled arrival, but Mehmet was nice enough to stay up until midnight to welcome us. When we arrived, Mehmet also patiently told us where to go, and kindly brought chairs and table to our campsite for us. The pets were smart and adorable, making the camp experience even more pleasant. I would recommend bringing lots of blankets, as the night can get really cold. There also was a miscommunication about setting up a bond fire, but Mehmet was nice enough to help us put out the fire without complaining. Mehmet's nonprofit organization is also very meaningful, and we had a chance to help pick up some trash near the rive with his volunteers as well. Mehmet decorated the site so beautifully, and it was an inspiration to see someone so artistic. Definitely a great weekend getaway!
Lydia
2016-09-06T00:00:00Z
Fantastic place !
Armand
2016-10-10T00:00:00Z
We had an absolutely wonderful time! It was truly an incredible experience and we will definitely be back! We were met by Mehmet who was a wonderful host and made us feel really welcome. Our sleeping quarters were amazing! We slept under the stars in a queen size bed under the trees. Everything had been well thought out and put together beautifully, from the extra blankets, the lantern and mirror on a low table by the bed, to the flowers on the nightstand! Xico cooked us a delicious breakfast (don't miss it!) of fresh eggs from their chickens and farm-fresh produce. It was served beautifully and tasted fantastic. There is so much more I could say! You have to experience this for yourself! I felt a oneness with nature, a deep gratitude and love for existence itself, a sense of being cared for by everything, including Mehmet and Xico's beautiful pets (two cats and two dogs). Mehmet and Xico's place is a beautiful example of sustainable, low impact living. It was inspiring! I took so many beautiful pictures, I wish there was a way to post them here. I highly recommend a stay with Mehmet and Xico! We found one night too short and will stay longer next time.
Jenine
2016-06-20T00:00:00Z
Xico e Mehmet são os mais simpáticos anfitriões e muito acolhedores! Você realmente se senti como se fossem família da forma como eles cuidam de seus hóspedes. Eles adoram conhecer novas pessoas e além de cozinhar o mais delicioso café-da-manhã e jantar por um custo adicional. Eles tem um espaço onde podemos nos reunir em volta de sua fogueira e desfrutar da noite sob as estrelas com grande conversa e risos. A área é segura e agradável. Você acorda com os pássaros cantando e a natureza ao seu redor. Eu e minha namorada mal podemos esperar para voltar!
masha
2016-12-27T00:00:00Z
What a beautiful, rustic oasis. I came out by myself for one night to get away from Los Angeles and focus on recentering myself. I slept in the "outdoor bedroom" on one of the hanging beds, which sways gently, making me feel comforted like a little baby in a rocker. Sleeping under the starry night sky was incredible; we barely see the moon under the L.A. haze, so I am in awe whenever i get out to remote places and can be reminded of how vast the universe is. Mehmet and Xico were so warm and welcoming, leaving me to my own devices when I explored with their adorable dog Tule down by the river, then engaging me in conversation and keeping me company when I was in the common spaces. It is truly a gift that they share their wonderful space with others. Come here for an elevated outdoorsy experience, whether solo, with a partner or a few close friends. I love camping in remote spots, but it made me feel more secure to know someone was just a few yards away (and that Tule was patrolling the grounds). Ask Xico to make you a delicious breakfast with eggs fresh from their chickens before heading out (for an additional fee)--you won't regret it.
Michelle
2016-11-23T00:00:00Z
Mehmet and Xico were fantastic hosts! Some of the most friendly and open people I've met. They are both dedicated to ensuring you have the best possible experience and it is clear that they enjoy meeting new people and sharing their wonderful property. Out of the four bed options, we slept in the grandmas bed both nights we were there. It was great to be able to sleep outside under the stars and trees while listening to the river nearby. If you go during winter, you definitely need to bring some extra layers as it will get cold at night. They have a great communal patio area with a neat stove they use as a fire place which is perfect for gathering around to get to know each other. Xico and Mehmet's place is secluded and immersed in nature. It is perfect spot to come to, to relax, commune with nature, or get away from the bustle of city life. It is not a place where you come to get drunk and throw a party. If that's what you are looking for, you should look elsewhere. As a bonus, their animals are all super friendly and sweet, just like Xico and Mehmet! Highly recommend this place, and hopefully will be coming back myself soon
Kevin
2016-02-19T00:00:00Z
It was a great stay for our family and we all enjoyed the convenience and amenities of the campsite. This kind of "glamping" gives the best of both camping and comfort, specially with young children, or people new to camping.
zee
2016-08-21T00:00:00Z
I enjoyed myself more than i thought i would have. It's nice to get away and reacquaint yourself with wonder
Andrew
2016-11-14T00:00:00Z
Tipus d'habitació
Habitació compartida
---
Tipus de propietat
Altres
---
Capacitat
5
---
Dormitoris
Springville, Califòrnia 93265, Estats Units
The Holland Ranch is a 7 acre hillside home located 3 miles from the Sequoia National Forest. Enjoy the newly remodeled cooks kitchen and wide open spaces. The views from the cantilever deck are breathtaking and only 26 miles up to the big trees.
The ranch sits just 2 miles from the edge of the Sequoia National Forest in the foothills of the Sierras. Giant granite boulders tower and others rest in the sweeping pastures surrounded by horses and cattle. The Home lies high above these pastures with spectacular westward views. The surrounding area is beautiful with lots to explore: Ride bikes, Take a long walk around Globe Drive (6 miles), Go to Lake Success for a swim or fish. This is a rural setting with plenty of indigenous wildlife to include: Mountain Lion, Black Bear, Coyote, Raccoon, Bobcat, Rattlesnake, Golden Eagles, Red Tails, Blue Heron, Egrets and many songbirds etc...**** THERE IS ONLY AT&T cell phone service in the rural Springville area. !****
The Location is gorgeous. Amazing mountain views with large boulders and rolling pastures. Nicely paved roads for biking, hiking abounds! Let us know if you need bikes for a ride around Globe Drive. Explore the Sequoias the gateway is just 5 miles away. Lake Success is a nice lake where you can swim or if you have a boat or jet ski you can use them there. In the nearby town of Springville, there are a few restaurants and shops. I have a hand book for you that lists everything to see in Springville and surrounding area. The local Giant Sequoias are within 23 miles (Balch Park) & 75 (The Generals) miles. It is rural community with a mixture of local ranchers as well as professionals and retirees. .**** THERE IS ONLY AT&T cell phone service in the rural Springville area. !****
A perfect escape. Feels like a real getaway, beautiful spot to relax with friends and family or explore the nearby parks. Host has been fabulous about everything. Already want to come back!
Perri
2016-11-12T00:00:00Z
We enjoyed our stay at Artists Home. It was an ideal location for family to gather for our daughter's wedding weekend. The home was clean and comfortable. We were welcomed with fresh fruit, complimentary white wine, and some Snickers bars!
Rebecca
2015-10-29T00:00:00Z
Tipus d'habitació
Casa/pis sencers
---
Tipus de propietat
Casa
---
Capacitat
6
---
Dormitoris
Springville, Califòrnia 93265, Estats Units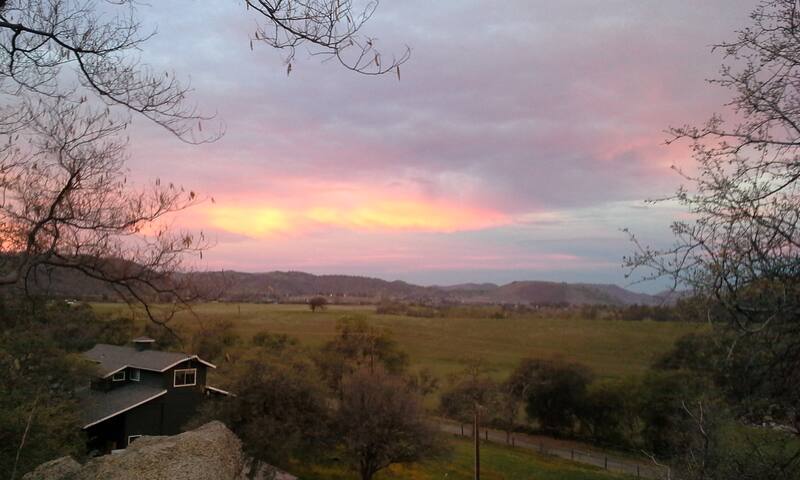 A small bedroom with two beds (or one large), private bath in our home on 12 acres on the Tule River in the Giant Sequoia National Monument is surrounded by mountains and offers outdoor relaxing spaces and river access. Guided rock climbing, biking, hiking tours, and MEALS available thru hosts.
Our spaces are very private, no neighbors, completely dark night skies, and is a spiritual as well as recreational location. The Indoor Bedroom is in our home. It is a unique dwelling open to the views and perfectly suited for two (three if you are a child). The beds can be twin or pulled together into a double. There is a private bath with tub (no shower yet), shared kitchen and living room, outdoor dining room and many relaxing spots on the property. We expect guests on out home to manage all their own cleaning and cooking.
Springville is one of the gateways to the Giant Sequoias and many recreation opportunities. The town is small and our place is located just out of town at the end of a very rural road.
Mehmet and Xico were amazing hosts. They took extreme care of us and made us feel like at home. One of our best Airbnb so far, the location is perfect, in the middle of the nature and the hosts will help you with every tips you need. They are really interesting, thoughtful, and open minded people. We can't wait to come back in this paradise !
Sarah
2016-02-11T00:00:00Z
The host canceled this reservation 17 days before arrival. This is an automated posting.
Christos
If you like nature, beautiful surroundings, lovely animals and friendly and very helpful hosts, it is a perfect place to stay. We were there in January so we booked a room inside. We had a comfortable bed and because of the tall windows much daylight, which was a wonderful start in the morning. Xico was there, whenever we needed something and it was also amazing talking to him. For us it was perfectly located in order to visit the Sequioa National Park.
Joachim
2017-01-15T00:00:00Z
Really friendly hosts, made us feel welcome. Excellent breakfast, all home grown food. Would recommend if you're looking for a simple, close to nature experience. But if you like your creature comforts this isn't the place for you. The two guard dogs are amazing so no need to feel alarmed by the noises of local wild animals!
Claire
2016-06-15T00:00:00Z
Mehmet and Xico have an absolutely beautiful property and it was a fun place to visit. Communication was prompt and the property was as depicted in the listing. It is a very relaxing place to stay and both Mehmet and Xico were excellent hosts. Both were very friendly and helpful throughout the course of my stay.
John
2016-06-08T00:00:00Z
What a fantastic place Mehmet and Xico's home is. I really loved everything about my (only 2 nights) stay there, it is beautiful, relaxed, friendly and comfortable. Mehmet was a perfect host, and I had the unexpected pleasure of an evening around the fire with his friends, family and dogs. I would highly recommend their home, this was one of my best Airbnb experiences in years!
Rebecca
2016-04-10T00:00:00Z
Appealing Eclecticism My husband and I recently (Early April 2016) enjoyed a three-night stay in the indoor room at Mehmet and Xico's place near Springville. These two gentlemen are warm and welcoming hosts. They had several guests the weekend we visited, one other Airbnb guest and personal friends of theirs. We were invited and gladly participated in their socializing activities and a communal meal. This place is set on twelve acres bounded on one side by the Tule river, and the sound of the water coursing over its rocky coarse and the many birds provide a very nice audio background. The hosts have cut several pleasant walking trails into the property and were actively improving them during our visit. We availed ourselves to the extra fee breakfast and it was well worth it. Xico's has experience as a hotel chef in San Francisco and the breakfast he served was sumptuous and delicious. We unequivocally recommend this place and are will return soon.
Amy
2016-04-08T00:00:00Z
Our experience was beyound expectations. The hosts were unbelievably welcoming and so much attention was paid to detail. We had the most relaxing time and so much fun. We felt like we were in our own little paradise. The river was private and peaceful. The house and property so Zen. I don't care for dogs but I wanted to take theirs home. So sweet! If you go, get the breakfast..oh when I got home I had to buy oranges and make fresh juice..I don't know how they made it so good!! For a private get away this is the place to go!
Constance
2016-06-23T00:00:00Z
Tipus d'habitació
Habitació privada
---
Tipus de propietat
Casa
---
Capacitat
2
---
Dormitoris
Springville, Califòrnia 93265, Estats Units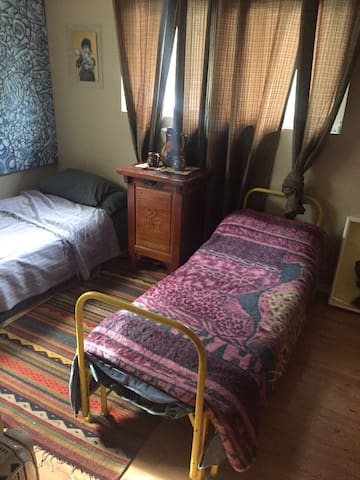 Introdueix les dates per veure el preu total. S'aplicaran tarifes addicionals. És possible que també s'apliquin impostos.