NEW WIFI apartment is located in the lung of the Sierra Calderona. It consists of a large room with balcony. A kitchen equipped with microwave, oven and hob. A bathroom and two bedrooms with a large terrace.
Cozy apartment in the Serra Calderona. Located in the town of Serra, Registered in the Registry of Valencia under No. VT-35315-V .A 30 minutes from the beach. Room with double bed, with NEW mattress viscoelastic and gel. Another room with two single beds. Wifi, Easy Access, Parking included, and a magnificent terrace where we built a large table with chairs and a large umbrella. For the coldest days of winter we have bedspreads and stove. In summer have standing fan for the hot days. The apartment will enjoy a peaceful atmosphere, it is also located close to food shops. We offer brochures with tourist information to make all routes of the park.
Serra is located in the lung of the Sierra Calderona. Located on the southern slope of the Sierra Calderona the village has winding and steep streets. It has its historical origins in an important Arab castle now in ruins, although the Iberian and Roman archaeological remains no record of mainly cerámica.El apartment is located near many shops, food, tobacco, fruit shops. Including typical local restaurants and bars. We'll show you where you can go to do your shopping, and where you can enjoy the cuisine of the area.
Fuimos a pasar un fin de semana con nuestro perro y Mari Carmen fue encantadora con nosotros, nos dejó muchísima información sobre rutas por el parque natural, sobre restaurantes de la zona e incluso tuvo el bonito detalle de llevarnos los cuencos de comida y bebida para nuestro perro. La casa es tal como sale en las fotos, muy limpia, nueva y no le falta detalle, estuvimos muy agusto y cuando volvamos por allí seguro que repetimos. Gracias Mari Carmen!
ELSA
2015-11-02T00:00:00Z
Séjour parfait dans cet appartement calme et bien équipé. Literie très confortable.
FLORIAN
2016-04-10T00:00:00Z
A lovely, clean, well equipped apartment. In a convenient location for visits to Valencia and Segorbe and for hiking in the surrounding countryside. Mari was extremely welcoming and nice host. Thank you
Bev & Mark
2016-09-29T00:00:00Z
We stayed for 3 nights at the apartment of Mari! It is a very spacious and neat apartment. We got a warm welcome by her, it was very nice! Thank you mari for the nice time!
Manon
2015-09-23T00:00:00Z
We came to ride our road bikes in the mountains. What a place to stay. On the main highway for cyclists coming out of Valencia. Such an ideal location to get out to the mountains. Serra is a lovely little town with a couple of great cafe/bars and an excellent supermarket & bakery. We could not have wished for anything better. Loved the flat which was spacious and clean as pictured. The lift from the airport for us and our bikes was way beyond generous we can't thank you enough - especially as we were delayed by 3 hours. So much to say thank you for.
Peter
2017-04-03T00:00:00Z
Apartamento muy amplio y luminoso, con todo lo necesario para estar a gusto: camas cómodas, cocina bien equipada, WIFI, baño con mucha presión de agua y que sale calentita muy rápido,... El parking fundamental, pues no hay aparcamientos al lado del apartamento, y además aparcar en Serra es complicado. El apartamento está al pie de una carretera muy transitada por el día por coches y ciclistas. Afortunadamente por la noche el tránsito de vehículos es muy bajo, y apenas hay ruido, por lo que se puede descansar bien. Serra no es un pueblo con encanto, pero está, por ejemplo, a 15 minutos en coche de Bétera, desde donde se puede coger el metro hasta el centro histórico de Valencia. A las playas de El Puig se llega en coche en unos 30 minutos. Y a las de Canet en 40.
Carolina
2017-02-28T00:00:00Z
Tanto Mari Carmen como su marido fueron muy buenos anfitriones y el apartamento estaba genial.
Piluca
2015-08-09T00:00:00Z
Very nice appartment in Serre. Only internet is missing
Henk
2015-09-12T00:00:00Z
Tipus d'habitació
Casa/pis sencers
---
Tipus de propietat
Pis
---
Capacitat
4
---
Dormitoris
Serra, Comunidad Valenciana, Espanya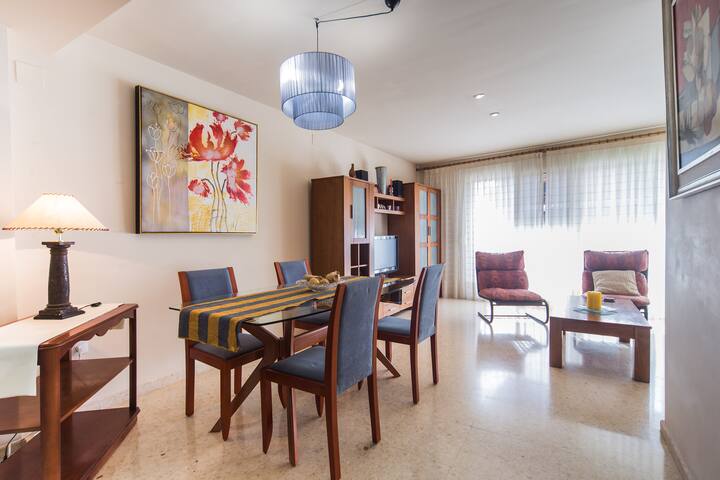 Situada en la Sierra Calderona, sobre el GR10, esta casa pequeña les dará espectacular vistas. Es muy confortable y la piscina comunitaria es muy poco ocupada aún en verano. Disfruten de la piscina después senderismo o ciclismo con la familia o los amigos. Visiten Valencia y las playas a 30mn en coche !
Huset indeholder 2 etager. I stueetagen, syd terrasse åbner på en cool lounge. Derefter dig adgang til et fuldt udstyret køkken (opvaskemaskine, mikrobølgeovn og traditionel ovn, vand purifier ...) giver på en stor terrasse på den nordlige side, tilpasset til sommer under varme årstid. På denne etage er der også et soveværelse med dobbeltseng (med en dobbeltseng og stort klædeskab) står over for en lille badeværelse med toilet. På første sal, 2 dobbeltværelser (2 enkeltsenge + 1 stor seng alle med stort klædeskab) og et tredje soveværelse med en seng ans et skrivebord ans det confortable kontorstol. Selvfølgelig, vil du finde et andet badeværelse med badekar og toiletter. De 2 badeværelser er udstyret med håndklædetørrer. Vi leverer til kvalitet linned i soveværelse, badeværelse og køkken. En fælles swimmingpool er til din rådighed og normalt ubesatte! Efter antallet af mennesker planlagt for reservationen, værelser kan være utilgængelige. Nu kan huset bruges om vinteren (december til marts i dette område): Du vil finde en klid nye brændeovne-komfur og opbevaring varmeapparater i 2 dobbeltværelser.
Beliggende på kanten af landsbyen Serra landsby, på grænsen til naturparken Sierra Calderona, kan du nå hjertet af landsbyen i 7mn til fods. Der vil du finde en typisk spansk atmosfære walking omkring brostensbelagte stræder. Du vil opdage, at der alt hvad du måske har brug for: bager butik, lokal købmand, kemiker shop ... Indkvarteringen er også over GR10 vandreture spor og andre mange skovstier til daglig gåture for alle niveauer: gå vandreture, klatring, cykling, eller ridning! Af alle vinduer i huset kan man beundre en udsigt til Sierra Calderona med smag af fyr, rosmarin og vild timian
La casa es cómoda y funcional. El acceso en coche es sencillo y está razonablemente cerca de Valencia, lo que para nosotros que viajamos con un niño era perfecto porque nos permitió hacer turismo por Valencia y sentirnos como en casa al llegar, al tener un lugar tranquilo para poder descansar. La urbanización es muy tranquila y en el pueblo hay todos los servicios necesarios (hicimos la compra en un supermercado Consum que está muy bien). Tal como describen las fotos la casa es espaciosa y dispone de una terraza exterior donde estar relajado con vistas a la montaña. Todas las estancias estaban muy limpias, tanto los baños como las habitaciones. La cocina muy completa (con lavavajillas). No dispone de aire acondicionado pero, incluso en días de mucho calor como los que pasamos, la zona es fresca y los ventiladores de techo son fantásticos (tanto en comedor como en dormitorios). La piscina comunitaria no es muy grande pero son pocos los vecinos que la usan, así que es muy agradable. La entrega de llaves no la hizo la propietaria en persona, pero se interesó en todo momento de que estuviera todo bien.
Marc
2016-07-16T00:00:00Z
Nice and clean house in Serra. Close to excellent hiking trails. Don't forget to go for a meal at the nearby Casa Granero restaurant. Serra in winter/spring can be chilly, so bring a proper sweater.
Ralph
2017-03-27T00:00:00Z
We have been at Brigit house for 3 month and the stay was amazing, house was very clean and cozy, it was fully equipped with dishes and all necessary household appliances, the swimming pool was big and clean. And the terrace with the view to mountains was wonderful! Neighbors and the environment around was calm and quiet. Brigit as a host was very responsive and helpful! Thanks for very nice stay :)
Kristina
2016-07-02T00:00:00Z
Hemos estado muy a gusto en la casa. Nos ha sorprendido gratamente la cantidad y calidad del menaje de cocina, la purificadora del agua (con el ahorro que es), las toallas, el wifi, etc... detalles que hacen más agradable la estancia. La casa regula muy bien la temperatura, estaba fresquita cuando hacía calor, y muy agradable cuando hacía fresco fuera. Brigit ha sido una estupenda anfitriona, estado pendiente de nuestra llegada, facilitándonos la ubicación y dejándonos mucha información de la zona. Si volvemos por la zona repetiríamos en vuestra casa.
Sonia
2016-07-24T00:00:00Z
Nos ha gustado mucho la casa, preciosa, con todos los detalles. Cocina equipadisima, muy bonitas las terrazas y salon precioso. No falta de nada. Piscina de acceso rapidisimo, a la vuelta de casa. Muy cerca del pueblo Serra, en el que hay todo lo que se pueda necesitar. Quedamos encantados.
SUSANA
2016-09-11T00:00:00Z
Tipus d'habitació
Casa/pis sencers
---
Tipus de propietat
Casa adossada
---
Capacitat
6
---
Dormitoris
Serra, Comunidad Valenciana, Espanya
Dúplex independiente de 140m en Serra. El chalet se encuentra en plena Sierra Calderona, muy bien comunicado con la ciudad y a 500m del pueblo. La ubicación es única, en plena naturaleza y absoluta tranquilidad.
Lugar relajado dónde disfrutar de la naturaleza. Estancias muy amplias con vistas a la Sierra Calderona. La playa está a 20min en coche. Un lugar perfecto para hacer senderismo o ciclismo ya que se encuentra en plena alineación montañosa.
La Sierra Calderona, situada entre las provincias de Castellón y Valencia (España), queda constituida por una alineación montañosa de orientación NW-SE que separa las cuencas de los ríos Palancia y Turia, extendiendose por las comarcas del Alto Palancia, Camp de Morvedre, Camp de Turia y L´Horta Nord. Forma parte de las últimas estribaciones del Sistema Ibérico, y constituye, con sus casi 60.000 Has. (600 Km2), la barrera natural al desbordamiento de la huerta valenciana por el norte, a la vez que uno de los enclaves naturales más valiosos de la Comunidad Valenciana, cuyas características físico-naturales le otorgan un interés ecológico excepcional, a la vez que paisajístico.Esta sierra ocupa una vasta superficie que se desarrolla principalmente por debajo de los 1000 m. de altitud, con excepción del Montemayor, en el extremo noroccidental, donde se alcanza una cota de 1.015 metros sobre el nivel del mar. Otras alturas importantes son el Gorgo (907 m.), Rebalsadors (802 m.), Oronet (742 m.) y el Garbí (600 m.). Como rasgos más sobresalientes de la orografía de la zona, cabe destacar por una parte el núcleo triásico oriental, donde se puede encontrar la presencia de muelas calizas como Mola Segart, Xocainet o la Redona y, sobre todo, una parte del territorio con predominio silíceo en que aparecen espectaculares crestas de areniscas rojas (Gorgo, Garbí, Picayo) que envuelven núcleos carbonatados como Rebalsadors, Alt del Pí, Oronet y Peñas blancas. Por otra parte, en cuanto al núcleo jurásico occidental, punto de entronque con las estribaciones ibéricas, cuenta con la principal elevación del ámbito del Plan (Montemayor).
La maison est très agréable, la vue depuis le balcon est très belle, les photos correspondent bien à la réalité. Alicia et sa maman nous ont réservé un accueil très chaleureux, elles nous ont permis de passer un séjour formidable. Merci à elles pour tout.
nathalie
2016-08-14T00:00:00Z
Tipus d'habitació
Casa/pis sencers
---
Tipus de propietat
Xalet
---
Capacitat
6
---
Dormitoris
Serra, València, Espanya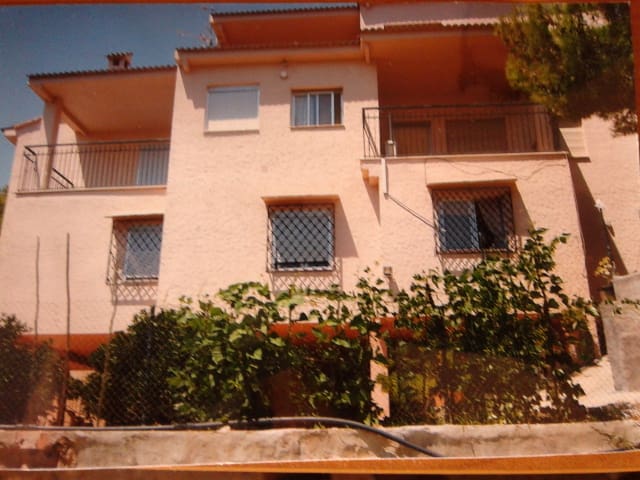 Excellent location inside the natural park of sierra Calderona, only 30 minutes from Valencia city center and 20 minutes from the airport. The perfect place to go on hiking routes, cycling, mountainbike... Equipted with a jacuzzi pool and a barbeque pit to cook out. This is the perfect place for you to come with your family and friends, to sit, relax and enjoy the beautiful spanish country side.
This rustic spanish chalet is located in the heart of the Calderona mountain range. You can count in a relaxing enviroment and ejoy the spanish sun near the pool or the pure air while reading a book.
Que es un parque natural con excelentes vistas.
La casa es preciosa, zonas comunes y exteriores estupendas para grupos, todo tal y como se describe en las fotos. Todo ha estado perfecto. Muy limpia y acogedora. Se agradece que esté muy equipada,no falta de nada en la cocina. Muy recomendable.
Juan Ramon
2016-12-11T00:00:00Z
Jose es un anfitrión excelente; la comunicación fue fluida desde el mismo momento en que hice la reserva. La casa es impresionante, mucho mejor que en las fotos: preciosa, gigante y muy acojedora. Organicé un fin de semana para mis amigos y todos hemos quedado encantados. Perfecta localización, a dos minutos del pueblo. También se puede ir andando por la sierra para hacer excursiones. El paellero es brutal, perfecto para hacer paellas y barbacoas. Totalmente recomendable, no puedo decir ni siquiera una cosa negativa.
Alvaro
2016-12-04T00:00:00Z
La casa se corresponde con las fotos e incluso mejor. Perfecta para disfrutar en familia y con amigos.
Beatriz
2017-01-01T00:00:00Z
Hemos pasado un muy buen fin de semana famliar en una casa muy acogedora. El trato con el propietario ha sido muy bueno. Si algún dia volvemos por la zona, sin duda, repetiríemos con la casa.
Albert
2017-02-19T00:00:00Z
房子与图片符合,非常的美丽,安静,交通也非常的方便,距离瓦伦西亚市中心不到一个小时。房东是个非常热情的人,由于本人居住在西班牙,所以入住前他还给我打过电话告诉我们怎么到达 给予我们一些建议。性价比很高。 无比推荐!!! La casa es tal y como nos podemos ver en las fotos, esta en una zona tranquila, pero bien conectada con el centro de VALENCIA. El dueño es muy amable, me llamo antes de que vayamos, y me explico como poder llegar a la casa y unos consejos...Ha sido una experiencia magnifica.Muy recomanable. Si volvemos a esa zona, sin dudas, repetiremos!
舒凡
2017-03-20T00:00:00Z
Hemos pasado un fin de semana sensacional, disfrutando de la maravillosa casa en una zona preciosa. Nos hemos sentido como en casa, todo limpio, no le faltaba detalle y Jose Ramón el propietario atento a cualquier necesidad que pudiésemos tener. Muy recomendable para pasar unos días de descanso con la familia, amigos...
esther
2017-01-15T00:00:00Z
Estuvimos en casa de Donat un fin de semana de reencuentro el grupo de amigos del erasmus. Jose Ramon es una persona muy atenta y fácil de trato, nos facilito mucho la estancia haciéndonos sentir como en casa. Como han pasado muchos años desde el erasmus, el grupo ya somos mini familias con parejas y un par de bebes. Nos busco una cuna para los peques facilitandonos todo lo maximo posible. En cuanto a la casa es impresionante, los 5 dormitorios son grandes, el comedor es enorme, casi no lo usamos porque hizo buen tiempo y pasamos casi todo el finde entre las dos terrazas, por la mañana en el patio de la cocina y el atardecer en el porche delantero, tiene unas vistas maravillosas para ver anochecer y unos sofas muy comodos para tomar algo y charlar. La casa es tan grande que creo que no nos dio tiempo a ver cada rincón. Es perfecta para familias y grupos de amigos que quieran comer una buena paella de leña (nos recomendo un sito por encargo maravilloso) y disfrutar de la tranquilidad y la naturaleza. Repetiremos seguro
David
2016-10-02T00:00:00Z
La casa era impresionante,y el trato inmejorable. Estamos muy contentos y seguro que repetiremos
Carla
2016-06-20T00:00:00Z
Tipus d'habitació
Casa/pis sencers
---
Tipus de propietat
Casa
---
Capacitat
15
---
Dormitoris
Náquera, Comunidad Valenciana, Espanya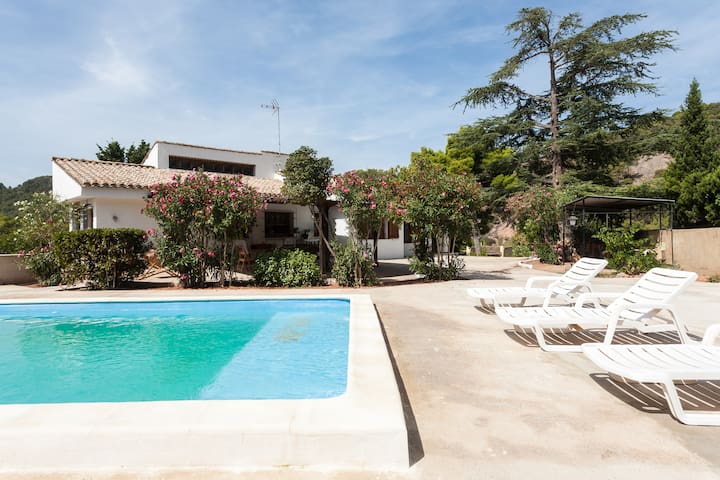 Mon logement est proche de les activités adaptées aux familles. Mon logement est parfait pour les couples et les familles (avec enfants).
Perfecto para descansar. El matrimonio es muy amable y servicial. 100% recomendable
Juan Antonio
2017-03-19T00:00:00Z
Very nice persons and a nice place. Would recommend.
Thierry
2016-11-04T00:00:00Z
Se describieron con amabilidad, nos invitaron a un pastel muy sabroso y la zona muy tranquila. El matrimonio encantador
Jose
2016-11-13T00:00:00Z
Tipus d'habitació
Habitació privada
---
Tipus de propietat
Casa
---
Capacitat
6
---
Dormitoris
Náquera, Comunidad Valenciana, Espanya
Lovely duplex-penthouse located in a village of Valencia (15-20m) in Calderona mountain but close to the beach, with an awesome view and really quiet. perfect for a break-off. With communal pool. Recommended car/motorcycle for journeys.
The Space is fully-equiped in order to do you and your mate/family accommodation pleasant and confortable. This lovely penthouse wil allow you to enjoy the peace of a mountain village, enjoy Valencia (really close) and enjoy the beach.
Located at the entrance to Náquera, village at the feet of the Calderona mountains, with sufficient services and Consum supermarket (5m). Really quiet zone in 15-20m to Valencia and beach.
Loved staying in Jose's apartment in Naquera. Naquera is the perfect hub for visiting Valencia if you have a car. It is like a small mountain village and is the entry into the Sierra Calderone, in 10 minutes you are in the mountains for hiking, biking or just enjoying the relaxing sights. In 30 minutes you are at the beautiful beaches of Canet d'en Berenguer. And in 30 minutes you are at any place in Valencia, the El Carmen, the Turia Park, Rusafa or Malvarossa. The apartment itself is spacious, modern, has a terrace with a beautiful panorama view, and is fully equipped. Jose is a nice guy and helped me with good tips about the area and guided me to the proper address when I had trouble finding it the first time. Highly recommended, I will surely return. Thanks Jose!
Marc
2016-06-15T00:00:00Z
José's place was awesome. The photo's and layout are spot on and he's not exaggerating about the awesome view. José is also a great host who told us a lot about the places we should visit (the best beach, the best paella etc) and helped us when we had trouble finding the place and for some reason ended up in a different (nearby) village. Náquera itself is a small town perfect for some peace and quiet. The town has all the basic stuff (grocery store, bar, restaurants) and is a good starting place to explore the area. In 30min (by car) you can get to nearby cities like Valencia and Sagunt or to the beach. Like José says in the description, a car or motorcycle really is a must. Thanks for everything José! We had an amazing holiday.
Abel
2016-08-14T00:00:00Z
Dúplex-ático, muy bonito y acogedor, ideal para una pareja. El piso es tal y como aparece en las fotos, el pueblo es muy tranquilo y está cerca de Valencia. José Ramón muy atento, pendiente, y flexible con las horas. Totalmente recomendable.
Mariví
2016-08-30T00:00:00Z
++ Duplex muy acogedor con garaje en zona tranquila con terrazas muy soleadas. No se escuchan los vecinos y el centro del pueblo está a un paso. El anfitrión muy amable y flexible con las horas de entrada/salida - - El sitio no estaba limpio. Había mucho polvo y pelos de gato por todos los lados. La nevera y la cocina en general estaban bastante sucias. Así que me puse a limpiar para poder disfrutar del inmueble. En general: Un lugar estupendo para pasar un fin de semana muy relajante con la condición de una buena la limpieza a fondo.
Miguel
2016-05-02T00:00:00Z
Nuestra estancia en casa de José Ramón ha sido muy agradable por su ubicación, hemos podido descansar porque es un sitio muy tranquilo. El piso es muy bonito y soleado. Es genial que acepten mascotas. El tema de la limpieza puede mejorarse.
Yoli
2016-12-25T00:00:00Z
Ubicación increíble - al alcance de Valencia ciudad pero no se siente, communicada por transporte público, al pie de la maravillosa sierra calderona, a pocos metros del supermercado. El apartamento de por sí es muy cómodo, con mucha luz, aire y una terraza chula. Náquera es un pueblo tranquilo con gente amable.
Jeffrey
2017-03-17T00:00:00Z
la casa esta muy bien muy tranquilo el pueblo Jose Ramon fue encantador y nos ayudo en todas las dudas de transporte ya que estabamos un pelin retirados de Valencia pero lo pasamos muy bien
Dori
2017-03-20T00:00:00Z
Jose was a very nice guy. The house was exactly like the photos. I was there for 4 days to go cycling. The hills and roads behind the house are really beautiful. I had a wonderful time. I really recommend this place if you are in the area. Thanks again
Josh
2016-03-19T00:00:00Z
Tipus d'habitació
Casa/pis sencers
---
Tipus de propietat
Pis
---
Capacitat
4
---
Dormitoris
Náquera, Comunidad Valenciana, Espanya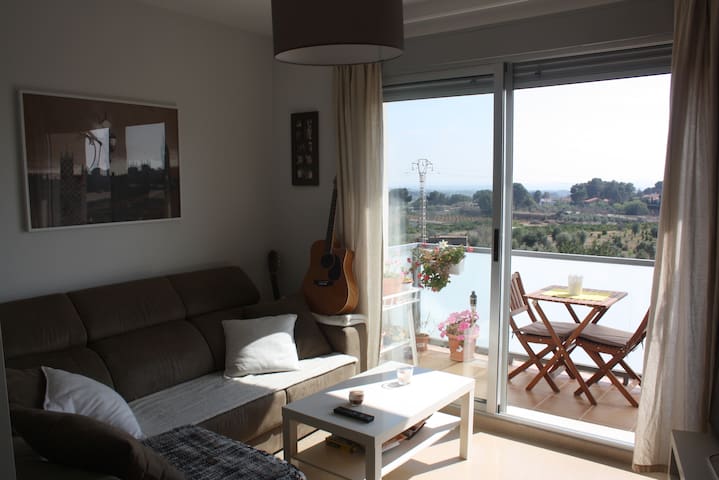 Gran casa centenària, amb pati interior i possibilitat d'habilitar un dels salons com dormitori (fins a 5 persones). Just al centre de Nàquera, a 30 minuts de la ciutat de València, i amb comerços i restaurants a menys de 5 minuts caminant.
Disposa de garatge propi amb espai per a dos vehicles (consultar disponibilitat). Es tracta d'una gran casa familiar, amb 3 plantes, però actualment en ús només una d'elles (si sou un grup més gran de 5 persones, consultar sobre la possibilitat). Disposa de cuina completa, amb tot tipus de vaixella i estris per a cuinar. Situada al centre del municipi, i als peus de la Serra Calderona, amb la ciutat de València a 30 min en cotxe, la platja a tan sols 15. Si porteu vehicle propi, molt recomanable per poder visitar altres municipis o desplaçar fins a València, podeu sol·licitar accés al garatge per a no tenir problemes amb l'estacionament d'aquest.
Tenía todo lo necesario en casa y en los alrededores
Luz Helena
2016-07-08T00:00:00Z
La casa me parece estupenda muy limpia y grande, la gente son muy amable en el pueblo y tiene comunicación con todo tipo de servio, super mercado, chino, banco, bares para la cervecita, a 15 minuto de sus playas que están preciosa y la atención de la dueña muy bien genial. me la encontraba por el Pueblo no saludabamos y conversabamos, 3 días espectaculares gracia muy genial todo gracias
Diuvan
2016-07-11T00:00:00Z
Very flexible attitude and quick and no-nonse contact. Liked the place very much, the kitchen is exceptionally well equipped, compared to ones I have seen before, there´s lots of room, a extra salon/dineing, that we didn´t use, eashing machine and detergent we dididn need,.... i understood that the property has 2 floors to rest, we were only 3 and only had the ground floor do I don´t know about the rest, that is the 1st floor. The apartment is very nice, beatyfully furninshed if you like the older style as I do, it is not too stuffed with furniture, and there is planty of room and everything one needs. We were made to feel very welcome by Inma who taking care of the place in Nando´s absence. She gace directiond and brought us zuccinis, for example, and was very nice and friendly. I would and could strongly recommend this for anyone, if not for the bed. The double bed in the master bedroom is just awful. Making terrible noise when you turn on it or sit on it. The mattress is a pit on each person´s side, giving absolutely no support, and seems to be as old as the house itself. I am quite positive that no visitor will ever return until Nando decides to change the matress/bed. The other, sigle bed, wasn´t quite that bad according to my 13-year-old who slept in it. It´s not too bad a drive to the beachs either, and the town itself is quite nice.
Sanna
2015-07-26T00:00:00Z
Muy bien
Iñaki
2016-08-18T00:00:00Z
The host canceled this reservation 16 days before arrival. This is an automated posting.
veronica
2015-07-16T00:00:00Z
Nando is a great host , always answering quickly to our questions , The Town is very beautiful as Nando 's place , the neighbours frendly , a great expérience, keep going Nando , an adress to remenber !
Sami
2016-08-28T00:00:00Z
Inma, la propietaria de la casa es súper amable y la comunicación con ella siempre estuvo excelente. Siempre dispuesta a ayudarnos y responder todas nuestras preguntas. Apartamento lindo que tenía todo lo que necesitábamos para la noche que decidimos pasar en Naquera.
Paola
2017-02-15T00:00:00Z
Logement spacieux au centre d'un agréable village avec toutes les commodités Nando est très disponible et serviable Beaucoup d'attentions pour un accueil chaleureux avec notamment la délicieuse confiture et les oranges du jardin offertes par Inma Nous recommandons cette adresse!
Blandine
2017-03-28T00:00:00Z
Tipus d'habitació
Casa/pis sencers
---
Tipus de propietat
Casa
---
Capacitat
5
---
Dormitoris
Nàquera, Comunidad Valenciana, Espanya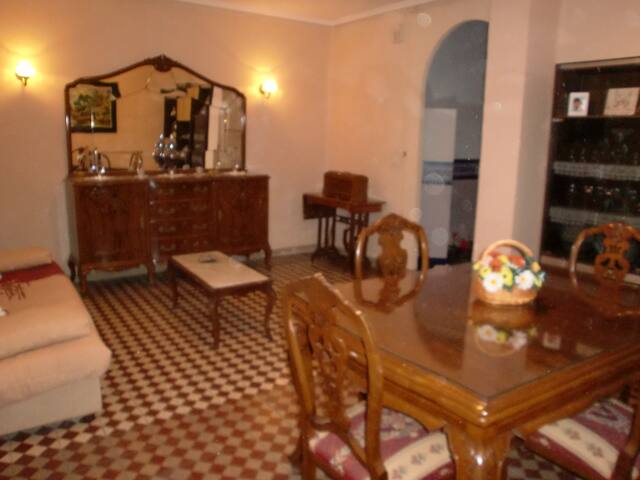 Lugares de interés: Castillo de Sagunto, Playas de Canet y Sagunto, Ciudad de las Artes y las Ciencias de Valencia, Albufera, increíbles vistas, actividades en familia, restaurantes y comida, vida nocturna. Te va a encantar nuestra casa debido a la ubicación, rodeada de montañas y con muchas rutas para practicar senderismo, a 5 minutos del pueblo, 15 minutos en coche de la playa y 20 minutos de Valencia capital. . Mi alojamiento es bueno para parejas y familias (con hijos).
Tipus d'habitació
Casa/pis sencers
---
Tipus de propietat
Casa
---
Capacitat
8
---
Dormitoris
Gilet, Comunidad Valenciana, Espanya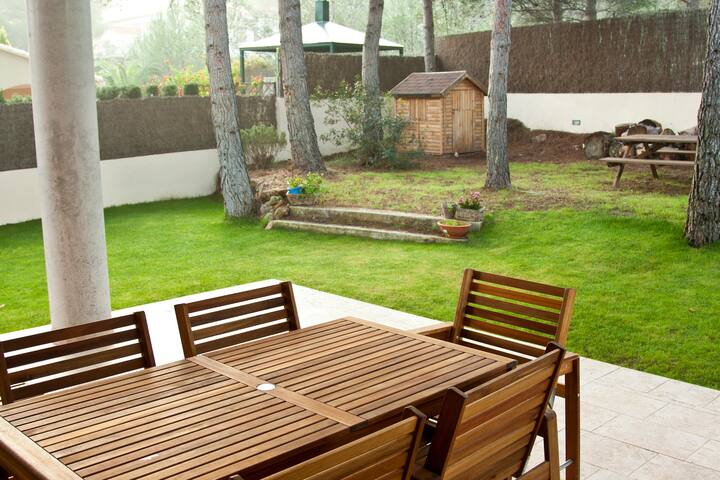 Está situada en el corazón de la Sierra Calderona y a solo 21 km de Valencia y 15 km de la playa. Puedes estar en pocos minutos en cualquiera de los dos sitios. Te va a encantar mi casa debido al entorno natural en el que se encuentra. Disfruta de la piscina en verano y del jacuzzi en invierno. Mi casa es buena para parejas, aventureros y familias . Si te gusta el running, el trekking o ir en bicicleta sin duda este es tu sitio.
Casa muy bonita y muy cuidada. El jardín tiene 15 pinos
We are three backpackers from Canada and we loved our stay with Christina! They made us feel so incredibly welcome from the moment we got there and provided us with everything we needed for our two day stay. Their backyard was an awesome hangout spot and they let us swim all night! The kitchen is equipped with absolutely everything you'd ever need. I would for sure stay here again. We also had a rental car and felt perfectly safe leaving it on the street outside! One con though - the room was incredibly hot, the stay would have been 10/10 if it had a bit of A/C!
Kendra
2016-08-21T00:00:00Z
La casa está situada en una urbanización muy tranquila, perfecta para desconectar unos días. Muy cerca de la playa en coche si es lo que buscas. Alfonso, Cristina y sus hijos son encantadores y han estado muy pendientes en todo momento para que no nos faltara de nada. La casa y la parcela son muy grandes (piscina, zona chill out, huertecito, pequeño estanque...) por lo que la convivencia entre todos se hace fácil. Además, Alfonso trabaja en casa por lo que nunca te sientes desatendido. La casa está equipada con todo lo que puedas necesitar, la conexión a internet es muy buena. Conocen muy bien la zona y te orientan en lo que necesiten. Recomendable para pasar unos días en familia.
Marion y Adrián
2016-08-31T00:00:00Z
La primera experiencia con airbnb ha sido perfecta. La casa está genial y lo mejor de todo Alfonso y Cristina, son muy agradables y atentos, te hacen sentir como en casa. Muchas gracias por todo.
silvia
2016-11-13T00:00:00Z
Tipus d'habitació
Habitació privada
---
Tipus de propietat
Xalet
---
Capacitat
5
---
Dormitoris
Nàquera, Comunitat Valenciana, Espanya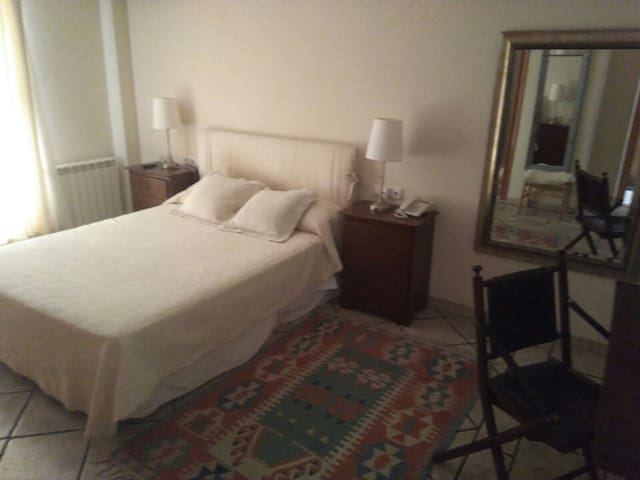 Estupendo apartamento en Náquera, situado en la Sierra Calderona ( a 20 minutos de Valencia y a 15 de la playa) para 6 personas. 3 habitaciones con 2 camas cada una, 2 baños, amplio salón, terraza, piscina, zona de juegos infantiles, internet. Situación clave entre playa y montaña. Perfecto para hacer senderismo y para ciclismo (en la casa hay una bici de montaña)
Thank you for welcoming and hosting us! You and your father did a great job to accommodate us. The apartment is nice, balcony view is just gorgeous! Another thank you is for the swimming pool, it was really relaxing after mountain walk.
Halyna
2016-08-01T00:00:00Z
The host canceled this reservation 13 days before arrival. This is an automated posting.
María
2016-07-31T00:00:00Z
bonjour, à tout le monde on a passer un agréable séjour chez luz , son grand-père nous a reçu avec un grand plaisir très gentil , les voisins formidable l appartement et très bien si à refaite je le ferrai mais je reviendrait je remercie le site airbnb . Merci pépé
Azzedine
2016-08-09T00:00:00Z
El apartamento era tal y como se veía en las fotos , muy acogedor y bien preparado. cuando llegamos tenia todo tipo de mantas y calefaccion para nuestra comodidad. Muy buen equipado tanto en cocina como en dormitorios. sin ningún tipo de problema y muy buen situado , cerca de todo tipo de tiendas. nos sentimos muy acogidos y agusto . lo recomiendo.
Rebeca
2016-01-02T00:00:00Z
Llegamos al departamento y la persona que nos recibió fue muy amable con nosotros, todo estaba muy limpio, es grande, el barrio es muy tranquilo, y agradable. La pasamos muy bien, seguro volveremos.
Sandy
2016-03-27T00:00:00Z
Todo perfecto.
Ari
2016-11-13T00:00:00Z
The host canceled this reservation the day before arrival. This is an automated posting.
Florian
2016-10-28T00:00:00Z
Yo y mi novia hemos estado una noche en esta casa y estaba perfecto. La casa está grande, limpia, tranquila, todo lo que querrimos. Caminamos dos dias en las montañas que estan muy cerca. Sí quieres un casa agradable en un lugar maravilloso muy cerca de la natura, esta casa es perfecta.
Tomas Hidde
2016-11-01T00:00:00Z
Tipus d'habitació
Casa/pis sencers
---
Tipus de propietat
Pis
---
Capacitat
6
---
Dormitoris
Náquera, Comunidad Valenciana, Espanya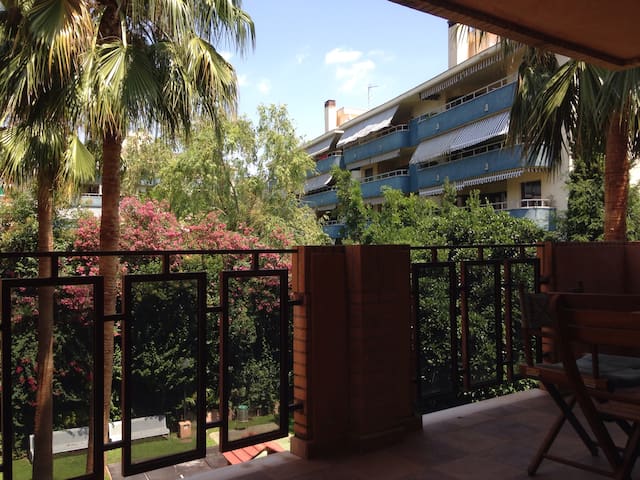 Attractions: Chalet in consolidated urbanization 20 minutes from the beach and 30 minutes from Valencia. Well connected, 1 km from Náquera. ideal place for hiking, biking, horseback riding ... A 10-minute walk supermarket and public transport ..
Tipus d'habitació
Casa/pis sencers
---
Tipus de propietat
Xalet
---
Capacitat
6
---
Dormitoris
Nàquera, Comunitat Valenciana, Espanya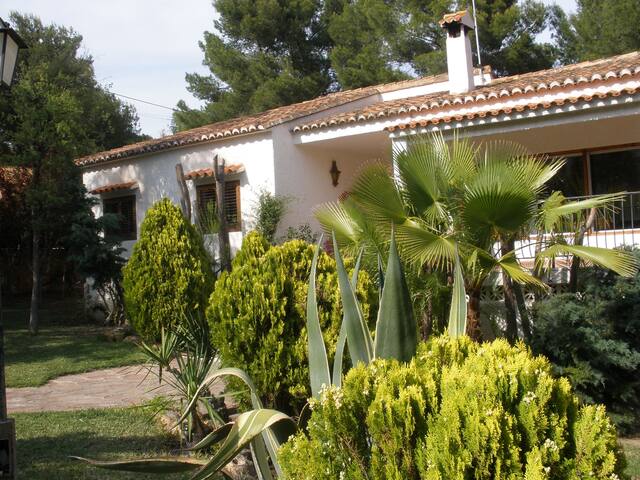 It is a very nice, comfortable and bright home. It has an outdoor terrace with a nice lounge. It is located in the countryside, away from the hustle and very near the beach and Valencia.
Rent by day, weekends or weeks a loft apartment, 37m2 fully equipped in the village of Gilet, 20 minutes from Valencia and 10 from the beach of Sagunto. It is located next to the village, ideal for hiking, biking or just relax, the name of this place is Calima. There is an entrance patio with table and chairs for breakfast or to have a nice dinner outside. No problem to park the car, is the only house on the street. It is equipped with 2 beds, one double, and another sofa bed. There is a kitchen, with fridge, bathroom and wifi. I think it's a quiet, bright and spacious place, good connected with Valencia any little beach village.
En pleine nature! le silence et l'odeur des pins et des orangers règnent.
Deva's place is a perfect location for a relaxed holiday. The delicious fruit and a bottle of water at our arrival, art in the lovely garden, a good bed, tranquility, the mountain, the sea, the city Valencia nearby, yoga classes if you want and of course a warm welcome from the perfect kind host Deva! She was very helpfull with everything, makes us really feel at home This place has everything you need for an unforgettable holiday. We can only say: Perfect ! Muchos gracias Deva, M&E
Elza
2014-03-15T00:00:00Z
Hemos pasado cuatro noches en el loft ubicado en el Centro Calima y ha sido una experiencia muy agradable. Deva ha sido una anfitriona muy atenta y pendiente de nuestras necesidades. Seguro volveremos, pienso que antes de lo imaginado. El lugar es muy agradable y silencioso, ideal para el que quiere descansar del ajetreo de los grandes centros. Ha sido un hermoso viaje en família, e inclusive nuestro hijo de dos años ha disfrutado mucho. Y para los que cómo yo se interesan por saber características específicas, el loft tiene una decoración agradable y clean con un toque levemente rústico, y lo hemos recibido muy limpio.
Hector
2015-06-22T00:00:00Z
Deva was the most welcoming and generous host who was available for everything we needed and also willing to give us space to relax. Her property is incredible and the views are amazing. We felt very comfortable. The location is perfect for visits to the local beaches (Almarda beach is great and about 10 minutes drive away) and local walks. We felt very refreshed after our visit and would highly recommend Deva as a host if you wish to have a marvelously chilled time.
Renee
2015-07-25T00:00:00Z
The apartment lies below a large home and yoga centre. The interior is well designed, has a lovely range of furniture, dramatic artwork, and there is a high quality feeling to the whole flat. We liked the bathroom design very much too. Bedclothes, towels, cushions etc were all plentiful and we felt very secure. There is a large shady area next to the house for use by the guests, which includes a pavilion with fireplace for those who might want to cook a paella. Directly outside the flat itself is a terrace area for sitting in the sun or enjoying the shade of a palm tree. Deva is an excellent and charming hostess. She welcomed us warmly on arrival and showed us round the apartment. We were even invited to take part in one of the yoga classes. As Deva lives in the house above the apartment she is easy to contact. She was extremely friendly and helpful to us with lots of good suggestions for places to eat and to visit. We then followed as many of those suggestions as we could and that made the stay in Valencia much more interesting and successful.
Peter
2015-05-21T00:00:00Z
Deva is a really nice host. She and the family make you feel at home. I enjoyed the yoga class which i could join ( for free) a lot. It's a place with a special atmosphere. You are really on a holiday when you're there. It is a good place for discovering Valencia and the mountains in the nearby area.
Roos
2016-06-25T00:00:00Z
Staying in Deva's studio was a fantastic experience. Her property is beautiful, and Deva is really sweet. There is a garden, complete with artwork hidden among the plants, an outdoor grill and patio, and a yoga studio. If you're lucky, you might get to participate in one of her yoga classes too. The studio itself is great. It's one room, but a large one. It has a small stove, and the materials needed for cooking. The porch in front is shaded, and makes for a very comfortable place to work and eat meals. We spent almost all of the daylight hours outside, enjoying the wonderful weather. Her dog, Maya, kept us company occasionally as well, which was a nice treat. We would love to go back!
Taylor
2014-05-26T00:00:00Z
La casa es muy acojedora, cuenta con todo lo necesario y está en un entorno muy tranquilo dónde poder relajarse. Además, si te gusta el senderismo, la casa está situada en el mismo parque natural de la Sierra Calderona con muchas rutas. Deva, la anfitriona, se mostró muy amable desde el primer momento y durante toda la estacia estuvo muy atenta para que estuviésemos a gusto. Muy buena experiencia!
Borja
2015-12-08T00:00:00Z
This is increadible place and we spent fantastic holidays! Deva is very hospital, helpful and great person! Appartment is located in ideal place if you travel by car of motorbike. Just 10mins to the quiet and pieceful beach with the long cost of fine sand and 25 mins to Valencia city, when the appartment itself located in the very quiet area of Gilet (small village) just close to the mountain path with the beautiful view. During our stay we were enjoing the food by cooking fish in barbeque area and eating in the fresh air. Part of the big house there is also very nice area for Yoga and meditation classes where we attended yoga that made us feel even better (if that was even possible). Just in front of the appartment you can smell the orange garden, where to be honest we regularly pick up some oranges to make fresh juice (you really can't compare it to the supermarket ones). There is a big supermarket close by where you can find almost any food you like. In the village you may also find a bakery with fresh bread, tarts and cookies. All that elements really make you feel like home and the only thing you should do is just enjoy and relax. We will definetely miss this place and hope one day we will be back. Definetely strongly recommend this place to spend perfect holidays!
Tatiana
2014-05-18T00:00:00Z
Tipus d'habitació
Casa/pis sencers
---
Tipus de propietat
Casa
---
Capacitat
3
---
Dormitoris
Gilet, Comunitat Valenciana, Espanya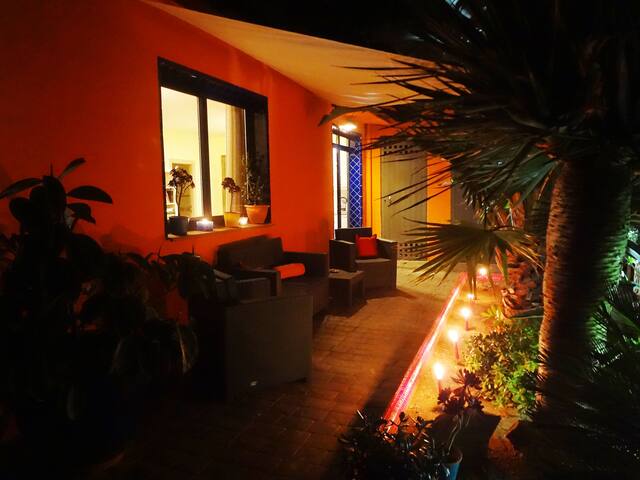 The house is located in Estivella, 30 km from Valencia. Sagunto Castle is 10 km and the beach is 15 km. The property offers mountain views. Consisting of 3 bedrooms, 2 bathrooms, fully equipped kitchen, living room, attic with pool table, darts and children's play area. There are flat-screen TVs. It also includes a terrace with barbecue area. The property offers 2 free bicycles. The area is popular for hiking and cycling.
Tipus d'habitació
Casa/pis sencers
---
Tipus de propietat
Casa
---
Capacitat
6
---
Dormitoris
Estivella, Comunitat Valenciana, Espanya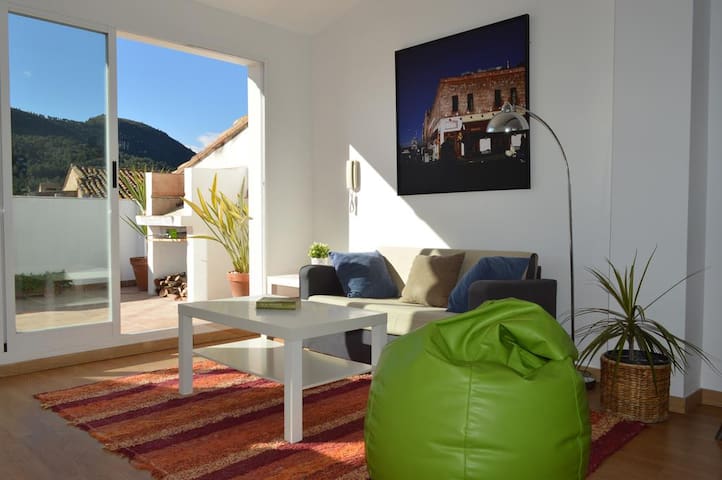 Increíbles vistas y actividades en família. Te va a encantar mi lugar debido a : Zonas verdes y naturaleza,excursión a lo largo del río o a las fuentes de Portaceli,montar en bici por los alrededores, ya que hay carril bici hasta Bétera, disfrutar de poder hacer barbacoas o cocinar en el horno moruno, cama elástica, tirolina para niños, casita en el árbol con tobogán...una maravilla!!!. Mi alojamiento es bueno para parejas, aventureros, familias (con hijos), grupos grandes, y mascotas.
Un lloc bonic i tranquil. Ideal per cuinar a l'aire lliure.
Ignasi
2016-12-04T00:00:00Z
Todo genial
Oscar
2016-11-14T00:00:00Z
Thanks Ana and Javier for your warm welcome! We had a great stay! The kids had a lot of fun in the garden! The pool is unheated and was getting a bit cold in this time of year (mid October). The outside kitchen and grill/oven were a real hit for all of us! Best Regards!
Paulus
2016-10-19T00:00:00Z
El jardín es una maravilla, la zona del paellero y horno de leña espectacular, la piscina no hemos disfrutado por las fechas, pero muy grande también, tiene un montón de cosas para los niños. Hemos pasado un gran fin de semana
Barbara
2016-11-20T00:00:00Z
Tipus d'habitació
Casa/pis sencers
---
Tipus de propietat
Xalet
---
Capacitat
6
---
Dormitoris
Olocau, Comunidad Valenciana, Espanya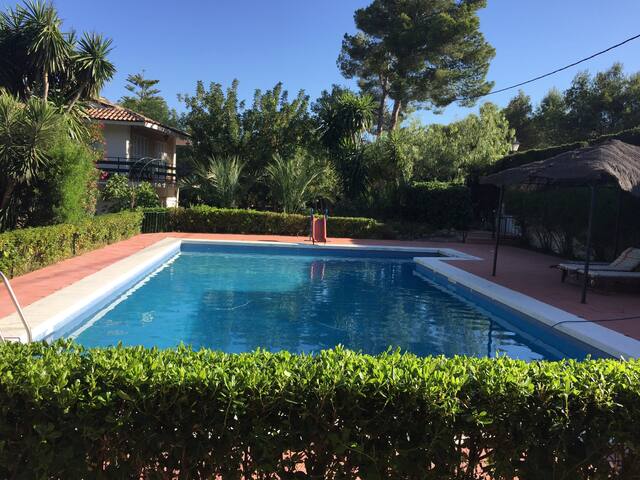 Als 20 minuts de l'aeroport, del centre de València i la platja, en una zona residencial amb una piscina, una pista de tennis pàdel i parc infantil! Perfecte per anar d'excursió a les muntanyes i gaudir de la tranquil·litat del lloc.
plana moderna totalment equipada en una zona residencial. 2 dormitoris, 1 bany amb banyera, sala d'estar amb TV i Wi-Fi, cuina totalment equipada.
Pis situat a l'entrada d'un poble tranquil. Supermercats i altres botigues a 5 minuts a peu.
Apartamento muy agradable ,muy comodo y muy limpio.nos encanto nuestra (URL HIDDEN) residencia es muy tranquila .fernando es un encanto y nos dio muy buenos consejos .
Stella
2016-08-06T00:00:00Z
Super séjour. Nous avons été très bien reçus dans l'appartement de Fernando par ses parents très gentils. L'appartement est bien situé (30 mins de Valence centre en voiture) mais il également très bien équipé, et très propre. La piscine est un atout, surtout en plein mois d'août! Je recommande vivement ce logement
Louise
2016-08-11T00:00:00Z
Nous avons voyagé en famille (mon mari et mes 2 enfants de 2 ans et 7ans) et nous avons passé un excellent séjour à Naquera. Le logement de Fernando est propre et très bien équipé. La résidence est calme, agréable et très bien entretenue. Nous avons bénéficié d'un accueil irréprochable. Marine et Fernando ont été très disponibles tout au long de notre séjour. Nous nous sommes sentis très bien dans l'appartement où nous avons été accueilli avec un panier de bienvenue! Ils nous ont même établi une liste avec tous les bons endroits et restaurants à faire! La ville de Valence est à seulement une vingtaine de minutes. Idéal pour faire du shopping, visiter la ville ancienne avec de nombreux monuments, le marché, le bio parc, l'oceanografico...Nous espérons revenir chez Fernando pour profiter encore de cette belle région! Merci à Marine et Fernando pour leur gentillesse!
Mohamed
2016-07-15T00:00:00Z
Muy buena atención, tanto en el recibimiento como durante la estancia. La casa nos encantó, un 10: tenía todo lo necesario para poderte sentir como en casa... y todo estaba muy limpio. El sitio muy tranquilo y silencioso. Perfecto para descansar y cerca en coche de todo lo que ofrece Valencia: la ciudad, la playa y el campo... Sin duda repetiremos!
Jacobo
2016-11-13T00:00:00Z
Our host, Fernando, was super friendly and very helpful. The flat was very nice and modern. It was so very tranquil and we hope to go back again to enjoy the nature and bike trails around the area. It is also near several restaurants, cafes, and a grocery store. Also, it is a quick 25 minute drive to the middle of Valencia so you get the best of both worlds. I would definitely recommend this flat for future visitors.
amy
2016-03-20T00:00:00Z
Fernando's apartment is a lovely place to stay. However there is a similar address in Valencia city centre which our taxi driver dropped us off at by mistake! Supermarket and some bars and restaurants close by. The apartment is exactly as it is in the photos, very clean and Fernando was a very good host. We wish we had stayed for longer and were sad to come home!
Chloe
2016-07-25T00:00:00Z
Tipus d'habitació
Casa/pis sencers
---
Tipus de propietat
Pis
---
Capacitat
4
---
Dormitoris
Nàquera, Comunidad Valenciana, Espanya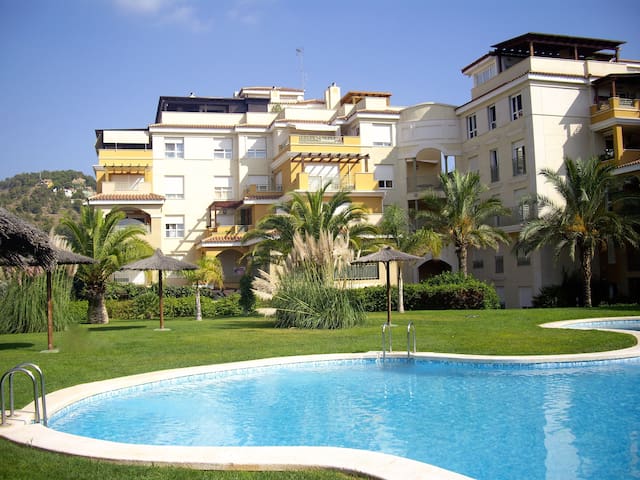 My place is close to parks. You'll love my place because of the views, the location, and the ambiance. My place is good for couples, families (with kids), big groups, and furry friends (pets).
Tipus d'habitació
Casa/pis sencers
---
Tipus de propietat
Casa
---
Capacitat
8
---
Dormitoris
Gilet, Comunidad Valenciana, Espanya
Two rooms of them double and one for two children, garden and pool bath Two comfortable terraces Suitable for couple with two children A 15 mts from the beach and the center of valencia No parking problems
The house is spacious and very quiet and very close to the people and the natural area of the Sierra Calderona where you have extensive options hiking trails, horseback riding and meet a nice area highly valued for its beautiful landscapes Having large terraces and swimming pool makes it much more enjoyable
urbanization very quiet residential area
Tipus d'habitació
Habitació compartida
---
Tipus de propietat
Casa adossada
---
Capacitat
3
---
Dormitoris
Nàquera, Comunidad Valenciana, Espanya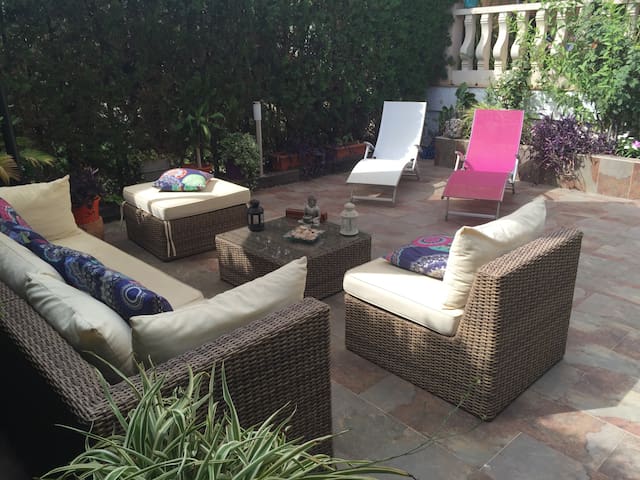 The homely Segart, is a great house in the mountains, 30 minutes from the beach and the best museums in the city of Valencia. 3 double. 3 double rooms. 5 bathrooms and 1 toilet. 2 Lounges with TV 1 indoor and outdoor dining. Heated pool (indoor), built into the house. Sauna for three people. Internet throughout the house (Wifi). 2 Terraces. Barbecue and paellero ... And wonderful views of the Sierra Calderona.
It is careful to detail. It has heating in all rooms, two-sided fireplace, a fully equipped kitchen and is available to client mounted rooms and towels for the shower and pool
This privileged situation, make this area a place where no shortage of activities for a relaxing stay, but with a variety of leisure at the height of the most demanding, where nature lovers can make hiking, with pleasant routes at all levels, surrounded by a unique setting.
Tipus d'habitació
Casa/pis sencers
---
Tipus de propietat
Casa
---
Capacitat
12
---
Dormitoris
Segart, Comunidad Valenciana, Espanya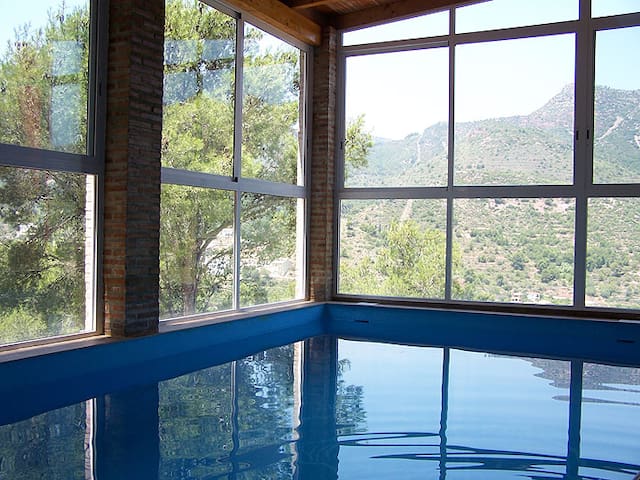 Introdueix les dates per veure el preu total. S'aplicaran tarifes addicionals. És possible que també s'apliquin impostos.