Enjoy your own private bedroom and bath in our new home located just minutes from Main Street Senoia. Shared use of media room, gym, porches and gorgeous backyard retreat/ pool. Come and enjoy our quaint town and enjoy some family friendly Walker Stalking
Cozy, comfortable and peaceful with lots of room.
The proximity to Downtown Senoia. Close to Peachtree City and Pinewood Studios as well.
Melissa and David are the most amazingly welcome and open people! They happily opened their beautiful home to my daughter and I. For being my first air bnb we were very blessed for it to be this couple. They were extremely knowledgeable about all that the area had to offer. The house is absolutely stunning with most loving pair of pups that we will miss seeing. We truly feel as if we added to our family after staying here and hope to visit again soon.
Heather
2016-06-17T00:00:00Z
Beautiful home! It was very clean and there were no problems whatsoever. The family was very personable and very friendly. The house was peaceful, the perfect place for a good book! The sleeping arrangements were very comfortable and everything was very spacious. Would highly recommend if you are visiting the walking dead, or anywhere in or around Senoia. Best place to stay!
Nikki
2016-08-09T00:00:00Z
What a lovely place! Melissa is a great host. Had a two week trip and this was the only morning that I needed to drag myself out of bed. Should have stayed longer.
Inus
2016-09-19T00:00:00Z
David and Malisa were exceptional host. Naborhood was quainter than an episode on The Waltons. I will be recommending them to my friends and family.
Gregory
2016-09-03T00:00:00Z
Everything was so great the first night, we decided to stay a second!
Chrissy
2016-10-19T00:00:00Z
Melissa and her Husband were awesome hosts ,their two co-hosts (Amos and Bentley) were super! If you're visiting Senoia to tour Walking Dead sites these are the people to book!
Ben
2016-08-01T00:00:00Z
Absolutely beautiful home! Quiet, comfortable, honestly I felt it was under priced it was so nice!
Katlyn
2016-08-21T00:00:00Z
This was without a doubt our best Airbnb stay. Dave and Melissa had everything we needed and then some and then asked if we needed anything else. You can't go wrong with their place, it was fantastic. Thanks y'all
Jay
2016-07-17T00:00:00Z
Tipus d'habitació
Habitació privada
---
Tipus de propietat
Casa
---
Capacitat
2
---
Dormitoris
Senoia, Geòrgia, Estats Units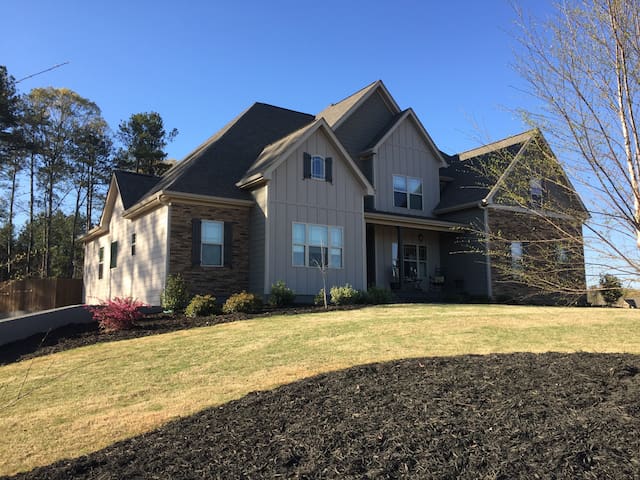 Fully furnished 2 bedroom 1 bath, cottage located in quiet, country setting just 5 minutes from downtown Senoia, Georgia. Ideal for film staffers, Walking Dead fans, or short term visits. All inclusive, turn key, cute as a button, flexible terms
The Crawford Cottage is located in a quiet setting, yet less than 10 minutes to Senoia and Peachtree City, Georgia. Surrounded by pastures with horses to view from the back deck and stunning sunsets to watch from the front. The stars will light up the sky at night. Warm, inviting, and cozy would describe the cottage, with plenty of outdoor space to enjoy the magnificent oak trees, and wildlife. Fully furnished with all you would need for a short or long term visit.
When The Crawford Cottage was purchased by me in 2001, it sat on a dirt road with three 100 year old oak trees in the front yard. Due to progress, the road is now paved, homes and families have moved in. It still remains very quiet, with a rural flare, yet now with friendly neighbors that also enjoy the "country living"...
If your coming to Senoia for more than a day trip, take your time to stay at the cottage. Its got everything you need for both a short term or long term stay. My family and I are staying for a couple months as we await our new home to be finished within the area. Its a family of 4 and we are fitting in just fine here! Watching the sunrise on the back porch with the old tree's and horses in view is fantastic. Amy is an excellent host with quick responses to any questions or concerns. You will not be disappointed with your stay!
Jason
2016-09-14T00:00:00Z
Amy is a fantastic host! We had a great time at her cottage. It was so nice to return to such a quant and peaceful home after a fun day of antiquing and shopping in Senoia and Peachtree City. We loved Ben and Aladdian(horses) and we think they loved us (we always had carrots or apples with us) I can't say enough about the view from the back deck. The house was clean and fully stocked with everything you may need. Amy was very attentive and available if we needed anything. We enjoyed putting a puzzle together and just sitting on the back deck. This is the place to be if you are going to Senoia. (SENSITIVE CONTENTS HIDDEN)
Fay
2016-06-27T00:00:00Z
We had a wonderful stay at Amy's cottage. There is nothing that we needed that the cottage didn't have. Plus there were a pair of friendly horses in the backyard that let you pet them and just provided another level of comfort. If/when we come back to Senoia we'll definitely look for Amy's cottage.
Olex
2016-07-03T00:00:00Z
Bereits vor der Abreise hat uns Amy kontaktiert und willkommen geheißen. Amy war sehr bemüht alle unsere Fragen zu beantworten und so bestand eine rege Korrespondenz bereits im Vorfeld, worüber wir sehr dankbar waren. Nachdem wir dann in Atlanta gelandet waren, kam es uns so vor als trifft man "einen alten Bekannten" und nicht einen völlig Fremden. Nach einem kühlen Getränk bei Amy zu Hause, fuhren wir gemeinsam ins Cottage und wurden nicht enttäuscht. Alles war genauso wie in Ihrer Anzeige beschrieben. Es ist ein kleines, aber gemütliches Cottage mit zwei toll eingerichteten Schlafzimmern. Die Betten sind sehr bequem und das große Bett im "Elternschlafzimmer" hat genug Platz, wenn gegen morgen alle Kinder mit "Jetlag" auch drinnen liegen. Das Badezimmer war mit genügend Handtüchern ausgestattet und mit allen Utensilien die man braucht (Handseife, Toilettenpapier, ...). Das Wohnzimmer ist mit seinen zwei Sofas gemütlich eingerichtet und im Essbereich ist Platz für 6 Personen. Die Küche was super. Sie ist mit allem ausgestattet was man zum Kochen braucht (genügend Geschirr + Gläser für 6 Personen und mehr, Pfannen, Töpfe, Kaffeemaschine, riesigem Kühlschrank mit Gefrierfach, Geschirrspülmaschine (Spülmaschinentabs waren vorhanden) sowie Waschmaschine und Trockner (auch hier ist an alles gedacht und Waschpulver ist auch da). Das Cottage ist sauber und ordentlich und sehr geschmackvoll eingerichtet. Amy hat wirklich an alles gedacht und so findet man wirklich alles, was man braucht. Wir haben uns direkt zu Hause gefühlt. Amy hat uns einmal besucht und geschaut, ob alles in Ordnung ist. Ihre Telefonnummer lag auch griffbereit, mit der Bitte anzurufen, sollten wir irgendetwas nicht finden oder brauchen. Für unsere Kinder - es ist definitiv genügend Platz für vier Personen - war das Highlight der riesige Garten und die Pferde hinter dem Haus. Amy hält genügend Karotten zum Füttern bereit, so dass unsere Söhne (7 und 10 Jahre) sich jeden Tag mindestens zwei Mal zum Füttern aufmachten. Die Nachbarschaft ist sehr ruhig - die wenigen Häuser um das Cottage herum nimmt man kaum war. Es war eine himmlische Ruhe und der Sternenhimmel ist wahnsinnig, genauso wie der morgendliche Sonnenaufgang. Wir hatten eine tolle Zeit und waren alle total begeistert von "unserem" Cottage. Sollten wir wieder in diese Gegend kommen, freuen wir uns jetzt schon auf ein Wiedersehen mit "unserem Cottage", Amy und den Pferden Ben und Aladin. Und für alle Fans der Serie "The Walking Dead" - der Drehort liegt etwa 5 Minuten vom Cottage entfernt, es gibt ein "The Walking Dead"-Museum/Shop und auch das kleine Städtchen mit "town center" - was ja eher untypisch für diese Gegend war- ist sehr schön mit einigen Geschäften zum Spaziergehen und Herumschlendern.
Sandra
2016-04-02T00:00:00Z
The host canceled this reservation 9 days before arrival. This is an automated posting.
Kenan
2016-01-11T00:00:00Z
The Crawford Cottage was a home away from! Everyone we left for day outing we kept referring to going back home, or when we get home that's how much it felt like home. Amy was so amazing and thoughtful leaving everything we needed for our stay! Amazingly spotless! More than 5 star for us! your horse neighbors are so friendly I looked forward to everyday feeding them there carrot treats! Crawford Cottage was amazing choice for my visit to Georgia! Must stay! Tracy :)
Tracy
2017-03-01T00:00:00Z
It is cozy and Sooo peaceful. We also loved the horses. They were so friendly and sweet. Only issue would be the slow intenet service. Other than that no complaints.
Myra
2017-02-10T00:00:00Z
Out of all the airbnb's place we have stayed this cottage by far rates the best for us. Truly a home away from home, beautiful setting, peaceful and tranquil, comfortably furnished. The hostess Amy, is a kind and generous soul, who made us feel totally at home. It felt like we were part of her family. One could not ask for better! For us, this home and Amy were a Godsend.
diana & george
2016-12-31T00:00:00Z
Tipus d'habitació
Casa/pis sencers
---
Tipus de propietat
Casa
---
Capacitat
4
---
Dormitoris
Senoia, Geòrgia, Estats Units
THIS HOME IS A VERY COZY TASTEFULL DECOR CLOSE TO SENOIA HOME OF THE WALKING DEAD !!!!!!! PEACE AND QUIET . ENJOY THE COUNTRY . BUT CLOSE TO THE CITY
100.00 CLEANING FEE
VERY RURAL AREA
Tipus d'habitació
Casa/pis sencers
---
Tipus de propietat
Casa
---
Capacitat
6
---
Dormitoris
Senoia, Geòrgia, Estats Units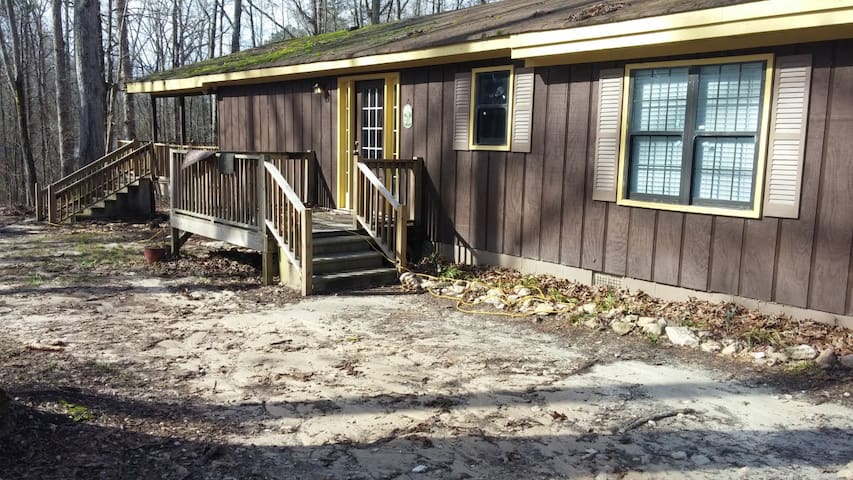 The best part of this house is its proximity to downtown Senoia and the Walking Dead Set and all that goes along with that! You can see Main St from the deck.
3 bedroom, 2 full bath. Master bedroom has queen bed, second bedroom has a full size bed, and third bedroom has a twin bed. House has a laundry room. Kitchen is fully equipped for all your cooking needs. Pets considered with a pet fee of $30 per pet. There is a golf cart on site for rent to experience Senoia at its fullest.
We were traveling to Senoia to check out The Walking Dead. When I came across Leanna's place, it was perfect location. For my first experience with Airbnb she was so helpful and very responsive. We plan on going back and would definitely stay here again!
Tiffany
2016-07-15T00:00:00Z
The house was in a great location with close proximity to downtown Senoia. The host responded promptly to any concers/questions. Would definitely rent from Leanna again.
Kristina
2016-07-13T00:00:00Z
Had a great time in Senoia and house is the perfect location. Leanna was a great homeowner to work with and provided great communication! Thank you Leanna for making my first stay so easy!!
Kristin
2016-05-09T00:00:00Z
We went to Senoia to do several Walking Dead tours and were so happy to stay at Leanna's house! It's a perfect location to explore this nice town, or to drive to Atlanta for the day. Leanna is a wonderful host, and her home is just as described. It's spacious but cozy and has all the amenities to make you feel at home.
Brittany
2016-08-01T00:00:00Z
Clean. Bright. Close to town. It was just what we needed for our stay. Thank you!
Danielle
2016-03-28T00:00:00Z
We were looking for a place to stay for the walking dead tours. We came across this little place which was perfect for 6 people. Owner was extremely accommodating with early check in and late Check out. Owner also was very responsive during entire booking process as well as any questions we had prior to arrival. It's great to have a place that allows pets at reasonable fee as well. It was nice to sit on the deck in the evening a grill burgers and just hang out with friends. We are planning to return to the area and I would consider staying here again. The only complaint I have is that the bathrooms could use a better cleaning due to mold growth. Overall good stay, close to several areas we were interested in and good price.
TIFFANY
2016-05-24T00:00:00Z
Great place to stay in Senoia. It's close to town so very easy to walk to restaurants and shops. Leanna was super speedy with responses to any questions that I had. The house was clean and everything was ready when we arrived. The deck was great and although we didn't use all the facilities e.g bbq etc they were available if we wanted to. I wouldn't hesitate to stay again and hope to do just that next year. Many thanks!
Louise
2016-10-03T00:00:00Z
I am so glad I found this place. It was comfortable and clean, and so close to downtown. If you are coming to Senoia as a Walking Dead fan, I highly recommend staying here!
Kelly
2016-11-07T00:00:00Z
Tipus d'habitació
Casa/pis sencers
---
Tipus de propietat
Casa
---
Capacitat
6
---
Dormitoris
Senoia, Geòrgia, Estats Units
Welcome to charming Senoia, Georgia! Come see why we're the back drop to many films such as Fried Green Tomatoes, Driving Miss Daisy and now the Walking Dead! Located less than 10 minutes to downtown (aka Alexandria & Woodbury) / 45 mins to airport
This is a master suite located on the 1st floor of a shared house. This room is very private at the front of the home. Private bath and walk-in closet. Queen bed & 2 large dressers. Vaulted ceilings and bright south facing windows. Ceiling fan and air conditioning keep the room cool in summer. Flat screen smart television with Roku & Netflix!
We are in a beautiful, quiet neighborhood located about 4 miles to ``downtown`` Senoia. We are on a cul-de-sac and have free outside parking in our driveway.
Fantastic location and very clean. Quiet & newer neighborhood, perfect location for our needs. Amazingly generous hosts.
Tracey
2016-11-20T00:00:00Z
Once again Tina and Eric continue to amaze me! I had another great stay with them and this time I had a guest with me. My friend loved it there just as much as I did. Thank you Tina and Eric!
Bobby
2016-07-08T00:00:00Z
Eric and Tina are both lovely people and easy to talk to. The room is comfortable, the bath is clean, and you can either have a private stay or spend some time with your hosts. I highly recommend staying with them.
Stephen
2017-01-15T00:00:00Z
If you want the perfect Airbnb experience, this is the place to stay - right down to the home made cookies. The room is pleasant, the neighborhood quiet, and the hosts are more than gracious. It is worth the trip just to stay with Eric and Tina.
Ellen
2016-05-09T00:00:00Z
Tina made us feel as if we were the main cast to The Walking Dead. Home and room was very nice. Slept great. We will definitely be back
Gregory
2016-10-20T00:00:00Z
The house is in the middle of no where, which is great because so is the place we were visiting! So it was super convenient, very close to our Walking Dead tour. The house is adorable and rooms super comfy. Our hosts were amazing with both their personality and helpfulness! I'd definitely recommend to anyone going to the area to stay with them!!
Toni
2016-05-31T00:00:00Z
Tina and Eric were very welcoming and I completely enjoyed my stay. The neighborhood was clean and quiet and the room itself was a very private bonus room with its own bathroom and walk-in closet. There was free WiFi which is a plus because cell service can be spotty around Senoia. If you are looking for a great Airbnb experience then this is the place to stay! And as a bonus, if you are a fan of The Walking Dead then this is absolutely THE place to stay. The house is located just minutes between downtown Senoia, GA (aka "Woodbury" and "Alexandria") and Haralson, GA (where Rick met the Governor and where Daryl found Merle). I really enjoyed talking to Tina and Eric and we talked awhile just getting to know each other and of course TWD as they are both fans of the show as well. Staying here is less like staying at a hotel, and more like staying with friends or family!
Casey
2016-04-16T00:00:00Z
For The Walking Dead fans, this is the perfect place to stay!! Clean, comfortable, and homely house with your private upstairs bedroom/bathroom! The neighborhood is gorgeous and SO close to downtown Senoia where you can go see some of the most awesome TWD film spots, memorabilia, and the cool Walking Dead cafe/souvenir shop! Driving around, you feel like you'll see a walker!!! I didn't get to meet Eric in person (because I was in and out of the house around the times it was just Tina home) but Tina was SO hospitable, genuine, kind, and very welcoming; she even had fresh made cookies for us in our room! I had a blast staying with them and will definitely do it again! :-)
Olivia
2016-04-23T00:00:00Z
Tipus d'habitació
Habitació privada
---
Tipus de propietat
Casa
---
Capacitat
2
---
Dormitoris
Senoia, Geòrgia, Estats Units
Our home is secluded and private but quickly accessible to restaurants and shops in Senoia, home of The Walking Dead series. We are 30 minutes from Peachtree City and Newnan.
Our home is secluded and private but quickly accessible to restaurants and shops in Senoia. We are 30 minutes from Peachtree City and Newnan.
It's private, wooded, natural, and serene but not devilishly far from restaurants, charming shops, medical facilities. Houses are spaced far apart; horse and dairy farms nearby.
Great place to stay. Very comfortable. Some friendly and excitable dogs. If arriving at night I would advise having them meet you at the letterbox on the street. Place can be hard to find in the dark
Andrew
2016-12-20T00:00:00Z
The house was great. Great value and very close to Senoia. The room was very clean and Amye was great!
Nate
2017-03-13T00:00:00Z
We loved Amye's house. It was perfect for our one night stay in Senoia. She gave great directions. The space was clean, warm, and comfortable. We would definitely stay here again.
Patricia
2016-12-27T00:00:00Z
Tipus d'habitació
Habitació privada
---
Tipus de propietat
Casa
---
Capacitat
2
---
Dormitoris
Senoia, Geòrgia, Estats Units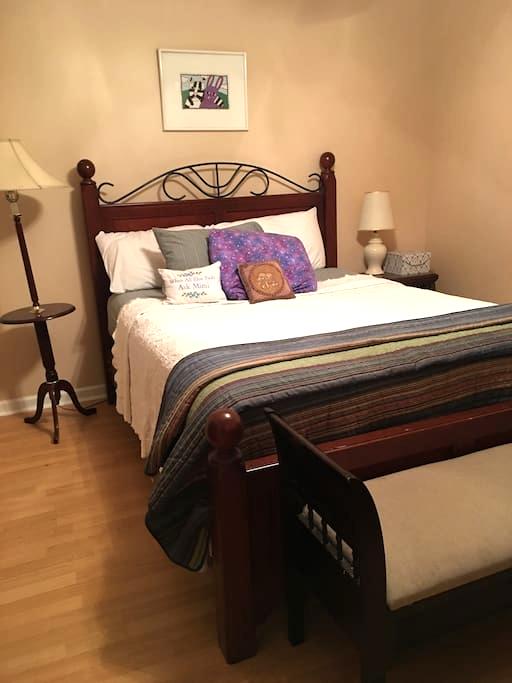 This extraordinary country retreat is located on 60 acres of beautifully wooded land just a few miles from Peachtree City and Senoia, GA. (The Walking Dead tv series is filmed in Senoia and all around this area.) It offers 2 lakes for fishing, canoeing, swimming pool, pool house, fire pit, 3 large comfortable living rooms, and dining room for entertaining. Located less than an hour south of Atlanta, 32 miles from the Atlanta airport, it is extremely easy to get to and can welcome a large group.
Wonderfully spacious house and GORGEOUS grounds. So much to do, and PERFECT for a family get together. We had the best time. My 5 year old nephew cried and said it was the BEST WEEKEND he ever had, and didn't want to leave! The zip line, pool, canoe, ponds and open ground all made for such a fun weekend!!! We want to go back already.
Laura
2017-04-02T00:00:00Z
A great place to retreat with multiple families. Plenty of room, great outdoor spaces. We had such a good time there! The kids were in heaven.
Colby
2017-01-01T00:00:00Z
Tipus d'habitació
Casa/pis sencers
---
Tipus de propietat
Casa
---
Capacitat
12
---
Dormitoris
Brooks, Geòrgia, Estats Units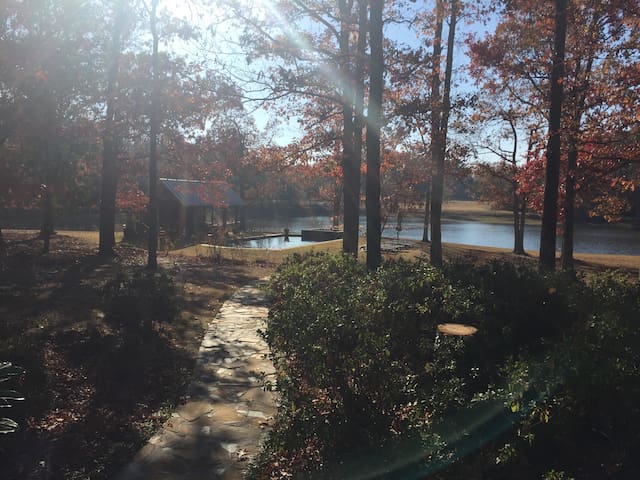 Very close(15 miles) to Pinewood Studios 5 minutes to Senoia - home of the Walking Dead A fabulous space to enjoy peace and quiet. 100 miles of biking/walking trails out the backdoor. Peachtree City's hallmark is its 100-mile network of multi-use paths for pedestrians, cyclists, and golf carts. Bedroom(queen bed) and bath. Single room available with twin bed (addl.) Welcome to use 2 mountain bikes. Comfy and clean. Advance notice is ideal.
Comfortable space to rejuvenate. 100-miles of biking, running paths. 2 mountain bikes for you to use/ 2 kayaks for 3 local lakes, McIntosh, Kedron and Lake Peachtree offer the opportunity to put in. I'm pretty neat and tidy and prefer the same. Do unto others... is embraced. No smoking or drinking on premises. MEOW Recently, a new addition to the family, Cosmo the the cat. He is an outside cat yet super friendly and does sleep in the house. I keep the space tidy and don't allow the cat in the room used to host guests.
Peachtree City is an award-winning master planned community located just south of Atlanta, Georgia. Founded in 1959, the city is home to a diverse population and provides the best in residential areas, commercial areas and community services to its citizens. Bedford Park: This Neighborhood is super quiet, lots of empty nesters. Very safe. Parking in driveway is available. Always be mindful of your personal property.
Amy's photos only begin to do justice to her lovely home. She has a charming space that really reflects her. As a hostess she took care to make us feel welcome and comfortable. Amy was flexible with our arrival time and understanding when we were arriving later than expected. She took special care of us and made us feel like part of her family.
Alexia
2015-05-14T00:00:00Z
Amy's home was wonderful! Clean and quiet. I really enjoyed my stay. She has a lot to offer her guests. Will definitely stay again next year if she has availability! Thanks again!
Cassandra
2017-03-15T00:00:00Z
Great town, nice trails, friendly host, lots of space. Thanks Amy!
Antoine
2016-08-19T00:00:00Z
Amy was great! She was super friendly and provided everything I needed for my short stay. Her place was clean, and comfy. Both Amy and I were working so we didn't cross paths much during the week, but we got to hang out and chat over the weekends. I would definitely stay at Amy's place again.
Brett
2016-09-17T00:00:00Z
Amy's place was wonderful! Exactly as described! She made us feel so at home, had food prepared and snacks! Provided material and information around the city! Also if your tall my brother Jonathan bring 6'"4" love that he could fit under the shower head lol. Definitely an incredible place to stay, and Very very accommodating, and Great communication! Can't wait to stay again when I have the opportunity!
Dennis
2016-09-05T00:00:00Z
Amy sent a text with all the specifics for our arrival, it was a very peaceful environment in a lovely community. Felt safe in the surroundings. We were told to make ourselves at home and we were very comfortable.
beth
2016-10-03T00:00:00Z
Communications have been great.
Alex
2016-12-15T00:00:00Z
Very comfortable with all of the comforts of home. One of the first things Amy said when I arrived was that she wanted me to consider her home as my home away from home in Peachtree City, GA. It was just that! Would recommend it and would stay there again.
Norma
2016-12-11T00:00:00Z
Tipus d'habitació
Habitació privada
---
Tipus de propietat
Casa
---
Capacitat
3
---
Dormitoris
Peachtree City, Geòrgia, Estats Units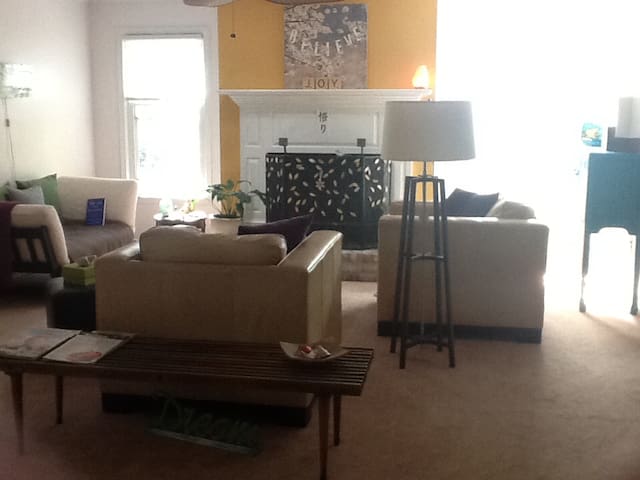 Enjoy a spacious, newly updated contemporary home featuring whirlpool tubs, private screened-in porch, fire pit, fireplace, vaulted ceilings, granite/marble, fully equipped kitchen. Hop on the 90 miles of golf cart trails to run, walk, bike, skate...Bikes available to rent.
Personal home with two living areas, fully equipped modern kitchen. Master bedroom suite - Queen-size bed, Whirlpool Tub for 2, Separate Shower, TV. 2nd Bedroom - Full-size bed, TV 2nd Bathroom - Whirlpool Tub Laundry - Washer/Dryer Kitchen - Food available to guests - Tea, coffee, cereal, spices/oils, condiments, jellies, etc. Bikes on premises to rent at extra charge - Small & Medium
Peachtree City is on many Top 10 national listings. Quiet suburban neighborhood. Shopping 3 Miles 3 Golf Courses within 10 minutes. Jazz Bar/Dining 4 Miles Minutes from three lakes - Lake Peachtree: 270 acres, Lake Kedron: 240 acres, Lake McIntosh: 650 acres. BMX Facility 2 Miles Peachtree City Amphitheater 2 Miles - Summer Concerts Peachtree City Tennis Center 5 Miles
Brenda's house was so nice, clean, spacious, and we had a great time staying there! She was very friendly and available by text and email to answer any questions we had. The kitchen had everything we needed to cook great meals, the bathrooms were especially nice, and the area was pretty and peaceful and close to plenty of shopping and restaurants. We would be very happy to stay there again!
Ashley
2014-11-23T00:00:00Z
Brenda was a gracious and very accommodating host. Her home was lovely and very convenient to our office, therefore, providing the perfect setting for our employee's extended stay here in Peachtree City.
Sonya
2016-05-13T00:00:00Z
What a beautiful home!!! We felt welcomed from the minute we booked Brenda's place and we were always in communication with each other when needed. She had all the comforts of home- everything was as described, great neighborhood, and we thoroughly enjoyed Peachtree City. This was only my second time booking on Airbnb, and it was definitely worth it. The neighborhood was quiet, the neighbors waved when they saw us, and we felt safe the entire time. The kitchen had everything you would need for cooking meals and I even made cookies one night after getting stuff at the local grocery. The backyard is absolutely wonderful, but we didn't get to spend too much time out there due to the weather, bummer! Brenda had emergency toiletries stocked in the bathroom and her special touches were evident throughout the entire house. The best thing about our stay was the notes written around the home for directions on how to use everything. This added touch was amazing and so incredibly helpful!!! We would've been lost as to how to use the TVs, garden tub, compost, etc. We did a few things in Peachtree City and spent a few days going into Atlanta. The drive into the city wasn't bad at all. I would stay here again in a heartbeat. We can't wait to go back! Thank you, Brenda, for a wonderful stay.
Haley
2016-03-30T00:00:00Z
Great home in great location. Brenda went out of her way to provide us information about the area. We wouldn't hesitate to stay her again.
Mike
2016-06-13T00:00:00Z
I could leave Brenda's place with good memories and warm feelings. I would definitely recommend this place to my friends and even my own families.
Kevin Joonsoo
2016-01-01T00:00:00Z
Brenda was a wonderful host, and her uber-clean home was exactly what we needed for 10 days after selling our house. Her communications were timely and concise, and her directions for running the house were simple and easy (there's even pictures). The neighborhood is quiet, and her back porch and yard are perfect for relaxing. I highly recommend Brenda. This was my first airbnb stay, and My next one will have to work pretty hard to surpass the level of satisfaction I have with this stay.
Alan
2015-05-26T00:00:00Z
Excelente! El hogar de Brenda es muy cálido y acogedor. Ideal para disfrutar con la familia. Todo de acuerdo a lo que se ofrece en el anuncio, y más aún…. Muchas gracias Brenda!
Luis Alberto
2015-02-16T00:00:00Z
We really enjoyed staying at Brenda's house, and the neighborhood is fantastic. Close to the cart trails where we would walk and see deer, armadillos, great trees. The house is very comfortable and most everything is included. She even left an assortment of teas for us. The screened sun room was a favorite of ours.
Michael
2015-07-24T00:00:00Z
Tipus d'habitació
Casa/pis sencers
---
Tipus de propietat
Casa
---
Capacitat
3
---
Dormitoris
Peachtree City, Geòrgia, Estats Units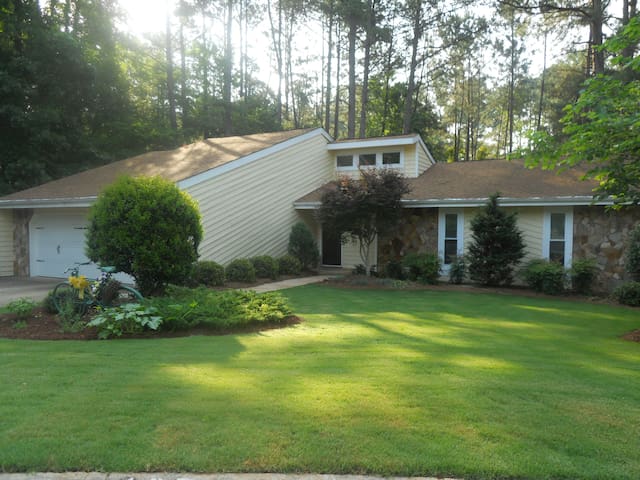 Living on a small lake in the heart of town is so unique! We offer a spacious bedroom with a king size memory foam bed complete with a full private bath and den including a 41" flat screen HD TV with full range of channels and Pandora radio. Enjoy sunsets on the deck overlooking the lake! See more info below.
We offer your own private oasis in the heart of Peachtree City! Beautiful appointed bedroom with private bath and den. Wireless Internet and TV are included in the den. We also offer Pandora streamed music for your enjoyment. Overlooking the North Lagoon with access to the deck for evening sunsets! Just added a new mini fridge in a separate private breakfast room. We're 10 minutes to Pinewood Studios and just a few minutes to all your shopping needs including the Avenue Shops as well a multitude of excellent restaurants.
Golf cart community with easy access to plenty of shops within minutes. Close by to everything Peachtree City offers including 90 miles of walking trails. Easy 10 minute access to Pinewood Studios in Fayetteville or other major corporations who call Peachtree City home.
The listing description is accurate; however, the reality is actually better! Stephen and Marilyn are gracious hosts and their home is lovely. Marilyn is a professional interior designer and it shows in every exquisite detail. From the highly polished heart pine floors to the incredibly comfortable bed with over sized down pillows everything is perfect. Both Stephen and Marilyn made me feel very welcome. The view of the lake and the comfortable deck make this home feel like a retreat. A cup of tea while watching the ducks helped decompress from a stressful day. This was my first experience with Airbnb and it could not have been better. I would want to stay with Stephen and Marilyn if I have reason to be in Peachtree City again. I will also use Airbnb in other locations.
May
2015-11-01T00:00:00Z
The house is absolute perfection - peaceful, quiet, comfortable and a rest for the weary after a long day at work. Stephen and Marilyn are such a delightful couple and go above and beyond. Absolute treasure find on AirBnB!
Kimberly
2016-03-27T00:00:00Z
I was so happy to be back at Stephen and Marilyn's, but quite sad at the same time that it would be my last week there. Since the first day I got there, I felt like it was not just their home, but also my home. The bed is super comfortable, everything is beautifully decorated, and there is tons of closet and drawer space so I could unpack and be comfortable. It was very nice to have my own bathroom and sitting room/study, and this month they added a little fridge and a table in the third bedroom upstairs so I could store drinks and have a comfortable place to have a snack. But most of all, I looked forward to coming in the door and being able to say hello and talk about our day a bit before I headed up to my private retreat. I feel like I have a couple of fun new family members! Thank you so much!
Colleen
2016-01-28T00:00:00Z
It was another great week staying with Stephen and Marilyn. I had to study for an upcoming exam and it is so wonderful to come home to such a lovely house, take a nap in the comfortable bed, then spread out my papers at the big desk and concentrate. There are also plenty of places nearby to grab a bite to eat. Stephen and Marilyn are great hosts - friendly and respectful of my needs at the same time! Thank you.
Colleen
2016-01-15T00:00:00Z
This is my second stay at Stephen and Marilyn's place. The space proved to be consistently charming, perfect orientation with beautiful morning sun by the lake. The hosts were as gracious and welcoming as last time. A great stay overall.
vlad
2015-12-01T00:00:00Z
Charming hosts, perfectly designed space. Very functional yet comfortable and warm. Highly recommend.
vlad
2015-10-29T00:00:00Z
What a great place to stay. I hope I can make it back someday. The bed was top quality, just like at a fancy 5 star hotel.
Mathew
2016-04-10T00:00:00Z
Fantastic host! Loved every minute being with this wonderful couple. We would definitely love to visit them again in the near future!
michelle
2015-10-18T00:00:00Z
Tipus d'habitació
Habitació privada
---
Tipus de propietat
Casa
---
Capacitat
2
---
Dormitoris
Peachtree City, Geòrgia, Estats Units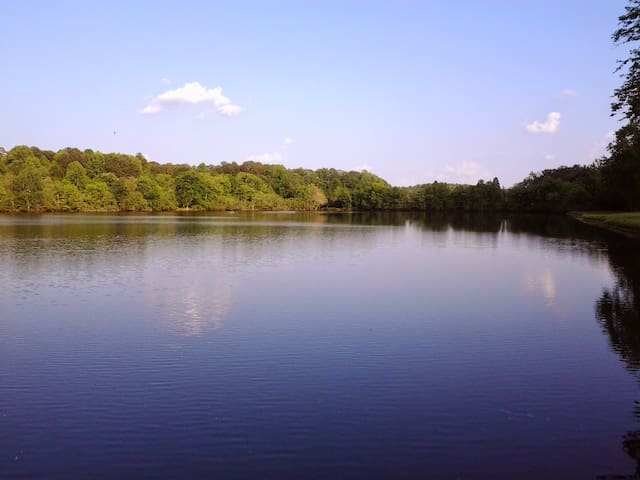 Our home is located in the heart of Peachtree City (PTC). This a perfect location for families! There are 80+ miles of paved paths to explore, 3 lakes, parks, 4 playgrounds, restaurants, and shopping in PTC. Warning for people allergic to cats: there are 3 cats who will need to be fed, watered, etc. If you do not wish for them to be in the house, they can stay outside and in the garage.
Our home is perfect for families with kids! The yard is big and perfect for enjoying our numerous sports-related toys! The downstairs has a relatively large livingroom with semi-open concept into breakfast area and kitchen. There is a separate office with new desk. Air conditioning and heat are centralized with a programmable/adjustable thermostat. Warning for people allergic to cats: there are 3 cats (2 who are very friendly) who will need to be fed, watered, etc. If you do not wish for them to be in the house, they can stay outside and in the garage.
We love the location and our wonderful neighbors! We have an adjustable basketball hoop in our driveway and if you wish to go to a park with a full-size basketball court, it is just a short drive to it that also has playgrounds there for younger children and access to public tennis courts in both parks. If you like kayaking, swimming, or fishing Lake Peachtree is one mile away. There are many dining options in PTC. The Avenue shopping center provides upscale shopping opportunities. This is a great location if you are in town for a concert at The Fred amphitheater.
Tipus d'habitació
Casa/pis sencers
---
Tipus de propietat
Casa
---
Capacitat
6
---
Dormitoris
Peachtree City, Geòrgia, Estats Units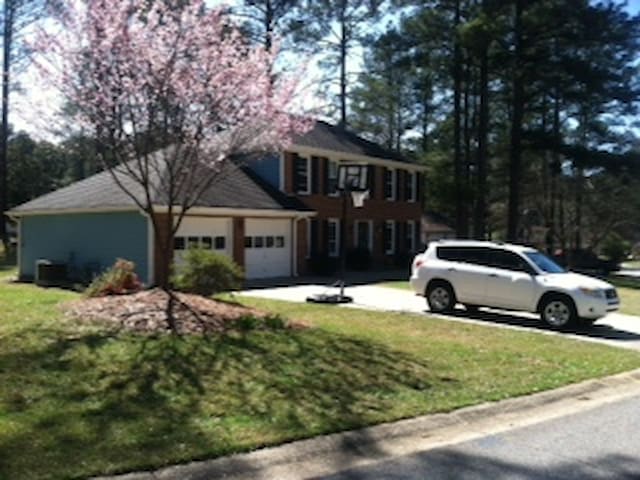 Our home is 5 miles out of Senoia, GA, surrounded by lovely Southern pine and maple trees. The 5-bedroom house is set off the public road down a private gravel drive. This large bedroom features a comfy king-size bed; you have access to the kitchen for microwave and coffee pot use and continental breakfast, a large sunroom/den, a full bath and half-bath.
Our home is secluded and private but quickly accessible to restaurants and shops in Senoia, home of The Walking Dead series. We are 30 minutes from Peachtree City and Newnan.
Homes in our immediate area are quite far apart from one another. The trees, natural beauty, and relative quiet are the best features.
Tipus d'habitació
Habitació privada
---
Tipus de propietat
Casa
---
Capacitat
2
---
Dormitoris
Senoia, Geòrgia, Estats Units
Our cozy home is conveniently located in the heart of Peachtree City. Nestled nicely on a quiet street, you have walking distance access to "3 Ponds" (Luther Glass Park). Whether you've got a conference in town, you're coming to see a concert at the Fred Ampitheatre, visiting friends/family, or just want to enjoy peaceful Peachtree City, you're sure to be comfortable in our home. We're accessible to assist with planning your visit and are dedicated to assuring you're utmost level of enjoyment.
Recently updated ranch style home with new paint and brand new windows. Modern kitchen amenities and new washer/dryer.
Located in the middle of PTC, you have easy access to a myriad of parks and facilities, the BMX park, Lake McIntosh, Fred Ampitheater, Falcon Field, Senoia ("The Walking Dead" filming locations), golfing, golf-cart paths, Lake Peachtree, and more.
Great location. Devon is an excellent communicator. The house could use an update and a TV in the living area. Other then that, I'd definitely, contact Devon again to rent this house!
John
2017-03-03T00:00:00Z
Home was comfortable. Devon was easy to communicate with.
Rachel
2017-01-04T00:00:00Z
We were so thankful to find a spacious home for our family and be so very close to everything! I have only positive things to say about Devon, he was a great host! He took the time to give us a lot of information that we needed about PTC and quickly responded when we asked additional questions. Right when we arrived he even offered up another contact in the event he could not be reached, that goes above and beyond!
Diane
2017-02-20T00:00:00Z
La pasamos muy bien en la casa de Devon, es cómoda y se encuentra en una zona tranquila y de fácil acceso. Devon es muy atento y dispuesto a ayudar con cualquier pedido que tengas durante tu estadía. En resumen si tuviera que volver a PeachTree elegiría de nuevo la casa de Devon.
MARIO ALBERTO
2017-02-27T00:00:00Z
We loved our stay at Devon's place. The pictures were accurate. We had a great time and appreciated the wonderful communication and hospitality from Devon.
Heather
2017-03-05T00:00:00Z
Devon was an excellent host and very helpful! The house was very spacious and comfortable. We had a small get together for New Years and really enjoyed our stay!
Alyssa
2017-01-01T00:00:00Z
The beds were extremely comfortable. Everything was very nice and well kept. We were very satisfied with our stay at Devon's place.
Nikki
2017-01-16T00:00:00Z
Great host
Katelin
2017-02-17T00:00:00Z
Tipus d'habitació
Casa/pis sencers
---
Tipus de propietat
Casa
---
Capacitat
8
---
Dormitoris
Peachtree City, Geòrgia, Estats Units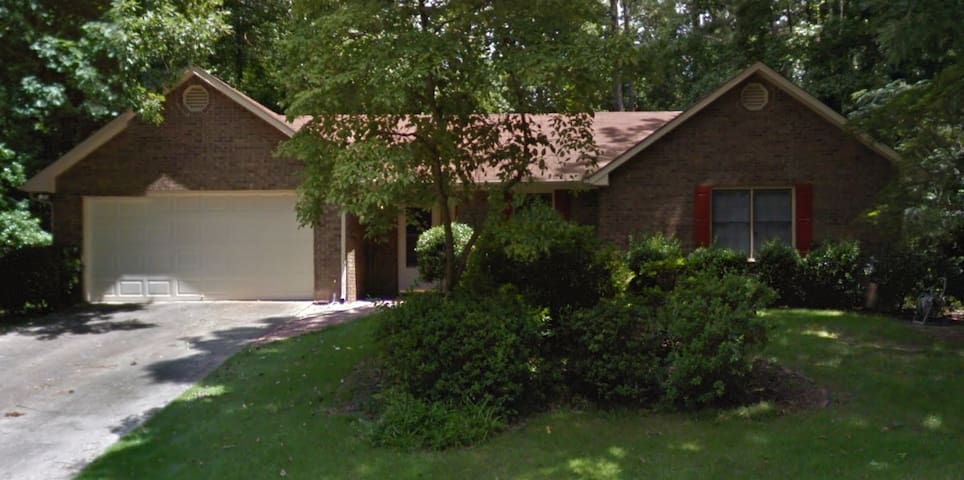 Enjoy peace & serenity in this charming private home! Relaxation & adventure await as you will be just a golf cart ride away from fabulous shopping, dining, beautiful lake, parks, a library & your choice of three golf courses.
2 living spaces, 2 dining areas, a private fenced in back yard.
Surrounded by the sights & sounds of Georgia wildlife, you can fish, kayak, or simply stroll around the four mile path of Lake Peachtree which is just across the street!
Leslie was an excellent host. She was very flexible and allowed us to check out later than most places would normally consider. The house was very clean and located in a well-established neighborhood. Her home was also very conveniently located. We felt very comfortable during our visit, and felt like we could make oursleves at home. There were even board games for our kids. We would definitely recommend Leslie and her home, and will probably stay there again on our visits to Peachtree City.
Richard
2016-07-24T00:00:00Z
This was a last minute quick trip due to a family emergency. I had never used airbnb. Leslie and her wonderful house made everything so easy. I was verified and booked so quickly. The house is in a great location right off a main road but still so peaceful and private. It was so nice to be able to pull right up to the front door and unload the car straight into a big open entry area. The house was so clean. The a/c felt amazing. Everything I needed was there. I didn't have to run out to get anything. Leslie checked in by text. I knew she was available if I had any problems but there were none. I had a very comfortable bed with the softest sheets, a large beautiful bathroom with the coolest walk in shower set up, a huge kitchen, and great oversized super comfy furniture in the tv room. i had no time or energy for the exercise equipment but there is an impressive line-up available. i really enjoyed being able to step right out the sliding glass doors onto a large deck that just flowed into the backyard. It was a great place to relax in the rocking chairs and watch my dogs play. I was nervous about the white carpet, but there was a nice tiled area inside the doors perfect for wiping paws. Also, the yard is naturally mulched by the pine trees so there was no hint of mud despite some rain. There is traffic noise at times but I never noticed it from inside the house. Check out was easy. Just a quick text exchange, linens to the laundry room, trash to the bin, and I was on the road. Thank you Leslie and airbnb. You really helped me out in a pinch and I felt so at home.
Kathryn
2016-08-24T00:00:00Z
Very nice - enjoyed it. Will use it again.
James
2017-03-31T00:00:00Z
Leslie was very welcoming and the one request we had was handled promptly and efficiently.
Joe
2016-07-11T00:00:00Z
This was a great neighborhood! Leslie was very accomodating and the house was a great fit for our family.
Jennifer
2016-10-24T00:00:00Z
How to live like local for a few days? Rent this house..... The house was amazing. It's location is great, very peaceful after 2 weeks of non stop travelling. having the use of the golf cart with this property was a great bonus. It meant we cold ditch the car for three days and travel round Peachtree City in this, which also dropped us into the local community.... Leslie, the host was wonderful. She was very accommodating and flexible with check-in and check-out times. There was also a wealth of detail on what to do in the local area left of us to look through. I would strongly recommend Leslie as a host. If I ever find myself Peachtree City again, I would look to rent this property
fenton
2016-10-17T00:00:00Z
Leslie was very nice to answer all questions and make sure our stay was comfortable. Quiet neighborhood with great paths for the golf cart or walking. Leslie was nice enough to let us use the golf cart, which was so fun and be guests of hers at the local country clubs for the pools! House was nice and clean. Great stay at a fantastic price!
Kate
2016-06-06T00:00:00Z
Our stay was perfect, the house was well equipped and located close to everything. Leslie was responsive to our questions and check in/check out was easy. Providing a Golf Cart was a nice touch and made our stay in Peachtree City even more enjoyable. We would recommend Leslie and this house to other guests.
Gerard
2016-08-03T00:00:00Z
Tipus d'habitació
Casa/pis sencers
---
Tipus de propietat
Casa
---
Capacitat
6
---
Dormitoris
Peachtree City, Geòrgia, Estats Units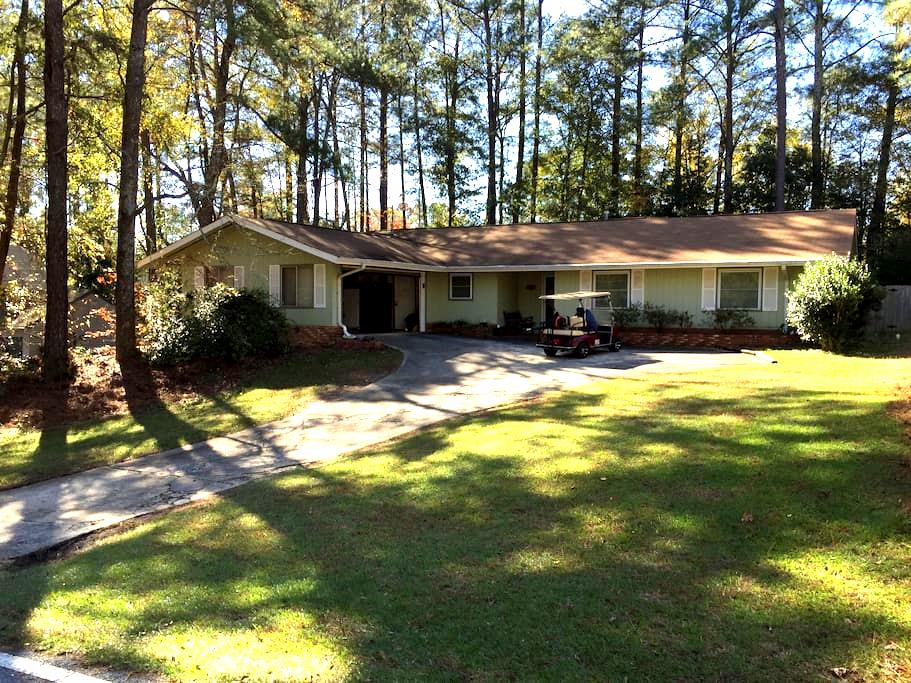 Great Roommate / Pet/ Kid friendly home in a safe, quiet, clean neighborhood. Walk distance to good restaurants (Tomi sushi, Grinds n wines, mellow mushroom) and a short drive to the grocery. Rent a Golf Cart, walk or bike, Dog Friendly house, 2 Smart TVs (Fast Wifi and Cable incl), Extra converted garage space can be 4th bedroom or Playroom/Work out room. All new appliances and furniture and a Massive deck with BBQ. *Pinewood Long term rental - msg me for details.
Right off the 74 - easy commute to Atlanta, Pinewood, Senoia, Newnan, airport. Great for families or anyone wanting to share a space. Main bed and bath downstairs and a bedroom and smaller bedroom (Office) upstairs. Huge converted garage for 4th bedroom furnished wiith two twin beds that can become a king or stay as couches. Open play space or yoga ect.. MASSIVE deck shaded by trees. Great outdoor living space, play space, bbq Fenced in small yard. All new flooring. Shady cozy back yard with big deck and entertaining space. Golf Cart Rental - $50 / day or $300/ wk
The neighborhood is Compact living which is great for people who are social. Like to be around other people, kids. Its so friendly and everyone waves at you.
Very nice cozy house near everything in PTC. Monique left us fresh farm eggs which were fantastic! Thanks again. Very quick to respond to the couple minor issues we had. Would come back for sure.
Mike
2016-07-28T00:00:00Z
House was cozy and clean! Very cute with its own yard and in a lovely neighborhood :) I had an awesome 2 week stay there and felt at home! Though the fireplace doesn't work and she wasn't the best with keeping in contact, everything else was great! I highly recommend this home!
Samantha
2017-01-04T00:00:00Z
Tipus d'habitació
Casa/pis sencers
---
Tipus de propietat
Casa
---
Capacitat
7
---
Dormitoris
Peachtree City, Geòrgia, Estats Units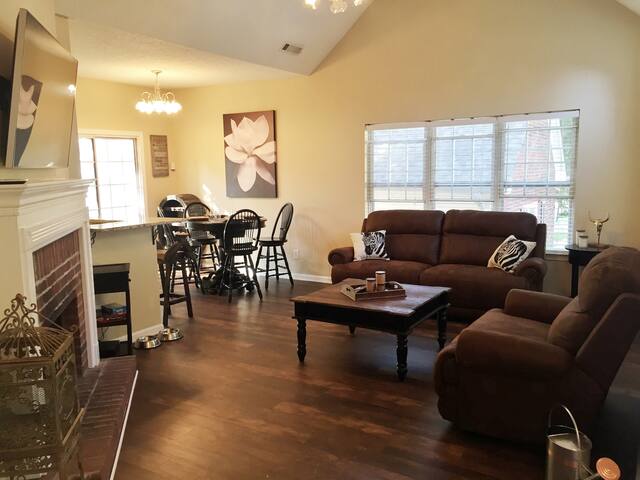 Our 1900 square foot luxury rental house is the perfect place for your stay in one-of-a-kind Peachtree City, also serving Pinewood Atlanta with a short ten minute drive. This totally updated ranch home has an open concept, WIFI, cable, 2 TV's and office.
In January 2015 the house was TOTALLY renovated and subsequently furnished for our Pinewood guests. Waterwood Bend has the feel of an open concept midtown condo. A prior FIVE month guest from a Marvel Comic film loved the place. They noted; open, brand new, clean, WIFI, private, convenient (next to Peachtree City cart paths), walk to shopping, short drive to the studio, 25 minutes to Hartsfield, gorgeous kitchen, 2 car garage, gas grill, fenced back yard, office with cable TV and more.
The house is a short walk to Fresh Market and restaurants. Quiet, families, safe, Peachtree City police monitor the cart paths, a great area, hospital 10 minutes away.
This was my first time using AirBnB and it has been a remarkably pleasant experience. Mark and Linda made us feel welcome without being overly present. They were quick to respond to any questions we had. We were traveling with a 2-year old and arriving late in the evening after a long day of travel from Europe (about 10pm). Our hosts both greeted us at the house to walk us through. Convenience items were provided for breakfast and even some toys for our toddler. It was a warm reception. The house was very clean, comfortable, well equipped and a completely updated throughout. I would highly recommend staying with Mark and Linda!
Theresa
2016-07-16T00:00:00Z
Tipus d'habitació
Casa/pis sencers
---
Tipus de propietat
Casa
---
Capacitat
3
---
Dormitoris
Peachtree City, Geòrgia, Estats Units
My place is located in the heart of Peachtree City. When you stay here you will be a short walk away from Lake Peachtree, many great shopping areas, and lots of great restaurants and dining.. You'll love my place because of the neighborhood, the kitchen, the light, the comfy bed, the coziness. My place is good for couples, business travelers, families (with kids) and big groups.
Our home has great seating areas for multiple guests wether you are in the living room or dining room. We have a very spacious kitchen which is great for cooking or hosting dinners. Kitchen utensils cookware is all available for you to use. The Wifi here is accessible to our guests via password and the internet is fast.
We love the location and the wonderful neighbors. Right across the street is a full size basketball court and park. Just a little ways down (2 minute walk) is a tennis court. If you like kayaking, swimming, or even fishing Lake Peachtree is just a 5 minute walk down the street. We are also located on the golf cart loop that goes around the lake which is popular for biking and running. Lots of local dining is just minutes away including Partner's Pizza, the best locally owned pizza restaurant in town! The Avenues shopping center is also very close by. This is also a great location of you are in town for a concert at The Fred amphitheater because of it's close vicinity.
We were having our house painted and wanted to stay in a home as opposed to a hotel. Jocelyn was a joy to work with, she allowed us to check in early and when the painting was not completed on time she allowed us to extend our stay with no issues. She was easy to reach and so accommodating. The location was great and my son loved visiting both the park across the street along with the one a short walk away behind the library.
Sandra
2016-10-20T00:00:00Z
The host canceled this reservation 58 days before arrival. This is an automated posting.
Joe
2017-03-28T00:00:00Z
Jocelyn was a great host. I was sick so she let us in early so I could rest. We are evacuated from the Coast due to Hurricane Matthew and this house/location made it a real vacation for my family. The house was clean with a big kitchen and dining area. The bunk beds were perfect for our kids, and the park across the small street was awesome! When we go back to Atlanta, we will be staying here again.
Shelby
2016-10-12T00:00:00Z
Jocelyn was a great host with a wonderful home. The house was very clean and is located close to many restaurants and shopping centers in peachtree city. Would recommend this to anyone!
Brian
2016-11-13T00:00:00Z
Host was very accommodating. Great kitchen. Very convenient location.
Gerald
2016-10-16T00:00:00Z
Tipus d'habitació
Casa/pis sencers
---
Tipus de propietat
Casa
---
Capacitat
6
---
Dormitoris
Peachtree City, Geòrgia, Estats Units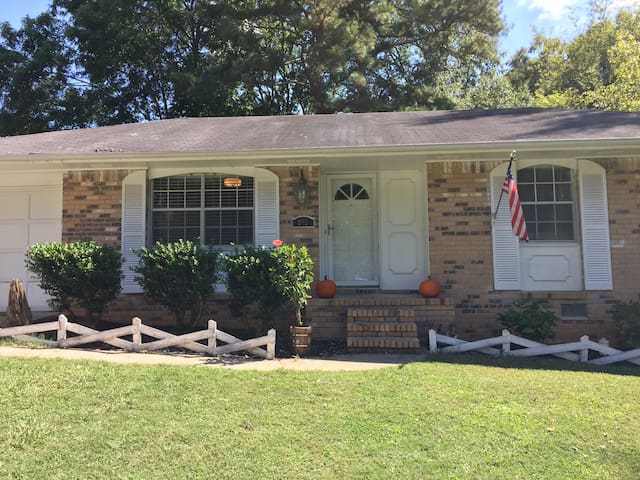 My place is close to great views, restaurants and dining, and family-friendly activities. You'll love my place because of the neighborhood, the comfy bed, the kitchen, and the coziness. My place is good for couples, solo adventurers, business travelers, and furry friends (pets).
Tipus d'habitació
Habitació privada
---
Tipus de propietat
Casa
---
Capacitat
2
---
Dormitoris
Peachtree City, Geòrgia, Estats Units
1

-

18

de

27 Lloguers de Cases
Introdueix les dates per veure el preu total. S'aplicaran tarifes addicionals. És possible que també s'apliquin impostos.