Come visit our beautiful country home, in a quiet neighborhood. Located just 2.5 miles from Hwy 99 and 15 minutes South of Fresno. Less than 2 hours away from Yosemite, Sequoia and King's Canyon National Parks!
Comfortable room with Tempurpedic mattress and television. Private bathroom and separate bathroom with shower access. Breakfast and coffee provided.
It's such a comfortable experience that StoneHaven has become my home away from home. They treat me like an honored royal new guest each time ... even though I stay there every month.
Bryan
2015-11-24T00:00:00Z
This is hard to review as just a private room. This is an experience. Stonehaven comes by it's name very easily. The room was as described with a bathroom which had a beautiful view. The landscaping is something else entirely. It is a retreat. You would think you were near a waterfall in the Sierras with boulders strewn around, creating side streams with their own waterfalls. The Hostesses were exceptionally gracious. I would not hesitate to return. Exceptional!
Bud
2015-08-26T00:00:00Z
From a cost vs. benefit perspective ... the value is off the chart. Yes, it's Fowler -- not San Francisco, but this is the easiest 5-Star AirBnB rating ever. Seriously, if there was a Ritz Carlton & a Four Seasons on both sides of it ... I'd choose Stonehaven ... even if all 3 were the same price. The hosts are truly committed to exceeding guest expectations. The treatment is royal, their home is impeccably clean, fragrant and quiet, and the bed is very comfortable. The property itself, covered in other reviews, is quite unique and really a cool oasis/wildlife sanctuary. I'm looking forward to returning !
Bryan
2015-08-14T00:00:00Z
After a long day of traveling and playing on a scholarship audition, this was exactly a place me and my boyfriend needed! Ashley and here mom are wonderful people and absolutely impeccable hosts, we immediately felt like home. It was a great pleasure to meet them and to share couple of interesting conversations. Their home is absolutely amazing! We felt huge respect for the way they build this house and the thought it was put into it. Would definitely love to come back and spend some more time here!
Julijana
2016-03-07T00:00:00Z
StoneHaven couldn't be any easier or more comfortable! Want to be treated like a king by the most gracious and attentive hosts imaginable ? ... stay there !
Bryan
2015-12-11T00:00:00Z
This gorgeous estate, located less than five minutes off the freeway, is hosted by two lovely women, who made us feel welcome from our arrival. If you want a stunning place to stay amidst miles of vineyard, look no further! The back yard has a natural pool and spa, a pond, and some emus and even an ostrich! These are grounds that beg a wedding or stellar event on them; Stonehaven will "wow" you from first sight. We arrived road weary and stressed, but our stress melted right away in the spa, where we could unwind in quiet, beautiful surroundings. I cannot say enough about the hospitality. Even though we only stayed one night, the hosts were so accommodating and friendly, we felt we were leaving friends when we had to go. We will definitely be back! There were a few little extra surprises that I won't reveal; I'll let you find out for yourself! The room is elegant and well appointed, with a tempurpedic mattress and luxurious bedding. The private bathroom has a spa tub that looks out into a tiny private garden complete with a water feature. The care and love poured into creating a luxurious and relaxing space shows everywhere you look at Stonehaven. The pictures don't do it justice. We have stayed at airbnb places before, but we really felt we lucked out when we booked here. What a gem! Thank you thank you, Ashley and Darl. We know we will see you again!
Jamie & Cindy
2015-07-24T00:00:00Z
Stonehaven is such an oasis ! I always look forward to my stays there. They couldn't really be more attentive than they already are. They even pre-heat the spa for me each evening before I arrive and send me off with coffee to-go each morning (after feeding me a nice breakfast). Feels more like vacation than business travel !
Bryan
2015-10-10T00:00:00Z
This is an amazing place! I was so glad I found Stonehaven, and am thankful for the relaxing time I had during my quick trip through California. Ashley and her mom were great hosts! The place is huge. Clean. Quiet. Relaxing. Just like a spa. Speaking of spa, the HUGE hot tub was a bonus! If you're ever coming through the Central Valley, this is the place to stay!
Conrad & Jodi
2016-02-26T00:00:00Z
Tipus d'habitació
Habitació privada
---
Tipus de propietat
Casa
---
Capacitat
2
---
Dormitoris
Fowler, Califòrnia 93625, Estats Units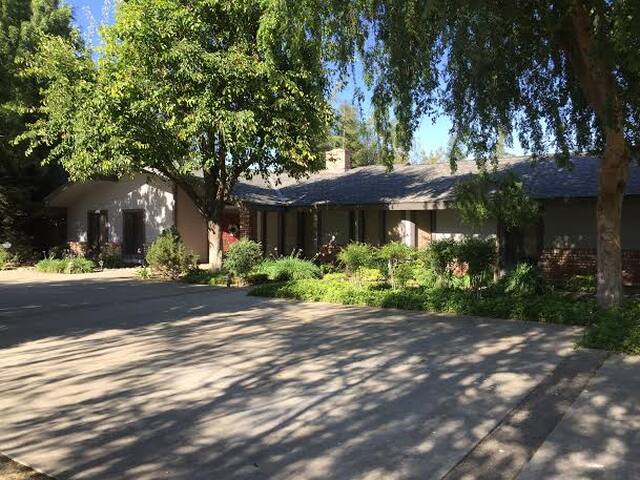 Quiet country home surrounded by orchards and vineyards but only 3 miles from the freeway. Less than two hours from King's Canyon, Sequoia and Yosemite National Parks! We are just 15 minutes south of Fresno, CA. Meet our gentle alpacas. We have 11 right now They love carrots if you happen to bring some! Cozy room with private bathroom and shower. Wireless, plenty of parking space. Swimming pool. Small towns nearby with good restaurants and stores. We are just "bed and breakfast" (i.e. we have jobs) with check-in any time after 6 p.m. and check-out time 10:30 a.m. If you stay more than one night we can certainly be more flexible on times. Beware, we have very friendly dogs........... We love meeting people from all over the world and we'd love to meet you! Barb and Charis
Every thing that an Air BnB is expected to be !! Great location, close to freeway and restaurants . The property was exactly as described and very homey. Enjoyed the alpacas, and all the adorable rescue dogs. Breakfast was an added bonus and enjoyed all the conversation with the hosts. They even found windshield wiper fluid for me... Would recommend this property to all animal lovers .
Pamela
2015-05-13T00:00:00Z
We had such an enjoyable stay at the Alpaca Ranch with Barb and Charis! It's hard to pick one thing: the relaxing conversations, the delicious breakfast, or the alpaca encounter and feeding. All in all it was a very memorable stay and we recommend it highly!
Audrey
2014-03-17T00:00:00Z
Barb and Charis were just wonderful! They have a beautiful home and many alpacas and dogs. We brought my dog and they were very accommodating. Highly recommend!
Carolyn
2016-10-10T00:00:00Z
This place was just wonderful! Barb and Caris made us feel welcome and were so kind to let us play with the dogs and alpacas (we miss Cinnamon already!) Caris also made us a beautiful breakfast each morning. Highly recommend. Would love to stay here again!
laura
2015-07-07T00:00:00Z
Barb and Charis were great hosts, and the room was great! You can tell they really enjoy hosting. Barb took the time to give us a great tour of the alpaca ranch. It's really cool how much she and Charis love the animals and how much they sacrifice to make sure Handsome (who wouldn't feed from his mother) grows up healthy and strong. In the morning, we were treated to a great breakfast with coffee and a nice conversation about religion, which is one of my favorites. Bonus: super-comfortable bed! We recommend booking here!
Kerri and Jeff
2014-07-07T00:00:00Z
A fantastic place to stay, exactly as advertised, lovely, clean and welcoming. Barb and Charis are wonderful hosts, welcoming without being overbearing, in fact the only negative point was that we couldn't chat longer because we had to be up so early! Knowing that, they very kindly left us out a few things for breakfast. Would definitely stay again, one of the highlights of our holiday!
Josh
2015-07-02T00:00:00Z
Barb and Carris welcomed me into their home. By the end of my stay, I felt like extended family. Carris' banana nut bread is the best. Make sure to hangout with the Alpacas (they love to be fed the mulberry leaves).
JoAnn
2015-06-09T00:00:00Z
Barb and Charis are such great hotsts! We stayed with them while peach picking at the Masumoto Family Farm. They were extremely accommodating and made us a wonderful breakfast spread. Barb gave us a great tour of her ranch and answered all of our alpaca questions. She was even nice enough to let us come back to swim in their great pool after we had already left! I recommend staying with Barb and Charis and will come back for future peach harvests.
Miju
2012-08-06T00:00:00Z
Tipus d'habitació
Habitació privada
---
Tipus de propietat
Bed & Breakfast
---
Capacitat
2
---
Dormitoris
Fowler, Califòrnia 93625, Estats Units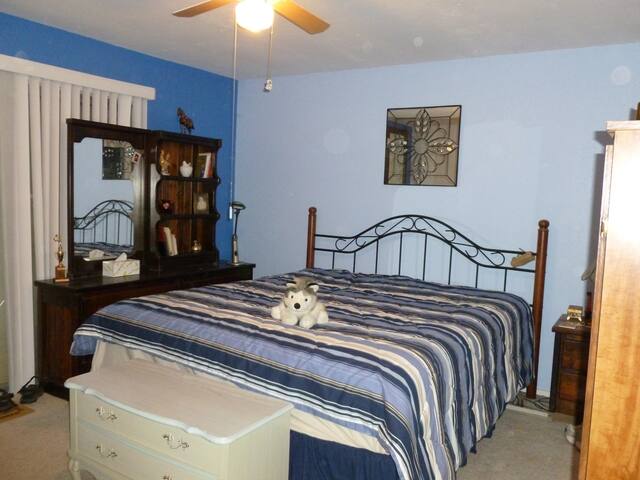 SUNSET Room is a compact, two-story unit that has two queen beds (one in its own room), full bath, kitchenette w/small fridge, microwave/toaster, breakfast items first day, reading nook, and 2 balconies overlooking King's River and organic farm. (Check SUNRISE and SOPHIE rooms, too.) Organic farm tour.
We are a place that genuinely values people and we look forward to having you with us as you relax and experience how an organic farm works.
Experience some of California's best country living. Surrounded by orchards on the banks of the Kings River, we know you will enjoy the beauty and peace of our land, whether it is listening to the song of the birds or watching the vibrant colors of the sunset fade over the King's River.
Everything from the booking through our stay was awesome!
Kathy
2016-08-23T00:00:00Z
We had a great time at the Jackson Family farm. The appartment (Sunshine room) is really nice, all new, very nicely decorated, clean and perfect for a family of four. We loved the farm tour Robert gave us, enjoyed the animals, pool and tennis court! our boys want to come back every year at least once!!!
Tanya
2015-09-17T00:00:00Z
Robert and Sarah's farm is lovely! It was the perfect place to stay during our short time in the area; I only wish I had had more time to wander around their orchards and lovely property. The suites are warm and nicely decorated and very clean, with great breakfast items stocked in the fridge (though not a full kitchen). Both Robert and Sarah were really welcoming and friendly, and I appreciate their hospitality. Fresno in my mind is not the prettiest place--I needed to be there for a conference--but Sarah and Robert's place is like a little oasis nearby. I would definitely stay there again!
Clare
2015-11-06T00:00:00Z
We had a wonderful stay at Robert & Sarah's farm. As everyone says, you feel relaxed, at home from the beginning. There are plenty of things to do around the property with (or without) a toddler. Sequoias National Park is close enough to visit on a day-trip. Fantastic stay with fantastic hosts!
Francois
2016-04-22T00:00:00Z
This place was peaceful and fun. Our family time was very memorable. My little one didn't want to leave, she cried missing Hogan the friendly, energetic dog. We wish we had more time since we missed the tour. We kayak on the river, we swam in the pool, we played tennis and pickle ball. We explored the farm and was shown top notch hospitality by Sarah and Rob. Only thing I would suggest adding some board games in the beautiful sunset room. Thanks again.
Jessy
2016-08-15T00:00:00Z
Beautiful property (a real gem!), fantastic hosts, very accommodating. Delicious muffins for breakfast! Robert also gave us a tour of the farm which was very interesting. Pool and tub are a very nice plus. Our little boy enjoyed chasing the chickens, cats and petting the dogs. Easy access to the Sequoia Park. Lovely room (they even had a pack n play for our son) Courtney is very friendly and efficient, and made the reservation so easy. We really enjoyed our stay and hope to come back. 5 stars! : )
Isabelle
2015-04-10T00:00:00Z
Staying at the Jackson Family farm was exceptional. The grounds and home were beautiful and extremely clean. They really paid attention to detail, providing breakfast in the rooms and leaving us fresh fruit from the farm:) Kitchen was fully equipped, beds were clean and comfortable, bathroom was perfectly new and clean. There's also a magical river in the back yard. We also loved the town. It couldn't have been better. Thank you!
Ida
2016-08-30T00:00:00Z
We had a great stay at the Jackson Family Farm. Our family of three used the stay as a home base for trips to Sequoia and Kings Canyon National Parks. The drive from the farm to the parks was a bit far for this purpose. The pool was relaxing on hot days and the Sunset Room was always cool. Our 9 year old son loved his room in the loft and the small reading room was perfect for a game of cards. If you're a pet lover, Chainey the dog and Penny the cat are very friendly and will walk up to you for a pet. Missed out on kayaking because the water level of the river was up. Its use was restricted to the speed boats and jet skis taking advantage of the release of water from the dam.
Thomas
2015-07-16T00:00:00Z
Tipus d'habitació
Casa/pis sencers
---
Tipus de propietat
Bungalou
---
Capacitat
4
---
Dormitoris
Kingsburg, Califòrnia 93631, Estats Units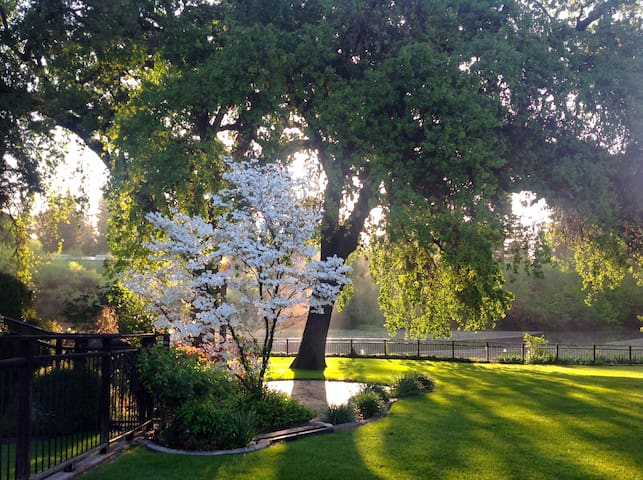 Comfortable room that has 2 twin beds or just one twin.
We have recently built a new home and have had great experience with Airbnb regarding booking in other people's homes, and thought we would open up our home to experience meeting new people around the Country. This room sleeps 2 people (trundle bed) which is 2 twin beds, with new very comfortable mattresses. They will have access to their own bathroom and use of our kitchen as well. During hot summer months, we have a nice built in pool for your pleasure. Our neighborhood is a newly established subdivision and is very safe and in a good part of town. There are plenty of nearby restaurants in our beautiful sweedish town.
I had a great time. Jeff and Kristas place was perfect, and they were awesome hosts. Made me feel as if I were visiting family. I would definitely stay there again.
Bobby
2017-01-12T00:00:00Z
We enjoyed our stay at Jeff and Krista's home. It was our first time using airbnb. Jeff and Krista helped to make it a very positive experience. They welcomed us when we arrived and showed us around the home. The house was neat and clean and the beds were comfortable. Krista provided a list of local restaurants which was helpful. We felt at home in their home. We appreciated the morning coffee. Jeff and Krista were excellent hosts.
Carol
2017-02-19T00:00:00Z
Staying with Jeff, Krista and the dog Max was amazing. Their home is beautiful and the room very confortable. It was a pity stay there only a night.
Cristina
2015-06-06T00:00:00Z
Jeff and Krista were very friendly. The house was pretty and clean and so were the bathroom and bedroom. Beds were comfortable. I slept like a baby! There was a huge swimming pool! Must be very nice in the summer. The house is closely located to the small center of Kingsburg so you can easily go there for diner.
Larissa
2017-01-10T00:00:00Z
We had a wonderful stay at Krista and Jeff's house. It is comfortable, clean, and provided a much needed restful night of sleep after our long days in Sequoia National Park. Krista was extremely patient with me answering all the questions, and showed us around the house. I would definitely stay with them again if we are ever going back to Sequoia. Also, I've had some big technical mess up on this reservation, Krista was very assuring throughout the process. I am very thankful for her trust!
Ping
2015-07-23T00:00:00Z
Great Experience, I really recommend Jeff and Krista are super and they really make me feel at home
Giuseppe
2016-02-16T00:00:00Z
Beautiful home, clean room and bathroom, friendly hosts, and a cute dog!
David
2016-01-03T00:00:00Z
Bei Jeff und Krista haben meine Freundin und ich uns wirklich mehr als wohl gefühlt. Wir kamen leider etwas später an als geplant, doch durch die Flexibilität der beiden kein Problem. Jeff hat uns herzlich empfangen, Hilfe beim Gepäck angeboten und uns das Haus gezeigt. Wir konnten sogar noch spät abends in den Pool springen. Jeff hat sich auch noch Zeit für uns genommen, um uns beim Thema "Baseball" zu beraten. Das Zimmer/Betten waren super. Das Bad war ebenfalls top. Was Sauberkeit und Kosmetika betrifft, gibt es nicht zu bemängeln. Sogar Badekappen waren vorhanden. Doch nicht nur der tolle "Service" und das Haus hat uns gefallen. Am nächsten Morgen haben wir noch beim Kaffee ein tolles Gespräch mit Krista geführt. Wir waren wirklich mehr als zufrieden und würden jederzeit wiederkommen.
Michèle
2016-08-28T00:00:00Z
Tipus d'habitació
Habitació privada
---
Tipus de propietat
Casa
---
Capacitat
2
---
Dormitoris
Kingsburg, Califòrnia 93631, Estats Units
Our bungalow is located in the heart of the central valley of California near the Swedish town of Kingsburg. It is a beautifully appointed one bedroom with full kitchen, laundry facilities, surround sound DVD, and wi fi. We look forward to seeing you
Man I can only say good things Craig and his wife hope are the best. great host beautiful home and everything you need they have done more than enough and can't overly tell you how beautiful it is out here A+++++
Christopher
2016-02-14T00:00:00Z
A friend of mine and our two sons of 8 we're traveling from Long Beach to Yosemite and stopped here prior to picking up our RV rental in Clovis. We chose this over your typical Motel 6 and at the end of this day we could not have been more happy with the location, condition and hospitality of Craig's place. The big grassy area between our place and the barn keep the boys busy playing soccer and Craig made a great recommendation for breakfast at Kady's that was one of the best I've had in a long time. I would highly recommend this place and it is an absolute bargain at what he is asking for all that it has to offer.
Jack
2016-04-02T00:00:00Z
Craig was the perfect host! Before we arrived, Craig had contacted us with information and making us feel welcome. The cottage was spectacular!!! It was the white picket fence cottage that we all dream to have. It was well kept, clean, and peaceful. The only sounds were of beautiful birds. Craig took the time to pick fresh fruits from his farm and brought them to us. They were delicious. This was certainly a wonderful experience. I hope to return some day!
Arleen
2016-06-26T00:00:00Z
What a picturesque place to stay. We had a lovely stay for our visit to Sequoia National and had everything we needed. The house is easy to find, absolutely beautiful, and a short drive into town. (I highly recommend Los Pepes for fish tacos!) Craig is a welcoming host and gave us a tour of his fantastic barn. The whole place is beautiful kept and comfortable.
Laura
2016-07-11T00:00:00Z
This was our first Airbnb experience. We are sold on the idea now that we had an awesome stay. It started with getting lost and needing to call Craig for assistance. He was wonderful, kept us on the phone until we actually drove into the driveway. Come to find out he was out of town when helping us. Wow!! Customer service was impressive right from the beginning. His wife, Hope, greeted us with a warm welcome and showed us our home away from home. The pictures on the web are exactly how we saw the place including being there in April with all the roses in bloom. It was breathtaking. Thanks again to Craig and Hope, our hosts for making us feel comfortable. We would definitely stay there again.
Lorraine
2016-04-27T00:00:00Z
This was the perfect accommodation and place for us to visit after the hustle and bustle of LA. Both Craig and Hope were very welcoming and went out of their way to provide for us. Their home has all the home comforts and is very clean and lovely. I would highly recommend this Air BnB.
Maria
2016-03-25T00:00:00Z
My husband and I and two friends of ours stayed at Craig's bungalow for Labor Day Weekend while visiting Sequoia and Kings Canyon National Parks. This peaceful place is approximately 1h drive to Kings Canyon and 1h20 to Sequoia, not super close, but convenient and the experience of driving to the parks was overall good, as the natural landscape is really fabulous. The gorgeous bungalow was very convenient for 4 people and the wall bed was really comfortable (my husband and I slept there). Craig was very gentle and helpful since the very first time I contacted him and also when we met. He and Hope took us for a guided tour at their barn, which is a precious master piece right in front of the bungalow and available for renting (2 people max, no kids). Hope we can stay there someday. We all really enjoyed our staying at the bungalow and would recommend to people like us who sometimes need to get out of the big cities and take a relaxing three day weekend in the countryside. Thank you for having us Craig and Hope, we had a wonderful time in your place! :)
Rita
2016-09-07T00:00:00Z
We had a wonderful time at Craig's place. Craig was very welcoming and very good at making sure that we were enjoying our stay. The property is very peaceful and we slept very well there after spending most of our days in the parks. Kingsburg is also a charming town. We highly recommend this place :)
Jose Daniel
2016-09-20T00:00:00Z
Tipus d'habitació
Casa/pis sencers
---
Tipus de propietat
Casa
---
Capacitat
5
---
Dormitoris
Kingsburg, Califòrnia 93631, Estats Units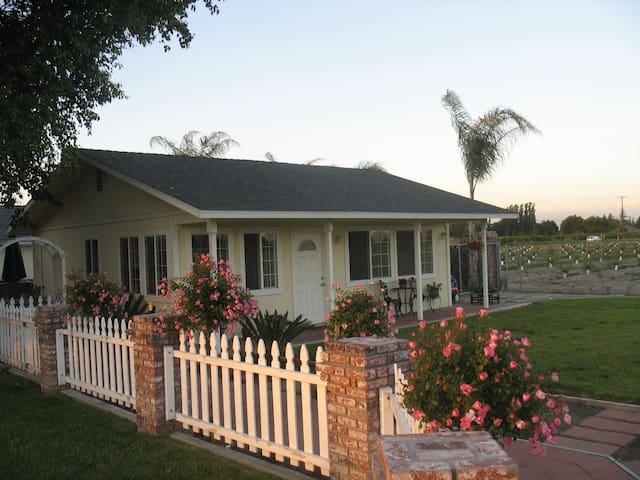 Great getaway on the road to Yosemite, Kings Canyon National Park and Sequoia National park. Great midway point between Los Angeles and San Francisco. Private detached room, with King size bed adjacent to home. Private entrance to guest room.
Private bed and bath in nice neighborhood. Great access to National Parks.
Quaint Swedish heritage make up Kingsburg. Great downtown and "Mayberry" type feel.
Our stay was amazing! It felt like we were staying at a resort. Perfectly clean, beautiful decor, charming atmosphere, pleasant host. Would definitely stay here again. :)
Tim
2016-09-12T00:00:00Z
Cheri provided a wonderful room and attached bath. It has a private entrance from a small intimate courtyard. It was ideal. I will use this listing anytime I have the opportunity to return! It was great!
Cheryl
2016-07-13T00:00:00Z
The host makes us feel welcome by having a nice Keurig coffee ready for us to use & even bought a brand new Keurig when the excisting machine wasn't working properly. The casita were we are staying was wonderful and private. The neighborhood was decent, quiet & a safe community. It is located in an upscale new neighborhood. We love the exterior & landscape of the house. It reminds us of our place in South Orange County neighborhood. The bed was very comfortable and have nice decorations in the room. We stayed here for a week to do our house hunting. We achieved our goals & found the perfect place in the Northeast side of Fresno which is close to River Park Shopping Center & other places. Our experience overall was wonderful staying in Kingburg, known for Swedish Village. Thank you again, Cheri! Best of luck!
Rosemarie
2016-09-21T00:00:00Z
A completely 5-Star experience ! Cheri is such a great hostess and her place is 1st rate. There just aren't ANY missing amenities !
Bryan
2016-09-21T00:00:00Z
Such a great place. I love staying there. Cheri is a superb hostess !
Bryan
2016-11-16T00:00:00Z
Can't recommend this place enough. Beautiful house. The room was clean and had the most comfortable bed I've ever had at an Airbnb. The room was a secondary suite apart from the main house so we had lots of privacy including our own full bathroom and mini-kitchenette (mini fridge, microwave and coffee maker). Cheri was incredibly welcoming an accommodating as well. Overall great deal and great place to stay.
Spencer
2017-03-12T00:00:00Z
There is a nice place,we are enjoy in it and like stay at the home.
david
2016-12-26T00:00:00Z
The room was exactly as described. Private entrance, clean, thoughtfully furnished and made me feel like home. Cheri was super prompt in her communications, easy and no fuss. I really enjoyed staying there and will be booking again when I am in the area next time!
Hsiang-Yi
2016-10-08T00:00:00Z
Tipus d'habitació
Habitació privada
---
Tipus de propietat
Casa
---
Capacitat
2
---
Dormitoris
Kingsburg, Califòrnia 93631, Estats Units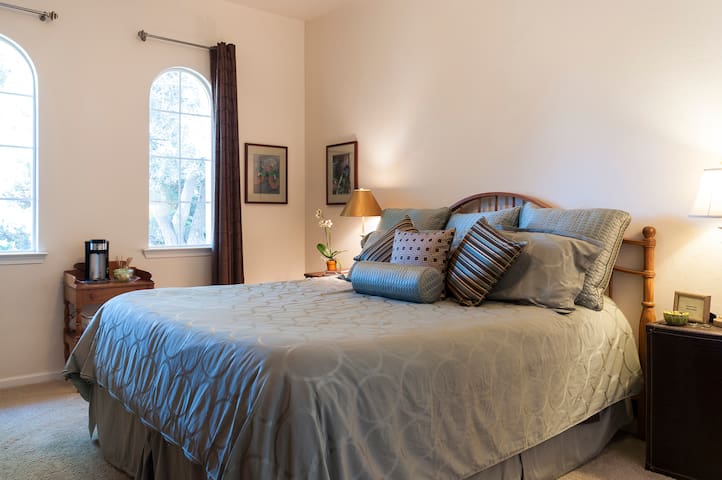 Our barn is an amazing space. Built in the early 1910's and completely renovated with all the modern conveniences we love. Central a/c and heat, ceiling fans, flat screen tv's, wi fi, fully equipped kitchen. But the best part is all our antiques, collectibles and historic items on the walls. it is an incredible place that will be a treat for you to stay in. Due to the age and delicate nature of those items we have decided to only offer this space to adults (18), sorry no children or pets.
Craig greeted us at the barn, showed us around and gave us some hints on places to eat nearby, he was very friendly and although we didn't need to ask for any more information I'm sure he would have been happy to help! The barn itself was just as described, cozy and comfortable, with all modern conveniences (internet, AC), but also uniquely decorated with historic items. We can't recommend it enough!
Connor
2016-09-17T00:00:00Z
We Loved staying in the barn. It was very charming and Craig is the perfect host. He was so helpful in finding restaurants and he left fresh fruits for us in the fridge. Thanks Craig.
Kathrin
2016-08-13T00:00:00Z
Enjoyable stay in a unique space with welcoming hosts. Beautiful and quiet setting. Comfortable place to work from and come home to.
Heidi
2017-02-17T00:00:00Z
That Barn is amazing. What a cool place. Want to visit a throw back to the cowboy days with all the amenities of home this is the place.
David
2016-08-27T00:00:00Z
Loved the Big Brown Barn--a truly unique place in rural Kingsburg. It was a great stop on the long drive between LA and Sacramento along Highway 99. Craig and his lovely wife are wonderful hosts. They greeted me when I arrived and made sure I had everything I needed. The Barn has been beautifully restored and converted into a rustic (yet modern) guest house--complete with wifi and air-conditioning. I spent the evening reading in one of the oversized leather club chairs by a window overlooking the couple's estate. I only wish I could have stayed longer!
Tina
2016-08-18T00:00:00Z
We loved being in the barn atmosphere. It was a perfect getaway for a couple. Craig and Hope we're hospitable, sincere, and humble.
Nicole
2016-07-10T00:00:00Z
This is a terrific place to stay, and Craig was a wonderful host! The town of Kinsgburg is very charming, and staying in the barn made our experience cozy and fun. The barn is completely refurbished - clean, new bathroom, very comfy bed, and heat and cool temperature controls. The walls and shelves are adorned with the most fascinating antiques, which makes this place so special. My boyfriend and I enjoyed reading in the big cozy chairs by the windows, and we cooked a full dinner in the kitchen. Craig was very friendly and attentive, and checking in was a breeze. Highly recommend staying here if you're in the area!
Veronica
2017-01-01T00:00:00Z
Craig really knocked it out of the park on this one. From the Antique decor to farm to table fresh picked fruit, Your gonna love it!
James
2016-08-01T00:00:00Z
Tipus d'habitació
Casa/pis sencers
---
Tipus de propietat
Altres
---
Capacitat
2
---
Dormitoris
Kingsburg, Califòrnia 93631, Estats Units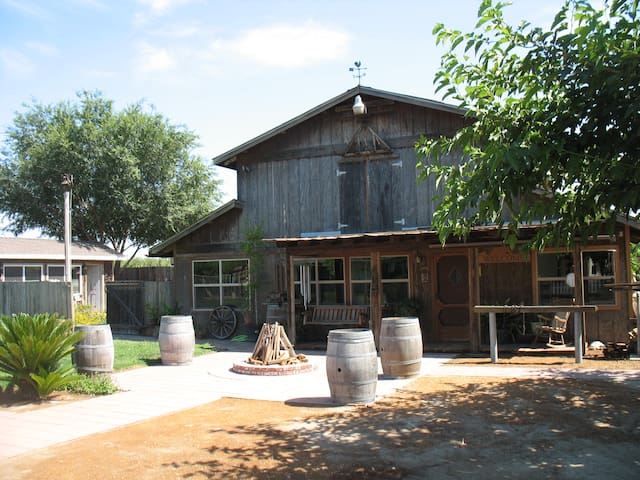 This is the King Bed and is a very comfortable! When the shades are closed you can really sleep in.
We are excited to open up our home to guests who want to experience the Central Valley. We live in Kingsburg, CA. which is a wonderful Swedish town with a lot of history. The nice part about living where we live, is that we are an hour away from the mountains, a little farther to Yosemite and only 2.5 hours from the Coast. We can accommodate up to 4 people. One guest room has a queen size, which is this room, very comfortable bed and the other guest room has a trundle bed. Each room sleeps 2. You would have access to your own guest bathroom and full use of our kitchen. In the warm part of the year, we have a built in swimming pool for you to use as well.
Krista and Jeff were the perfect hosts! We felt instantly welcomed into their home, and it was clear they are pro airbnb hosts. The listing was 100% accurate and the neighborhood was charming!
Ashley
2016-09-29T00:00:00Z
Jeff & Krista were excellent hosts. We felt very welcome in their home. The property is very nice and the bed in our room was very comfortable :) We were fortunate enough to share dinner with Jeff & Krista, and another airbnb guest in the home, which was lovely. We would love to stay here for the next World Ag Expo!
Claire
2016-02-18T00:00:00Z
Only my second Airbnb lodging experience (still a Rookie in Camp), but I think I'm committed to it near-exclusively for out-of-town travels. Krista was the quintessential hostess and more so because Jeff needed to work later than anticipated. She and I chatted like we were friends catching up on a reunion as I ate the late lunch I'd brought with me and had stored in their refrigerator. They have transitioned their Empty Nester home (both sons now building own lives, youngest having secured gainful employment and future bride in my beloved Boston, Mass.) admirably into its new role as Open Nest for Wayward Bicyclists (from my perspective, anyway) and Other Intrepid Travelers. My carbon fiber companion was nestled safely in their spacious garage and also got a good night's sleep as it performed better than its rider (as it always does) at the Blossom Trail Ride in neighboring Reedley next morning. So apart from storing my food, securing my bike and being good company at lunch, Krista ensured I had directions to Kingsburg's best pasta house for my ritual pre-ride carbo-load later that evening and that the wifi was working properly, a diligent den mother extraordinaire! She will request you write a little something in the guest book and she is building a photo album of guests, so make sure to tuck in your shirt and stand up straight in the requisite spot in the living room. While I was in the area for a specific purpose, you other Travelers may be here as gateway to Sequoia or Kings Canyon, but if Kingsburg is your resting spot for a day or two (there was another room in house for a fellow cyclist that will be utilized next time!), I don't think you can do much better than finding your way into the Bonner's 23rd Court cul-de-sac. Bonne Route!
Brad T
2014-03-09T00:00:00Z
Very kind people with very confortable house. Perfect location to visite Séquoia Park next day.
charlotte
2015-04-10T00:00:00Z
The home is beautiful, the bathroom across the house from the bedroom, so be ready for that!
Liz
2016-12-12T00:00:00Z
Wonderful people in a wonderful house in a great town close to Int99. I really enjoyed the hosts, the great bed and the very neat and clean house. Cant wait to stay with them again. Thanks for the wonderful few days I got to spend in your house!!
Neil
2017-02-16T00:00:00Z
A lovely room in a quiet part of town. Kingsburg is well located for a nice drive to the Sequoia National Park. Jeff and Krista are a lovely friendly couple, I definitely recommend them.
Jonathan
2014-08-01T00:00:00Z
Staying with Jeff and Krista was comfortable and a great value. We got a nice surprise by getting an upgrade to a king bed! Overall they did all they could to ensure a clean and comfortable stay.
jonathan
2017-01-10T00:00:00Z
Tipus d'habitació
Habitació privada
---
Tipus de propietat
Casa
---
Capacitat
2
---
Dormitoris
Kingsburg, Califòrnia 93631, Estats Units
SUNRISE Room is one of three at the Jackson Family Farmstay (checkout our SUNSET/SOPHIE Rooms). This compact, two-story unit has one queenbed and one twinbed in the same room, full bath, kitchenette, and small balcony overlooking river and organic orchards. Breakfast items in room first day. Farm tour.
We are a place that genuinely values people and we look forward to having you with us as you relax and experience how an organic farm works.
Experience some of California's best country living. Surrounded by orchards on the banks of the Kings River, we know you will enjoy beauty and peace of our land, whether it is listening to the song of the birds or watching the vibrant colors of the sunset fade over the river.
We loved our stay on the farm! The room was lovely and had a beautiful view. We loved the jacuzzi and adorable cats and dogs that would run up and greet us every day! Everyone was so friendly and helpful! We would absolutely stay here again!
Taylor
2015-01-13T00:00:00Z
It was a great stay at the Jackson Family Farm. Robert gave us a great, insightful tour around the farm when we arrived, shortly after we checked in. The room itself was also very nice - everything was clean and there were plenty of amenities available to us (their homemade jam was great). I would highly recommend staying here :).
Jennifer
2016-02-19T00:00:00Z
Rob and Courtney made our stay so refreshing! We enjoyed the quick tour of the farm, and the fresh fruit and homemade muffins were delicious. The kayaks were fun to use, and we loved the orchards right out of our door. Plenty of room to roam, write, and relax. We'd love to stay again soon! Tips: -Bring bug spray, particularly if you're going to be near the water -Make sure to keep track of restaurant hours (lots of the restaurants we considered closed early) -Relax!
Alexandra
2015-08-09T00:00:00Z
I can't thank the Jackson family enough for their hospitality. I am a regular visitor to the farm whenever my job takes me to the area and I will be back again.
Derek
2016-06-13T00:00:00Z
we absolutely enjoyed our stay! great location - 1h from sequoias and king canyon parks. do not miss the farm tour, lots to see, lots to learn.
Zdravko
2016-11-28T00:00:00Z
We really enjoyed our stay at the Jackson Family Farm. Robert, Sarah and their assistant Cassie were so gracious and accommodating. Cassie gave us a tour of the farm, which is a very impressive operation. Everything in our room was perfect! Fresh fruit from their orchard was delicious, along with the homemade muffins. It was a relaxing oasis, and we'll definitely try to come back. I'm looking forward to coming during harvest season.
Janet
2015-02-15T00:00:00Z
Great place ! Stayed in the "Sunrise Room" which was clean, nicely appointed, and included some delicious muffins, juice, yogurt, etc. There's a nice balcony just off the bedroom (overlooking the orchard), and another quiet outdoor sitting area on the ground floor. I also appreciated Courtney's quick and welcoming communication stream, and flexibility with my late arrival. Anxious to stay there again when I have more time to enjoy the property.
Bryan
2015-05-17T00:00:00Z
Hi, I would highly recommend this place to everyone! We spent 2 wonderful night here. Although Robert gave us very detailed route instruction, at first we still got a little trouble to find it (arrived 10pm), but soon when we got in, WOW! Fresh fruit, yogurt, coffee....everything to make guest happy! Robert is a very thoughtful and warm heart host, easy to communicate. Beautiful orchard around! We feel so lucky to find this place!
MARY
2015-05-01T00:00:00Z
Tipus d'habitació
Casa/pis sencers
---
Tipus de propietat
Bungalou
---
Capacitat
3
---
Dormitoris
Kingsburg, Califòrnia 93631, Estats Units
Our home is a relaxing place to be, with vinyards behind and on both sides of us . You can have morning coffee with a light breakfast out on the back courtyard and watch the sunset in the evenings.
We are centrally located.
We are in the Country. Just two miles from main freeway 99
Mary and Dan were fabulous hosts! Their home is beautiful, and the bedroom and bathroom are decorated nicely and have a great feel. When I stayed, I had dinner with my hosts, and we had great conversation over a delicious meal and California red wine. I highly recommend staying with this lovely couple. They're two of the most delightful people I've met in a while. Thanks again, Dan and Mary!!
Anne
2015-06-23T00:00:00Z
Dan and Mary are welcoming and fun to talk to.
Carol
2016-02-13T00:00:00Z
Dave and Mary were great. We had a great evening overlooking their vineyard and talking. They are wonderful people and the room was great. Great house in a great location.
Ben
2016-02-16T00:00:00Z
This was the first time I used airbnb and I have to thanks Mary & Dan for making this a great experience. They are great hosts. Very respectful of your space but will enjoy a good conversation if you'd like too. The house, room and bathroom are impeccable! I highly recommend them. Hopefully, we will stay there in the near future. Thanks for everything!
Dario
2016-07-17T00:00:00Z
I rated several nice AirBnb-Places 5/5, but this one really stands out and should be rated 10/5, which I can't do. Our hosts clearly enjoy entertaining people, and took *much* time for conversations and advice, they even invited us for dinner when they found the time. Their place is beautifully decorated and very clean, and it is a good base to explore the Sequoia National Park. Even tough they had much trouble with the weather, Dan took the time to show us around the farm. We managed to squeeze some raisins straight from the field into our luggage and will enjoy them the following days! I'm not much of a dog-person, but their dog is nice and peaceful. We toured the Northwest for 3 weeks and stayed on a lot of places (motels, hotels, AirBNB, other Guesthouses...), and as a said, this place really stands out!
Paul
2015-09-20T00:00:00Z
Dan and Mary's house is beautiful, tidy and the same as you can see in the pictures. They welcomed us when we first arrived and gave us a tour around the house. Although we only stayed one night because of travel schedule, the whole experience is very relaxing. They are great hosts: friendly and hospitable, the same time respecting our space. We felt very lucky finding it on Airbnb, and will definitely stay again if we visited Sequoia/Kings Canyon in the future.
Wei
2015-06-01T00:00:00Z
Dan & Maria are lovely & caring people who made me feel very welcome. It felt like visiting family. The ranch is a little piece of heaven ... Highly recommended.
Bruno
2015-06-21T00:00:00Z
Mary and Dan could not have been a more hospitable pair of hosts! The couple takes every opportunity to make the guests' stay comfortable. We truly recommend their home as it is a beautiful and tranquil residence located among peaceful vineyards and trees. The guest bedroom was also welcoming and the bed was beyond comfortable! If you ever have the opportunity to stay with Dan and Mary, do it! You won't regret it.
Amy
2016-06-02T00:00:00Z
Tipus d'habitació
Habitació privada
---
Tipus de propietat
Casa
---
Capacitat
2
---
Dormitoris
Kingsburg, Califòrnia 93631, Estats Units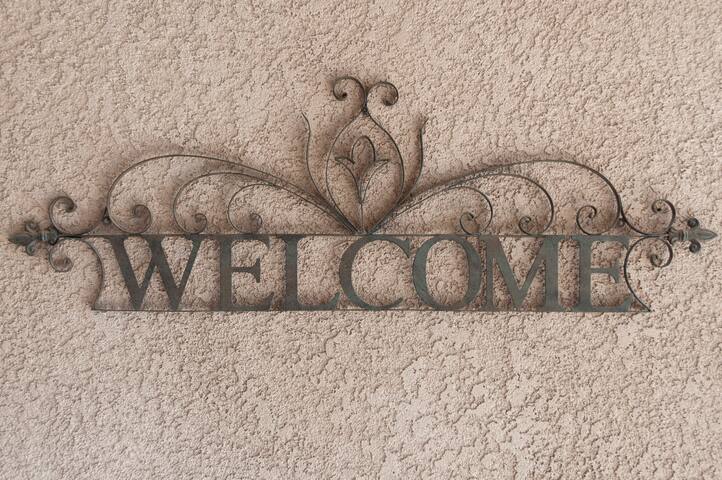 Sophie's Room is an apartment at Jackson Family Organic Farmstay with a queen bed in a separate bedroom, a living room, a kitchenette with a full fridge, microwave, toaster oven, and breakfast items the first day. Check out SUNRISE and SUNSET Rooms also. Enjoy a tour of our organic farm.
We are a place that genuinely values people and we look forward to having you with us as you relax and experience how an organic farm works.
Experience some of California's best country living. Surrounded by orchards on the banks of the King's River, we know you will enjoy the beauty and peace of our land, whether it is listening to the song of the birds or watching the vibrant colors of the sunset fade over the beautiful countryside.
God can't put better people in our way,they are beautiful people with a big heart,i have an autist kid and he was fascinated with the place,although we only went for business,my kids spend an incredible weekend,they refer to the best weekend ever,thank's to Robert and Sarah for being a good hosts,the peaches are incredibly good, i hope to go back again some day.
Victoria
2016-07-13T00:00:00Z
Rob和Sarah 是非常值得信赖的一对夫妻,在当地很有人缘,是社区的意见领袖!他们的农场临河而建,景色优美,有一个干净漂亮的游泳池!农场里果实累累,各种应季水果随手从树上摘一个直接吃!因为是有机农场,没有农药化肥哦……Rob和Sarah热情的邀请我们一起在他们家晚餐,深入美式乡村生活,超赞!他们的几个孩子也认真有礼貌!教会家庭培养出优秀的孩子!
Erik
2016-08-15T00:00:00Z
Robert and Sarah were wonderful hosts. They went out of their way to make things better for us. We had more children than there were beds in Sophie's room (Sarah let us know that before accepting the booking, but we wanted to stay there anyways), and they got us a small mattress, blankets and even sleeping bags. There were fresh, off the tree fruits and flowers for us in the room. Robert gave us a very informative tour of the farm, that all of us (not just the kids) really enjoyed. In fact, my son wants to go back to work with Farmer Robert as a WOOFER when he grows up! The property is a good place to go with kids (ours were 5 and 12). It is isolated, but not remote. So, it gives you a farm house experience- open spaces, quiet and peaceful, but it is really close to restaurants and shops. Some farmhouses that we have previously stayed at were only miles away from the city, but it took upto an hour to get there because of bad or winding roads, and that made us reluctant to go back there. This place is very conveniently located off a highway, without the slow, winding roads. On the property, there is a pool, tennis court, hot tub, and a small playground. All that and the really friendly cats and dog on the property, meant that our kids didn't want to leave the property at all. A helpful thing to know- the fridge in the kitchenette is full sized and not a mini refrigerator. We found that really helpful because we had a lot of cold stuff, and our kids did not want to leave the property to eat out:(URL HIDDEN)All in all, a wonderful place to stay(URL HIDDEN)
Preeti
2015-12-01T00:00:00Z
This Is oursecond visit to the Farmstay. We came back because we felt welcome & comfortable. The room is scrupulously clean & lovely and it's on a farm! Blessing abounds! Oh, and this time we took a tour & got to invite our grandchildren. So interesting & fun!
Liz
2016-09-15T00:00:00Z
Amazing property in an amazing location. The farm is great and our hosts were very friendly and accommodating, we even got a tour of the farm. The room was great and we really enjoyed using the pool and basketball courts. We would definitely recommend this place. Thanks!
Jake
2016-09-08T00:00:00Z
The Jackson Family Farm Stay was an incredible experience. The property is beautiful and the hosts are wonderful. We brought our 1-1/2 and 5 year old daughters and they loved playing with the dogs, collecting eggs, picking fruit, playing in the pool, and being able to roam. The room was great for us because we didn't have to worry about stairs and it had a full size fridge. The room had all the essentials. They had a pak-and-play for the baby and a small cot for the older one. The kitchen had all the necessities and the breakfast food was great
Richard
2016-06-15T00:00:00Z
Tipus d'habitació
Casa/pis sencers
---
Tipus de propietat
Bungalou
---
Capacitat
2
---
Dormitoris
Kingsburg, Califòrnia 93631, Estats Units
Introdueix les dates per veure el preu total. S'aplicaran tarifes addicionals. És possible que també s'apliquin impostos.