Més de 300 lloguers de cases
Spanish style home in a central location. The room has a modern private bath, and is spacious for 2 people. It has a rooftop garden, central patio, and within 2 blocks of all the central plazas. It is clean, quiet, and charming in Centro Historico.
The Bedroom has 2 single beds with a private bath. It is very comfy. The room can accommodate the 2 beds placed separately on either side of the room, or placed together to make a king size bed. Please let me know your preference when you book.
The neighborhood is quiet, and within easy walking distance of almost anything you need. The plazas are less than 2 blocks away that feature many restaurants. There is a little store and a restaurant and coffee shop on my street.
Es ist ein wirklich schönes Zimmer, sehr zentru(SENSITIVE CONTENTS HIDDEN)ah und trotzdem ruhig. Grace ist sehr hilfsbereit und eine tolle Gastgeberin.
Tobias
2015-11-25T00:00:00Z
Grace was a wonderful host, and made me feel at home during my first week in Querétaro. She went out of her way to let me know about cultural activities and other attractions around the city. Her house is beautiful and clean, with an incredible rooftop patio view and very central location. Thank you, Grace!
Claudia
2015-09-05T00:00:00Z
Grace, as always, have been a great host! My 4th time in Querétaro and would not think twice on scheduling with her again. Location is just to blocks located from the main plaza, a lot of privacy is given, and the room is spacious, comfortable and cozy. I certainly recommend staying at Grace's if your looking to visit Querétaro.
David
2016-11-27T00:00:00Z
La estancia con Grace muy agradable. Cuenta con todo lo necesario, toilitteries, y detalles para consentirte. Yo estuve de trabajo por lo que no pude disfrutar de la casa sin embargo la ubicación es ideal para salir por la tarde a tomar algo o cenar. Todo limpio y agradable. Muchas gracias
Hortensia
2016-10-12T00:00:00Z
Grâce was extremely pleasant and helpful which was quite appreciated especially since this was my very first visit to Queretaro. The room was quite comfortable and pleasantly warm at night on those chilly nights. Loved having an adjoining private bathroom. Morning tea was delicious.
Alexis
2016-02-17T00:00:00Z
Grace was very welcoming, very knowledgeable of the area, and made me feel very much at home. I strongly recommend her and her home. The neighborhood was super close to restaurants and a host of historical sites. It could not have been better. It is also a very safe area. I felt safe at all times, day and night. I very much would commend Grace and her fine property to any and all. Enjoy Queretaro!
Lonnie
2015-05-23T00:00:00Z
This is a beautiful home, with a great view of the city. My room was large and I slept great there after my long days of exploring. It is easy to walk to many destinations or catch a cab right on the corner. I'd definitely stay there again! Grace and her friends were a lot of fun to meet and hang out with.
Jessica
2016-10-22T00:00:00Z
Grace is...well...gracious! She is a lovely hostess who went out of her way to assist me in many ways. She helped with directions upon arrival, went out of her way to help with bus bookings I could not make from out of country, and helped book an Uber driver for me upon departure. Her place is spotless and could not be in a more central, yet quiet, location . I give Grace's home, as well as her hosting, 5 stars! The bedroom is large, well appointed, and has such a comfortable king bed. The view from her terrace is not to be missed!
Sharon
2017-01-15T00:00:00Z
Tipus d'habitació
Habitació privada
---
Tipus de propietat
Casa
---
Capacitat
2
---
Dormitoris
Santiago de Querétaro, Querétaro, Mèxic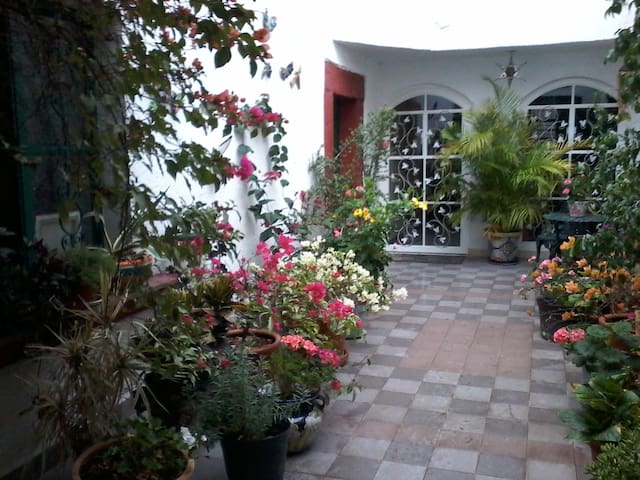 We invite you in our spaceful and charming house with this warm & quiet room with beautiful view to our garden and our great pinetree! We are close to center of Queretaro! We are 2 Chefs (French and Mex) and hope to receive you soon in our house!
The Bedroom is independant with your own bathroom with all facilities: reading corner, full closet and nice view to the calmy garden Queen size bed with complete new matress, free access to wifi. Parking space available for free! Our House is located in a calm and green neighbourhood close to several comercial shopping center (Plaza Boulevares y del Parque) and restaurant! 5 mn walk to hotel Fiestamericana Querétaro and 20mn walk to the historical center and Market of Santa Cruz.
Our Neighbourhood is quiet, green and close to all facilities. The area is full of cosy and new bohemian restaurants, cafeteria, parks and bicycle/ walking ways. It is close to center like 20 min walk or 5min taxi ride! It is really a good way to visit Querétaro and to be in a safe and green area! There is a commercial center with all you may need such as supermarket and several cinemas! We are very happy in this area!
Ha sido la mejor experiencia air b&b! Edgar y Laurence son maravillosos. Nos trataron muy bien! la casa está muy bonita, ya son amigos.
Rosa
2015-11-13T00:00:00Z
Deliciosa la cama y el café!!! Ultra recomendado!
Diego
2015-10-24T00:00:00Z
Fue una estancia espléndida, todo está perfecto desde la casa, la habitación y desayuno cuidan cada detalle para que te sientas cómodo, su casa se convirtió en mi numero 1 para quedarme en esta linda ciudad , la atención de los anfitriones fue excelente.
Jenifer
2016-03-23T00:00:00Z
Edgar and Laurent were just wonderful. We had to change our date and they were very understanding. Their home is lovely and we enjoyed a lengthy conversation with them in a lovely backyard setting. Room was clean and comfortable. The only negative thing was that we only got to enjoy them for one short night. Thank you Edgar and Laurent for being such enjoyable hosts.
Janet
2016-05-02T00:00:00Z
La mejor opción para disfrutar de Queretaro y sus pueblos mágicos y conocer el estilo y atenciones de nuestros anfitriones
Alma
2016-08-28T00:00:00Z
La casa de los chefs, es un lugar único en su clase para hospedarse, los anfitriones son una maravillosas personas, me hicieron sentir como en casa, súper atentos, y súper agradables, el mejor lugar para poder visitar. Queretaro, cerca de todo. Lo recomiendo ampliamente.
Alberto
2015-03-11T00:00:00Z
Nous avons été très bien reçus par Edgar et Laurent. La maison est superbe et décorée avec goût. La chambre dans laquelle nous avons dormi est très confortable, propre et calme. Le petit déjeuner était copieux et bon. Mais le pont culminant du séjour fut l'accueil d Edgar et Laurent qui ont répondu à toutes nous questions. Nous vous souhaitons beaucoup de succès dans vos projets! Nico et Fer
Nicolas
2015-09-13T00:00:00Z
Amazing Airbnb experience. Edgar and Laurent are incredibly kind and welcoming and constantly go out of their way to help their guests. They really made my stay in Querétaro special. The room is beautiful, bright, and sunny, with a view of the garden, and the private bath is gorgeous. Edgar and Laurent got up extra early on the day of my arrival so my room would be ready when I arrived in the morning, which was a great convenience. They then gave me a ride into town, showing me the best walking route and pointing out landmarks and restaurant suggestions. It was easy and very cheap to use Uber to get to and from the center. You could walk it too in half an hour without a problem. When I went on a day trip to Tequisquiapan, Edgar and Laurent gave me a ride to the bus station and helped me buy my ticket. They even did my laundry for me on my last day when it didn't work out time wise to take it to a lavandería, which was a huge help. The included breakfast is excellent and features delicious yoghurt, fruit, and honey, and bread with their homemade preserves and other spreads. I recommend trying the gourmet breakfast at least once to sample more of Edgar and Laurent's excellent cooking.
Ingrid
2016-04-02T00:00:00Z
Tipus d'habitació
Habitació privada
---
Tipus de propietat
Casa
---
Capacitat
2
---
Dormitoris
Santiago de Querétaro, Querétaro, Mèxic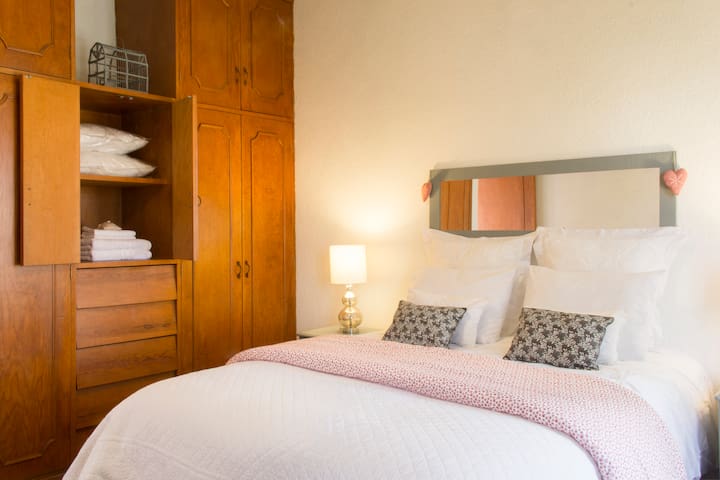 Big, nice, cozy and quiet bedroom with private bathroom inside a house with more rooms for rent. It has a common kitchen that can be used anytime. The room has a nice couch, a working table with chairs, and fits 2 people very comfortably. The house is located at Queretaro downtown on República st. You can walk everywhere from the house, specially to the main restaurants museums and tourist attractions. Welcome to book, it will be a pleasure to receive you anytime, I live at the ground floor.
On the upper level of the house there are more rooms for rent. If you are traveling with more family or friends please ask for the availability
The house is located at the main area of Queretaro downtown. Is has a lost restaurants of all kinds, museums, churches, and a lot of places to visit. This area has been called world heritage.
La ubicación esta genial.
Elisa
2017-03-17T00:00:00Z
José fut très sympathique et disposé à apporter les informations nécessaires à un bon séjour. Le logement est conforme aux photos, le lit très confortable, le coin salon agréable et l'eau chaude abondante dans la salle d'eau. Une déception en revanche quant à la cuisine, qui n'est pas équipée ou maintenue propre par les hôtes et où l'on ne peut que faire chauffer de l'eau. Pas de lumière non plus, les ouvertures étant occultées, et deux trous dans le mur laissent entrer le bruit des terrasses voisines.
Elisabeth
2017-03-10T00:00:00Z
muy agradable, céntrico, muy buena atención del anfitrion
gerardo
2017-01-29T00:00:00Z
Muy buena estancia con José Luis. La habitación muy limpia y cómoda. Tiene su baño propio y tv con cable. Además de un buen trato y excelente ubicación. Definitivamente volveríamos.
Rubén
2016-10-01T00:00:00Z
José Luis fue muy amable y paciente con nuestra llegada al Querétaro. Estuvo atento a cualquier duda que teníamos y el cuarto era agradable. El lugar está muy bien ubicado, en pleno centro y de cerca de muchos restaurantes, bares, tiendas, etc.
Karen
2016-10-24T00:00:00Z
Excelentes condiciones, buena atención, buena disposición del anfitrion
Gabriel
2016-08-28T00:00:00Z
Un lugar muy agradable y tranquilo, recorrimos todo el centro caminando... José Luis muy atento desde el momento de nuestra reservacion :) Volveríamos sin dudarlo!!
El Rulo
2017-03-20T00:00:00Z
Excelente lugar, ampliamente recomendable.
Erika
2017-03-22T00:00:00Z
Tipus d'habitació
Habitació privada
---
Tipus de propietat
Casa
---
Capacitat
4
---
Dormitoris
Santiago de Querétaro, Querétaro, Mèxic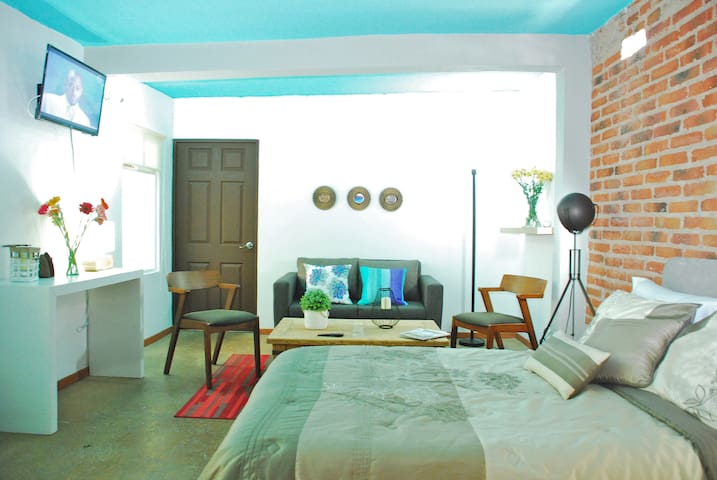 NUESTRA increíble casa está a solo 5 cuadras del centro de Querétaro. Pero se encuentra en un fraccionamiento cerrado y tranquilo donde también se podrá alejar del ruido de las calles. Es un lugar ideal para tu descanso y vacaciones familiares o de pareja
Excelente casa, espaciosa, bonita, familiar, ideal para una familia. Los anfitriones excelentes personas. Definitivamente lo recomiendo
Gabriela
2016-12-07T00:00:00Z
My reservation was literally last second, and still, Ethan received us like we had reserved the place weeks in advance. The place looks even better than in the pictures. The location is PERFECT to move through various areas of Querétaro. The neighborhood is gated, clean and safe. The hosts were attentive, flexible and really polite. Definitely worth repeating when visiting Queretaro.
Roell
2016-12-10T00:00:00Z
Muy buena opcion
Jorge
2017-01-22T00:00:00Z
Excelente en todos los aspectos
Andrea
2016-12-11T00:00:00Z
La casa esta hermosa y super bien ubicada, en un rincón secreto del centro de Querétaro, con todo cerca. Es una privada tranquila y linda. Ethan y su esposa de lo más amables. Me encantó, me habría quedado más pero no fue posible Mil por ciento recomendable
Liv
2016-11-24T00:00:00Z
El lugar muy cómodo y limpio, fue una experiencia muy padre y sin duda regresaría en mi próxima visita a Querétaro, Ethan y su esposa son muy buenos anfitriones.
Tania
2017-02-06T00:00:00Z
Excelente lugar, céntrico muy seguro y muy limpio
Rodolfo
2017-02-11T00:00:00Z
Fue una experiencia muy agradable en verdad, agradezco a Ethan por la atención, amabilidad y estar al pendiente. Es un lugar con excelente ubicación y muy tranquilo para descansar.
Martin
2016-12-21T00:00:00Z
Tipus d'habitació
Casa/pis sencers
---
Tipus de propietat
Casa
---
Capacitat
6
---
Dormitoris
Santiago de Querétaro, Qro., Mèxic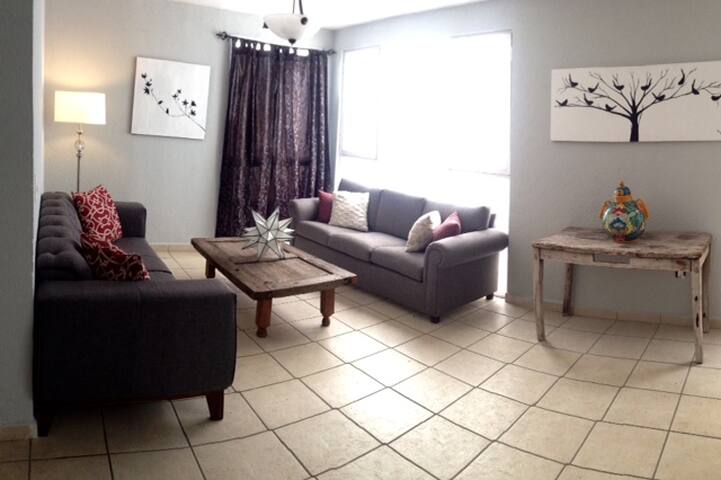 Habitación pequeña con cama individual y baño completo propio muy cómoda y privada en planta baja de la casa muy independiente
Está habitación cuenta con cama individual por lo que es recomendable para 1 solo huésped cuenta con baño completo propio
Increible ubicacion, muy limpio, super comodo, susana al 100 con las atenciones, yo me la pase muy bien, lo recomiendo totalmente
Jorge
2017-04-01T00:00:00Z
Muy Buena Atención y servicio
JOSE ALFREDO
2017-03-03T00:00:00Z
El cuarto esta muy limpio y el baño igual. Aunque solo llegué a dormir, Susana estuvo atenta a mi llegada y con un trato muy amable. Volveria a hospedarme en su casa
Bernardo
2017-03-21T00:00:00Z
Alojamiento muy limpio y personas muy disponibles. Ya regresaré
Umberto
2017-03-10T00:00:00Z
Confortable y tranquila estancia
Andrés
2017-03-09T00:00:00Z
Cómodo, independiente y privado. Susi es muy linda y siempre con disposición para ayudar. La colonia donde se encuentra la casa, es bonita céntrica y segura. Recomendable.
Geo
2017-03-25T00:00:00Z
Todo súper bien!!! Excelente alojamiento! Súper recomendable!!
Linda
2017-02-20T00:00:00Z
Todo me fue muy bien
Umberto
2017-03-16T00:00:00Z
Tipus d'habitació
Habitació privada
---
Tipus de propietat
Casa
---
Capacitat
1
---
Dormitoris
Santiago de Querétaro, Qro., Mèxic
ES: Piso completo: incluye habitación con cama king size, baño privado, lounge exclusivo con opción de dos camas individuales adicionales (sala TV, tapetes para yoga, mancuernas) y balcón. Estacionamiento incluido. Ideal para parejas y grupos de viajeros de 1-4 personas. EN: Loft: including king size bedroom, private bathroom, exclusive lounge with two optional extra single beds (TV room, yoga mats, dumbbells), and balcony. Parking included. Ideal for couples and groups of 1-4 travelers.
ESP: Fraccionamiento con vigilancia en el acceso. Muy seguro. ENG: Security personnel at the entrance gate. Really safe neighborhood.
Un excelente lugar para descansar Maggie es una excelente anfitriona
ARTURO
2017-02-08T00:00:00Z
Excelente lugar, atención al 100%
PaTy
2017-03-10T00:00:00Z
Súper recomendada. La habitación impecable y muy cómoda, también la ubicación es muy buena. Muchas gracias por tu atención Maggie de verdad te sientes como en casa.
Erika
2016-11-03T00:00:00Z
La habitación es muy cómoda y la zona ttsnquila. Maggie siempre estuvo al pendiente de lo que llegara a necesitar. Espero pronto regresar.
Ricardo
2016-11-21T00:00:00Z
Es una excelente anfitriona y la recámara tiene todo muy ordenado y limpio,
Yari
2016-11-12T00:00:00Z
The best anfitriona ever!! Maggie y el lugar son perfectos!
Yari
2016-11-13T00:00:00Z
Maggie es la mejor anfitriona que puedas tener, siempre bien atenta que no te falte algo y realmente te hace sentir como en tu casa. Su lugar está genial ya sea para placer o negocios, ubicado en colonia privada. Todo bien limpio y ordenado, cama posturepedic super cómoda. Muy recomendable, definitivamente me volvería a quedar aqui. Maggie is the gratest hostess you can have, she´s always taking care that nothing is missing for you and really makes you feel at home. Her place is so cool for either pleasure or business, located in a private neighborhood. Everything very clean and neat, super comfy posturepedic bed. Highly recommended, definitely I´d stay here again. Un abrazo Maggie, Saludos,
Arturo
2016-10-30T00:00:00Z
Muy cómodo y tranquilo el lugar, Maggie siempre atenta a cualquier situación como usuario
Carlos
2016-11-17T00:00:00Z
Tipus d'habitació
Habitació privada
---
Tipus de propietat
Casa
---
Capacitat
4
---
Dormitoris
Santiago de Querétaro, Querétaro, Mèxic
Comfortable room for one or 2 people with private bathroom. Living with Mexican family. Have access to their room and common areas ( kitchen, living area, green areas)
Room with double bed for one or two people with private bathroom. We have wireless internet. We can give a special price if you are interested to stay more than a month.
Safe, clean, close to tourist attractions. A two and a half hours from the capital, México City.
Marcela is a great host and the location of the house is just minutes away from Queretaro's magical town center. The room is charming, cozy, and antique in an awesome way. Marcela was always willing to help me with anything that I might need. Definitely recommended!
David
2016-05-30T00:00:00Z
Excelente ubicación y atención... Muy limpio y agradable el cuarto. Recomendado!
David
2015-06-22T00:00:00Z
Un excelente lugar para hospedarse, la familia de Marcela es muy atenta y estuvieron al pendiente de lo que necesitaba. El lugar es amplio, y muy bonito. Tiene una excelente ubicación.
Noe
2016-07-28T00:00:00Z
El lugar está muy bonito, cerca del centro, ubicación perfecta, es todo lo que necesitan.
Christian
2017-01-01T00:00:00Z
La casona de estilo colonial es original y encantadora; tiene un patio interno con muchas plantas. El cuarto es muy cómodo y el agua caliente del baño funciona perfectamente. En algún momento me sentí insegura porque viajaba sola y no sabía que no habría nadie esa noche en la casa. Pero fue solo falta de información. La amabilidad de Marcela compensó ese detalle.
Erica
2016-12-28T00:00:00Z
The room in Marcela's home is very nice. Furthermore, her place is in an excellent area of the city just minutes from the downtown of Queretaro. I think it is great value for money, plus, Marcela and her family are very kind and helpful! As noted by other reviewers, it can be fairly loud due to the traffic outside on the street. Despite this issue, I'd recommend this place since the benefits of staying here far outweigh the cons.
shoeb
2015-12-10T00:00:00Z
It is a beautiful house, makes you feel like travelling in time, full of antiques. Marcela.airbnb and her family were very helpful with everything, her mum prepared a delicious breakfast. The room was very clean and top value for money.
Zeynep
2015-05-21T00:00:00Z
I spent three weeks at Marcela's and enjoyed my time immensely. Marcela, her sister, and her parents all contributed to one of the best stays I've ever had. I chose Queretaro more or less at random, and I was delighted with what I found. It's a wonderful city, and the Cabrer home couldn't be better for exploring it, situated on a residential avenue one block away from a parallel avenue with many restaurants, bars, coffee shops, etc., and only a few blocks from the absolute center of the city and several plazas and andadores. This is a very interesting, likable, and generous family, devoted to making their guests feel at home. The physical layout is hard to describe, since the living area is more of an enclosed compound than an individual house or apartment. The room and bath pictured is essentially a separate building within the compound, with walls more than two feet thick. It was very comfortable and spacious. When there was a problem, it was attended to by some member of the family very quickly. The only downside I found to the room was street noise, mostly pedestrians walking by and talking. If you look at the picture that contains a desk and chair, next to it are three steps leading up to what used to be a door. This is where street noise entered. When I left I recommended that it be insulated. It would be worthwhile to learn if that had been done. The rest of the environment is very peaceful, with benches outside the room to sit on while the sun shines down on the courtyard. As for the individual family members, I can't say enough. It was a joy to get to know each of these extremely pleasant and interesting individuals. Both adult daughters can communicate in English, and if your intention is to practice Spanish as a foreign language, this is an ideal home and city.
Denny
2015-10-24T00:00:00Z
Tipus d'habitació
Habitació privada
---
Tipus de propietat
Casa
---
Capacitat
2
---
Dormitoris
Santiago de Querétaro, Querétaro, Mèxic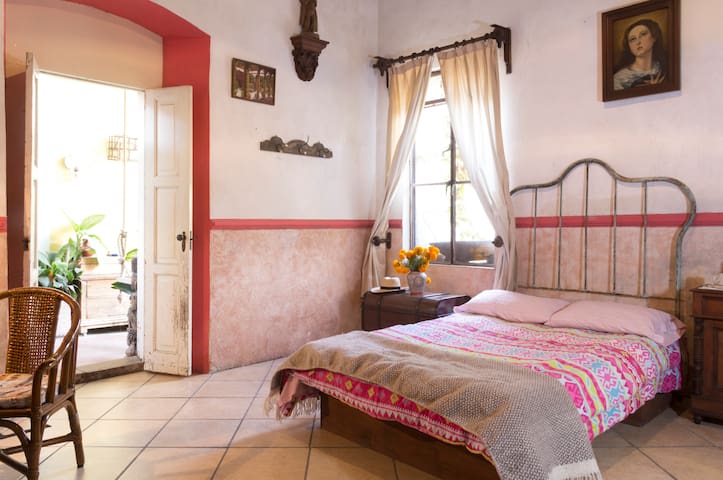 Lavanda Estudios Lavanda Estudios se encuentra ubicada en una casa antigua del centro Histórico de la Ciudad de Querétaro, distribuida en cinco estudios cómodamente diseñados con entrada independiente dando privacidad a tu estancia. La ubicación te permite llegar caminando y en pocos minutos a los principales museos, teatros, restaurantes, cafés y galerías.
Cada estudio cuenta con su propia sala acondicionada para trabajar o descansar, además de una cama individual si la necesitas para otro de tus acompañantes, sin costo extra. La habitación principal te ofrece una cama king-size y baño privado. Los espacios son amplios e iluminados que harán que disfrutes tu estancia.
Ubicados en el corazón de la ciudad tenemos muy cerca, El Teatro de la República, El Museo de la Ciudad, El Cineteatro Rosalío Solano, Plaza de Armas, Jardín Guerrero.
Un espacio súper bonito en una casa antigua increíble en el centro de la ciudad. Las anfitrionas lindísimas, la ubicación ideal y la limpieza ni se diga. 100% recomendable !
Ana Lorena
2017-03-05T00:00:00Z
Muchas gracias por tus atenciones Sofía, todo fué perfecto, el cuarto es lindísimo y muy limpio, excelente ubicación, tranquila y segura, puedes ir caminando a todo el centro y hay muy buenos restaurantes (gracias por las recomendaciones), esperamos regresar pronto! :*
Sahra Graciela
2017-03-26T00:00:00Z
Recomendamos este estudio para aquellos que disfrutan de apreciar los detalles, de leer y respirar; que buscan un espacio luminoso y equilibrado. Lo mejor de nuestras mañanas fue caminar por los callejones del centro para ir por el café, y disfrutarlo en el patio central de la casa. Lo mejor de las noches, un largo baño con aires de invernadero. Nuestra estancia en Querétaro fue inolvidable gracias a Sofía y Gabriela, que nos llenaron de atenciones y armonía. Gracias infinitas por recibirnos! Un abrazo, José & Karla
José
2017-04-11T00:00:00Z
La habitación es muy linda, espaciosa y cómoda, realmente nos encantó, la recomendamos muchísimo. Sofia muy atenta y amable.
Silvia Gabriela
2017-03-23T00:00:00Z
Muy disftutable nuestra estancia. El estudio esta bellisimo, comodo y con super buena ubicacion. Sofia y Gaby super lindas anfitrionas.
Cesar
2017-03-20T00:00:00Z
En lugar excelente. La habitación sensacional y la ubicación perfecta. Altamente recomendable
Jorge Raul
2017-03-11T00:00:00Z
La verdad que nos la pasamos increíble, las fotos te muestran un lugar muy bello y cómodo pero la realidad es que es mucho más bonito! Sofía fue muy atenta desde el principio y las recomendaciones de lugares a dónde comer fueron de lo mejor. Totalmente recomiendo esta habitación; súper espaciosa, bien iluminada, de muy buen gusto la decoración, ubicación padrisima
Sergio
2017-03-13T00:00:00Z
Tipus d'habitació
Habitació privada
---
Tipus de propietat
Casa
---
Capacitat
2
---
Dormitoris
Santiago de Querétaro, Querétaro, Mèxic
Beautiful typical mexican house in the center of Querétaro. Just remodeled, is a two story house with lots of light, beautiful colors, big spaces and just 5 min away walking to the central plaza. Ideal for travelers wanting to learn about new cultures and enjoy a lovely time in a beautiful cultural house and city.
This is a typical mexican style centre house. It is a perfect space for two persons or one. It has one principal door which connects directly with the living room and then the hall. You will have your own bethroom and bathroom on the first floor. The bethroom has a full size bed and a wardrobe.
The house is located in the beautiful centre of Querétaro, which is filled with restaurants, bars, museums, art galleries, stores and more. Plaza de Armas (the principal plaza) is just 5 min away by walking. The centre is also always filled with sunlight, making it really enjoyable to go for a walk, drinking a really good typical coffee and then eat in one of the so many restaurants in the center. All the most see places are reachable by walking.
Gran anfitriona. El lugar es hermoso, limpio y cómodo. Muy recomendable.
Raúl
2017-04-02T00:00:00Z
Casa muy original, pintoresca y agradable. Host muy amable
Sari
2017-04-13T00:00:00Z
Excelente ubicación, el hogar es muy acojedor y hermoso. La anfitriona es increible.
Cristina
2017-03-20T00:00:00Z
Such a warm welcome and comfortable experience. We were close to the things we wanted to do in Historic Center and enjoyed immensely visiting with our host also.
Diane
2017-04-05T00:00:00Z
La mejor opcion para hospedarse, super centrico, es una casa muy acojedora ademas que la anfitriona te recibime como si fueras un hijo mas, atenta en todo momento, no extrañe mi casa ningun segundo, pase libre para verla actuar en el teatro de la cuidad, volvere mil veces mas.... es su mejor opcion
Amairani
2017-03-12T00:00:00Z
Excelente Lugar para la estadia. Alice Es una excelente host, a mi me toco ser atendida por su hermano pero tambien preocuoado en todo momento porque yo no necesitado nada. Excelente Lugar centrico y muy comodo.
Carolina
2017-04-12T00:00:00Z
This house and hostess make you feel well and happy, with all privacy and comfort, like if you were in your own space, it was an excelent experience! Thanks.
Adair
2017-03-16T00:00:00Z
Tipus d'habitació
Habitació privada
---
Tipus de propietat
Casa
---
Capacitat
2
---
Dormitoris
Santiago de Querétaro, Querétaro, Mèxic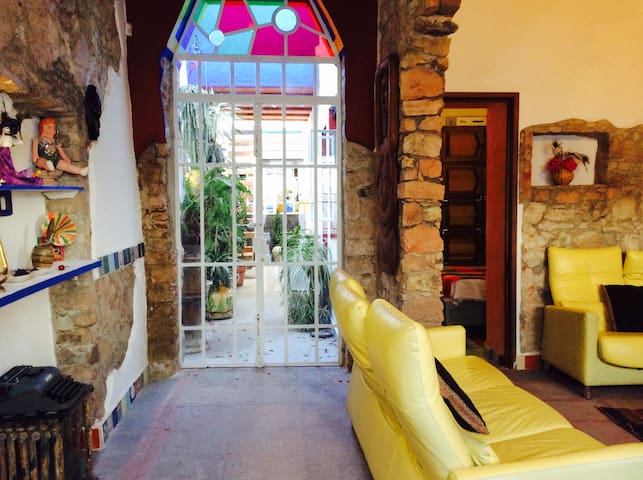 House located in the center of the City a few minutes walking from the main square. Close to main avenues such as 5 de Febrero, Bernardo Quintana, Av. Universidad, Zaragoza (Los Arcos), and universities such as UAQ, Regional Technological and Technological Monterrey, shopping centers, restaurants, coffee shops. The room is spacious, cozy, comfortable, clean and well located. The accommodation is perfect for students, couples, adventurers or business travelers.
The location is excellent, surrounded by avenues and main roads to get around Querétaro. Each room has its own ensuite private bathroom.
La casa se encuentra ubicada muy cerca del centro histórico, aunque es muy tranquila la zona, por la noche es preferible ir en carro o pedir un uber. La comunicación con Rodrigo fue muy buena, siempre muy atento! Los chavos que viven en la casa súper amables en todo momento. El cuarto es amplio y cuenta con baño dentro de la habitación, todo muy limpio y tal como se ve en las fotos. Sin lugar a dudas regresaríamos.
Barbara
2017-03-20T00:00:00Z
Tuvimos una excelente estancia, todo estuvo muy bien
Kevin
2017-03-04T00:00:00Z
La habitación bastante cálida, los demás huéspedes respetuosos. Bastante seguridad. Buena ubicación.
Losaid
2017-03-12T00:00:00Z
El lugar esta genial, Rodrigo y la demás banda que se hospeda son muy buena onda.
Fher
2017-01-29T00:00:00Z
Recomiendo ampliamente este lugar, excedió mis expectativas y seguramente regresaré. Una casa amplia, limpia y un anfitrión muy interesado en todo momento.
Luis
2016-12-16T00:00:00Z
Tipus d'habitació
Habitació privada
---
Tipus de propietat
Casa
---
Capacitat
2
---
Dormitoris
Santiago de Querétaro, Querétaro, Mèxic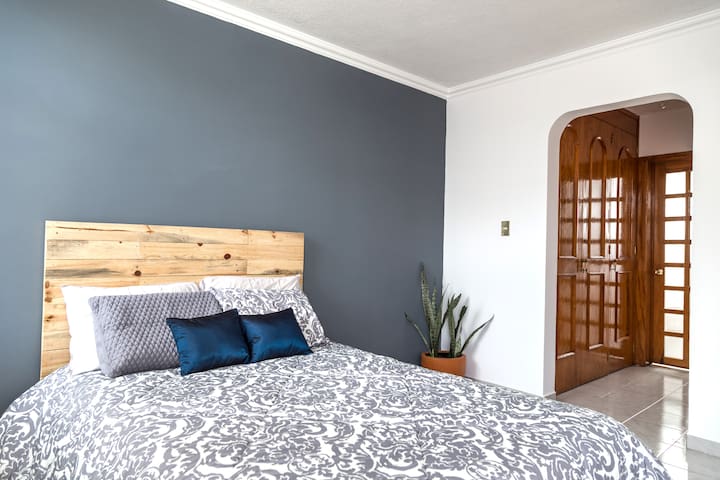 You will love my place because it´s central, peaceful, cozy and with yoga classes included. You will stay in a private room inside an old beautiful house located right at the center of the city. You will have everything you need just a few steps away without having to get into a car.
This is a room located inside an downtown "Casona" that's now renewed and used as a Yoga Center. Its a peaceful and beautiful place where you can walk your way inside beautiful Queretaro´s Historic Downtown, and enjoy from museums, parks, movie theaters, cafes and restaurants as well as night clubs like cantinas or pubs.
The neighborhood its great at any time, there`s always something to do or see either in the morning or at night. It´s a great place to walk and to have fun.
Muy lindo lugar, súper limpio el cuarto y con un estilo muy diferente. Es dentro de una casa de yoga, y con suerte podrás tomar clases gratis. Muy recomendable :)
José
2017-03-20T00:00:00Z
no puen dejar de hacer esta pasada!
Iriz
2017-03-16T00:00:00Z
fair price - walkable to the city center - difficult parking
Jan
2017-03-24T00:00:00Z
We stayed in Lety's place for only one night , but it was perfect for what we needed , close to the centre , with a beautiful corridor and nicely decorated .We even made it to an free early morning yoga class, which was a great addition to our stay.Lety greeted usand was very warm, friendly and helpful.The bedding was siper comfortable and soft.The only negative we had was with the shower , it was difficult to wash properly as the head sprays in all directions.Aside from this it was perfect for us , close to restaurants and nightlife and lots of magical hidden spots.I would definitely recommend it.
Greer
2017-04-07T00:00:00Z
Excellent location if visiting the historic centre! Excellent hosts, really helpful with recommendations and any concern or question. I stayed from Friday to Saturday and was a little noisy in the morning due some of the classes on the site. (I don't really know how other days are). If you are planning to wake up early and leave the room, don't even consider the previous comment; I personally like resting a little longer. Besides that, everything perfect! Really, I considered this a minor issue when compared with how great everything else from the place was ( location, hosts, cleanliness, etc )
Stefan
2017-03-18T00:00:00Z
Ubicación céntrica. Super tranquilo para relajarse y muy cerca de los mejores lugares de comida, Museos y jardines. Recomendado 5/5
Lucero
2017-04-02T00:00:00Z
Lugar céntrico, sencillo pero muy bonito. El centro queda a unos pasos. Lety es una muy buena host. Oportunidad en temas de limpieza
Javier
2017-03-26T00:00:00Z
Lety was a great host, and her yoga class was great! We practice at home on our own, so the included class was a big draw for us. The room was beautifully decorated, and it was a neat experience to stay pretty much in the heart of Queretaro. The location could not have been better, so we walked everywhere we needed to go.
Brittney
2017-03-31T00:00:00Z
Tipus d'habitació
Habitació privada
---
Tipus de propietat
Casa
---
Capacitat
4
---
Dormitoris
Santiago de Querétaro, Querétaro, Mèxic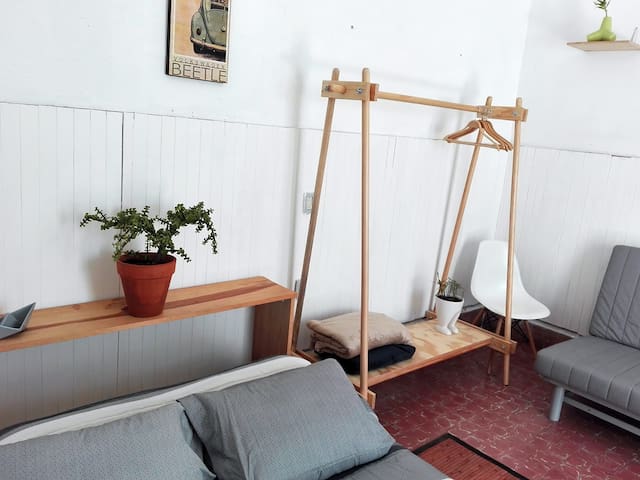 Las recámaras están en el centro de Querétaro, son tipo colonial y amplias. Cuentan con una cama matrimonial. Internet Wi- Fi.
Ubicado en el centro de Querétaro, es un lugar muy seguro, con muchas vías de comunicación, muchos lugares para visitar, principalmente los históricos del municipio; restaurantes y lugares de comida económicos.
Excelente anfitriona y el lugar ni se diga, recomendable
Kevin
2017-02-19T00:00:00Z
Ms. Mariana's hospitality is great, she is really kind and friendly person. We contacted by SMS before meeting each other and her response was really fast which made us no worry. house is also great. Clean, neat and gorgeous. I recommend for travelers who want high quality sleep, and when you want to take a rest between the walking around the street.
Mio
2016-12-22T00:00:00Z
el cuarto cumplió con lo esperado por el precio
Ulises
2016-08-19T00:00:00Z
La casa es muy bonita, la habitación esta muy limpia, y se puede observar el estilo colonial de la casa, la señora Lupita es muy amable siempre estuvo atenta a lo que se requería, es muy céntrica a solo tres cuadras de 5 de mayo la calle de los bares :) fue una experiencia agradable
Alma
2017-02-25T00:00:00Z
A dos cuadras de Plaza de Armas, es una excelente opción si quieres llegar a descansar. Ni un solo ruido, limpio y fresco
Alan
2016-08-21T00:00:00Z
Como otros huéspedes ya han comentado, simplemente puntualizar el hecho de que la casa es muchísimo más bonita que la calidad de las fotos y que si se va de paso es una opción excelente. Muy buena relación calidad-precio
Ignacio
2016-12-11T00:00:00Z
Todo en orden, limpio e ideal para descansar
Israel
2016-10-16T00:00:00Z
Lupita muy amable y excelente ubicación
Luis Roberto
2016-09-18T00:00:00Z
Tipus d'habitació
Habitació privada
---
Tipus de propietat
Casa
---
Capacitat
2
---
Dormitoris
Santiago de Querétaro, Querétaro, Mèxic
Amplia y nueva habitación con cama matrimonial, buros y closet. Servicio de limpieza una vez por semana.
Habitación perfecta para estudiantes, turistas, profesionistas con estancia de trabajo temporal. Perfect room to tourists, students and proffesionist with temporal job in the city.
Zona residencial tranquila y segura, excelente ubicación con Centros comerciales y servicios básicos, cafeterías, y áreas de comida típica mexicana. Transporte público.
Excelente habitación, la casa está muy bien ubicada. Deyadira y su familia son los mejores anfitriones. La casa y la habitación estaban muy limpias. Gracias por darme el recorrido por la ciudad la verdad me encanto.
Daniel
2017-04-03T00:00:00Z
Tipus d'habitació
Habitació privada
---
Tipus de propietat
Casa
---
Capacitat
1
---
Dormitoris
Santiago de Querétaro, Querétaro, Mèxic
Room inside a beautiful newly remodeled house. It's located one block away from the main Plaza in the beautiful city of Querétaro. I have 6 suites (each one with a complete bathroom and a dresser). It has a beautiful rooftop. The whole house is decorated with antique furniture and it has a rustic atmosphere. All of them have a double bed. Tell me your needs to offer you the best option for you!
La casa es colonial y ha sido remodelada recientemente, cuenta con seis suites. Cada suite es independiente y cuenta con baño completo. La casa además cuenta con una cocina para uso de los huéspedes, hay un patio y un jardín y terrazas donde puedes relajarte.
The house is located and one block from the historic center of the city of Queretaro , so I recommend walking around the walkways and streets , here you will find shops, restaurants, cafaterias , bars ; weekends there is almost always events in the Plaza de Armas : concerts, etc .; You can take a ride on the trams(tranvía) that take you to the historic sites of the city.
Perfecta ubicación en centro, solo un pie a las plazas mayores, los museos, los restaurantes y pubs. La habitación está en un estado limpio y ordenado. El dueño es muy amable y me dio mucha información útil de la Ciudad. 100% recomendación~ This house is located super close to the city center. By foot it is easily accesible to all major museos, restaurants and pubs. The room is clean and tidy. The owner is very friendly and gave me useful information about the city. Highly recommended.
Xiang
2017-03-19T00:00:00Z
Jose's communication was great and he carried our bags up the stairs. he had several recommendations for food. our bus was 1.5 hours late but he had waited for us and was unperturbed by our lateness. the house is very near the Plaza de armas and several other plazuelas in el centro.
cheryl
2016-11-16T00:00:00Z
Mi novio es quién se quedó en el departamento, pero me comentó que el lugar estuvo muy bien, super bien localizado a unos pasos del centro historico (por consecuencia un poco ruidoso, lo que es entendible). La comunicación con Agustín la tuvo directamente conmigo y siempre se porto muy amable y flexible con la hora de llegada/salida. ¡Muchas gracias Agustín!
Gabriela
2016-10-02T00:00:00Z
Definitivamente el lugar superó nuestras expectativas, la ubicación a tan solo una cuadra del centro fue inmejorable, las fotos son exactamente como es el lugar, nuestro anfitrión fue muy amable y las habitaciones nos parecieron muy bonitas, la decoración es de muy buen gusto y casi todo está nuevo, la cama es muy cómoda. Aunque todavía no están listas todas las habitaciones definitivamente las recomendamos y regresaríamos. Gracias José Agustín.
Eduardo
2016-10-30T00:00:00Z
Io e il mio ragazzo siamo stati ospiti da José nella sua deliziosa casa. La posizione è centralissima, a due passi dalle piazze principali e dalle attrazioni notturne. José è un host delizioso, puntuale e disponibile. Adorabile accoglienza, lo consiglierei a tutti!
Claudia
2017-02-11T00:00:00Z
100% excellent, two blocks near everything, 4 blocks you have a parking, not expensive. The place is just beautiful, the host, a nice person. The price is okay. 100% recommend
Octavio
2016-11-19T00:00:00Z
Excelente lugar para hospedarse si buscas algo económico, el cuarto tiene todo lo necesario para descansar y muy cerca del centro histórico de Queretaro.
Daniel y Manolo
2016-10-09T00:00:00Z
Un buen lugar para pasarla en Queretaro, muy cerca de todo , Jose una buena persona y te ayuda en todo momento ..
Fernanda
2016-12-30T00:00:00Z
Tipus d'habitació
Habitació privada
---
Tipus de propietat
Casa
---
Capacitat
2
---
Dormitoris
Santiago de Querétaro, Querétaro, Mèxic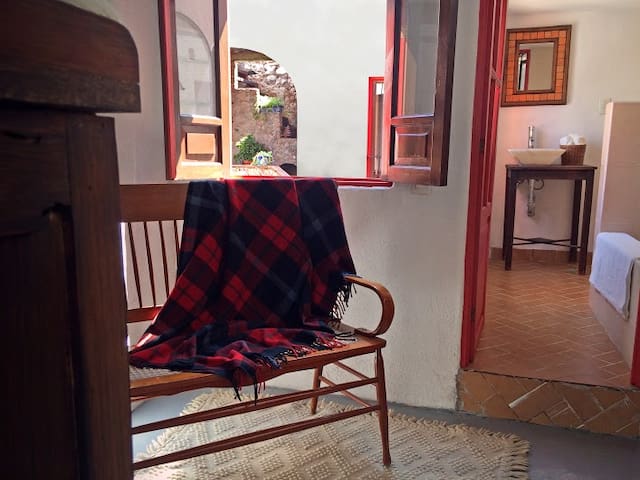 Lugares de interés: Muy cerca del centro, de restaurantes y comida, vida nocturna, centros culturales, a 10 min en carro de la central de autobuses. De 10 a 15 min caminando del centro.. Te va a encantar mi lugar debido a La ubicación, el ambiente, y la gente. La habitación se encuentra en la terraza, por lo que la privacidad es perfecta.
Muy atenta en todo momento
Marina
2017-02-11T00:00:00Z
Muchas Gracias !!!
Jesus
2017-01-14T00:00:00Z
Lugar tranquilo y privado
Ricardo
2017-01-20T00:00:00Z
Puede mejorar, pero es un buen lugar en cuestión costo-beneficio
José Antonio
2017-03-29T00:00:00Z
Muy buena ubicación, cerca del centro histórico y de rutas de camiones. Helena muy amable, pero el lugar creo que puede mejorar.
Jorge
2017-01-11T00:00:00Z
Comfortable and quiet, clean, Helena gave us a great welcome, and the roof is great !! strongly recommended
victor
2017-01-26T00:00:00Z
Es un sitio excelente para los que desean conocer El Centro de Querétaro, los anfitriones muy amables y siempre pendientes de nuestra estancia, definitivamente regresaría
María
2016-11-20T00:00:00Z
La meilleure expérience que j'ai eue avec airbnb au Mexique. Helena et sa famille sont super hospitalières. La maison est très bien située. La terrasse est magnifique. La chambre manque un peu d'entretien mais elle est correct. Il y a des chiens (très gentils) dans la maison.
Diego
2016-11-01T00:00:00Z
Tipus d'habitació
Habitació privada
---
Tipus de propietat
Casa
---
Capacitat
2
---
Dormitoris
Santiago de Querétaro, Querétaro, Mèxic
Habitación comunicada. Con seguridad puedes acceder a comercio
Tipus d'habitació
Habitació privada
---
Tipus de propietat
Casa
---
Capacitat
2
---
Dormitoris
Santiago de Querétaro, Querétaro, Mèxic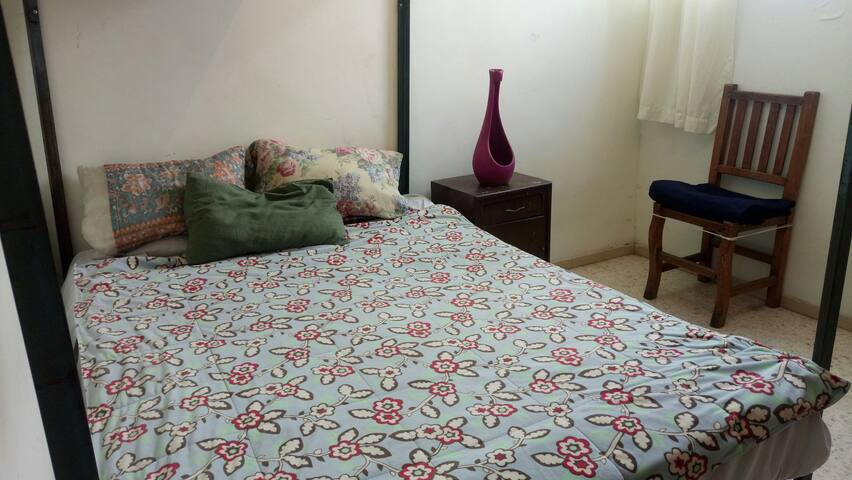 Nuestra iluminada, espaciosa y bella casa colonial con terraza, amplias áreas comunes de descanso con plantas, cocina equipada y lavadora, está ubicada a dos cuadras del centro y una avenida principal pero convenientemente más tranquila. Fácil estacionamiento, sólo dos habitaciones privadas disponibles
Rentamos solo dos habitaciones céntricas a nuestros huéspedes. Somos pet-friendly
Este barrio es céntrico, está a una calle de la antigua estación del tren que es muy bonita, el ruido del tren se escucha desde la casa de hecho y puedes visitar el lugar que además tiene una casa de la cultura. A sólo unas 5 calles del cuadro central, pero sin el problema de estacionamiento transito típico de ahi.
Excelente anfitrión. Aunque sólo pude quedarme una sola noche, Eduardo es una persona muy amable.
Ivan
2016-04-23T00:00:00Z
Habitación acogedora, muy cerca del Centro, muy tranquilo para descansar.
Carlos
2016-09-18T00:00:00Z
Casa muy agradable y bien ubicada, Eduardo nos dio excelentes recomendaciones de restaurantes en la ciudad! Lastima que nos despertaba el tren diario temprano, fue lo único detalle que no nos gusto de la estancia.
Claire
2017-02-16T00:00:00Z
Eduardo, aunque no estuve presente para recibirnos, fue un excelente anfitrión, desde el comienzo estuvo al pendiente de nuestra llegada, nos dio instrucciones sobre como llegar y se aseguró que todo estuviera en orden. La casa se encuentra muy bien ubicada con rápido acceso al centro de Querétaro. La habitación donde nos quedamos la encontramos muy limpia, amplia y con todos los servicios (luz, agua, toallas, etc) necesarios. Existen algunos gatos y perros dentro de la casa, lo que hace que el ambiente sea más armonioso si es que te gustan las mascotas. Puedo recomendar ampliamente a Eduardo para que se hospeden en su casa.
Israel
2016-04-25T00:00:00Z
Aunque me quede solo un dia en esta habitacion quede muy contento! llegue con mi familia y mi perrito y todos se sientieron muy bienvenidos y con mucho espacio y tranquilidad, la chica que nos atendio (Blanca) fue muy amable y estuvo al pendiente de nosotros durante nuestra estadia. MUY RECOMENDABLE.
Edgar Orlando
2016-01-04T00:00:00Z
Recomiendo mucho este lugar, céntrico, limpio, bonito.
Susy
2017-03-25T00:00:00Z
Muy atento, la ubicación esta súper, limpio y muy bonito, recomiendo totalmente este lindo espacio. Eduardo es un excelente anfitrión, servicial y muy agradable.
Miguel Angel
2016-09-09T00:00:00Z
Nuestra estadía en la casa de Eduardo fue muy placentera y agradable. Eduardo y sus compañeros de casa son muy accesibles y amables, te ayudarán a sentirte como en casa, si es necesario te aconsejarán para que aproveches al máximo tu experiencia en Querétaro. Eduardo y sus compañeros siempre estuvieron al pendiente de nosotros. Altamente recomendable, la casa es muy tranquila, en un barrio muy seguro, la cama súper cómoda y el desayuno riquísimo, sin duda regresáremos con Eduardo en cada visita que tengamos en Querétaro.
Carlos
2016-01-02T00:00:00Z
Tipus d'habitació
Habitació privada
---
Tipus de propietat
Casa
---
Capacitat
6
---
Dormitoris
Santiago de Querétaro, QRO, Mèxic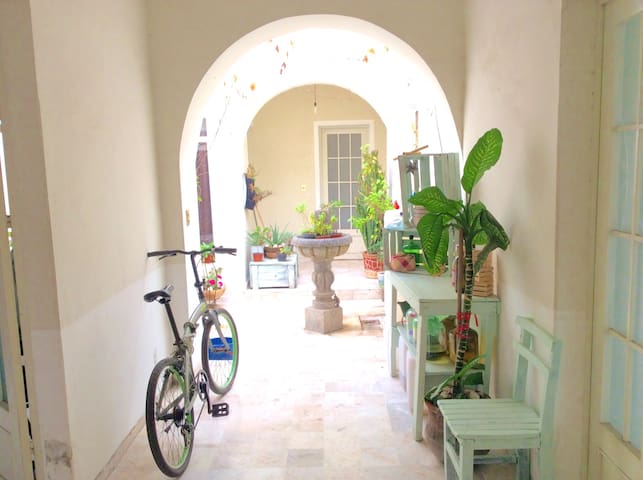 Get ready to know a very special place. Casa de Piedra is a cozy little house that hides many secrets; Surely you already guessed one. It is a house build of stone.
Its history is captivating, although we do not know the exact date of its construction, we know that it was built during the last colonial stage of the country. Due to its location, we suspect that it may well have been a house of servants or workers in an extinguished tobacco factory. Casa de Piedra, is decorated to pay tribute to different periods of Mexican history. If you are passionate about history and details, stay in this little house. The house has: A room A room Kitchen and dining room A bathroom And soon a terrace ...
From Casa de Piedra you can visit different historical sites of Mexico and Querétaro like: Cerro de Sangremal, where the city of Santiago de Querétaro was founded. Cerro de las Campanas, place of execution of Maximiliano of Habsburgo, Emperor of Mexico. Theater of the Republic, seat of the signature of the constitution of 1917. Museum of the City and Museum of Art. Also, you have a market, just steps away. Traditional canteens and not so traditional bars. Restaurants, stalls, tacos, tacos and tacos.
The host canceled this reservation 4 days before arrival. This is an automated posting.
Lenin
2016-09-26T00:00:00Z
La casa está muy acogedora y está muy cerca del centro histórico, ideal para poder caminar por las calles de la ciudad. Muy tranquilo el lugar y seguro. Tiene todo para poder tener una estancia tranquila.
Ramón
2016-12-28T00:00:00Z
Mala experiencia. La comunicación con el anfitrión fue muy mala, tratamos de llamar para organizar la llegada y nunca nos contestó. El día de la llegada tuvimos que esperar 30 minutos a que nos abrieran el departamento y no estaba hecha la limpieza ni estaba listo. Nunca nos dieron la clave del wifi, no nos dieron cobijas por lo que dormimos muy mal a causa del frío, la limpieza deja mucho que desear, hay mucho ruido de la calle, las cortinas son muy traslúcidas por lo que no se puede descansar bien a causa de la luz de la calle y no hay acceso a la terraza que anuncian.
Pau
2017-03-05T00:00:00Z
El lugar luce tal cual las fotos. Muy cerca del centro, a unas cuantas cuadras.
Liliana
2017-04-13T00:00:00Z
Fernando was a great host! His friend who checked us in was so kind and so patient even when we were late to check in because of the traffic! The place was so cute and looked exactly like the pictures! Thank you so much for the great stay!
Tara
2017-02-05T00:00:00Z
La casa tiene una ubicación céntrica y el lugar es muy tranquilo, caminamos hasta tarde sin problema.
Diana
2016-10-31T00:00:00Z
El lugar es muy amplio y comodo, se encuentra en una zona centrica y traquila. cuenta con todo lo necesario para pasar una fin de semana increible
Laura Cristina
2016-10-09T00:00:00Z
Excelente lugar, limpio, cercano al centro, ideal para estar tranquilo y cómodo a la visita en Querétaro.
Daniel
2016-12-14T00:00:00Z
Tipus d'habitació
Casa/pis sencers
---
Tipus de propietat
Casa
---
Capacitat
2
---
Dormitoris
Santiago de Querétaro, Querétaro, Mèxic
Santiago de Querétaro - Airbnb
:
Mitjana de

4.77

estrelles sobre

5

a partir de

746

avaluacions d'hostes
1

-

18

de

Més de 300 lloguers de cases
Introdueix les dates per veure el preu total. S'aplicaran tarifes addicionals. És possible que també s'apliquin impostos.