Our fully furnished studio apartment is located next to our main home and attached to the farm shop. There are walking trails, an outdoor grill and fire pit with large lawns perfect for relaxation.
This is a fully self-contained, private studio apartment located on a gated 32-acre cherry and horse farm, approximately 45 minutes from the entrance to the Kings Canyon National Park and Sequoia National Park in Central California. The apartment is fully furnished and attached to the farm's shop - next to the main home. There is a queen bed in the apartment along with a twin rollaway bed. It also has DirecTV, a full kitchen, and laundry facilities. The main visitor center in Yosemite National Park is less than two hours away (unless traffic is backed up getting into the park). The central portion of Sequoia National Park and Kings Canyon National Park are approximately 55 minutes from our home. The Paso Robles wine region is approximately 2.5 hours away and a lovely way to enjoy a day. Dogs are welcome if you let us know in advance and clean up after them - a cleaning surcharge applies. There is also a large, outdoor dog run attached to the shop. And, we have space for your horses if you happen to be traveling with them. This is a non-smoking studio.
This is a rural agriculture area with citrus, cherry, almond and other fruit and nut orchards as well as grape vineyards and a number of specialty vegetable farms.
Wonderful place! We will be back!
Yumiko
2014-05-19T00:00:00Z
Dana, our hostess, greeted us right away upon our arrival and gave us a tour of the apartment. The place was very clean and comfortable. We utilized the kitchen for our meals and snacks, which saved time and money. Although Dana's schedule didn't allow for her to say goodbye in person, Dana left us a nice note. This place met our expectations and needs.
Diana
2015-02-12T00:00:00Z
Blair's studio was just what we need while visiting the central valley for a wedding. Very close drive to fresno, surrounding farm lands, and sequoia park. Elliot and Dani received us and were very helpful during our stay. We can only reiterate the previous reviews by saying that the property was very clean and very well maintained. Thank You!
John
2016-07-26T00:00:00Z
We felt very welcome during our stay here. Blair's mother-in-law (Dana) was very nice and helpful. The unit was very comfortable and spacious as well. Everything listed was accurate, but the only downside to the stay was the lack of internet. Between 3 of our devices (2 phones and a laptop) we were not able to connect to the WiFi - although the 3G/4G was pretty strong. As long as WiFi is not a necessity, there is no other place I'd stay in this area.
Kartik
2014-10-23T00:00:00Z
My mother, brother and I had an excellent time at this quite farm. We took a walk by the river, got to know the horses and had a refreshing dip in the beautiful warm pool. The host was very courteous. I highly recommend staying here to visit the Kings Canyon and Sequoia National Parks as we did.
Dustin
2016-08-02T00:00:00Z
We were welcomed by Dana, and she was very nice and helpful. She explained everything in the apartment and answered all our questions. The place exceeded our expectatations. The studio was larger than expected and included comfortable furniture and what appeared to be a newly remodeled kitchen. We loved having a good coffee maker and we were glad we could do our laundry. We loved it!
Linda
2015-08-09T00:00:00Z
The cottage was absolutely wonderful and extremely spacious! We loved the tranquility outside with all the orange and cherry trees. Dani and Elliott were also gracious and super helpful with showing us around. Our pup had a blast "hunting" the squirrels around the farm and came back to the cottage each night conked out. We would love to come back and see the cherry trees in bloom!
Melanie
2016-01-04T00:00:00Z
The stay was just what I needed. They were prompt in responding at the last minute and the room was like new. It was a short drive to the Kings Canyon and The Sequoia National forest. They were attentive and made me feel like I was home. I loved the place and would recommend it to anyone wanting a nice relaxing and comfortable stay.
Joseph
2015-01-09T00:00:00Z
Tipus d'habitació
Casa/pis sencers
---
Tipus de propietat
---
Capacitat
3
---
Dormitoris
Sanger, Califòrnia 93657, Estats Units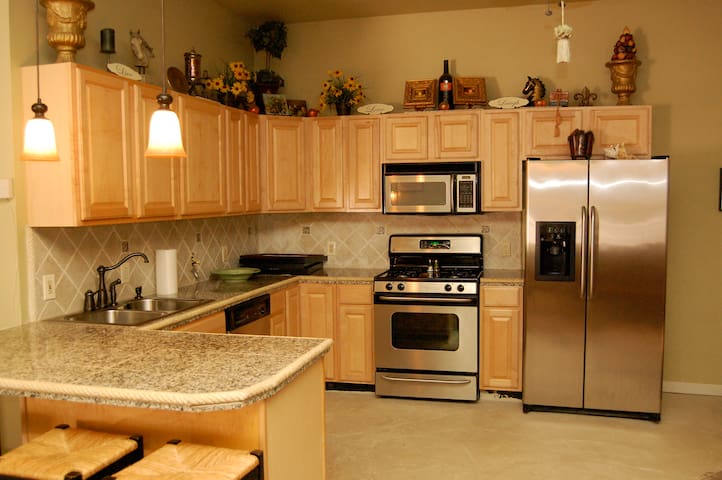 Large private guest apartment (850 sq. ft.) on premier equestrian facility in rural Sanger with pool. Mountain views from upper balcony. Has full kitchen, living room, bedroom with queen bed, connected loft with single daybed, and full bathroom. We do have a cot available for a 4th guest if needed. For safety reasons we do not allow toddlers (infants ok if not walking yet) or young children who cannot swim or who would be in danger of falling from the loft.
There is a downstairs living room, kitchen, and laundry room. Upstairs is the bedroom, bathroom and a loft on the other side of the bedroom stairs, as well as a balcony deck. There is a queen size bed in the bedroom and a twin daybed in the connected loft. We have a cot (s) available. There are 2 full-size leather couches (one upstairs, one downstairs) that could possible sleep kids or your ex-brother in-law if needed. There is parking under a carport for 2 cars. If you are bringing horses we have truck/trailer parking on the ranch and stall or front pasture or mare motel space for your horses.
Very quiet rural neighborhood with small family farms and ranches. Many guests come for the cycling and hiking, for the downtown Clovis antique shops, for the nearby lakes (Avocado, Shaver, Huntington, Millerton, or the Kings or San Joaquin rivers), or to explore the National Parks (Yosemite, Kings Canyon, or Sequoia). There are two quaint local country restaurants within 5 minutes drive where all the cowboys and farmers and travelers passing through eat. The Red Caboose Cafe and the Blossom Trail Cafe are located on Academy Avenue which is one mile east of the ranch. Neighbors Cafe is the only restaurant that is open late (til midnight) at Nees and Fowler in Clovis. We can also provide directions to a wonderful (but very inexpensive) Mexican restaurant about ten minutes away. Of course, Sanger, Clovis, and Fresno have a wide variety of fast food to high end places to eat.
Staying at Ananda's was the best choice I could have made this weekend. The apartment is lovely and comfortable, with everything in the kitchen I could need to make a tasty brunch. Ananda's hospitality has also felt warm and inviting. The next time we come out this way, we'll certainly stay here again. Maybe we'll even learn more about riding horses.
Danny
2016-04-10T00:00:00Z
After having gone on a nice family trip to Yosemite, we made the trek to Sanger, which is full of farmland and ranches. Conveniently near Fresno, but has a very remote feel coming from a city slicker like myself. Eden Ranch has a lovely feel from the moment you step onto the grounds. I was greeted by a beautiful and friendly horse, whose presence was so calming, that all my stress melted away. Once we went into our spacious area, Zelda, a playful dog came rushing out and really wanted to show us her favorite toy! Our fridge was stocked with an assortment of foods and beverages. We really felt at home! We were sad to have only stayed for one night, but we look forward to many more trips to Eden Ranch. My daughter had a lovely time walking around the ranch and greeting the horses and cats. Thank you Eden Ranch, and especially Tess, for the generous hospitality!
Khai
2016-04-10T00:00:00Z
We had a fantastic time in Clovis thanks to Ananda's hospitality. The space was just what we were looking for, access to hiking, biking, wineries, oh-so-many horses, a nice kitchen and a hot tub. Even though it rained heavily we had a great weekend getaway. She was a very gracious host and made sure we were completely comfortable. We are planning to go back sometime when we can ride horses. 100% satisfied. Thanks Ananda!
Max
2016-03-18T00:00:00Z
Wow where do I even begin?! Ananda is a great host! We had fresh farm chicken eggs p, freshly squizzed orange juice and crossoaints waiting for us when we got to the place. The fridge is full of goodies and you immediately feel at home. The ranch location is great, you have beautiful horses in your backyard and a very friendly dog named Zelda (who kept our dog occupied for he whole time). I highly recommend this place if you're visiting the area - we'll definitely be back! BTW we initially booked one night and after getti there immediate booked another night :)
Michael
2016-04-07T00:00:00Z
Our stay at the Eden Ranch was everything we expected and more! The space was clean, welcoming, and we loved the special touch of the cookies left out for us upon our arrival! We enjoyed swimming and relaxing in the pool, as well as playing with Zelda. ( the " Ranch Watchdog" ) :) Our stay there was brief, but comfortable, inviting, and it felt like home. We would definitely recommend the Eden Ranch to others.
Brian
2016-09-01T00:00:00Z
We loved our stay at Eden Ranch. A lovely place with very good service, loved the fresh orange juice, croissants and eggs. Lots of food and drinks provided. We loved the dog and cats around the house. The swimmingpool was so lovely, our kids enjoyed it do much. Driving into the Kings Canyon and Sequoiapark was perfect to do from this location. Thank you, Ananda, Tess and Jim.
Monique
2016-08-14T00:00:00Z
Ananda is great and very hospital! The house is also incredible, spacious and I felt like in Toscany! I need to get back there to stay longer in the ranch instead of just staying for a night. Also the full kitchen and fridge was outstanding.
Jakub
2016-07-24T00:00:00Z
Ananda's place is a very soothing and welcome home. We slept very well, with each child sleeping on the comfortable cot and sofa. Food, omg!, we should have checked in first before going to the store. She has ALL staples needed! The wifi was blazing fast! We enjoyed the pool several times, it was perfectly warm. The spa is really cozy and relaxing. We got to play with Zelda and Peach, they are sweeties. The horses are just amazing and my 10yo really enjoyed washing Gabby.
morgan
2016-07-05T00:00:00Z
Tipus d'habitació
Casa/pis sencers
---
Tipus de propietat
---
Capacitat
4
---
Dormitoris
Sanger, Califòrnia 93657, Estats Units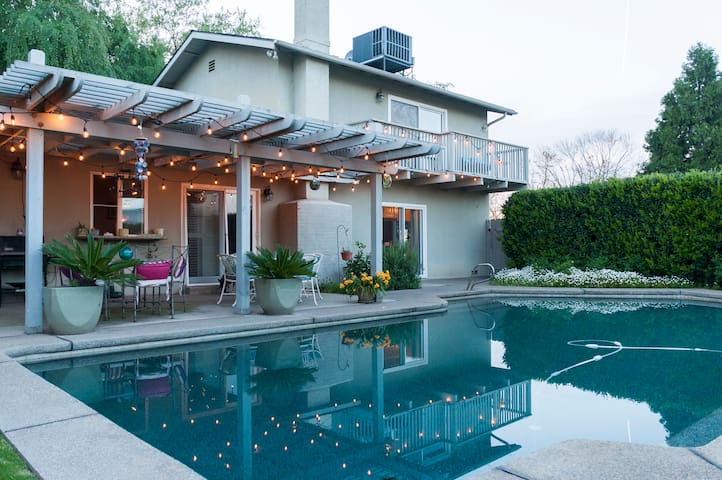 Sanger has easy access to the ski slopes and to 3 National Parks. We are also in the heart of the famous Blossom Trail to enjoy in late February and March.
Guests have a separate wing of the house. The lower level includes a very large bedroom/sitting room/office. The bed is a very comfortable new queen bed. The upper level has a private full bath with shower, laundry room, private access to patio and pool, and another exit to the front of the house. This is a very unique, quiet and peaceful house that we have loved for 27 years. You will love it,too.
It is a corner house in a safe, quiet neighborhood. There are lots of trees on a large lot. It has a grocery store within walking distance that has a wonderful Mexican Deli. There are 4 other restaurants in the same shopping center. Guests enjoys easy access to the ski slopes and the National Parks.
Wonderful hospitality. Super nice hosts. Top-notch, comfortable, spacious , private room. We will definitely visit Roger and Carole again!
Lori
2017-02-05T00:00:00Z
Carole and Roger were the best hosts! They went out of their way to accommodate us and we absolutely loved their place. Staying at their BnB was such a bargain and convenient for our trip (flying into Fresno Airport and visiting national parks). This was by far one of our best Airbnb experiences and we hope to visit them again sometime!
Elisabeth
2016-07-04T00:00:00Z
Roger and Carole were amazing hosts and the room was just as described! I would highly recommend staying here! Since we arrived we felt very welcomed and taken care of. They had a lot of advice as to where to go for the national parks and had insights in where the best views were. The breakfast that Carole made for us was delicious and it was nice to have a host willing to talk to us and take care of us like friends. Overall amazing experience!
Tyler
2016-08-07T00:00:00Z
Carol and Roger's place is as close to perfection as an AirBnB stay can get! Needless to say that both of them are naturals at hosting and making one feel comfortable.
Ben
2016-07-31T00:00:00Z
We were so happy to have booked this private room. Carole and her husband went out of their way to make us feel welcome. The set-up gave us all the privacy we could want yet enabled us to get to know our hosts. Due to the unusual circumstances of our visit, they let us stay past check-out on our final day and even helped my husband and son with a car repair. The room is a spacious basement room with a mini- fridge, computer and table and chairs. The bathroom, closed off from the rest of the house by a pocket door, is upstairs. There are plenty of drawers for storage. I enjoyed sitting out by the beautiful pool on a warm afternoon. The breakfasts were an added treat. One night we walked to DiCicco's, an excellent Italian restaurant.
Kathryn
2015-11-21T00:00:00Z
Dormi une nuit en transit pour visiter séquoia park La maison est très accueillante Carol et son mari sont charmant et font tout pour rendre le séjour agréable La piscine est très sympathique le petit déjeuner savoureux et le lit confortable que demander de plus Il y a des restaurants pour dîner à moins de 500 m Le parc national est à 45 min de voiture
charles
2016-08-22T00:00:00Z
A very enjoyable stay! Carole is such a great host. She made me a special vegan breakfast. We really felt welcome and pampered. The room was comfortable and private. The bed was fantastic!
Kelli
2016-07-14T00:00:00Z
This place was a very convenient place to stay on the way to Kings Canyon NP. Carole was very professional upon arrival, offering us cold waters and going over all aspects of her beautiful home and honing in on our breakfast needs as well as what we planned to do in the area. A hot, plentiful breakfast was served with coffee (she also accomodated my gluten-free diet) and offered an early breakfast so we could depart early. Carole and her husband were wonderful hosts and offered us much info on the surrounding national parks. Neighborhood was quiet and we were able to park in the driveway right next to the breezeway door leading to our room. Beautifully maintained home inside and front/back patio area was meticulously maintained with an array of colorful flowers/landscape. Pool/patio area was spotless and very private and relaxing. Carole added some wonderful touches in the room (plenty of water, small snacks, and fruit) as well as a super comfy bed and the softest linens/pillows ever.
Susan
2016-09-18T00:00:00Z
Tipus d'habitació
Habitació privada
---
Tipus de propietat
---
Capacitat
2
---
Dormitoris
Sanger, Califòrnia 93657, Estats Units
Welcome to our small, family-owned fish farm just 54 miles west of Sequoia/Kings Canyon National Park. Guests will delight in the diverse wildlife and serene views. The house comfortably sleeps six (one queen bed and four twin beds). If there are seven or eight guests, rollaway cots will be provided. Guided fishing excursion available at an additional cost. Please inquire if interested.
Little House on the Fish Farm was built in 2013. The three-bedroom, two-bath guest house is located on property that has been in our family for generations. Danish teak furnishings, bamboo flooring, and recessed lighting give the house a simple yet modern feel. The space is decorated with water lily prints, artifacts picked up on our travels, and local art. The family room is a comfortable place to relax after a long day of sightseeing. The library is filled with books to encourage you on your next adventure. There is also a Smart TV, DVDs, and board games. Galley kitchen is equipped with: • custom granite countertops • stainless steel fridge • gas stove/oven • dishwasher • microwave oven • toaster • coffee maker • electric kettle • pots, pans, plates, cups, and utensils The master bedroom has a walk-in closet and is furnished with a queen bed. A favorite feature in the master bathroom is the soaking tub. The other two bedrooms share a bathroom and are furnished with twin beds. Each bathroom has a blow dryer. The house has a washer, dryer, iron, ironing board, steamer and two full-length mirrors. THE OUTSIDE SPACE Little House on the Fish Farm is located in the Sanger river bottom, known for its peacefulness and beautiful scenery. Our ponds play host to a variety of wildlife including fish, insects, frogs, beavers, waterfowl, and birds of prey. In the late spring, splashes of vibrant color dot our ponds as water lilies begin to bloom. A stone's throw from Little House, sheep, goats, and cows graze in the pasture. Feel free to visit the hen house and collect eggs for your morning breakfast. The "floating" goat house greets you as you drive down the dirt road. Sunrise is a magical time. Grab a cup of coffee, head outside, and experience the farm as she wakens from her slumber. Sunsets are equally spectacular. Go ahead, fire up the BBQ and enjoy a leisurely dinner on the spacious wrap-around deck. There is a kind of hush as darkness slowly envelops the farm. The stars shine brightly in the stillness. It is a perfect ending to an unforgettable day.
Even though your nearest human neighbors are half a mile away, you are within three miles of shopping and restaurants. A quaint town of 25,000, Sanger is literally that place where you can't walk down Main Street without bumping into somebody you know. Within this close-knit community, you can find modern stores next to family restaurants and shops that have been in business for the greater part of the past century. SEQUOIA, KINGS CANYON AND YOSEMITE NATIONAL PARKS Just a 54 mile drive away up Highway 180, Sequoia and Kings Canyon National Parks affords guests convenient access to hiking, fishing, birding, and backpacking opportunities within the parks. Yosemite Valley in Yosemite National Park, one of the greatest natural wonders of the world, is up Highway 41. Hike up to Bridalveil Falls, climb El Capitan, or backpack out of Tuolumne Meadows.
I can't recommend The Little House enough. I had high expectations -- and John, Janet, and The Little House definitely blew them out of the water. I doubt you'll be able to get this experience elsewhere. John & Janet (the hosts): John & Janet were super-friendly and incredible hosts. John greeted me upon arrival and led me back to the house for a quick tour. The next morning after the rest of my group arrived, they gave us a tour of the farm (checked for eggs in the chicken coop, fed the sheep, watched the goats cross the floating goat-house, held a baby goat, and even taught me how to fish!). They were around to answer any questions of what to do in the area (Kings River, Sequoia National Park, etc). The Little House: The house is spacious, modern, clean, and perfect for a small group of 6-7. The chicken coop, roosters, goats, and cows are 50 ft. away from your front door. We had breakfast, lunch, and dinner on the side patio which overlooked the meadow & fish ponds; the large grill was a plus. The front-lawn was great for catching some sun. The house had everything we needed for our 2 nights there -- plenty of towels, dvds, internet, etc. The Neighborhood: There's a small guide book of restaurants & shops in the area. We didn't explore Sanger much as I spent my two days relaxing and catching some sun. There is a Walmart a couple of miles away where you can stock up on food/supplies (house has some basic spices/herbs that you can use). We went down to the Kings River in Reedley (10 minutes away), but most of it had dried up due to the drought. It's an easy 45 minute trip to Sequoia, which was beautiful. The Wrap Up: I will definitely come back to this gem! A great getaway -- whether it's for a couple of days or a longer stay.
areni
2015-06-24T00:00:00Z
wow! what a great airbnb experience! one of the best ever, and i've done a lot of airbnb-ing! great hosts, super cute baby animals, peaceful and beautiful surroundings. i'd definitely stay here again.
sara
2015-05-21T00:00:00Z
Our second trip back to the little house was just as amazing as the first time (see June 2015 review). There's always something new at the farm -- this time there were 2 calves roaming the field nearby and four little chicks that we got to hold. As always, John & Janet were incredible hosts -- they shared veggies from their garden and took us out to the grapevines & flower ponds. The entire family enjoyed the stay. This is likely our new "vacation" spot as it's easy to access from both SF & LA.
areni
2015-07-27T00:00:00Z
Janet's response to emails was quick and helpful. We were a party of five adults, aged from 30 to 65, and the house size was perfect for us. John was an excellent host and went out of his way to provide us with a lovely experience including bringing over a newly born baby kid for our visiting 2 year old granddaughter to feed, along with two baby chicks. When we arrived we followed John in his truck down to the house as it is quite secluded from the main property in its own pretty area, with chickens, roosters, goats, cows, fish ponds with lovely flowering water lilies, lotus flowers and pretty garden. We were told to help ourselves to the eggs each day in the hen house and peaches on the tree. The house itself has everything you require, including board games, heaps of DVDs and so on. Everything was comfortable. The air conditioning was rather variable from room to room and the two smaller bedrooms tended to be a bit warmer at night. The ensuite bathroom has a step over bath/shower which is quite high. Fortunately a grab rail is provided to help. A welcome pack of toiletries and some greeting cards were a nice touch. We did have a problem with both the oven and the dishwasher but are sure John will have rectified that by now. John made our American relatives very welcome at the property and even set us and them up with fishing rods and we were able to catch some catfish. All in all, a most enjoyable experience. Great host, very quiet, picturesque property. We thoroughly enjoyed our week long stay there and highly recommend it. Bring the bug spray! Although there were many insects that got into the house that looked like mosquitos, John said they weren't biters and indeed we didn't get bitten.
Brenda
2016-07-24T00:00:00Z
Thanks John and Janet for making us comfortable. We really enjoyed our stay at your Li'l House on FishFarm. The children keep reminiscing about playing with all the animals especially your goat kid, Gigi and the baby chickens. The place was a great weekend getaway and a perfect place to rest after our visit to Sequoia National Park. The kitchen was well-stocked with groceries and your farm-fresh eggs from the hen house were really yummy :). Thanks for sharing your experiences and showing us your fish ponds and water flowers. And a unique chance to savor water lily honey :) for the first time in our lives.
Guru
2016-06-21T00:00:00Z
This listing is definitely one of the best experiences we had with Airbnb.John and Janet are great hosts.We spend our weekend with friends here exploring king canyon. The place is so comfortable and has all the amenities for comfortable stay. Place was perfect for our group of 7.Communication with host was prompt over phone and messages. John and Janet gave us farm tour in the morning, even though they had a busy day ahead. Really appreciate that. They also sent us the pictures Janet clicked on the farm which was so thoughtful.If you want to spend relaxing time away from routine this is the perfect place. We hope to come back sometime soon :)
Rohit & Aparna
2015-04-06T00:00:00Z
John made us feel welcome. He met us at the road and we followed him back. He and his wife took great care to make sure we felt comfortable; there were snacks on the table, note cards with pictures of aquatic plants, and goat milk soap, and John even greeted us with a large bag full or delicious oranges! Li'l House on FishFarm was so perfect for us! My favorite childhood books (Little House series by Laura Ingalls Wilder) were in the extensive library and I soon then realized the tie-in. I loved the Little House Cookbook! Our family played Apples to Apples (one of the many games they have available), and laughed the evening away. John was so kind to give us a tour of Sanger HS Agriculture Dept, as we were so interested in the Aquaponics and Hydroponics. My son had to write some poems for his college class and the gazebo overlooking the pasture provided the perfect backdrop. If we come back to the Fresno area or wish to visit the nearby National Parks, we will definitely stay again at Li'l House on FishFarm!
Maureen
2016-04-27T00:00:00Z
I booked the fish house for 2 nights as a base for a family vacation to Sequoia National Park. The location was great, being only about 50 minutes from Grant Grove. There are a couple of decent restaurants in the area. We liked Schoolhouse Tavern which is about 5 minutes away. There's also a nice fruit stand next to the restaurant. The house itself is homey and comfortable with all the creature comforts of home. We were there in the summer and the AC worked great. The farm fresh eggs were a nice touch and the whole family enjoyed watching and interacting with the farm animals. The peach tree out front was bearing fruit when we were there and John let us pick as much fruit as we wanted. Overall it was a wonderful stay, and we actually enjoyed it more than our stay at the much more expensive and overrated Tenaya Lodge near Yosemite the next two days. We would recommend this place to our friends and would seriously consider retuning the next time we visit Sequoia.
Frank
2016-08-05T00:00:00Z
Tipus d'habitació
Casa/pis sencers
---
Tipus de propietat
---
Capacitat
8
---
Dormitoris
Sanger, Califòrnia 93657, Estats Units
After enjoying kings Canyon & Sequoia National park you will only be 45 minutes away from relaxing in a sparking refreshing pool. Guest will have a private bedroom.A second bedroom is available for additional $25 per person.
We are only 45 minutes from Kings Canyon National park entrance.
We are in the country surrounded by peach and plum trees yummy!
Frank and Sylvia are wonderful host. Their home is clean and cozy. The breakfast was very nice. Frank is very considerate and gentle. We loved staying with them. Highly recommended! 我们特别满意,很喜欢房主。
Vivian
2015-08-08T00:00:00Z
Sylvia and Frank were very considerate hosts, and possibly the most generous AirBnB hosts I've experienced. When Sylvia learned that we were in town for a martial arts competition, she researched some high-protein breakfast foods, then got up quite early to prepare a balanced healthy breakfast for us before our competition. She even got some trail mix we could bring with us. We knew we would need some quiet time the evening before, and Sylvia and Frank were fantastic about giving us plenty of space. In the morning, Frank gave us some great directions (much better than (SENSITIVE CONTENTS HIDDEN) Maps) that saved us at least 20min driving. The beds were comfortable, the orchard beautiful with flowers, and the house was spotless. For those who are sensitive to scents, they do use potpourri in the house. All around great experience, would stay again.
Jennifer
2014-03-06T00:00:00Z
Sylvia and Frank are just amazing people. They have an awesome property in the middle of great peach orchards. They are very close to Sequoia and definitely worth a stop.
Roger
2015-03-27T00:00:00Z
We arrived later than we indicated but Sylvia and Frank stayed up to greet us. We were tired after a long day at the park, so we just showered and slept. The rooms were clean and the area is fairly quiet. There were clean towels available. In the morning, Sylvia greeted us with a full breakfast consisting of muffins, egg muffins, fresh fruits, and parfait. They were delicious and perfect for a day of active activities. Before we left, we took a look around the vegetable garden and played with their dog. I would definitely stay here again if I ever go to Sequoia National Park. Definitely recommended!
Dung
2016-05-31T00:00:00Z
Place: The house by itself is just amazing. It is located in a perfect spot within driving distance to the national park. Amazing place to just relax as well. The house is clean and spacious. Host: Sylvia & Frank are very warm & welcoming. They are very thoughtful of all the guests needs and privacy. We hit it off very well with them. We were also hosted by Sylvia's colleague - Lorana on our first day and she was extremely pleasant. Our overall experience was really good and I would highly recommend this place to everybody. I will be back again for sure. Sylvia, Frank & Lorana. Thank you very much for making our vacation memorable - Milana & Himanshu
Milana
2014-02-19T00:00:00Z
Sylvia was so bubbly. Frank was a gracious host. We only got to visit with Sylvia a short time but it is like she was welcoming you into her family. Frank made a great breakfast. Their property was beautiful. It was a lovely place to stay.
Tina
2016-08-31T00:00:00Z
If you are going to the Kings Canyon National Park, this house is a must stay! The beds are super comfortable and the hosts are more fabulous than you thought. Everything is great.
Jingxiao
2015-05-17T00:00:00Z
WOW, only 500 words, not enough space! So, one word "AMAZING" Sylvia and Frank hosted close friends of ours from Mexico as we didn't have the space. Mom, Dad and two young daughters. It was their first trip ever to the US. Sylvia & Frank's home is soooo much more than the listing describes. Not only is the property beautiful and immaculately kept it is like staying at your own private five star resort! (Ok, six star) I know most people will not read an entire review if it is too long so in short....Sylvia and Frank are gracious to say the least, friendliest and happiest people we have met in a very long while. They welcomed this family into their home with open arms and heart. After five days and time to say goodbye tears were shed by all and that should say something about the experience. If you are ever even remotely close to their "oasis in the foothills of the Sierras" do yourselves a huge favor and stay with Sylvia&Frank. It was a true pleasure! Thanks again you guys for everything! Olga, Kurt, Yonni, Zaira, Yocza and Danna! We miss you :)
The blagens
2016-08-10T00:00:00Z
Tipus d'habitació
Habitació privada
---
Tipus de propietat
---
Capacitat
4
---
Dormitoris
Sanger, Califòrnia 93657, Estats Units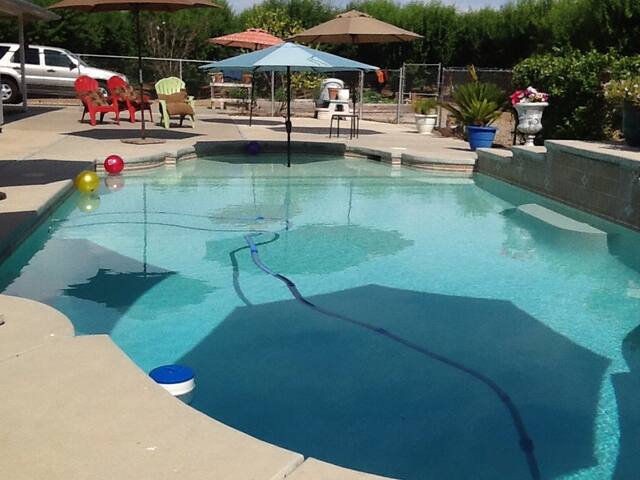 A relaxing and peaceful private 1 bedroom with a cal king bed & bath located in the country. Access to a kitchen and den with TV. There is a large pool, basketball court, fire pit and courtyard for guests to enjoy. It is a very quiet, rural neighborhood with farms and ranches and views of the mountains. It is close to avocado, shaver, Huntington, & Millerton lakes, & kings & San Joaquin rivers. We are also Close to kings canyon & Seqouia national parks & the historical school house restaurant. We are only a couple miles away from highway 180.
There are beautiful mountain views and a tranquil country setting. Quick access to the main highway, lakes and parks. There is a large pool, basketball court, fire pit and courtyard for your use. The TV has cable.
I love the quietness and views.
Tipus d'habitació
Habitació privada
---
Tipus de propietat
---
Capacitat
2
---
Dormitoris
Sanger, Califòrnia 93657, Estats Units
A spacious, private bedroom with a new comfortable mattress that is the perfect place to rest and relax while you enjoy Fresno/Clovis area or make your way to beautiful Yosemite, Sequoia National Park and/or Devil Postpile. We are very close to the Fresno airport with only 6.5 miles in distance. Our place is good for couples, solo adventurers, and business travelers. The house locates in very Safe & New housing Gallery Community. We will make you feel at home when staying in our lovely house.
Hoan and Tu were wonderful hosts. The room was clean and comfortable. I have only good things to say about them. They are very nice people.
Bruce
2017-01-15T00:00:00Z
A little bit hard to find the place, because (SENSITIVE CONTENTS HIDDEN) maps don't guide us to the right direction but it's OK, hoan's House is big and in a very safe place. Very nice host hoan, help my gf to get her classes after we check out.
wei
2016-11-11T00:00:00Z
Nice place , very quiet and very neat
Mohamed
2016-12-09T00:00:00Z
Sehr freundlich aber leider nicht sauber wie beschrieben. Gute Lage. Fremde Haare und Krümel im Bett. Ebenfalls Haare und Schamhaare im Badezimmer!
Nadja
2017-01-08T00:00:00Z
Good, clean house. A little confusing to find Thanks Hoan!
Bharat
2016-12-27T00:00:00Z
The neighborhood was quiet and clean. The room was nice and neat, bathroom close by.
Amanda
2016-11-22T00:00:00Z
Joan and Tu provided a quiet, safe, clean place for me to stay at while in Fresno. I'd recommend them to anyone.
Clare
2017-01-24T00:00:00Z
A very beautiful home placed in a serene, quiet neighborhood. Kindly greeted by Tu. The house is tidy and the room was thoughtfully prepared! There was already a brief brochure of nearby restaurants placed on the table, a water pitcher along with a clean glass in case I am thirsty, and a dry bath towel. Overall, a very pleasant experience!
Richard
2017-02-08T00:00:00Z
Tipus d'habitació
Habitació privada
---
Tipus de propietat
---
Capacitat
2
---
Dormitoris
Clovis, Califòrnia 93619, Estats Units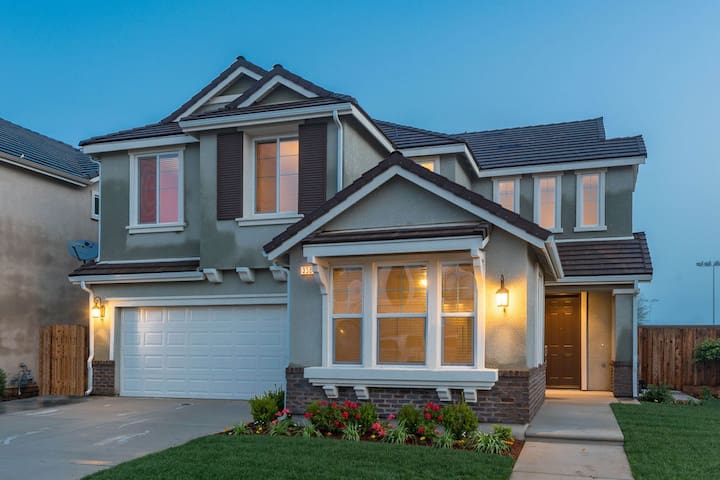 This beautiful home on 7.5 acres incites the central valley feel. Surrounded by almond orchards in the front, and a huge backyard with a great view of orange trees in the distance. Only a short drive into Clovis, Fresno, Shaver lake, and Yosemite!!
Be very careful using the pull-out sofa bed, it IS broken. With that said, if you can pull it out right and lie still, it is possible to sleep on there succesfully.
The host canceled this reservation 26 days before arrival. This is an automated posting.
Scott
The host canceled this reservation 38 days before arrival. This is an automated posting.
Mainag
Michael's places was nice and private, full kitchen to do all the cooking, great view. Thanks Michael
Ricky
2016-12-22T00:00:00Z
this house surrounded by farms. very quiet. : )
Charlie
2017-01-09T00:00:00Z
Tipus d'habitació
Casa/pis sencers
---
Tipus de propietat
---
Capacitat
7
---
Dormitoris
Clovis, Califòrnia 93619, Estats Units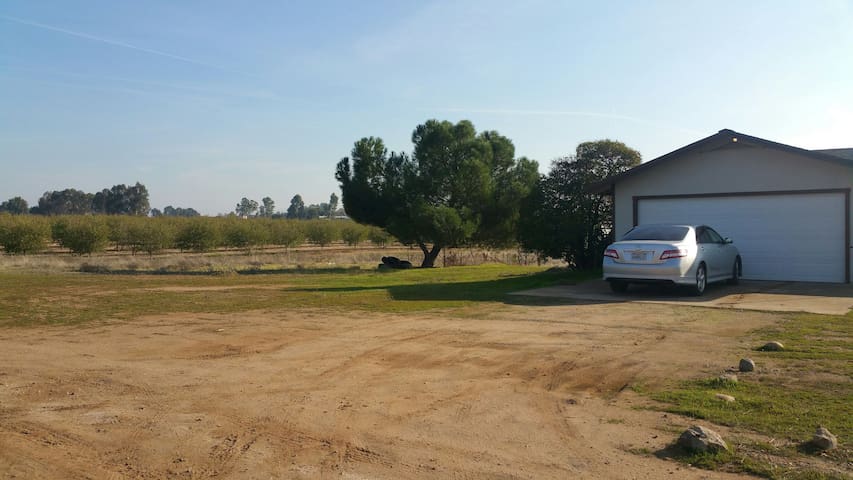 Great place to relax at and rest your head while visiting the Central Valley. Whether for a wedding, trip to the National Parks, visiting family or just checking out Fresno, let Home McG be your base.
Great house and great location.
Sheila
2017-01-09T00:00:00Z
Great house! Great hosts! Totally recommend this listing!
Paul
2016-12-13T00:00:00Z
Awesome home! Big, spacious and so organized. Would recommend this place to anyone wanting a nice place to stay.
Ronald
2017-01-26T00:00:00Z
Beautiful home for a relaxing stay. My first Airbnb stay and Farah made it relaxing and enjoyable. I would highly recommend this home for your stay around Fresno.
Stan
2016-11-23T00:00:00Z
Great house, even better than I expected. And Farah was incredibly friendly and helpful. Definitely recommend!
Ryan
2016-11-09T00:00:00Z
Lovely house..very clean and spacious. Would definitely stay again.
Erica
2017-01-05T00:00:00Z
Clean, well-kept house in a nice, quiet neighborhood. The house had everything we needed and more! It was a wonderful, comfortable place to stay and we look forward to staying there again.
Liz
2016-11-28T00:00:00Z
Tipus d'habitació
Casa/pis sencers
---
Tipus de propietat
---
Capacitat
6
---
Dormitoris
Fresno, Califòrnia 93737, Estats Units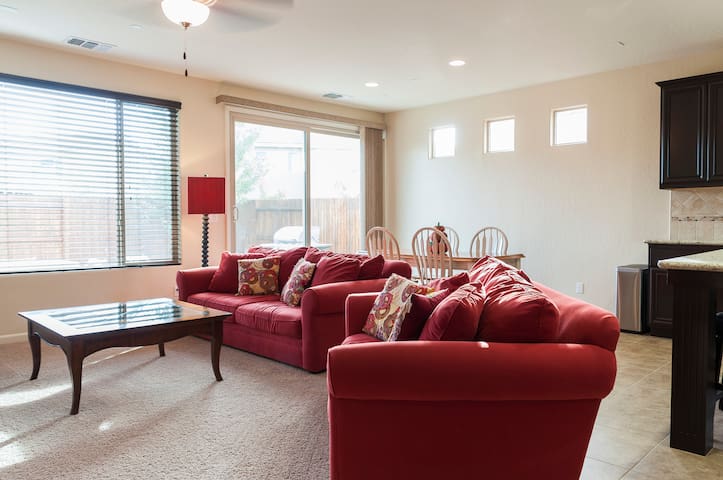 Introdueix les dates per veure el preu total. S'aplicaran tarifes addicionals. És possible que també s'apliquin impostos.