I bedroom, 1 toilet and bath with hot and cold shower, refrigerator, microwave, hot water kettle, cable tv and WiFi. The apartment complex has a connecting walkway to the shopping mall, grocery, cinema and restaurants.
The room has a veranda to view the night sky.
Grass Residences is right behind SM City (Shopping, food, cinema) Mall. This condominium complex prides itself with the feel of nature even at the heart of the city, with trees, grass, and blue pool water. It's has a park where you can relax and play.
The host canceled this reservation 22 days before arrival. This is an automated posting.
Concepcion
2015-10-11T00:00:00Z
I just would like to say thank you for allowing us to have a very wonderful stay. Everything was fine and i will surely go back and recommend this to my family, relatives and friends
Mike
2016-12-01T00:00:00Z
Thank you Ate Penn for being so accomodating. We really loved our stay and it felt like we are home. It has also a great view from the veranda. The place is clean and got everything that we needed. This is definitely a place we would come back to stay again. I highly recommend the host and unit.
Ivy
2015-12-05T00:00:00Z
...good deal...host is very accomodating and highly informed...good wifi...clean placa, hot shower, balcony, I will recommend and will again stay in this place next time....two thumbs up.
Ruben
2016-02-29T00:00:00Z
Hi Ms. Josephine! Thank you for letting us stay in your place for the second time. The place is very clean, location is very accessible to shopping centers and in EDSA. Definitely the best place to stay when you are in Quezon city! :)
Andrea
2016-03-13T00:00:00Z
Nice sweet smelling place with cool accomodating host!
Christine Carmelle
2016-07-05T00:00:00Z
Very great place! Owner is very nice too
Jepay
2016-06-21T00:00:00Z
Ms. Josephine made my first airbnb transaction a good experience! Her place is so nice. And she's very accomodating too. Will definitely go back soon. Thanks!
Kathleen Joy
2016-07-15T00:00:00Z
Tipus d'habitació
Casa/pis sencers
---
Tipus de propietat
Pis
---
Capacitat
2
---
Dormitoris
Ciutat Quezon, Gran Manila, Filipines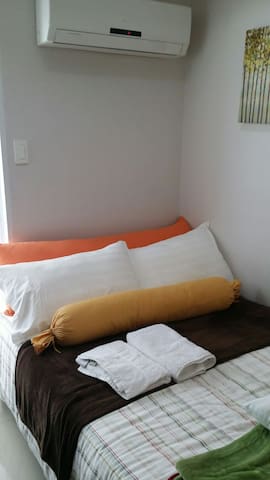 This one bedroom property at the Grass Residences Condominium boasts country club luxury resort living but just a few steps away from one of the biggest SM shopping centres in Manila.
This fully furnished one bedroom condo has been tastefully designed and decorated. Perfect for couples. We have an 8 inch premium luxury mattress beautifully covered with clean and modern sheets. The living room has a sofa bed. There is a 1.5hp split type air conditioning system in the bedroom and a ceiling fan in the living room. There is also a (relatively) massive 40inch cable TV, with almost 100 channels to choose from. Guests will have access to FREE high speed WIFI. There is a balcony overlooking 180 deg of city views! Kitchen is equipped with basic cooking facilities. Bathroom has fully automated shower heater and a bidet. Towels and basic toiletries are also provided.
The condominium building is very secured. Friendly security personnel everywhere in the area. Also being so close to a really big mall comes in very handy as almost anything you could possibly need or want is just literally next door
Like the condo, its clean, safe bridge connected to the mall, location is central to amenities, condo facilities and theres always taxi just outside of the property. Highly recommended.
Alex
2015-04-12T00:00:00Z
The unit is perfect for short and long term stays. I was greeted and welcomed by Kuya Dindo, who by the way was a star. The check-in was a cinch. The flat was clean and well prepared for my stay. It is strategically located near SM North Edsa and Trinoma. I had a lovely stay. Highly recommended.
Tj
2015-08-20T00:00:00Z
Thank you very much for making our stay in your unit a very comfortable one. The place is very much accessible to everything we need to do while in QC. The place is nice and clean. We saved a lot for taxi rides. How I wish we can always stay in your unit whenever we'll be there to visit our students.
Elcid
2015-06-11T00:00:00Z
It's comfortable
Bo
2017-03-11T00:00:00Z
We had a pleasant time at Kr's condo. It was clean and cozy. The first thing I marveled at was the view from the balcony, you can actually see the Manila Bay(!). Dindo was most helpful and a very pleasant person to deal with. I had a great time swimming in the pool. Best time is early in the morning. The pool was all mine :)
Vida
2015-05-17T00:00:00Z
I had a great time in kr's place. Nice and clean room. Near mrt, public transpo and also there is a connecting bridge to the mall. Good accommodation from the host, always there for any queries. Good experience! Budget friendly! And very flexible time for check in and out. Thumbs up!
J
2015-02-02T00:00:00Z
The place is so close to shopping, eating, cinemas and you feel very safe as you have your own walk way going to and from the unit with security guards at all times. To top it all the whole place is so clean. I can recommend it to anyone!
Leigh
2015-01-23T00:00:00Z
Kr was very accommodating and responded quickly to all my inquiries! Great host!
Shannon
2016-07-19T00:00:00Z
Tipus d'habitació
Casa/pis sencers
---
Tipus de propietat
Pis
---
Capacitat
3
---
Dormitoris
Ciutat Quezon, Gran Manila, Filipines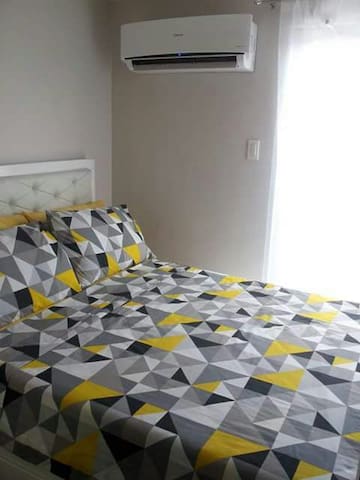 1 bedroom unit condo w/ toilet, kitchen, sala space and balcony. Can accomodate 2-4 persons, walking distance beside SM North and Trinoma. Can also use other condo amenities such as swimming pools and gyms (for a separate fee).
Richard's unit is accessible to almost eveything u need in a city life.
Bem
2017-03-16T00:00:00Z
Worth the money, nice room and very accomodating host.
Jemace
2017-03-27T00:00:00Z
Great host. Clean and nicer place in personal than in pictures. Mom and dad were relaxed and enjoyed the staycation. Will definitely book for longer days next time.
Princess
2017-03-26T00:00:00Z
we had a great stay here! the place is very comfy and the host is very accomodating. Highly recommended.
Tzam
2017-03-08T00:00:00Z
Richard is very accomodating. Though I booked the unit for my friends to stay overnight , he allowed us to do the prep shoot for my daughter here and The unit is very nice and suited for bonding with family friends. His mom is also very nice who welcomed our group and made sure that we will have a wonderful stay. Two thumbs up!
Jennifer
2017-03-19T00:00:00Z
Richard is absolutely a great host. He's very responsive and finds a way to have a more easier way of communication. Definitely highly recommended.
Efren (Ej)
2017-03-06T00:00:00Z
Great host, great location!
Jelourd
2017-03-02T00:00:00Z
Nice and spacious!
Tin
2017-03-25T00:00:00Z
Tipus d'habitació
Casa/pis sencers
---
Tipus de propietat
Pis
---
Capacitat
4
---
Dormitoris
Ciutat Quezon, Gran Manila, Filipines
Exclusive bridgeway connected to SM NORTH EDSA Near MRT Station Furnished 1 Bedroom Condo Unit w/Tiny Kitchenette Wi-Fi, TV Cable DVD player W/ 6 Outdoor Pools ;1 Olympic size ,2 Adult & 2 Kiddie Swimming Pools Free FITNESS GYM,Badminton Courts
3-4 persons can comfortably stay. The Unit is located at the 8th flr accross the room is a fire exit.The room have 1 queen bed,1 sofa bed and complete kitchen utilities.Enjoy the magnificent view of the outdoor pool from the hallways.
Tower is next to one of the largest malls in the Manila. Secured and homy space, new unit and nicely maintained.
Me and my girlfriend had an amazing time here. The unit is clean and basic amenities are provided like microwave, rice cooker, electric kettle, and a kitchenette where we cooked breakfast everyday. There is wifi and cable tv for those days when you just wanna stay in. Access to pools and fitness gym are also free of charge. The building is super convenient being next to SM mall. Charlyn and her husband Richard are excellent hosts, very welcoming and provided prompt response on queries. Not much to improve on as it was already worth it's asking rate. I won't hesitate to recommend it to friends and will definitely come back whenever I'm in the city.
Nilo
2016-09-16T00:00:00Z
Charlyn Ann and her husband Richard were excellent hosts. They were very attentive to our needs and provided good service. I will have no hesitation in recommending their apartment to those looking for an affordable place to stay. It was simple but clean. Security is tight as no one can come in and out of the premises without written notice from tenant. I will stay there again if the need arises.
Andrew
2016-05-28T00:00:00Z
The unit is good ,in a good location,inside is quite basic but but ok,Charlyn is a good host,i would recommend staying there.
John
2016-11-05T00:00:00Z
Charlyn was very accommodating to me & my sons. Her husband picked- up the dirty linens & replaced it with clean ones. They see to see it that we're comfortable & responds immediately to all our needs. I would highly recommend this condo to everyone. you will also enjoy great amenities. We would love to rent this unit again.
Juvie
2016-06-11T00:00:00Z
The place is quiet, very convenient, walkable to shopping, transportation and located in the lower floors of a high building. The owner is a concerned person and communicates easily.
Eli
2016-11-24T00:00:00Z
Charlyn was very responsive in emails. While I wasn't able to meet her in person, her husband was friendly and welcoming. The space is just right for what I needed: a place to rest. Everything worked well. Plus it was close to the mall. They are great hosts.
Ian
2016-06-29T00:00:00Z
Over all stay was great.
Emil
2016-10-19T00:00:00Z
Ok wanted to sit down and write this review lol. (sort of take my time I travel allot.) Anyway I had a great stay at this place. Ill start with the host they are a cute family with young babies. They met me when I came wayyy too early and were very friendly. I needed to get to another city and Gerald (I think his name is I'm bad with names) drove me two hours to the other city. I did not even ask he offered. So what I'm saying the host will do everything in there power to make sure your stay is relaxing. The condo itself is great but the best part is if you sneak up to the roof and take pictures and enjoy the view. Its one of the largest buildings in the area so you can see all of manila its freaking beautiful. The condo was clean and had everything I needed. It has one bed and a pull out bed for guest. Also has a nice stove and nice bathroom that they upgraded while I was there. So you get an even better experience. The complex is freaking beautiful like seriously I'm not kidding check the place out if you don't believe me with he 3rd largest mall in the world attached to it that's freaking insane. Long story short I had a blast and will be back in about two months.
Clarence
2016-05-08T00:00:00Z
Tipus d'habitació
Casa/pis sencers
---
Tipus de propietat
Pis
---
Capacitat
4
---
Dormitoris
Ciutat Quezon, Gran Manila, Filipines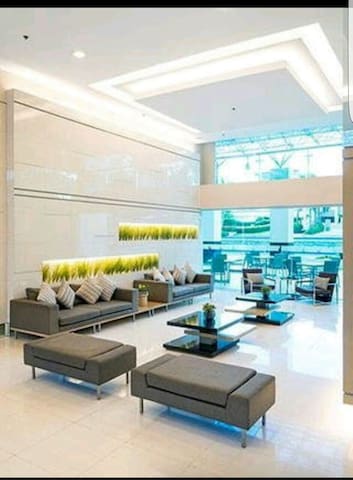 Fully furnished 1-bedroom condo w/ balcony @ SMDC Grass Residences. We are the most affordably-priced unit of the same category in the area and are way cheaper than hotels. A real WIFI connection (not just pocket), cable TV, hot/cold shower, and split-type aircon! UNIT located at Tower 2. Walking distance to the Malls and very close to the gates which really is a good place to request a ride (TAXIs and TRICYCLES).
Comfort of city life defined! Enjoy the full benefit of the living and lifestyle that my place offers. The condo is designed to create that "feel at home" atmosphere where one can have a good night sleep after a hectic day of doing business, or exploring the city, or just spending the day to relax, have fun, and "chill" out. You will be renting the entire unit so you will have a complete privacy. The building staff and security personnel are polite, friendly, very helpful, and most of all, very respectful. It also has 24-hour security.v
This condo is an excellent choice for everybody visiting Metro Manila, particularly Quezon City. This place is perfect for tourists, business travelers, couples, and students. But the biggest "catch" to this place is its proximity to SM Mall and Ayala Mall Trinoma where you can find the best in shopping, dining and entertainment. There is even an exclusive and covered foot bridgeway connecting to SM Mall so you are safe even if it is raining. Close to prestigious colleges, hospitals, and government agencies and offices. Minutes Away From: Philippine Science High School Dept of Education St Francisco High School Ateneo de Manila Philippine Women's University St. James College Our Lady of Perpetual Help Parish Church Christ the King Philippine Heart Center National Kidney and Transplant Institute SM North Edsa Malls Ayala Trinoma Malls
Brenda was very helpful from the beginning to the end. She was always available to assist me and made sure I had a comfortable stay. Her place is very clean, organized and equipped with everything I need. I didn't experience any inconvenience and she even made sure I had a blender which I requested before my check-in. I'm very thankful to her and in the future I will definitely stay at her place again.
Chris
2016-02-18T00:00:00Z
Place was awesome! The host and the caretaker were friendly and easy to communicate with! Definitely, will be staying with them again!
Darell
2016-12-05T00:00:00Z
Very cozy place. Good location and good value for money. Brenda answers every question promptly. Will definitely stay again. :)
Jonathan
2017-01-21T00:00:00Z
Nice clean and accommodating
Moeun
2017-01-16T00:00:00Z
Brenda's place is very accessible to SM North Edsa and Trinoma. The place has an outstanding view of the city at night. Will definitely book this place again.
Elvin
2017-03-26T00:00:00Z
Brenda was able to give me a smooth transaction despite my same-day booking. I'm glad I was able to book her place at a time when I wanted a short break in the city. What I love most about her unit is the great view of the city, especially at night. The place is also complete, with wifi and cable.
Sharlene
2016-09-15T00:00:00Z
My family and I had a great time at Brenda's unit. All you need to bring with you when staying at her place are clothes, bath soap and shampoo. Everything's in there. Towels are also provided. She was able to answer all my questions and concerns. Her cousin, Betty, helped answer all my concerns as well. There's also a first aid kit ready. I already referred her to my friends. I would definitely contact Brenda again when I plan on having another staycation. :-)
Whitney
2016-05-25T00:00:00Z
Great place, clean - small but very convenient as it is close by to SM north (one of the larger shopping centres). The place has incredible views of Quezon City
Sam
2017-02-04T00:00:00Z
Tipus d'habitació
Casa/pis sencers
---
Tipus de propietat
Pis
---
Capacitat
4
---
Dormitoris
Ciutat Quezon, Gran Manila, Filipines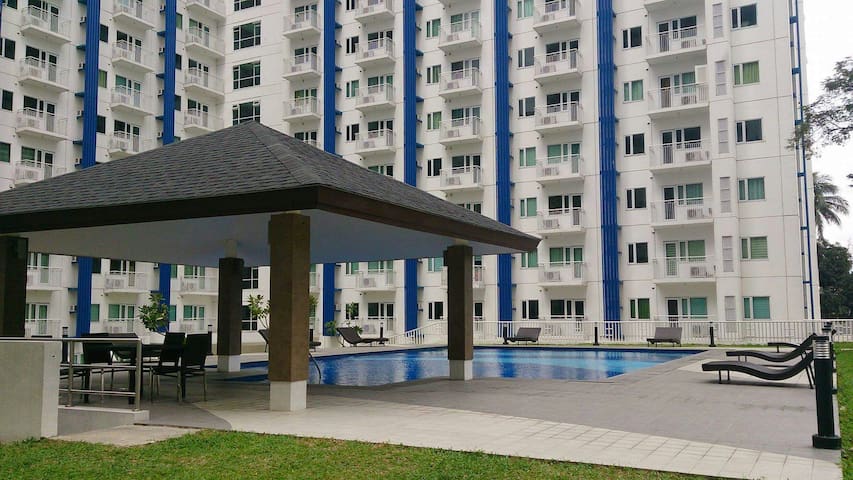 Best Location in QC near shopping malls and transport hub
24 sqm fully furnish apartment
Walking distance to SM North and Trinoma
I booked for my friend Dr. Wu to stay. He commented overall good stay, except he had to come to get soap and toilet paper from me. Jian
Jian
2017-03-11T00:00:00Z
We had a very comfortable stay at Ram's place. Transactions with Mr. Gene and Ram is very easy and fast. Grass Residence is also very strategic and convenient in terms of security, transportation and leisure activities.
Shele
2016-07-31T00:00:00Z
入住当天因为菲航误机及大马尼拉市的繁忙交通,直至次日凌晨一两点钟才入住,Gene Rufino一直耐心等待,还带着我熟悉出入路径(包括前往泳池、gym和SM shopping mall)。check out当日也特地带我去乘坐MRT。总体来讲Grass Residences是不错的大社区,studio里面也基本设施齐全,我有四天时间的早中晚饭都是自炊自煮。出入安保方面管控较严,所以安全还是有保障的。再次感谢Ram和Gene!
DI
2016-08-18T00:00:00Z
The place is perfect. A one stop shop. Accessible to everything and amenities are complete. Ram communicated with me very well and given full privacy to my stay. The place is perfect for single traveler and couple. Gene, Ram's PA/agent was very helpful and respectful as well. The only minimal problem is parking during my stay. You have to park your car in the mall and walk about 15 minutes to be at your place but it was explained in their listing. Now they have available valet parking in the vicinity. I will stay in this place again given the chance. Highly recommended for future travelers.
Paul
2016-08-12T00:00:00Z
Tipus d'habitació
Casa/pis sencers
---
Tipus de propietat
Pis
---
Capacitat
2
---
Dormitoris
Ciutat Quezon, Gran Manila, Filipines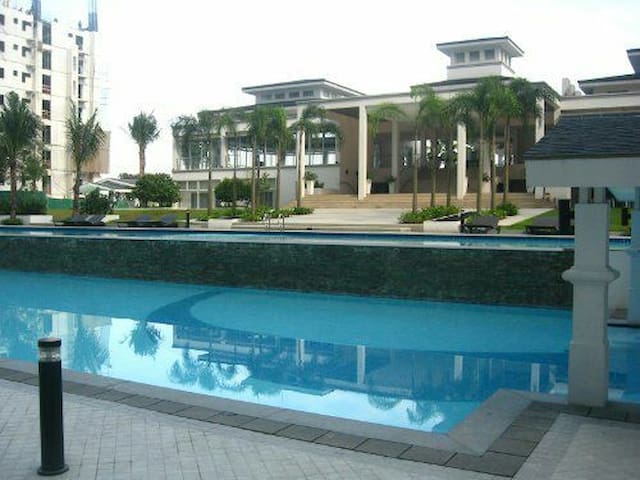 Grass Residences offers a refreshing oasis located within SM North Edsa Complex in Quezon City's commercial and shopping hub. It offers a 5-star condotel facilities such as club house and pools, 24-hr security and accessible to all mode of transport.
Grass Residence is located at the heart of bustling Quezon city and yet offers you a country-club accommodation. It is surrounded with lush gardens and trees providing you a refreshing and relaxing view. It also has a 24-hour security and the unit is secured with double locked door.
The neighbourhood is safe and friendly. It is linked to SM North Edsa providing you a variety of options for your shopping, dining and entertainment.
I had a great stay. This was my first air bnb experience and it could not have gone better. Joy is a great host and will make sure your stay goes smoothly. She even accommodated a last second late checkout request at no charge. The apartment itself is compact but comfortable for 1 or 2 people. Not advisable for families. The apartment is very nice, hot water works well and everything works well. The amenities are really great. I used the indoor basketball court every second day and found games and met people regularly. I didn't use the pools but there are many and they are not crowded. If you are looking for a vacation to relax and stay in the complex this is a fantastic choice. Highly recommend. Good experience. Thanks joy.
Royce
2015-11-14T00:00:00Z
My family enjoyed our stay at Ms. Joy's place. The size of the place is good enough for a couple with 1-2 kids. It is clean & new. Very accessible to mall for shopping. My kids enjoyed swimming. We feel safe all the time. The crew were very polite. We will definitely go back & stay at grass residence. Hope the parking issue will be resolved soon. Thank you ms. Joy for accommodating us even for a short period of notice. God bless you more.
Carolyn
2015-03-01T00:00:00Z
For my first time in the Philippines/Manila I could have not have asked for a better experience. The condo was nice, clean, and cozy. Joy M was extremely helpful and highly interested in providing an all-around great stay. And the highly secure Grass Residences location, just a short walk to one of the largest Malls in the country, provided everything else that I needed during my stay. There are probably over a hundred different food choices and a full supermarket (that helps deliver) just a short private skybridge walk away. There is also a full bus terminal attached to the front of the mall if you are looking to go other places affordably. All and all, I had a wonderful time staying there and I highly recommend Quezon City.
Todd
2015-09-13T00:00:00Z
Joy was very accomodating by agreeing to meet us at the apartment way before check-in (URL HIDDEN) thank you Joy the only disappointment was the lack of wifi in the apartment, althought there was pocket wifi available, the signal was very poor and sometime noneat all. 12 days into the stay, the load on wifi ran out and as a tourist i did not know the proceeduer on how to relaod, so i had to buy my own. The accomodation had everything needed in regard to cooking utensils, but only one bed sheet for my stay of 20 days, As we booked for 2 people, there was only one towel available. The sliding door between the seating area and bedroom malfunctioned. Joy did check in with us, through Viber (but could only retrieve that when i bought another pocket wifi) i would rebook Joy's apartment if the broadband issue could be sorted out. i would then also recommend it to others.
Fazal
2016-01-03T00:00:00Z
We enjoyed our stay at Joy's place. Although we didn't get to meet her personally but she made sure we were well accommodated and were comfortable. Communication was great too! The pool was great and the bridge to the mall was very accessible. If you don't feel like walking, there are tricycles that you can flag down and will take you to SM north for only 25 pesos. We also got to park overnight at SM Annex which again was in close proximity to the tower we stayed in. I highly recommend this place.
Sheila
2016-02-27T00:00:00Z
In a word: Awesome This has probably been my best AirBnB experience to date. I was previously a host on AirBnB with dozens, if not hundreds, of interactions with other AirBnBers. After having stayed at Joy's condo, I can say without hesitation that the overall experience has been my favorite AirBnB experience to date. The Condo: The place is brand new. I mean, literally brand new. The building itself is meticulously managed and maintained. There is 24 hour security on the grounds. It is located directly next to SM North Mall, which is a major convenience. Finding a taxi or other transportation is extremely easy from the condo. (Taxis are very, very cheap in Manila too!) The Host: Joy's mother picked the right name for her. She is a joy to be around! A very sweet and accommodating person. On several occasions, she went above and beyond my expectations in recommending places to eat and things to do...including my trip to one of the countries beautiful islands! Joy is resourceful, responsive, accommodating and just plain friendly. You couldn't ask for a better host! There are so many other great things to list about my overall experience with this host and the condo...but I am running out of space! In short: If you are going to be staying in Quezon City, this is the place to stay(URL HIDDEN)
Devin
2015-03-06T00:00:00Z
Joy was very kind and helpful. She made sure that everything is going well during our stay. My family and I had a great time staying at her unit for 9 nights. Considering that it was our first time using Airbnb and was skeptical about it at first. The place was cozy and comfortable. Very convenient because its only a few steps away from the Malls. Will definitely consider staying here again when we go back to the Philippines. Highly recommended!
Jaja
2016-02-07T00:00:00Z
Its was very nice to stay here. Its well accommodated and clean. This condo has a proximity advantage to the sm north, and safe with many guards. Most off all, it has a big swiming pool,and there are many peopel enjoying swiming. I also played basket ball in the basket court. The owner is very kind. Whenever i asked her something i dont know about the owner helped me. Thanks
Seo
2015-02-26T00:00:00Z
Tipus d'habitació
Casa/pis sencers
---
Tipus de propietat
Pis
---
Capacitat
3
---
Dormitoris
Ciutat Quezon, Gran Manila, Filipines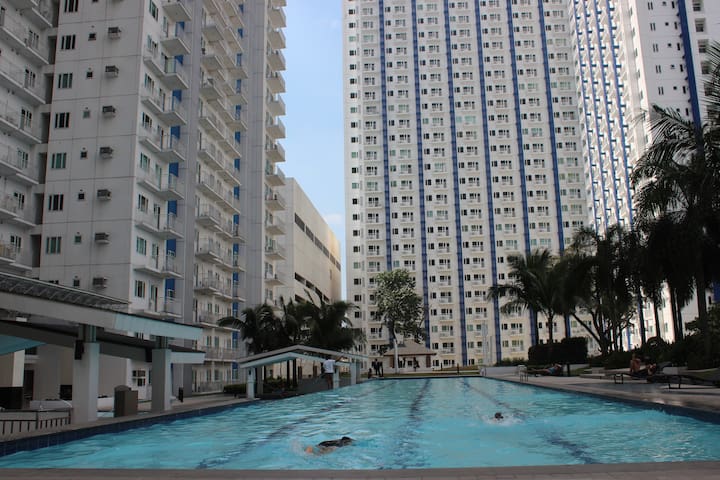 This FULLY FURNISHED UNIT with its ELEGANT NIGHT VIEW of the amenities will make you feel right at HOME. This one bedroom property is located at the Grass Residences with COUNTRY CLUB LUXURY RESORT LIVING situated just a few strides away from the WORLD'S 3rd BIGGEST SHOPPING MALL with over 1000 shops! The SM City North Edsa in The Philippines! It's COST EFFECTIVE compared to hotels and is CENTRALLY LOCATED Feel SECURE, RELAXED, and experience country club luxury living in the HEART OF THE CITY
This FULLY FURNISHED one bedroom condo unit is a COZY, PRACTICAL and COMFORTABLE place to stay! PERFECT for HOLIDAY makers, BUSINESS TRAVELERS , COUPLES or a SMALL FAMILY travel too! We have a double size with GUARANTEED FRESH Linens! 4 Pillows along with blankets/comforters. we also provided a PREMIUM LUXURY MATTRESS beautifully covered with clean, modern and stylish sheets. THE LIVING AREA day bed easily converts into a sofa bed for 2 in just 1 step. A 1.5 HP window type air conditioning system cools the bedroom and a support tower fan is given in the living room. A massive 45' inch TOSHIBA SMART LED TV with HD CABLE connection is ready to entertain you! Guests will have access to FREE Fast Unlimited INTERNET THE UNIT boast an ELEGANT NIGHT VIEW and a SUPER RELAXING DAY VIEW of the amenities area from your window. THE KITCHEN is fully equipped with cooking facilities. We have provided a RICE COOKER, ELECTRONIC KETTLE, REFRIGERATOR, set of POTS and PANS, and essential utensils. COMPLIMENTARY BREAKFAST -- Upon check in we also provide you with an awesome Loaf of bread, sandwich spread and coffee!, Just a little extra from us! = ) THE BATHROOM features a fully automated SHOWER HEATER and a BIDET. HAIR DYER, FRESH TOWELS, SOAP, SHAMPOO, and COTTON BUDS are also provided. This particular unit has a Samsung 7KG AUTOMATIC WASH & DRY machine for your personal laundry. 24-hour SECURITY, 7 DAYS a week. Unit Updates From Jan 12, 2017 enjoy; - HD Cable TV - Unlimited 3MBPs WIFI Internet From Nov. 18, 2016 - Fully Stacked Kitchen - Sets of Pots & Pans - Cooking Utensils
Practical, Safe, Secure and Relaxing, Staying literally besides the Philippine's biggest mall and the world's 3rd largest mall can be very handy specially if you can easily walk to get what you'll ever need. The SM Sky Garden provides a nightlife avenue and walk way connecting to other malls in the area like the SM Annex, The Block and Trinoma. The condominium building is surrounded by friendly security personnel almost everywhere in the area. The place might be centrally located but you will be amazed on how cozy and quite it can get once you get inside the secure compound.
Daryl and Pam unit was amazing and great place so clean and all you needed was there Very close to the shopping mall but the thing is I haven't tried to check the gym coz i was so busy for my other meetings to be doneI highly recommend the D&P unit great place to stayI will definitely coming back !and dra. Pam gave me discount for my dental appointment . Thank you again !
Lovie
2016-12-22T00:00:00Z
great condo, just basic and comfortable, only on the 7th floor.
John
2016-11-17T00:00:00Z
The location is very accessible. The room itself is very cozy and really clean. Hosts are really nice and and easy to talk to. The only downside is the pocket wifi. It gets really slow if you connect at least 2 and more devices. It is only a pocket wifi so couldn't expect more. Apart from that, everything's great. Amneties are availble for all the people stayin at this condo. No top up payments and such. Guards are welcoming and very helpful! Given that I easily get freak out! The bridge connecting to sm mall is pretry safe use! It shuts at certain time though! So if you're coming from skygarden, drunk or sober, at 2am onwards, you'll have to go to the normal path otw to the condo!! (Gate entrance) We really liked staying here! Almost everything that you need in a room are here! Couldn't be any better! Thanks to our hosts!!
Annie
2016-12-11T00:00:00Z
The place was nice and good..
Charlene
2016-09-23T00:00:00Z
Clean, cozy, and conveniently located, D&P's place is a home away from home. My partner and I enjoyed our stay at their place.
Anne-Di
2017-02-25T00:00:00Z
Would definitely stay here again. Very convenient location and hosts very accommodating and quick to respond to queries. Amenities in complex great. A comfortable place to come home to at the end of the day. The kitchen amenities are rice cooker, small pan (15-20cm diameter) and microwave provided. Can't really cook a meal - maybe just egg / fish and rice - but restaurants close by in mall and eateries in surrounding streets.
Louise
2016-11-11T00:00:00Z
D&P's place is really cozy. We had a great time and a hassle free vacation. The place is as described and has a wonderful view of the pool. They have a large TV for entertainment, water heater, microwave, cookware and basic supplies which is very convenient. What they offer easily beats out what more expensive hotels can offer. Would love to stay at their place again and would recommend to friends and family. :)
Angelo
2016-08-30T00:00:00Z
The place is conveniently located across SM North, which is a big shopping center. The amenities in The Grass is awesome. The living space itself is recommendable for 1-2 persons, but more than that would be a bit of struggle on space. Best also to just get food outside. The host, Dr. Pam, is actually very nice and accommodating. She even offered us a discount in her dental clinic :-)
Joyce
2016-10-12T00:00:00Z
Tipus d'habitació
Casa/pis sencers
---
Tipus de propietat
Pis
---
Capacitat
4
---
Dormitoris
Ciutat Quezon, Gran Manila, Filipines
Experience luxurious condotel in the heart of Quezon City. Beautiful Fully Furnished 28 square meters 1 Bedroom with BALCONY Condominium Unit in Grass Residences 37th floor, Tower 3 with amazing view of amenities and city, Free WIFI and cable TV. The apartment is very bright and has modern design.
Posh fully furnished one bedroom apartment with BALCONY. This unit is very accessible just behind SM City- North Edsa, and has a connecting bridge way from the property to the mall. Very Bright and sunny , beautifully furnished, located in Tower 3 , on the 37th floor , offering a magnificent view of the city and amenities from the balcony. The living room has a 32 inches television which is CABLE ready, Dvd player, sofa bed which can accommodate extra guest to sleep. Has a dining table with 4 chairs. The kitchen is equipped with fridge, stove, microwave oven, electric kettle, rice cooker, cutlery, plates, pots and pans. The bedroom has a double size bed , side table, lamp , mirror cabinet , built in closets with clothes hanger. The bathroom has a walk in shower with water heater, a bidet, mirror, storage rack. Towels and bedroom linens is provided. WIFI internet in the apartment has a speed of 2 MBPS and is unlimited. Television has Local and International Channels.
Excellent location , next to SM City North Edsa. The building is connected by a bridge way to the mall. Very safe area . Easy to find.
Cute place at a very convenient location. I checked in late because of a late flight and the host accommodated this for me well.
Franchesca
2016-08-26T00:00:00Z
Great place to stay in Metro Manila--easily accessible to almost anything
Russell
2016-11-14T00:00:00Z
The whole experience was exceptional, our host Cedric, Armida's brother was very kind and flexible with our check in time. The place is exactly how it looks like in the photos and we just fit perfectly in the unit. Being fully furnished, the unit will have everything you will need for a short or long stay. The area is in the center of quezon city, walking distance to SM north edsa and Trinoma which is one of it's best features. People in the building are very nice and polite. Overall, a very good experience and looking forward to our next booking.
janine
2015-09-06T00:00:00Z
The whole stay was quite and relaxing. The room is clean & cozy. It has a view & accessible to the mall, a doorway to mall. You can stay in the mall the whole day, stress free traffic stay. You can arrange your travel tax, drivers license, one stop shop place. The host is very accommodating & we even extended our stay for 1 day with same price. I'll recommend this place to my friends abroad. Thanks to the host & her brother.
Bessie
2016-09-11T00:00:00Z
Armida's place is indeed cozy and posh. It's a small place but definitely ridy and neat. And very accessible to the mall and the security and employees in grass residence are so friendly and nice. Me and my boyfriend love the place and will definitely stay here again. I absolutely recommend it to my friends.
Ria
2016-05-30T00:00:00Z
I felt so relaxed like our own home, and everything I need was in there. Most of all, the internet was so fast and stable, so I could keep connecting to my work. Also big size outdoor pool was awesome. I strongly hope to stay again!
Jeongmin
2015-11-10T00:00:00Z
So we stayed for 3nights, host and caretaker was nice but we had some issue getting a reply to some texts, other than that everything was great, place was clean and we like how close it is to the mall. We would love to stay again and would recommend it to friends.
Kate
2015-09-11T00:00:00Z
The host canceled this reservation 187 days before arrival. This is an automated posting.
Lenny
2016-04-22T00:00:00Z
Tipus d'habitació
Casa/pis sencers
---
Tipus de propietat
Pis
---
Capacitat
4
---
Dormitoris
Ciutat Quezon, Gran Manila, Filipines
A semi-furnished hotel style apartment with complete facilities and amenities like gym and swimming pool. With high speed WIFI internet and hot shower. Just behind SM North Edsa with a private bridge going to the mall. Easy access to the MRT (train) stations and other public transportation.
SMDC Grass Residence is a hotel style condominium apartment located at SM City North Edsa. Furnished with queen size bed and sofa bed, air condition, hot and cold shower, electric stove, microwave oven, 32 inches TV with ABS CBN black box, high speed WIFI internet, other kitchen utensils, range hood, grease trap and fire extinguisher. Pool and gym access for short stay guest has to pay 150 pesos in the admin office. But for long term stay - 1 month or more is free access to both amenities.
Behind SM City North Edsa just 2 minutes walk away and opposite is Trinoma Mall. Near to ABS CBN and GMA stations, MRT North Edsa Station, Veterans Medical Center, Heart Center, National Kidney Institute, UP Diliman, Quezon City Circle.
Place is very comfy and near in everything. It has an access to the mall. An all access to everything. I'd like to book again once it's available.
Trisha
2016-12-29T00:00:00Z
I only met Mheann's aunt who is caretaker for the unit, but she was very responsive. Mheann communicated via Watsapp and was very responsive as well. Overall, a pleasant stay. THANK YOU
Jose M
2016-11-20T00:00:00Z
Many places to dine in,just a little crowded the area heavy traffic also.
Manuel S
2017-01-08T00:00:00Z
The place is nice and very comfortable. Also, the host is very accommodating and is flexible. Enjoyed my stay. :)
Kim Ardan
2016-10-07T00:00:00Z
Our stay was hassle-free. The host responded quickly to all our queries and attended to our needs at once. The place is well-secured and conveniently near to shops, grocery, and dining places.
Girlie
2016-12-12T00:00:00Z
Location is perfect for everything like shopping, food, transportation etc. Definitely we want to stay here on our next vacation. Great people around us.
Beverly
2017-02-23T00:00:00Z
Mheann's place is a walking distance to SM (one of the biggest malls in the Philippines). The place is ok, good enough for two people.
Jessie
2017-03-26T00:00:00Z
Perfect for our stay and the host was very accommodating. Place was very convenient: all access to malls, transportation, and groceries. very nice! :) would definitely recommend this :)
Ryan
2016-11-11T00:00:00Z
Tipus d'habitació
Casa/pis sencers
---
Tipus de propietat
Pis
---
Capacitat
3
---
Dormitoris
Ciutat Quezon, NCR, Filipines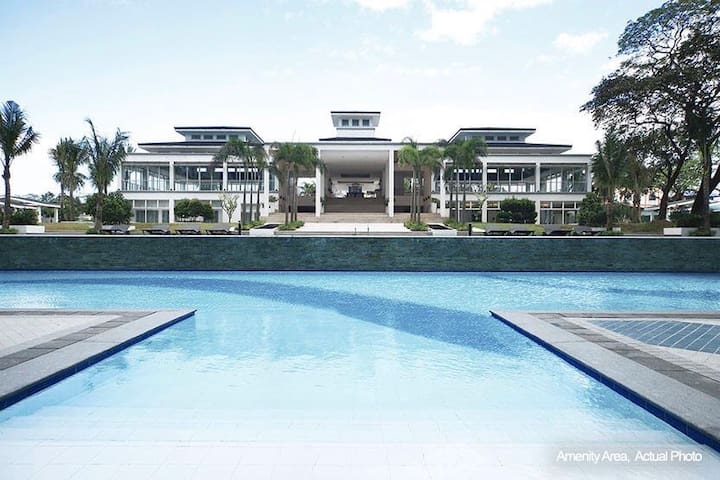 The condo unit is located in the heart of Quezon City, it's close to SM city mall, Trinoma mall and transportation terminals (MRT, Taxi, Bus, Jeepney).
Tipus d'habitació
Casa/pis sencers
---
Tipus de propietat
Pis
---
Capacitat
2
---
Dormitoris
Ciutat Quezon, NCR, Filipines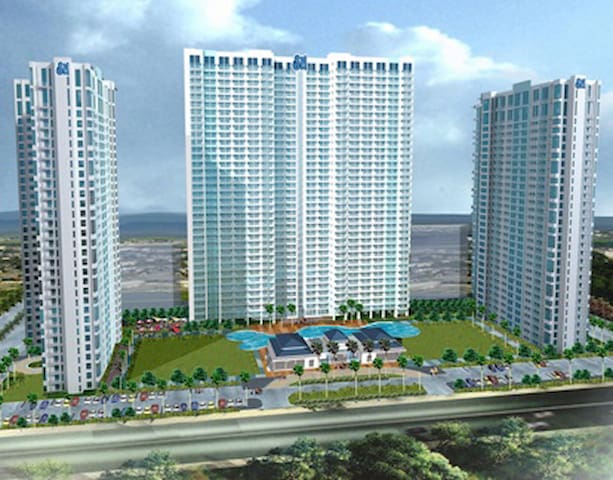 Enjoy green living in the heart of the city. A two-bedroom unit with comfy and homey features. Highly accessible; with bridgeway connecting to SM City North EDSA mall, high-speed elevator, 24 Hr Security with concierge services.
The space is homey and highly accessible to public transport, restos with just a few steps away from the mall.
Best staycation venue ever! Doods was very accomodating with all of our request as well as Mommy Vangie. They're both very kind. All of the 'essentials' that you could possibly need is there. Tons of extra. We really enjoyed our stay. The place is conveniently located near 2 malls so it's very accessible. I highly recommend Doods' place and we'll definitely come back.
Yette
2016-12-12T00:00:00Z
highly recommended
Ana
2017-02-09T00:00:00Z
For the 2nd time to stay on your place absolutely great and perfect. Thanks for giving a comfortable clean and tidy place. Looking forward to stay on your place again. Doods are very accommodating host and understanding. Highly recommended to friends and relatives.
Maritess
2016-01-17T00:00:00Z
Dood's place is the way to go! We were greeted by Mommy Vangie. She is a super sweet lady and she makes you feel right at home. We had no problems with communication during the booking process. They offer a very family oriented environment unit, stocked with everything you will need. Beds are super comfy too. We are definitely coming back. It's a great stay for family and or group of friends.. very homely place to be. Extra beds, pillows and blankets was a PLUS for us. You can't beat this deal. We were very satisfied.
MARYANN
2017-02-06T00:00:00Z
Our family had a pleasant stay at Dood's place. The apartment is just walking distance to the mall, transportation such as train, buses and taxis are easy access. The place is clean, well-maintained, fully furnished kitchen and a laundry washer is a big plus. There is complimentary drinking water and coffee too. We were warmly welcomed by mommy Vangie. We highly recommend this place to anyone who wants a comfortable, homey feel home while on vacation.
Rein
2016-12-19T00:00:00Z
Great place. Upon arrival we were warmly welcomed by tita Vangie. It is spacious and got everything we needed. Highly recommended.
Marjorie
2017-03-25T00:00:00Z
The place is very comfortable and homey. Everything we need was provided by ate vangie. The only problem is parking in the vicinity.but everything went well during our stay.
Natassia
2016-01-11T00:00:00Z
Very good location. You can reach mall, supermarket, public transport, taxi, tricycle very easily. House is clean and well equiped. Everything is working inside (cooling, washing machine, microwae oven. An excellent start point to discover Manila !
Sylvain
2016-11-24T00:00:00Z
Tipus d'habitació
Casa/pis sencers
---
Tipus de propietat
Pis
---
Capacitat
5
---
Dormitoris
Ciutat Quezon, Gran Manila, Filipines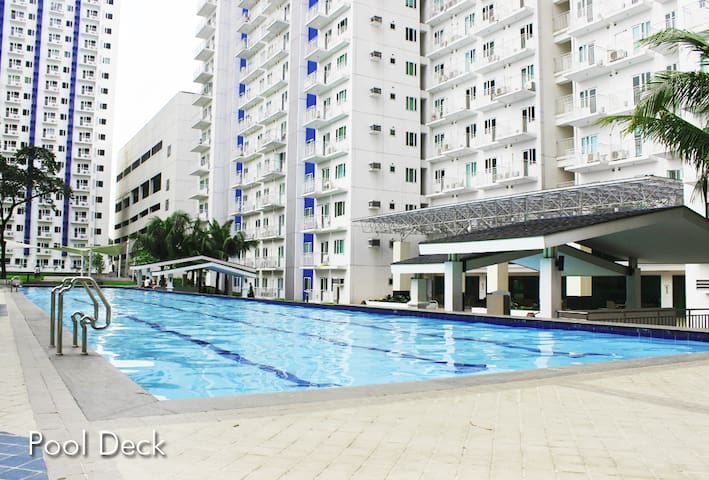 Come home to Grass Residences and experience the best of country club living at the heart of the city.
Grass Residences is a high-rise vertical residential community, set on a 3.6 hectare property of verdant lush gardens and cascading pools. Located within the SM City North Edsa Complex in Quezon City's commercial and shopping hub. It offers the convenience of an exclusive bridgeway that links to SM City North Edsa and is in close proximity to the MRT station.
SM City North EDSA is the first SM Supermall operated by SM Prime Holdings. It is the Philippines' largest mall and the second largest in the world. Close to 1000 ways to shop and dine, with 12 Cinemas with a Sky Dome venue for concerts.
The location is perfect. I'm very familiar with this area that's why we picked Grass Residence. We stayed in Cristina's unit for 15 days. Overall experience was great! We did not encounter any issues during our stay. Previous reviews reported that the Microwave shorting out. This did not happen to us. We were able to use the amenities on the area – swimming pool and badminton. Appreciate the owner have somebody meet us for our late night check-in and the same person came in very early in the morning for our check-out to pick-up the keys.
Jojo
2016-08-07T00:00:00Z
Cristina was an amazing host. Very kind and accomodating. She met is when we got there and when we left. Will definitely stay again when we return.
Luigi
2015-02-24T00:00:00Z
Cristina was a perfect host. She was always friendly and made herself available whenever needed. She allowed my wife to stay late on departure day since she had a late 10pm flight. My wife really enjoyed her time at the condo.
Paul
2016-06-17T00:00:00Z
I've traveled for work and stayed in many hotels over the years. This trip to Quezon City was for Christmas, New Year & Second Wedding Anniversary as well as to spend time with my wife's family for the holidays. This was my second trip to the Philippines. This time I stayed at the Grass Residents found on Airbnb, & it was a 10 plus. The resident was secured 24 hrs & connected to SM North shopping Mall. The room was a 1 bedroom condo with kitchen that included stove, refrigerator & dishes. The condo also has a view of the mountains. Their are 4 pools more like a resort on this property. The condo was truly immaculate. If you are renting a car make arrangements for parking ahead of time. However, their is some parking available. The owner Cristina was very accommodating with our schedule. I felt very comfortable rental her place. When we return to the Philippines, I would definitely make a return stay at The Grass Resident. Allen M (EMAIL HIDDEN)
Allen
2015-01-07T00:00:00Z
Great Condo! Great Location! Great Host! The condo is very clean and properly maintained. Located just next to SM North where transportation, restaurants, supermarket, etc. are accessible. Though, I arrived late due to heavy traffic, Cristina's representative patiently waited for me. I appreciate Cristina's prompt response whenever I had an inquiry. Overall, it was a great experience staying at her condo. The place and host are Highly Recommended! Thank you.
Rusell
2016-11-17T00:00:00Z
Everything went well and the host is very kind and responsive.. :)
Regine
2015-11-25T00:00:00Z
Our flight came in at an unholy hour of 1 am Sunday and Cristina made some accommodation to have somebody meet us at the lobby and made our checking in easy.
VIRGINIA
2016-02-20T00:00:00Z
Had a wonderful stay! Cristina is very nice and accommodating. Condo staff are very courteous. The only problem is that there's no reserved parking area for guests/tenant.
Melanie
2016-01-09T00:00:00Z
Tipus d'habitació
Casa/pis sencers
---
Tipus de propietat
Pis
---
Capacitat
3
---
Dormitoris
Ciutat Quezon, Gran Manila, Filipines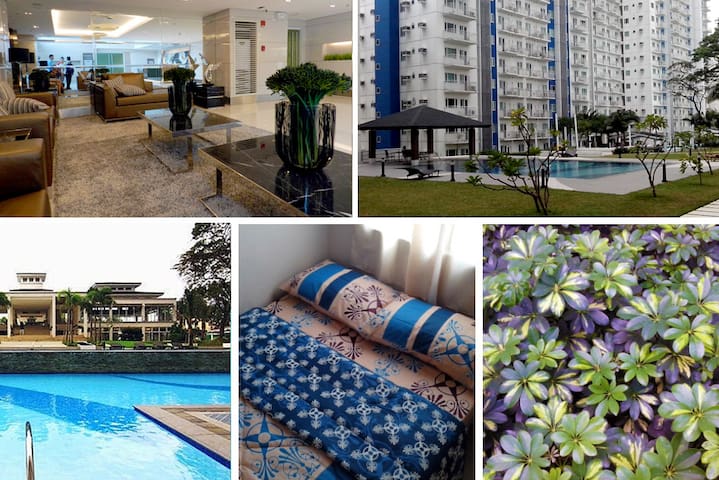 Our cozy 2 bedroom unit comes with a kitchen & balcony & building pool use. Can comfortably fit 4pax. Connected to 2 of the best malls & also connected to the MRT train station. Another train station(LRT) is just 15 min away!
Can fit 4 pax comfortably Can provide extra bed for additional person Clean and cozy
The place was nice Cheska was so nice too Looking forward to stay at her unit again...
Jasmin
2017-03-10T00:00:00Z
The apartment was bright, airy, and homely. There was plenty of space for a small family. Convenient access to 2 shopping malls and plenty of restaurants nearby. The apartment is facing a new residential tower being constructed. On the days that they are working, construction noises can be heard 24 hours a day. Construction of the tower looks to be almost complete.
Keit
2017-01-29T00:00:00Z
Franchesca has such a sweet personality. Communicating with her was very easy, if I had any questions she answered them quickly. She even gave us suggestions on where we could eat local Filipino food complete with a map - AWESOME! Her unit was very clean and neat. Also, the view was amazing! Her place was a home away from home. We will definitely be staying at her unit when we visit Manila again. Thank you for everything Franchesca! :)
Trish
2016-02-26T00:00:00Z
Great host! Franchesca is very accomodating.. Will gladly stay again. The place was neat and well maintened. Thank you!
Dhey
2016-04-01T00:00:00Z
My family's stay was not the simplest thing to arrange but Franchesca did a great job, and I'm very thankful for everything she did to make it happen.
Mark
2017-01-02T00:00:00Z
Tipus d'habitació
Casa/pis sencers
---
Tipus de propietat
Pis
---
Capacitat
4
---
Dormitoris
Ciutat Quezon, Gran Manila, Filipines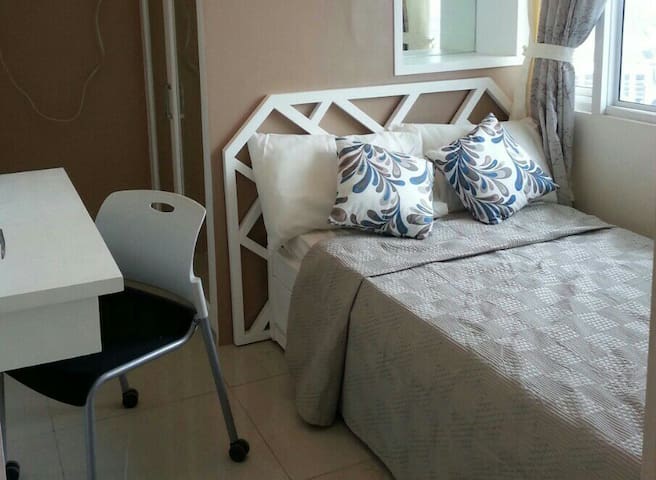 If you love all three then this room is for you :) Our simple, cozy unit can comfortably house three and the building has a convenient private bridge to SM Mall leading to Trinoma & MRT. Let's start your vacation, message me up for more details :D
We've got 6 pools!
This place was awesome as I had expected, Sunshine was the most awesome host and her place was perfect. She met my needs perfectly. Her place is highly recommended and the accommodations are more than 5 star. She provides you with needs far beyond expectations. You are next to north EDSA SM mall walking distance, for it be shopping, entertainment or groceries..thanks for being an upmost host and will stay anytime .
Richard
2016-08-08T00:00:00Z
Sunshine was extremely friendly and welcoming. She gave me a tour of the residencies and even had dinner waiting for me! So kind. She also provided advice about the local area and made herself available if I had any concerns/questions. The room was well furnished and toiletry items were provided. Staff are friendly and willing to help.
Joel
2015-07-17T00:00:00Z
Sunshine was very accommodating and warm - so easy to talk to. She and her father made me feel welcome. They did not make me and my family feel like strangers. It was very pleasant.
Shirley
2015-07-01T00:00:00Z
Sunshine and her family made us feel very comfortable and welcomed. the unit is nice but a little bit smaller than i expected. As we checked-in there was no clothes closest but shortly we were provided with a portable one which did the job. the kitchen was efficient for light cooking but lacked an exhaustion fan so you need to open the balcony door. However, it's great for couples who need a place to crash. Grass Residences has many advantages; like it's very secure and safe. the building also has many swimming pools, and a bridge connecting residents to SM North EDSA Mall. Overall we had a pleasant stay at sunshine's place. so thank you :)
ibrahim
2016-04-01T00:00:00Z
Sunshine has a very warm personality. Her name really suits her ;) When we came, she explained everything well about her place, the condo facilities etc. The flat was nice and comfortable. We had everything we needed -- a rice cooker, plates and mugs, utensils, free 1 gallon of water, there's a multi-cooker, a mini-fridge etc. There's a pull-out bed and a sofa bed, the flat could actually fit a family of 4 or even 5. The condo has an exclusive bridge to SM North Edsa which makes it more convenient. Security is good and the security guards were all very courteous. We will definitely come back
Marlon
2015-03-29T00:00:00Z
Highly recommended. Great place, convenient and accessible. Definitely will stay here again in the future.
Joylyn
2015-01-19T00:00:00Z
Very close proximity to the mall. Very flexible to changes. Super accommodating and her place is like our home away from home. Will definitely recommend to other friends who'd like to do airbnb.
Mark
2016-07-04T00:00:00Z
Sunshine had been working on the day we arrived so she was not able to meet us herself right away, however her parents gave us a lovely reception, waiting for my husband and I at the lobby to present us the room. We had our own little space with a kitchenette to cook up or heat food, including a big container of filtered water. The shower had hot and cold running water, a bonus since most condo units in the Philippines do not have this amenity. The neighbourhood was quite safe, there were security personnel around, and the administrative assistants were very helpful during our stay. We could use the pool and the gym too! Sunshine met us on our last day of stay and it was nice to be able to speak with her and personally thank her for her warm hospitality.
Fran
2015-02-08T00:00:00Z
Tipus d'habitació
Casa/pis sencers
---
Tipus de propietat
Pis
---
Capacitat
3
---
Dormitoris
Ciutat Quezon, Gran Manila, Filipines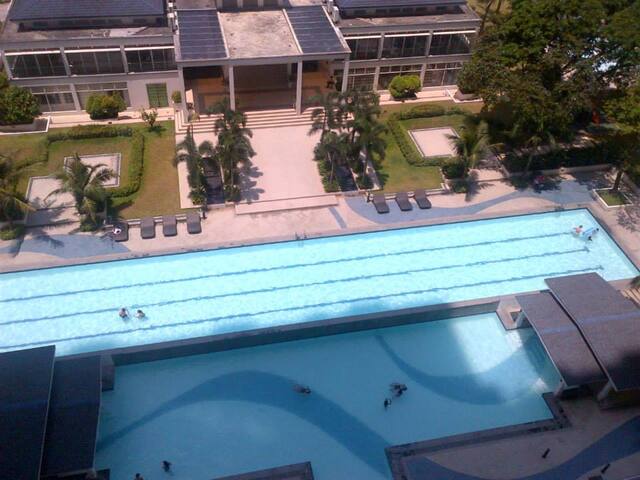 Relax on your OWN balcony at the 3rd floor unit & Experience living the Filipino Lifestyle with our Cozy and Clean Studio type room w/c comfortably fits two and is conveniently located beside a supermarket and near major Shopping malls NO ROOM Sharing. Free WIFI as well. :)
Around 20sq m floor area. The room is quite small and it can be a little noisy in the morning due to students who are eating outside the food stalls. The entrance is not that appealing due to my brother's food cart but you will find the room nice and comfortable. Beside a grocery store, near Trinoma mall and NLEX highway, near bus stations going to provinces. 2 jeepneys away from UP and Ateneo Very FAST DSL Internet connection. + beside SM Hypermarket Grocery Store + walking distance to Chowking, Jollibee, Inasal + fresh air, there are 2 windows facing open area + walking distance convenience store (Mightee Mart and Mercury Drugstore) + walking distance to: 5 cheap eateries, 2 laundry shops, 2 water stations and hospital + 1 jeep ride (5 min) to St. James Mcdonald's, 1 fx Ride to Trinoma and SM North
+ beside SM Hypermarket Grocery Store + walking distance to Chowking, Jollibee, Inasal + fresh air, there are 2 windows facing open area + walking distance convenience store (Mightee Mart and Mercury Drugstore) + walking distance to: 5 cheap eateries, 1 laundry shops, 2 water stations and hospital + 1 jeep ride (5 min) to St. James Mcdonald's, 1 fx Ride to Trinoma and SM North Please expect that entrance to the apartment is quite small since its between our house and house of my brother. The 3-floor apartment (3 stand-alone units) is located inside a family compound were the entrance has food stalls outside because of my brother's business in which stalls rent our place upon the compound entrance. Please expect that its quite crowded with students thus a little noiay if with classes.From morning up to 6pm all the food stalls are open so you can buy food from there as well. Most people who stay here extends their stay because of the convenience of all the things you need just around the area. In the evening we have guard dogs as well. The apartment unit is very lovely and very clean as well and you have your own privacy even in the balcony. TRINOMA (one of the major malls) offers a lot of Filipino restaurants which you will love. A. RECIPES restaurant located at the 2nd floor offers Filipino cooking with a twist. B. BANANA LEAF (2nd floor)- lets you experience eating using the banana leaf as plates, Filipino tradition of eating together using only your hands (no utensils) can be experience here C. VIKINGS (near movie house at the topmost floor) - offers buffet serving D. WEE NAM KEE (Singaporean Resto) - offers excellent Hainanese Chicken E. CAUSEWAY (Visayas Ave)- chinese restaurant just 2 short Jeepney rides away from our place F. STARBUCKS drive thru - 1 short jeepney ride away and about 10mins walk
Convenient distance from a grocery store and food places, clean towels and bed sheets were provided, and the Internet was decent. I had a great stay here and would recommend it.
Matthew
2016-11-22T00:00:00Z
Bit Far from Cubao Station , LRT or MRT stations other than that it is worth for its Price.
Manish
2017-03-07T00:00:00Z
From the start Buen and her family were great, i was late due to traffic and Buen's Mum met me across the road and showed me into the listing. The room was just as described and photographed with the Supermarket very closeby. I ventured out to the mall using the white vans as asvised by Buen, they were an adventure in themselves. I had a very nice and relaxed stay with Buen and her family. I May come back again.
Bradley
2016-02-18T00:00:00Z
Truly immerse yourself in the culture of Manila in this safe and extremely secure apartment in the heart of Quezon City. Grab a Jeepney, the most common form of travel in Manila, right outside and travel along the crowded roadway, eat some street food, then shop at one of the many upscale malls. Buen's place is clean and neat and she replied promptly to our questions. The shower was hot, refrigerator cold, wifi fast, and all the appliances worked perfectly. I would highly recommend this apartment for anyone wanting to experience the culture of Manila.
Michael
2016-07-21T00:00:00Z
Honestly, was disappointed from the get go, tried to put up with it, i agree with some points that other reviews made, but my opinion is mine, i felt it could of been better. I wont be going back.
George
2016-07-29T00:00:00Z
Buen is really kind, caring and helpful - she is an excellent host!
Jonathan
2015-08-05T00:00:00Z
Ms. Buen wasn't available to assist us in our check-in since we arrived late in the night already, however, she made sure that we were assisted properly by her father, Sir Billy. Everyone, including Ms. Buen's mom, were very accommodating and attentive to our needs. Also, we were provided with purified water, which was much appreciated. The host was kind enough to leave a guide at the house for the establishments nearby. Ms. Buen helped us in checking out, and was super nice to give us rice cakes as pasalubong. Our stay here was lovely. Although the place is small, it didn't feel cramped, and all our expectations have been exceeded. I will definitely come back to this apartment on another vacation.
Jane
2016-11-02T00:00:00Z
This is a perfect place to stay, very near to everything and there a lot of cheap places to eat. I highly recommend Buen's place. Buen is a very nice host and even her family :) thanks Buen
Mu
2016-10-06T00:00:00Z
Tipus d'habitació
Casa/pis sencers
---
Tipus de propietat
Pis
---
Capacitat
2
---
Dormitoris
Ciutat Quezon, Gran Manila, Filipines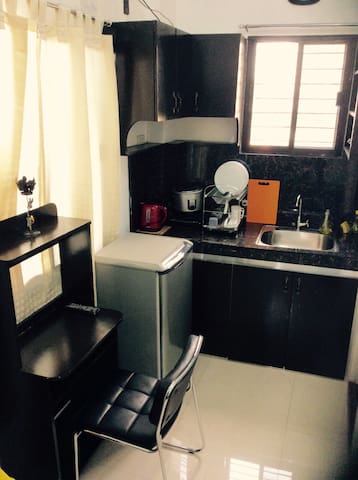 If you're looking for an accomodation that feels like your own home. This is the great place for you. It is very convenient in terms of transportation, there's a bridge that links towards the mall and mrt is just few steps away from the mall. -Inside Your Apartment- 1 Double Bed 1 Sofa Bed Bathroom with glass-enclosed shower (equipped with shower heater) Microfibre Towels Flat Screen TV 1 Dyson Blade Less Fan Air humidifier Kitchen Utilities
The host canceled this reservation 6 days before arrival. This is an automated posting.
David
2016-12-08T00:00:00Z
The place is truly amazing.. it's a Western style hotel experience. Multiple swimming pools with various functions.. hot water.. fountains and clean building and suite. Jackie was a great host. She is a model host and i am very happy i stayed at her place.. everything i needed she was very responsive and made sure my stay was perfer. Jackie i will be back for sure
Talal
2016-08-24T00:00:00Z
Jackie was so accomodating/hospitable. She converted her place into what i requested for. She even bought a microwave and a lamp for me! Kitchen utilities are complete. Laundry washing and drinking water is available by just a call away. Her place is impeccable! The grass residences' pool area can really de-stress anyone especially at night when you lie down at the lounge chairs looking at the stars. It's quiet and peaceful. The mall connected to the condo via bridgeway has everything you need. May it be a spa, a movie, grocery shopping, clothes shopping, or simply to eat...i mean everything! If you need to go around the city, it's easy to get a cab by just requesting the concierge and/or uber is always available within a few minutes. Highly recommend this place! U have no worries. It's also very safe! You won't go wrong in choosing this place!
Sandy
2016-06-14T00:00:00Z
Jacqueline's condo is very spaciousand clean. We were received my her caretakers in an excellent manner and were of help throughout our stay if something was needed. The condo has everything you need (kitchen, utensils, bedroom, tv, well-functional air-con). The condo itself is situated very close to the mall which makes grocerie shopping easy. Will definetely be staying here again!
Kristoffer
2016-05-23T00:00:00Z
Jackie is a great host. Her unit is very nice and cleAn. She and her caretakers are very nice and accommodating, they made sure our stay seamless and relaxing. Overall experience was perfect, definitely will come back and will be highly recommended. Thanks a lot Jackie and family.
Joan
2016-05-01T00:00:00Z
The host canceled this reservation 86 days before arrival. This is an automated posting.
Anah
2016-12-30T00:00:00Z
Jackie was a GREAT host. Check in and out was easy and painless. She was quick to response to my inquiries. Her place has all the amenities to make you feel at home. It's walking distance to several malls interconnected thru overhead walkways. Take advantage of the swimming pools to relax and stay cool.
RICARDO
2016-04-14T00:00:00Z
Tipus d'habitació
Casa/pis sencers
---
Tipus de propietat
Pis
---
Capacitat
2
---
Dormitoris
Ciutat Quezon, Gran Manila, Filipines
My place is close to family-friendly activities, nightlife, public transport, the city center. You'll love my place because of the coziness, the views, and the location. My place is good for couples, solo adventurers, business travelers, and families (with kids).
• The unit is approximately 24 square meters located at the 12th floor. • The place is secured 24-hours with CCTV. • Unit can accommodate 5 pax • 1 Queen size bed • 1 sofa bed plus extra foams • Has Tv with DVD • Full Kitchen with fridge, microwave, exhaust fan, stove. also includes pots, kitchen utensils and tableware. • Iron with Ironing board are provided • It is fully air-conditioned. • Bath is equipped with a shower with a good water pressure
- SM North EDSA is just a few steps away! Enjoy shopping, movies, dining, massage, and other recreational activities in this 4-building mall. - Laundry shops are just a text away! Free pick-up and delivery.
Tipus d'habitació
Casa/pis sencers
---
Tipus de propietat
Pis
---
Capacitat
2
---
Dormitoris
Ciutat Quezon, Gran Manila, Filipines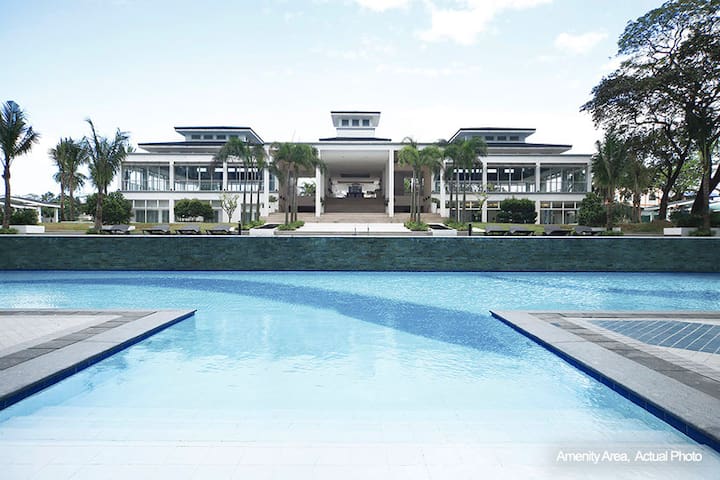 Project 8 - Airbnb
:
Mitjana de

4.76

estrelles sobre

5

a partir de

353

avaluacions d'hostes
1

-

18

de

146 Lloguers de cases
Introdueix les dates per veure el preu total. S'aplicaran tarifes addicionals. És possible que també s'apliquin impostos.