Our appartment is located in peaceful village enviroment. We are offering great conditions for outdoor sport activities in all seasons. For lovers of natural and cultural heritage we recommend that you visit Idrija (mercury mine) and Postojna cave.
It's the third time we come here and it's always a pleasure. The welcome is perfect, Luka and his family are very kind. We will come back.
Jean-Michel
2016-07-10T00:00:00Z
We have traveled with the family of 3 children and the apartment was very nice, cozy and comfortable, as well as equipped with everything we need. The place is very calm, close to forest, away from main road. In the vicinity of the apartment there are rustic landscapes and forests, as well as nice places for hiking. I suggest to come here by car, because of two things: the nearest shop is far away from the apartment and there are lot of interesting places to see in this region. Luka and his family are very kind and helpful if we need something.
Przemek
2014-08-06T00:00:00Z
Luka is a very nice host and his wooden House is really charming. We only stayed two nights before heading to Croatia but really appreciated the comfort of the house in à Green and quiet environnement. Thanks Again.
Mel&David
2014-08-13T00:00:00Z
Very nice apartment and host! Luka responded really quick whenever we wrote him and was very helpful. The apartment is clean and the kitchen has all the necessary equipments. It is located in a quiet, peaceful surroundings and the supermarket is 5 min drive away, which was good for us as we could buy stuffs to cook our morning meals. We chose here as our base for 2 nights to go to Postojna caves and Bled, as we were coming from Venice and going up to Austria. There was also lots of travel brochures and guides about the nearby attractions in the apartment which would be very helpful to anyone who need it. We had a nice stay so I would recommend this apartment.
Shulei
2014-11-22T00:00:00Z
A beautiful mountain apartment and a great host. Eight of us stayed for one night on our way to the Postojna cave. It served the purpose perfectly. However, for longer stay this small, new, beautifully decorated, and well maintained apartment is more suitable for four persons. Luka was a great host - responsive, helpful, and unintrusive.
Dzenana
2014-07-23T00:00:00Z
Very nice place, in a quiet village in the mountain. It is new and very well equipped. Luka is very easy to communicate and helpful. Unfortunately we only stayed one night We hope to come back one day. Definitely recommended.
Sylvain
2017-02-24T00:00:00Z
Luka and family members were very accommodating and friendly. Their home was in the country and very pleasant and quiet. We recommend this place thanks Luka.
Linda
2016-09-06T00:00:00Z
The apartament was great and very comfortable in a quiet place. It is perfect if you are looking for a peaceful location
Davide
2016-08-18T00:00:00Z
Tipus d'habitació
Casa/pis sencers
---
Tipus de propietat
Pis
---
Capacitat
8
---
Dormitoris
Predgriže, Idrija, Eslovènia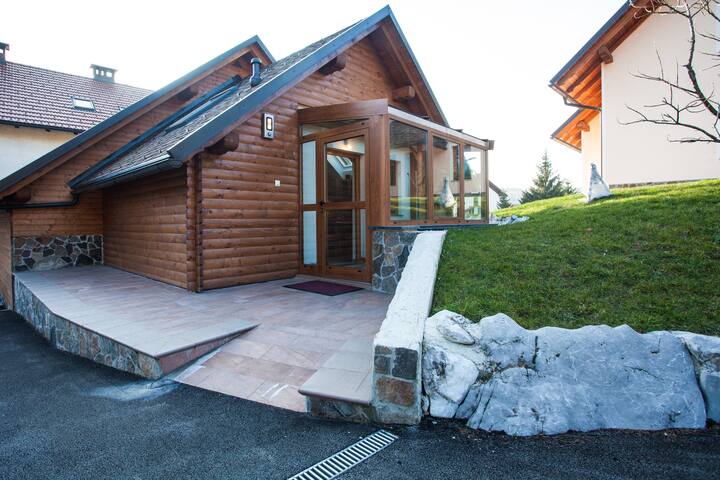 The apartment is located in the renewed miners house in the old town center in the immediate vicinity (100m) of the famous Gewerkenegg castle. You can visit all the main Unesco sites by foot: Lace school (20m), Mercury mine (250m). Parking available.
The apartment was clean and comfortable and suited our needs perfectly as it was very close to the main attractions in Idrija. Everything we needed was there including a well equpped kitchen and very good wi-fi. Maruska was very welcoming and even did our clothes washing which we greatly appreciated. Thank you Mauska for providing a comfortable and welcoming place to stay.
Helen
2016-06-20T00:00:00Z
Posto molto carino, forse è consigliabile andare d'estate o nei mesi più caldi.i. Appartamento uguale alle foto e Maruska è molto gentile e disponibile, anche per gli orari di check in e check out. Inconveniente è stata la presenza di un solo fornello elettrico e quindi un pochino scomodo se si è in più persone. Ottimo soggiorno!
Ilaria
2017-01-01T00:00:00Z
Everything was great> The flat was clean and tidy and quiet in a perfect spot in the middle of a quaint town. Maruska and her husband were lovely and friendly.
malexander
2016-08-23T00:00:00Z
We have spent only one night at Maruska's house. It's been a great experience. It is very cosy and confortable. I really recommend it. Also very well located
Gabriel
2016-08-14T00:00:00Z
Amazing location. Very comfortable stay. I would highly recommend Maruška's place. Feels like you are home.
Jeffrey
2016-09-21T00:00:00Z
Posto magico e padroni di casa gentili e premurosi. C'e piacito cosi tanto da decidere di rimanere altre due notti . L'appartamento meraviglioso ed ultra accessoriato . C' e da vedere tantissimo li intorno, Grazie di tutto Maruska, siamo stati benissimo
Giusy & Ninni
2016-08-25T00:00:00Z
A very central apartment. The castle is just around the corner (and can be seen from a couple of the windows). The town is small so everything was within easy walking distance and parking was no problem. The apartment was very clean and Maruska very friendly and helpful.
Jo
2016-12-11T00:00:00Z
Charming apartment, very clean and comfortable, well-equipped. A beautiful town with stunning views around, nice restaurants and a supermarket nearby. Very suitable for a drive along the stunning Soca River. The road turns through the mountains, less suitable for people who suffer from nausea trip. Maruska Tanja is very nice and generous, thank you very much.
noa
2016-08-16T00:00:00Z
Tipus d'habitació
Casa/pis sencers
---
Tipus de propietat
Pis
---
Capacitat
6
---
Dormitoris
Idrija, Idrija, Eslovènia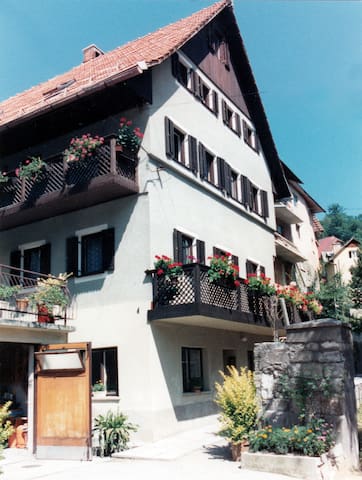 Welcome! Dobrodošli! We are providing an exclusive accommodation for tourists interested in the unexplored area of high biodiversity and rich technical, cultural heritage located between the Alps and the Adriatic Sea. Free welcoming drink and m.bikes
Welcome to Apartma Rožica! Dobrodošli! We are providing an exclusive accommodation for tourists and other guests interested in the unexplored area of high biodiversity and rich technical, cultural heritage located between the Alps and the Adriatic Sea. Warmly welcomed all of you! You will be guided in the undergrounds and in the fascinating surroundings by a well-known local guide if interested. A help from a family member 24/7 is at your service. Apart from that, you will be able to get the rare insights into local life by staying the nights at Apartma Rožica in the city centre. For all those, who like to stay in an accomodation that is not a hotel, but rather a more-connected to the ground and local environment. All (SENSITIVE CONTENTS HIDDEN) friends or fans get a special price discount on our offer in the town of Idrija, Slovenia. You can choose among several daily trips, dedicated to different topics important in the history of Idrija and the area. We can arrange you the whole programme according to your wishes and demands. For your help, some hints what is worth seeing in our area: -The town of Idrija and it's history -The technical heritage of the mercury mine -Cultural heritage and bobbin lace -The natural area of Idrija and Cerkno, sports activities -Heritage of World War II. In Idrija you can see the tourist mine Antonijev Rov (Anthony's Shaft), the exhibitions at the Municipal museum Idrija in the castle Gewerkenegg, numerous sights in the town centre, the lace exhibitions at the Lace School Idrija and much much more. The vicinity of Idrija offers many possibilities to relax, enjoy the peace and quiet of the unspoilt nature, do different sports and more. The best way is to browse our website, find out what the region offers and then contact us for help if you will need it. Welcome to Idrija and the region!
We had a great time, it was too bad that weare couldn't stay any longer. But we definitely want to come back. They are all very welcoming and helping. Thanks for this night.
Lucile
2016-08-10T00:00:00Z
Zdjęcia wnętrz mocno wprowadzają w błąd, bo faktyczny standard i wygląd są zauważalnie niższe, ale poza tym wszystko OK.
Urszula
2016-08-14T00:00:00Z
The host canceled this reservation the day before arrival. This is an automated posting.
irina
2017-01-05T00:00:00Z
really kind and welcoming people however they can be far more organized (especially during very high season). despite their kindness we didn't have a pleasant experience but this opinion it's strictly affected by the high season period. maybe with a little more experience with their passion and low prices they can afford to be a really nice place to rest and enjoy such a beautiful country.
Martina
2016-08-14T00:00:00Z
Nice friendly places
Stéphane
2016-08-08T00:00:00Z
The apartment was very nice, and it had all that we could ask for. Gasper's parents were extremely nice and hospitable sharing local information.
Adam
2014-09-28T00:00:00Z
penzion rozica the mom, son and his dad all were a great host, very welcoming and accommodating. The location was ideal and I had fabulous time! Thanks for everything :)I can recommend it!
Amir
2016-08-17T00:00:00Z
Host was great and helpful, kitchen equiped very well but the whole impression is bad, mainly due to the smell from the bathroom. To get to the second badroom you have to go through the bathroom, so the smell is coming to the bedroom and the living room. It is also not so comfortable to use the bathroom when somebody is sleeping in the bedroom. The bathroom is very old and rusty.
Ewa
2016-09-23T00:00:00Z
Tipus d'habitació
Casa/pis sencers
---
Tipus de propietat
Pis
---
Capacitat
7
---
Dormitoris
Idrija, Eslovènia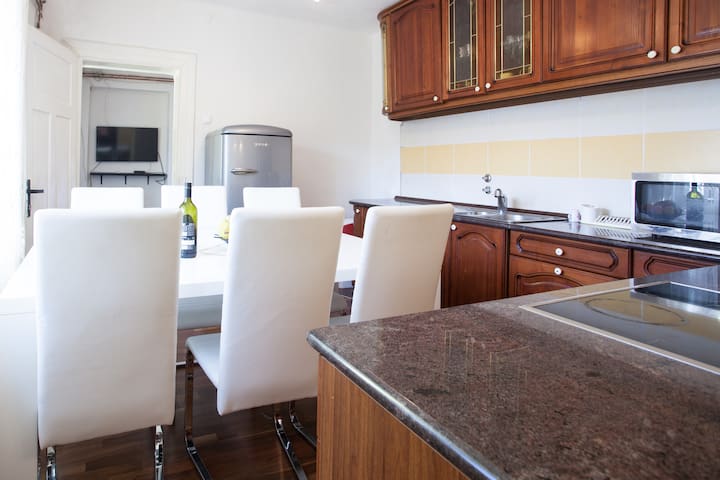 Suitable for the guests who want to get a feeling of the way locals in Idrija live their life and specifically the hosting family. You can join whatever activities or meals you would like! You have a guest room for two people and share with us a bathroom, kitchen and a living room. Guest can order home-made traditional cuisine, prepare a meal for themselves at the kitchen or pay a visit to a local restaurants, malls and go local sightseeing. The latter is possible also with a help of a host, who has a tour license in the municipality of Idrija. Public transit is at the bus station in the town. What makes our place unique, is kindness to the people, interest in knowing new people and at socializing and in trying to meet visitors wishes to the fullest extent possible.
Gašper welcomed me when I came to Penzion Rožica with a drink and we played table soccer together. The room I had was much nicer than expected. Gašper's mother cooked me Idrijški Žlikrofi, which I liked a lot. During my stay I wanted to meet friends in another city. Gašper had time to do a taxi service (paid). The stay in Penzion Rožica was a really nice expierence for me.
Samuel
2015-09-10T00:00:00Z
I had a great time staying at Apartma Rožica in Idrija. Since I was traveling alone, it was great to meet and talk to the hosts and learn more about Slovenia and the history of Idrija. I was traveling by bicycle and they had plenty of space for me to store my bike. I also chose to have the dinner and breakfast there and was very happy with my decision. The food was good, copious, made with care and all for a fair price. The accommodation was clean, the bed was comfortable and there are some nice outdoor areas to sit and relax. The room I stayed in was basically the living room with bunk beds in it. There is another room connected to this room whose occupants must past through to exit.
Michael
2014-07-17T00:00:00Z
Excellent!
Наталья
2016-08-10T00:00:00Z
The host and his family are very kind and helpful. They are so nice people. They gave us entire attic instead of the room, It was my first time I've slept in the attic and so interesting experience. In the morning, they gave us informations about the town Idrija and some other interesting places. we could rent bikes as well! And the lunch was really great. I love the tuna sauce!! <3 Thanks for the great hosting!
Gabin
2016-07-18T00:00:00Z
Gasper and his family were very kind with us. When we arrived (after a long and exciting trip) we got a welcome drink with a home-made brownberry pie, and so many information about Idrija! Furthermore, Gasper accompanied us for a brief city tour of Idrija in the evening and the next day he took us with his car to the Regional natural park of Zgornja Idrijca. The accomodation is not the best - could have been cleaner -, but I'm sure, Gasper is working on it :) He is very nice host and he can speak english and german very well, so I would recommend him to any guests.
Dia
2013-08-12T00:00:00Z
Lovely people! Greater atmosphere! What a lovely and cheap place to stay! Thank you so much!
Magdalena
2016-09-01T00:00:00Z
It's a really cozy room to stay no matter for how many days you want. When I got there , because there didn't have other guest , so the host give me an whole room. The host is a good guy . Recommend this place !
Alex
2016-09-12T00:00:00Z
Gasper and his friend waited for me in the evening as it took me more time to arrive to Idrija as I thought it would be. I just spent the night and it was ok.
Claire
2016-08-27T00:00:00Z
Tipus d'habitació
Habitació compartida
---
Tipus de propietat
Pis
---
Capacitat
4
---
Dormitoris
Idrija, Eslovènia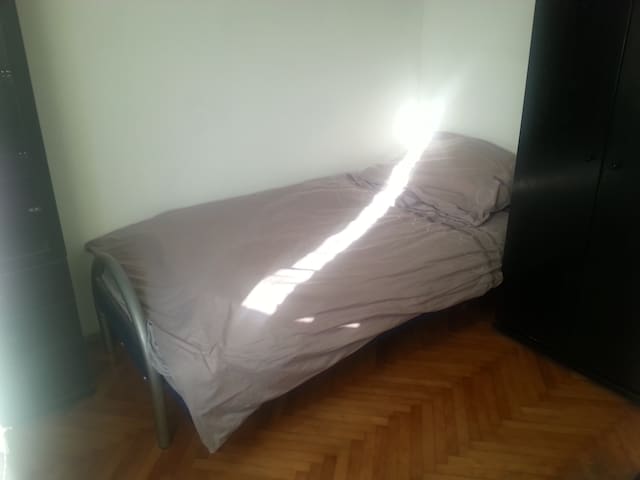 Come and visit the centre of winemaking with its own faculty of witiculturing. In Vipava valley we are biking whole year. We offer free private parking, free rent a bike and free BBQ on our garden.
We had the most incredible stay in Vipava! David was the best host I have ever had on AirBNB. He arranged a wine tasting for us, booked us an incredible dinner on the river and was overall just a great help. The apartment was spacious, had lovely views and the bed was very comfortable. Vipava and the surrounding area are worth a stop on your tour if you love food, wine and nature. We wish we could have stayed longer as it would have been nice to bike through the vineyards and visit some more of David's friends wine cellars. We can't recommend this place enough. It was the best on our journey through Slovenia. We will be back for sure!
Henley
2014-07-17T00:00:00Z
Host was very helpful and apartment was in a great spot in the centre of Vipava. The apartment was big and had everything we needed. Highly recommend. Good safe area to park a car and lots of nice walking spots. We also borrowed the bikes for a day which was great!
Natalie
2015-08-23T00:00:00Z
Rob and I visited Vipava because of his family roots in the area, and because this was my first time in Slovenia. David was the perfect host for our arrival in this amazing country! He was kind and friendly, the apartment was spacious, clean, and comfortable, and the town was beautiful and walkable. Incredible experience. We will definitely plan to stay there again. We felt at home as soon as we walked in the door, then enjoyed drinks at the cafe below.
Katie
2016-09-19T00:00:00Z
I really enjoyed my stay here. David was helpful on check in. The apartments are quite nice. I was able to use one of the bikes to ride around the area. Vipava is beautiful and I wish I could have stayed longer. Also, the restaurant in town was my favorite in 3 weeks of traveling Croatia and Slovenia - amazing food. I recommend checking out the town and local area and this is the place to stay when you are there!
Courtney
2015-08-08T00:00:00Z
Perfect location, right in the center of town! Great coffee and restaurant just down the street and right next to the tourist center which hosts the wine museum
Shannon
2016-10-20T00:00:00Z
Great apartment. David was very welcoming, helpful and provided valuable insights into the local area. We were greeted by an amazing wine tasting hosted by David with local wine growers from the Vipava region. Go to Vipava - it's a gem!
Richard
2015-08-18T00:00:00Z
Our stay at Koren was a last minute booking and we were thankful to be taken in at such short notice. We were welcomed with honey liquor shots and the offer of free rental bikes for the afternoon. We didn't see much of David as he was busy with harvest and we left early the next day. Was a good location with a very helpful information centre next door.
Jessica
2016-09-25T00:00:00Z
This is the perfect place to explore Vipava and surrounding towns. The location is right on the main square, next to the tourist center and steps away from the bus station. Mrs. Koren greeted us with homemade liqueur. Our room was huge! They've done a great job renovating while still keeping original charm. Kitchen was really lovely. Mrs. Koren prepared us a lovely breakfast feast for a nominal price too! I just wish we had more time to enjoy the scenic balcony and courtyard space.
Sam
2017-04-07T00:00:00Z
Tipus d'habitació
Casa/pis sencers
---
Tipus de propietat
Pis
---
Capacitat
2
---
Dormitoris
Vipava, Eslovènia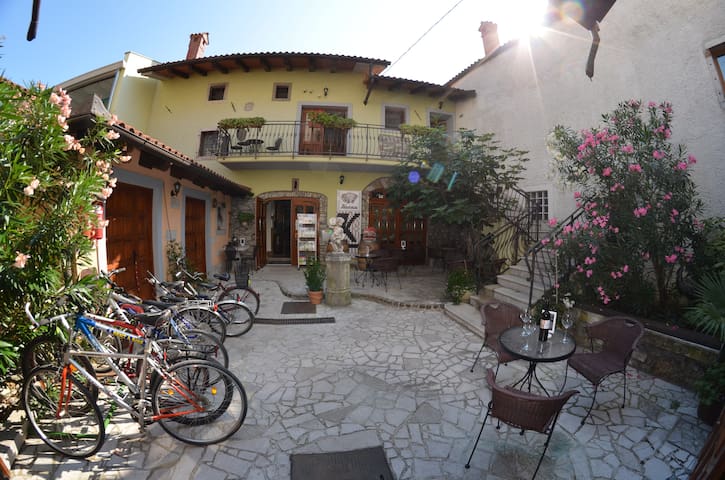 My place is good for couples, solo adventurers, and business travelers.
Tipus d'habitació
Habitació privada
---
Tipus de propietat
Pis
---
Capacitat
2
---
Dormitoris
Ajdovščina, Upravna enota Ajdovščina, Eslovènia
Space is cleverly designed to have one bathroom with a massage cabin, a living room with a small tv with more than 180 programs from all over the world - in this space it is possible to spend a night for two persons on a couch. A kitchen is also a small one, but it is functional with an oven, a sink and a fridge and lots of storage places with amenities. This part of the house usually houses other younger guests - immigrants who worked for a nearby employer. They are friendly with foreigners. The closest bar is just a minute away. You have several restaurants in the town, shopping malls of Merkator, Tuš, Lidl, Eurospin and Hofer. In the three minutes walk you will find the bus station with a frequent line to Ljubljana. This place is unique for its technical mining and lace heritage and natural park Zgornja Idrijca, where people enjoy clean and cold water in the summer days. Please advise It is a shared room meant for low budget and non-demanding travellers only.
I sent a message to the host on the evening of the booking, to check availability. After receiving confirmation of the availability I booked the apartment and then drove for two hours via mountain roads to get there. Upon my arrival I was told that the apartment was already occupied by other guests, and was offered to sleep in a tent outside... The host refused tp give me refund since "he did everything he could to accompade" me. The host is a fraud. He purposely misleads guests into believing that the apartment is available, knowing that in most cases they would be too tired to refuse the tent, and would likely stay the night in the tent, paying him for the stay. I would highly recommend paying a bit more for an alternative accomodation to ensure that you get what you pay for.
Pavel
2015-07-05T00:00:00Z
Be prepared, you might sleep in an old tent on the side of the road. This host takes several reservations at the same time for the same room so you could end up in this tent.
Alice
2015-08-17T00:00:00Z
Vrlo ljubazni domaćini trude se ugoditi gostu. Iako smo došli u subotu na večer uspjeli su nam organizirati brušenje skija kada nitko nije radio. Puni su lokalnih povijesnih informacija. Lokacija odlična. Apartman opremljen svime što je jednom gostu potrebno.
Igor
2015-01-25T00:00:00Z
Very nice and friendly family. Nice contact. The local speciality was served to us what was very great. Nice evening with entertainment (Kicker & Billiard for free) with a little glass wine.
Michaela
2016-08-08T00:00:00Z
Include a warm welcome, social people around and a very pleasurable stay.
Oscar
2015-09-30T00:00:00Z
We loved our stay at Aprtment Rozica. As it was really quiet we were upgraded to the nicest apartment which was fantastic. Gasper was a fantastic host, very kind and informative. His parents were equally accomodating, and the meal we had with them was really nice. Would definitely reccomend anyone to stay here, partly due to its location (Idryga is a very pretty town whith everything you need), as well as due to its hosts. Fantastic.
Ben
2014-09-16T00:00:00Z
Tipus d'habitació
Habitació compartida
---
Tipus de propietat
Pis
---
Capacitat
6
---
Dormitoris
Idrija, Eslovènia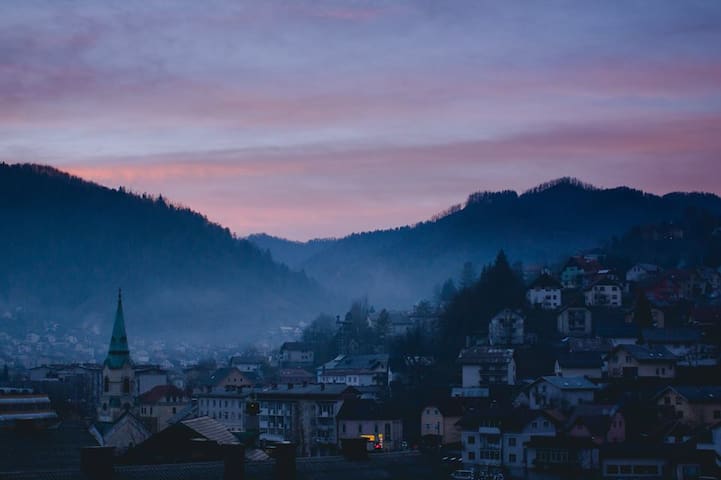 APARTMA THOMAS *** VIPAVA: Apartment stay on the ground floor in hundred years old house near the center of Vipava. It has underfloor heating and free wi-fi signal. The apartment is designed according to the principle FEELS LIKE AT HOME !
In the living room (30 m / 2) is kitchen, dining room and a rest area with a TV and satellite reciver. At night, this space can be changed, by using the pull-out couch, in the comfortable bedroom for two. The kitchen contains a coffee maker, dishwasher, fridge with freezer, microwave oven, electric oven, ceramic hob. With all the crockery and cutlery. Here you can indulge all your culinary delights. In another room is a bedroom with a double bed and extra bed. In the wardrobe you can hang your clothes. View on the historic wall will take you in the old times and sweet dreams. The bathroom is divided into two parts. Shower - toilet and washroom – laundry room. Here you can ,with extra charge, wash your laundry. Your pets are welcome by agreement. Children up to 6 y.o. free of charge ! Tourist tax is charged separately 1.01€ adult 0.51€ minors 7-18 Nearby motorway (a few minutes) Nova Gorica ( CASINO ) = 25 minutes Postojna cave = 30 minutes Lipica ( Lipizzan horses) = 30 minutes Slovenian coast = 40 minutes Triest = 40 minutes Ljubljana = 1hour Bled = 1,5 hour Bovec ( SOCA rafting ) = 1,5 hour Venice = 2,5 hour nearby : climbing , downhill mountain biking ,paragliding, recreational flying, swimming pool.... A lot of different ways for walking,running and cycling in valley and hills. Ideal for each style !!!! BESCHREIBUNG : Die Ferienwohnung liegt im Erdgeschoss eines 100-jährigen Hauses, unweit dem historischen Zentrum von Vipava. Sie ist modern entworfen, mit Bodenheizung und gratis WI-FI Empfang. Unsere Ferienwohnung soll das "Gefühl wie Zuhause" vermitteln. Im Wohnzimmer (30m²) befindet sich die Küche, Esstisch und Raum zum Erholen mit Sataliten Fernseher. In diesem Raum können mit Hilfe eines Bettsofas zwei zusätzliche Schlafgelegenheiten geschaffen werden. Die Küche ist ausgestattet mit Kaffemaschine, Abwaschmaschine, Kühlschrank und Tiefkühler, Mikrowellenofen, Elektro-Ofen mit Keramikkochfeld, inklusiv allem nötigen Geschirr, sodass Sie falls gewünscht, Mahlzeiten selber zubereiten können. Das Schlafzimmer ist mit einem Doppelbett und zusätzlichen Schlafgelegenheiten ausgestattet. Der Blick auf das historische Gemäuer, lädt Sie ein, von guten und süssen alten Zeiten zu träumen. Das Badezimmer ist in zweit Räume unterteilt: in Dusche –WC und Waschraum mit Waschmachien und Wäschetrockner. Gegen Aufpreis, können Sie ihre Wäsche dort selber waschen. Ihre Haustiere sind gegen Voranmeldung willkommen. Kindern bis 6 jahre gratis !
We stayed at Tomaz's for just one night. The place is great, just as described. The location is beautiful. The host is very nice, helpful and responsive.
Vera
2016-11-20T00:00:00Z
The apartment is just lovely, very spacious and exactly like the photos. There was coffee provided and a lovely bottle of wine. Tomaz was very helpful in recommending places to see, restaurants, a bakery just around the corner. Everything is very close within 5 minutes walk. The source of the river bubbles up from the rocks in multiple places, it is really worth seeing.
Vivienne
2014-07-12T00:00:00Z
Apparemment confortable et conforme aux photos. Bon point de départ pour visiter la région.
Jean-Marie
2016-08-10T00:00:00Z
We were warmly welcomed by Tomaz when we arrived, complete with a visit to his wine cellar, and a toast. He is a perfect host, and we loved the apartment. Tomaz was helpful in every way possible. The apartment was clean comfortable , quiet, and had all the amenities we wanted. Vipava is a lovely town, with great hiking opportunities. We also loved the restaurant that Tomaz recommended. Great food, and a stunningly beautiful location.
Jody and Penny
2015-09-12T00:00:00Z
Tutti e quattro ci siamo trovati benissimo. L'appartamento è molto curato e pulito, centralissimo in paese e soprattutto Thomaz è stato davvero gentile. Ci torneremmo ben volentieri! Monica
Monica
2014-07-01T00:00:00Z
Accoglienza buona, casa ben tenuta, molto pulita. Constatiamo che per essere un "b&b" non c'è stata la prima colazione. Contesto molto carino!
Anna Maria
2014-08-20T00:00:00Z
L'appartement de Tomaz est bien équipé et confortable. Il est situé dans le centre de Vipava, un charmant petit village à 20 minutes en voiture des (très impressionnantes) grottes de Sckocjan. Thomas est très bon hôte : il nous a offert une bouteille de vin et nous a donné plusieurs conseils sur les choses à faire aux alentours. Nous ne sommes restés qu'une seule nuit mais garderons un très bon souvenir de notre passage !
céline
2016-05-14T00:00:00Z
Tomas was a great host and made us feel very welcomed. He gave tips of places of interest to see in the area. He recommended two excellent restaurants in Vipava. The apartment exceeded our expectations with firm beds, hot showers and everything needed for cooking. It was a wonderful experience.
Camille
2014-07-09T00:00:00Z
Tipus d'habitació
Casa/pis sencers
---
Tipus de propietat
Pis
---
Capacitat
5
---
Dormitoris
Vipava, Eslovènia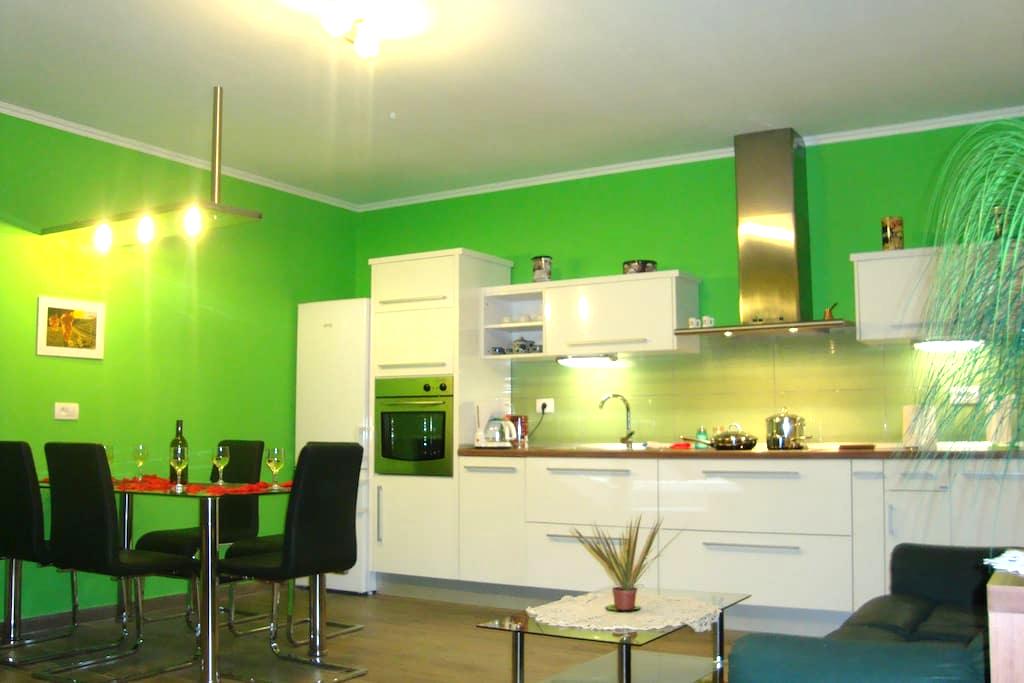 Apartment in the centre of Vipava. The apartment is comfortable, fully equiped and oriented away from the main square of Vipava. We offer free private parking, free BBQ use and free rent a bike for our guests.
Tipus d'habitació
Casa/pis sencers
---
Tipus de propietat
Pis
---
Capacitat
1
---
Dormitoris
Vipava, Ajdovščina, Eslovènia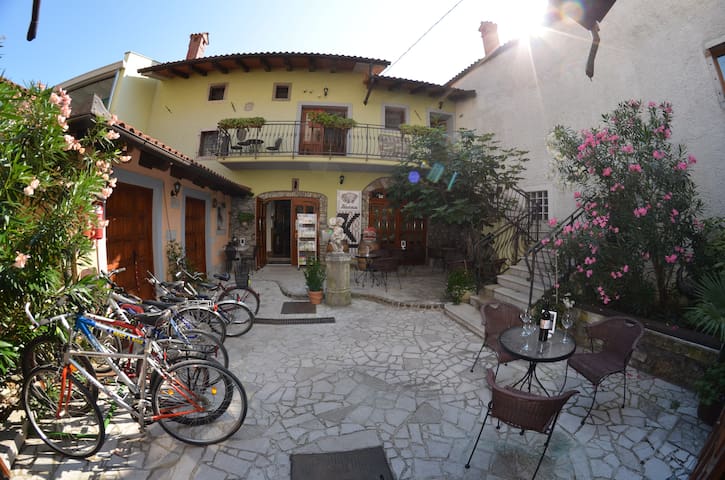 You'll love my place because of the high ceilings, old fashioned look, good air, marvelous drinking water, lot of space. My place is good for couples, business travelers, families (with kids), big groups. The location is in the center of Žiri and you are near the nature and lot of possibilities for active holiday and family vacations. We can advise you about the touristic, food and all other wishes you may have for pleasant stay in the city.
My place is close to ski resort Cerkno (20 km), mountain bike tours, motorbike roads, motocross, ski jumps, mountain tours, horseback riding, mining museum Idrija (14 km), the medieval town Škofja Loka (28 km), river Soča (48km), great views. Apartement is close to Ljubljana (45 km), seaside (100 km)
Tipus d'habitació
Casa/pis sencers
---
Tipus de propietat
Pis
---
Capacitat
6
---
Dormitoris
Žiri, Škofja Loka, Eslovènia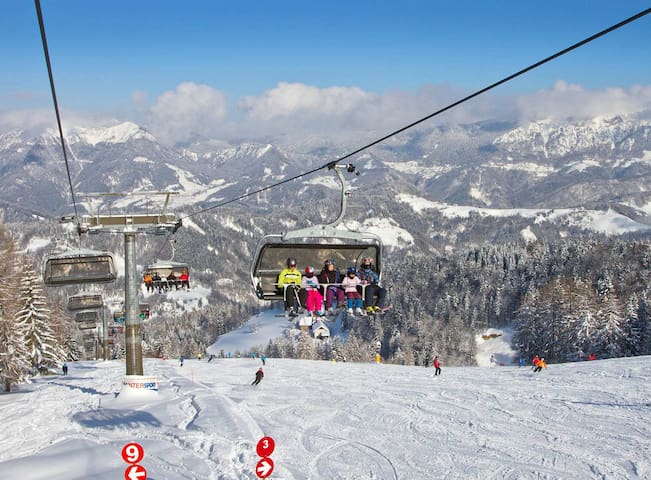 The price : 25€ pearson for night with tax . In apartment can stay maximum 8 people info: (EMAIL HIDDEN) The apartment is situated on an intermittent lake by the main road in the nature .There are no neighbors near. You have a nice terrase and grill with beautiful view. We have also a gallery of our arts.Place is close to Postojna cave 10 km and Ljubljana 38 km, Škocijan cave 35km ,Soča Valley 50km, coast (Piran)70km, Bled 70km , Venice Italy 220km, Croatia coast Istra 80 km .
Very nice country home in nature without neibours by the main road. Beautiful view ,terrase .Big apartment for max 8 pearson. A good starting point for trips throughout Slovenia. Friendly artictic familly :), Gallery arts. Free Wifi Terrase with grill area and beautifull view Big Flat Tv /satellite antenna DVD / CD player Fan in living room Washig machine Coffe maker Microwave oven Big oven Hair dryer Iron Cleaner Alarm clock Jewelry and pictures gallery
No neibours , You can enjoy nature, caves, fields , fishingng, lakes ,hiking, sports...A lot of turistic attraction around. Postojna 10km , Ljubljana 40 km Piran 80 km, Venice 220 km , Bled 70 km , Bohinj 80 km , Tolmin 80 km, Trieste 60 km.
We had a most woderful time. The hosts were so friendly. They took care of us and we felt at home. Answered every question and told us where to go. The place is special and very comfortable. We had everything we need. Its a beautiful place with wonderful view and a good starting point for trips all over Slovenya. We highly recomend.
tali
2016-08-02T00:00:00Z
Anton and Nada were very welcoming to us. We chatted on the terrace and sipped wine to settle in. A very pretty view and answered any questions we had. Thank you!
Ed
2016-08-24T00:00:00Z
주인 부부 항상 친절하시고 좋네요. 월컴 와인 좋고요. 찾아가기가 좀 애매한 점은 있고 침대도 적어서 다소 불편하지만 가족이 묵기에는 적합합니다.
jangsu
2016-10-30T00:00:00Z
Quand nous sommes arrivés, nous étions un peu perdu... Les routes n'étant pas éclairer totalement la maison fût dur a trouver... Heureusement nous pouvions compter sur la sympathie de Anton qui est venu nous chercher dans le village d'a coté. En route vers la Croatie depuis la Belgique, nous nous sommes arrêtes avec tout nos bagages et motos dans cette endroit pour dormir et repartir, tout était nickel juste bien pour 4 personnes ou 4+1 enfant. Nous avons put bénéficier des conseils d'Anton afin de ne pas devoir faire la file à la frontière en passant pas une petite route dans les montagnes. Famille super
Nicolas
2016-08-06T00:00:00Z
We had a very friendly welcome with a glas of wine and enjoyed our visit very much. The appartment is really nice and well equiped. The suroundings are beautiful and quiet. Anton and his wife gave us advice for sightseeing. They even invited us to their barbecue. They are really friendly and happy to meet their guests.
Jacqueline
2016-09-04T00:00:00Z
Very nice apartment and lovely hosts. All is provided in the house to spend a good stay, and the place is perfect to be quiet but close to a lot of natural and turistic sites. We spend good time with our hosts and they were here to advise us on what to do there. We warmfully recommend this great place!
Alicia
2016-09-20T00:00:00Z
Tipus d'habitació
Casa/pis sencers
---
Tipus de propietat
Pis
---
Capacitat
8
---
Dormitoris
Planina, Postojna, Eslovènia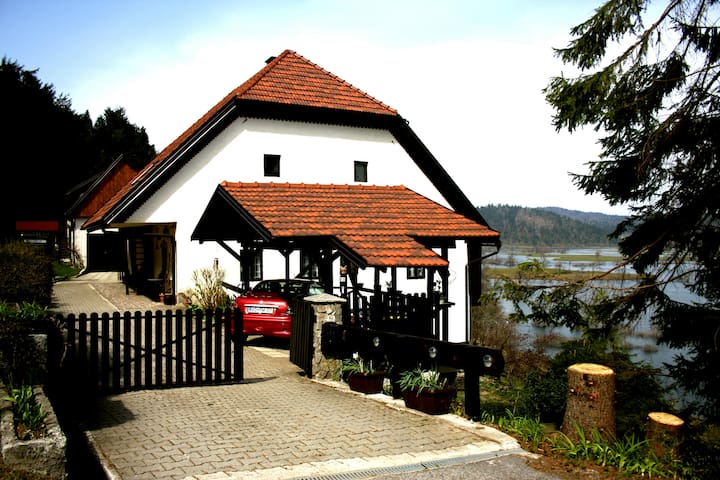 Apartment Viktorija is build as traditional architecture with old furniture inside. It has 55 m/2& 2 levels. The ground foor has kitchen and dining space with fireplace. The first floor has one bedroom (big double bed&bunk bed&kids bed) and bathroom.
Traditional house on the hill.
Vipavski Kriz is one of the most interesting historical places in the southern Primorska region. Apartma is placed in the center of a lovely and old village surrounded by vineyards. It is a great place for active and peaceful holidays. Apartma is on ideal base for hiking and biking tours and only 20 minutes away from paragliding centre an 26 minutes away from Casino Perla.
Magda's apartment was really cosy and confortable, we had a great time there. She is very friendly.
Elisabet
2016-08-24T00:00:00Z
SUPER, SUPER, SUPER !!!! Very hospitable hosts, comfortable house, simply gorgeous views and super village !!!! We just fell in love with this place !!!!! Home brought a huge bouquet of lavender))))))) our best recommendations !!!!!! I'd love to go back !!!!!!!!!!!!!!!!!!!!!!! It is a pity that we can not show the photos that we did .....
IRYNA
2016-06-28T00:00:00Z
magda's apartment is very nice and cosy and magda is very friendly and hosty!! the house is beautiful and has all you need (exept wirless)
Yael
2016-08-11T00:00:00Z
Magda ci aspettava alla porta d' ingresso del paese, ci ha accolto con molta gentilezza e cordialità. L' appartamento è molto carino e accogliente e ben attrezzato. Peccato essere rimasti solo una notte.
anna
2016-08-14T00:00:00Z
This place is amazing!!!! I can truly recommend for everyone! It was a short staying, but we definetly would lile to come back on a holiday! Everything is near! Sea or mountains, you can reach everything in an hour. Magda is a supernice host! Waiting to see you again!
Lia
2016-06-24T00:00:00Z
Location ideale per chi, partendo dall'Italia è diretto a Postumia e non vuole soggiornare nella più costosa e turistica località in cui sono le grotte. Il villaggio e' molto caratteristico,ristoranti e altri servizi sono nel vicinissimo abitato di Aiduscina. L'appartamento, situato in un edificio nel nucleo storico, e' ristrutturato con gusto e risponde pienamente alle aspettative. Magda ci ha accolto con calore e si è resa disponibile per tutte le nostre necessità'.
Mauro
2016-08-18T00:00:00Z
A pretty place, confortable and clean, with many little touches for us. Thank Magda and we hope come back soon.
zorica
2016-08-17T00:00:00Z
Der Ort Vipavski Križ liegt malerisch auf einem Hügel und wir haben uns gefühlt wie im Märchen. Die Gegend sieht mindestens so schön wie auf dem Foto aus. Wer Ruhe sucht, wird sie hier finden. Die Lage ist günstig um tolle Orte zu erkunden: Sveta Gora, das Soča-Tal und auch Ljubljana und Triest sind nicht weit entfernt. Das Haus ist perfekt und liebevoll eingerichtet. Wir haben uns rundum wohl gefühlt. Magda ist sehr hilfsbereit und freundlich. Ihr Wein und ihre Marmelade waren köstlich und ihre Lavendel-Produkte sollte man auch probieren. Wir kommen auf jeden Fall wieder !
Erik
2016-08-07T00:00:00Z
Tipus d'habitació
Casa/pis sencers
---
Tipus de propietat
Pis
---
Capacitat
4
---
Dormitoris
Vipavski Križ, Upravna enota Ajdovščina, Eslovènia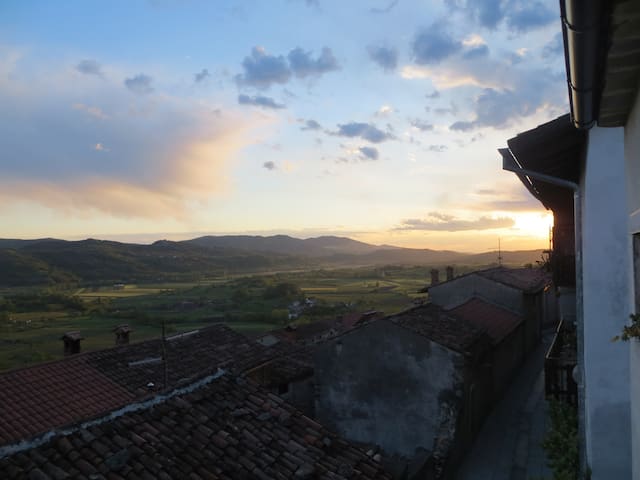 Apartment has a large, fully equipped kitchen, smart 3D TV, cable, optical fibre Internet, WiFi and a media server. There is a large hot tub (5 people) and a Sauna in a private 'Wellness Area'. Long lawned garden, a sun terrace, car park / car port.
Tipus d'habitació
Casa/pis sencers
---
Tipus de propietat
Pis
---
Capacitat
7
---
Dormitoris
Lohača, Postojna, Eslovènia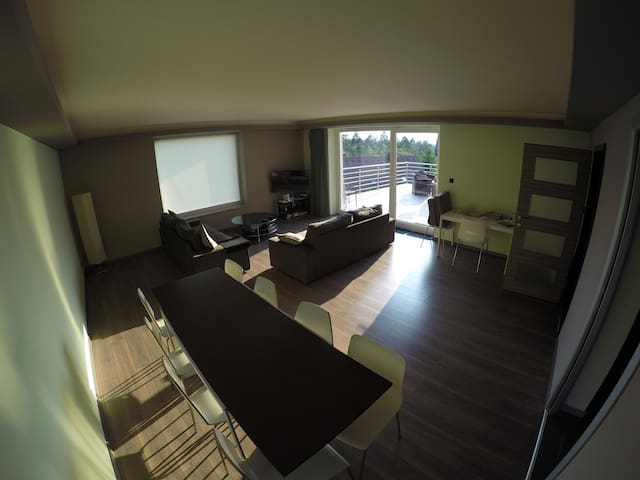 Comfortable two bedroom apartment, just 3 min. away from the World Famous Attraction - Postojna's cave. It is ideal for individuals, families with children, adrenalin lovers and recreational cyclists.
I'd like to welcome you in Postojna and kindly invite you to my apartment. Stop in Postojna and visit The famous Postojna's Cave and rent a wonderful ca 60sqm apartment with private entrance. This spacious apartment has 2 bedrooms, living room with fully equipped kitchen. The sofa in the living room can accommodate 2 extra people. From Living room is access on big balcony. Bathroom is standard with bath and shower, also there is wash and dryer machine for laundry. Rooms decorated in an elegant, modern and functional in virtue of its flexibility can best adapt the needs of guests (singles, couples or families) who love the attention ... Option : By prior arrangement B & B Children under three-free of charge.
Postojna is friendly smal town in the heart of Slovenian Karst. There are several interesting things to see and it is certainly something for every taste destination here. Perfect starting point for cycling,
The accommodation was great with laundry and air conditioning. It was conveniently located with an outstanding view and Anamarija left thoughtful treats to greet us upon arrival. However, we were disappointed with communication leading up to our arrival and entry into the building. There was no room for negotiation. In addition, we were asked to sign a tenancy agreement on arrival and had our passports inspected/recorded which we believed had been looked after through Airbnb and through our references.
Yegor
2016-07-29T00:00:00Z
The apartment is very nice and modern with a well-stocked kitchen and both a washer and dryer for laundry. The balcony has a great view towards the cave and for watching sunsets. Anamarija was very hospitable and even stopped by on my last night to say goodbye and give me some chocolates.
Chris
2016-09-19T00:00:00Z
Anamarija was really accommodating since we arrived very late at night and she was there to give us the key and show us the apartment. The apartment was very clean, comfortable, and it was very close to the Postojna cave. The view from the apartment is beautiful. Anamarija had a very nice fruit basket waiting for us, as well as cheese and cold cuts in the fridge. And, on the last day she gave us chocolates as a farewell gift. We loved staying there.
Adriana
2016-08-31T00:00:00Z
We had a pleasant stay in Postoijna, Anamarija was very friendly and helpfull. She personally welcomed us and even buyed cheese, ham and cake for us to make us familiar with the slowenian food! The appartement is very well equipped, you find everything you need in there! It was very clean and tidy. We slept well, the area is quiet and you have a nice view over the mountains and the landscape! Annamarija has also a lot of informations for hiking, sightseeing and trips in the region, so it was easy to decide what to do during the stay! We would highly recommend this appartement and its nice and friendly host!
Ina
2016-09-16T00:00:00Z
Appartment very well located for visits around Postonja. Welcoming by Anamarija is really a warm welcome.
Laurent
2015-08-02T00:00:00Z
Anamarija is a lovely person, we had some issues to have warm water the fors day and Sherwin invited is to her home to take a shower. We enjoyed our stay on postojna.
Vincent & Gaëlle
2015-07-09T00:00:00Z
We enjoyed three days in Postojna. The apartment really near the caves, very clean and with all we need. Anamarija is a very hospitable and mindful woman. We reccomend it to all the people.
Ferran
2014-08-04T00:00:00Z
The apartment is absolutely wonderful! It was clean and tidy, had everything we needed (even beyond it). Not to talk about the breathtaking sight from the balcony. Anamarija was also really nice and generous to us, gave a very warm welcoming. We had fun while feeling at home; we really recommend this place!
yana
2016-07-23T00:00:00Z
Tipus d'habitació
Casa/pis sencers
---
Tipus de propietat
Pis
---
Capacitat
5
---
Dormitoris
Postojna, Eslovènia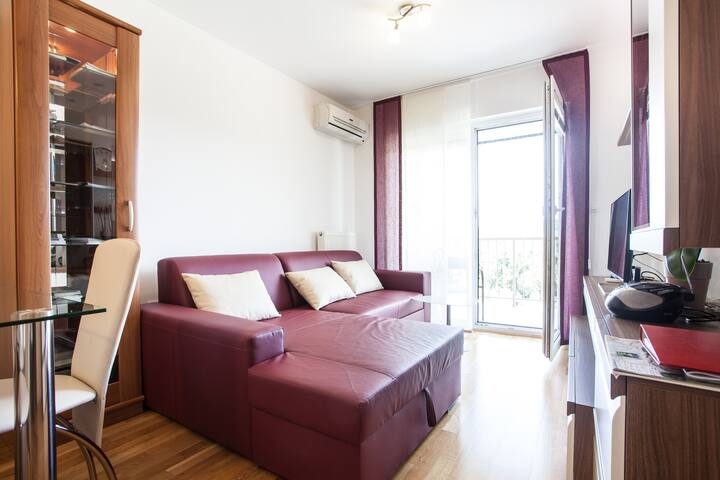 A big apartment in the center of Postojna. Close distance to Postojna Cave.
Quiet street in center of Postojna.
Matic and Essie were really great hosts! We had constant contact with them before and during our stay. The flat is really nice: tastefully decorated, spacious and comfortable. In the flat you have all what you need: kitchenware, towels, covers... There were even some breakfast products for us! Highly recommended!
Natasha
2017-02-24T00:00:00Z
Matic's and her husband were very kind and helpful while my stay in there apartment.
Sasi Kumar
2017-03-26T00:00:00Z
Tipus d'habitació
Casa/pis sencers
---
Tipus de propietat
Pis
---
Capacitat
5
---
Dormitoris
Postojna, Postojna, Eslovènia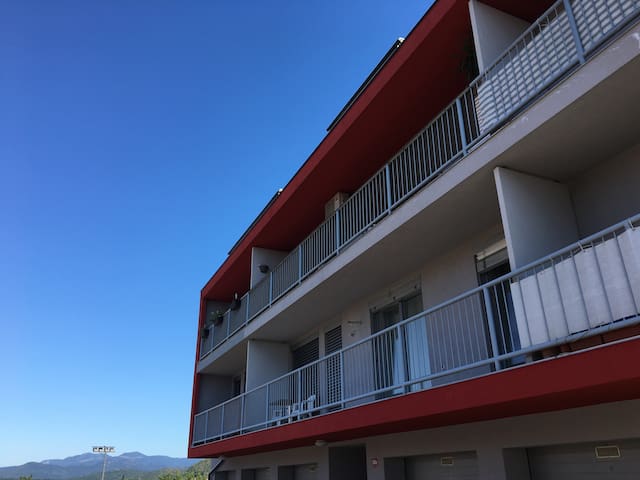 My place is close to Ljubljana (capital city, 20min by car) lake Bled, lake Bohinj (1 hour) Postojna cave (45 min by car) Bistra castle (10 min by car) curch (5min by car) Ljubljansko Barje (10min by car) a lot of space near house to walk-forest source of river Ljubljanica (15 min by car) the beach:Portorož, Piran, Koper( 1 hour by car). you will have a lot of place to walk, run, cycle free parking. My place is good for couples and solo adventurers.
Tipus d'habitació
Casa/pis sencers
---
Tipus de propietat
Pis
---
Capacitat
2
---
Dormitoris
Velika Ligojna, Vrhnika, Eslovènia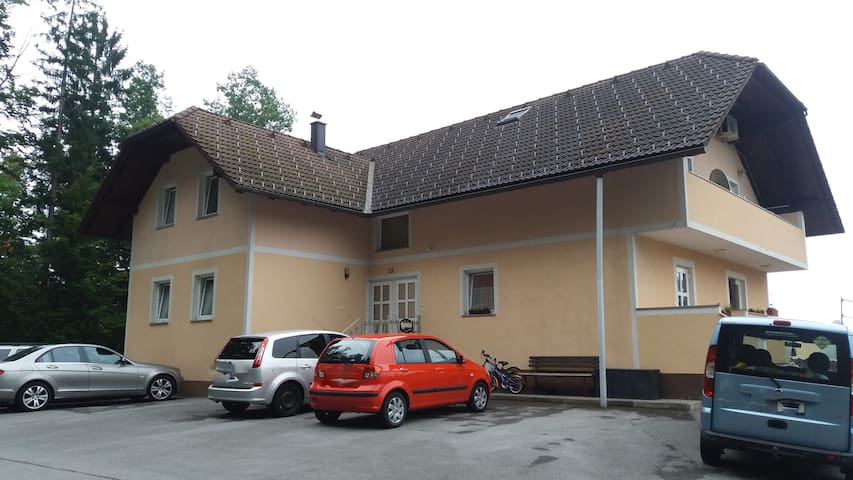 Stanjel a medieval town near Trieste invites you to experience medieval architecture where stone is basic constructing element, and among other the medieval castle, the church of St. Daniel and Ferrari's garden. Our house is on the top of the hill.
The apartment - studio has the kitchen nieche with electric stove, portable electric oven, refrigerator, waterbolier, coffemaker, mixer. There are SATV and WIFI. Outside is a terrace with table and chairs. BBQ afer request.
The landscape between Stanjel and the coast is unique because of the land that is based on limestone. All the water goes inside and makes different traces in the landscape. We have lot of wild flowers (daffodils, wild orchids, spices), birds (owls), butterflies... We are well known of dried ham named "prsut" and red wine named "teran". You can find them at our restaurants and traditional "gostilna".
To meet Vesna and her husband in Stanjel was a great moment. He came to drive us up to the house. Vesna was so kind and friendly. We arrived very late all shops closed She brought us dîner with a local white wine.
Joseph
2016-08-11T00:00:00Z
Vesna and her husband are generous and thoughtful hosts! They went out of their way to make us feel welcome. Stanjel is a beautiful, quaint hilltop village close to wineries and other attractions (we went to Trieste using the funicular on one day) The access to the cottage involves some narrow passes (we were guided by our hosts) but after the first time, it is much easier and you are rewarded with a wonderful outlook. The apartment is well equipped, clean and tidy. As there is just the one café in the village, definitely bring your own provisions for cooking. There are restaurants in nearby villages (Ravbar in Dol was great). We loved Stanjel and had a relaxing couple of days here. Definitely explore Ferrari's garden next to the castle in the village.
Karen
2015-09-29T00:00:00Z
Vesna was a very friendly host who picked us up from eht station and made us feel very comfortable in her beautiful little house on top of the hill! I would recommend to stay there 100% :) Thank you again!
Ivana
2016-10-04T00:00:00Z
We stayed in Vesna's apartment for one night and it was perfect for our needs. Very clean, lovely apartment in a pretty town. We arrived after dark and were unable to drive our car to the apartment (the streets are very narrow!) so we walked up and Vesna's husband kindly drove us back to our car to collect our bags. Vesna also told us where we could go for dinner and gave us a very delicious tomato out of her own garden! Would recommend staying here.
Emmy
2016-08-24T00:00:00Z
Tipus d'habitació
Casa/pis sencers
---
Tipus de propietat
Pis
---
Capacitat
2
---
Dormitoris
Štanjel, Sežana, Eslovènia
Apartments Štanjelski razgledi were built by reconstructing the ruins of the defense tower, which was build in 16th century for protection against Turkish raids. In apartments are left original parts of the defense tower, like firing and sighting lines which are between 400 and 500 years old. building is located in city centre on the top of the hill, where you can enjoy amazing views on even more beautiful landscape. In the immediate vicinity there are cycling trails and path ways.
When in Štanjel, you can also visit some of the slovenian landmarks (20 km away) like: The Škocjan caves, Postojna cave, Stud farm Lipica, castles Prestranek,Miramare and Devino, Rilke path, Sistiana, Trieste and many more. This location also provides interesting culinary experiences. For all those who like sea, on Saturdays and Sundays there is organised transfer with bus to city Sistiana where you can enjoy gratis beach.
the city is among the safest in EU
We had great time at this place, nice clean room with great view, from this oldstoned house. Friendly owner with a lot of tips, advices and recommendations. We would definitely come again.
Kateřina
2016-10-11T00:00:00Z
We had a lovely stay here, Adrian was very welcoming and even cooked for us! It was one of the best Airbnb experiences we've had. It was great talking to Adrian and he gave us very useful recommendations. The apartment was very clean and comfortable. We would definitely recommend this Airbnb!
Cassie
2016-11-07T00:00:00Z
A pleasant stay in an amazingly beautiful, yet quiet and unspoiled medieval town.
Simon
2016-09-18T00:00:00Z
We had a great stay in Stanjel, thank you to Adrian for looking after us and making amazing breakfasts. The apartment was very clean and has amazing views across the valley. The location is perfect, in the old town of Stanjel right near the beautiful Ferrari Gardens. Our host organised for us to hire his bicycles and gave us great advice on the local area. I would recommend the accommodation to everyone.
James
2016-09-12T00:00:00Z
Tipus d'habitació
Casa/pis sencers
---
Tipus de propietat
Pis
---
Capacitat
4
---
Dormitoris
Štanjel, Sežana, Eslovènia