Vi inviterer dig til at opleve en afslappende og foryngende "Retreat 'eller Get-A-Way i vores Tree Home Suite på Whidbey Island WA ... bare en time nord for Seattle. Vores pleje gave til dig er at give lækre og nærende kontinental morgenmad hver morgen, du er her. Du vil helt sikkert Transend travlhed travle liv og blive omdannet som du fordybe jer i dette utroligt fredelige og helbredende miljø. Nyd 'fuld cirkel' synspunkter rige skove i vores 250 Sq ft Octagon Tree hjem med en smuk cedertræ lige op gennem midten af den levende plads! En solid trappe rejser 13 ft over jorden, der fører til 10 'x 12' dækket dæk og din døren til himmelske hvile og trække sig tilbage! Surround vinduer og ovenlys i toppen tag giver dig mulighed for at føle, hvad det vil sige at være helt nedsænket i en smuk, fredfyldte, healing skov af cedertræ, gran, skarntyde, ahorn, elletræer, sorter af bregne ... og åh ... nyd ser og lytter til vores »resident« hjorte, ugler, ravne, ørne og mange andre fugle. Kig op gennem toppen af ovenlys tag at beskue en tilsyneladende endeløs kalejdoskop billede af grene kredser deres kufferter, som de når højt på himlen. Vær sikker på at se alle billeder bogført ovenfor, herunder udsigt over stranden, vand og fantastiske solnedgange over Olympic Mountains ..... lettilgængelig, mindre end 1/2 mil væk. Denne perle er bedst egnet for voksne, men vi tillader børn på 12 og ældre også. Tre voksne kan administrere bedre end 4, fordi den Skjul en seng er en "halvvejs-mellem-to-og-double 'størrelse. Men det har lameller og en fremragende kvalitet skummadras, så har det ikke den typiske Skjul en seng "stænger" til at kæmpe med, heller ikke synke i midten. Vi leverer single-størrelse, tykke og tætte puder og sengetøj ved behov for ekstra folk. Du er velkommen til at spørge os, hvordan vi bedst kan opfylde dine unikke behov. Indkvartering i den ene Tree House omfatter: Queen Bed, "slags" Dobbelt Hide-a-seng Sofa (se ovenfor), Skrivebord, spisebord, Gratis Wi-Fi, TV moniter for visning DVD'er / VHS. En termostatstyret radiator varmer og el 'Pejs' tilføje varme og stemning. Vi leverer et køleskab (med fryser), mikroovn, fade og sølvtøj til prep og spise enkle måltider, varmes op venstre-overs, etc. Vi har bare ikke tillade 'madlavning', ved hjælp af varme plader eller yngel pander, osv ... . Brand pit kan bruges til at nyde et lejrbål og grill eller stege hamburgere, hotdogs og skumfiduser. Væsentlig madlavning her med din egen madlavning udstyr er ikke opmuntret, da det ville kræve mere omfattende "oprydning" end blot et par fade og redskaber Vores afløb felt er små, og vi ønsker at holde strømmen af gråt vand i det sparsommelige ' og bionedbrydeligt så meget som muligt. Vi giver en velsmagende kontinental morgenmad til at nyde på din fritid. Din egen private (og meget sød) Shower Hus blot et par fodspor væk giver et brusebad, håndvask og state-of-the-art, ingen lugt kompostering toilet. Vi har en porta-potty (marine type) på dækket af træhus for middle-of-the-night behov, så du ikke behøver at traske ned i mørket til kompostering toilet i Shower House. Læs venligst husregler, før du reserverer at se, om denne form for indkvartering er rigtige for dig.
We had an absolutely wonderful time at the treehouse. Lynn was a great host and made us feel extremely accommodated. It's impossible to explain just how peaceful and relaxing it is to sleep with the patter of rain on the roof. We look forward to coming back again!
Ben
2016-03-15T00:00:00Z
Wow, words can't describe how great our experience was. Not only is the treehouse enchanting and comfortable, but Lynn and Ken we t above and beyond for me and my ten age kids. We didn't want to leave! It was everything we were told to expect and so much more!!
Lena
2016-06-26T00:00:00Z
We had an amazing time at this treehouse. It was very comfortable and cozy. The forest surrounds the whole thing and the scenery is relaxing. Lynn and Ken were very hospitable. Would definitely stay here again.
Kristen
2014-05-14T00:00:00Z
We loved this place! So unique & gorgeous. And breakfast was yummy (we think it might have been home-made granola, so good). We'll be back!
K
2014-07-10T00:00:00Z
Ken and Lynn are wonderful people and wonderful hosts. They gave us a warm welcome. It was very nice meeting them! We felt very comfortable with them and wanted to visit with them all evening, but we reminded ourselves that we should have some family time in the treehouse after all :) . They familiarized us with things in the treehouse and bathhouse so we knew how everything worked. And we had no problems whatsoever. The treehouse was super cool, surrounded with nature, and was very comfy. Breakfast included yummy berries and other items, and eating at the table on the deck in the morning was lovely. Of course, I'm sure like many guests, we just wanted to stay longer! We loved our stay and highly recommend a stay in the treehouse.
shana
2014-07-22T00:00:00Z
We were charmed by the warm welcome we received from Lynn and Ken, who went out of their way to ensure that everything was as it should be. Lynn purchased special items for our breakfast and even provided a kettle when she realised we are tea drinkers! The place is exactly as described, comfortable and homey with wonderful windows all around looking into the trees. A perfect place to kick back and relax. The teepee is gorgeous and we really enjoyed the pickle ball court. Little tip: there is a shuttle bus from Freeland to the airport.
marion
2015-08-03T00:00:00Z
Lovely place, would recommend. We liked the privacy, as the main house was a good distance away.
Ally
2016-11-24T00:00:00Z
Lynn and Ken were very welcoming, the tree house was lovely, and very comfortable. The surroundings were so beautiful with trees, birds, deer, and pretty twinkle lights. We were very comfortable and happy staying with such nice people in such a lovely place. We really felt like guests.
Molly
2016-03-12T00:00:00Z
Tipus d'habitació
Casa/pis sencers
---
Tipus de propietat
Cabana en un arbre
---
Capacitat
4
---
Dormitoris
Freeland, Washington, Estats Units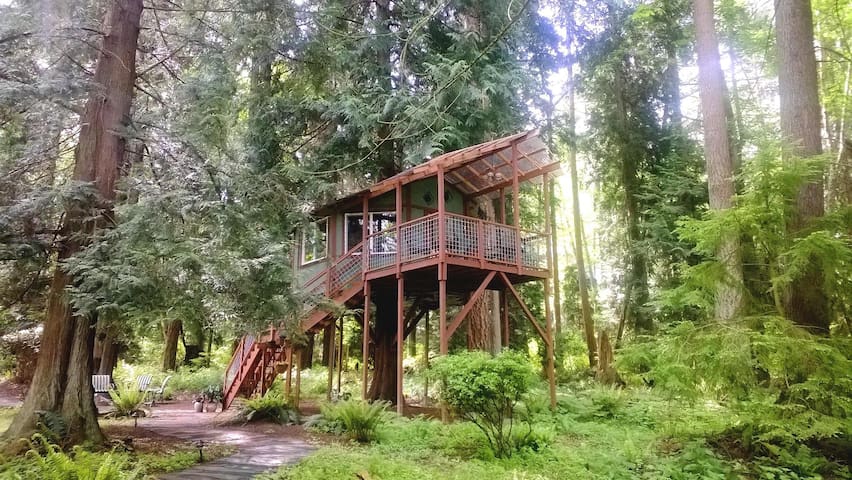 Light-déposé peu refuge dans les bois. Writers retraite, ventre calme comme l'espace; une place pour la consolation et introspectif. Deer, oiseaux, observation de la nature, la lecture, le calme, le temps cardiaque Sweet-. Près de la maison, également à la location par la nuit, mais à la fois très privé.
Bienvenue dans ce charmant chalet privé. Prix d'hiver est 79.- $ avec quelques prix plus élevés sur les jours fériés et la saison estivale :) Toutes les personnes de BIENVENUE, peu importe ce que religion-, orientation-sexuelle ou pays vous êtes! Le Cottage est situé à proximité de l'île de Whidbey House Petit, qui est totalement envahi par la végétation et à peine visible du chalet. Il est situé entre les arbres sur 3 acres sur la magnifique île de Whidbey, 2 miles de la ville de Freeland (magasins d'antiquités, épicerie, bureau de poste, etc., etc.), à environ 5 miles de ma plage préférée, "Double Bluff" , qui détient une vue imprenable sur la chaîne des Cascades, Mt. Rainier, et les montagnes olympiques avec des miles de marche. Le chalet est un espace confortable, éclairage rempli et aéré, avec son haut plafond et de nombreuses fenêtres et puits de lumière. La mezzanine debout a une fenêtre d'ouverture et de la lucarne pour une sensation plus spacieuse, ainsi qu'un lit confortable de taille double et un bureau et une chaise. Et à cause de la rampe de fil, il ne convient pas pour les enfants. Désolé. La cuisine américaine est équipée d'un réfrigérateur sous le comptoir, une gamme de taille de l'appartement de gaz, un four grille-pain, une cafetière, une bouilloire électrique, tous les plats et les condiments de base. Il dispose d'un granite et un haut comptoir de boucher. Il y a carrelage italien sur le sol de la salle, ainsi que dans la douche. Il y a beaucoup d'espace de rangement dans le cas où vous décidez de rester plus longtemps. Vous lounge sur le siège fenêtre de banc invitant peut-être prendre dans la vue sur la forêt ouverte, ou profiter du WiFi pour écrire ces lettres long en raison de votre ordinateur. Prenez votre petit déjeuner du matin sous le porche et écouter les oiseaux. De toute façon, ce lieu romantique super calme pour deux vous laissera nourri et nourri par ses splendides vues verts et la nature calme entoure. En 2001, mon ami, qui est un travailleur de bois fin, et moi avons commencé à construire cet espace merveilleux, en utilisant des matériaux recyclés comme dans des fenêtres, portes, revêtements de sol et de carrelage. Nous l'avons construit comme une retraite pour écrivains. Nous main irritait les grands poteaux et poutres pour un look plus rustique. Il nous a fallu 1,5 ans, chaque jour après nos emplois réguliers pour terminer sa construction! J'aime la façon tranquille, il est ici et comment il fait sombre la nuit parce que nous sommes loin des lumières de la ville. Chaque voisi(URL HIDDEN)acres de propriété et de la mienne je peux voir un peu de la maison de l'un d'entre eux. Je veux que ce sont seulement à environ 2 miles à Freeland où je peux trouver l'épicerie et le bureau de poste ainsi que certains magasins pour la chasse au trésor ou un café pour boire un café dans un jour de pluie. Et s'il vous plaît: faire lire les règles de la maison! De cette façon, il n'y a pas de surprises pour vous. Ceci est mon troisième espace posté sur ce site Web. Les autres sont: ~ Le plus petit espace et à un prix inférieur minuscule Maison / Caravane (http://www.airbnb.com/rooms/66010). ~ La plus grande maison qui a un lit queen size (https://www.airbnb.com/rooms/1742586). ~ Le chien amical, Ocean & Mountain View Appartement (https://www.airbnb.com/rooms/6164305).
From start to finish, staying at Madeja's cottage was a dream. Mandeja is a clear and friendly communicator so reservations and arrival were smooth. She went out of her way to make sure I had a great time, even showing me a nearby hiking trail, and accompanying me for a hike! She has an open heart, savvy people skills, and the intuition to know when I wanted company and when I wanted space. The cabin itself is very private, very cozy, efficient and beautiful. There is a great energy in the cabin and in the surrounding gardens that invites peace and serenity and a great nights sleep! This was a 50th birthday gift to myself, I got a ton of writing done, along with fun jaunts into surrounding towns and state parks. I saw a mama deer and a baby on the property while drinking tea in the lovely, landscaped garden. Whidbey Island itself is a must see, and Freeland is a great central location. There is a waterside park only 1.7 miles away, and makes for a nice morning run. I now have a new friend in Mandeja, and an experience I can go back to in my heart whenever I need some pause in my life! Highly recommended!
Eileen
2012-10-14T00:00:00Z
Great Bohemian Cottage! Comfy and wonderful. Thanks Mandeja :-)
Natalia
2014-02-02T00:00:00Z
This cabin was fabulous! Close to town and beaches yet privately tucked away in the forest. The cabin was neat and clean and had so much charm! I would recommend this space to anyone!
Ann
2014-05-13T00:00:00Z
We went for our honeymoon and this was the perfect little getaway. So peaceful and relaxing. Freetown is adorable and close to lots of neat things to see and do. We especially loved Whidby Pie Company and the hike at Ebey's Landing. The cabin was adorable with everything you need for a comfortable stay. We had a great time and would recommend this cottage. It was clean, quiet and serene.
Erin
2014-08-22T00:00:00Z
We had a wonderful weekend getaway to the Cottage! The emails and instructions beforehand prepared us well to find the cabin and get settled in. It was such a beautiful location, and I'm looking forward to returning again some time in the spring or summer to see the foliage another time of year. The cabin was well stocked with toiletries and kitchen items, as well as fun games and music to listen to while we relaxed. The ambience of the cabin made for a very peaceful, restful, and contemplative weekend. Thanks Mandeja!
Laura
2015-02-08T00:00:00Z
Beautiful cabin - everything was great- a bit hard to pee in the middle of the night. Was ok without a flashlight - nice for the heads up though. Host very nice!
Jennifer
2015-09-11T00:00:00Z
Mandeja's cottage is a beautiful place to stay, very nice and clean, surrounded by nature. We loved it and enjoyed the peace and quiet. Mandeja was very nice and friendly. Highly recommended.
Daniela
2012-08-07T00:00:00Z
The cottage was really cosy and nice. My wife and I stayed here to celebrate our 1-year anniversary and it was the perfect location. Quiet, secluded, and peaceful.
Stephen
2014-03-31T00:00:00Z
Tipus d'habitació
Casa/pis sencers
---
Tipus de propietat
Casa
---
Capacitat
2
---
Dormitoris
Freeland, Washington, Estats Units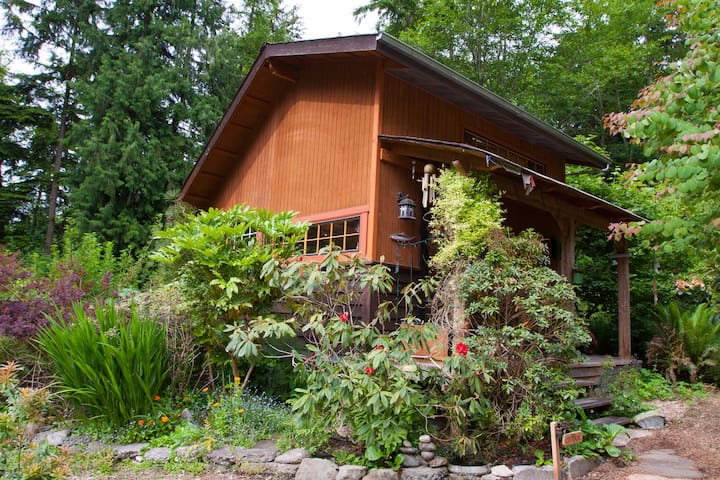 Am Ende der Gasse ist das Studio im Wald. Es ist ein Stand-alone-Kabine auf Haupthaus Immobilien. Es ist hell und sonnig, aber beinhaltet genau das richtige Maß an Privatsphäre. Sie können eine Fahrt auf unsere Darlehen Fahrräder hinunter zum Strand oder Kleinstadt Langley genießen.
Ruhig, warm und offener Raum, für ein privates Paar oder eine selbst behaupten Wochenende. Selbstversorger-Küche mit Kühlschrank, Mikrowelle, Toaster, zwei Brenner tragbaren Herd und Kaffeemaschine, die unsere lokal gebrauten Kaffee.
We had a lovely night in Linda's cabin. She was out of town so we didn't have the pleasure of meeting her, but her sweet dogs were there to greet us. Very cozy and great natural white noise from the forest creatures. :)
BreAnna
2016-07-01T00:00:00Z
Staying at Linda's studio was a great experience! It was such a nice, peaceful break from the city. The two very sweet dogs on the property were an added bonus as well :) Thanks Linda! Ryane
Ryane
2016-06-27T00:00:00Z
I would recommend this place to anyone who wants to get away from the riff raff. Linda was awesome! very accommodating and is constantly looking for feedback on how to make things better! Very enjoyable stay! THANK YOU LINDA!
Adolfo
2016-05-22T00:00:00Z
Sweet little place nestled back in the woods. My husband and I heard owls during the evening - how cool is that!!! Nice accommodations and well lit for an evening arrival. Enjoyed having coffee on the deck in the morning mist. Thank you very much for sharing it with Curtis and me.
Marti
2016-09-09T00:00:00Z
What a great little cottage for 2 and Linda is a warm cheerful hostess. It's just like the pictures. We had everything we needed - even yummy bread, jam, eggs and great coffee. Very peaceful and rural on beautifully picturesque Whidbey Island.
Ron
2016-08-17T00:00:00Z
Our stay at Linda's studio cottage was great! A nice little pad for two with the essential amenities we needed. We sipped coffee in bed (and a very comfortable bed by the way!), made breakfasts with ease using the little space-saving stove top and toaster and generally relaxed comfortably for the time we were actually indoors. That's because we spent much of our time exploring the island and putting Linda's guest bikes to good use! She had the tires pumped up and we hoofed it up and down hills, out to the beach, and over to Langley, to the tune of 23 miles! For what it's worth we would also recommend the Braeburn restaurant in Langley, where we stopped for lunch. We also made the drive up to Deception Pass State Park. I think a little under an hour drive each way but definitely worthwhile. Back to the (URL HIDDEN) was easy to find via (SENSITIVE CONTENTS HIDDEN) and we were greeted by a pair of nice pooches. The area was wooded and quiet. The studio is directly adjacent to Linda's house but retained a sense of complete privacy, even with the drapes pulled back. At the same time Linda made herself available for conversation, questions and suggestions on places to go, she even gave us an Atlas! Whidbey Island was beautiful, Thanks!
Stephen
2016-11-08T00:00:00Z
Beautiful and quaint, really updated cabin with every thing you could possibly need! Wish we could have stayed longer. We had quite a crazy time travelling and it was a great place to land.
Brenna
2016-03-27T00:00:00Z
Linda was a fantastic host, and helped me to sort a few surprises out for my girlfriend on her mini birthday trip. The location is great, quiet, scenic and calm. Her dogs, poe and kenna, were awesome welcoming committee and loved a game of fetch. Would recommend to anyone!
Joshua
2016-10-23T00:00:00Z
Tipus d'habitació
Casa/pis sencers
---
Tipus de propietat
Cabana
---
Capacitat
2
---
Dormitoris
Clinton, Washington, Estats Units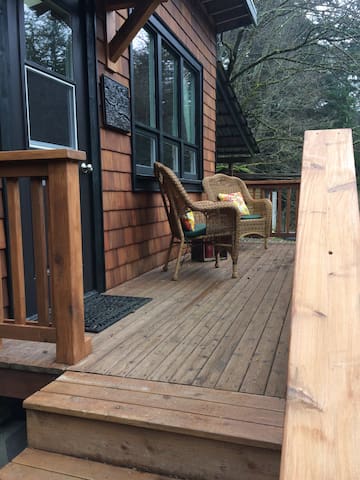 En tidligere græsk-ortodokse kapel, dette er en funky og unikt rum perfekt til laid-back mennesker. Det er centralt beliggende i amtet, tæt på mange attraktioner, herunder cideries, gården står og gårde. Du skal sætte pris på eklektisk charme til at værdsætte kapellet ... og det sjove ved at sove på et alter! Der er en indhegnet gård til at sidde og nyde nattehimlen eller slurk iste i solen.
Sæt blot et par miles uden for en victoriansk havneby samfund, denne tidligere græsk ortodokse kapel er en fabelagtig getaway destination i sig selv! Udendørs aktiviteter vrimler, som gør mange kulturelle aktiviteter på nærliggende Fort Worden, arrangeret af Fonden Centrum Arts. Centralt beliggende mellem Finn River Farm, Eaglemount Cidery, Fairwinds Winery og Alpenfire Cidery, kan du nemt tage en gård / vin rundtur i området. Chimacum og Port Townsend er omkring samme afstand fra kapellet. Marrowstone øen er meget tæt, også med vores foretrukne morgenmad stranden ved lagunen Island park. Bedst af alt, du sover på en himmelseng, draperet ud på den tidligere alter! Der er en queen size luksuriøs seng med dundyne på alteret. Ilden kan ses fra sengen og helt romantisk. Dobbeltseng i det private soveværelse er en kvalitet, fast seng med ned strøelse. Der er en spejlet dans rum, også! Der er ingen tv i kapellet. Der er wifi for dig at streame film, hvis du sætter en bærbar computer. Kapellet er en eklektisk og funky rum. Hvis du er vant til high-end, helt nye ejerlejligheder, er dette ikke stedet for dig! Det er bedre egnet til glade, afslappede, kreative-type mennesker, der sætter pris på det unikke. Hvis du er en kræsen, bedes du gå fra os ;-) Oftest, vil jeg være ude af byen, når lejere er her, så du vil næppe møde mig. Nøglen vil være i placeringen anført i huset manual. TUSIND TAK! Køkkenet er udstyret med en professionel køkken-Aid mixer, en ninja blender og en saftpresser (på længere huslejer, jeg plejer at tage juicer, men hvis du ønsker det, så spørg og jeg kan overlade det til dig.) Hvis du ønsker at medbringe et kæledyr, skal du tilføje dem som en ekstra gæst. Gebyret er for ekstra rengøring. Gennemgå reglerne PET omhyggeligt, tak. Jeg kan sørge for en picnic for dig, små begivenheder i kapellet og selv for en brand danseforestilling! Bare spørg og vi kan udarbejde detaljerne.
Centralt beliggende mellem Chimacum og Port Townsend, kan du nemt tour området gårde, cideries og vingårde. Marrowstone øen er meget tæt, og en af mine foretrukne morgenmad tid strande er der, på Lagoon Beach County Park. Hvis du har en hankerin 'at svømme, er dette også dit bedste skud på warmish vand!
My family and I truly enjoyed our stay at Peatt's place. It was easily accessible, clean and had all the necessary amenities for a comfortable stay. Peatt was also super responsive and helpful.
Khushwant
2016-05-27T00:00:00Z
The house was beautiful and so relaxing and fun to stay in! We even snuck out of the wedding we came up for a little early just so we could enjoy a little more of our stay here. Peatt was so great about communication and staying in touch even though she was out of town.
Madeline
2014-06-09T00:00:00Z
Peatt's home served as a beautiful and relaxing sanctuary for our family for two days. You'll truly love this house — which surprises and delights with all the lovely touches that Peatt has put into it. It was a pleasure communicating with Peatt. I can't imagine that there's a better please to stay in the area, which is about 15 minutes outside of Port Townsend, serving as a wonderful base for your activities in the area. Another note: The sit-down taqueria restaurant just at the turn off of the main highway was delicious and inviting too, and only a couple of minutes away from the house.
Jeff
2015-10-17T00:00:00Z
Such a wonderful little place. We felt very comfortable here and enjoyed the vibe of the home. Perfect getaway spot.
Katie
2017-04-09T00:00:00Z
Peatt Sabine's home is absolutely charming! Stunning architectural details and tasteful touches abound! My husband and I were welcomed with coffee and English muffins and a tidy treasure trove of interesting books. Her home was perfect for a weekend, and we've already recommended her place to friends looking to travel to Port Townsend!
Dana
2017-01-22T00:00:00Z
We had such an amazing stay at Peatt's place. We came to celebrate our wedding anniversary and get a little time away from our 1 year old. It was romantic and cozy and the perfect location for our trip! Peatt was a wonderful host, very communicative and flexible with check in and check out. We would love to come back!
Heather
2017-01-29T00:00:00Z
We had a great time. Very fun spot.
Zeek
2012-09-18T00:00:00Z
Very unique location with a great ambiance! We very much enjoyed walking the area and had a great time in the home. Very comfortable and welcoming. The wood burning stove was amazing!
Tyler
2014-11-09T00:00:00Z
Tipus d'habitació
Casa/pis sencers
---
Tipus de propietat
Casa
---
Capacitat
4
---
Dormitoris
Port Townsend, Washington, Estats Units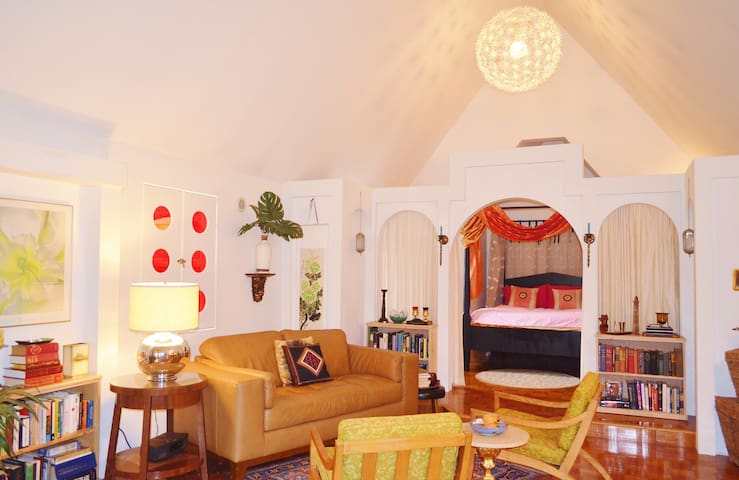 50' traditional Gaff Cutter located in Poulsbo WA . Enjoy hanging in the cockpit in a sweet scandanavian village
LILLE DANSER BOAT AND BREAKFAST Located in Poulsbo. if we are out sailing, you can see us via shipfinder- "lilledanser" Join us for a optional 2-hour hand's on sail for up to 6 passengers (add'l fee), followed by an overnight dockside on a traditional 50' gaff cutter and light breakfast in the morning. The vessel 'Lille Danser' has a double berth aft, a covered cockpit, pilot berth in the galley, and a double V berth forward that converts to a double. The galley offers a coffee/tea pot and old fashioned "ice" box. We offer a small electric heater and electric blankets. Pets and children are welcome. You will have the whole boat to yourself dockside. $5 overnight parking. Coin-op Showers and laundry. The area walking distance to shops in the small scandanavian village. This is a great way to enjoy Puget Sound. Here's a recap of fees: parking - $5 per day berth and breakfast for two = $160 base Additional guests= $10 each Pets = $20 total Sail = $200 includes up to six passengers, 2 hour hand's on sailing Inflatable rowing dinghy rental = free if you pump it up and put it away after. Ride to/or from the Bainbridge ferry to Poulsbo (11 miles) for 6 passengers-- $20 anytime.
Beginning JANUARY 1, 2017 Lille Danser will be in her new digs at the Poulsbo Waterfront. I love it-- right next to the Brass Kraken, the Loft, and the Slippery Pig. All worth checking out.
This boat is exactly what we were looking for! What a great experience! Tami was so great and considerate, I would stay with her again! She got us muffins and fruit and coffee and such to start the day, and even went as far as to give us a few quarters for the showers just to get us started!!!! How thoughtful! It really is the little things when you are traveling, and Tami had it all covered! Hope to be back again someday soon!
Kelsey
2012-05-29T00:00:00Z
What a wonderful getaway! Tami was so great with helping me plan a surprise for my boyfriend, he had the time of his life! We even had beautiful weather with great views of Mt. Baker and Mt. Rainier. Lille Danser was such a beauty. You can see how much love and hard work goes into keeping her up. Tami has a wealth of knowledge and I loved soaking it in! This Airbnb experience was perfect, a little taste of the amazing liveaboard lifestyle.
Janie
2016-04-01T00:00:00Z
I am pleased to meet Tami and take her boat for a 3 hours sailing. She is very kind and nice person. I had a great time with my friends and enjoy puget sound. I would definitely do it again next time.
Si
2014-04-08T00:00:00Z
Tami and the Lille Danser made our anniversary weekend absolutely perfect! Despite significant delays on the ferry, Tami was super flexible and made the check-in process easy and stress-free. We brought our dog with us, which made the weekend even better as there is a great off-leash dog area a 10-minute walk from the harbor and a great hiking trail at Gazzam lake. We also had another couple join us on the second day, and Tami gave us a fantastic sunset cruise through the Sound. We had never sailed before, so this was a new and fun experience. The living quarters of Lille Danser were clean, updated, and user-friendly to non-seafarers. Tami even left us a solid continental breakfast spread for each morning of the trip. The folks at the harbor were very welcoming. We hope to return to Bainbridge and stay on Lille Danser again in the future. We definitely give Tami and Lille Danser our highest recommendation.
Abbey
2015-05-11T00:00:00Z
We had the honor of being the first guests in the new slip at Paulsbo marnina. The town is amazing, great food, great breweries and a fantastic bakery. The boat was a special place to stay. We loved every minute of it. It was chilly outside (January) but it was so cozy, we warmed it up inside with no problems. Our hosts couldn't have been nicer and more accomodating. Loved the experience
Jeffrey
2017-01-06T00:00:00Z
Tami's boat was awesome! Took my boyfriend there for his birthday and we absolutely loved it. So relaxing sitting on the deck and watching the ferries go in and out! Everyone at the harbor is very friendly. The harbor is very quite, and the sleeping arrangements were so comfy! We were unfortunately unable to do the sail due to a time crunch on our end, but are looking forward to coming back to experience it! Boat was close to town, a quick uber/taxi ride if you're going out for the night. Took the dinghy out during the day around the harbor and to the neighboring dog beach, very easy to inflate and manage! Would highly recommend, and we will definitely be back!
Kelley
2016-09-12T00:00:00Z
This was really special - we did the sailing and had a lovely sunset sail with Tami. She is very kind and patient and we had a great time with her. The boat is awesome, I actually spent a whole day on deck, with a pillow and blanket, reading, watching the ferries come and go, and just enjoying the sunshine and a good book. I meant to explore Bainbridge Island, but the "boat day" was so worth it and very much needed. The only slightly negative thing I can think about is that the double bed feels very small - hubby and I aren't use to sharing such a small (although comfy) bed. Otherwise, top marks! Thanks Tami. PS. bring some spare quarters for the showers. Tami does provide some, but just in case you want a longer or extra shower. Also, we dined at Dock's Grill nearby, which was excellent.
Annette
2011-09-01T00:00:00Z
My family of 4 (2kids 8&9) had an amazing time on Tami's sailboat Lille Dancer. Tami met us at the boat for one of two sails during our stay. She thought of every detail inside the sleeping cabins. She stocked the mess with a yummy breakfast for us each morning. The neighbors in the other boats were beyond friendly to us. The location of the boat was fantastic and gave us great views day and night of Bainbridge Island and Seattle. The marina showers and amenities were clean and well-maintained. Our favorite part was the amount of access that Tami gave us to her sailboat while we were sailing. The kids got to steer and work the sails. She was really engaged with them. We couldn't have asked for a better stay.
Reyna
2016-08-15T00:00:00Z
Tipus d'habitació
Casa/pis sencers
---
Tipus de propietat
Vaixell
---
Capacitat
6
---
Dormitoris
Poulsbo, Washington, Estats Units
在树林光提交的避难所。作家撤退,安静子宫像空间;为安慰和反省的地方。鹿,鸟,自然看,读书,平静,甜味心脏的时间。 附近的小屋,还出租了一夜,但都非常私人的。
欢迎来到这个波西米亚洲仔! 所有种类人民欢迎,不管你来自哪个religion-,性定位 - 或国家! 冬季价格是$ 83.-与假期和夏季,一些价格较高:) 在主页设置艸附近。 这是3亩美丽的惠德贝岛,从弗里兰镇2英里(古玩店,杂货店,邮局等等等等)在树林中,距离我最喜爱的海滩,"双忽悠"大约5英里,持有的喀斯喀特山脉,山的壮丽景色雷尼尔和奥林匹克山和行走英里。 小房子是与它的许多窗户和天窗温馨的,充满光,通风的空间。其目的是在成人之旅。 卧室里有开放式窗户和天窗在床上躺了更加宽敞的感觉和看明星;它有一个树屋睡觉的感觉。它有一个舒适,大号床,一张写字台和椅子。有大量的壁橱空间的情况下,你决定留更长的时间。 常规大小的厨房配有一个大冰箱,煤气灶,烤箱,咖啡机,烤面包机,电茶壶,所有的菜和调味品基础(盐,胡椒粉,糖,茶,咖啡)。它有一个花岗岩和屠夫顶柜。 有一个在淋浴和乌巴图巴(墨绿色带金色斑点)在浴室的地板花岗岩多彩意大利瓷砖。 在客厅里,你可以在邀请16脚窗口座椅休息采取开放的森林景致透过13'窗口,或者享受无线网络写您的计算机上那些长期因信。 有你早上吃早餐在阳光房或宽敞的甲板上,听鸟儿。 这房子是只有2人正在共享的大号床,即使你可能认为有人可以睡在沙发上,我不答应。 无论哪种方式,两本超静音浪漫的地方会让你培育和以其出色的绿色美景滋养和静谧性包围。 我喜欢它是如何在这里安静,黑暗怎样得到它在晚上,因为我们是远离城市灯光。每个邻居有3到5英亩的财产,从我我可以看到其中一人家里的一点点。 我想,这是只有大约2英里弗里兰在哪里可以找到杂货店和邮局,以及一些商店的寻宝或咖啡厅品尝咖啡,在一个雨天。 番外篇: 1996年8月,我发现这个可爱的财产,在此之前我是吉姆,文字隐士拥有。 吉姆手挖300'的驱动方式,他建立了西尔斯套件家里,他知道用一代鹿,他从来不砍树;他烧了似的日志。吉姆从1963年住在这里,直到他于1995年去世。 从那时起,我带来了电力和电话,增加了卧室,阳光房,以及甲板,完全重新做了这个家里面,并创建了几个花园。 我将永远感激吉姆已经设立这个属性在这样一个美妙的方式。 (并请:做阅读的家规这样,有没有你的惊喜!)。 这是我张贴在本网站第三空间。 ~山寨http://www.airbnb.com/rooms/397290 ~小房子http://www.airbnb.com/rooms/66010 ~狗友好查看公寓:https://www.airbnb.com/rooms/6164305
This place was absolutely perfect! Surprisingly spacious but still incredibly cozy, warm, inviting, and with a great sense of protection and positive energy. It was the perfect anniversary getaway and we will definitely be back!
Meagan
2017-03-26T00:00:00Z
My partner and I had a wonderful and peaceful (EMAIL HIDDEN)ing from the city and needing to de-stress, the silence and forest views were immediately restorative for us. There are windows in almost every wall (and ceiling too!), and so we felt completely immersed in the surrounding woods - it was a very special and rare treat for us. The house was equipped with everything we needed for a comfortable stay, and the layout was very spacious for two people, which was great. It was only a short drive to town and the food store, so the location was convenient, yet very secluded. We've enjoyed 3 peaceful nights here, and we are already looking forward to returning here in the future.
Sigal
2016-12-24T00:00:00Z
Mandeja's place was wonderfully quirky, calm, relaxing and peaceful. If you're looking to escape for some quiet contemplation or just some peace of mind look no further! Mandeja was a great host, making sure we had everything we needed without being intrusive. Many thanks!
Tyler
2017-04-07T00:00:00Z
My partner and I spent the weekend celebrating our anniversary at Mandeja's cozy home in Whidbey. Mandeja was great at communicating from the very beginning. Be sure to read her instructions as they are very thorough. She also has notes around the house which I found really helpful. Her guide book is filled with great recommendations of things to check out around the island. We took her suggestions and enjoyed a nice hike at Ebey's Landing and mussels at Toby's. We were going to go to dinner but enjoyed the house so much we decided to stay in. All in all this is a great house. I would recommend it to anyone looking to get off the beaten path and have a cozy retreat. This is one of the best Airbnb experiences I have had. It is even better than advertised and was beyond my expectations.
Brittany
2017-01-22T00:00:00Z
The house is a lovely retreat that exceeds expectations. It's a fun layout and it's amenities make it feel like home instantly. I recommend this stay for some rest and relaxation.
Lena
2017-02-13T00:00:00Z
This was our 2nd stay at Mandeja's beautiful place, this time in the house. The house is just as cozy, welcoming and peaceful as her cottage is. Mandeja has taken a lot of care to make her spaces feel like home. The house has a ton of natural light despite being surrounded by lush, old-growth forest. With the fully equipped kitchen, we cooked fresh mussels from Penn Cove. We enjoyed time in the garden and on the deck in the surrounding woods with so much bird life. We had a fantastic visit at Mandeja's and will be back again soon!
Kristen
2015-07-03T00:00:00Z
I rented this for my cousin staying in Freeland for my wedding. The house is very large and private. There is no TV and parking is for one car and could be tricky. The place is clean unique and very peaceful.
kelson
2016-08-09T00:00:00Z
I thoroughly enjoyed my stay at this lovely home. Mandeja communicated very well, and was available to answer any questions. The home was great! It was very cozy, peaceful, and clean. The home is private and is located in the beautiful forest on Whidbey Island. It is the perfect place for a relaxing getaway. I would definitely recommend this listing.
Luke
2016-11-13T00:00:00Z
Tipus d'habitació
Casa/pis sencers
---
Tipus de propietat
Casa
---
Capacitat
2
---
Dormitoris
Freeland, Washington, Estats Units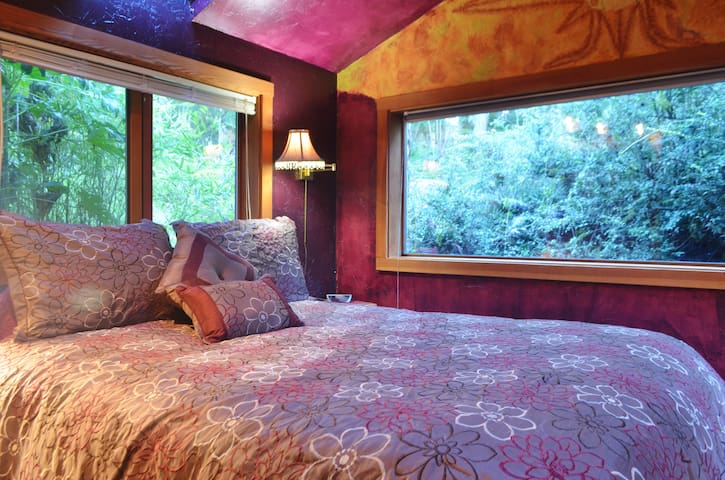 Your Lotus Belle tent/yurt comes equipped with a queen sized bed, with a wonderful lush comforter. You have a 180 degree view of the sunrise, Mt Baker, the Cascades and Puget Sound from your seaside front porch. Mini fridge has lots of goodies. Posh rugs inside, Mugs and glasses with a bottle opener. Outside, guests share a fire box and BBQ with the SeaRanch steps away. Your own Wifi, flat screen and usb charging inside.
Kick your shoes off and feel the wonderful "socks only" rug and interior. "The Bell" is situated on it's own wooden deck. With a 180 degree view of the water, mountains and shipping lanes from your front porch. You can lay in bed and watch the sunrise and hear the gulls and eagles overhead. All the amenities that you would expect in a room, you'll find in your beautiful 16 ft LotusBell Yurt/tent with full head room. The tent will glow in the morning from the sun rising over the Cascade mountains... Lay awake at night and watch the ships go by..... Yes, it has Wifi, flatscreen with Netflix and Amazon., electric heat, stocked mini fridge, usb charging It is Glamorous Camping at it best. Remember the space is smoke and flame free. Available Mid-May to Mid September...
There is a 180 degree water front view from your front porch in this rural area. You will be surrounded by our flower garden and have a huge lawn to lounge on. Have great walks on the beach, or a 5 minute walk to inner Mats Mats Bay is just 2 blocks away. The Ranch has a fantastic view of the Cascade mountains, Mt Baker, Puget Sound, Hood Canal and Ludlow Bay. Remember, we are in WASH-ington... we have clouds. Situated on the Cliff, it can get windy, but that is the fun of clamping at the SeaRanch.
Tipus d'habitació
Casa/pis sencers
---
Tipus de propietat
Iurta
---
Capacitat
3
---
Dormitoris
Port Ludlow, Washington, Estats Units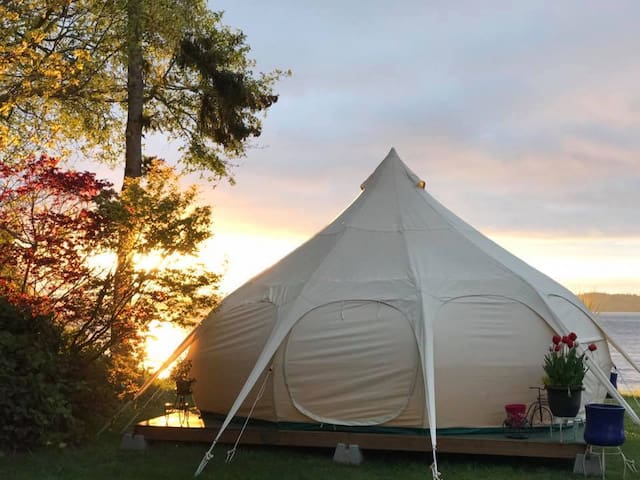 Views abound in this spacious 3 bedroom/3 private bath, light-filled home! Great for romantic getaways, local adventuring, or families. Enjoy a private secluded retreat: Kick back on the cozy deck for morning coffee or glass of wine, walk the waterfront harbor and beaches to enjoy abundant views of nature. Your stay includes access to the Beach Club at the Port Ludlow Resort, with pools, hot tub, and gym. Please tell us your plans and we will do our best to make your stay spectacular!
Our group of 5 adults loved our weekend at the condo. The space is beautiful and comfortable. The three full bathrooms were perfect as we all needed to get ready for a wedding at the same time. The beds are extraordinarily comfortable. The kitchen is very well stocked. Wendy was lovely to communicate with throughout the entire process and has thought of every detail! A wonderful place for a relaxing weekend.
Brittany
2017-03-19T00:00:00Z
Great condo! Stunning views from living room, kitchen, and 2 main bedrooms. Beautifully decorated. Everything you could possibly need (and then some) is thoughtfully provided. Pristinely clean, great communication with owner, and easy check in/out. Plus: washer/dryer, access to Port Ludlow pools, gym, trails....this place is great!!!
Brian
2017-03-28T00:00:00Z
We had a wonderful few days in Port Ludlow. The apartment was perfect. The views were stunning and the apartment was clean and comfortable and we had everything we needed. Wendy was very welcoming. We also loved all of the local surroundings and walks.
Julie
2017-02-20T00:00:00Z
The place was very comfortable as described. Wendy was very helpful in replying quickly for our messages & providing necessary support during our stay (thank you) . We really had a nice time & enjoyed our stay. I would recommend this place to readers who is going through the comments.
Varun
2017-03-05T00:00:00Z
Tipus d'habitació
Casa/pis sencers
---
Tipus de propietat
Apartament
---
Capacitat
6
---
Dormitoris
Port Ludlow, Washington, Estats Units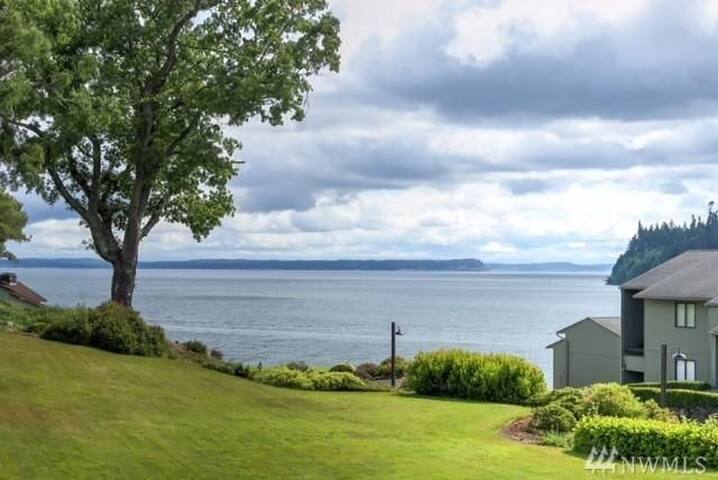 This spacious condo is in a beautiful, peaceful location with a great view. There are high ceilings and large windows overlooking the water. This 3 bedroom, 3 bathroom condo is perfect for families or friends to share.
Great condo, wonderful space with beautiful views. All the amenities and very comfortable. We had a lovely weekend enjoying the area. We wouldn't hesitate to rent this condo again. Watch for Eagles out the window!
Karin
2017-03-12T00:00:00Z
For us it was exactly what we required, a nice quiet relaxing getaway. The condo is very self contained and had everything we needed plus a great view. We would definitely come and stay again as either a couple or in a larger group. 8 people would comfortably fit quite nicely. And did I mention the view?
jonathan
2017-01-15T00:00:00Z
We had a wonderful stay in Port Ludlow. The condo was clean and spacious and had lots of toys for the kids. We especially enjoyed the beautiful view of the Sound, Whidbey and the Cascades! We explored parts of Olympic National Park and Port Townsend leaving us little time to check out the pool, unfortunately. Jennifer and Levi were great hosts and very attentive to our questions and requests.
Lauren
2017-01-02T00:00:00Z
Great place to stay. The views are breath taking from the bedroom and dining room. Has everything you'd need for just one night or multiple nights. The club house pool was a hit with the kids. Jennifer was a fabulous host! Would recommend to anyone.
Jonathan
2017-01-22T00:00:00Z
Tipus d'habitació
Casa/pis sencers
---
Tipus de propietat
Apartament
---
Capacitat
8
---
Dormitoris
Port Ludlow, Washington, Estats Units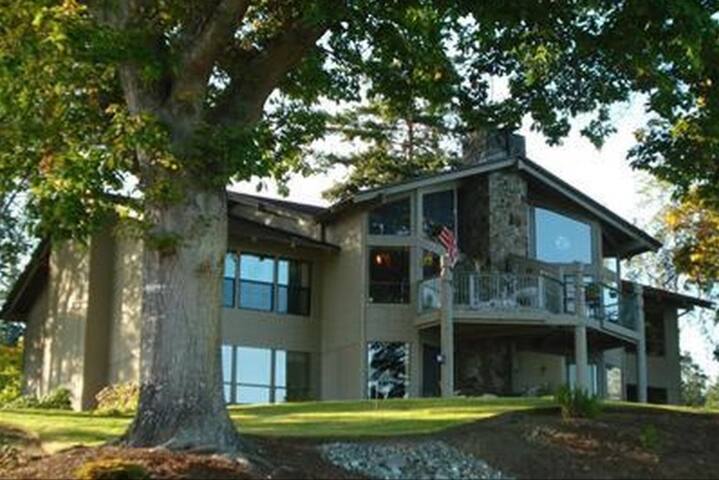 Our quiet and comfortable waterfront home boasts sweeping views of Hood Canal, a newly remodeled kitchen, and room for up to 12 guests. Stairs lead to a private beach which offers miles of beach combing. You can watch abundant marine wildlife and birds from the expansive deck overlooking the water.
The house is two stories, with a galley kitchen, hardwood floors, fireplace, and open concept living and dining room on the main floor. The kitchen has been recently updated with granite counter tops, stainless steel appliances including dishwasher, gas stove and oven, and microwave. There are 180° views of Hood Canal from the entire main level via a wall of windows. The living area opens onto a large deck overlooking the water. Seasonally, you will find outdoor dining table and chairs as well as an outdoor sofa and lounge chairs and patio heater. (Deck furniture is garaged in the winter). On the main level is a 3/4 bathroom with shower. Upstairs there are three bedrooms; king bed in the master, queen bed in the guestroom, and a full bed plus two twin beds with trundles in the large third bedroom. Two bedrooms have water views. The upstairs bath has a new vanity, and jetted tub/shower. There is a new full-size washer and dryer in the closet. Outside is a large fenced yard, outdoor fire pit, and stairs to beach. There are 64 steps which switchback in 3 runs down to the beach. Guests may use the stairs but assume all risk in doing so and are urged to proceed carefully and use handrails. At low tide the beach offers miles of walking, beach combing, tidepooling, and wildlife viewing. Seabirds and marine mammals are abundant as are crabs and clams. There is a bonus room on the lower level of the house. This room has a full-size wall bed. Access to this room is via a separate door outside. There is no bathroom attached to this room. There is a pack and play, high chair, and baby gate available at the house.
Our home is at the end of a quiet dead end street. The most common noises are the calls of the Osprey which nest in a tall tree adjacent to our property. We have friendly neighbors and a safe street with minimal traffic. The beach is private and only accessible to the residents who live above it. Come here to relax and recharge. We commonly see deer, otters, raccoons, bald eagles, osprey, great blue herons, seals, dolphins, hummingbirds, woodpeckers, and many songbirds. We have also seen orcas on occasion. Port Ludlow has a series of maintained hiking and walking trails and Olympic National Park is close by for further exploration. The Fireside Restaurant in Port Ludlow has delicious food and a beautiful setting. Kayaks and stand up paddle boards can be rented at the Port Ludlow marina. The historic town of Port Gamble is less than 20 minutes away with 2 restaurants, shops, playground, and ice cream. Heading north on the Olympic peninsula you can visit the Finn River Cidery, which has live music on summer weekends. Stop at the Chimacum Corner Farmstand to pick up some local seasonal produce and other groceries. The Farms Reach Cafe in Chimacum has delicious local food. Historic Port Townsend is about 40 minutes north with many shopping and dining options. The Saturday Farmers Market is delicious. Children and adults alike enjoy visiting the touch pools at the Marine Science Center at Fort Worden State Park as well as the long stretch of sandy beach.
Heather is a great host. She made sure everything was perfect prior to our group's arrival. Instructions were clear and easy to follow. The house was perfect, overlooking the water, light, airy, with plenty of room for everyone. The kitchen is well appointed (for those of you who enjoy cooking). Beach access is easy. A walk up or down the beach reveals beautiful scenery with plenty of flora and fauna to enjoy. We all enjoyed our stay and are glad that Heather shared her lovely home with us.
Damian
2017-03-31T00:00:00Z
This was a wonderful retreat for our family of 5! We had one of the best vacations we have ever had. In the middle of winter we strolled the beach every day, found sea anemones, shells, rocks, saw dolphins, huge crabs, oysters, clams, seals & birds. It was a piece of heaven for our 3 boys to run wild on the beach, swing on a beachside tire swing and go looking for sea creatures. The home is on cliffs overlooking the water and every room is a masterpiece because of the outside scenery...truly feels like you are on the edge of the earth. It's beautiful, well kept, clean & perfectly appointed with lovely decor. There was nothing missing!
Elizabeth
2017-02-20T00:00:00Z
Heather's home is such a warm and homey place, with an incredible view of the sound. It is immaculately clean and well-functioning. We had 9 people, 7 adults and 2 toddlers, stay for our family reunion. Everyone remarked about what a wonderful home this is and so perfect for all of our needs. We are very grateful.
Kayeri
2017-03-20T00:00:00Z
The place looked great and was spacious for 12 people. Easy check-in and check-out. Awesome view of the water!
Khoi
2017-01-02T00:00:00Z
Tipus d'habitació
Casa/pis sencers
---
Tipus de propietat
Casa
---
Capacitat
12
---
Dormitoris
Port Ludlow, Washington, Estats Units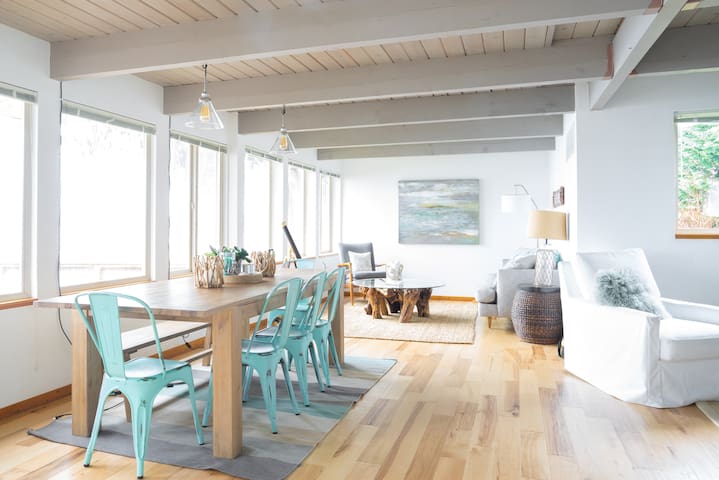 Beautiful custom-built home sits on a high bank overlooking the Straits of Juan de Fuca , fabulous mountain views, cruise ships and more. Our gardens, and pond attracts deer, racoon, birds, an otters. Bald Eagles nest close by and fly overhead .
Everything you need for vacationing is here. From a fully-equipped kitchen with granite counters, high end appliances. Stone wall and gas fireplace and high-vaulted ceilings in the living room and dining room, Our Four bedrooms can sleep up to 13 (includes use of sleep number air bed in the large center, view, bedroom) . There is a huge deck overlooking Incredible 200 degree VIEWS. Two of the bedrooms, and the loft have fabulous water and mountain views. From the deck and our solarium you will see sailboats, cruise ships, cargo carriers, Mt Baker, the whole Cascade Mt. Range, and much more. Always changing, always beautiful. We have frequent visitor to our back yard and pond, like deer, Raccoons, birds, and the local fox (love drinking from the pond) and an occasional sea otter can be seen playing in the waters below the deck. On the small islands a few hundred yards off of our deck you will be able to watch resident seals and sea lions basking in sun. We have an eagles nest nearby. They are often light in the tree in front of the deck, or "fly" fishing over the beach right in front of us. We particularly love our resident hummingbirds. We love our birds and have plantings to encourage them to hang out. We supply a high powered spotting scope and binoculars for your viewing enjoyment. All in all very relaxing rejuvenating location. Many of our guest come back year after year. All rave about the views and the experience. If you are awakened easily by the light you may wish to bring a sleep mask. We love waking up to the gorgeous sunrises popping over the Cascades--however, not everyone does. There are miles of hiking and biking trails in and around the Resort. We have championship PGA golf course in the Resort, within a mile, and 3 other PGA courses within 1/2 hr. drive. We provide one set of clubs for our guests to use, as well as two tennis rackets and paddle ball rackets (bring your own balls, please). We also have a very active marina and dock facility in the Resort where there are small fishing boats, sail boats, paddle boards, kayaks and bikes available for rent. The Inn at the resort has a wonderful dining room and casual eating area with a fireplace, bar and a large outdoor porch overlooking the water and marina.
Our waterfront homes is in the Port Ludlow Resort community. We are purched on a bank about 100' above Puget Sound and the Strait of Juan de Fuca. Port Ludlow is located at the edge of the Olympic Peninsula and the rain forests. Pacific Coast wilderness trails and the snow-capped Olympic Mountains are close by. Convenient from Sea-Tac airport. Just catch the ferry from downtown Seattle's waterfront and enjoy a 35 minute scenic ride to Bainbridge Island. The Resort is scenic 45 minutes drive from Bainbridge. On our guests list of favorite things to do, You may choose to take a 2 hr ferry to Victoria, BC and enjoy the day or longer. The ferry is approximately an hour and a half. West of the house. There are many good restaurants nearby and historic Port Townsend is a popular spot for visitors. Poulsbo, Port Gamble and the Bremerton shipyards (we occasionally spot the nuclear sub from Bremerton heading out to sea and passing right by our house) are other popular areas. Try the Olympic game farm The Hoe Rain Forest, and/or the Ocean Beaches of the rugid North West shores of the Olympic National Park. All are day trips from our home.
Wow! What a fantastic place- the view was spectacular. We watched eagles soar, small fishing boats cruise and ocean going vessels cross Puget Sound! The house was well equipped and everything was well labeled. we especially enjoyed the master bedroom with a sweeping view of the bay! This would be a fantastic place to base Olympic Peninsula and Mountains explorations.
Alela
2016-02-29T00:00:00Z
The place is in a quiet neighbourhood and feels more isolated than it is. We had 8 people. 2 bedrooms are spacious and have waterfront views though they lack blinds and face into the rising sun. Thankfully sleep masks are provided. One bathroom is very spacious, but it lacks locks into one of the bedrooms that shares it. The deck is very nice. The glass covered patio space is wonderful to sit in, with a great cross breeze if you open the doors on either side. Overall we enjoyed the stay here.
Erik
2016-05-31T00:00:00Z
Joan and Jay were fantastic hosts! They were responsive and helpful when we needed information. Their house was wonderful and we all really enjoyed the time there and their beautiful gardens. It's a lovely location, spacious, clean with lots of wildlife. We'd definitely stay there again in a heartbeat.
Cathy
2014-06-26T00:00:00Z
This was our family's second stay at Jays. Lovely, clean, and very enjoyable for my family.
Trish
2016-05-10T00:00:00Z
Beautiful home, very quiet. Lots of bald eagles out. Was a perfect place to spend a weekend away.
Mark
2016-02-14T00:00:00Z
WOW! Jay's home in Port Ludlow blew us away. What a spectacular place! Huge custom home in immaculate condition with an unbelievable view. We loved the layout - the house has a huge back deck that stretches almost its entire length with the majority of the rooms having a 180 degree view over out over the water. The moment we walked through the front door we knew we'd made the right choice. Beautiful condition, high ceilings, great natural light - just a gorgeous home in one of the most beautiful locations I've ever seen. Jay was great to work with - really good communication, everything was as described, very well organized with all of the info that we could have needed in a guest info book on the counter. This place would be very comfortable for 4 couples (3 full private bedrooms and one nice queen-bed in a loft) and would be a great spot for a family bbq on the deck. Would definitely recommend! Cheers, Brendan
Brendan & Helene
2014-08-02T00:00:00Z
This is an amazing house. Perfect for an extended family vacation. We had three generations in the house. There's privacy when you need it; you can be in one part of the house and not even hear the rest of the house. The kitchen/dining room/sun room are an open floor plan, making together time fun and easy. The views are fantastic. The back garden is beautiful and full of hummingbirds. We often saw deer with fawns walking around the house/neighborhood. We spent a lazy afternoon watching the boats go by. The house is just over the Hood Canal Bridge. It was an easy drive from either the Kingston or Bainbridge ferry. This is a very enjoyable property and you'll enjoy your stay here.
Katrina
2014-07-14T00:00:00Z
The house was beautiful with amazing views of the water you can't help but just stare at. My family held our Thanksgiving weekend at the house and we enjoyed sitting by the fire or in the solarium looking out at the water. The kitchen was fully stocked with enough dishes and cookware to handle a large dinner party and we had no problem preparing a big Thanksgiving dinner. There are also enough rooms for everyone to have privacy and get some quiet time if needed. It's the perfect getaway to just relax. I would definitely stay here again!
Leah
2014-11-29T00:00:00Z
Tipus d'habitació
Casa/pis sencers
---
Tipus de propietat
Casa
---
Capacitat
12
---
Dormitoris
Port Ludlow, Washington, Estats Units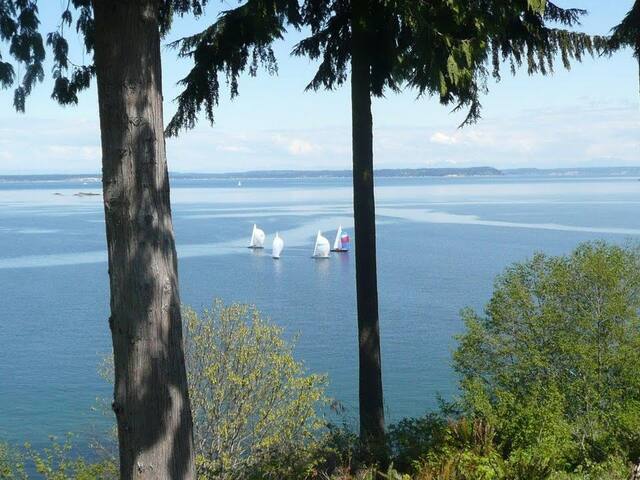 House, 1 Bedrooms, 1 Baths, (Sleeps 4)
Small families and groups of friends alike will love this Washington cabin, with its beautiful natural surroundings, easy access to the sights and sounds of the Olympic Peninsula, and tranquil, relaxing atmosphere. This home for six is only four miles north of the town of Port Ludlow and within 14 miles of Port Townsend, with a neighborhood beach a short walk away down the street, a stunning waterfront view from the deck, and quiet woodland scenery all yours to enjoy! The living room offers easy access to the great views of the deck, and lets you relax with your friends and family on a couch and some rocking chairs. Just because this is a good chance to unplug from WiFi, doesn't mean you can't enjoy some DVDs! And the wood stove will keep you warm on chilly nights. Whether you eat outside at one of the deck tables by the grill our at the indoor seating by the windows, you'll love food prepared in the fully equipped kitchen, complete with ample countertops, standard appliances, and gorgeous wood cabinetry. One bedroom, a loft sleeping area (access is via a ladder), and one bath accommodate a maximum of four adults, with space for six guests total. Everyone will get a good night's sleep between the two twin-size beds of the loft, queen-size bed in the downstairs bedroom, and two twin cushions for kids, while the home's shower and private washer/dryer will have everyone clean and refreshed when they head out! There's plenty to entertain you at home, with the pickleball court, nearby beach, and nature to appreciate, but towns like Port Townsend, Port Hadlock, and Marrowstone are each less than twenty miles away! After stopping to admire the small town sights of Port Ludlow four miles south, you can head to Whidbey Island's gorgeous lakes after a 42-mile drive and scenic ferry ride. Don't hesitate - place your reservation today, and get ready for an unforgettable trip to the Olympic Peninsula! No of people can fit in is 4
Tipus d'habitació
Casa/pis sencers
---
Tipus de propietat
Altres
---
Capacitat
4
---
Dormitoris
Port Ludlow, Washington, Estats Units
Comfortable setting of furniture and bed; shower only. Parking withing 10 feet. Electric fireplace / WIFI / TV / small reefer / coffee maker .... great ambiance. Golf, boating, art near by. TWO NIGHT MINIMUM STAY ... NON-SMOKERS ONLY !!!!
This ADU (attached dwelling unit) is located in a very quiet private community of 11 homes. There is no traffic noise, rail, airports or playgrounds around .... only forest animals and overhead geese. ADU has private entrance and very convenient parking.
The neighborhood is very quiet and uneventful - everyone just minds their own business.
Niel was very welcoming. The room was extremely well taken care of. The heating system in the room was great. The room is a good size for 2. Niel provided us with WiFi, TV, snacks and beverages. The bathroom was clean and full of toiletries. This place comes with a closet and dressers, enough clothes for a couple. Parking was fantastic, 10 feet away. The community was quiet and felt safe. Beautiful property and we hope to stay here again. We highly recommend this Airbnb.
Dustin
2016-10-09T00:00:00Z
Neils was so welcoming and accomadating. We had such a comfortable stay in our own guest house. Quiet , clean, and a hot tub off the guest house . Thanks Neils and Carol.
Mary
2016-08-19T00:00:00Z
Niels' studio was perfect for me as I was staying one night. The studio was in immaculate condition and he and his wife were so thoughtful and nice! It's very close to the town of Port Ludlow and had a private entrance so that I wouldn't disturb them after my wonderful dinner that Niels suggested in Port Ludlow. I would highly recommend staying at this location and will definitely see if its available again on my next trip to Port Ludlow! Thanks, Niels!
Bart
2015-07-25T00:00:00Z
This is the second time I have stayed with the Neilsens and it was even better than the first. I felt like I was coming home more than just visiting. The accommodations are impeccable, and the Neilsens are truly warm and wonderful people who, even after only a short time, I consider friends. I am so fortunate to have found this connection for my visits to Port Ludlow.
Candee
2015-04-27T00:00:00Z
Niels was a great guy, very nice! He gave us lots of info and answered all our question about the area. The studio was perfect for my husband and I. It was clean, cozy and had all the amendities that we needed. The area was nice and quite! Great palce. Great price!
Missy
2016-02-14T00:00:00Z
My stay at Niels was wonderful! He had everything sorted. It was just what I needed, and Niels' friendliness and hospitality made it all the more better. I hope to stay here again one day.
Keith
2015-08-11T00:00:00Z
Great spot. Awesome value. Niels was extremely friendly and helpful.
Ian
2016-07-06T00:00:00Z
Niels was a lovely host. It's a great place to stay, and a great neighborhood. Neat, clean, bright space and has all amenities covered- as well as some drinks and snacks they graciously provided. Highly recommend it!
Aditi
2016-09-14T00:00:00Z
Tipus d'habitació
Habitació privada
---
Tipus de propietat
Pensió
---
Capacitat
2
---
Dormitoris
Port Ludlow, Washington, Estats Units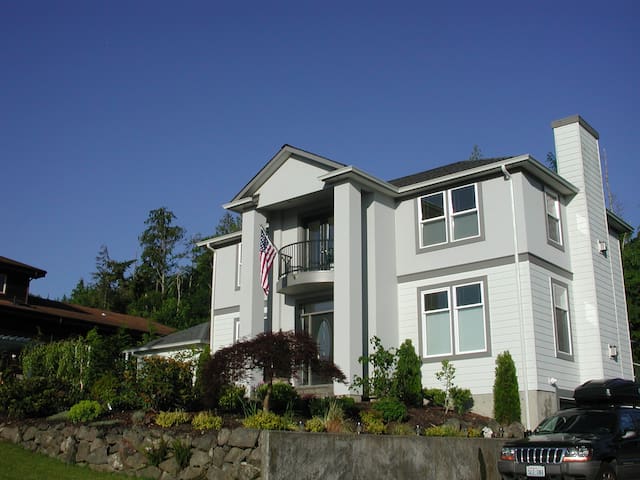 Enjoy a fun woodsy retreat with friends and family here at the Harn! The Harn was a barn that was reconstructed into a three-story home. It is located in the middle of the woods, with a private trail leading to a beach filled with sand dollars - both live and dead - and other cool sea critters! This property is also registered as a wildlife release site - a bird watcher's paradise - so bring your cameras! Sit back and relax with an outdoor fire pit, a large deck, wood stove heat, and more!
This is a three-story home including a upper, middle, and lower level. Upper level: The upper level includes one giant room with an amazing view, and one bathroom. It is also a great hang out place. It is accessed using a winding staircase as seen in the photos. Middle level: The middle floor includes a kitchen, a living area, a dining area, and the master bedroom. There are two bathrooms on this floor (as depicted), one of which includes a sunken jetted tub! The middle floor has access to a walk around deck with built-in seats, which circulates 3/4 of the Harn. This level includes a wood-stove fireplace - perfect to curl up around with a book. Lower level: The lower level has one giant room, another bedroom, a laundry room, and a bathroom (includes shower). This can be accessed from the stairs or directly from the outside. The giant room also includes a wood stove fireplace.
The host canceled this reservation 76 days before arrival. This is an automated posting.
Linda
2017-04-05T00:00:00Z
Tipus d'habitació
Casa/pis sencers
---
Tipus de propietat
Casa
---
Capacitat
10
---
Dormitoris
Port Ludlow, Washington, Estats Units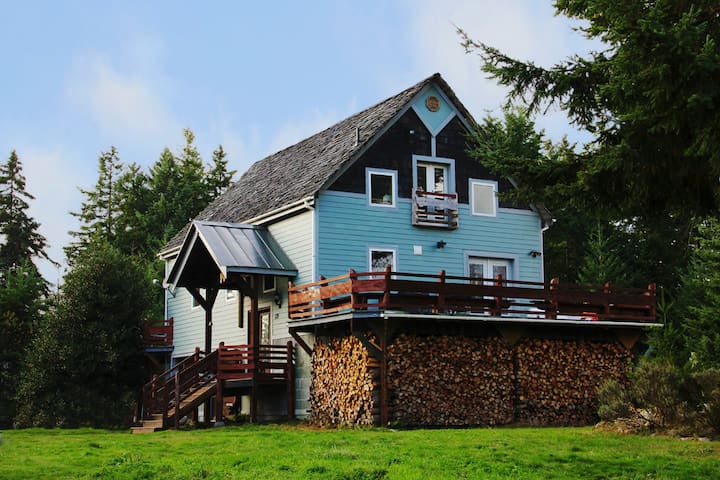 Steps from the beach and fabulous views, 3 bedrooms (2 with water views). 3 baths . Plus queen bed sleeping loft. Full access the the Beach Club. See "Details.",
Everything you need for short- or long-term vacationing is here from a fully-equipped kitchen to high-vaulted ceilings in the living room, fireplace, three bedrooms, loft and deck. Two of the bedrooms have a water view. Three bedrooms, two of which have their own private bathroom. A third larger bathroom is located right outside one of the bedrooms so it is accessible to guests and anyone sleeping in the loft. From the deck you will see sailboats, deer, otters playing on the lawn and water, Blue Herons fishing off the beach, and abundant bird life. A very relaxing rejuvenating location.
Our townhouse is in the Port Ludlow Resort community. Surrounded by the waters of Puget Sound and the Strait of Juan de Fuca, we are located at the edge of the Olympic Peninsula and the rain forests. Pacific Coast wilderness trails and the snow-capped Olympic Mountains are close by. Convenient form Seat-Tac airport. Just catch the ferry from downtown Seattle's waterfront and enjoy a 35 minute scenic ride to Bainbridge Island. The Resort is approximately 45 minutes away by car.
The condo's location is great, especially on a sunny day! Right by the water, it's fantastic.
Jie
2016-09-28T00:00:00Z
We were very comfortable Jay. And thank you for checking in by phone. A nice touch. Some heat in back left room as we discussed will be good as the temps drop. We saw 6 otters!
Shannon
2015-11-03T00:00:00Z
We really enjoyed the rental & it was true to the description. The water view is stunning & the condo was clean & has everything you need. It's close to a lot of cute towns & it was very relaxing. Jay and his family were very nice & we had a good experience.
Meredith
2015-01-19T00:00:00Z
I had a wonderful small family reunion with my adult brothers and sisters Memorial Day Week. It is early in the season (snow on some trails in Olympic National Park) so the crowds at the resort and on the roads were no problem at all. The Townhouse is great and just like the listing. Everyone had a great time and we ran out of week before we had done even half of what we wanted to do. Port Ludlow is nice and they have their own small trail system that is not well known and very private and fun. The condo was perfect and the cooks in the family enjoyed the high quality cookware which is unusual in rentals. Jay was really easy to work with. I had a lot of questions both before and after booking and he was responsive and wonderfully helpful. We took and day trip with the car by ferry to do tourist things in downtown Seattle (pikes market, space needle, chihuly glass and garden, etc) which was easy and fun by ferry. We were out and about most days, so we never got to try the local restaurants that were recommended. There is so much to do and weeks are so short. An A+++ AIRBNB experience.
David
2016-06-05T00:00:00Z
The reservation was canceled 283 days before arrival. This is an automated posting.
Judy
2014-10-27T00:00:00Z
We had a great time at the beachfront resort townhouse. The place was very clean and it was comfortable in every possible way. Sitting on the deck watching the boats come and go from the Ludlow Marina, plus the view of the mountains, made for a lovely visit. The Beach Club with two pools and hot tub, and tennis and then nearby golf made for a great family reunion. Highly recommend! (Side note - you will be charged an additional 10% that must be paid separately because this is run as a business and there are various charges.)
David and Kathy
2014-08-07T00:00:00Z
Tipus d'habitació
Casa/pis sencers
---
Tipus de propietat
Casa
---
Capacitat
8
---
Dormitoris
Port Ludlow, Washington, Estats Units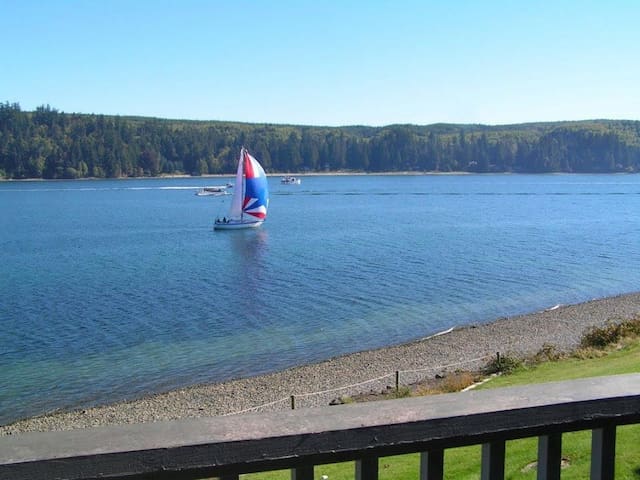 This beautiful retreat is the perfect place for that family reunion/ vacation you have been dreaming of! Complete with views of the Hood Canal-plan on playing all day and discovering the beauty here. End the day cozied up with your family in front of a fireplace on the comfy couches and enjoying the views of the sun setting on the water. Whether you are solo adventurers, a large family reunion or a small family on a getaway- Bridgehaven Retreat is the place for you.
Enjoy this beautiful house with its high ceilings, nautical decor and cozy atmosphere. Expect to adventure to your hearts content on the local beaches and end the days warming up by the fireplace in our grand living room. This house is perfect for family reunions or even small intimate vacations.
The neighborhood is quiet and safe. With public beach access close by, there are stunning views of the Hood Canal and surrounding mountain ranges. With Seattle close by and the entire Olympic Peninsula to explore-there are hundreds of activities to enjoy!
Family of 12 thanksgiving get-away. The house had everything we needed. Apperantly we were Delila's first vacation home renters. Everyone in the family was happy!
Ricardo
2016-11-26T00:00:00Z
We spent our family Christmas here and were delighted with the clean, comfortable and beautifully decorated home.
Sara
2016-12-26T00:00:00Z
Tipus d'habitació
Casa/pis sencers
---
Tipus de propietat
Casa
---
Capacitat
12
---
Dormitoris
Port Ludlow, Washington, Estats Units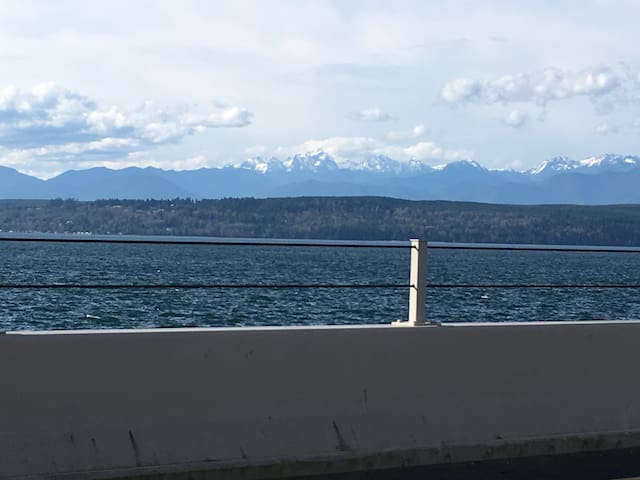 My place is close to the beach. You'll love my place because of the location. My place is good for couples, solo adventurers, business travelers, families (with kids), and furry friends (pets).
Tipus d'habitació
Casa/pis sencers
---
Tipus de propietat
Autocaravana
---
Capacitat
4
---
Dormitoris
Port Ludlow, Washington, Estats Units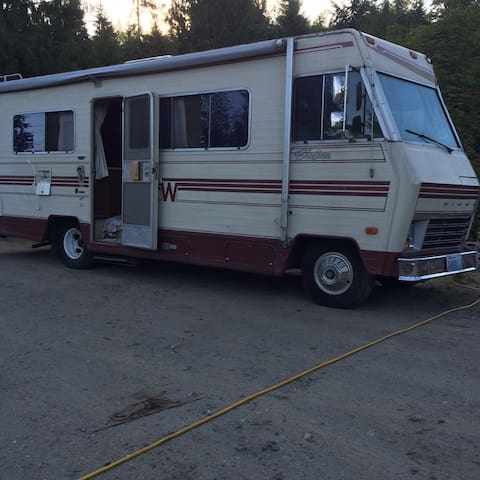 Nestled among acres of majestic forests, woodland trails, and saltwater beaches, Villa by the Bay represents the quintessential Northwest destination, with splendid views of the pristine and tranquil shores and the Olympic Mountains.
Welcome to our waterfront refuge! Here you can unwind on the spacious waterfront deck; listen to the gently lapping water, watch eagles, majestic herrons and countless seabirds. and mesmerized by the ever-changing lights and colors of the bay and the mountain range. Take part of the northwest outdoor lifestyle; star glaze after the endless sunset; and retire to a restful home away from home. The villa is just a half-hour ferry ride from downtown Seattle or Edmonds and a scenic drive from Bainbridge island or Kingston to port Ludlow, 90 minutes from Sea-Tac international airport, or arrive by float plane from Seattle's Lake Union. About the villa: All rooms are soundproof for added privacy and relaxation, wifi in all rooms. Living room -- large and comfortable seating areas, 40' HDTV, cable with 90+ channels, DVD player, a queen size sofabed for additional guests. Dining room -- full size dining table for 6-8. Kitchen -- fully stocked glasses & dishes, utensils, pots & pans, dishwater, microwave, toaster, coffeemaker, blender, and a Forman grill. 2 bedrooms -- queen size beds with full bath in each bedroom. A pullout sleeper chair in 2nd bedroom for child/small adult. As guests of the Port Ludlow resort and condominium, you have access to various outdoor activities and welcome to the great amenities it has to offer. Within a short (5 minute) walking distance is the Beach Club, its amenities include: 1) Indoor & outdoor heated swimming pools, hot tub, with locker rooms/showers 2) Gym & fitness center 3) Tennis, Pickle Ball & Squash Courts Other local activities: Bicycle and kayak rentals Golf (27 hole cours) Hiking and exploring wildlife 300 slip full service marina Beach combing The historic inn at Port Ludlow with its top quality fireside restaurant and bar.
The Villa by the Sea is a wonderful place to stay and the perfect location for getting to know Port Ludlow and the surrounding area. The Villa is very comfortable and well appointed. The water views are drop dead gorgeous with loons, ducks and geese feeding right outside the windows overlooking the bay. There is easy walking access to local trails and pool. Joyce is very responsive and detailed in her instructions for everything. I would definitely come back!
Christine
2015-10-30T00:00:00Z
Great view, comfortable condo.great separation of space!
Ginny
2014-06-27T00:00:00Z
Everything about this unit is fantastic! Yes, it is right on the water (sometimes rentals tend to stretch the definition of "waterfront") and is very private. The decks are designed in such a way that they are not viewable from other units. Heating setup is very efficient. Modern appliances and plenty of cooking utensils. Nice bathrooms with plenty of plush towels. Great beds and a bonus water view from the front bedroom. Very nicely appointed and a joy to stay there...Thanks Joyce
Roy
2016-10-27T00:00:00Z
Tipus d'habitació
Casa/pis sencers
---
Tipus de propietat
Apartament
---
Capacitat
5
---
Dormitoris
Port Ludlow, Washington, Estats Units
Introdueix les dates per veure el preu total. S'aplicaran tarifes addicionals. És possible que també s'apliquin impostos.