A one of a kind home, private, centrally located between Point Reyes and Inverness, the Point Reyes National Seashore, beaches, hiking, surfing, kayaking & more. Upstairs is open living/dining/kitchen area with huge beams, large plank floors, beautiful wood ceiling, lots of glass including a large stained glass window. The Kitchen has a stocked pantry and all appliances including a great vintage stove, microwave and dishwasher. Dining table accommodates 6. Living area has a comfortable pull out queen size sofa, TV for DVD and with streaming NETFLIX, HULU Plus and Amazon Prime and stereo and there is wireless internet throughout the house. A deck off of living area has table chairs and gas BBQ. Also in first floor is large sunroom with glass walls and ceiling, Balinese bamboo furniture, breakfast table with 4 chairs and an side deck. Main bathroom has a clawfoot tub and shower. The house has central heating. Downstairs is large secluded carpeted bedroom with a new queen sleigh bed surrounded by stone walls, huge beamed ceiling, with wood stove (for use by request only) and lounging area. There is a small bedroom with a single bed, desk and small deck attached. Also a small ante room with sink that leads to private outdoor hot tub and outdoor shower area nestled into tree covered rock walls and slate floors. There is a laundry room with full size washer and dryer and linen storage. Home is surrounded by nice gardens that bleed into forest of bay, oak and fir..There is a stone patio with table, chairs and small firepit. Please DO NOT use any candles in house!!!! ALL PRICES INCLUDE THE MARIN COUNTY OCCUPANCY TAX of 10% WHICH WE ARE REQUIRED TO COLLECT. There is a 2 car carport. There is a caretaker on the property in a small separate cabin who is always available for your questions or needs. Home is just a short walk down the street to a deli and bakery and is only 1.5 miles from Point Reyes Station. Please read house rules both here in house rules or house manual and on entry desk in house. Thanks
Great for short walks. A few minute walk from great deli!
We had a wonderful time at Jack's place. The house is amazing, we loved sitting out on one of the many decks and looking out through the trees. We are animal people, so the cat just made the place even better. We definitely hope to get back some day.
Jonathan
2015-04-05T00:00:00Z
The house was one of the more interesting and beautiful places that I have stayed in. It was all windows onto the forest and art from around the world on the walls. I loved it and did not want to leave. Jack was immediately accessible when we encountered a problem with the hot tub. Thank you for letting us stay in your lovely home Jack!
Elizabeth
2015-03-23T00:00:00Z
We loved this house! The rooms and outdoor space were beautiful and everything was very well maintained. While close to Point Reyes Station and other sites in the area, once you are inside the house you feel like you are in your own secluded section of the park. It was exactly what we needed for a long weekend.
Falon
2017-02-20T00:00:00Z
It was a great experience
Jeff
2016-07-17T00:00:00Z
We loved our stay in this beautiful cabin surrounded by lovely trees and plants. The home was as described except that the hot tub wasn't working. Jack called me just before our arrival to explain and offered a discount on the payment to compensate. We were disappointed not having the hot tub, but in the end, it all worked out very well. The bed and linens were very comfortable and everything worked well in the kitchen and bathroom. If you have music on cassettes, bring them along. There weren't other music options downstairs that I could figure out, and it would have been a nice opportunity to listen to my older tapes. All in all, it was a lovely stay!
Michele Moragne
2016-02-01T00:00:00Z
What a fantastic cabin! We had an excellent stay, thanks Jack!
Sean
2012-09-24T00:00:00Z
We had a lovely experience in Jack's home. It never felt crowded, even with five adults, but there isn't a whole lot of privacy so make sure you are comfortable with your traveling mates! The two friendly cats on our property really made the trip.
Stacey
2012-11-07T00:00:00Z
One of the most amazing family vacation place to stay. Love the bonfire pit and the hot tub. Beautiful wood works on the cabin. Incredible sun room with natural lighting.
Hugo
2014-08-08T00:00:00Z
Tipus d'habitació
Casa/pis sencers
---
Tipus de propietat
Casa
---
Capacitat
5
---
Dormitoris
Point Reyes Station, Califòrnia, Estats Units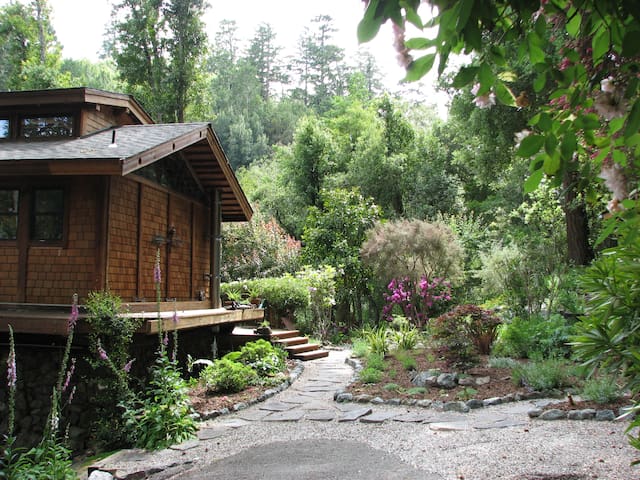 This 1970's reclaimed wooden house is a small part of history. Built with timbers from Fort Mason and an old buoy used as the main fireplace. We rent three bedrooms. Each has it's own full bathroom and double bed. The house is three stories. Guests have full use of the kitchen living and common areas. Bedroom #1 and #2 are not suitable for children or pets. We would prefer you reserve #3 if you plan on bringing your pet or child with you.
Fireplace is made from an old buoy found under the Golden Gate Bridge
The area we live is spectacular and full of activities.
great host, location, setting. very clean, neat house. we will be back.
bence
2017-03-15T00:00:00Z
We loved our stay at Gabriel's beautiful house just outside the town of Pt. Reyes. The house is immaculately clean. Our bedroom was quiet and peaceful. Gabriel messaged me beforehand to make sure we had all of the information we needed and answer any questions. We were greeted upon arrival by Jesse, who was managing the house for Gabriel. We enjoyed chatting with Jesse during our stay and he went out of his way to make sure we were comfortable. We look forward to coming back again!
Ashley
2016-07-11T00:00:00Z
Beautiful space
Liz
2017-03-05T00:00:00Z
We had a fantastic stay with Gabe and Elizabeth in Point Reyes. Their lovely home is a former BnB and maintains that vibe today. It's a true architectural gem, with delightful interior and a Marin charm. Elizabeth was super friendly and helped us find our way around the kitchen as we were cooking for the evening. And they even shared a bit of their delicious smoked salmon with us. They have a couple cats (I'm actually allergic!) but the rooms were so clean and well kept that we didn't even notice, so this was no problem at all. The location was also great, within 15 min drive to Tomales Bay and several great trails around the area. We had a lovely weekend and hope to come back again soon!
Praveen
2016-08-22T00:00:00Z
We had a wonderful stay and will definitely come back!
Frauke
2016-12-02T00:00:00Z
My housemate and I were doing a cycling trip from San Francisco to Point Reyes and stayed with Gabriel and Elizabeth for one night. We had a really fantastic time! The house is absolutely stunning, full of beautiful, quirky features (including the most amazing fireplace!), and the deck over-looking the garden is perfect for breakfast in the sun. The room itself was spacious, quiet and with an excellent shower. Our hosts were super welcoming and friendly, and it was very nice chatting over a coffee in the morning. We would definitely return!!
Nina
2016-04-25T00:00:00Z
COOLEST HOUSE EVER. Really neat layout and fun stuff to look at. Very convenient location and very helpful host!
Natasha
2016-06-05T00:00:00Z
I would first like to start off by saying that Gabriel (host) has a beautiful home! Pictures and words can't describe or show how spectacular the house and everything inside is. This was the first time my wife and I used Airbnb. We were only able to stay for a night, however, when we arrived at the home... Gabriel had a list of restaurants and things to do in the area. Point Reyes was very relaxing and the views and ocean are gorgeous. I had lots of questions before booking my room since Airbnb was a new experience for me. Gabriel replied to all my messages quickly and made me feel comfortable. Gabriel was a very personable host and made this experience a pleasant one! My wife and I can't wait to try Airbnb again in the future. We've also said that when we're back in CA, we would love to stay here again, but for a longer period of time.
Malachi
2017-01-18T00:00:00Z
Tipus d'habitació
Habitació privada
---
Tipus de propietat
Casa
---
Capacitat
2
---
Dormitoris
Point Reyes Station, Califòrnia, Estats Units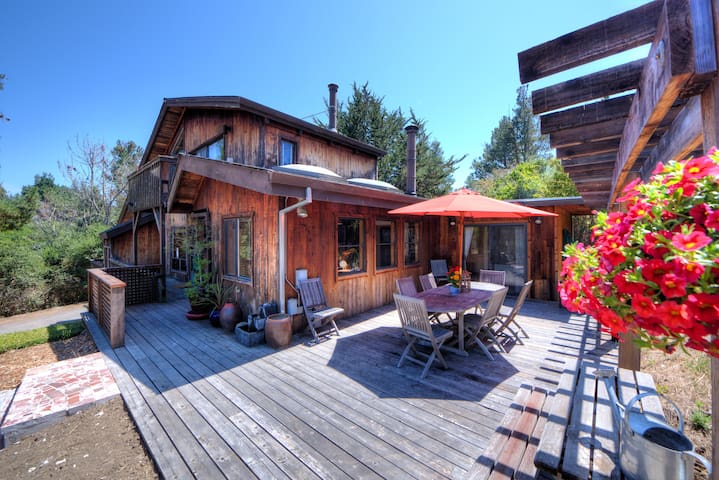 Located in a historic building & only 2 blocks from downtown, our cozy apartment is charming, eclectic & comfortable. Surrounded with windows, the atmosphere is light & airy, providing spectacular views of Tomales Bay wetlands & Inverness Ridge.
Bruce made us feel very welcome, with personal notes and excellent check-in details provided. We loved the space! Great decor, architectural details and features were so well-done. The apartment is nice and quiet and situated just around the corner from the center of Point Reyes Station and we fell in love with this little town. Friendly people, great shopping and restaurants and this perfect place to come back to. Thank you for everything you did to make our stay so delightful, Bruce!
Sara
2016-10-19T00:00:00Z
Beautifully and warmly decorated space with spectacular views of the hills.
William
2016-12-06T00:00:00Z
Amazing place, sweet, comfy and convenient for the area. You won't be disappointed!
karin
2017-02-17T00:00:00Z
Bruce was a great host and the place is gorgeous
Catherine
2016-12-26T00:00:00Z
Bruce was a truly wonderful host. He was extremely welcoming and accommodating, and treated us as old friends. The apartment is a real gem: it is comfortable, filled with natural light, decorated with lots of taste and a sense of playfulness, and it's a five minute walk from downtown. We can't recommend it strongly enough and hope to return soon.
Slobodan
2017-01-01T00:00:00Z
This place is really nice and its in a great location. The apartment gets lots of sun and you can easily walk to the shops, etc in Point Reyes Station.
Joel
2017-03-08T00:00:00Z
Bruce's apartment was absolutely charming. We loved the big windows and seeing the stars at night! An easy short walk into town to dine. Super relaxing. We would come back in a heart beat.
Megan
2017-04-03T00:00:00Z
We were lucky enough to spend the weekend in Pt. Reyes this past weekend, and we could not have had a more positive experience. Bruce was warm and communicative from the first correspondence, and we immediately felt welcome and comfortable. Check-in and Check-out were easy and flexible, and the place was perfect. Not only was it beautiful, well-stocked and clean, but it was the perfect location from which to enjoy everything that the area has to offer. My husband and I both agreed that this was our best airbnb experience to date; both the host and the place. We so enjoyed our stay and we will definitely be back if they'll have us! I would recommend this apartment if you're looking to feel like a local and have a great place to stay in and watch the weather. Thanks, Bruce for such a great stay!
ilse
2016-10-30T00:00:00Z
Tipus d'habitació
Casa/pis sencers
---
Tipus de propietat
Pis
---
Capacitat
4
---
Dormitoris
Point Reyes Station, Califòrnia, Estats Units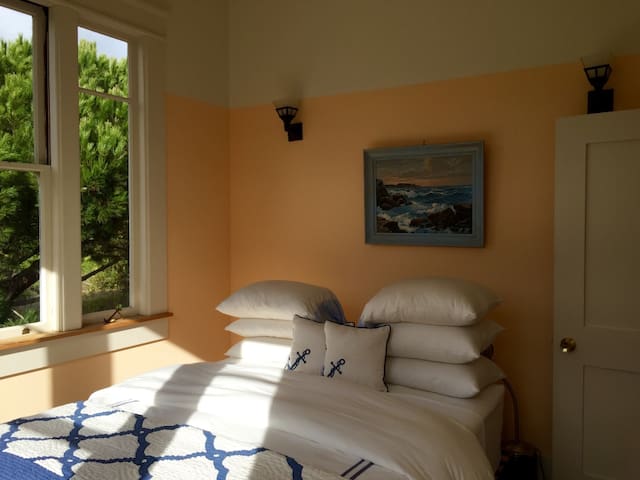 Large adjoined living room and kitchen offers a cabin-like feel for dining and relaxation in style. Master bedroom and bath, second bathroom. Second bedroom is detached. Located just off Highway One, up a quiet road just far enough away that you won't notice the highway, this home is in an ideal convenient location for exploring the local area. Just minutes from Point Reyes Station, and within walking distance of the Heidrun Meadery and Point Reyes Arabian Adventures (guided horseback tours).
House has a rustic, cabin like feel with large front rooms, high ceiling, yet contains an elegant quality as well. You can't beat the location, close to weekend busy Point Reyes, yet quite quiet. As you enter the front door, the open Living/Dining/Kitchen/Deck area is to your left, with high beam ceilings and ample windows. Down the hall is the bedroom with Queen bed and full bath. The kitchen is fully stocked with everything you'll need to prepare meals which you can enjoy inside at the dining table, or out on the large sunny deck with steps down to the backyard. Plenty of parking and privacy. Located just off Highway One, up a quiet road just far enough away that you won't notice the highway, this home is in an ideal convenient location for exploring the local area. Just minutes from Point Reyes Station, and within walking distance of the Heidrun Meadery and Point Reyes Arabian Adventures (guided horseback tours).
It's quiet and secluded, with great, private neighbors.
Brian was exceptionally accommodating with changes to my schedule and was really friendly. The place is really nice. Large, full of windows, nice yard all around and plenty of deck space. It is on a road very close to 1, but you would never know. The bed was super comfortable. I spent each day hiking in Pt Reyes, and most evenings back at this house, relaxing and reading. It was a wonderful vacation. I highly recommend.
Jennifer
2015-06-25T00:00:00Z
My two sons (15 and 13) and I stayed at Brian's place for 2 nights. We loved the place, which is in the middle of the woods, very quiet and yet close to Point Reyes station. We kayaked at Tomales bay and we went for hikes around the area, which is fantastic. The house has a nice bedroom and a well equipped kitchen. Both my boys decided to sleep in the living room and Brian kindly arranged one extra mattress for my eldest. Brian is an extremely kind person, he went out of his way to make us feel welcome, he showed us around and suggested places for us to see, gave us maps, books. Yet we had our privacy when we wanted. I hope to be able to come back one day, it is truly a paradise.
Claudia
2015-07-16T00:00:00Z
Brian was not there but made us feel welcome in his absence via notes on AirBnB site. His home was perfect. Close to road but so much foliage around it felt woodsy and private. The layout of house is great, lots of windows yet private. Very comfortable.
Rita and Woods
2015-09-11T00:00:00Z
Brian was clear and pleasant in all his interactions. His place was even better than it appeared in the listing. The house is perfectly located, close but not too close to the nearby town, with easy access to many great hiking trails. The house itself is beautiful and surrounded by trees and foliage, so it feels rustic even though Route 1 is only a minute away. I look forward to staying there again at some point!
Stephen
2017-01-03T00:00:00Z
Brian's home was the perfect, private getaway for nature lovers. His house is a very short drive to downtown Pt. Reyes Station and to Hog Island Oyster Co. Also nearby are tons of beautiful hiking trails. The home is equipped with a super nice kitchen and appliances; and the wood burning stove makes for cozy nights. We hope to return!
Amanda
2017-01-31T00:00:00Z
What a fantastic place to stay! Brian's house is beautiful, very private, and convenient for all the sights of Point Reyes and the coast. The bedroom and bathroom are very spacious, and there's even a woodstove in the living room for those cold, foggy evenings. Oh, and plum trees and blackberry bushes, if you're there in summer! I would absolutely stay here again and would recommend it to friends or family visiting the area.
Elisabeth
2015-07-21T00:00:00Z
Point Reyes is a quiet and beautiful place that we'd love to return to someday! Brian's place is near town, but feels very secluded. The yard is fenced in and overgrown in a way that feels even more remote than it is. The house itself has a fantastic layout, good wifi, a comfortable bed, a decent deck (which we didn't use) and a number of other nice features. Brian is pretty quick to respond, but we didn't have many questions. No cell reception out there, and we couldn't find the wifi password anywhere, but he got that to us the next day or so. Overall, this place is in a beautiful area, it feels remote, and has all the essentials either in house or accessible nearby (except a coffee pot, but there was a kettle). But here's the thing... This house is dirty. Not dirty like cluttered or with trash around... Dirty like a cabin in the woods who doesn't get cleaned with the cleaning fee. I have to leave this feedback because if we weren't comfortable with dust, bugs, a peculiar scent everywhere, mildew, black water stains in the kettle, a thin layer of waxy grease in every area of the kitchen, moldy rotten food in the fridge, dishes that needed to be washed before being used from the cabinets, or spider webs on the furniture (the chair to the right of the tv), we might have just turned right around and left upon arrival. But this is the thing, you actually kind of like it after a bit, because it is like camping, and you don't feel like you're in someone elses house. You definitely leave the place in a much cleaner state than when you found by virtue of being there. That was our immediate first stop upon arrival.... we turned around, went to the cute grocery store in town, bought paper utensils and plates/bowls, and a bunch of cleaning supplies (his were... well... kind of in the condition of the aforementioned items), and some snacks that we wouldn't have to cook. Absolutely no way you'd want to cook in there. Nope. Oh, and one more thing. Most of the windows have no curtains/blinds. So during the day, it's bright and gorgeous. But at night, you might feel like the hills have eyes. And the master bath has no curtains and the shower curtain only goes halfway across. So let that sink in. (we tried not to think about who was watching us). Anyway, after wiping down every surface we could, casually checking the bed linens for anything living, and hanging a sheet over 50% of the bathroom window (this was all that we could do), we settled in and really enjoyed our stay. Neat freaks: do not go here. Please, for your own sake. Rustic and wild adventurers: You will LOVE this place, it's location, it's nice owner, and everything else.
Steve
2016-04-05T00:00:00Z
Lovely home, great location, frequent visits from wildlife. Great decks/outdoor space and spacious living area. Comfortable bed and thoughtful host. Close to everything.
Steven
2015-06-22T00:00:00Z
Tipus d'habitació
Casa/pis sencers
---
Tipus de propietat
Casa
---
Capacitat
3
---
Dormitoris
Point Reyes Station, Califòrnia, Estats Units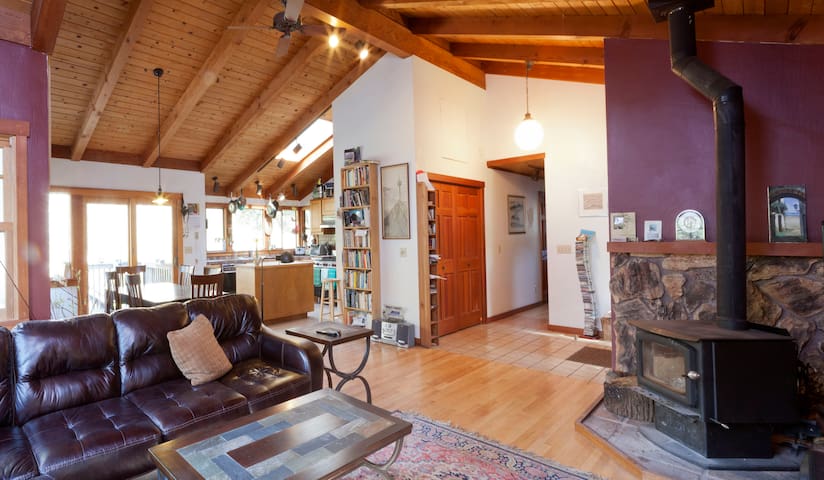 The Point Reyes Tennis House is located on a quiet rural lane in the village of Point Reyes Station, just one hour north of downtown San Francisco. The home is one of two residences on a beautiful acre plus property. It features a full kitchen with all the necessary utensils, appliances and dishes set next to a large dining and living area. The living area with vaulted ceilings, large windows with expansive views includes a flat screen TV/DVD player, a pellet stove, WiFi, free local and long distance phone with comfortable seating to enjoy the views of the garden and the Inverness ridge. Two lovely bedrooms, one with a queen bed and one with a double, are on either side of the bathroom and the washer and dryer. All linens are provided. Downtown Point Reyes Station, home of the popular Bovine Bakery, Station House Café, Point Reyes Books and the Saturday Farmer's market at Toby's Feed Barn is short walk from the Tennis House. The downtown features many wonderful shops and restaurants including Susan Hayes Handwovens, Zuma, Café Reyes, Stellina's the Point Reyes Surf Shop and Flower Power. The Point Reyes National Seashore and bay and ocean beaches are just minutes away. The property provides guests with a rose garden, a private deck, a brick patio with gas BBQ and picnic table and plenty of furniture to enjoy the out of doors. Guests are also invited to enjoy the private tennis court and the back yard bocce ball court. Children are welcome. A two night minimum is required unless a $75 cleaning fee is applied. Also, the county of Marin requires us to collect a 10% occupancy tax, which you may pay by cash or check after you arrive..
We rented the Point Reyes Tennis House to facilitate a family reunion with our cousin and her two boys age 10 and 13 and my sister who lives in Point Reyes. This was the perfect venue, right in town but with a huge and magical backyard perfect for a group to hang outside together. The boys had so much fun exploring and playing on the tennis court, the bocce court, and the many hand-built structures like a pirate ship and a kids clubhouse. We adults just relaxed in reclining chairs in the sunshine, and in the evening we all sat around the wood pellet stove playing cards. Jim showed us around when we arrived and made us feel very comfortable and welcome.
Tina
2016-12-22T00:00:00Z
Nice location close to town and local attractions. Comfortable house and beautiful grounds.
Lewis
2017-03-25T00:00:00Z
Excellent place to stay in if you want to explore the Point Reyes area!
Weizhuang
2017-01-04T00:00:00Z
All around great place! We loved walking into town, and playing tennis just outside. We also enjoyed the proximity to hiking in Pt. Reyes. I definitely recommend staying here!
Willow
2011-04-04T00:00:00Z
Our family had a wonderful time at the tennis house! The location was great, the backyard was a wonderland for our children, and the accommodations were wonderful. Looking forward to returning!
Jennifer
2016-07-15T00:00:00Z
This is our favorite place to stay in Pt. Reyes Station - great location, comfortable place with charming gardens, well stocked kitchen. Jim is always a great host. This time he was out of town but responded right away when we had a question. We will definitely be back again!
Lorraine
2015-06-12T00:00:00Z
Lovely house with all of the comforts of your own home! Jim was an awesome host, fast responses to messages, and very hospitable during our entire stay. The whole backyard looked like it would be amazing to hang out in during the summer!
Kevin
2017-01-16T00:00:00Z
Hosts were very welcoming and friendly. The house was beautiful, comfortable and perfect for relaxing and taking in the gorgeous views from the deck. We particularly appreciated access to gas grill and tips from host for grilling oysters. Location was very convenient to town for groceries, restaurants, and shops.
Cathy
2015-11-12T00:00:00Z
Tipus d'habitació
Casa/pis sencers
---
Tipus de propietat
Casa
---
Capacitat
5
---
Dormitoris
Point Reyes Station, Califòrnia, Estats Units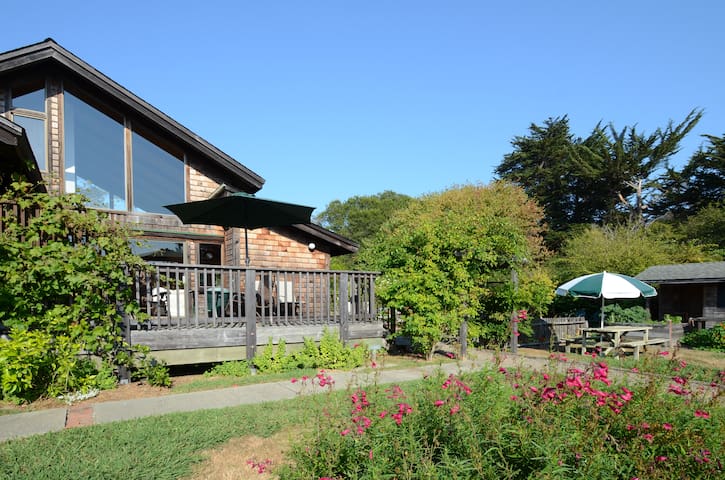 Pets are welcome, at $5 per night per pet. The $40 pet deposit is returnable within 24 hours of your departure (so make sure I have your address). Pet fees are due by cash or check on arrival.
The Berry Patch Cottage and Hideaway are ideal getaway spots for birders, hikers or simply those who want to relax in comfort and peace. The Hideaway is a cozy one bedroom cottages perfect for couples looking for a serene getaway. Includes galley kitchen with small refrigerator, coffeemaker, sink and microwave, fruit, teas and coffee, and dinnerware. Entrance to the intimate Hideaway is through an enclosed patio where you can lounge in sun or dappled shade, enjoying the sound of the fountain. A French door leads to the light and airy Hideaway, at once peaceful and sumptuous. Additional amenities include: Guidebooks ~ tide table ~ binoculars ~ Cable TV ~ DVD ~ CD ~ Wi-fi Guests may also use the Weber grill, and are welcome to pick plums, apples, berries, and vegetables from the organic garden. Only one hour's drive from San Francisco or the wine country, the Berry Patch Cottage and Hideaway are located on a quiet sunny acre where guests can enjoy abundant fruit trees, berries and vegetable garden - all organic. Both have outdoor seating for al fresco dining. Smoke and pesticide free. Pet and family friendly. Additional cleaning fee for pets, please inquire about pricing. Also, feel free to reach out regarding other special offers!
It's beautiful and quiet, with lots of friendly farm animals nearby (not too close!). The one-mile walk to town is peaceful and scenic.
This is a Great getaway experience. Jeri was a wonderful host and a delight! The property is quite and a easy short walk to town (1.2 miles). We highly recommend this property and hope to return soon. Thanks!
Mark
2016-02-08T00:00:00Z
Jeri's place was clean and comfortable, the perfect respite after a long day at the beach. Very quiet, couldn't even hear the adjoining people next door.
Willow
2016-08-16T00:00:00Z
I just had a quick stay for a weekend - it was easy to get in and out the place was cozy and comfortable. If you need to be in Point Reyes Station, this is a nice place to be.
Taylor
2016-09-26T00:00:00Z
Jeri was the perfect hostess. Quiet, well planned room. Good bed, just a great place to stay. Look forward to coming again.
Janey
2014-11-17T00:00:00Z
Cute and quiet cottage with close proximity to point reyes station. There is a nice enclosed patio for extra privacy and beautiful trees out back.
Lauren
2016-09-01T00:00:00Z
My husband and I really enjoyed staying at Berry Patch Cottage! Jeri was very hospitable and I loved the location. It's very close to town and to Point Reyes National Seashore. We made some great memories during the few days there!
Miyoko
2015-09-07T00:00:00Z
We love coming to Point Reyes for the occasional retreat for hiking and resting. Jeri's place was perfectly located and extremely quiet and peaceful. I had a lovely moonlit walk the first night and a refreshing morning run into town and back the last morning. We took advantage of the kale in the garden and some apples from the tree. My husband and I also explored the Bolinas Ridge Trail for the first time. Beautiful views!! We would stay here again.
Karen and Darren
2016-11-13T00:00:00Z
Jeri was so welcoming and kind! We loved her hideaway, it was very private and serene. The gas fireplace was a lovely touch. We had everything we needed and felt very cozy and safe. I would definitely recommend this sweet spot for couples and singles who want to get away from it all while still being close enough to town! Thanks Jeri!
molly
2014-12-01T00:00:00Z
Tipus d'habitació
Casa/pis sencers
---
Tipus de propietat
Casa
---
Capacitat
2
---
Dormitoris
Point Reyes Station, Califòrnia, Estats Units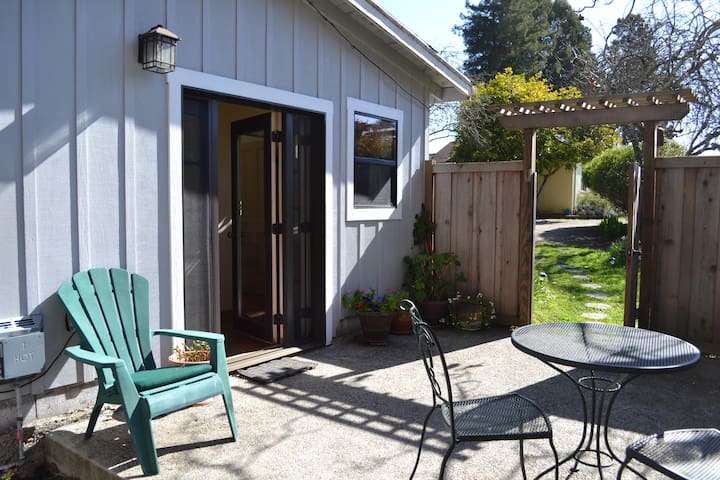 Enjoy this large, light and airy suite with separate, private entrance in the quiet Mesa Road neighborhood of coastal Pt. Reyes Station. The unit is blocked off from the rest of the house making your space feel like a tranquil guesthouse.
The suite is large- 500 sq. ft.- with high ceilings, hardwood floor, and and a 'living room' space. The attached full bath has a heated floor. Your entrance is private with a small brick patio so guests do not need to come into the main house to access the unit. Sliding glass doors open to a small semi-private section of the deck. The spacious shared portion of the deck, where you are likely to encounter Gus the tortoise, overlooks the open acre property and ridge view. The suite includes a queen bed, queen sofabed, matching armchair, table and 4 chairs, small coffee maker/ fridge/microwave, TV and a piano. An efficient, electric space heater keeps the room cozy during the winter months. Prime location to town with seasonal farmer's market, Toby's Feedbarn, Yoga Toes Studio, Bovine Bakery, Cowgirl Creamery, Palace Market, shops and restaurants. And more! Short drive to beaches, hiking, National Seashore, and Tomales Bay.
Our neighborhood is quiet and quaint with longtime residents, including horses, sheep, goats and chickens and a rooster or two! Tabletop Farm is right around the corner with a farm stand to purchase seasonal produce. We are just under a mile drive/walk to town.
I was lucky to find a place in the Point Reyes area last second for Christmas week. I wanted to propose to my girlfriend on the coast and wanted a place not far from some good coastal hiking areas. The place is at a great location and close to many of the Point Reyes attractions. Even though the studio was connected to the house we had our own entrance and felt like secluded. I enjoyed cooking breakfast with my backpacking on the porch each morning while watching chickens walking around. If you looking for a romantic place in the Point Reyes area without breaking the bank I would recommend Laura and Arts place. And she said yes if you wandering.
David
2016-12-27T00:00:00Z
Very welcoming , well lit and accommodating. Bed was comfy. Sweet dogs, and friendly hosts.
Rebecca
2017-01-22T00:00:00Z
I loved staying here. It was the perfect place for a solo retreat- room to do yoga inside or out, space to dance, a table for my art and a dreamy bed. All within minutes of many outdoor adventures and the welcoming town of Pt Reyes Station. The rental is quite close to the main house, but Laura and Art have maximized privacy and are easy going, friendly and respectful. Once inside I felt I could make the space my own easily. The decor is pleasing and new -light, airy, fresh and thoughtfully appointed. A beach house feel. The treat of thick bath towels, high end linens, a bathtub indoors and a warmed bathroom floor was not lost on me. A shout out to horse lovers- Pt Reyes Arabian Adventures is 2 min from here and provides one of the best rides I've ever had, with happy, healthy horses, guides with a light touch and stunning hilltop views. All in all, a great place from which to indulge in the feast of life.
Amy
2017-02-16T00:00:00Z
Place is amazing and the hosts are even better.
Cristobal
2017-03-19T00:00:00Z
We arrived to a colorful note by our host (her sister) and a wonderful suite, with modern West Marin decor and amenities. There was a guitar in the corner for strumming, comfortable couch and chairs, the sliding glass door looked out on the nice wooden deck - Gus the turtle slept and sunned himself there - and the open backyard with chickens (which were not noisy). But the best thing was the bathroom floor. It had radiant heat - what a sublime feeling. Our only problem was the bed/mattress. Laura went out of her way to provide extra bedding since it was forecasted to be chilly after a very hot Fall week. Unfortunately, while we were warm, we just couldn't handle the firmness of the bed. She even checked with others after our stay to make sure they were comfortable. But we had to leave a night early, after a nice breakfast downtown and hike along the ocean, but that was the last thing we wanted.
Jeff
2016-10-02T00:00:00Z
Great location, hosts and home. Would highly recommend!
Gagan
2017-01-02T00:00:00Z
My boyfriend and I loved this cozy getaway on our weekend stay in point Reyes. It's a lovely and short walk from town where there's a bakery, a bookstore and some other fun small town charm to explore. The roosters woke us up a bit early one morning but it just got us up and going so we could explore the lovely outdoors at the nearby state park that we had come to see.
Sara
2016-10-23T00:00:00Z
Laura was a gracious and helpful host! The space is cozy and comfortable, with plenty of room for 2 people. Beautiful grounds with friendly animals. This was the perfect space for a restful retreat.
Joan
2016-12-16T00:00:00Z
Tipus d'habitació
Habitació privada
---
Tipus de propietat
Casa
---
Capacitat
2
---
Dormitoris
Point Reyes Station, Califòrnia, Estats Units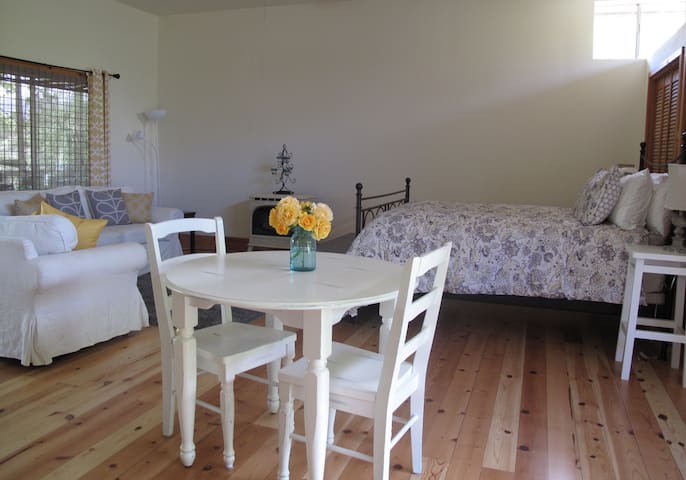 Our Casita is good for a couple or family with children or grandparents. A large flat paved driveway extends to the front door for unpacking, parking, and playground use. The inside walls and furniture are colorfully painted, and the floors are paver tiles. One corner has a propane simulated-wood-burning stove, and another has a large window seat for reading. NOTE that the Marin County room TAX of 10% cannot be included in the room price and is payable by check or cash at check-in.
Bill and Ellen's place was centrally located on Point Reyes, very near Point Reyes Station, and a great place to stay -- they provided breakfast food and were completely available for trip advice and general information. I'd totally recommend this as a place to stay.
Maggie
2017-01-19T00:00:00Z
The home was great to stay in. Plenty of space and very quiet. Location is in a beautiful area and we really enjoyed the drive and surrounding areas. Next time we will stay longer!
John
2016-12-29T00:00:00Z
We loved staying at the Casita Simple, "homy", close to the great Point Reyes spots. We appreciated the possibility of walking to town after an evening at the saloon! though such quietness in the morning. The house was fit for my three grown up daughters and myself and allowed us to prepare meals and relax after long walking days A great stay Isabelle
Isabelle
2017-03-12T00:00:00Z
We had a great time at the Casita. Everything was just as expected, plus they gave us breakfast items, which was a welcome surprise. Bill was very accommodating and we really enjoyed our stay.
Kelly
2017-01-01T00:00:00Z
Cosy and welcoming. Convenient for beaches and Point Reyes National Seashore. Lovely food a short drive away. The house is family friendly and there are toys to entertain little ones. We went in winter and the house was nice and warm.
Imogen
2017-01-16T00:00:00Z
Bill and Ellen were gracious hosts and thought of everything to make our stay relaxing and enjoyable. They were also very concerned for our comfort and the safety/entertainment of 2-year old. I would not hesitate to recommend the place to families, but the space would also be perfect for couples just looking to get away. Conveniently located right in Pt Reyes Station, this house is designed with a unique and artistic (but not stuffy) sensibility and had all the amenities we could possibly want, although Bill and Ellen provided a well stocked fridge and pantry for the essentials (including some very essential local Marin cheese), and a large selection of books. I am looking forward to heading back soon!
Cindy
2017-02-05T00:00:00Z
I stayed at La Casita with 4 other adults, and it was very comfortable. If you plan on cooking, there is only a hot plate and a large toaster oven, but it's very manageable. Bill and Ellen were very easy to communicate with and made us feel very welcome. They kindly left us eggs, milk, bread, fruit, and some wonderful jam and local honey for breakfast! The photos very accurately reflect the accommodations. The house is a short walk from the Point Reyes Station (town), which was convenient.
tess
2016-12-26T00:00:00Z
Bill was a great communicator and reached out directly upon my arrival, making everything seamless.
JT
2016-12-31T00:00:00Z
Tipus d'habitació
Casa/pis sencers
---
Tipus de propietat
Pensió
---
Capacitat
6
---
Dormitoris
Point Reyes Station, Califòrnia, Estats Units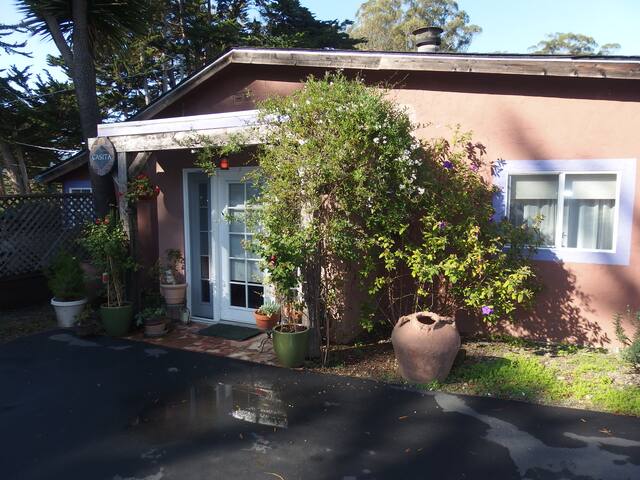 Private bed and bath with private deck and entrance. Queen bed with sofa that converts to additional twin bed. Small frig, microwave and Kuerig coffee maker in room. Near Point Reyes National Seashore with its many beautiful beaches and 75 miles of hiking trails. Within walking distance to the village of Point Reyes Station. Internet, cable and parking.
Dino's place is private and perfectly located for a visit to Pt. Reyes National Seashore. She was there to meet us upon arrival and the room had everything we needed. The private hot tub felt great after a day of hiking!
Heidi
2017-03-05T00:00:00Z
Cozy, secluded room a few minutes drive from Point Reyes Station. Private outdoor hot tub for relaxing. Very quiet location and great for a romantic getaway.
Mark
2016-12-11T00:00:00Z
Dino's home and our lovely space felt so private, yet so conveniently close to town. The luscious, colorful 'Monet' like garden and surrounding views were so relaxing - not to mention the hot tub! Dino was welcoming, yet gave us plenty of privacy. Her sweet friendly cat and dog, were quiet and very well trained. she provided all we needed - but don't miss the Bovine Bakery!!!
Andrea & Frans
2017-03-23T00:00:00Z
Super comfy, with an easy walk to town (<15m) and a relaxing hot tub. We loved having this home base to go do a bunch of hiking in the area.
Mitchell
2017-01-16T00:00:00Z
It's difficult to imagine a better place for a short getaway, which I attached to a recent business trip. I hate to say this because I want to go back and don't want it to be TOO popular :-) The location cannot be over emphasized: Point Reyes Station is walking distance away, and you're in the middle of all the Point Reyes National Seashore trails and attraction. The room has its own entrance, plenty of space for two people, small sofa, dresser, table, fridge, microwave and tiled shower. It's quiet and private. In addition to Dino, the welcoming committee is dog Phoebe and cat Toby. That says something right there. Plus I saw a fox and skunk as I was about to turn into the driveway. One day a deer was hanging in her neighbor's front yard like it lived there. I heard owls at night and sea lions in the morning. In their words, remoteness with proximity - a great combination.
Glenn
2016-08-13T00:00:00Z
Dino was a friendly and helpful host. Her place was private, quiet, and comfortable. The location was perfect for visiting Point Reyes National Seashore.
Barry
2012-09-07T00:00:00Z
Dino was wonderful and completely accommodating! It was my first ever air BnB experience so I was a bit nervous. I even went to the wrong house! She helped me through the whole process. The hot tub was definitely an added bonus and there was a lot of privacy. Will definitively stay here again and use Air BnB!
Julie
2014-08-18T00:00:00Z
Dino met us upon our arrival. She was warm and friendly and showed us to our room. We found the room to match the description perfectly. The neighborhood was quiet and walking distance to Pt. Reyes Station.
Sara
2014-10-19T00:00:00Z
Tipus d'habitació
Habitació privada
---
Tipus de propietat
Altres
---
Capacitat
2
---
Dormitoris
Point Reyes Station, Califòrnia, Estats Units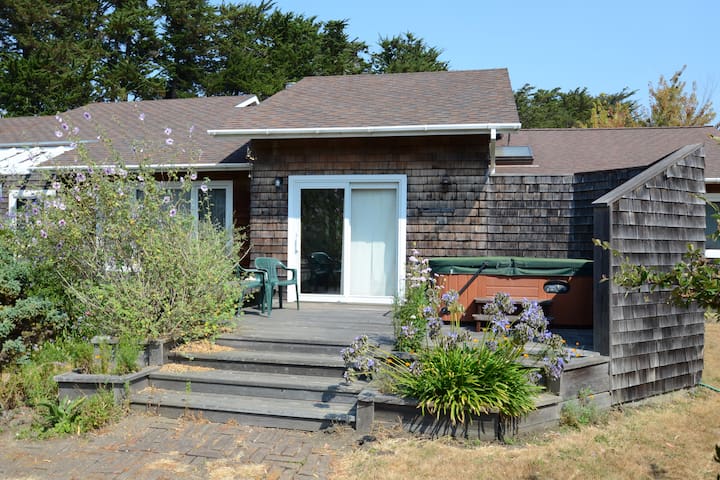 Sparkling New 1 BR Garden Spa House - a hidden sanctuary close to village shops, beaches and outings. Private spa, luxury queen & separate sitting room with day bed and twin trundle, Great room with huge kitchen island for conversing & cooking, sunset views, WIFI, Direct TV, Netflix.
The Sparkling New Garden Spa House is freshly built and is nestled away in the back of a property located in one of the village's rural neighborhoods. Taking the raised pathway to the house, it feels like you have entered your own secret garden and are far away, yet you are less than a mile from downtown Point Reyes village and shops. Without getting back into your car, you can walk down the easy back trail right into town. Immaculate, well equipped kitchen with huge granite island that spans the great room for easy cooking, conversation, and Netflix. Blender, oven, dishwasher, microwave, toaster, coffee maker and French coffee press, wine and other glasses, all dishes, pots & pans. Fridge and sink provide filtered water. Fridge icemaker and water easily accessed on front panel. Secluded, brand new outdoor spa for quiet, nighttime star gazing. Bathroom features a soaking tub if you prefer that to the outdoor spa. Beds for 3: a luxury pillow top queen in the bedroom and a day bed with twin trundle in the sitting room. The covered front porch is spectacular for sunset views over Inverness Ridge or morning coffee - rain or shine. The house is surrounded by grass and gardens with views all around. It sits near a former seasonal pond that is long gone, but still the ducks and birds fly around the yard as if they remember. The sunny location allows for enjoyment of the outdoors year-round. Taking a private hot tub under the black and starry night sky or watching the winter storms roll in are experiences that will ease your mind and enliven your senses. Having the comforts of WIFI, Direct TV, Netflix and phone will keep you connected while finding yourself in the beauty of a small village. The house is completely independent from the other dwelling on the property and is set apart with zen-like privacy screens. Guests have their own parking space. Smoking and pets are not allowed. House is located just 3.5 miles from the Point Reyes National Seashore visitor center where you can get information regarding the beaches, bay, lagoon, estero, forests, meadows, wild life, birds, creeks, rivers, trails. Lighthouse just 30 minute drive. Close to fishing, kayaking, paddleboarding, hiking, wine tasting, photographing. Experience the wilderness beauty - rolling green hills and ocean cliffs with sunshine sparkling on the water and dramatic sunsets.
The house is located in a quiet, rural neighborhood in Point Reyes Station, across the street from a horse ranch that is only partially used. The house is located on a dead-end road so there is no traffic except for those of us who live here. One side of the road has houses on it like ours; the other side is pastures with grazing horses, along with the horse ranch and olive trees that slope down to the willows of Tomasini Creek. Guests are encouraged to walk downtown by taking the back path at the end of the road. On your way you will stop at your own private vista point and marvel at the view between where you are standing in our neighborhood and the Inverness Ridge, with Tomales Bay in between. The back path makes for a delightful walk into town - down the hill, along the creek and over the boarded walkway. Neighbors are lifelong friends because of the rugged lifestyle required to live in this area - not exactly 'off the grid', but similar - stacking wood and making fires for heat; gardening and growing our own food and eggs; playing and working outdoors; home made cooking vs fast food; sharing life's joys and burdens. Guests are also encouraged to walk the other direction and stop in for a tasting at the Heidrun Meadery, one of the region's unique businesses, where mead is made from fresh honey; or drive a mile north and stop at the Point Reyes winery for a tasting before you reach the ranch where the famous Point Reyes Bleu cheese is made. And right downtown is live theatre, music, and dance, and awesome food. The CowGirl Creamery is there, along with the Bovine Bakery, (famous for morning buns) and Brickmaiden Bread (famous for sourdough loaves made in outdoor ovens). And Toby's Feed Barn is the village centerpiece for everything from community gatherings, to art shows (stop in and see whose art is being displayed) to everything a barn stands for. If you love outdoor adventure, wilderness, local grown food, wine, olive oil, bread, pizza, it's only a walk away from your Garden Spa House.
We really loved this place -- it was a perfect quiet getaway. It's landscaped nicely for privacy. The porch is great for sitting and the hot tub great for soaking. We would come back again for sure.
Scott
2015-11-01T00:00:00Z
Nancy has a lovely place and leaves detailed instructions for anything you might need to know.
andrew
2015-12-12T00:00:00Z
If you are looking for a very chill way to spend your weekend, you simply must consider this place. Nancy is a great hostess. She is on the ball with communication, and she made us feel very welcome when we arrived. She also let us know ahead of time that she would be having a family event one of the days of our stay, but there is so much distance between the cottage and the main house that it was never an issue. The listing photos do not quite capture how elegantly casual this cottage feels. It was perfect for our needs, as it has such a huge great room for us to keep conversations going no matter if we were preparing food or watching a movie. It is very lovingly decorated and maintained, and such a pleasure to come back to after hiking or walking around the neighborhood. The area is a sight to behold, as you are up in elevation to where you can see the mountain ranges just beyond the quaint little town that this cottage is nestled in. The town itself has a quiet bustling level of energy to it — not too much or too little of any one thing. There are touristy spots and places with information mixed in with the local markets, coffee shops, and general stores. It's just as pleasant as pleasant can be! The best thing about this experience was that we felt like we could stay in the cottage the entire weekend and just relax if we wanted, so we spent an almost equal amount of time exploring and just kicking back in the hot tub. You will definitely want to stay here more than a couple of days to get the full experience!
Jessica
2015-06-01T00:00:00Z
From the start, Nancy responded to us in a timely manner. We believe that the photos on the website don't do her place any justice. We arrived and the place exceeded our expectations. Everything is new, clean and well kept. We live in the same county therefore we are familiar with the town however her manual helped us explore a few new places. Can't say enough wonderful things about this finely decorated place!!
Oranous
2015-05-25T00:00:00Z
The house is sparkling clean, new and comfortable. We enjoyed the hot tub and the location near so many beautiful outdoor adventure spots. It rained for much of our stay, but idling around this house still felt like a getaway.
Christina
2017-02-20T00:00:00Z
We (my family of 3) had a great two night get-a-way in Nancy's cottage. Highlights for us included: a fierce game of family scrabble (the cottage provides a few games), nights soaking in the hot tub under the stars, and a delicious meal at Stellina in Pt Reyes. The cottage has everything you need and was spotlessly clean. The little stove heater is atmospheric and heats the place perfectly. It was stormy the first night we arrived and we felt snug and comfy. A heads up, you may want to bring slippers or cozy socks (like we did) as the floor is tile (with rugs). We'd totally reserve this cottage again. Thanks Nancy!
karen
2017-02-22T00:00:00Z
Nancy emailed us before our stay in way that was informative and welcoming, which made our arrival a breeze even though she was not there to greet us. The cottage was, in its simplicity, beautifully designed, and proved a cozy, quiet place to hang out in during the winter rain storm that coincided with our arrival.
Jeff
2017-01-05T00:00:00Z
Nice cottage that felt secluded, yet very close to shops and restaurants in Point Reyes Station.
Dan
2016-12-23T00:00:00Z
Tipus d'habitació
Casa/pis sencers
---
Tipus de propietat
Casa
---
Capacitat
3
---
Dormitoris
Point Reyes Station, Califòrnia, Estats Units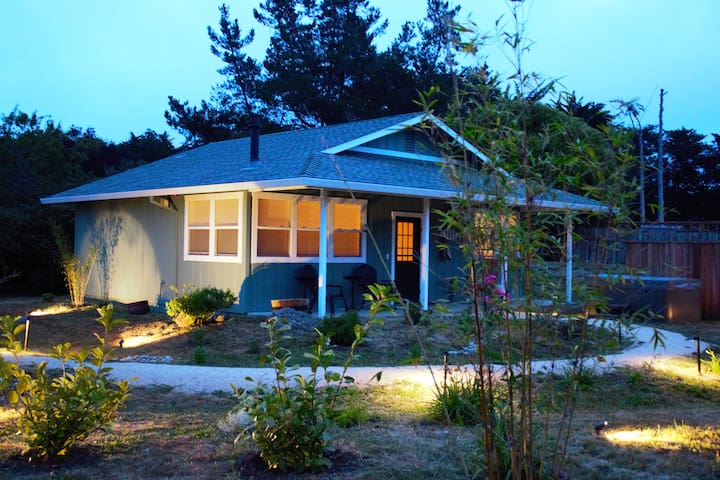 Cradled in the rolling hills of Point Reyes our Yurt and main house are located on four acres at the end a country road. Minutes from the Pt Reyes National Seashore and Tomales Bay. We are about an hour from the Sonoma and Napa wine regions.
Windsong is a unique type of architecture generally found in Central Asia. Our yurt is an elegant cozy round private cottage with a gently sloped ceiling topped by a round skylight. - Outside Hot Tub in a Private Garden, Great for Stargazing - Kitchen with 4 Burner Stovetop, Fridge with Top Separate Freezer, Toaster, Toaster Oven, Microwave, Coffee Maker, Tea Kettle, Pots, Pans, Dinnerware, Utensils. - Outdoor BBQ - Welcome Basket Consisting of Fruit, English Muffins. Eggs and Butter in Fridge. Coffee,Tea. - Cable TV, DVD, CD, ipod Dock, Free Wifi, Land Line Telephone. - Woodburning Heat Stove (with an ample supply of wood). Or, Built in Electric Heat. - Cal King Bed and a Fold Out Couch for extra Sleeping Space. - All Bedding and Towels Provided.
Quiet
Tony's yurt is a wonderful retreat space. I arrived late on my bike and was relieved to find orange juice, fruit, eggs and muffins, as I was too tired to go into town for food! I also very much appreciated the hot tub. All and all, much recommended.
Jenny
2015-02-12T00:00:00Z
The yurt is cozy and clean. We had everything we needed and loved our stay. Highly recommend.
deena
2017-02-04T00:00:00Z
Tony was a wonderful host! We were a group of 3 and had been in Sonoma for a friend's wedding over the weekend. We wanted to stay an extra night to do some hiking/exploring along the coast. We were SO lucky to find Windsong. Tony met us when we arrived, and made sure the hot tub was ready - such a wonderful greeting after we had a long hike earlier. He gave us advice for places to eat dinner in the town (but we could have easily cooked in the yurt) and then let us enjoy the peaceful yurt. None of us wanted to leave, and even started planning returning for more than 2 days - next time, hopefully a week. The hot tub, the woodfire stove, the very comfortable bed, the sofa bed - we loved it all. Tony also had fresh fruit, English muffins, juice, and eggs in the kitchen for us. It was such a great touch and made us feel very welcome.
Rebecca
2015-05-05T00:00:00Z
This is a lovely spot to land in West Marin. Not at all the usual tribal yurt with no windows! This round structure is light and bright with a panoramic view of the Inverness Ridge and Tamales Bay. But when you are ready for total privacy, just close the shades and you've got it. As others have said, the bedding and bed are wonderful. The kitchen has everything you'll need. The bathroom has an artfully tiled shower--larger than what you'd expect. The cottage is extremely well maintained and clean clean clean--including the wall-to-wall carpet. The flowers and fruit, delicious coffee and breakfast foods that Tony supplied were appreciated. The location is ideal--close enough to the town of Pt. Reyes Station with its shops and restaurants--and to the beaches and trails available in the Pt. Reyes Natl. Seashore and nearby state parks. And Tony himself is caring and pleasant and the perfect host. Will we stay here again? Absolutely!
Nicki
2016-02-09T00:00:00Z
What a wonderful place to stay, right in the heart of one of the Bay Area's jewels - Point Reyes National Seashore. The yurt was cozy, inviting and comfortable. We will definitely return.
Anne
2016-08-22T00:00:00Z
Tony is an excellent host! We felt very at home :)
Mack
2017-03-02T00:00:00Z
We can't say enough nice things about this getaway; it was the perfect ending for a busy Holiday season (we hope we can go here every year from now on). The place was just as described in the ad and as portrayed in the pictures, unique to say the least. We immediately felt at home when we walked in to a nice warm cozy fire burning in the fireplace. We could not have asked for better hosts, they really mean it when they say as little or as much contact as "you" want. Tony really knows the area and was great regarding recommendations for restaurants and local hikes.
doris
2017-01-07T00:00:00Z
Great stay thanks!
Amanda
2017-01-09T00:00:00Z
Tipus d'habitació
Casa/pis sencers
---
Tipus de propietat
Iurta
---
Capacitat
2
---
Dormitoris
Point Reyes Station, Califòrnia, Estats Units
The Old Creamery Cottage is a charming and comfortable classic two-bedroom California Craftman home in the Village of Point Reyes Station. Beautifully furnished with antiques and set in a lovely old-fashioned half acre garden, it is ideally situated for exploring the magnficent Point Reyes Seashore.
Our living room, furnished with antiques and full of wonderful art and books is the perfect place to relax after a day enjoying magnificent Point Reyes. The kitchen is well-stocked with all that the seasoned cook would want. Our linens are all organic Egyptian cotton and we even supply Peet's coffee! Cable TV, WiFi, and very soon X-Box are provided. All our guests agree that one of the true delights is the garden full of old fruit trees, roses, lavender and California natives and we encourage our guests to pick the fruits that are in season: peaches, pears, apples, blackberries, figs, plums and cherries. The setting is absolutely serene, yet a brief stroll into town and a few minutes drive from all the best of the Point Reyes Peninsula.
I have had a life-long passion for Point Reyes and its wild grandeur a little over an hour from a major metropolitan area. The juxtaposition of ocean, estuary, and forest provides a great diversity of experience in a relatively small area. The town of Point Reyes Station nicely balances its ranching tradition with its emergence as a popular weekend destination for the people of the Bay Area. It combines an authentic old California country town with much of what we all love about Northern California: great restaurants, art galleries, and one of the best bookshops anywhere.
Andrew was a great host! He was an excellent communicator and made the extra effort to come meet us upon check-in. The Old Creamery Cottage is a comfortable, cozy and central location to explore Point Reyes and the surrounding areas and we would highly recommending staying here. We hope to be back to visit soon!
Adrian
2017-01-16T00:00:00Z
A fabulous home with a really well equipped kitchen. Go there Point Reyes Station and PPR National Seashore are lovely and the house one of the best we have ever enjoyed in many years of using Airbnb.
David
2017-03-23T00:00:00Z
The Old Creamery Cottage was incredibly charming and cozy. Upon arrival, we found a gift of Strauss milk, cookies from the local bakery and preserved pears waiting for us. The spaciousness of the house was ideal for our trip, as all 3 of us need our space sometimes. The house is a 2 minute walk to downtown Point Reyes Station, and only about 20-30 minutes from magnificent hiking at the Point Reyes National Seashore. We would definitely stay here again, and would definitely recommend this place to others. Also, bonus: the house has a piano (for any music aficionados!)
Nina
2015-02-20T00:00:00Z
Fantastic location, great for a quiet getaway. Near the main strip with bakeries and shops. Beautiful hiking everywhere
Iris
2017-02-20T00:00:00Z
We thoroughly enjoyed our stay at the Old Creamery Cottage! From the moment we entered the property through the charming wisteria covered gate, we felt at home. The warm and welcoming feelings continued as we entered the house and were greeted by cookies from the local bakery, a jar of poached pears (which we sadly did not have time to eat) and fresh cut flowers from the garden in every room. Though cozy in every way, the house had plenty of room for the 4 of us to spread out and relax. The beds were very comfortable, the bathroom clean and bright; the linens and towels provided were lovely. The location of the house was also great. It is a quick walk into town, but the high hedge that surrounds the spacious garden offers privacy. It was a short drive to Pt. Reyes National Seashore and other points of interest. Our stay at the Old Creamery Cottage was a wonderful introduction to Pt. Reyes. It may have been our first visit, but we hope it won't be our last!
Michele
2015-04-01T00:00:00Z
The Old Creamery Cottage is a delightful Point Reyes gem. It's a charming cottage with a welcoming home-away-from-home feel to it. My wife and I wanted a quiet place to get away for a few days and this was exactly what we were looking for. The cottage is conveniently located in a quiet residential neighborhood within easy walking distance to the shops and restaurants in Point Reyes Station. The cottage is cosy and comfortable with all the amenities you need for a relaxing getaway. We didn't want to leave, and we'd love to return. Andrew was super helpful and a gracious host.
Nigel
2017-02-13T00:00:00Z
Tipus d'habitació
Casa/pis sencers
---
Tipus de propietat
Casa
---
Capacitat
4
---
Dormitoris
Point Reyes Station, Califòrnia, Estats Units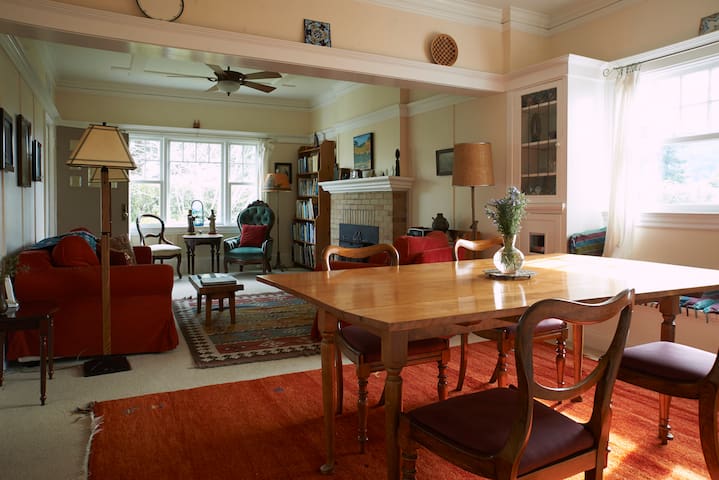 The Maple Cottage sits on a 12-acre property surrounded by trees with a view of Tomales Bay. This clean, modern studio is bright and open with high wood ceilings, radiant-heat floors, king bed, full bath, Coyuchi linens and EO soaps.
PLEASE NOTE: We have another rental home, FoxGlove Retreat, on the same property, adjacent to the Maple Cottage. These can be rented together or separately. Together they can comfortably sleep 8 adults. The Maple Cottage was lovingly designed by the owners to be a retreat for their friends and family. Surrounded by trees and tasteful landscaping, the cottage's large screenless windows on all sides make this studio light and spacious. There are three buildings on the property. One is the owners' home, which has a completely separate parking and entry area. The second structure is the Maple Cottage, and the third is FoxGlove, a 3 bedroom house sometimes used as a vacation rental as well. The Maple Cottage is freestanding, but we do want to make it clear that there is a home on each side of the cottage, and there may be a few other people around. That said, we've had few complaints from guests, as you can see from the reviews. We're all here to enjoy the serenity.
The cottage is 150 yards from a quiet residential road that only sees a handful of cars each day. Most of the homes on our road are tucked back into the forest on long driveways. Just strolling up and down our road is a lovely hike, with plenty of plants and wildlife to take in. No streetlights, no light pollution, no noise. Just peace and quiet. We have a wonderful "recommendations" letter we can send you, full of local information, tips, suggestions, cautions, etc...
Very beautiful and peaceful place to be. My boyfriend and I were looking for a quiet area to stay and we found this maple cottage that also comes with a lot of natural light, fresh air, and wonderful nature view. The room is decorated with soft colors; nice carpets, nice bedding, nice bathroom. Overall clean and accommodating. I will definitely come back and tell my friend about this hidden gem of a cottage.
Sharon
2017-03-05T00:00:00Z
Cool architecture in a peaceful setting. Close to town, and parks, great location. We would like to come back at some point!
Jon
2017-03-13T00:00:00Z
Had a great time.
Allie
2017-03-29T00:00:00Z
We loved staying at the Maple Cottage. Aaron left us good information. We never needed to contact him for anything, but I imagine he would have been easy to communicate with given the messages we exchanged before our stay. The location, looking out over Point Reyes Seashore (the land, not the ocean, just in case that made it sound like an ocean views!), was amazing. The cottage is practically more windows than walls, with tons of natural light, and the window we left open let in a wonderful smell of the forest and ocean. I just loved how airy and open the place felt. The instructions to get into the place were perfect. The only drawback was that the mattress and linens were just ok, but not as luxurious to match the rest of our experience there. It wasn't a big deal, but that would have made our stay even more amazing.
Rachel
2014-08-23T00:00:00Z
We had a great time at Maple Cottage! The cottage was spotless and very comfortable. In fact it was possibly the cleanest place we've ever stayed. The decor is tasteful and up to date. The location was perfect, close to everything and peaceful and quiet. Aaron's instructions were very clear and we had no problems finding the cottage or getting access. A great weekend away!
Trish
2015-11-16T00:00:00Z
Perfectly serene.
Beverlee & Suzie
2014-09-22T00:00:00Z
Lovely room, fun location.
Laurie
2017-01-15T00:00:00Z
I loved big windows, and the seclusion.
Anusha
2017-02-26T00:00:00Z
Tipus d'habitació
Casa/pis sencers
---
Tipus de propietat
Casa
---
Capacitat
2
---
Dormitoris
Point Reyes Station, Califòrnia, Estats Units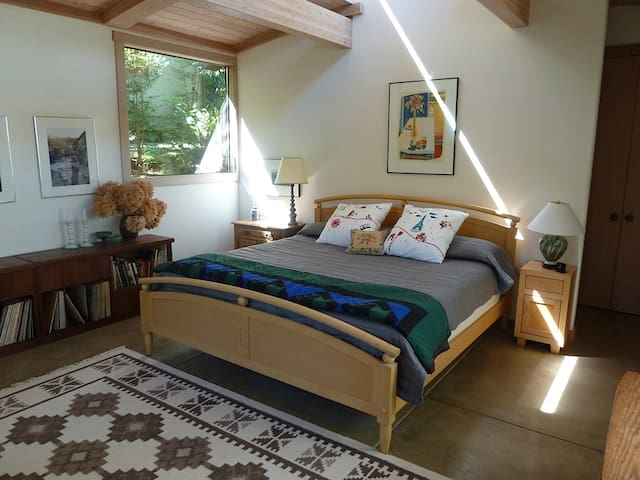 This 1970's reclaimed wooden house is a small part of history. Built with timbers from Fort Mason and an old buoy used as the main fireplace. We rent three bedrooms. Each has it's own full bathroom and double bed. The house is three stories. Guests have full use of the kitchen living and common areas. NOTE: Since Airbnb does not have a feature that charges for Pets or Infants. You must add an additional person to your booking request.
Bedroom #3 is the best suited for Small Children and Pets. Hard wood floors and sliding glass door opens onto the back deck. There is also space for a small crib or mattress on the floor. NOTE: Since Airbnb does not have a feature that charges for Pets or Infants. You must add an additional person to your booking request.
The area we live is spectacular and full of activities.
Everything was perfect at Gabe's place. The location was just up from town but "far enough away." The Room (#3) was really nice and spacious. And, the many "nooks" to hang out were terrific. Kitchen and patio were highlights as well. Gabe was very communicative and helpful the whole time. And Jesse, the prop manager who stopped by the last day was a hoot!
David
2016-05-31T00:00:00Z
He was able to accommodate my nephew and I by providing a fold out mattress and the first night I was there I guy who cares after the house was there to offer me wine. Gabriel who I believe was busy planning his wedding the next weekend, took time to come out and introduce himself.
Mara
2016-05-23T00:00:00Z
Gabe and Elizabeth were very welcoming hosts and provided some recommendations for Point Reyes that really took our weekend get-a-way to the next level. Location, cleanliness, amenities was as expected or better. We hope to be back soon!
Kevin
2017-03-19T00:00:00Z
The house is uniquely decorated and we enjoyed the patio and wildlife ( quail and deer) that we saw.
eileen
2016-09-22T00:00:00Z
Wow! What a cool house. I think I've rethought my 'dream house' and this is it! I couldn't tell from the photos so much but very cool custom boho 70's elements everywhere - sunken reading nook with antique kiliim rugs and pillows and gorgeous view of the mountains, huge fireplace - made from old metal buoy? warm and inviting living spaces with reclaimed custom wood walls, shelves, beautifully decorated with eclectic/antique pieces. Room comfortable and quiet, tranquil deck w lounge chairs. I knew when we met Elizabeth and Gabriel (just from the house and record collection) that they'd be great - and they were! Very sweet and welcoming. Thank you both for everything!
Alison
2016-07-31T00:00:00Z
The room was perfect and Gabriel totally made sure we were in a space that worked for us and our family. He was great even checking to make sure we had arrived ok. The house was great and we wished we had been able to stay longer.
Kate
2016-12-10T00:00:00Z
Gabriel was a lovely host. Unfortunately we didn't get a chance to meet him,but his home couldn't be more charming. Rustic and peaceful, its location is perfectly nestled into the heart of the Point Reyes community.
Brenda
2016-08-02T00:00:00Z
Gabriel and his wife were wonderful hosts! Their home is in the perfect location for anyone enjoying a point Reyes getaway! We had a wonderful evening in their beautiful home, great detail!
Katarina
2016-08-22T00:00:00Z
Tipus d'habitació
Habitació privada
---
Tipus de propietat
Casa
---
Capacitat
4
---
Dormitoris
Point Reyes Station, Califòrnia, Estats Units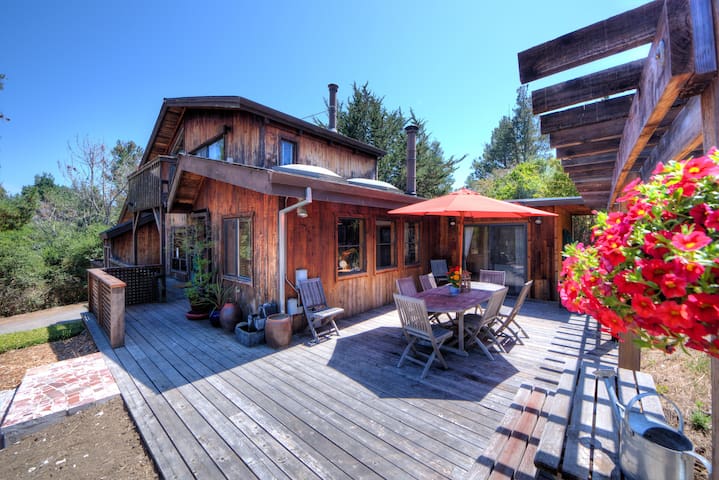 Spacious and secluded, nestled in the woods. Hardwood floors, woodland views throughout the house, pool table, piano, large back deck w/bbqs and outdoor seating, gardens, fruit trees and chickens. Hiking, ocean & the bay within minutes.
This three story house is perfect for a romantic get away or as a gathering space for family or group retreats. Spacious and beautiful in the middle of nature, it is located one mile from Pt. Reyes Station and Inverness in West Marin. Within easy reach of everything the San Francisco Bay Area has to offer, you can walk the nearby beaches and trails, enjoy the many great restaurants, or maybe find where Sir Francis Drake hid some of his treasure. There is room enough to comfortably sleep 16 but we have accommodated as many as 20 people. The main kitchen seats 6 in the breakfast nook and the dining table in the main room seats 10. We keep extra chairs handy as well. The house is surrounded by national park and has a large deck with ample seating and two grills, two balconies, a pool table, piano, hardwood floors in every room, woodland views from every window, gardens, a variety of fruit trees, and chickens out back. Radiant heating warms the bathrooms and kitchen, very cozy on chill winter mornings. Sleeping arrangements There are 2 bedrooms, 2 suites, and the TV room may also be used as a private bedroom with closing doors and a fold-out couch. The entertainment room also has a fold-out couch and the two suites each have a fold-out couch and space enough for a comfortable air mattress, which we have plenty of. That totals 4 beds, 4 fold-out couches and space for 2 (or more) comfortable air beds, all of which are Queen. Cleanliness We clean all contact surfaces in the house including all counter tops, table tops, door knobs, cabinet and drawer knobs, railings, chairs, table tops, window sills. We wash all linens including towels, sheets, pillow cases, the bedspreads and table cloths. We clean the bathrooms and all floors. We also put all decorative pillows through the dryer on high. I designed and engineered this home, incorporating antique chandeliers, molding, and antique glass and doors from estate auctions. I did most of the stonework around the house, handpicking about 120 yards of stone from the quarry at Sears Point. We hope you enjoy the home we have built- we're here to ensure your stay is everything you hoped it would be and more. If you are considering an event such as a family get together, a celebration, or a seminar we can accommodate you. Long term stays may also be accommodated. Please contact us for pricing. If you have children please inquire.
Within 15 minutes: Shopping Restaurants Cheese factories Oyster farms Beaches - Drakes, Tomales Bay, Limantour, Heart's Desire, many others in the National Hiking - Muir Woods, Mt Tamalpais, Golden Gate National Recreation Area. You can hike 4 miles to the beach, 2.5 miles to the top of Mt. Wittenberg, or explore one of the many other trails in the park which is adjacent to the property Boating, Kayak rentals - Papermill Creek which empties into Tomales Bay is a quarter mile away Within an hour: Wine Country - Napa and Sonoma Muir Woods Mt Tamalpais San Francisco Golden Gate Park Ruby Throated Hummingbirds can be seen in the backyard and from the kitchen window as they dart about the Chinese Lantern flowers. Two osprey nests also can be seen from the kitchen, the deck, and the master bedroom. It is a treat to hear their cries as they circle on the thermals gaining altitude to then glide off to catch a meal. When they return sometimes they are harassed by crows or vultures or both as these thieves try to rob the ospreys of their catch. We have seen battles between the osprey pairs and groups of vultures. Each year several chicks hatch in each nest. The ospreys take turns guarding them. As one guards the other one defends against the vultures diving toward the nest.
large secluded house. two kitchens. 4 bedrooms, not 5. the 5th is a couch in the tv room. entry gate is a problem coming and going. too far to walk to town. we came in janurary and there is no heat aside from small portable room heaters. we had to keep them all on all the time. Sherb was cordial and helpful. felt on the pool table was full of holes and couldn't be used. beds were comfy and the house was neat and clean. sherb doesn't allow shoes to be worn in the house. '
Kim
2017-01-18T00:00:00Z
Awesome house! Lots of space, and an incredibly interesting and beautiful house. Very close to the entrance to Point Reyes for hiking. If you have a large group, I would definitely recommend this place. It was very easy to fit everyone.
Tyler
2017-04-02T00:00:00Z
This is a large house perfect for big gatherings. My three adults children and three grandchildren were in the space easily and the kids had a great time playing hide and seek in the various nooks throughout the house. It is situated very near to Pt. Reyes station and the beautiful beaches of the Marin Coast.
Barb
2017-02-20T00:00:00Z
The Sherburne House is such a lovely place to gather one's family for a few days. It is just a few minutes from the Bear Valley Trail, and on the road to the Tule Elk and the seals. There are ample amenities to enjoy, including air mattresses that are really quite comfortable. You will need to remove your shoes upon entering and be especially mindful of the many gorgeous objects of art that adorn the house. There are two kitchens - what a luxury! I recommend this home for a family reunion.
frances
2017-01-07T00:00:00Z
A lovely place in the woods. Very quiet, very secluded, very large, and perfect for a group of 16 people who want to spend time together. Convenient to the park and Tomales Bay oyster places.
Cody
2017-01-29T00:00:00Z
I stayed here with a group of friends to celebrate our own Thanksgiving and it was such a delightful experience! This house is really amazing. There is plenty of space, the rooms are incredibly comfortable, and it is situated in a beautiful area. There are plenty of beautiful walking trails nearby, and Point Reyes Station has great restaurants. The house has everything you need, from dishware and two kitchens (!) to a piano and pool table. The neighbor cats were adorable and friendly. Sherb was a great host, making sure we had everything we needed and even bringing us a homemade coconut dessert! We would love to return.
Jennifer
2015-11-15T00:00:00Z
Great place. Ample space for the 16 of us. Nearby all the wonderful places like the oyster farms, Heidrun Meadey, and cheese shops. This home is a gem and if you like gardens, you will love how well kept the grounds are. Sherb lives nearby and greeted us upon arrival and gave a tour. He gave us our space during our two nights there until the last morning where he gifted us eggs from his chickens. Delicious and thank you.
Regina
2015-08-24T00:00:00Z
This a beautiful home that Sherb put his heart and soul into as he built it. It is surrounded by an Eden-like garden with exquisite trees and plants, including many different fruit trees. The location is near the lovely town of Point Reyes Station but still it was secluded and incredibly quiet (except for the roosters which we didn't mind). We learned firsthand that while the fog can cover most of this area, this home is exempt due to its unique location. It was sunny everyday. Sherb was a wonderful host providing a wealth of information about the area. If we were to return to this area, we would definitely choose to come back to Sherb & Maricel's place.
R
2016-07-01T00:00:00Z
Tipus d'habitació
Casa/pis sencers
---
Tipus de propietat
Casa
---
Capacitat
16
---
Dormitoris
Point Reyes Station, Califòrnia, Estats Units
1/2 mi to Pt Reyes Nat'l Seashore Park entrance. Remodeled, well appointed one-room stand-alone cottage. Kitchenette w/ cooktop, tile bathroom, queen bed. Large windows, nice light, small porch, patio, views of cows and scenic Hwy One. Ideal for 1 or 2 people (queen bed). I have set to "4 guests" to allow 1 or 2 kids. We have floor mattresses & bedding (& pack n play), a slumber party! NOTE: Children under 2 are not free. Please do not enter them as infants when booking. Enter as children.
This is a lovely cottage just as the pictures show. You will likely not see anyone here, very private. Please note that the back of it runs along Route One, a 30mph, 2 lane road. In the day you can hear the cars going by back and forth to town. In the day, chances are you are out having adventures at the many beaches and trails or enjoying other parts of this one-acre property. At night, out here in the country, the traffic really dies down. The cottage is ideal for 1 or 2 people (one queen bed). I have it set to "4" to allow for people to bring 1 or 2 kids, for whom we have floor matresses and all bedding (and a pack n play). Please request this in advance. It is a slumber party but you are welcome to it! PLEASE NOTE: Children under 2 are not free. Please do not enter them as infants when booking. Enter them as "children" when booking. Thank you! Additional amenities include the following which are all in your cottage: ~ Free WiFi ~ private bath with tile shower ~ TV for watching DVD's, no channels. ~ kitchenette: electric cooktop, fridge, microwave, toaster oven, coffee maker ~ peets coffee and assorted teas ~ cups, plates, wine glasses, utensils, pots and pans, etc ~ hairdryer, all bath products ~ please note there is no longer a woodstove in this cottage (prior reviews may have mentioned there were problems with it so we removed it.)
Farmlands and rolling hills and cows, located just 1/2 mile to the park entrance of the Point Reyes National Seashore. Five minute walk to the village of Olema and the amazing Sir and Star Restaurant.
We enjoyed our stay in tiny Honeybee Cottage tucked away among trees and shrubs half a mile from Pt Reyes National Sea Shore Visitors' Center. Big enough for two, Honeybee is attractive, clean and well-kept with a comfortable bed, small cooking area with two-ring electric cooktop, microwave and toaster oven and a bistro table for dining. We didn't meet Kelly, but she sent us excellent directions to Honeybee, and left coffee and loads of herbal teas there to welcome us. The cottage is in a great location for visiting Pt Reyes.
Richard
2016-01-25T00:00:00Z
Enjoyed our stay here! Left pretty early in the morning and got in later at night, so hardly noticed the sounds of nearby Highway 1. Chalkboard welcome was a nice touch.
Mike
2016-02-28T00:00:00Z
We absolutely loved our stay! The cabin is very comfortable and the property is obviously well cared for. The location turned out to be great as well, with Olema right down the street in one direction, and Point Reyes Station a short drive the other way. The little kitchen was well stocked, and we were able to cook an excellent meal with steak from Marin Sun Farms butcher just down the road, and cheese from Cowgirl Creamery. We ended up stuck inside due to stormy weather for a lot of our trip, so the cozy cabin was very much appreciated. As some other reviews have pointed out, Highway 1 does run right outside, and you can hear cars going by occasionally, but we didn't find it to be an issue at all. I do live on a busy street in an urban neighborhood though, so I'm used to tuning that out. It was the owls and frogs that I heard the most!
Jessi
2017-02-19T00:00:00Z
Thank you, Kelly. I had a wonderful time at the cottage and hope to come back again. The setting is special, complete with a little front porch and brick patio under the elm. It felt warm and inviting at first glance, and we weren't disappointed. Plenty of room for two, and also perfect for a quiet solitary get away. Everything you need...including the wandering cows nearby in the afternoon and fresh flowers on the table. A Delight! Excellent location for the wonders of Pt Reyes. Walking distance to town. We loved the rural feel, but with incredibly easy access to numerous nearby sites, restaurants, visitor activities, hiking trails, kayaking. Oh, I could go on! The cottage is exactly as pictured; cozy and functional. Loved the kitchen; compact but well thought out. Nicely supplied. Really a pleasure. Other guests commented on Hwy 1, not a problem for us. Kind of cool to be sitting in a historic building on 1. Thanks again, it was just what I needed. And, I think I need to come back again soon. :)
Leah
2015-10-19T00:00:00Z
Lovely place , a little noisy w the road but the price is about right ... The biggest prob I had when I was here wast the fire was super hard to light because the wood wasn't cured , it was a big pain, made the place super smokey
Hall
2016-04-26T00:00:00Z
The cottage is wonderful, just as described. It was cozy and warm, and the perfect getaway for us to see and explore Tomales Bay!
Christine
2016-01-09T00:00:00Z
Honeybee cottage is fabulous! The owners thoughtfully appoint it to assure a quiet, comfortable and private stay. The bed is amazingly comfortable, too! Which is nice on a much needed vacation. The cottage is close to all the gorgeous scenery of Pt Reyes. I highly recommend Honeybee Cottage to any single traveler or pair.
Rosie
2016-10-02T00:00:00Z
Honeybee Cottage was a great stay. The woodburning stove was great. It's on a very quant farm. Opening your windows shades you are greeting to some very friendly cows by your window. At night you have the peaceful chirping of frogs.
John
2016-01-29T00:00:00Z
Tipus d'habitació
Casa/pis sencers
---
Tipus de propietat
Pensió
---
Capacitat
4
---
Dormitoris
Point Reyes Station, Califòrnia, Estats Units
Mesa Refuge is one of the most beautiful houses in the Point Reyes area and enjoys one of its most breathtaking views.The house was built by abstract expressionist painter Sam Francis. 3 bedrooms, 2.5 bathrooms, sleeps 6 adults. 10% tax at check-in.
The house comfortably sleeps 6 people. The Mesa Refuge is one of the most beautiful houses in the Point Reyes area and enjoys one of its most breathtaking views. It sits above a vibrant, constantly changing marsh that flows into Tomales Bay. Herons, egrets, hawks and many different kinds of wild fowl can be seen and heard from the decks and gardens around the house. The house itself is light, colorful, spacious, and full of interesting architectural details. Throughout it are original artworks, antique rugs and vintage furniture that add to its charm. The Refuge has 3 bedrooms, 2.5 bathrooms and sleeps 6 adults. The master bedroom is in a tower and has a queen bed and en-suite bathroom. The view of the bay from the balcony off the tower bedroom is spectacular. The other 2 bedrooms are on the ground floor. One has a queen bed and one has a double bed. Both have private decks overlooking the garden. The living room has an intricate wooden cathedral ceiling, an extensive library along one wall, comfortable chairs and sofas and a wood-burning stove. There is a large, fully-equipped modern kitchen with a Viking range, Sub-Zero refrigerator and a dining area. This opens onto a rose-covered deck with views of the garden and bay. The house is surrounded by beautiful, mature gardens which include an apple orchard, a rose garden, sauna, and a wood-burning brick oven — perfect for grilling fish and making pizza. Halfway down the bluff is a deck for observing birds or setting up an easel or camera. Two writing cabins are hidden in the garden for people who want to write or dream. There is also a tennis court available for your use. The village of Point Reyes Station with its cafes, bookstores and restaurants is a ten-minute walk away.
The neighborhood is small, quiet and private. It is a 10 minute walk to the quaint town of Point Reyes.
The Writer's Retreat at Mesa Refuge exceeded our expectations. It is a fabulous house surrounded by a beautiful garden that looks out over estuary at the lower end of Tomales Bay. If you have never spent time in this area you are in for a real treat. The living room has ample, comfortable seating and the kitchen is well appointed. The bedroom rooms are very nice especially the master bedroom on the second floor. It is a short walk to town where there is a good grocery store or you can get great bread and sweet things at the Bovine Bakery.
Susan
2016-03-22T00:00:00Z
Magical place - peaceful, beautiful, wonderful layout and so many things to do. One of the best homes we have had the pleasure of staying in.
Tracy
2016-06-07T00:00:00Z
My second time staying, just as good as the first!
Jason
2015-08-28T00:00:00Z
An amazing, idyllic Airbnb! The setting is gorgeous and tranquil, with a beautiful garden and gorgeous views Tomales Bay. The house itself is really beautiful, with lots of sunlight, comfortable furniture, modern amenities (the kitchen is way nicer than my own kitchen at home!), and lots of cozy nooks for reading and writing. Our group particularly loved the writer's sheds out back, the deck-chair patio lower down on the hillside that looks directly onto the bay, and the library shelves filled with books from Mesa authors. Patricia was really helpful, attentive, and informative, and overall a perfect host :)
Anjali
2015-08-16T00:00:00Z
If there was an option to give 6 stars -- or 10 -- I would give them easily for this retreat space. The location, the view, the interior design, the gardens, the attention to detail ...... all were exquisite. And more than that was the sense of place, the sense of being steeped in something larger and richer, and coming back changed. This is one of those places you want to tell everyone about, and yet want to tell no one, keeping it as a private secret with just your closest friends and family. We woke to the sound of quail each morning, did yoga on the deck, slipped into the sauna and writer's huts for quiet away from the full family, and cooked simple yet elegant meals of fresh fish and produce from the Saturday farmer's market. We'll be back, and until then, I've stored what feels like a lot more than 2 days worth of mental images and memories.
Sigrid
2015-06-29T00:00:00Z
Wow, what a place. If you are looking to unplug and relax, I don't know how you can get much better than the Mesa Refuge. Great views, comfortable house, convenient location. Can't recommend highly enough.
Jason
2015-06-24T00:00:00Z
Fabulous, fabulous, fabulous. We spent the Thanksgiving weekend with our entire family at this magical place. We watched the tide come in and out, birds flying low, along with the smell of flowers. It was a perfect way to start the day. Between the gourmet kitchen and the wood burning pizza oven, meal making was a blast. At night we would read in the spectacular library in front of the woodturning stove. I want to move to the mesa refuge.
Joan
2015-12-01T00:00:00Z
The listing was accurate, the site was wonderful, the house was great, the weather was bad but everything else made up for that. We would love to return when the sun is shining. A great airbnb rental all around.
susan
2016-03-17T00:00:00Z
Tipus d'habitació
Casa/pis sencers
---
Tipus de propietat
Casa
---
Capacitat
6
---
Dormitoris
Point Reyes Station, Califòrnia, Estats Units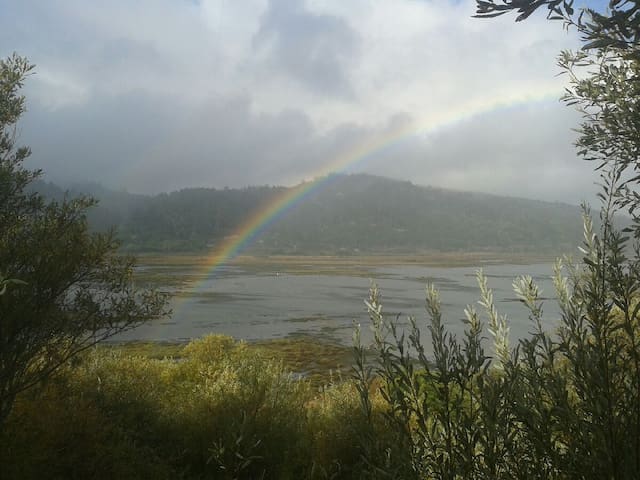 This 3 Bedroom, 2 Bath home is set on 2 acres on a sunny hillside facing West, 1mn drive to the town of Point Reyes Station 5mns from Tomales Bay Oyster. Features wood-beam ceilings, great natural settings and views of the Point Reyes ridge.
This Point Reyes House is located on a quiet rural lane, 2mns from the village of Point Reyes Station, just one hour north of downtown San Francisco. The home is set on a beautiful 2-acre property, all walk-able, featuring native Californian redwood trees, fruit trees and often a lot of wildlife stopping by (deer, quails, foxes, turkeys) . The house features a full kitchen with all the necessary utensils, appliances and dishes set next to a large dining and living area. The living area with vaulted ceilings, large windows with expansive views includes a flat screen TV/DVD player, free WiFi, lots of DVDs to watch. It features a comfortable seating to enjoy the views of the surrounding property, forest, and further views of the Inverness ridge. Two lovely bedrooms with king and 2-twin beds are on either side of the 2 newly remodeled bathrooms (one with a walk-in shower, the other one with a bathtub). A third and magical room is located in a 180 degrees windows room, with nice views of the surrounding area (can be used as a bedroom but more temperature sensitive than the rest of the house). All linens are provided. For the techies out there, the house provide fast Internet, a Sonos system to play your favorite Pandora/Spotify streamed music, a Chromecast key to play your Netflix or Youtube videos.
Our house is located in one of the most convenient location in the Point Reyes Station area, minutes from downtown, from the Tamales Bay Oyster Company, from Point Reyes National Seashore. Downtown Point Reyes Station, home of the popular Bovine Bakery, Station House Café, Point Reyes Books and the Saturday Farmer's market at Toby's Feed Barn is short drive to the house. The downtown features many wonderful shops and restaurants including Susan Hayes Handwovens, Zuma, Café Reyes, Stellina's the Point Reyes Surf Shop and Flower Power.
Great location, quiet and relaxing! Fully functional. The third bedroom bed is a futon not a normal bed so is not quite as comfortable. But beautiful location! The place has a lot of whimsical character.
Daniel
2016-10-24T00:00:00Z
Everything was clean; the Sonos was connected to the TV, we think, and started playing smoov jazz as soon as we turned it on to cook dinner. Recommendations for hikes and food were also appreciated.
Killian
2016-04-25T00:00:00Z
The Quail's Nest was lovely, and so was the surrounding area! We spent Saturday hiking through the Tomales Bay Ecological Reserve (which we walked to from the house). We encountered some slight difficulties with the shower on our last morning, but thanks to prompt communication from Stephan were able to handle it quickly and well.
Tom
2016-08-07T00:00:00Z
The Quail's Nest was just lovely. Stephan was responsive and helpful from the beginning of the booking process. We -- 3 college friends -- spent a great weekend in the house. Each of us had a comfortable bedroom. The kitchen was great for communal cooking. The wifi was more than fast enough to stream music into the awesome Sonos speaker. The location is amazing -- just a mile from Pt Reyes Station, with its excellent bookstore, amazing bakery, great grocery store and more than enough restaurants for a weekend. We'd stay here again!
Lisa
2016-01-18T00:00:00Z
Lovely home. Very quiet and calming to wake up to.
Jocelyn
2017-03-26T00:00:00Z
The host canceled this reservation 2 days before arrival. This is an automated posting.
Jeannine
2016-08-17T00:00:00Z
The Quail's Nest was lovely. Great location near Pt Reyes Station and Stephan was very responsive via email and provided some great suggestions for things to check out and places to eat. The house itself was cozy and comfortable, and we had deer visitors each day, which was fun.
Nicole
2016-04-17T00:00:00Z
House was as expected - cute, cozy, and in a fantastic location! Loved that they have Sonos -- a nice bonus! Hosts were quick to respond to questions and through with detailed instructions. They were hospitable, flexible, and kind. A great experience overall, thank you!
Jon
2017-01-23T00:00:00Z
Tipus d'habitació
Casa/pis sencers
---
Tipus de propietat
Casa
---
Capacitat
6
---
Dormitoris
Point Reyes Station, Califòrnia, Estats Units
Point Reyes Station - Airbnb
:
Mitjana de

4.85

estrelles sobre

5

a partir de

1425

avaluacions d'hostes
Introdueix les dates per veure el preu total. S'aplicaran tarifes addicionals. És possible que també s'apliquin impostos.