Bed and breakfast in a baroque gem, one of the oldest buildings in Baden-Baden. Built 1341 and restored in 1698, the owners have carefully restored the majestic Tudor building to preserve it's his very own character and charms.
The entire house has a fairy-tale-atmosphere. You will stay in an active art studio. The newly renovated room is 194 ft² in size , almost 10 ft high and bright . The thick rubble stone walls and antique doors give it the atmosphere of a castle room . The soot-blackened ceiling was kept natural in the restoration.
Zehnthaus is situated in the medieval town of Steinbach 4 km from the center of Baden-Baden, in the vineland. A perfect site for walks and hiking with the Black Forrest in sight. Several Restaurants, pharmacy and super-market only minutes to walk. Baden-Baden downtown is about 7,5 km away.
Ich habe die Tage bei Claudia und Matthias sehr genossen. Das Haus sowie das Zimmer strahlen eine ganz besondere und inspirierende Atmosphäre aus! Claudia und Matthias waren super herzlich und aufmerksam! Vielen Dank noch einmal für den Kuchen! :)
Friederike
2016-02-23T00:00:00Z
Accueil tout à fait exceptionnel dans une maison où les détails sont autant de touches artistiques... Confortable, agréable et Inspirant, un seul regret: n'être resté qu'une nuit! Merci Mathias et Claudia-Maria
Laurent
2016-01-02T00:00:00Z
Claudia-Maria & Matthias非常親切,房間很大又幾乎什麼都有,早餐也很豐盛!如果是要去baden-baden市區玩,交通其實很方便。以後有機會再來baden-baden一定會選擇這裡!
Kay
2016-01-31T00:00:00Z
Ich wurde bereits erwartet und an der Haustür von meinen Gastgebern sehr freundlich empfangen. Ich durfte meine Nacht im Badischen in einem sehr liebevoll restaurierten historischen Gebäude, das mich verzaubert hat, wohnen. Wer den Kontakt zu Künstlern liebt und Besuche in Museen zu seinen bevorzugten Freizeitgestaltungen zählt (mein Mann und ich sind Kunstsammler), sollte hier übernachten! Denn die starke künstlerische Aura, die diese Räume tragen, ist eine Erfahrung, die ich sehr genossen habe und nie vergessen werde! Und wenn Sie selbst in einem alten Haus wohnen, können Sie von hier sehr viele interessante Anregungen mitnehmen! Mein Mann und ich haben bereits zwei alte Objekte zauberhaft gestaltet und ich weiß, was es an Arbeit bedeutet und wie viel Liebe dann anschließend aus jedem Detail strahlt. Wenn man einen Blick dafür hat ... Ich wünsche Ihnen viele zauberhafte Momente bei Claudia-Maria und Matthias!
Frauke
2016-09-13T00:00:00Z
Vielen Dank für die Gastfreundschaft. Claudia & Matthias sind sehr nett und hilfsbereit. Unser Aufenthalt war viel mehr als eine Übernachtung. Er war inspirierend, entspannend und voller positiver Eindrücke. Es ist ein Genuss in einem historischen Gebäude umgeben von Kunst und kreativen Details zu übernachten. Beim Frühstück haben wir nicht nur das leckere Essen und den Kaffee genossen, sondern das Ambiente. Das Zehnthaus hat eine super Lage in der Fussgängerzone mit allem rundherum was man braucht. Parken war ca. 30 m vom Haus auf der Straße kostenfrei möglich.
Simon & Abigail
2016-08-27T00:00:00Z
Amazing place ! Beautiful house. Charming breakfast! I wish i can stay longer. Thank you
Joe & Sinitta
2016-06-08T00:00:00Z
Auf wundervoller Aufenthalt, das Haus ist einmalig, das Zimmer ebenfalls sehr besonders! Sowohl Unterkunft, als auch Gastgeber würden wir definitiv empfehlen. An dieser Stelle nochmal vielen Dank an Claudia-Maria und Matthias, es war toll - wir werden wiederkommen!! P.S. Das Frühstück sowie das Ambiente dazu sind das Tüpfelchen auf dem i! :)
Solomon
2016-04-30T00:00:00Z
Tolle Unterkunft im Herzen von Steinbach. Sehr aufmerksame und nette Gastgeber. Zimmer mit kleiner Küche und eigenem Bad - wirklich perfekt!!! 1000Dank für die herzliche Aufnahme.
Klaus
2016-04-21T00:00:00Z
Tipus d'habitació
Habitació privada
---
Tipus de propietat
Casa
---
Capacitat
2
---
Dormitoris
Baden-Baden, Baden-Württemberg, Alemanya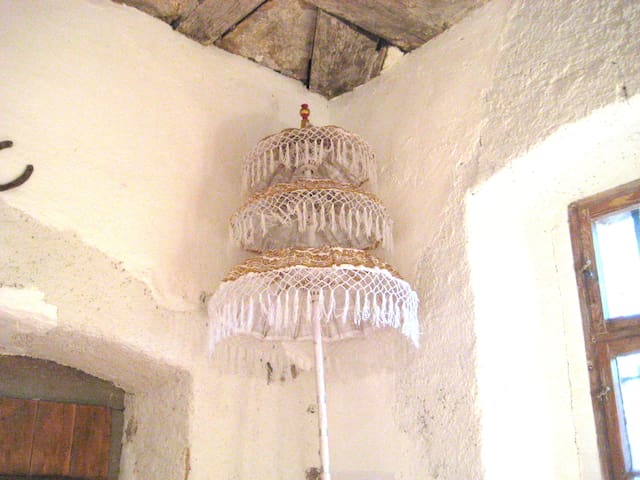 Gemütliches neuesApartment, allein oder für zwei. Separater Eingang, gelegen in einer ruhigen Seitenstraße, ins Zentrum ist es ein leichter Spaziergang von 15 min. Bus und Supermarkt in nächster Nähe. 50qm perfekt ausgestattet, voll eingerichtete Küche, großzügige Dusche mit Rainshower, gut schlafen im Boxspringbett 1,8x2m. Hübscher Innenhof. Parkplatz vor der Tür.
Susan is a very nice host. The appartement is very clean with a lot a very lovely details. The parking spot in front of the house is perfect. The town is 15min walking distance from the appartement. I will highly recommend to stay in Susan appartement and we will definitely go back!
Aldo
2016-11-25T00:00:00Z
Die Ferienwohnung war genauso toll eingerichtet, wie es auf den Fotos aussah. Susan war eine klasse Gastgeberin. Wir haben uns sehr wohl gefühlt und kommen bestimmt mal wieder. Kaffee, Nudeln und Cremant vor Ort - das war super! so mussten wir nicht gleich was einkaufen.
Fried
2016-02-14T00:00:00Z
Super tolle Wohnung. Super tolle Gastgeberin. In der ganzen Wohnung waren liebevolle Details und ein Notfallverpflegungsset gab es obendrauf. Zu 100% empfehlenswert. Jederzeit werde ich wieder bei Susan buchen, wenn ich wieder in Baden-Baden bin. Danke für den tollen Aufenthalt!
Kristina
2016-02-27T00:00:00Z
Airbnb verbindet Menschen auf so wunderbare Art - Mit großer Herzlichkeit hat Susan uns in ihrem neuen Apartment empfangen. Der vorherige Kontakt zwecks Absprache aller Details war ebenso großartig. Wir kommen gerne wieder!
Britta
2015-08-07T00:00:00Z
Absolutely recommended if you decide to visit Baden-Baden. The apartment looks exactly like on the pictures and has everything for an enjoyable stay. Susan is the greatest host ever and will never leave you without support. It was also unexpected surprise to find a bottle of welcoming wine and yummy cake for breakfast. Thank you Susan! You made us want to come back to Baden-Baden again:)
Larissa
2015-06-01T00:00:00Z
Susan's apartment was absolutely amazing! Everything is as nice as all the photos show, with a spacious layout and very nice and large bathroom. Susan was very helpful and attentive, and we will stay here again if we travel again to Baden-Baden!
Stacy
2016-09-21T00:00:00Z
Uns hat es sehr gut gefallen. Die Wohnung ist mehr als toll. Alles ist da was man braucht. Susan ist sehr nett und die bereit gestellten Sachen (Kaffee, Nudeln usw.) Grandios. Wenn wir noch mal nach Baden Baden kommen, kommen wir wieder. Danke für die schöne Zeit
Kerstin
2016-06-13T00:00:00Z
Sehr schönes gemütliches Appartment ganz in Zentru(SENSITIVE CONTENTS HIDDEN)ähe. Die Wohnung ist schick und modern eingerichtet (die Regendusche ist toll!). Alles was man braucht (und mehr!) ist vorhanden. Die Wohnung ist auch total sauber. Kurz und gut: Man fühlt sich einfach wohl hier! Susan ist eine sehr aufmerksame Gastgeberin. Sie denkt an viele Kleinigkeiten, die das Besondere an dieser Wohnung machen. Sie ist immer schnell erreichbar gewesen, so dass wir unseren Aufenthalt ganz leicht organisieren konnten. Wir kommen auf jeden Fall wieder!
Anne
2016-02-09T00:00:00Z
Tipus d'habitació
Casa/pis sencers
---
Tipus de propietat
Casa
---
Capacitat
2
---
Dormitoris
Baden-Baden, BW, Alemanya
Separates Gästezimmer mit eigenem Badezimmer wartet auf Gäste aus aller Welt. Es gibt eine Tür zum Garten, der zum Verweilen einläd. Unser Haus liegt im Baden-Badener Rebland, wir sind von Weinbergen umgeben. Die Schwarzwaldhochstraße beginnt hier.
Big Bedroom with own Bathroom and Door to garden. No problem if you have got a dog. You can park and use Internet (w-lan) . Do you know Baden-Baden? It is a beautiful Town with Casino, Festspielhaus (Opera, Concerts, Ballett) and Horse Race in Iffezheim. Fantastic possibilities for Spa (Caracacca Therme, Friedrichsbad). Our house is 10 min from city by car or 30 min by bus; also ten min from railway station and airport Baden-Baden-Karlsruhe. The bus leaves and arrives from city two times an hour. Black Forest is nearby: 20 min by car to Mummelsee (Lake), Mehliskopf (Mountain) and many possibilities to discover nature. Some good restaurants nearby - so you can taste the local wine and walk back. In the neighborhood: the local wine society with shop with wine testing. We are a family with two little girls. But don't worry: The room is in a separate part of the house - quiet there. Come in and be our guest! Attention: The tax for one person and one night in Baden-Baden is 1,40 €.
Neuweier ist ein Vorort von Baden-Baden und liegt idyllisch in den Weinbergen. Es ist alles sehr grün und ruhig. Es ist eine sehr sichere und saubere Gegend.
Familie Kusche ist eine äußerst sympathische und gut gelaunte Familie, die sich sehr über Gäste freuen. Ich habe mich sehr wohl gefühlt und hatte zwei sehr gute und entspannte Nächte dort. Freu mich auf's nächste Mal!
Jan
2015-04-02T00:00:00Z
Thank you very much to Michael and his 2 wonderful daughters! The room was spacious, clean and with private bathroom! Great location, nearby Baden Baden! Arrived today but want to visit you again!
Daria
2016-10-17T00:00:00Z
Sehr unkompliziert und nett! - Danke!
Tina
2014-04-21T00:00:00Z
Michael y su mujer son muy simpáticos! La habitación es confortable y el baño estaba muy limpio. Buena relación calidad-precio.
ISABEL
2014-07-03T00:00:00Z
Sehr nette, sympatische Familie. Perfekte Unterkunft. Wir haben uns in dem kleinen Ort im wunderschönen Rebland sehr wohl gefühlt.
Gunther
2016-06-26T00:00:00Z
We had a lovely four night stay with Michael and Anke in their home. They were so welcoming and great to share evening conversation with. Their two girls are very sweet and so fun. We were very pleased with the room itself. It was a nice large size with plenty of space to relax during a couple of rainy afternoons, when we couldn't be out exploring. Other reviewers were right to say we shouldn't worry about the sofa bed - it was so comfortable! It was also very nice because it was longer than traditional beds so being tall wasn't an inconvenience. We'd happily recommend Michael and Anke's home to any other guests looking for a comfortable and beautiful place to stay.
Ross & Lindsay
2012-07-03T00:00:00Z
Wir waren nur eine Nacht bei Michael und Anke, ihre Töchter begrüssten uns mit winken von ihrem Zimmer aus. Wir hatten das Gefühl schon mal hier gewesen zu sein. An diesem Abend gingen wir sehr früh schlafen, so dass wir Michael erst am anderen Morgen kennenlernten. Die Überraschung war gross, denn wir wurden noch zum Frühstück eingeladen. Ein schönes Zimmer und aufgestellte Gastgeber, was will man noch mehr ! Herzlichen Dank Max und Madeleine
Max
2014-10-11T00:00:00Z
A wonderful family and a fantastic place to stay! The Kusche's were very welcoming and it was fun spending time with Michael, his wife and kids. The room and private bathroom is just perfect. We stayed only one night on our way to France, but would have loved to stay longer!
Meredith
2012-01-01T00:00:00Z
Tipus d'habitació
Habitació privada
---
Tipus de propietat
Casa
---
Capacitat
2
---
Dormitoris
Baden-Baden, Baden-Württemberg, Alemanya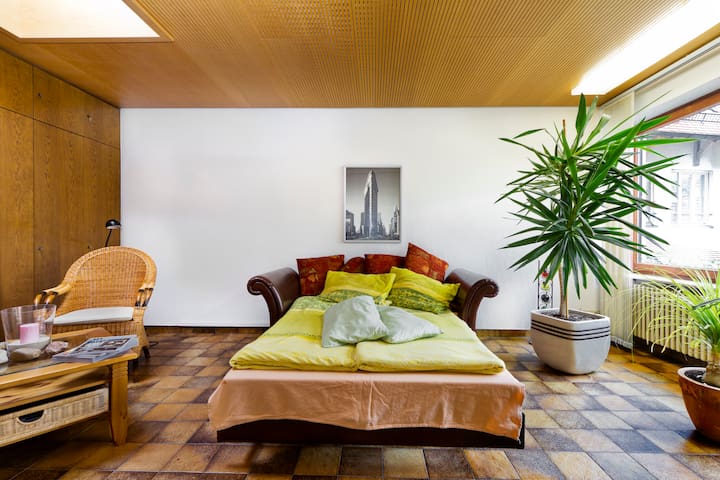 Bed and - delicious - breakfast in a baroque gem, one of the oldest buildings in Baden-Baden. Built in 1342 and restored in 1698, the owners have renovated the majestic Tudor style building very carefully in order to preserve it's very own charm.
The entire house has a fairy-tale-atmosphere. "Rapunzel" is a 204 ft² big and bright room on 3rd floor. With wood/coal-stove and only 6.8 ft high, which is typical for rural 17th century construction and gives the place a cosy atmosphere. There's a TV-set with DVD and WLAN in the room. The church bells might wake you up at six in the morning - sundays at seven - but apart from that there is heavenly silence on the site!
Zehnthaus is situated in the medieval town of Steinbach 4 km from the center of Baden-Baden, in the vineland. A perfect site for walks and hiking with the Black Forrest in sight. Several Restaurants, pharmacy and super-market only minutes to walk. Baden-Baden downtown is about 7,5 km away.
Historic house, good location to Badan Badan,our hosts were able to provide good information on local attractions. Only stayed one night, lovely amenities and a comfortable bed. The church bells will definitely wake you up, but that also is a unique experience!
Nadia
2016-10-16T00:00:00Z
Le logement se trouve dans une ville à 15 mns du centre ville de Baden. Elle est dans une ruelle très calme et où il est possible de se garer facilement. La maison est de style baroque et propose un voyage hors du temps. L'accueil y est parfait et la chambre propre ainsi que la salle de bain. Merci à mes hôtes d'un soir.
Antoine
2016-09-21T00:00:00Z
My hosts were very warm and considerate. Mathias guided me around Baden Baden. It was a very comfortable stay for me in their quaint house. The neighborhood was excellent too which added to the appeal.
Sameep
2016-10-08T00:00:00Z
Friendly and very hospital owner(we met Matthias). The place situated in the center of a small town near Baden-Baden. Books, art, interior design - great spirit being in the house. The hats on the eggs on breakfast- amazing:)
Vasily
2017-02-19T00:00:00Z
A lovely comfortable place to stay in a nice little German village. The house is full of character and individually furnished. I also had a lovely breakfast in the morning
Andrew
2017-02-21T00:00:00Z
Märchenhaftes und sehr interessantes Haus, gemütliche Zimmer.
Milo
2017-01-23T00:00:00Z
Absolutely lovely home! The bed was comfortable, the house was charming, the breakfast was great and beautifully set up and hosts very nice and accommodating. My one complaint is that, as someone who normally enjoys walking everywhere, this location is not close to city centre. And on weekends and evenings the bus is very difficult to take. That being said, the area is lovely, nice walks around. But if you plan on spending time in the city centre, just be prepared to plan your journey ahead of time. All and all, worth the extra effort in and out of the city.
Roxanne
2017-02-06T00:00:00Z
Magnifique maison, avec des meubles anciens, dans un quartier calme. A recommander.
Arnaud
2017-03-19T00:00:00Z
Tipus d'habitació
Habitació privada
---
Tipus de propietat
Casa
---
Capacitat
2
---
Dormitoris
Baden-Baden, Baden-Württemberg, Alemanya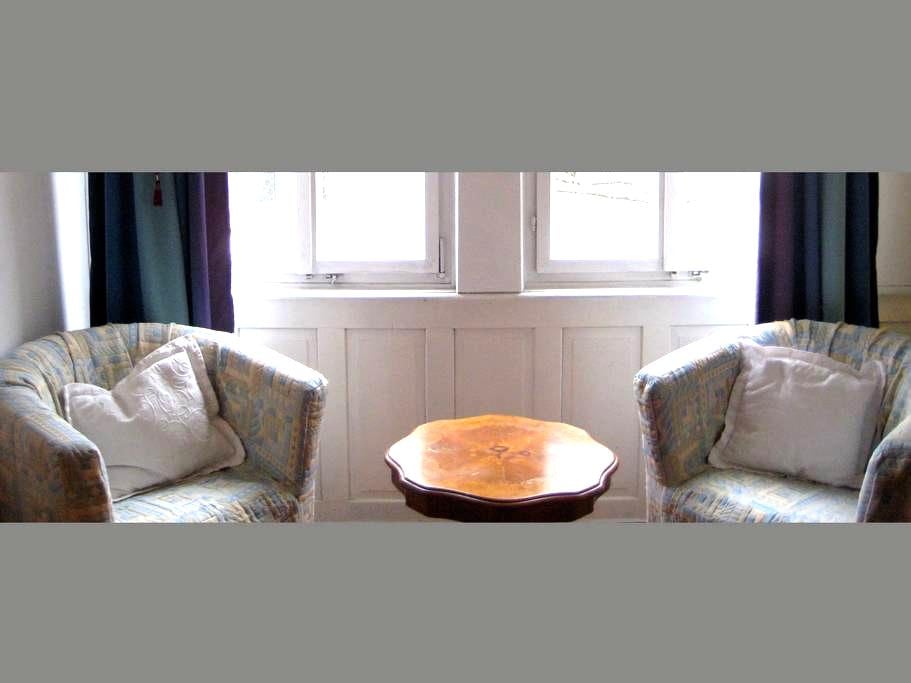 Eigenständiges 72Quadratmeter großes Häuschen mit dazugehöriger uneinsehbarer Terrasse und Gartenteich. Parkplatz direkt vor dem Eingang. Das Häuschen befindet sich direkt an der Badischen Weinstrasse und ist von Weinbergen umgeben.
Lovely house in great condition, great location being surrounded by vineyards and a good base for touring the Black Forest.
John
2016-09-17T00:00:00Z
Très beau séjour en forêt noire, la maison est très confortable et spacieuse, la décoration est moderne et le logement est chaleureux. Nous avons passé un très bon we chez Susanne.
Hélène
2016-11-01T00:00:00Z
The host canceled this reservation 26 days before arrival. This is an automated posting.
Sarah
2016-09-05T00:00:00Z
Angenehmer Aufenthalt, gute Kommunikation, freundlicher Gastgeber, gerne wieder!
Dominik
2017-02-10T00:00:00Z
Tipus d'habitació
Casa/pis sencers
---
Tipus de propietat
Casa
---
Capacitat
4
---
Dormitoris
Baden-Baden, Baden-Württemberg, Alemanya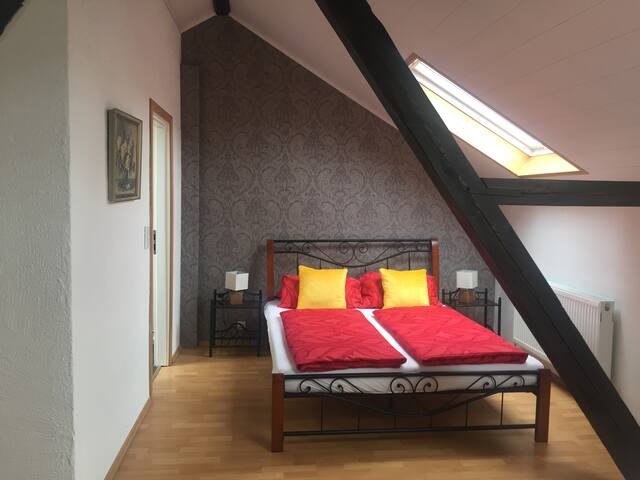 The house comprises 3 bedrooms, a kitchen, a living room, 3 toilets, a spacious terrace and a large garden.The garden features a swimming pool which is right in front of the terrace. The house is close to the center of Baden-Baden (10 minutes by bus/car, bus station nearby), however, we recommend coming by car! The area is very calm and invites you to relax after a successful shopping day or a sightseeing trip to Strasbourg, Freiburg (both 60 minutes) or Karlsruhe (30 minutes). I will be happy to provide you with all useful information and recommendation you need to have a pleasant stay in beautiful Baden-Baden.
Buon Giorno consiglio a tutti i viaggiatori di fermarsi a Baden Baden. E se vogliono ricevere un'accoglienza calorosa di fermarsi presso Jonathan. La casa è amplia e accogliente. Ha un'ottima cucina attrezzata. Nelle belle giornate si può mangiare sul terrazzo e immergersi nella natura. Per le famiglie con bambini la possibilità di avere il giardino e la piscina è il completamento della vacanza da sogno.
Silvia
2016-08-16T00:00:00Z
Very kind host. Nice and clean house with all things we need. I will choice this place again when next time I visit Baden Baden!
Sean
2013-05-08T00:00:00Z
Fantastische Aufenthalt. Kann ich nur empfehlen! Ganz liebe Gastgeber und ein sehr schönes Haus mit Schwimmbad - perfekt für den Sommer
Charis
2015-07-06T00:00:00Z
We had a really nice stay! The house is very spacious with an amazing view from the living room. If you're by car it's very easy to reach the center of Baden-Baden and nearby cities. It's a very quiet neighbourhood so you can enjoy the tranquility after a day out. The house has everything you need, starting from a fully equipped kitchen and bathrooms. The only thing I really missed was the WiFi. It was just not usable. For us that was pretty important because we had to check online for information related to our trip. Overall a very pleasant stay and host. Definitely recommended it!
Max
2017-01-01T00:00:00Z
It's a great, clean and spacious house on the hill side, with a short drive to the city. Would be very comfortable for 6, we were only 4. Jonathan was available on the phone, his mum lives next door and was quite helpful and showed us around the house. Would stay again.
rahul
2015-04-03T00:00:00Z
Spacious house good for families.
Brian
2016-04-28T00:00:00Z
Es war ein wunderschöner Aufenthalt in einem perfekt gepflegten und super ausgestatteten Haus in herrlicher Landschaft mit großartiger Aussicht in die Natur! Rundum empfehlenswert!!!!!!!!!
Katharina
2012-05-01T00:00:00Z
We LOVED our stay here and wish we could have stayed longer. Jonathan and his parents were all super nice and accommodating. His dad recommended Caracalla Therme when we asked for a spa that would allow kids. It was spectacular! Their house was lovely, even nicer than the photographs, and stocked with everything we needed. It was super clean and very spacious. In addition, you can walk right to hiking trails in the Black Forest from the house, which we did. When we return to Baden-Baden, which we plan to, because it's amazing, we will definitely stay here again!
Jennifer
2013-04-19T00:00:00Z
Tipus d'habitació
Casa/pis sencers
---
Tipus de propietat
Casa
---
Capacitat
6
---
Dormitoris
Baden-Baden, Baden-Württemberg, Alemanya
Unser Rebenhaus-Loft ist ein luxuriöses Ferienhaus für 2 Personen. Das Loft ist aus einer aufwendig renovierten und modernisierten Scheune entstanden und bietet jetzt ein charmantes erstklassig ausgestattetes Urlaubsdomizil im Baden-Badener Rebland. Die Gesamtwohnfläche beträgt 110qm.
Es erwartet Sie ein 70 qm großzügiger, heller Wohn-/Essbereich mit einem sensationellen Weitblick. Über eine Treppe erreicht man ein Doppel-En-Suite-Schlafzimmer mit Boxspring-Kingsizebetten und Flachbildschirm TV. Genießen Sie die Ruhe und Natur auf der weitläufigen Terrasse.
Tipus d'habitació
Casa/pis sencers
---
Tipus de propietat
Casa
---
Capacitat
2
---
Dormitoris
Baden-Baden, Baden-Württemberg, Alemanya
Schönes 28qm Zimmer in mitten der Natur. Natur Pur und trotzdem nur 5km ins Centrum. besonders geeigneit für Wanderer und Naturliebhaber. very nice and cosy Room in the heart of the black forrest. beautiful hiking tracks are starting just at this lovely blackforrest house. Distance to city center 5km next busstop is 400m away. Buslinie von Zentrum 204 und 245
Tipus d'habitació
Habitació privada
---
Tipus de propietat
Casa
---
Capacitat
2
---
Dormitoris
Baden-Baden, Baden-Württemberg, Alemanya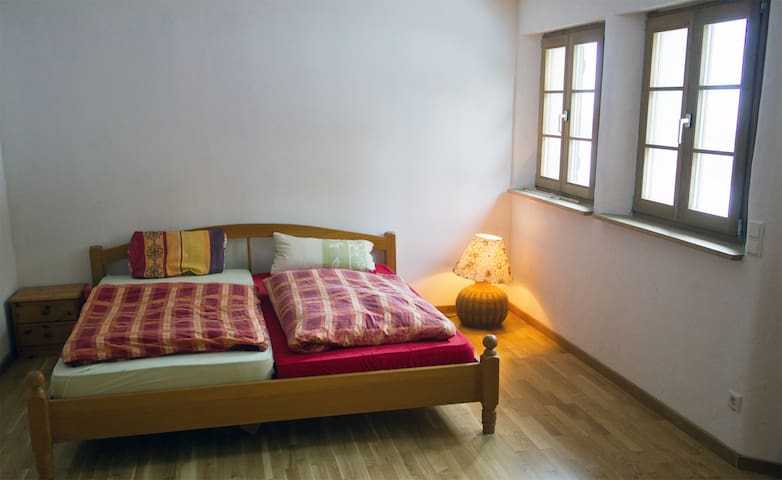 Kuscheliges, lichtdurchflutetes Studio im Dach mit einem großen Balkon in Südausrichtung im ruhigen Stadtteil Lichtental Traumhafter Weitblick in den Schwarzwald und auf das Kloster Lichtenthal.
Begonnen hat es mit einem Willkommensdrink zu spätester Stunde nach einer sehr anstrengenden langen Anreise. Die nächsten Tage möchten wir so beschreiben: Wir sitzen am Balkon der kleinen Dachwohnung mit Blick auf ein "Märchenschloß" in der Ferne und auf ein paar Dächer unter uns, umgeben von herbstgefärbten Bäumen. Es ist ganz still, die Oktobersonne wärmt uns auf diesem windgeschützten Plätzchen und wir fühlen uns sehr wohl. Besonders auch deshalb, weil uns unsere Gastgeberin ein sehr herzliches Willkommen bereitet und an alles gedacht hat, was man brauchen kann um sich hier cosy und heimelig zu fühlen. Danke! gerne kommen wir wieder.
Dr. Alois
2016-11-01T00:00:00Z
Sehr schöne und ruhige Wohnung, geschmackvoll eingerichtet. Hatte sehr erholsame Tage in Baden-Baden. Vielen Dank
Álvaro
2016-03-23T00:00:00Z
Der Kontakt (vorher/nachher) war sehr freundlich, die Whg ist supergemütlich, ruhig und sicher. Allerdings wuerde ich sie nur Leuten bis 1,70 Körpergröße empfehlen; wegen der Dachschrägen überall. Stadtkern ist 30 min. Fussweg durch den schönen Park. Es gibt sehr wenig Raum, um seine Klamotten auszupacken, besonders wenn man zu zweit ist. Der Balkon hat einen tollen Blick
christiane
2016-07-08T00:00:00Z
Tipus d'habitació
Casa/pis sencers
---
Tipus de propietat
Casa
---
Capacitat
2
---
Dormitoris
Baden-Baden, Baden-Württemberg, Alemanya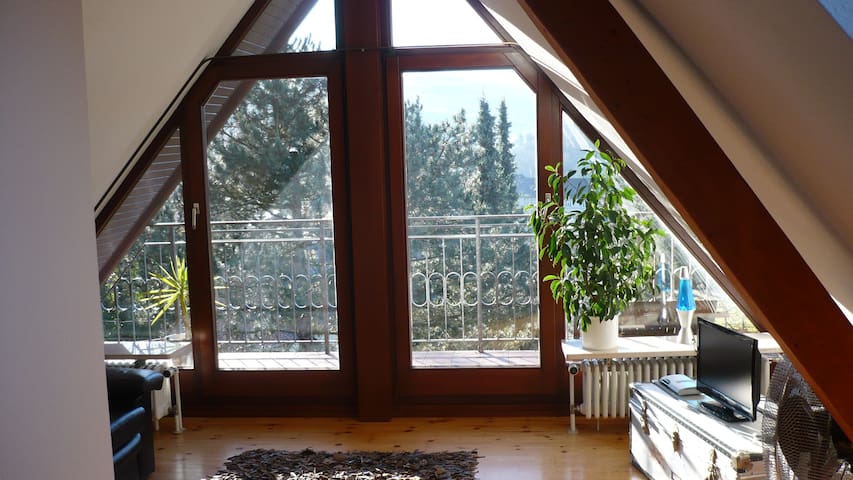 Ein gemütliche eingerichtetes helles Haus mit viel Platz. Komplett ausgestattete Küche, 2 Bäder. Mehrere Zugänge zu den Terrassen und zum Garten, eine Terrasse mit großer Markise. Im Sommer kann man herrlich draußen sitzen, essen, die grüne und ruhige Umgebung genießen. Großer Wohnbereich. Durchweg Dielen oder Parkett. Der Kachelofen kann im Winter genutzt werden. Ein gut ausgestattetes Spielzimmer ist auch vorhanden. ... Bitte beachten: Kurtaxe ist vor Ort zu zahlen (3,50 €/Erw. und Nacht).
Die Umgebung ist ruhig, das Haus liegt nah am Wald. Trotzdem ist man schnell in der Innenstadt und hat alle Läden des täglichen Bedarfs in der Nähe. Wir lieben unser Haus, weil es hell und gemütlich ist, viele Terrassen für jede Tageszeit und einen kleinen aber schönen Garten hat.
Ruhige und nette Nachbarschaft, tw. mit Kindern. Bäcker 5 min zu Fuß. Läden des täglichen Bedarfs und ein Markt (2x/ Woche) in ca 10 min Fußentfernung.
Tipus d'habitació
Casa/pis sencers
---
Tipus de propietat
Casa
---
Capacitat
5
---
Dormitoris
Baden-Baden, Baden-Württemberg, Alemanya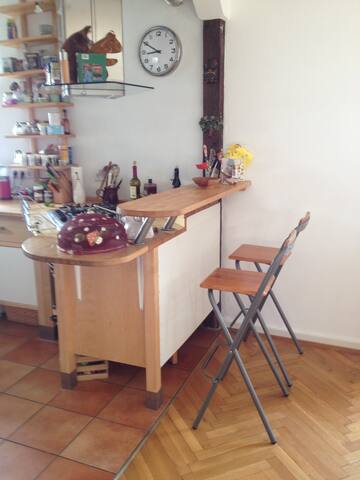 Original loft in old Schiltigheim's heart, 8 minutes walk from the tram station Rive de l'Aar. Enjoy the calm, the garage and the terrace being near Strasbourg city center by all transport ways.
The house is completely new and composed by an open kitchen with access to the terrace and the living room on the ground floor. On the first floor there is an open night space, a bedroom with access to the bathroom, toilettes and a reading space.
The old historical district of Schiltigheim is really quiet with restaurants, bakeries and a lot of little shops.
Logement bien situé pour profiter de la ville de Strasbourg
Marie-Renée
2017-03-20T00:00:00Z
Carla est charmante, nous a très bien accueilli je recommande son appartement joliment décoré et très tranquille.
Malika
2017-02-03T00:00:00Z
3 ème séjour dans l appartement, rien à dire, tout est parfait!
julien
2017-03-23T00:00:00Z
Logement propre, neuf et très agréable. Tout est fonctionnel, dans un quartier calme. Nous nous y sommes sentis tout de suite bien. Carla a été très réactive à mes questions et arrangeante pour l'accueil et le départ. Le garage est un plus pour ne pas passer de longues minutes à chercher une place !
Nathalie
2017-02-25T00:00:00Z
Au top, rien à dire l'appart est nickel, un excellent wifi.
julien
2017-03-02T00:00:00Z
L'appartement de Carla est très agréable, bien décoré, bien agencé, très bien équipé et neuf où l'on se sent très vite comme à la maison. Nous sommes arrivés tard dans la soirée avec 1h30 de retard et Carla a été très arrangeante, compréhensive et disponible. Nous avons une excellente semaine!
Anne-Sophie
2017-02-10T00:00:00Z
Everything was great.
casiana
2017-03-16T00:00:00Z
Tolle Wohnung, super sauber, netter Empfang, Cetrum mit dem Bus gut zu erreichen.Danke für die schöne Zeit!
sandra
2017-02-28T00:00:00Z
Tipus d'habitació
Casa/pis sencers
---
Tipus de propietat
Casa
---
Capacitat
4
---
Dormitoris
Schiltigheim, Grand Est, França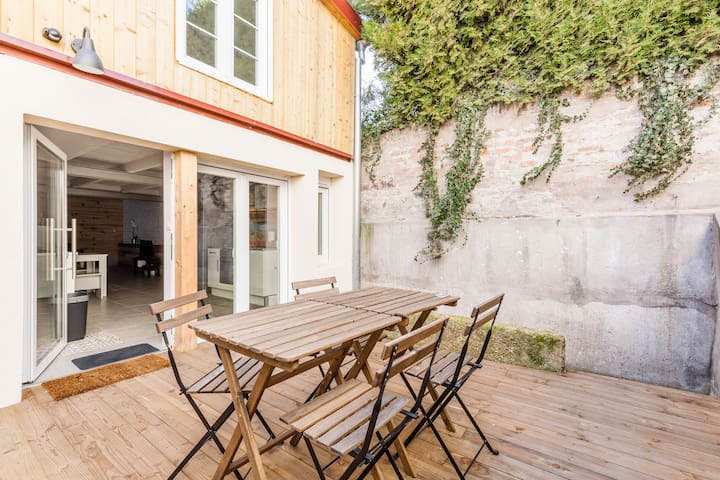 Beautiful 33m² room in quiet area close to the city center of Strasbourg. Bedroom with two queen beds. A corner office. Closet with wardrobe. Private bathroom. kitchen possible. Tram station at 250m and 10 minutes from city center.
In private house with all comforts
Quiet and calm neighborhood
It was a great hous and trip
Mohd
2016-10-11T00:00:00Z
M. Litt nous a chaleureusement accueillies et nous a fourni tous les renseignements nécessaires. Nous sommes très reconnaissantes pour son amabilité et sa serviabilité qui a rendu notre séjour agréable. La chambre est propre et très confortable et puisqu'on était à deux, deux grands lits étaient à notre disposition. Une salle de bain nous a aussi été réservée. De plus, l'appartement est très bien situé dans un quartier calme mais proche du centre-ville. Vivement recommandé! Merci encore, Monsieur :)
Jihed
2016-05-09T00:00:00Z
Acceuil charmant, meubles kitchiscismes mais grande chambre dans un quartier palichon et bien loin des grands intérêts de la ville, colle parfaitement au concept ni plus ni moins..
Jerome
2016-07-31T00:00:00Z
Rene's place was as advertised. The only minor difference was the height in the bathroom, but I fairly tall so obviously there's that to keep in mind. The place is very close to the B tram stop and within reach of the institutions (Parliament, Court of Justice, Council of Europe). Rene was lovely. He gave me plenty of advice and suggestions before and during my stay. Check in was a breeze, and Rene went all out to make sure I was always comfortable. Also, you get a whole floor, which is definitely a plus if you consider the price! Would stay here again.
Andrea
2017-01-28T00:00:00Z
The house is in a very nice neighborhood, but there is a new construction nearby and they start working at 7.00-7.00 each day, so if you want to sleep until 9 or later, its impossible, because of the noice.
Assia
2017-03-24T00:00:00Z
Le logement est situé au calme mais très proche du tram ce qui permet un accès au centre de Strasbourg très rapidement. C'est donc un excellent compromis. René est par ailleurs très accueillant et n'hésite pas à partager des bons moments en commun ou à préserver notre indépendance selon notre humeur. En deux mots: Excellent séjour
guillaume
2017-02-10T00:00:00Z
Super hôte. René nous a conseillé tout au long du séjour pour les nombreuses visites à faire dans la région. Ideal si vous venez pour découvrir la région. Le logement est spacieux et les lits très confortable. Très facile d'accès depuis le centre ville de Strasbourg.
Sampath
2016-12-05T00:00:00Z
Super séjour strasbourgeois avec René , qui fait tout pour que vous vous sentiez chez vous. Il est facile d'échanger avec lui et d'avoir des tips pour gagner du temps dans les transports en commun. Vous avez tout un étage pour vous ce qui fait que vous êtes chez l'habitant mais en ayant vraiment votre coin à vous. Je vous le recommande donc chaudement.
Yannick
2016-05-16T00:00:00Z
Tipus d'habitació
Habitació privada
---
Tipus de propietat
Casa
---
Capacitat
2
---
Dormitoris
Schiltigheim, Alsàcia, França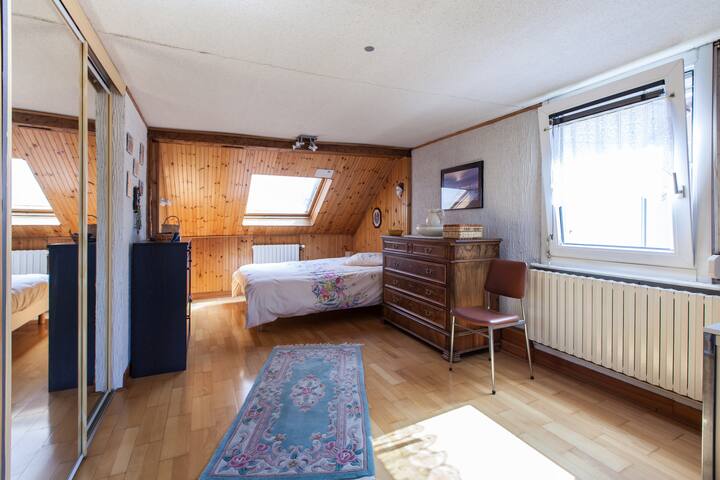 Our romantic Ferienhaus is located on the Annaberg with a beautiful view over Baden-Baden. Parking in front of the house no problem and wireless internet also available... There is a bus stop 150 meter away with a direct line to the center, the casino and thermal baths or one can walk 10-15min...
Unser Aufenthalt in dem supersüßen und gemütlichen Gartenhaus war ein tolles Erlebnis. Das Häuslein ist sehr liebevoll renoviert, hat alles was man braucht, war tip top sauber und ist super gelegen. Zum Zentrum vom schönen Baden Baden braucht man mit dem Auto nur einige Minuten. Da Frank nicht da war, wurden wir von seiner freundlichen Mutter empfangen, die sich sehr darum gekümmert hat, dass wir uns wohl fühlen. Sie gab uns tolle Tips (der Inder Namaskaar ist super!) und brachte uns sogar Aspirin als wir nach einem langen Tag Kopfschmerzen bekamen. Ich kann dieses schnuckelige Gartenhäuslein und ihre freundlichen Gastgeber nur bestens weiterempfehlen!
nata lee
2012-08-13T00:00:00Z
Fantastic communication about the house and how we could get access as the hosts were out of town. We arrived to a lovely note. The house was very clean and vey well set up. You could easily spend a long while here as it's very comfortable and well appointed. We chose to dine in town and take advantage of the walks in the blackforest. We also went up the Merkur mountain for a picnic which was great. Frank suggested some great places to go and also some nice places to eat which was much appreciated.
Lia
2015-09-04T00:00:00Z
La casa es tal como aparece en las imágenes! Preciosa! Gracias a Karin y a su familia por habernos tratado tan bien. Nos hemos sentido como en casa!
Jordi
2016-01-02T00:00:00Z
We had the most wonderful time at Frank's garden house. He and his family were warm and accommodating, checking in and out was really smooth and the house was beautiful. Baden-Baden itself is great, the house is really well positioned near the funicular. Frank recommended an amazing restaurant 15 minutes away. If we come back to Baden-Baden we would definitely stay at Frank's again. Loved it!
Tabitha
2015-05-25T00:00:00Z
Don't pass up the opportunity to stay in this charming cottage in the back garden of a very nice Baden-Baden estate. It was so nice and spacious inside, and had two great beds upstairs. The living room, kitchen, and bathroom were very well appointed and decorated to match the romantic cottage theme. Just a short walk down the hill and you are in the heart of the city. The host was out of town, so he made arrangements with his parents to greet us and check us in. They were very gracious and spoke wonderful English. If we needed anything at all they were just a few steps away in the main house. We had a fantastic stay and can only very highly recommend this cottage to everyone.
Darin
2014-03-03T00:00:00Z
Es war wunderbar! Frank ist sehr aufmerksam & gastfreundlich. Jederzeit wieder!
benjamin
2014-03-24T00:00:00Z
Tipus d'habitació
Casa/pis sencers
---
Tipus de propietat
Casa
---
Capacitat
2
---
Dormitoris
Baden-Baden, Baden-Württemberg, Alemanya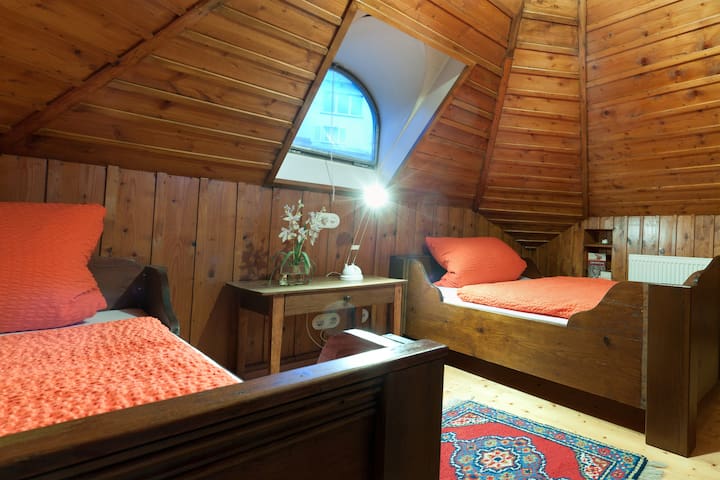 Sie wohnen in einem gemütlichen großem luxuriösen Einfamilienhaus mit komplett ausgestatteten Küche, großen hellen Wohnzimmer mit einem Flach TV , schnelles W-Lan in allen Räumen. Das Haus liegt in sehr ruhigen Umgebung am Waldrand am Fuße des Fremersbergs von wo aus vor der Haustür zahlreiche Wanderwege beginnen. In warmen Monaten lädt Sie eine gemütliche Terrasse mit Gartenmöbel zum Verweilen ein. Die Stadtmitte mit zahlreichen Sehenswürdigkeiten erreichen Sie in ca. 20 Min. zu Fuß.
Tipus d'habitació
Casa/pis sencers
---
Tipus de propietat
Casa
---
Capacitat
9
---
Dormitoris
Baden-Baden, Baden-Württemberg, Alemanya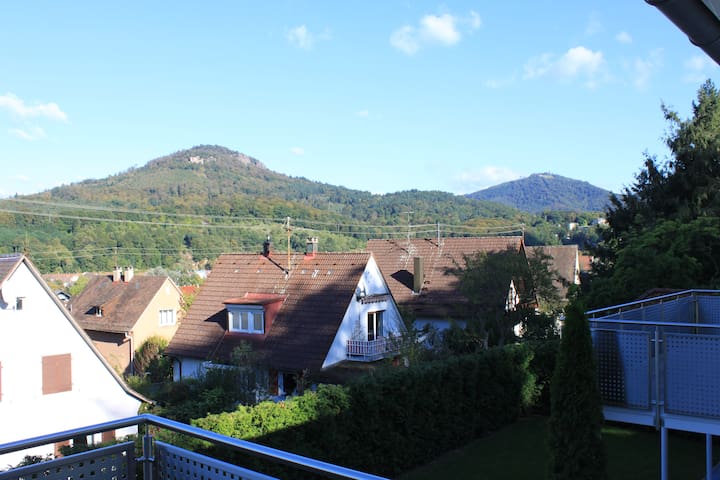 La maison se trouve à l'entrée de Schiltigheim à 2 min d'un arrêt de bus. C'est à 15 min du centre ville en vélo et en bus, il y a un arrêt de bus à 2 min. Il y a un vélo à votre disposition. Vous n'avez qu'à venir et aménager vos affaires!
Tipus d'habitació
Habitació privada
---
Tipus de propietat
Casa
---
Capacitat
1
---
Dormitoris
Schiltigheim, Grand Est, França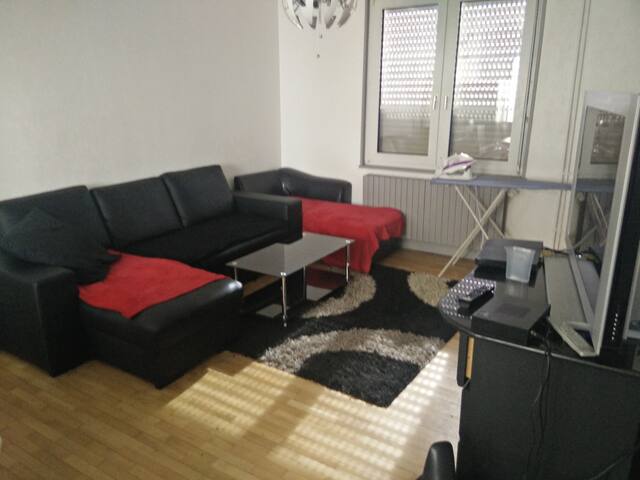 Unser Rebenhaus ist ein luxuriöses Ferienhaus für bis zu 5 Personen. Das Rebenhaus bietet ein charmantes erstklassig ausgestattetes Urlaubsdomizil im Baden-Badener Rebland. Die Gesamtwohnfläche beträgt 140 qm. Es erwarten sie 2 Doppel-En-Suite-Schlafzimmer und 1 Einzelzimmer. Jedes Schlafzimmer verfügt über Boxspring-Kingsizebetten und Flachbildschirm TV.
Das Haus befindet sich in einer ruhigen, von Reben umgebenen Lage und vermittelt durch die großzügige Raumgestaltung ein Gefühl von Freiheit und Großzügigkeit. Hier können Sie mit ihrer Familie oder Freunden einen entspannenden Urlaub in herrlicher Natur verbringen. Optimale Lage am Fuße des Schwarzwaldes für alle Freizeitaktivitäten im Frühling, Sommer, Herbst und Winter. Das Ferienhaus verfügt über eine großzügige Terrasse. Ausgangspunkt für Bergwanderungen, Radsport, Mountainbiketrips, Golfen und Schwimmen.
Kerstin was a kind and gracious host indeed. The house was absolutely beautiful, newly restored and furnished to a very high standard and every last detail was considered and taken care of. We would love to stay again and would thoroughly recommend the house to anyone who wishes to stay in a peaceful setting within easy reach of Baden Baden.
Sue
2016-03-30T00:00:00Z
Kristen is Honestly, gracious , great, helpful, friendly, and Wonderful women Her house look like 7-stars hotel it's Very Clean house ,and contain all the essential Beautiful house with beautiful trace we really enjoyed there and we absolutely recommend to stay in wonderful Kristen house
Abdullah
2016-08-07T00:00:00Z
Tipus d'habitació
Casa/pis sencers
---
Tipus de propietat
Casa
---
Capacitat
5
---
Dormitoris
Baden-Baden, Baden-Württemberg, Alemanya
We offer you a cheap overnight accommodation in the quarter Geroldsau of Baden-Baden. Our house is directly on the B500 and at the edge of the Black Forest. The Center and Black Forest High Road are distanced about 4km.
We can accommodate up to 40 people, ideal for bigger groups! Celebrate Christmas, New Years Eve or other celebrations with us.
The place is as good as the surrounding. It's not a typical bnb but something you would like when u are in baden-baden. You can cook in the kitchen, all the necessary things are in place. One issue is that the owner doesn't know English but the family is so sweet that u still won't mind staying there. Anna's son Andreas speaks English and helps you out in every possible way. One important info, kindly inform Anna about your arrival an hour prior.
Saksham
2014-10-07T00:00:00Z
Anna's place is a cozy guesthouse with lots of rooms. The rooms are not big, but comfortable and clean. Anna herself was very friendly, communicative and supportive. It was a good stay for us for a moderate price.
Max
2014-05-02T00:00:00Z
Tipus d'habitació
Habitació privada
---
Tipus de propietat
Casa
---
Capacitat
16
---
Dormitoris
Baden-Baden, Baden-Württemberg, Alemanya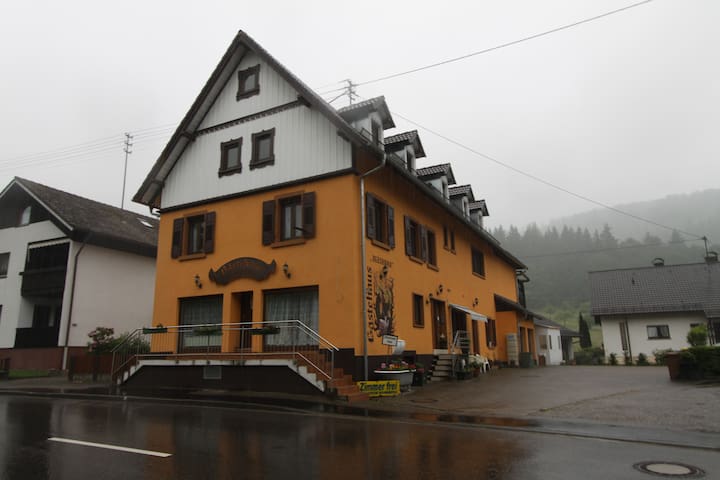 Agréable studio équipé (kitchenette, douche-lavabo, wc-lavabo), entrée indépendante dans maison bi-famille. Espace et produits bio. Penderie. Table. Micro ondes, plaques et cafetière électriques, frigo, accès lave-linge, étendage extérieur abrité, repassage. Wifi. Jardin meublé accessible. Barbecue.10 mn en bus Centre Strasbourg et gare. Parking gratuit. Autoroute à 5 mn. Transports en commun 2 mn. Abri vélo. Boulangerie, épicerie, vente à emporter et restaurants. Supermarchés à 5 mn à pied.
L'appartement est conforme à la description. Aucun problème; je recommande
Pierre
2016-12-15T00:00:00Z
Très agréable studio, charmant et chaleureux. Tout comme l'accueil reçu. Idéal pour découvrir Strasbourg à pieds. :)
Romain
2016-12-19T00:00:00Z
Petit studio calme, très bien pour une semaine seul ou à deux. On peut y venir avec le strict minimum sans manquer de quelque chose, mis a part le manque de télévision: pour les personnes "connectées" prévoir PC portable/tablette/smartphone. Andrée est facilement joignable et très gentille. Magasins/restaurants/boulangerie/bus très proche, centre de Strasbourg à 15 min en bus. Je suis très satisfait de ma premiere expérience Airbnb. Merci Andrée :)
Mickaël
2016-11-18T00:00:00Z
Le logement est fidèle aux photos, chaleureux avec la déco bois, agréable vue sur le petit jardin et très fonctionnel. Le quartier est calme, petits immeubles anciens avec beaucoup de charme et à quelques minutes du centre de Strasbourg. Très bon contact avec Andree, qui est disponible et prévenante.
Amelie
2016-09-25T00:00:00Z
Andrée est parfaite, attentionnée. Dans ce studio, on se sent chez soi, c'est très propre. A 10 mns du centre ville, au calme, rien à redire ! Je recommande vivement et reviendrai surement !
Catherine
2016-10-07T00:00:00Z
Très bon séjour chez Andrée, une tres bonne accueille. Logement très propres . Je recommande ce studio chaleureux.
Alexis
2016-10-16T00:00:00Z
Andrée est une dame très sympathique. Le logement est impeccable.
Sithideth
2017-01-20T00:00:00Z
Très bon séjour ! Andrée est une hôte à l'écoute et prévenante, nous avons été très bien accueillis. Le studio est agréable, conforme à la description et proche du centre de Strasbourg en bus. Nous y reviendrons avec plaisir !
Emilie
2016-12-11T00:00:00Z
Tipus d'habitació
Casa/pis sencers
---
Tipus de propietat
Casa
---
Capacitat
2
---
Dormitoris
Schiltigheim, Alsace-Champagne-Ardenne-Lorraine, França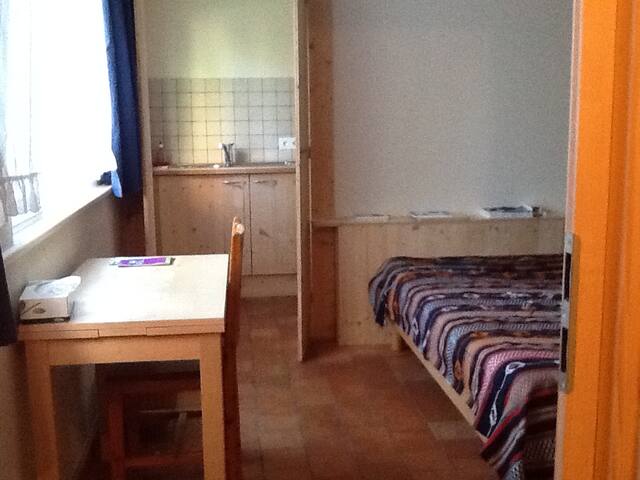 Oppenau - Airbnb
:
Mitjana de

4.75

estrelles sobre

5

a partir de

730

avaluacions d'hostes
1

-

18

de

243 Lloguers de Cases
Introdueix les dates per veure el preu total. S'aplicaran tarifes addicionals. És possible que també s'apliquin impostos.