Equipée d'un lit matrimonial et d'une salle de bains , la chambre offre une vue imprenable sur les baleines et les dauphins toute l'année .Terrasse avec hamacs. Petits déjeuners inclus
Vue sur les cétacés toute l'année
De part sa tranquillité, le repos y est assuré !
Merci à Véro et Arthur d'avoir rendu notre séjour si agréable. On se sent à l'aise chez vous, comme chez des amis que l'on n'aurait pas vu depuis longtemps. Simplicité et naturel me semble être les mots pour vous décrire. Et puis partir en ballades avec de bons conseils et le super petit déjeuner de Véronique, rien de tel pour profiter pleinement de ses vacances. Merci à vous 2 pour tout.
helene
2016-08-12T00:00:00Z
Mon séjour court chez Véronique et Arthur étaient terriblement sympa. Les deux d'occupaient tellement bien de moi en m'accueillant avec gentillesse, une tarte et une bière froide. Ils m'ont toujours aidé à trouver la bonne route, m'ont donné beaucoup de tips de quoi faire sur l'île et bavardé avec moi de la vie en général et surs les azores, tout en buvant un ou bien deux verres du vin portugais excellant. Le premier soir Véronique, une cuisinière magnifique, avaient déjà préparé de la viande pour le dîner mais après m'avoir invité gentiment de manger ensemble et apprenant que je mange que le poisson, elle réarrangeait le menu. Les matins je jouissait un petit déjeuner tout à mon goût sur la terrasse avec vue sur l'océan. En plus, j'avais oublié un T-Shirt que Véronique va m'envoyer en Allemagne. En tous : Je suis très heureuse d'avoir choisi cet location et je voudrais bien revenir un jour !
Franziska
2016-06-10T00:00:00Z
Comment dire! J'ai été traité comme un roi. Véronique et Arthur sont toujours au service et s'asure qu'on ne manque de rien. La pièce étant séparée de la maison elle permet une quiétude asurée. Il est toujours plaisant de manger avec eux pour discuter de tout et de rien et pour manger les bonnes recettes de véronique contre un léger supplément. Je me suis jamais senti comme un invité, c'est comme si j'avais toujours été un ami!
Pascal
2015-12-17T00:00:00Z
Que rajouter, si ce n'est souligner une fois de plus la chaleur et la générosité de l'accueil d'Arthur et de Véronique? 5 jours merveilleux passés à Pico, en la compagnie de gens qui savent vous mettre à l'aise et vous font vous sentir comme chez vous dès le début. Merci beaucoup à vous deux, tout était parfait, de A à Z! A très vite assurément! bises, Amandine
Amandine
2016-09-17T00:00:00Z
Super accueil ! On a plus l'impression d'arriver enfin en vacances chez Tata Véro et Tonton Arthur ! Tout de suite à l'aise, attablé devant un verre, face à la mer, Arthur sort ses jumelles pour bien voir les dauphins qui batifolent en face de nous et Véro prépare un barracuda qu'on vient de lui amener pour qu'on le mange ensemble (puisqu'on n'avait encore rien prévu pour diner...)
Jacques
2016-07-08T00:00:00Z
Arthur und Veronique haben uns herzlich empfangen. Die Unterkunft war sehr sauber und mit viel Liebe im Detail eingerichtet. gerne denken wir noch zurück an die freundliche Gespräche und an die Hilfsbereitschaft von Arthur und Veronique. Die Aussicht von der Terrasse auf das Meer werden wir mit Sicherheit nicht vergessen . Wer die Stille liebt ist hier richtig gut aufgehoben , man kann sich hier sehr gut erholen. Wir danken den beiden für einen wundervollen Urlaub. Ach, ja Arthur hatte Recht, wir hatten wirklich drei Tage Muskelkater nach dem Abstieg von Pico. Man kann sich also auf die Aussagen der beiden verlassen. Nochmal vielen Dank auch für die Unterstützung des Mietwagens. Euere Freundlichkeit wirkt jetzt noch in Deutschland . Danke.
ulrike
2015-07-27T00:00:00Z
Quelle joie, quel plaisir d'avoir connu Vero et Arthur et d'avoir pu partager ces quelques jours avec eux. Je me suis senti comme un membre de la famille. Les repas en commun, les discussions livres et films, le Scrabble, le vin, le jardin, la maison, la mer, le grill, la confiture, le hamac, c'était vacances et chez soi tout à la fois, un vrai bonheur. Merci de tout cœur!
Jean-Daniel
2015-05-25T00:00:00Z
Véronique and Arthur are lovely hosts, the house is located in a beautiful spot with always view to the sea, and Arthur looking out for whales and Dolphins. The breakfast was wonderful and they took great care of us and especially for my Wife's diet. We also had lovely meals in the evening, they both are great cooks. the room was nace and clean, not very big, but with the outside area and the patio that was all we needed. we even learned a new card game, and enjoyed playing with them. Thank you Véro and Arthur for a lovely time.
Dirk
2015-06-19T00:00:00Z
Tipus d'habitació
Habitació privada
---
Tipus de propietat
Bed & Breakfast
---
Capacitat
2
---
Dormitoris
Terra do Pao, Açores, Portugal
The house is over one hundred years old, located within the civil parish of São Caetano, on Pico Island, and is surrounded by a unique landscape between the mountain and the sea.
A typical Azorean house built at the end of the 19th century by a small farming family of little means. Júlia's Little House is located high on a slope within the civil parish of São Caetano on Pico Island, next to the regional road. It is surrounded by other houses, which means it is integrated in neighbourhood life. The house has a historic atmosphere about it as a result of the several generations that have lived there and enjoys a unique location, marked by the powerful presence of the mountain and the limitless blue sea. The house has been modified several times over the years, slowly catching up with the comforts of modern living. The last of such refurbishments was carried out earlier this year, where the bedroom and living areas were totally renovated, making them more functional and comfortable. The house can accommodate 6 people and is split into two levels. On the upper level, you can find the kitchen and bathroom, and an open-plan space with a sofa-bed and a bedroom with a double bed. The lower level has a bedroom with a double bed, a small office space and a storage area. The two levels are connected by an internal staircase at the centre of the living area. The lower level enjoys direct access to the outdoor patio area, towards the front of the house. In summary, the house can accommodate 6 people and has two rooms (each with a double bed) and a living area with a sofa-bed that sleeps 2. Please remember that the room on the upper level is open-plan with the living area. The patio has a large dining table, chairs and a parasol. There is also a barbecue area with wooden stools, where you can cook a meal or simply enjoy a warm fire on a summer's evening. We have plenty of firewood that you can use. The kitchen is equipped with all the essentials (including an oven) and includes a small dining area. The bathroom is a good size; the shower is a little smaller than we would like but it is perfectly functional. Despite the fact that this part of the house is relatively modern, we hope to make it more functional in the near future. We have made a personal choice not to have a microwave, a TV or Internet access in the house. However, there are two cafés nearby with Internet access and TV.
São Caetano is a small civil parish located on the south side of the island, between Madalena and Lajes do Pico. It enjoys access to a bathing area on one of the island's loveliest bays, known as Prainha do Galeão. You will often see fishermen arriving and leaving in their boats and children playing and jumping into the water during the long summer afternoons. Here, you can enjoy a pleasant swim with a splendid view of the mountain. The sea in this area is almost always calm due to the local geography, and the site is known among divers because of the coral reef located just a few metres from the coast. Júlia's Little House is located on a higher point in the parish, but the coast is roughly 10 minutes away on foot. The house is surrounded by other houses, but enjoys an unobstructed view towards the sea. There is a café that serves meals by Prainha do Galeão. There is another, simpler café behind the house and, a little further up, a bakery/patisserie where they bake their own bread and pastries.
Nous avons passé 5 jours dans cette petite maison idéalement placée entre Madalena et Lajes do Pico pour visiter l'île avec vue sur l'océan. La maison était ouverte avec les clés à l'intérieur quand on est arrivé, la cuisine est complète et pratique pour cuisiner (même pour 5). Propre et au calme, on a passé un super séjour chez Ana. On n'a pas pu utiliser le barbecue mais peut être la prochaine fois!!
thibault
2014-09-15T00:00:00Z
House very nice, full of beautiful pictures and object. you can live like a local in a beautiful landscape.
Nadia
2016-06-04T00:00:00Z
Simple house well located next to the mountain. Sao caetano is a lovely little place with good bar, restaurant & rocky beach. House was damp & we were invaded by flying ants but I hear this is normal for Pico!
Matthew
2015-06-27T00:00:00Z
Le logement est comme décrit dans l'annonce avec 3 chambres, une cuisine équipée et une salle de bain (douche petite). Le logement est propre et fonctionnel. Vue sur la mer appréciable pour boire une verre. Ana nous a donné toutes les infos nécessaires avant notre arrivée, nous fournissant un lit pour bébé et une chaise haute. Luca (la voisine) qui s'occupe de la maison nous a aidé pour tout le reste, notamment comment vider et cuisiner le poisson (camionnette qui passe tous les matins). Thanks
Yorick
2015-08-29T00:00:00Z
Eine sehr schöne Unterkunft! Vor Beginn der Reise hat Ana uns einen kleinen Guide zugemailt, sodass wir schon einige Infos hatten. In dem Haus können bis zu 5 Leute übernachten, wir hattten das Haus für uns (2 Pers.) allein. Hand- und Badetuch lagen auf dem Bett bereit und wir haben uns dort in den 3 Nächten richtig zuhause gefühlt. Es war alles da, was wir benötigt haben, um uns selbst zu versorgen, die Küche ist gut ausgestattet.
Sandra
2015-09-25T00:00:00Z
La casinha di Julia mi ha subito affascinato mentre stavo cercando un alloggio a Pico. Per fortuna era disponibile per le nostre date di soggiorno. Ana mi ha subito inviato delle informazioni utili appena ho prenotato. La posizione della casa e' comoda sia se si arriva in traghetto sia in aereo, si trova in un piccolo paesino tranquillo, facile da trovare. Appena arrivati le chiavi erano dentro casa e la porta aperta, ci ha accolto un amica di Ana. Le foto rendono assolutamente giustizia di quanto é curata la casa con dettagli e ricordi della storia e delle persone che hanno vissuto in quella casa. Mi sono piaciuti tantissimo i mobili recuperati. La casa, che possiamo definire "di campagna" e' molto grande per due persone; ci sono infatti tre camere da letto. La cucina ha veramente tutto il necessario per cucinare sia come pentole/posate ecc sia come olio,aceto,aglio,sale,zucchero,pepe. C'é un barbecue nel giardino con un bel tavolo per poter mangiare fuori. Non c'é connessione ad internet ma é un bene per poter staccare la spina. Il letto é comodo e si dorme senza rumori. Siamo stati benissimo, saremmo voluti restare di più! E' stato sicuramente la sistemazione più bella della vacanza alle azzorre!
Francesca
2014-08-25T00:00:00Z
The communication with Ana prior to our arrival was just phantastic. She provided us with the best and detailed information ever. The house itself is a small jewel. We enjoyed staying in the house. The view is so great!!! We simply had a great time on Pico Island and will definately come back one day
Sabine
2014-10-07T00:00:00Z
Julia's Little House is a perfect place to discover Pico island. Ana & Filipe were great hosts. The house was as shown in the listing. It has everything we needed. We loved the place and would definitely come back. We talked with Filipe via text message, and he was always at our disposal for any help, and one of neighbors was arround for anything we needed. Julia's Little House foi um ponto de partida fantástico para conhecer a Ilha do Pico. A casa é exactamente como aparece nas fotos. Tem tudo o que precisámos. Nós adorámos a casa e de certeza que iremos regressar. Estivemos em contacto com o FIlipe por Mensagem, e ele esteve sempre disponivel para nos ajudar, uma vizinha esteve sempre disponivel para nos ajudar também.
Hugo
2016-04-09T00:00:00Z
Tipus d'habitació
Casa/pis sencers
---
Tipus de propietat
Casa
---
Capacitat
6
---
Dormitoris
São Caetano, Ilha do Pico, Açores, Portugal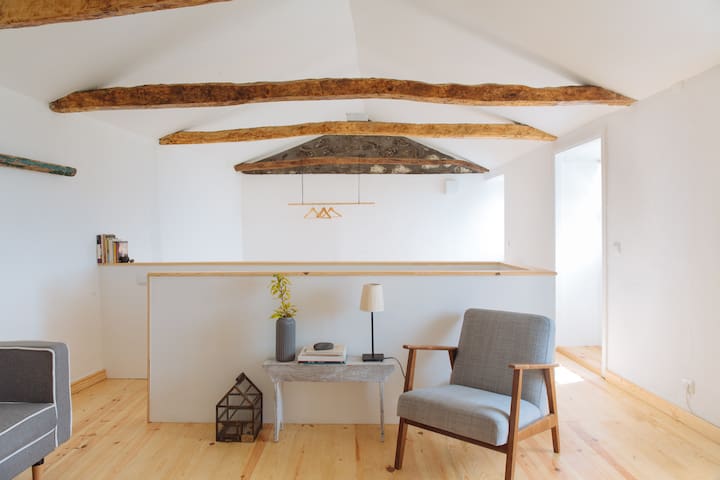 Mount Pico - Airbnb
:
Mitjana de

4.76

estrelles sobre

5

a partir de

92

avaluacions d'hostes