Un casolare in campagna immerso nel verde ma a solo 1,5 km dal paese. All'esterno un grande spazio verde e giardino adatto per bambini e amici pelosi... oltre ad offrire passeggiate in mezzo a vigneti e campagna verde. L'arredo si adatta allo stile della casa con soffitti a travi, un camino ed una stufa a legna per scaldare le giornate invernali oltre naturalmente al riscaldamento a gpl (non compreso nel prezzo). Siamo ad aspettarvi per offrirvi la nostra ospitalità
Per accedere all'appartamento che si trova al primo piano una bellissima scala in pietra toscana, l'appartamento è circa 75 mq e quindi per 4 persone è perfetto. Nel soggiorno troverete libri da lettura per adulti e bambini, e libri guida della zona. La cucina è completamente organizzata con stoviglie, pentole e tutto ciò che serve per cucinare, oltre a frigo e congelatore. Una macchina per caffè espresso vi aspetta per un ottima colazione,
Tipus d'habitació
Casa/pis sencers
---
Tipus de propietat
Casa
---
Capacitat
4
---
Dormitoris
Montepulciano, Toscana, Itàlia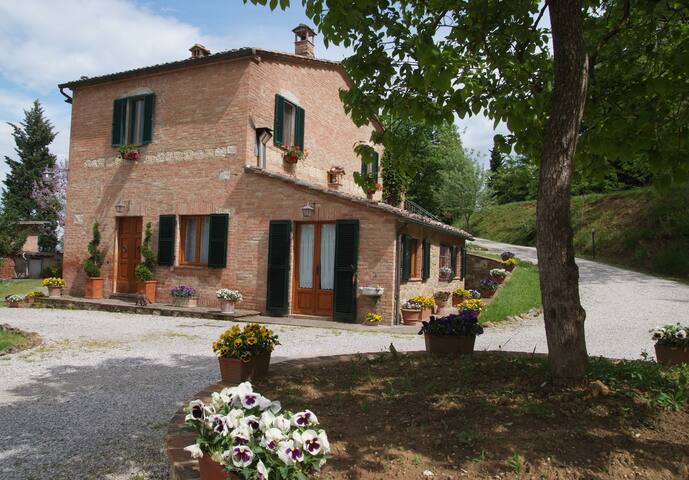 nice and comfortable apartment in the old town of Montepulciano Placed in the Historical Centre, just a few steps to the most beautiful and oldest wine cellar in Montepulciano (Cantina del Redi dè Ricci) an amazing sixteenth-century structure, great-looking with its huge wine barrels. The apartment is in a perfect position: just a few minutes walk from the main square of the town, Piazza Grande(where, every summer, there are theatre and music events) but at the same time is a quiet district.
l'alloggio da direttamente sulla strada di collazzi ed ha il vantaggio di essere vicino al cuore di montepulciano(piazza grande), ma godere di un panorama e una certa indipendenza. In the flat you have INTERNET Wi FI
Nice and comfortable apartment in the old town of Montepulciano Placed in the Historical Centre, just a few steps to the most beautiful and oldest wine cellar in Montepulciano (Cantina del Redi dè Ricci) an amazing sixteenth-century structure, great-looking with its huge wine barrels. The apartment is in a perfect position: just a few minutes walk from the main square of the town, Piazza Grande(where, every summer, there are theatre and music events) but at the same time is a quiet district. you can reach the most beautiful spots in a short time ( piazza grande, La fortezza, S.Biagio and the most beautiful places) The apartment : Located at ground floor : one dinner room with a sofa bed , a bathroom with shower and a bed room with beatiful view of the valley. 40 meters from the house there is a Laundry and a bus stop , a public transport , called by the citizen" Pollicino " You can find a free parking 2 minute walking. Every summer in late August ( the last week of august) there is a curious and original event : the " Bravio delle Botti " - an ancient barrel-rolling contest ! They roll empty wine barrels down the streets of the old town. La casa è ubicata sulla strada di collazzi,che è un quartiere centrale.A pochi metri c'è la Cantina del REDI che consiglio di visitare per la sua unicità,una struttura cinquecentesca di grande impatto visivo con le sue enormi botti da cui parte un percorso suggestivo che attraverso un ampia scalinata elicoidale raggiunge il cortile panoramico di Palazzo Ricci sede, quest'ultimo dell'Accademia Europea di musica e arte dove si tengono nel periodo estivo interessanti concerti di musica da camera.Proseguendo per via Ricci si raggiunge piazza grande con il suo Duomo Quattrocentesco che custodisce al suo interno preziose opere d'arte e il palazzo comunale che con la sua torre rappresenta il punto più alto della città . Superata piazza grande ci si imbatte nella Fortezza Medicea, dove si svolgono varie manifestazioni artistiche. Duarante il periodo di luglio ci sono molti concerti e spettacoli che si svolgono in piazza grande e a palazzo ricci .L'ultima settimana di agosto si svolge il "bravio delle botti "una corsa storica delle botti del vino, dove due atleti per ogni contrada, gareggiano spingendo le botti per le vie della città.è un evento che coinvolge l'intero paese per varie settimane prima della competizione vera e propria, se capitate in quel periodo consiglio di vedere.
Booking Andrea's apartment was the best decision that we made for our honeymoon. The view out of the bedroom window is spectacular and the apartment was in a nice, quiet neighborhood but still close enough to walk through town. Andrea was a great host, his apartment had everything we needed to make ourselves at home during our stay and he provided a few suggestions about what to do in town. We would definitely like to return to Montepulcianio in the future and we will definitely stay at Andrea's place if it is available.
Jacob
2016-06-25T00:00:00Z
Andrea is a great host, very friendly and always available to help. He gave us a lot of tips for restaurants and places to visit. Montepulciano is a beautiful town, and we had a great time at Andrea's apartment. The location is strategic and located just 3 minutes from the city center but in a quiet and very safe street. We unloaded our baggage just outside the main door and then parked in a free parking that is located very close to the apartment and there were lots of available slots even if we arrived during Christmas festivities, we pretty much walked everywhere and forgot we had a car. The apartment is very clean, and with a warm and welcoming feeling, with everything you need to relax and enjoy your holiday. We would love to go back and visit Andrea again...maybe in the Spring.
Valeria
2015-12-24T00:00:00Z
Grazie mille, Andrea! My parents enjoyed their stay at your beautiful apartment very much! Communication ahead of the stay, checking in and out was very smooth and easy. I am highly recommending Andreas place! And we will definetely book again when we are back in Montepulciano.
Julia
2016-07-17T00:00:00Z
Andrea's home is even more beautiful than the photos show! This was our first time booking an Airbnb in a different country, so we were a bit nervous. It worked out perfectly. Although we didn't get to meet Andrea in person, he had his friend meet us for Check-in, which went very smoothly. The view from the bedroom is stunning. Montepulciano is a wonderful town with a lot to do, but it's also very close to other great towns in the area. The house was very clean and the bed was extremely comfortable. Andrea gave us lots of great suggestions for restaurants and winery tours. It was a magical trip. We would definitely stay at Andrea's house again in a second.
Gabrielle
2016-05-26T00:00:00Z
Appartamento carinissimo, più che adatto a due persone. Molto pulito, in posizione tranquilla, ma centrale. Punto di forza assoluto: la splendida vista sulla Val D'Orcia. Molto gentile e disponibile Andrea. Ci siamo trovati davvero molto bene e speriamo di tornarci presto!
Nicoletta
2016-08-19T00:00:00Z
The stay in Montepulciano was wonderfull. The view from the flate was perfect. The instructions from the host was very helpfull. A perfect stay.
Jacob
2016-07-28T00:00:00Z
This flat was the favorite part of our trip. The flat was just amazing with beautiful and comfortable furnishings and clean. We had a wonderful view and Andrea was just amazing with communication and helping us out on how to eat like a local. It was a very central location within walking of the laundry and the best restaurants. We spent 3 weeks in Italy and this was our favorite place to stay. The driving in to the city can be a little tricky but it is well worth it once you get there:) Can't say enough great things about this place!
Heather
2016-04-01T00:00:00Z
Andrea was a wonderful host. He was really helpfull and took a really good care of us. The whole experince was beyond our expectations. Apartment is really beautiful with an amazing view. We really enjoyed our stay at Montepulciano. Highly recommend this listing!
Nikola
2016-07-24T00:00:00Z
Tipus d'habitació
Casa/pis sencers
---
Tipus de propietat
Casa
---
Capacitat
3
---
Dormitoris
Montepulciano, Toscana, Itàlia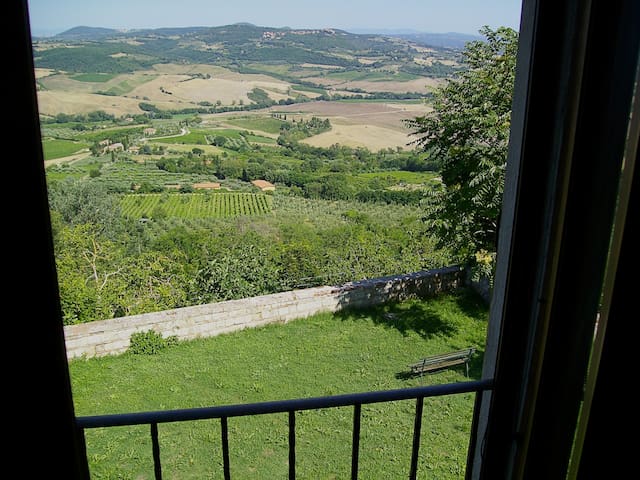 Set in the heart of the historic centre of Montepulciano the apartment In cerca d'Autore offers delightful and fascinating views and spacious areas.
Set at the first floor of a storic building of the XV century In cerca d'Autore shows confortables rooms with singular pieces of furniture in old style revised in modern and vintage viewpoint. The apartment is characterizes by high wooden ceiling is well lighted and offers a nice terrace were you can sit and enjoy the lovely view on the green valley. Connection to WI-FI is free. Moreover as you can guess by the name In cerca d'autore we agree to innovative ideas and change the original rental's philosophy. Thanks to its central position and suggestive the residence is suitable in its living space to be also an Art-studio. Therefore if among the guests there will be artist inspired by the toscany landscape and the calm of the ancient neighbourhood they will be in the right place to reflect and create their own works like making a sketch, paint, write and compose.
Outside of the apartment you are right in the centre in one of the narrow and tipical streets of Montepulciano. You can just take at walk and reach easily Piazza Grande with the Cathedral, numerous churches, the magnificent San Biagio Temple, shops, bars, restaurants, museum, wine cellars and also banks an post office.
Great place. Better than the pictures.
Ana
2015-05-27T00:00:00Z
This was an absolutely incredible experience. We were only at Gessica's for one night, but could have stayed for a month. We were greeted by Gessica's boyfriend who was lovely and welcoming. We enjoyed wine on the fantastic balcony overlooking rolling Tuscany Hills. The apartment was well kept and was filled with Gessica's art. The town is an amazing part on an Italy trip and the accommodation could not be better. We would love to go back and would recommend this apartment highly.
Cora
2016-10-07T00:00:00Z
Our stay in Montepulciano was undoubtedly the highlight of an amazing Italian adventure that included Venice, Florence and Rome. The apartment is beautiful, spotlessly clean and has an absolutely unforgettable view over the countryside. Newly renovated to include calming open spaces and a seamless blend of old style architectural touches and modern design we felt welcome and completely at home from the start. Bera was available to help us with our bags on arrival and check out and gave us wonderful ideas on places to visit and eat in the area. The beautiful Gessica's artwork completes the apartment aesthetic and she was never far away as she has her own gallery across the lane. We can't wait to return and spend some more time in Tuscany and this spectacular apartment. Thank you Gessica and Bera, we hope to see you again soon.
Sally
2016-11-04T00:00:00Z
Gessicas apartment in Montepulciano was fantastic. It was beautifully presented and in the heart of the historical centre of the town. It had everything we needed and Gessica was a wonderful host from helping us with luggage to providing great local advice. Perfect
Emma
2015-08-26T00:00:00Z
Montepluciano is our new favorite place. The apartment is amazing and has the most beautiful view. We also ate the best food of our whole trip at a local restaurant. Such an amazing place to stay and Gessica was a wonderful host.
Loreen
2015-04-04T00:00:00Z
This place was amazing! The apartment was set up perfectly and the view was spectacular. This was the best Airbnb we have stayed at. We fell in love with montepulciano in our time there. We will be back and make sure to stay here again!
Nicholas
2016-08-18T00:00:00Z
Absolutely lovely apartment!!! Well decorated, very clean, good location, nice panoramic view! The only possible negative aspect was traffic noise starting at around 7am, at night it was fine, not much going on! :)
Allen
2014-05-13T00:00:00Z
We enjoyed this place. Gessica and her mother were kind and helpful. The view was great from the patio; everything was clean. Thanks for the hospitality. Jim and Maureen.
james
2014-05-17T00:00:00Z
Tipus d'habitació
Casa/pis sencers
---
Tipus de propietat
Casa
---
Capacitat
6
---
Dormitoris
Montepulciano, Toscana, Itàlia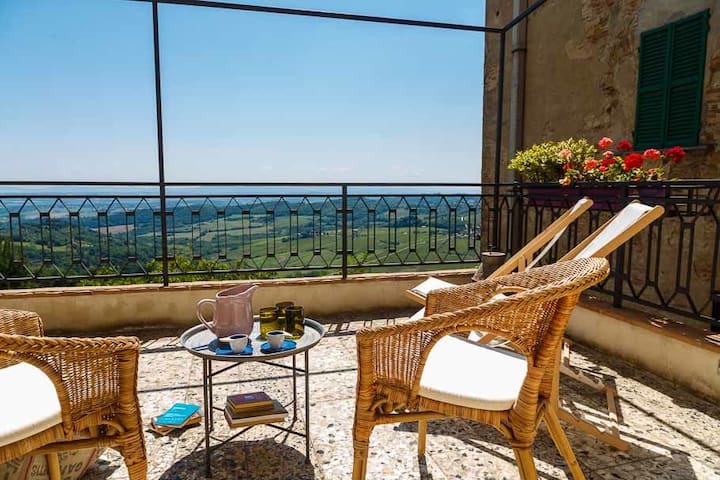 Appartamento open space di 55 mq. situato nel centro storico di Montepulciano (SI) a 250 m. da Piazza Grande. Arredato, con angolo cottura, letto matrimoniale, divano letto all'occorrenza e servizio. Splendida vista panoramica sulla Valdichiana.
Appartamento open space di 55 mq. situato nel centro storico di Montepulciano (SI) a 250 m. da Piazza Grande. Arredato, con angolo cottura, letto matrimoniale, divano letto utilizzabile all'occorrenza e servizio. Splendida vista panoramica sulla Valdichiana e sui laghi Trasimeno, Montepulciano e Chiusi. 69 euro a notte per due persone. Eventuale terza persona: fino ad anni 6 gratis, ragazzi da 6 a 16 anni euro 15. Oltre 16 anni euro 25. È possibile parcheggiare l'auto nel parcheggio libero a 80 m dell'appartamento ( parcheggio numero 7 di via dell'oriolo). Open plan apartment of 55 square meters. located in the historic center of Montepulciano (SI) at 250 m. from Piazza Grande. Furnished with kitchenette, double bed, sofa bed available in case of need and service. Very nice panoramic view of the Chiana Valley and Lake Trasimeno, Montepulciano and Chiusi. Available for a minimum stay of 2 nights. 69 euros per night for two people. Any third person up to 6 years free, children 6 to 16 years 15 euros. More than 16 years 25 euros . It is possible to park the car at the free parking (number 7 via dell'oriolo) to 80 metres by the apartment. Ouvrir appartement plan de 55 mètres carrés. situé dans le centre historique de Montepulciano (SI) à 250 m. Piazza Grande. Meublé, avec kitchenette, lit à deux places, canapé-lit disponible en cas de besoin et de service. Très belle vue panoramique sur la vallée de Chiana et les lacs de Trasimeno, Montepulciano et Chiusi. Disponible pour un séjour minimum de 2 nuits. C'est possibile garer la voiture á le parking num.7 ( via dell'oriolo) á 80 mètres dans l'appartment.
Giluiloano's place is to die for! We could not have asked for a better welcome to Italy. I booked this because I thought he had amazing reviews, but after seeing this place, no review can do it justice. Getting in touch with Giuliano was easy and he helped us with parking. Amazing host. There are steps right up to his place from the parking lot. The window in the kitchen described by others is amazing - with French windows that open up to the rolling hills! And a kitchen table is in a perfect spot to enjoy the view. GREAT location. Tip: Rick Steves' Italy book has a useful map and Tuscany driving tour based from Montepulciano. And go visit Adamo the winemaker at Cantina Cantucci, just around the corner on your way to Palazzo Grande.
Bethany
2015-10-26T00:00:00Z
The flat was amazing. You can see for miles from the window in the kitchen and it's gorgeously decorated. It's a good size and the location is great. Giuliano was an amazing host and couldn't have been nicer. The place was perfect, I can't think of a better place to stay in Montepulciano.
Gareth
2015-06-28T00:00:00Z
This was easily the most wonderful place I've ever rented from Airbnb. The pictures do not do it justice. I've been to Italy several times and studied there and I can tell you that if this apartment is available you need to rent it.
Benjamin
2016-09-10T00:00:00Z
My wife and I just finished up a 5 night stay at the apartment and it could not have been better! On arrival Giuliani, had a full meat and cheese platter along with a local bottle of wine waiting for us, which was great. The apartment was also well stocked with many other food items to enjoy while you are there. The location is great in the middle of town with free parking just below. Apartment was spotless and just as it looked (even better) than the pictures. Totally recommend!
Tom
2016-10-17T00:00:00Z
The apartment is fantastic, very well furnished and decorated as well as very central in Montepulciano - and it has a fantastic view on a typical Tuscan countryside. Giuliano was a fantastic host, as we arrived he had prepared a platter of local food, a bottle of wine and a home-made cake that his wife had baked for us! He was also very helpful during the stay - on a Sunday we had forgotten our keys inside and he came immediately to open the apartment for us. I therefore warmly recommand him as a host!
Bertrand
2016-08-21T00:00:00Z
We loved our stay. Multepulciano is gorgeous and the apartment is ideally situated with a great view and steps away from the main piazza. Giuliano was kind enough to pick us up from the station in a thunderstorm and had wine and snacks ready.
David
2016-06-16T00:00:00Z
A wonderful place Guiliano has in Montepulciano, we had a wonderful time. An excellent kitchen which was brand new! And a beautiful shower, very enjoyed. The view is spectacular, we highly recommend this place. Thank you Guiliamo again.
Lucy
2016-03-22T00:00:00Z
lovely apartment with gorgeous view overlooking the hills from front window. A very nice touch to provide fresh fruit and eggs for us. Apartment is an excellent location - right in old town. Thank you for your warm hospitality.
Gail
2016-09-17T00:00:00Z
Tipus d'habitació
Casa/pis sencers
---
Tipus de propietat
Casa
---
Capacitat
2
---
Dormitoris
Montepulciano, Toscana, Itàlia
La Corte Segreta is located in the charming village of Montepulciano, a few kilometers from Siena and Florence. In the heart of the old town Montepulciano, a few steps from the fascinating Tower of Pulcinella and from the main course, La Corte Segreta is a graceful room rental (guest house) that will make you feel like at home. La Corte Segreta offers a comfortable large double room characterized by its elegance and originality.
Located in the heart of the historic center , a secret alleyway takes you to your room in a secret court .
La Corte Segreta is located in the heart of the historical center of Montepulciano , you can park in the reserved space and visit the village on foot , reaching the best restaurants and wine bars within walking distance from your apartment .
We have a great experience in Montepulciano, arriving in time for the barrel race. Marco was very helpful on arrival and his house/room was fantastic. A real Tuscan villa with a beautiful view and an amazing room. I would stay here again for sure. Thanks Marco and family. Lovely to meet you. Rod & Ann
Rod
2016-08-29T00:00:00Z
Laura and Marco are great people and went out of their way to make sure we had a great time in Montalpuciano. We enjoyed our stay immensely.
Stephen
2016-09-28T00:00:00Z
We had a great stay at La Corte Segreta. It was in the heart of the historic city and our host was very attentive and friendly.
Allison
2016-08-16T00:00:00Z
Best Bnb experience so far!!! Marco is such an amazing host. Upon arrival, he greeted us with flowers and wine, and made excellent detailed recommendation of what do to around montepulciano area and where to dine in town. He even called the restaurant that we are planing to go to to request a special dish that I wanted to try. Our room is absolutely gorgeous with a very clean, modern bathroom. The view from terrace is breathtaking. Location of this place couldn't get better, it's in the heart of town. Just great!!!
Qianqian
2016-07-31T00:00:00Z
Beautiful apartment with bed and bath. Patio is very nice, not directly connected to the bedroom but beautiful views. Driving in Montepulciano is intimidating and finding a spot can be tricky. They give you a parking pass to go though town, streets are tiny and there will be people walking through. Just look like you know what your doing and do it!
Jessica
2016-05-10T00:00:00Z
Outstanding room, home, and hosts. The garden is as beautiful as it appears. The room was big, clean, and with very nice finishes. Bathroom ensuite was also very nice. We were welcomed with a delicious glass of wine from one of their friends and all their recommendations for activities/food were on point. Highly recommended and we would love to stay there again.
Matthew
2016-05-16T00:00:00Z
My husband and I loved La Corte Segreta, and would absolutely stay there again! Laura was incredibly welcoming and kind, and brought us glasses of wine and a plate of snacks upon our arrival, which we enjoyed in the beautiful garden outside our room (which also had a lovely view of the hills). The room was very clean and nicely decorated--modern, cozy, and romantic, yet rustic and authentic. Perfect for two people. The bed was very comfortable. The attached bathroom was cute, clean, and also nicely decorated. The unit also feels very private. The location is fantastic, right in Montepulciano and walking distance to plenty of sites, shops, and restaurants. The hosts provided us with a parking permit so we could park our rental car just down the street from the unit. I have only good things to say about this room! We would definitely stay here again. :-)
Melissa
2016-05-25T00:00:00Z
The stay at La Corte was made so simple by having the keys left in a box for us to pick up and check in at our convenience. The detailed instructions with photos of how to drive into town as well as where to park was greatly appreciated. The room was so cozy and clean, definitely one of the most luxurious and comfortable beds of our trip. The patio was great to have private outdoor space. Great central location but just removed enough from busy street. Would recommend and stay here again!
Marisa
2016-10-24T00:00:00Z
Tipus d'habitació
Habitació privada
---
Tipus de propietat
Casa
---
Capacitat
2
---
Dormitoris
Montepulciano, Toscana, Itàlia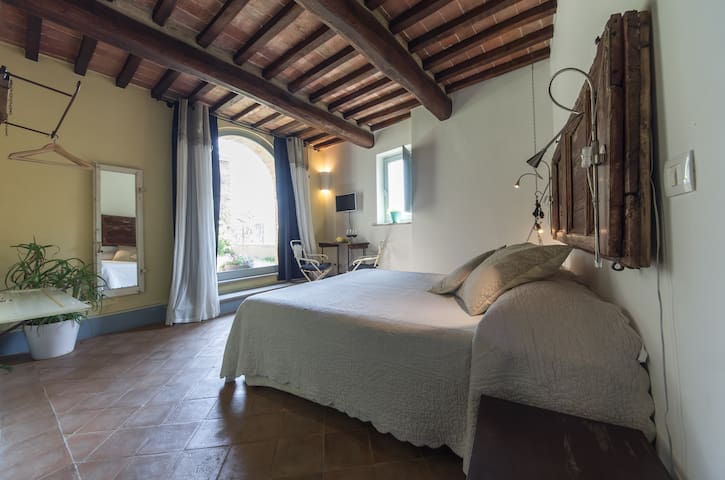 Our house restored in the Tuscan style is set in Montepulciano in the province of Siena. Surrounded by green olive trees and vineyards just 1 kilometer from the center and 'ideal for families or groups of people for up to 5 persone.Cucina equipped.
Our house is on the farm Podere San Pietro Montepulciano dates back to the fourteenth century, and 'been renovated keeping to the characteristics of the Tuscan farmhouse. Surrounded by green olive trees and vines with a large garden, it can 'accommodate up to 5 people. Is only one kilometer from the town center.
The area is very quiet and green but at the same time just a few minutes from the historic center of Montepulciano, where able to visit the shops where you can 'do the wine tasting Nobile di Montepulciano, visit museums and other places of historical interest. Just 10 minutes' drive are the Baths of Montepulciano.All'interno the house is a large parking lot, we recommend to have a car to get around.
Cosy house was beautiful, spotlessly clean with every attention to detail. It was so lovely to wander through the olives and vines laden with fruit. We had a car and found it easier to drive into town, however we also enjoyed the meander into town via the lower lane/road. There was everything provided, lovely welcome basket and all the kitchen basics provided. It was a real rural escape but close enough to town for coffees and meals. Thank you Roberta
Robyn
2016-09-21T00:00:00Z
Wow!!! What a beautiful place. This place is magical. You can spend your time cooking and drinking wine or exploring the region if you have a car. The town is not too far away and easy to walk. We had a few issues with our GPS getting here. When you're close, follow the signs to San Pietro. Roberta is absolutely lovely and Marino who looks after the olives and checked us in is such a gentleman. The house is full of little touches to make you feel at home-robes and croissants and bakery goods for breakfast. We also found cooking really great because the kitchen was really well equipped and we didn't have to worry about buying things like salt, pepper and oil. Our favourite times were spent at the house drinking wine and eating delicious things bought in town with the most beautiful backdrop in the world. Book this place-you'll love it!
Barbara
2016-09-30T00:00:00Z
This house among the olive groves and vineyards is a blissful, breezy, beautiful getaway. The classic Tuscan countryside setting, with a view across the rolling hills and neighboring farms, and situated right at the foot of the steep hill where the ancient town of Montepulciano awaits, with excellent restaurants, stores, and stunning architecture and art from centuries ago. The house is comfortable, cozy, and upon entering, one immediately feels part of the landscape and the locality. Roberta greeted us with great warmth and joviality, provided plenty of food to cover breakfast the next morning (and then some), and was completely helpful and willing in making our stay absolutely lovely. We wanted to stay for weeks and weeks!
John
2016-04-18T00:00:00Z
Потрясающий дом! С прекрасным дизайном и антикварной мебелью. Дом наполнен старинными-антикварными вещами, которые создают уют и интерьер. Было очень чисто. Постель, посуда - все новое и очень красивое. В доме идеальный порядок, все разложено по своим местам. В наличии были косметические принадлежности и халаты. Мы получили просто невероятные впечатления от Тосканских пейзажей, которые открываются из окон дома и из сада. Дом стоит в окружении виноградников и оливковых рощь, перед окнами огромные сосны. Воздух и тишина. Роберта супер потрясающая хозяйка, спасибо ей огромное за доставленное нам удовольствие от Тоскании. Я мечтаю вернуться в этот дом!!!
Maria
2014-05-12T00:00:00Z
Roberta was very welcoming. House is amazing with great view near such a nice city.
Vitalyk
2016-08-23T00:00:00Z
Podere S.Pietro é un sogno! Un casale dalla bellezza pura che ci rende orgogliosi della nostra terra. Roberta é stata cordialissima e sempre rintracciabile. Infinite le accortezze tra ricche colazioni e accappatoi personalizzati. Un posto perfetto per le famiglie, che ci é rimasto nel cuore. Marco, Claudio, Alice e Federico.
Claudia
2015-12-30T00:00:00Z
Il podere è meraviglioso, immerso nella natura toscana con ettari di terreno con ulivi e (URL HIDDEN) casa è accogliente, spaziosa, ben arredata...un sogno!
Bianca
2017-01-02T00:00:00Z
I could not have been happier with my stay here. Not only is the home absolutely charming and homy, but the views are spectacular. Less than a mile from the lovely town of Montepulciano, this place is truly a hidden gem. Situated on an olive farm, you get the feeling that you're living a country Italian lifestyle. What made this stay all the better was the kindness and availability of Roberta, our wonderful host, and Marino, the local farmer. We arrived late to check in because of flight delays and Roberta went above and beyond to find us and direct us to the house (it is remote and difficult to find on GPS). She stayed with us until 10pm even though she had to drive all the way back to Siena. Marino, who worked on the farm, was also an absolute sweetheart. When my father injured himself during the trip, he was sure to always check in on us and even helped us with our luggage upon departure. On an especially cold night, his wife even brought us firewood. I recommend this house whole heartedly and cannot wait to return myself.
Sanam Sophie
2014-07-16T00:00:00Z
Tipus d'habitació
Casa/pis sencers
---
Tipus de propietat
Casa
---
Capacitat
5
---
Dormitoris
Montepulciano, Toscana, Itàlia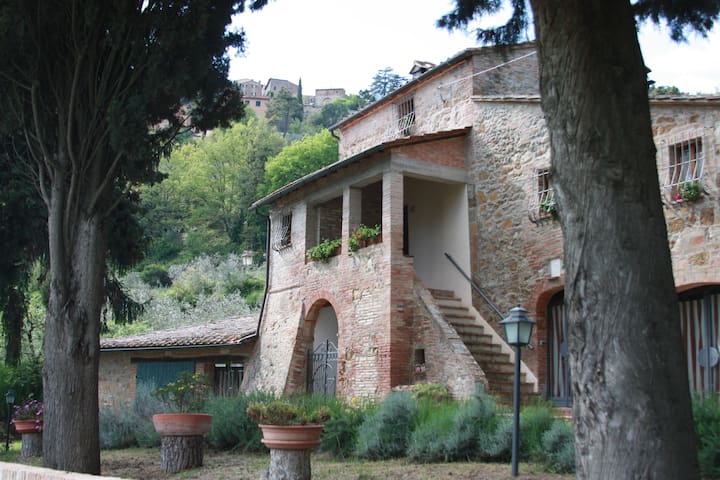 House in the Tuscan countryside, equipped with two large double bedrooms and two bathrooms. Outside there is a beautiful garden illuminated with chairs, table and barbecue. Strategic location for visiting the most beautiful destinations of Tuscany
The house is located near Montepulciano, characteristic medieval village, located in between the Val d'Orcia and Val di Chiana, a strategic point to visit Tuscany classic, co its medieval villages and unique landscapes. Around the house there is a large garden with table and barbecue, you can eat outside. The solution is great for families, but also for those who want to enjoy the tranquility of the Tuscan countryside in absolute privacy. The house is ALWAYS rented for exclusive use, in the case of only two guests the second room will be closed.
Il paesaggio, il silenzio e il senso di pace ed armonia.
We loved our stay at Le Corolline! It's a fantastic and spacious villa close to the old part of Montepulciano, but tucked away into vineyards and olive groves so you really can feel nature, peace and quiet! The beds are very comfortable, the bathrooms modern, clean and spacious, and the kitchen is well stocked. Roberto is a great host, and he was very flexible with our plans to meet, as we got sidetracked by delicious wine and ended up being late! Be sure to go to the restaurant he recommends, Locanda Cicollina - it's one of my favorite dining experiences in Italy after living here for 8 months. I highly recommend staying here, and I hope to come back soon.
S.M.
2015-05-20T00:00:00Z
Wir wurden mit Kuchen, Wein und Honig begrüßt und hatten eine sehr herzliche Aufnahme durch Robertos Schwester Moira, die uns das Haus zeigte und alles erklärte. Alles ist sehr sauber, übersichtlich und so wie auf den Fotos gezeigt - ein großes Wohnzimmer mit Küche, zwei schöne Bäder, die jeweils an die Schlafzimmer angrenzen. Draußen gibt es genug Plätze in der Sonne oder im Schatten und sogar eine Außendusche! Wir fanden herrlich, dass das Haus so abgelegen liegt. Es ist absolut ruhig dort (bis auf die Zikaden). Nur die Familie kommt hin und wieder in den angrenzenden Garten, um ihr Gemüse zu gießen.
Antje
2016-08-30T00:00:00Z
The house is lovely. Small and secluded and quiet, with beautiful views, and very near Montepulciano, supermarket etc. The house is very well-equipped if you want to cook, and it was lovely to have a wood stove to use. Roberto and his wife were really helpful; we were met on the main road and shown to the house, Roberto was available by text when we had questions about the wifi and he even left us some onions when we asked him where we could buy some! We will definitely consider staying again. Grazie mille Roberto!
Barbara
2015-09-30T00:00:00Z
The Gigliolas were incredibly accommodating and ensured that we were well looked after throughout our stay. They went above and beyond to make us comfortable during our time in Montepulciano and had great recommendations for things to see and do in the area. We hope to visit again one day.
Alice
2015-09-18T00:00:00Z
Roberto was the perfect host! He and his wife went out of their way to make us feel welcome and comfortable. They gave us suggestions for local restaurants, pretty drives to take around the area, and even found a cooking class for us. They also gave us a bottle of their delicious homemade wine, honey, and a freshly baked lemon cake (double yum)! Their villa is beautiful and exactly as pictured. The backyard/patio has a picturesque view of olive groves and neighboring hillside farmhouses. The villa was clean and had the most comfortable bed we slept in during our trip to Tuscany. It's five minutes away from the stone walls of Montepulciano and an easy drive to the beautiful Val d'Orcia. We highly recommend this villa for anyone looking for a romantic getaway!
Sean
2016-04-14T00:00:00Z
Unser Gastgeber Roberto war überaus freundlich und fürsorglich. Er hat uns beispielsweise einen Tipp über eine lokale Veranstaltung geschickt, uns ein ausgezeichnetes, versteckt liegendes Restaurant empfohlen , uns eine wunderbare Rundreise ins Val d'Orca ausgedruckt und übergeben und nette, kurze Gespräche beim Gartengießen mit uns geführt. Wir haben uns in seiner "Corolline Villa" sehr zuhause gefühlt. Der Garten um das Haus ist wunderbar, alle Naturgenießer werden ihn lieben. Das Haus liegt inmitten von Olivenbäumen, die Ruhe und der weite Ausblick auf den gegenüberliegenden Hügel sind fantastisch. Die Beschreibung auf airbnb entspricht genau dem, was wir vorgefunden haben. Direkte Nachbarn gibt es keine. Zu hören ist nur das Zirpen der Grillen. Montepulciano erreicht man in ca. 6-8 Min Autofahrt. Eine ideale Unterkunft, um in die Landschaft, die Natur und Gerüche der Toskana einzutauchen.
Heidi
2015-07-18T00:00:00Z
This a lovely,romantic, rustic yet luxurious hideaway in Tuscany. The little villa in the woods is sparkly clean and perfectly maintained both inside and out. There are welcome "extras" such as a heat in the shiny, beautifully equipped master bath and a wood-burning thermal fireplace in the living room. As a gardener, I especially appreciate the beautifully and meticulously planned outdoor space which melts right into the surroundings. There are restful views in the garden and even an outdoor shower which you don't notice right away since it is also hidden in the "wild-ness" Our hosts Roberto and Florinda were gracious, patient and very helpful. Just as in their darling villa, they both gave and left us meticulous instructions and recommendations for dining. Roberto called to make reservations for us at a Terme, and drove to our aid at night when we went down the wrong road. A word of caution: Le Corilline is truly hidden away on a windy narrow country road, so make a dry run in daylight! We spent 21 delightful days in Tuscany and Umbria, at hotels as well as another Airbnb, but both agree that our 3 nights at the Corilline was the most delicious experience of all. On that subject, Roberto gave us 3 delightful starters; homemade jam, honey and marmalade. Molto Grazie, Roberto e Florinda!
Beverly
2015-10-19T00:00:00Z
We enjoyed a wonderful four nights here in early August, 2016. Situated a few kilometres out of the town centre of Montepulciano, we'd strongly recommend this two bed apartment for a family or two couple traveling together - having a car is a must, else you've got a 2-3km walk back to the main road for bus (presumably, we've not utilised whilst staying). The apartment is well appointed, with a full kitchen and fridge meaning that self catering is a realistic and enjoyable option - especially if you're inspired to try your hand at Italian cooking whilst in Tuscany! Roberto kindly met us at the Esso petrol station on the outskirts of Montepulciano, before guiding us through the apartment and answering any questions we had. No question about the apartment or local attractions and our request for recommendations were too much trouble for Roberto! Ultimately, we used this as a base to explore the local region - hence we really didn't spend too long in the apartment apart from sleeping and relaxing in the evening after a long day of wine tasting and eating... It's a hard life in this part of the world.... We'd string recommend this apartment and would gladly stay again / for longer next time!
Bradley
2016-08-05T00:00:00Z
Tipus d'habitació
Casa/pis sencers
---
Tipus de propietat
Casa
---
Capacitat
4
---
Dormitoris
Montepulciano, Toscana, Itàlia
Splendida casa colonica in pietra immersa nel verde della campagna ai piedi di Montepulciano. Il podere è situato al centro di un ampio parco recintato nel cuore di una riserva faunistica circondata da ulivi cipressi e querce secolari.
Al piano terra si trova ,ampia cucina, un doppio salone con camino e un bagno con doccia. Al primo piano tre grandi camere doppie e un bagno con doccia. Tutti gli ambienti sono arredati con mobili d'antiquariato.
We had an unforgettable great holidays at Sergio's. The house is amazing: cozy with beautiful scenary of typical Toscany, surrounded by olive and grape trees. Especially, we loved the early morning with beatiful sunshine over the large gardens with a lot of different kinds of flowers, they are nicely gardened. We were six people with a 4 year kid who has been jumping around on the grass being excited. Sergio and Alessandra have been so kind to us, and didn't hesitate to come by upon our small questions which we really appreciate a lot. This is a perfect place for a family or families who want to relax, and visit neighboring lovely cities and towns. We look forward to staying here sooooon!
hee jin
2016-07-01T00:00:00Z
Sergio and Alessandra were gracious hosts and their house is beautiful. They checked in throughout the trip to ensure we were enjoying our time and gave us recommendations of restaurants, wineries, and places to visit. The views from the house are breathtaking. We are already planning our next trip to Italy and it will definitely include a stay at Sergio and Alessandra's house!
Erica
2016-09-20T00:00:00Z
Siamo stati accolti molto bene, Sergio è stato molto premuroso verso di noi assicurandoci tutto il comfort possibile, è un host molto attivo, il posto dove sorge la casa è molto rilassante immerso nel verde con un fantastico prato tutto intorno.
mario
2016-11-02T00:00:00Z
We (5 adults and two 20 month old babies) had the pleasure to stay at podere Elisa for 2 weeks. The house is situated in the most beautiful surrounding! The garden is huge, gorgeous and very well looked after. Beautiful roses, lots of herbs, lavender and of course countless olive trees. The view is amazing nevertheless does the garden still feel very private. The neighbour houses are quite far a part so it is all very peaceful and quiet. The house itself is very spacious and clean. It is furnished in a simple but very tasteful way with antiques and paintings. We felt at home right away! All three bedrooms are upstairs and like all other rooms they have blinds and mosquito nets on every window which came in very handy. Supermarkets can be found within a 3 minutes drive. The beautiful city of Montepulciano is also just a few minutes drive away. We can't thank Alessandra and Sergio enough for letting us stay in their charming family home. They were very nice and super helpful at all times. We can highly recommend this villa!!
Mona
2016-06-21T00:00:00Z
Sergio and Alessandra are two of the friendliest, most helpful hosts you will ever meet. They picked us up from the bus station upon arrival, and took us to their incredible home. This place is a must-stay for people visiting Montepulciano. It's perfect, secluded and completely private. Surrounded by olive trees, truffle plantations and your very own tomato garden, the property is huge and great for couples, larger groups and families. We will definitely be returning, and for much longer than just four nights. Thanks for all your help, Sergio and Alessandra, and for taking us back to the bus stop so early in the morning. See you again soon.
Rich
2016-08-30T00:00:00Z
Il soggiorno nel podere di Sergio e' stato molto piacevole. Ha risposto fin dall'inizio a tutte le nostre domande e i suggerimenti di Sergio e della sua compagna sono stati molto utili. Bellissima esperienza e soluzione davvero consigliata!
Emanuele
2016-08-16T00:00:00Z
We stayed for 2 weeks in Sergio's house and had a very good time. The garden is beautiful, very big and very well maintained. It was just perfect for our kids (triplets of 4 years old) and they enjoyed a lot running around, playing and picking prunes from the tree for eating. The house inside is in traditional style, quite basic, but nicely done. It's a perfect base for exploring the area, there are many nice little villages around, but its also not too far from Siena. Also, lake Trasimeno makes a nice visit. Sergio and Alessandra were very nice and perfect hosts. We saw each other a couple of times during our stay and they gave us very nice tips on places to visit including nice wineries in the area. Thank you guys for taking such a good care of us!
Richard
2016-08-07T00:00:00Z
Tipus d'habitació
Casa/pis sencers
---
Tipus de propietat
Casa
---
Capacitat
6
---
Dormitoris
Montepulciano, Toscana, Itàlia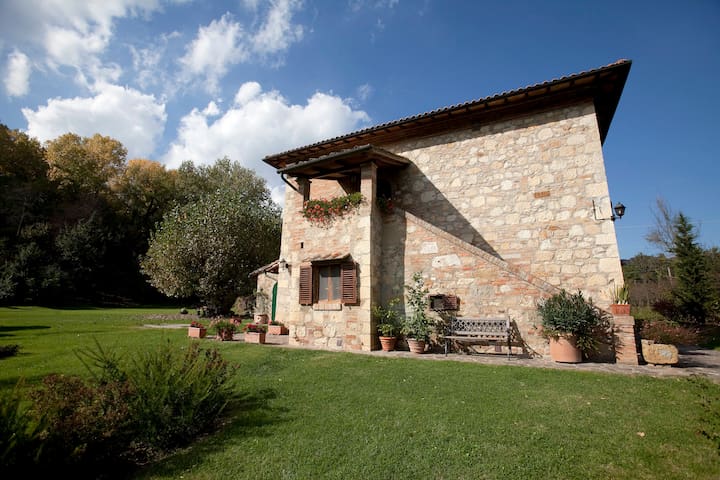 Grazioso monolocale, nel centro storico di Montepulciano, a 50 metri da Piazza Grande, è composto da cucina, bagno e camera da letto matrimoniale. Completamente ristrutturato e indipendente, può ospitare comodamente due persone. Animali ammessi.
Elena i el seu marit són molt agradables i atents. La casa és molt petita.
Rosa
2014-07-02T00:00:00Z
It was a wonderful stay directly in the center of Montepulciano. Elena was charming, helpful and very nice. The Apartment was small but had everything we needed.
Patrick
2014-08-03T00:00:00Z
The apartment is small but very cute and comfort. It's perfect for one person and in very center of montepulciano. Elena is a best hoster I ever met, she's kind, easy-going and warm-hearted. She came to the city station to pick me up, we became friends quickly. and then she took me to see transitional opera-Bruscello, to visit huge awesome cellars, museum, galleries, arts and events shows, spectacular churches. I also make friends with her friends, we had typical supper in a terrace between hills, so delicious!!!!! Talking about local culture/languages/cuisine/wine/life living etc. makes my staying so abundant and rejoice! It's not enough hunging out here for just two days, I will back here, for sure!
C'elina
2014-08-18T00:00:00Z
The Elena's house is perfectly located and clean, few steps from main squase and main street.
Salmer
2015-09-29T00:00:00Z
Very small place but we knew that going into the booking. I would recommend meeting the host somewhere as it is quite complicated to get to this place! Great location!
Sarah
2015-09-23T00:00:00Z
Casa piccola ma accogliente, posizione perfetta per godersi il giro delle cantine storiche di Montepulciano senza dover usare la macchina! Elena gentilissima e superdisponibile, ci siamo trovati molto bene come suoi ospiti!
Annamaria
2016-10-02T00:00:00Z
Very nice apartment in the heart of the town, perfect for singles or couples. Elena was very helpful in arranging even the pass for accessing the area by car, which otherwise would not be accessible. I definitively suggest it for a trip in Montepulciano!
Simone
2016-06-18T00:00:00Z
l'appartamento è centralissimo e molto pulito, elena è stata estremamente gentile e sempre molto veloce ed esaustiva con le comunicazioni! siamo stati molto bene!
Chiara
2016-04-25T00:00:00Z
Tipus d'habitació
Casa/pis sencers
---
Tipus de propietat
Casa
---
Capacitat
2
---
Dormitoris
Montepulciano, Toscana, Itàlia
La Casa è situata in una zona di notevole interesse artistico culturale avendo la possibilità di raggiungere a pochi chilometri di distanza paesi come Montepulciano, Pienza, Monticchiello, Cortona, Foiano della Chiana, Siena. L'autostrada A1 (Milano - Napoli) a soli 15 minuti di distanza garantisce facile accesso alle città di Roma e Firenze oltre che, attraverso la superstrada, alla vicina Umbria con Perugia ed Assi
Tipus d'habitació
Habitació privada
---
Tipus de propietat
Casa
---
Capacitat
2
---
Dormitoris
Montepulciano, Toscana, Itàlia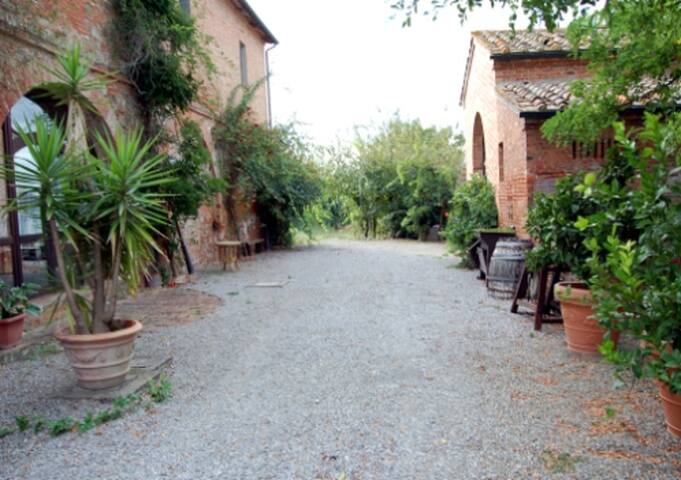 Il nostro accogliente appartamento è situato vicino (circa 600 m) dal centro storico di Montepulciano. Può ospitare comodamente fino a 4 persone, con una camera matrimoniale e un divano letto nel soggiorno. Parcheggio privato e giardino esclusivo.
L'apartament està millor que en les fotos, i els propietaris son molt amables i servicials.
Jordi
2017-01-04T00:00:00Z
Tutto perfetto, c'è tutto ciò che serve sia per brevi che per lunghi soggiorni, è vicinissimo al centro che si raggiunge a piedi eliminando il problema del parcheggio e i micetti sono simpaticissimi! Irene è super veloce e disponibile nelle risposte. Grazie mille
Valentina
2016-09-05T00:00:00Z
Ottimo
Massimo
2017-03-19T00:00:00Z
L'appartamento è proprio come descritto e vicinissimo al centro storico. Si tratta di una casa molto pulita accogliente e calda. Anche se non abbiamo avuto modo di incontrare Irene sua madre è stata cortese , gentile e disponibile. Inoltre in casa all'arrivo abbiamo trovato anche beni di primissima necessità come acqua in bottiglia, sale, caffè x me che sono di Napoli :-). Non per ultimo ci hanno fornito di una culla da campeggio per la.mia piccola dotata di un vero e proprio materasso x culla con annesse lenzuola. Insomma consigliatissimo. Ci torneremo.
Annalisa
2016-12-13T00:00:00Z
Delizioso appartamento vicino al centro di Montepulciano, comodo per gli spostamenti, pulito e ben fornito di tutto. Proprietari gentili e disponibili. Molto consigliato!
Elena
2017-03-05T00:00:00Z
Casa confortevole,tutti gentilissimi e disponibilissimi a partire dalla mamma di Irene che ci ha accolto in un ambiente caldo e ben disposto ti dà l'impressione e essere a casa ! Irene gentilissima e disponibilissima .
Giuseppe
2016-12-24T00:00:00Z
the most wonderful apartment I have ever seen. rooms are clean and more beautiful than pictures with good location, reserved parking area and more than everything you need, even quilt smells good. the mother is a wonderful host, warm and generous, the best host in italy !
qing
2016-03-01T00:00:00Z
Irene's apartment is very impressive through our whole trip in Italy. Modern decorated, big house and plenty rooms, functional kitchen makes us feel just like home. Free parking and close distance to the town is a plus. Irene's kindnese and hospitality makes me no reason not to recommend this:)
Jimmy
2016-06-09T00:00:00Z
Tipus d'habitació
Casa/pis sencers
---
Tipus de propietat
Casa
---
Capacitat
4
---
Dormitoris
Montepulciano, Toscana, Itàlia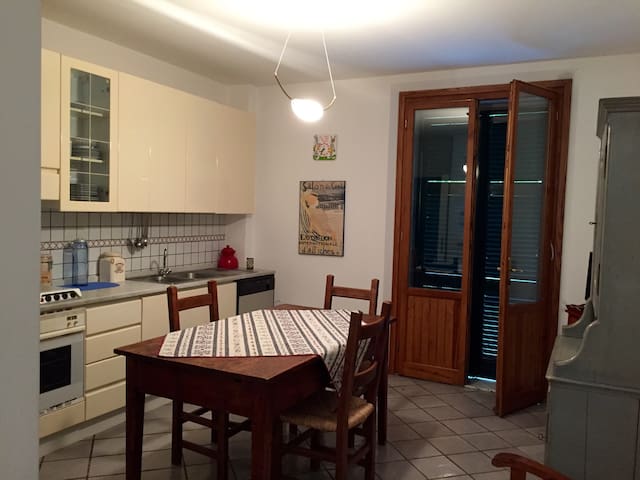 Villetta indipendente dotata di giardino privato immerso nel silenzio e nella calma della splendida campagna toscana all'interno di un'area di 20000mq recintati tra oliveti e vigneti a meno di 2 chilometri dal centro storico di Montepulciano.
L'appartamento è nel complesso di n° 3 villette indipendenti. Corolle 2 si compone all'interno di 1 camera con n° 2 letti singoli, a richiesta trasformabili in matrimoniale, molto spaziosa che da direttamente sul giardino (privato) , 1 bagno, 1 cucina e 1 salotto provvisto di divano letto. All'esterno la villetta dispone di uno spazio esterno privato impreziosito da un pergolato ideale per pranzare e cenare all'aria aperta in totale tranquillità come mostrato in foto. L'appartamento cosi come il giardino sono coperti da servizio WI-FI gratuito. A disposizione degli ospiti vi sono inoltre un parcheggio privato e una bellissima piscina immersa in un oliveto secolare a cui si può accedere nelle modalità e nelle ore preferite. Quest'ultima è in comune con gli ospiti delle altre due unità abitative per un numero massimo complessivo di 12 persone. Nei periodi in cui è richiesto l'uso del riscaldamento, il consumo rilevato dal contatore, dovrà essere corrisposto in aggiunta al prezzo del soggiorno (5€/mc).
L'appartamento è immerso nella tipica campagna toscana, tra oliveti secolari e vigne preziose a due minuti di macchina da Montepulciano.
Tipus d'habitació
Casa/pis sencers
---
Tipus de propietat
Casa
---
Capacitat
3
---
Dormitoris
Montepulciano, Toscana, Itàlia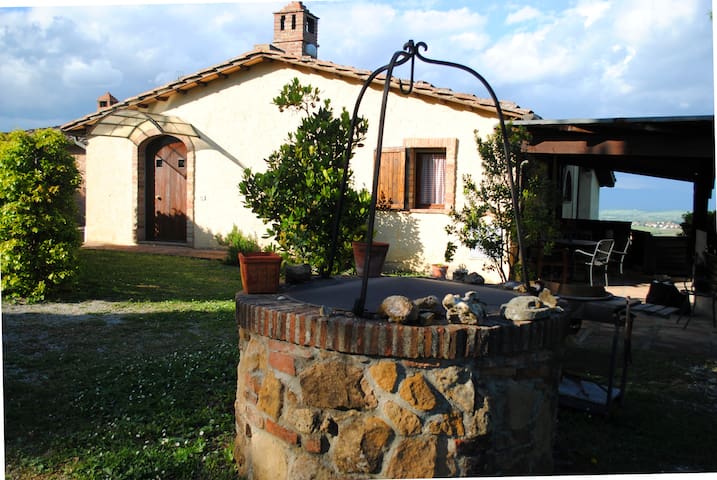 It is located in the heart of Val D'Orcia, the landscape inscribed on Unesco's World Heritage List. The ancient 'Podere', a 1700's farmhouse, has a wonderful view over the hills of Monticchiello and Pienza. The unique Montepulciano is only 5km away.
Casanova dei Boschi is located in the heart of Val D'Orcia, the landscape inscribed on Unesco's World Heritage List. The ancient 'Podere', a 1700's farmhouse, has a wonderful view over the hills of Monticchiello and Pienza. The unique Montepulciano is only 5km. Here time stops: the farmhouse is nestled in the woods, an ideal site to relax yourself. And plenty of culture thanks to famous art-cities nearby: Montalcino, Cortona, Bagno Vignoni, Rapolano, San Casciano. You'll take with you wonderful memories of this place. Casanova dei Boschi has three delicious bedrooms, 3 bathrooms, three livingrooms, three fireplaces, an ancient oven and large outdoor spaces for relaxing with a wonderluf view of Val d'Orcia, olives groves and an orchard.
We absolutely loved our stay at Filippo's Ancient Country House in Tuscany. We were met by Mr. Franco who was overseeing the property and was very helpful in showing us around the house. The property is secluded and the grounds are lovely and offer amazing views of the surrounding area. The house was roomy and very comfortable. We visited in July and the weather was quite warm so the AC was great to have. If you are looking for a private home for your family or group I would highly recommend this property.
Brett
2016-07-13T00:00:00Z
The Vila exceeded my already high expectations. It was out of "Under the Tuscan sun". The grounds and views were gorgeous and inside easily can accommodate 8 people. A fully stocked kitchen allowed us to take advantage of the local meat and produce. The stay is the high light of our I2 week Italian visit. We will be back
jan
2016-06-21T00:00:00Z
The house and location were wonderful. After being in the city is was so nice to relax in the perfect quite with the beautiful bright stars at night.
Chris
2016-10-31T00:00:00Z
The house was beautiful and large. It was fully equipped. Picking the key up was very convenient and Mr. Franco was very helpful. The house was pretty clean (except for a few cobwebs here and there, but my kids thought it gave the house an authentic feel) and there were plenty of towels. The grounds are beautiful as well and kept very well. I would definitely return and recommend the house to friends. Thank you, Fillipo.
Dahlia
2016-08-10T00:00:00Z
This was the first house our group had rented via AirBnB so we were not sure what to expect but honestly the house exceeded all of our expectations. It is cosy and charming and very comfortable. The owner, Filippo, was happy to answer our questions in advance of our visit and the caretaker, Franco, was super responsive (day and night!) to all our inquiries once we arrived at the house. The house is about 5km from Montepulciano and is located off a gravel road which makes for a very private and quiet setting. The property is stunning -- if you walk the property you'll have a 360 degree perspective of the neighboring hillside towns. The best view of all is just below the house behind the stone wall -- each day we would race back to grab a glass of wine and watch the sunset from this very special location -- it was magical. There were 6 people in our group -- 2 couples and 2 single travelers so the 4 bedrooms were perfect. We enjoyed breakfast on the outside terrace until the weather turned cold (it was mid October) and then very much enjoyed the fireplace in the family/dining room. The kitchen is equipped with all kinds of pots/pans/bowls so if you like to cook it is an easy place to prepare meals and there is a large dining table that was perfect for our group meals. With so many good restaurants nearby we dined out a lot but did manage to cook a fair amount over the course of the two weeks we stayed in the house. The beds were very comfortable and there were plenty of nice sheets and towels. There was maid service once a week with fresh linens/towels. Having access to the clothes washer was an added plus. Several of our travelers are avid walkers so the location of the house turned out really well. The neighboring towns are an easy drive from the house, but if you like to walk it is an hour walk to Montepulciano (mostly on gravel roads except 300 meters on the main road), an hour to Montichiello and then 2 hours 15 minutes to/from Pienza. The gravel road on which the house is located is part of a walking trail (red and white trail blazes) so there are plenty of walking opportunities on safe gravel roads. An extra treat were the mushrooms that sprang up along the driveway. Franco instructed us on which mushrooms were safe to eat so we enjoyed them in risotto one night. It was too late in the season to enjoy the apricots and pears but we picked fresh apples from the orchard that is on the property. Overall it was a very nice stay and we would definitely recommend Filippo's house to future travelers.
Stephanie
2016-10-16T00:00:00Z
Superbe maison au milieu de la campagne toscane dans un cadre de rêve à 360° ! La maison est immense (nous étions 5) et a véritablement du cachet. Nous avions choisi Montepulciano sans trop connaître la région, il s'avère que la ville est magnifique et juste à quelques kilomètres. Et toutes les villes alentour sont juste magnifiques. L'accueil dans la maison a été fait par Franco que nous remercions ainsi que Filippo. Nous recommandons clairement la Maison à tous ceux qui souhaitent un cadre idyllique en Toscane et dans la vallée d'Orcia.
pascal
2016-07-24T00:00:00Z
Filippo was incredibly helpful before and during our stay, as was Franco, his caretaker. The villa is amazing, the views spectacular, and the property is very well cared for. I cut a few fresh flowers and herbs each day (there is rosemary and lavender everywhere) from the lovely gardens. We enjoyed every minute of our stay and really hated to leave. The home is rich in character and every night we cooked in the huge kitchen, and watched the sunset. The beds were comfy and the wifi was very good. we LOVED it.
Janice
2016-07-03T00:00:00Z
The Tuscany ancient house was fantastic.large full of character clean, quiet location short drive into montepuliciano it had everything we hoped and more our family of 5 got lost in the house it could take upto 8 people we had great walks in the surrounding area and would recommend it too anyone
chris
2014-06-09T00:00:00Z
Tipus d'habitació
Casa/pis sencers
---
Tipus de propietat
Casa
---
Capacitat
7
---
Dormitoris
Montepulciano, Toscana, Itàlia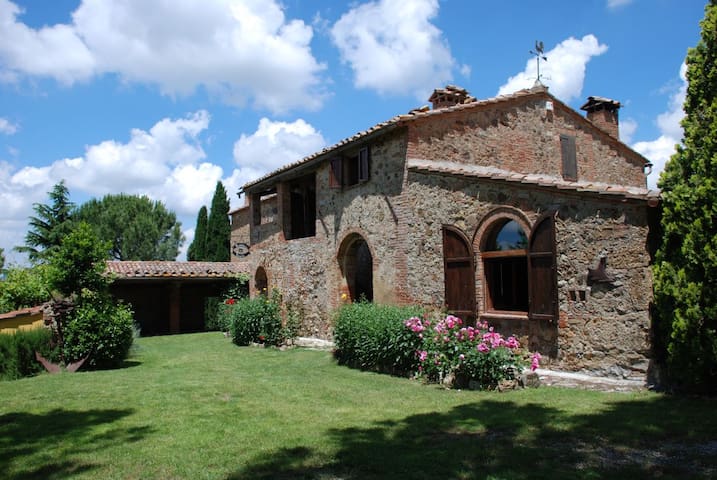 It's a newly renovated with vintage furnishings from Tuscany and family collections. This newly listed cottage is located on 2 acres in the famous area of Val d'Orcia.The Studio is a 5-minute drive from Montepulciano yet it feels like a quiet country retreat complete with spectacular views, nearby hiking trails and quiet solitude. The Studio has two private outdoor sitting areas that overlook vineyards, San Biagio and Montepulciano.
The Studio lends their guests a Lenovo tablet during their stay. The tablet provides free internet access when touring the area and Apps that assist guests in choosing the best locations to visit (i.e. Lonely Planet Touring Guide).
The cottage is detached from the main house, which operates a B&B called Casale a Poggiano. The property is over 2 acres in size and is surrounded by vineyards.
Imagine a small cottage surrounded by a picture perfect garden with your very own private patio to relax and view Montepulciano. This is why we will most definitely return to this cottage. The location (only a few minutes away from Montepulciano by car) and the gorgeous setting of the cottage were ideal. Another great thing was that the cottage provided an internet enabled tablet for us (never seen this before). We had (SENSITIVE CONTENTS HIDDEN) maps, a Lonely Planet Guide, Trip (URL HIDDEN) was a great help in touring the area. The two areas to eat or to use to relax were perfect with magnificent views of Montepulciano and a nice family vineyard. We were lucky enough that Isolina, the owner of the B&B next door, was able to fit us in for a breakfast one morning. Homemade pastries, marmalades, creme caramel..all served on our private patio. Everyone should experience the sense of joy that we did that morning. The cottage is newly renovated and clean. The house is somewhat minimal but tastefully furnished. We highly recommend renting this little cottage.
Fabio
2016-06-10T00:00:00Z
A picture perfect haven and home away from home. I highly recommend the opportunity to stay at this countryside apartment. Giacomo and his parents lovely hosts. Generous, kind, quick to respond and the extra touches made us feel very special. The opportunity to sample some of Isolina's delicious treats that she serves her B & B guests a wonderful memory. The villa located perfectly only a short drive from Montepulciano and other lovely places of interest, like Pienza (city of cacio, which means cheese!). Bed and pillows lovely to sleep on and decor very homely. Tables outside ideal to sit and enjoy the beautiful garden, peacefulness and stunning view. The wifi excellent and tablet for guests to use most helpful. Would love to return to stay again one day!
Eliza
2016-06-25T00:00:00Z
Not only did they give welcoming snacks but more importantly just behaved welcoming. Very nice people.
Peter
2016-10-04T00:00:00Z
Tipus d'habitació
Casa/pis sencers
---
Tipus de propietat
Casa
---
Capacitat
4
---
Dormitoris
Montepulciano, Toscana, Itàlia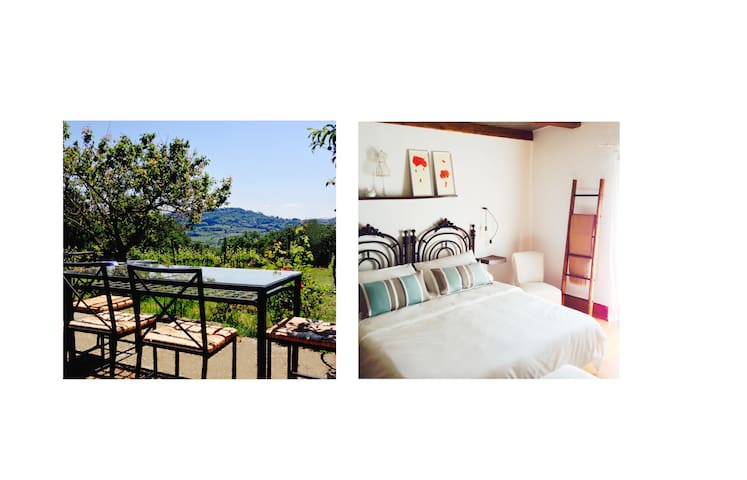 Wonderful home in the heart of Chianti in Tuscany. Just 40 minutes Siena and then Arezzo, Florence, S, Gimignano, Pienza, Bagni Vignone, Monticchiello and other picturesque villages, where you can eat delicious dishes of true Tuscan tradition.
The house 'was renovated with details of great luxury. You can turn on the fireplace to warm your evenings or take a jacuzzi tub on your return from your excursions or even find a moment to relax in the sauna together with your friends or relatives Nearby the famous spas of Chianciano, the charming and romantic Pienza, the surreal little town of Bagni Vignone with thermal water pools, Monticchiello where you step back in time and then Siena, Montalcino, San Gimignano, Cortona and Arezzo yet Florence ....... and all the beautiful Tuscany around you! The house is built on several levels. On the ground floor a large living room with fireplace, the spacious fully equipped kitchen, laundry room and a bathroom. The first-floor suite with a private bathroom and the second double room with bathroom. Even more on the attic floor with 2 other beds and small bathroom. In the basement, cellar compartment with showers and sauna. Guests will have the whole house I will be at your disposal for any request ..... There is no place more evocative in Tuscany, this charming village of Chianti, situated on a hill high m.650, rich in vineyards and ancient cellars. Nearby the famous spas of Chianciano, the charming and romantic Pienza, the surreal little town of Bagni Vignone with thermal water pools, Monticchiello where you step back in time and then Siena, Montalcino, San Gimignano, Cortona and Arezzo yet Florence ....... and all the beautiful Tuscany around you! The church of San Biagio, the Dome of Montepulciano, pound shops with local crafts ...... if you look for handmade things ..... you'll be in the right place! :-)
Montepulciano is a small town magic ..... you will do as a blast from the past. You seem to be in 1500 ..... almost all places (vineries and restaurants), have secrets in their basements, old convents with vaulted ceilings, or excavations of old mills and secrets of all kinds
We just returned from our stay here at the "Amazing Home in Tuscany" and could not have enjoyed it more! The home is absolutely beautiful and the location is right below the Piazza Grande - a fantastic spot in a beautiful and active area. The parking was tricky when we arrived there was not a designated spot as we thought however with time we did learn where we could park not far from the premises. We were greeted by Maria Teresa's Mom who owns the home and she helped us get situated. It is beautifully decorated with all we needed to feel comfortable. As we had 2 couples, there was plenty of room to spread out. We enjoyed the wine and snacks they kindly left for us as a treat. The home includes a sauna which was really nice and there is a whirlpool tub in the master bedroom. We were able to use the full laundry room and I also was able to contact Maria Teresa with questions I had once I was there. She was great to deal with and made sure we were happy! There is a list they provided of really wonderful restaurants and one of our favorites was right next door where the husband and wife owners are known for the Florentine beef. I highly recommend this and make sure to make a reservation as there are only 2 seating per night. All four of us really enjoyed our stay here and would go again if the opportunity comes up.
Dana
2016-05-06T00:00:00Z
The home was so nice and comfortable. We were 7 adults and there was plenty of room for everyone and we loved being able to walk out the door to everything in Montepulciano. The only negative was it could get noisy. But that was an acceptable trade off of being so centrally located.
Becky
2016-05-30T00:00:00Z
This beautiful house was the perfect choice for our 5 person group's stay at Montepulciano. The location is very nice, up in the historic center and near the central square. As you can see from the pictures, the house is stylish and nicely renovated but there is still the atmosphere of the traditional build style left. And most importantly, it has all the facilities that you need for comfortable stay and all of it works! Maria Teresa was most caring hostess giving all the help and tips that we needed. Her husband, that was receiving us, helped us find the best parking place near the house and gave our driver a quick tour around the center while his mother walked the rest of us through the house. She also gave us a list of the best local restaurants and nearby villages worth visiting. I wish that I will have an opportunity to revisit Maria Teresa's amazing house in the near future.
Olli-Pekka
2015-06-04T00:00:00Z
The owner of the house, Lea, was there to greet us when we arrived. The house is from the 15th century, and is in amazing condition. The kitchen and bathrooms were all equipped with modern plumbing and appliances that worked very well. Tankless water heater made sure there was enough hot water for all 5 of us. We really enjoyed staying in this house for 4 nights.
Marti
2016-10-13T00:00:00Z
Maria Teresa was very responsive before, during, and after our stay in this beautiful home. The home is VERY convenient to all of Montepulciano, including one of the towns best restaurants being less than 50 meters away! Plenty of space, comfortable furnishings for all 6 of us. Felt very safe in the town, leaving many windows open to let the fresh air in.
Dave
2015-07-27T00:00:00Z
Maria and her mother were the ideal hostesses, helping with every nuance of our stay, including an 11pm arrival which I'm sure was not part of the normal way of doing things. The house is perfectly located right in the middle of Montepulciano - walk out your door, turn left, walk 100 yards and you're in the town square - Magnificent! All of the amenities are modern and the layout is spacious... It is so well cared for that you feel as if you are staying with friends. We would definitely stay here again if we return to Montepulciano!
Shawn
2016-06-06T00:00:00Z
Montepulciano is a great place to visit-- incredible food and wine and beautiful village . The house is very spacious and well suited for 4-6 people. My wife and I and 3 kids enjoyed our stay immensely. The house is also very close to one of the best, and lively, restaurants in town.
Brad
2015-07-06T00:00:00Z
Maria was communicative and easy to reach when we had questions about her home. Her mother was also lovely and welcomed us on our first day at the house. It is in a location that is close to all the attractions in Montepulciano. We visited during the summer and it was very hot, Maria was kind to supply the house with fans. It can be quite loud at night with the windows open when restaurants or taverns are closing...Montepulciano is a beautiful hill town with lovely shops and restaurants and beautiful views. Do not miss the restaurant next door, Acquacheta! make reservations as they only do two seating per day. We really enjoyed our time in Tuscany. Make sure to climb the tower in the Piazza for an amazing view.
Kelly
2015-08-05T00:00:00Z
Tipus d'habitació
Casa/pis sencers
---
Tipus de propietat
Casa
---
Capacitat
8
---
Dormitoris
Montepulciano, Toscana, Itàlia
Amazing house immersed in the olive oil treets. Perfect for families or group of friends. I wait for you! Lorena
Located just outside Montepulciano, a delicious ancient Village well known for it's wine "Nobile di Montepulciano, you will enjoy the quiet and relax of this corner of paradise. Plenty of free parking on our 10 acres. A wonderful swimming pool to relax after a busy day going up and down from the hills by foot or by bike...or simply by car.
It is used by amateur and professional bicyclers for road biking. A short drive to our little nearby town of Montepulciano provides superb dining and quaint shopping opportunities. Not to mention the many activities such as biking, trekking, horse riding, nordic walking...
Lorena (the hostess) was very welcoming and nice. She greeted us with a glass of local vine. The agriturismo was nice, situated in the nature with a very nice swimming pool which was super important in those summer days in July. The surroundings were beautiful. Accommodation was a bit more then rustic. One of the rooms was a bit dusty and not super clean. The other room was a basement type room which was nice because the temperature inside was pleasant but off course, didn't have a nice view. The surroundings of the houses seemed a bit "abandoned" which is a shame for such a lovely estate. It could certainly benefit some grooming and nurturing. All in all, we enjoyed our stay and the swimming pool and especially the surrounding towns and good Tuscan vines and food.
Luka
2015-07-27T00:00:00Z
Lorena and her husband were fantastic hosts. They made me and my wife and two kids feel completely welcome in their home and on their property. We stayed in the farmhouse, which is a short walk away from Lorena's main property and the pool. Given the heatwave of the past month, the pool was where we spent much of our time. The location, a kilometer away from Montepulciano, was perfect. We visited other towns in Tuscany during the day, and had a nice dinner in Montepulciano each evening.
greg
2015-08-11T00:00:00Z
Sehr ruhig Lage und nette Gastgeber. Die Kommunikation war etwas schwierig da nur italienisch gesprochen wurde. Es war gut ausgestattet (Teller, Töpfe, Pfannen) nur man muss alle Gewürze (Salz / Pfeffer etc,) mitnehmen. Wir haben uns sehr gut erholt vielen Dank Tina und Werner
Werner
2015-09-06T00:00:00Z
This is a hard review to write because the hosts we dealt with seem like very kind people. But, I think one of the things that makes Airbnb work are candid and honest reviews. First the good stuff. Check in was easy, we didn't meet Lorena (I think her friend said she was in the hospital) but we met a female friend who was very kind and she escorted us to our house (which is located a few driveways past the listing address). There we met a young man named Andrea who spoke a little English and was very nice. Awaiting us were some fresh strawberries and a bottle of Prosecco. Nice welcoming. Now the bad. The unit is the second story of an old small house. The entire upstairs used to be bedrooms but it has been converted so that one room is now a living/dining room/kitchen. The oven and sink look like miniature or toy versions. They are such tiny efficiency units and there is no prep space (maybe the little dinette table?) that you can't cook a real meal. Maybe you could boil some pasta and heat some prepared sauce but that's about it. okay, we are going to eat out tonight. But also, the whole place smells of stale smoke. Unclear if it is from cigarettes or from what we later learned was a wood burning heating unit downstairs. Either way, you are stuck with the smell of smoke until olfactory fatigue sets in. Noise - there is a thin door at the top of the stair case that separates this unit from the one below, where Andrea was staying. While the door locks, it does not keep out sound. We know this because around 3:30 we were awakened to the sound of Andrea and his female guest having quite a romantic time. I'm not a prude, but we could hear EVERYTHING. And it's just no fun waking up that early knowing you have a long drive to Rome the next day. Temperature: it was a little chilly when we checked in and Andrea told us not to use the thermostat because it is too expensive; instead, we were to call his cell phone and he would put more wood on the fire that hears the radiators. Hmmmm. So if it gets cold at midnight I should call you in the middle of the night? Well, in hindsight I know that he would have been awake. Also, unlike what some reviews said, it is a LONG UPHILL walk to town that cannot be done in 15 minutes. It's 8 minutes by car, 15 if you want to actually drive around to the front of town and get parking. My wife and I have done dozens of Airbnbs all over the world, but if this had been my first experience I am not sure I would have continued using it. As it is, I know that not every place can be a 5 star winner, so no...
Pat
2017-03-12T00:00:00Z
Nous avons passé un excellent séjour dans cette grande maison à la propreté irréprochable. Le cadre et l'équipement sont parfaits. La piscine se trouve à quelques mètres de la maison. Lorena et son mari sont charmants, attentifs, discrets et sympathiques. Excellent séjour. Je recommande vivement ce lieu. Notre séjour à été vraiment agréable.
Marc
2016-08-25T00:00:00Z
We had a beautiful experience with Mrs. Giuliana & Mr. Giorgio (I believe Lorena is managing the property for them?). Very cute house, semi-secluded with lovely trees all around and a nice view of the vineyards. The hosts are great people who are there at anytime should you need anything. It is a short 5 min drive from the centre of Montepulciano and very convenient. We really enjoyed being able to pick our own cherries and loquats from the trees where they had put small ladders. We would highly recommend staying with them and would do so ourselves again.
Kiyan & Chiara
2016-06-10T00:00:00Z
El anfitrión fue muy amable, pero la casa nos decepcionó. Estaba MUY en el campo, lo cual no quedaba reflejado en el anuncio, o por lo menos, yo no lo vi asi.
Raquel
2016-08-03T00:00:00Z
Mooi, praktisch huis Super verhuurder; zeer lieve én attente dame Minpunten; enkel wifi aan het zwembad (300 m van het huis), maar dit werkte niet tijdens ons verblijf. Ondanks het feit dat er gemeld was dat er airco was, was deze niet voorhanden. Niettegenstaande was het wel koel in het huis. (maar opgave van eigenschappen was dus wel niet correct)
Ivo
2015-07-18T00:00:00Z
Tipus d'habitació
Casa/pis sencers
---
Tipus de propietat
Casa
---
Capacitat
7
---
Dormitoris
Montepulciano, Toscana, Itàlia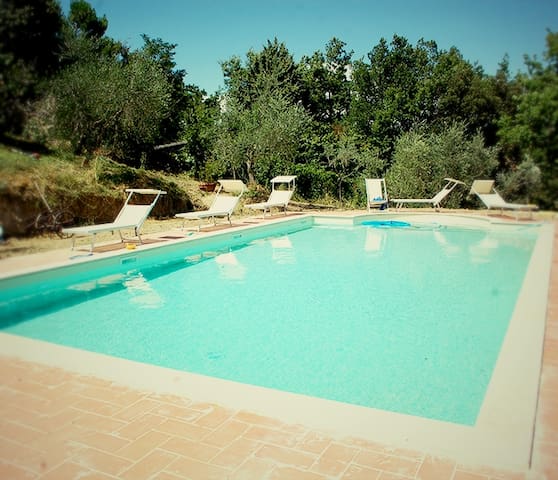 Beautiful independent house recently renovated in bio style with a high quality finish. In addition to a central position the house has an exclusive parking area and a delightful panoramic garden.
finiture, centralità, storia, dotazioni, giardino, posto auto
in pieno centro storico, nella parte più centrale di esso, dotata di tutti i servizi e le comodità necessarie
We can't say enough about Marta. What an amazing lady. She is our first host who met us to welcome and and came back to say goodbye. The house was more than we could have imagined. Just beautiful. It's built in an old laundry and they have tastefully incorporated the old with the new. We lived on the terrace which overlooks the most beautiful view. Everything was spotless and the kitchen has everything you need. We went with our 3 boys 10,13 and 16 who just fell in love with this little hill town. They would go in the morning to get fresh pastries a few meters from our door and then pop out and get gelato during the day. There is an amazing pizzeria just down the road where pizza is €4.80 and delicious. We highly recommend staying here.
Natalie
2016-04-22T00:00:00Z
We loved meeting Marta during our time in Italy. Prior to our arrival, Marta and I discussed a meeting location so we could follow her into the walled town of Montepulciano. She had wonderful recommendations of restaurants and sites in Tuscany. Communicating with Marta was very easy and she is someone we would welcome into our home in the US. Her home is beautiful, the town is relaxed and inviting, and we hope to visit again!
Jaima
2016-10-09T00:00:00Z
We had an unbelievable experience with Marta and Piazzetta S. Bartolomeo. The apartment is incredible, beautifully furnished with modern amenities with a classic Tuscan feel. The kitchen and living room became our second home and the terrace view was worth the price in itself. Being right in town, while still having a view like this is impossible to beat. We were steps away from tasting rooms, shops and restaurants and having the parking spot (while a little tight for our big car) was all you can ask for. Marta was extremely responsive, having a failed water pump fixed by a plumber in less than an hour of our emailing her and providing us incredible dinner recommendations (La Pentolaccia, a block away. We ate there two of the 3 nights). This was the best AirBnB I have ever rented. We hope to return next summer.
Aaron
2015-07-16T00:00:00Z
Marta is a warm and welcoming host. Her place is beautifully restored and decorated, and the location is perfect. We stepped out the front door into the magical town of Montepulciano. Marta gave us several excellent restaurant suggestions. We could not have been happier...except if we'd had more time to stay there. The driveway is narrow, but Marta helped us navigate it the first time, and after that, we had no trouble. I cannot say enough about the town and Marta's place. The whole experience surpassed our expectations. This was a absolute highlight of our 3 1/2 week trip in Italy. We would definitely stay here again!! Thank you, Marta!!
Hallie
2016-09-15T00:00:00Z
Accoglienza splendida. Casa molto bella e ben curata..vista mozzafiato e panorama (URL HIDDEN) siamo trovati molto bene e se devo essere sincero la casa rende piú dal vivo che non in foto...
Fabrizio
2015-12-09T00:00:00Z
This home in Montepulciano far exceeded our expectations. The pictures don't do it justice. It is a beautifully restored home from the 1500's. The location is perfectly in the middle of the village. The bedrooms and the terrace offer beautiful views over Tuscany. Marta keeps the home very clean and is an excellent host. Stay here, you will be thrilled you did. I can't imagine there is a better place in Montepulciano.
Thomas & Cynthia
2016-04-17T00:00:00Z
This beautiful apartment has been beautifully restored. Having our own private garden was so therapeutic after living out of a suitcase for nearly 3 weeks. Cafès and restaurants are only minutes walk away as well as galleries, shops and banking facilities. Fantastic location and a wonderful host.
Jon
2016-08-31T00:00:00Z
We had the most fabulous time in Montepulciano. Marta greeted us right outside the wall, and showed us her phenomenal house. It is so much nicer than the pictures show. The garden is beautiful, and it is right outside an incredible all season room. The house is in the perfect location in town. Marta gave us wonderful wine and restaurant recommendations, and we actually spent almost everyday in Montepulciano rather than exploring more of Tuscany...however, this is a perfect location for exploring Tuscany, and it is located only 2.5 hours from Rome. Montepulciano is a charming town, and we now have our own "wine guy" Paolo (60 bottles of wine available for tasting at his store - a must). We honestly loved every restaurant we went to (and we ate out for every meal). Our daughter also loved the playground right outside the city wall. We hope to come back, this was a wonderful experience.
Julia
2016-05-22T00:00:00Z
Tipus d'habitació
Casa/pis sencers
---
Tipus de propietat
Casa
---
Capacitat
5
---
Dormitoris
Montepulciano, Toscana, Itàlia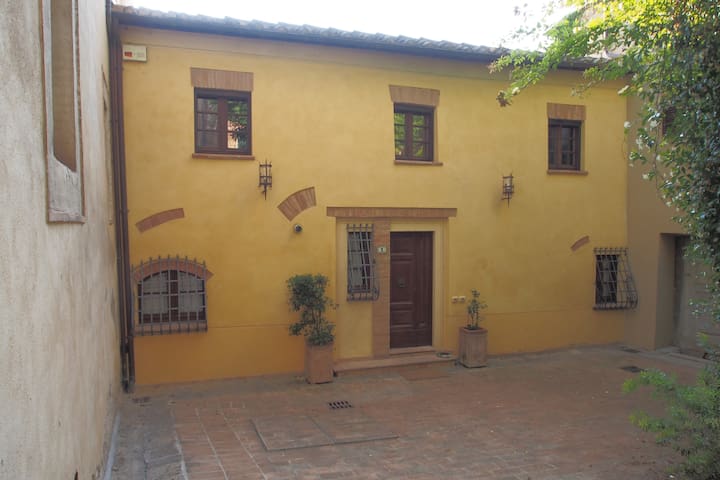 The house is fully furnished with furniture in Tuscan art, will welcome you for your stay in one of the most beautiful places in the world ......... Tuscany Close to the most renowned restaurants and major points of historical and tourist interest.
Lovely holiday apartment on the ground floor of a building that is located within the medieval walls of Montepulciano ( Si) . The house has a separate entrance , consists of a double bedroom, a single bedroom, a living room / kitchen where there is a sofa bed, and a bathroom with shower and washing machine . The house is suitable to accommodate a total of 5 people in the same group family / friends. The house is equipped with a dishwasher , washing machine , oven, freezer ; possibility of high chair for children at no additional cost In the kitchen you will find oil, salt and vinegar, sugar and soap to wash the dishes. Wi Fi is available in the entire municipality " MONTEPULCIANO TOUR " free for one hour a day for all tourists. Convenient parking nearby. Linen and final cleaning included in the price as well as consumption. Ideal for weekly holidays . Possibility of short stays. IN APRIL, MAY JUNE, SEPTEMBER, OCTOBER, NOVEMBER AND DICEMBER THE MINIMUM STAY WILL BE OF 2 NIGHTS WHILE IN JULY AND AUGUST WILL BE OF 3 NIGHTS In Montepulciano you must pay the TAX of € 1,00 per person per night ; The payment must be made upon arrival in cash. ( You can not put in the rates of Airbnb ) In the immediate vicinity , as well as to admire buildings and monuments dating back to 1500, you can taste typical Tuscan dishes, the best restaurants in the country . From here you can visit the country and to reach Siena , Florence and San Gimignano , Arezzo 40 km each. In summer the area is populated by artists that animate the Cantiere Internazionale d' art and Bruscello . Do not miss the Bravio of the barrels on the last Sunday of August , with a parade and a reenactment of the race Pushers Barrels
Il quartiere dove si trova l'appartamento è nel centro storico in una via parallela del corso, per cui si ha accesso a molti ristoranti tipici, negozi caratteristici e siti di interesse storico
Roberta was a great host. Good communication, precise informations, helpful, bottle of wine as a welcome gift. Accommodation right in the centre, place was not too big, but very clean and new. Sofa in the kitchen/living room I wouldn't recommend for sleeping to people with problems of spine/back. Do not count wit public internet service, we weren't able to connect to this municipality provider, although one of us is a trained IT engineer. Fortunately couple public cafés/restaurants served us in this case. Montepulciano itself is worth to see - beautiful old city. Thanks for all!
Marek
2015-10-02T00:00:00Z
Roberta provided was an efficient and friendly host. The apartment was in a good location, very clean and had nice views over the countryside of Montepulciano. The complimentary bottle of wine was a nice touch.
JOHN
2014-05-23T00:00:00Z
What a special place! We loved staying here! It's a short walk around the corner to the older part of town where there are wine cellars to explore and good restaurants to eat at! The view is beautiful from the bedroom window and Roberta was a very kind host! She provided everything we needed and it was all very clean and nicely put together! We only were able to stay 1 night but wish we could have stayed longer! Roberta speaks some English and was very quick to respond. We will stay here again if we come back! This is a fantastic set up!
Chris and Richeli
2013-09-10T00:00:00Z
Apartment is located in the historic city centre - very nice. Only there is no parking for tourists there - but you can park nearby. Roberta is a helpful and nice host. She helped us with restaurant reservations and parking :-) I can only recommend this place!
Dominika
2016-09-09T00:00:00Z
After getting lost on the other side of Montepulciano, Roberta came and found us and escorted us to the apartment which was greatly appreciated. The apartment is in the city walls and very central to the town. The apartment is relatively basic in comforts but it was very clean, pretty quiet and very easy to stay in. We found the people of Montepulciano delightful and the food fabulous. A very easy place to stay.
Jacinta
2013-09-20T00:00:00Z
Montepulciano is a small old town worth a couple of days visit. We stayed at Roberta's place which is a small house inside town, so all nice places were just there outside our door. Roberta's house is cozy and very comfortable. If my wife and I ever return to Montepulciano we would try to book again with Roberta. The pros: location, price, safety, clean. The cons: we were expected to bring our own toilet paper! Not a big issue but got us by surprise! Roberta was kind to bring us some ;-)
Carlos
2013-06-27T00:00:00Z
Appartamento perfetto per pulizia e posizione; ottimo come base per una visita a Montepulciano e tutti i dintorni. Roberta è una padrona di casa gentilissima e che sa dare i giusti consigli, soprattutto per i migliori ristoranti. Consigliato vivamente. Grazie mille. Perfect flat, both considering cleanliness and position; a wonderful starting point in order to visit Montepulciano and the sourroundings. Roberta is a great host, very nice and always with the right suggestions, especially restaurant-wise. Strongly recommended. Thanks a lot.
Francesco
2013-04-28T00:00:00Z
We thoroughly enjoyed our stay in Montepulciano. The apartment was in an immaculately clean condition. All the items that we needed were available. Roberta was also a fantastic host, she came to meet us to direct us to the apartment. You couldn't wish for a better host or a better location. It was really wonderful. Thank you Roberta!
Nicola
2014-10-26T00:00:00Z
Tipus d'habitació
Casa/pis sencers
---
Tipus de propietat
Casa
---
Capacitat
5
---
Dormitoris
Montepulciano, Toscana, Itàlia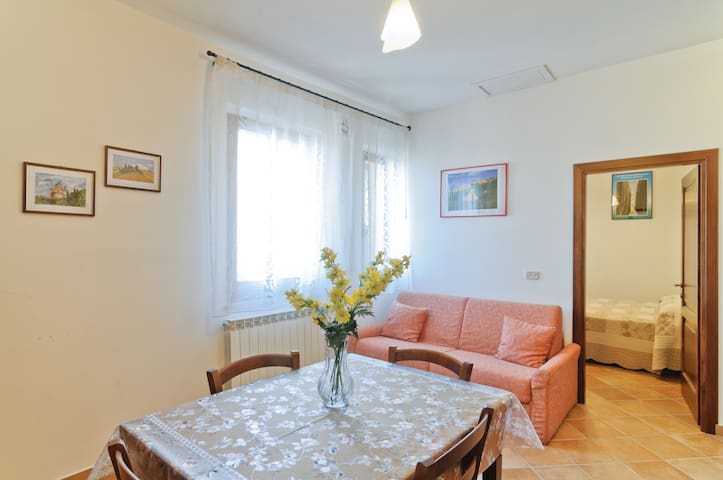 1

-

18

de

100 Lloguers de Cases
Introdueix les dates per veure el preu total. S'aplicaran tarifes addicionals. És possible que també s'apliquin impostos.