***** Featured on HUFFINGTON POST and PureWow article: "Amazing Places You Can Stay Around The World For Less Than $50 A Night" ***** Right next to the Perast museum, our studio apartment has a spacious terrace with a magnificent view on the two most beautiful attractions of the Bay of Kotor: islands of Sv. Đorđe and Lady of the rocks.
Right next to the Perast museum, our studio apartment has a spacious terrace with a magnificent view on the two most beautiful attractions of the Bay of Kotor: islands of Sv Đorđe and Lady of the rocks. This charming, rustic studio apartment has a large private terrace with extraordinary view of the islands, equipped with outside dining table so you can enjoy your meals al fresco with a view. It is located right on the waterfront. There is one double bed and one sofa which is easily expandable to a double bed, so the apartment is perfect for couples or families with children. The bathroom is located downstairs, down a spiral staircase. The kitchen is fully equipped with all the kitchenware and dishwasher. Necessary amenities like washing machine, iron and ironing board, air conditioner etc. are provided. Baby crib and high chair are available upon request.
Perast is a pitoresque, historic town in the Bay of Kotor with two small islands: one is called Sveti Đorđe and the other Gospa od Škrpjela (Our Lady of the Rocks), and each has a picturesque chapel. Gospa od Škrpjela is particularly interesting given that it is the only artificially-built island in the Adriatic, and it can be reached by small boats operating from the small dock next to the apartment (fare is 5€ per person round trip, free for children).
Everything was perfect, i wanted a perfect weekend with my gf, and my expectations was fulfilled completely!
Артур
2014-08-24T00:00:00Z
Dear Nela! We were very happy, that we have found your apartment. Everything was perfect. The rooms are very comfortable. Only the washmachine - we could'nt start it. But that was not a problem for us. We recommended your house to some of our friends. Thank you and have a nice time. Ernst & Sissi *Sorry that we have not wrote earlier, but the handy of Ernst was broken.
Ernst
2016-01-05T00:00:00Z
Nela and Anka went above and beyond to make sure our stay in Perast was perfect. Anka even picked us up from Perast and drove us back to kotor so we could catch our bus! The apartment had the most amazing view and terrace. We never wanted to leave. I would definitely recommend nela's apartment and we hope to be back :)
Kathryn
2016-02-11T00:00:00Z
We had the most wonderful 3 days in Nela's accommodation. It's unique and quirky with the most beautiful views across the bay and the islands. It has quite possibly the best balcony/terrace in Perast and is what really makes this place special. Even though we had some not great weather we couldn't resist sitting out there at every opportunity. It has a very well equipped kitchen and comfy bed. Perast itself is breathtaking, I almost don't want anyone else to find out about it! We'd go back in a heartbeat.
Sally
2016-05-20T00:00:00Z
We had a great experience staying at this apartment right on the waterfront in Perast. The terrace is really special and we spent a lot of time there, enjoying the amazing view. You can swim right in front of the house, though during the day there are a couple of guys with small boats parked right there to take people to the islands. A more calm swimming area (without boats) is easily reached just a few meters down to the right. We enjoyed chatting with the friendly boat guys as we were coming and going every day. The apartment itself is a bit odd in its layout, but is comfortable with everything you need. Actually I thought it was a really good use of a small space, and the place felt very cozy and comfortable. Nela was a wonderful host, extraordinarily communicative, friendly, and helpful. We didn't actually meet her in person, but she has a great team of helpers who were very friendly and available for whatever we needed. So we felt well taken-care-of. Perast is a charming town and we were so glad to spend a few days here. We highly recommend visiting Perast and staying at this apartment!
Lucy
2015-06-09T00:00:00Z
Fantastic view and balcony! Clean appartment and had almost everything you need (the equipement was not that good and also no coffee maker). Communication with Nela and Anka was very good. Perast is a very touristic place (loads of busses all day long till 18 PM. After 18, Perast is very relaxed); keep that in mind if you want to book this appartment. We've got a recommendation for other future guest: go to Conte Restaurant at Perast and order the fish platter for 2 persons; omg this was so good!! Thank you Nela and Anka!
Selma
2016-06-06T00:00:00Z
Had the best few days here! Nela was very informative and helpful! The place is great and the view from the balcony was amazing! Perast is such a beautiful place and Kotor isn't far away either! Definitely want to come back!
Georgina
2017-03-30T00:00:00Z
We had an extraordinary great experience staying at Nela's place. Nela is very helpful, and communication with her could not be better! She managed to accept our same day request (we literally booked her apartment from the airport) and someone was waiting for us at the place upon arrival. The house is located in a historical small town called Perast. Being surrounded by the sea, the mountains, and looking at two wonderful islands, it benefits from absolutely beautiful views! We highly recommend the place and the host.
Tashi
2015-11-22T00:00:00Z
Tipus d'habitació
Casa/pis sencers
---
Tipus de propietat
Pis
---
Capacitat
4
---
Dormitoris
Perast, Perast, Montenegro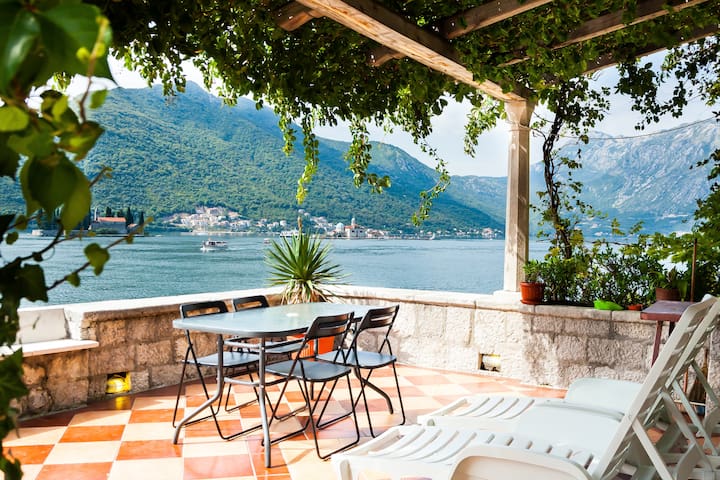 Experience a wonderful Mediteranean vacation in a charmy coastal town of Ulcinj, near the longest 14 km Montenegro beach. Away from the crowd & noise, yet centrally and everything reached by foot in just a minuites, the restaurant, the beaches, the clubs, musuem.. -Renovated beautiful studio (balcony + Summer Kitchenette) + soothing seaview from the balcony for wake up brakfasts!
If this apartment is not available for your dates, check out our other Sea View apartment on this link: https://www.airbnb.com/rooms/5219535 -Free Wi-Fi -Air Condition -Towels, Soap, Hair dryer -Entrance from outside of the villa -Kitchennette plus essentials -Refrigerator / Mini Stove / Kettle -Dining area / (Balcony) -Hangers -Private Bathroom/Toilette -Wardrobe -Free Parking Studio aparment is ideal for 2-3 adults. The apartment is a one space studio, (1 double bed + 1 sofa bed) + beautiful sea view + (balcony), perfect for summer nights chillin & dining. It is located 4min walk from the main city beach,in a quiet neighbourhood, surrounded by a green garden. The location is great. Within a walking distance of max. 4 minuites from this apartment you will find all best Ulcinj has to offer: Old town, museum, beautiful sandy & rocky beaches, nightlife spots, bars & restaurants, sailing taxi boats..
Being only 4 minuites walk from the town center and the small beach, but also away from the summer crowd., you will love the sea-view-panorama and how quick you can get to the main city beach. Grocery store = 1 minuite walk Restaurants = 1 minuite walk City beach = 4 minuites walk Old town & Museum = 5 minuites walk Home delivery food at your door, is also available.
Ali was an incredible host and the room was perfect. The kitchen is outdoors but had everything we needed and it wasn't too cold to cook outside, even in October. The room was comfortable and super clean. The location is great to walk down to the nearby beach, Old Town, and many restaurants. Lots of neighborhood cats came by and hung out on our porch to keep us company. Waking up to the view of the ocean each morning and seeing the sunset over the water each night was wonderful - it makes you feel like you're staying at an exclusive resort! Thank you, Ali for a great stay!
Nate + Danielle
2015-11-08T00:00:00Z
It was my second time at this apartment and the experience was as good and positive as the first time. Very comfortable apartment with great view and very nice hosts! Highly recommended!
Agnieszka
2016-04-06T00:00:00Z
I had the best stay at this apartment :) from the moment I arrived I felt very welcome, and most of all I was expected which was very comforting. The room is quite spacious for a studio and is extremely clean, very modern with nice furniture and a very comfortable bed. The summer kitchen on the terrace is a great addition, and it was lovely preparing food with an amazing view over the sea. The location is also very good, close to the old town but far enough that it is very quiet in the night. The best thing about this listing is the Zigelli family; they are extremely hospitable and made this place feel like home, I had great chats with Ali and his brother Dino into the early hours of the morning, and Dino even took me to see the sights on his motorbike the following day. I highly recommend this place and would stay here again in a heartbeat! Thanks for a great stay!
Matthew
2015-09-22T00:00:00Z
Ali and his family (we've met his brother and his wonderful mum) are very professional and at the same time personally likeable hosts. The two apartments we rent are next door to each other and share a big terrace (with a kitchen outside) with a great view. I guess especially in the off-season sitting outside in the shade, with a lot of space is really great. The interior is very clean and newly renovated!
Marian
2015-08-30T00:00:00Z
Прекрасных шесть дней в Ульцинь. Исключительно удобное расположение дома: рядом всё - пляж,магазин,отличный рыбный ресторан и старый город. Великолепная терраса с видом на море. Очень чисто. Любезные хояева.
Илья
2015-06-13T00:00:00Z
A very welcoming family. Nice spot in Ulcinj, we Had a lovely stay for 3 nights. Parking is free, the apartment is well furnished , very clean. We ate everyday on the terasse that has a beautiful view on the sea. However, if you like beaches you need a car to go out of the city as the main one in Ulcinj is not so clean and gorgeous. (No worries Ali sent us by email a list of nice spots). We would definitely recommend it.
Morgane
2015-09-15T00:00:00Z
Прекрасная студия. Все соответсвует фото. Чисто. Есть все необходимое для отдыха. Красивый вид. Хорошее расположение - 5-7 минут до пляжа. Но дом находится на возвышении, поэтому несколько удален от всей суеты и шума. Рядом магазин. Али и его мама были очень гостеприимны. Приятные люди. Нам все понравилось. ==== I can strongly recommend this nice apartments! Good location. Amazing view. All was tidy. Closed to the beach. Ali and his mother were very hospitable. Thank you!
Darya
2016-08-06T00:00:00Z
Ali and his family were very welcoming and friendly hosts and the apartment fitted our needs perfectly - clean and nicely decorated. The location is excellent for the beaches and restaurants of the old town and there is a wonderful view of the sea from the terrace where we had a few happy drinks!
Dylan
2015-06-18T00:00:00Z
Tipus d'habitació
Casa/pis sencers
---
Tipus de propietat
Casa
---
Capacitat
3
---
Dormitoris
Ulcinj, Ulcinj, Montenegro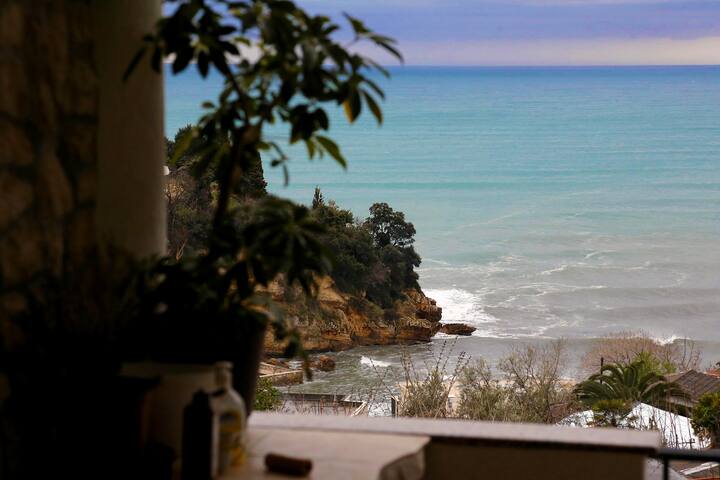 Unikátní atraktivní design koncepce hub podobně. Moderní a útulný apartmán pro tři, která se nachází na kopci nad srubu s pěkným výhledem na vrcholky hor a údolí řeky Tara. V blízkosti hub hosté mohou těšit rožně nebo makeing log požáru. Houba je ideální pro novomanžele na svatební cestě nebo mladé lidi nebo pro turisty, kteří hledají něco jiného a netradiční. Innerspace je rozdělena do dvou leveles (přízemí + horní patro) a vhodné pro dva (+ jeden) osob. Přízemí má otevřený prostor vstupní chodba s koupelnou a obývací pokoj / jídelna s kuchyňským koutem (základních elektrických suppliences a keramiky). V přízemí je spojen s horním patře o poměrně strmé schody (není výhodné pro starší osoby nebo osoby se zdravotním postižením). V horním patře je rozdělena na dvě zóny: obývací pokoj a prostor na spaní. Spaní má francouzským lůžkem a obývací prostor má rozkládací pohovku a taburets .Different světelné zdroje vytvářet teplo a útulnou atmosféru. Bezplatné Wi-Fi a parkovací místo k dispozici. Houba Byt se nachází na kopci nad silnicí a arround 800m od centra (restaurace, obchody). Ski centrum je 9 km daleko a Národní park "jezero Biograd" je 19 km daleko. Hlavní autobusové a vlakové nádraží je arround 1,5 km daleko od houby. Příjezd hosty je zajištěno autem (bezplatně) dle dohody.
Logement atypique et agréable. Très propre et spacieux. Terrasse et petit coin barbecue/feu au calme. Couple accueillant et sympathique. Merci pr ce séjour
Caroline
2016-09-18T00:00:00Z
Our second time staying in this wonderful, unique Mushroom house! Kolasin is in the heart of Montenegro and should not be missed. Our gracious hosts provided a hospitality which is truly rare. This apartment is without doubt one of the best experiences I have had in my travels. Reserve without hesitation!
Mike
2016-04-17T00:00:00Z
Ljiljana and her huisbaas were very kind. She welcomed us with coffee and gave some information about the town of Kolasin and its surroundings. Her husband helped us out when our car broke down. The mushroom appartment is as shown on the pictures. It's a very cute appartment, well equiped. The bathroom was rather small. The bedroom, which is in the top of the mushroom was very clean and nice. In summer, it might be warm there. Overall, really nice experience and very kind hosts.
Sanne
2016-06-10T00:00:00Z
Living in a mushroom... Amazing! Good location for exploring the national park.
Rich
2014-08-17T00:00:00Z
The mushroom apartment is unique. It is wonderfully designed and had everything we needed. We loved the peace and quiet of the area. Great location for exploring the mountains and national park nearby. Very good value for money.
Liam
2015-05-18T00:00:00Z
Very fun little place
Sharyn
2016-07-26T00:00:00Z
Ljiljana and her husband were wonderful. They picked us up from the bus stop and even drove us to the supermarket and waited while we bought supplies for our stay! The mushrooms are beautiful and have everything you need. The upstairs living and sleeping area is very spacious and really relaxing. The views are beautiful and if keep walking up the hill (past the bbq) you can join onto one of the walking trails. I would definitely recommend. A lovely experience
Rosie
2015-09-19T00:00:00Z
Ljiljana and her huisbaas were very kind, the "mushroom" was beautiful and quiet! It is an experience that we recommend.
Julie
2016-07-15T00:00:00Z
Tipus d'habitació
Casa/pis sencers
---
Tipus de propietat
Pis
---
Capacitat
3
---
Dormitoris
Kolašin, Kolasin, Montenegro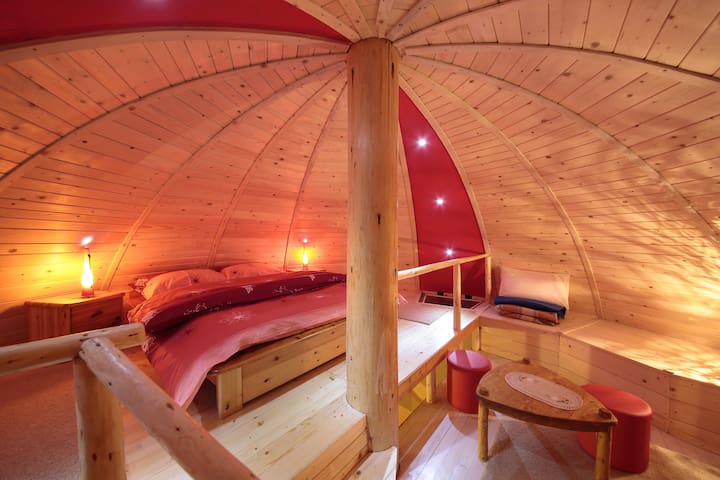 Ubytování se nachází na břehu Cold Bay, jedné z nejkrásnějších zátok v Montenegro.Sky modré moře, krásné soukromé pláži, vynikající pokrmy středomořské jídlo z naší restaurace a laskavé hostitelé vám umožňují nádherný a odpočinkovou dovolenou.
Krásný západ slunce, které můžete sledovat každý den v pohodové atmosféře. Velmi laskavé hostitelé, kteří bude vaše dovolená mnohem příjemnější. Dům Specialitou mořské plody, které jste nikdy nezkoušel předtím. Rodinná atmosféra se přenáší na hosty a dělá každý host cítit jako doma.
Hosts went out of their way to pick us up very late from railway station 30 mins away and provide supper. Penthouse was exactly as described, clean and well appointed, beautiful views and wonderful swimming. Situation weather dependent and car required since away from towns. Very quiet, but of course we were there out of season. Perfect for a relaxing beachside break.
Alex
2015-10-13T00:00:00Z
The flat is exactly as described: fully equipped, modern, clean, with a private beach (one of the best we have been to in Montenegro) and a stunning sea view. My family and I cherished every moment at Pansion Vongola, including dinners under the pergola carefully prepared by the expert hands of our hosts. I would really like to thank Vladimir and his whole family for making us feel at home, and warmly suggest other travellers to experience this "pearl" of Montenegro.
Martina
2015-08-14T00:00:00Z
We returned to Pansion Vongola after almost a year because we simply loved their hospitality, the modern and clean accommodation, the private beach, the view from the balcony, the fresh fish served at night under the pergola... And we loved it even more this time! We will return as soon as possible to enjoy this corner of paradise.
Martina
2016-06-13T00:00:00Z
An absolutely amazing place to stay. This is the best place I have stayed in. It's got a magnificent view of the sea. The beach has really nice water. The food in the restaurant was also good.
Sahil
2016-06-04T00:00:00Z
Sie waren (URL HIDDEN) und haben immer geholfen wenn nötig war wir werden auf jeden Fall wieder kommen. Und das essen war sehr lecker und preislich
sascha
2016-08-27T00:00:00Z
Me and my friends had an amazing experience. Our hosts and neighbors at the pansion were very warm, offering us fruit and libations upon my friends and 11 PM arrival. The views and private beach is gorgeous and the rooms were clean and comfortable. Highly recommended for anyone visiting Montenegro. Almost worth the trip alone.
Kristopher
2016-10-03T00:00:00Z
Our stay here was one of the best airbnb experiences we've had! That view.... to die for. The bay that the apartment is located in is one of the most beautiful patches of sea we've been lucky enough to swim in - crystal clear and so cool and refreshing. And the area is so nice and quiet and away from the main tourist areas of Montenegro, we loved it! Could have stayed a month! Vladimir and his family were the perfect hosts, so friendly, helpful and generous. We can't wait to come back!
Hayley
2015-07-19T00:00:00Z
We had a great stay! Wonderful apartment and perfect view. The hosts were fantastic and so welcoming.
Jeremy
2016-07-05T00:00:00Z
Tipus d'habitació
Casa/pis sencers
---
Tipus de propietat
Pis
---
Capacitat
6
---
Dormitoris
Bar, Montenegro, Montenegro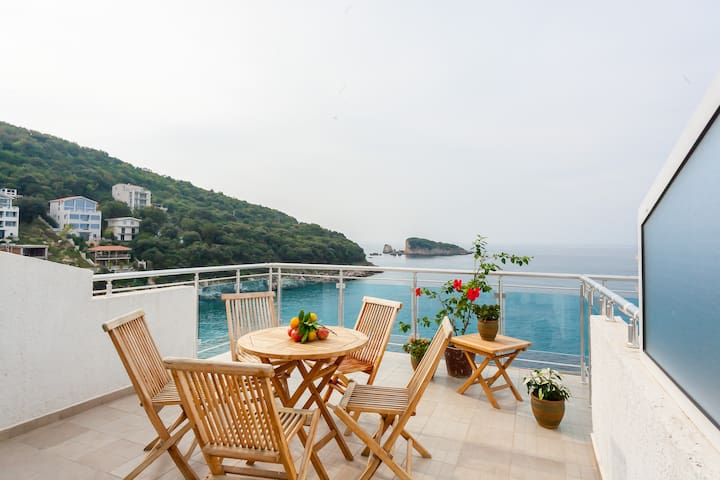 Návštěva Budva vám můžeme nabídnout správné místo k pobytu, 5 minut chůze od pláže od ubytování. Náš byt se skládá z obývacího pokoje, kuchyně a koupelny, ve starém stylu. Jak můžete vidět na obrázcích, ložnice, obývací pokoj a kuchyň jsou jedna velká místnost (garsoniéra). Má také: - knihy o Černá Hora v různých jazycích (francouzské a italské); - Vše pro vaření doma; - mikrovlnná trouba; - rychlovarná konvice; - Lednice; - klimatizace; - Topení v pokoji a koupelně (v zimě); - fén; - Železo; - Internet WI - FI; - kabelová televize; - Francouzské lůžko (pro 2 osoby); - Gauč pro 2 osoby; - Dětská postýlka, vysoké židle, kočárky, hračky, (vše pro děti); - Podložka. Čisté ložní prádlo a ručníky jsou nahrazeny každých 7 dní. Malý byt se 2 lůžky: jednou manželskou postelí a pohovkou. V apartmá je k dispozici také dětské postýlky. Byt může ubytovat 4 dospělé osoby nebo 2 dospělé osoby a dvě děti. K dispozici je také malá terasa, které můžete použít. Žijeme naproti bytu a sdílíme společné chodby, ve třetím patře. Ze společné chodby můžete vstoupit do bytu. pokud budete potřebovat něco, co můžete snadno dostat do kontaktu s námi. Neváhejte, můžeme vám dát návod, jak navštívit Budva a jeho okolí a také Černá Hora.
Byt se nachází v soukromém domě 100 m (5 min.) Od pláže v klidné části města Budva, asi 2 km daleko od Starého města. Tam jsou dvě velké supermarkety, 3 min. u nás: Trh Slavija a tržní Roda. Slovinské pobřeží (Slovenska Plaža), pláž je 5 min. od bytu. Na pobřeží jsou kavárny, kavárny a restaurace, 5 až 10 minut chůze podél pláže. Staré město můžete projít podél pobřeží, je to nejkrásnější trasy 15-20 min. Na hlavní ulici 3 minuty. Z bytu je autobusová zastávka, odkud si můžete zajít na Petrovac Sveti Stefan, Cetinje ... I když je hezčí je s lodí ze Slovenska Plaza k návštěvě Budva pobřeží a být na jedné z pláží: Sveti Stefan, ostrov Sveti Nikola, Drobni Pijesak a Petrovac. K dispozici je jedno parkovací nachází v těsné blízkosti objektu (zdarma). Parkování je docela zaneprázdněný v letní sezóně, ale já bych poradit zaparkovat auto a chodit všude, protože všechno je blízko ubytování, zejména pláže.
Darja very kindly organised a taxi for us from Tivat airport to the apartment, and she met us straight away when we arrived and showed us round. All throughout our stay she was very caring and gave us lots of advice about things to do all over Montenegro. Really lovely hosts and an lovely apartment, can't recommend them enough!
Elliot
2016-09-13T00:00:00Z
We had a wonderful stay at Budva. The appartement is perfect for exploring the beach and the city. it is very beautiful and has everything you need. They also gave us many tips for exploring Budva and our other travel which was very kind. Very much recommended.
Wannes
2016-07-29T00:00:00Z
The flat was perfectly clean and located at agreat location; 10 mins by walking to the sea. Ranko and his wife was so helpful and gave us good ideas to explore the beautiful town Budva. We enjoyed every minute we were in Budva,old town and the beaches. I recommend the flat,especially it's terrace with beautiful flowers,to everyone. Enjoy Budva with these great hosts.
Can
2016-05-22T00:00:00Z
Excellent hosts who were more than accommodating. Lovely, clean flat with a nice new bathroom and ample parking outside the building. The apartment is well located, walking distance to the beach with a supermarket at the end of the road. Ranko & Darja made our stay pleasurable and loaded us with some excellent tips. I couldn't recommend their apartment more.
Daniel
2015-06-20T00:00:00Z
We didn't stay that long, but are very satisfied with both the communication, apartment, service etc... We didn't actually meet darja & ranko in person, but instead ranko's sister Radmila, who was great!! Even though are bus was very late, and we came in the middle of the night, she welcomed us in the best of ways. Would love to come back!
Elsa Björk
2016-08-04T00:00:00Z
Great couple and lovely room! Picked us up from the bus station, showed us around and arranged some sun loungers for us at the beach club. Which were so good we ended up spending our 3 days there. Room is great for a couple - we were a bit worried it might get quite hot but the air con works well and neither my boyfriend or I felt overheated. Budva is a charming seaside resort with lots happening there. I wouldn't hesitate to recommend this room.
Charlotte
2016-09-16T00:00:00Z
We enjoyed our stay in Budva and would recommend Ranko and Darja as hosts. We felt very well looked after at check in, when we were planning our trip to the beach, and at check out. We would love to come back and stay.
Carl
2016-09-18T00:00:00Z
Cosy apartment, well located, very clean, near the beach Ranko and Darja are amazing hosts! So nice, so kind, always reachable and very helpful!
Elise
2014-08-27T00:00:00Z
Tipus d'habitació
Casa/pis sencers
---
Tipus de propietat
Pis
---
Capacitat
4
---
Dormitoris
Budva, Budva, Montenegro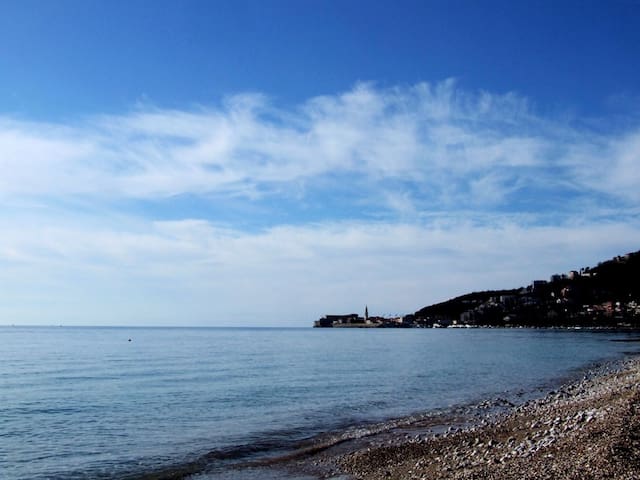 Offering a furnished terrace with a city and a mountain view, Apartments Andrija is located in Kotor and provides air-conditioned accommodation with free WiFi access. The UNESCO-protected Kotor Old Town and its St. Tryphon's Cathedral are 1.4 km away
Apartments here come with a seating area featuring a sofa and a TV. Each also has a fully equipped kitchen with an oven, a dishwasher and a dining area. The private bathrooms are fitted with a hydromassage shower and a hairdryer.
Grocery shops, café bars and restaurants can be found within a 15-minute walk from Andrija Apartments. The Lovćen National Park is located at a distance of 20 km. Tivat Airport is 11.5 km away. This is our guests' favorite part of Kotor, according to independent reviews.
It was fantastic to stay at breathtaking flat. You may easily reach there by taking taxi brom main bus station. It takes 2 € or you may walk 15 minutes by along the sea side to Muo neighbor. If you take a taxi you should say "Muo Vista" to cab driver. Natasha and his family members are very friendly and helpfull to during the stay. I highly recomend this flat.
Metin
2016-11-01T00:00:00Z
Wonderful and amazing apartment. We were very sad to leave this great flat. The furniture are nice, the apartment is brand new. The host has done everything to help us to find the place. She gives us some tips to discover the country. We have got from the flat the most terrible view of Kotor Bay. Don"t hesitate if you have the opportunity to rent this flat.
Swellen
2016-06-29T00:00:00Z
Very luxurious apartment just across the bay of Kotor. Great views over the bay. Owners live next door and gave a warm welcome. Very flexible in check-in times
onno
2016-05-14T00:00:00Z
This apartment is perfect. The location is great, the views over the bay are amazing and it has everything you need for a stay in kotor. Natasa is really helpful with anything you need and I really recommend you stay here if you're thinking of going to kotor.
Ben
2017-04-02T00:00:00Z
it was an amazing house. The landscape maked us peaceful. Hosts were very kind and helpful every time and for every question. When we arrive there, they taking us from bus station and when we checked out, they leaved us to there back. We are glad to meet them and chosed this house :)
çağla
2017-03-29T00:00:00Z
The place was very nice with a wonderful view!! The réservation was mad very easily in one day! We went in the beautiful kotor in 20min walking!nice! Thank you!!
Peggy
2016-05-05T00:00:00Z
Lovely room very close to the main street. Lots of nice restaurants near by. The view is fantastic. We would recommend!
Craig & Lucy
2016-03-30T00:00:00Z
This is a lovely apartment but I feel like it has some small things to iron out to reach its full potential. The apartment itself is beautiful. The view is even better than the pictures and the interior is clean and modern. It isn't right in Kotor but just a short walk away and the nights are quiet and calm. Unfortunately, while we stayed in the apartment the Internet did not work AT ALL. Another thing that could use improvement (buy maybe isn't an issue for everyone) is that the reception isn't particularly great. We weren't shown around the apartment or told about what's great to see in the city or had some personal tips for what to visit or eat. I know this isn't important for everyone but airbnb is about sharing and having a personal connection and that was just really lacking. The airbnb messages were fine, but in person interaction wasn't great. Overall, this is an apartment that has some great potential and generally, it's a very pleasant place to stay but like any place that is starting out needs some time to get itself going.
Sani & Joanne
2016-05-10T00:00:00Z
Tipus d'habitació
Casa/pis sencers
---
Tipus de propietat
Pis
---
Capacitat
2
---
Dormitoris
Kotor, Montenegro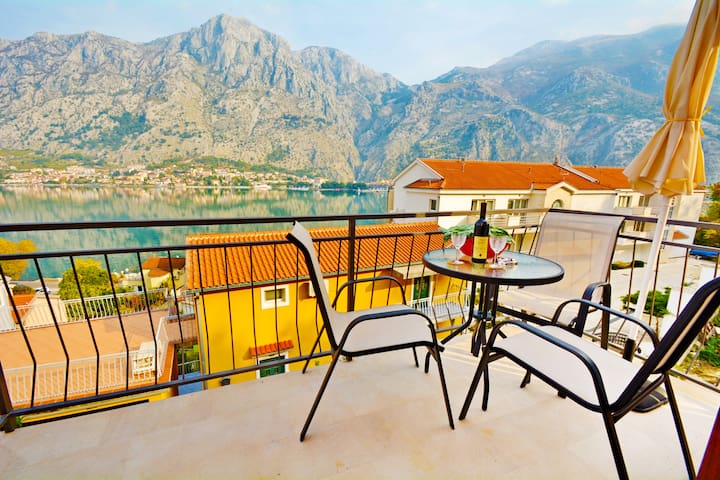 In the heart of Kotor Old Town with views over roof tops to the walls of San Giovanni, this large bright apartment with exposed stone, aircon, and WiFi is a great base for your stay in Kotor Bay. On your doorstep are cafes/restaurants and boutiques.
On the 3rd floor of this renovated stone building on Karampana Square this apartment is spacious and bright with all the conveniences for a short stay. The exposed stone gives the apartment a unique feel and offers a perfect base for your stay in Kotor Bay. In addition to all of the features and conveniences of Kotor Old Town, you are located within easy reach of a number of beaches either by a short walk or a drive to places like Jaz, Ploce and Trsteno Beaches near Budva, or Blue Horizon Beach, Oblatno with its beautiful people and great DJs, or the wild beauty of the Lustica Peninsula with Zanjice and Miriste beaches. We aim to give great value for money and flexibility for our guests, so we have changed our pricing policy to allow a minimum of 2 nights stay but have added a small charge for to contribute towards the cost of meet and greet, cleaning, and changing towels and bed linen. This allows us to keep our overall prices competitive for such a great apartment in this location.
On the doorstep are 2 popular cafe bars, within a few meters you can be in either the wide open Square with the Main Orthodox Church (St Nikola Church) acting as a Goliath to the diminutive Catholic Church (St Luka Church). Please note, Kotor can get very noisy in the evenings as the young and the young at heart soak up the atmosphere (and a few drinks). Note the music goes on to 1am Thursday - Saturday night and most nights during the peak periods. Around the corner is the local supermarket, Maxi. The old Mediterranean port of Kotor is surrounded by fortifications built during the Venetian period. It is located on the Bay of Kotor (Boka Kotorska), one of the most indented parts of the Adriatic Sea. Some have called the southern-most fjord in Europe, but it is a ria, a submerged river canyon. Together with the nearly overhanging limestone cliffs of Orjen and Lovćen, Kotor and its surrounding area form an impressive and picturesque Mediterranean landscape. (Source: Wikipedia).
Beautiful old apartment in a perfect location. Both Danilo and Lidija were incredibly helpful throughout our stay. Would absolutely recommend.
Anna
2016-09-10T00:00:00Z
Apartment is clean and centrally located. We really enjoyed our stay!
Grant and Sarah
2015-10-05T00:00:00Z
Peter was a great host, responding very quickly upon our last minute booking to help organise our arrival in Kotor. Lidija was then very helpful when we arrived at the apartment too. The apartment itself was spacious, clean and a perfect location in the old town. A bargain for the price, I'd highly recommend staying here
David
2015-10-20T00:00:00Z
Amazing apartment! Great location.
Jack and Emily
2016-09-27T00:00:00Z
Great apartment in Kotor! Perfect location, right in the heart of town. Everywhere is easily accessible and within walking distance. Lidija and Peter are great - any issues we had they were quickly resolved. Lidija is a lovely person to chat with! She gave us some key information and advice in where to go and what to do, which was much appreciated. Space was great for 2 people, was not cramped at all. WiFi, TV, washing machine and kitchen were all working and came is useful, and everything was clean and tidy when we arrived. One downside - the music from the bar did play loudly from evening till about 2am every night. Overall a brilliant, charming apartment, perfect for a short stay in Montenegro
Olivia
2015-05-23T00:00:00Z
Amazing location right in the heart of old town Kotor. Lots of amenities in the apartment and a wonderful place to call home for a while. Very spacious and comfortable. Lidija was also very friendly and helpful during check-in. Thank you!
Heather
2017-04-06T00:00:00Z
Great apartment, was very clean. Excellent location, really couldn't be better. We requested a fan for the bedroom since the a/c is in the living room and that was very helpful. Noise in old town at night wasn't too bad. Would definitely stay here again!
Debbie
2016-08-21T00:00:00Z
Peters Assistant Lidija is a wonderful person, she knows a lot about the city and is very punctual about information and letting us stay an extra day! The apartment itself is in a perfect central location, really nothing better, minutes from everywhere! Do not hesitate to stay here!
Chris
2016-04-25T00:00:00Z
Tipus d'habitació
Casa/pis sencers
---
Tipus de propietat
Pis
---
Capacitat
4
---
Dormitoris
Stari Grad, Kotor, Montenegro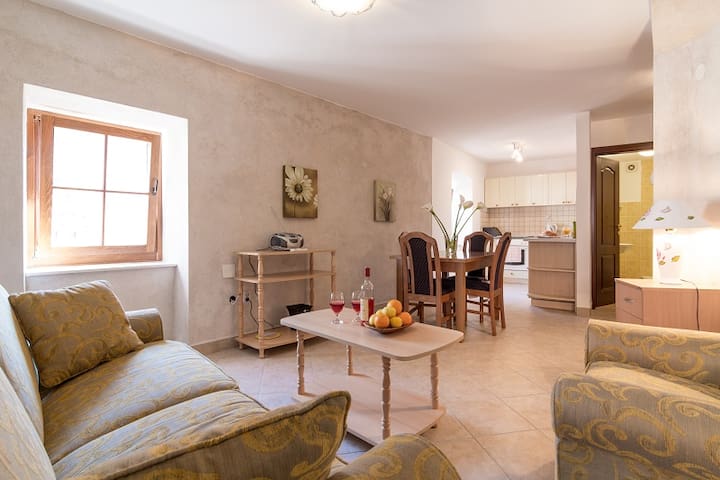 Stone house/apartment near main core Kotor (Muo) right next to the sea. Not far from Old city. Its newly furnished in modern style and have a garden in the back and direct view of the bay. Contact us with any questions.
Dusanka's apartment was one of the best airbnb's we've stayed in. The living area is spacious and bright, with a beautiful view onto the bay. Swimming is right across the street from a small dock. Dusanka was not in town when we arrived, but her neighbor Danke showed us around and made us breakfast. The A/C worked well and the kitchen was well-equipped. As others have said, the apartment is about a 20 minute walk to old-town Kotor along a narrow street, or a quick taxi. We enjoyed being outside of the busy-ness of Kotor center.
Marisa
2016-09-16T00:00:00Z
Wir waren zwei Nächte im Apartment von Dusanka. Im Rahmen eines Road Trips durch Kroatien und Montenegro wollten wir uns die Bucht von Kotor nicht entgehen lassen. Die Lage des Apartements war ausgezeichnet und besser als erwartet. Wir waren im Nachhinein sehr froh uns nicht für eine Unterkunft in der Altstadt Kotor entschieden zu haben (Kostenlose Parkplätze gibt es vor den Toren der Stadt nicht) denn die Aussicht auf Kotor und das Wasser hat uns jeden Tag aufs neue erfreut, die Lage war ruhig, aber man ist schnell in der Altstadt. Parken war direkt vor dem Haus möglich. Die Wohnung ist gut ausgestattet, wir haben nichts vermisst. Leider haben wir Dusanka nicht persönlich kennengelernt, aber ein Freund und Nachbar von ihr hat schon auf uns gewartet. Dusanka war aber die ganze Zeit erreichbar und sehr bemüht uns bei Problemen oder Fragen weiter zuhelfen. Im Vorfeld gab es schon eine sehr ausführliche Beschreibung zur Anfahrt. Wir können das Apartment nur ausdrücklich weiterempfehlen!
Katharina
2015-04-01T00:00:00Z
We had a lovely few days at the apartment, enjoying the short trip to Kotor and the Jetti at the front of the property which was ideal for sunbathing and frequent plunges into the clear water of the bay. The flat was very clean and tastefully decorated with nothing left to be desired! Highly recommended and in a great location to see the sights of Kotor. Views across to the old town from the living room are particularly good!
Dylan
2015-06-16T00:00:00Z
A beautiful apartment and a great host. Dusanka went beyond the call of duty staying up until 4am to meet us after our flight was delayed by 7 hours. The apartment is beautiful and in a great location to walk to the old town of Kotor, which is well worth a visit. We had very hot weather and had a swim to cool off in the bay. The apartment had everything we needed and we felt at home right away. Would highly recommend this to anyone looking to visit Kotor without being right in the middle of a busy area. Dusanka is lovely - a very helpful and friendly host.
Lizzie
2014-06-10T00:00:00Z
Dusanka's apartment was exquisite. Just far enough outside the city walls in Muo to avoid the tourist hustle, but close enough to walk there. The apartment looks exactly like it does in the photos- serene and beautiful. I swam every morning, and Dusanka's neighbors, who hosted my stay, were eager to accommodate my every need. I hope to return!
Brigitte
2016-06-07T00:00:00Z
We had a lovely time staying at Dusanka's house. Her neighbors, Danka and Goran, gave us a warm welcome and tour upon arrival. The house was very comfortable and the view was beautiful. She provided us with a crib for our baby. Great stay.
Shannon
2016-06-29T00:00:00Z
Beautiful, light and airy, stylish house, a lovely place to spend time,( which is good as we had torrential rain and thunderstorms all day long one of the days of our stay). About half an hour walk from the Old Town of Kotor along the water front, the house is right on the waterfront overlooking the sea from the living room. Did not meet Dusanka but she was really helpful and communicative and arranged for her friendly neighbours to meet us/host. Would definitely recommend as a base to explore Kotor Old Town and surrounding towns such as Perast.
emily
2014-07-16T00:00:00Z
Dusanka's apartment proved the perfect place to start our Montenegrin honeymoon adventure. Spacious, clean, bright with a spectacular view across magical Kotor Bay. Dusanka was very helpful from the start, organizing us a taxi from Tivat airport. We were met by her friendly neighbour Danka, who was always on hand with tips, advice and delicious morning pancakes! Muo is small and unassuming, with a more local vibe than the beautiful, but tourist heavy Perast and Kotor. It's a bit of a walk to Kotor along the sometimes busy narrow road that hugs the bay right in front of the apartment, so it's best to hire bikes or a car to get around. Oasis car hire in Kotor were reasonably priced and endlessly helpful. For an evening out, a meal at the charming Konoba Bokeski Gusti in Prcanj is a MUST. Their fried calamari is THE BEST. Having your own pontoon right in front of the apartment is perfect for convenient swimming and enjoying a glass of wine whilst watching the sun set over the bay. The secluded patio out back is a great spot for a relaxing breakfast. We loved this side of the bay and found Dusanka's apartment a charming base from which to explore this stunning region.
James
2014-08-16T00:00:00Z
Tipus d'habitació
Casa/pis sencers
---
Tipus de propietat
Pis
---
Capacitat
2
---
Dormitoris
Muo, Kotor, Montenegro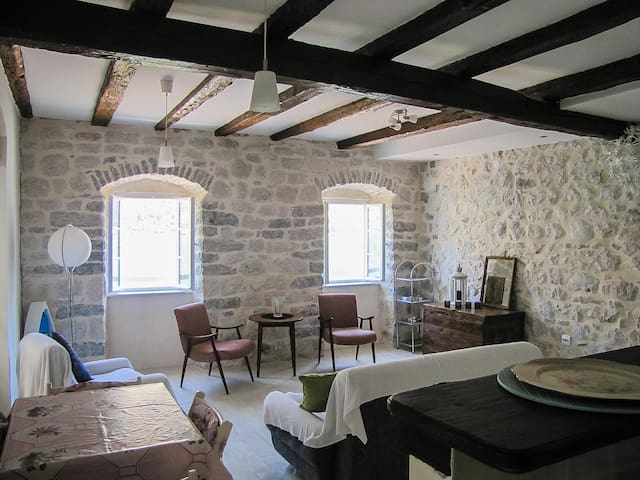 -Experience a wonderful Mediteranean vacation in a small charmy coastal town of Ulcinj, near the longest Montenegro beach. -Newly renovated apartment,with a beautiful terrace with view on the sea. Perfectly located, only 4 min. walk to the town beach. Away from the crowd, yet everything is nearby reached in minuites: Market, Old town, Restaurants, the beaches, Museum..
-Free Wi-Fi -Towels, Soap -Hair Dryer -Hangers -Free Parking -Private Entrance -Kitchenette with essentials / Mini stove / Kettle -Refrigerator -Terrace (Balcony) -Private Bathroom/Toilette -Wardrobe (Grocery store = 1 minuite walk Restaurants = 1 minuite walk City beach = 4 minuites walk Old town & Museum = 5 minuites walk) This apartment is a 2 space unit, including one big bedroom with a double, a sofa bed, and a view on the sea, plus another smaller room including a kitchenette and the hallway to the bathroom. The apartment can comofoetably accomodate 3 adult guests, or eventually parents with two children. The beautiful apartment is located 4min walk from the main city beach,in a quiet neighbourhood, surrounded by a green garden. The location is just perfect. Within a walking distance of max 4 minuites from this apartment you will find all best Ulcinj has to offer: Old town, museum, beautiful sandy & rocky beaches, nightlife spots, bars and restaurants,sailing taxi boats.. All in max. 4 minute walk from this apartment.
Grocery store = 1 minuite walk Restaurant = 1 minuite walk City beach = 4 minuites walk Old town & Museum = 5 minuites walk Home delivery food at your door, is also available.
Ali and all his family were very nice and friendly. They gave us fruits from their garden and advises about places to go in Ulcinj.
Aurélien
2015-08-20T00:00:00Z
Ali's place was beautiful. Location is very good, an ideal for walking to the beach or the main street. Though we had difficulties to find it when arriving new city, city of Uljinc has quite narrow and tight streets to go by car!! Ali and his family were very helpful and friendly, whole family was helping us when I got a little sick. There was always someone available to reach and ask help. Place was also good for relaxing, there were no noise from neighborhood so we got to sleep well. Balcony was also nice in the evenings and also in the mornings!
Aino
2015-08-18T00:00:00Z
Apartment was great, the same from the photos. Zigeli family are friendly peoples, it was pleasure to meet them.
Krzysztof
2015-07-17T00:00:00Z
Мы (2 молодых родителей и 8-месячный малыш) были рады провести месяц в этом замечательном месте! Особенно понравился прекрасный просторный балкон с видом на море. Удобное расположение - в пешей доступности от соснового леса (Борова Шума), от нескольких пляжей (и городского песочного пляжа, и маленьких пляжиков среди камней, в том числе от Женского пляжа с сероводородным источником). В апартаментах все довольно новое и аккуратное. Есть кондиционер и все необходимое (посуда, полотенца...) Хозяева - Али, и его семья - очень приятые, душевные люди! Мы чувствовали себя уютно и по-домашнему(URL HIDDEN)
Анастасия
2015-07-08T00:00:00Z
Ali and his family are very nice, kind and frendly hosts! Good location (centric, but not noisy).
Lusi
2015-09-10T00:00:00Z
L'accueil fut l'un des plus agréable et la gentillesse de nos hôtes n'est pas une légende. En vous remerciant.
Raphael
2016-09-04T00:00:00Z
It's a great apartment with cool sea view.. Very good location
Artem
2015-07-26T00:00:00Z
Pobyt bardzo udany. Ali jest miłym i pomocnym gospodarzem. Warunki zgodne z ofertą. Okolica spokojna, piękny widok z tarasu. Wszystko sprzyjające udanemu wypoczynkowi. Z czystym sumieniem mogę polecić tego gospodarza.
Katarzyna
2016-09-21T00:00:00Z
Tipus d'habitació
Casa/pis sencers
---
Tipus de propietat
Casa
---
Capacitat
3
---
Dormitoris
Ulcinj, Montenegro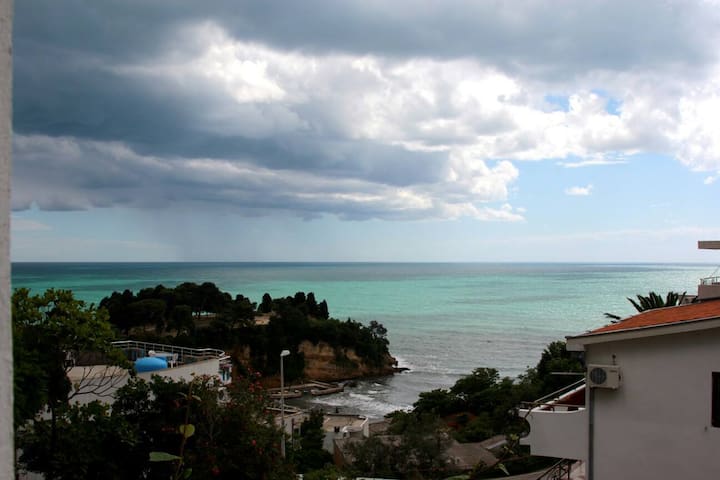 This beautiful apartment has just been renovated to an high standard,four stars,half stoned walls ,350 meters from Old Town Kotor,100 meters from the sea,private parking space,
It was very very nice. Aleksandar was very kind and he picked us up in the bus station. The location is perfect, you can walk to the old town and some other important places. The aparment amazing, is a choice that you would feel the value of your money is taken into consideration totally. Thanks a lot
Monica
2016-10-06T00:00:00Z
Beautiful small apartment in Kotor, very clean and modern. Private parking inside the yard, friendly and helpful hosts. Great for exploring old city. I would stay here again...
Vladimir
2016-07-17T00:00:00Z
What a beautiful place and wonderful host! Highly recommended. The place is wonderful - clean, bright, and big - with some beautiful stonework that makes you feel some of the old city. Fast internet! Comfy bed too! A very short walk to Kotor old city, and easy parking. Aleksandar and his wife are very accommodating and welcoming - we had a great experience!
Simon
2016-07-23T00:00:00Z
Aleksandar fue muy amable desde el momento en que llegamos tanto que nos fue a buscar a la estación de bus y cuando nos fuimos nos llevo a la misma. Nos dejo un vino muy rico. El departamento es muy lindo, limpio, amplio y a solo 4 cuadras del centro histórico y a 5 minutos de la estación de bus. Tiene todo lo necesario para una buena estadía. Tiene 2 baños (uno con ducha). Muy recomendable.
esteban
2016-11-03T00:00:00Z
we had a very good stay. the apartment is very good the location convenient, and the owner treatment excelent.
amnon
2016-08-11T00:00:00Z
Nuestra estancia en este maravilloso apartamento fue genial. Tiene todas las comodidades necesarias y está a sólo 5 minutos caminando del centro histórico. Repetiríamos sin duda!!
Carlos
2016-09-18T00:00:00Z
Fantastic apartment. Great location. Few mins walk to kotor centre, supermarkets and restaurants. Well stocked apartment and perfectly clean. Aleksandar was a great host and was there to meet us answer our questions. Thank you!
Philippa
2016-07-24T00:00:00Z
Great spacious apartment with modern appliances and updated bathrooms. Location is excellent, only a 10 minute walk over to the Old Town. There is even a grocery store about 5 minutes down the street, so easy to cook at the house. Aleksandar was a great host, he even picked me up at the bus station and then dropped me off at the bus station when it was time for me to go. And, the bus station is really close, definitely within walking distance - so that was above and beyond the call of duty! I highly recommend it.
Melinda
2016-11-06T00:00:00Z
Tipus d'habitació
Casa/pis sencers
---
Tipus de propietat
Pis
---
Capacitat
3
---
Dormitoris
Kotor, Kotor, Montenegro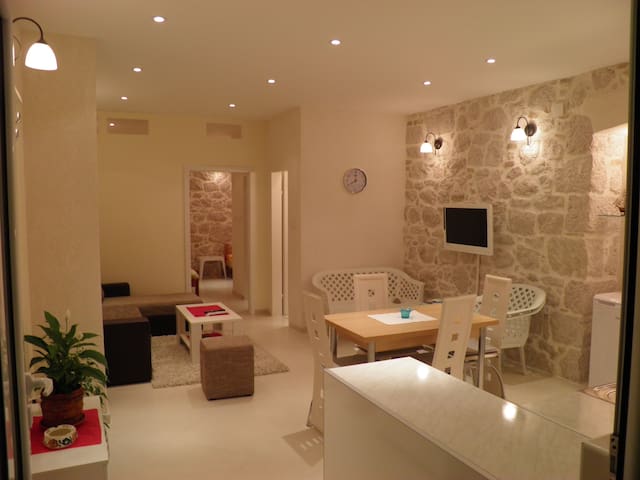 The apartment are newly built luxury,total area is 48m2 and has a living room,kitchen, bathroom, one bedroom and in living room soffa bed for two.The apartment have free HiFi wireless internet and cable TV, and free parking space for our quest.
The location was really good. Thank you for waiting, even late arrival. A friendly host.
Sang Hee
2016-01-21T00:00:00Z
Marijana met us right away and led us to the parking space/ apartment. The place is right outside of old town and has an incredible view of the fortress at night. Clean, neat, warm, and comfortable, it was such a lovely place to stay!
Josie
2016-12-26T00:00:00Z
Marijana was great! She made us feel very welcomed and her apartment had everything we needed for our stay in Kotor. She was very flexible when our bus was delayed and had to push back the meeting time. The apartment itself was in a very centralized location which made the town easily accessible on foot but was not overwhelmingly busy or noisy. The mall across the street has a grocery store which was great to keep us stocked with the essentials.
Keltie
2016-07-13T00:00:00Z
L'avantage de ce logement est qu'il se situe à 5 minutes à pied de la vieille ville. Hormis cela, le logement est sans charme particulier.
Diane
2016-08-27T00:00:00Z
The room is nice, clean and spacious. The apartment is just a couple of minutes away from the old town. Although the apartment has its own (free) parkingspace we used the parking lot across the street because it is easier to reach
Mark
2016-06-28T00:00:00Z
Listing was perfect and in the perfect location. It couldn't have been better. Would highly recommend this listing!
Alexa
2016-08-18T00:00:00Z
Very nice apartment very closed to the old town. The flat is very clean, well equiped. Our guest was always available. We recommend this apartments!
Laurent
2015-05-04T00:00:00Z
We had a great time at Marijana's apartment in Kotor. It took us a little less than 10 minutes to walk to the heart of old town which was perfect for us. We also noticed that the apartment is very close to a large market that seems to have everything you would need. There were four of us staying in the apartment and it was cozy, but plenty of room for us. The only minor thing that I would mention is that there is only an AC unit in the bedroom, so if you have anyone sleeping on the sofa bed, it can be a little warm. But besides that, we cannot complain at all! The apartment was clean, had all the facilities you would ever need, and had plenty of hot running water for all 4 of us. Great home base for exploring Kotor!
Sarah
2015-08-31T00:00:00Z
Tipus d'habitació
Casa/pis sencers
---
Tipus de propietat
Pis
---
Capacitat
4
---
Dormitoris
Kotor, Montenegro, Montenegro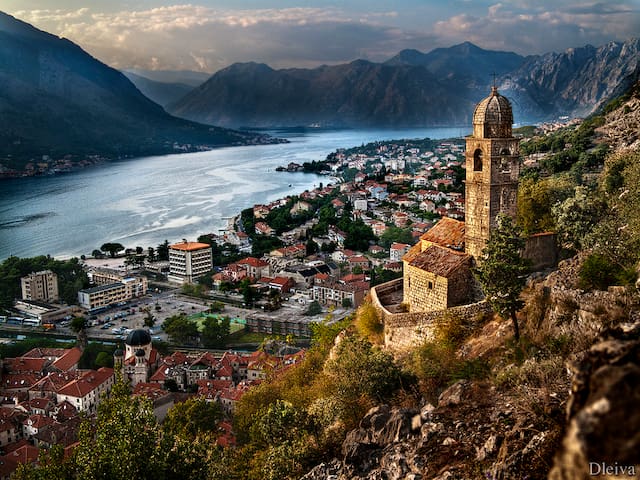 Located in the UNESCO-protected Old Town of Kotor. Set in a traditional stone house on the ''Piazza of salad'' (Pjaca od salate), on the Main entrance to the San Djovanni fortress, only a few step from the St. Tryphon Cathedral.
Studio apartment offers private entrance, terrace, free Wi-Fi, air-conditioned with LCD cable TV. Consist two beds first one with large double bad, and second sofa bed for sleeping two more person. Kitchen (fully equipped) with dining area. Equipped with washing machine, iron, iron table, hair dryer, etc, so the guests no need to carry nothing except their personal goods. Studio can accommodate up to 4 persons.
The apt was exactly as described; great location, clean and very nicely furnished. The location is amazing, everything you could want or need is directly out your door! Kotor is an awesome town and definitely recommend this apt!
stu
2015-04-03T00:00:00Z
The apartment was perfectly located in the old city, you will immediately feel at home in the studio. Highly recommended!
Isabelle
2015-05-26T00:00:00Z
This flat in Kotor was perfect - it is clean and comfortable and located right in the center of the old town. There are lots of shops and restaurants and it is conveniently located right at the stairs to the fort. I would definitely stay here again.
Erica
2015-03-27T00:00:00Z
Amazingly renovated flat in old town Kotor that combines modern touches and traditional details. Expertly appointed with all of the basics one might need. Lazar and his wife were very gracious and welcoming hosts. They met us promptly upon arrival to provide ideas about how to spend time in Kotor, got us situated, and also helped us upon checkout by arranging a cab to the airport. Conveniently located near a local cafe/bar and the fortress steps. Highly recommended!
Spencer
2015-09-29T00:00:00Z
Great location and clean apartment - exactly as pictured/described. We did not meet Lazar but he sent good directions to pick up the keys at the cafe downstairs. One note about the location - it's very noisy at night since it's above a cafe and street musicians perform in the plaza (at least in the summer). This is the tradeoff for being so centrally located, and I'm not sure any other place in Old Town would be less noisy!
Whitney
2015-07-31T00:00:00Z
Lazar was very helpful, kind and responsive. His apartment is located in a fantastic location and my friend and i fell in love with it the minute we entered. The steps up to the fortress is also right at the entrance. Wish we could stay longer. I'd highly recommend Lazar's apartment if you are visiting Kotor! :)
Eileen
2014-07-26T00:00:00Z
The place was very clean and everything was as expected. Great price for what you get. Can recommend for a nice, simple stay.
Benjamin
2015-08-22T00:00:00Z
Lazar did everything to explain us all that we could do in Kotor. The flat was so Nice in à busy part but not too noisy.
Katia
2016-08-23T00:00:00Z
Tipus d'habitació
Casa/pis sencers
---
Tipus de propietat
Pis
---
Capacitat
4
---
Dormitoris
Kotor, Kotor, Montenegro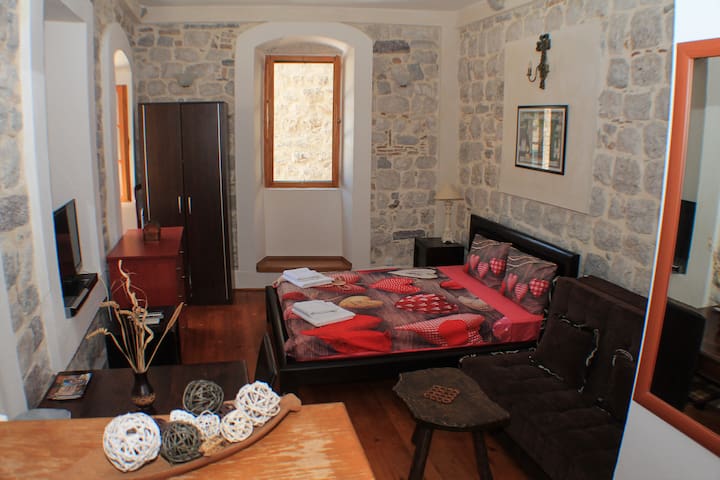 Kotor Bay Apartment is located within the UNESCO-protected historic centre of Kotor. This One Bedroom Apartment offers air-conditioned accommodation with free Wi-Fi access. Kotor's most attractive sights, restaurants and bars are just steps away.
This newly renovated One Bedroom Apartment is located in historic building dated back to 13th century. All rooms fitted with wooden furniture and with traditional stone walls . The size is 40 square meters. Two single beds are located in the living room and one king size bed located in the bedroom, so can comfortably sleep 4 people, and perfectly fits families or company of friends. There is also small shared terrace available for all guests.
Personne très accueillante, et très professionnelle. Logement nickel au sein de la vieille ville. Merci encore Keko !
Stef
2016-05-26T00:00:00Z
The apartment is situated in the old town and a perfect place when needing a place to stay in Kotor. The communication with Zdravko were excellent. Great value.
Andri Geir
2016-06-24T00:00:00Z
Zdravko provided us with very detailed directions and parking information prior to our stay. Upon our arrival to Kotor he met us within 5 minutes to show us to the apartment. It was as described, clean and in a great location within the old city. Zdravko gave us all the information we needed for our time in Kotor and made check out simple and easy.
Ryan
2016-06-26T00:00:00Z
The host was great, the location was even better. He provided us with maps and any information we needed to make our stay in kotor as great as possible. He spoke great english so communication was a breeze. The only issue that you may have with the location is that it is a little noisey. you share a hallway with other tenants and depending on their schedule you may be up late or fairly early. There is also a hostel underneath that was a little noisey- for a light sleeper. other than that no complaints!
Kinga
2016-08-22T00:00:00Z
Zdravko was an excellent host - he was not only super accommodating with the times of arrival and departure, but he also helped us out get acquainted with Kotor. He gave us tips, walked us through the apartment and made himself available for any help. The apartment is huge - really spacious, bright, in a perfect location and spot clean. This was a very enjoyable experience, Kotor is a beautiful town and worth checking out in Montenegro. Stay with Zdravko!
Ron
2015-07-16T00:00:00Z
Very nice flat in the middle of Kotor.
Matthias
2016-04-16T00:00:00Z
We had a lovely time in this apartment. It was very clean and spacious, and perfectly located in beautiful Zotor. We arrived late at night, and Zdravko was kind to wait up for us. Handover of keys was efficient and effortless. Definitely recommend this apartment.
Nicola
2015-04-13T00:00:00Z
Ich möchte gleich vorweg sagen, dass diese Unterkunft insgesamt sicher zu den 1-2 besten gehört, die ich jemals über AirBnb gebucht habe. Unser Gastgeber hat auf uns in seinem Büro gewartet. Die Unterkunft ist in der Altstadt gelegen und liegt auch günstig, um sie vom Busbahnhof zu Fuß zu erreichen. Unser Gastgeber hat uns mit zahlreichen Tipps versorgt und - was ich hervorheben will - uns dabei auch gesagt, wie wir gleichzeitig Geld sparen können, was ich noch kaum jemals wo erlebt habe. Die Unterkunft ist sehr stimmig eingerichtet und sieht mit der Backsteinmauer von innen wirklich toll aus. Sie ist extrem geräumig. Die Küche ist außerordentlich gut ausgestattet. Unser Gastgeber war stets über AirBnb erreichbar und hat uns auch Fahrräder zum Discountpreis vermietet. Die Fahrräder sind oder waren eigentlich sehr gut, man muss aber schauen, ob die Gangschaltungen funktionieren, weil z.B. mit dem kleinsten Gang ist man doch etwas langsam um den See. Wir sind auch in ein Restaurant in der Altstadt gegangen, dass unser Gastgeber empfohlen hat (Bastion). Das andere am See war leider wegen einer privaten Veranstaltung geschlossen. Das Restaurant hat eher höhere Preise (48 Euro für 1 kg Fisch), aber wir haben einfachere Speisen gegessen (Fischsuppen, etc.) und dann hielt sich alles in Grenzen, das Essen war sehr gut. Ich vermute aber, dass es billigere Restaurants außerhalb der Altstadt gibt. Abschließend kann ich nur wiederholen, dass diese Unterkunft bzw. ihr Vermieter einfach großartig sind und Kotor sicher einer der besten Plätze der Welt ist (wenn man den Touristenmassen ausweichen kann). Ich kann nur jeden dringend ans Herz legen, diese Unterkunft zu buchen, sie ist hervorragend.
Bernhard
2016-05-10T00:00:00Z
Tipus d'habitació
Casa/pis sencers
---
Tipus de propietat
Pis
---
Capacitat
4
---
Dormitoris
Kotor, Montenegro
Apartment is located literally 5 m from the sea. The apartment is situated in a new house in a little quite place Muo near Kotor (1.5km) . It is 15 minutes walk from the picturesque Old town of Kotor.
Apartment of 110 m2 consists of a 2 bedroom with queen size beds , living room with double flip bed , kitchen and big antree . One room has sea view, other mountain view. The apartment can host up to 6 people and perfectly fits both for families or company of friends. The apartment has: - everything for cooking at home; - fridge; - washing machine; - parking place.
Apartment location is just across the Old town of Kotor and offers quiet and peacefull stay
This was a wonderful place to stay. Sava was very accommodating and helped us with information about restaurants, kayaking, and the area in general. The place was large, clean, and very comfortable. The view of Kotor is beautiful and you only have to take 3 steps out the gate to relax on a small pier on the bay--good for having coffee, swimming, etc. I wish we could've stayed longer!
Jessica
2014-07-07T00:00:00Z
Sava är en utmärkt värd! Redan innan semestern fick vi snabbt svar på de frågor vi hade och när vi kom fram kände vi oss genast välkomna. Vi fick all den hjälp vi behövde under vår vistelse och dessutom gav Savas vänliga och personliga bemötande resan en ytterligare dimension! Lägenheten är ren och fräsch även om inredningen inte är så modern. Terrassen och gården är mycket fin och utsikten från den lilla bryggan framför huset är fantastisk. Vi reste med små barn. Lägenheten är barnvänlig med stora ytor, däremot är det en smal och ganska trafikerad väg mellan huset och vattnet. Kotors gamla stad är en 20 minuters promenad bort och närmaste matbutik ligger 10 minuter bort.
Ida
2014-08-01T00:00:00Z
The apartment was huge and we were very comfortable. There was the added bonus of a washing machine and even a dishwasher had we needed it. It was very clean. The location is brilliant - right on the shoreline. We used to sit in the garden watching the cruise liners come in. The accommodation is about a twenty minute brisk walk to the old town, but for anyone not inclined to walk the taxi fee is less than a couple of euros. Sava is a brilliant host. He collected us from the bus station and took us back there when we left. He was a fund of knowledge and a really lovely person. I would recommend this accommodation without a doubt.
rosemary
2013-10-04T00:00:00Z
The apartment is large, with beautiful rooms and basic furniture. Sava is an excellent, laid back host - not at all interfering but very helpful with anything you need. The apartment is about a 20 minutes walk to Old Town of Kotor, but it's round the bay so very pleasant. The view across in the evenings is beautiful. There is a small jetty right in front of the house that you can swim from, and kayaking goes from nearby.
Amelia
2014-08-16T00:00:00Z
We had a wonderful time in Sava's apartment. The view from the terrace is amazing! The house is located just in front of the sea with a wonderful view on the Old Town of Kotor (at daytime as well at at night!). The apartment is very spacious and comfortable and offers everything you need. Sava is a great host, he is very friendly and helpful. He even brought us candles when he saw us sitting on the terrace at night with a glas of wine - so amiable. I can only recommend to stay in this apartment!
Nicole
2013-09-22T00:00:00Z
Très bon séjour chez Sava!
Rémi
2016-07-30T00:00:00Z
A large, comfortable apartment with fantastic views straight ahead across Kotor Bay, and within a short walk from Kotor old town (but much more peaceful than being in the town itself). Sava is an excellent host, and goes out of his way to make you feel welcome and help with any queries.
Jonathan
2013-10-17T00:00:00Z
We had a fabulous stay at Sava's well appointed apartment. It was spacious, clean and comfortable. We never tired of the view from the front sitting area. Sava was helpful and willing to answer all of our questions and to direct us when we needed help. We loved the garden pets! The daily swim in Kotor Bay was refreshing. We would definitely recommend Sava's apartment to anyone interested in visiting Kotor area. Do bring bug spray if you are sensitive to mosquitos - they come out at night.
Deb
2016-07-11T00:00:00Z
Tipus d'habitació
Casa/pis sencers
---
Tipus de propietat
Pis
---
Capacitat
6
---
Dormitoris
Muo, Kotor, Montenegro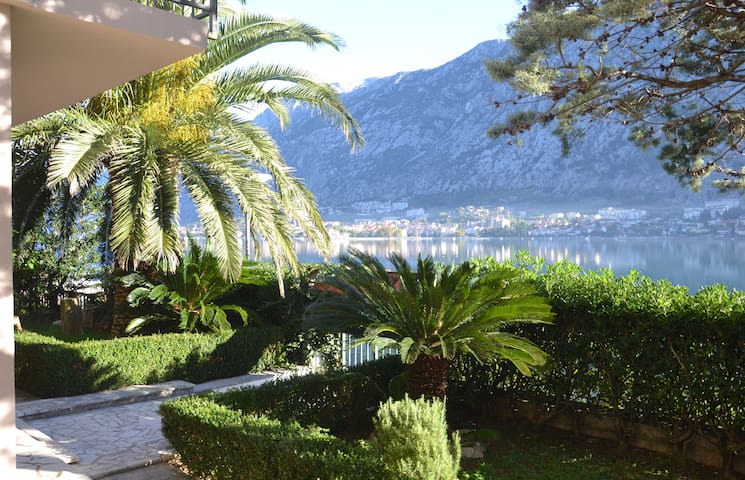 Perfektní útěk Byt pro páry, přátel nebo rodiny, kteří mají rádi soukromí a přírodu. Perfektní výhled na Sveti Stefan střediska a Budva Riviera.
Byt se nachází na okraji borového lesa. Díky své jedinečné poloze, dává vynikající pohled na ostrově Sveti Stefan, riviéry Budva na ostrově Sveti Nikola. Z tohoto bytu jsou stejně daleko od hlavní pláže v Sveti Stefan a další soukromé pláže, které se nacházejí v blízkosti kempu Sveti Stefan. Tento nový byt se skládá ze dvou oddělených ložnic, jedna s king size postelí a druhá se dvěma samostatnými lůžky, obývací pokoj, kuchyň a koupelnu. K dispozici je také pohovka v obývacím pokoji pro pátou osobu. Existují dva vchody do bytu. Jeden vstup je přes obývací pokoj, a druhá prochází jedné z ložnic. V bytě je kabelová televize, bezplatné bezdrátové připojení, klimatizace a kompletně vybavená kuchyňská linka (sporák, lednice, mikrovlnná trouba a další spotřebiče budete potřebovat). V koupelně je sprchový kout, umyvadlo, WC a budoár. Když přijde na pračce, můžeme vyprat prádlo za malý poplatek. Pokud dáváte přednost snídani v bytě, můžeme připravit také, že pro vás za malý poplatek. Celý byt je vybaven staromódní stylovým nábytkem. Na plážích jsou kolem 15-20 minut chůze od bytu. Z jedné strany, budete mít lepší ochranou osobních údajů skalnaté pláže s malými restauracemi, a na druhé straně jsou písčité pláže (hlavní pláže v Sveti Stefan). Jedním z nich je zdarma a pro druhý budete muset zaplatit (máte fotografie v galerii zveřejněny příliš; levá strana pláž je zdarma, a pravá je hotelová pláž a je třeba uhradit v případě, chcete-li získat in). K dispozici jsou 4 LITTLE obchodů v Sveti Stefan, které jsou kolem 5-10 minut chůze, a na cestě do hlavní pláže. Velké supermarkety jsou v Budvě, pokud plánujete týdenní nakupování. Existuje 5 restaurace (Cafe Cafe, Famelja Kentera, Restaurace Drago, Adrovic a Šumet) všichni kolem 5-10 minut od bytu a na chvíli ke dvěma vzdálenosti od sebe. Nabízejí plnou penzi a pokrmy polopenze. Pokud dáváte přednost klubům, hlavní oblast pro které je Budva Staré Město (máte místní autobusy z Sveti Stefan 2 eura na osobu, každých 10 minut od 6 hodin ráno do 3.30 hod v době letního času). V zimním období jdou každých 30 minut, cena je 1,5 EUR a působí od 6 hodin do 10 hodin. Můžeme také zajistit transfer pro vás z letiště Tivat, Podgorica letiště, bar přístavu a podobné. Tam je povinná pobytová taxa pro hosty v Černé Hoře a. Je jedno Euro na osobu a den. Děti ve věku od 12 do 18 let zaplatí poloviční cenu a děti mladší než 12 let jsou vyňaty z tohoto pravidla. Hlavní výhodou tohoto bytu je 30m2 balkon s krásným výhledem. Že se nachází na okraji borového lesa, bude vůně stromů a moře v kombinaci zaručí příjemnou atmosféru kdykoliv během dne nebo v noci. Majitelé bytu jsou vždy k vašim službám, pro jakýkoli druh věci, které můžete potřebovat během svého pobytu.
Andrijana is a wonderful host! My family spent their vacation at her place and all of them-mom,52 ,dad,52 and granny,82 had very good time! Andrijana was very kind and caring to all my family,especially to our granny- we really appreciate that! The place is very nice and comfortable .The terrace was huge and cozy,great to have meals at. Area around surrounded by trees which makes the air amazing! Thank you ,Andrijana,for the great vacation!
Dasha
2012-09-14T00:00:00Z
It was fantastic, thank you very much!
Lucia & Anne-Marie
2013-04-03T00:00:00Z
What a lovely place! The apartment is perfectly located, with a wonderful view over Sveti Stefan. Andrijana and her family were so welcoming and warm, thanks for your hospitality! :) I of course highly recommend to stay at Andrijana's place and would come back with pleasure.
Emilie
2016-05-01T00:00:00Z
Отдыхали в июле 2014 года, нам очень понравились апартаменты и если мы поедем в следующий раз в Свети Стефан, то только сюда. Во-первых, потрясающий вид на море и горы одновременно, во-вторых, очень приватное место, самое крайнее к лесу, никто не ходит, кроме нас, в-третьих, очень удобные апартаменты для четырех человек, довольно большая площадь и две отдельные спальни, хозяева супер приветливые люди, мы себя чувствовали как дома, часто менялись полотенца и постель, мы даже не ожидали, очень любили проводить время на веранде, она очень хорошо оборудована: стол со стульями, шезлонги и зонт. Одинаково близко и до городского пляжа и до пляжа в районе кемпинга, путь до моря составляет максимум 10 минут не спеша, близко магазин, наши дети 8 и 10 лет туда ходили самостоятельно. Нам так понравилось, что мы продлили наш отдых на три дня, и очень не хотелось уезжать всем членам нашей семьи. Хозяева организовали нам трансфер, спасибо огромное семье Nikic , мы с удовольствием будем рекомендовать эти апартаменты нашим друзьям!
Юлия
2014-07-22T00:00:00Z
Our stay at Andrianja for the beginning of the vacations in Montenegro was amazing. The place is even better than the pictures show and waking up there in the morning with the fantastic view and the big terasse felt great. Andrianja parents who welcomed us were so charming and helpful, they indicated us the best places in the village and around, and always available. I would highly recommend staying there if you plan to stay on the coast. Easy access from Podgorica (1h) and to kotor and other cultural cities along the coast. Thanks so much again to andriana and her parents!
Maud
2015-05-12T00:00:00Z
We've had a great time at this apartment & the hosts (Andrijana's family) was so friendly, very helpful and made us feel very welcome the whole time! They even brought us a bottle of their own wine production and fresh-baked cake one evening. Thanks very much for everything!
Mareike
2016-09-11T00:00:00Z
Despite some minor issues our stay was perfect. Apartment is really good, fully equipped with all necessary stuff. It also has big balcony with a great sea view, You just can't compare that to tiny hotel rooms:) (Look through photos - apartment looks exactly like on them). Andrijana and her family are really nice and hospitable people. If we were having any problems Andrijana was always available by phone and if not her than somebody from her family or even neighbors were always there to assist us. I would definitely recommend this place and Sveti Stefan on whole for everyone who's looking for quiet vacation without noisy entertainment and crowded seafront.
Alexey
2013-09-14T00:00:00Z
Très bel appartement, qui offre une superbe vue sur Sveti Stefan depuis la grande terrasse. Notre hôte était très cordial et disponible, il nous a accueilli avec un verre de bienvenu. Proche de la route principale qui longe l'ensemble de la côte, ce logement permet de se rendre facilement à Budva ou Petrovac.
Jonathan
2014-09-26T00:00:00Z
Tipus d'habitació
Casa/pis sencers
---
Tipus de propietat
Pis
---
Capacitat
5
---
Dormitoris
Sveti Stefan, Montenegro
The upper Pinjesh is considered the top address in Ulcinj. You are close enough to reach the city beach Mala Plaza, the many beachclubs and the hotspots of the city on foot. Nevertheless, you are far enough away to escape the noise of the bars and discos! The panorama view of our covered and not visible balconies is simply breathtaking and the equipment of our apartments is very extensive. The house is situated on a slope. Let the pictures convince you :)
+ 1 room apartment on the 3rd floor + Beds with spring mattresses + Large sliding door wardrobe with mirror + Balcony furniture with upholstery + SAT receiver digital + WiFi & LAN (own router) + Entertainment system + PC with WIN7 over LAN + Air conditioning with remote control + 2 balconies (north / south) + WC with bidet & shower + Kitchen with fridge / freezer combination + Cooking and eating utensils available + Ceramic hob + Microwelle, toaster, blender + Electric grill, electric stove + Washing machine, drying stand + Lying chairs + Tinted windows + Shutters
Ulcinj is rich in gastronomy and sights. This is reflected in the variety of gastronomic concepts and local architecture. In addition to traditional Mediterranean cuisine, there is something for every taste. From our house you reach the hotspot of the city on the small beach "Mala Plaza" within a few minutes.
Wir waren zu Dritt für 10 Tage zu Gast im Apartment ELMIRA. Dank der vorherigen Anfahrtsbeschreibung von Elma, war das Ziel leicht zu finden. Die Bilder und die Beschreibung im Internet entsprechen genau dem, was wir vor Ort vorgefunden haben. Das Apartment ist sauber und überdurchschnittlich gut und komfortabel ausgestattet und der Blick vom Balkon auf die Altstadt und die Bucht von Ulcinj ist einfach traumhaft. Wir wurden von Elma und ihren Eltern Elmina und Fejzo überaus freundlich und mit einer unaufdringlichen Gastfreundschaft aufgenommen. Wir haben uns von Anfang an zu Hause gefühlt. Ulcinj ist eine gute Destination sowohl für Aktiv- als auch Passivurlaub. Es gibt wunderschöne Strände und kleine Buchten zum Baden. Wir haben von hier aus Ausflüge nach Dubrovnik, Kotor, in das albanische Shkodra und an den herrlichen Skadar-See unternommen. Wir waren im Küstengebirge hoch über Sveti Stefan wandern und haben in der Altstadt von Ulcinj und den Fischgaststätten an der Ada Bojana an der albanischen Grenze sehr gut gegessen. Dabei waren die Hinweise von Elmina und Fejzo sehr hilfreich und zeitsparend. Fejzo hat uns in einer kleinen Rundfahrt interessante Plätze in der Stadt und Umgebung gezeigt und Elma und ihre Eltern haben uns viele Dinge erklärt, die man in keinem Reiseführer findet. Also, wenn Urlaub in Montenegro, dann in Ulcinj und in einem der Apartments von Elma. Wir können das uneingeschränkt empfehlen. Wir werden auf jeden Fall wiederkommen! Vielen Dank für Eure Gastfreundschaft!
Juergen
2013-08-03T00:00:00Z
Апартаменты и их хозяева Фейзо и фрау Эмина оставили самые лучшие впечатления. В действительности, квартира даже лучше фотографий. В комнате имеется 2 односпальные кровати, действительно хорошие кровати, которые не скрипят, как бы сильно вы не ворочались на них ночью и диван, который при раскладывании способен вместить родителей и малыша, который, возможно не очень любит спать один в незнакомых местах.Но самое великолепное, это терасса с ее восхитительным видом на море, столом, креслами и даже шезлонгом, на котором прекрасно позагорать днем, если вы родители маленького мальчика, который должен днем спать, а так не хочется упускать ни грамма солнечных лучей в такой, всегда слишком короткий, отпуск. Кондиционер работает исправно, но так как апартаменты имеют терассу с одной и балкон с противоположной стороны (во двор) необходимость в нем отпадает, нам было всегда комфортно и свежо. Питьевая вода предоставляется (это большой плюс, когда нет необходимости по жаре тащить пятилитровые бутыли с водой). На кухне имеется необходимый минимум, но если у нас возникали дополнительные потребности, нам шли на встречу. В первые же дни нам предложили воспользоваться грилем прямо на терассе, после чего рестораны с грилем потеряли нас как клиентов, не успев обрести.Мы отдыхали без автомобиля и Фейзо предлагал подбросить до другого пляжа, в случае необходимости. Фрау предлагала, в случае необходимости, постирать вещи. Замена постельного белья была по первой просьбе. Магазин и рынок достаточно близко. И еще один плюс- отсутствие кровососущих насекомых (позднее мы жили на уровне моря и насекомые немного беспокоили нас). Добавлю, что языкового барьера не было. Огромное спасибо Фейзо и Эмине за помощь при вызове врача малышу.
Тарас
2016-09-09T00:00:00Z
What a wonderful experience! We were warmly welcomed by Elma's parents, who were ready to help us with any question we had. They showed us around Ulcinj from the coast to the olive groves outside of town. We almost immediately recognized this is a place we would be happy to return to any chance we get. A fully stocked kitchen, a clean and modern apartment, and a beautiful view to boot! We couldn't have asked for more. Thank you to Elma and her parents for a wonderful stay.
Jake
2012-07-19T00:00:00Z
Hi, we spent our summer vacation with family of Redzepagic this year. We found accomodation thanks to Elma,but actually we lived in the house of her parents, Fajzo and Elmira. They treated us as good friends and met us. Fejzo provided transfer for us from Tivat to Ulcinj and backwards. They showed us the city,as well as recommended what to see and where to eat, and also took us to the Great Beach, etc. Our hosts are intelligent people with great sense of humour. It was a pleasure to talk with them while we wined and dined. What concerns accommodation, it was in good condition. There are apartments and patio and all are in good condition, and fully (URL HIDDEN) the way, it occurred to be better than in the description of the house. There was also an electric grille in the patio, which was very convenient for cooking meat. Redzepagic's family became our friends, and we hope we will come to them again. Consequently, if you decided to come to Ulcinj, we highly recommend you to stay with this family.
Marichka
2012-09-04T00:00:00Z
On arrival we were picked up by Elma's father at the bus station from where he proceeded to give us a very informative tour of the town. The apartment was very clean and spacious with a fantastic view just like the picture shows. Our host - Elma's father, was always there for us offering coffee in the morning, transfers through the day and Rakija at night. Both Elma's parents are warm, friendly hosts and we highly recommend staying at Apartment with sea view plus Ulcinj is a perfect place to start a trip up the Montenegro's coast. Magda & Pete
Magdalena
2012-09-30T00:00:00Z
Если хотите провести незабываемое время в Черногории,то не сомневайтесь - здесь вам понравится. Это был потрясающий отдых в прекрасном доме с очень радушными хозяевами !!!В это место хочется вернуться вновь и не раз! Расположение очень удобное : несколько пляжей на выбор в шаговой доступности. Расторанчики,магазины и офигенный вид,особенно с нашего болкона,на которой мы каждый вечер и проводили красивые вечера. Оттуда не хочется уезжать. Есть все необходимое. И,что немаловажно,безупречная чистота и ухоженность повсюду. Мы получили гораздо больше,чем расчитывали. Хозяин помогал нам с любой просьбой и посоветовал интересные места. Фотографиям можно верить!
Таня
2015-07-18T00:00:00Z
The reservation was canceled 29 days before arrival. This is an automated posting.
Sasha
2012-08-10T00:00:00Z
Umwerfend herzliche und nette Menschen! Ein toller Empfang und auch während des Aufenthalts waren sie immer für uns da und haben alles getan, um den Urlaub perfekt zu machen. Das Appartement ist total sauber, sehr gut ausgestattet und Lage ,sowie die Umgebung perfekt. Sehr zu empfehlen!
Karoline
2014-08-28T00:00:00Z
Tipus d'habitació
Casa/pis sencers
---
Tipus de propietat
Pis
---
Capacitat
4
---
Dormitoris
Ulcinj, Ulcinj, Montenegro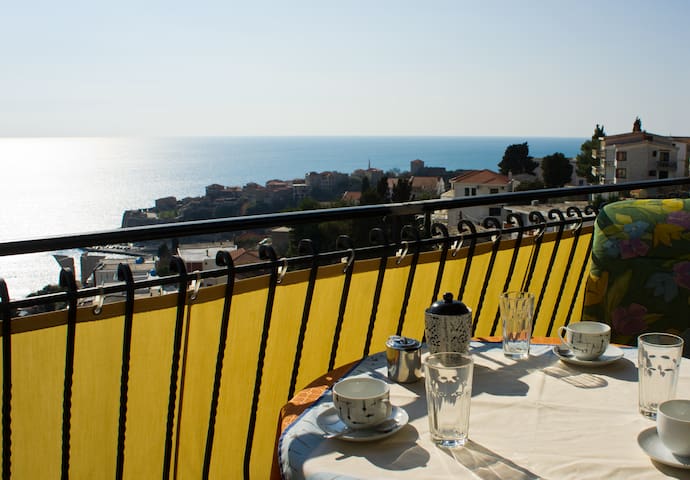 This apartment, 20m away of the beach, is situated in one of the most romantic places in the bay of Boka. - in Stoliv. Stoliv is approximately 15 minutes drive from the historic town of Kotor. The place is quiet and abundant with vegetation.
This is the basic spacious apartment on ground floor in one bigger house. It have look of studio divided whit one wall of wood and glass. So you have bedroom separate from kitchen and dining room. The kitchen is equipped whit all what you need for cooking. The dining room have one sofa bed where also could sleep two people. But the main advantage of this apartment is that it is 2 minutes from the beach and especially that is very close to the largest beach in bay of Kotor. This beach is little for world standards but as the beaches are rare in bay we call it big beach.
The neighborhood around is quiet and the area seems very calm especially when is not a high season. During a high season on the bigger beach is open the bar which music sometime could be loud and unpleasant if you like to stay on that beach but it is enough far of the apartment and the small beach to disturber you. Out of season is the best time to enjoy in bigger beach because there is no bar, no noise and usually you can be all alone with beach, sea and sun. Just opposite there is the man who sell fruit and vegetables and next to him the pizza on a piece. Then you have one little supermarket next to the restaurant "Baron Gautsch"... A bigger supermarket is just very close, you need 5 minutes walk around the corner by the pizzeria ''More" . If you prefer a fish restaurant the best chose is the tavern "Bokeljski Gusti" 15 minutes away by walking and on the same side( toward Kotor). It is the best fish tavern in whole bay and due good quality it work also out of season when all other around don't work. On the other said,toward Stoliv there is the center of Stoliv, very idyllic old village with old houses made in stone. By the post there is a pat to the Old Stoliv emerged on 200m from the sea. This old romantic village with the church on the top of it, has beautiful position and is very attractive for tourists. It is all left and there is only one family who still leave there. From there you can take impressive view on the bay and on two beautiful islets in front of Perast. Furthermore, the pat to Old Stoliv is pleasant experience because all the time you pas through a chestnut forest.
Cet appartement est agréable, très bien situé, au bord de l'eau. On a pu profiter de la petite plage à proximité. Il y a tout ce qui faut pour y passer quelques jours. Eleonora est une hôte très accueillante et attentionnée.
Louise
2015-09-03T00:00:00Z
Eleonoras apartment was perfect, everything you need inside and a wonderful view. Not far away from Kotor with bus.
Felix & Yannick
2016-05-22T00:00:00Z
Hote très agréable et au petits soins pour que tout se passe bien Je conseille cet appartement sans hésitation car proche de kotor il est tranquille et l aménagement est de bon goût Merci à Eléonore
Patricia
2016-10-20T00:00:00Z
We spent two nights here and liked it a lot! Even though it was quite far from Kotor old town, it didn't matter (and the busses went every hour). Small beach was just down the road with cleaner water than near big cruisers close to old town. And small shops within walking distance. Amazing views and really friendly and helpful hostess! We thank and recommend.
Suvi
2015-09-21T00:00:00Z
very nice apartment, very well equiped and well decorated. the terace has no view but is pleasant. the village just near, Prcanj, is really nice with good places to swim and to eat. the hosts were very kind and helpful.
Amélie
2016-07-31T00:00:00Z
Do yourself a favor and book this apartment. This was the perfect escape from the hustle and bustle of Old Town. Eleonora was such a kind and welcoming host and even picked us up from the bus station. She also recommended a fabulous local restaurant for lunch (which we returned to for dinner later during our stay). It's about 10km from Kotor so it's ideal to either rent a car, or rent bikes like we did and bike into the city (about 30 mins). It is one of the most beautiful and scenic bike rides I have ever done. Also the beach is about a 5 min walk and is a perfect place to soak up the morning sun. The apartment is clean, modern and has everything you need.
Whitney
2016-09-29T00:00:00Z
Eleonora and her husband Goran were the greates hosts we had. Both were always really helpful, to suggest us good restaurants, good places to see, to rent bikes, etc. It was really nice to speak a little bit with Eleonora, who is a great artist (the stunning paintings in the flat are made by her). The flat is perfect, well located in front of the see, in the best village in the coast (in my opinion), Stoliv. We spent four days in the flat, well provided, with a washmachine and a nice terrass in front of the see. Definitely the best place to stay in the bay! I cannot say how thankful we were to meet them. She also accepted to drive for more than one hour to give me back my ID that I had forgotten in Stoliv. Amazing hosts, we won't forgive them.
Lisa
2016-08-18T00:00:00Z
the apartment has a very good location just steps from the beach and only 10 minutes by car from Kotor. Eleonora is a very welcoming host, she remained available during our stay, she even installed a baby bed for our daughter. we had a pleasant stay in Stoliv!
Benjamin
2016-06-08T00:00:00Z
Tipus d'habitació
Casa/pis sencers
---
Tipus de propietat
Pis
---
Capacitat
4
---
Dormitoris
Kotor, Montenegro, Montenegro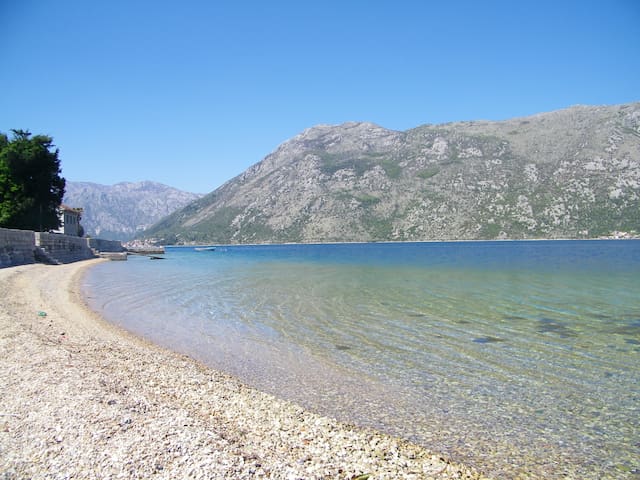 The apartment with big and beautiful garden is situated in family house in Dobrota, near the center of the Old town Kotor and sea.
The apartment is situated in family house in Dobrota, at a distance of 100 meters from the sea and 800 meters from the old town of Kotor. The apartment is 30 square meters, offers private entrance and consists one bedroom with double bed, living room whit kitchen, bathroom, hallway and beautiful garden. Nearby are: supermarkets; drug store; health centre; beauty salon and numerous bars and restaurants.
Kotor is located: - a half - hour drive to the luxury port "Porto Montenegro" in Tivat - a half-hour drive to Budva -1 hour drive to Cetinje - 2-hours drive to Dubrovnik, Trebinje and Podgorica - Airport Tivat is a half hour drive - Podgorica Airport is a 2 hours drive - Airport Cilipi in Croatia is at 2 hours drive
Jelena's husband was already waiting for us when we arrived, reserving us a parking space. He showed us the place, and all the equipment. It's a really nice place, for the following reasons: - Fully equipped kitchen, TV, AC on the living room, - Nice shower with hot water, - Really good bed, - 10 minutes walking distance from the old town, - 5 minutes walking distance from the beach, and 2 minutes to go to the waterfront, - Very friendly people, easy to communicate with. Do know that this is a "neutral" place with no personal decoration whatsoever. The place has very new furniture and it was super clean.
Paul
2016-08-06T00:00:00Z
The place is very nice and cozy. Very spacious and well equipped. Good also for short or long stays. Jelena's husband had warmly welcomed us and explained us all we need. Give us maps/flyers, told us a lot of touristic information and where are markets, restaurants, pharmacy, ... We will definitely return to their place next time in Kotor
Crstian
2016-06-18T00:00:00Z
Very good holiday in apartment. It's clean and comfortable. We have not found the apartment. But the Jelena's sister showed us the way. Thank you !!!
Samuel
2016-05-26T00:00:00Z
Jelena et son mari sont des hôtes formidables, très attentionnés , et toujours prêt à vous rendre service.Le logement est très bien situé , près de Kotor ,des commerces,et du front de mer sur lequel on trouve des restos sympas, le tout à pied , sans problème; le logement propreet sympa bénéficie d un petit jardinet au calme . Je recommande.
Sylvie
2016-04-14T00:00:00Z
We had a wonderful 5 night stay at Jelena's. Unfortunately we didn't get a chance to meet her as she was away. However we were greeted by her husband, who couldn't have been a more welcoming, helpful host. He gave us a good explanation of the area, brought us a bottle of wine, and helped us sort out bus scheduling to mostar. He even sent a friend to the tivat bus station to find out the schedule! Also his English was amazing. The apartment was clean, comfortable, well equipped and had extremely fast wifi. It was a 10 minute walk to the old Town along the waterfront. There was a bakery and butcher right across the street, and a grocery store very close by. Highly recommended.
Josh
2015-10-24T00:00:00Z
Appartamento confortevole, tranquillo e in un'ottima posizione per raggiungere il centro di Kotor, che dista 15 minuti a piedi lungo una bella passeggiata. Il marito di Jelena si è prodigato per trovarci quando non riuscivamo a entrare in contatto all'arrivo e ci ha dato utili consigli su Kotor. Raccomandabile.
Domenico
2015-08-29T00:00:00Z
An excellent stay! The room was very clean, our host went out of his way to be helpful, showing us the way to the old town and walls, telling us where the local shops were and even getting us an umbrella so we could eat outside. Overall a great stay.
Thomas
2016-07-01T00:00:00Z
Отдыхали в начале декабря. Были с маленьким ребенком и переживали, что в апартаментах будет холодно. Но наши переживания были напрасны - было тепло и уютно. Отличное месторасположение - по пути в старый город вдоль пляжа есть отличные ресторанчики. Тихо и спокойно. Рядом есть бесплатая парковка. Общались с мужем Jelena, по всем вопросам получали ответы и помощь. Отличное соотношение цена-качество. Всем, кто планирует поехать в Котор, рекомендую остановиться у Jelena. All was great. We was in start of december. In apartment was warm and cute. Good located near bay and old town. I recommend this host.
Pavel
2016-12-11T00:00:00Z
Tipus d'habitació
Casa/pis sencers
---
Tipus de propietat
Casa
---
Capacitat
2
---
Dormitoris
Kotor, Montenegro, Montenegro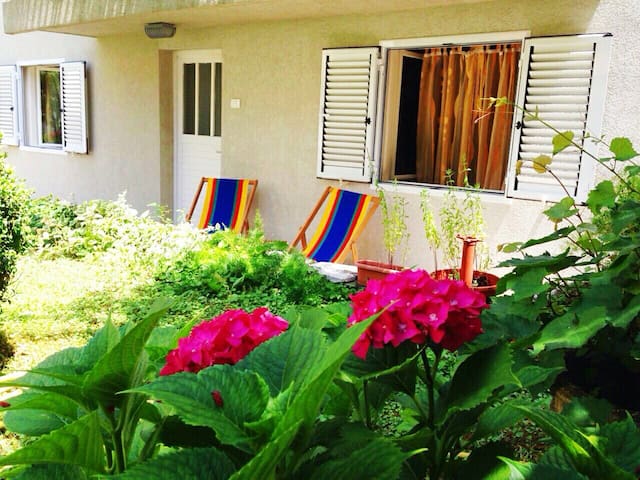 1

-

18

de

Més de 300 lloguers
Introdueix les dates per veure el preu total. S'aplicaran tarifes addicionals. És possible que també s'apliquin impostos.