Pansy is one of two semi-detached houses designed and built with attention to every detail and high quality of materials. Unconventional spaces, a large area and the beautiful surroundings allow for a comfortable stay.
Pansy Cottage is one of the objects Tourism Enterprise BATUR. Our offer and the range of services is constantly changing and expanding and thus - you have more to offer. Our priority is to develop and meet the needs of the customer. We invite both individual clients and groups. We always try to meet all customer expectations. Organization of individual thematic trip to Prague, order a cake and garnish apartment in birthday balloons, organizing cooking workshops / jewelery / development, etc., organizing the jubilee dinner? Your wishes are our challenges. There is nothing impossible for us. We do it differently. We do it with passion.
Pansy house is located just 15 minutes from the center of Karpacz, but still guarantee that will not hear you here street noise or noise of forced traffic. However, in about 10 minutes is the town of Western City, where little ones can feel like the Wild West.
Дом очень удобный, комфортный, теплый. Большая зона гостиной с камином прекрасна для семейных вечеров или вечеринок друзей. Хозяева быстро решают все возникающие вопросы. Отдых очень понравился, всем рекомендуем данное жилье!
Nadiya
2017-01-12T00:00:00Z
Beautiful area, fantastic house, near the centre of Karpacz, Western city is only a few yards away. Fantastic for children too.
Bernard
2016-09-11T00:00:00Z
Tipus d'habitació
Casa/pis sencers
---
Tipus de propietat
Casa
---
Capacitat
11
---
Dormitoris
Karpacz, Województwo dolnośląskie, Polònia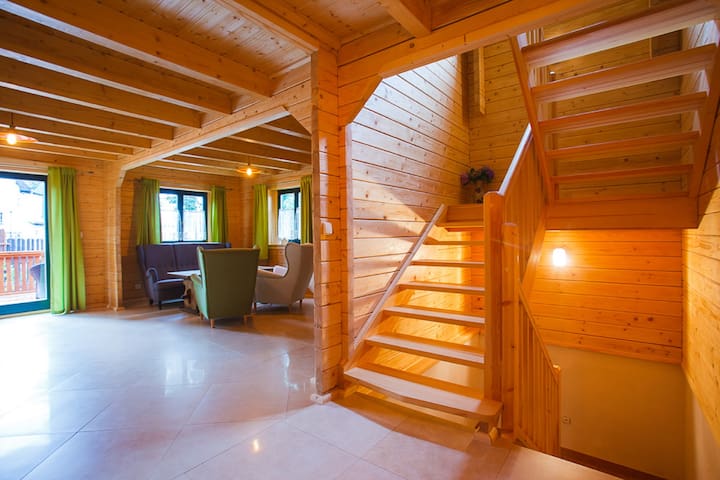 Moja oferta jest w pobliżu: parki. Pokochasz moją ofertę z uwagi na: lokalizacja, ludzie oraz klimat. Moje miejsce jest dobre dla: pary.
Tipus d'habitació
Habitació privada
---
Tipus de propietat
Casa
---
Capacitat
2
---
Dormitoris
Karpacz, Województwo dolnośląskie, Polònia
My offer is near parks. You'll love my job because of: area, comfortable bed and cozy. My place is good for a couple, the adventure solo business travelers, families (with children), large groups and furry friends (animals).
The pension is situated on the estate Skalne in Karpacz in a quiet area, close to hiking trails. Nearby is the Aquapark Sandra and Western City. Nearby ski slope Relax.
Tipus d'habitació
Habitació privada
---
Tipus de propietat
Casa
---
Capacitat
2
---
Dormitoris
Karpacz, Województwo dolnośląskie, Polònia
Borowice (in German Baberhäuser, in Czech Borovice) is a piedmont holiday resort belonging to the highest range of the Sudetenland, Karkonosze Mountains, situated in the Valley of Five Streams. Hidden among the spruce forests of [regiel dolny] rest-hose with diffuse single houses on a vast glade appears to be a great place for a rest far away from urban noise.
Dom znajduje się na wzgórzu z pięknym widokiem na góry i dolinę
ALL
we had a great new year´s trip to Lukasz cottage in the mountain. really nice house in an awesome location near the mountains! thanks again!
Uwe
2017-01-03T00:00:00Z
Fantastic house in the mountains of Poland. The house was large with 3 bedrooms and great kitchen/family room. It was large enough for our family with 5 kids. The location was great with groceries only 10 min drive away and then shopping in Jelenia Gora 25 mins away. Scenery was breathtaking, able to walk through the forests and the kids play. Definitely recommend for anyone seeking some peace and quiet.
Ross
2016-10-15T00:00:00Z
Lukasz's house is a fantastic little find for a quiet getaway trip. The forest is practically next door, there's both an indoor and outdoor fireplace, and there's plenty of space for a group of friends or family to stay. I did not meet Lukasz, but he was always quick to respond to messages, and his friend who lives nearby was attentive and helpful in handing the keys over and dropping around when I had a small problem needing resolving.
Rob
2017-03-20T00:00:00Z
Bardzo udany pobyt. Mieszkaliśmy w domu w 7 osób i było nam wygodnie. Na miejscu było wszystko co było potrzebne. Przez chwilę był problem z ciepłą wodą, ale udało się go szybko rozwiązać. Dobra lokalizacja domu. Na Śnieżkę szliśmy bezpośrednio z Borowic i to była fajna trasa. Polecam. Super miejsce do aktywnego spędzania czasu.
Monika
2016-10-17T00:00:00Z
Nice place, nice price, nice host :)
Kristina
2016-12-26T00:00:00Z
Fantastyczny zimowy wyjazd. Cudne widoki. Dom znajduje się w cichej i spokojnej okolicy, ale jednocześnie blisko atrakcji Karpacza. Dom bardzo dobrze wyposażony. Dzieci uradowane z możliwości zjeżdżania na sankach z górki położonej na terenie posesji. Bezproblemowy kontakt z gospodarzem. Polecam :)
Magdalena
2017-02-10T00:00:00Z
Bardzo fajne miejsce, ciche w spokojnej okolicy. Mieszkaliśmy łącznie w 7 osób (z czego 3 dzieci :) ) i było bardzo wygodnie. Dom jest bardzo dobrze wyposażony, internet działał całkiem sprawnie (gorzej z zasięgiem niektórych sieci GSM np t-mobile bardzo słabo) a na terenie posesji udało się uzdatnić "górkę" do zjeżdżania na sankach :-) Gorąco polecam.
Michał i Urszula
2017-01-27T00:00:00Z
Everything was great in Borowice! The house is adorable, and would easily and comfortably accommodate a family. Everything was clean and organized, and the hosts did everything to make our stay as comfortable as possible. The location is perfect - close to Karpacz, but quiet and away from all the crowds. We would love to come back in warmer weather!
Gregory
2016-04-24T00:00:00Z
Tipus d'habitació
Casa/pis sencers
---
Tipus de propietat
Casa
---
Capacitat
9
---
Dormitoris
Borowice, Województwo dolnośląskie, Polònia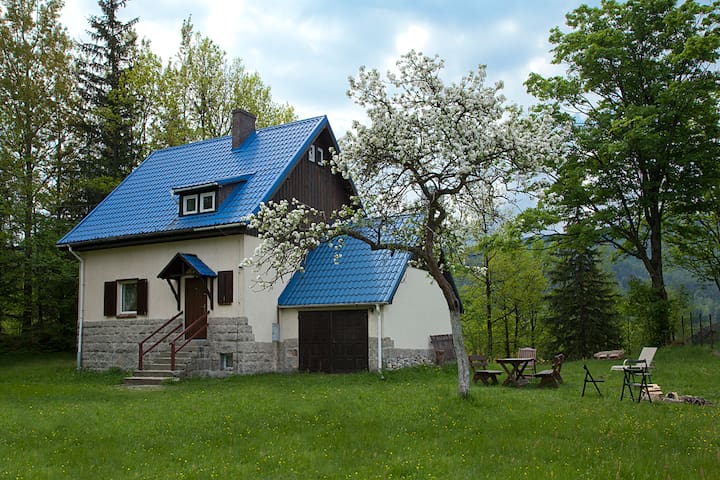 The "Tower" is special, anthroposophy, high energy nature house, with great view to Giant Mountain in Karkonoski Park, Lower Silesia, Poland. The architectural and interior design are based on natural materials from the region . It's great place for solo adventurers or couples that are looking for a quiet place to be alone with their thought, reading, writing, meditating, painting, swiming in the waterfall, listening to music, biking, runing or long walking in the beautiful forest surrounding.
The "Tower" is a beautiful and unique three floors house: 1. The first floor is the entrance to the "Tower". 2. On the second floor you can find the living room, desktop for laptop, electric kettle and coffee/tea, large bathroom, small kitchenette's Ark, mini-bar and heating fireplace with logs. 3. The third floor is the bedroom with large comfortable double bed (for couple) or two separate single beds. There is also a large closet room for general storage and hanging clothes. 4. Above the third floor we have a small gallery. you can put in the middle of the gallery your mobile phone or your iPod with speakers and then the "Tower" will be filled with wonderful acoustic sounds. In Przesieka we have 4 grocery stores within walking distance from the "Tower". We also has a large supermarket (biedronka) at the entrance to the village and it open most of the time. I do not think our ruests should bring food in advance and you can buy and enjoy local food which is delicious and cheap.
The "Tower" neighborhood is unique and perfect for many reasons, including: 1. Good energy from the ground and surrounding air. 2. Special atmosphere of profound peace and quiet. 3. Constantly get new powers within you. 4. Special nature (Przesieka is part of Krkonoski nature reserves). 5. The surrounding big forests including many hiking trails and many bicycle paths. 6. The weather (even in the winter). Everything About Przesieka: Przesieka [pʂɛˈɕɛka] (original and German name: Hain) is a village in Lower Silesia, southwestern Poland. It belongs to Lower Silesian Voivodeship, in Jelenia Góra County, Gmina Podgórzyn. It is one of the most important centres of mountain hiking. It lies approximately 12 km (7 mi) south-west of Jelenia Góra, and 103 km (64 mi) west of the regional capital Wrocław. It is 15 minutes drive from the centre of Jelenia Góra (5 minutes drive from Cieplice Spa). There is a regular city bus going to Przesieka from Jelenia Góra central train station. Several hiking routes to Karkonosze Mountains begin in Przesieka. One of the most widely used is a route (2 h walk) to Karkonoska Mountain Pass (Polish "Przełęcz Karkonoska"). Hotels along the way include Odrodzenie (Polish hostel) and Špindlerova bouda (Czech hostel). Other popular routes lead to Chojnik Castle (German Kynast) (1 hour walk), and Karpacz (1.5 h walk). An interesting place to visit in Przesieka is Podgórna Waterfall (547 m above sea level). Przesieka is a lovely hamlet. It's character is constantly changing from that of traditional/agricultural to the one of a more "tourism orientated" place. Most people coming to Przesieka are from Lower Silesia. Wrocław inhabitants visit us most often. They seek to calm down in peace and tranquility. And they find it here, in Przesieka, and the neighboring villages of Borowice, Jagniatkow, and Zachelmie. Other resort towns of Karpacz and Szklarska Poreba cannot offer this kind of relaxing atmosphere. Points of interest in Przesieka: Podgorna Waterfall – most popular attraction in Przesieka. Chybotek – a huge and breathtaking boulder… and other interesting spots situated in the close proximity of Przesieka: - Chojnik castle-1.5h. walk - Wang Church in Karpacz – 2 hour walk. - Karkonoska Pass- border crossing with the Czech Republic – 3 hour walk. - Podgorzynskie Stawy Ponds and a fish restaurant in its shore offering gourmet fresh fish. South: (Blue trail) to "Przelecz Karkonoska"- mountain pass on the Polish-Czech border and the "Odrodzenie" refuge (2'15"). West: : (Yellow trail) to Jagniatkow and Szklarska Poreba (by "Droga pod Reglami" mountain road). North- west: (Green and black trails) to "Chojnik"- the ruins of the castle (1'00"). North: (Blue trail) to Podgorzyn Gorny (0'15"). South- east: (Green and yellow trails) to Borowice and Karpacz (2'15"). Location: Location of Przesieka, Lower Silesian Voivodeship. Coordinates: (PHONE NUMBER HIDDEN)″ECoordinates: (PHONE NUMBER HIDDEN)″E. Country: Poland Voivodeship: Lower Silesian Powia: Jelenia Góra Gmina: Podgórzyn Area of action: Mountains, Western Sudetes, Ore Janowickie Kaczawskie, Jizera Mountain Volunteer Ambulance Service is a volunteer organization, operating in seven regional groups in the southern Polish. Mountain rescue task is to help in cases of mountain, preventive activities, as well as security events in the mountainous terrain. history of the Mountain Rescue Rescue is inextricably linked to tourism, which in the late nineteenth and early twentieth century began to develop on Polish territory. Most active time of their activity is of course winter, when the slopes, skiers and snowboarders dominate. However, recent years show that the summer months bring a lot of work rescuers. The increasing tourist traffic, the changing forms of recreation in mountain areas such as paragliding, mountain biking, and recently very fashionable rock climbing are the cause of an increasing number of accidents and injuries that require intervention mountain.
Rony's place is very nice and cosy. Przesieka is a beautiful place and also a good base to reach a lot of great things nearby. Communication was great, Marcin and Paweł was very nice and helpful.
Joanna
2017-01-02T00:00:00Z
This is an amazing place! So beautiful and peaceful! Rony's tips are super helpful and his friend Marcin helped us out very good when we arrived! Definitely want to come back!
marleen
2017-04-02T00:00:00Z
Super klimatyczne miejsce, ciche i spokojne. Blisko do rzeki i wodospadu oraz (poza Przesieką) do Karpacza i zamka Chojnik. W zimie trochę chłodno, więc polecam zabrać ciepłe rzeczy. Dobry kontakt z gospodarzem i z osobami, które zajmują się domem pod jego nieobecność.
Natalia
2017-02-26T00:00:00Z
PERFECT! Honestly we were suprised, we didnt even expect that much over there. Super cosy and comfy, you wont complain to anything. Stoke was already working, house was warm and fully equipped, additionally you have access to second building nearby house ~ there you will have large kitchen and common area. What suprised us much more was that second building was also just for us. Also area around is super beautiful, looks like typical mountain village side with no turist. We had wonderful time there, I am highly recommending!! Thank you Rony !
Jakub
2016-11-20T00:00:00Z
The place is beautiful and calm, pure nature! The Tower is magical! Rony and his family and friends are really nice and helpful people. Would like to stay here forever!
Vladimír
2016-09-07T00:00:00Z
We couldn't recommend Roni's place more. Everything was great. The home is nicely designed for a couple and truly keeps the 'mountain feel'. It's well-located, just a bit off the main road, and a short hike to the waterfall in Przesieka, and within a 15 min drive to Karpacz or Jelenia Gora. Roni's friend, Paul, was extremely nice and helpful, so we could ask anything. All in all, I'd definitely recommend staying here.
Jeremy
2016-12-26T00:00:00Z
The place was clean and warmed up with the fireplace when we arrived, the description and photos are very accurate. In winter it is best to sleep in warm clothes. Rony replied to my questions very fast, his friend that is taking care of The "Tower" was polite and very helpful.
Piotr
2016-12-30T00:00:00Z
Rony hat mir vorab alle Fragen (und das waren ein paar) gut beantwortet und war sehr hilfreich! Die Unterkunft ist genau wie beschrieben und wirklich sehr schön! Am besten mit dem Auto anreisen, dann kann man die vielen Sehenswürdigkeiten drumherum schnell erreichen. Alles in allem ein sehr schöner und unproblematischer Urlaub, kann ich nur empfehlen! :) Sven
Sveen
2016-09-20T00:00:00Z
Tipus d'habitació
Casa/pis sencers
---
Tipus de propietat
Casa
---
Capacitat
2
---
Dormitoris
Przesieka, Województwo dolnośląskie, Polònia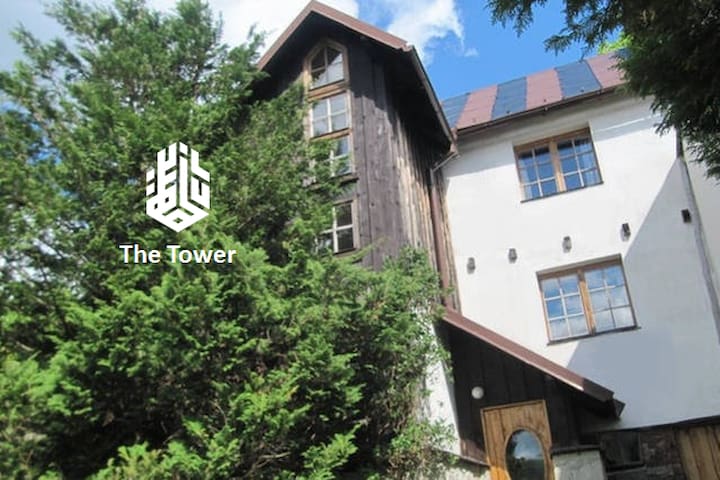 Independent separate apartment in a detached house with parking place for cars
Polecam. Blisko centrum. Bez problemowy kontakt. Czysto i schludnie
Paweł
2017-02-06T00:00:00Z
Szczerze polecam :-)
Agnieszka
2017-02-17T00:00:00Z
Polecam mieszkanie. Najwiekszą zaletą mieszkania jest jego lokalizacja - ok. 150-200 metrów do głównej ulicy, przy której można znaleźć wiele reatauracji i sklepów. Poza tym, mieszkanie czyste, wyposażone we wszystkie niezbędne rzeczy i sprzęty, dodatkowy plus za oddzielne wejście. Kontakt z panią Marią bardzo dobry, a sama właścicielka miła i pomocna.
Natalia
2017-02-14T00:00:00Z
Bardzo przyjemny Apartament, wszystko jest czyste ,zadbane, blisko centrum ,blisko markety, kuchnia zaopatrzona, cisza . Polecam z czystym sercem , zimą oraz latem.
Tomasz
2017-01-07T00:00:00Z
Tipus d'habitació
Habitació privada
---
Tipus de propietat
Casa
---
Capacitat
4
---
Dormitoris
Karpacz, Województwo dolnośląskie, Polònia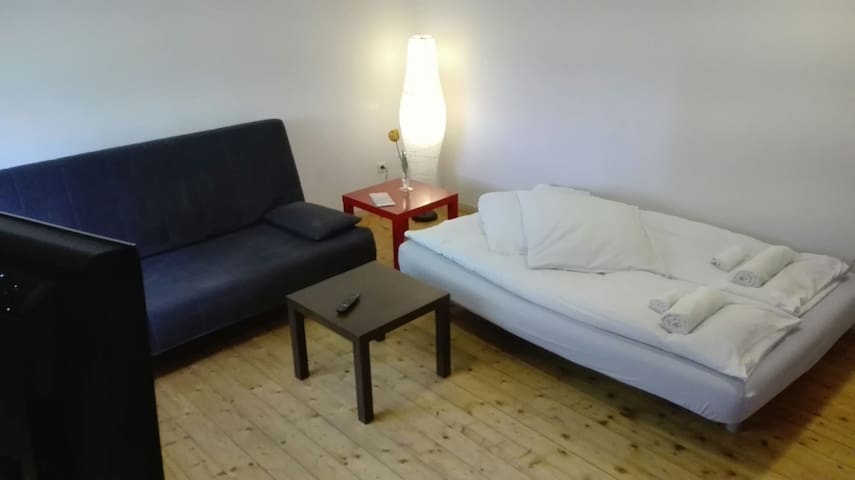 The charming and comfortable wooden house with a fireplace at the foot of Snow White. The house and the whole property for the exclusive use of guests. The unique interior of the house, large garden, beautiful view of the mountains! Near the center, hiking trails, ski lift, swimming pool & spa.
Villa Tyrolean is a stylish house located 1100 explosions plot on a natural hill, among the old trees of larch trees and century-old rhododendrons. Garden naturally goes into the forest. The house has a wooden exterior facade, is mounted on a granite foundation and palisadach supporting floor and the terrace in the Tyrolean style, which offers a beautiful view of the garden and the Giant Mountains. The old pre-war villa has been splendidly restored. The interiors of the house are newly decorated maintaining the original architectural elements, interior design and furniture, old hand-painted motifs of nature. Worship owners to detail and details can be among the furniture, paintings and prints capture the spirit of the mountains of the Giant Mountains region. At the same time the villa is equipped with everything necessary to spend time in a warm home-like atmosphere among relatives and friends. Location of the villa on a natural hill gives you the opportunity to enjoy the picturesque panorama of the mountains. Detached wooden house is a great place to guarantee complete privacy and undisturbed peace.
Karpacz town and nearby surroundings allows you to spend your free time both in the urban style and nature. For all we walk in the immediate area, hiking in the mountains and Krkonose Landscape Park. For the curious can explore the numerous monuments of local architecture, among others, castles and palaces; the nearby village full of various attractions; museums; mines. Ready to spend time actively invite you to cycling, ride on the summer toboggan run in winter for winter sports; hot air ballooning, etc. Who appreciate a relaxing and lazing on the terrace house and a hammock in the garden where you can listen to the birds singing and the feed ore neighbor - a squirrel :)
Spędziliśmy świetny czas w domu Pani Dominiki. Idealny na rodzinny wypoczynek. Dziękujemy. Polecamy!
Małgorzata
2016-10-02T00:00:00Z
Das Haus ist wunderschön und hat einen tollen Garten mit viel Platz. Innen alles mit viel Geschmack eingerichtet. Man kann vom Haus direkt in den Wald und hoch zur Schneekoppe wandern. Wunderbarer Urlaub. Sehr zu empfehlen. Immer wieder!
Frank
2016-04-04T00:00:00Z
The house is perfect for anyone who seeks some quiet without leaving the civilisation. It is cosy and charming, beautiful details and very comfortable. It is perfectly equipped, everything one could need is there. We spent a lovely week there and enjoyed every moment.
Rix
2016-12-16T00:00:00Z
We had good holidays in Kapacz and stayed comfotable at Dominkas house.
jan
2016-02-08T00:00:00Z
Tipus d'habitació
Casa/pis sencers
---
Tipus de propietat
Casa
---
Capacitat
6
---
Dormitoris
Karpacz, Województwo dolnośląskie, Polònia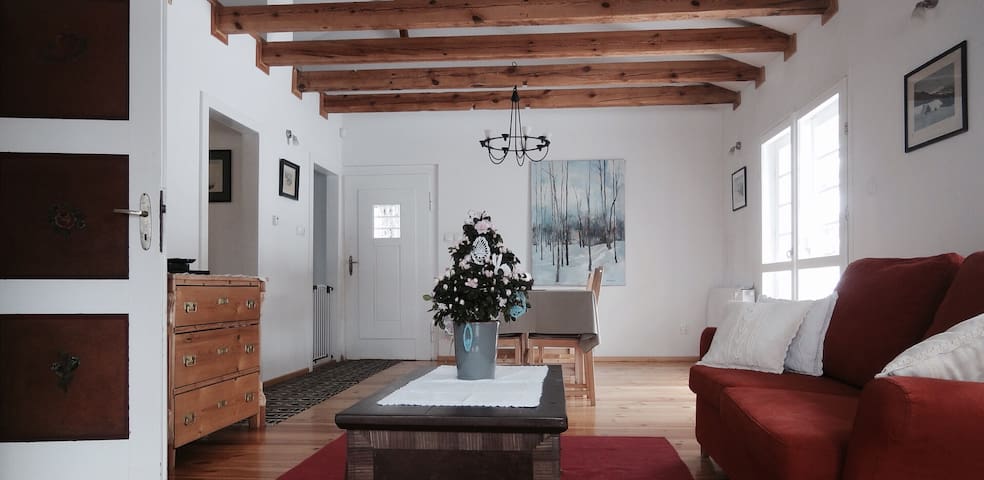 Unser gemütliches Haus: "Tomysówka" lädt im Sommer zum Wandern und im Winter zum Skifahren ein.
Wir laden euch herzlich in unser Familienhaus in Kowary ein. Die Umgebung und das Haus bieten eine ideale Atmosphäre für einen gemütlichen Urlaub mit der ganzen Familie oder auch mit Freunden. Wer eine Auszeit von der Stadt und dem Alltag braucht ist in unserem Haus mit vier Schlafzimmern, einem Bad, einer Toilette, der Küche und dem großen Wohnzimmer genau richtig. Im Vorraum zum Garten findet man jede Menge Spiele, wie Dart und Kicker. Im Winter bietet der Kamin eine wohlige Wärme und lädt zum Lesen und Aufwärmen ein. Im Sommer hat man im großen Garten genug Platz zum Grillen, Essen und Spielen. Die Hunde können frei laufen, da der Garten von einem hohen Zaun begrenzt ist. Es gibt zudem ein, von unseren Kindern, gut asgestattetes Spielzimmer.
Kowary (Schmiedeberg) ist eine kleine Stadt im Riesengebirge, die sich zwischen zwei von der Natur her einzigartigen Schutzgebieten befindet. Hier gibt es jede Menge Raum für individuelle Freizeitaktivitäten. Diejenigen , die einen sportlichen und aktiven Urlaub planen, können im Sommer Wandern und im Winter Skifahren. Zusätzlich gibt es einige Klettermöglichkeiten. In der Nähe findet sich zudem ein Reiterhof. Das dichte Netz an Wander- und Fahrradwegen bietet zudem Möglichkeit zum Montainbiking. In nur wenigen Stunden kann man den höchsten Gipfel der Sudeten, die Schneekoppe (1603 m ü. NN), fußläufig erreichen.
Unsere Reise nach Kowary war eine sehr schöne Erfahrung. Ich war mit meiner Schwester, meiner 70jährigen Mutter und meiner 10 Monate alten Tochter für vier Tag dort und wir haben uns alle sehr wohl gefühlt. Die Kommunikation mit Michalina vor Antritt der Reise war sehr freundlich und hilfreich. Sie hat sich rührend um unsere Bedürfnisse gekümmert. Ihre Freundin Nina hat uns vor Ort weitergeholfen und uns sogar noch spontan einen Hochstuhl besorgt. Das alte Haus ist etwas ganz besonderes, nicht nur eine sterile Unterkunft wie es sonst oft so ist. Man hat das Gefühl bei einer Familie zu Gast zu sein. An der Wand hängen viele Bilder aller Familienmitglieder, vom Duschgel über Sektgläser und Currygewürz ist einfach alles vorhanden. Wir haben es sehr genossen zu viert so viel Platz zu haben, aber man hätte auch locker zu acht dort wohnen können. Sowohl das Spielzimmer als auch den schönen Garten haben wir gerne genutzt. An zwei Tagen haben wir im Altan gefrühstückt und abends haben wir in der Abendsonne auf dem Balkon noch ein Glas Wein getrunken. Kowary selber hat auch sehr viel mehr zu bieten, als uns vorher klar war. Die meisten Touristen fahren ja nach Karpacz. Aber gerade mit Kleinkind fand ich Kowary sehr viel besser geeignet. Wir haben den sehr sehenswerten Miniaturenpark besucht und die Bergwerkstollen, vom Haus ausgehend haben wir ausgiebige Spaziergänge in der wunderschön grünen Landschaft gemacht und uns an Ziegen, Kühen und Pferden erfreut. Auch der Spaziergang zur Kapelle der heiligen Anna lohnt sich. Wir haben oft gekocht, was in der super ausgestatteten Küche sehr gut funktioniert und manchmal waren wir auch in der Altstadt essen (besonder zu empfehlen die gekochten Pierogi ruskie bei Gościniec ;) Der große Supermarkt Biedronka und viele kleinere sympathische Lebensmittelgeschäfte und Bäckereien sind in fünf Gehminuten zu erreichen. In einem netten Second-Hand-Laden in der Fußgängerzone haben wir alle tolle Schnäppchen gemacht. Die Einwohner von Kowary waren alle sehr freundlich und hilfsbereit zu uns. Besonders gerührt hat mich die Kinderfreundlichkeit. Ich kann einen Urlaub in Michalinas Elternhaus nur wärmstens empfehlen. Gerade Familien mit Kindern werden sich hier bestimmt sehr wohlfühlen, aber ich überlege auch schon mit ein paar Freunden herzukommen um den 40.Geburtstag meines Mannes dort zu feiern. Im Kickerraum im Keller mit Dartscheibe wäre das sicher lustig :) Danke an Michalina und Nina für eure gute Betreuung. Wir kommen bestimmt wieder.
Johanna
2016-06-05T00:00:00Z
I had a wonderful time in Michalina's house! I came to "Tomysówka" with my friends. We enjoyed the homey atmosphere of the house and the beautiful garden with the cosy bower and outdoor grill. Michalina and her friend Nina were nice, easy-going and flexible. We would like to come back to Kowary some day and we will surely recommend "Tomysówka" for Summer holidays, mountain hikers and families. Many thanks! Dziękujemy bardzo!
Emilia
2016-05-30T00:00:00Z
We were staying there just for one night but we really enjoyed the place, the house was big, there was enough space for everybody, was comfortable and convenient as long as we reached Karpacz in about 30 minutes. Michalina and her son Franek were very friendly and gave us some recommendations connected with our trip to Karpacz. There was beautiful gaden where we had barbeque and swimming poool, unfortunately we couldn't swim as it wasn't enough warm outside and little raining from time to time)) We recommend this place and will definitely come back there again for longer stay
Nataliya
2016-07-05T00:00:00Z
Tipus d'habitació
Casa/pis sencers
---
Tipus de propietat
Casa
---
Capacitat
8
---
Dormitoris
Kowary, Województwo dolnośląskie, Polònia
Moje miejsce jest dobre dla: pary i rodziny (z dziećmi).
Tipus d'habitació
Habitació privada
---
Tipus de propietat
Casa
---
Capacitat
3
---
Dormitoris
Karpacz, Województwo dolnośląskie, Polònia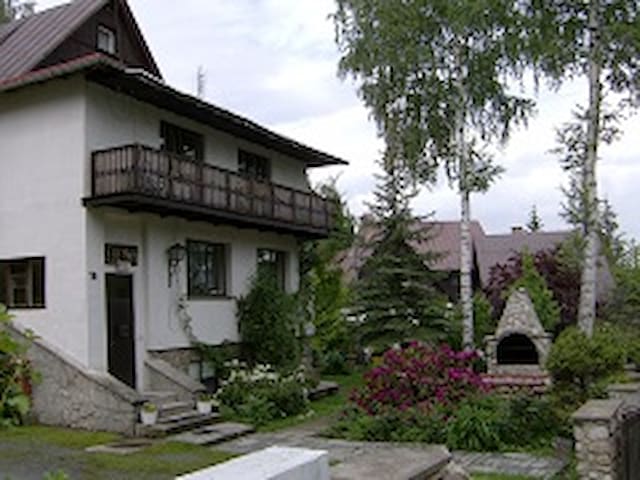 A beautiful house with an area of 90 m2, completely renovated in the vicinity of the river and forest. The guests are 3 bedrooms, 2 bedrooms with a fireplace and a living room with a sofa bed, 2 bathrooms and a covered terrace and small garden. Address: Rybacka 6 (URL HIDDEN)
Beautifully furnished cottage designed for rest and relaxation. The property is fully equipped, luxury. Suitable for up to 6 guests. link to the video of the object: (URL HIDDEN)
Near the center and yet surrounded by nature, with the home direct access to the river, the forest. 300 m to the waterfall - Łomnica dam. The house is adjacent to another neighbor's house (common entrance through an arbor to both houses).
This is a really lovely place to stay in Karpacz, it has all the charm of a mountain chalet from the outside but once inside it is a stunning and modern home that is very well equipped and with every creature comfort thought of. The finishing touches are high end and luxurious and the attention to deal and little extras are spot on. The garden is a lovely peaceful spot and the outdoor dining and BBQ area has everything provided.. Anna was a lovely and responsive host. My husband and I stayed for 5 nights and would definitely stay again.
Leonie
2016-05-31T00:00:00Z
Expensive and opulent - a massive WOW factor when we arrived. The living room was large and spacious (although other rooms were a touch more "bijou"). Every fixture and fitting was quirky or original or luxurious. LOVED the stylish wood-burners in the rooms. Location was great - few minutes walk from main street, but also surrounded by trees and backing onto a stream, giving it a secluded, quiet, remote feeling. Anna and her mum were great hosts greeted us warmly when we arrived and left us some delicious baked goods etc. We did have some quibbles: the electrics in the kitchen caused the circuit breaker to jump if multiple appliances used, which meant traipsing to the fuse box. No bathtub. The 2 shower rooms were a bit cramped, as was ceiling in upper bedroom (tall broad-shouldered man talking here!) . We were 2 couples, 2 kids and one baby, and with the kids sleeping in the living room, we did at times feel a tiny bit crowded. Minor quibbles in a way but then again, we paid really quite a lot of money so I feel entitled to be fussy! This didn't detract from us all having a great time in Karpacz and in the property so a big thumbs up to the experience overall.
John
2016-01-05T00:00:00Z
Bardzo mila i profesjonalna obsluga. Wszystko tak jak w opisie, bez zadnych niespodzianek. Dom duzy i bardzo pieknie urzadzony, polozony w bardzo uroczym otoczeniu. Serdecznie polecam
Konrad
2015-04-08T00:00:00Z
Tipus d'habitació
Casa/pis sencers
---
Tipus de propietat
Casa
---
Capacitat
6
---
Dormitoris
Karpacz, Województwo dolnośląskie, Polònia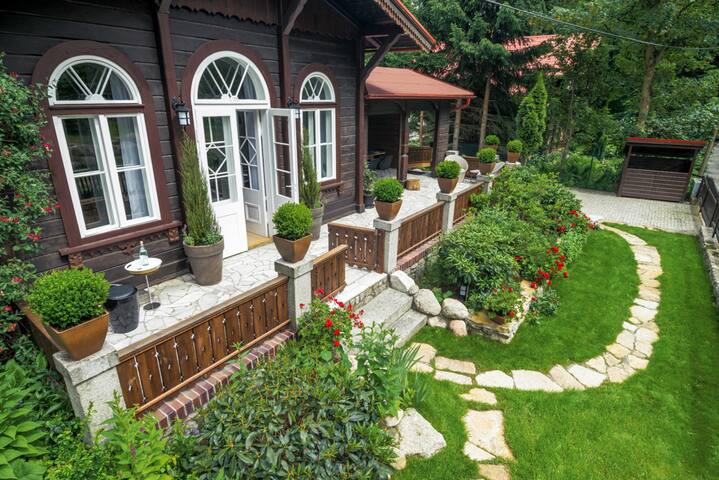 Tipus d'habitació
Casa/pis sencers
---
Tipus de propietat
Casa
---
Capacitat
10
---
Dormitoris
Podgórzyn, Województwo dolnośląskie, Polònia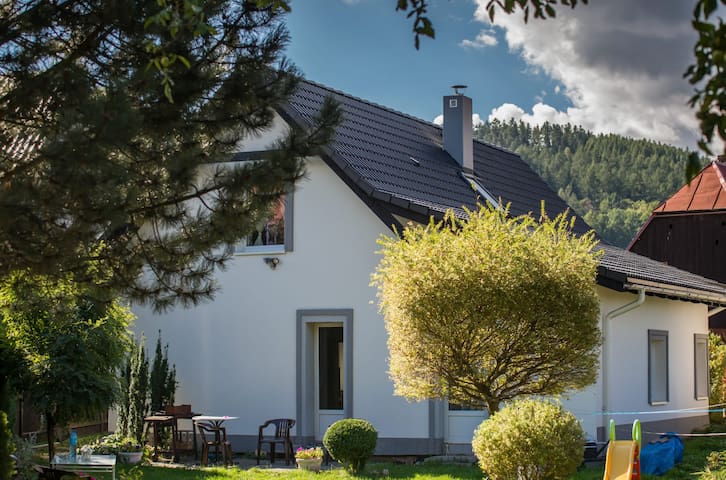 Villa Skalka is a house for people who value peace and quiet, wanting to take a break from the noise and frenetic pace of city life. The building is located near the forest and away from the main road.
In our house we offer at your disposal 5 rooms for 2 cars (+ possibility of 4 extra beds for children). Each room has its own bathroom and TV (in some rooms fridge, 3 rooms have balconies)
The house is located right next to the forest where the trails start. Before the house is a playground Orlik and a playground for children.
Tipus d'habitació
Casa/pis sencers
---
Tipus de propietat
Casa
---
Capacitat
10
---
Dormitoris
Karpacz, Województwo dolnośląskie, Polònia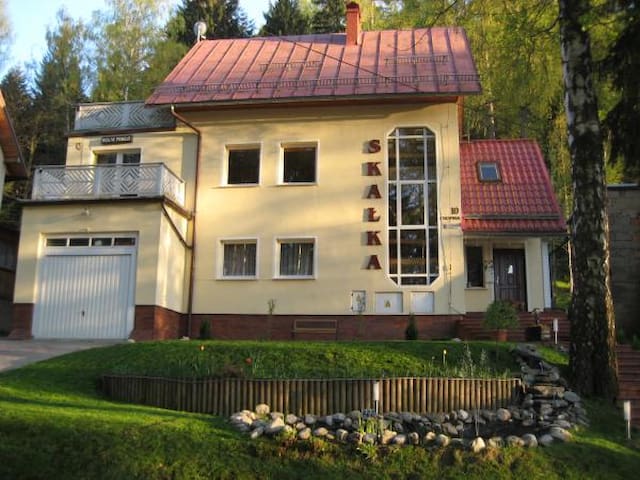 Willa Przylesie to doskonała lokalizacja dla ceniących ciszę, spokój i prywatność. Przestronny i komfortowo wyposażony dom pozwoli cieszyć się wypoczynkiem o każdej porze roku. Dostęp do własnego tarasu i ogrodu zwiększy możliwość obcowania z otaczającą przyrodą. Podgórzyn to doskonała baza wypadowa do skorzystania z bogatej oferty turystycznej regionu. Zapraszamy!
Oferujemy Państwu bogato wyposażoną kuchnię, 3 łazienki, z czego 2 z bidetami. 2 łóżka 2 osobowe, 4 łóżka pojedyncze. Kącik fitness, zestaw gier i puzzli.
Ein sehr schönes Aufenthalt, dass Haus liegt ruhig und gleich nehmen dem Wald, mit Nachbarn aber auch :) Ich habe Urlaub mit meinen Freunden und meinen kleinen Hunden dort gemacht. Das Haus ist sehr sauber und man fühlt sich gleich Heimisch. Mit dem Kaminofen haben wir uns Abends immer gemütlich gemacht. Der Garten und die Terrasse war für die Hunde optimal und für Kinder ist draußen auch eine Rutsche und Schaukel. Im Sommer kann man bestimmt schöne Stunden dort verbringen mit Grillen. Wir würden gern wieder kommen, da wir uns sehr wohl gefühlt haben und uns super erholt haben. Das Haus ist schön Groß und Familienfreundlich eingerichtet! Die Gastgeber sind sehr freundlich und es wird schnell geantwortet, wenn was ist. Ich bedanke mich Herzlich für alles!!
Carolina
2017-02-19T00:00:00Z
Wir hatten zu acht (4 Erwachsene und 4 Kinder) einen sehr entspannten Aufenthalt in Martas Haus und haben uns wie zu Hause gefühlt. Es ist sehr modern eingerichtet und super ausgestattet, sehr familienfreundlich mit zahlreichen Spielsachen und einer Rutsche sowie einem Sandkasten im Garten. Das Haus liegt sehr ruhig am Ende einer Wohnsiedlung, direkt am Waldrand. Supermarkt und Bäcker sind gut zu Fuß erreichbar (ca. 10-15min). Neben dem Supermarkt befindet sich ein riesiger Kinderspielplatz. Die beiden Skigebiete sind jeweils nur ca. 15-20min Fahrzeit entfernt. Die Kommunikation mit Marta funktionierte ausgezeichnet. Wir können das Haus sehr empfehlen.
Kati
2017-03-04T00:00:00Z
Tipus d'habitació
Casa/pis sencers
---
Tipus de propietat
Casa
---
Capacitat
8
---
Dormitoris
Podgórzyn, Województwo dolnośląskie, Polònia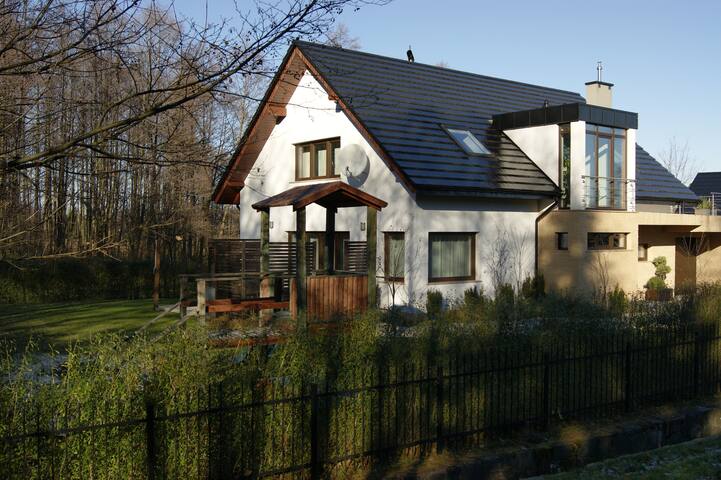 Skromné ale útulné ubytování v klidné části Krkonoš - na Pomezních Boudách.
Freundlicher Empfang mit Kuchen und ein gutes (vegetarisches) Abendessen konnte ich dort auch bekommen. Das Haus hat wohl nur mehrere Mehrbettzimmer, aber da nicht viel Betrieb war, hatte ich eins davon für mich allein. Es war im Obergeschoss und sehr ruhig, Ausstattung nur Betten, Stühle und ein Einbauschrank. Toilette eine halbe Etage tiefer, Dusche ganz unten. An einigen Stellen wird wohl noch renoviert, aber solange das nicht passiert während ich da bin, stört mich das nicht. Für meine Zwecke bestens geeignet.
Matthias
2015-10-26T00:00:00Z
Formidable expérience ! Une famille très chaleureuse et accueillante, qui aime échanger. Nous avons pu partager leurs repas, qui étaient délicieux, et passer du temps avec toute la famille. Le paysage est magnifique et la maison, bien qu'en travaux, a beaucoup de charme
Léa
2017-01-07T00:00:00Z
Tipus d'habitació
Habitació privada
---
Tipus de propietat
Casa
---
Capacitat
4
---
Dormitoris
Malá Úpa, Hradec Králové Region, República Txeca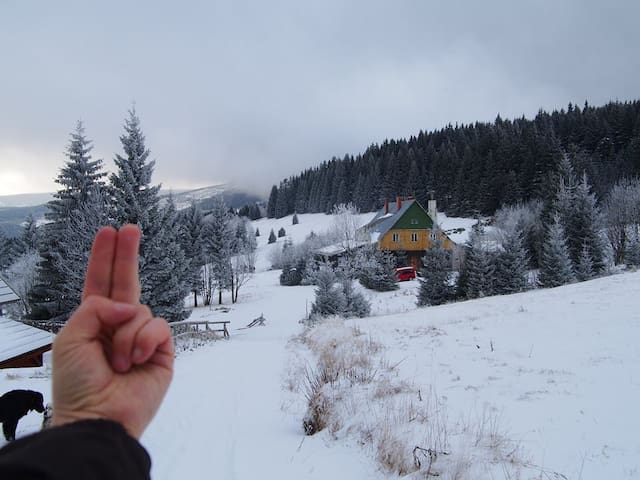 My offer is near the Valley of Palaces and Gardens: - Palace Wojanów approx. 500m - Palace Lomnica 1 km - Palace Karpniki 6km - Palace Staniszów 10 km - Palace Bukowiec 10 km Tourist Cities: - Jelenia Gora 8 km - Teplice Spa 14 km - Karpacz 15 km - Szklarska Poreba 30 km - Swieradow Zdroj 40 km Charming Places: - Giant Mountains - Pearl of the West - Mountain Falcon - Colorful Ponds and many others Right by the house there is przestanek transport.
Pani Danuta to miła i ciepła kobieta. Atmosfera w domu bardzo spokojna. Pokoje przygotowane bardzo starannie. Pomimo później pory przyjazdu, zostaliśmy przyjęci bez problemu. Dziękujemy za gościnę i pyszne pierogi :) Zdecydowanie polecamy!
Monika
2016-11-11T00:00:00Z
Tipus d'habitació
Habitació privada
---
Tipus de propietat
Casa
---
Capacitat
3
---
Dormitoris
Łomnica, Lower Silesian Voivodeship, Polònia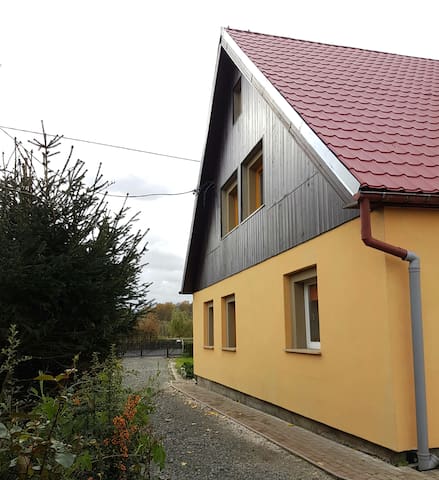 We live in a beautiful, quiet area, 10 minutes on foot from the Term in Teplice. Around a lot of green, and through the window you can see Giant Mountains. Perfect place to relax - for both active and lazy :) Valley of Palaces and Gardens!
Our neighborhood is called the Valley Gardens and Palaces. We are a great base for trips to the mountains. We are also close to beautiful tourist resorts like Szklarska Poreba (approx. 15km) and Karpacz (approx. 17km). Who likes the variety, can go to the Czech Republic :), as the border is almost around the corner.
Doskonale. Wszystko na początku. Mieszkanie jest czyste, wygodne i duże. Bardzo dobra wartość.
Don
2016-07-06T00:00:00Z
Gospodarze dostarczyli nam wszystkich potrzebnych informacji odnośnie okolicy i samego miejsca zamieszkania. Odczuliśmy atmosferę ciepła oraz bezpieczeństwa. Wszelkie udogodnienia zawarte w ofercie zostały nam zapewnione, a przestrzeń do dyspozycji w stosunku do ceny, okazała się niezwykle korzystnym wyborem. Czystość i wygoda miejsca jedynie umiliły pobyt. Gorąco polecamy i pozdrawiamy. Katarzyna i Bartłomiej.
Katarzyna
2016-02-10T00:00:00Z
My fourth time at Anna's place and again everything was perfect!!! A beautiful flat close to everything. And as always the best part of my stay: Anna and her family! Next year there will be a fifth time ☺.
Rainer
2016-09-25T00:00:00Z
Our stay with Ana and her family was simply great. We were received very friendly and they offered us a complete flat with two rooms, bathroom and well-equipped kitchen. Trusting the photos of the listing on Airbnb, you will underestimate the accommodation. The apartment has a room with double bed and a room with a single bed. for us with a child, it was totally perfect. We also got a nice book from them as a memory, which was a nice gesture from this family. There is Lidl, Netto, Rossmann and a nice fast food shop close to the place. The surrounding is also very nice for a walk even with kids. If you are traveling with kids, you may like the restaurant Park Miniature which is not very far from the place, however it is reachable by car. There is a very good playing ground for children and you can enjoy your food in a nice landscape.
mahboobeh
2015-09-05T00:00:00Z
Świetne miejsce, w cichej okolicy domków jednorodzinnych. W odległości wszystkie atrakcje Cieplic, czyli uzdrowiskowej dzielnicy Jeleniej Góry - Parki Zdrojowe, urokliwe zabytkowe centrum i Aquapark. Świetny przystanek przed dalszą podróżą do Karpacza (autobus odjeżdża z przystanku oddalonego 10min. pieszo). Samo miejsce bardzo czyste i komfortowe, z osobnym wejściem, osobnym pokojem dziennym i przyjemną kuchnią. Gospodyni bardzo pomocna, a jednocześnie dyskretna. Polecam!
Piotr
2017-02-06T00:00:00Z
Bardzo mili, serdeczni i życzliwi gospodarze. Uzyskaliśmy od nich wiele cennych informacji o okolicy, dostaliśmy mapę z zaznaczeniem ciekawych miejsc. Warunki mieszkaniowe bardzo dobre, świeżo odnowione, bardzo czyste pomieszczenia, cała kuchnia wraz z wyposażeniem do dyspozycji. Miejsce parkingowe na podwórku. Kwatera położona blisko term, przepiękna okolica. W bliskiej odległości duże sklepy. Szczerze i serdecznie polecamy. Chętnie wrócimy i polecimy znajomym.
Anna
2015-08-27T00:00:00Z
Excellent apartment in quiet residential area, close to the spa and waterpark (Termy Cieplickie) and the elegant town centre (Cieplice). Two bedrooms, sitting room with TV, shower room and fully equipped kitchen in self-contained, lockable, ground floor. Beautifully cool even when hot outside. Warm and friendly hosts who are very helpful. Highly recommended.
John
2016-07-19T00:00:00Z
Jestem bardzo zadowolona z pobytu u pani Anny. Miałam do dyspozycji nie tylko przestronny pokój, ale też łazienkę, salon i w pełni wyposażoną kuchnię. Wszystko było ładnie urządzone i czyste, dzięki czemu czułam się tam jak w domu. Lokalizacja jest bardzo korzystna- okolica jest cicha i spokojna, a jednocześnie można łatwo dotrzeć do centrum Cieplic. Sama Gospodyni jest przemiłą osobą, która zadbała o to, by pobyt był jak najbardziej komfortowy oraz dostarczyła map, dzięki którym łatwo było poruszać się po okolicy. Polecam.
Zuzanna
2016-11-06T00:00:00Z
Tipus d'habitació
Habitació privada
---
Tipus de propietat
Casa
---
Capacitat
2
---
Dormitoris
Jelenia Góra, Województwo dolnośląskie, Polònia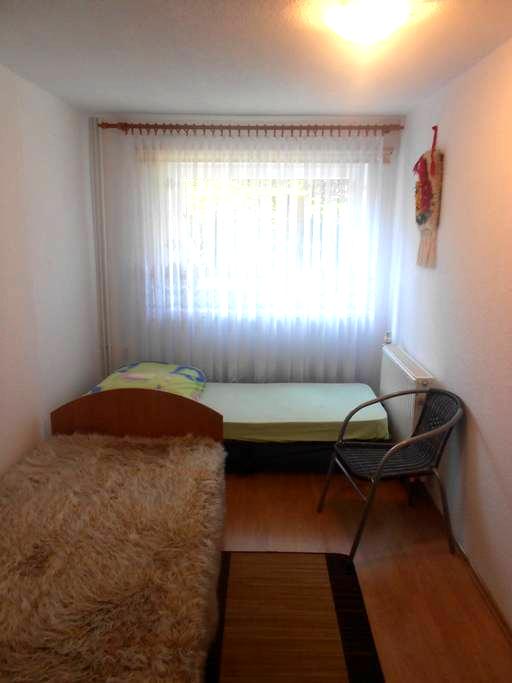 The house is situated in the zone of the Spa "Spa Teplice". You can come here for rehabilitation (outpatient), rest with children and spend an active holiday in the mountains (cycling, hiking and sightseeing). Wealth Teplice are mineral water (possibility of using the pump room), thermal waters (Thermal Teplice) Address ul. Cieplicka 22A Jelenia Góra-Cieplice Zdroj Contact (PHONE NUMBER HIDDEN) or (PHONE NUMBER HIDDEN) email: (EMAIL HIDDEN)
Near the house is the revitalization of parks: Spa and Norwegian. They feature children's playgrounds and outdoor gyms.
The house is situated in the zone of the Spa "Spa Teplice". You can come here for rehabilitation (outpatient), rest with children and spend an active holiday in the mountains (cycling, hiking and sightseeing). Wealth Teplice are mineral water (possibility of using the pump room), thermal (Thermal Teplice) and mud. Held here musculoskeletal rehabilitation, treatment of serious urogenital, renal disease, and women carried out special treatment for eye. The neighborhood is beautiful Spa Park with the Spa Theatre and the concert bowl and Norwegian Park with the Museum of Natural Sciences. Over the Jelenia Góra dominates White (1,602 m). Extremely attractive is near the Giant Mountains. You can get m.in .: nearby Castle Chojnik - Piast stronghold, visit Karpacz and the temple Wang and ride the chairlift to Kopa, see Szklarska Poreba, where are Kamienczyk waterfall and Szklarki and Mineral Museum. You can also enter lift for Szrenica. With the spa Teplice they are organized trips to the Czech Republic.
Tipus d'habitació
Habitació privada
---
Tipus de propietat
Casa
---
Capacitat
12
---
Dormitoris
Jelenia Góra, Województwo dolnośląskie, Polònia
casa d'hostes va ser construïda a finals del segle 20, d'acord amb els patrons de l'arquitectura de muntanya ofereix unes vacances en un lloc meravellós: Jelenia Gora amb una vista de blanc com la neu i prop de klarska i Karpacz.
És un lloc màgic - en la intimitat del bosc, però a prop de les principals atraccions de Jelenia Gora i pobles de muntanya - un lloc que ofereix un allotjament confortable per a tota la família o grup d'amics. Per a aquells que busquen escapar de l'enrenou de l'hotel meva casa pot ser una excel·lent alternativa. Romandre en aquesta casa de 3 dormitoris amb una gran sala d'estar, 4 banys, gran jardí amb possibilitat d'usar la graella del forn li permetrà recuperar la tranquil·litat i una fuita de les dificultats de la vida quotidiana. Vaig a fer tot el possible perquè em sento com a casa.
What a lovely house in a pleasant town with easy access to the national park and mountains nearby. Well located (1km from the Center) and lots to do locally and within 30 minutes all around. The house is big, well furnished and very pleasant. It was also impeccably clean - not a spot of dust anywhere. Kazimierz was extremely welcoming and friendly and even though we couldn't speak the same language, we made each other understood. This is a highly recommended property.
Jeremy
2016-08-11T00:00:00Z
We enjoyed our stay here very much. It is a beautiful home with lots of beautiful murals throughout. The home was very clean and the listing description was very accurate. The host was very hospitable and welcoming. He gave us a very thorough tour of the house. We also felt very safe in this neighborhood. Also, there was a gated area to park our car in which I liked.
Michael
2016-03-28T00:00:00Z
Piękny domek i bardzo gościnny gospodarz. Lokalizacja na wyprawy po okolicach Jeleniej Góry najlepsza. Wszędzie blisko: przystanki PKS, ścieżki rowerowe, obwodnica Jeleniej. Bardzo dobra lokalizacja. Domek jest czysty i oryginalnie wykończony, a do tego w uroczej okolicy. Dzięki temu i gościnności gospodarza, można poczuć się jak u siebie. Dla osób które szukają noclegu w Jeleniej Górze szczerze polecam tę lokalizację.
Krzysztof
2016-05-05T00:00:00Z
Bardzo czysty i przestronny dom. Duzo miejsca w ogrodzie do zabawy dla dzieci. Dobra lokalizacja oraz baza wypadowa do zwiedzania okolic. Bardzo miły właściciel. Zdecydowanie polecam.
Adrian
2016-08-16T00:00:00Z
Majitel je velice sympatický, všechno nám ukázal, vysvětlil a cítili jsme se, jako bychom přijeli k příbuzným. :) Domek je větší než se zdá z fotek a moc útulný. Popis úplně sedí. Zahrada za domem poskytuje dostatek soukromí, není na ni vidět ani od sousedů. Hlavně jsme využili venkovní posezení s grilem. V domě i kolem je všechno prakticky řešeno. Internet také funguje skvěle. Domek se nachází v klidné čtvrti a kousek od domu jsme našli i supermarket. Jediná chyba byla, že jsme museli odjet domů... :)))
Eva
2015-09-15T00:00:00Z
Wszystko super, wszystko !!!!!
Ryszard
2016-08-17T00:00:00Z
Polecam serdecznie Gościnny Domek Pana Kazimierza!!! Gospodarz bardzo miły, udzielił nam wszystkich niezbędnych wskazówek, dostępny w każdej chwili. Sam domek piękny, byliśmy 8- osobową grupą, bez problemu się pomieściliśmy, super ogród i miejsce na grilla, lokalizacja doskonała, cicha okolica, świetna baza wypadowa na szlaki, blisko centrum. Dziękujemy za wszystko!!!
Magdalena
2016-05-30T00:00:00Z
Nous avons apprécié lors de notre arrivée les décorations de Noel (la nappe sur la table, les lumières, le sapin) préparés par Kazimierz dans la maison pour nous accueillir. Nous avons aimé de la part de Kazimierz un contact à la fois simple et chaleureux et sa disponibilité Sa maison est très bien située dans un quartier calme et résidentielle de Jelenia Gora (une ville très agréable, à découvrir absolument!). La proximité avec deux stations de montagne: Karpacz et Szklarska Poreba permet de s'évader rapidement dans la nature pour faire du ski ou les randonnées pédestres.
Krzysztof
2015-12-31T00:00:00Z
Tipus d'habitació
Casa/pis sencers
---
Tipus de propietat
Casa
---
Capacitat
7
---
Dormitoris
Jelenia Góra, Województwo dolnośląskie, Polònia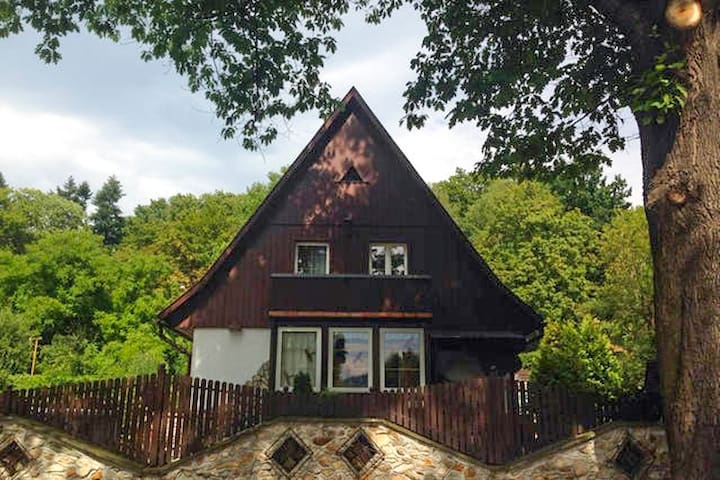 Miłków - Airbnb
:
Mitjana de

4.66

estrelles sobre

5

a partir de

119

avaluacions d'hostes
1

-

18

de

25 Lloguers de Cases
Introdueix les dates per veure el preu total. S'aplicaran tarifes addicionals. És possible que també s'apliquin impostos.