A wooden house with big windows through which you can get lost in your thoughts while starring at the lake and the nature outside. Pool with stunning view on the entire lake. Peaceful area only 10 mins driving from center! Car is needed to get around the area.
Stunning view of the entire lake, surrounded by mountains...a peaceful escape from the crowd but still just a few minutes driving from the center, stores, turistic attractions and beaches... A lot of trekking and mountainbiking trails start from our house. The cable-lift to monte Baldo is only 10 minutes walking or 3 minutes driving. Malcesine is the best spot on the lake for north wind windsurfing which blows every morning.
Morning walks in the forest with lake view is what I do everymorning, I find it the best way to start the day...after a nice cup of coffee on the peaceful veranda... Malcesine is a perfect starting spot for many things....trips to the nearby cities, trekkings, winsurfing, kitesurfing, biking, climbing, sailing.....wine&food tasting...
Sara was a perfect host! And the little wooden house was amazing. We stayed there as a family with a little baby and it was perfect. It was very quiet, but also a good Spot to Take Trips to malcesine and Monte baldo. The view from the house and Pool is just breathtaking.
Lisa
2015-08-01T00:00:00Z
Super location. Natur atemberaubend. Pool und Aussicht gigantisch. Wer Ruhe und Inspiration sucht, keine Animation benötigt, aber gleichzeitig nicht auf sportliche Aktivitäten verzichten möchte, ist hier sehr gut aufgehoben. Sara war jeder Zeit erreichbar und hat sich zusammen mit ihrem Bruder wunderbar um alles gekümmert. Sehr geschätzt haben wir (an dieser Stelle bitte nicht lachen) insbesondere auch den 1A Moskito-Schutz (den man nicht überall so selbstverständlich vorfindet). Auch hieran konnte man erkennen, dass das Konzept des Hauses (wie ohnehin des ganzen Komplexes) sehr gut durchdacht ist. Für uns war der Aufenthalt ein Genuss, wir sagen danke und kommen gerne wieder.
Regina
2016-09-25T00:00:00Z
The house and setting are beautiful and the owners very helpful.
Gavin
2016-09-17T00:00:00Z
Die Unterkunft war genau wie beschrieben und wunderschön. Gerne kommen wir nochmal hierher zurück.
Roland
2015-09-07T00:00:00Z
We had such a good time at Sara's place - it's exactly how we imagined it to be! The house, the garden, the pool - everything was perfect, clean, cosy and welcoming, with a lot of attention to details. We liked the fact that, even though we went to lake garda during high season, the place itself was calm and relaxing with a stunning view over the lake. It's also a perfect starting point for hiking or biking on Monte Baldo. We will definitely come back - thanks a lot!
Elisabeth
2015-08-17T00:00:00Z
Me and my husband had a great time at Sara's place. The house, view and surrounding are great. Sara and her family were very helpfull and made us feel very welcome. The pool area is amazing, the city is nice but very touristic however you can enjoy nature and a more private time at the house. We would recomment this place very much.
Laura
2016-06-18T00:00:00Z
Wir hatten eine absolut wunderbare Zeit in der Wohnung, bzw. dem bezaubernd schönem Haus mit großem Panoramafenster auf die Olivenbäume und den Gardasee. Es ist sehr liebevoll eingerichtet und die Lage ist unbeschreiblich schön. Das Haus und Grundstück ist wundervoll in die Natur eingebettet und hat eine herausragende Grundstücksarchitektur. Ein Highlight ist der für das Grundstück recht große Pool mit einmalig schönen Blick auf den See. Alles ist sehr hochwertig ausgestattet und gepflegt. Ein wunderbarer Mix aus Moderne und Tradition. Die Gastgeber haben Geschmack. Abgesehen der weiteren Vermietungen auf dem Grundstück ist man in seinem Haus ganz für sich und kann sich wunderbar zurückziehen. Uns hat es gar nicht in die Stadt, bzw. zum See gezogen, da wir die Ruhe und den Rückzug sehr genossen haben. Wir wünschen der Familie sehr angenehme weitere Mieter, die das gepflegte und sehr saubere Anwesen respektieren und geniessen.
JP
2015-07-01T00:00:00Z
Dear family Benamati, We thank you very much for the lovely stay at your chalet in Malcesine in Italy. The wooden chalet is beautiful, very comfortable, very clean, and all we need was there! The pool the surroundings, the view at Garda Lake are breathtaking. Thank you for your hospitality and we will recommend your place to our friends. And maybe till next year. Kind regards John Monika from Epe the Netherlands
Monika
2016-07-21T00:00:00Z
Tipus d'habitació
Casa/pis sencers
---
Tipus de propietat
Casa
---
Capacitat
4
---
Dormitoris
Malcesine, Véneto, Itàlia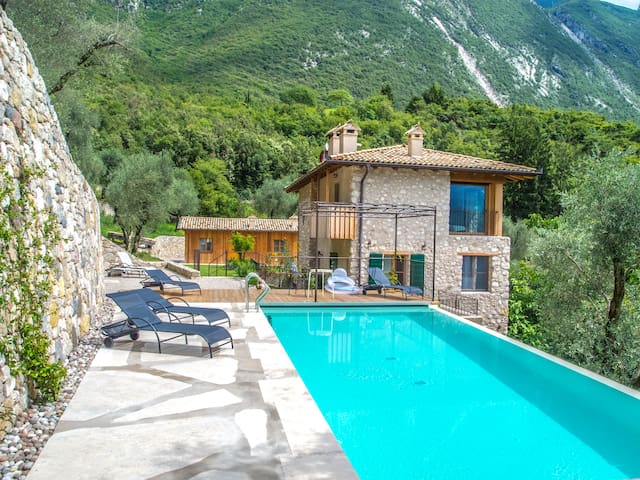 "Casa Zanetti", ampio e luminoso appartamento a pochi passi dalla spiaggia, con splendida vista sul lago. Situato nella suggestiva località di Val di Sogno, a circa 1,5 km da Malcesine.
"Casa Zanetti"
L'appartamento si trova nella località di Val di Sogno, a circa 1,5 km da Malcesine e a 1 km da Cassone, raggiungibili anche a piedi tramite la passeggiata sul lungolago. Malcesine è una delle mete turistiche più frequentate del Lago di Garda con numerosi negozi, locali e ristoranti. Potrete trovare la famosa e moderna funivia rotante, la prima in Europa, che in pochi minuti vi porterà sul Monte Baldo a 1790 metri. Numerosi sono gli sport e le attività che potrete praticare: trekking, parapendio, vela, surf, mountain-bike, kite-surf, passeggiate in bicicletta, escursioni, ecc... Si può inoltre recarsi al Castello Scaligero, a picco sul lago che offre una meravigliosa vista panoramica. Consigliamo, infine, di visitare il Museo del Lago a Cassone, piccolo e caratteristico borgo in cui si trova il fiume più corto del mondo, l'Aril.
Tipus d'habitació
Casa/pis sencers
---
Tipus de propietat
Pis
---
Capacitat
5
---
Dormitoris
Malcesine, Véneto, Itàlia
Our apartments Casa Prea are on a hill, 3km far from the center of Malcesine and the beach , with a beautiful view of all Lake Garda.
This is a new apartment ( build 2013 ) in a house of five apartments, it has one double bedroom, living room with sofà bed, kitchen, bathroom, one very big balcony with a spectacular view of the lake There are two bed in the bedroom and two sofà bed in the living room , can sleep up to 4 person. There is a secure place for bike and windsurf, garden with a barbecue area , sat TV and free internet wi-fi connection. All the apartments have a perking closed by an automatic gate. I prefer to rent weekly from Saturday but I can be flexible .
Sehr helle, sehr saubere Wohnung in toller Lage über dem See mit einem tatsächlich atemberaubenden Blick auf und über den See. Auto unbedingt erforderlich. Ruhige Lage - der wenige Verkehr vor dem Haus ist praktisch nicht zu hören. Im Umfeld alter Olivenbaumbestand. Sehr nette Vermieter. Rundherum eine entspannte Woche Urlaub.
Andreas
2015-04-18T00:00:00Z
Very lovely flat with a nice view. We were just unlucky with the weather.. exactly as on photos and very new and clean.
Sabrina
2016-05-14T00:00:00Z
We spent a honeymoon week in Giacomo's apartment in Malcesine. One thing can't be ignored - the view is astounding. Everything about the apartment is dwarfed in comparison to what you see from the balcony and windows - it was pure joy. Besides that, the apartment is absolutely new and impeccably furnished - everything is stylish, new and modern, like an apartment from a catalogue. There's parking with a gate, there's absolute quiet and tranquillity, there's a Samsung Smart TV and great WiFi, there's a huge balcony. I would love to live in such an apartment! There are some things you need to know though: it's my third stay in a holiday apartment in northern Italy, and this one is a bit less equipped than what I was used to - the kitchen was very good and well stocked with kitchen-ware but does not have an oven/microwave or dishwasher, it didn't bother us at all but if you plan on cooking plan your recipes accordingly. Also, the apartment is not within an easy walk to Malcesine, but there's a great 2 km hike path you can do to the town's centre. If you're in shape you should do it - it's a great workout! You should also be aware that at the season's margins (such as our stay in October) it might get pretty cold - the weather can be tricky during these times. If you're sensitive to cold, make sure to ask Giacomo to turn on the heating - we didn't have to, but we had great weather for most of our stay. Giacomo was a very nice host, he waited for us even though we were late, and made sure we know where everything is and that we've got all we need. To sum it up, it's a beautiful apartment that's a really nice place to be in. We really didn't want to leave! If you're looking for a calm, private and pretty place to stay around lake Garda - this is the place.
Moti
2013-10-20T00:00:00Z
Appartment ist tip-top gepflegt. Alles wie neu ... Phantastischer Blick vom großen Balkon! Von dort läßt sich wunderbar die Abendsonne genießen. Sehr angenehme Gastgeber. Sehr guter Ausgangspunkt für Wanderungen am Gardasee. Wir kommen gerne wieder.
Günther
2014-05-25T00:00:00Z
Wunderbarer Aufenthalt in einem sehr gepflegten und geräumigen Appartment. Vielen Dank
Rebecca
2016-06-19T00:00:00Z
Wir hatten eine tolle Zeit bei Irene. Es war alles wunderbar und genau so toll wie die Bilder zeigen. Wir haben uns sofort wohl gefühlt. Ein wahnsinns toller Balkon, mit einer wunderschönen Aussicht!!!!!! Zimmer waren sehr sauber und es war alles da was man braucht. Wir wollten gar nicht abreisen und würden jederzeit gerne diese FeWo wieder buchen. Freuen uns auf ein nächstes Mal....
Max Katrin
2016-05-03T00:00:00Z
Wir wurden von Irene's Bruder sehr freundlich in Empfang genommen. Er zeigte uns ganz in Ruhe alles, beantwortete Fragen zu bike trails und Essensmöglichkeiten. So fühlten wir uns gleich wie zuhause. Das Appartement ist grossartig, genau wie auf den schönen Fotos und die Aussicht ist einfach nur wunderschön. Wir hatten eine tolle Zeit und werden sicher wiederkommen!
Carolin
2015-06-06T00:00:00Z
Die Unterkunft war spitze! Riesiger Balkon, insgesamt sehr großes Apartment und ein einzigartiger Blick! Wirklich einen Aufenthalt wert! :)
Charlotte
2015-06-03T00:00:00Z
Tipus d'habitació
Casa/pis sencers
---
Tipus de propietat
Pis
---
Capacitat
4
---
Dormitoris
Malcesine, Véneto, Itàlia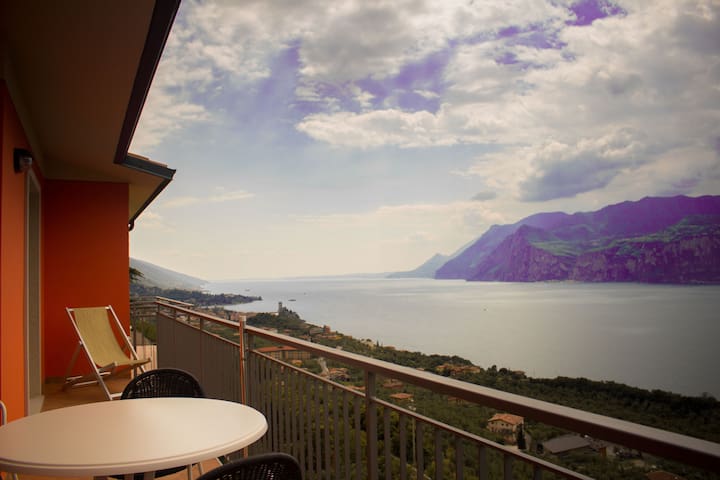 The house is directly on the lake next to the Paragliding land and all the rooms overlook Lake Garda. A full Breakfast is offered every morning and guests can use the kitchen. Breakfast can be had inside or outside on the panoramic terrace. There is a lounge with TV ,games, tablets and we offer free wi-fi to all our guests, they can use the barbecue into the garden and take our bikes for move easyer around the place. We are happy and glad to help you to plan your trip.
The house has renewed in 2016. Every rooms overlook the Lake. We have one room with private toilette and other two rooms that share one bathroom. The furniture are news and the mattresses are in memory-foam so extremly fresh and confortable.Into the room you will find everythings you need and also a Tablet to watch movie or read your favourite newspaper.
We are into a secular Olive grove directly on the beach.
Casa Tonini B&B was an all over an amazing experience. The location and views were perfect, the house was so clean, and communication was above and beyond expectations. Breakfast was fresh every morning and was tailored to each individual. Lorenzo was so friendly and helpful before and during our stay. The atmosphere was so relaxed and peaceful. I would definitely recommend staying there. There is a wonderful kids playground and a tunnel that goes under the street to a private beach. Perfect for all groups of holiday goers.
Tiffany
2016-07-12T00:00:00Z
We stayed for 6 nights, it was a wonderful place and location and we wish it could have been longer. Lorenzo was a perfect host, made us feel very welcome and we thoroughly enjoyed our stay. The grounds, the house and the rooms are very clean and well cared for with a clean beach area safely accessed through a tunnel under the road. It's a nice walk into Malcesine but if you want something closer by then there are also some pubs/restaurants just to the north. We visited Limone, Riva, Sirmione but liked this area the best. We would definitely stay here again.
Tim
2016-07-04T00:00:00Z
Lorenzo est accueillant et très disponible. Le logement est moderne et très bien entretenu. Le petit déjeuner sur la terrasse avec vue sur le lac est très agréable. L'emplacement est idéal, juste à coté du lac avec une petite plage. A 20 minutes à pied de la jolie ville de Malcesine, des vélos sont mis à disposition pour faciliter les déplacements. Nous y avons passez un agréable séjour.
Mathilde
2016-08-17T00:00:00Z
Lorenzo is ein sehr höflicher und freundlicher Gastgeber und man fühlt sich gleich bei der Ankunft als ein Familienmitglied "willkommen". Alle Räume sind sehr sauber und hell Die Gemeinschaftsküche ist sehr liebevoll eingerichtet. Das Frühstück war immer top
Anton
2016-08-30T00:00:00Z
The host canceled this reservation 33 days before arrival. This is an automated posting.
Monica
2016-08-07T00:00:00Z
Perfect and clean accommodation. A good breakfast on the terrace underneath olive trees with à breathtaking view on the lake. Very friendly and helpfull personel. We really enjoyed out stay at Tonini's.
Raymond
2016-08-08T00:00:00Z
The host canceled this reservation 9 days before arrival. This is an automated posting.
Thomas
2016-07-13T00:00:00Z
The stay was wonderful. It is very exactly like on the photos :) We had the beatiful green room - which I recommend to everybody! It is a double room and the view is the very one on the picture (you see the lake and a bit of the street, which is not very noisy!). Very, very clean apartment in a nice area. Close to Malcesine, you can walk there, but still a quiet, relaxing neighbourhood. The place offered: tasty breakfast, modern room, own parking space. I would defitinely come back :)
Mo
2016-07-27T00:00:00Z
Tipus d'habitació
Habitació privada
---
Tipus de propietat
Bed & Breakfast
---
Capacitat
8
---
Dormitoris
Malcesine, Véneto, Itàlia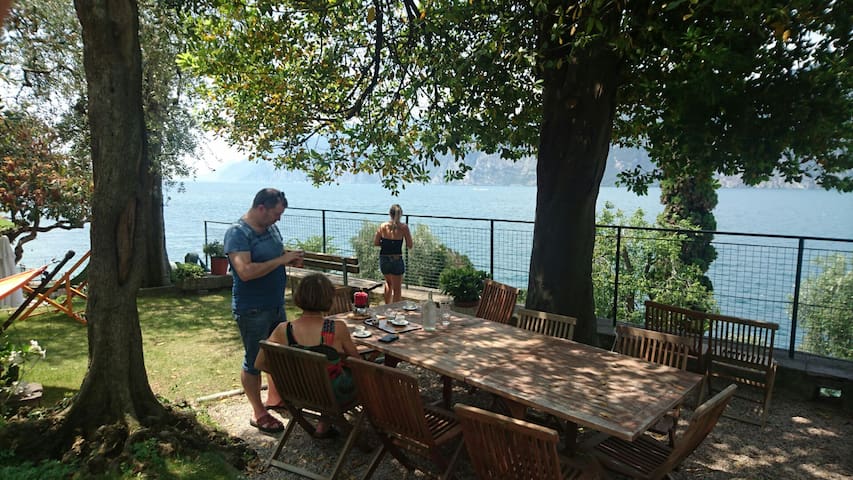 L'Appartamento si trova in collina nella piccola Valle (Val di Monte), zona tranquilla,sopra Malcesine, in mezzo alberi di Olivi, Palme, Cipressi, Ficchi e Limoni, con vista sul lago e sul Monte Baldo!
The apartment is located on the 1st floor and is formed by 4 rooms + balcony, and can host max. 3 people and is completely furnished. The bedroom has got a queen-size bed and a single bed with a wardrobe. The bathroom with a window is furnished with shower, bidet, sink, WC and a washing machine. In the living room you can find a sofa, a wardrobe and a satellite TV and the apartment has also WIFI. The kitchen is complete with kitchen area, fridge, freezer, oven, dishwasher, coffee machine and a table with chairs. Parking near of the house. Familiarly space and the owner comes from Germany and speaks German, English, French and Spanish. From the apartment you can admire the Lake Garda with a wonderful landscape, the location is very calm and just 2Km from the centre of Malcesine. This is the perfect place to practice a lot of water sports like windsurf and sailing and also for trekking & Nordic walking on the Monte Baldo, within a few minutes the cable car "flies" up to 1800 meters altitude, the fully rotating cabins that are unique in the whole world will allow you to live new emotions every time.
In vicinanza del appartamento, si trovano due alberghi ( Hotel Panorama e Hotel Val di Monte) in quale sono anche nostri ospiti benvenuti per un aperitivo o pausa caffe!
Elisabeth und ihr Mann waren absolut freundliche und zuvorkommende Gastgeber. Die Wohnung liegt total ruhig, ist geräumig und sehr sauber. Ein guter Ausgangspunkt fürs Bergwandern, Klettern, Aktivitäten am See und vieles mehr. Wir haben uns sehr erholt. Vielen Dank
Michael
2016-11-04T00:00:00Z
Wir hatten eine tolle Zeit in einer schönen Wohnung. Schon allein die Anfahrt vom Gardasee bergauf durch die Olivenhaine begeisterte uns. Die Ferienwohnung in einem kleinen, alten Haus mit Blick vom oben auf den See verfügt über eine große, gut eingerichtete Wohnküche mit allen Elektrogeräten und Gasherd. Die Matratzen im ebenfalls geräumigen Schlafzimmer sind sehr gut. Die Holzumrandung des stabilen Bettes könnte mal befestigt werden. Die Wohnung war super sauber, und Mitte Oktober bei kühlem Wetter auch gemütlich warm. Danke, Elisabeth, für deine freundliche, warmherzige Art, wir haben uns bei euch sehr wohl gefühlt. Claudia und Rolf
Claudia
2016-10-23T00:00:00Z
Wir hatten wunderbare 2 Wochen bei Elisabeth und Ezio. Sie haben uns herzlich empfangen und waren immer ansprechbar. Auch die Kommunikation im Vorfeld war prima. Die Wohnung ist so wie beschrieben, im Grunde ist alles da. Der Blick ist großartig und die Höhenmeter weg vom Trubel lohnen sich auf jeden Fall. Falls wir erneut in der Gegend sind, kommen wir gerne wieder. Auf jeden Fall empfehlenswert!
Peter
2016-09-04T00:00:00Z
We were very well treated, even with fresh tomatoes and zuchinni. WE especially liked the peace and quiet. The hiking all involved lots of up and down, so we got plenty of cardio exersize. The hike to the Mt. Baldo mid station and then the ride to the top and the walk around there were spectacular. Make sure the weather will be good. Also, there is a nice pool at the mid station that you can use for 10 euro.
Dan
2016-08-02T00:00:00Z
The accommodation was excellent. The views were so amazing, looking towards the lake and then behind in the mountains. We came in the very last week of the cable cars in October so it was cool weather and peaceful. Elizabeth gave very good directions from Malcesine to the house. We originally were going to catch the bus which comes 4 times a day. The bus stop is about 50 metres down the road. We drove instead and parked behind the house. The walk into town was about 15 to 20 minutes. There is a map of the town which shows you the shortcut. It's quite a walk back up and there and no lights so walking up in the dark is challenging. So by car or not it is definitely doable. The house was a great location and it had all you needed for self catering. We were unable to separate the beds so my niece and I had to share a bed. There was another fold out bed in the area between the kitchen, bedroom and bathroom. It was cool in October but the place was always warm. I am keen to bring my husband back as it was just such a lovely place and very good value.
Angie
2016-10-28T00:00:00Z
Vielen lieben Dank für alles. Es hat einfach alles gepasst. Sehr einfache und schnelle Kommunikation im Vorfeld, super Wohnung mit tollem Blick auf den See und netter Empfang vor Ort :) sehr empfehlenswert! Wenn uns der Weg nochmal zum Gardasee führt, kommen wir gerne wieder :)
Johannes
2016-08-09T00:00:00Z
Wir hatten sehr schöne Tage in Malcesine bei Elisabeth und Enzio. Sie waren telefonisch immer erreichbar und sehr geduldig mit unserer Ankunftszeit. Wir wurden sehr herzlich empfangen und mitsamt Gepäck auf den Berg und auch wieder hinunter gebracht - dafür noch einmal ein riesiges Dankeschön. Man findet alles vor, wie beschrieben, kann kochen, sogar waschen und wunderbar schlafen. Die zu überwindenden Höhenmeter sind ohne Auto durchaus eine Herausforderung , aber die wunderschönen Ausblicke, die Olivenbäume und die Landschaft sind einmalig und lassen die Anstrengung vergessen. Die Wohnung hat eine traumhafte Lage - wir kommen gerne wieder.
Heike
2016-09-30T00:00:00Z
La acogida fue muy buena, gente muy agradable. La casa estaba limpia y tenia todo lo necesario para pasar un tiempo. Esta cerca del pueblo se puede ir y venir facilmente andando
javier
2016-10-17T00:00:00Z
Tipus d'habitació
Casa/pis sencers
---
Tipus de propietat
Pis
---
Capacitat
3
---
Dormitoris
Malcesine, Véneto, Itàlia
It's situated at 15 min.walk to the beach,cablecar and historic village centre, having a view over the lake, family managed. The unit is composed of 1 double room, shower-wc, living room with kitchen, balcony with stunning lake view. To reach the apartment there are steps and no lift. Our Guests have use of garage, courtyard, Wi-Fi, ping-pong and swimmingpool (4x8x1.20meters - opening from 1st may to 15th september) in an olive grove where
Beautiful two roomed flat, double room, shower wc with window. Lounge with couch optional single bed, kitchen, balcony with view of lake. furnished with all comfort, stove with   4 burners, big fridge with freezer, microwave, toaster, electric kettle, wi-fi, tv and safe.
Malcesine is one of the most visited tourist locations situted on the most northern part  of the  Olivegrove Riviera, amidst large olivegroves on the foot of Monte Baldo. The ancient and idillic village is situated around a cliff on which is built a majestic middle age castle, mentioned already by the german poet Goethe on his " Italienische Reise" of 1786. A modern revolving cable car takes you in a few minutes to Tratto Spino (1790 meters) ideal starting point for walks or bike rides on Monte Baldo. Many sporting activities are practicable(sailing, windsurf, kite surf, trekking, mountain bike riding, paragliding. Malcesine is an ideal departing point to visit various Citys rich in art, as Verona, Venice, Mantova, Padua. Not far from Malcesine there are lesure Parks as Gardaland, Movieland, Canevaworld and botanic gardens as Sigurta' and Heller.
Tipus d'habitació
Casa/pis sencers
---
Tipus de propietat
Pis
---
Capacitat
3
---
Dormitoris
Malcesine, Véneto, Itàlia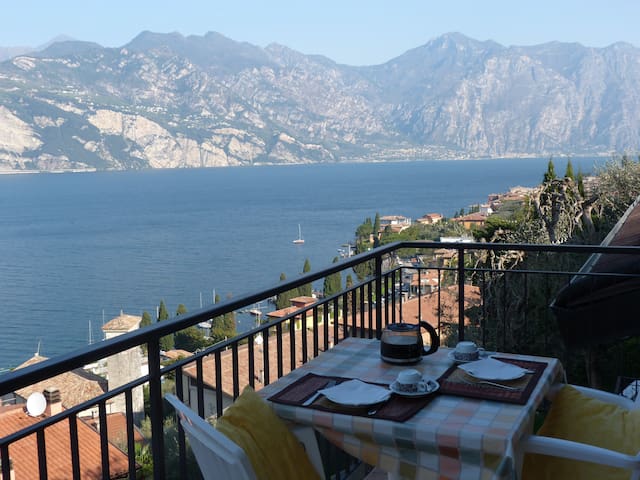 Casa Luisa è situata nella frazione di Campagnola, direttamente sulla spiaggia. L'appartamento è posto al piano terra con terrazza privata. Dotato di una camera matrimoniale, cucina, bagno.
Appartamenti situati nelle vicinanze di Malcesine, direttamente su una delle più belle spiagge del Lago di Garda, a 500 m dalla nuova Fraglia della Vela di Malcesine e a 3 km dagli impianti di risalita del Monte Baldo. Gli appartamenti sono collegati al centro di Malcesine da una piacevole passeggiata, direttamente sulle rive del Lago di Garda. Casa Luisa è il luogo ideale per trascorrere una vacanza sia all'insegna dello sport sia per un soggiorno di puro relax.
L'appartamento è vicino alla Fraglia Vela Malcesine ed è collegato al centro di Malcesine da una Pista ciclabile. Ottima località per praticare sport (vela, windsurf, kite-surf, mountain-bike..)
Die einfach eingerichtete Unterkunft hat eine erstklassige Lage direkt am See. Das Parken ist kein Problem. Die Vermieterin ist zuvorkommend und hilfsbereit.
Birgid
2015-09-26T00:00:00Z
Zusammen mit einer Freundin hatten wir einen schönen Aufenthalt in der Ferienwohnung von Luisa. Die Lage ist wirklich perfekt und nur ein Fuß-/Radweg trennt das Grundstück vom Zugang zum See. Zwar ist die Wohnung eher eine Kellerwohnung und die Einrichtung etwas älter, aber an den heißen Julitagen war es dort angenehm kühl. Man kann sehr gut mit 2-4 Personen übernachten (1 großes Bett, 2 Einzelbetten, eines im Schlafzimmer, das andere im Esszimmer/Küche). Über einen kleinen Durchgang gelangt man direkt an den See und zu den reservierten Strandliegen und einem Tisch mit Stühlen für das Frühstück draußen mit Seeblick. Im ganzen Wohnhaus sind Ferienwohnungen, die Luisa vermietet. Bis zum Ortskern von Malcesine sind es ca. 3km. Luisa stellt auch einige alte Fahrräder zur Verfügung. Man kann viel unternehmen (mit der Seilbahn von Malcesine auf den Monte Baldo, mit der Fähre andere Städte am Gardasee erkunden). Die Absprachen mit Luisa liefen problemlos. Sie spricht gut Deutsch und hat uns sogar mit ihrem Auto abgeholt, als wir das Haus nicht auf Anhieb gefunden hatten. Ich würde jederzeit wieder Luisas Ferienwohnung mieten.
Alexandra
2015-07-08T00:00:00Z
Todo perfecto con Luisa , una genia , nos hizo sentir como en casa , el lugar es tal como lo dicen las fotos , muy limpio y comodo y con todo lo necesario para pasarla bien , Luisa muy atenta al check in y check out , lo recomiendo , el proximo ano volvemos. Gracias Luisa !!!!
juan pablo
2016-04-18T00:00:00Z
Det var en fin modtagelse, boligen lå fantastisk og værten var sød og hjælpsom
Anita
2016-08-13T00:00:00Z
Die Unterkunft war wie beschrieben mit schönem Kellergewölbe. Hatte eine Terasse mit Ausgang direkt am See. Optimal um direkt mit dem Rad nach Malcesine zu starten. Für Wasssersportler auch super Lage. Von Luisa wurden wir herzlich mit Wein und Knabbereien empfangen. Spricht gut deutsch und ist um das Wohl der Gäste sehr bemüht. Die Nachbarschaft ist sehr ruhig.
Michael
2015-10-05T00:00:00Z
Wir (3 Freundinnen und ich) haben einen super schönen Urlaub in dieser FeWo verbracht. Die Einrichtung ist schon etwas in die Jahre gekommen und zu viert sollte man sich auf engem Raum schon gut verstehen - für unsere Zwecke allerdings genau das Richtige! :-) Die Lage ist einfach ein Traum... Nur den Fahrradweg überqueren und man steht/ liegt direkt am See an einem kleinen Privatstrand. Zu Fuß ist man in ca. 15-20 Minuten in Malcesine. Weitere Städtchen (Torbole, Arco, Riva, usw.) sind schnell mit dem Auto zu erreichen. Luisa ist sehr freundlich, die Kommunikation im Vorfeld verlief absolut reibungslos.
Katharina
2016-06-05T00:00:00Z
Alles war total unkompliziert und Luisa ist sehr nett und zuvorkommend! Dass sie super deutsch sprechen kann, hat das Ganze natürlich noch mal erleichtert. Ich kann diese Unterkunft empfehlen: Die Lage direkt am See ist herrlich, wenn die Wohnung auch etwas außerhalb Malcesines liegt. Doch mit dem Auto ist der Ortskern schnell erreicht. Vielen Dank und alles Gute! :)
Lisa
2016-04-05T00:00:00Z
Ce petit appartement ne manque pas de charme, bien équipé et idéalement situé au bord du lac...Accueil sympa par Luisa (apéritif et snack offert...)
Jacky
2016-10-24T00:00:00Z
Tipus d'habitació
Casa/pis sencers
---
Tipus de propietat
Pis
---
Capacitat
3
---
Dormitoris
Malcesine, Véneto, Itàlia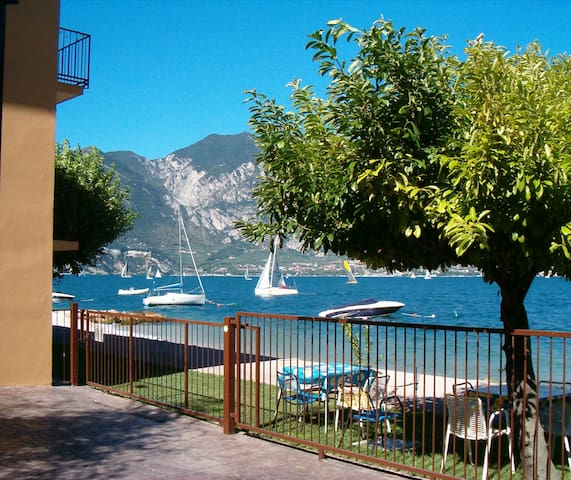 ONE ROOM APT WITH SOFABED 2 KM FROM CENTER 10 MINUTS WALK FROM THE LAKE. NOT SUITABLE FOR PERSONS WITH WALKING PROBLEMS AS IT IS NOT POSSIBLE TO DRIVE ALL THE WAY UP - WE BRING THE LUGGAGE TO THE APP- PERFECT FOR ACTIVE HOLIDAY. MIN. 5 DAYS STAY
Liebe Hanne,es war ganz toll bei dir! Wir konnten hervorragend vom stressigen Alltag in Deutschland abschalten. Die Unterkunft war für uns perfekt! Ganz besonders gut hat uns die Terrasse und der Garten gefallen. Die Nachbarschaft ist wirklich hervorragend, vielen Dank an Elfie und Klaus!!! Wir kommen wieder !!!!
Julia
2016-05-27T00:00:00Z
The listing was accurate with the location and Hanne was very welcoming helping us with our luggage up the small lane. The house was lovely and bright and very comfortable
Darren
2016-08-10T00:00:00Z
Hanne is really nice. We feld welcome right away. The house has much privacy and a great garden. Also a nice view of the lake. The town has everything you expect from a nice historical town on the lakeside with a nice addition, a cablecart going up the mountain for a beautiful panoramic view.
Carmen
2016-08-20T00:00:00Z
Hanne was so helpful and bring us from the center to the rental. The house was exactly like in the picture, clean, and the place is quite, sunny and fully equipped. The only negative thing is that the house was the top of a hill but we are young and able to. We highly recommand Hanne and his place.
Aurélie
2016-07-21T00:00:00Z
Wir wurden sehr sehr herzlich von Hanne und ihren Nachbarn empfangen. Parken war auf halber Ebene am Hang ohne Probleme möglich - das Gepäck wurde uns zum Glück hoch und wieder runter chauffiert. Zur Unterkunft selbst kommt man nämlich nur zu Fuß oder kleineren Fahrzeugen entlang einer mehr oder weniger befestigten schmalen Straße. Dafür findet man oben ein wirklich ruhiges und schönes Plätzchen, in dem wir uns 2 Wochen lang sehr wohl gefühlt haben. Es ist alles vorhanden, was man braucht. Fehlt doch etwas, kann man jederzeit Hanne oder ihre hilfsbereiten Nachbarn fragen. Von der Terrasse aus hat man durch die Bäume Blick auf den See, morgens ist der Garten sehr sonnig! Wer hierher kommt, sollte keine Angst vor Hunden haben - zu jedem Grundstück gehört auch ein Hund, von dem man täglich mit Bellen begrüßt wird ;) Wir kommen gerne wieder!
Sina
2016-10-02T00:00:00Z
Tipus d'habitació
Casa/pis sencers
---
Tipus de propietat
Pis
---
Capacitat
2
---
Dormitoris
Malcesine, Véneto, Itàlia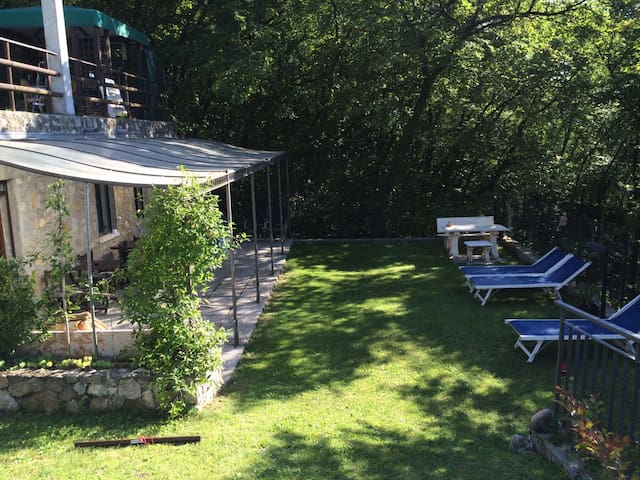 Il più ampio degli appartamenti occupa gli ultimi due piani e offre una spaziosa zona giorno con annesso terrazzo. Da quest'ultimo si ha una vista sulla montagna che sovrasta l' abitato, sui tetti del paese e sul Castello Scaligero.
L' appartamento si contraddistingue per uno stile moderno e contemporaneo, dotato di tutti i comfort tra cui tv satellitare da 50" e climatizzatore. Sono presenti due camere per due persone ed un divano letto per accogliere un massimo di 6 ospiti. L'appartamento è corredato da una cucina completa, dotata di fornetto a microonde, lavastoviglie, tostapane e melita. Sono presenti inoltre cassaforte, capiente armadio, WiFi gratuito ed un ampio bagno finestrato con spazioso box doccia dotato di riscaldamento autonomo.
A pochi passi dal Lago e dal Castello Scaligero Mala Silex Apartments si propone di accogliere con entusiasmo i visitatori amanti del bellissimo Lago di Garda e di tutti gli sport praticati nella zona, senza dimenticare il semplice relax e le occasioni culturali. Le animate vie del centro storico vi accoglieranno come solo il nostro borgo incastonato tra montagna e lago sa fare.
Apartment was lovely and just as described, situated right in the middle of the old town with everywhere an easy walk away. Lots of restaurants and places to eat. The apartment was spotlessly clean and mostly new. The host kept in contact and was responsive. Parking was about 200m away and free after 8pm each day. Car only needed if you want to explore the area. Would recommend the place.
Ross
2016-05-16T00:00:00Z
Simone was an excellent host.
brad
2016-09-28T00:00:00Z
Simone hat uns von der Busstation abgeholt und zum Apartment geführt, da dieses direkt in der Innenstadt in einer autofreien Zone liegt. Durch einen kleinen Innenhof gelangt man über eine Treppe in die Wohnung, welche über die Fotos sehr gut dargestellt ist. Er hat uns dann alles wesentliche gezeigt und erklärt und ist auch auf unsere Wünsche, wie z.Bsp. Handtuchwechsel und Bügeleisen, eingegangen. Die Wohnung liegt zentral in Malcesine, so dass wir die meisten Aktivitäten direkt zu Fuss starten konnten. Ein Parkplatz hat die Wohnung leider nicht. Simone konnte uns hier einen Privatparkplatz in ca. 1km Entfernung anbieten. Damit kommt man klar, auch wenn es einen kleinen Aufstieg bedeutet. Alternativ kann man die teuren Parkplätze / Parkhäuser in der Nähe nutzen. Wir hatten einen schönen Urlaub und konnten uns nach anstrengenden Tagen auf eine angenehme Unterkunft freuen.
Markus
2016-07-31T00:00:00Z
Ich mietete mit drei Freundinnen die wunderschönen Wohnung für ein Wochenende. Der Kontakt mit Simone verlief einwandfrei. Check-in und Check-out-Zeiten könnten wir mit Simone flexibel gestalten. Simone Empfang uns sehr freundlich. Die Wohnung ist sehr stilvoll eingerichtet. Auf der Dachterasse konnten wir entspannt frühstücken und uns wohlfühlen. Die Wohnung lügt mitten in der kleinen Stadt. Es war einfach toll und wir können die Wohnung nur weiterempfehlen. Alles war sehr sauber und ordentlich. Grandios! Danke Simone :)
Dani
2016-06-13T00:00:00Z
Apartment was perfect! Very clean, spacious and airy, as if it was brand new! The location was amazing, by far one of the best in Malcesine. From the balcony, the castle was just a stones throw with panoramic view of Malcesine and Mt Baldo. Host offered alternative parking option which was very close to the town centre and ideal for us. Would highly recommend.
EMILY
2016-05-29T00:00:00Z
Simone was great, let us check in early and left us to ourselves during the whole time. His property is exactly how it looks in the pictures, but the roof terrace photos do not do it justice, the views are amazing!
Colin
2016-09-21T00:00:00Z
Simone var fleksibel og imøtekommende. Han responderte på alle våre henvendelser. Leiligheten var fint oppusset. Godt utstyrt leilighet som inneholder det du trenger for ferien.
Rune
2016-07-16T00:00:00Z
L'appartement de Simone est idéalement placé dans le centre historique de Malcesine, a 2 pas du chateau et a proximité immediate des restaurants et du lac. L'appartement est extrêmement calme et possède une terrasse sur les toits avec une vue fabuleuse sur la ville et les montagnes. L'appartement en lui même est très beau, très moderne, et parfaitement equipé. Vu notre heure d'arrivée Simone n'a pas pu venir nous chercher lui même, et c'est sa soeur qui est venue nous accompagner à l'appartement. Simone est passé un peu plus tard dans la journée pour nous souhaiter la bienvenue. Lui et sa soeur ont pu nous conseiller sur les lieux a visiter et les meilleurs restaurants de la ville. Notre séjour a été parfait! Merci Simone!
emmanuelle
2016-08-28T00:00:00Z
Tipus d'habitació
Casa/pis sencers
---
Tipus de propietat
Pis
---
Capacitat
6
---
Dormitoris
Malcesine, Véneto, Itàlia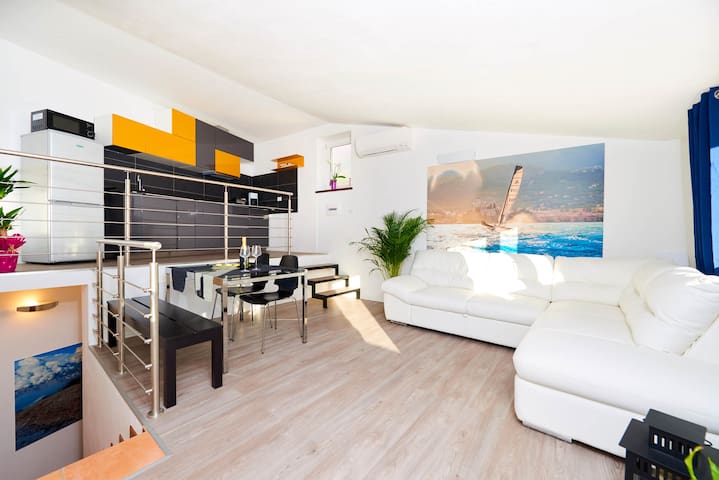 ITA - A pochi passi dal centro di Malcesine, si propone appartamento bilocale in residence con piscina. L'appartamento è composto da soggiorno, angolo cottura, camera da letto e bagno. A completare il tutto terrazza con vista Lago, cantina e posto auto. ENG - very next to the town centre of Malcesine, a fully furnished flat in residence with common swimming pool. It includes dining room, kitchen, bedroom and bathroom. Outside there is terrace with view on the lake, closet and private parking.
L'alloggio è composto da una cucina, un soggiorno e una camera da letto. la terrazza ha una splendida vista sul lago e sul castello di Malcesine. L'appartamento è stato competamente ristrutturato nel 2017.
Il quartire è molto tranquillo e di tipo residenziale. E' abbastanza lontano dalla strada più trafficata e quindi non risente dei rumori di automobili. Il residence e i dintorni sono abitati da altre famiglie solitamente in vacanza.
Tipus d'habitació
Casa/pis sencers
---
Tipus de propietat
Casa de vacances
---
Capacitat
4
---
Dormitoris
Malcesine, Véneto, Itàlia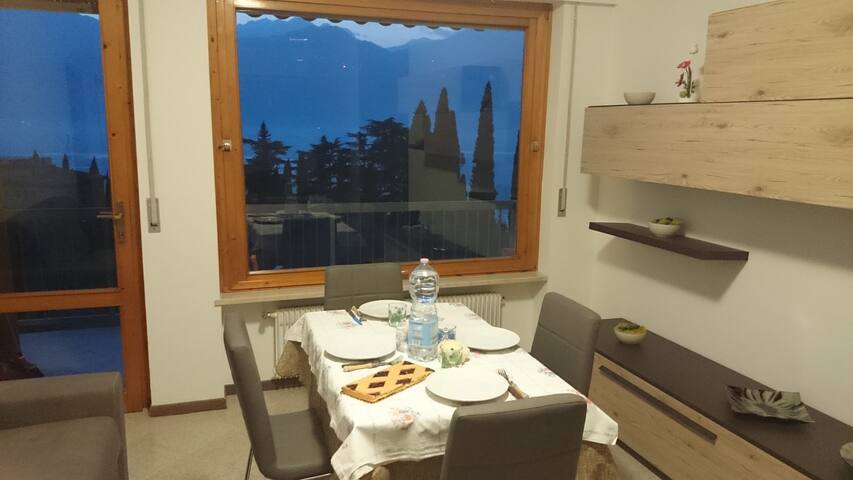 Trilocale appena ristrutturato con due belle stanze luminose, un bagno colorato e un'ampia cucina. L'appartamento si apre su un bel giardino con ulivi. In posizione tranquilla, a pochi passi dal centro storico, dalla funivia del monte Baldo e spiagge
L'appartamento si trova al piano rialzato di una casa in zona tranquilla, con un bel giardino completamente recintato. Ideale per le famiglie.
La casa è in una strada chiusa, pertanto poco trafficata e molto tranquilla, in zona residenziale. A poche decine di metri ci sono i cassonetti per la raccolta differenziata dei rifiuti. A piedi potete arrivare facilmente nel centro storico, al Castello, al porto, alle spiagge o alla funivia del Monte Baldo.
I was warmly welcomed and had a lovely time in this beautiful apartment with spacious rooms and a lovely garden. Everything i neede was there! Literally 5 minutes from the lake and the castel. Very happy with my stay here and looking forward to come back very soon. Thank you Valentina and family.
Roberta
2014-12-05T00:00:00Z
Very clear information given by owner of the appartement. Really friendly and very helpful. Very good appartement for 4 people. Very nice garden en really close to Malcesine and Monte Baldo. Excellent vacation for families and group of friends. Very clean and many facilities in the appartement itself. Only one small issue: the bed for the extra 2 people in the appartement is rather small and very hard. So 4 to 5 people is excellent.
Stefaan
2016-07-16T00:00:00Z
Asunto oli todella kiva, juuri mitä ilmoitus lupaa. Loistava sijainti, kaikki lähellä. Kaikki sujui mainiosti.
Saija
2015-07-28T00:00:00Z
Great place with everything we needed. Ideal location close to the town centre.
Lucy
2015-05-10T00:00:00Z
Wir wurden von Valentina freundlich empfangen. Die Wohnung liegt sehr zentral aber ruhig. Man ist schnell im Ort und der größte Vorteil -Ein eigener Parkplatz-! Die Wohnung ist schon etwas abgewohnt und könnte eine Renovierung gebrauchen. Das WLAN ist wegen der geringen Geschwindigkeit kaum nutzbar. Sonst haben wir uns (2 Erwachsene, 2 Kinder) aber wohlgefühlt. Valentina hat auf Anfragen sehr schnell reagiert und versucht Abhilfe zu schaffen.
Arne
2016-08-21T00:00:00Z
Valentina was very helpful an friendly and got in touch with us early. In Malcesine a relative, who is a neighbour gave us the keys, he was also very helpful in finding a marina for our boat and directing us to an expensive substitute for the non-existing parking. The appartment (not house) is centrally located in walking distance to the center of Malcesine. In spite of this, we were disappointed by a certain details: Very shot term, while we were already travelling, Valentina announced that we would have to pay extra for sheets and towels (opposed to the description), also the parking was (opposed to the description) not available, an important detail when you find out that parking is rare in Malcesine and costs about 30 EUR/per day, the toilet showed (brown) signs of usage as we arrived, the bathroom had regular water ingress of unknown sources, there was a humidity stain on the wall in one room, the oven in the kitchen did not work and the appartment has (opposed to the description) only two, not three bedrooms. Apart from this, everything was fine.
Clemens
2015-05-31T00:00:00Z
Excellent apartment, brilliant location, lovely little town with great restaurants and bars, and lovely little beaches. Valentina and her brother were both very helpful. Highly recommended.
Andrew
2015-09-01T00:00:00Z
Sehr freundliche Atmosphäre mit moderner Küche und großem Garten! Danke für die Gastfreundschaft!
Geritzer
2015-04-12T00:00:00Z
Tipus d'habitació
Casa/pis sencers
---
Tipus de propietat
Pis
---
Capacitat
6
---
Dormitoris
Malcesine, Véneto, Itàlia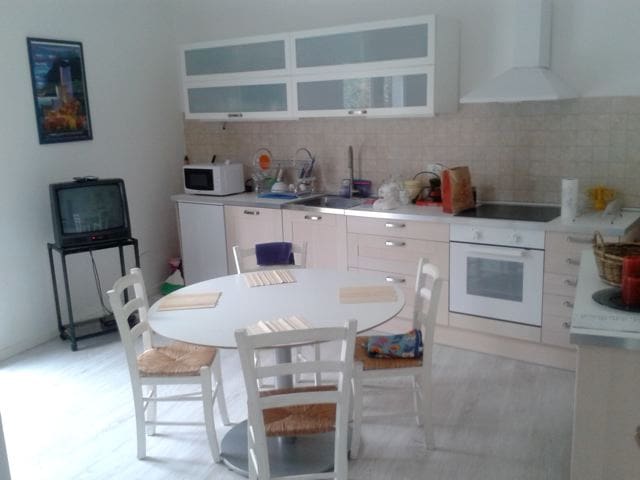 graziosissimo appartamento con ampio giardino con idromassaggio, terrazza vista lago, ampio corridoio, bagno , camera da letto, cucina, e salotto con divano letto!!
il quartiere e' molto tranquillo
Giorgia welcomed us very warm at the very beginning and offered us a different apartment that was supposedly better than the original one we've booked. I can not tell, because we did not see the original one live :). Nevertheless, the new apartment worked well for us in most respects: it was larger, it had its own terrace, and our daughter enjoyed the nearby playground and pony farm. On the other hand there was one issue I was not happy about: the wi-fi connection did not work inside the apartment as it was transmitted from the pizzeria below, but the signal was not strong enough. This was quite a problem for me as I had some job-deadlines and work I needed to hand in during my holiday. Talking about the pizzeria, it was located right below the apartment, so there was some negligible noise coming from downstairs during the evening. All in all, the apartment we were given was a nice and spacious one, but watch out if working internet connection is a must for you.
Michal
2016-03-30T00:00:00Z
Ho alloggiato da Giorgia con un amico e il mio dalmata... Ci siamo trovati molto bene, sia per l'accoglienza che per tutto il soggiorno!! Panorama molto bello e tanto relax!!
Carlo
2017-03-19T00:00:00Z
Tipus d'habitació
Casa/pis sencers
---
Tipus de propietat
Pis
---
Capacitat
4
---
Dormitoris
Malcesine, Véneto, Itàlia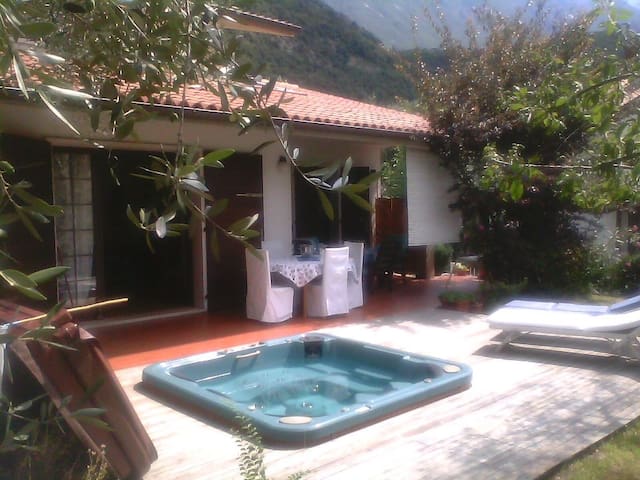 appartamento accessoriato situato in zona collinare a 4 km. dal centro di Malcesine perla del wind-surf parapendio e mountain bike vicino stazione intermedia della funevia che porta sul Monte Baldo
l'appartamento curato e la posizione
le passeggiate e la tranquillità
Дом к нашему приезду готов не был.Хозяин даже не подумал,что при температуре 9 градусов в горах надо включать отопление.Вопрос частично решился (хозяин включил его только на 2 часа - это выяснилось позже),только после того как мы решили уехать (не заезжая) из это негостиприимного дома в ближайшую гостиницу.Утром мы проснулись от холода (15 градусов).Поймав раздражённого хозяина,попросил его включить отопление.Ответ был - надо теплее одеваться. После продолжительной ругани - вопрос решился. Два оставшихся дня было тепло. С беспроводным интернетом вопрос так и не решился - ответ был один - другие не жаловались. Уровень беспроводного интернета - очень слабый. Вывод - если хотите трепать себе нервы - приезжайте к Флавио
סבטלנה
2016-10-01T00:00:00Z
Die Wohnung war sehr sauber und gemütlich. Alles war vorhanden. Flavio ist ein netter sympatischer Gastgeber und nimmt sich immer Zeit für einen Schwatz. Wir hatten auch viel Freude an den beiden Katzen von Flavio.
Simon
2016-10-12T00:00:00Z
I made this booking at very short notice but Flavio contacted me very soon afterwards to confirm the reservation. I was able to contact him by phone while en-route from the airport and Flavio met us at the accommodation on our arrival and explained how to use the wood pellet heating system, etc. The first thing that struck us about the property was how clean it was with great attention to detail shown including a welcome pack of snacks and drinks. The accommodation is very well equipped and is situated is a beautiful area with breath-taking views available. I would say that a car is essential for this accommodation as it is accessed by narrow and twisting mountain roads and is a good 10 min drive from Malcesine.
Ian
2016-11-05T00:00:00Z
We stayed in Flavio's apartment for 3 nights recently and enjoyed it very much. The area is beautiful and we spent a lot of time down by the lake. My husband also did a lot of mountain biking, the trails from the Monte Baldo are great. We will probably stay there again. The flat is nice and clean and had everything we needed.
Evelyn
2016-05-30T00:00:00Z
The host canceled this reservation 122 days before arrival. This is an automated posting.
Liane
2016-02-05T00:00:00Z
Tolle Unterkunft. Sehr sauber und Preiswürdig.
Bernd
2015-10-19T00:00:00Z
Flavio ist ein sympatischer und zuvorkommender Gastgeber. Eine sehr saubere Wohnung und ein schöner Garten. Die Lage ist auch schön.
Franz
2016-04-24T00:00:00Z
We spent 4 night at the appartment and it was absolutely wonderful. Flavio is a cool guy, hospitable as well as friendly. The house is in a calm location, near the cableway middle station, so it's easy to get to the mountains. I highly recommend it.
Matěj
2015-11-02T00:00:00Z
Tipus d'habitació
Casa/pis sencers
---
Tipus de propietat
Pis
---
Capacitat
4
---
Dormitoris
Malcesine, Véneto, Itàlia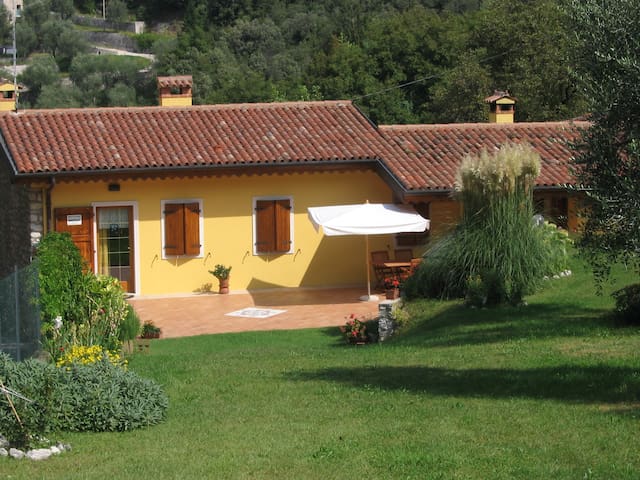 Residence in the historic center of Malcesine with roof garden overlooking Lake Garda. Restored and furnished with fine decorations keeping the medieval atmosphere, it is at your disposal for an unforgettable stay. Also described by Goethe: "all alone in the infinite solitude of that corner of the world". The house is located in the historical center a few meters from the castle of Malcesine. All the old town is only pedestrian and can only be reached on foot.
The house consists of 4 bedrooms of which: 1 bedroom with terrace overlooking the lake, defined room suite with bathroom which is located on the second floor of the east wing. 2 rooms with shared bathroom which are located on the first floor of the east wing. 1 room with lake view, with a separate entrance on the first floor of the west wing. The bathroom is located on the ground floor.
Malcesine is a small town on Lake Garda very impressive and fascinating. The historic center is characterized by narrow streets and old style architecture. The castle which stands on a high cliff is the hub of the country. Our home is located a short walk from the castle and hundreds of years ago, the house was the barn of the castle where the horses were kept.
Erika was amazing and so accommodating. She treated us just like family. We travel often all over the world and can honestly say Erika and her husband are our favorite hosts we have had. Their property is the most scenic we have experienced. We would return yearly if we could. It was beautiful. I cannot recommend it enough.
Kathleen
2015-06-26T00:00:00Z
Erika was very welcoming and helpful . She provided a well stocked fridge with prosecco, wine ,beer and lots of other goodies. The house was very well equipped. View of the lake from the terrace is truly stunning.
PAUL
2016-07-28T00:00:00Z
PARADISE.....we have just spent a week in this stunning property and we really could not have had anywhere more perfect. Erika is a first class host and went to so much trouble to make us welcome, the house was well stocked with food and she even left prosecco in the fridge for us. Our baby grand daughter was with us and when we arrived there was a travel cot set up with a pink and a blue blanket ready because she didn't know if it was a boy or a girl :) My son was married in the castle so the location was perfect and the views are amazing. By far and away the best airbnb that we have stayed in, we can't wait to return. Thank you Erika x
Jacqui
2016-09-20T00:00:00Z
It is a wonderful location, next to the Castle of Malcesine. We traveled with 7 adults and a little girl and it was great. Erica provided everything we needed incl. a cot and a highchair. The house and the terrace were really nice, with a great look over Lake Garda. Strongly recommended!
Thomas
2015-05-17T00:00:00Z
What a beautiful place! Adjoining one of the castle walls and with a huge terrace looking directly out over the lake and mountains beyond, this ancient stone-built house is also hidden at the quiet end of a small cobbled lane yet still literally a minute or two walk to the centre of Malcesine. We loved it. Erika, the owner, couldn't have made us feel more welcome, as she showed us around, emphasising all the food and wine with which she had stocked the cupboards were for us to enjoy, and how much she wanted us to use everything in the house as our own. The kitchen was very well equipped with utensils, crockery, washing machine, dishwasher etc, and everything you could need for entertaining on the main terrace or on the other terrace under the shade of a large grapevine. As we were only two couples we all had rooms enjoying stunning views over the lake, one with a separate balcony too. Negatives? For us, nothing. But its probably worth knowing that the centre of Malcesine is full of winding narrow cobbled streets and piazzas, pedestrianised with little shops, bars and retaurants. We thought this makes it the most pretty and charming of the towns which we visited around Garda. But it means vehicles need to be parked out of the town in one of the managed car parks, which are not cheap. The best, recommended by Erika, is Campogrande, about 5-10 minutes walk to to the house. The other thing which may be worth knowing is that the very charm of the house, and indeed of Malcesine as a whole, is that is ancient, built on on lots of levels, with narrow stone steps and uneven surfaces. This may make it difficult for someone with limited mobility. We'll definitely be visiting again. Thank you to Erika for sharing it with us! We'll definitely be back!!
Carl
2016-10-02T00:00:00Z
The situation of the house is amazing, It is so tranquil away from the crowds of Malcesine, the views from the terrace are incredible. Erika is a fantastic host and the house is so well equipped with everything you need it and more it makes it even more special. Would not hesitate to book again next time we visit.
Sue
2016-07-06T00:00:00Z
If I were to create paradise I am pretty sure this house would be at the center of it! My family and I had the most wonderful time here. The location is fantastic (quiet road, but right in the middle of the cute town), the house had a wonderful and fully equipped kitchen, each bedroom was cozy and comfortable, and the terrace was heaven! Erika was the most amazing host I have never had through AirBnB. She responded immediately to every message I sent and was very helpful throughout our stay. I truly felt at home and welcomed. The attention to detail throughout the house was wonderful and made our stay one we will never forget. I cannot recommend this place highly enough!
Allison
2015-10-25T00:00:00Z
The host Erika was absolutely wonderful from start to finish, she made us feel instantly welcome and gave us a good tour of the house then told us to make ourselves at home and left us to it. The house was perfect, beautifully decorated, large enough for 8 people and the view on that terrace is out of this world. I found Erika had mastered the matching the old quirky Italian style with a new modern feel with furniture. The neighbourhood is amazing, we were getting married in the castle and wanted to be close, it was only around the corner!! So easy to find and off a gorgeous street which made you feel like a local. We were also so lucky to be just a stones throw away from a small beach where we spent many a night swimming then made our way back to the villa. There is also an amazing ice cream place just next to the castle around the corner. Erika had bought us some food and drinks and even a bottle of prosecco and told us to help ourselves to anything we wanted which instantly relaxed us. I would not hesitate in booking this place again as Erika goes above and beyond to make you feel welcome and her home is amazing.
Violet
2016-08-03T00:00:00Z
Tipus d'habitació
Casa/pis sencers
---
Tipus de propietat
Casa
---
Capacitat
8
---
Dormitoris
Malcesine, Véneto, Itàlia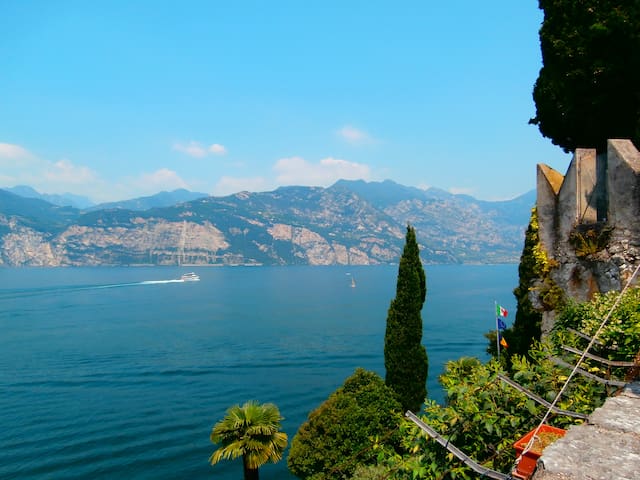 Il mio alloggio è distante 3km dalla spiaggia e immerso splendide viste panoramiche e attività per la famiglia.
I nostri appartamenti sono di nuova ristrutturazione, si trovano a circa 3 km dal centro di Malcesine, in zona collinare con stupenda vista panoramica sul Lago di Garda (da mozzafiato!), che si può ammirare da un' ampia terrazza. Gli appartamenti sono circondati da ulivi e verde, godono di vista lago sia in zona giorno che in zona notte. Sono forniti di televisore SAT, frigo, frizer, divano letto, riscaldamento e forno e gas. Mettiamo a disposizione degli ospiti la biancheria per il letto, asciugamani, piatti, posate e batteria da cucina. L'ambiente è semplice, ma curato. Gestione famigliare. A disposizione degli ospiti parcheggio per auto. Siamo disponibili per soddisfare eventuali esigenze del cliente su richiesta.
Tipus d'habitació
Casa/pis sencers
---
Tipus de propietat
Pis
---
Capacitat
4
---
Dormitoris
Malcesine, Véneto, Itàlia
Il mio alloggio è vicino a splendide viste panoramiche, spiaggia e ristoranti. Ti piacerà il mio alloggio per questi motivi: l'atmosfera, gli spazi esterni, la luce e la gente. Il mio alloggio è adatto a coppie, famiglie (con bambini) e amici pelosi (animali domestici).
Tipus d'habitació
Casa/pis sencers
---
Tipus de propietat
Pis
---
Capacitat
7
---
Dormitoris
Malcesine, Véneto, Itàlia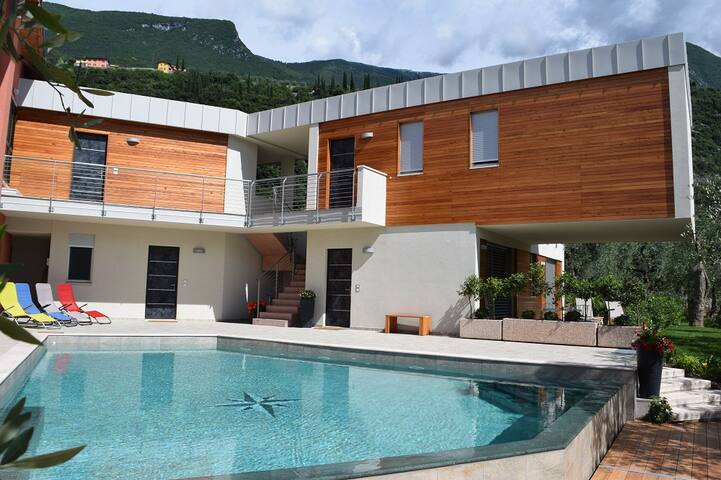 Cozy studio for 2, right in the historical center of Malcesine, handy and just a few steps away from the Castle and the lake. Perfect to enjoy the authentic atmosphere of the town.
The studio is located right in the center with a lot of restaurants, bars and shops nearby.
We really liked the place, Fabio, Elisa, Fabiomama, and various other Fabiofamily members we bumped into occasionally. The location is perfect, smack in the middle of old Malcesine. Pubs, bakeries, supermarket, ferry port, ducks, icecream are all a short walking distance away. The flat itself is squeaky clean, comfy and well equipped for a long stay (don't try showering, cooking on a +power plate and using the heater at the same time, it trips the breakers).
Kirill
2017-03-25T00:00:00Z
Tipus d'habitació
Casa/pis sencers
---
Tipus de propietat
Pis
---
Capacitat
2
---
Dormitoris
Malcesine, Véneto, Itàlia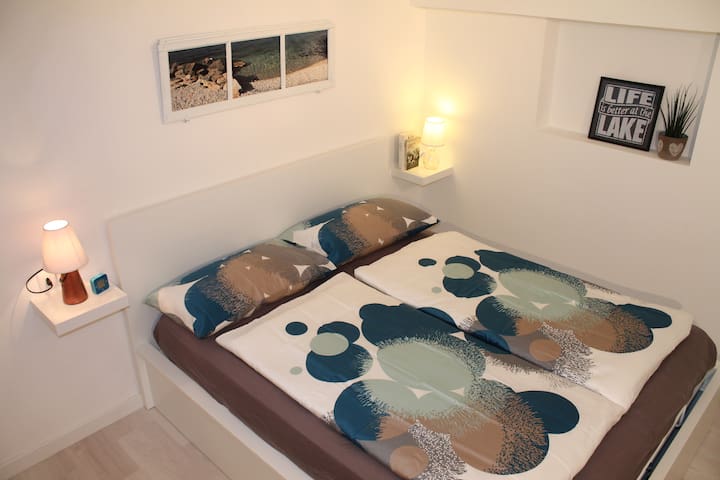 Spazio accogliente, luminoso.
L'appartamento si trova in un tranquillo quartierino del centro. Il borgo è davvero prezioso e merita sicuramente una visita! Le passeggiate al mattino presto e alla sera/notte sono davvero suggestive. Il figlio di Regina è stato molto cordiale e disponibile sia all'arrivo, quando ci ha aspettato nella strada principale per guidarci verso l'appartamento, che durante il soggiorno. Per ogni eventualità, risponde sempre a messaggi e chiamate. Abbiamo apprezzato la generosità della famiglia, che ci ha anche lasciato una bottiglia di vino come benvenuto.
Silvia
2017-01-03T00:00:00Z
Our stay was very comfortable. Raphael was a great host, assisting us with the check-in and check-out (lots of baggage). The flat is in the center, is well-equipped (no problems with staying with an infant), was very clean and warm when we arrived, and everything around was lovely. Lots of places are closed though in the winter season, and it's better to check opening hours for places to visit - we learned this after the fact.
Ahmad
2017-01-31T00:00:00Z
Great apartment in the historic old town with a contemporary open plan layout and modern furnishings. everything lived up to expectations and was very clean and comfortable, and Raphael was very helpful and his English was excellent
kenneth
2017-02-11T00:00:00Z
This is a fairly large, modern apartment in a small, touristy (but scenic) town. The apartment seems to be more on the side of town for locals, whereas a 5-min walk down to the harbor is where all the tourists tended to be. Raphael's dad met me outside the apartment to let me in and show me around, which was nice of him. I had some trouble getting the wi-fi working, but Raphael managed to work it out. Overall, I really enjoyed my stay in Garda+Malcesine, and this apartment plus the local bus that goes around the lake, made it possible for me to explore the area, which is truly beautiful.
Andrew
2017-03-18T00:00:00Z
Tipus d'habitació
Casa/pis sencers
---
Tipus de propietat
Pis
---
Capacitat
4
---
Dormitoris
Malcesine, Véneto, Itàlia