We offer a spacious private room with separate entrance, ensuite bathroom and extra storage for bags skis. Kitchenette including microwave, fridge, toaster, tea, coffee and generous continental breakfast. Free Wifi TV Use of bicycles Approx 2 kms from lakefront and Wanaka Village.
Guests find our accomadation very spacious & comfortable
Great mountain views and handy to town
It's a perfect room with everything you need. And Joy is lovely.
Coby
2016-11-17T00:00:00Z
Joy and Ian are incredible hosts. Their house is very clean and the decoration is very classy. The guest room we stayed in is quite spacious. It has a large bathroom and a luggage room. It also has a sink, microwave oven and a small refrigerator in the room, which are very convenient to prepare a delicious breakfast with food provided by the hosts. During our night at the house, we cooked a dinner in Joy and Ian's kitchen. They've been very helpful since we needed to use the kitchenettes. Joy even gave me some tips about how to cook a steak, which turned out very delicious. Thanks to Joy and Ian, we had a wonderful stay at their beautiful house.
zhenjie
2016-03-03T00:00:00Z
What a lovely place to stay! The room is modern, spotlessly clean and tidy, bright and private. Joy and Ian were lovely and able to give lots of advice. Great value too for how nice the room is.
Katie
2015-02-17T00:00:00Z
An amazing place to stay at Lake Wanaka. The host are fantastic and shared with us plenty about new zealand and Wanaka. The room was clean, you have your own private entrance and there were a great supply for food for breakfast.
Jefferson
2016-08-25T00:00:00Z
Joy and Ian's place was our first Airbnb experience and we were totally spoiled. Joy was there to greet us on our arrival and gave us lots of helpful information on where to go and what to do in and around Wanaka. The room was spotlessly clean, cozy and comfortable and very private. The cupboards and fridge were stocked with lovely continental breakfast fare and Joy had even left us some home made apricot jam to have with the sour dough loaf which was delicious! The large bowl of fruit was very much appreciated too. The bathroom was fabulous with a shower with amazing water pressure. Quiet location and only a short drive or a leisurely walk to town and 2 bikes were available if you wish to ride some of the beautiful paths and tracks around Wanaka. We stayed at Joy and Ian's for 3 nights and thoroughly enjoyed our stay. We would highly recommend Joy and Ian's place. Thank you for your hospitality Joy and Ian, hope we can come back again one day.
Ros
2016-10-20T00:00:00Z
What a wonderful place to stay in Wanaka. Joy was really helpful in giving us tips around the area. Will definitely stay there again.
Thea
2016-02-03T00:00:00Z
Joy and Ian is a very nice and kind couple. Joy introduced us everything about the house and the activities inside and around Wanaka. We love the town of Wanaka. The house is clear, cozy and comfortable. Joy prepared everything on our room. It's really like Home. Hope we would come back soon.
Vanessa
2015-04-11T00:00:00Z
Joy is a very kind lady. when we get there, she give us ideas on touring. The house is tidy and very clean, near the downtown area. I strongly recommend u stay here.
Rong
2016-01-24T00:00:00Z
Tipus d'habitació
Habitació privada
---
Tipus de propietat
Bed & Breakfast
---
Capacitat
2
---
Dormitoris
Wanaka, Otago, Nova Zelanda
Self contained 1 bedroom cabin/bedsit. This room has a lovely comfortable double bed. It has a little kitchenette where you can cook and a new bathroom. Free WIFI! Very sunny and warm. Small deck to relax in the sun. 5 minutes walk to the lake.
This is a small but pretty little cabin in my back garden. It would suit the independent traveler as well as those who wold like to join in with main household. The room is nice and cozy and has a double bed, couch and little kitchenette. I also supply tea and coffee. It has a big flat screen TV with dvds, HDMI and USB if you have your own movies. You can lie on the bed and look up at our beautiful mountains! The cabin is approximately 3 metres by 6 metres in floor space. Most guests wish they had booked for more than one night!
Lake Hawea is a paradise for those who love the outdoors. Handy to Wanaka and Queenstown, it's the perfect spot to relax and enjoy the Central Otago climate and landscape. The active holidaymaker will easily stay occupied as Hawea and Wanaka are popular for boating, windsurfing, kitesurfing and sailing. Adrenaline seekers also have a range of activities to choose from with skydiving, jetboating, bungy jumping, downhill mountainbiking and more all within a short drive of the accommodation. There are 2 restaurants within 2 minutes walk of the cabin, 2 takeaway places, a bar and a local conveniance store. My house is a 5 minute walk from the lake! Guets realise after they arrive that there is plenty to do around this area and it is very central to many activities. Consider booking for more than one night! Many guests wish they had done this!
We had a great stay at Amandas home! Amanda is a warm, helpful, discreet and friendly person and we felt more than welcomed. The cabin is cozy, very very very clean and the location is perfect! A couple of minutes from the lake, a general store next door and a quiet place to relax. Thank you so much for the lovely time! Definitely we wish to come back to this place!
Silvia
2015-02-12T00:00:00Z
Amanda was a great hostess. Lots of good ideas of ehat to do. The cottage was cozy, bed comfortable and view great! Wr would absolutely stay again if in the atea. The local restaurant she recommended had delicious food and a charming atmosphere. We also loved the fresh eggs we got from her chickens
sherry
2016-02-21T00:00:00Z
Amanda was very nice. The cabin got every that would need. The location is close to Lake Hawea, which is very beautiful.
Eddie
2016-02-07T00:00:00Z
Even though the room is pretty small, it is a very self-equipped stay. We had everything we need =) Place is clean and Amanda is very easy going too.
Kathleen
2015-12-21T00:00:00Z
Amanda was a lovely host, made sure to keep in contact so she was there for our check in as we wanted to sight see first. She invited us to use whatever we needed, and there was excellent information in the cabin for activities in the area. We loved the size of the cabin and the facilities, and it was nice and close to the local shops, only a couple minutes walk away. Definitely recommend this retreat.
Kathryn
2016-05-30T00:00:00Z
The views! it's worth it to just stay here for the views of the surrounding mountains and pristine lake. Much better scenery then touristed Wanaka but still close enough to get to the centre within 10mins. After hiking it was nice to come to this peaceful homestead to relax. The accommodation is private, safe, clean, wifi is good, shower is hot, there is a kitchenette with all tools to whip up a delicious storm. Walk 2 mins to the viewpoint overlooking the mountains and lake which provide stunning views. Bed was comfortable and provided a good rest. All in all would highly recommend staying at Amanda's if visiting the area.
Andrei
2015-08-25T00:00:00Z
Even though we did not meet Amanda she made us feel welcome. She communicates well and was a lovely host. The cabin was small but well equipped. We were able to make our own meals. And there was a lovely big flat screen tv to watch while in bed! We could also see a mountain with snow on it out the window. We would come back again one day. A good value for money.
Simon and Miriam
2015-07-14T00:00:00Z
Really comfortable and cozy little house, and Amanda is passion and kind. Just can't wait to visit again. Thank you very much !!
Tea
2015-09-15T00:00:00Z
Tipus d'habitació
Casa/pis sencers
---
Tipus de propietat
Cabana
---
Capacitat
2
---
Dormitoris
Lake Hawea, Otago, Nova Zelanda
Bushmills Inn is a VERY centrally located home. The definition of "inn" being " An establishment for the lodging of travellers " The Inn has 5 bedrooms 4 with private ensuites, plus owners bedrooms. Wifi,Sky Tv , Laundry, all included
Bushmills Inn is purpose built for the accommodation of travelers .(URL HIDDEN) Located only 100M to the town center. Bushmills Inn has two fully self contained floors ,independent of each other and linked by the central stairs. The ground floor has the 4 en-suite rooms, lounge, and a fully equipped kitchen. Guests have their own private ensuite bedroom and share the kitchen/lounge with the other guests. Wifi, Sky tv, central heating, bbq, bike storage, hot tub (winter ski season only) , laundry room all included. Stunning lake and mountain views from the upper deck , which all guests are free to come and use . NOTE : Bushmills Inn is "listed" many times, because of limitations in the airbnb web design. Every 'room' and 'whole house' booking option has to be listed separately, and unfortunately the calendars for each listing do not sync with each other and will therefore more than likely be incorrect (Especially if i get a whole house booking as it now means there are no individual rooms available even though they still show up as a listing ). Also the airbnb listings (1 to 5) do NOT correspond to any particular room, i will email you nearer the time with your room number and arrival information. SO PLEASE MESSAGE ME TO SEE IF I HAVE AVAILABILITY. ( I apologise if you make a booking and i then decline it(URL HIDDEN)try to reply to all messages very promptly
This location is the old original part of Wanaka , with the best views , the best aspect for sun , and very very close to the town centre . In short the "best " place to stay! Wanaka is an exceptionally beautiful area , most guests only plan ONE night here and then they REGRET IT! Stay a second night if you can ,you will be glad you did , trust me!(URL HIDDEN) Have a look at Stunning Wanaka (URL HIDDEN) OR (URL HIDDEN)
Enjoyable, casual, safe
John
2016-10-20T00:00:00Z
I couldn't speak more highly about Jeremy and Bushmills Inn. The units are modern, clean, quiet and comfortable. I came to relax and decompress for just a few days and ended up staying two full weeks because it was such a comfortable experience. Jeremy is one of the nicer guys you'll ever meet and will give you heaps of advice about Wanaka and local trips or day hikes. The house is centrally located and perfect to use as a base for exploring the area or spending days walking around the lake or hanging out in cafes and enjoying town. I loved my stay and hope to make it back again sometime soon.
Travis
2015-02-08T00:00:00Z
Bushman Inn located in town center, near to the lake with French Windows. You can see Wanaka Lake and snow mountain. Just 5 minutes to get supermarket. Facilities is high technology and cool in his house. We enjoy it very much
mo
2015-10-03T00:00:00Z
We had 3 nights. The cottage is very very good! I like it very much. Especially the kitchen. The bed is very soft and the pillow works well for me. The address is easily to found. The cottage is near the lake. Jeremy is very nice. My stomach didn't feel good those days, Jeremy allowed us to use the kitchen to make Chinese food for lunch, so we check out at 12:00. You know, usually 9:00 or 10:00. Thanks for Jeremy's kindness again. We love him!
HONGYING
2016-04-07T00:00:00Z
We had an amazing stay at Bushmills Inn in Wanaka. Could not have hoped for a better view and accommodations. The location was ideal for us to enjoy many local adventures including hiking and wine tasting. Easy walk to the lake, restaurants and stores only added to our positive experience. And to top it off our hosts were absolutely wonderful! Thank you!
ELIZABETH
2015-11-25T00:00:00Z
Jeremy's place was perfect for a quick stop in Wanaka. Great rooms, clean, and close to everything. I had a lovely time there and would do it again in a heartbeat.
Brian
2015-06-11T00:00:00Z
非常现代化的家居,很有家的感觉!真的很喜欢很喜欢!
Chufeng
2016-05-31T00:00:00Z
From start to finish this stay was prefect. Convenient location--5 minutes walk from lakeside , capacious interior provid the room enough for all the logers .Jeremy is a wonderful host ,very gracious and welcoming . His BBQ and strawberries made my day.
Grace
2014-12-27T00:00:00Z
Tipus d'habitació
Habitació privada
---
Tipus de propietat
Casa
---
Capacitat
2
---
Dormitoris
Wanaka, Otago, Nova Zelanda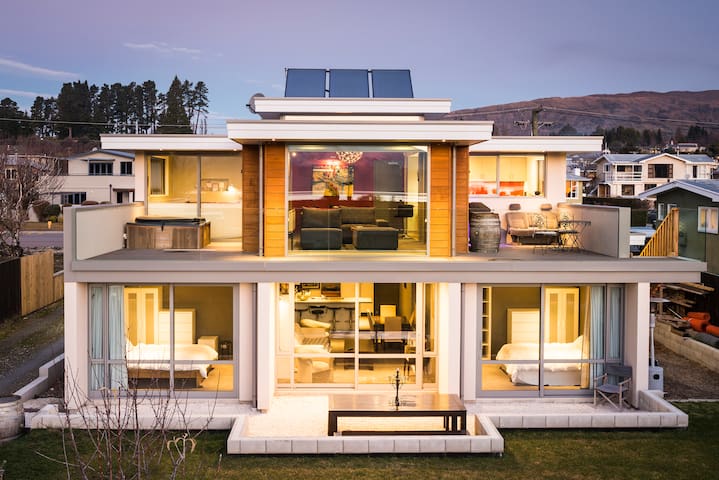 Sunny, warm house. 10 minutes drive from Wanaka. Large garden and BBQ area. Cozy room with double bed. Bedding and towels included. Close to lake and activities 1 minute from pub, lake, restaurant's and shop. Walking/ biking tracks nearby.
This is a lovely, cozy room that catches the morning sun and looks out over the garden.
Lake Hawea is a paradise for those who love the outdoors. Handy to Wanaka and Queenstown, it's the perfect spot to relax and enjoy the Central Otago climate and landscape. The active holidaymaker will easily stay occupied as Hawea and Wanaka are popular for boating, windsurfing, kitesurfing and sailing. Adrenaline seekers also have a range of activities to choose from with skydiving, jetboating, bungy jumping, downhill mountainbiking and more all within a short drive of the accommodation.
I wasn't able to meet Amanda., but she was always in touch to make sure I was good... I spent 2 days in the apartment with 2 lovely german girls. All was good... :)
Carmelo
2016-05-02T00:00:00Z
Nos hemos sentido como en nuestra propia casa. Amanda es encantadora, nos divertimos mucho hablando con ella. Nos puso muchas facilidades, limpio, cómodo, cocina equipada. 100% aconsejable
Roberto
2016-06-24T00:00:00Z
The welcome feeling was instant when we arrived at Amanda's home. She has an idyllic home set in some of the most beautiful surroundings of New Zealand. Lake Hawea is almost directly outside the door and it is truly amazing, with stunning walks to please everyone. The room itself was really comfortable and the bathroom was very handy next door. Amanda was very generous with her home and was very helpful with suggestions for the rest of our trip. I highly recommend staying with Amanda on your journey around New Zealand.
Simon & Gary
2014-09-06T00:00:00Z
We spend 3 days at Amanda's place and had a great time. She's a very welcoming host, can tell you a lot about life in NZ and give you tips on how to spend your time in the area. The room is nice and looks exactly as on the pictures. The heating blanket is a nice feature on cold nights ;-)
Patrick
2015-02-05T00:00:00Z
Amanda is a very nice host. We really enjoy staying there. The house also walking distance to the lake hewea.
Desmond
2015-11-25T00:00:00Z
Amanda was a friendly and welcoming host. The warm bed and shower was appreciated after a cold winter day. Her home is really close to the lake and we were able to photograph the Milky Way literally 2 minutes drive from her home. I realised that I had lost a piece from my tripod after I left Hawea and Amanda kindly allowed me to return to search for my item. We enjoyed our stay with Amanda
Grace
2015-07-10T00:00:00Z
Amanda is a welcoming person and made us feel at home! The room was as described. It was nice to stay in her house!
Céline
2016-06-16T00:00:00Z
Really nice place and friendly host.
Mary
2016-09-08T00:00:00Z
Tipus d'habitació
Habitació privada
---
Tipus de propietat
Casa
---
Capacitat
2
---
Dormitoris
Lake Hawea, Wanaka, Otago, Nova Zelanda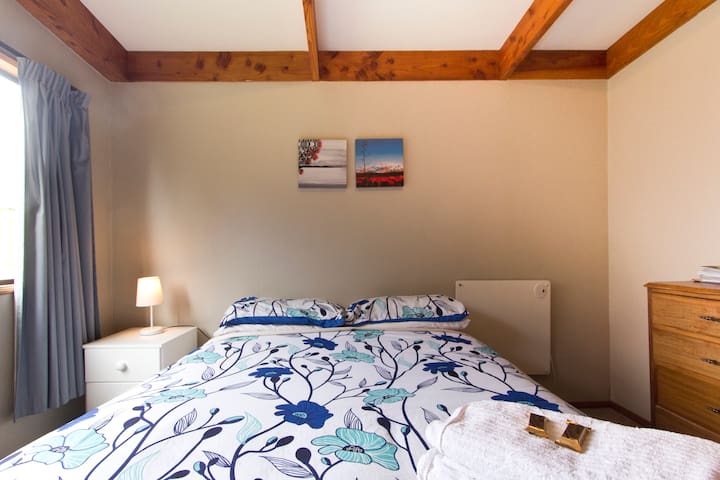 Sunny, warm, self contained cottage for those travelers who would like a place to recharge away from the city. Enjoy the majestic mountain views as you prepare your next adventure. Your own transport is essential, 30 min drive from Wanaka.
Warm and cozy, this self contained unit has all the amenities you need to enjoy the stay you want.
Breath in the fresh mountain air. Take in the tranquility that a rural setting has to offer. Did I mention the sunrises? Ok I did :-) Stars, not the Hollywood variety, but on a clear night you can marvel at the beauty above.
A group of friends and I chanced upon this place when we were searching for accommodation around Lake wanaka. We naturally had our doubts as we wanted to be as close to the city as possible but we were unable to find one due to us searching for accomodation at the last minute. The place exceeded our expectations in every aspect. The kitchen was extremely well equipped. Living quarters, bedrooms and toilets were really clean and WiFi was also available. The view turned out to be exceptional in the evenings and mornings and we felt like we were doing a glamorous farm stay. Our hosts were also kind, friendly and available if we ran into issues. All in all, there were no complains and we had an extremely enjoyable stay!
Sebastian
2016-11-24T00:00:00Z
Breath taking mountain views, unique location and lovely host. I had never stayed in a similar place before. Both Martin and Keri are very friendly and helpful. The cottage is self contained and has almost everything you need.
Martin
2016-11-08T00:00:00Z
Marty's cottage was the perfect place to stay on my way north from Milford sound. I received great directions and arrived in the cold after dark to a little oasis with a blazing fire and an amazing kitchen ready to create a proper cooked meal. The electric blanket was the perfect touch to a comfortable bed after viewing the stars on the brisk night. When I awoke the next morning, I enjoyed my breakfast on the picnic table while taking in the amazing view. I highly recommend staying at this well equipped cottage.
Chad
2016-04-14T00:00:00Z
We stayed in a separate house with its own kitchen, bathroom, laundry facilities etc. There are 2 bedrooms in the guest house so it's good for family and group. The house is clean and cosy. While its cold at night, the fireplace warms up the whole house. The direction from (SENSITIVE CONTENTS HIDDEN) map and Airbnb is not accurate. We couldn't find the place initially. But a call to the host solve our problem quickly. I'll highly recommend this place.
Bondi
2016-09-19T00:00:00Z
A wonderful place to stay as a base for exploring Central Otago. very welcoming hosts, and the location is gorgeous with mountain views all around. if you are looking for a peaceful, out of the way place to stay this is it!
Bethany
2016-10-15T00:00:00Z
Really lovely place! Great hosts, and a clean, warm, and cosy little house. The view in the morning of the mountains is incredible. Would highly recommend.
Julia
2016-08-15T00:00:00Z
Amazing scenes, what a beautiful setting this place is in. Loved the cottage, it has nice comfortable bedrooms, a fireplace which warms up the whole cottage, cosy living room with a DVD player and a bunch of popular movies to watch. Keri was very welcoming, had the place in a great condition when we got there and was really helpful throughout our stay. Definitely staying here again!
Avish
2016-09-28T00:00:00Z
What a stunning place! A sweet little home away from home with some of the best views I've seen yet. Cozy, clean, and peaceful. Kerry was incredibly warm and welcoming and we had an overall delightful stay. Would absolutely recommend!
Maude
2016-10-07T00:00:00Z
Tipus d'habitació
Casa/pis sencers
---
Tipus de propietat
Casa
---
Capacitat
4
---
Dormitoris
Tarras, Otago, Nova Zelanda
Te Ana Studio, on the ground floor of our home, is a very spacious room with ensuite, T.V, cosy lounge & dining area, MW, fridge, Electirc Jug, toaster, with Weber Baby Q Bar-B-Que outside entrance. The scent of lavender, jasmine and roses waft through the windows during the summer/Autumn season. It is located on a quiet, residential tree-clad street. Free WiFi. Off-street parking.
Virtual tour: (URL HIDDEN) Other Airbnb listing: https://www.airbnb.co.nz/rooms/822099 Hi, I am Heather and I welcome you to our home. We manage 2 studio apartments on the ground floor of our two -storey home. Each studio has its own external entrance, with internal access also, and can be booked together with a maximum of 5 people TE ANA STUDIO ON SARGOOD DRIVE is semi-self-contained but without cooking facilities. There are tea and coffee-making facilities, toaster, a fridge, Microwave and Weber Baby Q Bar-B-Que for the convenience of short-term guests. The living/ dining /sleeping combines to make a very spacious open area, with a small ensuite with shower, toilet and basin separate. Heating is by way of a heat pump. Sky T.V, DVD player and CD are installed, and can be enjoyed from the comfort of a very large sofa. The decor is basically cream with a touch of red in artwork and bean bags. This room has a queen bed, and a very comfortable and sturdy double pull-out sofa that serves as an extra couch also. Mt. Roy View (listed separately) is a very modern apartment with its open-plan fully-equipped kitchen, dining area, queen bed, couch, large T.V and DVD, and separate en-suite with laundry facilities. The apartment opens out to a private sun-drenched garden facing north and west. Large stacking, double-glazed doors provide an easy indoor/outdoor flow.   There is a gas bar-b-que conveniently placed in the garden. A heat pump in living area, with wall heater in bathroom, guarantees a very cosy environment during the cooler months. Tariff: Te Ana Studio on Sargood Drive: $155per night per couple. $25 per extra adult. Children: prices by negotiation. Breakfast an optional extra at $25pp. Welcome Pack/start-up pack consisting of a basic continental breakfast . Semi-selfcontained .  Internet/WiFi .  Children welcome .  Portacot and High Chair .  Towels and bed linen provided .  Gas bar-b-que .  Breakfast optional .  Mt. Aspiring National Park on Doorstep .  Bar and cafe facilities in close proximity .  All-Season Activities .  Near to Lake; biking and walking tracks; winery. .  Heat pump . Wanaka Airport - 10 min . Queenstown Airport - 50 min Bed layout: 1 Queen and 1 double sofa bed Linen provided No disabled access Children welcome BBQ Broadband CD player Cellphone coverage Cleaning equipment Cleaning supplied on departure Dryer DVD Electric blankets Electric heat Ensuite Bathroom Extra Toilet Freezer Fridge Heat pump High Chair Internet available Iron Microwave Outdoor furniture Portacot Shower Tea, coffee, sugar etc Toaster TV Washing Machine Wifi Serviced accommodation Te Ana Wanaka is located on a very pretty, tree-clad street in a quiet, well-established suburb off the Mt. Aspiring Road, and within an easy twenty-minute walk of the village centre. Our home is a spacious, two-storey of contemporary style, which recently underwent a major architecturally-designed renovation. Within a few minutes walk one can access the lake with its magnificent walking and cycling tracks. Edgewater Resort, complete with cafe lounge, bar and outdoor dining area affording the visitor stunning views of lake and mountains, is an easy stroll down the road. There is uncovered off-street parking at the front of the house. We offer self-catering and or Bed and Breakfast accommodation. Breakfasts, an optional extra, are served in our upstairs lounge/dining area with views of lake and mountains; or on our balcony when weather permits. These are a very generous and scrumptious experience, as decadent or as healthy as one wishes. Special diets are catered for if prior notice is given. A light complementary continental breakfast is provided for as a start-up pack only.  TE ANA STUDIO ON SARGOOD DRIVE: A partially self-contained, very spacious room with queen bed, a double, very firm sofa bed and one very large couch, large TV and DVD player, as well as a dining table and chairs .This cosy room comes complete with fridge, electric jug, toaster, microwave and outdoor Baby Q Bar-B-Que for the convenience of a short-term stay, but has no cooking facilities. There is a small ensuite with shower, toilet and hand basin. Laundry facilities also available. An electric heat pump is used to warm this studio. Large, double-glazed, bi-fold doors open out on to an area facing north and west. YOUR HOST. Your host has had 27 years as owner/operator of a very successful farm-stay business before relocating to Wanaka.  Our interests include tennis, squash, biking, golf croquet, snow skiing, sports in general, walking, travel, good food and wine.
Ours is a very peaceful, quiet residential area, with the convenience of a resort by the lake at the end of the road. The street, and those surrounding it, have beautiful mature trees which provide so much colour both spring and autumn. The proximity to lake, park, walking and cycling tracks is a huge attraction. Also a lovely stroll in to the village along the lakefront.
Heather is a very good host. We appreciate her quick response despite she being on holiday. We arrived to a most wonderful, beautiful and cozy home. My wife and daughter could not contain their happiness to see this house and wished that they could stay longer. Our breakfast were also taken care of. Well, only one would understand when they are there. What with the view of the ice capped mountain through their glass windows! Strongly recommended for couples, families and people who wish to really relax.
Paul
2014-11-19T00:00:00Z
Another very enjoyable stay - highly recommended!
Greg
2017-03-13T00:00:00Z
Thanks Heather enjoyed the stay at your lovely home and we hope your work for the Hospice goes well. Good luck with it.
Ray
2014-03-02T00:00:00Z
房间设施非常的温馨,内部设施时常,在入住之前房主准备了加热器将浴巾加热。房屋外面种满了鲜花,温馨极了。
YU
2015-04-05T00:00:00Z
Heather had been very open and communicative from the time I made my booking all the way thru my stay at her lovely home in Wanaka. Though she was not ard when I was there, she left many messages and even gave me spot on dining recommendations in Wanaka and even recommended a helicopter company which was fantastic. Her home was spotless, elegantly furnished and very comfortable. Wifi worked great and the bed was super comfy. Will definitely stay again in my next visit to Wanaka, and recommend all my friends to stay there too.
Kelvin
2014-10-25T00:00:00Z
We loved our trip to Wanaka and a primary reason was this accommodation! I am recommending our parents stay here when they visit as well because it was so lovely. The house is new, clean, with lots of homey comforts. The bed was so comfy, the lounge was fab and the dining area inviting. We appreciate all the time heather putting out snacks and drinks and leaving breakfast too as well as some tourist info and lots of books too. The location was fab! Nestled in the hills and a nice short walk to town! Thanks Heather!!!
Crystal
2014-11-15T00:00:00Z
Heathers studio was the perfect home away from home. Lovely home and gardens in a great location a nice stroll along the lake to Wanaka township. Spacious, clean, excellent facilities. Very hospitable hosts. A pleasure to stay at Te Ana studio! Highly recommend.
Tash
2017-03-05T00:00:00Z
Tipus d'habitació
Casa/pis sencers
---
Tipus de propietat
Pis
---
Capacitat
4
---
Dormitoris
Wanaka, Otago, Nova Zelanda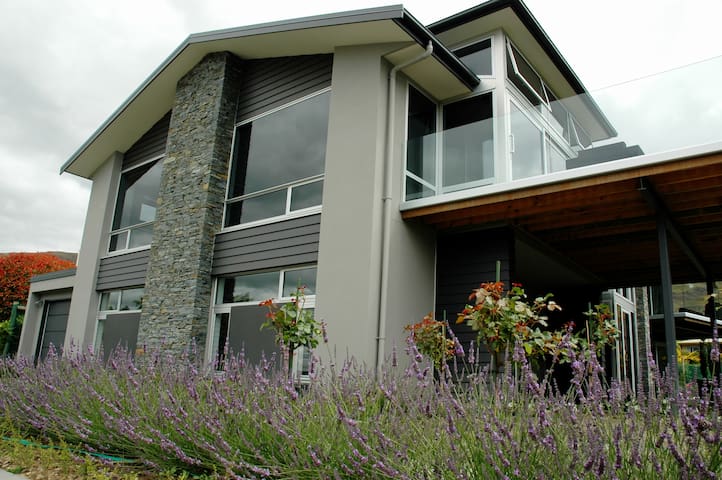 A cosy, tranquil cottage style home set amongst the mountains in a semi rural village, is the perfect place to relax and unwind. Close to serene walking and biking tracks that run alongside the picturesque Clutha River. A traditional, historic pub just up the road we invite you to sample our piece of paradise. Only 10mins from Lake Wanaka township. Airport, activites and vineyards close by.
The cosy suite is situated within the garden and just across from our home. Guests are welcome to be interactive or as private as they wish. We look forward to hosting you, see you soon.
There is plenty to do either in Wanaka, Queenstown and the surrounding areas. We have a wealth of knowledge on most activities so please feel free to ask as we can also assist with bookings. Nearby townships are Alexandra, Clyde, Cromwell and all worth a visit. Queenstown and Arrowtown are an hours drive away either through the beautiful Kawarau Gorge or over NZ's highest alpine highway the Crown Range.
Amazing place! An amazing deal and amazingly friendly people! felt right at home here; this is what airbnb was made for! Awesome place, awesome people and awesome dog to go with it! I'd stay here again in a heartbeat.
Ryan
2017-01-10T00:00:00Z
Shane, Lisa and Ben are brilliant hosts. The room itself is a self contained flat nestled across the patio/BBQ area from the main house. The bed is really comfy, shower is amazing, tv, DVDs and player was a really great addition too as we stayed in a down poor. Also, there are all the basics in the kitchen that you could need, plus the tea, coffee and continental breakfast makes this place brilliant value. Shane and Ben also asked us if we wanted to join them for a BBQ, which was really kind and the perfect way to relax after a long drive. We also loved taking Boris the dog for a walking and swimming :) Thanks for great attention to detail. A brilliant find at such short notice. Thanks for having us.
Matthew
2016-12-21T00:00:00Z
Friendly helpful people, very private room. A good place to stay.
Sharon
2017-03-24T00:00:00Z
We had an amazing stay! The room is beautiful and all the people are really friendly and helpful, we felt welcome. Also the dog(s) are so cute! Highly recommend, we would come again!
Wiebke
2017-01-04T00:00:00Z
Great stay, friendly hosts that made us feel welcomed to their space, a great studio unit which we would happily recommend to all, thanks guys for the great weekend and hope to plan another trip soon
Adam & Gill
2017-04-01T00:00:00Z
This place is just great. Clean as, funky, cool. Lisa, Shane and Ben have hospitality backgrounds and it shows - handwritten welcome note, fresh flowers in the cottage, everything for a continental breakfast in the fridge and just the nicest people. Wouldn't hesitate staying here again
Anneliese
2017-01-25T00:00:00Z
Totally recommended. Thanks
Noel
2017-02-09T00:00:00Z
Our stay was lovely, the host was friendly, the place was comfortable and Boris the dog is the best.
Christy
2017-03-29T00:00:00Z
Tipus d'habitació
Casa/pis sencers
---
Tipus de propietat
Bed & Breakfast
---
Capacitat
3
---
Dormitoris
Luggate, Otago, Nova Zelanda
My place is close to The Luggate Hotel, Tennis Courts, Playground, Mountain Biking and Walking Tracks to the clutha river, and 15 kms from Wanak
The room was tidy and clean, the bed was very comfortable. Tanya was very friendly and has the most lovely cat of New Zealand. Also, the apples and peaches of her garden were amazing.
Lautaro
2017-04-01T00:00:00Z
Lovely home, bed is comfy, kids are funny. Great stay
Sjoerdje
2017-03-19T00:00:00Z
Tanya's place is in a tiny little town with lovely views to the mountains. Tanya and her daughter are delightful and were very welcoming. I felt at home and if totally recommend this place!
Amaya
2017-03-03T00:00:00Z
Tanya has a lovely place just a short drive from Wanaka. We stayed here whilst visiting Queenstown and the location was perfect! Tanya and her daughter Jess made us feel right at home, and we enjoyed our many conversations with her! She even let us help ourselves to breakfast and fresh apples, courgettes and peaches from her garden. To top it all off, she is a genuine, kind person who we would love to stay again with in the future
Georgie
2017-03-18T00:00:00Z
Man schläft in einem kleinen Zimmer in Doppelstockbetten und einem eigenen Zugang zum Haus. Die Einfahrt vom Alice Burn Drive Nr 4 befindet sich am Ende der Straße. Ein einfaches Schild mit der Ne. 4 befindet sich noch vor der Nr. 2. Man fährt dann wirklich die schmale Einfahrt auf dem Grasweg entlang und parkt genau vor dem eigenen Zimmer. Tanya und ihre Tochter Jessica haben uns sehr frundlich aufgenommen, und wir hatten gute Gespräche. Wir konnten die Küche benutzen und Essen kochen. Tomaten aus dem eigenen Garten konnten wir auch haben, soviel wir wollten. Morgens konnten wir unser Frühstück (Cereals) und Kaffee/Tee selber machen. Man kann im Garten sitzen und dort frühstücken, wenn das Wetter es erlaubt. Tanya ist als Gastgeberin sehr zu empfehlen.
Elke
2017-03-06T00:00:00Z
very nice. Situated perfectly for our trip through the area (on the way to Christchurch).
Andrew
2017-03-13T00:00:00Z
Quiet, clean and cozy place. Nice wifi, good laundry, warm host. Highly recommend.
Lewis
2017-03-08T00:00:00Z
Tipus d'habitació
Habitació privada
---
Tipus de propietat
Casa
---
Capacitat
2
---
Dormitoris
Luggate, Otago, Nova Zelanda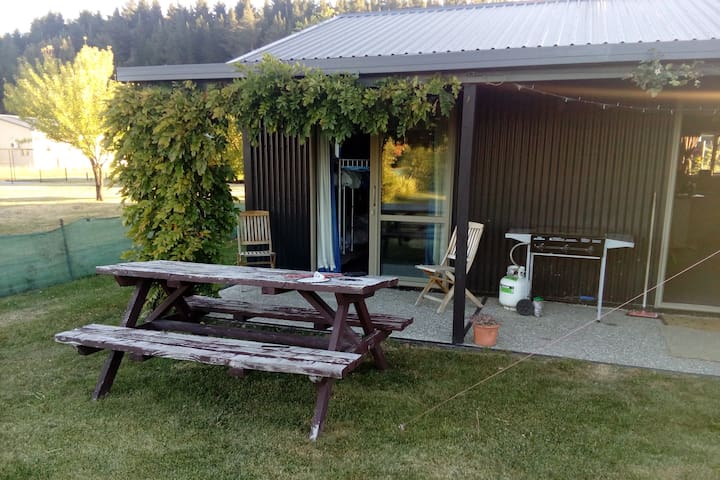 We would like to offer you the use of our comfortable guest room which has a Queen bed suitable for 1 or 2 people. The adjoining bathroom has under floor heating, a heated towel rail and hairdryer. A continental breakfast is included. We offer free limited wifi. Our almost new home is situated in the small township of Luggate surrounded by beautiful mountain countryside close to Wanaka which is only 12 kms away.
Luggate is a growing community. We are centrally situated here which makes it easy for you to be able to really explore in every direction. At it's heart is the historic Luggate Pub dating back to the Gold Rush days. Today it is a great little place for a drink - by the roaring fires in winter or outside in the garden in summer. It also serves meals and has a little cafe. The mighty Clutha River is but a stones throw away - there is a lovely walking/biking track which follows the the Luggate Creek track to where it meets with the river and you can view it close up. Heading towards Wanaka you will see Wanaka airport - activities include skydiving, scenic flights and flying lessons. Also they have a Toy Museum and Warbirds Museum - the Warbirds Over Wanaka air show is held bi annually. The popular Wanaka resort is situated on the shores of Lake Wanaka - a very picturesque town - shopping, cafes and restaurants (anything from takeaways to fine dining). There are lots of annual/bi annual sporting and cultural events held here. Nearby are 3 excellent ski fields. Other activities include great fishing, vineyards for wine tasting and lunches, and of course boating and swimming in Lakes Wanaka and Hawea. Also a number of walking/biking tracks giving you the opportunity to explore even more of the countryside. Queenstown is a 40 minute drive away over the Crown Range travelling through the township of Cardrona which has it's own historic pub. In addition there are many places for you to discover around this area and we are only too happy to make suggestions of special places to visit.
We really enjoyed our stay at Joan and Percy's place. It was neat clean, modern and with a nice view of the mountains. We had some good talks in the evenings and mornings too! They are really friendly hosts and have us good tips about the area. We would recommend to stay to everybody. Thank you once again, Joan and Percy!
Veronika
2017-03-22T00:00:00Z
Outstanding hosts share their fascinating life , lifestyle and beautiful home. They say that you enter as strangers and leave as friends. It's true! Highly recommended!
CW
2017-03-28T00:00:00Z
Tipus d'habitació
Habitació privada
---
Tipus de propietat
Casa
---
Capacitat
2
---
Dormitoris
Luggate, Otago, Nova Zelanda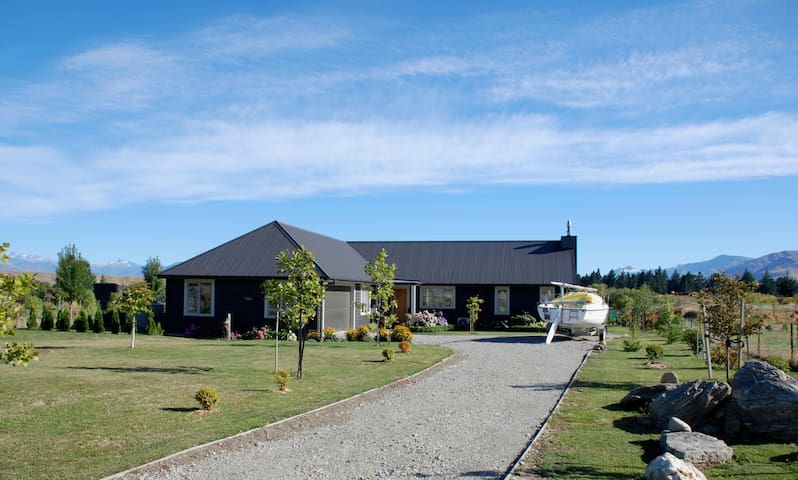 Situated a mere 10 mins drive from the lakefront in a small semi rural community near Wanaka airport, we offer a comfy and relaxing stay with stunning mountain views. Each room is furnished with a queen bed, bar fridge,tea/coffee making facilities plus we supply a continental breakfast and free wifi.
Hi, We are Dave and Penny and we have a comfortable room, with a queen bed, which we would love to rent to you on your visit here to the very beautiful Lake Wanaka. This room accommodates two people only and if you need to accommodate more than two people see our other listing. Close to all that Central Otago has to offer and just 10 mins drive from Lake Wanaka lakefront is The Dell B&B/Homestay. We are situated on the edge of a small semi rural community called Luggate, near the airport with stunning mountain views in a relaxing and peaceful environment. We have provided in the room tea and coffee making facilities, a fridge for your bits and pieces and a hairdryer. There is also limited free Wifi available. Both our guest rooms share the bathroom and extra washroom facility which are located adjacent to the guest rooms. Our peaceful, recently built, home sits on an acre and a half just 10 minutes from the Wanaka Lakefront. We are also 3 mins from the airport which has mainly recreational aircraft, but also has skydiving and flight seeing tours over the glaciers. The Warbirds over Wanaka airshow is held here every two years. From our home we can look out to the airport and watch the skydivers landing.......a remarkable sight! Also a great position to watch the 'Wanaka Warbirds' air show. Occasionally in the evenings in summer we can see aerial acrobatic displays being practiced. Wineries, rivers, walking/cycling tracks, ski fields and adventure sports are just some of the things you can enjoy while based here with us and all within easy access. A wide variety of restaurants are 10 mins drive away or a short 5 min walk to our local and historic pub can get you a sumptuous meal and a cosy fireside seat in the winter while enjoying a wine,cider or beer with the locals. In the summer join the locals in the beer garden. Everything is here to make your stay comfortable and enjoyable and is a great place to relax and base yourself while enjoying the pleasures that the region has to offer.
There is plenty to do here with relaxing scenery, quiet locality and the ability to be able to have long or short walks around the area and enjoy the scenery at the same time. We are near a major river (the Clutha) and have a creek running through the bottom part of the garden which leads into the Clutha River. Other activities for you to experience and enjoy are the stunning mountain views and the many Recreational activities such Scenic Flight Seeing, Skydiving, Toy and Warbird Museums which can be found at the nearby airport. Vineyards, Lavender Farm, Restaurants, Swimming, Boating, Fishing, Historic Gold Mine Tailings and Shopping are just some of the exciting things also close to us. Winter time provides four world renowned Ski Fields for the Ski Bunnies amongst us. All things to enjoy while staying here with us.
Dave and Penny have a lovely home with beautiful mountain views.
Sara
2016-01-10T00:00:00Z
Lindsay and I had a very warm welcome and were soon made to feel at home with a cup of tea with Dave and Penny and their dogs on arrival. The accomodation was just what we wanted and we couldn't have felt more comfortable. Thank you both for being so friendly. May see you in Cornwall?
Hugh
2016-01-21T00:00:00Z
Very warm and relaxing room with upmost care. It is the most comfortable bed in our trip. Penny made the house very clean and tidy. She is very considerate. Ace and moli are very lovely. Highly recommend.
yuan
2016-01-17T00:00:00Z
Had a very pleasant stay in their lovely house. Instantly felt welcome due to their open and kind nature.
Alexander
2016-01-09T00:00:00Z
l had a very warm and memorable stay with the lovely hosts of Dell's B&B, Penny and Dave. l enjoyed my visit to Wanaka and to Luggate where this B&B is located, which is a good 10 minute drive by car out of Wanaka. l have stayed in many B&B's throughout the world and what always stands out and means more to me is the people who host them. So the Dell B&B is one of those special places, because Penny and Dave made me feel very comfortable and relaxed, like part of the family, and not to mention their 2 beautiful dogs, Molly and Ace!! They were really a joy to be around. Even now l miss that wonderful New Zealand hospitality and long to return!! Also a special mention for the Cinema Paradiso in Wanaka, a great cinema experience, a must for movie goers! l did love my salmon meals at their local pub in Luggate too!!! A real highlight also from Wanaka airport, was the fantastic trip to Milford Sound by a small Cessna plane, followed then by a cruise through the stunning Milford Sound. A very heartfelt thank you to Penny and Dave and hope to see them in Aussie sometime when they come and visit the Bellarine Peninsular!
Merren
2014-02-16T00:00:00Z
Warm and comfortable home, welcoming hosts. Wanaka is beautiful and the walk from the back of the house along the stream is a taste of rural life. Breakfast was outstanding, chatting to the other guests was interesting.
Jan
2016-03-12T00:00:00Z
Dave and Penny made us feel very welcome to their beautiful home. They had their family visiting and quickly over a cup of tea and a nice evening conversation we felt like we were a part of their family as well. Their home is beautiful, clean and cozy and they both are just great hosts ; very knowledgable of the area and quick with a joke. We had a great time with them. We were traveling through the area a few days later and didn't think for one minute to stay anywhere else but with Dave and Penny.
Lenka
2015-01-22T00:00:00Z
A lovely place to spend the night. Will be recommending to others as Dave and Penny (and Molly) looked after us brilliantly. Get better soon Ace.
Dan
2017-03-03T00:00:00Z
Tipus d'habitació
Habitació privada
---
Tipus de propietat
Bed & Breakfast
---
Capacitat
2
---
Dormitoris
Luggate, Otago, Nova Zelanda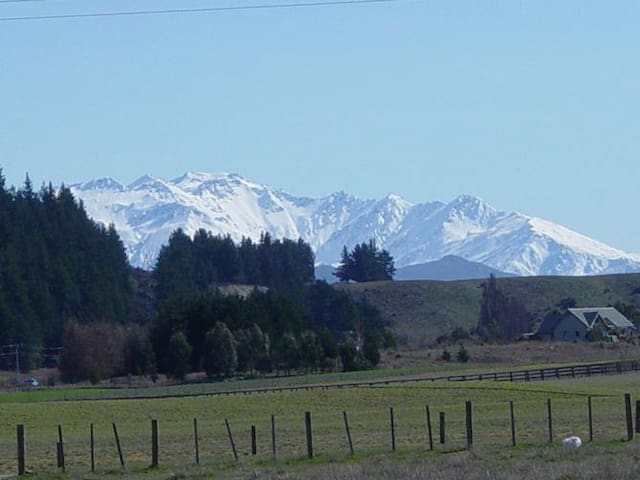 "Better than a 5 Star Hotel". Your own beautiful, private, self contained garden cottage. Deep restorative sleep is guaranteed on the romantic, comfy four poster. Fridge, microwave, tea & toast making facilities. Complementary snacks, tea, coffee, fruit and first breakfast. Mountain biking and river walks on the doorstep. At the edge of a reserve we are surrounded by farms, hills, and a pretty stream. Peace, space, relaxation, birdsong, a million stars and clear mountain air are yours to enjoy.
Totally self contained. Your own private entrance. Extremely comfortable four poster bed. Luxury Egyptian cotton, sun dried, hand ironed linen. Soft towels. Hairdryer. Fridge. Washing Machine, iron and hotplate for cooking available on request. Microwave. Free coffee and tea. Milk and orange juice supplied. Fruit and home made complementary arrival snacks. First morning breakfast free. Wake to the sound of birdsong. Go to sleep watching the stars from your bed. Well rested, you will bounce into the day with a myriad of exciting options to put all that energy into. A peaceful base with lots to explore all around you.
Luggage is a sleepy rural settlement near Wanaka. As Christchurch, Dunedin, Queenstown and the West Coast are within a 1 to 3/4 hours proximity, its ideal as a stopover; or charming enough for a stay in its own right. The house is near Kingan Reserve with many pretty walks along the Luggage stream on the doorstep. A mountain biking/ walking track runs from Luggate in to Albert Town and joins up with several trails around Lake Wanaka, including the Millenium track. The Luggate Pub is around the corner, has pub food and live music on the weekends. Wanaka airport, host to the famous Warbirds over Wanaka is a 3 min drive. Sky diving and tandem riding as well as flying lessons are available there. Lake Hawea is nearby for fishing, swimming and boating. Wanaka township is an easy 10min drive away boasting many fine restaurants, cafes and shops. Ski fields are in close proximity. Cardrona area reached in 20 mins. Treble Cone is 40mins to the carpark. The Clyde River roars beneath the historic Red bridge and is only a few minutes drive away. Great for swimming or water adventures. It's so peaceful and quiet here, yet there is so much to see and do very close by. * Wanakas International Arts Festival - the Festival of Colour takes place in Wanaka, with just so much going on theres no room for it all here - go to (URL HIDDEN) and check out the mouthwatering acts. Its on 4-10 April 2017. New Zealands best little Art Festival. * 15th Annual NZ Mountain Film Festival 30 June - 4th July. Inspirational events, celebrities, adventure sport & lifestyle. (URL HIDDEN) * Book Festival - part of the Film Festival from 7-9th July. Bookish instead of filmish. * Each Thursday theres a market in downtown Wanaka with fresh produce, crafts, local food and many other wonderful things to buy. * Every second Sunday there is a big Farmers Market in the centre of Wanaka. Produce, local arts and crafts and much more. Ask me when its on.
We absolutely loved our stay at Christine's beautiful cottage! The self-contained unit was so tastefully done- lovely art work and decor- and even more spacious than we anticipated! There is a seating area and pantry shelf with kettle, microwave and kitchen basics. Everything was clean and brand new. Christine was lovely and easy to communicate with. She had great tips on the local community and area. We would recommend without hesitation!
James
2016-12-25T00:00:00Z
Christine's place was lovely. She responded quickly and communicated as needed. She suggested a walk by Luggate Creek that was beautiful. The room was well decorated and supplied with what we needed. A restaurant at the end of the road made it nice to have dinner without another drive. A short drive to Wanaka for a town experience was easy. I recommend it.
nancy
2017-02-04T00:00:00Z
Cottages is a very nice place. Christine set it up with a lot of love to detail. Luggate is approximately 10 km away from Wanaka - and easy accessible by car. The cottage is an ideal base if you want to explore the surroundings. Christine is a warm and caring person - and easy to interact with. Can definitely recommend and would stay there again. Christine thanks for making me feel welcome to your home.
Tanja
2017-01-22T00:00:00Z
If you are looking for a secluded and private get away this is for you. Great amenities. Plenty of hot water and a very comfortable bed. We enjoyed the muesli and coffee. Christine was a wonderful host. We were amazed she stayed up for our late arrival. We were even allowed a late check out.
Kristina
2017-03-31T00:00:00Z
Christine was a lovely host, and the studio was very comfortable and clean. Location is great if you are after something away from the busy areas. Access to great walking tracks literally across the road.
Paul
2016-12-30T00:00:00Z
Very comfortable, peaceful relaxing stay. Lovely and secluded and had everything included that I needed.
Melissa
2017-01-28T00:00:00Z
Christine was friendly and helpful. Very comfortable and cozy. Central to Lake Wanaka and Lake Hawea if you want to explore both.Would have liked to stay longer.
Tim
2017-03-14T00:00:00Z
Christine's place was exactly what we were looking for - quiet and peaceful. We had everything we needed to prepare our breakfast. The queen-sized bed was extremely comfortable and we had plenty of space to just hang out. Christine was a great host and we enjoyed the chats with her while having a nice glass of wine and some lovely cheese. It was the perfect accommodation with just a short drive to Wanaka.
Andy & Kat
2017-01-08T00:00:00Z
Tipus d'habitació
Casa/pis sencers
---
Tipus de propietat
Pis
---
Capacitat
2
---
Dormitoris
Luggate, Nova Zelanda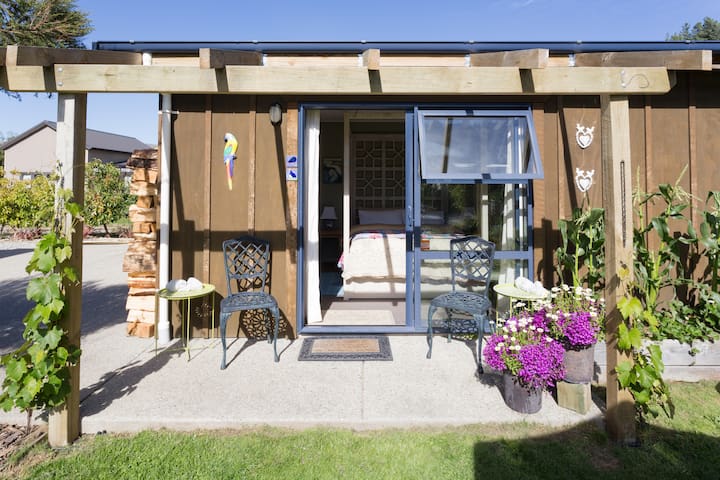 Set in a large garden under a huge walnut tree Miners cottage offers a relaxed and friendly stay . Close to Luggate Hotel, Wanaka Airport and walking tracks and 10 mins to Wanaka or Hawea. Please note that the cottage Kitchenette does not have facility for cooking meals. We are smoke free.
Set in a large quiet garden with friendly hosts .We are a 10 minute straight drive to Wanaka . The cottage has a Double bed and a single bed . It can easily sleep a couple , two persons in a bed of their own or a couple and a single person.We often have father son and have had mother sons stay too and of course couples with a child .
The Van Riel's are a Lovely couple who made our stay unexpectedly brighter than we expected. Their lives in Luggate, Otago give such a small town, home like feel - we felt like family by the time we left. We had loads of laughs over dinner and enticing conversations over tea. If you enjoy relating - you won't go wrong here. - Philip
Entrada LLC
2016-08-17T00:00:00Z
Very cosy place and very warm hosts!
Matthew
2016-12-27T00:00:00Z
I could not have asked for a better experience staying at the Miners Cottage. Not only was the property absolutely enchanting but Willemina set a new standard for hospitality. At every turn I felt welcome, from all the fresh fruit and veggies from the trees and plants in the garden, to the delicious meals, to delightful chats with Willemina that made me feel like family. I don't think pictures can properly convey what a lovely escape this place is. The cottage itself if cozy, peaceful, clean and well-equipped. Beautiful Wanaka is only a short drive away, leaving the Miners Cottage as a wonderful country retreat. I didn't want to leave and I can't wait to be back.
Maggie
2016-03-16T00:00:00Z
Beautiful little cottage. Our hosts were absolutely lovely and hospitable. Would highly recommend!
Maximilian
2017-01-04T00:00:00Z
Willemina went above and beyond to make my stay as stress-free and comfortable possible. After a long day of driving and last minute booking, Willemina greeted me as I pulled in, showed me around the grounds/cottage, and graciously provided a beer, fresh peaches and sparkling water before inviting me to breakfast the next morning. As I didn't have access to a phone/internet much of the day, the clear instructions given by Willemina made finding the place and checking in seamless. The space itself is very unique and full of character. Truly a rare find on Airbnb-- pictures don't do it justice... The real value, however, is Willemina's kind and generous hosting. She really makes an effort to make your visit special and personable. The next morning she made a wonderful omelet and smoothie for me before departing. As she also operates a B&B, I observed her give the same hospitality to others staying as I had received. Highly recommend!
William
2016-02-17T00:00:00Z
What a special treat it was to stay here, this rustic cottage with such welcoming hosts. Stewed apricots, apricot jam , muesli and smoked salmon in our fridge,way beyond our expectations-what a treat. We had dinner with the family which was an unexpected bonus and then to find they are so musical and have a wonderful sing along ,why would anyone have the need to go anywhere else. We loved the cottage and all its quirkiness and would highly recommend The Miners Cottage and the hosts Willemina ,Baz and Nicole . You made our holiday so memorable .
Kay
2017-01-03T00:00:00Z
Beautifully presented residence with heart and style. Superior quality bedding and comfortable beds. Beautiful atmosphere. Our host went above and beyond to make us feel welcome and settled.
Nicola
2015-05-20T00:00:00Z
The host canceled this reservation 37 days before arrival. This is an automated posting.
Karen
2016-02-17T00:00:00Z
Tipus d'habitació
Casa/pis sencers
---
Tipus de propietat
Cabana
---
Capacitat
3
---
Dormitoris
Luggate, Otago, Nova Zelanda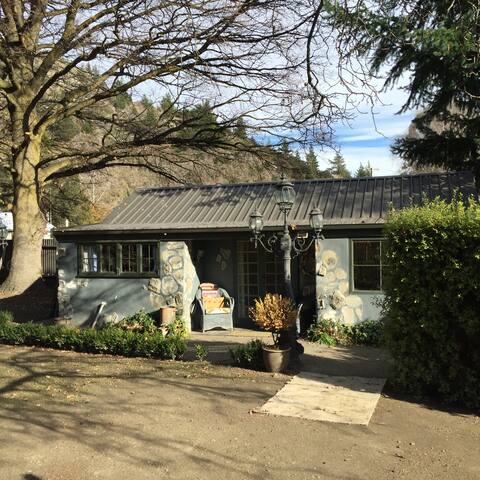 We offer a spacious cosy room with separate private bathroom in brand new warm and sunny, peaceful home. Relax in a private lounge or outside in the beautiful garden. Located near lovely Wanaka and close to some amazing walking and biking tracks offering scenic panoramas of the Clutha river and mountain ranges nearby. Around 10 minutes from Lake Wanaka, 1 hour from Queenstown. The Wanaka Airport - great for skydiving, Cardrona, Treble Cone Ski Fields and some great wineries are also nearby.
You will be sharing our cosy warm home with us and our very friendly dog and cat. There is a lovely private bedroom, separate bathroom and lounge area available. Suitable for couples, solo and business travellers.
The Historic Luggate Pub is only a 5 minute walk away offering some great value and comfort for all. Well worth a visit. Luggate is a small village where you can relax and unwind from a day of activities. There is great biking tracks, water sport opportunities on Lakes Wanaka, Hawea and the Clutha and Hawea Rivers. Cardrona and Treble Cone Ski Fields are about 1 hour away. Also nearby are Queenstown, Alexandra, Wanaka, Cromwell and Bannockburn which offer a varied range of activities and are all within an hour's driving distance
Our stay with John and Rachel was absolutely fantastic! The rooms provided were clean, spacious and homely. We out loved spending time with our hosts who were full of useful tips for what to do and where to go. The breakfast provided was great and exactly what we needed to start our day! We would 100% recommend and stay here again.
Jessica
2017-02-15T00:00:00Z
John & Rachel's house is the perfect base for visiting the Wanaka region. It's close enough to the town to get groceries, visit restaurants, but far enough away to escape the crowds of tourists. It's short drive from wineries, walking tracks and the Luggate pub 5min walk away does great meals. We enjoyed a spa at night after a day exploring the area. John & Rachel provided good advice on activities to do that most tourists wouldn't find. Their dog & cat are super friendly and make you feel like your at home.
Jo
2017-02-11T00:00:00Z
Clean and quiet place
Soh Kean
2017-03-18T00:00:00Z
Tipus d'habitació
Habitació privada
---
Tipus de propietat
Casa
---
Capacitat
2
---
Dormitoris
Luggate, Otago, Nova Zelanda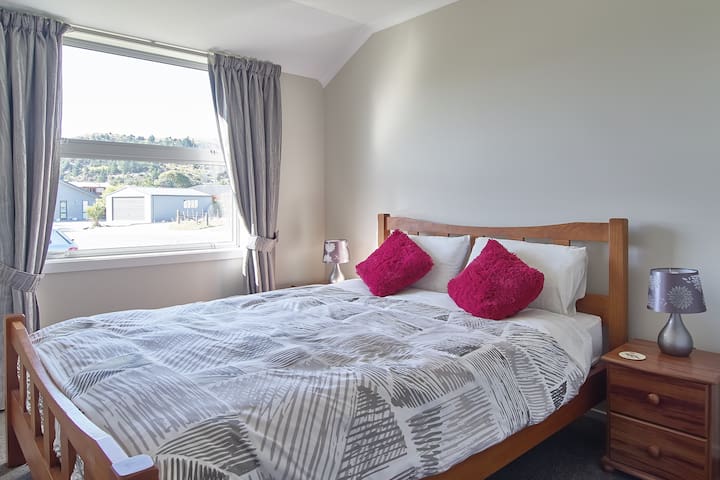 Welcome to a comfortable modern room with private en suite bathroom for each bedroom. Guest lounge mountain views & set in a rural environment 10 mins from Wanaka. Delicious breakfast is included with local produce and homemade preserves. .
Situated 10mins drive from Wanaka on State Hwy 6 and central to everything in Central Otago and Queenstown Lakes District. Rivers and streams and Lakes are all close for your enjoyment and we are within 35-40 mins from 3 excellent ski fields. Set in the small village of Luggate we have unobstructed mountain views and unique to the area is the historic local pub established in 1867 which serves lunch and evening meals. Lovely walks and cycle tracks are in abundance along the stream and Clutha River with trout fishing possible along the banks. The luxurious bedrooms are modern and spacious with queen beds and en suites. Our other room is also listed. Full WiFi internet is included. Great location for a base to explore this lovely region.
Our neighborhood has so much to offer from parachute jumping to cycling along the many tracks, visiting the famous Warbirds and Toy museum, adventure sports, skiing and snowboarding, swimming in summer and outstanding photo opportunities.
What a wonderful stay we had at Leone's B&B. The room was spacious and cosy, the bed comfortable, but what I enjoyed the most was the shower cabin! It was perfect! Not to mention the breakfast and Leone's cinnamon rolls and apricot jam; one word for these: delicious! I would definitely go back and I would strongly encourage everybody to stay with them, you'll not regret it, I promise!
Andra
2017-01-06T00:00:00Z
If you would like a home away from home - stay here! Jim and leone are just stars. Her home baked breakies are lovely and they are a wealth of knowledge. It's nice to be out of the hustle of wanaka and the walk around devils hook (along the crystal waters) is to die for- and without the tourists !!
Bounder
2016-12-29T00:00:00Z
Quiet location, great breakfast, friendly hosts
Garnet
2017-02-16T00:00:00Z
Beautiful modern and cozy home with a very nice and serene view. Leone and Jim were great hosts, kind and helpful. The room was clean and modern with a private ensuite with shower. They also have adorable pets that are playful companions. Highly recommended.
Ken
2017-01-03T00:00:00Z
A lovely place to stay located a short 10 min drive to Wanaka. Beautiful views of the mountains and two lovely dogs. Breakfast was great and included poached eggs and bacon!
Billy
2017-01-03T00:00:00Z
We had a fantastic stay here. Leone was friendly and helpful. We borrowed blankets, used their advice on walks, and joined them for their New Years Eve party! Breakfast was delicious especially the freshly baked muffins. Room was large enough for suitcases which isn't always the case. Bathroom was spacious. We were made to feel at home!
Lottie
2016-12-31T00:00:00Z
Leone's place is located 15mins drive away from Wanaka city center and we stayed for a night. They have really cute pets and the place has a great view! We enjoyed breakfast and Leona gave us some homemade cinnamon buns for our drive back to Christchurch. (It can be a little noisy in the morning as there are other guests around as well. If you are very sensitive to noise, do request for a room down the hall.) Overall, we had a good time. Thanks for having us!
Doranne
2017-02-04T00:00:00Z
Had a great time at luggate creek! Jim and Leone were both very friendly and that helped us get settled in quickly. Baxtor and Buddy were both very friendly as well!
Wei Bang
2015-04-07T00:00:00Z
Tipus d'habitació
Habitació privada
---
Tipus de propietat
Bed & Breakfast
---
Capacitat
2
---
Dormitoris
Luggate, Otago, Nova Zelanda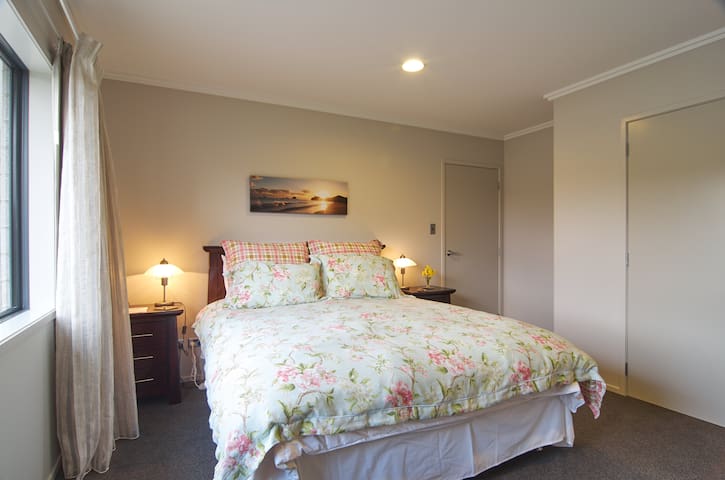 This church was built in 1925 and has been fully renovated. It has a mezzanine floor with a double bed and a large living area which has 2nd double bed. Also a foldout sofa if needed. (please note furniture is different to photos).
Renovated Church
Rural outlook. Big section and lots of space
Dan's house is a unique place in a secluded part of town with beautiful views of alpine mountains. The renovated church has kept all of its character however feels cosy and warm like a home feel. An enjoyable place to visit and stay, great for a couple or small family with all amenties included. Would stay here again.
Fil
2017-01-06T00:00:00Z
Very Nice place, very equiped, well located. We spent 3 very pleasant days.
Pierre
2017-01-15T00:00:00Z
Tipus d'habitació
Casa/pis sencers
---
Tipus de propietat
Casa
---
Capacitat
6
---
Dormitoris
Luggate, Otago, Nova Zelanda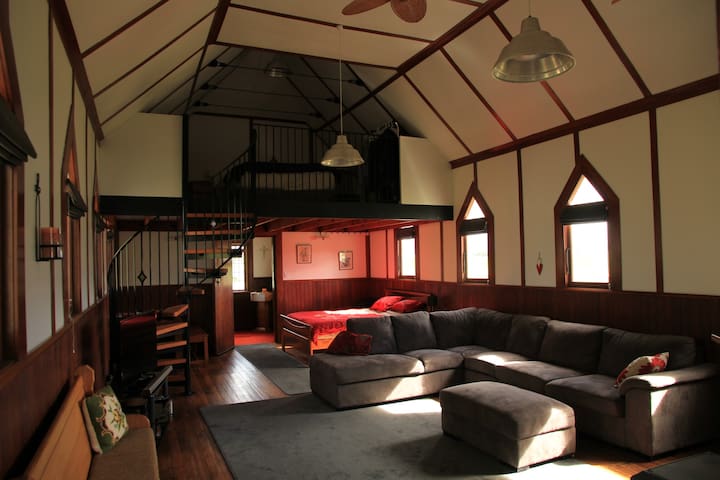 Wake up to panoramic views over the farm, animals and beautiful distant mountains. Our bell tents are reminiscent of vintage safaris and summer camps. All set-ups are bespoke and tailored to suit the individual's needs to create the perfect getaway. Fully self contained with own bathroom and separate toilet, you'll also enjoy cooking dinner in the open, natural environment, sipping on a drink or take a moment to breathe in the fresh air and relax in the comfy hammock in the trees.
Situated on a 2000 hectare working deer farm, tucked into the hills with amazing panoramic views of the country side and mountains while still sheltered in the Kanuka trees.
Tipus d'habitació
Casa/pis sencers
---
Tipus de propietat
Tipi
---
Capacitat
2
---
Dormitoris
Luggate, Otago, Nova Zelanda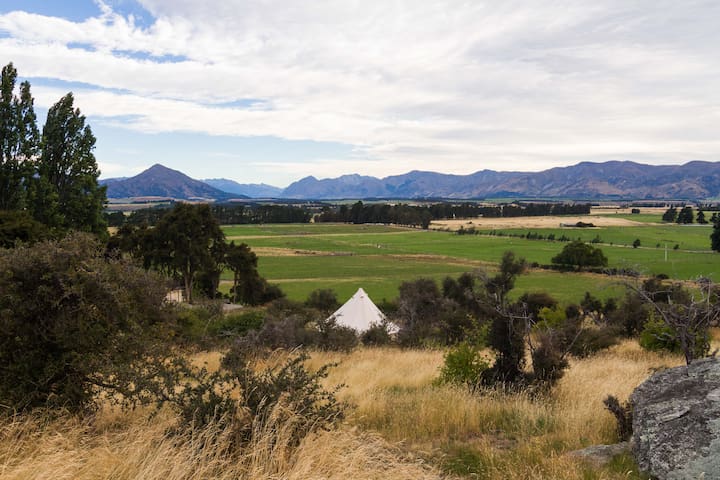 We are close to Walking and Bike tracks, Clutha River, Ski Fields, Luggate Pub,the airport, skydiving and so much more..A small 10 minute drive to Wanaka where the activities are endless.
This is a self contained unit with your own bathroom and kitchen. Continental breakfast will be supplied along with tea and coffee.
Tipus d'habitació
Casa/pis sencers
---
Tipus de propietat
Pis
---
Capacitat
3
---
Dormitoris
Luggate, Otago, Nova Zelanda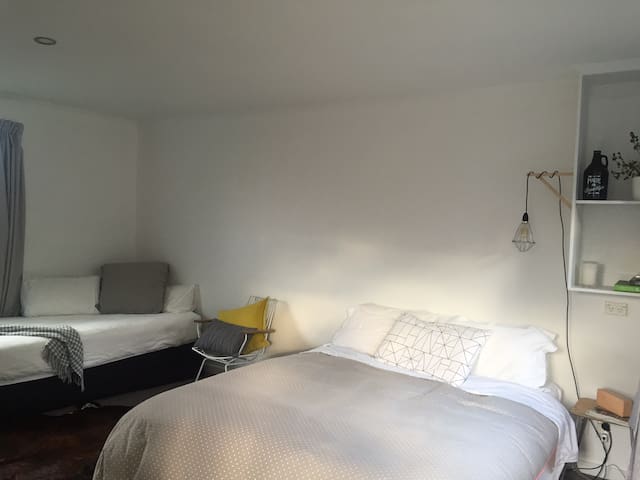 Just 6 minutes from Wanaka,; "Wanaka Haven" is a warm, charming and spacious North American styled family home. Absorb the beautiful unobstructed view through the floor to ceiling windows, snuggle close by the outdoor stone fireplace or soak in the spa pool staring at the stars. From here move inside to read & relax in the cozy main lounge by the fire or enjoy the private Media room for your TV and movie viewing pleasure. Let our peaceful country home be your holiday escape.
Fully equipped home, to make your stay relaxed & enjoyable. Three bedrooms; and a portacot available on request.
The house is a 2 min drive min to Wanaka airport; which has Skydiving, helicopter & flight seeing plus a great cafe filled w vintage cars & museum. For the outdoor enthusiast, quick & easy access to running/walking/ bike tracks along the Clutha river which can take you to Wanaka or Luggate.
Tipus d'habitació
Casa/pis sencers
---
Tipus de propietat
Casa
---
Capacitat
6
---
Dormitoris
Luggate, Otago, Nova Zelanda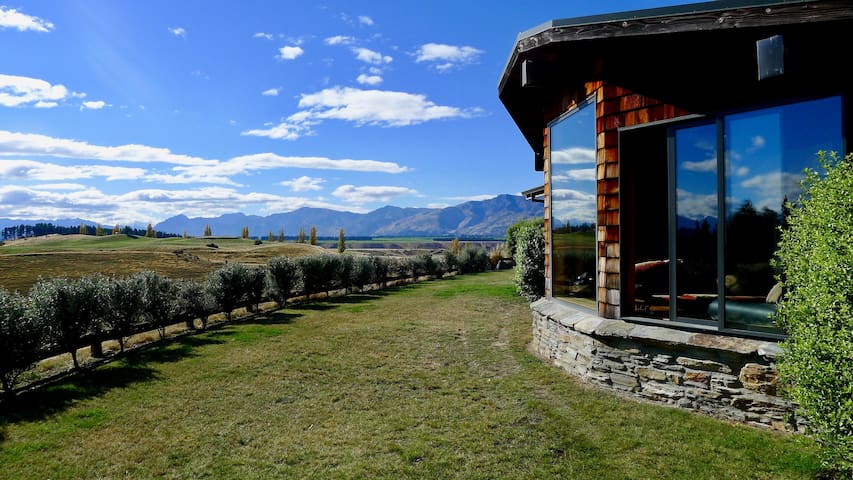 Luggate - Airbnb
:
Mitjana de

4.92

estrelles sobre

5

a partir de

1546

avaluacions d'hostes
1

-

18

de

Més de 300 lloguers
Introdueix les dates per veure el preu total. S'aplicaran tarifes addicionals. És possible que també s'apliquin impostos.