Més de 300 lloguers d'apartaments
Fully furnished apartment, a 3-minute-walk away from the main bus station; 7 min. to the city centre and 10 min. to the closest beach. It has a sea view and consists of one bedroom with a double bed, a living room with a pull-out sofa for 2 per., a kitchen, a bathroom and an entrance area. Free parking lot available. Private terrace. You'll love my place because of the ambiance, the outdoors space and the quiet neighborhood. My place is great for couples and families with kids.
A newly renovated apartment located on the 1st floor of a shared family house in a quiet neighborhood, with sea view and a terrace. - BBQ available
All the necessary facilities for a comfortable holiday (restaurants, bars, cafés, grocery store, bus station etc) are easily accessed from this location.
We spent a week in this lovely apartment in the first floor of a little building just in front of the pier,in the center. The apartment was very confortable and clean and the lady that was waiting for us gave us information about the beaches and the restaurants.there was all the necessary in the kitchen and a very confortable sofa in the living room. A little tavole in the terrace just in front the sea,lovely!
Terry
2016-08-14T00:00:00Z
Zrinka nous attendait à l'arrivée du ferry (même si nous l'avons loupé :) ). Il est très facile de communiquer avec Zrinka qui parle parfaitement anglais. L'appartement est situé à 5 min à pied du centre de Mali Losinj, avec vue sur le petit port. L'île dans son ensemble est superbe, les villages de Mali losinj, Veli Losinj, Lubenice sont incontournables.
Arnaud
2016-08-21T00:00:00Z
Zrinka and her daughters waited for us in front of the Apartment and showed us where to find a parking spot. They were very friendly and gave us some helpful recommendations for restaurants and beaches. The apartment was very tidy and well located..just a few minutes walk to the Center of Mali Losinj.
Katrin
2016-07-06T00:00:00Z
Zrinka is nice, kind and present, speaks a perfect English, and I've had the feeling I always could count on her while I was there. The apartment is exactly as showed on the photos, clean, and has really everything you need - from kitchen towels to a mosquito machine - for a comfortable stay. I've loved the outdoor table, where you can have breakfast and dinner looking the beautiful Mali Losinj. The place is near the port, just a few steps from the centre. I'd loved to stay more.
Linda
2016-08-29T00:00:00Z
Zrinka was a perfect host! Apartment Barbara was exactly as described. It is cosy, comfortable, close to the sea, to the centre of Mali Losinji, to the shops, the market, the boats. The location is wonderful, the people is friendly and we really have a fantastic time! I will for sure recommend it.
Claudia
2016-08-07T00:00:00Z
Incredible experience. Zrinka is the perfect host: she replies to the email/SMS in a few minutes and she is very kind. The apartment is beautiful: it is located 100 meters far from the center of LussinPiccolo, with a great view over the port, and it is clean. Amazing. Fantastic. No other words to describe it. Thank you Zrinka! :)
Simone
2016-07-31T00:00:00Z
We had great time in this place. Location is very convenient. It's 3 min walk from ferry and from the bus station. You don't have to drug your luggage up the hill. It's quiet but very close to the Riva with it's shops, restaurants and entertainment. Apartment has it's own terrace outside the building where you can make BBQ and enjoy your dinner. It's clean and comfortable inside. Thank you for very nice stay!
Alona
2016-08-18T00:00:00Z
We had a wonderful time in Mali Losinj, and this apartement was perfectly located in walking distance from the restaurants and life in town but still a little ways away so you can retreat from the noise. It is cosy and the terrace in front of the house is great for having your breakfast. Zrinka was a nice host and very helpful - we forgot something and she is mailing it to us, thank you for everything - we will be back to Mali Losinj for sure.
Siri
2016-07-29T00:00:00Z
Tipus d'habitació
Casa/pis sencers
---
Tipus de propietat
Pis
---
Capacitat
4
---
Dormitoris
Mali Lošinj, Primorsko-goranska županija, Croàcia
Sveti Jakov is an ideal getaway from everyday routines and urban crowds. A little Mediterranean place as many once were. The apartment is perfectly suitable for families with children, but also for couples. For nature lovers and all those seeking some rest in intimate surroundings. It is registered for four persons (two beds in the bedroom, two spare beds and a cot bed) and is located at the ground floor. It has indoor space with a covered terrace and a courtyard in front and back.
Since the apartment is on one level, it is also suitable for people with disabilities. The building was erected in 2005, in accordance with all the legal regulations and the architecture of the local environment. The interior space has also been adjusted to the Mediterranean landscape; its charm and warm colours outline ambience of the place. On the other hand, the apartment is supplied with all modern utensils and appliances that make your vacation more relaxing. A covered terrace with a courtyard located at the back side of the building certainly adds comfort to your stay and is ideal for children's plays, lunch or dinner in a good company, or for reading in the shade while lying comfortably on your deckchair. Here you can prepare a barbecue for your loved ones, and you can find all the needed Mediterranean spices right there, growing next to the barbecue (rosemary, laurel, sage, basil…). Inside the apartment there is a bedroom with two beds and a wardrobe. Beds are joint together thus making a double bed, but they can be separated in two single beds if needed. Fully equipped kitchen, spacious dining room, a living room and a bathroom. A washing machine, a dishwasher, SAT TV (Astra & Hotbird), DVD, Stereo, an air-conditioner, a parking space, a travel cot and a highchair with tray. Pets are allowed. We kindly ask our guests to refrain from smoking in the apartment's indoor space.
Tipus d'habitació
Casa/pis sencers
---
Tipus de propietat
Pis
---
Capacitat
4
---
Dormitoris
Nerezine, Comtat de Primorje-Gorski Kotar, Croàcia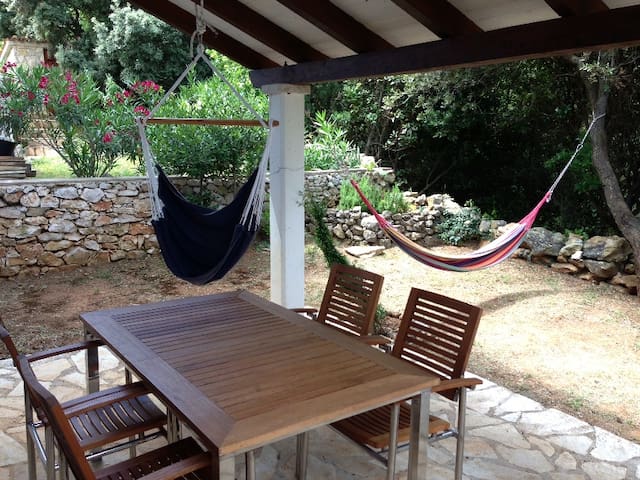 Apartment is located on island of Losinj, in the center of Mali Losinj town, only 5 minutes walk to the nearby shops, restaurants and the main town square, but yet it is situated in quiet neighborhood. The apartment contains 1 bedroom, kitchen/living room with pullout couch, bathroom, and terrace. Apartment features fully equipped kitchen with microwave, TV, wireless internet, and is fully air-conditioned. Living room/kitchen area opens out to terrace with outdoor seating area overlooking the garden. This apartment accommodates 3 persons- 2 persons in the bedroom and 1 person on the pullout couch in the living room area. It is only 5 minutes drive, or 15-20 min walk to any of the surrounding beaches! Town of Mali Losinj is located in the Augusta bay, on the island of Losinj, the biggest naturally protected bay on these islands. It's beginnings date back to 12th Century, when twelve Croatian families came to the island and formed a settlement in the bay of St. Martin. The first settlers were farmers who later on turned to fishing, showed interest in maritime business and shipbuilding. Gradually the settlement moved to the actual Mali Lošinj harbor. The golden years of Mali Lošinj were in 19th century thanks to the sea and shipbuilding. But once the positive effect of Lošinj's mild climate on people's health was discovered, it turned Mali Losinj to new industry of tourism, and the new period in Lošinj's history began. Today Mali Lošinj is one of the main tourist resorts in the Adriatic, famous and recognized all over Europe by tourists who keep on visiting it again and again. Among all the Adriatic islands Krk, Cres and Lošinj hold the greatest variety of plants, about 1500 species. Most of these plants are rare species which grow in limited numbers only here and nowhere else in the world. The island of Lošinj is covered in pine trees spreading down to the sea. The waters of Lošinj are famous for dolphins. More than 150 of them have been identified and each of them has been given a name. Scientist of the Adriatic project 'Dolphin' have been intensively caring for dolphins and studying their behavior.This dolphin research is one of the oldest in the Mediterranean. The dolphins can survive only in clean sea environment and it is hoped that the public will continue their good work to protect clean waters of Losinj archipelago. Losinj has mild Mediterranean climate. The average summer air temperature is 24'C and the average winter temperature 7'C. The winter sea temperature never falls below 12'C and in summer it is no higher than 27'C. Having about 2,580 hours of sun, Lošinj is one of the sunniest places in Europe. Its climate is most favorable for the treatment of the bronchial asthma and respiratory allergic diseases. Attractions The Church of St. Martin dates back to 1450, and it is found on today's cemetery, where the history of Losinj may be read. Priests that once served in this church where glagolitic, and next to their priestly activities they also served as notary publics and assisted the locals with drafting of the wills, agreements etc. The parochial church of the Nativity of the Virgin Mary and the plaza date back to (PHONE NUMBER HIDDEN). The church has three naves; on the altar there are the relics of St. Romuald and the painting of the birth of Virgin Mary. Church of the Assumption of Virgin Mary (Annunziata), built in 1534 and enlarged in 1858 is located in Cikat bay. On the spot where it was built, sail boats were coming in and leaving Losinj. Today, if a ship is passing by the cape of Annunziata and it sounds with a siren as a greeting, it is known that the captain is from Losinj. Numerous villas of the Austrian aristocracy are also located in Cikat bay as well as the monument to Ambroz Haracic, professor of the maritime school and researcher of the island's flora and fauna. You may also visit the church of St. Nicholas from 1857 dedicated to St. Nicholas the bishop patron of sailors and travelers, and monument to Josip Kasman, world-renowned opera singer born in Mali Losinj, which is located in the town. And last, but not least, 'Apoksiomen' was recently discovered in the waters of Losinj , it is a bronze sculpture, representing a Greek athlete in its natural size, around 2000 years old. The Cres Lošinj Arcipelago is situated in Kvarner Bay which consists of 36 islands and islets and is considered to be the biggest archipelago in the Adriatic. You can explore the surrounding islands from Mali Losinj every day on board the local ship or one of many excursion boats, or you may just relax and enjoy one of many clear water beaches Mali Losinj has to offer! Have a wonderful holiday! :)
We had a fantastic holiday in this apartment! nice, quiet and inside the city centre.. i wish i could stay there much longer!
marcello
2015-08-11T00:00:00Z
Lovely stay in this very quaint apartment. Elen was really helpful in our pre-arrival as the ferries were no longer running due to a timetable change. Elen advised us of an alternative route which meant we were able to stay on the island. Her mum met us off he ferry which was nice and we walked to the apartment which was only about 10 minutes. The apartment was in block above Elen's parents and had a separate kitchen/diner, bedroom and bathroom. You can definitely tell that this is someone's home as furniture and personal belongings are left in the apartment. The furnishings are a little dated but everything was clean and hosts were absolutely lovely. Would stay again as it is a close walk to town and very close to a sueprmarket:
Laura
2015-09-05T00:00:00Z
Appartement très bien situé, à 5 mns à pied du centre. Appartement très calme et une petite terrasse très sympathique. L'appartement est conforme au indication et au photo. C était très bien, et Maria est très gentille. Merci à elle.
Frederic
2014-08-28T00:00:00Z
Great place. Elen's parents greeted us in town and then took us on a tour. They were very friendly and helpful. The apartment was very nice with a lot of character. Would stay there again!
Brian
2015-06-01T00:00:00Z
Elen's father expected us at the bus station and took us to the appartment, providing us lots of valuable information about the place, taking us to the a bit distant diving center to arrange for scuba diving. The appartment was just what we liked: equipped with everything we needed, very close to the center, markets, about 10min walking to beautiful beached and still very quiet. The little terrace with a view to the garden around was the place we enjoyed a lot to sit on. We had a very relaxing vacation with a selfmade good-bye grappa offered by our host. We can only recommend the location and would definitely go back in the future. Veronika, Armin and Gabriel
Veronika
2014-06-22T00:00:00Z
We enjoyed our stay at Elen's place very much! Her parents were wonderful hosts, very helpful and always open for a little chat. The apartment itself was nice and cosy, hidden in one of the many picturesque alleys of Mali Losinj, located very close to the city center and harbour, with supermarkets, ATMs, bars, restaurants, etc. just around the corner. The perfect place for a visit! Still dreaming of that marvellous blue ocean ... we will certainly be back soon.
Kathrin
2014-07-07T00:00:00Z
A little hard to find but worth it. Located just minutes from the marina, and hosted by Elen's wonderful folks. Beautiful surroundings and a great apartment. I would absolutely stay here again.
Dan
2013-08-25T00:00:00Z
We recommend the apartment. Elen 's parents were very hospitable, they help us for found a parking when we arrived. The apartment is clean and is equipped with everything that is necessary. The apartment is located in the heart of the center, near a supermarket and nightlife.
Silvia
2015-08-15T00:00:00Z
Tipus d'habitació
Casa/pis sencers
---
Tipus de propietat
Pis
---
Capacitat
3
---
Dormitoris
Mali Losinj, Comtat de Primorje-Gorski Kotar, Croàcia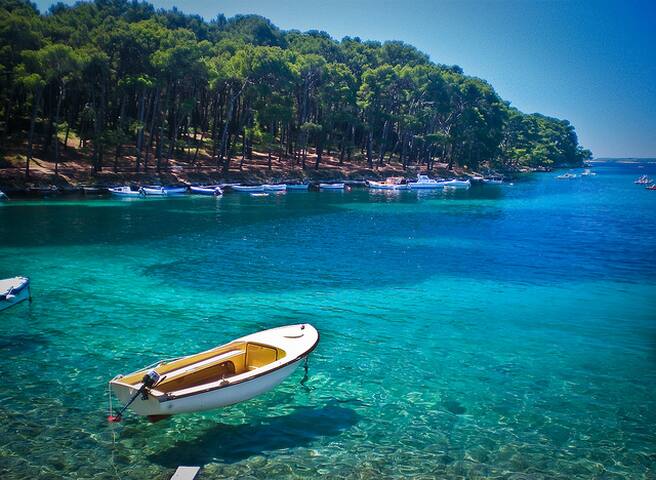 Great apartment with terrace based in city center of Mali Losinj. It's perfect for couples. The nearest beech is 10 minutes walking and there are groceries stores and everything just around the corner. Parking spot provided within 2 minutes walk.
Early check inn or late check out are available on request Quiet and a good location just 200 meters walk from the center
The flat is cosy and very well located. Bedroom is nice, very comfortable but the bathroom is pretty small. The flat has everything you need for few days staying. Perfect location, few seconds from a supermarket, few minutes walking from the beaches and the city center. The host is nice and available.
chiara
2016-09-09T00:00:00Z
The house was in a really good position to reach the centre of Mali Losini and also the "beaches". It was really clean when we arrived and the parking was perfect. Unfortunately, the bathroom was really little: my boyfriend is tall and he doesn't like at all. We loved the outside space to have breakfast and dinner (inside you can't: there's no a table and chairs). We had a positive experience in Bore's house.
Ilaria
2016-08-25T00:00:00Z
Bellissima vacanza: appartamentino in centrissimo, a due passi da tutto, comodo e accogliente per una coppia. Grazie per la gentilezza e la disponibilità di Federica che mi è venuta a prendere all'arrivo e grazie a Milena , mamma di Boro, che mi ha prestato la sua MTB. Grazie perché ho potuto lasciare i bagagli fino a sera il giorno della partenza nella tabaccheria di Milena in centro al paese! Assolutamente consigliato ! Unica nota negativa i bagnanti un pó chiassosi nel giardino affianco: ma questa è solo sfortuna; e speriamo che Boro installi la ADSL. Ho già consigliato l'appartamento a degli amici:). Grazie di tutto .
milena
2016-08-29T00:00:00Z
A friend of bore picked us up from the bus station. The apartment was small, but got everything you need. Located in the city center with a small garden with a lime tree and a big terrace! We enjoyed staying there and bore was a great host!
Josefine
2016-09-19T00:00:00Z
My boyfriend and I were housted by Bore´s mom, she is very nice and kind. Everything was more than we expected to be. Neighborhood is kind and warmly. We recommend it :)
Paula
2016-09-29T00:00:00Z
Nous avons été très bien accueillis par Bore et sa famille. L'appartement est bien situé (près du port et des commerces), très propre et fonctionnel. Bon rapport qualité/prix. Idéal pour un couple.
Nicolas
2016-06-21T00:00:00Z
Apartmán je velice příjemný a je v dobré vzdálenosti od moře. Pobyt jsme si moc užili a komunikace s Borem byla dobrá. Kuchyně a koupelná jsou menší, ale naprasto dostačující. Terasa má hezký výhled a je ideální pro večerní posezení. Ubytování zde můžeme doporučit.
Jakub
2016-06-25T00:00:00Z
welcomed by Bore's mom. we had a wonderful time in this charming little town. the apartment is close to the centre and not too far from the beach. we chose to go to the less touristy beaches by car and it was super practical as we had our parking available at all times. thank you again and hope to see you next year!
Anna
2016-09-03T00:00:00Z
Tipus d'habitació
Casa/pis sencers
---
Tipus de propietat
Pis
---
Capacitat
2
---
Dormitoris
Mali Lošinj, Primorsko-goranska županija, Croàcia
Offering a garden and barbecue, Apartment Mara is set in Mali Lošinj. Bojcic Beach is 200 m away, city center is 10 min walking distance. Lovley decorated and recently renovated small apartment. Ideal accommodation for young people.
Strávili sme u Vás veľmi príjemnú dovolenku. Kvalitné ubytovanie, výborná poloha, perfektný hostitelia, more prekrásne, príjemné centrum mesta. To je len malá časť našej spomienky na Lošin. Radi sa niekedy opäť vrátime.
Ivan
2016-07-25T00:00:00Z
Mara was a wonderful hostess! I only wish we could have stayed longer in this beautifully renovated studio apartment. It was very modern and luxurious by my standards and would be a great place to stay for a long time in a wonderful neighbourhood. A bonus for me was so many German speaking people around which made things easier for me. Amazing restaurant right around the corner, a short walk down to the main waterfront area, and a sandy beach a short drive away. This city would be a great place to rent bicycles and explore the trails, or a small sailboat to take out for a few hours. Thank you Mara, you were such a friendly and gracious host! I only wish I could have stayed longer.
Carolyn
2016-06-14T00:00:00Z
Petit studio agreable pour une nuit ..acceuil sympathique
Chantal
2016-10-08T00:00:00Z
We arrived early in the rain, and were welcomed in the home....really great, Our hosts are lovely people who look after their guests. The apartment is well situated near a market, and a short walk to the centre.
Liz
2016-10-12T00:00:00Z
Mara vous reçoit très bien et vous conseille les choses à faire ou à voir dans la région. Elle est très sympa! Le logement est idéalement situé. Très proche d'une boulangerie, supermarché, cave à vin et à 10min à pied du centre ville (port). Je vous recommande.
Aurelia
2016-08-30T00:00:00Z
Tipus d'habitació
Casa/pis sencers
---
Tipus de propietat
Pis
---
Capacitat
2
---
Dormitoris
Mali Lošinj, Primorsko-goranska županija, Croàcia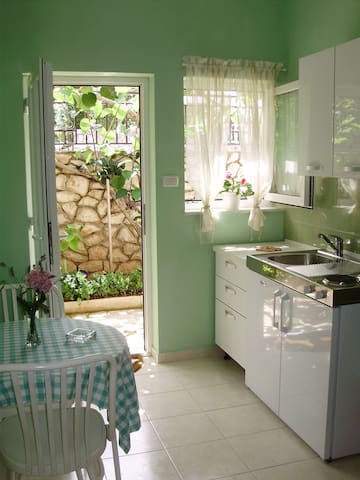 1 triple room Living room with adjoining dining room and kitchen 1 bathroom with a shower and toilet 1 terrace with a view of the sea, table and chairs
Fantastic location, very close to the beach and some great cycling paths nearby, but also within easy walking distance to the town centre. Nice apartment with everything you need and quite a large terrace with views over the sea. Friendly hosts!
Stanko
2016-07-04T00:00:00Z
We had a very pleasant stay at Zvonkos apartment. It was very clean and the balcony is lovely to sit at. The communication was excellent, Zvonko stayed in touch before the date of arrival and explained very well how to get to the island and apartment. I would very much recommend to stay at his place, it is very close to the beach and a supermarket, bakery and a little vegetable stand are very close by in walking distance. thank you very much we will come again next year!
Mari
2016-09-18T00:00:00Z
We felt very welcomed and truly enjoyed our time in Mali Lošinj in this lovely apartment. It had everything we could have ever needed, and was very close to the beach, while a short walk to town. The apartment was clean and the host was kind. Thank-you!
Ana
2016-09-12T00:00:00Z
We had a wonderful stay at this apartment. It was very comfortable, clean and had a lovely balcony with a view of the sea. The location is very convenient in a quiet neighbourhood, just a 2 minute walk from a nice beach, restaurants and a supermarket. It's also just a 10 minute walk to the town centre. The hosts were very attentive and generous. We would highly recommend staying here to anyone visiting this beautiful island.
David
2016-09-09T00:00:00Z
Very clean place to stay and also very relaxable with open wiev to sea. We really enjoy our stay. 5 Stars for everything :)
Marko
2017-04-02T00:00:00Z
The Apartment was absolutly amazing! It was beautiful to wake up to a view over the ocean. there is a quite bay about 5 minuts away and the city center is also right around the corner! We had an amazing time and would highly recomend a stay at natalis and zvonkos!
Phoebe
2016-09-01T00:00:00Z
Zvonko was unavailable on our arrival, but he made sure that someone was there to welcome us. The place was clean, functionnal and a small walk from Mali Losinj's center. Plus, the view from the balcony was stunning, specially on sunrise. I would recommand this place anytime.
Jean-Normand
2016-09-28T00:00:00Z
A lovely apartment in a beautiful place, very clean, comfortable and with a lot of services in the area. My boyfriend and I didn't know Zvonko but he gave us information about the isle and his mother in law was very kind :) we had a great time
Elisa
2016-09-05T00:00:00Z
Tipus d'habitació
Casa/pis sencers
---
Tipus de propietat
Pis
---
Capacitat
3
---
Dormitoris
Mali Lošinj, Primorsko-goranska županija, Croàcia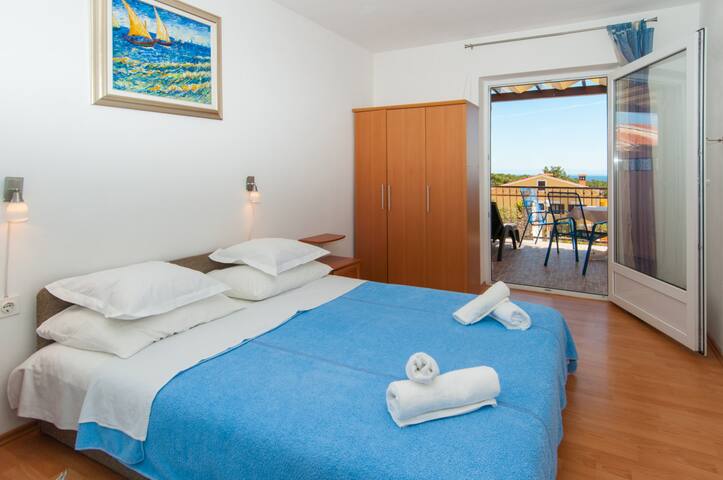 Romantic apartment,60 m2,located in a quiet area,surrounded by family houses in an old captain's house that is also cultural (URL HIDDEN) includes kitchen with dining room,bathroom,hallway and a (URL HIDDEN) allowed upon request.5 min from the centre.
Breathtaking views of the entire city,historic core of the city,chirping of swallows
Bakery-5 minutes(by foot) Downtown-5-10 minutes(by foot) Beaches-peaceful,beautiful and not crowded-10-15 minutes by foot, or 5-10 minutes by car! Restaurants-Corado-5 minutes by foot,traditional dishe(URL HIDDEN)-Pizzeria Draga-5 minutes by foot,excellent pizza and lasagne(URL HIDDEN)-Restaurant Lanterna(near the sea)-10 minutes by foot
Una sola notte di (URL HIDDEN) super accogliente e disponibile! A casa da Korina ogni piccola cosa di cui puoi avere bisogno trova il suo posto! Anche lei disponibilissima!
Benedetta
2016-09-04T00:00:00Z
Korina is a very helpful and kind host. Her apartment is very well located, fully equipped and arranged with attention to detail. Highly recommended for a stay in Mali Losinj!
Tobias
2016-05-01T00:00:00Z
Korina has been the coolest host I've ever met :) She is so welcoming and friendly, we really felt like visiting a friend. It has been an absolute awesome time in Mali Losinj !!! Thank you for everything Korina, you were perfect, we're gonna keep this trip in mind like a very precious memory ! Your place is so sweet, so warm, so lovely, probably the best of Croatia :p
Agathe
2015-10-15T00:00:00Z
We had a wonderful time in Mali Losinj and in Korina's apartment! The apartment is furnished with lots of love and the view is just breathtaking! Everything you need is in walking distance. Great stay!
Laura
2015-09-23T00:00:00Z
The apartament of Korina it was so romantik, clean and very near to center and at very nice and good resturant. Hope come back again, ciao Korina! Paola and Michele from Italiy
Paola
2016-06-15T00:00:00Z
Korina nous a fait un accueil charmant.Elle à répondu à chacune de nos sollicitations.L'apartement est très spacieux avec des jolies vues sur la vielle ville.Attention logement au troisième étage.Excellent séjour.
jean marc
2016-08-13T00:00:00Z
Korina has a nice place. Comfortable and spacious. Definitely value for money. Quite a walk from the parkinglot but the stay in the old town is worth it. Make sure you know where to go because it's not easy to find it. But Korina is pleased to help out.
Dietrik
2016-05-04T00:00:00Z
Karina was a great host, she takes care of the appartment and loves to host.
Maša
2015-06-07T00:00:00Z
Tipus d'habitació
Casa/pis sencers
---
Tipus de propietat
Pis
---
Capacitat
4
---
Dormitoris
Mali Losinj, Comtat de Primorje-Gorski Kotar, Croàcia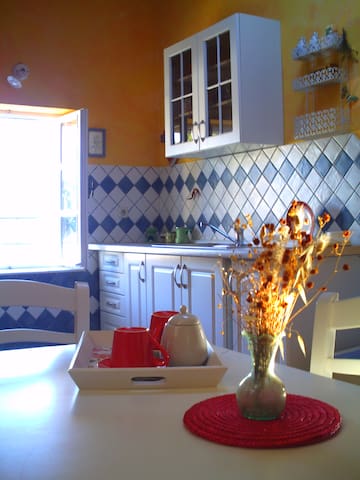 Sveti Jakov (St.James) is a small fishing willage, with a beautiful clear sea.
Studio can accommode 2+1 guests.Bed are situated in 1 sleeping rooms within 28m. Guests can use the terrace to enjoy the warm summer evenings.
Incredibly relaxed holiday. Studio flat with its own terace and garden with fig and few olive trees through wich you see beautiful blue Adriatic sea. Local beach is down the path few minutes away with clear water and many fishes swimming in it. Would like to come again.
Milosh
2016-07-30T00:00:00Z
Io e la mia ragazza abbiamo passato una settimana nella bellissima isola di Cres ospitati da Irena. La casa è davvero carina e accogliente, perfetta per una coppia! Il punto forte è la deliziosa spiaggetta raggiungibile a piedi dalla casa. Irena è stata gentilissima è molto disponibile, la consigliamo assolutamente!
Filippo
2016-09-04T00:00:00Z
Wir haben unseren Urlaub im Appartment von Irena sehr genossen. Die Lage ist etwas abseits der Tourismusströme und die kleine Bucht gleich in Laufnähe (5Min) war sehr schön, sogar mit Bootssteg und Badeleiter so das man keine Badeschuhe zum Schwimmen brauchte. Das Appartment war für unsere Ansprüche gut ausgestattet und die kleine, einfache Terasse mit Blick in Richtung Meer war malerisch. Irena war sehr freundlich, sie brachte beim Checkout sogar unserem Sohn noch kleine Geschenke über die er sich sehr freute. Gerne würde ich auch mal wieder kommen.
Wolfgang
2016-08-26T00:00:00Z
Tipus d'habitació
Casa/pis sencers
---
Tipus de propietat
Pis
---
Capacitat
3
---
Dormitoris
Nerezine, Primorsko-goranska županija, Croàcia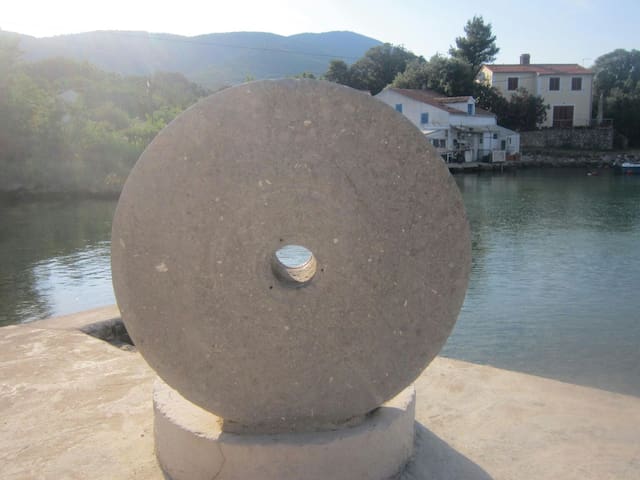 Brand new built room with private bathroom in room. House is located in calm part of the city yet 50 m from town center and 1000 m from beach. We also have bicycle rental in the house. For any questions please contact me.
NEW: Air Conditioning cooling/heating
I have really enjoyed the stay at Dejan's place. The room was exactly as on pictures, clean and nice. Dejan is cool and communicative host - there were some doubts about the ferry, so he kept an eye on it for us and informed us about the alternative. I slept every night really well - there is airco and shutters, so you can make the room as quiet and cool as you want.
Marys
2016-08-11T00:00:00Z
Really good comfort and clean room. Dejan and Natasa where great hosts. The gave us tips about beaches, restaraunts etc.
Tobias
2016-07-14T00:00:00Z
Dejan is a passionate host and clearly deserves to be classified as a "super-host". He took his time to welcome and help us with some initial queries about what to do, where to eat and the crucial information on the hydro-plane, which saved us a lot of time. Later we sat at his bike-rental-shop, at the water front, and had quite some inspiring chats with him and his friend Lovro, with whom we did a very nice (paid) boat trip the next day (both have very good English skills, which we really appreciated – I am writing this from Italy now and believe me that I can compare). The 180-year-old house is truly picturesque and renovated with an unpretentious sense for small details. The offered room is sufficient for two people with nice details like embroidered bedsheets and curtains … and a particularly beautiful little attached bathroom, with even more carefully chosen little details, like a marble shelf with a light shining through it and the plastering of the rock wall that you can make out from the pictures. We can definitely recommend MaliLošinj, Dejan and Natasa, and this particular room.
Petra
2015-07-23T00:00:00Z
We stayed at Dejan's place for two nights in July and he and his wife made us feel really welcomed. Apartment is really close to the sea and pedestrian zone, its in it actually. Room is clean, bathroom also and its also really nice. If we come back to Mali Losinj, we would gladly stay again with Dejan.
Dušan
2016-07-16T00:00:00Z
Great room, great host! The room is wonderful, very beautifully decorated, with everything what we needed! The house is near to the center, and not far from the beaches. The host was very pleasant and helpful, showed and explained everything we needed to know ! Great vacation! Will definitely return!) thank you a lot!
Igor
2016-07-10T00:00:00Z
Dejan and Natasa were absolutely friendly and helpful during our whole stay in Mali Losinj! The room is perfectly located, very nicely decorated and extremely clean! It has all one needs for a short stay as a couple or as single! Absolutely recommendable! Hope we'll come back one day! Thank you, Dejan&Natasa!
Marie-Joelle
2015-08-20T00:00:00Z
My boyfriend and I enjoyed our stay at Dejans and Natasas nicely renovated 180 years old house very much! The location is perfect: you can walk to the beach but also to the city center of Mali Losinj. There are also enough parking and shopping facilities nearby. Dejan and Natasa were considerate, friendly and helpful hosts. The room was clean and the bed very comfortable. We would definitely recommend it! Warm greetings from Vienna and thank you for making our stay so enjoyable. Christine and Alex
Christine
2015-07-13T00:00:00Z
Great room! Just as beautiful as in the pictures. Dejan and Natasa live in a cosy house, 2min walk from the port. Our room gave view on a palmtree; a delight to wake up. We only heard the upstairs neighbours a bit, but who cares when everything else is top notch! The hosts were very welcoming and friendly! Definitily recommend to stay here! Great price, the best location, picture perfect
Erlend
2016-09-14T00:00:00Z
Tipus d'habitació
Habitació privada
---
Tipus de propietat
Pis
---
Capacitat
2
---
Dormitoris
Mali Lošinj, Primorsko-goranska županija, Croàcia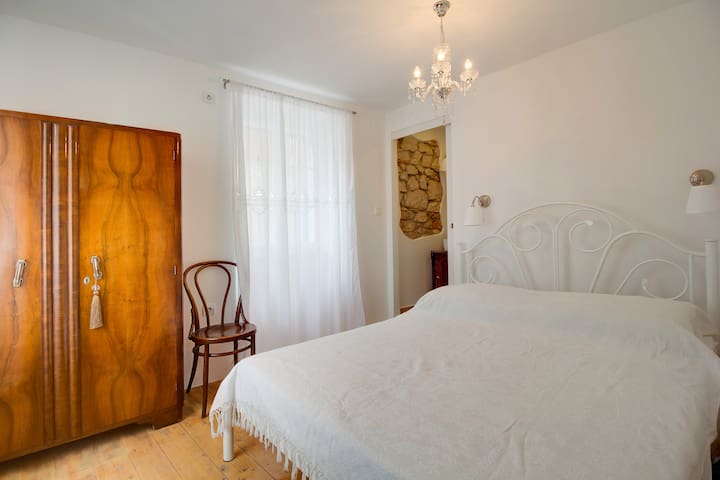 Our house is one of the most beautiful towns in the Mediterranean, where you will always be greeted with a smile on your face, kindness and hospitality. Apartment is located in a peaceful part of town Mali Lošinj just few minute walk to beautiful beach Čikat and to city center.
Me and my wife we spent 9 nice days in the Sabina´s apartment in the last third of September 2015. We were very satisfied with the flat and with the location - all was in the accordance with the Airbnb description, very clean and in a good order. Sabina is a nice person, she was very helpful with anything we needed. We hope that we come again! During the first half of our stay (19.-23.9.) it was relatively warm in Lošinj (air 24-25°C, water 23-24°C), good for sunbathing and enjoying the sea. The second half was colder and windy and more fit for hiking and for trips. We were grateful, that Sabina equipped our bed with a warmer quilt. The sea was warm enough (21-22°C) till our departure on 29.9. We can recommend the stay in Lošinj in Sabina´s apartment in this term. Probably also the October would be OK for the visitors who prefer hiking and trips or cycling: Cres and Lošinj offer a lot of marked tourist tracks in a beautiful landscape.
Ladislav
2015-09-28T00:00:00Z
Me and my husband stayed for 2 days in Sabina's house for a pit stop in a trip around the Croatian Islands and everything was great. She was very nice and helpful, and her house was comfortable and clean, very close to the centre of Mali Losinj, restaurants and bars, but also some good beaches and a perfect view to wake up to. The weather was not so hot, but it was the break that we needed just to swim a little bit in the beautiful Adriatic Sea. If you wish to relax and enjoy the sun, this is the perfect choice to do so :)
Raquel & Pedro
2016-05-29T00:00:00Z
Gastgeberin war sehr freundlich, hat auch nachgefragt ob alles in Ordnung ist.
Herbert
2017-01-02T00:00:00Z
We had two good nights in Sabinas apartement. It's really clean and beautiful arrangend. Sabina is great, she is very helpful in every questions.
Isabell
2015-09-08T00:00:00Z
Sabina and her husband were very kind and helpful throughout. Her husband even gave us a lift both when we arrived and left. The flat was of great value and had really nice sea view. A great experience.
Lok Ming Bosco
2016-01-02T00:00:00Z
We spent a beautiful week in Sabina's apartement with our 2 kids. The house is perfectly located just walking distance to the harbour and restaurants and has a nice view to the main bay. The price was not cheap, but we booked it quite late and it was absolutely high season so were happy to find something available. Sabina was very helpful with finding our way and anything else we needed. The hidden beach (behind the airport) she recommended to us was awesome.
Bence
2015-08-22T00:00:00Z
our stay in Mali losinj was very well. the apartment exactly fits the description : well located and quiet. we did not move the car for two days , everything is possible on foot from the apartment. Sabina is very welcoming ! Thank you!
Emilie
2015-09-10T00:00:00Z
I had a wonderful time at Sabina's apt! Beautiful view, and she was flexible when we wanted to extend, and always had great recommendations for the island.
Jess
2016-04-17T00:00:00Z
Tipus d'habitació
Casa/pis sencers
---
Tipus de propietat
Pis
---
Capacitat
4
---
Dormitoris
Mali Lošinj, Primorsko-goranska županija, Croàcia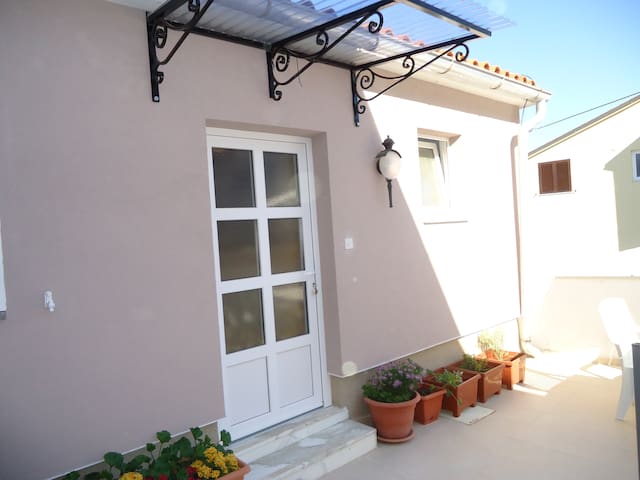 This new, clean and modern apartment is on a first floor of the house which is located in a very quiet neighborhood very close to the center. Great for couples.Great for children of all ages.Near Water park,bicycles,scooters or bot (URL HIDDEN) friendly
This new, clean and modern apartment is on a first floor of the house which is located in a very quiet neighborhood Gravot, which is very close to the center (only 800 m) and has not one, but two nearby beaches; Valdarke and St. Martin. There is a concrete 130 m long path to the closest beautiful sandy and stone beach Valdarke with turquoise looking water. The apartment with the view on the sea has a bedroom, modern kitchen and bathroom. The bedroom has a double bed, a cot, a wardrobe, a table with two armchairs to relax and a sofa that extends into a bed of 150 x 200 cm. If necessary it is possible to arrange an extra bed, divided from the apartment. The room is air-conditioned and has a flat TV and wi-fi. The kitchen is modern and equipped with dishwasher, refrigerator, freezer, oven, coffee maker and all necessary kitchen utensils. The bathroom has a shower, washing machine and a baby changing table. Pets are allowed by previous agreement. Every guest will be honored with a welcome drink. If the weather is right, we can arrange you a free of charge trip with our sailboat to the nearby island beach. Near the apartment it is also possible to rent bicycles or scooters, visit the water park, take a seaplane and fly to Pula, Split and Hvar. There are also ferries to other islands. If you would like just to peacefully enjoy the local athmosphere, we suggest you to visit the oldest part of the city St. Martin, city centre and it's beautiful area. We look forward to seeing you.
Patricija was very kind, nice and helpfull. She welcome us like we came back to our homes
Jozef
2016-06-25T00:00:00Z
The host canceled this reservation 15 days before arrival. This is an automated posting.
Marija
2016-07-15T00:00:00Z
Our stay at the apartment was very nice. Everything was clean and tidy. We got what we expected. Ideal for couples. Will recommand it for sure!
Augustin
2016-09-04T00:00:00Z
L'appartamento di Patricija risulta nuovo e ben arredato , ottima posizione per potere usufruire di tutto quello che il centro di Lussin Piccolo offre , con una camminata di 5 minuti si è subito arrivati nella piazza principale che da sul porto . La zona risulta comunque tranquilla e silenziosa. Lo consiglio alle coppie . Per terminare , nonostante il poco tempo trascorso nella sua sistemazione , devo sottolineare la gentilezza e disponibilità di Patricija un vero piacere conversare con lei .
Davide
2017-04-01T00:00:00Z
Appartement où nous n'avons pas eu notre intimité , la porte d'entrée étant coulissante et ne pouvant fermer à clé , l'appartement est à l'intérieur de la maison même du propriétaire . Je considère cela plutôt comme une chambre avec salle d'eau privé et accès à une cuisine privative. En cas d'orage le toit résonne beaucoup avec l'impossibilité de dormir. Accueil fut cordial mais très succinct pas d'explication pour trouver la plage le centre ville etc... L'appartement est assez éloigné du centre et si vous souhaitez vous y rendre en voiture sachez que le parking est obligatoirement payant (10kn/heure). Nous avions prévu deux nuits , nous sommes parti au bout de la première. Literie dure mais correcte, pas de véritable oreiller, salle de bain fonctionnelle.
PLET
2016-08-24T00:00:00Z
Patricija and Boris were amazing hosts. The apartment is cozy, comfortable and well equipped. The location is really great, just 10 minutes away from the port and from some beaches. We had a great time and we surely wish to come back in the future!
Nicola
2016-08-28T00:00:00Z
Patricija was such a wonderful host, we needed a place to stay at short notice and she did everything possible to help us out and make us feel very welcome. The apartment was perfect for the two of us, with a comfortable sofa bed, well-stocked kitchen, and nice hot shower. The location is great, in easy walking distance to the harbour, where there are many restaurants and food shops. Highly recommeded host.
Claire
2015-09-28T00:00:00Z
Wenn die Unterkunft mal gefunden ist zeigt dich die zentrale Lage zwischen Baden, Wandern, Hafen, Versorgung. Alles Notwendige vorhanden, sauber und ruhig. Die Vermieter freundlich, stets hilfsbereit und entgegenkommend. Weit über ein zu erwartendes Maß hinaus. Wir wollen wieder kommen! Danke
Dieter
2016-06-12T00:00:00Z
Tipus d'habitació
Casa/pis sencers
---
Tipus de propietat
Pis
---
Capacitat
2
---
Dormitoris
Mali Losinj, Comtat de Primorje-Gorski Kotar, Croàcia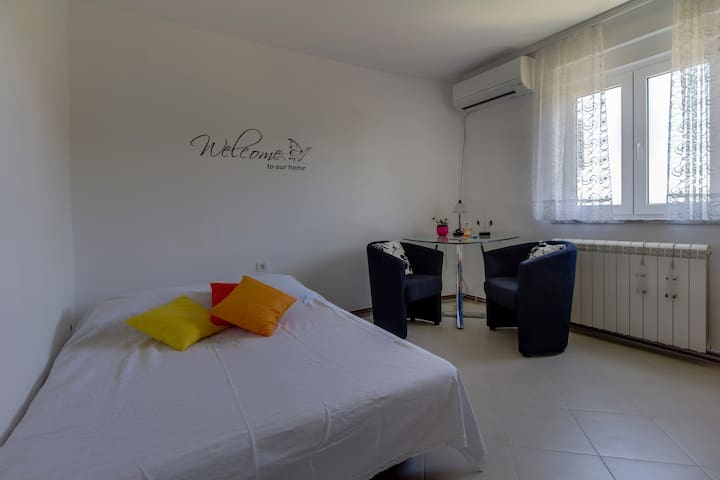 The apartments is placed in a small village Nerezine on the island Lošinj.Nerezine is a peaceful place situated at the foot of Osorščica hill.Perfect place for people who want to spend their holidays relaxing,far away from a city noice.The apartments is located 80 m from the sea,with beautiful beach,restaurants,shop. July/august minimal stay 5 nights
Tipus d'habitació
Casa/pis sencers
---
Tipus de propietat
Pis
---
Capacitat
2
---
Dormitoris
Nerezine, Comtat de Primorje-Gorski Kotar, Croàcia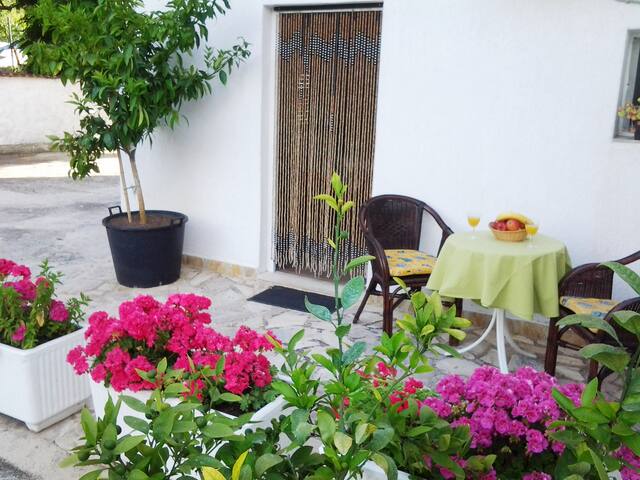 Located right on a famous "Promenade of Vitality" on a beginning of a Valdarke cove, our lovely decorated apartment is perfect for everybody who wants to enjoy great sea view, promenades and quiet nights.
Lovely decorated and recently renovated apartment, perfect for everybody who enjoy long walks on a seafront, bikers, joggers and everybody looking for a perfect summer vacation. Apartment has one bedroom/living room, one bathroom with a shower, a kitchen equipped with a cooker/oven, a microwave, a kettle and a fridge. Bedroom includes a double bed, 1 single bed and a sofa-bed. Seafront location and a big terrace gives you the chance to enjoy your breakfast with the beautiful sea view or a chance to spend your quite nights with the perfect view on a starry night sky.
"The View" apartment is located right on a famous "Promenade of Vitality" on a beginning of a peaceful Valdarke cove. Apartment is only 30 m away from the nearest beach and a bigger blue flag beach with all amenities is 15 minutes walking distance away. The "Promenade of Vitality" brings you to so many beautiful, hidden coves with crystal clear sea and all surrounded by tall pines. Our neighborhood is cosy and is situated just in between the villages of Mali Lošinj and Veli Lošinj. Seafront promenade leads you to both of these villages in about 20 minutes walking or driving a bike.
Super Ausblick aufs Meer. 20 Meter vom Strand weg. Schöne Wohnung.
Johannes
2016-07-25T00:00:00Z
Katarina is a really welcoming host! I felt at home in her apartment. The arrival and the leave were smoothly organised, it was very easy to check in and to check out. The apartment has an explicit feminine touch- very cozy, beautiful and at the same time very handy, its decorated in a romantic a-la marine style, I appreciated the efforts Katarina made to make apartment look a nice place for holiday. My favourite thing (why I rented this apartment) was a huge terrace, first row to the see few meters from the waves- the evenings in Valdarke are amazing! I really loved watching sunsets on her terrace. I highly recommend this apartment for couples or families with kids, really amazing place...
Violetta
2016-08-12T00:00:00Z
I first...I can't realize that we leave this wonderful place! I have seen many places in my live, but this is the most beautiful I've ever seen!! Katarina wasn't there. A friend of her received us in the night and it wasn't any problem for them:) Ivana was always endeavored that we have a good time and everything is fine!! we stayed there for a week and we had the best time since I don't know:) The apartment is small but everything you need is there. It's quiet and you can enjoy the beautiful sea in front of you! I know I will come back!! Thank you that we could enjoy and relax at your home!!
Helen
2016-08-31T00:00:00Z
Beautiful place,nice,well equipment apartment,morning cofee with sunset on terasse ...we'll certainly return. Katarina was very responsive and very kind.
cvetka
2016-05-03T00:00:00Z
The host canceled this reservation 247 days before arrival. This is an automated posting.
Gerhard
2016-11-21T00:00:00Z
The apartment is really on a stunning place, the sea is only 20 meters away. The size was ideal for three persons, but only if you have your meals in the terrace. There is even a road directly from the house to the sea! Katarina's friend helped us with our stay, we could always text her when we needed something. The only bad thing is that you have to keep the windows open to ventilate the rooms, but the mosquitos will come in. You can also choose to keep windows closed, but then you have to turn on the A/C.
Miklos
2016-06-12T00:00:00Z
Vi slet med å finne leiligheten. Vi prøvde å ringe venninnen til Katarina, men kom ikke gjennom. Så vi hadde nok fått feil tlf.nr. Omsider fant vi leilgheten og moren til venninnen gav oss nøklene. Leiligheten var ren og pen, men det var ikke et hjem hvor noen bodde. Det hang "hotellregler" på veggen og føltes ikke som leilighet som man forventet gjennom airbnb. Det føltes mer som et hotell enn noens hjem. Området var fantastisk! Nydelig utsikt fra terrassen og 40 meter til havet. Ligger midt mellom Mali og Veli Losinj. Veldig fin beliggenhet. Den dagen vi skulle reise ble vi nærmest kastet ut ca midt på dagen. Vi hadde sagt at vi mest sannsynlig kom til å dra med en båt tidlig søndag, men vi fant ut at båten ikke gikk før på ettermiddagen. Så vi tok oss god tid på morgenen. Plutselig kom venninnen til Katarina og mer eller mindre kastet oss ut. Dette var ikke bra. Hun mente at det var normalt at man forlot leiligheten før kl 10. Men vi sa at på airbnb er ikke det like vanlig, med mindre man tydeliggjør det. I reservasjonen stod det til og med "flexible time" på avreise. Igjen føltes det mer som et hotell enn de airbnb-leilighetene vi har vært vant til før. Dette trakk selvfølgelig veldig ned på helhetsinntrykket. Men generelt hadde vi en veldig fin tur og leilgheten var ren og pen og fin, med alle fasiliteter vi trengte.
Morten
2016-07-18T00:00:00Z
Katarinas Unterkunft liegt direkt am Meer :-) und ist für 2 Personen genau richtig! Wir haben sehr viel Zeit auf der Terrasse verbracht, auch wenn sie sehr einsichtig ist (von Nachbarn umgeben). Denn alle Kontakte zu den angrenzenden Nachbarn waren ausnahmslos positiv und interessant. Katarina selbst war zwar nicht vor Ort, eine Freundin von ihr war aber stets zur Stelle und immer für unsere kleinen Anliegen da. Sie und ihr Mann waren wirklich äußerst hilfsbereit und sympathisch! Man ist mit dem Rad in 10 Min. sowohl in Mali als auch in Veli Losinj und im Meer in einer Minute ;-) Was soll ich noch mehr sagen!
Sandra
2016-07-12T00:00:00Z
Tipus d'habitació
Casa/pis sencers
---
Tipus de propietat
Pis
---
Capacitat
4
---
Dormitoris
Mali Lošinj, Primorsko-goranska županija, Croàcia
Close to the city center with restaurants and bars. The nearest beach is only 2mins away. You'll love my place because of the convenient location, privacy and big garden with barbecue. Private parking is available and free of charge. My place is good for couples, solo adventurers. Furry friends (pets) are more than welcome.
Sehr nette hilfsbereite Gastgeber! DercGarten duftet wunderbar!
Ulli
2016-09-17T00:00:00Z
Kind and welcoming hosts. The aparment was clean and well equiped. Really nice garden and small terace. The place is close to the city center. Definitely would recomend it.
Vladimir
2016-09-25T00:00:00Z
The place is fine and clean, owners are excellent and they help us with all our questions. I recommend this apartment and the owners.
Milan
2016-09-10T00:00:00Z
Tipus d'habitació
Casa/pis sencers
---
Tipus de propietat
Pis
---
Capacitat
2
---
Dormitoris
Mali Lošinj, Primorsko-goranska županija, Croàcia
Searching to spend your holidays peacefully and relaxing? You have found the right place.
The apartment is placed in a small village Nerezine on the island of Lošinj. Nerezine is a peaceful place situated at the foot of Osorščica hill on the north eastern coastline of the island, a perfect place for people who want to spend their holidays relaxing, far away from a city noise. The house is located in a side street approximately 100 m from the center and 200 m from the sea, close to everything but still far enough from the noise of center. The apartment is situated on the first floor of the mentioned house. It is newly renovated and modern, made for a couple of irrelevant ages. Just in front of the house is a parking place for your vehicle and there is also a garage where you can leave your bicycles or similar stuff. Additional amenities, like washer, dryer, iron or hair dryer can be arranged if they are needed.
L'apartament és igual com es veu a les fotos. És ampli i net. El Milenko va ser molt amable i ens va donar molt bones informacions sobre restaurants i platges.
Joan Carles
2016-08-22T00:00:00Z
Milenko has been very kind. Unfortunately he has not been able to welcome us, but that was no problem.
Sebastian
2016-08-01T00:00:00Z
Ottimo appartamento a Nerezine, a 5min a piedi dal centro del paese. Comodo, silenzioso, facile da raggiungere. In pochi minuti di auto si é sulla strada principale che attraversa l'isola. Ospiti gentilissimi e premurosi, consigliato vivamente! Ottimo rapporto qualità/prezzo
Michele
2016-08-30T00:00:00Z
L'accoglienza è eccezionale. All'arrivo ci sono stati dati un sacco di consigli su spiagge e luoghi da visitare nella zona che si sono rivelati bellissimi. Sempre gentili e disponibilissimi a rispondere a qualsiasi domanda. L'appartamento si trova una zona veramente tranquilla. È pulito ed accogliente. Inoltre si trova vicinissimo alla piazza centrale di Nerezine.
Piero
2016-09-04T00:00:00Z
We really enjoyed our stay there. The apartment is situated in a recently renovated house. It has all what is needed and it was very clean. It is located on a good position, we left our car at the parking just in front of the house and did everything on foot. The hosts were so helpful and kind to us (they even gave us some vegetables from their garden). Mrs. Anita made us feel like home. My boyfriend and I were looking for a peaceful place for a real vacation and Nerezine is made for it. Also, the apartment location was really quiet. Absolutely reccommended.
Sara
2016-06-11T00:00:00Z
Che gioia tornare nel paese natale della mia mamma, nel quale ho trascorso le estati più felici della mia vita, ed essere ospite di persone meravigliose! L'appartamento pulito, accogliente, nuovo, il giardino e l'orto stupendi, la quiete diurna e notturna hanno completato un quadro già idilliaco. Grazie!
Barbara
2016-08-12T00:00:00Z
Milenko was incredibly friendly, helpful and welcoming - his grandmother is very sweet too. The apartment is cozy, practical, in a central location, with great air conditioning. Nerezine is a really nice place to stay - if we came back, we would stay with Milenko and Anita again! Would recommend to anyone.
Elodie
2016-07-30T00:00:00Z
Tipus d'habitació
Casa/pis sencers
---
Tipus de propietat
Pis
---
Capacitat
2
---
Dormitoris
Nerezine, Primorsko-goranska županija, Croàcia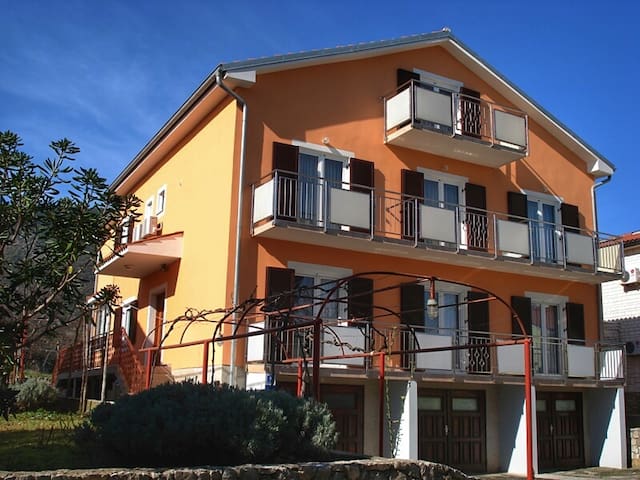 Studio flat with garden and bbq area and fully functional kitchen and bathroom with shower. The house is situated on the top part of Mali Losinj, it's a short walk down to the Riva where all the shops, restaurents and cafés are and also a short walk
The house is situated on the top part of Mali Losinj, it's a short walk down to the Riva where all the shops, restaurents and cafés are and also a short walk from beaches.
A lovely flat! Bojana's place was very clean, charming and well located. Bojana was a wonderful and interesting host. If I had to go back to Mali Losinj, I would stay in her apartment again.
Jennifer
2015-08-21T00:00:00Z
We had a wonderful time at Bojana's place. The cosy studio is perfect it has everything you need to enjoy your stay. The terrace is really lovely and Mali Losinj is a very very cute city. The studio is in rhe center and it's pretty easy to find (we absolutely loved the area) and you can park your car nearby in a parking (50 kunas a day I think). Bojana is a really nice lady and I thank her for everything.
Laura
2015-08-16T00:00:00Z
Bojana was lovely! She was so welcoming and joyful. Such a wonderful host..and the apartment is excellent. Everything a traveller would need! Thank you!
Wheatie
2015-06-26T00:00:00Z
Wir waren für 5 Tage im Appartement von Bojana. Das Appartement war super! Als wir die erste Hürde, den Eingang, überwunden hatten konnten wir es uns erst einmal gut gehen lassen. Sehr sauber und schön eingerichtet. Es gab sogar eine Geschirrspülmaschine. In dem großen aussenbereich kann man sowohl abends als auch morgen sehr gut sitzen und essen. Das Badezimmer war von der Größe mehr als ausreichend und hatte eine Duschkabine. An die vielen Treppen in Mali Losinj hat man sich auch schnell gewöhnt. Bojana war immer freundlich und hilfsbereit! Wir würden sofort wieder buchen
Janis
2016-08-17T00:00:00Z
Bojana has quite a nice place in Mali Losinj. It's a one room apartment with an integrated kitchen and a private bathroom. There is a little terrace where you can read, eat breakfast etc. The room was very clean and perfect for exploring the city and the surrounding beaches. Verbal communication was not easy due to our not speaking Croatian at first, but with our knowledge of Spanish and Bojana's Italian we managed quite well :)
Johannes
2015-07-02T00:00:00Z
Wonderful host, very relaxing staying. House is clean and tidy, Bojana is always willing to help. I would reccomend to spend a few days in here
gianluca
2016-09-20T00:00:00Z
Small but very nice one room apartment. Everything was clean.
philipp
2015-09-26T00:00:00Z
Il mio soggiorno è stato molto piacevole. La stanza corrispondeva alle foto dell'inserzione, pulita, ottima la possibilità di mangiare in giardino, fresca, ordinata con il necessario dovuto. Vicino al porto, nelle vicinanze negozio di alimentare è ristorante, facile arrivare al mare.
Franco
2016-07-31T00:00:00Z
Tipus d'habitació
Casa/pis sencers
---
Tipus de propietat
Pis
---
Capacitat
2
---
Dormitoris
Mali Lošinj, Primorsko-goranska županija, Croàcia
This sunny, spacious and charmingly decorated and furnished suit is situated in a detached house surrounded with lush green magic garden. It features two double bedrooms (one comes with king size bed), kichen and dining room combined, one bathroom with shower and comfortable sitting room for those rainy days when no one wants to get out! :) I forgot to mention the balcony that has astonishing panoramic view of harbour rooftops and centeurian tower of Veli Losinj.
The apartment is located in the city center and is in close proximity to everything - you can reach town square in 2 min, beach in 4 min, local store and parking in 5 min. Only downside is that we are reachable only on foot, but will always welcome you on the parking lot with our vechile and carry your bags for you! We are also pet friendly offering small little perks for your furry/feathered friend. If you are not, think twice about booking with us because our happy family includes 3 happy toy dogs and 4 friendly cats. :)
Tipus d'habitació
Casa/pis sencers
---
Tipus de propietat
Pis
---
Capacitat
4
---
Dormitoris
Veli Lošinj, Comtat de Primorje-Gorski Kotar, Croàcia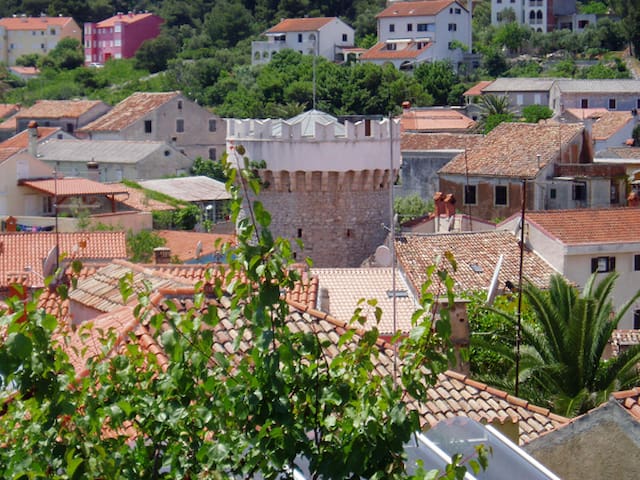 Under the pines, right on the beach and by the sea walkway (lungo mare). Valdarke area is located halfway between Mali Losinj and Veli Losinj, within walking distance from both towns. Our apartments are cosy, well maintained and perfectly equipped for a comfortable, relaxing and enjoyable stay.
This studio apartment is in a part private (owner used), part rental property. It is located on middle level of the house (see picture), has a private entrance and does not share spaces or facilities with other apartments. Outdoor space is a balcony facing the sea. There is free parking by the side road (back side of the house). The apartment is compact but space is well utilised for a comfortable stay. Kitchen appliances include: toaster, drip coffee maker, moka pot, electric kettle, fridge with freezer, electric stove and microwave. There is additional storage space under the bed for your belongings. The house is located in beautiful Mediterranean pine wood, just a few steps from the sea. The beach is rocky with paved parts, sea access is via a ladder. Losinj is one of the most beautiful islands in the Adriatic sea, famous for its beautiful unspoilt nature. A hidden gem, as beautiful as some of the more famous Dalmatian islands, but not as busy and crowded. The sea is crystal clear blue, and the air is rich with natural sea aerosols which are especially beneficial for people with respiratory problems. That is why Losinj is known not only for its wonderful mild climate with lots of sunshine, but also has a reputation for health and wellness as a climatic health resort since 1892. Check out our property and book your time for an unforgettable experience of a relaxing holiday at the wonderful Adriatic coast!
Our neighbourhood is cosy and friendly. The location is perfect for beach time and sunbathing - and when you've had too much sun you just walk a few steps back to the house where you can enjoy the cool, relaxing shade of pine trees. We are straight in the middle between lovely villages of Mali Losinj and Veli Losinj, and you can walk to both on a beautiful beachfront footpath (20 min walk to each).
We are a pair who worked hard through whole year and we could afford ourselves 7 days in this beautiful place Valdarke near Veli Lošinj. We needed a big rest so we totally loved this place. It is quiet in the morining and evening, has a beautiful view on the sea and is surrounded by pine trees. Balcony is the most precious point of this apartment. You can wake up early in the morning, watch the sunrise and listen to the waves n your balcony in almost total silence. The beach is a few steps away, it is rocky, but there are few entrances to the water - metal stairways into water that makes you safely and calmly enter the water. Apartment is 20 minutes walking distance from Veli Lošinj in a wooden, quiet area, surrounded by other houses with apartments, so it is recommended to people who want to rest in silence, walking through the lungomare, running, driving bicicly, exercising or doing yoga in the early morning on the beach. If you're looking for quiet neighborhood, relaxing in the sea, or reading on your deck chain under the pine - this is a place from you.
Hana
2015-08-01T00:00:00Z
Vesna was or is an extraordinary host. She and her friend picked us up and she had already make cake for us. That was not the only food we got from here. We could talk to her whenever we needed and the appartment is so beautiful located, it is a dream. We both felt at home and in a small paradise. But we were here after the main season, you have to consider that it might be louder if you travel in July/August.
Gesa
2016-09-26T00:00:00Z
Well located, beautiful view from the terasse under the pine trees conform to the picture. Relaxing and quiet environemnent. We did not meet our host in person.
Jean-Baptiste
2016-06-16T00:00:00Z
Lovely apartment with everything you need, and with the sea right in front (we spotted Dolphins over breakfast at the terrace one morning!) it is the perfect place to stay when you want to be in a quiet area waking up by the sound of the sea, but within walking distance to town (Mali Losinj) and the nearby villages. We didn't meet Vesna, but the lovely neighbours were very welcoming, sweet and helpful. Thank you Vesna, we had the perfect short but sweet holiday we dreamt of :)
Kristina
2015-05-19T00:00:00Z
We really enjoyed the time at Vesna's apartment a lot. It is a perfect location if you want to be away from the crowds, the apartment is beautiful and the balcony has just the best view and a lot of sun. We were greeted by Vesna herself and she equipped the apartment with coffee, homemade jam and homemade juice. We even stayed one night longer than originally planned because we felt so much at home. I would like to come back to this sweet hide away place in beautiful Losinj!
Franziska
2015-06-01T00:00:00Z
Wir haben neun sehr erholsame Tage zu dritt in Vesnas Appartment verbracht. Die Wegbeschreibung und Kommunikation mit Vesna war einwandfrei. Als Gastgeschenk haben wir selbstgemachte Orangenmarmelade und Likör übereicht bekommen. Die Wohnung hat alles, was man braucht. Das Herz der Wohnung ist der schöne Balkon mit Blick auf Meer und Bäume inklusive Meeresrauschen. Alles in allem ein schönes Appartment für alle die Ruhe suchen, aber trotzdem nicht ab vom Schuss sein wollen. Veli und Mali sind beide zu Fuß sehr gut zu erreichen. Ein persönlicher Tipp: das Apoksiomen-Museum in Mali Losinj!
Verena
2016-09-11T00:00:00Z
Tipus d'habitació
Casa/pis sencers
---
Tipus de propietat
Pis
---
Capacitat
3
---
Dormitoris
Mali Losinj, Comtat de Primorje-Gorski Kotar, Croàcia
Lošinj - Airbnb
:
Mitjana de

4.76

estrelles sobre

5

a partir de

235

avaluacions d'hostes
1

-

18

de

Més de 300 lloguers d'apartaments
Introdueix les dates per veure el preu total. S'aplicaran tarifes addicionals. És possible que també s'apliquin impostos.