Take time to relax, unwind and create new memories in this stylish, self-contained retreat for two. The tranquil and secluded studio is ideal for relaxing in the natural surroundings of the Australian bush or as a base for exploring the bounty of the Yarra Valley with its famous wineries and breweries.
The freestanding Lonsdale Park Studio offers the comfort of a large sun filled spacious apartment (72m2) with a fully functional kitchen, separate bathroom, private parking space and a courtyard with views down to the Yarra. There is also an exclusive deck facing the orchard - perfect for candle light dinners. The Queen sized bed can be hidden in the wall, which maximises the living space. In Winter you can relax and watch the twilight linger on the hills whilst enjoying the warmth of the fire place.
Tipus d'habitació
Casa/pis sencers
---
Tipus de propietat
Pis
---
Capacitat
2
---
Dormitoris
Launching Place, Victòria, Austràlia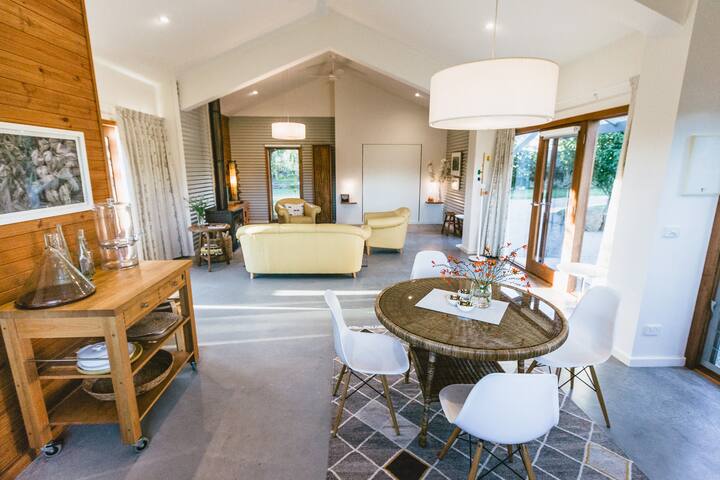 Karinya Park is a majestic blue stone residence that is privately situated on 5 acres. The unique property is 5 min drive to Healesville restaurants and boutique shops, Badger Creek Weir and Healesville Sanctuary. We are also close to the best Yarra Valley wineries including Rochford, Domaine chandon, Tarrawarra and Inocent bystander. Our place is good for couples, solo adventurers, and business travellers. We are a self catering
Karina Park is a unique property built with a French provincial influence. The accommodation area is part of the upper level of the house. The unusual shaped rooms have angled walls and quirky roof lines with roof windows overlooking the small lake with water lilies. The bedroom is luxurious with a king size deluxe mattress as used in the best hotels. Both the living space and bedroom have climate controlled air conditioning and heating. The bathroom also has a climate controlled heater. You will love the lounge suite which is so comfortable you won't want to leave. Scandinavian style furnishings are throughout. This is an adults only accomodation. The owners Phil & Nina reside in the lower level.
Karina Park is situated in an extremely quiet area with little traffic. The surrounding properties consist of vinyards, equestrian and cattle farms. If you take a walk around the area you would expect to see native animals including kangaroos and possibly our local pair of wedge tailed eagles!
The place is amazing. A beautiful place for a weekend getaway!
Marco
2016-10-29T00:00:00Z
Was a lovely and secluded place and somewhere we will be happy to stay at again
Daniel
2016-11-26T00:00:00Z
A great couples retreat.
Carolyn
2017-03-18T00:00:00Z
Gracious welcome. Pristine grounds.wonderful, light filled space.the parrots outside the bedroom window in the am were spectacular.i appreciated keyless entry. Very convenient to wineries,dining, exploring.i would love to stay here again.
ann
2017-03-16T00:00:00Z
A great private loft with all you need in a quiet location to explore the Yarra Valley and surrounds. Out of town enough to escape, but a quick trip into Healesville and many wineries and attractions. We loved the extra touch of the bathroom toiletries and slippers, a little bit of a luxury feel that you don't normally get from a self contained air bnb. Views and sounds of nature also great and just what you'd want from a semi-country setting, only wish the weather had been better so we could have sat out and enjoyed from the balcony. Would certainly recommend to others looking for a cosy and relaxing setting, will return if we stay in the YV again. Thanks!
Tom
2016-08-22T00:00:00Z
Our stay at Karinya Park was excellent. The place was exactly as described. The room is on a beautiful country property with a lovely view. The place itself is cosy and warm, well decorated, with a well equipped kitchen. It is also centrally located. I would highly recommend staying here!
Claire
2016-09-17T00:00:00Z
Very beautiful property. Nice space, clean and great views. Hosts very nice and accommodating. Would recommend to friends.
Jared
2016-09-25T00:00:00Z
Our stay at Karinya Park was brief however, we thoroughly enjoyed the stylish presentation as well as the secluded, peaceful setting. Our hosts Phil and Nina were very accommodating and it's the 'little extras' added to the already impressive rooms that makes Karinya Park well worth a stay. We wished we had more than one night there!
Joel
2016-08-29T00:00:00Z
Tipus d'habitació
Habitació privada
---
Tipus de propietat
Pis
---
Capacitat
2
---
Dormitoris
Healesville , Victòria, Austràlia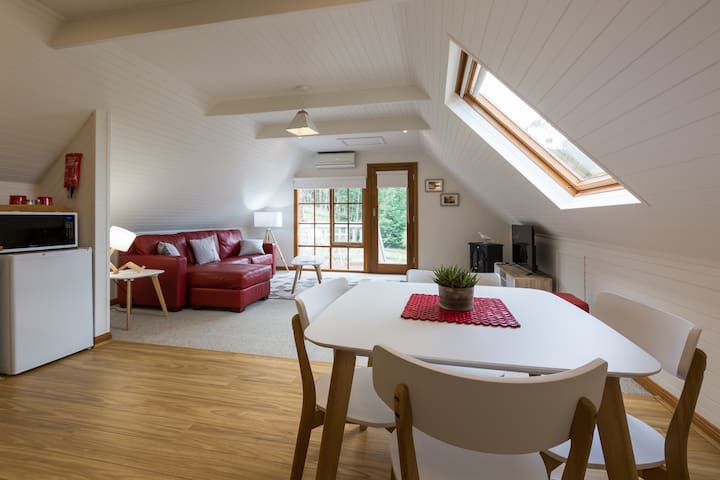 Our cottage is nestled among the trees and only a 10 minute walk to Innocent Bystander and the fabulous Healesville shopping strip. A little home all to yourself with a front porch and stunning mountain views from the bedroom. One large living area with kitchenette, crockery provided, a dining table and a fold out couch. Queen sized bed in the bedroom and an ensuite with shower and spa bath. Spend your days visiting the best wineries in the Yarra Valley and come home to relax and unwind.
Please note that the kitchenette does not include an oven or stove top. There is a sink and a microwave.
Beautiful place, scenic views, nice and quiet and extremley clean, would recommend to all
Viran
2017-04-01T00:00:00Z
Excellent place!! cozy, warm, comfortable and secluded as per advert. Anneke was always willing to help which was great. Perfect location for any Healesville visitors
B
2017-02-17T00:00:00Z
Anneke's place was great value, very clean and with a nice view. Would happily come again and recommend to others.
Bonnie
2017-02-19T00:00:00Z
Anneke's place is really comfortable, has a lovely view, a huge spa and a really friendly, helpful host. The walk into town takes around 15 mins to the centre but is straight forward along the main road.
Karen
2017-03-04T00:00:00Z
Gorgeous view from the bedroom! Its close to the Healesville shopping strip, which means brunch is only 5 minutes away.
Gabrielle
2017-03-17T00:00:00Z
A warm and welcoming cottage, perfect for a weekend getaway. Close to shops and Short drive to the mountains.
Heath
2017-04-08T00:00:00Z
Lovely, clean and quiet. Perfect for what I needed.
Peter
2017-03-10T00:00:00Z
Lovely small place close to the action!
Dan
2017-03-25T00:00:00Z
Tipus d'habitació
Casa/pis sencers
---
Tipus de propietat
Pis
---
Capacitat
2
---
Dormitoris
Healesville, Victòria, Austràlia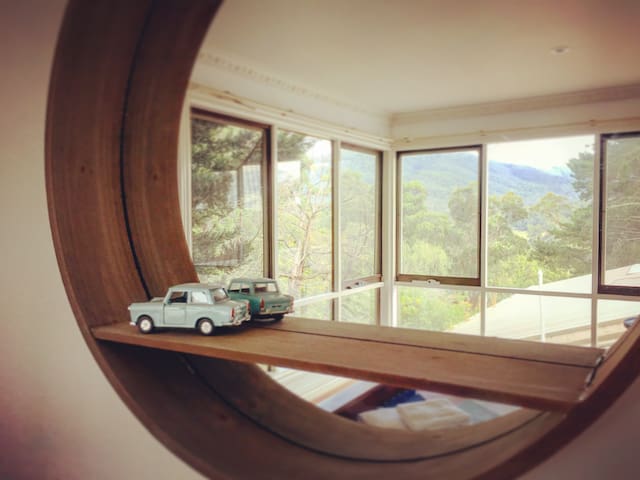 Attached to the main house but totally private - huge stunning deck with views to die for. Great for a couple or young family, within 5 minutes drive of Healesville and a short drive to all the amazing restaurants and wineries of the Yarra Valley. Feed the colourful native birds on your private verandah! King parrots, rosellas, galahs, and cockatoos are frequent visitors to name a few. Seclusion, peace & privacy.
Charming self-contained luxury studio, with its own private entrance, parking spot, stunning deck overlooking 2.5 acres of magnificent gardens & natural bushland. Come and go as you please. Peace, nature and simplicity at it's best. All linen supplied. Basic cooking facilities; microwave, toaster, kettle, teas, coffees, fridge and cutlery/crockery (no oven/stove top). We are in a beautiful spot, on the edge of the Yarra Ranges National Park, just behind Maroondah Dam and Donnellys Weir, hence the great walks and cycle routes nearby. One hours drive from Lake Mountain where you can frolic in the snow over winter - an easy day trip! Feel miles away, but only 2 minutes drive from the thriving country eclectic town of Healesville in the heart of the Yarra Valley. Enjoy a bottle of local Yarra Valley wines on your large, private verandah, or if you're after something more active, why not bring your bikes or walking shoes and explore some of the stunning forest trails. You can even sit out in the evening under the stars and gum trees around own bonfire in the garden (in accordance with fire restrictions). "My stay was excellent, we really enjoyed it. Everything was really well done. Beautiful location - and the bird seed was a nice touch!" by James Campbell, The Herald Sun.
Continue on our road away from town, up the mountain to experience one of the most beautiful drives in Victoria, via towering gum trees, ferns and gullies. Extremely popular with cyclists! Healesville's diversity and multitude of things to do around this beautiful area provide so many opportunities for day trips; Wineries, Healesville Sanctuary, Chocolaterie, Blueberry farm, Hedgend Maze, boutique shopping, National Parks and Forests, Maroondah Dam and Healesville Tourist Railway to name a few. We also have a cottage next door for your extended group (up to 7 people), see Exotic Forest Edge Sanctuary.
Warm and cosy room. Comfy bed and Beautiful setting.
Angus
2016-05-23T00:00:00Z
We had a perfect overnight stay, the room is exceptionally clean and the surroundings are stunning. It is amazing how private that Chris has made the room with private entry and access to the amazing deck overlooking the tallest gums you have seen. The birds are lovely too, it really makes for a relaxing getaway from the city. I would definitely recommend to stay
Leisha
2015-11-16T00:00:00Z
Great place! Absolutely beautiful view of the gum trees. Studio had everything we needed including private bathroom and deck. Chris was very friendly and the whole stay was very easy.
Julia
2016-08-29T00:00:00Z
The Splendid Wren is in a beautiful little spot very close to the town centre. The studio was lovely and Chris was beyond helpful with his local tips and spots to check out for food. The decking out the back was a particularly serene spot and it was lovely sitting out there with some local wine and cheese.
Josie
2017-01-04T00:00:00Z
Perfect spot if you're after a couple of relaxing days far away from the noises of the city! Very close to Healesville - less than 3mins drive - Recommended!
Lino
2017-01-01T00:00:00Z
We spent 4 nights at Chris place and enjoyed it very much. The studio was very clean, quiet and had everything we needed. The location is only a short drive from the town centre. Chris was very friendly and gave us some local tips for dining out or a day trip. We will be happily coming back or recommend to friends.
Iwona
2017-03-08T00:00:00Z
Great place to stay. The private balcony was ideal to relax on for a few wines. Great communication from Chris
Scott
2017-03-26T00:00:00Z
Chris's place is fantastic. He is a great communicator, and gave us some awesome wine and some options to choose from. Love the outlook and stunning backdrop :)
Steven
2017-03-11T00:00:00Z
Tipus d'habitació
Casa/pis sencers
---
Tipus de propietat
Pis
---
Capacitat
2
---
Dormitoris
Healesville, Victòria, Austràlia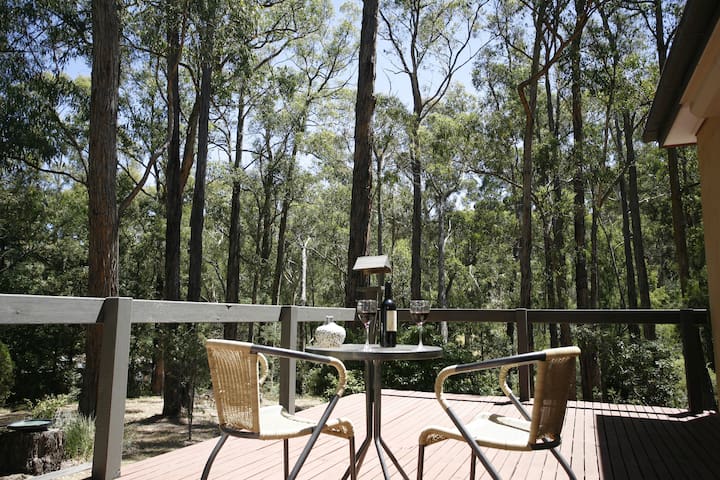 Our classic mid century stylish art gallery accommodation looks across the pool deck and exquisite gardens towards the mountains. Enjoy self contained spacious living with a country breakfast hamper, separate bedroom, large, luxurious bathroom with freestanding bath and walk-in shower and separate powder room. Please enquire about sofa beds for extra guests.
Exuberant art work, sharp mid century styling, stunning bathroom, pool, glorious garden, groovy architecture, space, mountain views through floor to ceiling windows, privacy...what's not to love! If you fall in love with a painting, buy it for the ultimate memento. Stylish, fresh, fabulously comfortable, stimulating, relaxing- it's all sorted.
Healesville and the Yarra Valley have so much to offer. Our closest neighborhood winery, Boat O'Craigo is a 200 metre stroll with a stylish cellar door, fabulous wines to sample, appealing menu and spectacular views of the vineyard. Maroondah Dam is a short walk with outstanding views of the dam, spillway and picnic spots. TarraWarra Museum of Modern Art, Chandon, Yarra Valley Chocolaterie and Four Pillars Distillery are not be missed. Healesville Sanctuary is an unforgettable experience and just a short drive. We are close to Rochfords Winery, an all round great destination especially for concerts with local and international artists. I could go on; Healesville really does offer something special for everyone!
Christine's place was a pleasure to stay in. It was very clean, neat and tidy and had everything we needed. Christine provided some delicious goodies for breakfast and had an open door policy should we have needed anything else. Thank you Christine and we hope to stay again!
Lucy
2017-02-11T00:00:00Z
Such a wonderful holiday! Beautiful accomodation with spectacular mountain and garden views! And if this isn't enough... Christine takes it to the next level by truly spoiling her guests with all the creature comforts (including a hair straightener) and delicious food samples sourced from the Yarra Valley! I highly recommend this accomodation if you are looking for a relaxing getaway or wanting to experience the amazing Yarra Valley which is only a short drive away!
Nicole
2017-01-01T00:00:00Z
I booked this place for my partners birthday. Christine was very responsive from the offset and offered us free tickets to the food and wine festival. When we got there they also offered us tickets to the races. The property was incredible. Very clean, big, had all things needed and more. The bath is really beautiful and very relaxing after the drive from Melbourne. We didn't use public transport but town centre was a few min drive from the property. Would highly recommend and will most likely visit again. Thanks Christine and Keith.
Ednora
2017-04-01T00:00:00Z
We had a fantastic stay and everything was perfect. Christine and Keith were wonderful hosts who warmly welcomed us. The garden was absolutely gorgeous and the accommodation was clean, modern (newly renovated) and close to the shops and wineries. We will definitely be back and I highly recommend staying at The Gallery
Nathan
2016-11-21T00:00:00Z
We had such a lovely stay at Graceburn Gardens. It was like entering a magical enchanted garden, they were so expansive with much to explore. We stayed in the Gallery, perfect with all the amenities we needed and a beautiful modern space. The pool was right in front of the self contained apartment, with beautiful mountain views surrounding the property. Christine was a wonderful host and made us feel very comfortable. We would definitely stay again.
Elisa
2017-01-10T00:00:00Z
Our family (2 adults, 2 children) had the pleasure of staying at Graceburn Gardens (Gallery apartment) for 3 nights. The views were spectacular from any angle - the very popular pool and deck area (our kids must have spent over 8 hours in the pool alone!!), the lovely arrangements of seating at various locations throughout the amazing grounds and from the bedroom, lounge and kitchen area inside the apartment. The gardens and views were absolutely stunning and the property had so much character, warmth, privacy and imagination. Christine was very hospitable and thought of every small detail to make our stay most enjoyable - including providing pool inflatables for the kids and pool towels, BBQ facilities, juices/drinks/chocolates and lovely breakfast provisions. She was also very prompt at responding to our enquiries. She kindly took us on a tour of the inside of the main house which she and her husband had lovingly restored to a picture perfect, warm and inviting B&B. Definately recommend this place to couples or families - we will definately be back!
Kristina
2017-01-28T00:00:00Z
Had a lovely long weekend in this gorgeous location!
Ortal
2017-03-12T00:00:00Z
Christine gave us a very friendley greating upon our arrival. She showed us around the grounds and in the accomodation. She made us feel very welcome and as if we were staying at a friends place. We had our 10 month old son with us who loved the grounds. The grounds had so many areas to sit and relax in. They were immaculately kept and maintained. Inside the accommodation there was everything we could need and more. We truly felt like we were staying at a luxury accommodation with slippers, robes, modern decor and a fridge full of breakfasty items.
Carolina
2016-12-03T00:00:00Z
Tipus d'habitació
Casa/pis sencers
---
Tipus de propietat
Pis
---
Capacitat
4
---
Dormitoris
Healesville, Victòria, Austràlia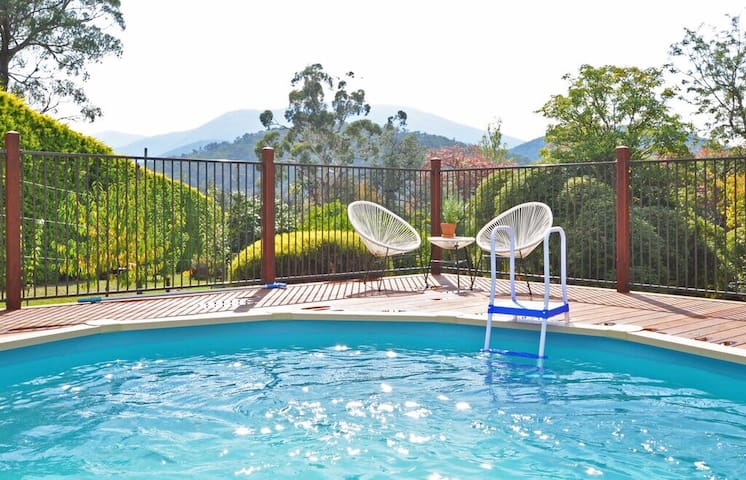 ENQUIRE for a great price on a long term stay over the summer period Fully self contained unit set up & ideal private accommodation stays. Waking distance to main town, Heating/cooling, open plan living kitchen/lounge area, bathroom, separate reading area, bedroom, queen size bed and small court yard.
This unit is a quiet, cosy and comfortable way to escape the hustle and bustle of city living. Ideal for a romantic getaway or a weekend escape exploring the magnificient Yarra Valley and surrounding areas. Unique from most listed airbnb accommodation, this unit is a separate private residence, with separate driveways and access for guests. The Unit is a 1 bedroom fully furnished unit with full kitchen, living area fully renovated bathroom, reading area with outside court yard Queen size bed (linen, donna pillows and electric blanket provided) new reverse cycle heating and cooling Flat screen Tv Couch Dining table Fridge Freezer Electric stove and cook top (cookware , utensils, provided) Microwave, toaster, kettle Washing machine and clothes line.
Located in a quiet neighbourly St. just walking distance from the Main Street of Healesville 1.1 km where you'll find numerous cafes, bars and restaurants, in the heart of Yarra Vally's wine region you'll be able to relax in this full self contained unit. Within the a block walking distance Four Pillars Gin Distillery A perfect location from which to explore the many delights of the Yarra Valley.
We stayed at Ricky's unit for 3 nights over Easter and loved it! The unit was very clean, private, and had everything we needed to feel at home. The size of the unit is perfect for a couple. The location was fantastic too, it was an easy 10-15 min walk into town and was a great base to explore the wineries and restaurants in Yarra Valley. Checking in and collecting the key was a breeze, and the hot cross buns, chocolate eggs and bottle of wine were a very lovely surprise! Thanks again Ricky for having us.
Sammie
2016-04-01T00:00:00Z
Ricky's place is the perfect base for exploring the Yarra Valley. Quiet, cute, tastefully decorated and fully of little touches to make you feel very welcome, like lovely toiletries and towels, tea, coffee and even some snacks! Plus, it's conveniently located and an easy walk to Healvesville township. We didn't run into Ricky, but he was a communicative and friendly host. Very much recommend a stay here.
Sally
2016-05-02T00:00:00Z
My partner and I had a lovely stay at Ricky's place. The self contained unit was spacious and clean and very private. We thoroughly enjoyed our stay and recommend it to others.
Tara
2016-10-01T00:00:00Z
Very welcoming host with lovely space. Great location with very close proximity to the main street and attractions. Overall very good experience
Kathryn
2016-07-31T00:00:00Z
This little unit was perfect in every way for my friend and I to spend a few days in Healesville to attend a music festival. Fantastic location, very private, gorgeously furnished, with everything you could possibly need - even a bottle of wine in the fridge! Ricky was a fantastic host from the very first contact. This was my first Airbnb experience and I'm so glad it was such a positive one with such a lovely and helpful host. Thank you so much! I highly recommend this property.
Leanne
2016-03-17T00:00:00Z
Fantastic location, so close to everything and in a nice quiet street. We loved the accommodation, it was spotless, modern and we had everything we could need and more! Ricky was always quick to respond to questions and left us to enjoy a private getaway. The off street parking was also a bonus! Great first experience with Airbnb
Skye
2016-02-14T00:00:00Z
We really enjoyed our stay at Rickys place. The unit is basic and a little dated but Ricky left lovely touches like milk, a bottle of wine etc. The unit is at the back of the main house, attached but it felt private. The only issue was what i thought was cigarette smoke which kept drifting into the unit. I also thought there was going to be a dining table from the pics but there wasn't one. We just ate dinner on our laps and that was fine. Apart from that, excellent location and we had a good time!
Liz
2016-12-03T00:00:00Z
Place was in a quiet location and central to town. We could walk to local attractions. Ricky was very accomodating. Nice touch with wine in the fridge. Would recommend.
jo
2017-02-05T00:00:00Z
Tipus d'habitació
Casa/pis sencers
---
Tipus de propietat
Pis
---
Capacitat
2
---
Dormitoris
Healesville, Victòria, Austràlia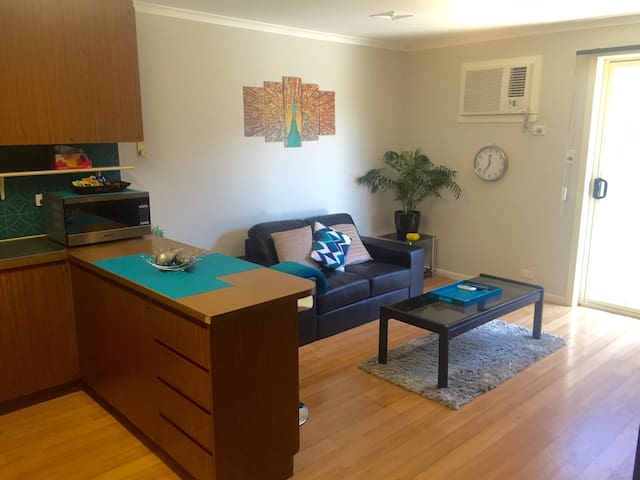 Three beautiful self-contained apartments with ensuite, kitchenette, Austar, wifi and private entrance. Set on 20 acres of old world gardens and surrounded by stunning natural forest. Perfect for couples looking for relaxation, peace and tranquility.
Brentwood B and B Apartments is a 102 year old guest house with three gorgeous private apartments for couples. Fully equipped with all modern convenience in a stunning old world setting. Set on 20 acres of old mature garden, surrounded by tall tree forest and backing on to the famous Bicentennial walking track makes this setting is truly stunning and unique. The serenity and privacy of Brentwood Apartments makes this the perfect couples getaway, yet all attractions in this great area are easily accessible, being only 5 minutes drive from the main street of the Healesville township. Each apartment caters for 1 couple and the rate is based on 1 couple per apartment.
Brentwood B&B is located 5 minutes drive from the Healesville township located in the beautiful Yarra Valley. The B and B is surrounded by stunning natural forest and is set on a 102 year old garden with large mature trees. Each season brings a unique ambience to the gorgeous property . The yarra Valley is known for its great food and wine but also for its natural beauty and many family related activities. Healesville is a vibrant town to visit with many wondeful attractions to explore.
Brentwood is a lovely place to stay very beautiful, perfect for couples. The location is great, not in the heart of town nice and quiet!
Mark
2016-11-12T00:00:00Z
Brentwood Accomodation is the most beautiful Bnb we have stayed at Idyllic location beautiful inclusions a friendly and gracious host We left with a deal of regret.. How could we become part of the glorious Healesville community? Highly recommended
Anneliese
2016-02-10T00:00:00Z
Christine is an incredible host! She and her husband ensured that the room was always stocked with delicious fresh local breakfast ingredients including bread and freshly laid eggs. With the right mix of privacy and hospitality, we were free to enjoy a wonderful long weekend taking in all the delights of the Yarra Valley!
Ajay
2016-10-09T00:00:00Z
Great place
Lorn
2017-01-11T00:00:00Z
Despite recent storm damage along the road and which had resulted in damage to the power lines, Christine and Mark were calm and very welcoming upon our arrival, grateful for the generator which the local shire had installed. They offered to upgrade us for our first two nights and did everything they could to make our four night visit a pleasure - from turning on the heating and lights to providing a delicious breakfast hamper each morning. Both apartments were very comfortable and the outlook over the gardens to the forested hillside opposite was stunning. We would just love to go back!
Thomas
2016-10-17T00:00:00Z
The Brentwood B&B is a little piece of heaven on earth! Secluded from the hustle bustle of even a small town, it is a BEAUTIFUL little farm environment with picture perfect animals that were just precious! The king-sized apartment that we stayed in was on the corner and was surrounded by windows so it was nice and bright inside. There were trees surrounding the property so it wasn't too sunny. It was beautifully decorated with antiques and plenty of tableware in the cupboards. There was a tiny refrigerator and microwave and a heated skillet so if you were to stay for extended periods it would be somewhat limited. The bed was comfy, the bath nice but the shower very tiny and chilly unless using the heater but even then the floor was still very cold so bring slippers. Christine and Mark were delightful and helped make arrangements for our wine tour. We were so blessed to have them share their "little piece of heaven" with us. SPECTACULAR property!
Terri
2015-06-13T00:00:00Z
We thoroughly enjoyed our stay at Brentwood :) Chris and Mark were very welcoming, helpful and easy going! They seem to really enjoy what they do, and it shows with the high level of hospitality they offer. Would definitely recommend to anyone travelling to the area.
Amber Rose
2016-10-30T00:00:00Z
Beautiful peaceful location, lovely rooms, and very friendly warm welcome from Chris! Thanks for a great stay!
Aimee
2016-12-30T00:00:00Z
Tipus d'habitació
Casa/pis sencers
---
Tipus de propietat
Pis
---
Capacitat
2
---
Dormitoris
Healesville, Victòria, Austràlia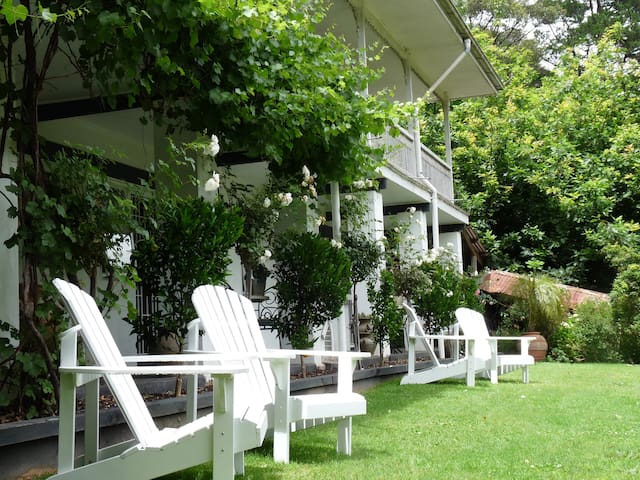 Our place is close to the township of Healesville and the Yarra Valley wine region.. You'll love our place because of its cosy cottage atmosphere and the proximity to all the wonderful places the Yarra Valley has to offer.. Our place is good for couples.
Tipus d'habitació
Casa/pis sencers
---
Tipus de propietat
Pis
---
Capacitat
4
---
Dormitoris
Healesville, Victòria, Austràlia
A cosy, well considered and Newly Renovated private Studio for 2 or 3 with a fold out bed Elegantly styled, with a few added rustic features just to remind you to relax here in the heart of the Yarra Valley! Please see our other listing for more people.
Spacious Open plan studio for 2 1 extra person can sleep on the fold out bed. Note the bedroom is a shared open plan space. Beds are located at separate ends on the long room. kitchenette has an induction cooktop, microwave, kettle toaster ect. Private and safe parking space right outside your gated entry. A perfect little courtyard for pets and a morning breakfast or evening wine.. ***FREE WI FI ***tea and coffee ***welcome treats on arrival ***local boutique bottle of wine *cosy and private *So close to town *Own private courtyard and sitting area *private and safe car space *sleeps 2 or 3 with a fold out bed. Towels are provided for 2 extra guest towel is $20 *allows Pre-arranged well behaved pooches (must keep off furniture) Tariffs Can change during peak season/weekend or public holidays ect. Price is based on 2 people and any extra adults $120 per person/night and children $80 per child/night. Also any pets need to be pre approved and $60 total per stay Optional Extras (please request at time of booking Towels $20 per extra guest Just a 5 min walk to the wood fired pizza restaurant/wine bar known as Innocent Bystander, Beechworth Bakery and 5 mins further the quaint township of Healesville. On a weekend the town is bustling with people, vintage cars and motorbikes. Cafes and Wineries are all around and a short drive to Healesville Sanctuary or the Chocolatier. 1) Valley Touring on Bikes $48 per person (full day) Bella will accompany you to the local bike departure location. 2) "Getaway Memoirs" Photoshoot Session by your host Bella from Bella Focus photography & Art. Enjoy feeling glamourous during your "couples photo session!" Captured Memories of your getaway for you to keep! Either an energetic Photoshoot in the nearby forest/gardens or a more relaxed lifestyle inspired shoot in your Accomodation or perhaps an intimate portrait session in our nearby studio at the Special price of ($199) includes 1 x FREE print enlarged 8x12" additional prints may be viewed in the studio and ordered as optional extras. 3) In-house massage $145 per person ( min 2 ) booked in advance of arrival to ensure your spot. 4) Gourmet Picnic Lunch Hamper for 2 $79 (packed snug into an antique fishermans creel basket) To the river bank in Warburton or perhaps a picnic amongst the tall trees and meandering rose steps that lead you to Maroondah reservoir just up the road from Valley Abode... (Includes a bottle of wine, some fine local produce, crackers, cheese, salami and other antipasti delicacies, sweet and savory and a picnic rug for your use
Healesville is a quaint little town that is bustling with vintage cars, winery tours and visitors on the weekends. Lots of nature and places of interest are just a stones throw from Valley Abode Accomodation..
Healesville is a lovely place to spend a couple of days and we were fortunate to find Belinda's place on short notice. It's close enough to town though we did find it a little pricey and the bedding not too comfortable. Belinda is lovely to deal with and communication swift and friendly.
Peter
2016-12-31T00:00:00Z
Fantastic location and a great place to stay. Belinda was lovely and we would definitely stay again.
Leah
2016-12-28T00:00:00Z
Tipus d'habitació
Habitació privada
---
Tipus de propietat
Pis
---
Capacitat
4
---
Dormitoris
Healesville, Victòria, Austràlia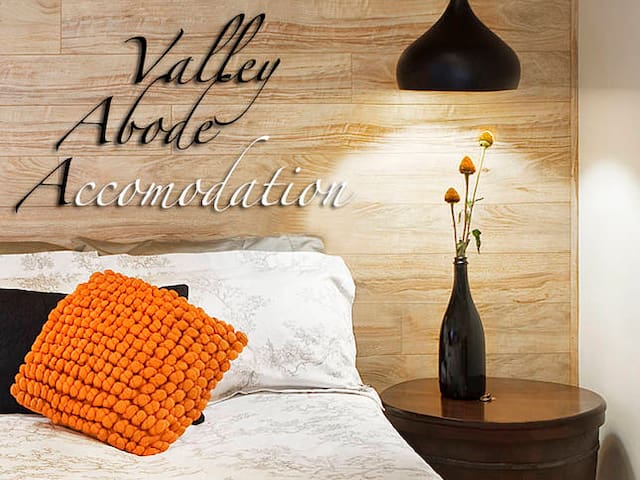 Taylor's on the Hill offers: The most comfortable queen-size bed in the Yarra Valley. 32" Flat Screen TV (with DVD). Wall-mounted inverter for heating and cooling. Kitchenette Wi Fi. Separate and secure entrance, with code-lock access.
Taylor's on the Hill offers a continental breakfast included with: Home-made jam. Cereals. Pod coffee (decaf as well), Pod chocolate. A selection of teas. Home-made biscuits. Fresh bread from the bakery. Extras: Yarra Valley wines can be purchased on request (by prior arrangement). A hot breakfast can be purchased on request (by prior arrangement).
Taylor's on the Hill is only 15 minutes from the award-winning Healesville Sanctuary. We are right in the middle of the Yarra Valley Wine Region. 20 minutes from the Yarra River in picturesque Warburton. For walkers and cycling enthusiasts, we are opposite the famous Warburton Trail and five minutes walk to the Woori Yallock Bakery for yummy pies, pastries and coffee. Stop over at Taylor's on the Hill on your way to the snow country. We are 40 minutes from Mt Donna Buang and 2 hours 45 minutes from Bulla. A Winter-warmer of homemade soup and crusty bread (complimentary) awaits you on arrival.
We stayed here the night of our wedding and Brian and his wife had prepared the room beautifully for us, they went over and above. I can't recommend it highly enough.
Mark
2017-01-29T00:00:00Z
Lovely quiet airbnb spot, with hosts that whip up superb meals if you fancy it and lots of extra treats in the room itself. Highly recommend.
Amelie
2017-01-18T00:00:00Z
Wendy and Brian were very friendly and accommodating, and were flexible with our last minute arrival time. Woori Yallock is a beautiful place and the house is just across from the Warburton Trail. The bed was a little soft for our liking, but would be great for guests who love a soft luxurious bed! We were expecting more of a 'farm' setting given the horse pictures but it was still lovely to wake up with the birds singing outside our window.
Brianna
2016-12-11T00:00:00Z
We had a lovely stay at Taylor's on the hill, the space was lovely and very well-cared for with every detail thought of. Location was great for a three-day cycling holiday using the Lilydale-Warburton trail and we loved relaxing in the air-conditioned bliss at the end of each day.
Olivia
2016-12-31T00:00:00Z
Thanks for the beautiful stay, very private, very well attended to with every need. I will be back !! And recommend Taylor's to anyone looking for the best bed in town !!
David
2017-02-20T00:00:00Z
Brian and Wendy were lovely hosts. The room set up was delightful, and I've never seen so much attention paid to even the smallest detail. They welcomed us with chocolates and delicious home-baked muffins and slices on arrival. The house is in a picturesque location with a killer view, and the studio is very comfortable and inviting. You even have access to a garden with a view!
Darren
2017-02-25T00:00:00Z
After arriving on a stinking hot summers day, my husband and I were greeted with a beautiful cheese platter and chilled drinks. The hosts were lovely and we left to explore the local area. The hospitality was amazing and the room was beautifully maintained and clean. Unfortunately we didn't stay overnight as I was knocked down by a cold, whilst suffering a bad case of pregnancy. Was one of those times where only your own bed will do. Would recommend without hesitation.
Gill
2017-01-07T00:00:00Z
It was very relaxing and peaceful to stay here, and the welcome sweets and cheese platter were so lovely! bed very comfortable too.
Chloe
2016-10-02T00:00:00Z
Tipus d'habitació
Habitació privada
---
Tipus de propietat
Pis
---
Capacitat
2
---
Dormitoris
Woori Yallock, Victòria, Austràlia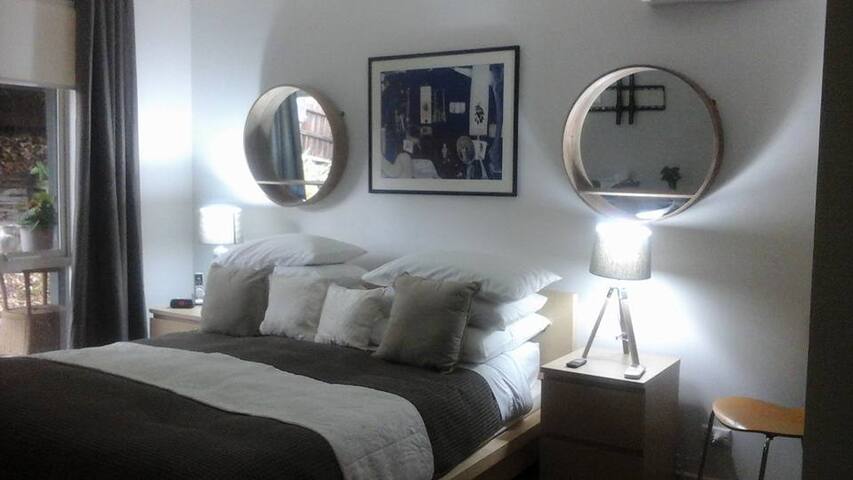 Sunny studio apartment on a rural property with views of the lemon orchard, swimming pool and mountains. Private back-deck with external clawfoot bath so you can bathe under the stars or take in the mountains . Enjoy the sounds of the birds and the countryside whilst being only a five minute drive from Healesville restaurants and Yarra Valley wineries. Pick your own lemons and herbs to enjoy during your stay.
The Pool house studio is a light and airy self-contained apartment at the back of our swimming pool garden. The front veranda looks over the pool and the private back deck is nestled in the lemon orchard with views over the hills. If you would like to bathe under the stars there is a clawfoot bath on the back deck. The studio has two rooms: one room has a king-size bed and an ensuite bathroom which has a shower and vanity. The other room has a small kitchenette with fridge, microwave, kitchen sink and living area. The kitchen has cooking utensils, toaster, coffee plunger and a single induction plate if you want to cook a simple meal. There is also a small electric BBQ on the back-deck. The day bed in this room can be used as a single bed if there are two guests who want separate sleeping arrangements or a third person. There is a small TV in the bedroom and a TV/DVD player in the living area. The property itself consists of 13 acres with extensive gardens, orchards and vegetable patch. You are welcome to help yourselves to lemons to use during your stay and any herbs growing in the garden and we provide you with continental breakfast provisions
The Yarra Valley is a beautiful region with dozens of vineyards, national parks and abundant local produce. The closest vineyard ( Thick as Thieves) is just down the bottom of the lane. Our accommodation is a 5 minute drive from the lovely small town of Healesville which has a disproportionate amount of cafes and restaurants including the iconic Healesville Hotel, Innocent Bystander and the new Four Pillars Gin Distillery. The Healesville Sanctuary is just 2 km away and places of interest such as Tarrawarra Museum of Modern Art, Rochfords, and a number of walking tracks are just a 5-10 minute drive away. Lake Mountain is an hour away. The studio is set on 13 acres of garden, orchard and farmland so there is abundant bird-life and the opportunity to enjoy sunrise and sunsets over the hills and valley.
Staying at the Yarra Valley Pool House Studio was an absolute pleasure. The studio was incredible - comfortable and cozy, private and perfectly suited for a relaxing and quiet stay in the Yarra Valley. We especially loved the view on to the lemon orchard. Jacky and Tony were also great hosts - they did everything they could to make us feel welcome and give us a good feel for the area, from coming and introducing themselves to us, canvassing our interests in the area, giving us their views on the best walking trails and recommending great places to eat. We thoroughly enjoyed their effort and the personal touch they put in as hosts. We would highly recommend Yarra Valley Pool House Studio to anyone who wants to visit the Yarra Valley, and are already planning our next trip back!
Nicole
2016-05-23T00:00:00Z
This place is a little slice of Heaven! It was was exactly what i needed to unwind and get some rest and relaxation. The studio is lovely and clean and you have everything you need to relax and chill out. Lots of windows to enjoy the gorgeous garden surrounds. Rory the dog is on hand to take you for a walk and show you the sights too! You have all the privacy you need and if you need some advice about the area and where to go your hosts are always available. They even lent me a phone charger for my Samsung! Loved having my cats with me too. Definitely going back!
Leandra
2016-09-03T00:00:00Z
We had a terrific weekend in Healsville . The accommodation was very clean and tidy , lots of amenities . The hosts were great , knowledgable and very friendly . Pet friendly accommodation is hard to find sometimes and was greatly appreciated .
David
2016-04-26T00:00:00Z
Very picturesque and relaxing we had a lovely stay and enjoyed walking around the property with Rory the dog and having a bath outside on the deck with a glass of wine. The bed was very comfortable as was the whole apartment. Homemade cake on arrival was so thoughtful and yummy too! Delicious breakfast and coffee just topped off a lovely stay. We would definitely stay again!
Natalie
2016-11-17T00:00:00Z
We had such a lovely time! The place was beautiful and Jacky and Tony were really welcoming and friendly (and Rory the dog was a great tour guide too). We loved Tony's cake on arrival. Would definitely recommend a stay here.
Karla
2016-10-30T00:00:00Z
We absolutely loved our stay here. Jacky and Tony had the heater on for us when we arrived so that it was nice and cosy inside, there was plenty of information on things to do and Tony also popped in to advise places to eat. We felt very welcome, the place was spotless and comfortable. The setting was beautiful as well. We will definitely be back!
Julia
2016-07-06T00:00:00Z
What a delightful gem this accommodation is. Jacky and Tony were friendly and welcoming. This was topped with warm and lit lodgings on arrival when it was dark. There was an extra surprise with home made BEAUTIFUL walnut cake, fresh milk and local fresh bread. The property is quiet and private. The accommodation was well appointed and homey. An added feature is the outside (URL HIDDEN) you can have a lovely warm bath by candlelight under the stars. This is the best Airbnb I have stayed at (used lots of others booked by friends) and would highly recommend staying here, and not just for one night. Thank you Jacky and Tony.
Sharon
2016-06-06T00:00:00Z
We received a warm welcome from Jacky and her two lovely dogs. Jacky showed us through the pool house and explained everything in kind detail, then left us to enjoy the property and surrounds. We had a wonderful time helping ourselves to the garden, lemon grove and patting the horses.
Leah and Marcus
2016-03-16T00:00:00Z
Tipus d'habitació
Casa/pis sencers
---
Tipus de propietat
Pis
---
Capacitat
3
---
Dormitoris
Badger Creek, Victòria, Austràlia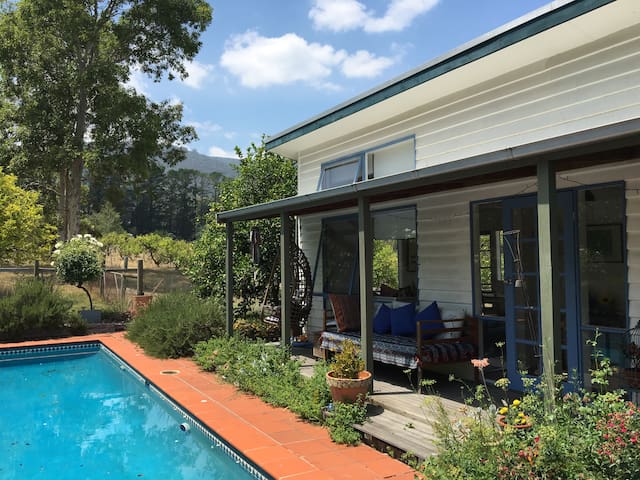 With outlooks onto beautiful lush forest, sense of grandeur & space from cathedral ceilings, & bath to submerge in, this self contained studioapartment offers a wonderful getaway to the beautiful Yarra Valley, 1.5hrsNE of Melbourne. Walk to walking & bike trails, cafes, shops, & arts centre; play golf, visit vineyards & Healesville'sWildlifeSanctuary nearby, & more......
This private apartment is attached to one end of the main residence, complete with its own entrance, outside deck sitting area & area for storing your bike safely inside. The main room includes a comfy queen size bed, dining and lounge areas and a fully functional small kitchen with basic food supplies. The bathroom, including toilet, bath and overbath shower, are in a seperate room.
Coming to Warburton, known by locals as Warby, is like going back in time. Even though only 1.5 hrs from Melbourne City, it moves at a much slower pace, and functions more like a village, having a strong community feel. It is full of artists and musicians, and people who make the choice to leave the rat race behind. Weekends bring many tourists to Warby. This area is known for its magnificent forests, scenic walking tracks, diverse bike trails, winter toboggan run, picnicing and floating down the river, golf course with majestic views, wine tasting at neighbouring vineyards as well as its abundance of cafes. A smorgasboard for everyone! Warby marks the beginning of a vast area of forest from where most of Melbourne's water comes. Within this grows the tallest flowering trees in the world, the mountain ash. In addition are a number of endangered species, like the Leadbeater's "Fairy Possum", Victoria's faunal emblem. We are working to get this area protected with the Great Forest National Park. Come see this magnificent forest for yourself.
Lovely cosy retreat with everything I needed for a relaxing long weekend. Organic blackberries were waiting for me which was a wonderful surprising touch.
Fiona
2016-01-26T00:00:00Z
Sonia & Paul are great hosts. We had a lovely supply of eggs, toast, cereals, milk and tea. Plus a fan and aircon cooling. There's a Comfy queen bed, and organic shampoos, soap and hair conditioner. Candles were given to us when the power went off, but not needed as it went back on in a few minutes. We were given cream & raspberries from their garden. We also had a private harp playing session over a cup of coffee before we left. I will remember our lovely peaceful stay for a long time. Mark & Gale.
Mark
2016-12-29T00:00:00Z
Simply great! Outside the busier parts of Warby, a quiet and lovely little place with lovely hosts. Thanks for everything and the little treats. :)
Patrik
2017-01-07T00:00:00Z
Paul and Sonia were wonderful hosts. The house is nestled among a beautiful forest area, and the small touches (organic items, bath salts) really sets this place apart.
Hannah
2017-01-27T00:00:00Z
They're friendly host. The house very close nature. You can feel relax and take a bath with flower salt. Most of all, everything is good.
Ying-Jie
2016-11-18T00:00:00Z
Our hosts Paul and Sonia were very friendly and helpful could not have asked for more. Paul makes a great coffee and Sonia was absolutely lovely. The accommodation was amazing set in a forestry area,could not fault it. We would highly recommend staying at Paul's and Sonia's place,thank you both.
Helen
2015-10-26T00:00:00Z
I came to Heaven Sent because I needed a quiet place (read: away from my noisy family) to do some intensive study. And it really was heaven sent! Everything was immaculate with whimsical touches to detail that made me feel right at home. Beuatiful colours and art. Paul and Sonia were so welcoming and friendly. The well appointed kitchenette made preparing snacks and meals so easy, the bed is warm and comfy, great mattress, the bath deep with plenty of hot water - even essential oils and Epsom's Salts! and the views out the windows is beautiful and restful. The town is a short drive or a healthful walk away, and there's everything you need - IGA, petrol station, PO, bakeries, cafes, interesting shops and GREAT places for massage and well-being. Not to mention the beautiful Yarra river where I actually saw a platypus, and where there are a couple of great swimming holes for the summer. Do not try this in winter. You will fureeeze! There are great walking and biking tracks too. I had such a peaceful, restful and productive time at Heaven Sent and I warmly recommend it.
Julie
2015-09-22T00:00:00Z
Great base if you're exploring the Upper Yarra. We were transiting on our way back to Melbourne and Paul responded promptly. The apartment is very cozy and a great place to get away from it all. At nighttime full view of the stars. Great amenities and spotless bathroom. We enjoyed our stay and will recommend.
Karsten
2016-04-03T00:00:00Z
Tipus d'habitació
Casa/pis sencers
---
Tipus de propietat
Pis
---
Capacitat
2
---
Dormitoris
Warburton, Victòria, Austràlia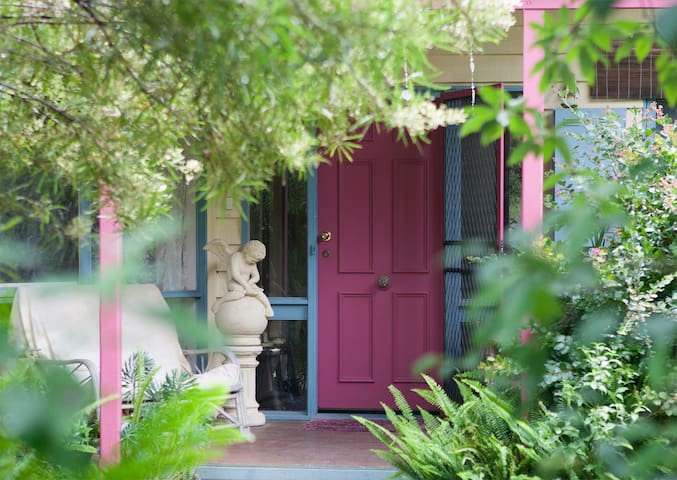 Alpine Studio Retreat is the perfect cosy getaway, an hour east of Melbourne! Situated in the beautiful township of Warburton in the Upper Yarra Valley, the self-contained studio has a quality kitchen/ensuite to meet all your needs. Wake up surrounded by bush, lyrebirds, kookaburra and take a stroll down to the Yarra River, Warburton Rail Trail, cafes and shops. Great place to relax, retreat and see the Valley!
Alpine Studio Retreat is a private and cosy self-contained apartment with beautiful kitchenette and tidy ensuite to meet your needs. Attached to our family home, it features a separate car park, entrance and sound-proofed wall for peace and quiet. Surrounded by bush, and with great access to nature, walks and trails, it is also 1 min drive to the heart of Warburton (or 5 minute stroll). Sleeps 2/3 with comfy queen bed and sofa bed. We can also tell you where to eat and what to visit when you stay :) Please send us a message introducing yourself before booking ( especially if you have no reviews).
Warburton is a wonderful place to stay in Spring time with plenty to do. Walking, cycling, fishing and exploring the river are great activities, all within a short distance.
Due to the long weekend Alex and his family were away during our visit but they made sure we had all the necessary information for us to have a great stay. The room is cosy and well fit out, as described and pictured. It was very clean and I loved the local toiletries in the bathroom. The place is walking distance to Warburtons main street with a few shops and restaurants, and literally at the start of the Warburton rail trail. We rode to Seville and back (a 50km round trip) which was a beautiful way to see the local area. Also, very easy access to other great sites and places in the Yarra Valley. Highly recommend!
Samantha
2016-10-30T00:00:00Z
A return visit and it is as good as ever, but with a couple of improvements (bathroom taps, reverse cycle air con). Perfect for a couple who enjoy the sound of birds and a generally quiet and homely atmosphere. Just a short walk to town for good food and wine at Riverview Cafe (breakfast/lunch/weekend dinners) and Little Joe (lunch/dinner), as well as numerous walks and the Yarra River. We will be booking again soon.
Danny
2017-01-02T00:00:00Z
Alex is a great host, he met us when we arrived. Gave us really good recommendations for dinner and lunch. There were lovely little amenities like hot chocolate already there. not sure if it was usually like this, but it certainly made us feel at home.
Leo
2016-07-10T00:00:00Z
Our host was fab! Communication was excellent, he responded to all my emails very quickly.
Romina
2016-12-29T00:00:00Z
The perfect place for an overnight getaway. It was very central, yet quiet, had little extra touches, was clean & cosy. A great find & would highly recommend...
Cath
2017-04-02T00:00:00Z
Had a great weekend away! Alex was really responsive and gave lots of great suggestions of things do and where to eat. The place was also within walking distance the town centre. I would recommend !! :)
Stephanie
2017-03-18T00:00:00Z
We arrived to a very warm, cosy and private space. Everything was clean and well presented. The bed was ridiculously comfortable and there were definitely enough blankets for a cold night. If you plan to cook your own food, don't rely on a microwave or oven as there wasn't one, but the gas stove worked great in the well stocked kitchen. Would highly recommend staying at Alex's.
Clare
2016-09-21T00:00:00Z
Great host. Very friendly
Cameron
2016-06-28T00:00:00Z
Tipus d'habitació
Casa/pis sencers
---
Tipus de propietat
Pis
---
Capacitat
3
---
Dormitoris
Warburton, Victòria, Austràlia
The studio is located directly behind the Manor. It has a fully equipped studio kitchen, fridge, microwave, portable oven, 2 single beds, flat screen TV/DVD, chair, air conditioning & brand new luxurious bathroom.
The Studio is a separate building to the Manor house and is located directly behind it. It is a studio room with two single beds, kitchen and brand new bathroom. A DVD player, LCD TV air conditioning and heating is also provided, and a laundry is available. The Studio was built in 1895 to house the servants that served the owners of the main house, the Yarra Valley Manor. It is an historically listed building. The Yarra Valley Manor, the first homestead in the Yarra Valley region was built over 110 years ago and covered a sprawling 4000 acres. The property (formerly known as Glencraigie Dairy), had it's own bridge across the Yarra River. Some of the original buildings were destroyed by fire but the 'Millgrove Mansion' (as it is referred to by the locals) still remains. The Servants Quarters, a long building with quirky and unique rooms still remains, along with the Old Barn and the 'Firehouse.' Three two bedroom chalets also sit on the property and overlook the Donna Buang Mountain ranges. All three chalets comfortably fit 4 people. What makes the Yarra Valley Manor Villas a beautiful place to stay is the quiet and peaceful Yarra River only 400 meters from our doorstep, the wildlife, the Warburton to Lilydale Rail trail only 600 meters away and the quirky cafes and markets that make up the Yarra Valley. In Summer you can spend lazy days by the river or you can ride the smooth rail trail to visit the local area. Local wineries provide gourmet food and wine and the Warburton golf course is less than a 5 minute drive away. The historic O'Shannessy Aqueduct trail, Melbourne's former primary water source sits behind the property and provides beautiful views down to the valley below. In Winter head to Mount Donna for tobogganing and sky play or to climb the look out tower and then return for a beautiful evening. If you'd like a bicycle tour, winery tour or hiking expedition (all provided at excellent rates) we are happy to help. If guests would like a tour of the property and the old Manor house with its mysterious hidden cellar they need just ask. The Yarra River The hiking and walking tracks that cover the area The Upper Yarra Reservoir & Picknick Area The O'Shannessy Aqueduct Trail The Lilydale to Warburton Rail Trail The Mountains - close to Lake Mountain and not far too Mt Baw Baw The Mount Donna Buang Mountain range on our doorstep Gateway to the Alps The quirky cafes The great cycling roads and paths The peace and quiet The strawberry farm and cafe just down the road The wineries The golf Busses run regularly 400 meters from our property. They are very easy to ride (we can point out the bus stop that sits beside the Yarra River).
Super clean, friendly, nice relaxing spot.
Greg
2017-02-12T00:00:00Z
Well appointed accommodation. Friendly hosts and great communication throughout! Lilydale to Warburton cycle trail is a must do. We were able to drive to some of the vineyards near Healesville-We recommend Meletos for lunch (excellent) and the Four Pillars Gin distillery if you like your gins! Warburton Golf Course was great for a drink and friendly service when all else closed! Great experience, we recommend this stay.
Bhav
2017-03-28T00:00:00Z
I had an excellent stay here. I was just passing through and I wish I could have stayed longer. It's a great location to explore the Yarra Ranges. Great for hikes, biking, and really anything outdoorsie. The property was unique and had a history behind it that peeked my interest, but i was on my merry way before getting to that. I'd like to stay again.
Benjamin
2017-01-31T00:00:00Z
It was ok for one night but I don't have to stay there again.
Veronika
2017-02-07T00:00:00Z
Incredibly simple to check in and out. Local guidebook very helpful and much appreciated. Hosts extremely nice and accommodating. Millgrove/Warburton very picturesque; lots of walking trails and watering holes.
Katie
2017-02-26T00:00:00Z
Thanks Sam and Shana! Steve and I enjoyed our stay very much.
Jess
2017-02-18T00:00:00Z
A lovely little retreat! We enjoyed our stay in this quaint servant quarters. A little bit like downtown abbey but with the mod cons: heating, massive shower and ensuite and kitchenette. Note: the single beds :) something I overlooked - but not an issue! Very good price for a clean, cosy place.
Shannon
2016-05-16T00:00:00Z
Just loved this little place! Still got it's old charm but also has an awesome new bathroom. Beautiful peaceful setting. Thanks to Sam who showed us some of the main house's secrets. Would have loved to have stayed longer.
Sarah
2016-06-07T00:00:00Z
Tipus d'habitació
Casa/pis sencers
---
Tipus de propietat
Pis
---
Capacitat
2
---
Dormitoris
Millgrove, Victòria, Austràlia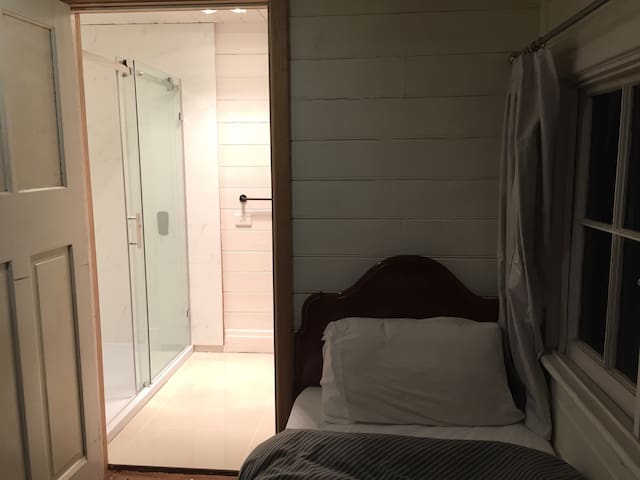 Our Vista Apartment offers spacious, beautifully appointed modern bed & breakfast accommodation in a picturesque rural setting. Features a large bedroom with king size bed and full kitchen, wood fire and separate lounge / dining with all mod cons.
Beautiful Villa in very peaceful surroundings. Quick drive from Melbourne and so much to do in the area. Great meal at Wild Cattle Creek. Great hospitality, highly recommended.
Louis
2016-01-03T00:00:00Z
It was a gorgeous place in a great location that offered anything you'd ever want! Fireplace, hot tub, king bed. Wonderful experience!
Brianne
2016-07-07T00:00:00Z
What beautiful accommodation. It was exactly how you described and pictured it on AirBnB. The accommodation was spotlessly clean and had everything we wanted to eat our takeaways or even cook a whole meal if we had wanted. We mostly ate at all the wineries in the yarra valley. Also a great experience. Sad we missed eating at your winery ... Next time! To wake up seeing rolling hills, occasionally a kangaroo and sometimes cows in the distance is something we've never experienced. Loved it!
Leah
2015-12-31T00:00:00Z
Tipus d'habitació
Casa/pis sencers
---
Tipus de propietat
Pis
---
Capacitat
2
---
Dormitoris
Yarra Junction, Victòria, Austràlia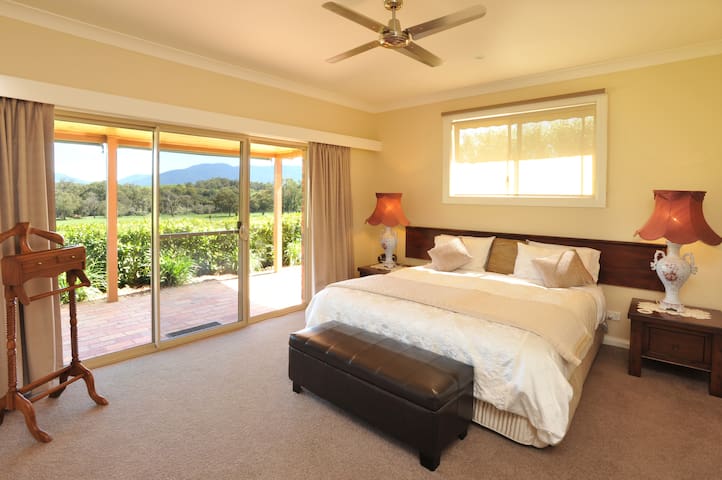 My place is close to Sky high restaurant and view of the Melbourne city, also 5 minutes from Tatra Hut wedding reception. You'll love my place because it is nestled in the Kalorama forest within a 10 minute walk through the forest is the local picnicground as well as a delightful view in the distance of Silvan reservoir. My place is good for couples, solo adventurers and business travellers. Continental breakfast supplied in your kitchenette.
John gave us a really warm welcome to his home and made sure we had everything we needed for our stay. The house is located in a lovely tranquil setting - you can see lots of native birds, like rosellas and cockatoos from the floor to ceiling windows in the room. The photos were spot on and the description on the Air BnB website is true to life. Lovely furnishings and leafy views - definitely a 10 out of 10.
Allan
2016-10-28T00:00:00Z
John was his quintessential self; extremely accommodating, very thoughtful and welcoming. My wife and I have stayed with John before and we thought it would be great to return. We weren't disappointed and we're looking forward to going back. This time we brought my work colleague with us (he and I worked on end of year business review and new year planning). He stayed overnight in John's other room and he loved the place as well.
David
2017-01-07T00:00:00Z
John is hands down the best host ever! I'd go back for sure! I highly recommend staying at Johns!
Tejaswini (TJ)
2016-10-02T00:00:00Z
John was very welcoming and friendly, and quickly made us feel at home at his picturesque property. The room was huge!... well appointed, having everything you need and also felt very private and self contained with a handy kitchenette and ensuite attached to the room. We highly recommend this property and look forward to staying again soon!
Kane
2016-09-29T00:00:00Z
John was great! Lovely, cozy home nestled in the middle of the trees. We loved it!
Chelsea
2016-09-18T00:00:00Z
John's place was reasonably priced, comfortable and homely. John arranged for his friend to meet us on arrival - very welcoming and gave some useful suggestions for places to visit in the area. The breakfast and fresh flowers in the room were a lovely touch, and the view of the rainforest spectacular!
Laura
2016-10-12T00:00:00Z
John was so welcoming to us the moment we arrived and right before we left. My friend and I had a great time and we can't wait to come back :)
Jazlina
2016-11-25T00:00:00Z
John was the most delightful host, always ensuring everything was comfortable for the stay. He has a beautiful house and I couldn't have asked for more. The room exceeded my expectations in every way and the area was beautiful and serene, close to many places of interest.
BK
2016-09-11T00:00:00Z
Tipus d'habitació
Habitació privada
---
Tipus de propietat
Pis
---
Capacitat
2
---
Dormitoris
Kalorama, Victòria, Austràlia
Three beautiful self-contained apartments with ensuite, kitchenette, Austar, wifi and private entrance. Set on 20 acres of old world gardens and surrounded by stunning natural forest. Perfect for couples looking for relaxation, peace and tranquility.
Brentwood B and B Apartments is a 102 year old guest house with three gorgeous private apartments for couples. Fully equipped with all modern convenience in a stunning old world setting. Set on 20 acres of old mature garden, surrounded by tall tree forest and backing on to the famous Bicentennial walking track makes this setting is truly stunning and unique. The serenity and privacy of Brentwood Apartments makes this the perfect couples getaway, yet all attractions in this great area are easily accessible, being only 5 minutes drive from the main street of the Healesville township. Each apartment caters for 1 couple and the rate is based on 1 couple per apartment.
Brentwood B&B is located 5 minutes drive from the Healesville township located in the beautiful Yarra Valley. The B and B is surrounded by stunning natural forest and is set on a 102 year old garden with large mature trees. Each season brings a unique ambience to the gorgeous property . The yarra Valley is known for its great food and wine but also for its natural beauty and many family related activities. Healesville is a vibrant town to visit with many wondeful attractions to explore.
Tipus d'habitació
Casa/pis sencers
---
Tipus de propietat
Pis
---
Capacitat
2
---
Dormitoris
Healesville, Victòria, Austràlia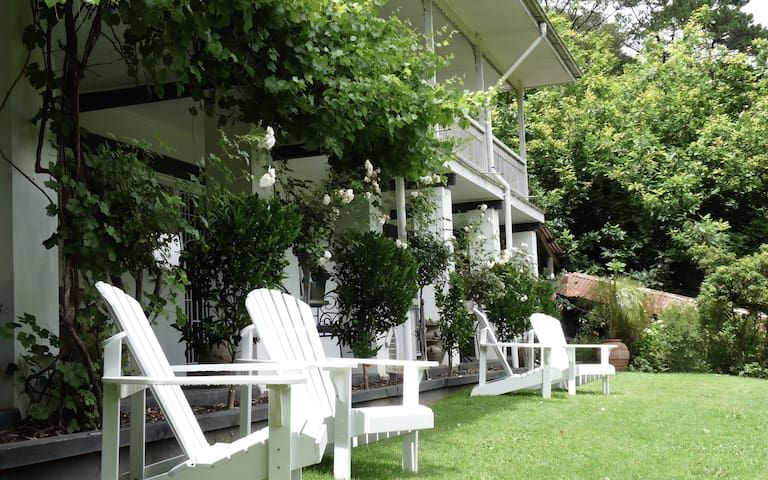 Delight in a retreat accommodation in a very rustic private property, unwind, chill-out, defrost from technology, smell fresh air. A getaway 50 mins from Melbourne. Historical 125+ years old RAIWENA house, oldest Nobelius homestead located in the hills of Emerald! Relaxation, peaceful, romantic, private, tranquil 2 acre rustic terraced gardens with a stream awaits you. Panoramic (180) view of nature from your own very private flr. Highly suggest a 2-night stay to really experience re-energizing!
Raiwena is a historical rustic property/home. A true oasis located in the hills of Emerald originally built in 1891, surrounded by trees dating over 125+ years & very rustic terraced gardens. Of architectural & local significance, modernized in 1930's & 1950's. A panoramic (180) view of nature at its best from open plan bedroom/living area. You have your own private entry/exit, & bathroom. Fridge, crockery, cutlery, kettle & microwave are provided in apartment! We recommend takeaway places in the area, bakery, cafes & restaurants. This is a place to really just chill-less cooking, put your feet up, enjoy your snacks & glass of wine, or cup of tea/coffee and favorite biscuits! Take a train ride on Puffing Billy or cycle along the lake. Emerald Museum & Park is free to the public. Close to the Mt. Dandenong/Yarra Ranges: Olinda, Sassafras, Monbulk, Kallista, Belgrave, Gembrook. Also an ideal place for your wedding night or having small parties for any occasion; day or night-ask us for costing! Wifi limited to certain areas of the property for emergencies only, for a real chill out time, with no intrusions from emails or internet!
Peaceful, very rustic, scenic, at one with nature, a true oasis. Very, very private & romantic, also able to play loud enough music without disturbing neighbours who are far apart from each other. Walk to lake, and forest paths or around the golf course forest. Wifi not available in apartment so no intrusions on your chill out time! The surrounding area are all private homes...
I loved staying at Raoul's. I like the feel and smell of country home, and the uninterrupted forest view. It was cosy and romantic. The oak tree in the middle of the room is amazing, a unique and rewarding experience for me. Thank you! :)
Aida
2016-02-28T00:00:00Z
A beautiful, remote location with zero noise and zero phone reception (this is a good thing). A great place to get away, be warned this is a location in itself and not somewhere just to crash for the night!
Rhys
2016-06-13T00:00:00Z
Photos do not do this accommodation justice! An opportunity to stay in a truly unique space with floor to ceiling windows and the beautiful greenery as the view. What a delight to wake up to. The owners are passionate about their property and it shows. There is funky furniture, some made by one of the owners, and lots of interesting trinkets to marvel at. The owners were great from the start. Prompt and friendly communication while making the booking and they made us feel very welcome and comfortable. Emerald is a lovely little town and the accommodation is close by. There is also free use of the golf course and any golfer would be happy to play on it. Very well maintained and picturesque. I highly recommend staying here, it was even better than I was expecting.
Shonelle
2015-03-30T00:00:00Z
Raoul's studio apartment was a lovely break from the city. We thoroughly enjoyed our stay here. Waking up in the morning and looking out at the beautiful garden was wonderful. The record player and Raoul's great collection of records made our stay even better. Thanks again.
Clancy
2016-10-31T00:00:00Z
Amazing place with lovely hosts. It is a definite thumbs up from me and look forward to visiting again soon.
Michael
2016-07-04T00:00:00Z
Raoul was great host showing us around the house and giving us tips where are the net places to eat in Emerald. We really enjoyed the house and felt like we are alone in the house. Definitely would recommend everyone to visit this place and enjoy mesmerising view that this hous offers.
DANIJEL
2015-12-21T00:00:00Z
Amazing location and extremely relaxing. The apartment was set up with everything that we needed. Raoul was a great host and made sure we were comfortable and settled in.
Praveena
2016-11-30T00:00:00Z
Raul is an enthusiastic and welcoming host. He is understandably very proud of such a distinctive property, its history and the improvements that he is making. As everyone else has said, it is the wall of glass, the original wood and of course the integral tree that set the property apart. Despite the lure of the eclectic record collection we lit some candles and just watched night fall. Waking from a sound sleep to a green panorama was a special experience that we will carry with us for many years. Thanks for giving us the opportunity.
David
2016-01-08T00:00:00Z
Tipus d'habitació
Casa/pis sencers
---
Tipus de propietat
Pis
---
Capacitat
2
---
Dormitoris
Emerald, Victòria, Austràlia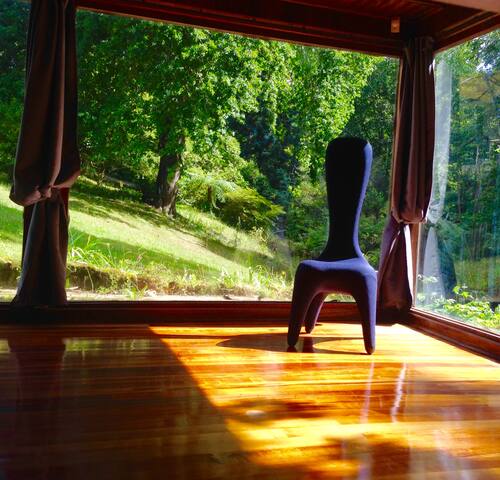 1

-

18

de

44 Lloguers de cases
Introdueix les dates per veure el preu total. S'aplicaran tarifes addicionals. És possible que també s'apliquin impostos.