Cozy apartment perfect for families and couples. Direct access to the park and private beach.
Tipus d'habitació
Casa/pis sencers
---
Tipus de propietat
Pis
---
Capacitat
4
---
Dormitoris
Lagna, Piemonte, Itàlia
This apartment is set in the very central square of Orta with a 180° view of the lake and island. It boasts a roof terrace for your exclusive use along with a large double bedroom with views, kitchen with all mod cons, lounge, dining area, bathroom with shower and a small terrace leading from the kitchen which has table and chairs for al fresco dining. There is air-conditioning at a small extra charge per day if required. All linen and towels are included along with free wifi.
Un appartement très agréable, avec une vue imprenable sur l'île San Giulio.
David
2017-01-02T00:00:00Z
Tipus d'habitació
Casa/pis sencers
---
Tipus de propietat
Pis
---
Capacitat
3
---
Dormitoris
Orta San Giulio, Piemonte, Itàlia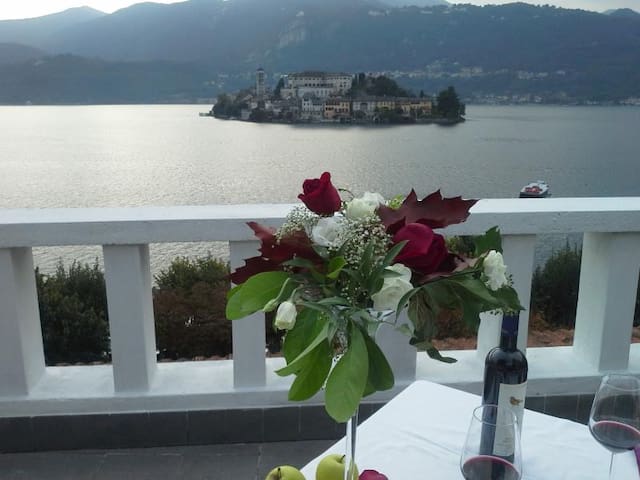 La mia casa e lo splendido Lago d'Orta saranno a tua disposizione. Dormirai in una mansarda con una splendida vista che abbraccia il lago, e potrai fare colazione nella mia cucina o rilassarti nel mio giardino sorseggiando un drink al tramonto. Siamo a 5 minuti dal centro di Omegna, con il suo Parco della Fantasia dedicato a Gianni Rodari, e a pochi chilometri dai laghi Maggiore e Mergozzo. Le montagne della Valsesia ci circondano e il Mottarone con le sue piste da sci è a soli 30 minuti.
Dormirete nella mansarda di una villa con ampio giardino e zona relax, dotata di patio per pranzo all'aperto. Parcheggio sottostante la villa, non custodito. Colazione inclusa. A richiesta possibilità di avere pranzo e cena con prezzi da definire.
Zona residenziale
Kiitos Rosanna mukavasta ajasta Italian maisemissa. Vaikka vierailumme oli lyhyt jäi meille mahtavia muistoja kotiin vietäväksi. Erityiskiitos vieraanvaraisuudesta, vinkeistä, kuskauksista ja ymmärryksestä meitä juoksijoita kohtaan
Heidi
2016-10-25T00:00:00Z
Merci pour cet agréable séjour et vos super petits dejeuners
Anne
2016-10-31T00:00:00Z
Ambiente molto sereno e ospitale, ben rifinito, si respira un aria di totale armonia e l'ospitalità, l' umanità e la gentilezza di Rosanna non che di tutta la famiglia è stata davvero avvolgente. Un ottimo posto dove rilassarsi, complice anche la spettacolare vista sul lago, la vicinanza alla stazione e al centro. Ambiente molto curato pulito e riservato. Tutto perfetto! spero di ritornarci. Consigliatissimo.
Angela
2016-11-23T00:00:00Z
Rossana is a great host . She takes care of every detail. The room is cosy and clean and the bathroom as well. The breakfast is five star class and her home made cakes and biscuits is somthing special. The location and the view of the lake is amazig. I did realy enjoyed staying at Rossana's home and her kids Riccardo, Rebecca and the sweet Valentina ( forza vale ). They are very well reccomended .
Kimo
2016-10-07T00:00:00Z
Ospitalità perfetta, premurosa e atmosfera rilassante!!! Bella la mansarda e il panorama...magnifico.... Un ringraziamento particolare alla proprietaria di casa Rosanna, molto disponibile e cordiale, come tutta la famiglia. Grazie!!!!
Vittorio
2016-11-15T00:00:00Z
Tutto come da descrizione. Rosanna è stata molto disponibile soprattutto negli orari non proprio canonici. Bella casa, posizione ottima!
Sabrina
2016-09-10T00:00:00Z
Una garanzia! Rosanna e la sua famiglia sono disponibili, cordiali e molto attenti alle esigenze degli ospiti. Coccole a non finire...dalla colazione al pensiero finale. Consiglio vivamente
Sabrina
2016-09-15T00:00:00Z
I would give 6 stars if I could. this was surely my best airbnb experience so far. extremely nice people, fantastic breakfast, all at a very reasonable price
Michael
2017-02-11T00:00:00Z
Tipus d'habitació
Habitació privada
---
Tipus de propietat
Casa de camp
---
Capacitat
4
---
Dormitoris
Omegna, Piemonte, Itàlia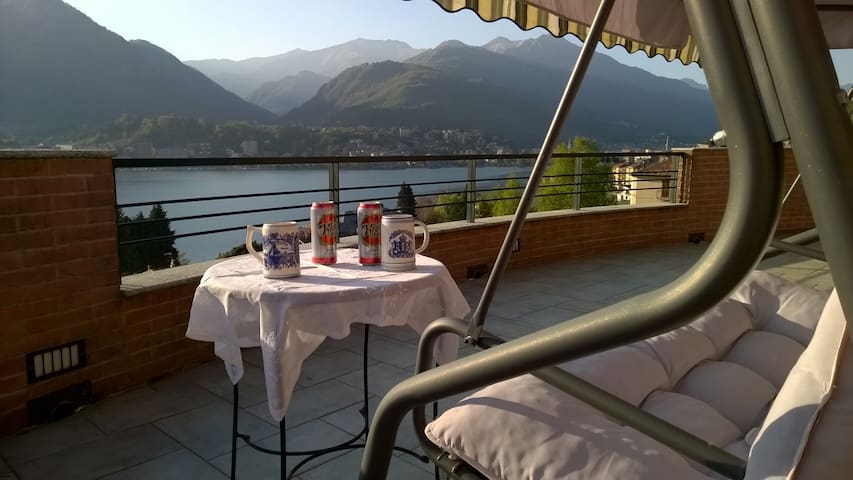 Villa Francione is a two storeys design Villa by architect-engineer Arialdo Daverio. The Villa is surrounded by a planted garden of 3000 m² with fruit trees, berries and flowers. The living room offers a 270 degree breathtaking view that does not ask to get in, yet the Villa is only 4 min walk to the lake and beach.
Villa Francione is a two storeys design villa by architect-engineer Arialdo Daverio. There are three double bedrooms, one of them ensuite, and a single bedroom. Every room has a big wooden closet and two rooms have direct access on the garden. The hearth of the villa is the living room on the first floor, built to have a full panorama view on lake Orta and the San Giulio island. Finally there are three bathrooms, an independent kitchen and a secondary kitchen. The villa also has a big covered veranda with lake view, a barbecue and a green open patio. It is surrounded by a 3000 squared metres private garden, which guarantees silence and tranquility. It is the perfect place for kids to play, and for adults to sunbathe, grill or relax to the view.
The Neighborhood is my uncle, he is rarely there, if he is, you are lucky, he cooks great food :)
Wir wurden sehr nett empfangen, obwohl es schon spät am Abend war. Die Unterkunft war für uns genial gut, viel Platz, eine tolle Aussicht. Es gibt mehrere Terrassen, sonnig und schattig, das Grundstück ist sehr groß und schön angelegt. Der Ort ist überschaubar, es gibt nette Restaurants und der See ist superschön zum schwimmen. Ein kleines Manko ist die Bahnlinie hinterm Haus, wir haben uns aber sehr schnell daran gewöhnt und gut geschlafen.
cristine
2016-09-15T00:00:00Z
One of the greatest week of our life! All our family (2 parents, 4 children) had a wonderful time. Indeed, Gabriele's place is one of the best location to view the broad landscape of the Orta Lake. It is everytime breathtaking: beautiful, pleasant, salvage, grandiose... The village where it is situated is lovely, and we could find there all we needed. We just had to drive 10 minutes (or take a boat) to enjoy Orta and San Giulio Island, both historical and very picturesque places. And, in less than 1 hour, we went to Stresa and the famous, fascinating Borromeo Islands. Very near from the house (5 to 10 minutes walking), you have nice places where you can swim in the Lake, which is an unforgettable experience. The house, both outside and inside, and the garden are exceptionnaly beautiful and charming. We really felt as if we were at home. It was very clean and more than well-equipped. Moreover, Gabriele is extremely nice, involved, enthusiastic and open, and he makes sure that his guests are perfectly well. It is everytime a great pleasure to have a chat with him. Grazie mille, e congratulazioni!
Edouard
2015-08-15T00:00:00Z
We, a family of 4 people, spent one week in the Villa Francione, and enjoyed very much our stay. The location is perfect for enjoying the many attractions available in the area, the panoramic view over the Orta lake from the living room is great, the garden is beautiful and the Villa is fully equipped. Furthermore, the mobile wi-fi connection device was very convenient as it allowed us to connect wherever we were. We thank Gabriele and Danila for their good communication with us.
Joseph
2016-09-30T00:00:00Z
The house was very clean, has a beautiful view, is spacious and cosy. Nearby the lovely lake, little shops and restaurants. We didn't meet Gabriele, but had a very good contact by email. The lady that took his place was a wonderful lady. You feel very welcome and at home. The house is very suitable for families with older children or friends, because everyone has a bed- and bathroom of it's own. Some negative points: very nearby there is a railway and in the night it's very noisy. In the evening there were quite some mosquitos. You have to climbe quite some stairs to get to the house. For us no problem, but when you're older it could be.
Haya
2015-07-27T00:00:00Z
We had a wonderful time staying at the house in Pettenasco. Gabriele was incredibly friendly and helpful in the run up to our stay and he even bought a bed bumper and travel cot for our daughter at the last minute as I was worried how she'd manage sleeping in a single bed for the first time. The first thing I thought when I walked into the main living space was 'Oh no we're only here for one week!' I expected the house and view to be great from the photos I'd seen and the information Gabriele had given us, but it far surpassed what I was expecting. The panoramic view from the living room windows (and the enclosed veranda that runs along the entire front side of the house) is absolutely stunning. Also the tiles in the living room are beautiful and the kitchen has everything that I keen cook would hope for. Generally the house is just designed beautifully. The garden is huge and lovely to look down on when you're on the veranda, but most of it is quite steep so not suitable for young children. There are a couple of areas in the garden that are flat though. Also you have the big veranda and another covered open space on the lower floor near to where the BBQ is. So, if you add to this the fact that you're just above the lake and all the fun things there are to do there, then the garden being on a slope really isn't an issue as you're spoilt for beautiful outdoor space. To top all this you are a five-minute walk from a nice hotel where you can use their private beach with great views of the lake for free. Not to mention all the other brilliant places to go swimming around Lake Orta. There are also great independent food/wine shops in the village where you're staying. I couldn't recommend staying here enough. Thank you again Gabriele and we hope to be back again the future!
Sarah
2015-09-12T00:00:00Z
Gabriele's villa is everything that is great about Airbnb. Staying here is to know what it's like to have a family retreat in the lakes of Piedmont. The villa is beautiful, thanks for the efforts of Gabriele and his family in building and maintaining it. It is filled with mementos and decorations collected over generations that give it an incredible character. It is a lived in home and is stocked with most of the conveniences that you would expect in your own home. The rest you can see in the photos, which accurately capture many of the great things about the villa. Lastly, Gabriele was a wonderful and gracious host - it was a pleasure getting to know him and we wish him well.
Scott & Elise
2016-10-30T00:00:00Z
Nous avons énormément apprécié le contact personnel que nous avons eu par mail avec Gabriele, en amont de notre séjour: nous nous sommes sentis tout de suite en sympathie, avec une personne enthousiaste à partager sa passion pour sa région, et sa maison! Tout a été prévu pour que nous soyons parfaitement accueilli à notre arrivée. La maison nous a beaucoup plu et correspondait en tous points avec le descriptif : la vue sur le lac d'Orta était magnifique depuis la salle de séjour! Une maison idéale, et qui ne manquait de rien, pour notre semaine de vacances. La carte personnalisée de Gabriele, avec les localisations à retenir, nous a donné de précieuses indications, et nous a permis d'être très vite dans l'ambiance locale! Nous n'avons que des félicitations à transmettre à Gabriele et Danila: une adresse à partager !
philippe
2015-08-22T00:00:00Z
Tipus d'habitació
Casa/pis sencers
---
Tipus de propietat
Casa de camp
---
Capacitat
7
---
Dormitoris
Pettenasco, Piemonte, Itàlia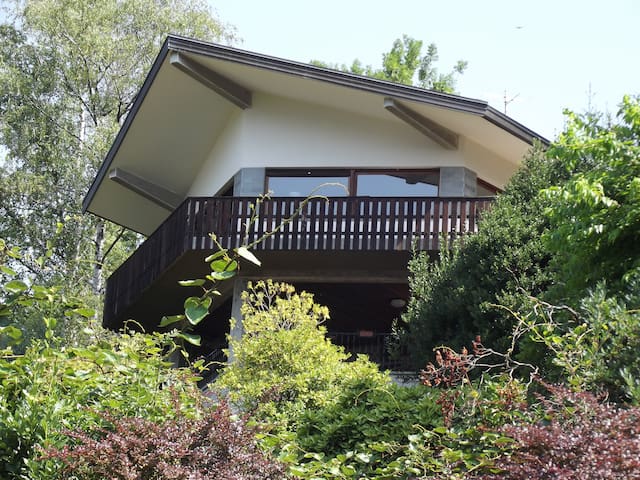 Uno spazioso bilocale a piano terra, con grande porticato e giardino per vivere una vacanza all'insegna del relax. Arredamento accurato e cucina attrezzatissima. Un luogo tranquillo, a 45 minuti da EXPO 2015, splendido per famiglie con bambini.
L'appartamento CAPRIFOGLIO si trova in una dimora settecentesca e offre l'opportunità di trascorrere una vacanza tra storia e natura in perfetto relax. La disponibilità di 6 posti letto e i grandi spazi anche esterni, lo rendono "speciale" per famiglie con bambini.
Il paese , immerso nel verde, è tranquillo e piacevole, con i suoi palazzi barocchi e i vicoli fioriti. Affacciato sullo splendido lago d'Orta, offre tutta la dolcezza del paesaggio collinare. I turisti vi possono trovare ristoranti, un maneggio ed una piscina molto attrezzata. A pochi Km le spiagge, campi da golf e le vallate alpine. E' a soli tre Km da Orta, delizioso centro antico che non si può non visitare.
Le village est très beau. Le logement est facilement accessible. Le patio est très agréable en été par les grandes chaleurs. Le logement a tous les équipements nécessaires. Donata est très aimable.Le lac d'Orta mérite la visite, c'est un endroit encore tranquille avec des vues magnifiques.
Christiane
2016-08-07T00:00:00Z
nous avons ete tres contents de l'accueil de Donata, qui a tout fait pour que nous nous sentions bien a Miasino. Il y avait meme une bouteille de Proseco et des gâteaux pour nous a notre arrivée. Le logement de Donata est calme et a beaucoup de charme (typique de cette région donnant sur une cour intérieure). En plus c'est a moins de 5 mn du lac d'Orta en voiture et c'est au départ de plusieurs chemins de randonnée. Nous avons passe une belle semaine de vacances. Merci Donata ! ! In English : we are very satisfied of the welcome of Donate who was very involved to make sure that we feel good in Miasino. There was even a bottle of Proseco and a cakes for us at our arrival. House of Donata is very quiet and charming (typical of this area with an inside patio. it is only five minutes from lake with car and a starting point from several walking ways. We spent a very nice vacation week. Thanks Donata ! !
louis-pascal
2016-08-23T00:00:00Z
What a warm and wonderful experience we had at Donata's place. We couldn't have felt more welcome; they couldn't have been more accommodating.
Thomas
2016-08-30T00:00:00Z
Op een goede locatie gelegen heerlijke plek. Appartement is van alle gemakken voorzien en de buitenruimtes zijn fantastisch. De tuin is mooi en goed onderhouden, de goede sfeer komt je tegemoet als je de deur naar de binnentuin opent. Het is fijn om dichtbij Orta en het meer te verblijven maar toch de rust en de charme van een authentiek Italiaans dorpje te ervaren. Donata en Mario zijn zeer gastvrije en lieve mensen die er alles aan doen om het hun gasten naar de zin te maken. We komen hier zeker een keer terug!! Voor wie op loopafstand heerlijk wil eten in een Italiaanse atmosfeer raden wij aan naar l'antico agnello te gaan.
Willemijn
2015-07-14T00:00:00Z
We loved our holiday at Donats house. She waited for us after midnight on arrivel and made sure that everything was fine. When she had to go to work she send her funny neighboor by to tell us all we needed to know. We loved Miasina - a wonderful old italian village and the beautyfull suroundings and we would love to come back Ciao:)
Titte Birgitte
2015-08-04T00:00:00Z
Donata hat uns sehr herzlich in ihrer wunderschönen Unterkunft empfangen. Alles war liebevoll vorbereitet. Das Appartement liegt an einem traumhaften Innenhof, der zur Entspannung einlädt. Es ist schön ausgestattet und bietet genug Platz für eine Familie. Donata und ihr Mann sind sehr hilfsbereit, herzlich und offen. Wir haben eine sehr schöne Zeit dort vor Ort erlebt und würden sehr gerne wiederkommen!!!
Caro
2015-08-09T00:00:00Z
Tipus d'habitació
Casa/pis sencers
---
Tipus de propietat
Pis
---
Capacitat
6
---
Dormitoris
Miasino, Piedmont, Itàlia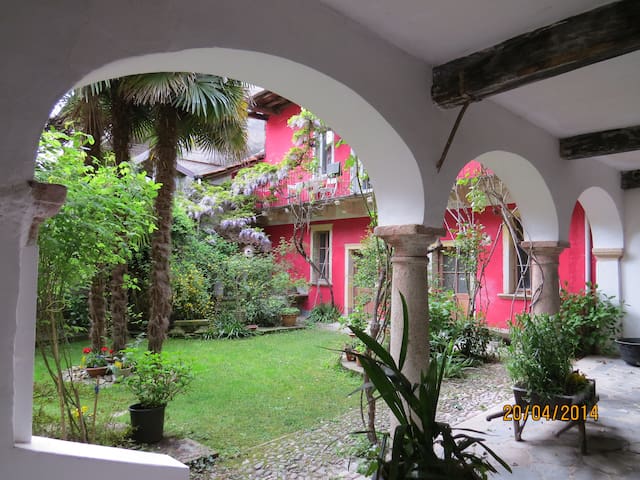 Nice apartment located in the center of Pella, just steps from the lake. Living room with kitchenette, bedroom, balcony, sofa bed for two people, bathroom, porch and private garden with barbecue Minimum stay 2 nights.
E' stato un soggiorno piacevole e rilassante.come essere a casa propria!fantasti gli spazi esterni sopratutto dietro con il giardino e il rumore del fiume!rinfrescante nelle giornate calde.grazie
Miriam
2016-06-27T00:00:00Z
Accoglienza super! Giusi ci ha fatti subito sentire più che benvenuti! La casa corrisponde esattamente all'annuncio, è pulita, funzionale, completa di tutto quanto necessario; si trova in posizione centrale, in un contesto molto tranquillo vicino a un corso d'acqua che culla dolcemente. Da consigliare vivamente per una vacanza rilassante e rigenerante in un angolo di paradiso incantevole come il lago d'Orta.
giorgia
2016-06-20T00:00:00Z
Grazie Giusi, per la bella accoglienza che ci ha riservato! Accomodante sugli orari di check-in e check-out, ci ha permesso di organizzare al meglio il nostro arrivo e ripartenza; la sua grande disponibilità ci ha permesso di ricoverare la moto nel garage riparandola dalle intemperie; insomma, non solo da lei abbiamo ritrovato l'elevato standard a cui gli host di Airbnb abituano i loro clienti, ma anche una cortesia in più che non avremmo osato sperare! Sia l'alloggio che la location corrispondevano esattamente alle descrizioni del sito: biancheria abbondante e pulita, locali curati e attrezzati di tutto. Consiglio, perciò, vivamente questa accommodation a tutti coloro che vorranno scoprire l'incantevole Lago d'Orta e i suoi dintorni perché l'appartamento si trova a qualche minuto a piedi dal lungolago e dall'imbarco del battello di linea.
Cristina
2016-05-23T00:00:00Z
Très chouette appartement, très calme et très confortable, super bien situé! Pella est un charmant village pas trop touristique et facilement accessible même sans voiture! Nous avons passé une super semaine, l'appartement a toutes les commodités, vraiment tout ce qu'il faut pour cuisiner comme chez soi, un charmant petit jardin avec terrasse abritée qui reste fraîche. Tout est très frais et très propre! Le coin est magnifique, baignades, balades, Orta et l'île San Giulio. Bref, le paradis! Merci Giusi pour ce séjour!!
Axelle
2016-07-22T00:00:00Z
Precisa la descrizione dell'alloggio. Ottima l'ubicazione nel quartiere caratterizzato da pace e assoluta tranquillità: ciò che cercavamo. Premurosa l'accoglienza, gentilissima e attenta all'ospite. Appartamento ampio e ben tenuto, mobilia molto comoda e ottima fornitura degli essenziali. Molto comoda l'ubicazione al piano terreno. Piacevolissimo il giardino interno su cui si affacciano i locali giorno, molto bello lo spazio esterno alla camera matrimoniale di fronte al ponte sul Pellino. Da raccomandare!
Sergio
2016-05-09T00:00:00Z
Really had a great time in Pella. This is a lovely village with just 2 restaurants and splendide views on Orta lake and his Isola. Giusi and Roberto were very discrète and helpful, the appartement fully fonctionnal. There was even coffee and olive oil! Really recommendable. Grazie.
Olivier
2016-09-25T00:00:00Z
Very nice appartment in the centre of Pella, only 2 mins walk from the lake. The appartment is a cool place when it is hot outside, even has a front terrace and back garden, very nice. Pella is a truly cute village, with only 2 restaurants, one bar and a crepe/ice bar. It is a very good place to further explore the neigbourhood, and Milano is only one hour away.
Loes
2014-06-13T00:00:00Z
Appartamento come da descrizione. Pulito. Ordinato. Spazioso e comodo (noi eravamo due adulti e tre bambini!). Contesto molto tranquillo, così come la zona e le vicinanze. Consigliatissimo a chi vuole staccare la spina e godere un pò di relax. Giusi ci ha accolto cordialmente, facendoci trovare degli ottimi biscotti e biancheria pulita e nuova. Grazie!
Lorenzo
2016-05-30T00:00:00Z
Tipus d'habitació
Casa/pis sencers
---
Tipus de propietat
Pis
---
Capacitat
4
---
Dormitoris
Pella, Piedmont, Itàlia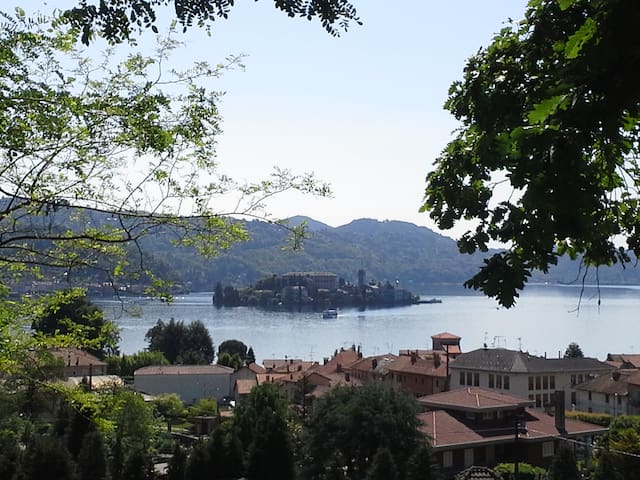 Our two-room apartment on the ground floor in villa with 1000mq of garden lakeview. The surface is about 60 m2 and is made up of: patio, garden, living room with sleeping area (double bed), kitchenette, bedroom with two beds, bathroom with shower.
In the apartment we can accommodate from 2 to 5 persons. Private parking. Free Wi-Fi. Games and swimming pool (3 meters) for children under parents control. Lake beach, with grass and gravel 500 meters away, with private parking.
Hamlet, distant 500 mt from the lake
The host canceled this reservation 6 days before arrival. This is an automated posting.
Naveed
2016-07-10T00:00:00Z
This is a very nice apartment with beautiful surroundings. The hosts are wondelful, kind and welcoming people. The apartment was spacious and clean, with a nice garden. The private beach was lovely for the warm days, with a perfect view on this beautiful lake. All in all we realy enjoyed our stay here and would love to come back some day.
Saskia
2016-09-15T00:00:00Z
Superbe séjour de 5 journées aux petits soins de Walter et Tina. Le lac d'orta est magnifique. Rien à envier à ses voisins. La maison est bien située. Tout le confort est la et Walter et Tina sont disponibles pour conseils et questions. Notre petit garçon de 2,5 ans a adoré aussi. Jeux et jardins clos et même une petite piscine. Nous reviendrons.
Sylvie
2016-05-21T00:00:00Z
Both Tina & Walter are the most welcoming hosts. Everything about the property from the beautiful garden to the flowers placed around the apartment made it feel like home. Nothing was too much trouble. Tina even arranged for me to have my hair done at her hairdresser. Who were great. From recommending where to visit to taking time to help us with our Italian the three days spent at their B&B were just wonderful. Thoroughly recommend.
Patricia
2016-06-03T00:00:00Z
Very comfortable and clean with stunning views of the lake. Friendly and helpful hosts.
Richard
2014-08-25T00:00:00Z
Tipus d'habitació
Casa/pis sencers
---
Tipus de propietat
Pis
---
Capacitat
4
---
Dormitoris
Novara, Piedmont, Itàlia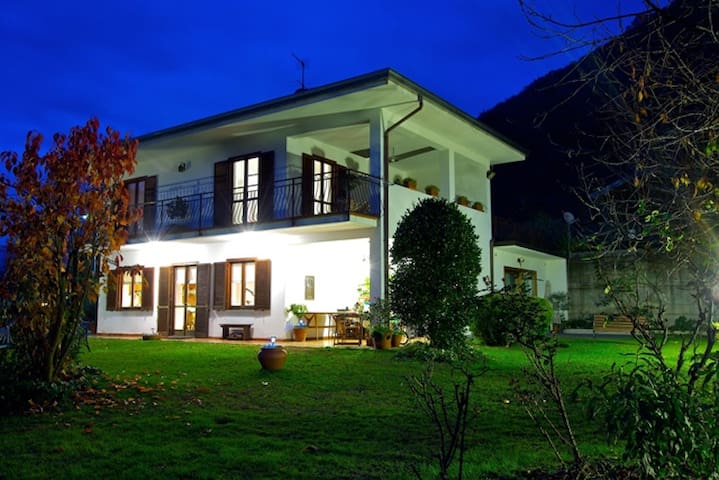 The accommodation is set in a house of 1700, completely restored, surrounded by greenery and in an eerie silence, a few steps from the sparkling blue waters of the lake. Through two ancient courtyards, it leads to the common park and private beach, magnificent in every season. Suitable for couples, families with children, who love to relax and hiking in the woods connecting the Cusio with the Sesia Valley and the Verbano. tranquil setting, with private garden for exclusive use.
Si tratta di un mini-appartamento con un grande giardino privato ed esclusivo, dove vivere in libertà gli spazi all'aperto. A disposizione la biancheria per il letto ed il bagno, cucina attrezzata, macchina per il caffè espresso, tostapane, lavatrice. Riscaldamento autonomo.
Tipus d'habitació
Casa/pis sencers
---
Tipus de propietat
Pis
---
Capacitat
4
---
Dormitoris
San Maurizio D'opaglio, Piemonte, Itàlia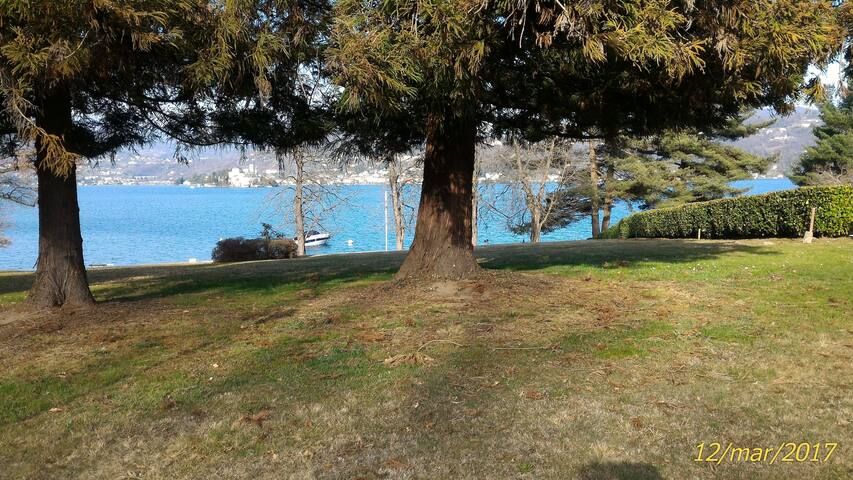 Charming holiday villa with typical Italian flavour located on the hills of Lake Orta at 3,5 km away from Orta San Giulio village. Ideal for groups and families up to 10 people for a relaxing getaway thanks to the tranquil and secluded position. Large well kept italian style garden with nice lake views and private dock and bathing area. Restaurants/ Pizzeria at walking distance.
This large villa can comfortably accomodate up to 10 people. Situated on 3 floors, you'll find 3 double rooms, 1 twin room (in the mansard), a study with a divan/single bed and another single bed comunicating with the mansard as well as 4 bathrooms with shower. You'll find a charming living room with fireplace and large French windows and a small but well equipped kitchen with an adjoining breakfast room (table for 6 people). The villa has a large, beautiful covered patio with lake view equipped with a big table and chairs for 10 people and various sofas and armchairs where you can relax and eat all toghether. There is a laundry room with a washing machine and an additional refrigerator. There is a beautiful and large garden with flowers and trees surrounding the villa. A short walk (150 meters) takes you from the garden to the private dock on the lake side (to reach the lake it's necessary to cross the coastal road that runs along the coast). The villa has free WiFi, TV - SAT and private parking.
The villa is precisely located in Crabbia, a small and quiet ancient hamlet at about 1.5 kilometres from the main village of Pettenasco, one of the pretty lakeside villages on the Lake Orta surrounded by a delightful landscape away from the mass tourism. Close to the villa you'll find a delicious local restaurant and a pizzeria within walking distance. In Pettenasco there are more restaurants available, bars, grocery stores and a supermarket.
Tipus d'habitació
Casa/pis sencers
---
Tipus de propietat
Casa de camp
---
Capacitat
10
---
Dormitoris
Crabbia, Piemonte, Itàlia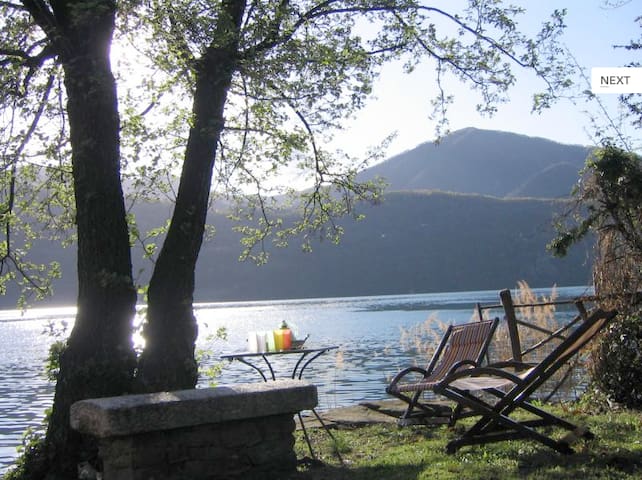 Residence situated at the edge of the historic center of Vacciago, the slopes of the hills surrounding Lake Orta, a short walk from Lake Maggiore, surrounded by a large garden, an oasis of quiet and calm, with views of the surrounding mountains.
The accommodation and 'located on the first and second floor, with direct access from the garden via a suspended walkway. It is an attic with a lovely furnished terrace with views of the surrounding mountains.
La casa è molto carina, pulita e ben attrezzata. La location è immersa nel verde, tranquillissima e vicina (avendo la macchina) al lago. I proprietari sono gentili e disponibili. Nel complesso, il posto perfetto per un weekend romantico!
Viola
2015-10-20T00:00:00Z
Tipus d'habitació
Casa/pis sencers
---
Tipus de propietat
Pis
---
Capacitat
4
---
Dormitoris
Ameno, Piemonte, Itàlia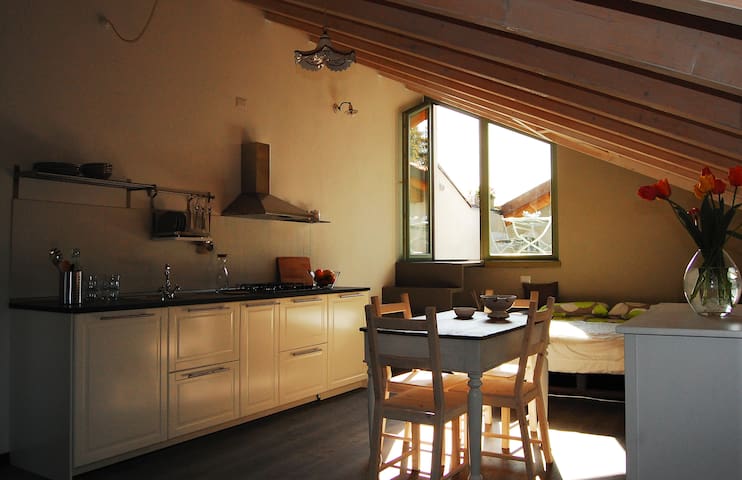 Circondato da un giardino esterno dove poter rilassarsi e leggere un libro,oppure ammirare dal proprio ampio terrazzo la natura circostante questo bed and breakfast offre ogni comfort e permette una vacanza vicina ai vari punti di interesse
Accoglienza cordiale e piacevole, ambiente pulito e gestito da persone alla mano, affabili. Forse andrebbe indicato che il civico è 1A e dato maggior risalto che c'è un ristorante annesso alla struttura perché all'arrivo non mi aspettavo una struttura "così grande". Grazie di tutto!
Andrea
2016-04-17T00:00:00Z
Merci à Filomena pour son accueil chaleureux. L'Auberge est dans un lieu très calme, un peu isolée mais c'est ce que nous cherchions.
Jeannine
2016-08-04T00:00:00Z
Tipus d'habitació
Habitació privada
---
Tipus de propietat
Bed & Breakfast
---
Capacitat
2
---
Dormitoris
Piemonte, Piemonte, Itàlia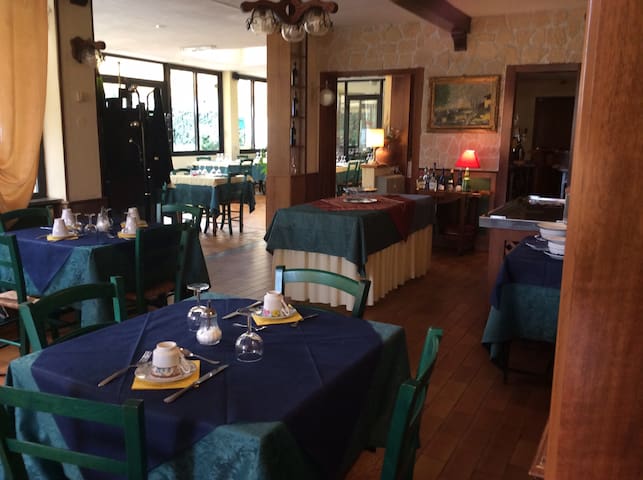 Located in Alzo di Pella, on Lake Orta, Luckylake is a wonderful apartment which offers a breathtaking view of Lake Orta and San Giulio Island. It is located 1km away from the lake and 'can walk in a few minutes through a beautiful equipped path And' the ideal choice for those who love peace, walks on foot and by bicycle, boat trips and trekking. And suitable for couples, families and lone travelers.
Tipus d'habitació
Casa/pis sencers
---
Tipus de propietat
Pis
---
Capacitat
4
---
Dormitoris
Alzo, Piemonte, Itàlia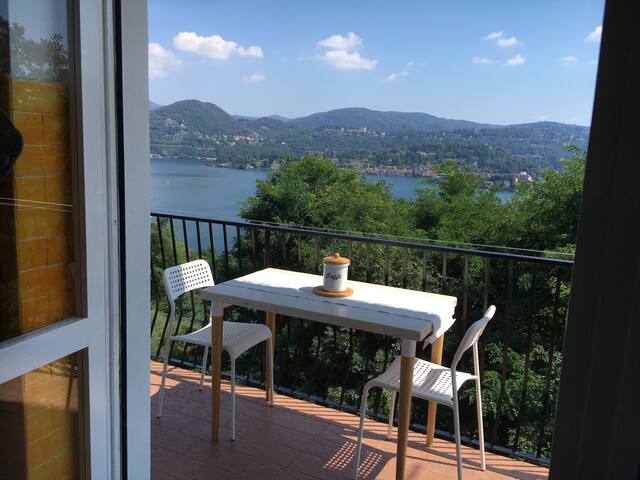 Posizione incantevole, tennis court, area privata, park, summer ext 5x3 pool with lake view. Wonderful position, private covered parking, really quite. Besides the other apartment on Airbb. 70 mq. External Spa warm water pool 4 places. TV Sat. Mountain bikes. Cats free living in the meadows:-) Home restaurant twice a week available from June 2017, only for our guests
4 posti totali+1
Unique place with an amazing view on Lake and Alps. Not in village center, so really quite and full of atmosphere. Please read also feedbacks written for other apartament. Our guests are our friends once at "le Vignole". And we hope they will be all life long...Incantevole posizione a 550 mt sul Lago d'Orta. 15.000mq di parco privato a disposizione. Several restaurants within few minutes by walk or by car.
it was just a great place with a great owner, taking care of us and we enjoy so match, we will be back
michael
2016-09-02T00:00:00Z
It was a real pleasure to stay in the charming village of Ameno, near the lake of Orta. Luca and Doria were adorable, the made us feel at home. We enjoyed the terrace, the kitchen was impeccable, and it was really nice of them to provide us with all the basics such as coffee, tea, oil and vinegar etc. Thank you again, we'll definitely try to come visit you again!
Julien
2016-09-07T00:00:00Z
Luca and his girlfriend gave us a very warm welcome. We felt home right away. One of the best welcome in Italy we had! There is a nice parking for your car. The apartment is quite large, with everything you need. Enjoying your breakfast in front of the lake on the terrasse is unique! A peaceful moment! But it's mountain, take something warm with you or you'll get a cold :P
Nicolas
2016-09-20T00:00:00Z
The host canceled this reservation 21 days before arrival. This is an automated posting.
Martine
2016-09-25T00:00:00Z
Luca and his girl friend are lovely people, friendly, caring, not commercialized (what, in my openion, becomes more and more rare in airbnb). His nice house is beautifully lying up above the clean lago d'orta near a small tiny village. Though sometimes traffic noise can be heart from a nearby street, it is peaceful and relaxing. The appartment is well sized with a terasse and a car port. But what counts most are the warmhearted hosts! So, go there and experience open-minded people in a beautiful surrounding!
Mark
2016-09-11T00:00:00Z
Ottimo fine settimana sul lago. Bellissima villa con vista sul lago, adatta per chi desidera rilassarsi nella tranquillita' e nel verde. Ci sono piaciute tanto l'accoglienza calorosa e la simpatia di Luca e Diana
Stefano
2016-09-18T00:00:00Z
Location splendida, casa pulitissima ed essenziale e padroni di casa gentillissimi disponibili e molto interessanti. Assolutamente consigliata!
Silvia
2016-09-26T00:00:00Z
This place is amazing. Luca even prepared new grip for the tennis rackets because we wanted to play tennis. The apartment is clean and really cool.
Milan
2016-08-31T00:00:00Z
Tipus d'habitació
Casa/pis sencers
---
Tipus de propietat
Pis
---
Capacitat
4
---
Dormitoris
Vacciago, Piemonte, Itàlia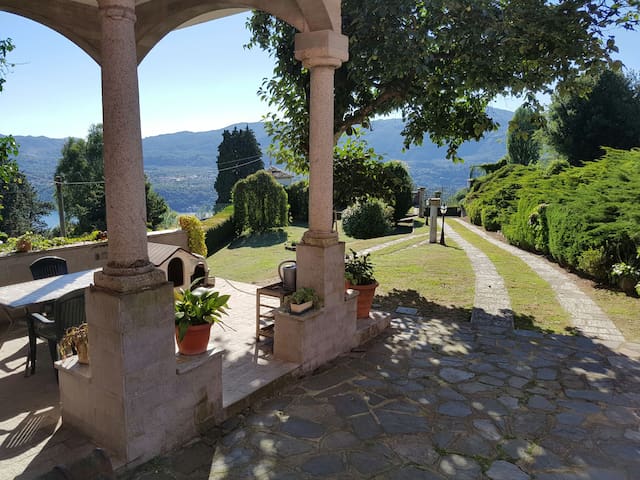 Villa, 3 storeys. Garden Lake, frescoed ceilings and private dock. Fireplace in the kitchen and living room .Terrazzo lakefront overlooking Orta.
Historic villa overlooking the lake, private dock, lakeside garden.
On the island of San Giulio there are no cars nor motorcycles nor bicycles. You can go only on foot.
Esperienza fantastica. Abbiamo potuto vivere la magia dell'isola di San Giulio in questa meravigliosa casa d'epoca. La vista sul lago dalla camera e a colazione era veramente incredibile. Una menzione speciale alla signora Eugenia che ci ha coccolato e reso il soggiorno ancora più piacevole. Un posto che non potete mancare se volete soggiornare sull'isola. Chiedete alla signora Eugenia di farvi visitare il giardino con darsena, le antiche cucine e il giardino con torretta rialzato, sarà una grande esperienza.- What a great experience. We could "taste" the magic soul of San Giulio island in this wonderful old house. The lake view from the room and during breakfast was truly amazing. A special mention to Mrs. Eugenia who pampered us and made the stay even more enjoyable. A place you can not miss if you want to stay on the island. Ask Mrs. Eugenia to let you visit the garden with private dock, the old kitchens and the garden with raised tower, it will be a great experience.
Simone
2016-06-06T00:00:00Z
Un séjour chez Eugenia est plus qu'un privilège, c'est un moment de vie inoubliable! Un voyage hors du temps, dans une île loin du bruit du monde, chez une dame d'une grande classe. Nous partons à regret, avec le souhait de revenir dès que possible dans cette merveilleuse maison de famille au coeur, au charme et à l'élégance inégalables.
Françoise
2016-06-20T00:00:00Z
Уважаемая Евгения! Спасибо огромное за гостеприимство! Солнечная, уютная вилла подарила моей семье незабываемый отпуск! Нам все было удобно. Красивая античная атмосфера и романтическое настроение). Балкон, где можно обедать, с прекрасным видом на СантДжулио. Шикарное купание в озере, удобный выход из сада к воде и для взрослых и для детей. Спасибо, надеюсь до новых встреч!
irina
2016-08-07T00:00:00Z
A true gem... Located in the heart of this small island Eugenia's home helps transport you back in time. The house is vast and full of character but very tranquil once the tourists return to the mainland in the evening. Eugenia is also a wealth of information and very helpful... Top tip: she has a boat which can be helpful if you miss the last ferry. Contact Eugenia early for tips regarding parking etc.
Alec
2016-06-26T00:00:00Z
Tipus d'habitació
Casa/pis sencers
---
Tipus de propietat
Casa de camp
---
Capacitat
9
---
Dormitoris
Orta San Giulio, Piemonte, Itàlia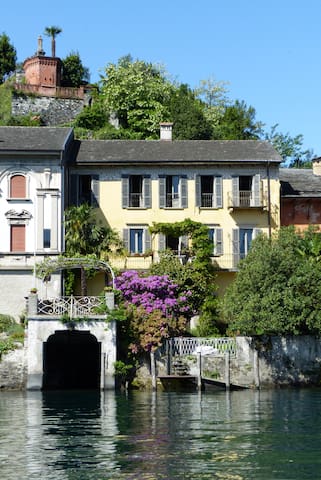 Two bedroom apartment in historical mansion overlooking shared garden. Free parking.
A cute depandance inside an historical mansion on the hills overlooking Lake Orta. Short drive away from Omegna and it's wonders. It has 2 bedrooms, 1 bathroom, fully stocked kitchen and garden with barbecue.
The apartment is located in a small house: it feels like home! It is furnished with taste and simplicity. The landlord is charming, French speaking, and very benevolent. The area is beautiful, wild and relaxing (a thousand times better than the Lago Maggiore, packed with tourists and tourist traps). We went swimming in the lake with delight, we made some lovely treks, we saw interesting places (Omegna as capital of the world for coffee pots was a surprise!), we ate tasty risotto and delicious ice creams. A great time, in conclusion.
pascal
2014-08-21T00:00:00Z
Nous avons été chaleureusement reçu par le très sympathique propriétaire du gîte, Emanuele, qui nous a donné des conseils de visite autour du lac d'Orta et du lac majeur. Le gîte est très agréable avec un espace extérieur où l'on peut se relaxer et d'où l'on aperçoit le lac. Le domaine dans lequel se trouve le gîte a beaucoup de charme, des promenades à pieds sont possibles depuis celui-ci. Nous sommes très contents de notre séjour !
pascale
2015-08-07T00:00:00Z
Ayant passé une semaine dans cette petite maison, nous retenons l'adresse et conseillons vivement ce logement. Nous nous sommes sentis privilégiés de pouvoir découvrir ce lieu, fort en âme et histoire, niché dans la montagne avec vue sur le lac Orta. C'est un pied à terre intéressant pour découvrir la région des lacs du nord de l'Italie, calme et reposant, à l'écart de la foule. Toute la famille s'est sentie bien, autant à l'intérieur du logement qu'à l'extérieur, avec un jardin immense et la possibilité de manger dehors et de faire un barbecue. Dès notre arrivée, nous avons constaté le sens de l'hospitalité des Italiens avec Emmanuel, notre hôte, très charmant.
Laura
2016-08-14T00:00:00Z
Wir verbrachten mit unseren beiden Kindern und der Oma einen herrlichen Urlaub in Guendalinas Unterkunft. Die Wohnung ist Teil eines großen Anwesens aus dem 16. Jahrhundert. Sie ist gut ausgestattet und man hat einen schönen Blick auf den Ortasee. Zum Baden ist es nicht weit, zum wandern auch nicht :-) Wir können diese Unterkunft bestens empfehlen.
Anja
2014-09-04T00:00:00Z
Our stay at Mr Tarsis' place was absolutely delightful. The house is very well equipped and nicely furnished. You can enjoy a view over the lake from the bedroom's window. Mr. Tarsis welcomed us very gently. Everything was perfect. I'll come back without hesitating.
Gregory
2016-08-21T00:00:00Z
Eine tolle, ganz spezielle Unterkunft auf dem Gelände einer historischen Villa. Wir wurden persönlich und sehr freundlich empfangen. Emanuel Tarsis, der Besitzer, kümmerte sich persönlich und umfassend um kleinere Problemchen, so dass wir voll und ganz zufrieden waren. Der Garten mit Grillplatz und Seeblick ist einfach nur traumhaft! A perfect Place to spend some relaxing time! Grazie mile Guendalina e Emanuel!
Jan
2016-07-24T00:00:00Z
Ce séjour fut parfait! Merci beaucoup pour l'accueil et la disponibilité. A bientôt dans cette magnifique région :-)
Fanny
2016-08-07T00:00:00Z
We enjoyed a wonderful and quiet/ relaxing vacation at the Historical Mansion. The house is a freestanding two-bedroom apartment with amazing views of Lago d'Orta. It has all the basic things you need for your vacation - from towels to a wine opener. The house was clean and designed with antique furniture and beatiful italian tiles - we felt instantly at home. By car we went on trips to the villages of Orta, Omegna and Gozzano and many more (all close by). Lago d'Orta is not as touristy and crowded as the bigger lakes which realy enabled us to enjoy la dolce vita. You should speak some words Italian. Bring your car if possible. Great spots to go biking with a racing- or mountainbike.
Pia
2014-07-28T00:00:00Z
Tipus d'habitació
Casa/pis sencers
---
Tipus de propietat
Pis
---
Capacitat
4
---
Dormitoris
Brolo, Piedmont, Itàlia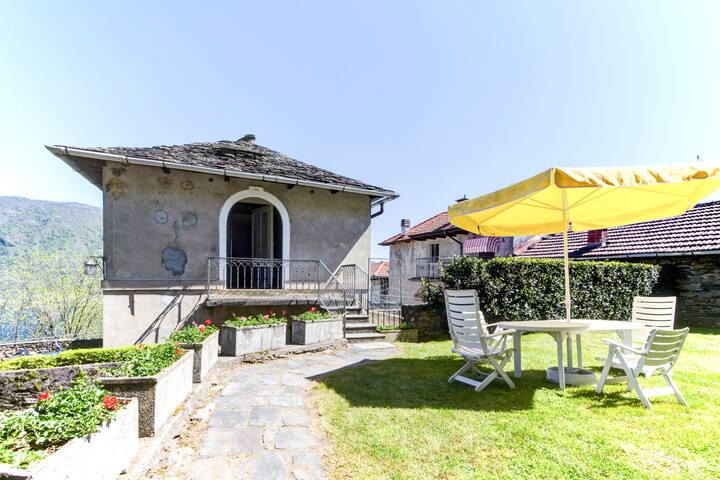 Nella regione dei laghi, uno chalet costruito nel 2003, adatto a famiglie (con/senza bambini) e amici pelosi (animali domestici), e in generale a chi ama vivere in libertà. All'esterno vi è un ampio barbecue, che insieme a tavolo, sedie e ombrellone permette di godere della vita all'aria aperta. Nella stagione estiva il lago consente di nuotare in vari punti molto panoramici, e si possono compiere direttamente dalla casa piacevoli passeggiate in sentieri pedonali ben tracciati.
La casa è su due livelli, il piano superiore è accessibile con una scala interna a chiocciola e una esterna. Al piano terreno, estremamente luminoso avendo 2 finestre, due porte finestre e un grande serramento rivolto a sud, vi sono un soggiorno con caminetto a legna (legna a disposizione degli ospiti gratuitamente) e la zona cucina con tavolo da pranzo. Il piano superiore ha una stanza da letto matrimoniale, una più piccola con due letti singoli ed un bagno spazioso
L'unicità della zona è quella di non avere fonti di inquinamento, e la presenza di un'area boscosa molto estesa garantisce una qualità dell'aria eccezionale. Il clima di lago è particolarmente indicato per le situazioni di stress e bambini nervosi, che normalmente risentono positivamente di un soggiorno.
Tipus d'habitació
Casa/pis sencers
---
Tipus de propietat
Cabana
---
Capacitat
4
---
Dormitoris
Pettenasco, Piemonte, Itàlia
Location mozzafiato, dependenche di una villa direttamente sulla sponda del lago d'Orta, con vista sulla splendida Isola di SanGiulio. Nuovissima costruzione e arredo di pregio (2015) 2 camere matrimoniali indipendenti e bagno superaccessoriato con doccia. Salotto con divano letto (1 piazza e mezza). Cucina completa con lavastoviglie e parcheggio privato in casa per 1 macchina. WIFI , tutto incluso NO TV, guardate la natura che vi circonda!
Dependance indipendente, con grandissimo fascino. Un cubo di vetro a pochi metri dall'acqua con una vista spettacolare. Giardino privato con ombrellone e sdraio + tavolo da esterno + doccia calda e fredda esterna, accesso privato all'acqua (il lago è pulitissimo e si può fare il bagno). Parcheggio interno per 1 macchina+1 esterno per un'altra. La casa è così composta, 65metri quadrati: - salotto con vista e cucina super accessoriata con divano letto 1piazza e mezza - 2 camere matrimoniali indipendenti - bagno nuovissimo con doccia Aria Condizionata in tutti gli ambienti. WIFI per gli ospiti A richiesta è possibile utilizzare il molo della Villa grande per fare il bagno e per eventualmente utilizzare una barca (non inclusa) o farsi venire a prendere dai barcaioli di orta (su richeista). BARBECUE NON PERMESSO. FESTE non Permesse. Per l'accesso al paesino d'Orta è necessaria la macchina.
Tipus d'habitació
Casa/pis sencers
---
Tipus de propietat
Casa de camp
---
Capacitat
5
---
Dormitoris
Orta San Giulio, Piemonte, Itàlia
Cozy apartment located in a characteristic village that overlooks lake Orta. It is located in a strategic position: 2 from Omegna, 10 from Orta San Giulio, 20 from Stresa, Arona and Verbania, 1.15 hour from Milan. It has a big public parking close to the house. Less than 10 minutes walking we offer a gorgeous equipped private beach, with gazebo and BBQ. Unlimited Wi-fi, bed sheets, towels included in the price. Really good service of delivering of pizza and much more, even at the private beach!
THE APARTMENT AND THE BEACH The apartment is 110 square meters and has 1 bathroom and 3 bedrooms: two double and one triple. In the living room there's a sofa bed to host the eighth person. There are also two narrow balcony with lake view. The apartment is located in a characteristic village overlooking lake Orta, with lake view and green areas, where you can spend a deserved holiday. Our guests choose our apartment because it represents an optimal price/quality ratio and it is located in a strategic position to visit the fantastic scenery of the area. There are also many panoramic trails into the mountains that surround the lake. The apartment is only 2 minutes car from Omegna, the main city where you can find all what you need: shops, restaurants, bars and so on. It is only 10 minutes car from Orta San Giulio and Sacro Monte, 20 from lake Maggiore, Stresa, Arona and Verbania, 45 from Cannobio, 50 from Malpensa Airport a 1.15 from Milan. Our guests choose us also because of the fantastic private beach, included in the price, available from April 1 to October 30: an exclusive lakeshore, reachable on walk, a plus not common to others apartments, that we offer to our guests without charging any costs. There you can relax and do lots of activities such as sunbathing, swimming, , boating, eating, snorkeling and fishing. The private lakeshore is large and it is shared with people of the other two apartments we rent on airbnb, "Borca village 1" and "The Cottage", if booked. In spring and summer our guests can join the extremely pure and warm water of lake Orta, organising barbecue with family and friends, relaxing on the many deck-chairs, beach umbrellas and the amakas. There you can find also a large led lighted gazebo, with 3 tables and seats, and a cozy led lighted wooden house in which you can find tools for the BBQ and so on! We also have a rowing boat that,on request and following the rules of the lake, can be used by our guests. In addition, there's a really good and cheap service of delivering pizzas, drinks ands many other things directly to the beach and to the apartment(URL HIDDEN)The private beach can be easily reachable on walk in two different way: 1) in 5 minutes, crossing the village and walking on the main road of the lake 2) in 8 minutes, crossing the village and walking throught a small piece of wood, avoiding the man road of the lake. You can oviously drive there beacause we a have a private parking with 1 place and on the side of the road near the lakeshore you can find many places to leave the car. In addition, from June to September, our guest can benefit from the products of our vegetable garden, next to the apartment, where you can find fresh tomatoes, salad, courgettes, rosemary and sage. The apartment has also a really close public parking and the possibility to collect motorbikes and bikes safely into the garage next to the apartment(URL HIDDEN) To be fair, in the nearby of the apartment there's a railway line that coasts the lake connecting Omegna to Orta San Giulio. Although in the weekend the traffic is much lower, during the week it can make some noise, even at night. In the overwhelming case this didn't represent a problem for our guests, as you can see in the many reviews we have. However, if you are a light sleeper, this could represent a bother. SERVICES INCLUDED IN THE PRICE -From April 1 to October 30, private exclusive access to our equipped lakeshore, reachable on walk: lighted gazebo, tables and seats, deck-chairs, beach umbrellas, amakas, equipped BBQ, wooden lighted house(URL HIDDEN) -Unlimited wi-fi without charg(URL HIDDEN)-TV with italian and International channel(URL HIDDEN) -Bed sheets, towels and kitchen cloth(URL HIDDEN) -Equipped kitche(URL HIDDEN) -Washing machine -Ventilators in the bedroom(URL HIDDEN)-Everything for the BBQ such as woods, charcoal, paper, lighter, accessory (on request, from April 1 to October 30(URL HIDDEN)-Public free parking clos(URL HIDDEN) -Private garage for motorbikes and bike(URL HIDDEN) -From June to September, fresh products from our vegetable garden
L'appartamento è situato in un paesino caratteristico dell'Italia Nord occidentale. È affacciato sul lago d'Orta e dista circa 2 km da Omegna. Nelle vicinanze è presente una linea ferroviaria, che collega tutto il litorale del lago.
Luca and his father Valerio with wife is the most warm, nice, generous and helpful people you ever can meet. They know all the area and all the real italien places and resturants nearby. You will not find a better host! The apartement is like home and you find all that you need. They have a private beach that you really will enjoy and the water is clean, soft and warm. The old village of Orta is near by and is romatic but it is in Omegna you will find a little more of genuine italy. We are already looking forward our next stay at Luca's.
Simon
2015-07-14T00:00:00Z
Luca e suo padre sono stati davvero carini con me e i miei amici. Hanno pensato ad ogni minimo particolare per rendere il nostro week end speciale. Nella spiaggia privata, nonostante fino a qualche minuto prima ci fosse stato un temporale, hanno sistemato tutto ciò che potesse servire per permetterci di usare il barbecue e farci trascorrere una splendida serata. La casa era pulita è dotata di tutto l'occorrente, sia per la persona che per la cucina. Idem nella spiaggia privata. Non potevamo chiedere di meglio. La loro disponibilità rispetto alle nostre richieste è stata massima. Grazie mille per tutto. Alla prossima.
Grazia
2016-04-11T00:00:00Z
Luca et ses parents sont des hôtes absolument charmants et nous avons été reçues avec beaucoup d'égards et de gentillesse. L'appartement est très spacieux, parfaitement équipé pour y séjourner en famille et la vue sur le lac permet de prendre des petits déjeuners très dépaysants. Nous avons passé un séjour idéal autour des lacs Orta et Majeur et nos hôtes ont pleinement contribué à cette réussite : leur aide généreuse nous a même permis d'éviter les ennuis mécaniques! Nous les remercions chaleureusement et recommandons sincèrement leur appartement avec sa plage privée!
Marie-Laurence
2015-08-10T00:00:00Z
We had a great stay at village borca. Luca and his parents were wonderful hosts and went out of their way to give us recommendations about the local area. The private beach was a nice perk and a great place to enjoy the lake.
Samantha
2015-09-13T00:00:00Z
Wij zijn een gezin met twee kinderen (10 en 14 jaar oud) en verbleven 2 weken in het grote appartement villa borca 2. Voor het eerst geboekt via airbnb dus we vonden het best spannend. Maar wat een geweldige ervaring was dit!!! Wat een lieve familie! Ze doen er alles aan om je verblijf zo aangenaam mogelijk te maken (zonder ook maar enigszins opdringerig te zijn). Antonella ging met ons mee naar een telecom winkel om een databundel voor internet aan te schaffen in Italië (12gb voor 35 euro van provider wind) omdat we graag ook buitenshuis internet wilde hebben (de wifi in het appartement is trouwens prima). Ze heeft ons direct verschillende plekken laten zien waar we boodschappen konden doen, ijsjes konden halen etc. Ook heeft ze ons geleerd hoe je een echte Italiaanse spaghetti maakt. Luca heeft onze oudste het meer in meegenomen om onderwater de grote vissen te kunnen zien. Heeft hem geleerd hoe je moet vissen en leende hem zijn hengels. Hij bestelde ook pizza's voor ons bij de pizzataxi omdat ze daar geen Engels spreken en wij geen Italiaans. Zowel in het appartement als bij het privé strand is alles wat je nodig hebt. De kamers zijn groot en ook de badkamer is van prima formaat. Alles ziet er netjes uit. De keuken is klein. Ik heb overgewicht dus dat helpt niet. Maar ik heb me er prima kunnen redden. Het privé strand is geweldig! Het water is erg helder en de watertemperatuur lag rond de 26 graden toen wij er waren. Heerlijk! Dan nog over de trein... Ja, die komt vlak langs het appartement. Onze kinderen hebben er echter totaal geen last van gehad. Wij hebben hem 's nachts een enkele keer gehoord vooral als we met de balkondeuren open sliepen. Maar gezien de prijs kwaliteit verhouding nemen we dat graag op de koop toe. We komen hier graag nog eens terug. Bedankt voor jullie gastvrijheid Antonella, Valerio en Luca!!! We zien jullie graag terug! Short english: Family, children 10 and 14, two weeks villa borca 2. Great experience! Sweet family! Make your stay pleasant (without being intrusivel). Antoinella shown us different places to do shopping, get ice cream etc. Also taught us to make Italian spaghetti. Luca took 14y.old underwater to see bigfish. Taught how to fish, lent him rods. He ordered our pizzas at pizzataxi because they don''t speak English At the apartment and beach is everything you need. Rooms and bathroom are large and neat. The kitchen is small but fine. Beach is great! The water very clear temperature was 26C. Train passes apartment. Children no problems with it at all. We heard it in night few times especially if we slept with balcony doors open. But considering the price-quality ratio, it was not a problem to us.
Clementtiene
2016-07-28T00:00:00Z
Un accueil remarquable et chaleureux! Tout est à disposition pour passer un bon séjour! Merci beaucoup!
anne
2016-09-05T00:00:00Z
Appartement spacieux et très bien équipé. Très bon emplacement pour visiter la région. Accueil sympathique et très arrangeant de Luca. Nous avons été très contents de notre séjour!
Melanie
2016-10-26T00:00:00Z
Die Wohnung ist schön, der Emfang war sehr freundlich. Ich konnte allerdings nur mit geschlossenem Fenster schlafen, die Güterzüge fahren die ganze Nacht.
Heinz
2016-06-30T00:00:00Z
Tipus d'habitació
Casa/pis sencers
---
Tipus de propietat
Pis
---
Capacitat
8
---
Dormitoris
Omegna, Piemonte, Itàlia