Starý Croft dům, hrubé-as-vnitřnosti, skryté na svahu mezi pět sester Kintail a Eilean Donan Castle. Usnout za zvuku vodopádu. Cítit teplo a vůni dřeva kouř praskající otevřeného ohně. Nachází se v blízkosti Dornie, Eilean Donan Castle a pět sester Kintail mohou hosté podnikat celodenní výlety do Applecross, Glenelg, Loch Ness a mnoho nádherných míst na ostrově Skye. Tam jsou hory spousta pro lezení a ohromující procházky a procházky, aby vyhovovaly všechny typy.
Bothy / Bɒθi / podstatné jméno (Ve Skotsku) malé chatě či chalupě, obzvláště jeden pro bydlení zemědělských dělníků nebo pro použití jako horské útočiště. Původ konec 18. stol .: nezřetelně vztahující se k irské a skotské gaelštině oba Bothan, a snad i budky. Starý Croft Dům Bothy je hrubý-as-střeva. Je to luxus, ale ne tak, jak ho známe. Žádné načechrané bílé ručníky zde. Je to šance k úniku z toho všeho a dostat zpět k základům a jednoduchost. K dispozici je vodopád tekoucí z kopce dolů za Bothy, déšť kutění na staré vlnité střeše železo, vůně dřeva kouře a letní vegetace, otevřeným ohněm, hvězdné noci. Neočekávejte, že to Bothy být jako normální B & B. Je to základní: starý Croft dům z kamenných zdí, betonové podlahy a střešních a stěnových trapézových železa, s některými nábytku v něm. To není izolována tak působí spíše jako kempování. Ale má kouzlo jeho vlastní a je na krásném místě - to je to, co dělá to zvláštní. Neexistuje žádný sprchový kout nebo vanu. Hosté si mohou pták koupel v Bothy s použitím krásnou staromódní keramické umyvadlo a džbán nebo se vykoupat v jednom z bazénů v popáleniny (stream). Šetrné k životnímu prostředí sprchový wash je zajištěno tak, že se staráme o přírodu. Citrus Orange Čistá Kastilie mýdlo, vyrobený z organických olejů, které nebudou poškozovat životní prostředí, je k dispozici. Bothy nabízí flexibilní uspořádání spaní - je manželská postel a také vratký rozkládací pohovkou. Je možné postavit stan / jurta / týpí na svahu v přední části domu. Snídaně se podává mezi 8-10am a je Bannock co by tradiční domácí chalupník je podávaný s čerstvé domácí malinovou marmeládou, pomerančový džus, čaj nebo kávu. Co přinést: - Teplé svetry, ponožky a pantofle pro večerních hodinách - Špunty do uší - silný déšť může být velmi hlasité na vlnité střeše železa - Termofor (extra útulný, kdy sedět nebo přítulný v posteli) - Waterproofs, vycházkové boty nebo holínky, pokud plánujete venkovní dobrodružství - Hořák nebo head-pochodeň - to může dostat v noci velmi tmavá v případě, že hvězdy nejsou ven - Ochranu proti slunečnímu záření a komáří odpuzující v létě
The Croft se nachází v blízkosti vesnice Dornie a na kopcích Kintail, především v místě, kde tři zátokami splňují: Loch Duich, Loch Alsh a Loch Long. Hosté si mohou zajít do malebného Eilean Donan Castle za půl hodiny a dozvědět se o historii, legendy, válek a mýty, které obklopují tyto tři jezery. Dornie, čtyřicet minut pěšky dolů starou jediné silnici stopy, přičemž ve většině krásným výhledem, má obchod, pošta, vynikající pekárnu a dvě velké Wee kavárny: jeden prodejní umělecká díla a ostatní prodejní skotské produkce. Tam je velká pivnice s lokálně ulovených mořských plodů a místních surovin. Čas od času je zde kapela hraje. Podívejte se na zámek svítí v noci na cestě domů. Hosté si mohou buď procházet zpět nebo skočit do místní taxi.
My friend and I stayed at Robin's croft house for three nights. That was a fantastic experience! Robin and her father were very hospitable, they made everything perfect during our stay. Staying there was the highlight of our highland trip, highly recommend!
lydia
2016-10-07T00:00:00Z
My stay at the Bothy was nothing less than dreamy. I so loved waking up to a bannock breakfast, tea, and a jovial host! Exploring the nearby heather-covered hills with Niall was one of my favorite experiences in Scotland thus far. Jamie the pony and William the dog were also great company. I could have stayed so many days longer, but alas, I am onto other adventures! I only wish I had a little more time to get to know Robin (as she was away for most of my stay)! Thank you for the hospitality and sharing your magical home.
Megan
2016-11-01T00:00:00Z
Thanks for letting us stay at your magical house Robin. The home made bread with marmalade for breakfast was delicious and we want to eat it every day! We enjoyed every moment of our stay and would love to come back.
Filip
2016-08-13T00:00:00Z
This is such a magical place I'm loathe to let anyone else know about it. But at the same time I want Robin and Niall to flourish,so: book this bothy for as long as you can. It's so unique. Don't come if you want fluffy towels and warm, clean hotel fare. It's magical because it's so simple and real. Log burner that you have to light to get warm, unbelievably delicious bannock breakfast served with tiny flowers and jam; a garden with the view to end all views; washing in an ice cold mountain stream; a walk up The mountain to get views over Skye and and hunt for hidden whiskey bottles.
Alistair
2016-10-12T00:00:00Z
Amazing... absolutely magical place owned by lovely people. I was made to feel so welcome and loved every moment of my stay in this special place. I went in the middle of December & still felt perfectly comfortable with layers of duvets on the bed. The views are incredible and the sound of the rain on the roof and the waterfall behind the bothy sent me into such a deep sleep. Thank you to Robin, Niall, Susan & William for such an incredible experience. I will be back!
Sam
2016-12-14T00:00:00Z
This place is a gem! We arrived at night and Robin's dad was waiting for us. He extended us a very warm welcome, then showed us around and started the fire at the fire place. Then Robin came in and gave us a tour of the place and gave us recommendations for places to eat dinner. Robin and Neal the nicest hosts I ever stayed with and very accommodating. It was a very cold night but the beddings and Blankets were warm enough for us. Dornie Hotel has a restaurant in town. They have a bar and great whiskey choices. The castle in town Eilean Dolan, was illuminated at night. Very pleasant view. This house is located on the hillside of a beautiful mountain over looking a beautiful lake. The pictures here doesn't include the Majestic view of Loch Duich down hill from here. You can see the Scottish Red Stags gazing right around the property. In the morning, we had great breakfast and had an opportunity to meet with the three horses and their pet dog, William. There is a beautiful stream originates from the mountain behind and runs right besides the property. You could hear the stream through the night. You feel like you are in the middle of the nature and fell the peace.
Simy
2016-11-25T00:00:00Z
Le cottage est situé dans un endroit absolument magnifique, à 45 minutes du village le plus proche. Vous pouvez manger au pub du village où l'accueil est sympa. Robin et son père ont été très sympa. Le petit déjeuner était excellent. Prévoyez quand même un gros pull pour la nuit, il peut faire un peu froid. Si vous descendez à pied au village pour le repas du soir vous pourrez faire des photos absolument magnifiques du loch Alch et des alentours.
Solène
2016-08-10T00:00:00Z
Nous avons été accueillis avec beaucoup de chaleur par Robin et son père. On partait très tôt le lendemain, ils nous ont préparé le petit déjeuner le soir avec une délicieuse brioche faite maison ! Après, l'endroit est très singulier, très charmant je pense un jour de beau temps, mais nous sommes arrivés un soir de pluie avec un vent de tous les diables... L'endroit est très singulier, c'est une vieille grange, la porte laisse passer les courants d'air et nous avons eu froid. Mais après, c'est une soirée que nous n'oublierons pas dans un lieu très beau et particulier !
Louise
2016-08-14T00:00:00Z
Tipus d'habitació
Casa/pis sencers
---
Tipus de propietat
Casa
---
Capacitat
2
---
Dormitoris
Dornie, Escòcia, Regne Unit
Beautiful lochside location with garden and overlooking stony beach. In a stunning location surrounded by mountains, lochs and forests. It is great for couples and families with kids. Perfect for walkers and sightseers. Ideal place to relax and unwind.
This beautiful accommodation offers 3 bedrooms. 1 bedroom is on the ground floor situated next to the bathroom. The kingsize and second double bedrooms are upstairs each with private en-suite shower rooms. All bedrooms have loch and mountain views. There is a cosy lounge with amazing loch-side views over to The Five Sisters of Kintail. There is satellite TV with a DVD player. There is also Wifi broadband. The kitchen is fully equipped including cooker, slow cooker, bread maker, fridge, freezer, dishwasher, washing machine, kettle, toaster. There is a Jason Vale juicer and Nutrabullet on request. All towels and linen are provided.
Ratagan is a small hamlet on the southwestern shore of the sea loch, Loch Duich. It has stunning views of The Five Sisters of Kintail. It is 1.5 miles to the nearest filling station/shop and 2 miles from The Kintail Lodge Hotel and Jacobites, two excellent restaurants. A perfect place to stay to explore The Highlands and The Isle of Skye. Ideal for walking, fishing, kayaking & sightseeing or just to relax and unwind. This is the Highlands of Scotland, lands of the clans and castles, home to the salmon and the stag, hills of heather and the lochs to the sea beyond. A place where the Gaelic is still spoken and the people are friendly. The postcard perfect village of Plockton. Scotland's highest waterfall, the Five Sisters of Kintail. The unsurpassed walks of Glen Shiel steeped in Jacobite history and the original ferry 'over the sea to Skye' from Glenelg to Kylerhea which still runs today during the summer months.
We had a really relaxing break at Sarah Jane's house. The location is idyllic, the view spectacular and the accommodation is first class. The location is so quiet we could take our 7 year old cycling along the loch side but it's only 15 mins from Eilean Donan Castle and a short drive to Plockton for lunch. Highly recommended.
Gordon
2016-10-21T00:00:00Z
Very nice stay in a beautiful location. Very kind hosts & always nice to know that no matter what the Scottish weather had in store there was always a hot shower & a comfortable house waiting on your return.
kevin
2016-08-15T00:00:00Z
Nagyon kellemes hely. Nagyon jó választás volt. Ha újra összejön a család, hogy kitöltsük a házat biztos újra Sarah házát választjuk. Aktív és passzív kikapcsolódásra is alkalmas a környék. Mi bejártunk nagyon sok helyet. A leírás pontos volt, Sarah nagyon kedves. Köszönjük! :)
András
2016-09-13T00:00:00Z
Sarah Jane is a lovely host and very helpful
Kalliope
2016-10-28T00:00:00Z
A really enjoyable stay in a truly lovely home in Ratagan overlooking the Loch. Sarah made all of us feel most welcome during our visit providing some great local tips.
Darius
2016-09-28T00:00:00Z
This is the most tranquil, relaxing and inviting house I have ever stayed in with Airbnb and that's not even including Sarah Jane's welcoming and attentive hosting. If you want to retreat from the world with a breathtaking view, or if you want a base from which to explore Skye and the highlands, Ratagan is the perfect spot, secluded and serene. Our favourite day was when it rained all day and we stayed in with board games and made pancakes! If you stay, be sure to visit All The Goodness on the mainland, just across the bridge from Eilean Donan castle (where they filmed Highlander!!) for incredible scones and world class coffee. I couldn't recommend staying here highly enough.
Andrew
2016-09-09T00:00:00Z
This is truly an Airbnb gem! As lovely as the photos are in the listing, the location and the accommodations are even better in person. We used this as a base to explore the Isle of Skye, and my parents raved more about the view of Loch Duich from the porch of the house than they did about any other part of our journey. Highly recommended!
Logan
2016-09-16T00:00:00Z
Our host Sarah was delightful and easy to communicate with before, during and after our stay. The house is extremely comfortable with ensuite bathrooms on main upstairs rooms and lovely large bath room downstairs. Convenient washing machine, dishwasher and large well equiped kitchen. Wonderful view of Loch Duich. Walks along the Loch in long evening glowing was delightful.
Diana
2016-09-06T00:00:00Z
Tipus d'habitació
Casa/pis sencers
---
Tipus de propietat
Casa
---
Capacitat
6
---
Dormitoris
Kyle, Wester Ross, Regne Unit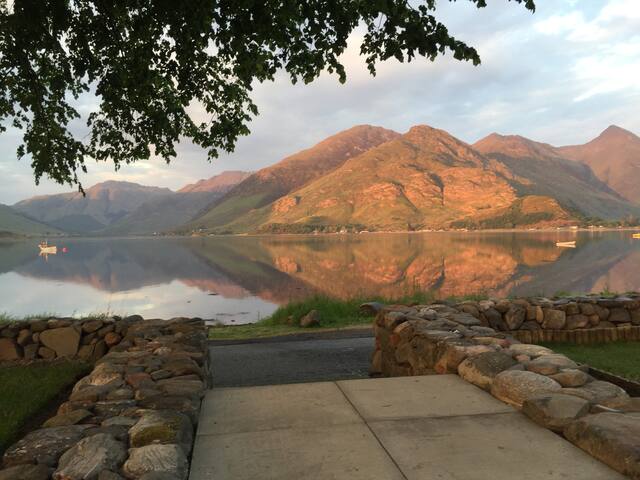 Bac na Bearn est une traditionnelle ancienne maison des Highlands appartenant à notre famille depuis 70 ans. Il est solidement construit en pierre, ardoise toit, avec chauffage central et double vitrage où il importe, chaleureux, confortable, sans chichis, détendue, et avec de nombreuses caractéristiques originales et bizarreries. Avec quatre chambres, salle de bains, cuisine, salle à manger et salles de séjour, il est une base idéale pour jusqu'à sept invités à explorer et découvrir les mers, les montagnes et la faune de cette partie unique et extrêmement belle de l'Ecosse.
Tenez-vous dans le jardin de Bac na Bearn un jour lumineux, clair et vous verrez des miles sur le Sound of Sleat, au-delà de la côte de Skye et à Eigg et au-delà, les nombreuses petites îles ombragées dans l'eau par le soleil étincelait . Ensuite, il y a le calme serein de Glenelg, le silence rompu par les huées et Skirling d'oiseaux de mer, par les éclaboussures d'un poisson, une loutre ou un sceau, ou Scutter d'un animal - un martre au crépuscule, peut-être - à travers le Bracken, par le salut amical d'un étranger qui passe sur la route - mais jamais par bruit du trafic ou razored par des sirènes. À l'occasion, bien sûr, le vent battant le son peut piquer la pluie horizontalement dans votre visage. Être dans une tempête Highland, cependant, est formidablement différent de la misère détrempée de pluie dans la ville. Ici vous avez senteurs de myrte des marais et de bruyère, tourbe humide et les embruns, les algues et spume, aromathérapie naturel vous apporter pleinement en vie tout en calmant et vous détendre aussi. Vous aurez envie, puis, une deuxième maison, un endroit pour revenir en haussant les épaules de votre veste de pluie au sol que vous entrez, vos bottes dégringolé dans l'arrière-cuisine, rembourrage grâce à une boisson chaude à la chaleur à double vitrage de la salon pour regarder la mer et le vent en faisant valoir sur les chevaux blancs qui se précipitent ci-dessous. Bac na Bearn est une maison traditionnelle ancienne Highland. Il est situé sur la colline juste au-dessus de l'église et entre Kirkton, petit village principal de Glenelg avec son animée Inn, salle de village, magasin bien achalandé et le bureau de poste, et la carrière, le hameau au sud enfilées le long de la plage de la jetée, la maison à quelques centaines de mètres de chacun. Il est un ancien presbytère, une maison de vacances en famille, pierre solidement construit, ardoise toit, chaleureux, confortable, sans chichis et détendue. Il conserve de nombreuses caractéristiques originales et bizarreries. Il y a une vieille caravane désaffectée dans le jardin. Il y a irrégularité dans le rez-de-salle à manger qui a besoin d'attention. Un couple de tapis sont un peu usés et des besoins de peinture à l'extérieur refaisant. C'est une maison d'habitation, bien que, confortablement une partie de son paysage naturel. Pas parfait, mais qui l'est? Donc, si vous voulez un endroit sain et sécuritaire, chaleureux et accueillant, avec chauffage central efficace, sans chichis mais bien équipée, un endroit où vous pourrez vous détendre, où vous pourrez vous détendre après une journée énergisant sur les collines ou la mer, Bac na Bearn devrait vous convenir bien . La seule salle de bain lambrissé a une longue baignoire sur haut en fonte Edwardian profonde avec un bouchon en chrome breveté où vous pourrez prendre un bain et il y a beaucoup de nouvelles couettes chaudes, des oreillers et des matelas confortables pour tout le monde, un lit trop si vous en avez besoin . Et parce que la maison complète son emplacement Highland, il est un excellent point de départ pour explorer et de découvrir les mers, les montagnes et la faune de cette région hôtesse unique et magnifique, les Highlands nord-ouest de l'Ecosse.
Glenelg est une communauté clairsemée comprenant Glen Mhor ( « grande vallée », la route sur mam Ratagan et jusqu'à près de la mer) et Glen Beag ( « petite vallée ») est entré à Eileannreach au début de la continuation de la route principale menant à Arnisdale et Corran sur le Loch Hourn où est il y a un Munro avec un autre à proximité. Il y a de l'eau, des collines et beaucoup de marins, la faune terrestre et aérien à voir et à explorer et beaucoup d'informations dans la maison sur ce qu'il faut voir et où aller. Alors, il suffit de demander! Kirkton est le principal village et dispose d'un magasin, un bureau de poste (Mo, Tu et le matin Th ouverture), un vif Inn avec de la bonne nourriture et souvent avec de la musique en direct, une école, la chirurgie et la salle de village avec un café et où ceilidhs et d'autres événements prend place. Il y a beaucoup plus de choses dans les deux Glen Beag et Arnisdale et il est donc conseillé de vérifier les brochures et me demander ou d'autres que vous rencontrez.
Tipus d'habitació
Casa/pis sencers
---
Tipus de propietat
Casa de vacances
---
Capacitat
7
---
Dormitoris
Glenelg, Escòcia, Regne Unit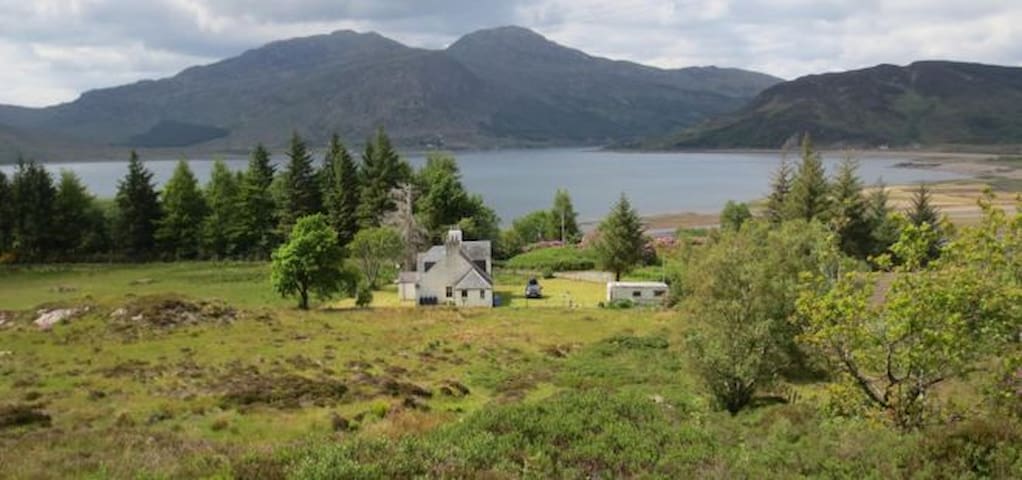 Das Haus ist warm, bequem, eine Oase am Ende des direkt am Ufer gelegen Straße, zentral zu den besten der West Highlands, in der Nähe von Eilean Donan Castle, Dornie, Kintail Plockton, Glenelg, Applecross Isle of Skye, Loch Ness . Die Landschaft ist wild und spektakulär. Dieser Bereich ist einer der schönsten Orte der Welt! fantastische Wanderungen, Aufstiege, Tierwelt, Meeresfrüchte, Bäckerei, Schlösser & brochs! Otters & Herons am Ufer neben Hütte und klare Sternennächte sind unvergesslich .....
Camuslongart Cottage, eine schöne, frei stehende Steinhaus am Ufer des Loch Long. Von der großen Sonnen-Lounge gibt es einen atemberaubenden Blick über den See auf die Berge von Kintail Sie das Wetter sitzen und beobachten können rollen & Blick Eilean Donan (URL HIDDEN) Ebbe Sie die otters.The innere Lounge vor Ort kann, ist eine gemütliche Höhle mit ein Holzofen und Steinmauern. Im Erdgeschoss Schlafzimmer mit Bett und Schlitten im Erdgeschoss Badezimmer mit Badewanne und Handbrause Im Obergeschoss verfügt über Doppelzimmer, große Messingbett, Blick auf das Loch und Einzelbettzimmer über (URL HIDDEN) Kinderbett Dieses Haus kann auch mit Heron Cottage zur Verfügung. Warnung an die Eltern oder Erziehungsberechtigte von Kindern gibt es einen direkten Zugang vom Garten zum See.
Das Haus ist von zentraler Bedeutung für den besten der Landschaft West Highland alle innerhalb von 30 Minuten Camuslongart ist perfekt für Visting Isle of Skye Kintail, Glenelg, Applecross, Attadale und Plockton, viele eine sehr gute Kritiken, Bücher und Tipps in Hütte wählen zu helfen, wo man essen und zu besuchen,
Zoe's place has a stunning location, overlooking a sea loch. The cottage was warm and cosy, perfect for my purposes: some writing (the sun room with the marvellous view is perfect for this) and getting out and about. The bed was comfortable, the kitchen had everything I needed. A perfect choice for a short break.
Annie
2017-03-04T00:00:00Z
Superbe cottage au bord du Loch Long à Dornie. Très bonne base de départ pour visiter les highlands et tout particulièrement l'Île de Skye. Le printemps semble être une très bonne période pour visiter l' Ecosse (belles couleurs, peu de monde). Nous reviendrons :) Nous recommandons cet airbnb.
Julie
2017-03-18T00:00:00Z
We chose Camuslongart Cottage for the location, right on the shores of Loch Long, and a walk away from stunning Eilean Donan. The cottage was easy to find, Zoe made us feel very welcome, with all the essentials required for a cosy and comfortable stay, including a wood burning stove. The Applecross peninsular is easily accessible, and so we adventured to Cuaig beach, dramatic Sand, headed down via the Beaclach na ba, and to Coral beach at Plockton. We hope to return soon for a longer stay as there are so many beautiful and secluded places to explore nearby. We even had glorious sunshine! Highly recommend this lovely retreat!
Alex
2017-02-13T00:00:00Z
My parents have just returned from a couple of days here as a gift for their 25th wedding anniversary from myself. They said they have had a fantastic time despite the bad weather. The highlight for them was sitting in the porch and watching the otters in the water. They said zoe was and superb host very attentive and friendly.
Laura
2017-04-12T00:00:00Z
Just back from a great couple of days here. The setting is amazing, the cottage lovely and the little touches that Zoe does, makes you feel so at home and welcome. The scenery, wildlife and even got to watch two otters while we had breakfast this morning. A dive outside the cottage just before dark was a great way to end a great day and have the perfect excuse for a glass of wine in front of the log burner. After tea in the well equipped kitchen there was time for a stroll to the local pub under an amazing star filled sky and past the beautiful Eilean Donan castle. Will def be back in the near future.
Roddy
2017-01-22T00:00:00Z
The cottage is wonderful at the water's edge. You have a nice view to the castle. There is a working fireplace. Zoé is welcoming, I recommend !
Joseph
2017-01-29T00:00:00Z
A cosy cottage getaway. Views of the loch are unforgettable. The proximity to Eilean Donan Castle is why we decided to stay here, but it's a short drive to Skye as well. Zoe is a great host. Quick communication and very hospitable. Great value.
robyn
2017-03-31T00:00:00Z
A cozy, lovely and peaceful cottage to stay in Dornie if you are planing to visit the Isle of Skye area. The cottage is walking distance from the Eilean Donan Castle. Zoe is a wonderful host and the cottage is very comfortable, clean and very well equipped. Thank you !!
maria
2017-04-10T00:00:00Z
Tipus d'habitació
Casa/pis sencers
---
Tipus de propietat
Casa
---
Capacitat
4
---
Dormitoris
Dornie, Escòcia, Regne Unit
The Saddle is een op zichzelf staand annex opvang van twee gasten. Onlangs gerenoveerd, het is perfect gelegen aan de oevers van Loch Duich voor gasten die willen een rustige vakantie of om te genieten van out-door activiteiten, zoals bergwandelen, sight seeing of dieren in het wild te spotten.
De Saddle biedt exclusieve privacy voor de gasten in een vrijstaand gebouw. De accommodatie biedt alles wat je nodig hebt voor een self-catering vakantie met een aparte keuken en een woonkamer met een eethoek. Vanuit het comfort van de woonkamer kunt u het gebied van wilde dieren te kijken - regelmatig gespot zijn reigers, bruinvissen, zeehonden en otters. In de wijde omgeving kunt u ook ter plaatse Golden and Sea Eagles, herten en een verscheidenheid aan andere gemeenschappelijke Schotse wilde dieren.
The Saddle is letterlijk een steenworp afstand van de kust en heeft direct toegang tot het kiezelstrand. Populaire toeristische plekken in de buurt van het terrein zijn Eilean Donan Castle, The Falls van Glomach, de Pictish Brochs at Glenelg en vele heuvels en tracks geschikt voor wandelaars en klimmers. De dorpen van Kyle en Plockton zijn ongeveer 20 mijl afstand.
Tipus d'habitació
Casa/pis sencers
---
Tipus de propietat
Casa
---
Capacitat
2
---
Dormitoris
Glenshiel, Escòcia, Regne Unit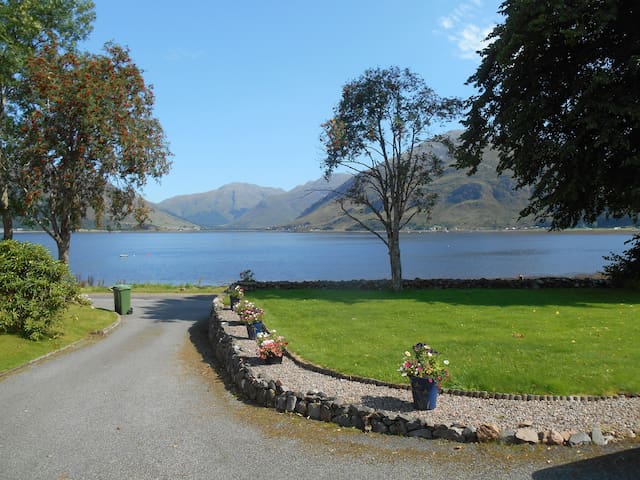 My place is messy with ongoing work and repairs but outside are great views and walks by mountains and water; Loch Duich, the Five Sisters of Kintail mountain range and Eilean Donan Castle with the Cuillins of the Isle of Skye behind. A vehicle filling station and a shop with food and alcohol, open daily, and a bus stop are just along the road, A87. There are many sightseeing and photography opportunities..
The original downstairs part of the little cottage is a traditional dwelling hundreds of years old with thick stone walls and small rooms. Upstairs where the guest rooms are is more spacious and modern (only 70 yrs old!!) The beds are modern and said to be comfortable but other furnishings are old or reproduction and have been described as 'Shabby-chic'. Rust stains and worn patches are evident.
The scenery immediately outside is lovely. There are many walks with great views, mountains to climb, Castles to see, including one built for a lady magician, 2000 years ago. The scenery is similar to the nearest part of the Isle of Skye which can be seen from the hill above the house.
Passé le côté exigu et encombré de la maison, Mhairi est très accueillante et chaleureuse.
Hervine
2017-02-19T00:00:00Z
As mentioned by other reviewers there is lot of stuff everywhere in the house. Bedrooms and bathroom are not at their best. However, the beds are comfortable and we managed to get a good night sleep. On the bright side, Mhairi is a very nice lady, greeted us on our arrival, helped us with everything we wanted. She gave access to her kitchen and also cooked delicious breakfast. The location is excellent, however, had a bit of trouble with the passing vehicle noise (settled by night time). If you are a little picky about cleanliness, this may not be the place for you. Not bad for the price we paid.
Sreeram
2016-08-29T00:00:00Z
We hebben geboekt op basis van de advertentie voor één nacht. Bij aankomst begrepen we waarom er geen foto's (behalve eentje die we als locatie in de werkelijkheid niet terugvonden) bij de advertentie geplaatst waren. Het zag er erg onverzorgd uit. Heel erg rommelig zowel binnen als buiten de woning. Alle kamers / overloop stonden tjok en tjokvol met allerlei spullen. ook de kamer waar we sliepen zag er niet bijzonder aantrekkelijk uit. Als we dit vooraf geweten hadden hadden we niet geboekt. Per abuis hadden we blijkbaar voor 4 personen geboekt. De verhuurster kwam hier zelf mee en gaf uit eigen beweging 25 GBP terug wat achteraf eigenlijk 32 GBP had moeten zijn. Positieve punten tijdens ons verblijf zijn er zeker ook. Mevrouw heeft er alles aan gedaan om het ons zo goed mogelijk naar de zin te maken. Met name het ontbijt s morgens waar ze erg zorgzaam was en meerdere malen vroeg of alles naar wens was. Bij aankomst in de (ook weer tjokvolle eetkamer) maakte ze zelfs voor de gezelligheid de open haard aan. (echt hout) wat voor de kou zeker niet hoefde omdat de temperatuur sowieso al behaaglijk was. Resumerend. Indien je houd van een enigszins nette omgeving, ruimtes zoals slaap en badkamer is dit zeker geen aanrader. Wel wat betreft de zorgen en uitstraling van de verhuurster. Die was TOP.
Marcel
2016-08-22T00:00:00Z
Accueil très chaleureux de Mhairi qui nous a conseillé de beaux lieux à visiter.
Sophie
2016-08-26T00:00:00Z
It was a wonderful stay! Wonderful breakfast prepared by our guest. She was lovely! Beautiful scenery to wake up to.
Sylwia
2017-04-07T00:00:00Z
Mary was lovely and provided us with all the information we needed to explore the area. Breakfast was great. It's definitely a budget BnB and Mary is quite open about it's cragginess. It's an old cottage and could use a few upgrades but the sheets were clean so we were fine. However, would not recommend for anyone who's a bit fussy about tidiness.
Kim
2016-10-09T00:00:00Z
Cozy and warm rooms, full of shelves which diversity inspired an interesting literature discussion during the 4-course breakfast. Definitely an experience to remember.
Iván
2017-04-12T00:00:00Z
Staying here was actually a bit challenging. A lot of stuff everywhere and a feeling of unsanitary. The house is old and cozy but things everywhere. My travel companions slept really well but I decided to sleep on the floor due to some circumstances. The host tho is extremely nice and makes a lovely breakfast. She sat down with us in the morning and we had a great chat.
Annika
2016-11-12T00:00:00Z
Tipus d'habitació
Habitació privada
---
Tipus de propietat
Casa
---
Capacitat
4
---
Dormitoris
Inverinate, Escòcia, Regne Unit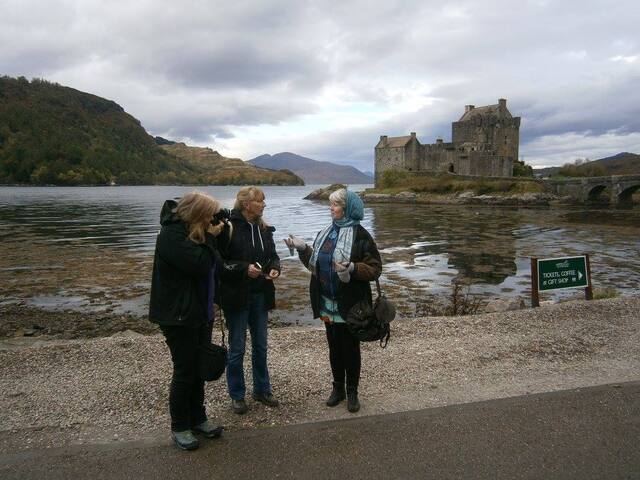 Un moderne, lumineux et aéré, bien équipée caravane statique dans le plus bel emplacement dans les Highlands d'Ecosse. Entouré par des montagnes avec une vue incroyable, la paix et la tranquillité. Point de départ idéal pour visiter les Highlands Ouest, la randonnée et l'île de Skye. Séjour minimum de 3 nuits. Bienvenue à tous
Moyle est situé à quelques miles de village Glenelg où il y a une petite boutique, un pub local et Skye Ferry.
Tipus d'habitació
Casa/pis sencers
---
Tipus de propietat
Casa de vacances
---
Capacitat
6
---
Dormitoris
Glenelg, Escòcia, Regne Unit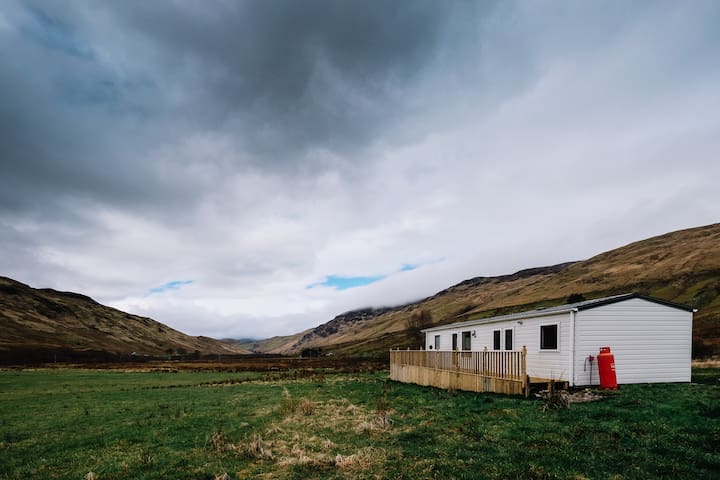 región de Skye / Lochalsh. A 500 metros del castillo de Eilean Donan 9 millas Isla de Skye y Plockton, aldeas National Trust. Todas las tierras altas del noroeste de fácil acceso desde esta ubicación central. Gran excursiones a pie / mar / castillos / vida salvaje. Relajarse, disfrutar / descubrir
Situado frente al mar de pueblo de las Highlands dornie, su ala autónomo es encantador en todos los way.Private aparcamiento para guests.Private jardín del mar para su uso exclusivo. A 500 metros del castillo de Eilean Donan. En una posición ideal para excursiones fáciles a Skye, Applecross, Torridon, Loch Ness.Walk, descubre, relajarse y disfrutar de un momento feliz y cómodo en las tierras altas.
Dornie es un pueblo tan bonito de la montaña con un hotel y pub escocés, ambos sirven excelentes comidas, castillo de Eilean Donan a sólo 500 metros, no ir en el crepúsculo, cuando los focos vienen música on.Local se palyed en el Clachan viajes pub (URL HIDDEN) pie / pesca y la exploración de todos a mano. 9 millas del famoso pueblo de Plockton con sus palmeras. 8 millas de la isla de Skye.
Louise was very welcoming and friendly. We really enjoyed staying in her lovely home. The outside garden by the river was perfect and she went the extra mile by offering homemade local bread, scones and shortbread.
Steve
2014-09-12T00:00:00Z
Louise is by far the best host we've ever met! She personally made sure that our stay was absolutely comfortable and we thank her for that! She is very to share with us her recommendations which made our experience in the Isle even more memorable. And not forgetting to mention her 2 beautiful dogs Rory and Fraoch (i hope i got their names right). Definitely recommend to anybody traveling to the Highlands
Song Jie
2015-10-09T00:00:00Z
We had wonderful 3 days stay as Louise´s guests in her stunning apartment. The location of the apartment was great near the Isle of Skye and close to the Eilean Donan Castle. The apartment was well equipped with all possible machines one might need in hiking trip in Highlands. The kids loved the beds and gear Louise had reserved for us, e.g. the fish nets. We can highly recommend this place.
Susanna
2014-07-18T00:00:00Z
We had a really great time at Tigh Tasgaidh. Louise was a very welcoming, friendly host, providing helpful advice on where to walk in the area. The apartment is beautifully furnished and a perfect base for trips to Skye and the Highlands. I thoroughly recommend a stay!
Paul
2016-05-03T00:00:00Z
Wonderful self-contained apartment in Louise's lovely home, furnished with antiques and interesting artworks. Louise is a wonderful host and could not do enough to make our brief stay enjoyable. We have stayed in many Airbnb places, and this was one of our best expriences- highly recommended!
Peter
2017-04-08T00:00:00Z
Incredible location & great host! We'll be back for sure :)
Till
2014-10-12T00:00:00Z
We were lucky enough to spend 6 nights at this beautiful home overlooking the loch in picturesque Dornie. Our delightful and very caring host, Louise, was very knowledgeable on everything available in the area from day excursions, fishing or hiking to the best places to eat. Her attention to detail made our stay so comfortable that we didn't want to leave this haven. We can highly recommend this wonderful accommodation hosted by a very generous lady. Thank you.
Celia
2014-06-27T00:00:00Z
WoW!! What an amazing time we had staying with Louise at her beautiful house in Dornie. I know it's a cliche but Louise really was the perfect host. From all the useful information she shared with us to the many items she lent us, including binoculars, flasks and slippers (!!) she couldn't do enough for us. The house itself was exactly as described and the view across to the mountains was very pretty (when we could see them past the mist!) We didn't arrive at the house till 7pm after a 7 hour journey so it was a more than welcome sight to see that Louise had left us some home baked goodies, fresh bread and a lovely bottle of red. She had also set the kitchen table ready for breakfast the next day. The location itself was excellent for exploring the Isle of Skye and the beautiful mountainous region that Dornie is set in. It was also great to take a short walk to the famous Eilean Donan castle at different times of the day to catch it in different lights - a photographer's paradise! Finally, I would like to commend Louise for getting back to all the questions I had for her before we left. Her responses were very detailed and you can tell she wants you to enjoy staying there as much as she does!! Would definitely go back there :)
Caroline
2015-04-04T00:00:00Z
Tipus d'habitació
Casa/pis sencers
---
Tipus de propietat
Pis
---
Capacitat
4
---
Dormitoris
Dornie, Regne Unit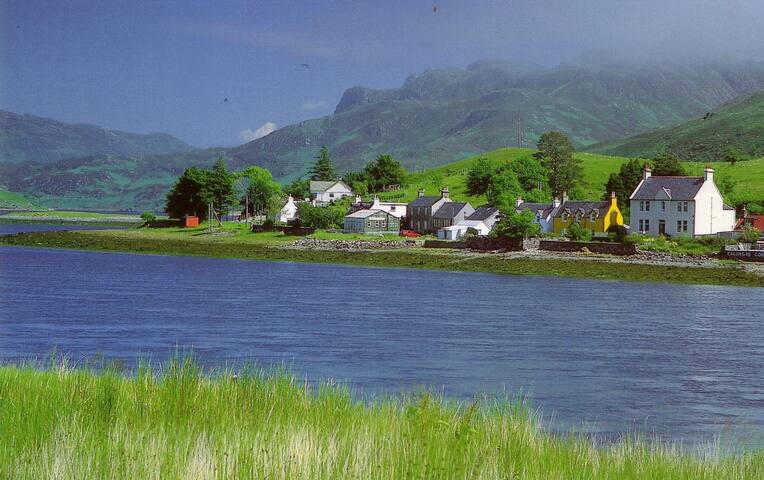 Set on our 17 acre holding on the shores of Lochcarron, near the pretty village of Plockton our cottages sit on our private beach which has a coral strand over which you can walk at low tides to get to the Heron sanctuary island. We keep racoons, llamas, donkeys, goats, sheep, hens, ducks, owls etc and have otters on the beach and many birds to watch and photograph. Perfect place to relax. A pine marten often comes to the window in the evenings for treats. Large part sleeps 4 + 2, small part 2.
If you let us know time of arrival we will meet you and show you in to our cottage which is electrically heated as well as having a wood burning stove, The heaters will be on when you arrive. The local village is two miles away and has great food in two pubs, a restaurant and a takeaway. Walking around the farm with a bag of food, you can feed the animals and, on the beach, watch out for otters, herons and other shore birds. A pine marten may visit your cottage in the evenings for treats. We have a video of pine marten feeding on the back window sill of this cottage taken recently by a guest.
Our farm has one of the most stunning views we know. There is an island which is a heron sanctuary, a coral strand and a grassy beach in front of the cottage. The railway line which runs from Inverness to Kyle of Lochalsh three times a days just beside the cottage and you have to cross over the line to get to it. The other side of the loch looks so close and the Applecross hill are behind them with the pass of the cattle, the Beallach, being the highest paved road in Britain winding up the hill. The pub there does fantastic food all day and keeps winning the 'best pub in Britain' awards. Great food can also be found in Plockton, 2 miles away, in two pubs and a takeaway and a lovely seafood restaurant. Kyle has both and Indian and Chinese takeaway.
We spent 3 nights at this lovely place. Patti was very nice and helpful. This little cottage has everything what we needed. Beautiful surrounding, quiet, peaceful, that was exactly what I wanted. If you want to spend some time far from the crowd that's the place you need.
Gabriella
2016-07-23T00:00:00Z
The setting was even prettier than the photos and description made it sound. It was so idyllic looking that I was prepared to be disappointed, but nothing could be further from the truth.
eric
2016-09-29T00:00:00Z
We had an issue with the shower as the fuses went out and Patti immediately after we told her fixed them. The location is great for Skye and the views from the cottage itself phenomenal. If you are lucky enough you might get some amazing wildlife sightings from the cottage itself (besides you have plenty of farm animals to enjoy!)
Marco
2016-08-21T00:00:00Z
The cottage was great, it has a lot of character and is really tranquil with amazing views. Patti and Terri were really friendly hosts and made the cottage warm and welcoming with some nice personal touches which was appreciated. The cottage is cosy and warm once you have the fire going (thanks to the logs/coal from Patti) and has everything you need to chill out (no mobile or tv reception just a radio). The cottage is at the foot of the hill and the track is rough but ok to drive and then you must carry things 50 yards to the cottage. Really enjoyed the cottage and hope to come back again.
Euan
2016-12-27T00:00:00Z
Absolutely incredible place. A lovely and homey cottage, with the perfect space to run away from anyone's busy lifestyle. Only a couple of meters from the shore, with stunning views of Loch Carron and the surrounding hills, even when Scottish rain makes the day miserable! Pattie was a wonderful host, and runs the lovely rare breeds farm- raccoons are our new favourite animals now. Will definitely be returning in the near future, can only recommend!!
Aaliyah
2017-01-02T00:00:00Z
Cute, wee cottage. Beautiful view. Patti was very helpful, worth listening to her recommendations!
Stuart
2017-02-18T00:00:00Z
Beautiful cottage with an amazing view. Much better than promised by the pictures. We enjoyed sitting by the fire in the evenings, looking out of the windows or feeding the animals. Definitely recommend the place and hope to come back.
Jan
2017-01-08T00:00:00Z
The host canceled this reservation 3 days before arrival. This is an automated posting.
Nicki
2017-04-05T00:00:00Z
Tipus d'habitació
Casa/pis sencers
---
Tipus de propietat
Casa
---
Capacitat
2
---
Dormitoris
Plockton, Regne Unit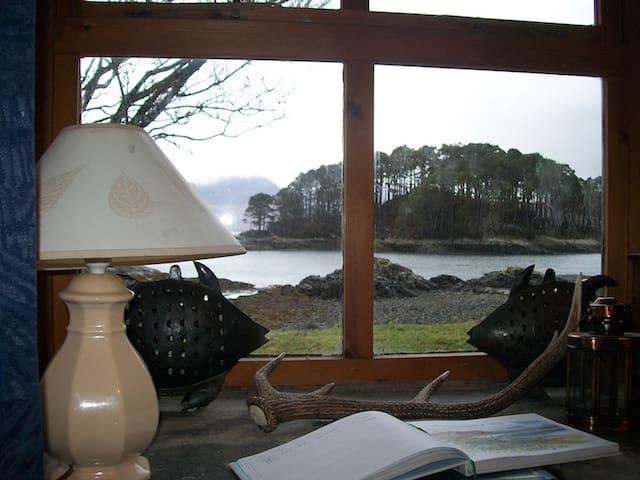 Ein geräumiges Schlafzimmer mit eigenem Bad, direkt am Wasser, mit fantastischem Blick in Richtung Isle of Skye. Vorgarten mit Sitzgelegenheiten, 5 Minuten zu Fuß von Eilean Donan Castle und Dorfkneipen. Gute zentrale Basis Skye, Plockton & Wester Ross zu erkunden.
Die große und geräumige Schlafzimmer verfügt über ein bequemes Kingsize-Bett, gratis WiFi, Fernseher mit integriertem DVD-Player, Willkommenstablett und einen schönen Blick über das Wasser. Privates Badezimmer ist groß, mit sehr guten Dusche, Badewanne und wieder eine schöne Aussicht, wie Sie Ihre Zähne putzen!
Schön, dass Sie an dem Schloss am Abend nach dem Essen oder auf dem lokalen Hügel für einen atemberaubenden Blick auf Lochalsh und Skye Brücke, die in nur 10 Minuten mit dem Auto entfernt, in einer Richtung und fünf Schwestern Berge in den anderen gehen kann Richtung - schöne Sonnenuntergänge gänge~~POS=HEADCOMP!
Jennifer was a great host! Not only was the location perfect, but the room was exceptionally comfortable and clean. Breakfast was yummy, Too! One of our best visits by far!
Kim
2016-09-03T00:00:00Z
SUCH a delightful stay. You can walk almost anywhere in Dornie from this house, and we were treated to the best breakfast we've had in Scotland. I can't wait to come back.
Will
2016-08-01T00:00:00Z
Wonderful location and Jennifer was so kind and wonderful to stay with. I highly recommend this place!
Jessica
2016-09-27T00:00:00Z
Wonderful hospitality. A very helpful and engaging host,plus a beautiful vista from our bedroom windows.
Alan
2016-08-27T00:00:00Z
It was an absolute pleasure to be hosted by Jennifer. She was super flexible and helpful despite the short notice of our booking (we booked the day before). Algonquin is very easy to find and the guests room overlooks the Highlands near Dornie (the castle is only a few minute walk away) and the Isle of Skye so it's a great location for anyone visiting the area. Both the double room and private bathroom were perfectly clean and tidy. In the morning, Jennifer treated me and my boyfriend to the most delicious and varied breakfast that kept us going for the whole morning and beyond (fresh fruit, homemade muffins, cereal, cheese, homemade jams, toast and fresh coffee!). Definitely recommend Algonquin to anyone visiting this portion of the Scotting Highlands! Ps. Her homemade freshly-baked muffins are just superb!!!
Giulia
2016-03-23T00:00:00Z
Jennifer has a really lovely house. The bedroom and the private bathroom we're really nice and clean. You have a wonderful view on loch long and the mountains from the window The breakfast was extraordinarily good with a great variety. Jennifer was such a wonderful host! We would definitely come again.
Marc
2016-07-06T00:00:00Z
Great little cottage for a brief overnight stop over with a wonderful continental breakfast the next morning.
Thomas H
2017-02-23T00:00:00Z
Jennifer was a great host and made our trip to Scotland even more memorable! The location was great and the castle really is as beautiful as the pictures show. I felt like I got the full Isle of Skye experience staying in Dornie. The accommodations were great and we felt right at home!
Hailey
2016-10-10T00:00:00Z
Tipus d'habitació
Habitació privada
---
Tipus de propietat
Bed & Breakfast
---
Capacitat
2
---
Dormitoris
Dornie, Regne Unit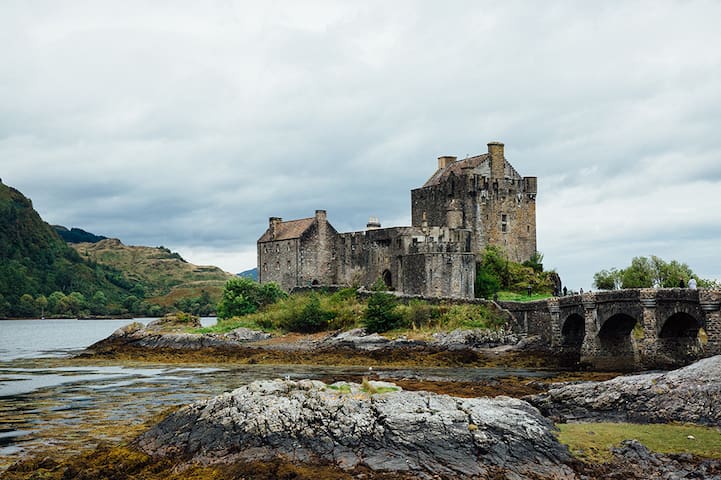 penya-segat de Falcon, Dornie, és la base penya-segat perfecte per les seves vacances, amb impressionants vistes sobre l'històric castell Eilean Donan, la serralada de Cuillin a l'illa de Skye i l'impressionant paisatge local de Highland
L'allotjament modern molt ben equipat i s'uneix a una casa tradicional situada per sobre de la pintoresca localitat de Dornie.
El poble té una botiga, oficina de correus, dos bars i un hotel que proporcionen deliciós menjar de mar acabats de pescar i productes de la terra. Hi ha una meravellosa botiga de la galeria i cafè al poble. El castell té una botiga de regals i restaurant. Hi ha moltes botigues i restaurants a una curta distància de Dornie. penya-segat de Falcon és un punt de partida ideal per a la fotografia ja que es troba per sobre de la pintoresca localitat de Dornie, amb vistes al famós castell de Eilean Donan. Aquest impressionant castell era originalment una fortalesa dels Mackenzie de Kintail, però ara és el castell clan dels MacRaes. Dornie està situat a la carretera A87 entre Inverness i l'illa de Skye. El camí passa Loch Cluanie i les espectaculars muntanyes de les cinc germanes de Kintail. En Shiel Bridge es pot prendre la ruta de muntanya escènica a Glenelg, amb la seva Edat de Ferro brochs o viatjar en el ferri plataforma giratòria única de Skye El paisatge que envolta el llac i la muntanya és impressionant i típica de les terres altes d'Escòcia. Per als caminants no són fàcils Lochside i passejades al costat del riu voltant de la casa o del poble de Dornie. Per muntanyencs senderisme repte està disponible d'aquí a unes poques milles, amb les cinc germanes de Kintail i Glenshiel al Sud, la Serralada Torridon al nord, i el Cuillins de Skye a Occident També hi ha una sèrie d'excel·lents excursions en vaixell a la zona. Si viatja en cotxe al nord de Kyle of Lochalsh, es pot veure palmeres al pintoresc poble de Plockton (la llar de televisió Hamish Macbeth). Calum MacKenzie ofereix guardonats excursions en vaixell des Plockton durant tot l'any. Els viatges són gratis si encara no hi ha segells Kyle a la Seaprobe Atlantis ofereix una visió panoràmica sota l'aigua a través d'ulls de bou. Es navega des Kyleakin i Kyle of Lochalsh (el continent oposat Skye). A l'illa de Skye viatges espectacular vaixell es poden fer a l'illa de Misty Elgol a Loch Coruisk al cor de les muntanyes Cuillins Dornie és una àrea popular per als observadors d'ocells i hi ha una bona oportunitat de veure un àguila real o la rara àguila de mar de cua blanca, que es reprodueix en Skye. Per als pescadors els llacs locals estan plens de viatges truita o la pesca a mar marrons salvatges pot realitzar localment amb vaixell
None made us feel very welcome, in spite of our early arrival. She gave us lots of ideas of places to visit and things to do. Best of all, she pointed out Golden Eagles circling the hills behind the cottage, our first sighting of them! The cottage was just as shown on the website, it was spotlessly clean and had everything we needed for our week long stay. The area is truly beautiful, we spent several days on Skye as well as the surrounding area. This is an area worth another visit and we would stay at Nonie's again.
Jenny
2016-10-22T00:00:00Z
Falcons Cliff is a great place to stay and Nonie is a very well host. The location is well equipped with everything we need. We found lots of information about restaurants, walks, shops, etc., and other stuff for bad weather conditions like DVDs, games, ... Hope, we will come back sometime.
Kai
2016-05-07T00:00:00Z
We had a fantastic stay in Dornie. The accommodation was lovely, with fantastic views over Eilean Donan castle and across to Skye. We'd definitely like to stay there again!
Tom
2016-10-14T00:00:00Z
I can honestly say there was not one problem with any part of our stay. Accomodation has everything you could need and is lovely. The views from the garden are breathtaking and location is ideal for eploring whatever your needs you will not be disappointed here
Mark
2016-12-04T00:00:00Z
Nonie's flat is a lovely place to stay with fantastic views of Eilean Donan and the surrounding lochs and hills. It's perfectly sized for a couple staying and has a superb location for enjoying magnificent local walks and visiting Skye and other parts of the west coast. Dornie village is a 10 minute walk along the road and the Clachan pub is a great place to enjoy some fresh local seafood. The flat is spacious and was equipped with everything we required. Nonie lives next-door should anything else be needed. We hope to return again soon.
Allan
2016-03-30T00:00:00Z
I had a lovely stay at Falcons Cliff. Peaceful and quiet. Loved the little annex. Perfect for a singles retreat. Nonie was there on arrival to show me around the house. The views were stunning and the surrounding countryside, nothing short of epic. Would definitely come again.
Sally
2017-02-17T00:00:00Z
Warm, comfortable, well-equipped cottage with stunning views over Eilean Donan Castle and Loch Alsh. Nonie is a friendly, welcoming host. Highly recommended.
Gregor
2017-01-31T00:00:00Z
This accommodation has everything that you need for a relaxing and quiet holiday. The scenery and location are stunning and Skye is easily reached via well maintained road networks. The whole area is perfect for photography, hill walking, exploring many points of interest and wildlife. The cottage is immaculate, furnishings top quality, beds very comfortable, kitchen well equipped, (also top quality), selection of dvd's, cd's, books, local information, brochures for visitors, in abundance. The views from the many windows are stunning, especially over nearby Eilean Donan Castle, which greeted us each morning. I managed to photograph a pair of Golden Eagles! Nonie is a charming host, a lovely Lady and very caring of her guests and their comfort, she makes you feel welcome and allows you space to relax and enjoy her cottage. We will certainly return to this gem in the Highlands, sooner rather than later, thank you Nonie for the special time we spent on holiday.
John
2017-01-13T00:00:00Z
Tipus d'habitació
Casa/pis sencers
---
Tipus de propietat
Pis
---
Capacitat
2
---
Dormitoris
Dornie, Escòcia, Regne Unit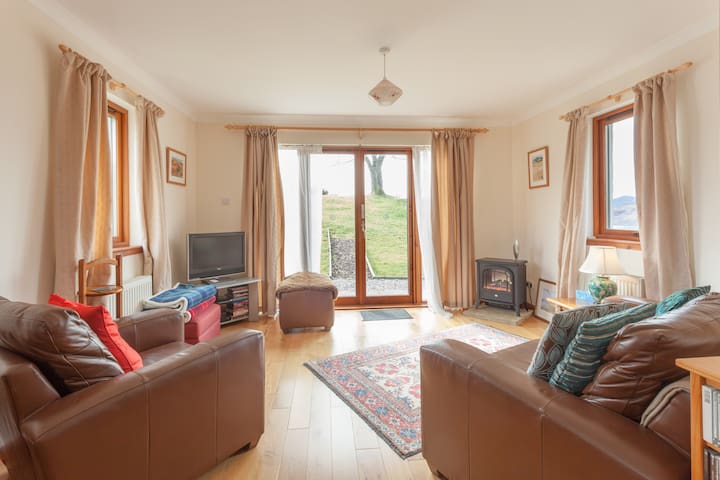 Bright and airy bedroom, private bathroom with deep luxury bath in a modern house designed to maximise the stunning view of the sea and the surrounding mountains. An extensive breakfast selection, including home made and local produce.
A unique contemporary property with outstanding views. The house is situated in a tiny village with good transport links. Stromeferry is an ideal base for exploring both the Isle of Skye and this part of the Scottish Highlands. We are sited in a good place for those following 'northcoast500' - especially if an extra day for exploring the Isle of Skye is on the agenda. The seashore is a few minutes walk away. Woodland walks nearby and lots of wildlife on the doorstep. We are regularly seeing a seal popping up and down in the water, also dolphins infrequently visit the loch and their movement is clearly visible from the house. There are boat trips in the area and we will happily recommend something to suit your plans. Breakfast offers a chance to try some cheese from our local dairy, the freshest of eggs from our own hens, home-made bread and jams as well as a selection of fruits and cereal.
Stromeferry is all about the view. Early mornings during the spring and summer months are truly stunning.
Molt amables, el lloc es aillat, i sense serveis al.voltant, pero es lo normal a la illa. Ens van aconsellar un restaurant fabulos i economic on anar a sopar, en un altre poble.
Arantxa
2015-08-10T00:00:00Z
We had a wonderful time at The White House! Kathleen and Julian were great hosts - very friendly and gave great suggestions on what to do in the area. The house, surrounding woods, and the views to the Loch were spectacular. The bed was comfortable and breakfast was really tasty, including cheeses from a local dairy! Overall, a great place to stay on our honeymoon.
Brittany
2016-10-02T00:00:00Z
Absolutely perfect place to stay! The space was clean and modern and in an amazing location. The view was stunning and we were very comfortable the whole stay. Kathleen was a great host and made us feel at home right away. The breakfast was fantastic! We highly recommend staying here.
Branden and Celeste
2015-05-13T00:00:00Z
Great place, very modern house in small town. Kathleen and Julian were really welcoming and friendly. The room was very comfy and they had the biggest bath ever. Breakfast was great too
Will
2016-07-18T00:00:00Z
The White House was so wonderful! The view is absolutely amazing and the space is immaculate. We had no problems finding the house, and Kathleen was so kind to make us dinner reservations at an excellent seafood restaurant in a nearby town the night we arrived. Everything was exactly as described, and breakfast was delicious. Would definitely recommend!
Laura
2016-09-11T00:00:00Z
The White House is a stunning building overlooking the beautiful Loch Carron. Kathleen and Julian are the most attentive hosts we have met since joining Airbnb, they made our stay hassle free and completely relaxed, thank you. Oh, and the breakfast is delicious!
Nicholas
2015-06-26T00:00:00Z
Really good time in the white house. Kathleen and Julian are the best hosts you can wish. The room and the house are impressive, near to the lake. One of our bests airbnb experiences!
Aitor
2016-08-19T00:00:00Z
Kathleen and Julian were amazing hosts who went above and beyond to make our stay comfortable. Our first evening grew quite chilly and after a walk around the neighborhood Kathleen prepared us tea and lit a fire to enjoy in the living room. It made us feel right at home and truly welcome. Our first day of exploring we received tips and advice from Julian about were to drive and visit for fantastic views and scenery and he kindly loaned us maps and his own compass. We took their advice to head into an lesser known area north of them, the Wester Ross peninsula, and were not disappointed. We also enjoyed a great meal in Plockton, thanks to a suggestion and reservation made by Kathleen. Their home is beautiful, modern and immaculate and is in a very special location which allows for all kinds of exploring in a beautiful area, the West Highlands and the Isle of Skye. In fact, their place is so lovely it was hard to justify leaving after breakfast to tour the area. We were content just taking in the views from their incredible windows or peaceful garden. And not to leave out breakfast, it was perfect and plentiful, tasty cheeses from the nearby dairy, wonderful bread, yogurt, fruit compote and a very good cup of coffee. The fresh eggs were a treat as well. It was hard to leave. Traveling is rewarding when you not only see beautiful places and taste great food, but also meet wonderful people and experience their warm hospitality.
Whitney
2016-06-20T00:00:00Z
Tipus d'habitació
Habitació privada
---
Tipus de propietat
Bed & Breakfast
---
Capacitat
2
---
Dormitoris
Highland, Escòcia, Regne Unit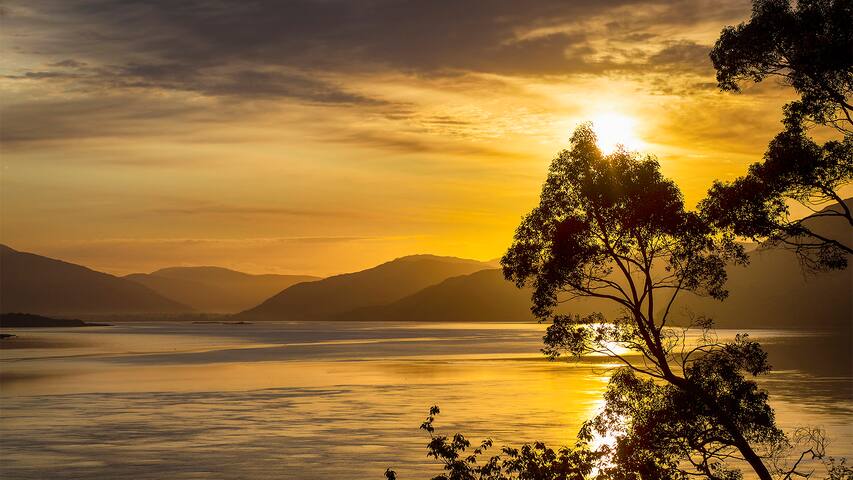 Nice basic double bedroom in a shared rustic Bunkhouse/Bothy. Very secluded area set on our family farm. 7 mile narrow road in with beautiful views A great place to unwind. No phones. No internet. No TV. Ideal base for the walking/hiking fraternity Fantastic walks including a trek to the Falls of Glomach (Britain's highest). GPS (PHONE NUMBER HIDDEN)
The Bunkhouse is an old farm house converted to a rustic type accommodation. Located on the Cape Wrath Trail (Shiel Bridge to Strathcarron section), we are an ideal place to stay during your walk. This basic accommodation is suitable for the walking/hiking type and is not suitable for those looking for 5 star comforts.
There are many walks from right out the front door, with the difficulty ranging from easy to hard. These include a walk to the Falls of Glomach (Britain's highest) which takes approximately 6 hours. You can walk on any of the surrounding mountains but if you do, please remember to keep your dogs on a lead (particularly if sheep and lambs are grazing). Do note that we are not on the Isle of Skye but offer a peaceful alternative away from the main tourist route and you can reconnect with tourist route in 15 minutes.
It's so wonderful I'm almost reluctant to share this place with the world so that I could keep it to myself :) we had a wonderful stay, and William is a fantastic host. He checked up on us many times to see if everything was alright and let say hi to his pigs. Adorable ! There is a beautiful waterfall near there as well and the view is stunning. After two nights, we simply did not want to leave. If you're looking for a calm place away from city life this is definitely what you're looking for!
Tiaré
2016-10-20T00:00:00Z
We had an absolutely wonderful stay at the bunkhouse! The location is perfect for exploring Skye! We loved getting to know William, who is so kind and helpful! He is a great example of Scottish hospitality and reason enough to stay in this snuggly, cozy retreat! Would definitely recommend!!
Veronica
2016-07-06T00:00:00Z
It's already in the name: the place is a great retreat! It's an adventurous ride to get there - SatNav recommended!! - but in the end it's well worth it. You'll find a lovely little bunkhouse with all the basic appliances you will need, a great view all around and access to nearby hiking routes. I would definitely recommend this place to anyone who is looking to get away from everything for a day or two.
Sascha
2016-09-04T00:00:00Z
Es una casita de campo en un sitio algo dificil de encontrar, es mejor ir de dia, pero el sitio es espectacular. William fue muy amable y siempre pendiente de que estvieramos a gusto. Muy recomendable por el paisaje.
Sergio
2016-09-13T00:00:00Z
Le séjour a été très agréable. William est un hôte accueillant qui fait tout pour mettre à l'aise et qui conseille sur les choses à faire dans le coin notamment la promenade à la cascade ! Le logement est rustique mais chaleureux et permet le dépaysement. On s'y sent bien et il permet un accès rapide à l'île de Skye.
Valentin
2016-07-23T00:00:00Z
William fue muy amable con nosotros, explicándonos todo lo necesario y ofreciéndonos ayuda y consejo con las rutas que íbamos a realizar. La casa está muy bien, dispone de todo lo necesario, además en el salón hay numerosos juegos de mesa, películas y muchas guías turísticas para poder organizar tu viaje. La habitación es cómoda y caliente. William fue un anfitrión estupendo.
Rosa
2016-08-02T00:00:00Z
We didn't get to meet Sheena but William is a perfect host! He was nice and caring during our stay. He comes several times a day to the bunkhouse to see if you need something and to put coal in the stove. Also he gave us a lot of good advices for our trip to the isle of Skye. Now for the bunkhouse, it's nice and cosy. You'll have some quiet nights and a beautiful view outside when you wake up. It's very clean and well equipped. I highly recommend it if you stay in the area.
Kevin
2016-07-30T00:00:00Z
Everything was as described. William was a lovely host and he provided us with a wonderful breakfast.
Annegret
2016-08-01T00:00:00Z
Tipus d'habitació
Habitació privada
---
Tipus de propietat
Altres
---
Capacitat
2
---
Dormitoris
Highland, Escòcia, Regne Unit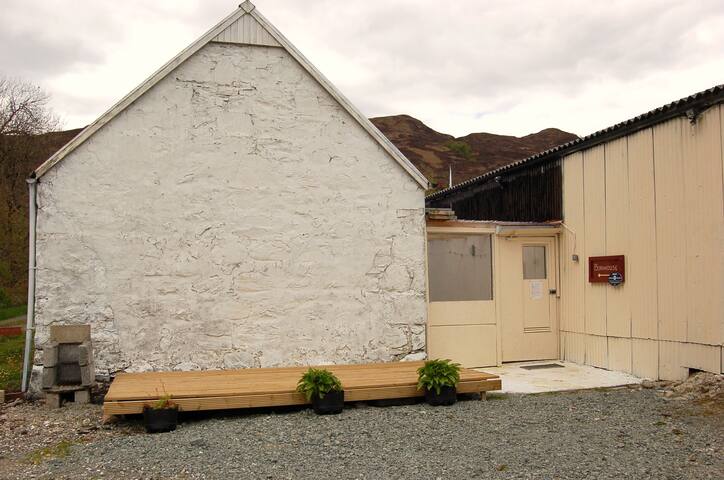 Clachan Bed & Breakfast, wie der Name schon sagt, befindet sich auf der gegenüberliegenden Seite der Straße von der beliebten und lebhaften Clachan Bar. Eröffnet im Jahr 2014 Bewertungen Rave, Clachan B & B hat ein ausgezeichnetes erstes Jahr mit vielen erfreut Gäste genossen.
Clachan B & B bietet exklusive Privatsphäre für die Gäste in einem in sich geschlossene, frei stehende Gebäude. Die Zimmer sind mit einem erheblichen kontinentalen Frühstück, die draußen in der Bequemlichkeit des Raumes oder auf der überdachten Bereich genossen werden kann. Um ein zweites Zimmer buchen, überprüfen Sie bitte unsere andere Auflistung auf Airbnb. Die wichtigsten Merkmale King-Size-Bett mit 1500 Taschenfederkern-Matratze, 10,5 kW Power-Dusche mit Luft-Boost-Technologie, kostenlose Toilettenartikel, LED-Badezimmerspiegel mit Entfeuchter und Rasierapparat, frei wired / wireless Internet, 32 "Wandmontage Smart TV mit voller Internet umfassen Funktionen wie zB BBC i-Player, Netflix etc. Sound Multiroom mit MP3-Verstärker, wireless-Heizung, Kühlschrank, Fön, Tee- und Kaffeezubereitungsmöglichkeiten.
Atemberaubende lokale Landschaft von Eilean Donan Castle, die Cuillin Ridge auf Skye, Five Sisters of Kintail und das Treffen von Loch Lochy, Loch Duich und Loch Alsh.
Good
amanda
2017-01-04T00:00:00Z
We loved Dornie and the location, including the walking path directly to the Castle! It was easy to get to Isle of Skye and the surrounding Highlands, so a very nice "home base" to spend the weekend in the area and explore. The room was small, comfortable and very clean (cleaned daily), with a generous, and good make-it-yourself breakfast, replenished daily. The Clachan pub just accross the street was one of the best places we found to have dinner. The little building has 2 units, which means you can hear the other people's comings and goings. The shower (once I learned to use it) is adequate but has very little water pressure. Overall, I would recommend it, especially if you are travelling most of the day, come back for dinner, and have a nice breakfast before you leave for your next excursion!
Leslie
2015-07-20T00:00:00Z
Very luxurious! Clean and friendly host. The arrival is somewhat confusing because of the pub with the same name. Otherwise the spot is unbeatable if you're visiting the Castle.
Elye
2015-07-23T00:00:00Z
Fabulous room with modern comforts. A view secobd to none
Maria
2015-08-26T00:00:00Z
Very nice and clean room with all modern amenities. Good breakfast. Close to nice Pub just opposite.
Guenther
2015-08-29T00:00:00Z
The location was great with a short walk to the castle. The room and amenities were nice with a well-prepared continental breakfast, which is stocked in the refridgerator so you can eat whenever you want. We did not meet Vivienne so the experience was a little more impersonal than we are used to at a B&B. Overall, a pleasant stay!
Emily
2015-07-22T00:00:00Z
Vivienne's place was perfectly adequate for our needs. Minimal contact with the host, which we anticipated and were fine with. Breakfast is a more basic/light affair than other places we stayed, but that was appreciated after several days of full cooked breakfast elsewhere.
Christie
2017-03-27T00:00:00Z
Had a great stay at Clachan b+b. Picturesque location. Room was spotlessly clean and v comfortable. Highly recommended
Robert
2017-02-22T00:00:00Z
Tipus d'habitació
Habitació privada
---
Tipus de propietat
Bed & Breakfast
---
Capacitat
2
---
Dormitoris
Dornie, Regne Unit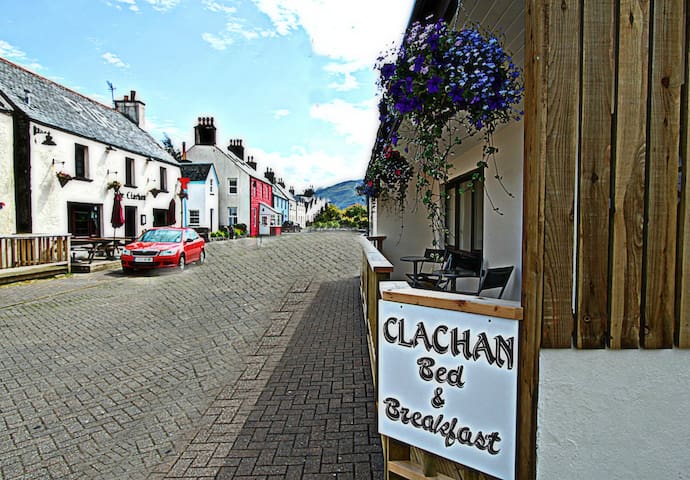 Situated between Plockton and Kyle of Lochalsh, our remote bed and breakfast has stunning views and you'll get a lovely homemade breakfast with fresh eggs from our chickens! Please note we are in a remote place and are ten minutes drive from restaurants and shops. Please print out the location instructions before your trip as sometimes GPS is not accurate.
Our detached, contemporary house is set just a few metres from the sea, in a tiny hamlet called Port an Eorna and it is only three miles from Kyle of Lochalsh, which is where you cross over the bridge to the Isle of Skye, so it is an ideal base for exploring Skye and the other lovely villages in this area such as Torridon and Applecross. Breakfast is served between 7.30 and 8.30 in the kitchen overlooking the sea and includes home made bread, home made yoghurt and home made granola - all made by Lynne - as well as fruit, cheese, continental meats, cereal, orange juice, tea, coffee, toast, jam, marmalade and pastries (sometimes homemade!). We also have three hens so if you want some eggs for breakast, just ask! There are three restaurants near us - just two miles away - in the village of Plockton. When you are in the house you do not have to stay in your room. Our lounge has two huge corner windows, with two cosy armchairs so you are very welcome to sit in it and look at the scenery or read or just completely relax. The views are gorgeous and if you want to go for a short walk there is a very nice one outside and you can see beautiful views of the Isle of Skye. There is a private bathroom directly next door to the bedroom which guests will have sole use of and it has a huge shower with a rainforest shower head.
This is a remote neighbourhood - ten minutes drive from any restaurants or shops. It is very tranquil - there are just four detached houses at the end of a single track road - so you can totally relax and enjoy peace and quiet and nature.
Nous avons beaucoup aimé notre séjour. Une maison magnifique, avec grande baie vitrée, feu de cheminée. Des hôtes adorables qui ont été très accueillants. Avec qui nous avons pu pas mal discuter, et qui ont été de bon conseil pour les lieux à visiter/restaurants.
Ashley
2015-05-11T00:00:00Z
We spent a fantastic 3 nights at the Barley House - the location is absolutely stunning, the host was so friendly - we couldn't have been made to feel more at home if we'd tried, and nothing was too much trouble. The breakfast was incredible - home made bread, jam, fresh eggs, raspberries, and home-baked muffins (!); it was like a feast each morning. Our host, Lynne, is incredibly knowledgeable about the local area and gave a lot of excellent suggestions for things to do and where to go - and really made our stay even more special with her personal touches. She was so accommodating to us and we felt more like friends of the family than guests! The Barley House is in a stunning location, and getting there is actually much easier than might be expected, especially as Lynne was able to give us excellent directions to reach the house. The roads in the area are single-track, but there are plenty of passing places, and the roads are really well maintained - the only time we were stopped was by some highland cattle on the road! In addition, the nearest railway station (Duirinish Station - a request stop) is only about 1/4 mile away from the house. I can safely say that there is nothing more wonderful than sitting in the large window of the living room and watching the loch with a book. In short, the Barley House is a little gem if you want to get away from it all. We'd be back in a heartbeat if we could, and we would wholeheartedly recommend it to anyone who wants some peace and quiet in a gorgeous location that is convenient for Skye, but far enough away from the well-beaten tourist track to feel like an idyll.
Stuart
2016-07-13T00:00:00Z
Great place with great people.
Stefan
2016-07-17T00:00:00Z
Fantastic location and hosts! It was a shame we didn't get to meet Lynne but Darren and Flora were so welcoming and accommodating. Breakfast was delicious and the view made it even better! Hopefully we can return for more than a day next time!
Heather
2015-06-26T00:00:00Z
We had the most wonderful stay at Lynne's house - by far our best air B and B experience so far. The pictures do not do The Barley House justice - set in a beautiful remote location this really is off the beaten track and is the perfect place for a bit of r and r. Lynne and Darren (and the lovely flora) were wonderful warm and attentive hosts who were so easy to get along with - they made us feel so welcome that it was more like staying with friends. They generously let us use the communal areas of the house and served us a delicious homemade breakfast each morning. They were very informative of the local area and full of ideas and suggestions of places to see and explore. 4 days really wasn't long enough to explore this beautiful place and we'll definitely be returning to the see the Barley House, Lynne, Darren and, of course, Flora, in the future :)
Nicky
2017-04-02T00:00:00Z
Lynne & Darren's home was the perfect base to explore Skye from. The house is beautifully designed and in an incredible spot. We were made to feel very welcomed our whole stay and would recommend the place to anyone - if you are planning a trip to the area this is the place to stay. Lynne's homemade granola is worth the trip alone!
Zoe
2016-11-07T00:00:00Z
The most amazing B&B we've ever been in; we hope we never have to leave. The description is more than accurate --- stunning views, wonderful breakfast, feeling at home. Lynne and Darren are extremely hospitable, helping us settling down and provide us lots of information about Isle of Skye; at the same time, it was a lot of fun chatting with them. They are very kind in sharing the rest of the house with us, so we can stay in they living room watching the gorgeous view of Port an Eorna, sipping coffee and enjoy the serene environment. Flora and the pet chickens are cute and friendly, who knows that they can live happily together? The direction to their place is very clear, don't be afraid if you find yourself driving on roads getting smaller and smaller, passing bridges , train tracks, farm fences and going up and down the hills; you will find surprise at the end of the road!
Chichi
2015-06-29T00:00:00Z
The Barley House is the absolute perfect getaway; it ticked every box. The location is just amazing- the living room overlooks the Loch and mountains beyond. Lynne and Darren were great hosts; making us feel very welcome in their home and gave fantastic recommendations for walks in the local area. The bed was comfy and the shower was amazing. Although part of the main house, it still feels private, which is something we quite liked. The breakfast provided was delicious and filling - homemade yoghurt and jams, with pastries and fresh eggs from their chickens. We were looking for a relaxing break in the hills, and this is exactly what The Barley House provided us. We would highly recommend it to anyone and thank Lynne and Darren for their wonderful hospitality.
Jack
2016-11-11T00:00:00Z
Tipus d'habitació
Habitació privada
---
Tipus de propietat
Bed & Breakfast
---
Capacitat
2
---
Dormitoris
Kyle of Lochalsh , Ross Shire, Regne Unit
Willkommen in unserer Familie zu Hause zwischen dem schönen Dorf von Dornie und Ardelve nur 8 Meilen von der Skye Brücke. Wir haben ein Doppelzimmer mit Bad mit kostenlosen Sat-TV und Tee und Kaffee zuzubereiten. Kostenloses WiFi auf Anfrage. Privater Parkplatz.
Wir haben das Glück, eine der besten Aussicht auf Eilean Donan Castle zu haben, die Sie genießen werden, während die schottische Frühstück zu essen.
You can't find any else host who can be as friendly, easy-going, helpful, thoughtful, lovely as Yvonne. The en-suite was perfect, everything you see from the pictures are exactly the same, even more stunning when you get to see it with your own eyes ( the view When you look outside) though we actually spent the night with Yvonne in the sitting room. View from sitting area to outside was spectacular! And it was so nice to have the interesting conversations with Yvonne and her son Adam. It's amazing to meet this family who are all so kind. We haven't met Yvonne's beloved husband this time. Just sure that we will stay at Yvonne's again.
Evangeline
2015-09-25T00:00:00Z
Yvonne was a fantastic host! Her and her husband were wonderful to speak with and their cat Luna was very fun to play with as he's still young and spunky! The place was very clean, plenty of parking room, comfortable bed, and a clean and hot shower! My girlfriend adored the private bathroom and especially the breakfast view! What's better than sitting at the breakfast table while being able to look upon a castle?! Which by the way is worth the admission cost to tour. We met her kids during checkin and they were also very sweet and wanting to help the new guests get settled in. If ever up in the Isle of Skye area, I'd happily stay here again!
Daaniel
2015-06-04T00:00:00Z
Yvonne and her family made us very welcome. We felt relaxed in their home. The room was beautifully appointed and all our needs were catered for. The breakfasts were great. I would recommend Yvonne as a host.
Fiona
2015-08-28T00:00:00Z
Yvonne and her family were so gracious and welcoming. Her children are adorable and her husband cooked a wonderful breakfast for me. She is as sweet as pie and her home is lovely with the BEST view of the castle. The room and bathroom was very large and clean. Oh and they have a sweet cat. :) I would like to come back one day and would definitely recommend it to anyone.
Faith
2016-04-24T00:00:00Z
The welcome we received on arrival just took us completely by surprise. We'd read the reviews, but to be welcomed like old friends in the way we were, even though it was our first visit, was just fantastic. Yvonne, David and their beautiful kids (with whom you can't help falling in love!) made our stay so wonderful that we won't hesitate to go back. The room was spotlessly clean and very comfortable, and is perfectly located for exploring both Skye and the mainland. You won't find a better place to stay or better people to stay with.
Paul
2016-07-01T00:00:00Z
Excellent experience. Modern clean convenient amenities. Best home cooked breakfast of our visit to UK. Glorious to have breakfast with a view of local castle by the misty loch
Peter
2015-08-19T00:00:00Z
Wir haben zwei wunderbare Nächte bei Yvonne und ihrer Familie verbracht und uns in der herzlichen und familiären Atmosphäre pudelwohl gefühlt! Alles passt wie auf den Bildern beschrieben, vom Esstisch aus ein grandioser Ausblick auf Eilean Donan Castle, Zimmer und Haus waren sauber - alles gut in Schuss und ein prima Frühstück gab es auch :-) Die ganze Familie war für ein Pläuschchen zu haben und Yvonne hat uns noch gute Tipps für die Weiterreise gegeben. Wir können die Unterkunft jedem wärmstens weiterempfehlen!
Annalena
2016-08-31T00:00:00Z
Yvonne, her husband David, and her children are welcoming and lovely people and fantastic hosts! The house is situated on a spit across from the castle which makes for great views at any time. The room is beautifully decorated and the large windows overlook the wonderful garden. Just awesome!
Gabrielle
2015-10-16T00:00:00Z
Tipus d'habitació
Habitació privada
---
Tipus de propietat
Bed & Breakfast
---
Capacitat
2
---
Dormitoris
Ardelve, Regne Unit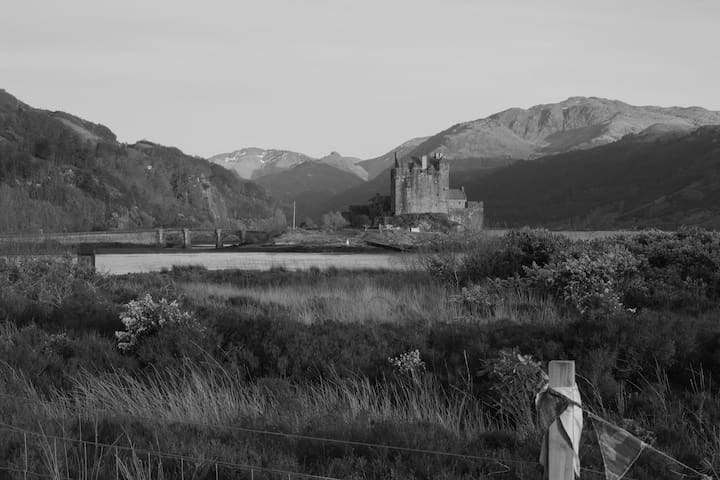 Seawinds is a lovely old house full of character, ideally situated to explore the west coast and the Isle of Skye. The rooms are spacious, there is a guest dining room and chill out space as well as an in-house massage service.
Great stay thanks to Kate and his partner!
Marco
2016-06-01T00:00:00Z
My husband and I enjoyed our stay at this quaint house. Though we didn't get a chance to meet Kate, her husband was helpful and nice. The The room was clean and tidy, felt like it was built a long time ago and had a lot of character. They had breakfast in the morning which helped us jump start our day to Isle of Skye. Good place to crash in Kyle of Localsh. Worth the money.
Gargi
2016-10-04T00:00:00Z
Kate, Ian & Peggy are warm and welcoming people. We immediately felt at home. The room is nice and big and we loved the architecture of the pretty house. Kate gave good advise as to spots to visit and made restaurant reservations on our behalf. Highly recommended.
hertzog & nada
2016-08-26T00:00:00Z
Es una familia encantadora y amable, todo estubo correcto y bien.
Josefina
2016-08-19T00:00:00Z
Kate is a very nice lady, sweet house delicious breakfast, and they have such a lovely daughter, very good choice to accommodate. I will definitely recommend to my friends.
Ting
2016-06-10T00:00:00Z
The house is very well located and has stunning views. The village is next to the Isle of Skye. The room is big and beautiful. Breakfast is varied and delicious. The hosts are attentive and friendly. Good choice!
Lara
2016-06-28T00:00:00Z
La casa de Kate e Ian es hermosa. Tiene todo el atractivo de una hermosa ubicación que la hace muy tranquila y hasta tiene un lugar con una vista espectacular del lago y de la isla de Skye. Pero además los anfitriones son realmente muy generosos. Irán nos fue a buscar con su auto cuando llegamos y Kate siempre preguntaba si necesitabas algo. El desayuno era muy rico y abundante. De verdad que nos sentimos muy a gusto en este lugar. Además, si no hablas muy bien inglés no hay de qué preocuparse porque el castellano de Ian es perfecto así que podrás comunicarte sin problemas. Si van a Kyle no duden en quedarse con ellos.
Karina
2016-10-13T00:00:00Z
The house is very close to the bridge to Isle of Skye (5 minutes drive) so no need to pay a premium for staying on the island. Rooms are spacious with comfortable beds. The bathroom is shared between 3 rooms. Hosts are very helpful and open. Communication was really good and I got very clear directions on how to find the house. Breakfast is included in the price. Good value for money!
Magdalena
2016-07-04T00:00:00Z
Tipus d'habitació
Habitació privada
---
Tipus de propietat
Bed & Breakfast
---
Capacitat
2
---
Dormitoris
Kyle of Lochalsh, Regne Unit
Superb views from you dining room where you can watch Calum as he passes on his popular seal trip or just enjoy the panoramic view of Loch Carron & Applecross Hills. Picnic tables are located close to the cottage which also have great outlooks. The cottage is semi-detached, non smoking & pet-free and features an open-fire and electric heating. Those who've stayed with us since we began 26 years ago get a 15% loyalty discount. Half of our visitors return regularly. Please see our website.
Spacious open plan cottage featuring an open fire, dining area and kitchen. There are two bedrooms - one with a double and other with two single beds.
Within the beautiful conversation village of Plockton. 10 mins walk/2 mins drive from village amenities such as restaurants, hotels, pubs, shops and other village attractions.
We had a great stay at the cottage in Plockton. Donald and his family were very welcoming and gave us great advice about tourist attractions and places to eat. The cottage was cosy, even in mid January, had beautiful views and was very close to the centre of the village. I would definitely visit again.
Katie
2017-02-17T00:00:00Z
We had a great time, this was a real find. A lovely place in a great location and a superb view. Host was great, welcomed us, laid a fire gave us the local information and left us to enjoy our stay.
philip
2016-11-02T00:00:00Z
Great cottage in a central location! Nice little village! I'll definitely return in the future!
Tyler
2017-01-16T00:00:00Z
Donald and his son have been wonderful host and quite helpful to us during our stay at this lovely cottage which has a breathtaking scenery.We would not hesitate staying at this house again with our friends and highly reccomend to other people.
Sezgin
2017-01-08T00:00:00Z
We spent a fantastic long weekend in Plockton. The cottage was just as described; comfy, cosy and the views were spectacular! Hosts were very friendly and informative- we can't wait to go back!
Kate
2017-03-13T00:00:00Z
Fantastic Stay. Donald and his son were perfect hosts with very useful local knowledge! Cottage is exactly as described! Thank you!
Philip
2016-12-26T00:00:00Z
This little cottage was a great place to stay for a Scottish winter getaway. Close to the isle of Skye and other beautiful coastal routes it was a great central place for exploration and incredibly peaceful and quite during our stay in early February. Our hosts were very welcoming and provided plenty of tips and guidance during our stay. If you want a secluded location with peace and quite and an amazing view this is it.
Dane
2017-02-08T00:00:00Z
Super logement, superbe vue, le feu de cheminée fait son effet c'est très chaleureux !
Mathieu
2016-12-08T00:00:00Z
Tipus d'habitació
Casa/pis sencers
---
Tipus de propietat
Casa
---
Capacitat
4
---
Dormitoris
Plockton, Regne Unit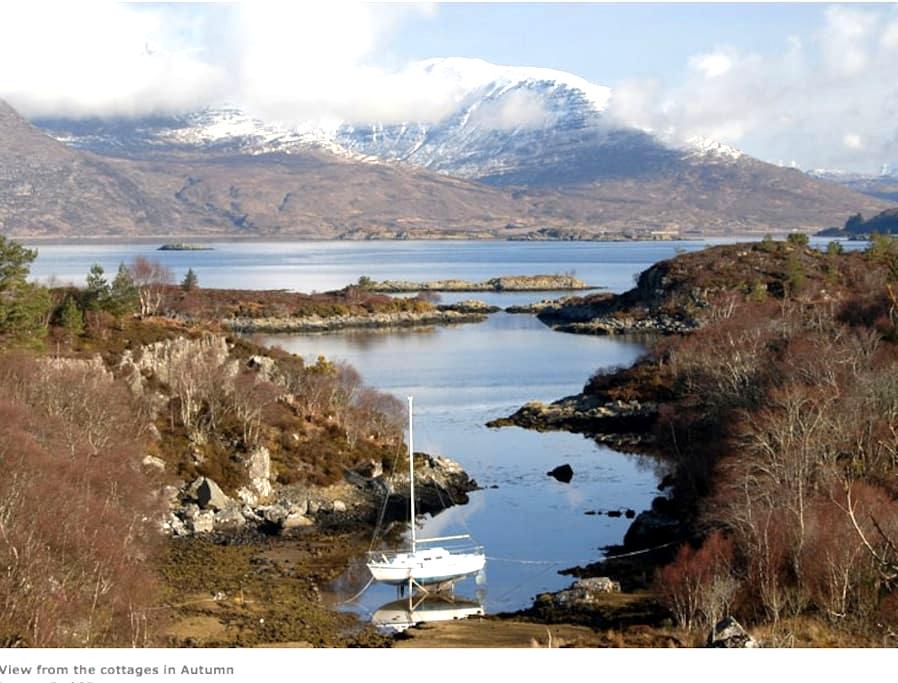 Introdueix les dates per veure el preu total. S'aplicaran tarifes addicionals. És possible que també s'apliquin impostos.