35km to Skopje
Tipus d'habitació
Casa/pis sencers
---
Tipus de propietat
Pis
---
Capacitat
6
---
Dormitoris
Kumanovo, Municipality of Kumanovo, Macedònia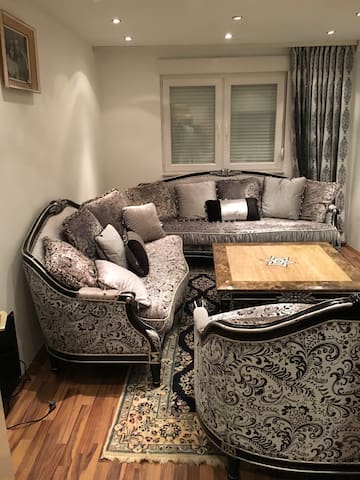 You'll love my place because of the kitchen, terrace and the location. My place is good for couples, solo adventurers, business travelers, and families with kids
My house is in quiet street in the center of the second biggest town in Macedonia. It's nice neighborhood and all markets, restaurants and family-friendly activities are 5 min by foot. We have wonderful terrace for rest after a long day, secluded from city noise.
Kumanovo is only 30 km from the capital of Macedonia, Skopje. Close to Skopje but much cheaper. Kumanovo is a city that is on road to Greece, only 2,5 hours from the house. There are many interesting places for visiting around such as Kokino- The oldest archaeological finds date from about the 19th century BC (URL HIDDEN) (URL HIDDEN)
Tipus d'habitació
Casa/pis sencers
---
Tipus de propietat
Casa
---
Capacitat
3
---
Dormitoris
Kumanovo, Municipality of Kumanovo, Macedònia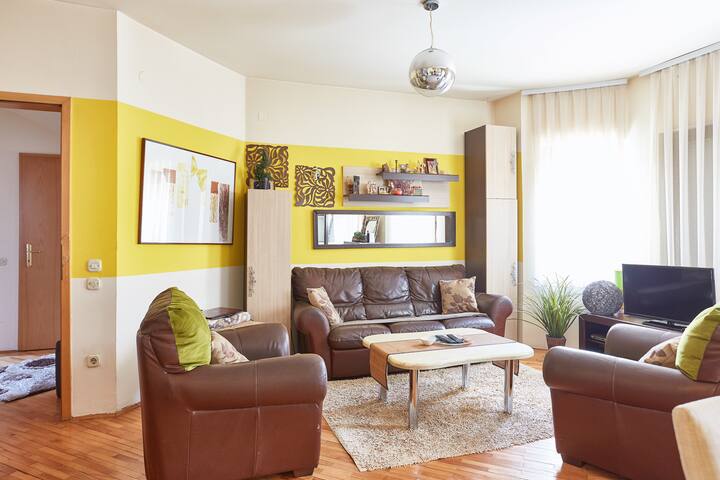 Beautiful and modern apartment in the city centre with all the appliances needed and even a car available upon request (TVx2, PCx2, Heating, AC, Fridge, washer, dryer, dish washer)
Tipus d'habitació
Casa/pis sencers
---
Tipus de propietat
Pis
---
Capacitat
6
---
Dormitoris
Kumanovo, Municipality of Kumanovo, Macedònia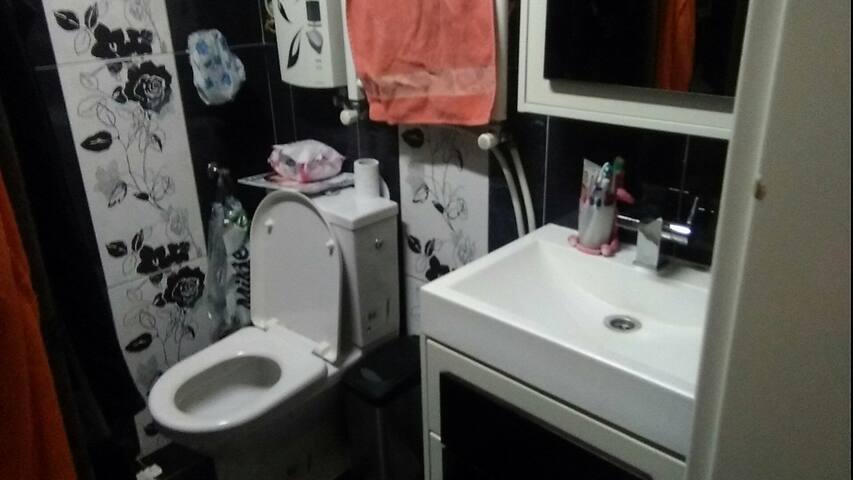 Experience Skopje in the most unique accommodation in the city inspired by Salvador Dali. The apartment has private elevator and private free parking
Tipus d'habitació
Casa/pis sencers
---
Tipus de propietat
Pis
---
Capacitat
4
---
Dormitoris
Skopje, Skopje, Macedònia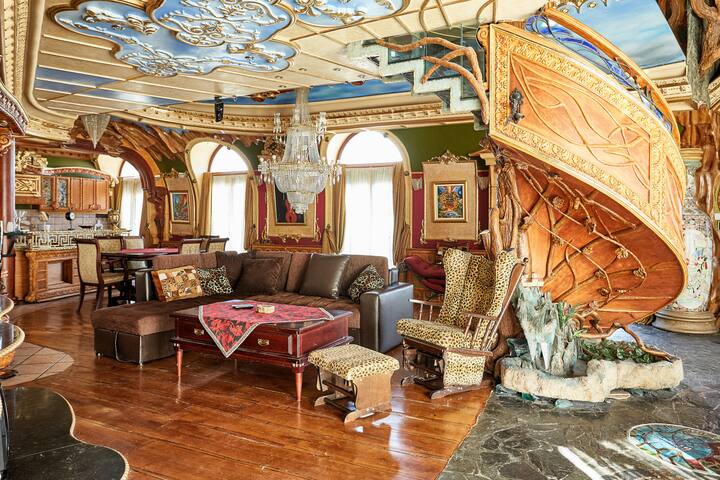 Hotel Ana is located only 2 km from center of Skopje. It is very quiet place where you can relax and accommodated only for You or with Your family. You can make reservation also including "Hotel ANA breakfast" just for additional 5 euro per person in your room rate. Nearby is river Vardar where you can do Your morning running. From Hotel ANA to center the cost for taxi is only 2 euro. From Airport Alexander The Great to Hotel ANA is 25 km and the cost is 20 euro per one way. You are welcome!
Tipus d'habitació
Habitació privada
---
Tipus de propietat
Hotel boutique
---
Capacitat
1
---
Dormitoris
Skopje, Skopje, Macedònia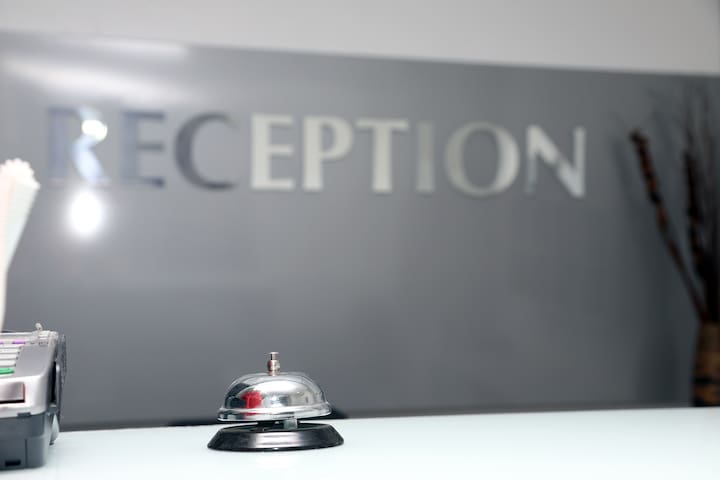 The Cozy flat with a splendid garden has 1 room, 1 bathroom and 4 beds. The flat is situated in private house with big garden and private parking. The flat is located 15 minutes walk from the canter of the city.
Tipus d'habitació
Casa/pis sencers
---
Tipus de propietat
Casa
---
Capacitat
4
---
Dormitoris
Skopje, Skopje, Macedònia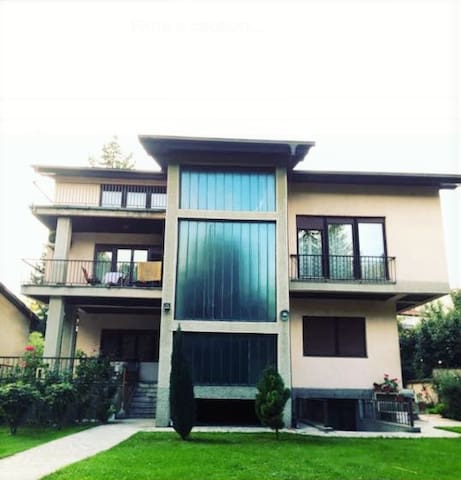 I own duplex apartment in which i rent the 2nd floor. It is lot more than just a private room! 35m2 of private space that includes living room, bathroom and bedroom. My place is close to public transport, great parks, best supermarkets, restaurants and bars. Really close to the city center and the main city square (20min walking distance or 5min by car). Apartment is located in the best and safest area in town. You'll love my place because of the location, view & price!
You will have total privacy since you are renting the whole 2nd floor from my apartment. That includes bedroom with double bed, wardrobe closet, clean bed linen & towels, living room made of funky sofa with white pallets, TV (cable TV), WIFI with great connection, air conditioner, kitchen bar, amazing view towards mountain Vodno and the cross on the top, bathroom with all amenities.
"Kapistec" neighborhood is probably the best area to live in Skopje. In this area you can find great parks, best supermarkets, state hospital, many restaurants and bars, government buildings. City center is a walking distance from this area and there are many bus stopes around. Properties here are the most valued because of the location and conditions for living. Pharmacy, great stores, bakery, restaurant and coffe bar are just few steps away from the entrance of our building
Great place!
Milena
2016-11-21T00:00:00Z
Probably the best Airbnb we've ever enjoyed. Really clean, modern and prepared private zone in a big flat walking distance from the center. Oliver and his girlfriend are really good hosts and persons and will help you in everything they can. 100% recommended, will repeat if we go back to Skopje.
Ángel
2017-01-06T00:00:00Z
Oliver is fantastic host, nice person and his place is lovely, comfortable with a beautiful view to the mountain, calm and this is exactly what we have been looking for! Highly recommended, if I ever get back to Skopje I will contact Oliver again for sure!!
Georgi
2017-03-04T00:00:00Z
We arrived in front of the building and Oliver was already there to welcome us. The apartment was really nice, quiet, clean and we had (as it is situated at the top of the building) a great view on the mountain. I would like to underline that Oliver was very helpful in giving us information starting from free parking places and recommendations of bars, restaurants and what to see in Skopje/Macedonia. If you are lucky you can try his best Rakija, too. It was probably not the last time for us in Skopje/Macedonia (I can really recommend the country and city). Next time, we will choose Oliver's place again.
Kilian
2017-03-27T00:00:00Z
Oliver was the perfect host, ensuring I was comfortable and oriented during my stay. He bent over backwards to recommend places to eat and even his girlfriend helped me out with a beautician appointment! Oliver was truly welcoming and 100% responsive, introducing me to his friends and offered further help during my travels in Macedonia.
Selena
2016-07-30T00:00:00Z
Great, central and nice. Oliver gave me a quick answer every time i asked, and are a really friendly, easy going and helpful host. Highly recommended.
Kris
2017-03-11T00:00:00Z
Such an awesome place. Cool, modern and well equipped space, with everything you need. The bed is OMG, sooo comfortable. The view (to the Vodno mountain) from the apartment is amazing. It is clean, the bathroom is neat, there is hot water whenever you need. Oliver is perfect host, you can ask him about anything, he is very helpful and kind. The location is great also, you have food places, bars, ATM's, taxi station around the building and the city center is in decent walking distance. The best place in Skopje for sure.
Gorjan
2017-02-02T00:00:00Z
Oliver was a great host and went to special efforts to make us feel very welcome and helped us navigate around Skopje and Macedonia. The place is immaculate - a very private studio with spectacular views of the city and the mountains. Everything in the studio is new and comfortable. I would highly recommend staying with Oliver for your next trip to Skopje.
Thomas
2016-10-04T00:00:00Z
Tipus d'habitació
Habitació privada
---
Tipus de propietat
Pis
---
Capacitat
2
---
Dormitoris
Skopje, Skopje, Macedònia
We are open and friendly couple, ask us anything about Macedonia. Our flat is 15 minutes walk from the main square. Hope you'll find our flat it nice and cosy, no matter is on 5th floor and the building doesnt have an elevator! So be fit and stay with us!
Our 55 sq.meters flat is sunny and light situated just 15 min. walk from the Skopje city square and has a great view on the city and the mountain Vodno during day and night. We hope you'll find our place comfortable and cousy no matter that is in on the 5th floor and the building doesn't have an elevator. We have 2 day cancellation policy. Also we are flexible for late and early arrivals whenever is possible. Late cancellations and no-shows will be charged the equivalent of one night's stay.
The neighbourhood is great for walks, has a great small restorants, pastry shops open fruits and vegetables market and big super markets! The apartment is close the main City Park and the City Zoo. Everything else that might interest you is within a walking distance. For example: Historical Sites: (10-15 min) Old Skopje Fortress, Stone Bridge, City Square, Old Town & Old Turkish Bazaar, National Theater, Opera House and various museums, cathedrals, mosques, galleries, shops and libraries. Business: (10-15 min) the main business district and foreign embassies. Food & Entertainment: (5-10 min) shopping malls, cafes, pubs, local restaurants with traditional Macedonian cousin, and/or popular nightclubs.
Zorica and Igor were very friendly! They helped us a lot and gave us a lot of hints what to do in Skopje. The flat was very nice as well and very comfortable. The location was good as well. We can recommend this and we would book it anytime again!
Judith
2016-09-25T00:00:00Z
I had a very nice stay at igors flat. It was very quiet and comfortable and warm. It is an easy walk to beautiful city center and In a clean quiet neighborhood. I highly recommend staying here and when I come back to Macedonia I will stay here.
Kevin
2016-03-05T00:00:00Z
Zorica and Igor were warm and kind hosts. They offered us dinner and gave us every information a tourist could need. Everything was clean and ready.
Angélica
2016-01-27T00:00:00Z
Мега гостеприимные люди!!)) Очень дружелюбные и заботливые, особенно Зорика. Комната чистая, все удобства соответствуют описанию! Чувствовали себя как дома)) Зорика сделала все, чтобы нам было комфортно - поделилась зонтиком, т.к. погода была не айс, подсказывала маршруты по городу и что посмотреть, помогла вызвать такси до аэропорта. Отличный быстрый вай-фай)))
Елена
2016-05-24T00:00:00Z
Very warm, friendly and welcoming host! They had shared many useful tips about Macedonia and travelling. Their flat is cosy and not too far from centre and all Skopje's attractions in a nice and quite neighborhood. Thank you guys, it was a great pleasure staying with you and hope to see you very soon! xx (and thank you for amazing breakfast at 5am ;))
Asta
2016-04-17T00:00:00Z
Zorica's place was neat and comfy. She is a great host and very helpful.
Arjan
2017-03-05T00:00:00Z
If you're staying in Skopje, I would highly recommend staying with Zorica & Igor. They are incredibly kind, helpful with getting cabs and bus time tables, and have genuine hearts. We loved staying and chatting with Zorica, she has a very thoughtful look on life. The room is comfortable, the pillows are awesome!!
Erin
2016-12-19T00:00:00Z
We had a great stay with Igor. It was a very nice apartment, with a good location. The main square is only a 15 min walk away. Igor is a great host, very flexible and we had some good chats. Thanks for having us!
Lisah
2016-05-07T00:00:00Z
Tipus d'habitació
Habitació privada
---
Tipus de propietat
Pis
---
Capacitat
2
---
Dormitoris
Skopje, Skopje, Macedònia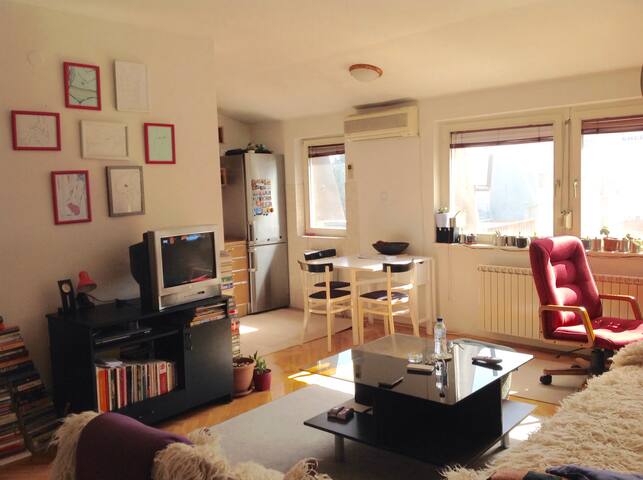 Nice and cozy apartment(30m/2), with the best view on the Macedonia Square, The River Vardar and the Fortress Kale from it's balcony!
It is located at the main city square on the 4th floor. As you enter it, you will find a living room with a Smart TV with internet access, WIFI, air conditioning, fully equipped kitchen and one bedroom. The balcony is so cozy, with scented candles where you can enjoy the best panoramic view of the city that this apartment provides: The Statue of Alexander The Great, Triumphal Arch, River Vardar and The Stone Bridge that leads you to the Old Bazaar where you can be degustating great Kebabs and Baklavas. At last but not least, you don't have to worry about your safety, the building has its own security available 24/7. P.S. Please take care of my little gold-fishy Clyde, he needs his meal once a day! :)
Being in the center, restaurants and markets are all around ("Pelister" and "La Terrazza" which I highly recommend), where you can enjoy your visit listening to the music played by the street artists or the fountain itself.
Ich habe meine Eltern bei Gorjan eingemietet und sie waren mehr als zufrieden. Er hat sich sehr fürsorglich um sie gekümmert, alles war sehr schön vorbereitet und er hat auch die Anmeldung bei der Polizei für sie übernommen, sodass sie ihren Aufenthalt ausgiebig genießen konnten. Er war jederzeit telefonisch verfügbar und immer sehr hilfsbereit. Das Appartement ist sehr sauber, chic und die zentrale Lage und die Aussicht sind nicht zu übertreffen. Immer wieder gerne!!!
Fabi
2016-11-24T00:00:00Z
Great place in an unbeatable location. Gorjan was also a great host and made our experience in Skopje unforgettable.
Aitor
2016-11-26T00:00:00Z
Cozy little flat dead center in Skopje with a lovely terrace. Gorjan was a great host, welcomed us after the normal check-in time (we arrived at 1am) and was always available during our stay. Can recommend.
Viktor
2016-09-04T00:00:00Z
The place is a well kept and very clean studio, fully soundproof, with adequate furniture in good condition, a very comfortable double bed, a comfortable bathroom with very well maintained plumbing. The heating is also very comfortably set. There is a small kitchen corner near the entrance, with all one needs: Fridge, utensils, "french coffee" machine etc. The studio is on the 4th floor; there is a rather spacious lift, accessible after a few steps. Parking is available in a protected area at a cost of 10 EURO per day, which I find rather expensive. Gorjian, the host, is an easy-going, relaxed, but very accurate person, eager to help if need be. I did not need anything, because everything was in place, so I didn't get to see much of him. Next time I 'll ask for more, just to check him out (lol). Oh! I almost forgot: There is a goldfish in a bowl in the apartment; its food is right there, but please, don't overfeed it.
Theodoros-Aias
2017-03-16T00:00:00Z
The ultimate best location! Apartment is excellent! One of the best experiences I've had in feeling welcomed and right at home. Ideal central location with a great balcony view. Gorjan is extremely welcoming and kind. This is definitely a must place to stay while in Skopje.
Joe
2017-01-19T00:00:00Z
Nice place perfect location. In the center of Skopje
Vancho
2017-03-09T00:00:00Z
You would not be centrally located anymore than where the apartment is currently located. There is a great view from the balcony overlooking the central square with the statue of Alexander the Great. It's a nice, cozy apartment with all the necessary comforts and amenities. Gorjan went out of his way and made sure that I have a taxi transport waiting for me at the airport to bring me to the property and back. He is a very pleasant to talk to and a hospitable host. I would definitely recommend his properties to future guests!!
Shaha
2017-03-20T00:00:00Z
Es ist alles bestens verlaufen wie wir uns das vorgestellt haben. Gorjan hat uns zur abgesprochenen Zeit pünktlich empfangen. Nach kurzer Begrüßung hat er uns die Wohnung sehr sauber übergeben. Gorjan war auch die zwei Wochen immer für Fragen und Auskünfte erreichbar. Die Lage der Wohnung ist perfekt so wie in der Beschreibung angegeben ! Die Wohnung liegt in der Fußgängerzone und es ist somit sehr ruhig. Mann kann von da aus alles zu Fuß erreichen. Der Ausblick vom Balkon war super gut . Wir werden zur gegebenen Zeit diese Wohnung Wiederbuchen und auch weiterempfehle(URL HIDDEN)Herzlichen Dank nochmals an Gorjan
Nada
2016-10-14T00:00:00Z
Tipus d'habitació
Casa/pis sencers
---
Tipus de propietat
Pis
---
Capacitat
4
---
Dormitoris
Skopje, Skopje, Macedònia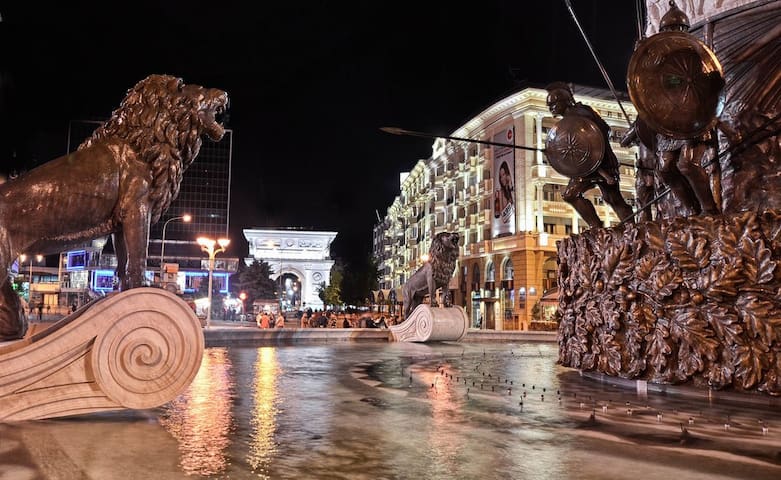 This beautiful brand new luxury penthouse apartment with terrace with situated 15min walking from central square, offers everything you need for spending some great time in Skopje. Private parking is free of charge. Very close Super market, mall ....
In 40m2 spaces there is living space, extraordinary 100m2 terrace, double bad and kitchen. Terrace is equipped with outdoor Jacuzzi, barbeque. LED TV and surround music with Bluetooth connection. Kitchen is fully equipped with kitchenware, dishwasher, marble tops, toaster, electric kettle, filter coffee machine. The bathroom has two sets of towels per person. Linen is changed once in three days.
This was a beautiful experience I enjoyed every minute of this magical apartment. The view is amazing and you will have everything you need including privacy. To make a long story short it's a true vacation away from home with a taste of home. You can disconnect from your everyday business life or handle business causally. It literally has everything you need including a Jacuzzi and BBQ grill its really perfect! I give it a personal rating of 10 out of 10 for the best places to stay in Skopje for single travelers or with companion.
Da Shon
2016-06-28T00:00:00Z
The host was very fast to respond, the place is very nice. it takes 12-13min by foot to go to the square in the city center
Frédéric
2016-08-14T00:00:00Z
Hristina and her partner were welcoming, helpful and made me feel at home throughout my stay. They were incredibly flexible when I needed to use the space for some work meetings. The view and terraces were superb - especially in nice weather. I didn't use the jacuzzi much because it was raining or cold but when I did it was a truly wonderful experience. I would strongly recommend staying here - especially if you are a couple.
Rachel
2016-10-15T00:00:00Z
I had a great time at this apartment. The terrace is great and a perfect place for soothing in the Jacuzzi or treating yourself with the BBQ. The open windows give a sense of being like in a boat. If returning to Skopje, I would certainly come back to this place.
Ignacio
2016-04-15T00:00:00Z
Wenn wir wiederkommen, würden wir hier wieder wohnen wollen. Die riesige Dachterasse und das gefühlt offene, verglaste Schlafzimmer sind, wie wir es uns wünschen. Mit dem Blick über die Dächer fühlt es sich an, als zelte man mitten in bzw. über der Stadt ohne dabei auf den Komfort eines Hauses verzichten zu müssen. Mit Ausblick und Sitzmöglichkeiten in alle Richtungen, etc. - es fehlt an nichts, alles ist sehr clever gelöst. Die Freundlichkeit und Gastfreundschaft von Hristina und ihre Familie führten dazu, dass wir uns am Abend mehr als 3 Stunden verquatschten und so viel über das Land und Leute erfuhren. Schade dass wir nicht länger hier sind. Ohne Einschränkungen zu empfehlen.
nina
2017-03-26T00:00:00Z
Wonderful, luxurious place close to shops, restaurant and taxi rank. Love the terraces and the view.
Rachel
2017-03-10T00:00:00Z
Well, simply put if you want the nicest place to stay in Skopje then this is the place. It is Unbelievable!! Brand new with the most amazing balconies and the hot tub is truly icing on a cake that is really indescribable. My host Hristina was so so lovely. She accommodated me very last minute with a warm welcoming smile and proceeded to show me all the intricate details of their amazing home! She also recommended a fantastic restaurant. I can not write more about how sweet and wonderful she was. Truly this is THE place to stay unequivocally!
Jason
2015-11-16T00:00:00Z
Tipus d'habitació
Casa/pis sencers
---
Tipus de propietat
Pis
---
Capacitat
2
---
Dormitoris
Skopje, Skopje, Macedònia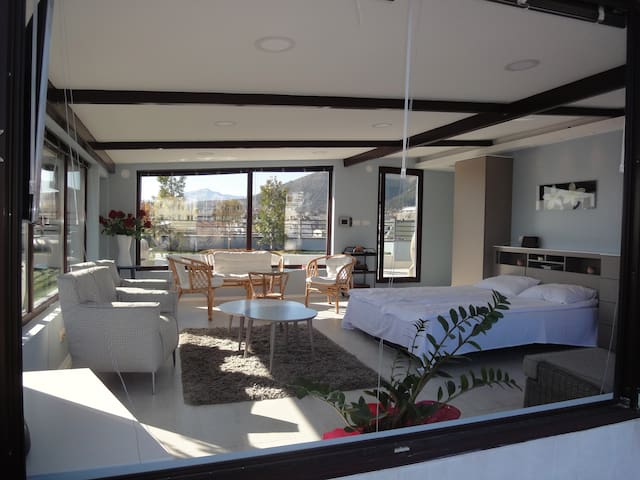 This 80 m² (861 ft²) studio apartment is situated in a peaceful city center neighborhood. Has 4 single beds, 1 comfortable sofa (can be used as double bed), 1 bathroom (toilet+shower), spacious living room, dining area, equipped kitchen and a bar table.
The apartment has an open plan living room with dinning area and equipped kitchen with a bar table. Bathroom with a toilet and a shower. It can comfortably fit 4 people. The positions of the 4 single beds (90 cm × 200 cm) are easily rearrange-able according to needs. Two more guests can sleep on the sofa bed (140 cm x 190 cm). Also included in the apartment: - Necessities: Fresh and clean bed sheets, towels, shampoo, shower gel, liquid soap and toilet paper - 42" LCD Cable TV with more than 80 digital and analog channels - Air Conditioning: Split system with cooling and heating option - Central Heating (when temperatures outside go below zero) - Equipment in the kitchen: fridge, sink, induction stove, toaster, electric lemon squeezer, electric water kettle, kitchen ware, dinning ware, sugar, salt, spice selection, olive oil, instant coffee, tea selection) - Bar table integrated with the kitchen and two bar stools - Strong wireless signal for fast internet connection and additional wired FTP connections are available in the apartment. Internet is provided by Cable operator with speeds up to 15/1 Mbps and handled locally by our fast Linksys networking equipment. - Hot water available all the time by our 300 liters combined boiler tank (combined water heating system by solar panels, central heating and electric coil) - Hangers, Hair Dryer, Iron, Laptop friendly work space with wired FTP internet connection - Two indoor parking places and additional parking space outside - Two bikes are available for you to explore the city - Front yard of the house is available to enjoy morning coffee
Our apartment is situated in a private house with a front yard and two indoor parking places. There are total of 3 separate apartments in the house, each with its own entrance from the spacious stairway. Being located in the city center and close to the foot of Vodno mountain, you have the city center in front of you and a whole mountain in your back yard! Short stroll down the street takes you to the main city square famous for the statues, The Stone Bridge, Kale Fortress, The Old Bazaar, Macedonia National Theater, Gate Macedonia, couple of museums, many stores, restaurants, coffee shops and night clubs. Short hike up to the gondola takes you to the Millennium Cross at the top of Vodno mountain which offers the best view over the city. The gondola can also be reached by bus from the bus station Clinical Center (Клинички Центар) which is located only 100m, half a minute, from our apartment. Make sure to check out our Guidebook, we pinpointed many interesting places around our apartment and we update it regularly! We will be happy to provide you with a list of local events like concerts, shows, sports, movies, etc. happening during the time of your stay.
We were welcomed more than warmly. Courtesy beer, fruit and snacks included. And parking in the owner of the listing's garage free of charge. Description of the listing is aqurate. Neighborhood is quiet, close to the center of the town.
Drasko
2016-07-02T00:00:00Z
Marko's place is well located and easy to find. Besides the cool apartment there are several amenities and Marko is always willing to help. Had a great time in Skopje. Thanks Marko!
Igor
2016-10-16T00:00:00Z
Great apartment, with good location and our host was very helpfull.
Djordje
2016-08-27T00:00:00Z
Very good experience. Hosts Marko and his father Lovro are very helpful and responsive. The room is spacious, but has very low ceiling and small windows. Location is good, walking distance to the center. Lovro has offered us a ride to the airport which was really helpful.
Emir
2016-09-16T00:00:00Z
We had a great stay at Marko's apartment! It was well situated, as well as the apartment itself was very nice and clean. Marko was very accommodating and helped us a lot every time we had a question. He had lots of tips for us, and contributed a huge amount in giving us the best experience possible in Sofia. He even took us to Matka Canyon one evening which was really nice!:) We would definitely recommend everyone stay at Marko's apartment!
Selma
2016-06-25T00:00:00Z
Thanks for perfect accomodation. Very good price, not far from center ( cca 15min walk ). You have in appartment all what you need. ( wi fi, kitchen, TV, shampoo etc... ). Free 2 bikes ( but in december was a little bit cold to use ), if you forget at home umbrella - in rainy days no problem, you have in appartment 2 for use. Marko i think very helpful to solve every problem what you have ( for example dentist in Skopje .. ) Only beware the low ceiling ! :D
Bohus
2016-12-22T00:00:00Z
This was a very good stay. Marko is extremely helpful and provides all information that a visitor could need. I definitely recommend spending some time at this place.
Lukasz
2016-09-22T00:00:00Z
The location is good,apartment is new and clean.The price is cheap and most importantly very helpful host. Thanks for everything
Cosan
2016-05-21T00:00:00Z
Tipus d'habitació
Casa/pis sencers
---
Tipus de propietat
Pis
---
Capacitat
6
---
Dormitoris
Skopje, Skopje, Macedònia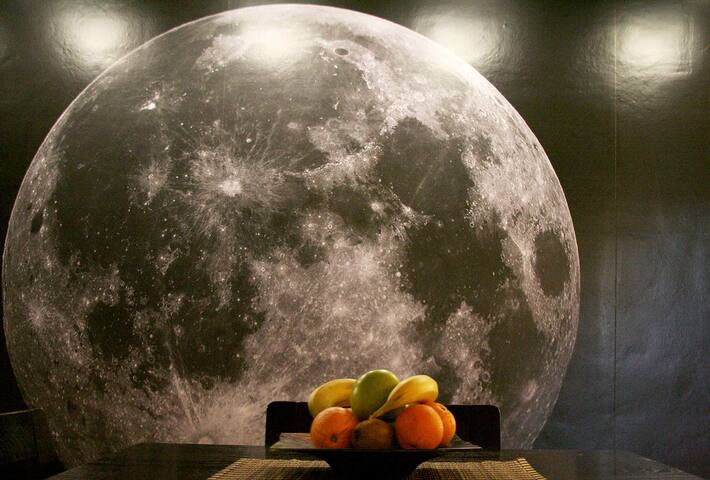 Be among the first to stay in our bright, sunny, fully equipped apartment! The flat has opened its doors on the 1st April 2017 and it has everything you need to have a great time whether you travel on business or vacation. Explore Skopje on foot. The lively 'bohemian quarter' with its traditional restaurants, bars and cafes are only 5 min away. Macedonia Square, Stone Bridge and the Old Bazaar are only 20 min by walk. Enjoy a sunny day in the City Park, which is 10 min walk away.
Warm and welcoming home with new, modern furniture. The apartment enjoys afternoon sun and a view towards Vodno Mountain with the Millennium Cross. Open Plan Living Room: - Free WiFi - Office / Dining Corner - Flat screen TV - Air conditioning - Sofa bed The Kitchen: - Fully equipped (all cutlery and crockery) - Espresso machine - Kettle, Toaster, Ceramic cooker, Oven - Wine glasses, wine opener - Free tea and coffee - Complimentary fruit-bowl The Bedroom: - King size bed - Overlooking a quiet street - Clean and crispy linen, duvets - Wardrobe - Iron and ironing board The Bathroom: - Washing machine - Equipped with toiletries - Shower cabin, basin - Towels, bath mat - Hair dryer
Some of the best bars, cafes and restaurants are literally only a few steps away from your door. Grocery stores, bakeries, a farmers market and a pharmacy are all less than 10 min away.
Such a great place to stay, it really feels like home! The hosts are true metropolitans and were extremely helpful and supportive, I also had a great discussion with them. I absolutely recommend it!
Balázs
2017-04-04T00:00:00Z
Tipus d'habitació
Casa/pis sencers
---
Tipus de propietat
Pis
---
Capacitat
4
---
Dormitoris
Skopje, Skopje, Macedònia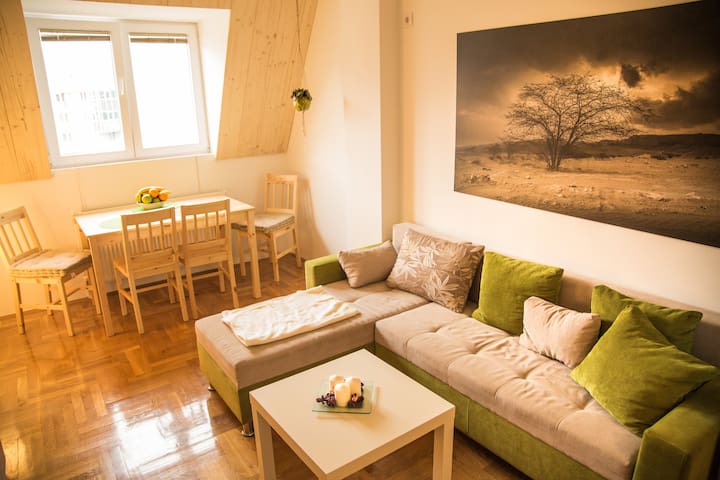 A quiet and quite cozy apartment which is without doubt perfect for a visit in Skopje. It shall satisfy your needs and you would love the location because it's situated in a very nice area near to the center, approximately 15 minutes by foot.
The uniqueness of this place is that it offers the guest a wonderful garden and terrace as well, a setting which creates a chilled atmosphere. Besided that, the apartment is situated in a lovely neighbourhood, also giving an opportunity to the traveler to explore the city unconventionally by taking a walk through the hiking trails connected to the mountain Vodno. This place comes along with great tips of places you need to see and explore in the city of Skopje, experienced by a local living in here, which would be me :) Would love to greet you!
Residential area fulfilled with beautiful houses and paths that wait to be discovered, approximately 15 min by foot from the center, depending on your individual speed.
We had a very nice stay and very pleasant discussions with Dino and his family. We recommend a lot
Simon
2016-08-04T00:00:00Z
We had a very nice stay in this cozy place. In reality it looks even nicer than on the photos. This apartment is in the house with separate entrance. It is located in a very nice, quiet part of Skopje with villa houses. Location is very close to bus line, which took us directly to the center (around 10 minutes ride). Host family was more than friendly. Their son provided us information on interesting places and restaurants worth visiting. Especially restaurants: it's really worth visiting restaurants recommended by the host! We are hoping to visit this nice place again next summer.
Jakub
2016-08-10T00:00:00Z
A very good place, in a very quite neighborhood. Good location, you could access the center either by foot (around 20 min) or by bus. Taxis are also always available. Dino and his parents are exeptional hosts and are extremely attentive and helpful
Alexander
2016-12-25T00:00:00Z
We had a good two nights in the apartment. Everything worked out and was clean. We took benefit of the lovely garden by having breakfast on the porch both mornings. Dino's parents were extremely friendly and helpful, gave us both maps and little tourist packs of Skopje, very sweet of them. The place was nicely decorated, the only tiny minus was that there was only little preassure in the shower but regardless we had a great stay in the beautiful house and felt well looked after and secured by the hosts and their dog Jacko. I recommend.
Jannika
2016-07-16T00:00:00Z
Dino and his familly were very friendly, and the place was nice enough, as well as having a really nice back yard. We visited in november, and the Macedonia was quite cold at the time. There was a slight problem with heating where the heater we were provided wasnt exactly enough to warm up the entire place, but it worked for the one room where the beds were. The hot water was somewhat sporadic and worked sometimes and other times, for apparently no reason, cut out. They have a rather large dog, but its young and not used to people. As such it was a little scared and was rather unfriendly. Dino chained him up after the second day on my wishes with no problems. The place was also a little hard to find but once you get your bearings its simple enough. Just give yourself time for finding it as the street signs are confusing and I would say badly done.
Dusan
2016-11-17T00:00:00Z
I stayed 8 weeks due to an internship. The stay at Dino's place was just awesome. Dino and his family cared a lot about a pleasure time. I am really thankful and hope that we'll meet again ;) Very best regards Mark
Mark
2016-11-11T00:00:00Z
Was a really nice stay. Flat is great and Dino and his family as well!
Mikael
2015-05-26T00:00:00Z
Thank you Dino, Chupe and Katrina Your father and mother were very kindly and helpful. Your home were clean and quite. And it was good location. The house is 25 minutes by walk and 5 min. by bus to center. The bus is 35 denar/ a person. The taxi is 100 denar to center. (1 euro is 61 denar.) Thank you very much for your hospitality.
Bülent
2016-07-30T00:00:00Z
Tipus d'habitació
Casa/pis sencers
---
Tipus de propietat
Pis
---
Capacitat
3
---
Dormitoris
Skopje, Skopje, Macedònia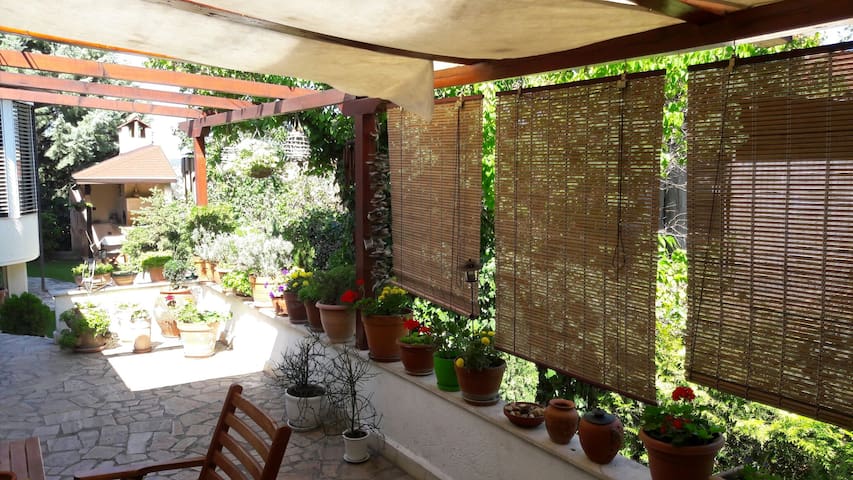 Hostel Louis is just 150 meters from the main square , is good for couples, solo adventurers, business travelers, families (with kids), and groups up to 8 people max.We offer you 2 private spacious 23m sq rooms (blue & green) and lounge area. There is a fully equipped kitchen for you to use, as well as 1 shared bathroom. With so much to offer, you will have everything you need for a comfortable stay.
Sehr zentral gelegen, nur zu empfehlen!
Patrick
2017-02-27T00:00:00Z
The location is very good, the rooms very clean with a lot of light. Thanks!
Urs
2016-09-23T00:00:00Z
Very nice apartment in the perfect location, clean and modern. Absolutely no complaints at all. Zak was extremely helpful and friendly. Highly recommend staying here.
Andrija
2016-11-26T00:00:00Z
Very nice apartment in the perfect location. Zak was extremely helpful and friendly. Highly recommend staying here!!
Alasdair
2016-08-20T00:00:00Z
Zak war sehr freundlich und hilfsbereit. Wohnung war sauber und super gelegen. Danke dafür.
Marco
2016-09-07T00:00:00Z
We had a great stay at Zak's place. It is very clean and close to the main square. Keep in mind that the check out is at 10 and no luggage storage place available, but Zak was flexible with us, because no one was arriving next day.
Albina
2016-10-12T00:00:00Z
Zak was great! Friendly, helpful, and even offered me a ride to the destination. Would rent with Zak again.
Phil
2016-10-20T00:00:00Z
Zak's father kindly came and met us to let us into the apartment and made us feel very welcome, we felt as though we could ring him with any questions. He was also very accommodating for an early check out time, which was great. The flat was beautifully furnished and was very clean. Our favourite thing about the room was that it was in a very central location- everything was easy to get to- lots of bars and restaurants close by.
Emmie
2016-08-25T00:00:00Z
Tipus d'habitació
Habitació privada
---
Tipus de propietat
Pis
---
Capacitat
3
---
Dormitoris
Skopje, Skopje, Macedònia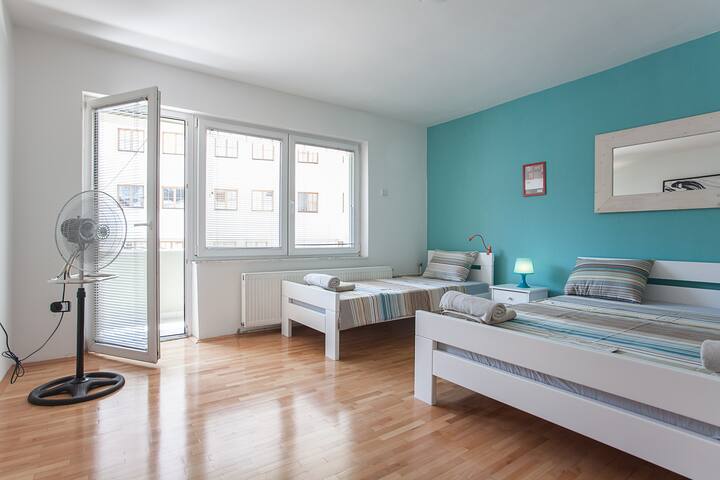 My place is close to airport. You'll love my place because of nature, flowers and entertainments. My place is good for couples, business travelers, families (with kids), and big groups.
Tipus d'habitació
Casa/pis sencers
---
Tipus de propietat
Pis
---
Capacitat
8
---
Dormitoris
Skopje, Skopje, Macedònia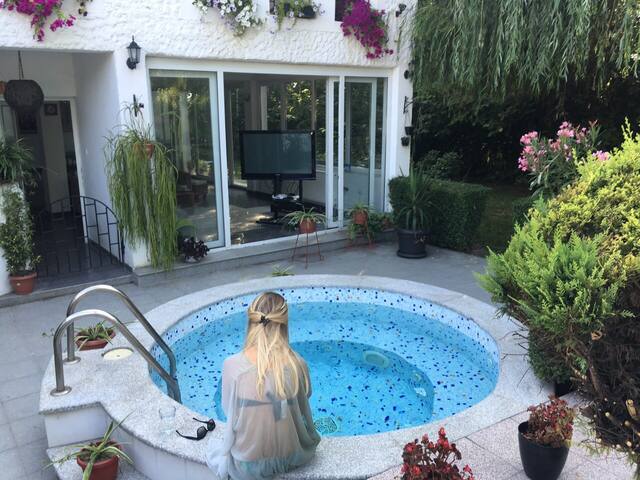 MusicBox is completely renovated studio apartment which interior design was inspired by the early electronic music scene and its pioneers, such as Kraftwerk, Laurent Garnier, Derrick May, Carl Craig, Sven Väth, Frankie Knuckles and Carl Cox. Build with passion and love, its industrial design represents the warehouse parties where the early days of techno and house music once reigned. It is located in a peaceful area, very close to the city centre and main railway and bus station (15min walk).
MusicBox is completely renovated 30m² (323 ft²) studio apartment which interior design was inspired by the early electronic music scene and its pioneers, such as Kraftwerk, Laurent Garnier, Derrick May, Carl Craig, Sven Väth, Frankie Knuckles, Moodymann, Carl Cox, Ron Hardy... Build with passion and love, its industrial design represents the warehouse parties where the early days of techno and house music once reigned. MusicBox is Studio Apartment with fully equipped kitchen, one bathroom and french balcony. It is recommended for 2 people, but also could fit 3. There is one sofa bed on which can sleep 2 persons (140cm X 200cm) and one recliner sofa suitable for 1 (90cm X 200cm). Music box also includes: - Necessities: Clean bed sheets, towels, shampoo, shower gel, liquid soap, toothpaste and toilet paper - Fully equipped kitchen: fridge, oven, electric water kettle, dishes, pots and pans, all types of glasses (water, juice, beer, red & white wine, whiskey...) - Phonar Akustik sound system [Phonar Laser 75 Hi-Fi System (2 speakers + 1 subwoofer)] - Kenwood K521 receiver (Amplifier + Radio) - Digital inputs: iPod; USB, CD; Aux cable; RCA, Optical Audio - 40'' LCD Samsung Smart TV (connected to internet; to the Kenwood receiver with optical cable and MAX TV); MAX TV – the best IP TV in Macedonia - Ministry of Sound turntable (not functional) - Print arts of some of the pioneers of the electronic music scene - Fast wireless internet connection provided by the best Internet provider in Macedonia – "T-home" - Hangers, Hair Dryer, Iron, Laptop friendly work space with wired internet connection - FREE parking in front of the building The apartment is on the second floor and there isn't elevator in the building.
The apartment is located in the very beginning of "Kisela Voda" neighborhood in a quiet, peaceful and safe area. Since it is located in the very beginning of the neighborhood it is almost the same whether you gonna go to the restaurants and bars in the hearth of the "Kisela Voda" or at the city center :) Just 1 minute walk of the apartment is one of the most famous local fast food chains - "Villy". You could try there "Lescovac grilled meat". Also 3min away you could find real traditional Macedonian restaurant ("kafana") where you can try all the Macedonian specialties. Mountain "Vodno" is not far away from the apartment. It is about 30min walk or 5min by car.
Filip's "MusicBox" is a great place to stay. Clean, well equiped, with positive energy. Filip is a great host. All together, highly reccomended!
JOVICA
2017-04-05T00:00:00Z
Amazing place! Everything is newly refurbished with stunning sound system and TV. The cleanliness of the place was amazing, fully equipped with modern furniture and close to the city center. The host is incredibly helpful and generous.
Nikola
2017-04-04T00:00:00Z
Very nice apartment, walking distance to train or bus station and city centre. Clean and well equipped apartment. Filip is very nice host, provides me with all information that I need. Thanks, and definitely would come back again someday.
tri rahmat
2017-04-03T00:00:00Z
Great minimalistic small apartment for overnights, designed in style
Tomislav
2017-03-08T00:00:00Z
Tipus d'habitació
Casa/pis sencers
---
Tipus de propietat
Pis
---
Capacitat
3
---
Dormitoris
Skopje, Skopje, Macedònia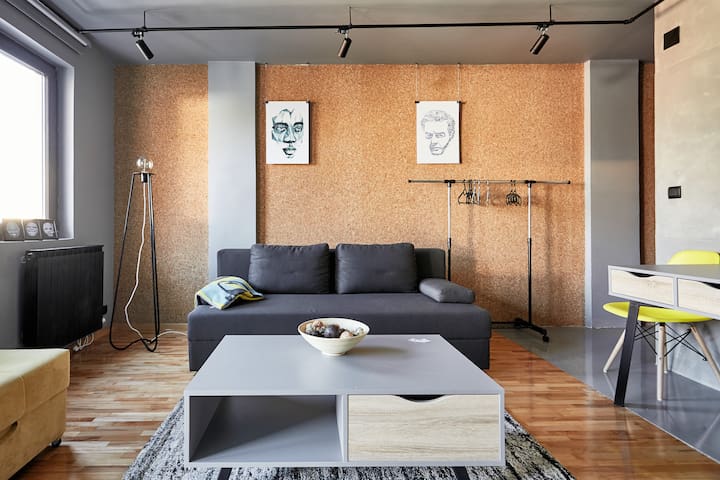 My place is close to the city center, main square, malls, shops, green market, nightlife, family-friendly activities, public transport. You'll love my place because of the location, the ambiance, the positive energy, the neighborhood, me :-)) My place is good for couples, solo adventurers, and business travelers.
It has anything you need. Every guest can use everything from the fridge, or to prepare a coffee or tea for herself/himself anytime. Other things guests can use: - Hair dryer - Towels - Shampoos and shower creams - Hot water 24/7 - Iron - Juicer - Anything from the kitchen
Marta's place is a cute apartment in the city center. The building is new and the security is good. The apartment is a smallish one bedroom with a balcony and a couch which can be converted into a second bed. The place is decorated tastefully, with a big bathroom and a fully-stocked kitchen with coffee, snacks and wine. The location was good, near shops and the city center. Marta was an excellent host and helped me find everything I needed. I highly recommend Marta's place for those traveling to Skopje!
Andrew
2017-03-01T00:00:00Z
Perfectly clean. Everything new. Very nice place. Great houseowner.
Jor
2017-03-11T00:00:00Z
If you're looking nice and well located accommodation, this app will be grate for you!
Dragan
2017-03-19T00:00:00Z
You are not going to make mistake with this nice place.
nebojsa
2017-03-06T00:00:00Z
Marta's place is really nice, just like the pictures, very clean and comfortable and just a few minutes walk to the center. Marta was very nice and accommodating and very helpful with any information as well as making sure you are comfortable. Definitely recommend!
Daniel
2017-03-26T00:00:00Z
Had a little trouble finding the apartment. The location for the address on (SENSITIVE CONTENTS HIDDEN) maps is off by about 200-300 meters on the same street. However, Marta was super helpful and was in contact with me the entire time! I was warmly welcomed into her cozy apartment with fresh squeezed juice and chocolates :) Her place is very clean, modern, and comfortable and is very close to the center (10mins walking). Would definitely stay again! Thanks Marta!
Kaitlyn
2017-03-14T00:00:00Z
Tipus d'habitació
Habitació privada
---
Tipus de propietat
Pis
---
Capacitat
1
---
Dormitoris
Skopje, Skopje, Macedònia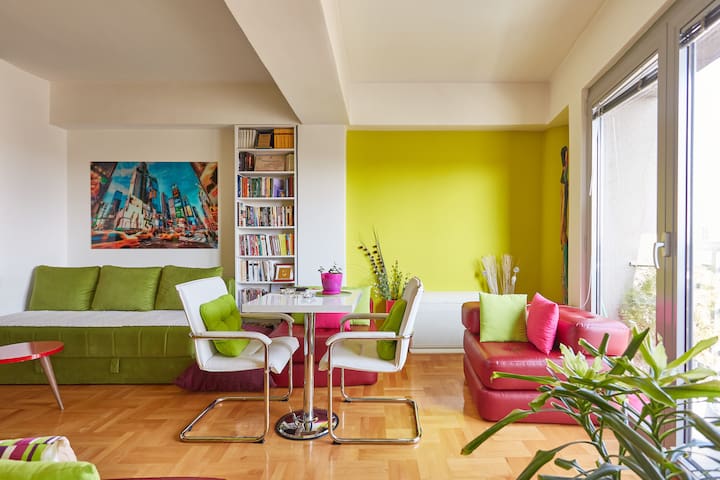 My place is close to nightlife, the city center, and public transport. You'll love my place because of the coziness, the people, and the location. My place is good for couples, solo adventurers, business travelers, and families.
Understandable friendly! Easy to communicate!
Ivaylo
2016-11-20T00:00:00Z
Although there was a slight mix up with the booking, Ana was quick to be accommodating. She was very helpful giving us information about the local restaurants and bars.
Nina
2016-11-12T00:00:00Z
...
Jelle
2016-09-27T00:00:00Z
Le logement est relativement proche du centre-ville et du Mont Vodno. Ana est super gentille. Il y a une épicerie 24h au coin de la rue et plusieurs restaurants proche. La rue est calme (pas trop de bruits). Ana est toujours présente pour répondre aux questions et donner des conseils.
Camille
2016-11-04T00:00:00Z
Ana was a really nice host an the flat was very clean an cosy. She answered quickly when sent am message about how to get in the flat or where to leave the keys etc. Also the balcony was really nice to hang out in the morning sun or in the evening, with a breathtaking view on the neighborhood "Vodno" and on the mountain south of Skopje. We can recommend the penthouse without doubt!
Dettling
2016-10-04T00:00:00Z
Ana was very helpful, she provided us with everything right on time. She explained the routes to everything we needed (exchange offices, 24-7 stores, town square.. etc.) she was also very open to helping us with issues irrelevant to the accommodation and the experience. The place was very comfortable for all 4 of us.
Fahed
2016-10-26T00:00:00Z
Ana was very helpful and pleasant person with a big smile. She gave us all needed directions to see Skopje's famous places. Apartment was clean with a new furniture and cozy balcony. Everything was provided as promised.
Egidijus
2016-09-29T00:00:00Z
The flat is very big and nice, there is nice terrace and the neighbourhood is quite and close to the mountain. I would recommend more stuff to be put at the flat in order to make its visitors' stay more comfortable. After all, Ana is accurate for everything.
Danail
2017-02-06T00:00:00Z
Tipus d'habitació
Casa/pis sencers
---
Tipus de propietat
Pis
---
Capacitat
4
---
Dormitoris
Skopje, Skopje, Macedònia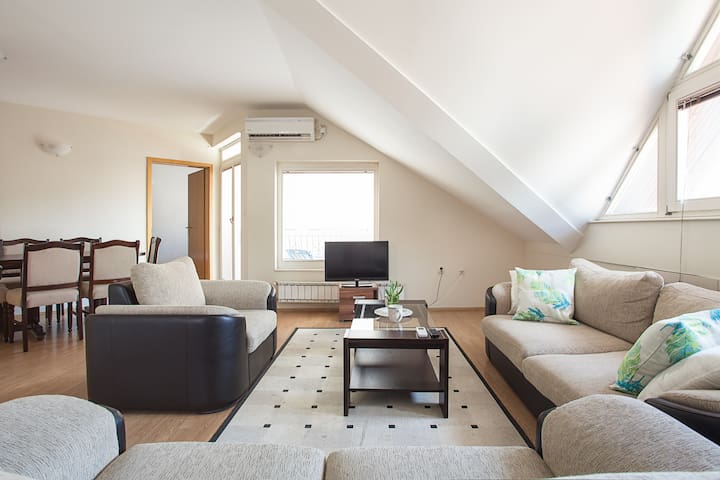 1

-

18

de

Més de 300 lloguers
Introdueix les dates per veure el preu total. S'aplicaran tarifes addicionals. És possible que també s'apliquin impostos.