Més de 300 lloguers d'apartaments
Welkom op deze eenvoudige, gezellige kamer met een prachtig uitzicht op een grote gracht, op ongeveer 3,5 km buiten het oude centrum van Utrecht (15 min met de fiets). - Gratis gebruik van een fiets - Gratis parkeren - Mooi open zicht - Geen ontbijt inbegrepen
Ik heb twee kamers op airbnb, dus het is mogelijk dat er (een of twee) andere gasten ook. Meestal is het rustig, maar ik denk dat het goed om te weten van tevoren! Uw eigen slaapkamer is eenvoudig, niet groot, maar netjes en schoon. Het bevat een eenpersoonsbed, een klein bureau met een stoel bij het raam en een kledingkast. Fiets: laat het me weten als je wilt om een fiets te gebruiken, dus ik kan er zeker van dat er één voor u klaar om te gebruiken (zonder extra kosten). Ik zal altijd proberen om een eenvoudige maar degelijke fiets beschikbaar te hebben.
Dies ist ein Multi-Kulti-Viertel, etwa 3-4 km außerhalb der schönen Stadtzentrum von Utrecht. Es gibt große, graue Wohnblocks, in den 60er Jahren gebaut, wenn viel von Gehäuse schnell gebraucht wurde. Manche würden es 'hässlich' nennen, und sie haben Recht! Auch wenn es nicht viel in diesem Bereich passiert (keine Pubs), in vielerlei Hinsicht die Lage praktisch ist: kostenlose Parkplätze, Geschäfte in der Nähe, Autobahnen in der Nähe und das Stadtzentrum gut erreichbar mit öffentlichen Verkehrsmitteln oder mit dem Fahrrad. Vor, dass, die Wohnung hat eine schöne Sicht auf dem Wasser, wo große Schiffe langsam passieren. Es macht es eine perfekte Basis nach einem Tag in der mehr geschäftigen Stadtzentrum von Utrecht zu landen. Für Menschen, die in Utrecht für die Arbeit in Papendorp sein müssen: es ist nur über die Brücke. Ein Einkaufszentrum mit Supermärkten und (falls gewünscht) Fast-Food ist nur wenige Gehminuten entfernt.
I had a perfect stay at Bregje's. The room and the apartment were just as announced, Bregje was very flexible with check-in and check-out times, and everything was spotlessly clean. I recommend it and I would definitely stay there again.
Mariana
2016-08-08T00:00:00Z
Bregje is a really hospitable person and was very welcoming when I arrived. I loved her house, it's basic but very clean and in a good working state. The shower is great, as is the kitchen. Bregje even shared some food with me, which I had not expected. Having a bike makes exploring Utrecht really fun. The view is also great as you can sea barges and cruise ships sail by.
Rutger
2016-12-23T00:00:00Z
Hele fijne ervaring. Bij aankomst was Bregje aanwezig om alles uit te leggen en hebben we een fijn gesprek gevoerd over mijn activiteiten dat weekend. Ik heb me erg thuis gevoeld en ben heerlijk uitgerust alle 3 de workshopdagen doorgekomen. Bedankt Bregje voor je gastvrijheid en wie weet tot ziens
Oscar
2016-02-08T00:00:00Z
Bregje made me feel very welcomed into her home and despite the booking being a last minute one she was more than happy to accommodate and help with any issues I had. I would highly recommend anyone to stay with Bregje as she made me feel very at home and was nothing but helpful with any questions I had about Utrecht.
Aaron
2016-01-29T00:00:00Z
Bregje was a really great host. The room, location and view were lovely and there was tea/breakfast provided along with a bike (and a map). Bregje was also very helpful when I got lost on my way to the apartment :)
Maria
2016-10-17T00:00:00Z
Very quiet, comfortable, and welcoming! I loved staying here.
Paul
2016-04-02T00:00:00Z
The neighbour hood was quiet and peaceful. Easily accessible by bus. The bike was fantastic. It was so easy cycling in and out of Utrecht. Beautiful flat, fantastic host. I prefer airbnb to hotels and hostels every single time. Not one problem or issue. Would recommend as the perfect way to visit Utrecht on your own. Thank you Bregje.
Alexandra
2016-05-30T00:00:00Z
I didn't stay long but Bregje's place was perfetc. It is very clean and you have evrything you need! I had a perfect stay. Thanks a lot!
Stephanie
2016-03-09T00:00:00Z
Tipus d'habitació
Habitació privada
---
Tipus de propietat
Pis
---
Capacitat
1
---
Dormitoris
Utrecht, Utrecht, Països Baixos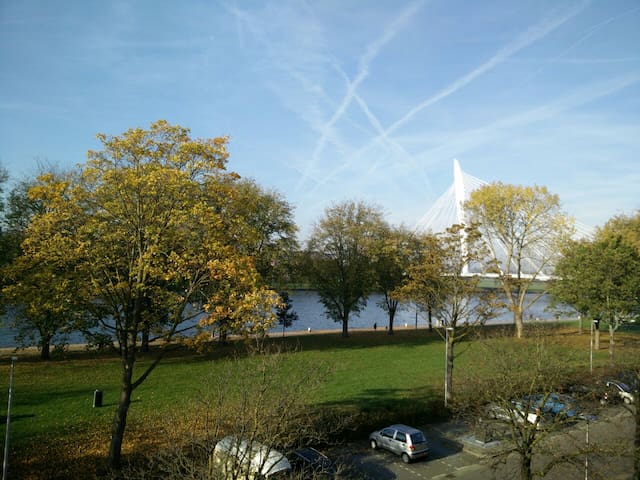 Alloggio vicino al centrum, facili collegamenti ferroviari e la stazione di autobus in giro. ristoranti esteso (aperto fino a tardi) supermercati, parco, amichevole sicuro quartiere tranquillo. Tea / Coffee .Professional pulito settimanale.
Ed is a very great host! I always felt welcome, we always got along very well, and had interesting talks. Everything was always clean and tidy, Ed spontaneously cooked or made tea and we sat together to eat and talk. He's an especially friendly host!
Esther
2017-02-12T00:00:00Z
A great host to live with, will definitely recommend to anyone to live right in the heart of the beautiful Utrect city center. Neighbors have a cool cat, too!
Vladimir
2016-12-17T00:00:00Z
Ed is a very kind and helpful person. The flat is nicely located in the city centre, close to the typical Dutch canals. I had a very pleasant stay.
Dominik
2017-02-24T00:00:00Z
The rrom was very spacious, bright and very warm for these cold winter days! I would definitely recommend this place; location, price and size are great! Ed is also a very friendly and caring host ! =)
K Denise
2016-11-30T00:00:00Z
Ed's place is perfectly located, very clean and very comfortable. I highly recommend staying here. Ed is a very kind person and often brought me food, and he also allowed me to check out late. Thanks Ed! I had a great stay.
Kat
2017-01-03T00:00:00Z
L'alloggio è semplice ma spazioso pulito e luminoso. L'ubicazione è fantastica in centro ad Utrecht nella zona storica e caratteristica della città ma, comunque, facilmente raggiungibile anche in auto. Lo consiglio sicuramente anche per periodi di soggiorno lunghi. Ed è un host molto corretto, disponibile, gentile e preciso. Sono felice di poterlo ringraziare pubblicamente e raccomandarlo a chi legge.
Lucia
2016-11-14T00:00:00Z
The host canceled this reservation 6 days before arrival. This is an automated posting.
Daan
2016-11-09T00:00:00Z
Tipus d'habitació
Habitació privada
---
Tipus de propietat
Pis
---
Capacitat
1
---
Dormitoris
Utrecht, Utrecht, Països Baixos
A weekend, do business or visit the Fair ... what you going to do, here you can linger. What to expect: ♡ Nice comfortable pillow top bed ♡ central place in Utrecht: • Fair at 3km • Bus stop around the corner • Highways next door ♡ You can use the bathroom and kitchen and in the morning I give great coffee!
The bedroom has all the amenities needed. Nice bed, clothes hangers, night lamp, mirror.
Tipus d'habitació
Habitació privada
---
Tipus de propietat
Pis
---
Capacitat
2
---
Dormitoris
Utrecht, Utrecht, Països Baixos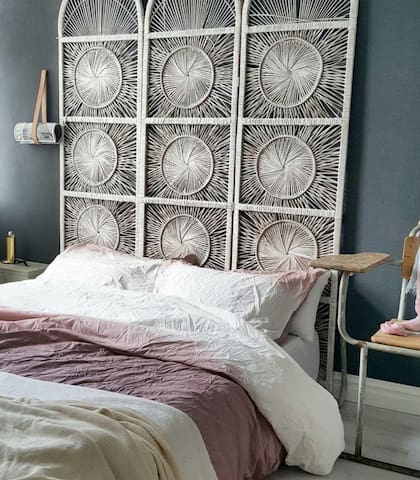 Dejligt værelse med smuk udsigt over vandet i vores hyggelige lejlighed. De fredelige omgivelser og den grønne gør du næsten glemmer, at du er så tæt på byen! Central Station, TivoliVredenburg og De Jaarbeurs er næsten rundt om hjørnet. Hvis du kan lide velkommen til at låne vores cykel!
Vores hyggelige lejlighed er smukt beliggende for enden af en blind ended gaden, er der ingen trafik forbi. Mellem balkonen og Merwede kanalen er kun en sti og du ser præcis mellem to husbåde ved at give dig en vidunderlig udsigt. Beliggende i stueetagen af en lille lejlighed bygning. Der er et soveværelse med en komfortabel seng (2,10 lang), stor stue med sofa, spisebord og åbent køkken, badeværelse med bruser og badekar, separat toilet og alt super ren. Køkkenet er fuldt udstyret med opvaskemaskine, kedel, Nespresso-maskine, mikrobølgeovn, komfur, køleskab med fryser og mange tilbehør. Steder til morgenmad, frokost, middag eller en dejlig drink er inden for gåafstand. Der er en butik thats tjener gode kaffe, en restaurant har til huse i en restaureret gammel soja plante (1908), og en hyggelig café med terrasse.
Lejligheden er beliggende på grænsen af den fredelige park Oog i Al og Lombok med små butikker. Det har udsigt over Merwedekanaal med smukke Muntsluis og grønne bælte. På den anden side ligger Park Oog i Al. I den tætte bymiljø af Lombok, Stationsområdet og Oog i Al her er et sted med ro, hvor du kan fange din ånde på spørgsmål af dagen. Om sommeren er der også en masse svømning i Merwedekanaal fra molen ved den historiske Rijksmunt og foran vores hus. Den gamle historiske by med den gamle og den nye Canal med sine karakteristiske havnekajer og terrasser gør Utrecht en hyggelig og intim byen. Derudover Utrecht byder på mange museer, bådture og vandreture gennem de gamle historiske små gader med Dom Tower som bogstaveligt fremhæve.
Marieke's flat is a gorgeous venue in the heart of Utrecht. It's surrounded on all sides by traditional Dutch canals and is a lovely place to relax after a day exploring the city.
Matthew
2016-10-09T00:00:00Z
Marieke and Michel made moving in to my dormitory in Utrecht much easier and have been helping me out to get settled in. I was able to make use of their kitchen, facilities and bike. They provided me with clean sheets, advice, a good bed, anything I needed. They were very accomodating and flexible. They are a very easy-going quiet couple.
Adrian
2016-08-30T00:00:00Z
Soepele en prettige plek om te overnachten. Marieke is erg gastvrij en zorgt er voor dat je je snel thuis voelt.
Aad
2016-11-10T00:00:00Z
I really enjoyed staying with Marieke! She is very friendly and helpful, and communication was quick and reliable. The location is an easy walk (15-20 min.) from the main train station, and the apartment is in a very peaceful neighbourhood. The room was comfortable and very quiet. Altogether it was a very restful stay!
Julianne
2016-10-15T00:00:00Z
I enjoyed very much my stay at Marieke's place. She is a nice and very kind person. Everything was so smooth: the apartment was clean and very beautiful and the neighbourhood was so quite. It is close to the city centre and surrounded by the river, I simply loved it. I'd recommend her place to everyone who heads to Utrecht. Enjoy!
Gresa
2016-10-14T00:00:00Z
Very nice location, really nice host, and a beautiful clean place to stay. An excellent experience. Thank you Marieke.
Paolo
2016-09-15T00:00:00Z
Great location, great apartment, great host and a lot of fun! Marieke and Michel are a great couple who have welcomed me very well incl. one Amstel bier ,-) The apartment is pretty new, big but cosy at the same time, stylish and got a balcony with view on the vecht right in front of you. The room is big enough with a commode and a very good mattress incl. little welcome cookies and also little maps of the city and some tips where to go... :-) Supermarkets, bakery restaurants, bars are 4 minutes walk distance within this area. Train station is in 15 minutes walk distance and city center further 10 minutes. I enjoyed the conversations very much, we drank together, had dinner and laughed a lot. If you want to be next to the city center and enjoy being at the water and have some nice walks or lay on the grass next to the river or even go for swimming than you should sign up for some nights at Marieke's place. I also got their city bike to get to the office and keep myself fit. It is a very good feeling when you come as stranger and leave as friend. A BIG Thank You to Marieke and Michel en tot ziens....
Koray
2016-09-09T00:00:00Z
D
Eric
2016-11-04T00:00:00Z
Tipus d'habitació
Habitació privada
---
Tipus de propietat
Pis
---
Capacitat
1
---
Dormitoris
Utrecht, Utrecht, Països Baixos
Ønsker du at opleve det historiske centrum af byen? Og at have Centraal Museum, Nijntje / Miffy museum og kanalerne på blot 2 minutters gang væk? Kom og bo på dette hyggelige lejlighed! Og lige en halv time med tog fra Amsterdam.
Centraal-museet, Nijntje / Miffy museum 2 minutters gang væk. I hjertet af den historiske gamle bydel, i et pulserende shoppingområde, med små unikke butikker.
Nice lidt butikker, caféer og restaurant. Svært at vælge én!
Isabel welcomed us to a warm, cozy apartment in the heart of Utrecht. Organising the stay with her was no fuss. Her place was spotless clean and looks just as nice as it does in the pictures. The location of the apartment is so convenient - right near the Dom and the old canals, close proximity to cafes, bars and restaurants. Although central, the apartment itself is very calm and quite - so ideal for light sleepers like me. Isabel was a great host. She gave us a map and suggestions of where to eat and cultural events to see. She even left some beers for us in the fridge! A truly wonderful place to stay.
Charlotta
2015-05-05T00:00:00Z
Isabel met me at Central Station and led me to the bus which drops you off very close to her apartment. Isabel's apartment is beautiful and fully functional. A large stylishly furnished space with every modern appliance one would need. The wifi worked great, the bedroom was dark and quiet. It is located above an awesome beer store and has a bakery, butcher and grocery store located within a few steps. Can't say enough positive things about Isabel's apartment or the City of Utrecht for that matter.
Todd
2015-11-25T00:00:00Z
We had an awesome time in Holland! Staying in Utrecht was one of the best places to stay. It is central to everything and the transit system was phenomenal. Not only is the apartment in the heart of the city, but Utrecht is in the heart of Holland. Isabel made us feel very welcome in her home. The apartment was very clean and spacious. It was very comfortable. It is so close to everything, and Isabel had left great directions to anywhere we needed to go. We will definitely make sure to keep this information readily available for the next time to visit and have already recommended it tour family. Thanks Isabel for making the first part of our vacation a fantastic experience. Theresa & Bob Ottawa, Ontario
Theresa
2016-06-02T00:00:00Z
The apartment is amazing. Exactly as described and the location is really ideal. Isabel is a great host who is very helpful, kind and sincere. If you plan on going to Utrecht, you won't regret choosing this place.
Kareem
2015-06-27T00:00:00Z
Beautiful apartment in a great location. Isabel is a lovely person and a great host. Best Airbnb we have stayed in to date.
Alex
2016-02-21T00:00:00Z
Had a perfect birthday in this amazing city made all the more easy by staying in this beautiful apartment, one we can't recommend enough. Isabel made everything so much easier having catered for our every need with helpful information and giving us an effortless experience. 10/10
Fiona
2015-11-09T00:00:00Z
It was just great! Isabels appartment is so beautiful, modern and clean. It's fun to spend time there! Isabel helped the whole time via (SENSITIVE CONTENTS HIDDEN)!
Hannah
2015-10-05T00:00:00Z
When we arrived at the apartment Isabel was there with a friendly welcome and gave us a little tour and made sure we were happy with everything. The apartment is absolutely gorgeous and in such a lovely area - even though it's above a street full of shops it's very peaceful. The kitchen is great and has everything you could possibly need and we loved the little courtyard garden. We're so, so happy that we booked Isabel's apartment as it was a lovely place to come back to after exploring lovely Utrecht each day. Can't recommend this AirBNB highly enough!
Ali
2016-09-09T00:00:00Z
Tipus d'habitació
Casa/pis sencers
---
Tipus de propietat
Pis
---
Capacitat
2
---
Dormitoris
Utrecht, Utrecht, Països Baixos
Værelse med en fantastisk udsigt i hjertet af landet, fri cykel. Mit hjem er beliggende i et multikulturelt kvarter på 15. etage, dens rart at have en åben udsigt om morgenen, når du vågner op eller efter en travl dag. I lejlighedskomplekset finder du en dejlig blanding af mennesker; unge, gamle, børn, lokale, expats og udenlandske studerende.
Alle er velkomne
Der er er lille indkøbscenter i nærheden med en bager, multikulturelle supermarkeder, så en masse grøntsager og frugter, nogle fast-food og en Lidl. Lidt længere væk vil du finde en anden lille indkøbscenter og et indkøbscenter med et større udvalg.
I definitely wasn't expecting what I got for that price! Very much paid off to look for places that aren't as central, but easily accessible. Frank was very accommodating and the apartment had all the necessary amenities.
Kenneth
2017-02-26T00:00:00Z
Mijn verblijf bij Frank was top. Frank is heel aardig en gastvrij en het was super dat ik gebruik kon maken van z'n fiets en keuken. Ik heb heerlijk geslapen in een ruime kamer met een super bed en schitterend uitzicht. En het was nog betaalbaar ook!
Jeroen
2017-02-09T00:00:00Z
Frank is the perfect host. Very hospitable and very generous in the sharing of his knowledge. A super view and super market very close by. The bike was brilliant and more than compensated for the out of town location. I can't wait to come back.
Jason
2017-03-30T00:00:00Z
Frank was a great host and his place was quite comfortable! He was very accommodating with my arrival and departure times and gave me some great ideas for my next stop, Greece. There are some grocery stores and quick food shops nearby, as well as several bus stops and a metro stop.
Marie
2017-03-12T00:00:00Z
Frank is a great host, always smiling and ready to give you advices and chat about everything. At the same time, if you need your privacy, you can have that without problems. I also really appreciated his flexibility in check-in and check-out. The bedroom is big, very clean, warm and comfortable. Thanks to its 4 windows you can enjoy a great view over a part of the city. This place is in a fashionable multicultural neighbourhood, with people ready to help you if you get lost. Urban trains and busses are at 5 minutes walking. I highly recommend this host and this place to everybody!
Amir
2017-02-22T00:00:00Z
The apartment was quite good taking into account extremely low price. Frank is very nice and open mind person and I truly enjoy talking to him! The main disadvantage is the neighborhood. Houses around are primarily occupied by immigrants, who are not that aggressive, but still make walks around extremely uncomfortable. Probably this is the only reason that can possibly stop anyone from living there, because everything is good enough inside the apartment!
Andrey
2017-02-16T00:00:00Z
Staying with Frank was great--he was really flexible about my reservation and made me feel very welcome. He also had some great recommendations for events happening in Utrecht which I really appreciated!
Kelsey
2017-03-04T00:00:00Z
Frank is a very nice host we had a good talk and he is very helpfull. I arived in the evening and the view was just so cool! If your looking for a budget place to sleep with a great host do not hesitate to book this room. Thanks again Frank!
Dennis
2017-03-01T00:00:00Z
Tipus d'habitació
Habitació privada
---
Tipus de propietat
Pis
---
Capacitat
1
---
Dormitoris
Utrecht, Utrecht, Països Baixos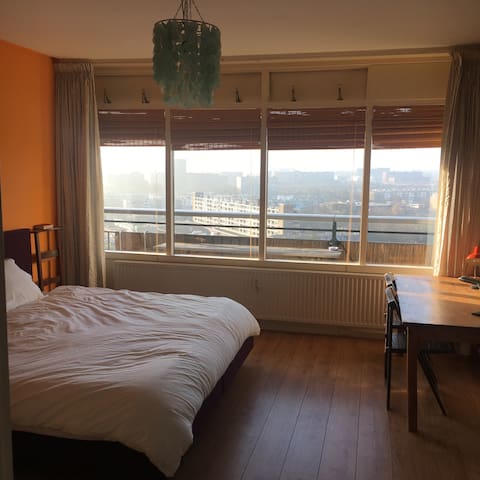 Willkommen in diesem modernen, rustikal und gemütlich Wohnung nur opposit von Neude-Platz. Es ist eine großartige Einführung in die schöne Stadt der Kanäle, der Domturm, Boote und Biere. Mit nur 5 min zum Hauptbahnhof Sie in der Mitte des Stadtzentrums sind mit einem Lebensmittelladen um die Ecke, Busse 20 Sekunden zu Fuß und alle Restaurants, die Sie gerne im Abstand riechend;) Haben Sie eine Tasse Tee auf dem Balkon oder auf der Dachterrasse und genießen Sie die Aussicht!
Good place to stay on a perfect spot in Utrecht. Clean place with all the stuff you need. Friendly host. Would stay again.
Iwan
2017-03-07T00:00:00Z
Rhoxane was the perfect host in a great location. Thank you for letting me use your apartment for the weekend.
Keith
2017-03-19T00:00:00Z
Comfortable place in a very central location and a very accommodating host. Recommended.
Tito
2017-02-25T00:00:00Z
perfect for someone who is looking for a modern, clean and friendly environment for a few days over the rooftops of Utrecht's charming old city centre
Verena
2017-02-09T00:00:00Z
Rhoxane is super nice, her appartment and the location are beautiful.
Sabine
2017-03-01T00:00:00Z
Rhoxanne was a great host and her place was lovely, quiet, clean and in a easy location for town.
Rob
2017-04-09T00:00:00Z
Comfortable and very nice place in the city center near to the place of interest really recommend!!
Marco
2017-04-03T00:00:00Z
Fijn schoon huis op een mooie plek. Gastvrij.
Mark
2017-04-05T00:00:00Z
Tipus d'habitació
Habitació privada
---
Tipus de propietat
Pis
---
Capacitat
1
---
Dormitoris
Utrecht, Utrecht, Països Baixos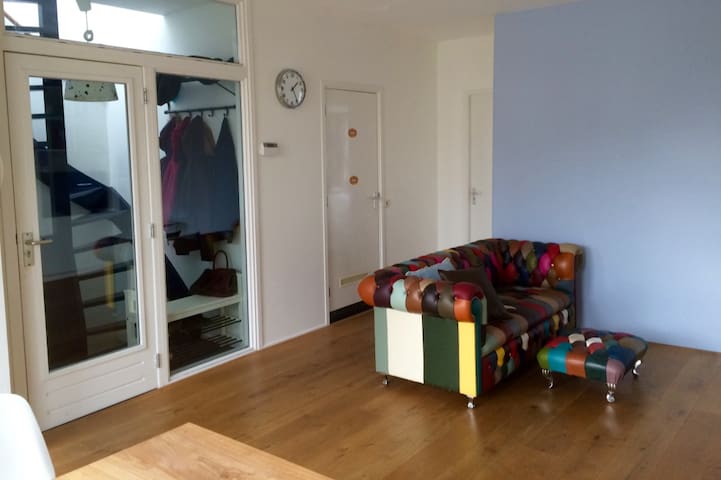 Tipus d'habitació
Habitació privada
---
Tipus de propietat
Pis
---
Capacitat
2
---
Dormitoris
Utrecht, Utrecht, Països Baixos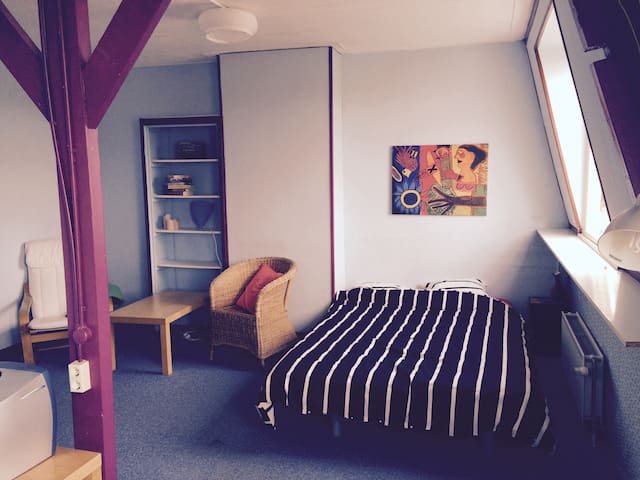 The Apartment is suited in the backyard of my house. It's a small quest house with much facilities included. You have a private back entrance that leads you to the shops and busstop. Its very convenient for those who like to spend the night(s) in privacy. Please have a look at my other apartment too, you can find it on my profile.
The accommodation is a barn transformed into a small house of 36 square meter with much facilities included. It includes 1 bedroom with a double bed 140 x 200cm, a small living room/ kitchen ( Kitchen has one stove, small fridge, watercooker microwave and bread toaster) and a small bathroom. It's ideal for one or two persons. With only a 15 minute walking distance from the Utrecht city Centre & Central station Utrecht this is a perfect place. To Amsterdam it takes only 25 minutes with the train. I hope to welcome you at my comfort garden apartment! :)
The neighborhood is very peaceful and chill.
Putu is very Friendly, Nice and Open:) the Communication was Perfect and everything in the Room was clean and more than expected!
Thomas
2016-10-08T00:00:00Z
It's a lovely little place, well situated close to shops as the listing says. Our gracious host made us feel very welcome. Perfect for a short stay
Daniel
2016-11-14T00:00:00Z
Due to a misunderstanding Putu expected us at 2o'clock, but when I checked the address, I saw check-in at 5 o'clock, so we arrived at that time, but it was my mistake, when I booked I said we would arrive at 2:00. Nevertheless, Putu arrived at the apartment within 10 minutes after my email. The garden house is as described and very clean. The mattress on the floor was a surprise, but it was comfy. For a night it's OK. The exit on the back alley was also a bit of a surprise, it could be hazardous at night, as it is very dark.
Louise
2016-09-25T00:00:00Z
Cosy, quiet and clean. Walkable to the city and train stations. Excellent communication with Putu. Just what I was looking for in my trip so I highly recommend it!
carina
2016-12-04T00:00:00Z
Perfect for exploring the city. Coming back home later in the night isn't an issue, as the room is separate from the main house, which was a great plus to me.
Sanne
2017-01-12T00:00:00Z
Cozy and clean apartment, recommended!
Eetu
2017-01-23T00:00:00Z
We enjoyed our stay in Putu's place. It is not in the city center, but it is easy to get there by bus. The little house has everything for comfortable stay. Putu is very nice and friendly. Communication was really good
Natalia
2017-02-27T00:00:00Z
Putu is een prima en correcte gastheer, het 'appartement' is schoon en de douche is prima. Een keuken is echter, anders dan de informatie doet geloven, niet aanwezig, het is klein (verbouwde fietsschuur), alleen benaderbaar via een nogal ongure achterafsteeg. Vergeleken met eerder airbnb kamers veel te duur voor wat je er voor terugkrijgt.
Maaike
2017-01-15T00:00:00Z
Tipus d'habitació
Casa/pis sencers
---
Tipus de propietat
Pis
---
Capacitat
2
---
Dormitoris
Utrecht, Utrecht, Països Baixos
Tenim un altre apartament de lloguer per favor, demani més informació. És fàcil arribar amb autobús. A només 3 parades de l'estació central. Sortir al teatre de la ciutat. NRS autobús. (PHONE NUMBER HIDDEN).
Gran i espaiós apartament al segon pis de casa nostra. (També hi ha un altre apartament veure "Apartament a casa històrica" a la primera pàgina). Vostè tindrà la seva pròpia cuina, dutxa i WC. El lloc de seient està situat davant de la xemeneia autèntica. D'altra banda hi ha les nous llits i matalassos. D'altra banda, prop de la cuina es troba la taula de menjar. Però també és un bon lloc quan es vol treballar. Wifi és gratuït. La cuina està equipada amb nevera, microones i dos fogons. Cafetera i waterkettle amb cafè i el te també estan disponibles. Tenim una nova dutxa i bany privat fora de l'habitació, a dues passes de sota. Hi ha tovalloles i barnussos a l'armari de l'habitació. Hi ha un munt de botigues properes. El supermercat està obert durant set dies a 22:00 h. I hi ha un supermercat verd. Utrecht és una gran ciutat amb un ambient excel·lent i té un bell centre històric d'explorar. Restaurants i bars li trobarà a tot arreu. Especialment els canals, els molls i la Domtower valen per explorar.
Molt a prop del centre de la ciutat. Tot en pocs passos. Gran ubicació per al Uithof, la universitat
The room was as beautiful as the photos of the advice. The host was very kind and discreet.
Silvia
2016-08-17T00:00:00Z
Great place, central, easy access and warm!
Mark
2016-12-16T00:00:00Z
Rein was such a fantastic host. Beautiful apartment just as shown on the pictures. He went to the trouble of lending me his iPhone charger as I had forgotten mine. Wouldn't hesitate in using Rein's apartments again should I visit Utrecht on Business again. Best, Ross
Ross
2015-05-27T00:00:00Z
They've been both very welcoming. They waited for us even if we were late, due to the trafic. Nice and well situated, next to a park and the city centre. We ´ll come back to Utrecht, we ´re in love with the city!
Maggy
2016-11-11T00:00:00Z
Een mooi appartement dichtbij het centrum. Vriendelijke en professionele service. Een aanrader!
Lisa
2017-03-12T00:00:00Z
Zimmer sind hell freundlich und gut ausgestattet. Die Toilette und Dusche sind ein Traum und sauber, aber sehr eng. Fairerweise sollte man die Adresse Schoolstraat (URL HIDDEN) ist Programm. Für mich als Elternteil klingt es wie Musik, aber dennoch ist es nicht jedermanns Sound, den Schul-Pausen am Morgen zu lauschen. Die Zimmer werden über eine sehr enge Treppe erreicht. Eigentlich kein Problem. Die Unterkunft liegt sehr nah am allgemeinen abendlichen Geschehen. Um die Ecke gibt es diverse lokale und Restaurants. Zum frühstücken findet sich auch genügend. Alles in allem, eine sehr schöne, saubere und leise Unterkunft, die von sehr netten und kooperativen Betreibern Super gehalten wird.
Fabrizio
2016-07-07T00:00:00Z
I arrived a bit early but the host were really nice and accommodating. I could leave my luggage and waited in a nearby cafe till I got a text that my place was ready. It was a great place, just as depicted in the pictures. Quiet, great taste, and good energy. Perfect location - in close walking distance to downtown and the university. I was also able to go for my daily morning run along the canal which is just a block away. I would definitely come back to this place!
Martina
2016-02-12T00:00:00Z
Rein è stato gentilissimo e ci ha accolti calorosamente nonostante fossimo arrivati tardi a causa del ritardo del nostro volo. La casa si trova praticamente in centro città, in una vietta tranquilla ma con bar, ristoranti, supermercati ecc tutti a due passi. Il monolocale spazioso, luminoso, bellissimo. Fornito con lenzuola, asciugamani, the e caffe per la mattina, wi-fi, opuscoli e guide della città e dintorni.. Non potevamo chiedere di meglio! È stato davvero tutto perfetto. Bedankt Rein & Tineke!
Greta
2016-02-19T00:00:00Z
Tipus d'habitació
Casa/pis sencers
---
Tipus de propietat
Pis
---
Capacitat
2
---
Dormitoris
Utrecht, Utrecht, Països Baixos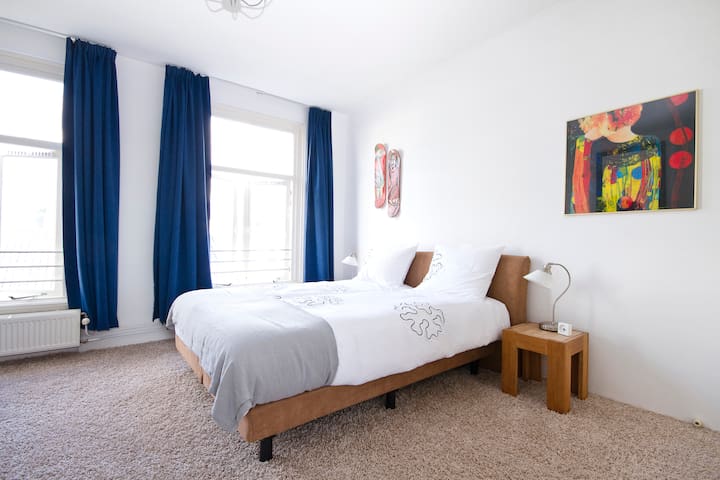 This space is suitable for couples, solo adventurers and business travelers. A nice room in an ideal spot. Whether you come for business or to admire the city from this central chamber is possible. A spacious room for up to 2 people with a nice bed, a desk and an extra seat. Hope to see you soon.
A stylish and comfortable apartment in the 30's of some 100m2. We bought it in 2005 and still live here with pleasure. We rent out our extra bedroom for responsible and sensible adults who are looking for a fantastic location near the center of Utrecht. The room has a double box spring. In the room there is a desk where you can work on laptop / tablet or you can continue reading in the opportunities offered by the city of Utrecht.
Dichterswijk is a nice neighborhood with some nice catering facilities. You can sit in the water at the auction restored harbor. But you can also enjoy the liveliness of the city Croeselaan. Furthermore, closer neighborhood is a quiet area at the center of. Within 20min walk away in the center.
The room was great - nice and spacious with a really comfortable bed! After flying for 17 hours we needed a quiet room where we could crash and our privacy was well respected. The cats were very friendly and greeted us each morning. The apartment is close to shops and restaurants and within walking distance to the historical centre of Utrecht. All up a great room in a central location!
Fleur
2017-04-04T00:00:00Z
We had a great stay at Thomas and Jonathan's place. There place is close to the train station and and easy walk to the center of town. Our train arrived a bit late(9ish in the evening) and thy were very gracious about receiving us that late. I would recommend staying with them!
Lucy
2017-01-29T00:00:00Z
Excellent place to stay! Thomas and Jonathan take wonderful care of their guests.
Amy
2017-03-19T00:00:00Z
Thomas and Jonathan made us very welcome, we were glad to relax after a long journey. The bed was super-comfortable, we only wished that we didn't have to leave so early and could have enjoyed some more sleep! Snacks and tea/coffee in the room was a nice touch, everything was very comfortable. The apartment is beautifully-designed and renovated, and in a great location, near the train station and buses.
Edward
2017-01-03T00:00:00Z
The host canceled this reservation 71 days before arrival. This is an automated posting.
Marcin
2016-12-08T00:00:00Z
Great place! Great hosts! Had a blast!
Reuben
2017-02-16T00:00:00Z
Great rooms, very accomodating, lovely hosts - and a very comfy bed! Would highly recommend!
Russell
2017-02-27T00:00:00Z
Thomas and Jonathan were really welcome and friendly. They were excellent in communicating, responding within minutes to any questions I had, and very accommodating with my checking in and out. The room was comfortable and had all sorts of extra little things, like teas and instant coffee, oat bars, plus little soap and shampoo, which show that they like to take good care of their guests. Their place is 10mins walk from the station, and 20-30mins walk from Central Utrecht. This is an excellent location if you have to catch an early AM train to the airport! I was there for a short night as I had to catch an early AM flight but I certainly would stay with them again in my next trip to Utrecht.
mercedes
2017-02-05T00:00:00Z
Tipus d'habitació
Habitació privada
---
Tipus de propietat
Pis
---
Capacitat
2
---
Dormitoris
Utrecht, Utrecht, Països Baixos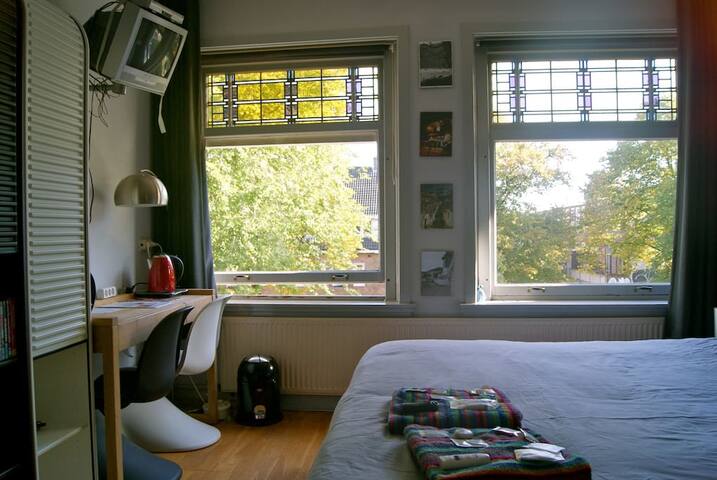 2卧室爱情零距离套间+ WIFI。适合4人。设备齐全的厨房。一间卧室配有一张双人床和一个带双层床。配有独立浴缸,淋浴和厕所2号力士浴室。还有一个坐在阳光明媚的花园。在第25分钟乌得勒支的历史中心步行。
ložnice K dispozici jsou 2 ložnice. Najdete v ložnici 2 osoby velkou a pohodlnou postel. Ve druhé ložnici najdete palandou. Obývací pokoj / jídelna Obývacího pokoje měří 30m2 včetně kuchyně. Kuchyň je vybavena myčkou, troubou, dřezem a plyn burner.There je diningtable vhodný pro 5 osob. Koupelna Koupelna je vybavena vanou, sprchovým koutem, umyvadlem a toaletou. V chodbě najdete druhá toaleta. Poznámka: není tam žádné dveře mezi ložnicí a 1 koupelny. Zahrada K dispozici je slunná zahrada (od 10.00 do 17.00), kde si můžete posedět a užívat si slunce. Tato zahrada je zcela na vás během svého pobytu.
Pěkné klidné čtvrti nedaleko od centra (25 minut chůze), Utrecht.
Matthijs is zeer gastvrij. Het appartement is gezellig. We hebben het erg naar ons zin gehad.
Frouwe
2015-10-31T00:00:00Z
My family and I have just returned from a fantastic stay at Mathijs' apartment. We never met but communication was excellent. Apartment is in a nice area within a short walk to a train station for easy traveling. Apartment was as described, clean and well appointed and lots of essentials provided. Had a minor issue with hot water in shower but Mathijs was quick to respond and help fix problem. As has been noted previously upstairs neighbours were a bit noisy but this is out with the control of Mathijs. Overall would recommend apartment and Utrecht is a lovely city. I would definitely like to return in the future. Thanks again for a lovely stay!
Jonathan
2016-09-27T00:00:00Z
Wij hebben echt genoten in dit fijne huis , alles keurig netjes en heel schoon , goede buurt , en Mathijs is zeer vriendelijk en gastvrij , steeds een snelle reactie op mijn vragen , echt een aanrader om hier te verblijven . heerlijk zo,n huis helemaal voor jezelf !
jolet
2015-08-31T00:00:00Z
The apartment was amazing and very confortable, everything was clean, and it was enough place for 4 of us. It was close to the Utrecht Centraal train station and the bus stop. I would recommend this place. We all loved our stay and we will repeat it!!
Hamest
2015-09-13T00:00:00Z
we
Martina
2016-05-17T00:00:00Z
Accoglienza perfetta, host disponibile e sempre pronto nelle risposte, appartamento carino, wi-fi presente, quartiere tranquillo
michele
2015-08-12T00:00:00Z
Mathijs is a very friendly host. His house and yard was the perfect space for our family of four. It was close to the city centre (5-10 minute bike ride), and in a quiet neighborhood. Having a grocery store within walking distance was also a plus.
Gerald
2015-08-15T00:00:00Z
We had a wonderful stay in Mathjis house. The house is perfect to take some relax. We went for work and the peace in the house and in the garden was amazing. The house if fully equipped, like stay at home!
Luca
2016-04-11T00:00:00Z
Tipus d'habitació
Casa/pis sencers
---
Tipus de propietat
Pis
---
Capacitat
4
---
Dormitoris
Utrecht, Utrecht, Països Baixos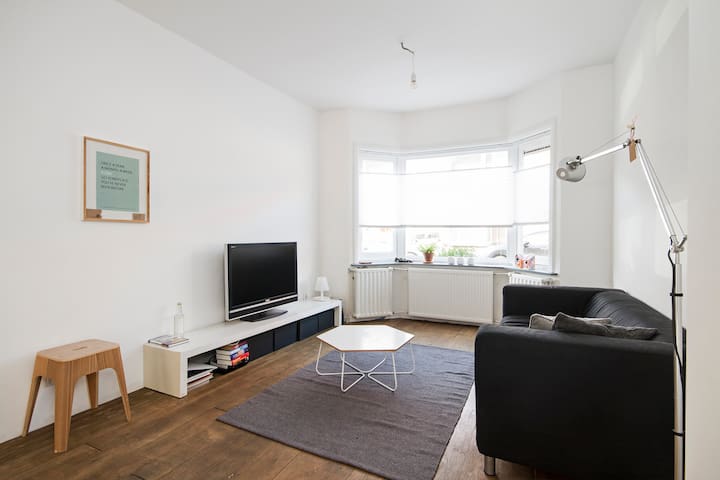 Ein lovley 2-Personen-Apartment in der Stadt centere von Utrecht, Oudegracht, 550 m vom Centraal Museum und 900 Meter vom berühmten Turm des Doms. Bushaltestelle um die Ecke mit einer direkten Verbindung zum Hauptbahnhof.
Schöne Wohnung in der Innenstadt von Utrecht. Nähe Domturm, Central Museum, Catharijneconvent. Alle weniger als 5 Minuten zu Fuß.
Die Wohnung befindet sich in der Altstadt von Utrecht am Kanal (Oudegracht) gelegen. Auch 5 Minuten zu Fuß vom Parc Lepelenburg, wo man Sie bbq besitzen haben.
We loved Rudi's place! It was very cozy and central, right on the Oudegracht (beautiful canal that goes through the main part of the town) He had everything we could need for our stay and even prepared a little breakfast for us on our first morning when we arrived from the airport. In addition, he was always just a message or a phone call away in case we needed anything. Thank you for a wonderful time! We hope to return again soon!!
drewski67
2016-09-19T00:00:00Z
We liked very much this nice apartment in the city center. The apartment was very clean and functional, and it was exactly what we were expecting after seen the photos. Rudy provided us with enough food and drinks for our first meal. Rudy is an excellent host, very nice and friendly, and also tried to help us in a personal matter that brought us to Utrecht. We definitely recommend this apartment. It will be certainly our first choice if we have to come to this city again.
Carlos
2016-10-07T00:00:00Z
Rudi a été un très bon hôte, disponible et chaleureux. N'étant pas sur place lors de notre séjour, c'est son ami qui nous a accueilli, avec un petit déjeuner! Appartement conforme aux photos, très propre et cosy. Emplacement agréable, très proche du centre mais dans un quartier calme. Nous avons passé un super séjour grâce à Rudi. On recommande!
Charlotte
2016-11-07T00:00:00Z
We had a great stay at Rudi's place. The location is perfect, close to all amenities, in the heart of the city center by the canal. Everything was exactly as in the pictures. Rudi was very helpful and flexible. He let us some food which was very nice! Thank you again
Astrid
2016-01-27T00:00:00Z
Rudi was an excellent host. He was very welcoming and easy to communicate with before, during and after our stay. On arrival he had very kindly prepared a breakfast for us and filled the fridge with all the necessaries for the weekend. His apartment was very cosy, clean and comfortable to be in. The location was perfect - just off the canal and within walking distance of all the wonderful scenery Utrecht has to offer. We could not have asked for a better place to stay in for a city break here.
Freddie
2016-08-30T00:00:00Z
Our stay was great! Communication with Rudi was quite smooth and fast. We could not see Rudi himself but his friend was already at the flat when we arrived. The flat is close to the center, and surrounded by nice cafes and bars, as well as supermarkets. Everything was very clean in the flat and nicely decorated! Perfect for couples, we definitely felt home there and highly recommend this listing! - Güliz & Marco
güliz
2016-02-08T00:00:00Z
Had a great stay at Rudi's. Everything was exactly as expected and the apartment was in a great location. Didn't get to meet Rudi himself, but his friend Marco was friendly and welcoming. Would definitely stay again
Lloyd
2016-09-07T00:00:00Z
Warm welkom van de verhuurder. Basis spullen waren voorzien, brood, koffie etc zodat we niet gelijk de straat op moesten om inkpen te doen. Huis is mooi, heel netjes en een zeer aangename atmosfeer. De buurt is rustig en mooi. Appartement ligt heel gunstig aan de oude gracht. Het appartement overstijgt de foto's. Zeer aan te bevelen.
sirano
2016-01-19T00:00:00Z
Tipus d'habitació
Casa/pis sencers
---
Tipus de propietat
Pis
---
Capacitat
2
---
Dormitoris
Utrecht, Utrecht, Països Baixos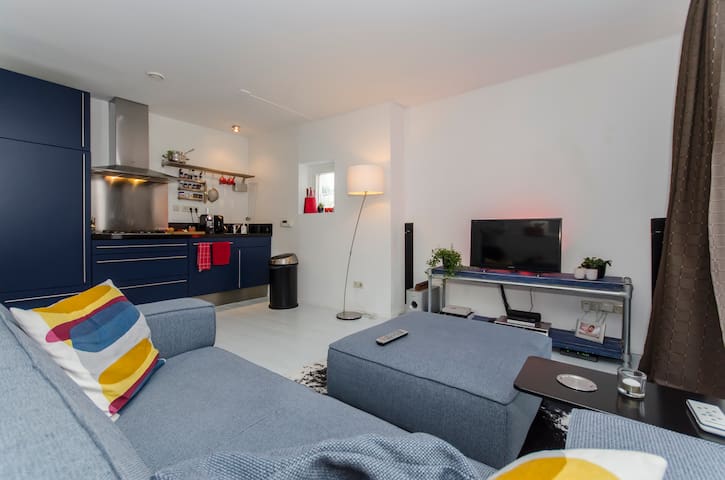 Ein Zehn Minuten mit dem Rad sind Sie in dem Stadtzentrum, aber Sie können auch dort mit der Straßenbahn oder dem Bus fahren. Sie haben beide einen Anschlag innerhalb einer Minute zu Fuß von der Wohnung entfernt. Dinge, die Sie werden in der Lage sein, in unserer Wohnung zu genießen: Waschmaschine, Kaffeemaschine, Backofen, Herd, Mikrowelle, smoothiemaker, TV, Sound-System, playstation 3 und vieles mehr. Es hat auch einen Garten, der zum Räuchern verwendet werden kann. Unsere Wohnung bietet ein Schlafzimmer mit einem Doppelbett und eine Matratze, die im Wohnzimmer genutzt werden kann.
Martin has been a great accompany as he walked through to the information of getting to the place and responsive. The time we arrived, he greeted as nicely as showing the place as it is our new home. It is clean and near tram. So lovely and the first floor actually is comforting. Would love to visit for next trip if I were in Utrecht.
Ridho
2017-04-01T00:00:00Z
The host canceled this reservation 2 days before arrival. This is an automated posting.
Simon
2017-03-02T00:00:00Z
Nice and cute house and Martin and Birgit are too friendly
Barış
2017-01-02T00:00:00Z
Tipus d'habitació
Casa/pis sencers
---
Tipus de propietat
Pis
---
Capacitat
3
---
Dormitoris
Utrecht, Utrecht, Països Baixos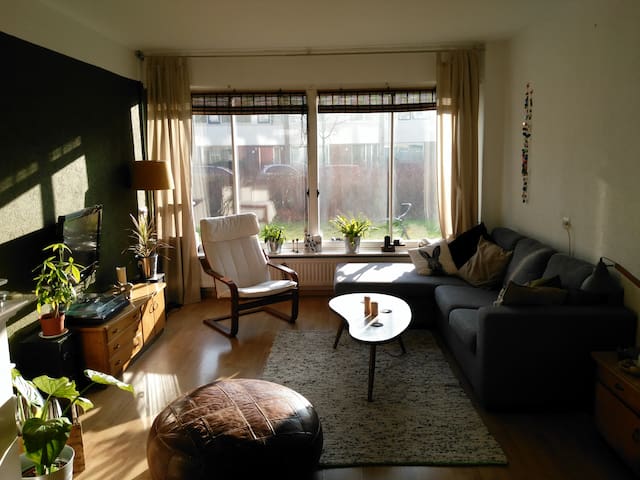 Große Wohnung im historischen Stadtzentrum des schönen Utrecht. Nur 5 Minuten zu Fuß gelangen Sie zu den berühmten Dom, Museen, Geschäfte, Restaurants, Bars und Parks bringen. Eine perfekte Basis unserer schönen Stadt zu entdecken!
Ein 55 m2 Wohnung mit einem Schlafzimmer im Erdgeschoss mit einem geräumigen Wohnzimmer und einer 10 m2 Terrasse auf der Rückseite. Das Schlafzimmer verfügt über ein bequemes Doppelbett (140x200cm). Es gibt einen begehbaren Kleiderschrank mit viel Freiraum für Ihre Kleidung, so dass Sie sich nicht aus dem Koffer zu leben. Sie können waschen, trocknen und Ihre Kleidung bügeln, wenn nötig. Zuverlässige Wi-Fi (Downloadgeschwindigkeit ist 40 Mb / s) in der gesamten Wohnung ist natürlich inbegriffen.
Die Wohnung befindet sich im Museumsviertel in unmittelbarer Nähe zu den Kanälen und dem Turm des Doms entfernt. In der Gegend sind viele kleine Boutiquen, Restaurants, Museen, Theatern und Bars. Die Bar an der Ecke spielt Live-Musik in ihrem Kai Keller die meisten Nächte (keine Sorge, kommen Sie nicht die Musik in der Wohnung zu hören). Die Wohnung befindet sich 5 Minuten zu Fuß entfernt von der Haupteinkaufszone mit größeren Marken und auch nur 5 Minuten von der ältesten Einkaufsviertel in Utrecht, genannt Twijnstraat. Dort können Sie zwei Supermärkte (organisch), kleine Boutiquen, ein Metzger, ein Gemüsehändler, ein Käseladen und mehrere Bäckereien, wo man auch für Kaffee, Frühstück oder Mittagessen hinsetzen kann. "Stael" und "Josephine" haben die besten Croissants und leckeren Kuchen! Es gibt auch ein Fitness-Studio um die Ecke (9 Euro für eine Tageskarte). Messezentrum Jaarbeurs liegt bei etwa 15 bis 20 Minuten zu Fuß erreichbar.
Claire's apartment was quite clean, comfortable and welcoming. Check in and out was easy. The bedroom was next to the street and was noisy with people talking and car traffic. It felt like a home away from home. Very nice, would recommend.
Caitlyn
2016-08-06T00:00:00Z
We really enjoyed staying at Claire's place. It's a nice apartment with very complete amenities. Location is great, right in the city center. Would definitely recommend!
Sascha
2016-06-12T00:00:00Z
I had a great time staying in Claire's flat. It's in a top location and everything was spotless clean. Claire has also provided some information about the area and tips where it's best to eat and to drink. There were even welcome drinks in the fridge. If I would go back to Utrecht I would definitely stay in Claire's flat again.
Paulina
2015-09-10T00:00:00Z
My wife and I absolutely loved the location and floorplan of this home. Very spacious home close to the center of Utrecht. We had a great time here, and we highly recommend it! Thank you!
Dustin
2015-09-02T00:00:00Z
Lovely little place in a brilliant location in Utrecht. Claire made me feel very welcome, and was quick to get in touch in case of any issues. I enjoyed my time in Utrecht. Thanks Claire!
Anja
2015-11-29T00:00:00Z
I booked Claire's place for my parents, who were visiting my sister, who is studying in Utrecht. And they loved it straight away! It was very cosy, very close to the central station and a scenic canal, right in the centre and all the cafes, but still very quiet. They even had a small garden, which makes this place amazing in the summer. And Clair was so lovely - she invented a very creative way of passing them the keys (she was at work at the time they arrived) and left a bottle of wine and some chocolate! My parents had a great experience at Claire's and would definitely stay there again!
Olga
2016-03-01T00:00:00Z
The host canceled this reservation 39 days before arrival. This is an automated posting.
Ross
2016-07-20T00:00:00Z
The apartment is perfectly located in the strict city center but in the quiet backstreet. It takes just few minutes walk along the chanel to get to the central point of Utrecht-the cathedral with all the cafes, shops and museums around. Place itself is very cosy with a tiny garden where you can enjoy morning coffee. Claire is a perfect host, she prepared everything in the apartment very carefully to make it really comfortable including such a details like candy on the pillow and selection of regional beers in the fridge... Short but very nice stay in Utrecht!
Alexandra
2015-08-28T00:00:00Z
Tipus d'habitació
Casa/pis sencers
---
Tipus de propietat
Pis
---
Capacitat
2
---
Dormitoris
Utrecht, Utrecht, Països Baixos
Bleiben Sie in dieser Top 2. Etage Wohnung eines Verlegers. Lesen Sie Bücher und einen Kaffee trinken. Schreiben Sie ein Buch in der kleinen Studie. Haben Sie einen Wein auf der Terrasse. Kaufen Oliven und frische Säfte in der Kanaalstraat. Oder zu Fuß in 5 Minuten zu Ihrer Konferenz in der Jaarbeurs.
Das neu renovierte, gemütliche Design-Studio ist sehr leicht, hat viel Platz (50 m2) und auch eine Terrasse. Es gibt ein gutes Bett für lange schläft und die Küche ist gut ausgestattet mit Miele Kühlschrank und Geschirrspüler.
Lombok ist eine wunderbare Gegend in der Nähe des Hauptbahnhofs mit vielen tollen Lebensmittelgeschäfte, Cafés, Restaurants und versteckten Plätzen. Nach dem Pijp in Amsterdam ist dies eine der besten multikulturellen Bereichen, die schnell in eine Bohème-Viertel entwickeln.
Our experience in the studio was amazing! We had come to Holland as exhausted travellers with 2 flu's, this was the ultimate place for us! We spent a night in cooking dinner and had it as our little home base. The studio was amazing, Utrecht was amazing, Carla was lovely! As were her recommendations of local sites/coffee houses. Would definitely return - if only we weren't so far away! Would recommend to anyone travelling to Amsterdam whom wants to get in and out of the town centre easily and also enjoy their peace and quiet.
Madison
2016-01-24T00:00:00Z
Carla's place is fantastic! I spent two nights here and felt at home right away. The studio is bright, spacious and lovely decorated. There is even a record player with a small collection of records (including David Bowie's last masterpiece), which I think is a really nice touch. The kitchen is fully equipped and includes essentials such as coffee/tea, olive oil, salt and herbs that you can use. I haven't met Carla in person, but the communication before my arrival was efficient, with Carla responding to my messages almost immediately. Upon my arrival she left a personal message and some information about the studio and the surrounding area. I will definetly stay here again if I'm ever in need of a place to sleep in Utrecht :)
anouk
2016-02-13T00:00:00Z
Carla, we hebben genoten van je studio, net of we thuis kwamen! Je hebt hem heel gezellig ingericht en is van alle gemakken voorzien, super!!! Zeker een aanrader en we komen zeker weer terug! Bedankt!!
Nathalie
2016-08-08T00:00:00Z
Bright, open spaced, gorgeous studio! Love how the space is so open especially with the morning sun lighting up the whole place. My boyfriend and I spent 2 nights at Carla's and it was a really pleasant stay for us. Tidy and clean place with a comfortable bed and reading chair, good hot shower and well equipped kitchen. Carla even provided clean towels, good range of coffee and tea, and left us 2 bottles of beers in the fridge. The place is conveniently around the corner from a grocery store. We rented bicycles to move around from there to Utrecht Centraal. Short 15min to Centraal or 5-10min cycle.
Shan
2016-02-28T00:00:00Z
Of all the airbnb's I've visited so far, Carla's was by far the most beautiful one! The decoration of the apartment, its location, and foremost the heartfelt welcome (written welcome note, beers and tea) were all perfect. Carla was a very communicative and overall splendid host.
Sofie
2015-12-29T00:00:00Z
De studio was prachtig, helemaal zoals op de foto's. Carla had bundeltjes klaargelegd met tips voor Utrecht; er was koffie en thee, en dadels. Jammer genoeg was ons tripje snel afgelopen omdat ik ziek geworden ben. Maar we'll be back!
Sien
2016-04-04T00:00:00Z
My stay at Carla's place was fantastic. The apartment is located in a peaceful district, minutes away from the conference center (where I had a meeting during the week). There a grocery store downstairs, which is very convenient. Walking to the old part of town takes about 20 minutes. Although Carla was aout of town for work, communication was very good. I thoroughly recommend this apartment.
Marc-Andre
2016-10-14T00:00:00Z
Carla's studio apartment was perfect for my one week stay in Utrecht. It is very comfortable and quiet and well equipped for making simple meals. The space is clean, open and bright with a lovely terrace space and views to the lights of Utrecht . I found the bed to be very comfortable and cozy. The Lombok area is very unique and multicultural with a small grocery store in the same block but close to coffee shops,restaurants and Utrecht Centraal. I would highly recommend Carla's studio apartment for a single traveller or a couple. The two flights of stairs to the apartment are quite steep but became easier each day.
Pam
2017-03-14T00:00:00Z
Tipus d'habitació
Casa/pis sencers
---
Tipus de propietat
Pis
---
Capacitat
2
---
Dormitoris
Utrecht, Utrecht, Països Baixos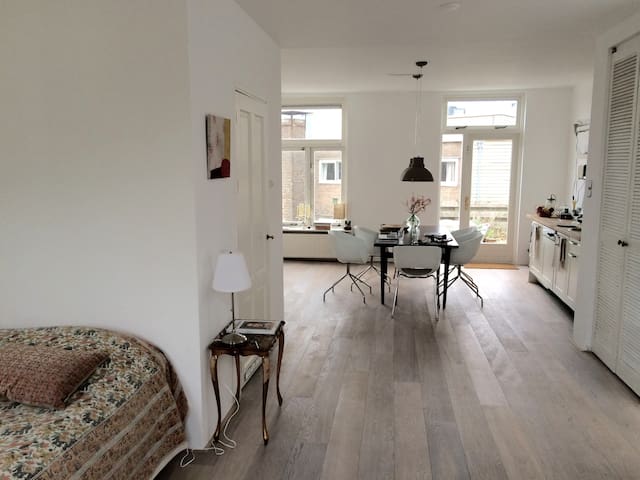 Zažít Utrecht! Spát v domě u vodního kanálu. V centru Utrecht ve středu muzejní čtvrti. Soukromý vchod je podél nejslavnější kanálu Utrecht: de Oudegracht. Ve studiu byl nedávno zrekonstruován s novou kuchyňskou linkou se všemi potřebnými spotřebiči. Na zimu jsme umístili další topné těleso, takže nebude zima.
Prostor je moderní. K dispozici je nová rozkládací pohovka a dvěma oddělenými lůžky. Kuchyň je plně vybavena a od kuchyňského stolu můžete jíst a užívat si krásný výhled a vidět lodě přijít. Televizor má Chromecast, s níž si můžete vychutnat online obsahu, jako je YouTube, (SENSITIVE CONTENTS HIDDEN) play, Sportify.
Místo, kanál domu je velmi zvláštní, přímo v centru města Utrecht, 2 minuty chůze od známého náměstí Domplein podél hlavního kanálu a se spoustou restaurací, obchodů, barů a turistických destinací v rámci handreach.
Beautiful and unique place, total recommender for a visit to Utrecht! Tip: if you want to come by car, book a parking spot in advance ;)
Roos
2016-12-31T00:00:00Z
Hele leuke plek echt Uteregs. Comfortabele bedden . Top lokatie.
MM
2016-12-18T00:00:00Z
This was probably the coolest place i stayed on my 2 week trip to holland. The location is right in town and being on the second level of the canal is just so cool and peaceful. Boats are paddling by right outside the window all day. its nice. The WIFI was a spotty for me but hopefully that will be fixed.
Todd
2016-08-27T00:00:00Z
Our stay in Moniques place was most enjoyable, great place, great area and a really great host. The place was well equipped with everything required, easy to access everything as very central.
Katy
2016-11-30T00:00:00Z
The location was convenient and beautiful and the property is truly unique. It was really fun to stay on the canal and be surrounded by locals.
Ron
2016-09-27T00:00:00Z
perfecte centrum locatie slaapbank is goed verwarming van tevoren aanzetten
Pieternel
2016-12-24T00:00:00Z
Monique was easy to communicate with and was able to answer all of our questions and assist when required. The power was tripped and Monique immediately assisted us to get to the main power switch. The property was exactly as described on the listing. The location is fantastic and being a renovated wharf cellar made it all that more unique!
Janelle
2016-12-03T00:00:00Z
Alles was helemaal top! Check de foto's en je weet wat je krijgt. De foto's doen alleen geen recht aan de prachtige locatie! Echt een heerlijke plek zo midden in de stad. Wij hebben ernaar toe gelopen vanaf Tivoli Vredenburg en dat is prima te doen.
Babette
2017-03-14T00:00:00Z
Tipus d'habitació
Casa/pis sencers
---
Tipus de propietat
Pis
---
Capacitat
4
---
Dormitoris
Utrecht, Utrecht, Països Baixos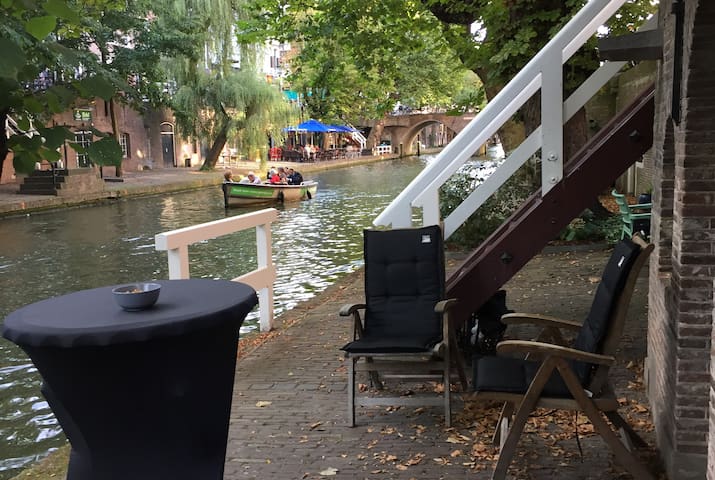 Dieses am Wasser gelegene monumentale Haus liegt in ruhiger Lage im Herzen des Museumsviertels und nur fünf Minuten zu Fuß zum Stadtzentrum. Genießen Sie Ihre eigene Terrasse am Kanal und einem Spaziergang die älteste Einkaufsstraße um die Ecke mit seinen trendigen Restaurants, wird Ihren Aufenthalt zu einem einzigartigen Erlebnis!
Diese Ein-Zimmer-Wohnung befindet sich im Erdgeschoss. Das Schlafzimmer, die auf der Rückseite der Wohnung liegt, verfügt über ein bequemes Doppelbett. Das Sofa im Wohnbereich kann in ein Einzelbett gemacht werden. Das geräumige Badezimmer verfügt über eine Dusche, Toilette, ein Waschbecken und eine Waschmaschine und Trockner. Es ist ein Kabel-Farb-Flatscreen-TV und natürlich WiFI zu Ihrer Verfügung. Und .. sogar ein Klavier!
Die Wohnung befindet sich in der so genannten "Museumsquartier" von Utrecht. Eine Einkaufsstraße mit netten Cafés und Restaurants ist gleich um die Ecke. Auch um die Ecke ist einer der belebtesten Gegenden von Utrecht, der Ledig Erf mit Bars und ein Kino.
Erg mooi en knus appartement. Alles erop en eraan. Geweldige ligging! Op loopafstand van de stad en midden in een levendige, sfeervolle buurt. Super vriendelijke en flexibele gastvrouw. Wij vonden het een echte aanrader!
Juliet
2015-09-14T00:00:00Z
Kai und Bouke sind sehr nette, hilfsbereite und unkomplizierte Gastgeber. Die Wohnung ist wunderschön, zentral gelegen und in einem guten Zustand. Alles bestens! Vielen Dank für tolle Zeit in Utrecht!
Malte
2015-11-07T00:00:00Z
This is truly a wonderful place to stay in Utrecht!!!!! We enjoyed a lively "canal lifestyle," and the privacy of a lovely apartment. The location was absolutely perfect....shopping on the Twijnstraat (the nicest in the city) for one's daily needs, restaurants, cafes, terraces....all steps away. A 1000-year old canal at your front door sporting pleasure crafts as well as work/delivery boats. All of this, and the apartment remained an oasis of peace and quite. Additionally, the apartment was comfortably furnished and the kitchen was fully stocked with any cooking gadget one could need as well as a full array of herbs and spices. Our hosts were timely and responsive to our every need. Thank you so much Kai and Bouke, for sharing your downstairs apartment with us. We will definitely stay here again....space permitting, as this is the best B&B in the city! ~Brigitte and hans
Johan
2016-07-26T00:00:00Z
Superschöne, gepflegte, stylische und bestens ausgestattete Wohnung direkt an der Gracht. Ruhig und idyllisch, trotzdem liegen nette Cafés, Restaurants und kleine schöne Geschäfte direkt um die Ecke. Sehr sympathische und hilfsbereite Gastgeber. Wir hatten eine richtig gute Zeit und kommen bestimmt wieder!
Nina
2017-04-02T00:00:00Z
Bauke was een bijzonder gastvrije host. Het appartement was werkelijk prachtig in alle opzichten. Geweldige locatie aan de oudegracht en waanzinnig mooi pand. Grote aanrader wat ons betreft!
Jantien
2016-10-19T00:00:00Z
We had a wonderful visit to Utrecht and the canal apartment topped it off. Perfect location to visit all of the city by bike. Kai was a generous hostess and made us feel at home. Staying on the canal added to our experience. Next time we stay here longer.
John
2015-06-26T00:00:00Z
Wonderful apartment in Utrecht. You are literally steps away from some great shops and places to eat. Kai was a great host, and we really liked the apartment, great bathroom, beds, and kitchen. We couldn't enjoy the canal-side location since we were there in the cold, but we might just have to go back in nicer weather.
Jerome
2015-11-23T00:00:00Z
What a lovely flat. Quiet with interesting view watching the boats go by on the canal. Very well-appointed kitchen with all you need to cook real meals. Hosts were very accommodating and very nice people. Near everything. A nice "home from home." Highly recommend.
Lisa
2016-10-10T00:00:00Z
Tipus d'habitació
Casa/pis sencers
---
Tipus de propietat
Pis
---
Capacitat
3
---
Dormitoris
Utrecht, Utrecht, Països Baixos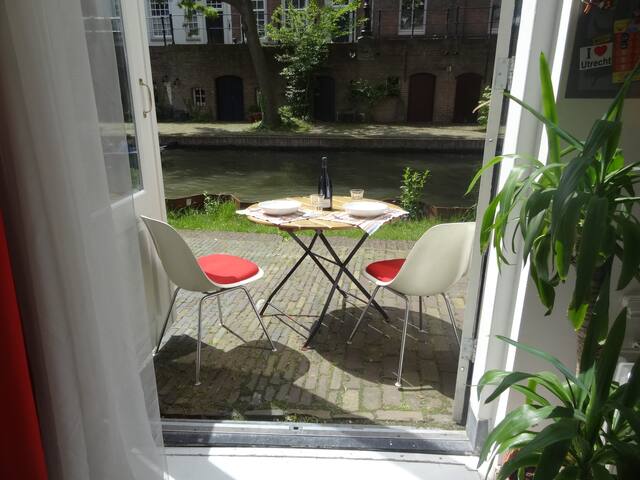 1

-

18

de

Més de 300 lloguers d'apartaments
Introdueix les dates per veure el preu total. S'aplicaran tarifes addicionals. És possible que també s'apliquin impostos.