Alt katta salon, açık mutfak, banyo, üst katta 2 oda, banyo. Muhteşem bir bahçe içinde. 700 m2 yüzme havuzu, sosyal tesis, restoran, market, tenis kortu, basketbol sahası, çocuk oyun alanı. Denize 900 m. Denize gidiş dönüş için servis vardır.
It's a holiday resort suitable both for families and romantic couples, suited in the middle of a nature reserve within 1 km. distance from the beach. There is a brook and duckpond.
Nous avons passé un super séjour dans ce village de vacances je le recommande pour les amateurs de calme. Le parc est splendide et bien entretenu on y retrouve des arbres fruitiers, figues, grenades, citrons, avocat, pêches, oranges, … Une grande piscine ou on ne se bouscule pas, vous avez tous l'espace que vous voulez Un véhicule est prévu toutes les heures pour vous conduire gratuitement à la plage privé qui se situe +- à 1 km Terrain de tennis, terrain de basket, terrain de foot, volley de quoi vous occupé La villa que nous avons louée a tout le confort pour les vacances, une cuisine si vous souhaitez faire votre cuisine, il y a le resto du village de vacances ou vous pouvez avoir le menu pour 4 € à ce prix-là on ne cuisine pas ;), une TV, 2 douches et le plus important les climatiseurs Ce que nous avons apprécié c'est la disponibilité de notre hôte à réagir rapidement au moindre petit souci. Si vous apprécié la tranquillité n'hésitez pas a loué la villa de notre hôte vous ne le regretterez pas.
Huseyn
2014-08-16T00:00:00Z
LOVED IT! 5 stars! ️️️️️ The house was perfect for our family of 5. Cute & clean. It had everything our family needed already in it. It was a relaxing atmosphere with a great view of the pond. The compelx was clean and staff very friendly. There was even a restaurant on the premesis overlooking the pool. Just a short distance from the sea. The villa was perfectly distanced between Alanya & Side. Our family did 3 excursions and was picked up last and dropped off first because of the location. So we didn't spend hours on the tour buses going to & from excursions. Ayesgul was the perfect hostess. We had a bit of trouble finding the place at night and she answered our phone calls late in the evening to help us. For anyone flying, we recommend flying into Antalaya. We are already planning our vacation for next year and will definitely consider this villa again!!!
Chuck
2015-07-10T00:00:00Z
It was a great holiday for me and my family. The complex was amazing, completely natural and green. Ayşegül's house has more than everything you need for a comfortable stay. The place is very close to the Manavgat city centre so it makes very easy to access every kind of necessities. You can walk, drive or use shuttle for accessing the beach. Seaside was amazing. Water was warm but for ones who prefer cold water should use Manavgat river which has its ending at max 100 meters from the beach. As a host Ayşegül was quite helpful. You can ask your questions any time you want. She answered all my questions in no time.
Arda
2016-09-17T00:00:00Z
Fantastic! The apartment is so beautiful and despite being in the complex feels very private! We loved the site and felt very welcomed and safe. Most of the other people using the site were families. We visited as a couple with our friend and felt really happy with the relaxed, quiet vibe of the site. The apartment is beautifully decked out and covered in lovely textiles! It was very clean and spacious and had everything we needed. The onsite pool and restaurant both exceeded our expectations wonderfully! The site is much easier to access with a car but we managed to get around ok using taxis, dolmus (buses) don't service the area really. Overall Aysegul was very easy to communicate with and helpful and we want to say thankyou! Lastly, we were very happy with the price, it is well well worth it! Lily and Cem.
TigerLilian
2016-07-24T00:00:00Z
Villa was so clean and perfect, everything you need for our familiy was there, Aysegul was great hostes, She always tried to help us if necessery. Perfect nature, well organized garden, the pool is big enough, there is space for children to play. Restaurant is clean and good quality, price is good. Staff is very friendly. Beach is not so good for non swimmers and children, wavy and become dept shortly. But for me sea was perfect! I recommend to visit Side old town, 10-15 min by car. Dim Cayi(Alanya) 50-60 min by car.
Murat
2016-07-15T00:00:00Z
Tipus d'habitació
Casa/pis sencers
---
Tipus de propietat
Casa
---
Capacitat
6
---
Dormitoris
Manavgat, Província d'Antalya, Turquia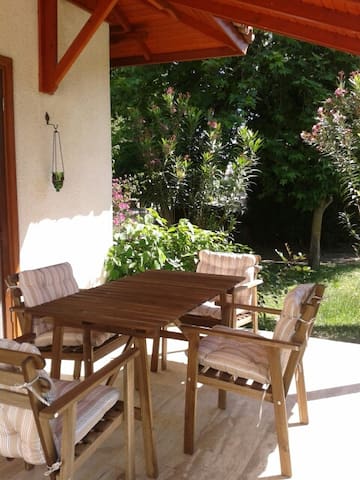 Our house is in a holidayvillage with 32 blocks of 4 houses. It's in a beautiful, big, parklike garden with a little brook and duckpond. There is a big pool, a market, restaurant and tennis-courts. It's in the middle of a nature-reserve 1 km from the beach (free regular beach-shuttle available). It's literally in the middle of a nature-reserve! You'll need a car! The next public transport is 4 km away. Please read everything below carefully! Don't book if you don't agree!
Our house (100 m²) has 2 floors. Downstairs: big living- (2 sleep-couches) / diningroom with open kitchen, bathroom with shower, terrace. Upstairs: 2 bedrooms with a double-bed each (160 cm x 200 cm), bathroom with bathtub, balcony. Airconditioning in all rooms. Big pool, market, restaurant, free wifi, tennis-courts in 2 minute walk. Free shuttle to beach (1km away)
Manavgat is a still quite ethnic town, the inner city has still it's special Turkish charm, that's what I like the most. The river Manavgat with its turqoise colour is beautiful and the waterfalls a few miles north are lovely, too. Antique Side with a nice beach, antique ruins, amphitheater, cute harbour, shops and restaurants/discos is 10 km away.
Great place to rest. Pool, garden, house and the deck was perfect. It is pity that this place is not on the beach
Ali
2015-05-20T00:00:00Z
Sehr schöne Anlage. Sehr ruhig.
Manfred
2015-08-20T00:00:00Z
We haven't met Gilly in person, but were happy that she was always available to answer any question of ours (before our arrival via e-mail and by phone when we arrived late in the evening and were not able to communicate with security guys in Turkish). Property is located in a nice villas complex, well maintained and you have everything you need to enjoy your stay there. Pool was clean, very big and almost always empty. Very convenient with the car of course, cause you need to drive to the sea about 5-7 minutes and for grocery shopping you need to go to Manavgat which is around good 20-30 min drive if you need a big supermarket or local bazaar for fresh vegetables, fruits and meat/fish. Without a car you can use tractor with trolley that goes from villas to the sea and back with a certain schedule during the day and eat at the cafe that is located in the territory + buy some basic products (drinks, bread) from the small shop. Staff was very friendly and able to speak English or German. Single point that we didn't like that much, unfortunately was the sea itself - as the river flows into the sea literally next to the beach, the water is not clean due to many cruise ships that travel daily from the river to the sea and back. Even the smell was not nice at all sometimes (depending on the tides timing I believe). For us in the end it was a disappointing moment, but not the drastic one as we met our friends and had a very good time together!
Katerina
2014-07-07T00:00:00Z
Eine traumanlage , sehr schöner pool, tolle andere gäste!!!sehr weit ab von allem!! Nur mit dem auto erreichbar!!!
Martin
2015-09-10T00:00:00Z
Really great holiday location, easy to recommend. It's a quiet, peaceful development a short drive from Side/Manavgat. We spent a week here; our kids loved the large, deep pool. Also popular was the wildlife: the gardens are lovely, and host geckos, crabs, fish, dragonflies and a couple of magnificent wasp spiders! Great flora as well. Good spot for visiting places: Alanya, Antalya are about an hour away, Side 15 minutes. You need a car. Plenty of restaurants and shops in Side and Manavgat, so it's easy to eat out. Only a short drive to the beach, but there are no facilities there. Beaches towards Alanya looked more developed. Driving to Alanya you see all these huge hotels, probably 5* all inclusive, and you realise that you've made the right decision to go self catering somewhere like this! There is a shop and restaurant on site, but they are rather basic, you'll need to get supplies in Manavgat. Generally the facility is past its heyday (the pool bar was not manned in August), but this is part of the charm.
Adam
2016-08-07T00:00:00Z
A quiet, clean and well maintained settlement. Gilly's house is clean and beautifully decorated and has all the necessary household appliances.
Bilgehan
2016-06-14T00:00:00Z
Tipus d'habitació
Casa/pis sencers
---
Tipus de propietat
Casa
---
Capacitat
6
---
Dormitoris
Manavgat, Província d'Antalya, Turquia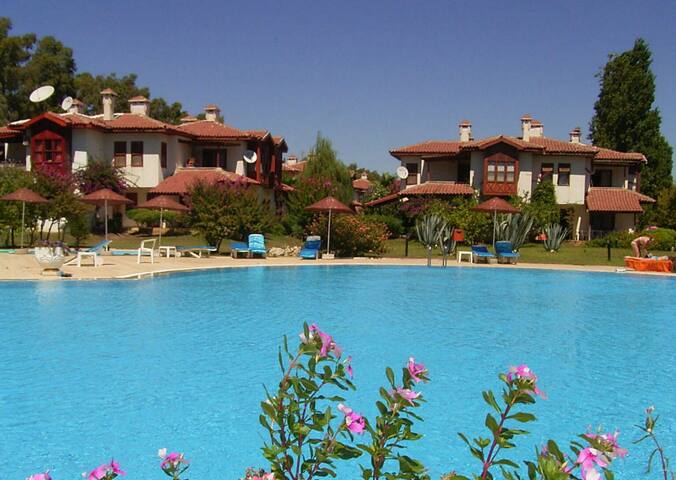 Duplex indepandant dans villa avec piscine, vue sur mer et champs. Situation a la fois calmes et proches des activites. Plages a 600 mt, de galets-nature-,plage de sable chaises longues, douches, parasols de l'hotel 5* gratuit pour les locataires.
Tipus d'habitació
Casa/pis sencers
---
Tipus de propietat
Casa
---
Capacitat
6
---
Dormitoris
Antalya Manavgat, Mediterannee, Turquia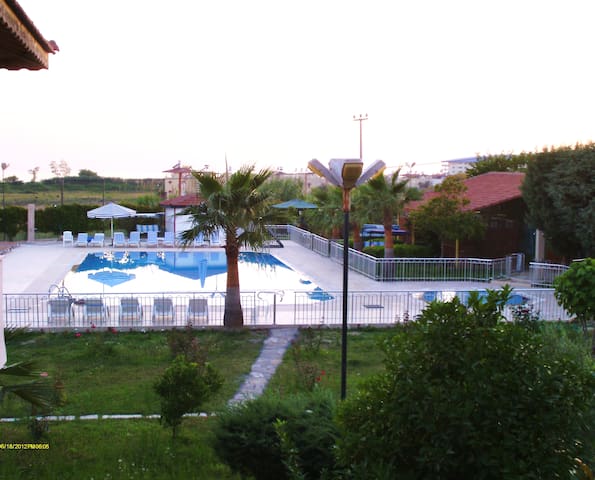 An apart-villa in Turkey, Side (65 km from the Antalya airport) is ready for renting. 2 bedrooms and living-room, 2 bathrooms, balcony with terrace, private garden and swimming pool. The villa has everything necessary for perfect holiday.
Tipus d'habitació
Casa/pis sencers
---
Tipus de propietat
Casa
---
Capacitat
4
---
Dormitoris
Side / Manavgat / Antalya, Antalya, Turquia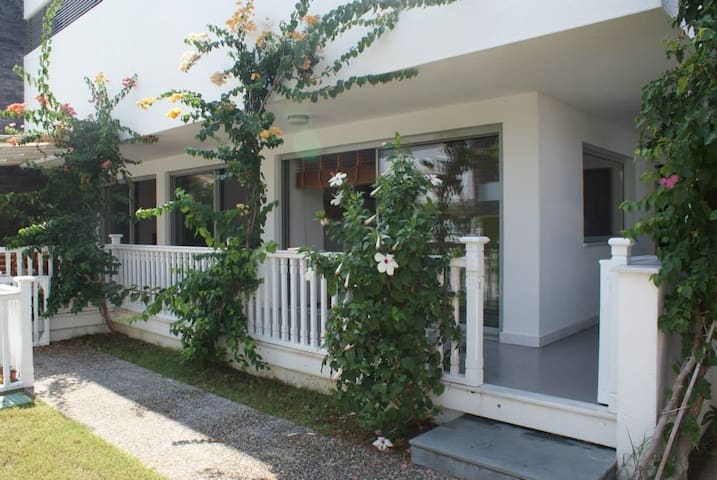 İn an ancient roman city with perfect view and breeze on your balcony...Beach( sandy )is only 15 steps away from you ...There are lots of restaurants , bars and shops around you...Temple of Apollon , harbour , roman theater are all 5 mintues walk..
Denize sıfır , özel plajıyla , mükemmel manzarası ve harika balkonuyla eşsiz bir apart...Dünyaca ünlü Apollon tapınağına 5 dk yürüme mesafesinde...
Dünyaca ünlü Antik Sidenin tam göbeğinde.....
Thank you Zeynep for your very warm welcome. We loved the location of the apartment so close to the beach, fabulous ruins and choice of cafes and restaurants :) It was easy to get to by public transport then a short walk .
Gayle
2016-06-13T00:00:00Z
Thank you, Zeynep, for the wonderful vacation! The place is just perfect for the vacation. The historic center of Side. The view to the sea... the breeze from the sea... and all those magic old stones! The APARTMENT is what you see on the pictures. Small but very cozy. KITCHEN had everything we needed. There wasn't microwave, but we were fine without it. We needed the baby-chair and we were provided with it. Kitchen does not have any kitchen table but we liked to eat outside at the balcony: looking at the sea and all the people passing by. The BED is super: just perfect for the rest. BATHROOM is very small, shower without curtain (be ready for it) but we got used to it very quickly. Even found pluses: you can do so much at the same time there with the baby: wash baby&yourself, wash clothes after salt water while baby plays with water without warning that the water is everywhere :) CONDITIONER was only in the living room. But we even liked this fact. I worried to get sick from the blowing conditioner. It cooled the sleeping room just fine. Just under your apartment there is a BAR-CAFE. We found only pluses from it. I felt that they are like our good neighbors whom I ask for the "salt" if I need it. Thank you for the rise and for teaching me how to cook it ;) The type of music heard from the bar we liked. If we didn't want to hear it then we just closed the windows/doors and switched on the conditioner. The 2y old baby slept well with closed windows/doors. Later at night when the music is off we opened the window in the sleeping room and enjoyed the sounds of the sea. The BEACH is few steps from the apartment. I loved this fact very very much! Two sun-beds with the umbrella is 14 TL. You can take one for 7TL. The beach is narrow but it was enough space: to play on the sand with the baby, coastal part washed by the water we used for running and paying with the ball. Every evening the people, who take money for the sun-beds, put the sun-beds back in the nice order and collect the big garbage from the beach. There is a garbage can on the beach and, I think, I've seen the shower. There are no big SUPERMARKETS very close to the apartment. However, there are a lot of small ones around for first need goods. The closest big one is about 2 km way. But we made this path with the baby easily as a evening walk. More than half of the way were on walking roads without any cars. Only stores and cafes-bars on the way. So the was just running around us. The only problem was to get him away from stores with toys)) The thing is that you are very much welcome to ask if you need something...
Tatyana
2015-09-05T00:00:00Z
Die Lage ist erstklassig . Man hat einen wunderschönen Blick auf das Meer und zum Strand sind es 10 Meter. Die Gastgeberin ist höflich und sehr hilfsbereit. Einzig die Musik in der Bar unter dem Apartment war für die Kinder störend. Im Wohnzimmer gab es eine Klimaanlage, im Schlafzimmer hätte eine den Aufenthalt noch komfortabler gemacht. Insgesamt ist das Apartment sehr empfehlenswert
Ali
2015-08-18T00:00:00Z
The host canceled this reservation 16 days before arrival. This is an automated posting.
Alexandra
2015-12-12T00:00:00Z
The apartment is in a nice little village, near the famous apollon temple. In place there are some shopping opportunities, restaurants, bars, hairdressers, ATM machines, and many other things. The owner had kindly organized the transfer for us. The apartment is located close to the sea, only a walk separates it from the public beach, where are sunlounger with umbrellas can be hired for little money. The outlook from the apartment balcony is very nice which is located at the first floor. There is a restaurant/bar located under the apartment. The apartment has two rooms, bedroom with eat-in kitchen. A renovation would´t be bad at the apartment. Otherwise everything was fine.
Ebru&Arnold
2016-06-03T00:00:00Z
We had an Amazing stay at Side. Zeynep is a gracious host. She made an alternate arrangement for us to have breakfast when we had arrived in the morning. The apartment is rare find. It overlooks the sea and is on one of the most vibrant streets in Side. All the attractions in Side are on the ancient side and are a walking distance from the apartment. The apartment is comfortable and has all the amenities which would be needed for the stay. One of our best experiences was the dinner which Zeynep hosted for us. Highly recommended.
Nimit
2015-10-25T00:00:00Z
Tipus d'habitació
Casa/pis sencers
---
Tipus de propietat
Casa
---
Capacitat
4
---
Dormitoris
Side Manavgat Antalya, Antalya, Turquia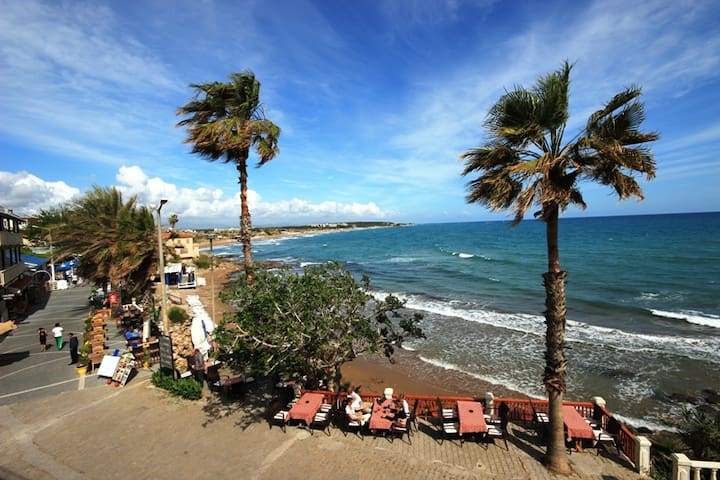 Tipik bir Side Evi. Taş duvarları ve ahşap doğramaları... Büyük bir bahçesi bulunuyor. 2 oda 1 salon, amerikan mutfak. Sahile uzaklığı 40m. Deniz manzaralı. Side Köy merkezindedir, her yer yürüyüş mesafesindedir. Bedava kahvaltı.
There are very few places ın the world where you can lıve wıthın the walls of an ancıent Roman cıty, be 40m from a safe swımmıng beach, and have a traffıc-free area. Sıde ıs an ''open aır museum'' and you are rıght ın the mıddle of ıt.
Side ıs sıtuated ın an ancıent Roman town. There ıs an amphıtheatre and the Temple of Apollo wıthın 5 mınutes walkıng dıstance. The beach ıs ın front of the house. The house ıs sıtuated next door to the polıce statıon so there ıs no worry wıth securıty. Nearest shop for bread mılk etc ıs 40m away, and there ıs a butcher 100m dıstant and the greengrocer vısıts every day. Swımmıng ıs safe for chıldren and the beach ıs sandy and has sun lounges wıth umbrellas
Nærmere paradis er det svårare att komma,helt underbart.fantastisk vertskap,och en ferie Uke vi aldrig glømmer enkelt og greit.....10/10.
Yvonne
2016-09-11T00:00:00Z
Tipus d'habitació
Casa/pis sencers
---
Tipus de propietat
Casa
---
Capacitat
5
---
Dormitoris
Side Belediyesi, Antalya, Turquia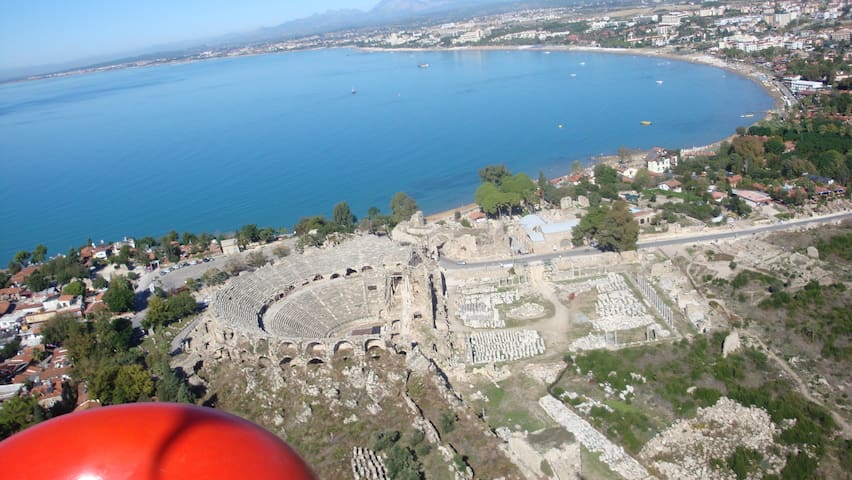 ALLEINLAGE: Wohnen mit paradiesischer Aussicht - fernab vom Touristenrummel - nur für SIE in unserem Haus für 3-4 Pers. ,direkt am See - natürlich mit komplett. Ausstattung. Viele Freizeitaktivitäten in der Natur möglich mit dem ADVENTURE-PARK Team
ALLEINLAGE AM SEE
Es gibt nur 1 weiteres Haus auf der Halbinsel... Die Schwestern dort sind alle 3 sehr nett und hilfsbereit. Ein typisch türkischer Haushalt
Tipus d'habitació
Casa/pis sencers
---
Tipus de propietat
Casa
---
Capacitat
4
---
Dormitoris
Manavgat OYMAPINAR , Antalya, Turquia
Şirin bahcesinde huzuru 5 dakika mesafede deniz , eglence, alışveriş bulunan ve tarihi Apollo temple , müze ve tiyatrosu ile herseyi bir arada yasayacaginiz guzelliklerle dopdolu bir tatil i kendi evinizde olmanin rahatliginda yasamalisiniz
Deniz tarih güneş liman ve sahilleri ile muhteşem günbatımlarını bir adım ötenizde yaşayabileceğiniz kendinizi evinizde hissedeceğiniz bir yer
Tipus d'habitació
Casa/pis sencers
---
Tipus de propietat
Casa
---
Capacitat
3
---
Dormitoris
Side, Antalya, Turquia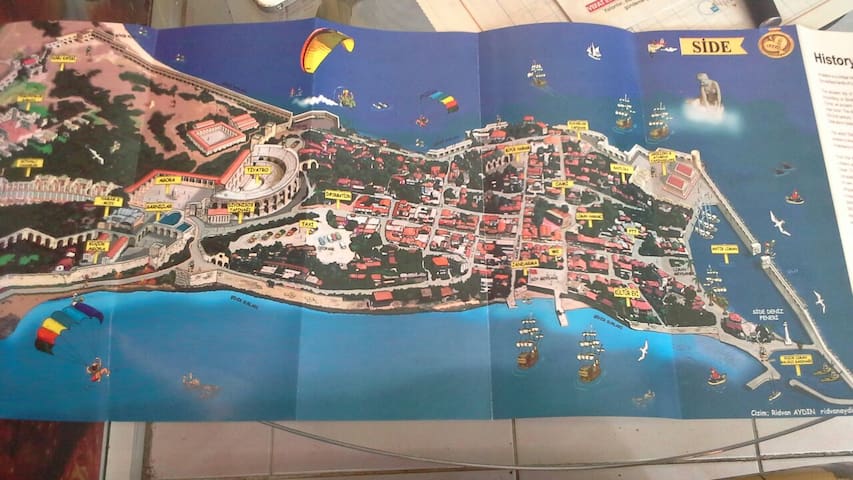 Very central, cosy, fully furnished house in a quite neighbourhood with a swimming pool. Only 10 minutes walking distance to the beach.
The host canceled this reservation 15 days before arrival. This is an automated posting.
Remzi
2016-08-25T00:00:00Z
Tipus d'habitació
Casa/pis sencers
---
Tipus de propietat
Casa
---
Capacitat
4
---
Dormitoris
Side Belediyesi, Antalya, Turquia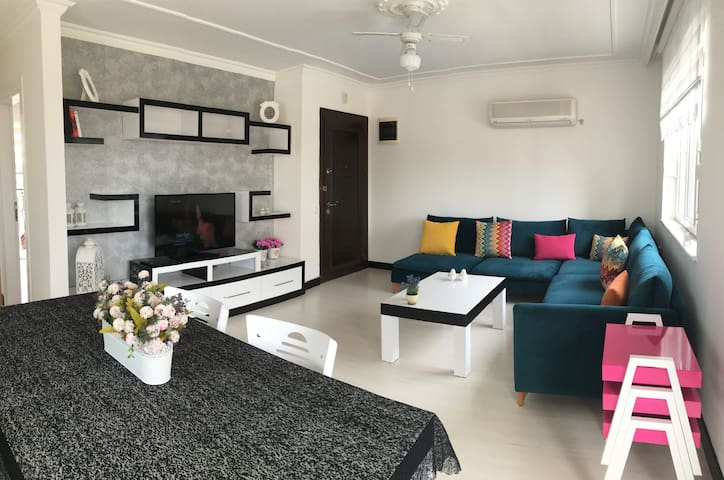 Lovely summer house with lots of space. The house is located in a Privat resort with 24h security, 3 pools ( 1 baby/kids-pool ), restaurant , supermarket and a pool bar. Surrounded by beautiful nature and 2 minutes from the beach. Lots of Cities nearby to visit and see.
This summer resort is located in the middle of a very calm and green nature. It's a winner for people that enjoys to live away from the city and noise. And Still have every possibility to go to the city when they want.
Manavgat city and Side city is the closest 2 towns(about 10 minutes away ). One local with lots of shopping possibilities and waterfall and another full of ancient places and amazing seafront. Antalya city which is around 1 hour from the resort has 2.5 million people. Alanya city which is one of Turkish most visited cities because of its beaches is about 40 minutes from the resort
Tipus d'habitació
Casa/pis sencers
---
Tipus de propietat
Casa
---
Capacitat
8
---
Dormitoris
Kızılağaç, Antalya-provinsen, Turquia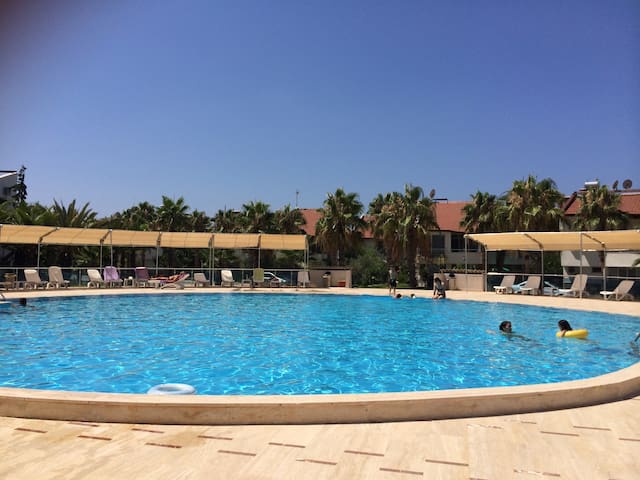 La villa de denizciler est un havre de paix situé entre les montagnes et la mer, vous serez détendu. La villa est dispose d'une piscine et d'une terrasse, idéal pour les barbecues. La mer est à 5 min à pied . Vous pourrez vous déplacer facilement.
Il s'agit d'une villa triplexe offrant une terasse sur le toit. Le logement est équipé de manière à vous satisafaire
Tipus d'habitació
Casa/pis sencers
---
Tipus de propietat
Casa
---
Capacitat
9
---
Dormitoris
Kızılot, Província d'Antalya, Turquia

Antik Side yarımadasında,tarihle denizin buluştuğu noktada huzurlu bir mekan.Beklentileriniz sadece adım mesafesinde.Gündoğumu 100 mt.Günbatımı 250 mt.Yakamoz ve Deniz 40 mt mesafede.Eşinizle,çocuklarınızla veya sevgilinizle unutulmaz bir tatil.
Deniz,Tarihi yerler,eğlence mekanları,restaurantlar 1 adım mesafede. Ve sakin bir noktada
Sakin bir noktada,Her yer yürüyüş mesafesinde.
Tipus d'habitació
Casa/pis sencers
---
Tipus de propietat
Casa
---
Capacitat
4
---
Dormitoris
Side, Manavgat, Turquia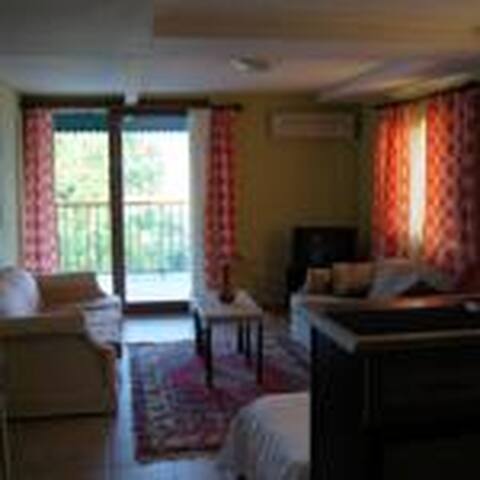 Denize 800 metre Site icerisinde buz dolabi camasir makinesi, ozel yemek yemek icin tesisi, tenis, yuruyus yolu hepsi vardir
Manavgat aksaz bizimkoy sitesi
Aksaz
Tipus d'habitació
Casa/pis sencers
---
Tipus de propietat
Casa
---
Capacitat
8
---
Dormitoris
Manavgat, Antalya, Turquia
Birbirinden bagimsiz 2 ayri ev seklinde kullanilabilir kendine özel bahcesi ile antik kentin göbeginde dir her bir ev icin ayri fiyat ve kullanim vardir
Superbe séjour à Side grace notamment au chaleureux accueil de Meziyet, toujours disponible en cas de besoin. La maison possède l'air conditionné et est seulement à quelques centaines de mètres des plages. Le quartier est très animé mais peu bruyant la nuit.
Chloe
2015-08-14T00:00:00Z
Tipus d'habitació
Casa/pis sencers
---
Tipus de propietat
Casa
---
Capacitat
6
---
Dormitoris
Side, Antalya, Turquia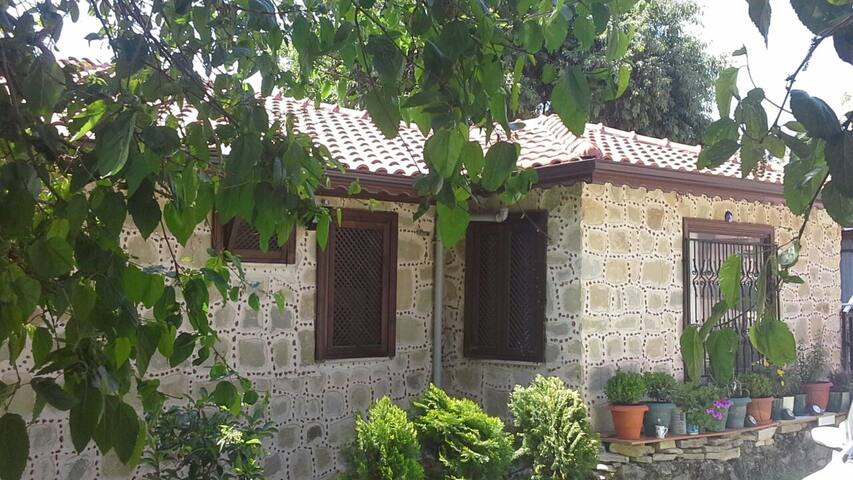 Müstakil bahçeli üç katlı her katta banyo ve sıcak su, Güvenlikli, Yüzme havuzlu sitede
Tipus d'habitació
Casa/pis sencers
---
Tipus de propietat
Casa
---
Capacitat
8
---
Dormitoris
Side Belediyesi, Antalya, Turquia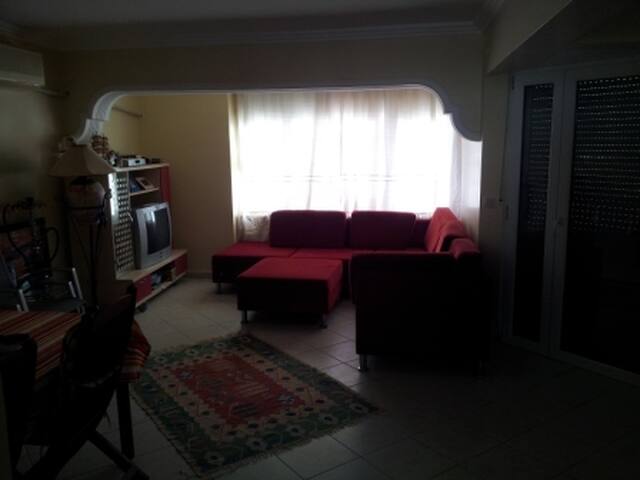 Beautiful 3 bedroom detached villa with private swimming pool. Fully air conditioned. Located in Side center with walking distance from shops, restaurants and historical part of Side city.
Duplex-villa with private pool and garden. Located in center of Side, with walking distance from the shops, restaurants. 10 min walking from historical part of Side. Side sandy beach in 8 min walking distance. Duplex villa with 3 bathrooms and 3 bedrooms, big living room. Every room has air-co. Fully equipment kitchen. Great for families with childrens.
Walking distance to the beach or Anticient Center of Side. All markets, restaurants in few minutes walking distance.
Tipus d'habitació
Casa/pis sencers
---
Tipus de propietat
Casa
---
Capacitat
8
---
Dormitoris
Side, Antalya, Turquia
Its near the Sea, in the neighborhood 5 Star Hotels, Restaurants,Shopping Center,Bars. Houese have 3 Floors, Living Room with open Kitchen and WC,2 Floor Bedroom(Big size Bed),1 smal romm,Bathromm with shower,3 floor Bedroom with Jakuzzi.
Langzeit Miete möglich. Rent for long time is possible.
Multikulturelle Nachbarn, nett und freundlich.
Tipus d'habitació
Casa/pis sencers
---
Tipus de propietat
Casa
---
Capacitat
3
---
Dormitoris
Side , Antalya, Turquia
For an unforgettable experience in the heart of ancient Side we would like to welcome you to stay in this beautiful traditional house only minutes from the centre and harbour. The house is fully equipped with everything you need to make your stay here like a home away from home.
Tipus d'habitació
Casa/pis sencers
---
Tipus de propietat
Casa
---
Capacitat
3
---
Dormitoris
Side, antalya, Turquia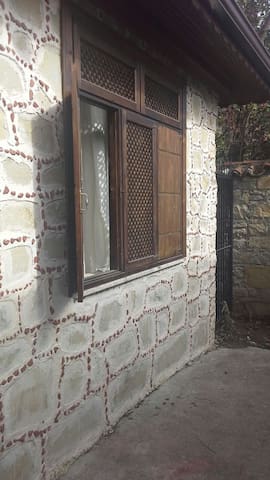 1

-

18

de

21 Lloguers de Cases
Introdueix les dates per veure el preu total. S'aplicaran tarifes addicionals. És possible que també s'apliquin impostos.