Newly remodeled 1050sq', one bedroom apartment located in the downstairs of our home. You have a private entrance to a separate one bedroom with queen bed, one bath apartment with a full kitchen, fold out sofa, laundry, and peaceful mountain views from the patio.
This is a newly remodeled space with tile floors and new appliances. It has everything you'll need for a vacation or stay near Boulder. The apartment is located in the downstairs of our home. You have a private entrance to a separate one bedroom with queen bed, one bath apartment with a full kitchen, sofa that folds flat to make a full/queen second bed, laundry, and peaceful mountain views from the patio. We are in the foothills 25 minutes from downtown Boulder, CO and another 2500' up at the "Sunshine Saddle" elevation 7500' where several trails start off to local peaks, mining areas, and other historic former mining towns. Trails including both hiking and biking to Left Hand Canyon, Butzel Hill, Lee Hill, and Sunshine. Access is via a winding mountain road and 2 miles of County maintained dirt road. We live upstairs and have small kids so you will hear us playing and talking through the floor/ceiling. The kids run around in the morning and are always up by 7AM so if you are a light sleeper and don't get up early this may bother you. We treat the downstairs as your private space so other than hearing us when we are home you will have privacy. If you feel you will be bothered by hearing the kids (and us, being a family) please consider choosing one of our neighbor's listings without small kids.
The historic mining town of Sunshine is located about 25 minutes from downtown Boulder up a winding mountain road. On the way to our place you'll pass the stone schoolhouse, log cabins, and old mines. In recent times, folks have built new houses to enjoy the views of the high country and sunny weather. After the 2010 Four Mile Canyon Fire, our area suffered the loss of many homes and you'll see rebuilding as well as areas with scorched trees. We are located at the boundary of the fire area and seeing the wildflowers and wildlife come back into the burn areas is hopeful and beautiful. If you continue up hill on the main Sunshine Canyon Drive you'll reach Gold Hill which features a bar and restaurant. The road continues on to Ward and the Peak to Peak.
This was my first trip to Colorado and I am so happy I was able to book this fantastic apartment. It was spacious, had amazing views and the hosts were super friendly.
Lara
2016-09-05T00:00:00Z
Mindy is a great host! She welcomed us as soon as we got there and showed us around the place. The views from the house are incredible. Waking up and overlooking the mountains and the city of Denver was breathtaking. We loved how quiet and secluded her place is. Even though it's in the mountains, it's only about a 15 or 20 minute drive to downtown Boulder. The bed was very comfortable and we loved the view from the bedroom. We had a great time walking the trails near her house. Their dog is very sweet and liked guiding us through the trails. Our three year old son had a wonderful time playing with Mindy's kids. Her entire family is very pleasant to be around. I hope to book with them on our next trip to Boulder!
Shandi
2016-02-29T00:00:00Z
The apartment was just lovely, and the view and area are spectacular. Mindy and her family made me feel very welcome and were so accommodating, even adding a hummingbird feeder to my view so i could enjoy them from the apartment. I enjoyed my week there tremendously. The family activity above helped to make me feel secure and safe knowing someone was there if I needed help with anything. Being able to enjoy the beauty of the mountain wilderness away from the crowds is a truly rare treat. There are hiking trails just steps away where I hiked in peaceful solitude. It was just wonderful, and I plan to come back. It was just the get away I needed.
Katherine
2015-07-23T00:00:00Z
Beautiful, clean downstairs apt. with great views and access to local trails. Friendly and accommodating hosts make staying here a real pleasure!!!
Lily
2016-11-14T00:00:00Z
This place and our hosts were perfect! Mindy showed us our space and then left us to unpack and get settled. The area was exactly what we were looking for when we booked. The apt. to rent was complete with little touches of charm. There were a few goodies in the drive waiting for us too! The view was beautiful! We hiked the trails that began in there backyard.
Bianca
2016-06-17T00:00:00Z
Excellent and exactly as advertised! Other reviewers have said it already but I will add my genuine praise for Mindy (and Ben). The location is wonderful if you want to be away from the city. Here are a couple of highlights: You will hear the kids but not all the time. You'll meet one of the friendliest dogs ever. Your morning view of the sun rising over a distant Denver will make the absence of blinds on the Windows make sense. The road to the house is a bit scary if you're not used to mountains. The kitchen knives are pretty dull but if you need a dish or utensil, Mindy will bend over backwards to help. There's no TV and no great place to be a couch potato so this is not a place for a homebody. You'll want to get out and enjoy the country anyway as it is amazing. If you're a coffee drinker, you'll need to learn how to use a French press. The overhead shower has great pressure with plenty of hot water. Mindy was probably the most helpful, nicest and accommodating host I've encountered from Airbnb yet. Her communication was excellent and attitude superb from the moment she greeted us to the goodbye. Read the reviews and Mindy's description and you won't be disappointed. K & L
KELLY
2016-09-23T00:00:00Z
I booked the apartment for a two night stay. We were greeted by Mindy when we arrived and she showed us the location to the apartment. Apartment was very well kept and clean. Kitchen was stocked with all the basic kitchen hardware. Bed was very comfortable, and the shower was excellent. It should be noted that the apartment is setup as a kitchen, bathroom, and bedroom. The only seating in the apartment is the kitchen table, and a small desk in the bedroom. Overall our experience was fine. We chose to forgo our second night, and stay in Denver.
Matt
2015-10-28T00:00:00Z
Great large space, great bathroom and kitchen, super clean, perfect. Mindy is very helpful and is a real pro!
Mateo
2016-07-31T00:00:00Z
Tipus d'habitació
Casa/pis sencers
---
Tipus de propietat
Pis
---
Capacitat
2
---
Dormitoris
Boulder, Colorado, Estats Units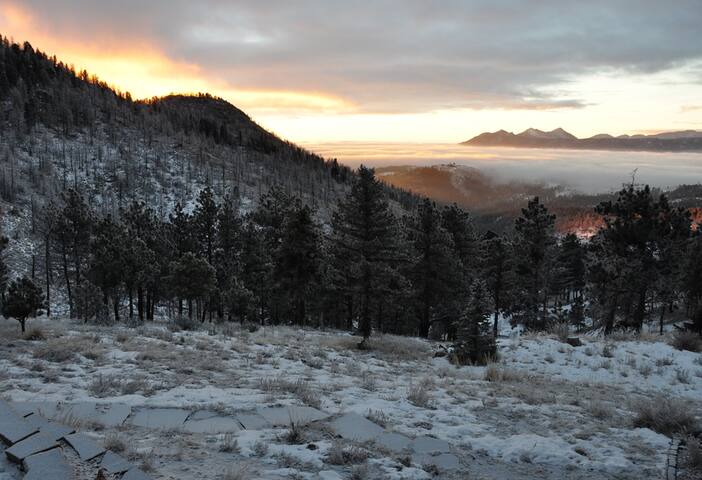 Beautiful 3rd story apartment with updated kitchen and a deck with view of the mountains. Big couch and fireplace. Loft style bedroom with queen size bed.
This was my first time using Airbnb. Meghan's loft was accessible to where I wanted to be, nicely furnished and had everything needed. Except to ask what she would like us to do with the bedding when we left, Meghan had all the information laid out already. Our stay was clean, comfy and had a full kitchen, which was a major plus. Would definitely recommend staying here.
Andy
2016-11-20T00:00:00Z
Meghan's home is great! I had a magnificent time staying at her home. It's close to everything in proximity. You're right on Pearl! Anytime I come to Boulder, this is the first place I'll look to reserve.
John
2017-02-02T00:00:00Z
This loft condo was very cozy. This unit is very small although very comfy with a full size kitchen. The unit is about 7 blocks from the start of pearl st. as i understood it Not a bad walk although we chose to take uber/lift down there. Great food, people, bars, and shops all close by on pearl st. The place was clean and well equipped. Meghan made checking in and out very easy. I would recommend this place to a friend.
Kyle
2017-01-17T00:00:00Z
Meghan was absolutely fantastic. Great place right on pearl st!
Marcus
2016-11-14T00:00:00Z
Meghan was very friendly and very accommodating on check in time. Great location in Boulder and within walking distance of all great things on Pearl Street.
Luke
2016-11-27T00:00:00Z
Great location. Nice view. Very clean.
Erica
2017-02-28T00:00:00Z
Fantastic location. Nice quiet loft apartment with a great view.
Nirav
2017-03-21T00:00:00Z
Great location and great host!
Ande
2016-12-04T00:00:00Z
Tipus d'habitació
Casa/pis sencers
---
Tipus de propietat
Pis
---
Capacitat
2
---
Dormitoris
Boulder, Colorado, Estats Units
Our studio suite offers a quiet sanctuary with serene mountain vistas that surround the property. A true escape from the hustle and bustle, yet conveniently located close to downtown Boulder. My place is good for couples, solo adventurers, business travelers, and furry friends (pets). Steps away from Betasso Preserve with miles of hiking and biking trails 12 minutes to downtown Boulder - Pearl Street Mall 30 minutes to Eldora ski resort 55 minutes to Denver International Airport
This is a garden level, studio apartment in the lower level of our home. With its own entrance, and no communication between the spaces, privacy is easily maintained. A small kitchenette, and full bath allows for light meals, and long soaks. Walkout to large open deck with hot tub, grill and incredible views.
Feels like solitude, yet only minutes from town.
Wonderful location and a peaceful & private getaway. Highly recommended.
Trevor
2017-04-04T00:00:00Z
The house is beautiful and the views from the decking and hot tub were incredible. We were made to feel very welcome and had everything we needed. Would highly recommend this place
Rachel
2017-03-27T00:00:00Z
Just gorgeous! Loved everything about this place and location. Perfect for couples, groups, or just for a solo getaway. Relaxation at its finest.
Brittany
2017-04-02T00:00:00Z
Such a beautiful location! If you're in or near Boulder you have to stay here!
Shelby
2017-03-02T00:00:00Z
I brought my fiancé here for a night away from the city, for his birthday, and it couldn't have been more perfect! It was quiet, scenic, close to Boulder, and just a nice place to relax and unwind. Would highly recommend! :)
Chelsie
2017-03-31T00:00:00Z
I absolutely loved my stay. Kevin could not have been more sweet. And his daughter even lent me her tablet because someone had swiped the Roku remote. They made sure I had one the next day. Warning! If you are a smudger like me, don't do it! I lit my sage and set off the fire alarm!!! But Kevin couldn't have been nicer about it. He even said "good for you!" The dogs t-bone and Rocco are the most adorable little fluffy love bugs. They leave you a dreamy robe to use when you get out of the hot tub. I need to get me one. And finally, go out on your deck at night and fall in love with the stars! Magnificent. It is only a short drive to Boulder and if you like hiking, I did the Flatirons and Eldorado canyon. Both close by and gorgeous! I hope to come back.
Robin
2017-03-25T00:00:00Z
Even though this property is not in the heart of Boulder, it was a wonderful spot. Very Comfortable.
David
2017-02-23T00:00:00Z
We are definitely saving this place, and will be staying here again. You feel like your miles away from everything but you're really 15 min away from downtown. The hot tub was amazing as well.
Justin
2017-04-03T00:00:00Z
Tipus d'habitació
Casa/pis sencers
---
Tipus de propietat
Pis
---
Capacitat
2
---
Dormitoris
Boulder, Colorado, Estats Units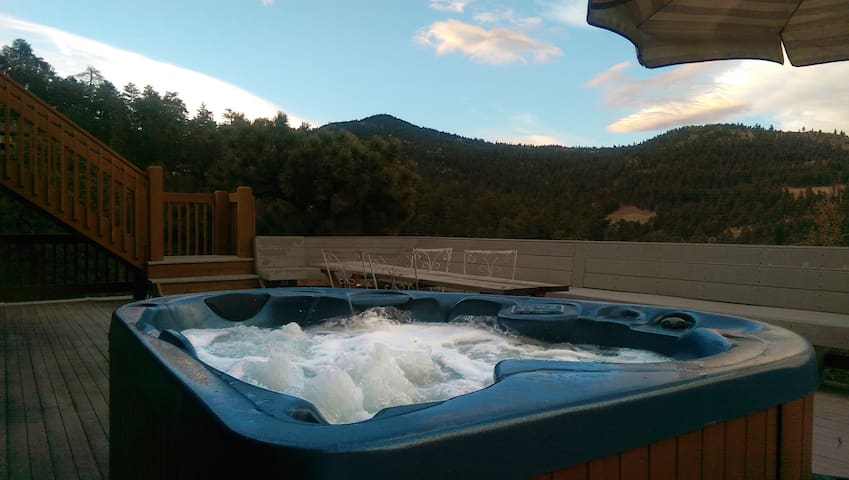 Very charming, private, quiet apartment on the top floor of a beautiful older home. 1 bedroom plus extra sleeping loft and kids room. in one of the most desirable neighborhoods of Boulder, 4 blocks to Pearl St. + private sunny porch with big views. No more that 3 unrelated people as per the city of Boulder occupancy code. So a family plus 2 others are allowed, up to 5 people maximum.
This is a really special place, it has a wonderful feeling about it. The Lovely vaulted ceiling and all the charm make it super welcoming and comfortable. The apartment is on the top floor of an older home and you feel like your up in the trees looking out to all of Boulder. There are great views of the mountains and yet tons of privacy. The newly remodeled bathroom offers a full size tub and stand up shower. There is a queen bed in the main bedroom and another queen bed in the loft over the living room. Please note the access to the loft is up a steep ladder and there is little room up there other than for sleeping. I also have a twin bed by the window in the huge walk in closet off the the bedroom that would work well for a child. The sunny east facing porch is great is a great place to enjoy the views and fresh air. We have a large TV with local stations, a Netflix subscription, Amazon prime, a DVD player and high speed wireless internet.
The best neighborhood in Boulder! Close to everything but very quiet! Pearl St. with all its great restaurants and shops is just 4 blocks away. Ideal market which is Whole foods is also within walking distance.
I love this apartment, have stayed there twice now and would do so again if I had the chance. It is homey, full of light, a pleasure to be in. The host is very responsive and helpful.
Liz
2016-03-11T00:00:00Z
Great place. Clean, unique, comfortable. Convenient location to town, grocery, anything you need. Had all the essentials. The gas fire place was great on the snowy May 1st weekend we were there. It comfortably accommodated 3 of us for 4 days, and we could've easily stayed longer. Didn't get to meet Aaron, but he was easy to communicate with and all worked out perfectly. Would stay here again if in need of a place when visiting Boulder.
Michael
2016-05-03T00:00:00Z
Aaron's place is centrally located and within walking distance to Pearl St restaurants, breweries and shops. Very convenient!! The apartment is very spacious and clean. We loved our stay!
Lindsey
2016-11-19T00:00:00Z
We had a wonderful stay. The listing is everything we'd hoped for -- convenient location for both urban and mountain adventures, nice outside deck space, beautiful views, and a functional kitchen! Truly an ideal experience for our needs. If anything, the listing is even better than the photos -- more cozy and the windows let in some wonderful light. Thanks, Aaron!
Moses
2016-11-14T00:00:00Z
Aaron's apartment was just what we were looking for! It was beautifully decorated and charming, as well as being easily walkable to Pearl Street. Aaron was super quick with communication and his guide for the apartment was clear and easy. Thanks Aaron!
Brooke
2016-03-25T00:00:00Z
Aaron's appartement is great, ideally located a few blocks from Pearl Street, the apartment is clean, spacious and luminous, we will definitely come back if we have the opportunity !
Geoffroy
2016-07-17T00:00:00Z
Enjoyed our stay at Aaron's Boulder flat! Walking distance to Pearl Street in a safe & quiet family neighborhood. Grateful that he had a pack 'n play for our 1 year old daughter to use. There's also a Netflix account, which came in handy in the evenings. Clear communication and instructions, would recommend to friends!
Kathryn
2016-06-19T00:00:00Z
Cool apartment with everything you could possible need in a great location. Would definitely stay here again if I'm ever back in Boulder.
Stuart
2016-11-10T00:00:00Z
Tipus d'habitació
Casa/pis sencers
---
Tipus de propietat
Pis
---
Capacitat
3
---
Dormitoris
Boulder, Colorado, Estats Units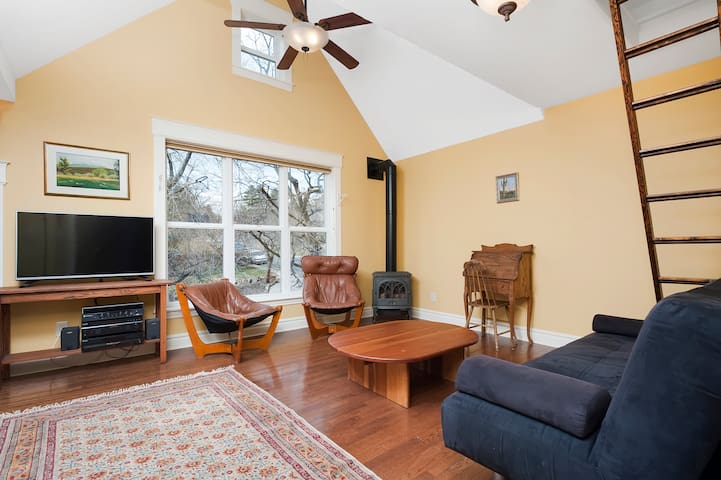 You'll absolutely love staying here as the apartment is complete with 360 degree views of the mountains, top of the line appliances, two full bathrooms, a jacuzzi tub, a private balcony, and an unbeatable location. Walk 10 minutes along the Boulder Creek to downtown Boulder or just a block to a beautiful park as well as trail access into the Rocky Mountains. This top story penthouse is good for couples, solo adventurers, business travelers, and families (with kids) :)
This penthouse is part of a beautiful new apartment building on the western edge of Boulder. Just one block away from mountain trails and a 10 minute walk to downtown, you will find this location inspiring, secure, and convenient. The front door is key code access and our apartment is the entire top floor of the building. You'll enter the apartment via a private staircase that takes you into the open floor plan of this newly constructed and sun filled penthouse. The views are breath taking, the two bedrooms light up with the mornings sunrise, and the sunsets over our private balcony in between the mountains each evening. All the appliance are brand new and top of the line including a floor to ceiling Viking wine fridge and chef-grade viking stove and oven. Both bathrooms are brand new and include amenities like a multi-head shower and a jacuzzi bathtub. The floor plan is open, welcomes in incredible daylight, and for the cooler evenings, you can cozy up next to our the flat screen television for movie night or the fire place for lasting conversations. We hope you enjoy our home as much as we do.
The neighborhood is on the edge of downtown Boulder just a 10 minute walk to Pearl Street and the bus station that can take you directly to Denver or the airport. Only a block from hiking, biking, and running trails into the mountains, the neighborhood isn't only quiet and safe, but it's truly beautiful.
The host canceled this reservation 76 days before arrival. This is an automated posting.
Mary
2017-02-01T00:00:00Z
Great stay at Leticia' s sun filled place - fantastic view and proximity to wonderful walks and Boulder Creek and a quiet neighborhood . Beds super comfy, and everything one could need for cooking . A toaster was only thing missing . Getting in was easy ,leaving too. A very good spot !
Hilary
2016-11-26T00:00:00Z
Leticias place is absolutely beautiful! As soon as you enter her place you get hit with an outstanding view of the mountains! The place is filled with so much natural light! I loved it! Leticia was easy to reach and very welcoming! Can't wait to come back and stay here in the near future!
Sherry
2017-02-07T00:00:00Z
Very nice penthouse apartment with beautiful views. High end bathrooms with a large shower en suite, and a jetted tub in the other bathroom. Two sets of stairs but view made it worth it! Plenty of on street parking a 15 minute leisurely stroll to downtown.
Alexei
2016-10-12T00:00:00Z
Letitia's apartment was absolutely gorgeous! Spotlessly clean, beautiful bedding, best deep jacuzzi bathtub ever. There was so much natural light at all times, we rarely used lights. Gorgeous sunrises to the east and great views of the flatirons from the living room and kitchen. We alternated between walking downtown and driving, and the neighborhood was so pretty. Really cannot say enough positives about this place. We would definitely stay here again.
Mark
2016-10-02T00:00:00Z
The host canceled this reservation 80 days before arrival. This is an automated posting.
monica
2016-10-04T00:00:00Z
Although we didn't get chance to meet in person, Leticia was a friendly, highly attentive, and helpful host. The apartment is absolutely beautiful and has everything you could conceivably need for an enjoyable stay in Boulder.
Peter
2016-09-17T00:00:00Z
Leticia was a superb host. She communicated with us all the details of the home clearly and responded to our questions promptly. Her place was impeccably clean and our stay was absolutely amazing. Would highly recommend if your staying in the Boulder area.
Jess
2016-10-08T00:00:00Z
Tipus d'habitació
Casa/pis sencers
---
Tipus de propietat
Pis
---
Capacitat
4
---
Dormitoris
Boulder, Colorado, Estats Units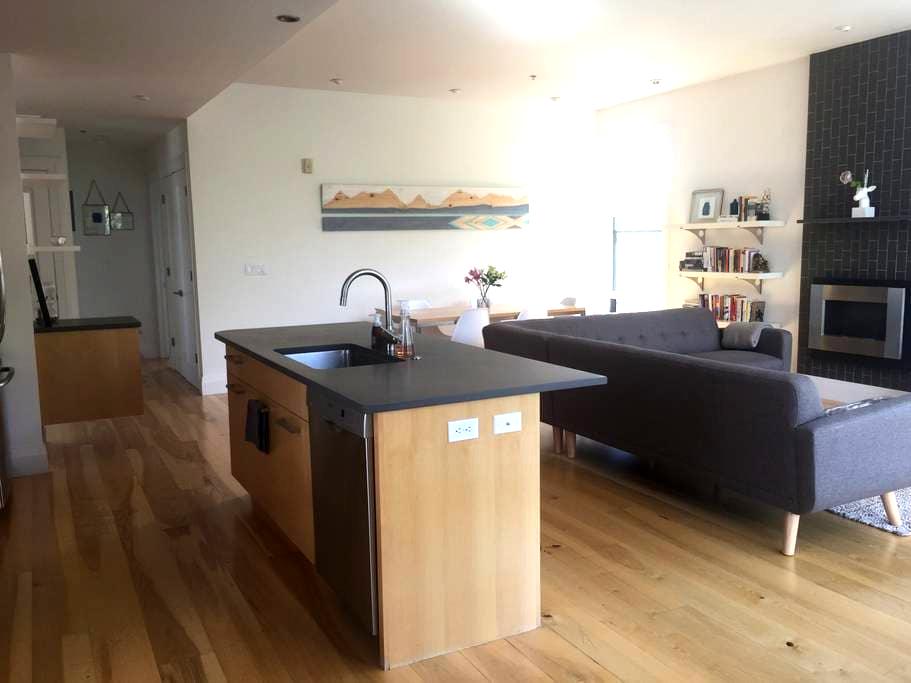 Our spacious and bright one bedroom fully equipped apartment is in Boulder's best location! Our historic neighborhood is tucked up against the mountains just west of downtown and Pearl and a short walk to CU. Enjoy everything Boulder has to offer!!
Best location in Boulder with amazing views! We are now offering our penthouse apartment to our airbnb guests. Private, quiet, in the heart of Boulder...where downtown meets mountain open space. Walk to CU, Downtown, Boulder Creek, mountain trails, and all the best things Boulder has to offer. Stay in a spacious penthouse in our 1910 Victorian family home in a wonderful, historic neighborhood. The beautiful, large, private one bedroom apartment has a lovely finished kitchen with stainless appliances, granite countertops, cork flooring. There is natural wool carpeting, king sized bed, cable tv, wireless access. Casual and quiet Boulder lifestyle. And the view from the west facing picture windows in the living room can't be beat. 3 night minumum. No smoking please. Longer stays are welcome...if you plan to be in Boulder for a few days, or a week or month or (URL HIDDEN) sure to contact us. We have hosted several visiting faculty and researchers. Be sure to plan and book well in advance of your visit to Boulder. Thanks!
We absoutely love our neighborhood. We have been here for more than 25 years and really do believe it's the best in Boulder. Lovely historic homes, large mature trees, the mountains right at our back door. There is a trail right behind us yet you can walk to a gourmet restaurant in 10 minutes. It's awesome in every way.
Susanna and Bruce have a beautiful home in Boulder with a view of the mountains. The upstairs apartment was the perfect space for us (couple) to stay while exploring the town, university and local trails. We enjoyed our stay very much and would love to stay again in the future! Thanks Sue!
Ben
2016-01-06T00:00:00Z
We had a very nice stay in this beautiful daylight basement. Our hosts were very accommodating and private. The kitchenette was perfect for keeping some snacks and preparing tea. Very charming and clean, close to everything! I would definitely recommend this place to anyone visiting Boulder.
Cody & Kayla
2011-10-14T00:00:00Z
Susanna was very welcoming and friendly! I arrived pretty late due to some travel complications, and she was more than accommodating with offering assistance with directions and patiently waited for me. The apartment is clean and in good condition. Very spacious and a good distance to downtown. Well worth the price. And great experience all around.
Michelle
2014-06-16T00:00:00Z
Very nice apartment located above the house. Spacious and clean. In a beautiful neighborhood with parks, trails, and lots of things to walk to. Loved hiking to the Red Rocks Trail behind the house. Thank you for providing a great house for our visit.
Sari
2015-07-25T00:00:00Z
Susanna was wonderful! We loved the spot and she was very responsive during our stay.
Kristin
2016-08-01T00:00:00Z
Susanna was a great host, this was one of my best experiences staying in Boulder.
Gabrielle
2016-03-04T00:00:00Z
Host was on time and reviewed the place/rules. All as promised. Safe and comfortable. Reasonable fee. Want to stay here again we I get to visit Boulder again.
J
2016-09-12T00:00:00Z
Perfect location. Quiet neighborhood. Great communication and helpful hostess. Very respectful. Large bed. Apartment is quite warm in the evening. At least there was a window air conditioner in the bedroom. If you turn it on and keep door closed it cools off.
Nancy
2016-08-09T00:00:00Z
Tipus d'habitació
Casa/pis sencers
---
Tipus de propietat
Pis
---
Capacitat
2
---
Dormitoris
Boulder, Colorado, Estats Units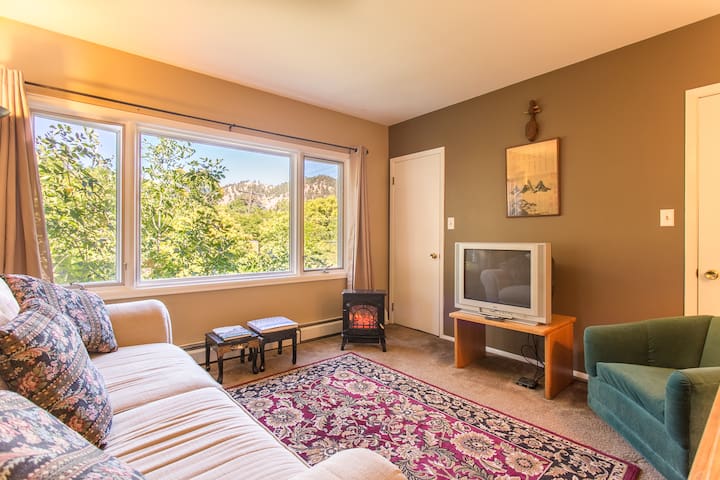 Full and direct view of the flatirons from spacious porch and tons of light all day! There are two skylights, one in the bathroom, the other in the kitchen. This is a great one bedroom walking distance to down town, the university and a block from the Boulder creek path. It is right in the middle of Boulder.
Spacious porch with great views. Living area, full kitchen, overhead shower head. Parking space included.
Located between the goss grove neighborhood and the Boulder creek path.
Tipus d'habitació
Casa/pis sencers
---
Tipus de propietat
Pis
---
Capacitat
2
---
Dormitoris
Boulder, Colorado, Estats Units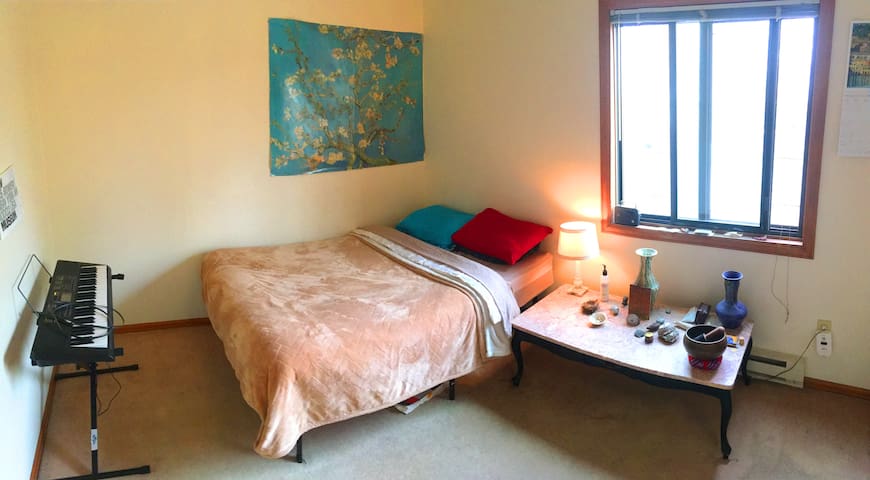 Cute and cozy fully furnished and newly remodeled 2 bedroom, 1.5 bath townhome located in a nice quiet neighborhood! Centrally located near the 29th Street Mall and north Boulder, and just 1.5 miles to historic Pearl Street Mall!
The main level contains a dining room and recently updated kitchen with stainless steel appliances and new dinnerware and cooking supplies for help with a quick hot breakfast or a full blown gourmet meal. The living room has two large inviting couches, a 46" flat screen TV with Blu-Ray player and 100+ channel cable, a cozy fireplace, and a large selection of dvds/blu-rays. The main level also has a half bath, coat closet with board games, and a private fenced-in back patio overlooking an open space with a pond and community garden. The upstairs level provides two large bedrooms, a full bath, central air conditioning, and brand new carpeting! The master bedroom has a queen size bed, 46" flat screen TV with DVD and 100+ channel cable, high speed wireless internet, writing desk, closet space for storage, direct access to the full bathroom, and a walk-out balcony facing west overlooking the open space and the beautiful mountains. The second bedroom is quite spacious with a brand new queen bed and ample storage space in closet. There is also a laundry closet with washer and dryer, iron and ironing board, laundry detergent and dryer sheets all available at no additional charge. The town home has a covered carport in front and an additional reserved parking spot.
Conveniently perched within 1 mile of local coffee shops and restaurants, major grocery stores, liquor stores, gas stations, bike paths, rental bike station, and major bus lines.
Robbie is truly the perfect Airbnb host! He was very friendly and responsive before and during our stay. It's obvious that he puts a great deal of time and effort into ensuring his home is comfortable and enjoyable for his guests; it was immaculately clean and full of thoughtful amenities, not to mention the fresh muffins, soft drinks, and other goodies that he provided. He also checked in with us a couple of times to make sure we were all set. We couldn't have asked for a more welcoming host!
Bee
2016-09-05T00:00:00Z
Perfect stay at Robbie's beautiful house in Boulder. The place is nicely furnished, very clean and in a great location. Robbie was very welcoming already prior to our arrival and also made sure that we are having a great stay through regular check-ins. Definitely one of our best Airbnb experiences and we would definitely recommend it to others!
Lukas
2016-10-01T00:00:00Z
The place was nice and comfortable and Robbie was a great host. Fridge was stocked with snacks and drinks, there was even some booze and instructions for making negronies. I'd recommend Robbie's place if you're visiting Boulder.
Brendon
2016-02-16T00:00:00Z
I had never used Airbnb before, and when I opened the door to Robbie's place, I breathed a huge sigh of relief. It was gorgeous, welcoming, and exactly like the photos. Robbie (as others have mentioned) was extremely communicative, and reached out to me first, checking in with me a few days before our stay. I was hugely impressed with how great he was to deal with, it's like staying at a hotel only better. The place was spotless, beautiful, and the water and snacks were awesome, as was the foam mattress in the master bedroom -- more comfortable than my bed at home. It was just what we needed after a long road trip. Robbie had toiletries available for free, and the two bathrooms were a great plus, with four people in our group. I chose this place based on other people's reviews, and I am glad I did. I would definitely come back in a heartbeat.
Danuta
2015-08-01T00:00:00Z
Cute, very well-appointed house. Very friendly communication meant everything went seamlessly. Robbie was very helpful and flexible. Would definitely recommend.
Sam
2014-10-11T00:00:00Z
Robbie was a great host! His condo offered all the comforts of home. It was a perfect space for our family. The snacks and bottled water hit the spot after a long car ride. His space was super clean and the pictures were spot on. I would stay there again in a minute.
Natalie
2016-08-09T00:00:00Z
Robbie left numerous food items for us to get started with our stay. He checked in everyday to see how things were going. The place was perfect, with all amenities we could possibly need. The location was the best: close to 28th Street Mall, Pearl Street and many restaurants. It couldn't have been more convenient. This was one of the best Airbnb stays we've had! Since we have grandchildren in the area, we may go back.
Kathi
2015-10-01T00:00:00Z
Lovely home in Boulder. Robbie was a fantastic host, making sure we had all we needed for the trip. We will definitely be staying again. Highly recommended
Jeni
2016-04-26T00:00:00Z
Tipus d'habitació
Casa/pis sencers
---
Tipus de propietat
Pis
---
Capacitat
4
---
Dormitoris
Boulder, Colorado, Estats Units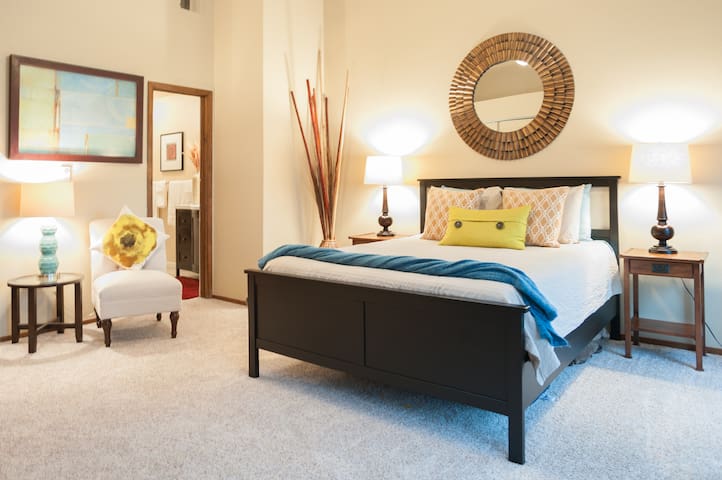 Comfy downtown Boulder apartment - walk to Pearl St mall and walk to the Hill & CU-Boulder. One bedroom (queen bed), one bathroom, large couch, nice patio. 40 inch flatscreen TV with cable. Wifi. Newly remodeled, fully equipped kitchen. 2-in-1 washer/dryer and separate machines on site at no extra cost. Enjoy your stay in Boulder and walk or bike to lots of restaurants & shopping within a few miles of this location!
Walking distance to everything! Yummy Thai food just across the street (Khow Thai) and a grocery store is a few steps away. Very close to the public library and Boulder Creek (with walking & bike paths), as well as the downtown area with numerous restaurants, bars, and coffee shops.
You can't beat the location of Garrett's place in downtown Boulder. We only used our car to leave town! Convenient parking, excellent large grocery store and Thai food just steps away. We really enjoyed the apartment, access was easy, furniture and beds were comfortable, everything was very clean and good quality. We wouldn't hesitate to stay here again or recommend it to others.
Diane
2017-04-03T00:00:00Z
Loved Garrett's Place!! Anything you really needed was in walking distance. The neighbors could be a little noisy at night but if you are a young person you wont mind at all. Very Clean and very prompt on replies; and also very chill and laid back place! Overall Great Place To Stay, Would Do It Again.
Jonathan
2017-03-27T00:00:00Z
Great place to stay in Boulder. The area is very walkable.
Elisabeth
2017-03-30T00:00:00Z
Garret's place was excellent! Great location, within walking distance of everything. Super clean, friendly, and a good place to chill
Amy
2017-03-25T00:00:00Z
Tipus d'habitació
Casa/pis sencers
---
Tipus de propietat
Pis
---
Capacitat
3
---
Dormitoris
Boulder, Colorado, Estats Units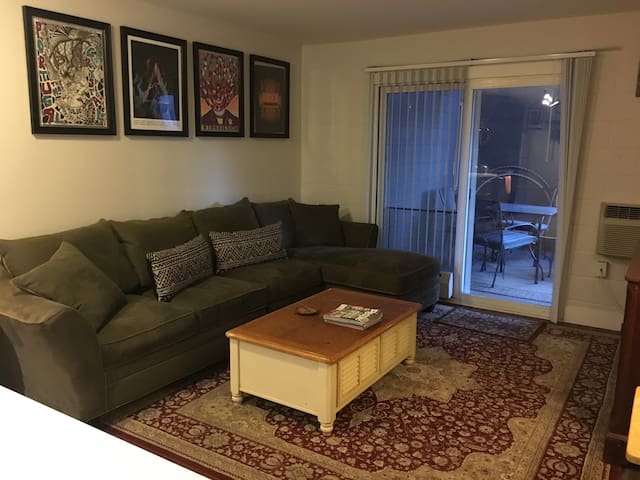 This charming studio loft was constructed in conjunction with our new home in 2014, a quiet, private space with a separate entrance over our garage. Located in a great neighborhood by downtown, less than a mile to Pearl St, 1.5 miles to CU, and 2 blocks to a small shopping center with Ideal Market (owned by Whole Foods), coffee shops, restaurants, etc. Relaxing getaway for 1 or 2 people with treetop mountain views, wifi, kitchenette, King bed.
The studio apartment has a King bed, flatscreen television and wifi. The kitchenette includes a sink/disposal, small fridge/freezer, microwave, toaster, coffee maker, etc. The bathroom has a subway tiled shower and Ann Sacks limestone floors. It's a bright, welcoming, comfortable space in a fantastic location.
The location is amazing, in a quiet neighborhood one block off Broadway, 2 blocks to the Ideal Shopping Center with Ideal Market (a small Whole Foods), coffee shops, cafes, Pharmaca, etc., and less than a mile to Pearl Street and 1.5 miles to C.U. For hiking, the Dakota Place trailhead for Mount Sanitas is just half a mile away.
Ashley's studio was perfect for my purposes. Neat, clean, modern, and conveniently located. Everything was relatively new (as of Aug 2016) and clearly some thought had gone into the furnishings and layout of the apartment. I'd very happily stay here again.
Charles
2016-08-21T00:00:00Z
This loft is a gem in Boulder! It is immacilately clean, really comfortable, beautifully furnished and all-around amazing. It is exactly as described & photographed, though it feels even bigger and more lovely once inside! You will feel like you have your own private get-away up in the trees when you stay here. From the loft it is an easy 1.5 block walk to Ideal market for groceries, Noodles & Co for lunch or Brown Cow for an evening ice cream. We stayed with our son who just had started crawling and Ashley immediately brought us a pack & play for him. The host family is all-around awesome. Relaxed, friendly, helpful. I can't say enough about this space--we fell in love with it and hope to stay whenever we visit Bouler!
Erin
2015-06-06T00:00:00Z
Wow! This was a perfect stay! This little apartment had everything we needed and more! Very well thought out efficiency and squeaky clean. A little under a lovely mile walk to everything on Pearl Street which we did many times! Other options for food, etc. is just a couple of blocks away. At the end of each day it was so fun to come back to what felt like home. So much better than a hotel, it was quiet and personal. Love love Boulder too, had a great time! Thank you Ashley!
Loree
2016-07-26T00:00:00Z
The apartment was wonderful and included everything we needed for our stay. It is in a great neighborhood and within walking distance to restaurants and grocery stores. It looks exactly like the pictures on line. Our hostess notified us prior to our check-in that the apartment was ready early and allowed us to check-in early...very thoughtful and much appreciated. We would definitely like to stay here again on our next trip to Boulder.
Margaret
2016-10-03T00:00:00Z
This is my second time staying here and it was just as awesome as the first. The location and surrounding neighborhood just cant be beat. Ashley is so sweet and helpful and attentive. I'd recommend this adorable oasis to anyone.
Mikayla
2016-05-17T00:00:00Z
Perfect place. Clean tasteful and fully functional. Close to everything. Wonderful setting and fabulous hosts. Highly recommend & if/when I go back to Boulder, I shall be hunting Ashley's place down hoping that it will be free for me again!
Jude
2016-08-13T00:00:00Z
Amazing stay!! Ashley was super responsive and accommodating and kind. The apartment is super clean, modern, comfortable and safe—everything you could ask for in an AirBnB and more. Even fresh coffee beans plus a grinder to make it to your liking. Literally have no complaints. Thank you for everything, Ashley! If we ever get back to Boulder, we know where we're staying :)))
naari
2016-04-06T00:00:00Z
Ashley was delightful and helpful without being in the way. She greeted us shortly after we arrived, and made sure we were settled in and was available if we had questions, and then gave us the time and space to enjoy our time in Boulder and the beautiful studio apartment. We loved the apartment: compact without being too small, everything is brand new and clean. The apartment is over the unattached garage and is very quiet. It looks just like the photos on the website. Great shower, nice view of the Flat Iron foot hills, we were very pleased and comfortable. The location is great, just a few blocks walk to a high-end organic food market, and about 8 blocks walk from Pearl Street downtown stores, restaurants and pubs. In the other direction, its a 5 minute drive to Boulder Canyon. We couldn't have been happier and we plan to return soon!
John
2016-04-11T00:00:00Z
Tipus d'habitació
Casa/pis sencers
---
Tipus de propietat
Pis
---
Capacitat
2
---
Dormitoris
Boulder, Colorado, Estats Units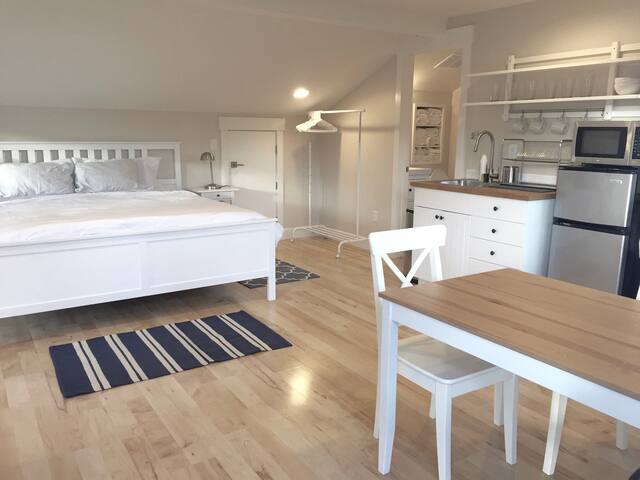 This modern condo is nestled in one of Boulders most beautiful neighborhoods. Perfectly located near Pearl Street Mall (10 minute walk), the best hiking trails, Boulder Creek and Eben G. Fine Park. The neighborhood is full of charming houses and modern gems.
The location is one of the best. Beautiful old houses, mixed in with modern homes. Ideal walking areas to Pearl Street and hiking trials. The space itself is all modern and clean. In the morning the space fills up with bright light. Very easy to enjoy a book on the couch w some tea. Perfect for the solo traveler, and couples.
It's the perfect location for waking to Boulders best areas. It's a quiet neighborhood with easy access to nature and parks.
Spencer's place is great! It's located in west Boulder, within walking distance to popular Pearl Street. His apartment is quite large, modern, clean and has everything you might need for your stay. Street parking was easy to find and the neighborhood is quiet.
Teghan
2017-02-25T00:00:00Z
Very nice place to stay in a great neighborhood. What more could you want?
Ben
2017-03-07T00:00:00Z
Came to boulder for skiing, great location and area to stay! Really amazing condo!
Vasu
2017-01-16T00:00:00Z
Extremely clean, modern, and in a great location. Would stay here again!
Kyle
2017-01-10T00:00:00Z
Spencer's place is a beautiful space. He was very clear with communications about check-in and the amenities. The decor is modern, neat and welcoming with some cool art. The place was very clean and walking distance to pearl st as well as the creek. I only stayed a night but would love to stay again on a longer visit.
Kellie
2017-02-12T00:00:00Z
Great place to stay. It's close to downtown Boulder as well as hiking trails. Would definetly stay again!
Matt
2017-03-31T00:00:00Z
Spencer's place looks even better in person. Great location, very cozy, and a spectacular shower for you and your significant other :)
David
2017-01-27T00:00:00Z
Gorgeous place in a gorgeous spot. When we woke up and went outside, we realized we were right at the base of the mountains. That was neat! About a mile to the pearl st. bar area, so Ubers are necessary...We did walk once and it was not too bad. Amazing Stay!
Hunter
2017-03-04T00:00:00Z
Tipus d'habitació
Casa/pis sencers
---
Tipus de propietat
Pis
---
Capacitat
2
---
Dormitoris
Boulder, Colorado, Estats Units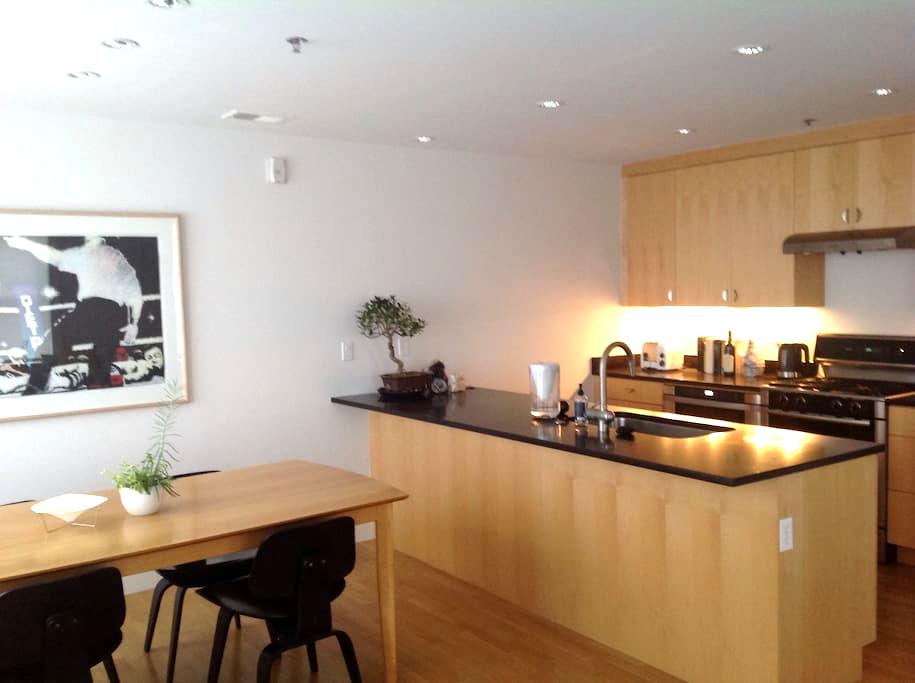 Cozy, garden level apartment in Victorian home, 1892. 5 blks to Pearl street, 2 blks to Boulder creek, 7 blks to CU. WIFI, Cable, flat screen, full bath & kitchen. Great neighborhood, ceilings may be too low if you are over 6'
Walk to everything, west Boulder near Boulder creek (2 blocks), walk to Pearl street (4 blocks), CU (7 blocks) and hiking trails (3 blocks) to the west on University Avenue. Think of this space as your own garden level, cozy apartment as you have a full kitchen, bath and bedroom. It is in beautiful and historic west Boulder near hiking trails and downtown Pearl street mall. Public transit stops are two blocks down on 9th street. There is an organic, gourmet grocery store (Arapahoe and Broadway street) . It has a fully stocked kitchen with all utensils, espresso machine, blender, french press, pots and pans, toaster, microwave, etc...neighboring Aveda salon and spa three blocks away. I provide Aveda shampoo, conditioner and body wash for you. There is a blow dryer and iron and ironing board in the apartment as well. You may arrive anytime as I have a lockbox to obtain entry into the apartment, lockbox code will be given prior to arrival.
Beautiful and historic west Boulder near hiking trails and downtown
Charming little place. Just perfect for 2. Great location - close to everything. Had everything we needed for 3 nights!
Anne
2015-11-16T00:00:00Z
Joy's place was wonderful. Clean, cozy, comfy. I was in Boulder for work, and wanted to stay in a fun area. I was within 10 min walking distance to downtown Boulder (Pearl St, etc). So 10-15 min walk to restaurants (Next Door, Dushanbe Teahouse), bars, a gym (One Boulder Fitness), good grocery store (Alfalfa's). Joy was very responsive to an questions I had. I'd highly recommend staying here.
Som
2016-03-31T00:00:00Z
Wonderful, quaint location nestled between downtown Boulder and Chautauqua. My wife and I were moving to Boulder and needed a place to stay to scope out Boulder and surrounding area for a longer term rental. The kitchen was fully equipped. Cable and wifi were great and very comfortable bed.
David
2015-02-16T00:00:00Z
A wonderful spot to call home for a few weeks. Joy was a warm and responsive host. Highly recommend!
Nancy
2016-11-24T00:00:00Z
Coordinating and communicating with Joy was extremely simple and easy. Key system made arrival and access also very simple. Upon arrival I was greeted by/with a nice bottle of red wine and a clean and bright one bedroom apartment with everything I could need - Comfortable bed, big flat screen TV, full kitchen with complimentary coffee and a bathroom with nice hot water and and vintage claw-foot cast iron shower tub which was fun to use. Plenty of towels shampoo etc. I wanted for nothing during my two day stay visiting my son at the University. Fantastic location close to the University and downtown / Pearl street and everything else Boulder has to offer
Brian
2015-04-13T00:00:00Z
My wife and I had an enjoyable stay at Joy's rental. The space was very cozy and most importantly, in an unbeatable location! If we are ever back in Boulder, we would definitely stay here again.
Heath
2016-10-17T00:00:00Z
Joy was a great hostess! Her place was adorable and cozy. We also appreciated having the lights on when we arrived when it was dark and the comfortable bed to crash on after a long day of hiking. Her description on air bnb was very accurate and we loved being within walking distance to Pearl St Mall.
Allison
2015-11-05T00:00:00Z
My husband and I had a wonderful stay at Joy's home, and the place had everything we needed for a comfortable visit to Boulder. It's conveniently located, clean, adorably decorated, and Joy was communicative with instructions and important details. Her place was so well suited to our needs that it made us sad we weren't in town for longer than a short weekend, but we would definitely utilize again! As dog lovers, we also appreciated getting to greet her sweet dogs out playing in the yard :)
Kimberly
2016-09-25T00:00:00Z
Tipus d'habitació
Casa/pis sencers
---
Tipus de propietat
Pis
---
Capacitat
2
---
Dormitoris
Boulder, Colorado, Estats Units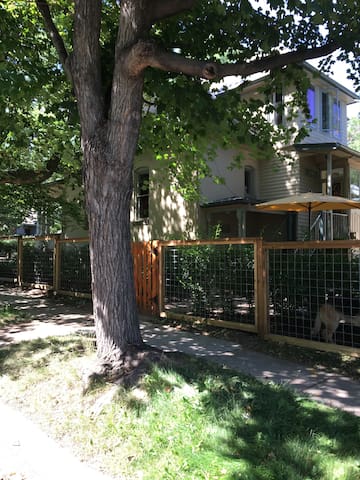 This hip condo has everything you need. Enjoy an open kitchen, serene guest bedroom, quiet courtyard view, and private summer pool! The zentastic guest bedroom is available w shared bath. It's centrally located with easy access to all of Boulder! Minutes to 28th street shops & 20 min walk (or 5 minute bike ride) to the Pearl St. Mall area.
A second floor oasis overlooking courtyard. It's a welcoming and mod feeling space that's great for a business person (startup or other) visiting town and wanting to be close to all the amenities of Boulder, or for those adventurers on holiday who are looking for a super spot to launch from while exploring Boulder. There is a queen sized bed in the guest bedroom that comfortably sleep 2 people. The other bedroom is the hosts and we share the bath. (I'm often out, so it feels a lot like you have the condo to yourself!)
I love that I can walk to my favorite restuarant in town Chez Thuy (best Vietnamese in town) and it's easy walking to Whole Foods, Natural Grocers, King Scoopers, Marshalls and other convenient spots. The bus stops near us on 28th and Valmont (depending on your route). It's also a super quick 4 minute drive to downtown (or 8 minute ride on the bike path). There's also a cute elevated walkway over the courtyard. It's nice to get some fresh air in the courtyard on a sunny morning. I will warn you, the hallway into the condo is daggy (think 1970's retirement home -ha!) but the HOA is renovating them over the next year.
If you want to be in a midtown location and have easy access to transportation then check out Mandy's launching pad. Very detailed a designers touch and comfort as well
Said
2016-01-31T00:00:00Z
Mandy was really welcoming and her home is very easy to be comfortable in! Thanks again.
Mary
2017-03-10T00:00:00Z
My stay at The Launching Pad was wonderful in every way. Mandy was very welcoming and the apartment was sparkling clean. I would recommend this to parents visiting college students and/or family in the Boulder area. There is easy access to all parts of town.
Maureen
2016-01-15T00:00:00Z
Place was just as advertied
Keith
2015-12-11T00:00:00Z
The apartment is very nice and clean. Mandy received us in a very friendly way and she gave us all the necessary information. Our experience has been very good and positive.
Cristina
2016-05-11T00:00:00Z
as soon as i stepped in the door, i knew i would not have enough stars to rate my experience properly. a week later, i have the same feeling. ten stars at least. i will return again and again.
nancy
2016-01-07T00:00:00Z
Beautiful apartment, very pleasent host. Thanks, Mandy!
Flavio
2015-07-07T00:00:00Z
I spent a long weekend here with my wife and loved it. The space is clean and comfy and is a fifteen-minute walk to the heart of downtown (or a $5 Uber ride). We had the whole place to ourselves, so I never met Mandy in person. But she was super nice and responsive in all of our emails and texts and laid out for us towels, soap, guides for Boulder, and directions about how to use everything in the apartment (e.g. TV, kitchen). I would definitely stay here again and will recommend it to friends.
Michael
2015-09-13T00:00:00Z
Tipus d'habitació
Habitació privada
---
Tipus de propietat
Pis
---
Capacitat
2
---
Dormitoris
Boulder, Colorado, Estats Units
Fully renovated gorgeous little studio 2 blocks from Pearl and a short walk to 29th street mall! Queen sized platform bed, bath tub with shower, sink & toilet (all new!). Warm lighting, radiant heat, eat in kitchenette with 2 burner stove, mini fridge & dining table.
Cozy and compact: antique dining table, warm lighting and a fully renovated space make this place super homey!
Friendly neighbors, super safe and within walking distance to everything!
Chanel's place was very cozy and perfect for our short, one night stay in Boulder. Key exchange was super easy as was communication with Chanel. Would recommend!
Blair
2016-05-04T00:00:00Z
Chanel's studio was perfect for our quick trip to Boulder! The apartment was very clean and comfortable. It's an easy walk to everything that's going on downtown. Check-in/out were a breeze. Had a great time!
Alex
2015-05-26T00:00:00Z
Great cozy place within walking distance of Pearl Street!
Matthew
2016-02-29T00:00:00Z
Check-in, check-out process was super easy and Chanel was very responsive. The place was cozy and good for a one-night stay for two.
Brooks
2015-07-04T00:00:00Z
Lovely place well set up and looked after
Hana
2016-05-02T00:00:00Z
Great location. Had WIFI issues. Clean apartment exactly what we were expecting. Would stay again.
Greg
2015-07-10T00:00:00Z
Great place to stay in Boulder. Within walking distance from Boulder theater (the reason I stayed in Boulder) and many other places like grocery store, shops, restaurants, coffee shops, etc. Parking was easy, the unit was small and cute, loved that Chanel let me bring my dog. Area seemed safe, as I walked around alone in the dark and felt just fine. Slept well in the unit, did not notice sounds from surrounding neighbors. I would stay again if I returned to Boulder. Thanks Chanel!
Kelli
2016-02-06T00:00:00Z
We had such a great experience staying at Chanel's place for a couple of nights in Boulder. Super quick little jaunt over to Pearl St so very close to any and everything we wanted to do. Area was quiet & apartment very clean. She even left us some beer! Hope to stay here again in the future.
Kimberly
2016-04-11T00:00:00Z
Tipus d'habitació
Casa/pis sencers
---
Tipus de propietat
Pis
---
Capacitat
2
---
Dormitoris
Boulder, Colorado, Estats Units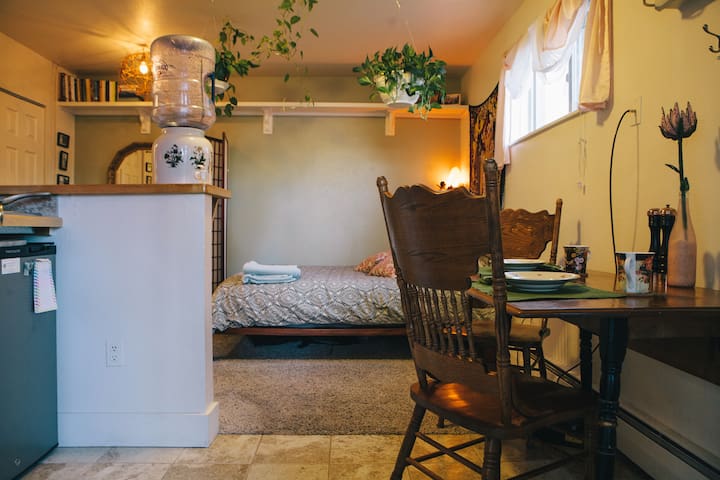 Unique, wide-open 1 BD loft gets plenty of natural light. Beautiful lush views from both balconies. Private parking spot. On-site laundry. High-end queen bed plus fold-out couch. 2 blocks to CU campus and 5 blocks to Pearl Street
This place receives abundant natural light. It is a lovely space with a fun loft-style bedroom on the second floor that overlooks the living room. Brand new 40" smart flat screen TV with unlimited Netflix streaming and an HDMI setup. High speed wireless internet included. The queen bed sleeps 2 people comfortably. You can fit an additional 1 on the foldout couch for a maximum of 3 guests. High-quality linens and towels. Keurig coffee maker with coffee and K cups to choose from. Hair dryer. Please note that this unit does not have air conditioning. It cools down quickly at night and I provide fans.
Lively neighborhood. Within a few blocks of everything you need in Boulder
Great convenient location. Very responsive, helpful host. Sleep masks for the bright sunny skylights over the bed were a nice touch.
Nick
2015-09-11T00:00:00Z
The home was easy to find, clean, and so cute! I recommend this place to anyone that wants a true Boulder experience. Checking in and out was easy and simple, big thanks to Adam for letting us stay!
Kailey
2016-06-09T00:00:00Z
Adam kept in touch with us & the apartment was in a great location.
Karen
2015-09-08T00:00:00Z
At first glance, the condo is smaller than it appeared in the photos. It did have a great location, less than 10 minute walk to Pearl street. It is in a safe yet college student saturated area. We wish there was a DVD/bluray player so we could have worked out using our DVDs but I didn't check before booking. The bed was decent but very noisy. A spot for recycling would be nice but you can only fit so much in such an efficient space. There was plenty of natural light which was nice. For a couple young professionals, it was ok but we would have been happier spending more money and getting something a little more comfortable with more amenities. Great communication, it was easy to work with Adam.
Zack
2015-04-03T00:00:00Z
Apartment was exactly as described, great location and easy check in and check out process Thanks
David
2015-01-15T00:00:00Z
Adam's place is in a great location - easy walk to Pearl Street and The Hill. The apartment is clean and well-kept. Adam is an excellent host - responsive, accessible and super-friendly.
Danielle
2014-12-13T00:00:00Z
Great, easy experience with Adam. Helpful and very responsive. Apt located close to town. Thanks Adam!
Anura
2014-12-29T00:00:00Z
We felt very welcome at Adam's loft! He provided us with the necessary essentials (towels, shampoo, conditioner, and soap), and also included maps of Boulder, along with different activities we could do during our stay. The listing was very accurate, and was the perfect location for exploring Pearl Street! We were also able to explore Boulder just by walking around a couple of blocks.
Michelle
2015-06-24T00:00:00Z
Tipus d'habitació
Casa/pis sencers
---
Tipus de propietat
Pis
---
Capacitat
3
---
Dormitoris
Boulder, Colorado, Estats Units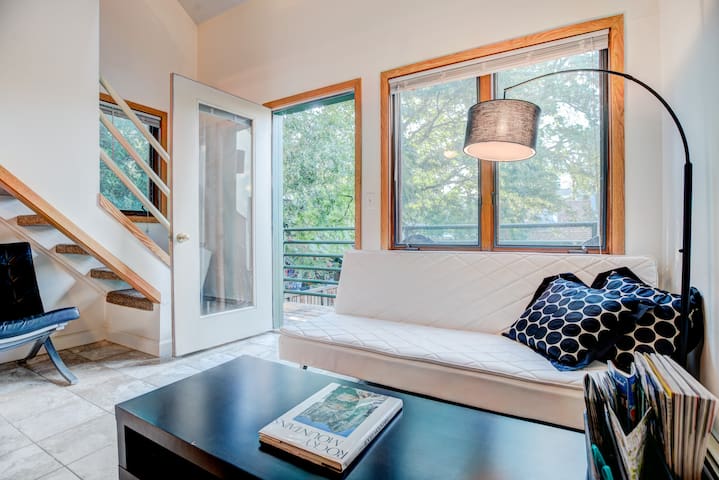 Enjoy my tiny apartment oasis in Mapleton Hill, just blocks from everything wonderful Boulder has to offer. Just up the hill from Pearl Street, you're close to shopping, restaurants, and night life. Walk a few blocks in either direction and you'll find yourself hiking up Mount Sanitas or bathing in the sun at North Boulder Park. Ideal Market, coffee shops, and a pharmacy are also in walking distance. There is no better location in Boulder!
Two bedroom apartment with a shared bathroom. Small space, but practical and comfortable.
Mapleton Historic District is an attraction in itself. My favorite thing to do is walk my dog around the neighborhood and look at all the different houses! The views are amazing, and access to anything you need is only steps away!
We loved staying at Amanda's! We were walking distance to pearl st and her apartment is so cute! We felt right at home. Her and Mason are super sweet, great hosts! We would definitely stay here again!
Dakota
2017-02-04T00:00:00Z
Amandas place was fantastic. Was within walking distance of shops and restaurants and close to public transportation. Amanda was so welcoming upon our arrival. She made us feel as though we had arrived home after a long journey. I would definitely stay there again.
Ryan
2017-01-22T00:00:00Z
Cozy and walkable to all the best spots. Amanda is super friendly and helpful!
Colton
2017-02-20T00:00:00Z
Amanda is so welcoming and friendly, as is her dog Mason and her place itself. I instantly felt at home at her comfy, cozy, chic, relaxed apartment. Super cute and super clean! Couldn't be a better location! On a secluded street, yet walkable to both the mountains and shops on Pearl street/ideal market. Only a 5 min drive to Chautauqua park. Amanda is so sweet, approachable, helpful with recommendations and respectful of privacy. I couldn't be more happy with my stay and I'm already looking forward to going back!
Stephanie
2017-03-28T00:00:00Z
This is the place to stay if you are going to Boulder!
Even
2017-04-03T00:00:00Z
Amanda's home was close to everything great in Boulder! Clean and cozy, a great place to stay. Plus her sweet dog is so friendly!
Mel
2017-02-23T00:00:00Z
Amanda was a great host! She was very flexible with our arrival time and had great suggestions on where to go in Boulder. Plus, her pup is the friendliest cutie! Super comfortable stay with a very low key and accommodating host. We loved it!
Kira
2017-02-18T00:00:00Z
Great spot!
Caleb
2017-03-17T00:00:00Z
Tipus d'habitació
Habitació privada
---
Tipus de propietat
Pis
---
Capacitat
2
---
Dormitoris
Boulder, Colorado, Estats Units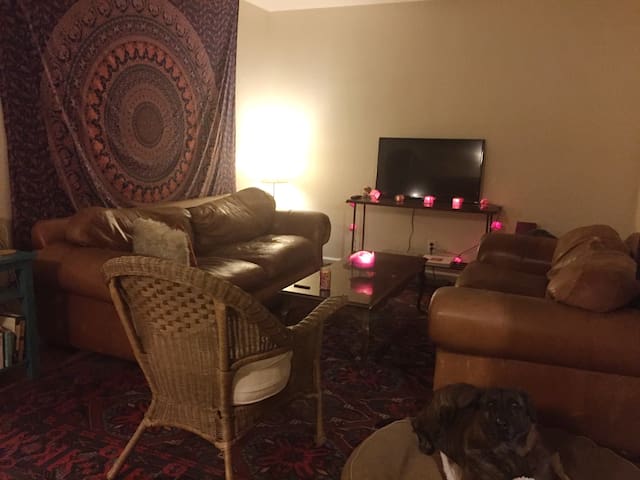 Newly remodeled studio apartment nestled in scenic Boulder Canyon. Private walk-out lower level of our mountain home. Has its own entrance (keyless entry) and own private patio space with comfy sky chairs. Just steps from Boulder Creek. 10-15 min from downtown Boulder. The perfect home away from home for those who want the best of both worlds - a restful getaway in the mountains, yet only a short drive away from downtown Boulder fun.
Surrounded by mountains, national forest, and beautiful rock formations, this place will deepen you back into yourself and nature.
We made a last minute reservation with Joanne and she was quick with her responses and wonderfully thorough with the necessary instructions. As soon as we pulled up to the house we knew it was going to be a great place to stay! The location is beautiful!! The drive up Boulder Canyon was spectacular! The home was perfect! The decor was tastefully done. It was clean and new. Having the full kitchen was awesome! Loved the drip coffeemaker and REALLY loved enjoying my morning coffee in the swing on the porch with the Boulder Creek bubbling right in front of me! There were so many thoughtful details! We loved the welcome basket with chips, granola bars, oatmeal, tea, etc! The fridge was stocked with a nice assortment of beverages as well. It was a bit chilly as the baseboard heat wasn't hooked up yet, but the portable heaters helped...especially when we rolled one into the bathroom to warm it up for showering. The bed was comfy with warm, comfortable bedding. Awesome whole wall of IKEA storage so you can unpack and make it really feel like home! We can hardly wait for our next visit to Boulder!!
Kimberlee
2016-11-07T00:00:00Z
Place was just as described. Sounds of the creek were soothing. Very clean and well kept. All of the furnishings were comfortable. Only drawback was the lighting. Lots of LED lights throughout with no dimmer switch. Also I would suggest a lamp in the living area.
Morgan
2016-11-01T00:00:00Z
From the moment I contacted Joann till after our stay, she was always prompt, very courteous and helpful. She left clear instructions and went out of her way to give us a warm welcome even though she wasn't around when we arrived. The home itself is very precisely designed with almost a nordic aesthetic, minimalist design, use of space and generous fitments and equipment. It is nicer than it seems in the pictures and lets you appreciate the pine forest it is surrounded by and crisp hill air it is enveloped in. Overall, as a first AirBnB experience, this was a really memorable weekend and I'm definitely a convert. Hope to be back here very soon! Thank you Joann and Jay!
Pranay
2016-10-24T00:00:00Z
This place is phenomenal, well equipped and with a great view! Haven't been to a better airbnb in my life and I've been to many.
Juan Jose
2016-12-04T00:00:00Z
This is a wonderful studio with a well equipped kitchen, comfortable porch with a gas grill, large TV with many channel options, blue-tooth capable stereo, and a very comfortable bed. It is convenient to both Boulder and Nederland. There were welcoming snacks and drinks when we arrived and necessities to prepare pasta if desired. The hostess was very pleasant and our entire stay was private. I would highly recommend this canyon setting on Boulder Creek.
Jesse
2016-10-11T00:00:00Z
The studio is so great! They provided everything you could expect. We didn't notice there's floor heating system until the last night. The only thing not so perfect is that we don't know how to connect to the speaker through Bluetooth.
Peter
2016-11-27T00:00:00Z
Joann and Jay were there to welcome us and had communicated with us quickly when we had questions before we arrived. They left us a wonderful basket of goodies and beverages to get us started. The apartment was actually slightly larger than we expected as the tv room area was a bonus we hadn't realized was there. Everything was clean and welcoming, we had a couple of brief visits with Jay and Joann during the visits with our questions and needs being addressed promptly. The location in the canyon was beautiful but made for a little challenge with our cell phones but they had a land line available for us to make all our calls for free. Thanks Joann and Jay, we hope to return for another visit.
Linda
2016-10-01T00:00:00Z
Tipus d'habitació
Casa/pis sencers
---
Tipus de propietat
Pis
---
Capacitat
2
---
Dormitoris
Boulder, Colorado, Estats Units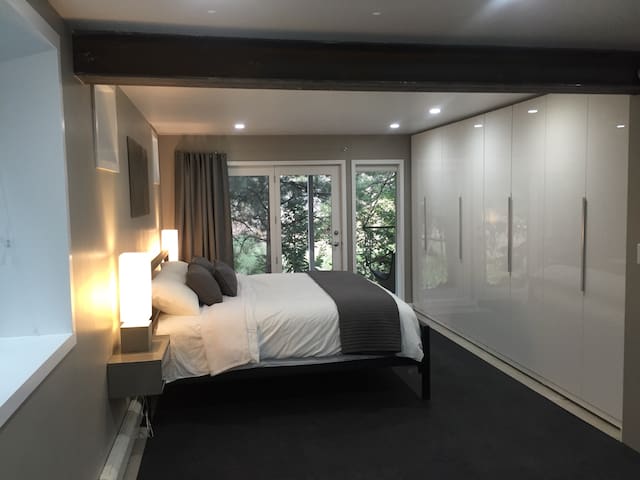 Modern cozy dwelling only steps away from Pearl Street. Nature trails in your backyard. Awesome views, fresh mountain air. Perfect for business or leisure travelers.
Julie's place was great! It's a nice clean apartment nestled into a quiet canyon. You can watch hikers go by out the bedroom window. It's close to Pearl Street.
Ted
2017-03-29T00:00:00Z
Great location! Nature out the back and easy access to the wonderfully funky Pearl St. Julie made it all very easy!
Ralph
2017-04-02T00:00:00Z
Julie's place is great. It is location is an excellent balance between nature and town; it is quiet and cozy; and it was our pleasure spending a week there.
Waylon
2017-01-21T00:00:00Z
Julie is super friendly and the location is amazing. Hiking and amazing views out the back door. Walking distance to the main town + the amenities in the home are wonderful. Definitely want to come back!
Evie
2017-01-31T00:00:00Z
Julie's place was the perfect spot to end our trip. It was clean with lots of space. The views of the beautiful snowy mountains were priceless. Would love to come back in warmer weather to experience some more trails! Highly recommend staying here!
John
2017-01-07T00:00:00Z
Great space close to amazing trails. Julie was super easy to work with!!
Jodi
2017-03-13T00:00:00Z
I loved the trails in the back! Even though the area was secluded I liked how it was quiet but still close to everything
Rachel Catherine
2017-03-17T00:00:00Z
Right next to hiking trails. Views are nice. Very cozy place
Steven
2017-02-12T00:00:00Z
Tipus d'habitació
Casa/pis sencers
---
Tipus de propietat
Pis
---
Capacitat
2
---
Dormitoris
Boulder, Colorado, Estats Units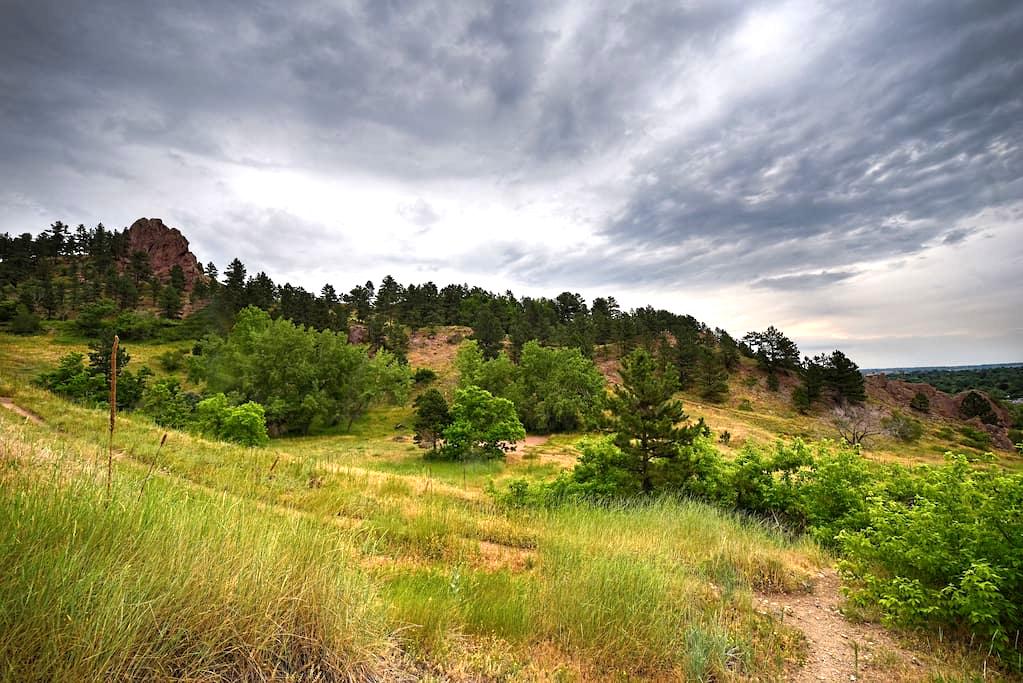 Jamestown - Airbnb
:
Mitjana de

4.92

estrelles sobre

5

a partir de

1420

avaluacions d'hostes
1

-

18

de

212 Lloguers de cases
Introdueix les dates per veure el preu total. S'aplicaran tarifes addicionals. És possible que també s'apliquin impostos.