If you like a little extra in your travels, you're welcome to our 1300 sqft. Guest Home on a 17 acre setting just 35 minutes from downtown OKC or 20 minutes from Weatherford OK. Secure location with a gated entry and some quite scenic country but just a short drive away from the action in OKC. Great place for couples, solo adventurers, business travelers, and a family with children.
Quite country home with numerous amenities. Home features a gated entrance, home security, fully stocked kitchen, Keurig coffee maker, washer-dryer, Steam Sauna, huge shower, work out gym, pool table, poker table, dart board, large projection TV with home theatre sound with DirecTv, Apple Tv, and Amazon Fire connected. Separate TV also in bedroom area. Outdoor possibilities include a long asphalt road situated along a wooded creek great for walks or running. A stocked pond with lighted fountain and hammocks situated in the shade. For the golf fan there is a driving range with yardage flags and a homemade Bermuda putting green. Outdoor porch area with large TV and sound system next to the pool and hot-tub open year round (pool not heated during the off-season). For the young ones, there is a trampoline and playground in the back yard.
Dustin and his family were wonderful. They were very friendly and helpful and fun to have around (and their dogs are awesome). The property is amazing with everything you need to be entertained, work, play and sleep, in a very comfortable bed. We didn't want to leave. I wouldn't stay anywhere else in Oklahoma.
Donna
2016-10-22T00:00:00Z
Dustin was a great host and his home is amazing. I drive, fly and sit at a desk daily so having the hot tub, sauna and gym was perfect and just what I needed. I highly recommend Dustin's pool HOUSE.
Ben
2017-03-13T00:00:00Z
Dustin was a fantastic host! He was very quick to respond anytime we had questions or needed help with anything and such a nice guy. The place is beautiful and has everything you could need. We will definitely stay with them again.
Jennifer
2017-03-02T00:00:00Z
Dustin was a great host and I can't wait to use the premises again.
Gail
2017-01-24T00:00:00Z
Amazing place! Dustin was a super host! Play some hoops indoors while you're here! Hot tub was amazing!
Trayce
2017-03-07T00:00:00Z
Awesome place and very cordial hosts couldn't have been better and are certainly our best Airbnb experience ever we will book here again thank you
Robert
2016-11-05T00:00:00Z
great host I would recommend this home to everyone that comes by'!!!
Yoon
2017-01-07T00:00:00Z
I had an extended stay here due to my home being flooded. I wish I could've stayed longer. What a great place with great hosts, children, and pets. The place was beautiful inside and out. It was gated and very private
Gail
2017-02-08T00:00:00Z
Tipus d'habitació
Casa/pis sencers
---
Tipus de propietat
Pensió
---
Capacitat
4
---
Dormitoris
Hinton, Oklahoma 73047, Estats Units
My place is close to SWOSU University and convenient to anything in Weatherford.. You'll love my place because of the high ceilings, the hottub, the location, and the ambiance. My place is good for couples, solo adventurers, business travelers, and families (with kids). Free access to my gym 2miles away.
Located in a new, quiet neighborhood with great neighbors. There is the infamous Rader Park a block away that includes a splash pad, walking trails, and a great 18 hole golf course and new country club.
The neighborhood is very quiet and the neighbors look out for each other. The houses and yards are very well maintained and the neighborhood is very private; therefore, there is very little traffic. There are sidewalks throughout the entire neighborhood which makes going for a walk or bicycling very safe.
Great stay at Gales once again
Jake
2017-01-11T00:00:00Z
Beautiful home, it was a great place to stay!
Paul
2017-03-11T00:00:00Z
Great comfortable place to stay.
Paul
2017-03-09T00:00:00Z
Great to be back at Gail's. Her home is warm and inviting. Feels like home away from home..
Reese
2017-03-04T00:00:00Z
Loved everything about this home and Gail was the best host! The home is beautiful, everything about our stay was fantastic. We asked to arrive a little early and she made sure that we were able to do so and met us there and brought Orange Juice and Bagels for the mornings. If you are ever in the Weatherford area make sure and stay at Gail's home! We will definitely be coming back everytime we come to visit family.
Heather
2016-11-26T00:00:00Z
Beautiful home...very inviting and cozy...had everything you could need and then some. Gail was very accommodating and even left us bagels and fruit...will be back for sure!
T
2017-01-09T00:00:00Z
Gail is an absolutely wonderful host. Her home is immaculate and feels like a model. She continuously went above and beyond to make sure that I had everything that I needed to make sure that my stay was more than comfortable. This IS the place to stay in Weatherford and I WILL be back.
Terry
2016-10-04T00:00:00Z
Great place, and a great host and great price. Could not have asked for better place to stay in Weatherford, OK. Conveanant to I-40 if passing through, or better yet, stay and relax on the patio. Thanks Gail! Beautiful house!
Tim
2017-02-04T00:00:00Z
Tipus d'habitació
Casa/pis sencers
---
Tipus de propietat
Casa
---
Capacitat
6
---
Dormitoris
Weatherford, Oklahoma 73096, Estats Units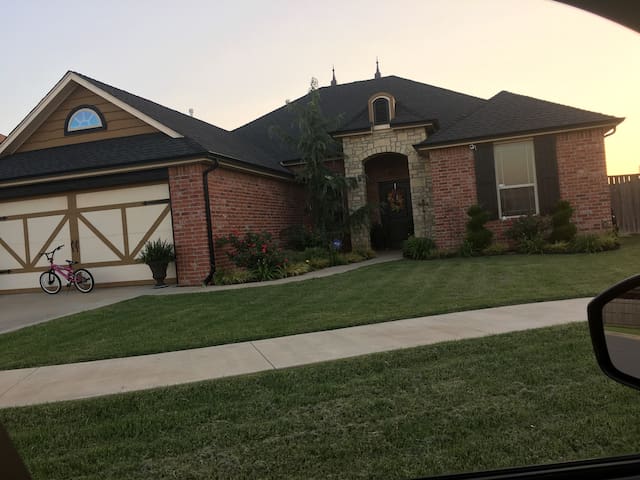 Our Renovated and private One Room Schoolhouse gives you the feeling of country life just a short drive off of HWY 281, and 15 min drive off of I-40 and Route 66. In case you miss it later, this building only has a half bath. :)
If listening to coyotes at night while sitting on the deck and waking up to birds singing in the morning sounds like your kind of adventure, then you have found the right Schoolhouse! While you will get to hear wildlife also know their noise will be breaking up the extreme quiet of country quiet. There isn't much like it. :) This is a more rustic cabin, there is no TV, internet, or modern distractions. We do however provide our guests with central Heat and Air and conventional plumbing. We do not currently have a tub or shower. We would like to in the future, but one step at a time. :) If you need a place to stay while driving across the country or a retreat to recharge, our schoolhouse is the perfect place to get away from it all and relax. The space is a scenic one room schoolhouse set on 140 acres in western Oklahoma, and located a short 20 minutes North of I-40 as well as historic route 66. The property boasts a large pond and wooded areas. It is used as an event center on occasion and as such is one big open room. It has one 1/2 bath, a full kitchen minus a full set of pots and pans (there is a sauce pan and skillet), and has two decks for gazing and lounging as well as a patio. This is a "rustic" cabin since it does not contain a shower. There is one murphy queen sized bed and fold out couch provided but guests are encouraged to bring extra bedding for extra guests. RV hook up is available. A fire can be lite in the firepit as long as no burn bans are in effect. Hiking is welcomed over the property grounds, but sadly we do need to say no to ATV's as our sand dunes are fragile and will not stand up to the abuse ATV's give out. They also have a tendency to scare our cattle that will be on the property. In late summer there will be stickers so please dress appropriately. :)
There is no neighborhood. The closest neighbor is 1/2 a mile away. :) This may be disconcerting for some. I in no way want you to feel uncomfortable with the isolation some will feel at the Schoolhouse. So please take into consideration how much you like being alone. :) When you enter the property and sit on the decks you will not see a neighbor, but you can see for miles.
The schoolhouse is a fun and quaint place to stay! Hubby and I felt very safe and comfortable. We lucked out and had clear skies so we could see the Milky Way and millions of stars! Jennifer provided very clear directions which we were able to follow easily after dark and although we didn't get to meet her, she made us feel very welcome. The amenities are sparce but the experience is off the charts unique. We loved checking out the photo journal showing all the love and labor that went into restoring this historic building. It was the perfect spot to rest our road weary bodies not far from the highway. Thanks Jennifer!
Jill
2015-09-01T00:00:00Z
This was very scenic and a great departure from the normal hotel/motel along the I-40 corridor. The hostess went out of her way to make sure I found the place and was comfortable. I never saw her, but knew I was well watched out for and cared for. I truly enjoyed this little slice of history and fun.
Margaret
2014-11-21T00:00:00Z
We stayed in the schoolhouse one night during a cross-country drive. Upon arriving we were greeting by a little basket with crackers and juice. Though some features are modest (1/2 bathroom, futon mattress), it was perfect for our needs and Jennifer was easy to communicate with via text and email. It was great waking up to mooing cows and sunlight flooding the big windows. The windows rattled a bit with strong winds, but it wasn't anything we weren't expecting or couldn't endure. Overall, a great experience in a well-renovated little building.
RJ
2014-03-26T00:00:00Z
The schoolhouse was breathtaking. Waking up to the sun in the morning over the prairie was a unique and wonderful experience. The schoolhouse itself is renovated and lovely -- it did feel a bit spooky at night with the prairie winds, but this is probably just because I'm not used to such a rural sleep. The pull-out couch is small, but it's worth the adventure.
Eric
2014-06-25T00:00:00Z
Had a great time in the school house. Jennifer was very accommodating and the place was clean with great views:) Would definitely stay again!!
Erik
2014-08-04T00:00:00Z
I love that place. I want to buy it and live there. Jennifer was great. If you are anywhere nearby you should stay there.
Dale
2016-06-07T00:00:00Z
The schoolhouse is a wonderful place to stay for break in the country. It's at the top of a hill so it has beautiful views of the rolling countryside. It is charming inside as well. It's very private with no neighbors in sight except for the cows, coyotes, birds and other wildlife. A great relaxing retreat from the city.
Keri
2016-07-06T00:00:00Z
Had a fun time, very beautiful property. Very good host, they had everything there that we could've needed and more.
Logan
2016-11-20T00:00:00Z
Tipus d'habitació
Casa/pis sencers
---
Tipus de propietat
Cabana
---
Capacitat
4
---
Dormitoris
Geary, Oklahoma, Estats Units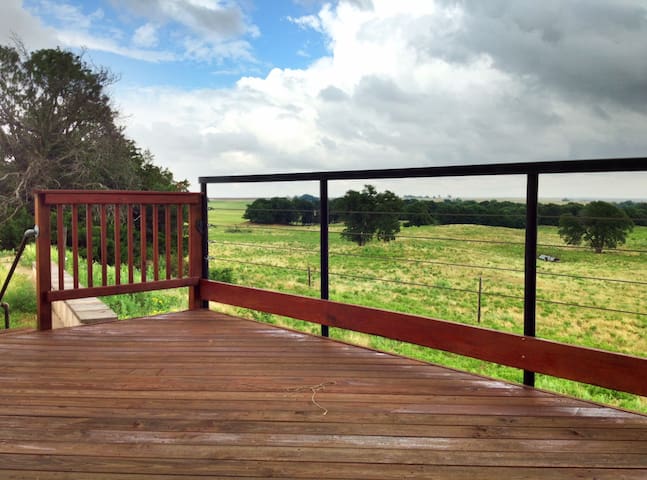 Secluded cabin 45 minutes from Okc, 5 minutes from 2 casino, close to the Canadian river. Two bedrooms, 1 loft, kitchen and a table to set 6! Weather you enjoy time to your self, or a weekend with your family, this is the place to do it!
Tipus d'habitació
Casa/pis sencers
---
Tipus de propietat
Casa
---
Capacitat
6
---
Dormitoris
Geary , Oklahoma 74048, Estats Units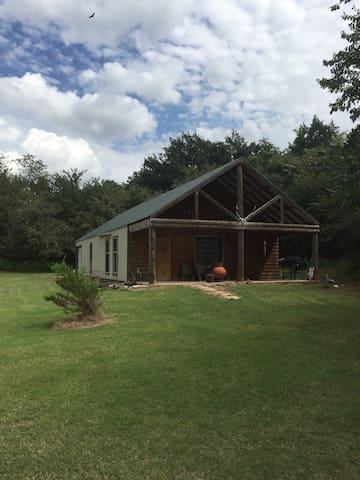 Clean, quiet home with easy access from Interstate 40 and only 2 blocks from Southwestern Oklahoma State University. Has a large front porch, parking for up to 4 vehicles, lots of natural light, central heat and air, gas range, washer/dryer, and safe room.
This home was built in the 1940's and has been well taken care of. The history of this property is its best feature.
Surrounding properties are of similar age and well kept. Quiet atmosphere with church bells chiming occasionally throughout the daytime.
Tipus d'habitació
Casa/pis sencers
---
Tipus de propietat
Casa
---
Capacitat
6
---
Dormitoris
Weatherford, Oklahoma 73096, Estats Units
Cozy 2 bedroom cabin with loft. Plenty of room for family and friends! Cuddle up on the couch or the chimney on the front porch! Very secluded, and only 5 minutes from 2 Casinos, and 45 minutes from Oklahoma City!
Tipus d'habitació
Casa/pis sencers
---
Tipus de propietat
Casa
---
Capacitat
6
---
Dormitoris
Geary, Oklahoma 73014, Estats Units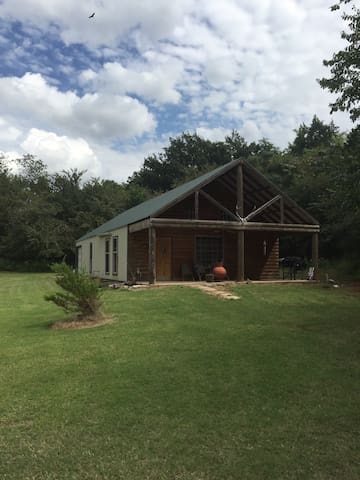 A great 2 bedroom and 2 full bath double wide with extra large space in kitchen/living room for entertaining.
Tipus d'habitació
Casa/pis sencers
---
Tipus de propietat
Altres
---
Capacitat
4
---
Dormitoris
Weatherford, Oklahoma 73096, Estats Units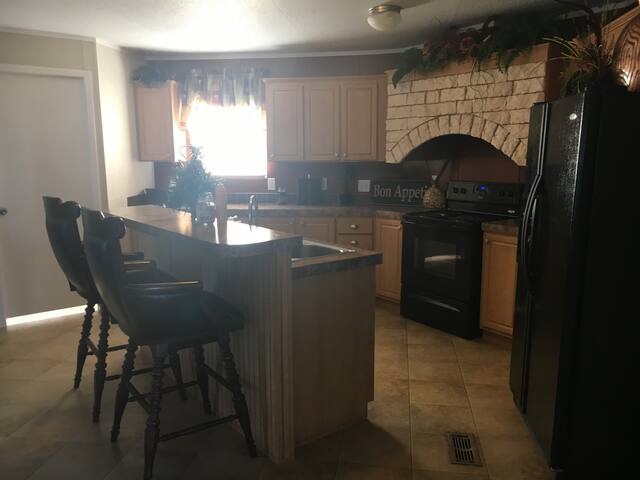 Our lake house is right next to Fort Cobb lake and about 10 yards away from public hunting ground! This area boasts excellent fishing, numerous coves that make for great boating/skiing, and some of the best public hunting in Oklahoma. The best part about this lake house is the location. It's extremely spacious and has 2 living areas with Directv. There is also an 8 person hot tub, fire pit, grill, and hammock on the back porch that make for fun relaxing evenings with friends or family.
Tipus d'habitació
Casa/pis sencers
---
Tipus de propietat
Casa
---
Capacitat
9
---
Dormitoris
Fort Cobb, Oklahoma, Estats Units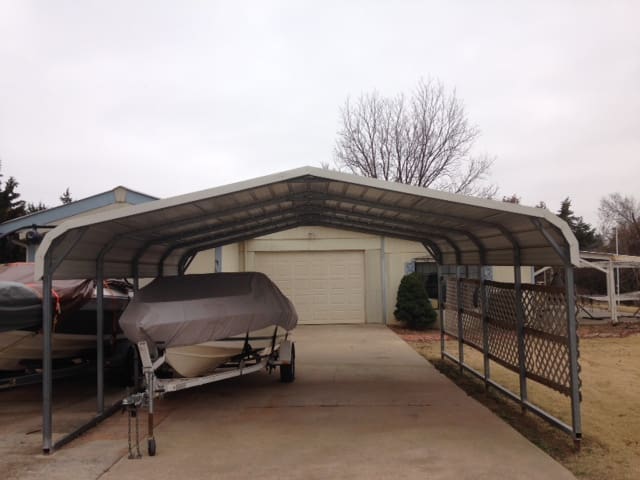 The Noble Hotel was built in 1912 and restored in 2004. Each room has its own private bath, is furnished with antiques and reproduction furniture and fixtures. Each room also has a TV and internet access. Breakfast is also provided with your stay.
Tipus d'habitació
Casa/pis sencers
---
Tipus de propietat
Bed & Breakfast
---
Capacitat
2
---
Dormitoris
Watonga, Oklahoma 73772, Estats Units
Introdueix les dates per veure el preu total. S'aplicaran tarifes addicionals. És possible que també s'apliquin impostos.