Nehmen Sie in wahrem Delta Gastfreundschaft in diesem charmanten Hause im Herzen von Greenwood entfernt. Direkt auf der anderen Straßenseite von Little Red Park, zu Fuß in der Innenstadt, Yazoo River & Yazoo River Trails, ist dieses Haus ideal für die Besucher einen Eindruck von der Delta Verlangen.
Der Nordosten Greenwood Nachbarschaft ist voll von Bäumen gesäumten Straßen, freundliche Nachbarn, und ist ein wunderbarer Ort zu laufen, gehen oder mit dem Fahrrad.
It was an absolute honor to be Brantley's first guests! Our entire experience was great from start to finish. Brantley was very easy to get in touch with and very willing to help us out with suggestions for activities in the area. The house was super easy to find and located in a beautiful part of town. We had no problem getting in and were amazed at how gorgeous the house was (even better than the pictures)! We cooked dinner and spent the evening Netflix bingeing--loved the Apple TV! If it wasn't raining we would have enjoyed the porch with its cute patio lights. In the morning we enjoyed fresh coffee and homemade muscadine jam on English muffins supplied by Brantley. The place was clean, comfortable, and everything you'd hope a southern cottage would be. I highly recommend this place and hope to visit again!
Kait
2016-07-11T00:00:00Z
Brantley's home is amazing! Comfortable, beautifully decorated, and so close to the shops and restaurants in Greenwood. We would have walked had we not run the Viking Half Marathon that morning! We had never stayed at an AirBnB before, and Brantley answered my many questions quickly and was so friendly. Brantley thoughtfully left a list of local restaurants and shops with great descriptions. Brantley also graciously let us check-in a little earlier than scheduled since we were in need to a post-race shower. We are already planning our return trip for next year!
Jessica
2017-03-26T00:00:00Z
Everything was great and accurate! Great home!
Michael
2016-12-11T00:00:00Z
The most restful weekend I have had in months, a wonderful experience a Brantley's home! Extremely clean, thoroughly organized and everything laid out for the most delightful experience.
Bill
2016-07-17T00:00:00Z
The house was perfect for our trip to visit family! Exactly what we needed, beautifully decorated, and in a great location!
Aryn
2016-09-23T00:00:00Z
Charming may be an understatement! Brantley's place is absolutely gorgeous, with beautiful décor and regional flair. The neighborhood was also very nice and quiet, and conveniently located. Brantley was incredibly accommodating and very responsive to any questions I had. My friends and I thoroughly enjoyed our time there, as it was a perfect place to relax and rejuvenate and Brantley included a guide of suggested places to visit in Greenwood. We were so glad we chose this place and will definitely be back!
Treshika
2017-01-01T00:00:00Z
The term "charming" accurately describes this beautifully decorated home, which is full of southern character. It is easy to find in an interesting, quiet neighborhood. Brantley has thoughtfully prepared a detailed description of her home and the surrounding area along with suggestions for dining and local activities. Also, she provides brochures with the added bonus of a surprise to take home. She quickly responded to emails and answered questions before and after we arrived. The beds are comfortable, the kitchen and bath are well-stocked, and the furnishings are delightful. As a native delta girl myself, I promise you will have a dose of southern hospitality at its best if you stay here. It is a hidden gem, which will not remain a secret for long!
Paula
2016-07-13T00:00:00Z
This home is a perfect location for everything Greenwood. It is decorated wonderfully and so much more comfortable then staying in a hotel.
Esther
2016-12-30T00:00:00Z
Tipus d'habitació
Casa/pis sencers
---
Tipus de propietat
Casa
---
Capacitat
4
---
Dormitoris
Greenwood, Mississippi, Estats Units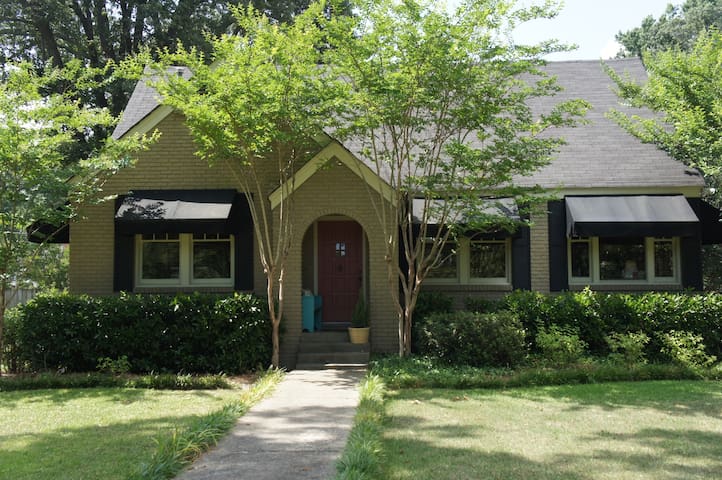 New loft apartment offers high beadboard ceilings, huge windows looking onto Square, original hardwood floors for great atmosphere. It also provides a full kitchen, full washer/dryer, stall shower and bath, new HVAC, and many closets. Comfortable, cosy, convenient, the apartment is within walking distance of a famous grocery store, a good restaurant, the Courthouse and City Hall, and many interesting sights. Grenada Lake and Interstate 55 are each about 2 miles away.
Built in gorgeous renovated building dating from 1867, the loft apartment is clean and modern with much period charm. Easy to live in, plenty of parking, and much to explore on foot.
We love the largely unspoiled Square, surrounded by 2 story commercial brick row buildings. We love being able to walk to Orleans or to an event at First & Green Celebrations downstairs. We love living next door to Robin Whitfield Studio and Gallery, and M&M Kustom Cars, where Lee Taylor rebuilds vintage vehicles of all kinds. Robin loves to show off the wonders of Chakchiuma Swamp Natural Area, just a couple of blocks away.
Tipus d'habitació
Casa/pis sencers
---
Tipus de propietat
Pis
---
Capacitat
4
---
Dormitoris
Grenada, Mississippi, Estats Units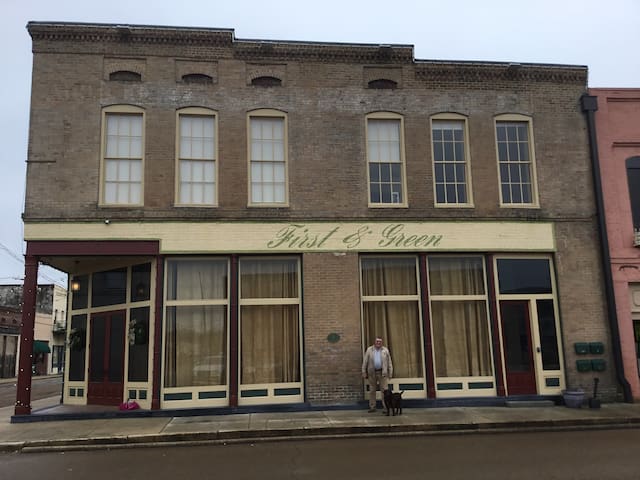 3 story 3 bedroom 3 bath (1 w/Jacuzzi tub) indoor heated pool and sauna with over 2500 ft outdoor layer decks . beautiful views 3 miles from beautiful Grenada Lake and 1 hour travel from Oxford & Starkville. This is an entire home rental no other renters.
Really enjoyed the stay. Great value and close to the lake which was great for our fishing trip.
Alan
2017-03-05T00:00:00Z
We really enjoyed our stay at Stone Canyon! The house was very clean and inviting. We loved the view from the deck - it was a nice private wooded retreat. We would definitely recommend this place to friends!
Erin
2016-10-24T00:00:00Z
We stayed here for nearly two months for work. If not for this place we never would have been able to complete the project! We needed a comfortable, nice place to stay that could accommodate our dogs, and Boo was such a great host and one of the nicest people we've ever met! Over such a long stay I was surprised that not once did he ever seem to get tired of us or our dogs who can be a little annoying at times. He even barbecued a couple times and made some really awesome food! The place itself is awesome, plenty of room to relax indoors and out, great patios, fully stocked kitchen, and super comfortable bed. Also, you can't beat the indoor pool! It really was like a home away from home. I can't recommend this place highly enough, Boo is a great and friendly host, the house was awesome, we had a great time.
Lindsay
2015-10-12T00:00:00Z
Fantastic house. Clean and very beautiful. We did not particularly enjoy waking up to blaring music in the morning, but there are worse things. Outside of the music, fantastic house and accommodations.
John
2016-11-13T00:00:00Z
Boo Corbett's place in Grenada is one of a kind. Beautiful views of the hilltops of northern Mississippi, great decks, a wrap around porch with a swing, & unique amenities like an indoor pool & sauna in the downstairs apartment. The place was very peaceful, & Boo's two gentle, docile dogs made my Mom lonesome for her own back home. Boo met us, gave us an orientation to the place & its history. Next time we'd have him cook for us, as his photo catalog of his meals he has served make it obvious after his career as a chef cooking is still a passion and gift. (And the best restaurant in town was likely a few stars lose than what we saw in Boo's photo album.) Great, rustic place, peaceful, all the amenities plus some. Thanks Boo.
Warren
2016-06-07T00:00:00Z
Awesome home! I cannot wait to stay here again!
Patrick
2017-01-15T00:00:00Z
One of a kind! Great custom built home in quiet grove of pine trees. Our family of 4 with our beagle and my parents all had plenty of space. With a bedroom on each floor, it was ideal. Loved the pool and sauna and back deck with white lights at night. Will definitely be back when in the area again. Thanks Boo!
Linda
2016-12-27T00:00:00Z
Tipus d'habitació
Casa/pis sencers
---
Tipus de propietat
Casa
---
Capacitat
8
---
Dormitoris
Grenada, Mississippi, Estats Units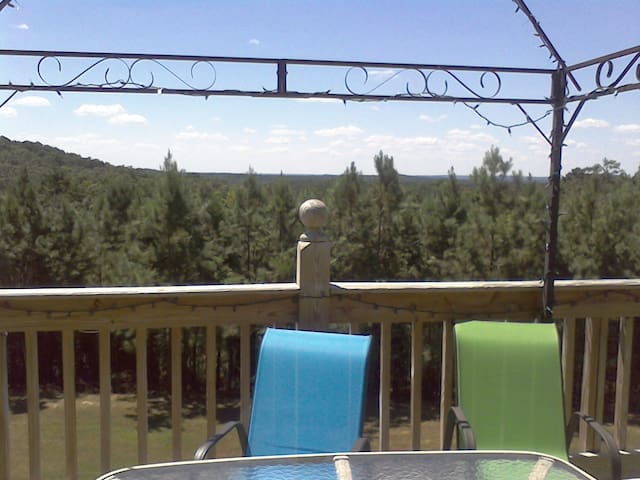 I have a log house out in the woods 15 minutes from oxford ready for a break of of reality and a weekend to forget about stress and just relax this is the place to be beautiful very cozy inside
Tipus d'habitació
Casa/pis sencers
---
Tipus de propietat
Casa
---
Capacitat
2
---
Dormitoris
Indianola, Mississippi, Estats Units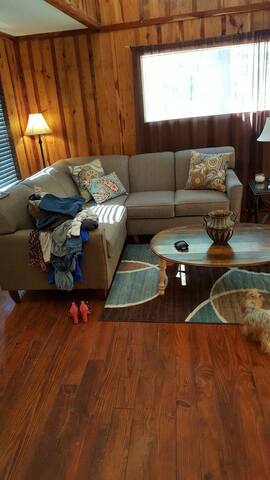 Bequem zu I55 & Grenada geistert, liegt unser Haus in einem bewaldeten Tal. Große Zimmer bieten eine Fensterwand und mehrere Französisch Türen zu privaten Decks & geheiztes Pool mit Poolhaus öffnen. Erdgeschoss Master-Bett / Bad-Suite mit Home-Office.
Großes, luftiges Zimmer mit hohen Decken und komfortabel, klassischem Mobiliar.
Bequem zu I55, UMMC Hospital und Holmes Community College noch privat und ruhig gelegen.
Tipus d'habitació
Casa/pis sencers
---
Tipus de propietat
Casa
---
Capacitat
12
---
Dormitoris
Grenada, Mississippi, Estats Units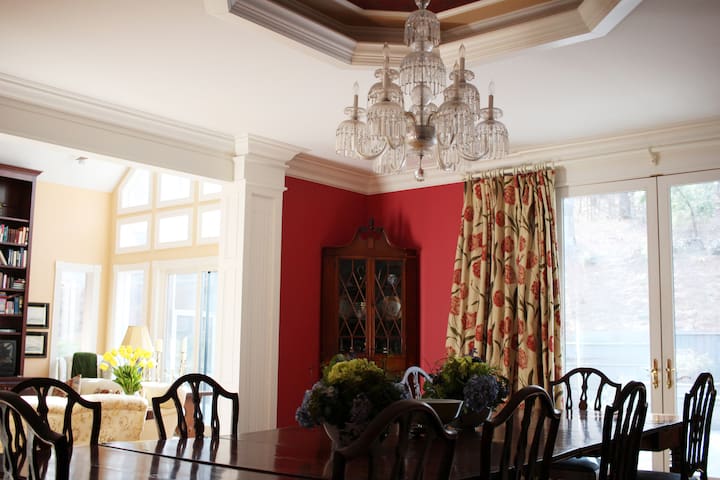 Introdueix les dates per veure el preu total. S'aplicaran tarifes addicionals. És possible que també s'apliquin impostos.