Beau studio dans rez-de-villa situé à : A 14 km de Vence et 18 km de Grasse, 25 km de la mer (Nice -Cagnes-sur-mer) 20 km de la montagne (station ski de Gréolières ) et au bord du Loup (baignade dans la rivière). Environnement calme. Sportifs heureux : canyoning, vélo, rafting, escalade, delta plane, randonnées, baignade rivière et mer ! Jardin privatif sépare et piscine à discrétion.
Ce logement est idéalement situé pour visiter à pied les gorges du Loup et s'y baigner ! Il y a aussi un club situé en face de l'autre côté de la rivière spécialisé en activités en milieu naturel (canyoning, randonnée aquatique, via ferrata, parcours aventure...etc). En été la mer est tout près à 25km et en hiver les pistes de ski sont à 20km !
A vous tous n 'hésitez pas a réserver. Nous avons été reçu par Dominique et son mari la semaine du 13 au 21 août 2016, avec un accueil de bienvenue très souriant et très agréable ,ils nous ont conseillé des points de découverte ,des restos. pour le logement top de chez top même trop . A vous de découvrir un coin a visiter a pieds,plein de richesses et de couleurs. On vous le conseille largement a faire au moins une fois dans votre vie. Merci beaucoup Dominique
eric
2016-08-21T00:00:00Z
Great little studio, with all the necessary supplies for a comfortable stay. We walked the Chemin de Paradis, for which the departure point is easily accessible from Dominique's place.
Rebecca
2017-01-15T00:00:00Z
Nice little place which was perfect to use as an overnight base for walking around the area.
Iain
2017-02-24T00:00:00Z
Très bon accueil.
Adrien
2016-10-19T00:00:00Z
Appartement agréable, très bon accueil par Dominique. Nous avons passé une très bonne semaine entre randonnée à Gourdon par le chemin du paradis ( le must, ça grimpe mais ça vaut vraiment le (URL HIDDEN) escapades sur le littoral...
Hélène
2016-12-30T00:00:00Z
(URL HIDDEN)
Alexia
2017-01-01T00:00:00Z
it was great to stay in dominiques little sepperate appartment. you have everything there what you need. we just bought some food and then we was enjoying south france. best location for nature lovers and outdoorfun. Dominique and her lovley family was there and helped us in planing some tours. thanks a lot. Best regards anni
Anika
2016-10-08T00:00:00Z
Dominique's apartment is clean and comfortable, with everything necessary in the kitchen to cook for yourself, including jams and butter and coffee for breakfast. It is also walking distance to a restaurant if you want to eat out. The village of Pont-du-Loup is beautiful, and there are several trails with access to hiking and rock climbing a few steps from the apartment door.
Ashley
2017-03-06T00:00:00Z
Tipus d'habitació
Casa/pis sencers
---
Tipus de propietat
Pis
---
Capacitat
2
---
Dormitoris
Gourdon, Provença-Alps-Costa Blava, França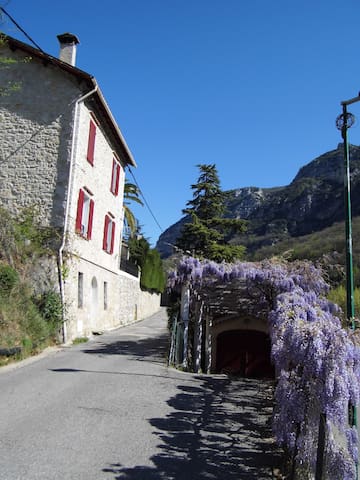 Locations à la semaine, dans une villa, un appartement de 100 m2 avec piscine privée. Pas de nuisance de voisinage. Pas de vis-à-vis. Calme. 4 Personnes. Cuisine aménagée grand confort, Deux chambres : une chambre avec lit en 180 et salle d'eau et WC ; une chambre avec un lit de 140, salle d'eau et WC. Wifi gratuit. Jardin.
Tipus d'habitació
Casa/pis sencers
---
Tipus de propietat
Pis
---
Capacitat
4
---
Dormitoris
Gourdon, Provença-Alps-Costa Blava, França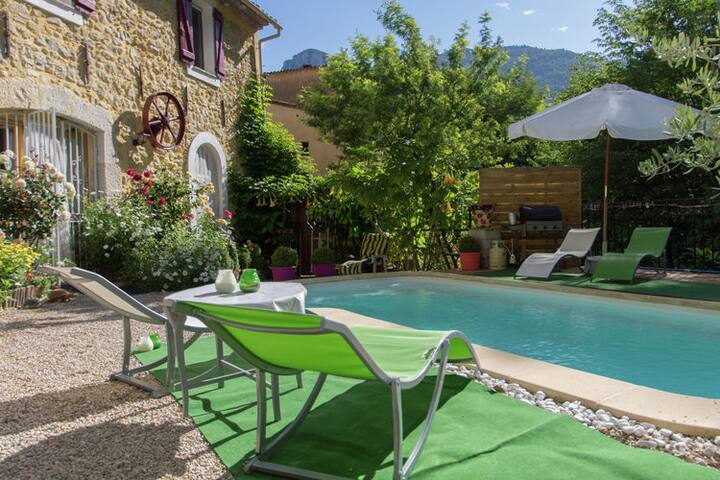 Passer une nuit en bulle à la belle étoile avec tout le confort d'une chambre d'hôtel, avec un lit en 160, cabine de douche et wc secs. Idéal pour se ressourcer au hameau de Pont du Loup, recherche de bol d'air et de nature avec les Gorges à coté.
Nouveau concept d'un tourisme "vert" et haut de gamme, en harmonie avec les politiques de l'environnement et de développement durable. Bulle transparente de 4m de diamétre, 100% recyclable. Espace privatif pour préserver l'intimité de chacun, terrasse privé. Petit déjeuner inclus avec linge de maison. Site web: (URL HIDDEN)
Hameau du Pont du Loup avec climat propice aux agrumes et aux fruitiers, proche de la rivière du Loup, idéal pour se rafraichir et faire un bain de pied. Les gourmands pourront en profiter et visiter la confiserie Florian sur le trajet.
Bonjour ! un concept original ; 1 nuit a deux considéré comme chambre de luxe pour la chambre tentation pour ma part ; quelques aménagements extérieurs de confort manquent (vrai jacuzzi ou un peu plus grand et moins bruyant surtout ; transats autour de celui ci; palissade occultante pour l'intimité du jacuzzi ; pelouse aussi non encore aboutie autour (la terre n'est pas très agreable sous les pieds)plus un petit manque d'intimité dû aux maisons environnantes et aux palissades manquantes surtout sur les hauteurs.) Dommage aussi que le massage prévu pour deux en même temps (ça c'est très bien par contre de pouvoir partager) n'ait pas été fait par 2 professionnels ; car le mari d'Estelle est plein de bonne volonté et masse bien mais la différence se ressent (peut être serait il mieux d'en informer les clients). Les hôtes sont d'une grande gentillesse et attentionnés mais le départ est un peu tôt compte tenu encore une fois du prix , 11h le matin pour le départ et 17h pour l'arrivée c'est un peu court pour profiter aussi de l'extérieur. La chambre bulle est parfaite mais profitez bien le soir et matin tôt car effectivement impossible d'en profiter dès qu'un rayon de soleil se montre. Un prix donc assez élevé pour un luxe non encore abouti . Estelle et Maurice je vous encourage tout de même car l'idée est très originale et agréable, si vous finalisez certains détails se sera parfait !
ISABELLE
2015-07-21T00:00:00Z
Tipus d'habitació
Habitació privada
---
Tipus de propietat
Altres
---
Capacitat
2
---
Dormitoris
Gourdon, Provença-Alps-Costa Blava, França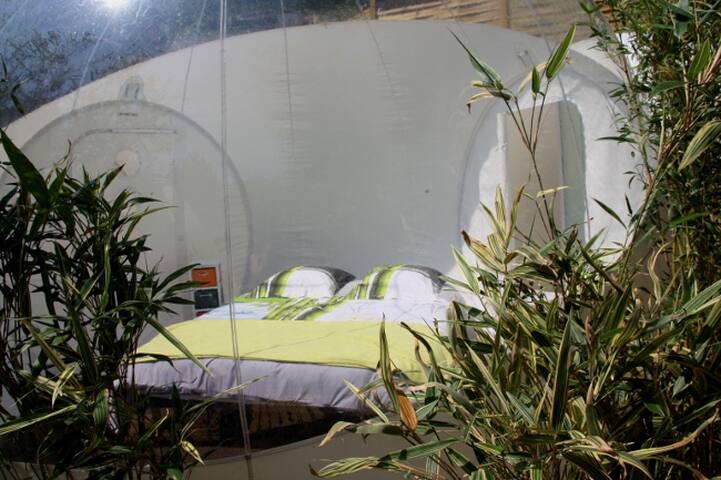 Invisible de la route, cette maison de charme des années 50 est construite en espaliers au milieu de restanques d'orangers et de palmiers, et surplombe le Loup, la rivière qui donne son nom à la vallée et serpente jusqu'à Villeneuve Loubet.
La maison est nichée dans une verdure luxuriante, avec jolie vue sur la vallée et le village perché du Bar sur Loup, sous le plateau de Caussols. A 15 min en voiture de Grasse, 10 min de Tourrettes sur Loup, à 15 min de St Paul de Vence. Située idéalement pour les sportifs et amoureux de la nature et de l'eau, c'est le spot rêvé pour faire du delta, rafting, randonnées, vélo et moto.
Pont du Loup (lieu-dit de la commune de Gourdon), aujourd'hui hameau endormi sur le tracé de l'ancienne voie du chemin de fer qui reliait Grasse à Vence, est un endroit chargé d'histoire, traditionnellement voué à la culture de la violette et de l'oranger (d'où la présence de la Confiserie, qui date du 17è siècle). Ses vallées sont traversées par d'immenses ponts dont l'un a été explosé par les allemands à la fin de la dernière guerre, au-dessus du Loup. Ses gorges sont célèbres pour leurs cascades, accessibles aux baigneurs qui recherchent un certain bucolisme et la fraîcheur durant la canicule estivale. A la fois loin et près de tout, puisque Grasse est à 15 km, Vence à 20 km et l'aéroport de Nice à 30 min.
Vi havde en fantastisk dejlig uge i Pont de Loup! Huset er hyggeligt og rummeligt - og der er et lille 'havehus', hvor man også kan overnatte. Der er adskillige terrasser - man kan nyde sin mad under pergolaen, læse gode bøger under et appelsintræ, snuppe en middagslur under et oliventræ eller solbade - helt ugenert! - alt til kaskadens plasken. Husejeren - Christine - var meget omsorgsfuld og forudseende. Hun ventede på os i huset og havde reserveret et bord på en restaurant, som hun viste os vej til, da vi ankom lidt sent. Huset er helt vidunderligt som "home away from home". Man følte sig som privat gæst snarere end som lejer. Omgivelserne er meget smukke, men eneste ulempe er at der ikke er indkøbsmuligheder eller restauranter i gå-afstand. Der er en cafe, en tabac og 'Confisseri Florian', med salg af dejlig is og chokolade, som er åbent i dagtiden - men ellers må man afsted.
Anders
2016-08-13T00:00:00Z
The host canceled this reservation 14 days before arrival. This is an automated posting.
Bronka
2016-04-13T00:00:00Z
Tipus d'habitació
Casa/pis sencers
---
Tipus de propietat
Casa
---
Capacitat
7
---
Dormitoris
Gourdon, Provença-Alps-Costa Blava, França
Cabane du "Cerisier" en bois pour 2 personnes comprenant un lit une commode et quelques rangements, première de nos 2 cabanons en location.
La cabane du "Cerisier" et le 1er de nos deux cabanons à louer en plein milieu de la nature azuréenne . ils sont situés sur notre terrain privé à Pont-du-Loup (commune de Gourdon). la Salle de bains est commune aux 2 cabanes, elle est situé seulement à une vingtaine de metres de chacunes Cuisine extérieure abritée, aussi commune aux 2 cabanons. Emplacement idéal pour retraite d'artistes, formations et stages bien être (me contacter pour des infos particulières), Surface de la cabane : 10m2
aucun Vis a vis , calme et volupté , voisinage chaleureux et discret
Hun var enormt imødekommende, og viste os rundt i hele huset og gav os en god introduktion til de faciliteter vi fik stillet til rådighed.
Martin
2015-10-22T00:00:00Z
Tipus d'habitació
Casa/pis sencers
---
Tipus de propietat
Cabana
---
Capacitat
2
---
Dormitoris
Gourdon, Provença-Alps-Costa Blava, França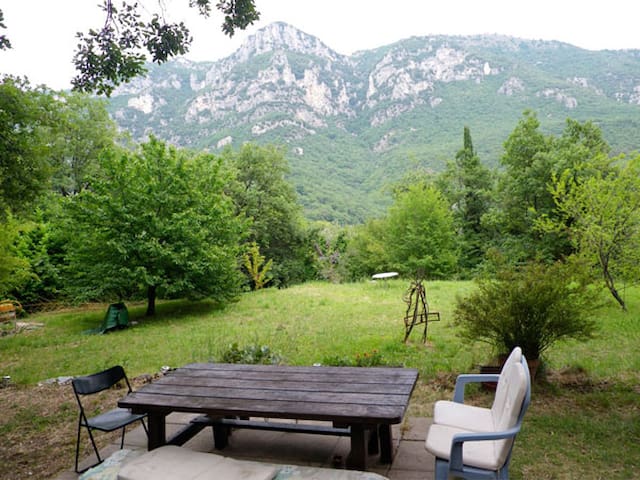 Bergerie restaurée située à GOURDON, village classé parmi les plus beaux de France proche Sophia Antipolis, Opio, Mougins, Valbonne, Juan les pins, Cannes, Antibes, aéroport de Nice. Située au milieu de la nature avec vue sur mer et montagnes.
construction avec un maximum de matériaux naturels (pierres, chaux, bois anciens, ciment bio, briques bio, chauffage et froid en géothermie, eaux de source, drain naturel...)
espace naturel, calme
Tipus d'habitació
Casa/pis sencers
---
Tipus de propietat
Casa
---
Capacitat
6
---
Dormitoris
Gourdon, Provença-Alps-Costa Blava, França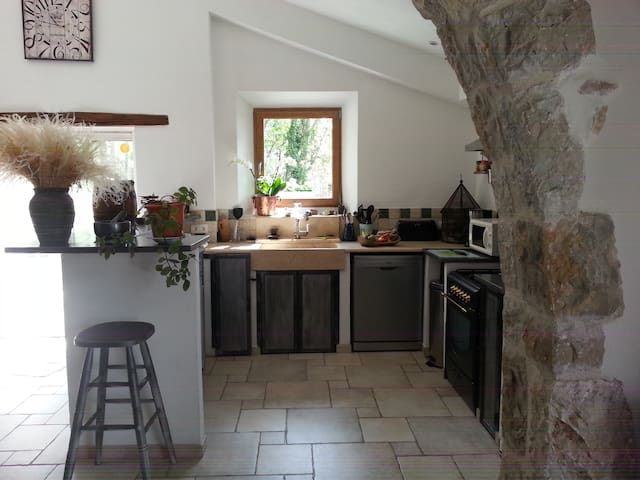 My accommodation is perfect for solo travelers.
the property is close to downtown, 10 to 15 minutes by foot, train, taxis, etc ... Bus PARFUMERIES
I'm between countryside and city, the sound of birds and the every day life ....
Une tres belle partie de la viste a Grasse! Patrick est vraiment gentil et accueillant. La chambre est exactement comme ce que montre la photo, propre, sympa avec une decoration moderne. C'est aussi un lieu de rencontre, on sent a l'aise avec Patrick et autres voyageurs. Je le recommande vivement!
Meng
2016-07-29T00:00:00Z
Good familie :)
Ina
2016-11-26T00:00:00Z
Patrick is an amazing host, he and his family are so friendly and inviting. Their home is absolutely beautiful. It has all the charm of the south of France with the comforts of a modern decor. I cannot recommend it enough! I will be back next year! C'est sur!
Amber
2017-04-06T00:00:00Z
Est arrivé dès que je l'ai averti de ma présence et il a tout fait pour arriver le plus vite possible
Jean-Louis
2016-09-20T00:00:00Z
Hele leuke locatie, beetje afgelegen maar als je het eenmaal weet vind je het zo. Heel erg vriendelijke en gastvrije mensen. Je moet wel van huisdieren houden want ze hebben 3 kleine hondjes en een kat. Ik vond dat prima maar stond geloof ik niet op de site.
Martine
2017-03-17T00:00:00Z
Très bon accueil, la chambre est confortable et calme, les chiens sont rigolos et s'entendent bien avec ma chienne. Je conseille ce logement.
Chantal
2017-03-01T00:00:00Z
Patrick et Sharon ainsi que la fille de Sharon sont des hôtes adorables. Merci à eux pour leur accueil et ce beau moment de partage. La chambre est très spacieuse et la literie de bonne facture. La salle de bain est très agréable avec une belle baignoire et une super vue. A recommander sans hésiter.
Didier
2017-04-09T00:00:00Z
Patrick est un hôte très agréable à parler. Il met vite à l'aise. J'ai eu l'impression d'être chez moi. Je le recommande vivement.
Pauline
2016-07-23T00:00:00Z
Tipus d'habitació
Habitació privada
---
Tipus de propietat
Casa
---
Capacitat
1
---
Dormitoris
Grasse, Provença-Alps-Costa Blava, França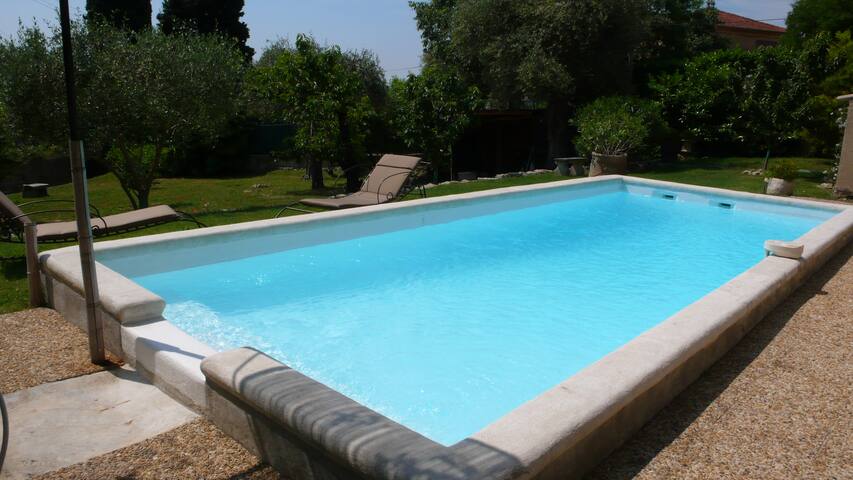 Dieses Studio ist ideal gelegen, um die Hauptstadt des Parfums zu entdecken. Grasse ist auch nur ein paar Kilometer von der Küste und den emblematischen Städte (Antibes, Cannes, Nizza ...) und weniger als 1 Stunde von den ersten Skigebieten. Für die Liebhaber von viel Grün, sind Sie vor den Toren des Hinterland der Côte d'Azur mit herrlichen Spaziergängen und Wanderungen zu tun
Das Studio verfügt über allen Komfort für einen angenehmen Aufenthalt benötigen. Es wurde komplett renoviert, inklusive Bettwäsche. Stehen Ihnen zur Verfügung: - Bettwäsche (Handtücher und Badematten, Bettwäsche, Geschirrtücher), - Shampoo, Duschgel, Wattestäbchen, - Für Damen: ein trockenes Haar, Baumwolle Make-up zu entfernen, - Für ein gutes Frühstück: Nespresso-Kaffeemaschine (und Kaffeemaschine für Liebhaber), Wasserkocher, Toaster, und natürlich Tee, Tee und Kaffee, - Für die Köche: alle Kochutensilien nützlich, so dass Sie Ihnen gute Gerichte ausdenken kann (sonst werden wir Ihnen die guten Adressen zur Verfügung stellen ...) - Waschmaschine.
Gebiet hyper Zentrum von Grasse. Die Annehmlichkeiten, Museen, Parfümerien, Theater und Kino in der Nähe. Die Lage ist ideal für die Erkundung und durch die engen Gassen des historischen Zentrums schlendern.
Je recommande le logement de kriss,elle est propre et très bien situé .
Diakite
2017-03-19T00:00:00Z
Appartement très agréable rien à dire ont adoré l'appartement très calme très bien décoré... Bon séjour pour Annecy la prochaine fois . Merci à vous 3
Dimitri
2017-03-27T00:00:00Z
We had a great weekend. The studio is well set up and has a pleasant atmosphere with good views, it would be easy to stay here for a longer period. Getting around town from here is fine, everything is within walking distance. Kriss and Mickael were also helpful in answering the few questions we had. Highly recommenmded.
Justin
2017-02-12T00:00:00Z
The location of this apartment is great! It's in the center and a Main Street with multiple shops is a two minute walk away. Kriss and her husband were very gracious hosts and the communication was great! The apartment was very nice and the view from the windows was incredible!
Erica
2017-04-08T00:00:00Z
Great place. Very comfortable with great view.
Dorothee
2017-03-18T00:00:00Z
Très beau studio très bien aménagé et décoré avec goût. Très belle vue. Idéalement situé pour découvrir le charme de Grasse. Très bon accueil des hôtes. Je recommande vivement ce logement...
Laurent
2017-02-18T00:00:00Z
Le studio est très joli, confortable et parfaitement équipé. Depuis ses fenêtres, la vue est magnifique. Nous avons été très bien accueillis par notre hôte, aimable et arrangeant. Autant dire que nous recommandons fortement ce studio !
Guillaume
2017-01-28T00:00:00Z
wonderful apartment in Grasse!the rooms are very clean and tidy with pretty decoration!
Ruiying
2017-03-28T00:00:00Z
Tipus d'habitació
Casa/pis sencers
---
Tipus de propietat
Pis
---
Capacitat
2
---
Dormitoris
Grasse, Provença-Alps-Costa Blava, França
Ideal für ein Paar (+ 1 oder 2 kleine Kinder) auf der Suche nach einem entspannten und erholsamen Urlaub "zurück zur Natur", in der Nähe der lebhaften Côte d'Azur. Schöne oktogonalen Chalet in romantischen und schönen Umgebung, komfortabel und gut ausgestattet. Ein kleines Juwel.
Das Chalet befindet sich auf einem eigenen Grundstück von über zwei Morgen Olivenbäumen. Es gibt reichlich Auswahl zwischen Licht und Schatten. Das Chalet besteht aus einem Hauptraum, achteckig, mit großen Fenstern, die viel Licht. Es gibt eine separate angrenzender Küche, Bad (Waschbecken und Dusche) und Toilette. Es gibt Klima conditoning, die das Chalet im Sommer kühl hält, und im Winter ist es warm und gemütlich. Es ist ein komfortables Kingsize-Bett und ein Kinderbett. Handtücher und Bettwäsche sind vorhanden. Die Küche hat einen Gasherd und Backofen und einen Kühlschrank. Wir neigen dazu, sehr einfach zu essen, wenn wir hier, vor allem frische Salate sind, und alles, was gibt uns die Entschuldigung unserer eigenen frisch gepressten Olivenöl mit! Frisches Gemüse und Obst sind in den lokalen Märkten leicht verfügbar, aber wenn Sie Glück haben, können Sie Ihre eigenen wilden Lauch oder andere Esswaren aus unserem Land holen, und Dampf sie zum Abendessen Draußen gibt es viel Platz, eine überdachte Terrasse mit Tisch und Stühlen, Liege longue unter den Olivenbäumen und einer Hängematte. Unser schönes Freund Odile wohnt in der Nähe und wird es, Sie zu empfangen und stellen Sie sicher, dass Sie alles, was Sie brauchen. Sie kennt das Chalet und Umgebung gut und wird bereit sein, Ihnen zu helfen. Grasse ist nur 5 Minuten im Auto, eine faszinierende Altstadt, ein Besuch lohnt sich und nur 3 km entfernt. Die Parfümerien sind weltweit berühmt. Kostenlose Führungen werden angeboten und es lohnt sich auch. Entfernungen zu den nahe gelegenen Städten und auf dem Meer: Cannes 19km, Antibes 20km, Nizza 37 km Die Hügel oberhalb Grasse sind nur ein Viertel der eine Stunde entfernt und die Spaziergänge dort sind hervorragend, mit Panoramablick auf die Küste. Die Alpen sind vor der Haustür zum Wandern, Klettern, in den eiskalten Torrents Tauchen, oder sogar Skifahren (zwei Skistationen unter einer Stunde Autofahrt entfernt.) Cannes, mit dem Filmfestival jedes Jahr im Mai ist eine halbe Stunde entfernt. St. Paul de Vence mit seinen Kunstgalerien ist etwa die gleiche Entfernung (19 km) Für die Gartenliebhaber gibt es viele erstaunliche botanischen Gärten zu besuchen, die alle so sehr schön, so viel im Winter wie im Sommer. Es gibt sogar eine fünf Minuten entfernt in der gleichen Gegend. Wir können unsere Favoriten Sie empfehlen Ein Auto ist ideal, da es keine in der Nähe Busse oder andere Formen des öffentlichen Verkehrs sind. Wir werden Ihnen eine detaillierte Wegbeschreibung zu senden, wie das Chalet zu finden. Es ist 3 km von Grasse. Grasse ist leicht von der Autobahn zu erreichen.
Grasse ist nur 5 Minuten im Auto, eine faszinierende Altstadt, einen Besuch wert, und nur 3 km entfernt. Seine Parfümerien sind weltweit berühmt. Kostenlose Führungen zur Verfügung stehen und es lohnt sich auch. Die Hügel oberhalb Grasse sind nur ein Viertel der eine Stunde entfernt und die Spaziergänge dort sind hervorragend, mit Panoramablick auf die Küste. Die Alpen sind vor der Haustür zum Wandern, Klettern, in dem eiskalten Torrents Tauchen, oder sogar Skifahren (zwei Skistationen unter einer Autostunde entfernt.) Cannes, mit dem Filmfestival jedes Jahr im Mai ist eine halbe Stunde entfernt. St. Paul de Vence mit seinen Kunstgalerien ist etwa die gleiche Entfernung (19 km) Für die Gartenliebhaber gibt es viele erstaunlichen botanischen Gärten zu besuchen, die alle so sehr schön, wie viel im Winter wie im Sommer. Es gibt sogar eine fünf Minuten entfernt in der gleichen Gegend. Wir können unsere Favoriten Sie empfehlen
Looking through the lanes of olive trees on the hills surrounding Grasse, gardens spotted with cypresses, at the horizon the mediterranean sea refecting the setting sun. The cottage has a safari lodge / artist atelier atmosfere sitting on the top terras of a olive grove. A perfect headquarters for exploring Grasse, Biot, Gourdon, Cannes, Vence, if you want to come home in a quite place. We spend here five wonderfull days in June 2015.
Niek
2015-06-18T00:00:00Z
The Little Chalet was just what we had hoped for - rustic charm within a beautiful countryside setting. We were welcomed by Odile who was pleasant and helpful and gave us great tips about the area and what we might do. It was exactly as described and well presented. There was a bottle of water and some wine in the fridge as a welcome gift. A car was pretty essential due to the position of the chalet - this was mentioned the listing, but worth being aware of.
David
2016-07-03T00:00:00Z
We had an amazing stay at the chalet! It really is like you see on the pictures. Beautifully secluded and with real charm. Everything is thought of in the chalet with very nice little touches. There was even a bottle of wine, some water and olives waiting for us when we arrived. Jane and Morgane were super friendly and took well care of us providing us with some nice tips and being very responsive. We can highly recommend a stay!
Benjamin
2015-07-14T00:00:00Z
L'Olivette is really delicious! You feel embraced by the simplicity and the essentiality of life. This small chalet is cozy and and very romantic. We loved the warmth of Morgane, kind and caring, as well as the welcome you with a deliciuos bottle of rose biological wine (nice surprise for me that I love and I eat organic!). The daily visits of Kitai then (a kitten of 20 years!!), have made the atmosphere even more authentic and spontaneous. Beautiful evening outside in the gazebo. Thank you Jane & Morgane. L'Olivette è veramente delizioso! Ti senti abbracciato dalla semplicità e dall'essenzialità della vita. Questo piccolo chalet è accogliente e molto romantico. Ci è piaciuto molto l'accoglienza di Morgane, gentile e premurosa , come anche il benvenuto con una buonissima bottiglia di vino rosè biologico (bella sorpresa per me che amo e mangio biologico!). Le visite quotidiane di Kitai poi (una micetta del posto di 20 anni!!), hanno reso l'atmosfera ancor più autentica e spontanea. Belle serate fuori nel gazebo. Grazie!
Monica
2015-08-29T00:00:00Z
A really quiet place as it becomes difficult to find one. Everything was perfect except maybe the heat and the mosquitoes... But you can't have everything :)
Nathan
2015-07-05T00:00:00Z
We loved staying in this peaceful and picturesque olive grove. Such a magical place! It was so nice to experience after our city time in Paris. The singing birds, the fruit trees, the black cat, and the chess board are my favorite memories. The cabin is beautifully rustic and well equipped with everything one needs and the bed is very comfortable. The perfect place to unplug from the world and recharge.
Cynthia
2016-05-22T00:00:00Z
Purtroppo non c'erano i proprietari direttamente sul posto, ma la comunicazione ha funzionato benissimo e a riceverci è venuta una loro amica, Odile, che si è dimostrata molto gentile e ci ha spiegato tutto sullo chalet. La casa è molto particolare per chi ama la semplicità e la natura e la tranquillità. Ci si trova in mezzo ad uno splendido oliveto e ci si estrania dal mondo caotico di oggi. Come punto di partenza per visitare il luoghi interessanti nei dintorni tipo Grasse, Nice, St. Paul Vence ecc. lo chalet si trova in una posizione ideale.
Sieglinde
2016-05-30T00:00:00Z
Merci pour cet accueil. Nous sommes très content de notre séjour. Idéal pour se dépayser et se ressourcer.
Nathalie
2017-04-12T00:00:00Z
Tipus d'habitació
Casa/pis sencers
---
Tipus de propietat
Cabana
---
Capacitat
3
---
Dormitoris
Grasse, Provença-Alps-Costa Blava, França
Pool House conditioning (hot & cold), separate entrance. Facing the mosaic pool with stunning views. Between sea and mountain .Living relaxing and exotic guaranteed .... You have space of 20m2 furnished (bed 160+ spacious shower + toilet) fully equipped summer kitchen.
C is a real nest of love ... .. the waterfront .... The rest is guaranteed!
Quiet by nature, 5min from Grasse center responsible for history. A 30min from Cannes, Nice, Italy in 1H ... ...
We spent one very peaceful night at Sandrines and Oliviers place. The pool house is very clean and nicely decorated. The view from that place was amazing. Sandrine and Olivier were very kind hosts. We highly recommend this accomodation.
Nicole
2016-07-08T00:00:00Z
On a passé un très bon séjour chez Sandrine. Le lieu est parfait pour découvrir toute la Côte d'Azur (en voiture) - très calme, mais quandmême près de tout. La communication avec Sandrine était toujours très simple, vite et très sympa. La maison est très moderne et propre, on voit l'attention aux détails dans tous les coins. We had a great stay at Sandrine's pool house. It's a perfect location to discover the whole Côte d'Azur - it is calm but very close to all hotspots. But - as written - you need a car. The communication with Sandrine was very uncomplicated, fast and she is a very nice person. The house is big enough for 2, very clean and decorated with a lot of attention to detail.
Vanessa
2016-07-03T00:00:00Z
Me and my wife stayed for 2 days in this beautiful room and the incredible view from the top. We thank the flexibility of the host for receiving us and they were always so kind to us. The tips about surroundings were great! We would do it again!
Javier
2016-03-25T00:00:00Z
Wonderful setting - loved the outdoor kitchen, the amazing views, awesome pool and quietitude! Hosts were great! Was a little tricky to find as there seemed to be several houses with the same address - but turn off the main road and go down that VERY steep hill to the bottom. Turn left and drive to the end of that drive -you're there!
Patrick
2016-07-20T00:00:00Z
Sandrine was a fabulous host who went out of her way to make sure we found the house and that we were comfortable for the duration of our stay. The pool house is in a breathtaking location with amazing open views of the region. It is quiet, the bed is supremely comfortable - we had the best couple of nights' sleep in a long time - and the outside kitchen was functional and novel, however even in the cooler nights of October the mosquitoes were out in force. It's also a good distance away from Grasse centre and is not suitable for walking because of the lack of footpath on the route. That said, we loved it and would love to return in summer to make full use of the pool and outdoor kitchen. Thank you Sandrine.
Maha
2015-10-12T00:00:00Z
The hosting couple were very friendly! I was quite happy to meet them, and the little house by the pool was perfect for me. Everything is very modern and perfect. I really recommend it! It was like staying in a private hotel, with just one room and one gorgeous pool. Sandrine also offered us a petit dejeuner every morning for a small extra fee, and it was very much worth it. The cleanliness of the place was impeccable!
Christopher
2015-07-20T00:00:00Z
I got a warm hearty welcoming from Sandrine. She was so friendly. Nothing was too much trouble for her. She has such a lovely friendly family as well. The photos of the room and the pool just as advertised, perhaps the pool area is nicer than the photos here.
Heather
2015-06-26T00:00:00Z
Lovely little studio in a quiet neighbourhood with BBQ cooking facilities outside. It was nice after days out to come back, cook our dinner and relax.
Christine & Stephen
2015-09-16T00:00:00Z
Tipus d'habitació
Habitació privada
---
Tipus de propietat
Loft
---
Capacitat
2
---
Dormitoris
Grasse, Provença-Alps-Costa Blava, França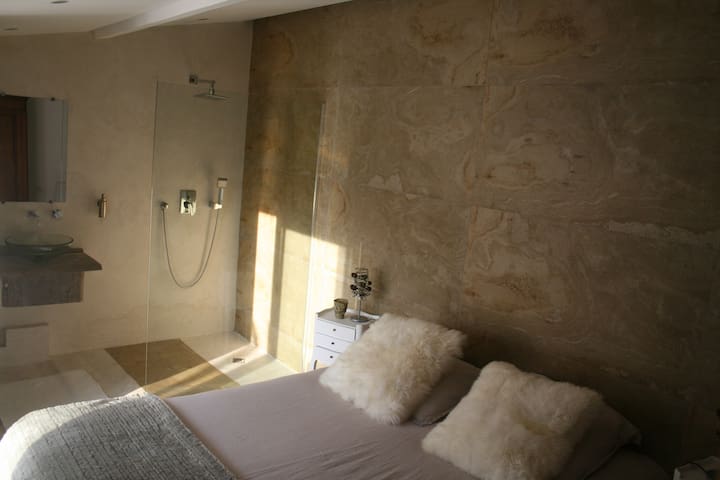 hostal de caràcter (antiga capella) en una mansió de finals del segle XIX, situat al centre històric de Grasse, la capital mundial dels perfums amb un jardí emmurallat.
- Single Input / garden with an arbor - Room with a double bed and a single bed - Shower room and toilets (open space) - TV and WiFi - Frigidaire - The breakfasts are included in the price
- El centre de Grasse, la capital mundial dels perfums, accessible a cinc minuts a peu. - La fàbrica Fragonard i els seus diversos museus i el Museu Internacional de la Perfumeria estan ubicat al centre. - L'accés a Cannes i l'interior del país en 20 minuts.
Quel accueil !! Simplicité . Convivialité . Sympathie . Discression . Gentillesse . Amabilité .... Un grand merci pour cet accueil .... Écrin de verdure . Très belle chambre .... Le petit déjeuner dans le jardin : un must pour une escapade romantique !!!
florian
2016-07-16T00:00:00Z
Christine nous a réservé un charmant (URL HIDDEN) chambre était spacieuse et bien décorée,le jardin magnifique,les petits déjeuners copieux ,le quartier est central .Nous avons pu laisser notre véhicule dans un parking à proximité. La seule chose à améliorer est la salle d'eau qui pourrait être séparée de la chambre par un rideau pour plus d'intimité. l'adresse est à recommander.
Ghislaine
2016-03-03T00:00:00Z
Che dire, siamo stati benissimo: una padrona di casa gentilissima, una bella casa ospitale, un giardino sereno e riposante, una buona dormita seguita da una buona colazione e ... due simpatici gatti. Per noi un bell'ingresso in Provenza. Un sentito grazie a Christine. Marco
Marco
2015-08-30T00:00:00Z
Christine's house is extremely pretty, garden is amazing! Room was big and clean, location is excellent, 2 minutes walk from Grasse city center. Christine was friendy and helpful, giving us plenty of tips and accomodating all of our needs.
Roberta
2015-09-17T00:00:00Z
Christine was very welcoming and the apartment was clean and comfortable. The beautiful garden was very peaceful and a lovely spot to sit in the morning sun. The apartment is a short walk from the centre of Grasse and free parking. We had a few issues with directions to the house as the map on Air Bnb wasn't correct so make sure you get directions off Christine before you arrive. A great place for our first night in France.
Fleur
2016-05-26T00:00:00Z
Christine is very kind and attentive: she guided me to this wonderful city house that is accessed via a pedestrian alley; she was always available to help me if necessary. The house is a real gem of tranquility and charm a few footsteps from the center of Grasse. The garden suite is well-appointed, as shown in the pictures, and it is discretely and delightfully scented as befits a room in the capital of perfumes. How lovely to start the day in the garden with a nice French breakfast! I highly recommend this place and the city of Grasse for your next sojourn in Southern France.
Alix
2015-09-14T00:00:00Z
Das Haus ist eine Oase mitten in Grasse. Der Garten ein Traum. Aussen und innen genau die richtige Mischung aus alt, charmant und sauber. Man kann sich nicht satt sehen an all den kleinen Details. Christine und ihre Familie sind eine sehr freundliche Gastgeberfamie.
Priscilla
2016-05-03T00:00:00Z
Nous avons passé de formidables jours chez Christine et sa famille; le lieu est splendide et invite vraiment à la détente, il est idéalement situé, au calme, et Christine a été aux petits soins pour nous. Elle sait bien renseigner sur les environs et les étapes incontournables de Grasse et recommande de bons petits restos. Nous recommandons +++
Anne
2016-05-30T00:00:00Z
Tipus d'habitació
Habitació privada
---
Tipus de propietat
Bed & Breakfast
---
Capacitat
3
---
Dormitoris
Grasse, Provença-Alps-Costa Blava, França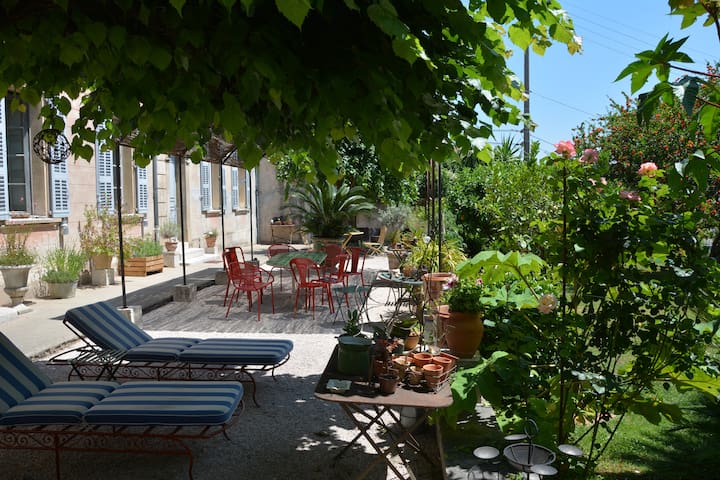 My property is close to downtown and fragrances of Grasse. (World capital of perfume). Enjoy the place for the view and location. It is perfect for couples, solo travelers, business travelers and families (with children). You will be totally independent. Possibility of stroll in every corner of the land. Petanque track available. We are 30 minutes from the seaside and mountains. Ski Gréolières 45 min.
private room with a shower room with a large bed 2p, 1p a bed and I also 1 cot available and you have at your disposal a kettle for tea, coffee or other small cookies that I invite you to take on the terrace or why not in a corner !!!!!!! with panoramic sea and under the olive and citrus. AND at the request, I prepare you for a lil lunch continental 5 E
we have near the fat center and its (URL HIDDEN) 30 minutes from the seaside and mountain or there makes great hike you will also find good restaurant, inn and golf courses, equestrian centers perched or you can discover all the seaside villages
Très bon accueil. Je recommande cet endroit super convivial, calme, discret et donnant sur une très belle vue. Sur ma demande un petit déjeuner très copieux nous a été servi en terrasse, au soleil. Merci beaucoup!
Patricia
2017-02-23T00:00:00Z
Excellent accueil, hôtes chaleureux et conviviaux. Chambre indépendante très bien équipée, au calme. Je recommande vivement cette adresse pour visiter Grasse !
Dima
2017-03-12T00:00:00Z
Therese est tres accueillante et chaleureuse ...merci pour ce bon moment passé.
cathy
2017-03-16T00:00:00Z
Chambre très agréable et surtout très confortable d'un très bon rapport qualité-prix. Cadre superbe, belle vue plongeante sur la baie de Cannes. Petits déjeuners très copieux et produits "maison" (pain, confitures, miel). Possibilité de prendre les petits déjeuners sur la terrasse.Séjour extrêmement agréable et très (URL HIDDEN) recommande vivement aux voyageurs cette location;
YVETTE
2017-04-02T00:00:00Z
Chambre et SdB très propre, logement parfaitement préparé, nous avons été aux petits soins avec Therese qui est très accueillante et dont je recommande vivement les petites déjeuners avec pain et confiture maison !
Frédéric
2017-03-19T00:00:00Z
Nous recommandons vivement ce charmant studio, idéal pour couple ou petite famille. De belles promenades et visites aux alentours. Thérèse et son mari sont des hôtes chaleureux aux petits soins !!
Manon
2017-02-19T00:00:00Z
Tipus d'habitació
Habitació privada
---
Tipus de propietat
Casa
---
Capacitat
3
---
Dormitoris
Grasse, Provença-Alps-Costa Blava, França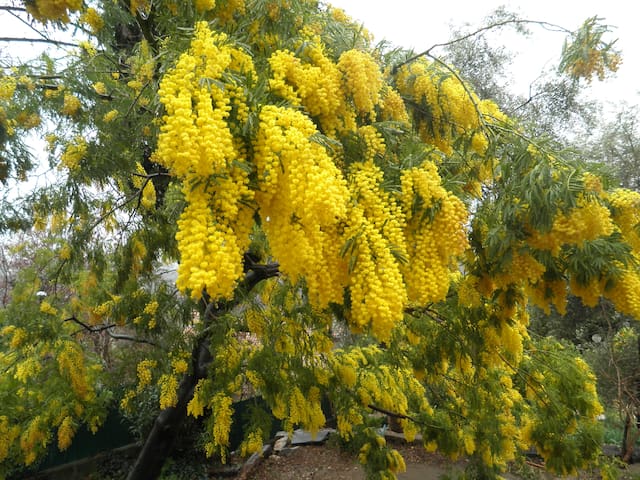 2 bedroom apartment in a quiet area with all necessary amenities.
Tipus d'habitació
Casa/pis sencers
---
Tipus de propietat
Pis
---
Capacitat
3
---
Dormitoris
Biot, Provença-Alps-Costa Blava, França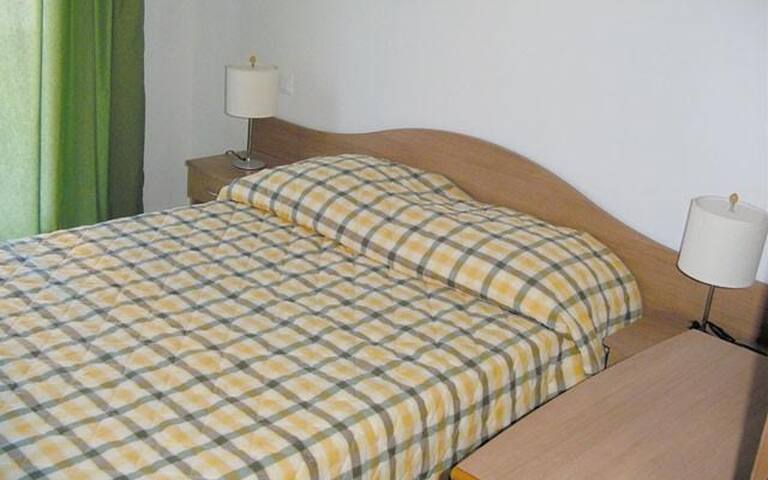 We rent a charming double room in our house. Can rent plus a small adjoining room with a single bed. We rent a lovely bedroom with a twin bed in our house. We-have a single bedroom disponible. The house is an old windmill in quiet neighborhood.
The house is an old oil mill in authentic Provencal charm. A corner of nature and tranquility 2 steps from the center of Grasse
quiet, old neighborhood mills with charm.
A delightful stay, the 18th century home is located in the foothills of Grssse. The sound of the stream bubbling along outside the window added to the relaxation, I could not have been happier with my stay. From the moment I arrived I was made to feel at home. I had a great experience in a fantastic part of the world The rooms were very comfortable and clean, I would not hesitate to go back.
Stuart
2016-06-17T00:00:00Z
Rose ė una persona molto disponibile che ha reso il nostro breve soggiorno perfetto.
gianluca
2016-07-03T00:00:00Z
C'est pas difficile a trouver Puis elle nous attends avec beaucoup de chaleur Elle est tres passionne voyager dans Le monde.
David KIM
2016-06-15T00:00:00Z
Extremely friendly and helpful. Room with a double bed and use of bathroom with good shower in beautiful old house. No complaints.
Lex
2016-09-22T00:00:00Z
Rose est une personne très accueillante et à l écoute. Ses deux garçons sont très discrets. Nous avons apprécié le petit déjeuné en sa compagnie. Nous recommandons cette location.
Marie Pierre
2016-07-02T00:00:00Z
Rose przyjęła nas bardzo serdecznie .Spędziliśmy wspólnie miły , ciekawy wieczór . Rose udostępniła nam swoją kuchnię , częstowała pysznymi konfiturami własnego wyrobu i szerokim uśmiechem . Dziękujemy bardzo .
Dorota
2016-06-30T00:00:00Z
Une très belle maison, la hôte très sympathique et accueillante, la chambre propre et agréable, la bruit de l'eau pour dormir - excellent!
Katerina
2016-10-09T00:00:00Z
j'ai été très bien accueillie avec un petit tour de la maison et du jardin traversée par une rivière. j'ai déguster des neffles. Puis un bon repos avec le son de l'eau qui coule. De chouettes échanges avec mes hôtes dans une maison charmante. merci
Kezia
2016-06-13T00:00:00Z
Tipus d'habitació
Habitació privada
---
Tipus de propietat
Casa
---
Capacitat
2
---
Dormitoris
Grasse, Provença-Alps-Costa Blava, França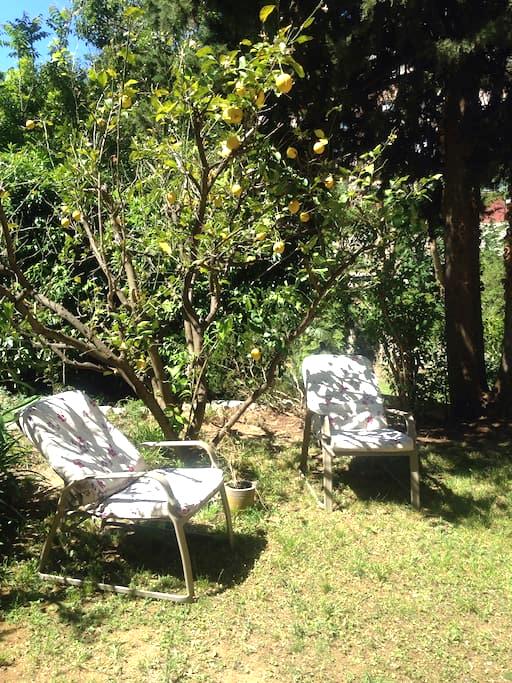 Okouzlující chata na Azurovém pobřeží: ideálně umístěn mezi Cannes a Grasse v zeleni mezi olivovníky s nádherným výhledem na pohoří Esterel, pobřežní oblast Cannes a okolní coutryside Grasse, wolrld parfém kapitál. Chata je zcela nezávislý s velkou Terrasse s výhledem na olivovníky ve vzdálenosti na krajinu Grasse a pobřežní oblasti Cannes; zezadu (10 metrů), dále jen "Canal de la Siagne" a jeho 20 km foopath.
Chata se nachází na Azurovém pobřeží mezi městy Cannes a Grasse, ve velmi klidné a tiché krajině s vodním příkopem 10 metrů s nádherným cestou (20km dlouhý). Chata je ideálním místem pro pár nebo pár s 2 dětmi.
Okolí je klidné a "divoké"; tam jsou ještě staré zemědělci žijící v on sourroudings. Takže nic luxuous ale skutečný autentický vesnička se starými domy, některé z nich ruiny. Velké přírodní prostor kolem, což je něco zcela mimořádného v takovém urbanizovaného území. Takže budete mít tu čest být v klidné a divoké oblasti, ale 5 minut od veškeré občanské vybavenosti (supermarkety, nádraží, trhy ...)
Christine est une hôte extraordinaire. Chaleureuse, généreuse... elle est venue nous chercher quand on s'est perdu et nous a offert du lait quand on avait oublié d'en acheter!
Keren
2016-11-21T00:00:00Z
Wir haben mit unserer Tochter sehr relaxte Osterferien in Christines "Alpenhütte" verlebt. Christine ist eine sehr zuvorkommende und hilfsbereite Gastgeberin, die uns mit guten Tipps für Ausflüge mit Kind versorgt hat. Sie war jederzeit für uns ansprechbar, freundlich und interessiert. Sie spricht sehr gut deutsch. Das kleine Haus ist gut ausgestattet, gepflegt und sauber. Die Terrasse ist ein herrlicher Ort, ein Wohnraum unter freiem Himmel, an dem Du die Gedanken schweifen lassen kannst und den schönen Ausblick geniest. Ein guter Ausgangsort für Ausflüge und Wanderungen in der Umgebung. Wir wären gerne noch ein wenig länger geblieben! Viele Grüße, Tanja & Familie
Tanja
2016-04-01T00:00:00Z
Jolie chalet en bois dans la calme . Peu conseillé en hiver à cause d'une isolation précaire. Suggérons d'equipé la cuisine avec quelques poêle en plus, assiettes, verres. Christine était très disponible quand même .
Alberto
2015-02-09T00:00:00Z
We have really enjoyed your charming little challet with all its facilities, filing that i was nearly in the wild . Zakki also felt at home and enjoyed meeting all the other dogs. We really want to visit you again someday.
Gorm
2017-04-11T00:00:00Z
Christine is warm and welcoming. The appartment is simply amazing, and well located next to a village with spectacular restaurants.
Dor
2017-03-16T00:00:00Z
Je vous recommande de réserver ce studio bâti tel un chalet loin de toutes circulations.
Mohamed
2017-03-08T00:00:00Z
Nous avons passé un beau séjour dans ce chalet au coeur de la nature. Christine a été toujours très disponible et soucieuse que tout se passe bien.
Caroline
2017-02-14T00:00:00Z
Wir hatten eine grossartige Zeit im Haus von Christine. Es war alles sehr sauber und es war alles wichtige vorhanden. Das kleine Haus ist wunderschön gelegen, es ist sehr ruhig, hat eine tolle Aussicht und man kann tolle Spaziergänge machen. Wir waren ohne Auto unterwegs.. Es ist auch gut zu schaffen mit den Öffentlichenverkehr, wenn man gut zu Fuss ist. Das einzige, dass wir vermisst haben, war das Wlan ( es hat einen Internetanschluss jedoch nur für Computer). Christine ist sehr aufgestellt und hilfsbereit.
Lisa
2015-04-11T00:00:00Z
Tipus d'habitació
Casa/pis sencers
---
Tipus de propietat
Xalet
---
Capacitat
4
---
Dormitoris
Grasse, Provença-Alps-Costa Blava, França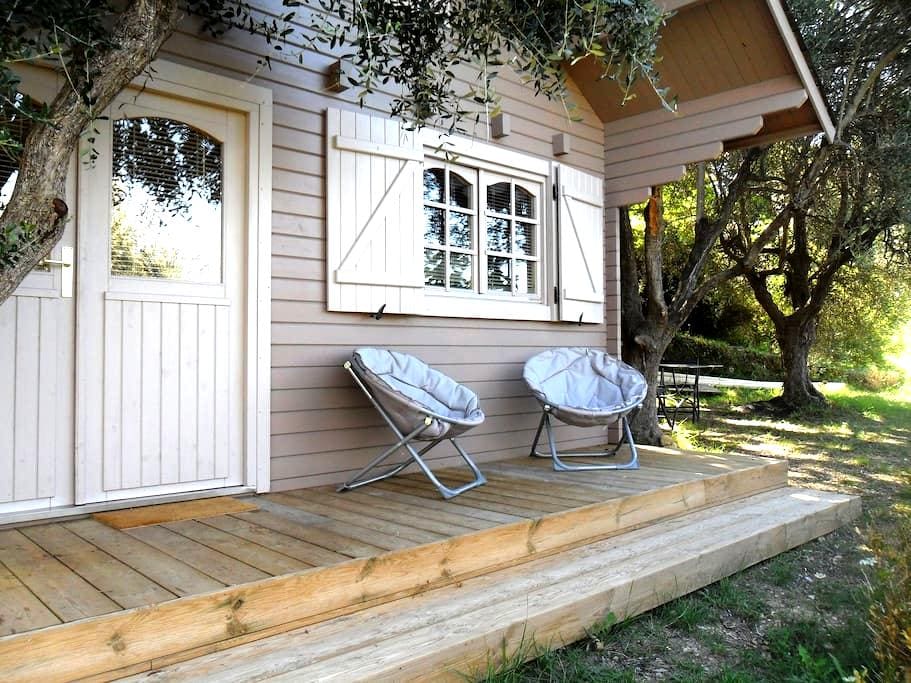 A small terrace allows you to enjoy the view and relax. The advantage of this property is its location. the accommodation is situated close to Fragonard and Molinart. Quiet room, ideal for student, well located near the train station and town center. A bus passes the apartment and connects the train station and the historic center of Grasse. In Cannes, count 1 hour journey (bus) and train 30 minutes. Nice center predict 1:30.
I rent a room but you can have the kitchen and living room. I am willing to pick you up at the station by my availability. Possibility to have breakfast. Naturally sociable, I hope your stay is enjoyable.
Very quiet at night, my apartment is near a roundabout but the room is located on the courtyard, quiet.
Excellent accueil! Gabrielle est très sympathique et généreuse. La chambre est spacieuse et le lit très confortable. Séjour parfait!
Jean-Matthieu
2017-03-22T00:00:00Z
La chambre est confortable, spacieuse avec un bon lit, un bureau, un grand placard-penderie, télévision. Le partage des autres pièces se fait en toute simplicité (cuisine pour faire son petit-déjeuner etc.. et le prendre dans le séjour, salle de bains), en fait on se croirait comme à la maison!
Jean claude
2017-03-04T00:00:00Z
Semplice stanza con un letto matrimoniale consigliabile per soggiorni di una notte. Buona soluzione per chi cerca una camera senza pretese. Camera un po' disordinata. Doccia e WC nella norma. Possibilità di utilizzare la cucina per la colazione. (Da ottobre 2016 l'intero appartamento verrà rinnovato)
Marco Giulio
2016-08-25T00:00:00Z
L'appartement est bien situé et j'ai été très bien reçue. La chambre est plutôt grande et Gabrielle a été très avenante et accueillante. Je le recommande !
Laure
2016-08-29T00:00:00Z
Personne très agréable disponible chaleureuse et d'une grande amabilité, aux petits soins pour ses hôtes. Idéalement bien situe dans la ville.Toutes commodités a proximité de la ville. Très bon séjour a recommander!!!
Alain
2016-09-25T00:00:00Z
J'ai beaucoup apprécié notre discussion avec Gabrielle bien avant notre voyage. Elle était très attentive et m'avat expliqué tout en détail avant que j'ai même pensé à poser des questions. Sachant que nous viendront tard Gabrielle nous a proposé à partager le dîner avec elle, c'était très aimable! De plus elle nous a laissé un café pour un petit dejeuner. L'appartement est propre et agréable, il y a tout ce qu'il faut. Le placement est pratique, ça fait 7-10 minutes à pied et 3 minutes en transport de la gare de Grasse. Gabrielle, merci pour tout!
Polina
2016-10-06T00:00:00Z
J'ai adoré demeurer chez Gabrielle. Je me suis sentie comme chez moi pendant un mois. Elle est une hôte accueillante, chaleureuse et elle a le soucis de rendre votre séjour agréable. Elle améliore son appartementt pour le mettre au goût du jour. Ce n'est pas le grand luxe mais simple et comfortable. Vous aurez une grande chambre et un tout nouveau lit. Elle est près des moyens de transports comme la gare ferroviaire. Merci Gabrielle pour ton aide à rendre mon séjour aussi réussi. Toutes mes amitiés!
Nicole
2016-12-03T00:00:00Z
Gabrielle is an amazing host. I loved my 5 days stay at Grasse. She ensured that I had a comfortable stay. She introduced me to her friends and we had a great time together. Once when I was late and had not eaten she offered me dinner too which was really nice. With Gabrielle and her friends I had a good exposure to the local way of living in Grasse. It was an enriching experience. If you are a single traveler - business or pleasure I highly recommend staying with Gabrielle. Thanks Gabrielle for the wonderful time and hope to,see you soon.
Prashant
2017-03-10T00:00:00Z
Tipus d'habitació
Habitació privada
---
Tipus de propietat
Pis
---
Capacitat
2
---
Dormitoris
Grasse, Provença-Alps-Costa Blava, França
Pretty room in villa at the entrance of Grasse / Attractive room in Provencal villa Magnificent views quiet / Magnificent view Access swimming pool 12m / 6m / swimming pool Queen bed, Queen-size bed easy access, Accessibity Free parking, free car park Terrace, Close to downtown, close City center wifi access, WIFI access
Quiet location in residential area
perfumeries
Greg's house is a cosy 2 floors villa built on the mountain side, providing a nice view over the valley through the bedroom window. The house and swimming pool are well maintained , shared bathroom too. Parking space is just in from of the house, the compound is quiet and safe. Overall, Greg's place is a good spot to spend a few days around Grasse, I recommend it.
Thomas
2017-01-28T00:00:00Z
Nous avons passé un bon séjour chez Greg pour notre étape à Grasse. L'appartement est sympa. Merci à Greg pour son accueil.
Thibaut
2016-11-01T00:00:00Z
On a passé un super séjour chez Greg. C'est un super hôte, agréable, et qui a su nous mettre à l'aise des le départ. Le logement l'est tout autant. Aucune mauvaise surprise ...que des bonnes :) l'endroit est tranquille et non loin du centre. Je recommande chaudement !
Elodie
2016-07-01T00:00:00Z
У Грега очень уютный и комфортный дом в Грасе. Он расположен не в центре города, но Грег подробно описывает как ее найти (в дополнение к навигатору, который вывезет вас к воротам, за которые придется еще спуститься пару сотен метров вниз к самому дому). Его дом стоит первым в ряду других домов, примыкающих друг к другу, но никакого дискомфорта от соседей вы не испытываете. Из гостевой комнаты открывается красивый вид на холмы Граса. Помимо осмотра Граса, отсюда легко и быстро совершить путешествие к Вандомскому ущелью или прибрежным городам - Ницце, Каннам, Антибу, Фрежюсу, Сан-Тропе и прочее.
Alexey
2016-10-22T00:00:00Z
Greg is a super cool host! The house is clean and everything looked like on the pictures. The house is situated in a gated neighborhood so everything is safe and secure and you have a space to park the car. We would definitely recommend staying at his place.
Julia
2016-09-28T00:00:00Z
The host canceled this reservation 2 days before arrival. This is an automated posting.
Dan
2016-11-29T00:00:00Z
Greg et un hôte de qualité qui sait communiquer et accueillir. Le lieu est extrêmement tranquille et plaisant..... très rassurant si vous venez comme moi en moto. Je reviendrai certainement profiter plus longtemps du lieu... merci et à bientôt
FRANCK
2017-03-28T00:00:00Z
Très bonne communication avec Greg, chambre vraiment confortable. Je reccomande sans réserve !
Jean-C.
2017-01-15T00:00:00Z
Tipus d'habitació
Habitació privada
---
Tipus de propietat
Casa de camp
---
Capacitat
2
---
Dormitoris
Grasse, Provença-Alps-Costa Blava, França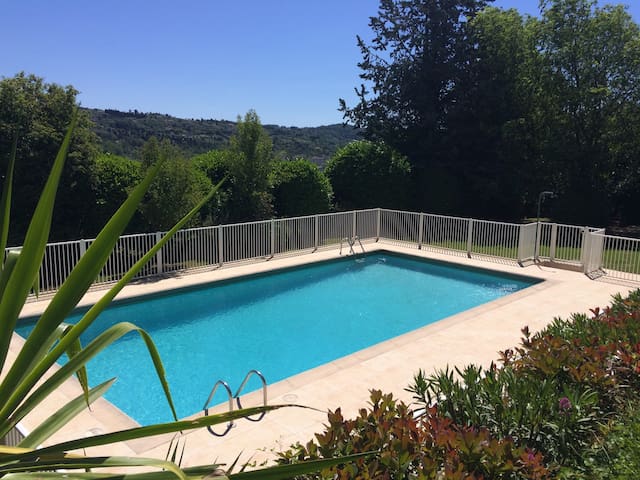 Zusammenfassung: Das klimatisierte Zimmer für 1 Person, Frühstück inklusive. Der Zugang zu allen öffentlichen Bereichen des Hauses. Voll ausgestattet. Ideal für Geschäftsreisen, Praktika, Ausbildung, oder "Entdeckungsreise". Spezialangebot für längere Aufenthalte.
- Typisch provenzalisches Haus, eingezäunt kleiner Garten, Terrassen, Terrasse, alle grundlegenden stopft vorgesehen. Wohngegend, ruhig und sicher. - 1 Kühlschrank für unsere Gäste gewidmet. Sommerküche mit Grill und Mikrowelle. Zimmer mit Kingsize-Bett, im Erdgeschoss mit schöner Aussicht. Die Badezimmer sind sowie alle gemeinsamen Raum geteilt. Ein Fahrrad steht Ihnen zur Verfügung für den Fall ... - Free Hallo Speed WI FI (das Signal im Garten oder in dem Raum je nach Gerät schwach sein könnte) - Regelmäßige (nicht geeignet für diejenigen, die ein besonderes Ernährung haben) Frühstück im Preis inbegriffen. Wir bieten keine Mittag- oder Abendessen. - Spezielle Angebote für 1 Monat Aufenthalt - Einfach zu Cannes oder Nizza zu bekommen. In unmittelbarer Nähe zu den Bus- und Bahnstationen, Stadtzentrum, und Handel. Wenn Sie jedoch kleine Dörfer oder Orte befindet sich in der Berg besuchen wollen, empfehlen wir, Ihr Auto. Komfortabel und gut ausgestattet, paßt dieser Ort die Notwendigkeit eines Solo Person privat oder geschäftlich reisen, Schüler mit Praktikum oder Ausbildung.
Gemütliche Häuser, ruhig, schöne Aussicht, Safe
Helene and Michel were amazing from the very start. Helene picked us up from the bus station and welcomed us into her very lovely home. They both gave us a lot of information and help about where we should go and what we should see not just locally, but all around the south of France. We had breakfast waiting for us every morning when we got up, and they let us use their kitchen to prepare for other meals. Helene went out of her way by driving around to show us beautiful and secret hilltop villages that are only accessible by car and being the most amazing guide one could ever imagine. Our discussions with Michel and Helene were wonderful and in-depth and very informative. We left feeling so looked after, rather more like friends. They were very supportive when there were problems with the next place we were to stay, and even helped us find new potential places. To top it off, when we accidentally left our laptop charger at their place after we had left- Helene once again did EVERYTHING she could do to find out all the information about how to post it to us, even getting up really early in the morning so she could get to the post office and find out about all of the different fast tracked posting options (the reason I can type this is because the charger arrived today!!). Helene and Michel are amazing people who are very kind and generous. If you're wanting a place to stay in Grasse, which is just a short stroll to the train station then stay with Helene! Thanks Helene and Michel!! x
Tim and Ali
2012-04-29T00:00:00Z
It was my first time using airbnb and I am very happy I signed up with the service. Everything was great and the hosts went extra mile in welcoming me at their home. This was truly a home away from home experience. Thank you, Helene and Michel!
Olga
2012-07-26T00:00:00Z
We were staying this sweet house for our honeymoon for Grasse! It was so warm and sweet even though it was raining in Grasse. We stayed like our home, every breakfast was so yummy :) My husband said Wow every morning. This house and sweet offers are unforgettable memory. Thank you for everything and you are very sweet and nice. If we have a chance go Grasse, we will visit again. 정말 고마웠습니다. 잊지 못하는 여행을 주셔서 너무 감사합니다. ♡
Aram
2015-10-29T00:00:00Z
I would highly recommend a stay with Helena and Michel. If you travel on your own a lot it is reassuring to stay with a friendly helpful couple. They really extended their hospitality and went out of their way for me. I hope to see them soon again, Thanks a million, Paula
Paula
2010-10-28T00:00:00Z
Helene was extremely welcoming. She allowed us to wash our clothes which was just wonderful. Helen made some great recommendations for local sight seeing. We especially appreciated her recommendation to go to Gourdon which was charming. The house was clean and the breakfast lovely. It was great to have WIFI too. It was a wonderful balance of being cared for while also being allowed our own space. Vicky the dog is a real sweetie too.
Philippa
2012-06-22T00:00:00Z
Helene and her husband really looked after me well and made me feel at home. They went out of their way to make sure I found somewhere to eat on my first night even though it was a public holiday. My room was very comfortable and clean. I would thoroughly recommend Helene and her BnB.
Max
2014-06-11T00:00:00Z
Ma mere a sejourne 4 nuits chez Helene et a ete heureuse de son accueil, couple tres sympa, chaleureux, aux petits soins, discret, et facile pour s'organiser. Ma mere etait souvent chez moi pr s'occuper de mon bebe donc elle a ete peu presente dans la maison agreable mais le peu de temps qu'elle y a passe est un tres bon souvenir et elle reviendra surement !
Adeline
2015-05-04T00:00:00Z
Helene has a very comfortable place. Bus 600 to Cannes left directly outside the door. She was a wonderful host. She provided excellent information about local transport options. She picked my up at the bus station when I arrived. She was a great help when I left my IPhone in a taxi the last night I was staying.
Graham
2015-05-19T00:00:00Z
Tipus d'habitació
Habitació privada
---
Tipus de propietat
Casa
---
Capacitat
1
---
Dormitoris
Grasse, Provença-Alps-Costa Blava, França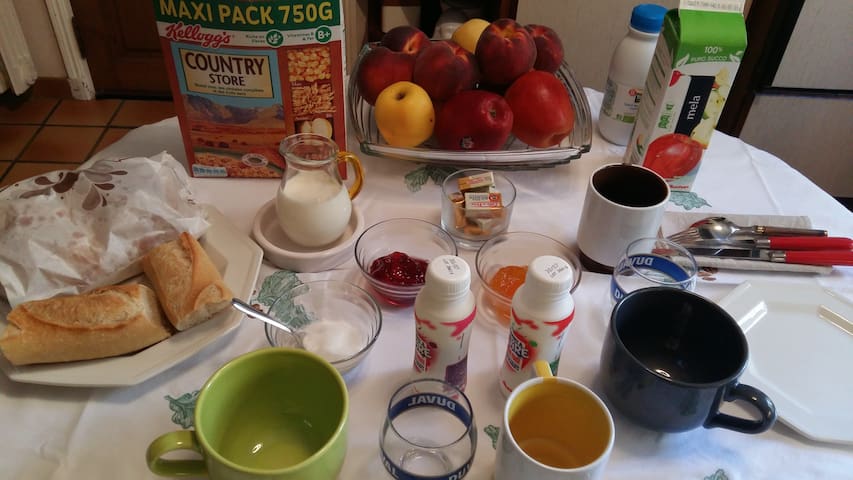 1

-

18

de

Més de 300 lloguers
Introdueix les dates per veure el preu total. S'aplicaran tarifes addicionals. És possible que també s'apliquin impostos.