Simply furnished 2nd floor 1 bedroom apartment, 550 sqft. Unit is in a Victorian era home, recently rennovated. Walking distance to museums, Whiting Auditorium, farmers market, and both UofM-Flint and Mott College campuses.
Basic studio, nothing fancy. Furnished with some simple furniture and a New full-size pillow top mattress. Apartments are small, but clean and in a quiet building at the end of a cul-de-sac.
Central Park neighborhood is centrally located to everything walking distance downtown.
Sage greeted me and showed me the place, making me feel right at home. He was very accommodating. Thank you, Sage!
Heather
2016-08-21T00:00:00Z
We cannot review this exact apartment. We were told this apartment was still being rented out and we were placed in a similar apartment nearby (I believe house 424, apartment #2). This place was located in downtown Flint and we felt safe in the area. We did not walk around at night but did notice people out walking dogs during the day. The apartment needed slight cleaning improvements which were recommended to the host but overall was clean. The outdoor entrance into the apartment could use improvement as well. Older kitchen appliances but all worked. TV and Wifi were great. Minor improvements could really enhance the experience here, especially for the price. We would stay here again.
Nicole
2016-11-07T00:00:00Z
Great central location, all amenities worked. Clean and comfy
Greg
2016-09-21T00:00:00Z
Tipus d'habitació
Casa/pis sencers
---
Tipus de propietat
Pis
---
Capacitat
2
---
Dormitoris
Flint, Michigan, Estats Units
Ground floor 1 bedroom apartment in Victorian home in the downtown Flint Art and Culture district. simple easy setup. nothing too fancy. clean and private.
It's a 500 sqft apartment on the ground floor with a private entrance off thw front wraparound porch. High speed WiFi.. There are 7 apartments in this building, and 8 units in the one next door that I live in that share a yard and parking lot. Other tenants are all downtown professionals, graduate school students, and university faculty. Everyone is very friendly and considerate of each other. Building stays pretty quiet. We're all pretty busy. Chances are you'll never see anyone, but I'll try and hand keys off to you in person and am always just a phone call away.
Quiet street, patrolled by the city, campus security, and cultural center public safety. house is at a dead end road. Cultural Center Neighborhood association is active and has close ties to everything walking distance downtown, UofM-Flint, Mott College, and Michigan State satellite campus, cultural center, farmers market, restaurants, pubs, and office buildings.
Sage is a great Host, very responsive and flexible. Would recommend a stay at any of his apartments/rooms.
Julie
2017-03-03T00:00:00Z
Sage was a real chill guy. He was prompt with the check-in and was very helpful throughout my stay. The room is very clean and cozy. He was very kind to let me check out 2 hours late due to my ride home being delayed. I would recommend this place to anyone who is looking for a place to stay in Flint.
Haozhe Keith
2016-11-30T00:00:00Z
Sage was really nice and helpful, and the place is cute!
Zoe
2017-03-09T00:00:00Z
Sage is awesome! His response time to me was instantaneous and the clawfoot bath tub was the bomb.
Laura
2016-12-04T00:00:00Z
Sage was fantastic! Met me in the parking lot upon my arrival, and was very responsive when I needed it most!
Demitrius
2016-07-12T00:00:00Z
Sage was a very nice host. Check in was easy. The neighborhood is nice and quiet.
Rowan
2016-11-07T00:00:00Z
The most fantastic host ever. Was my first time using AirBnB and Sage eclipsed my expectations. Room was very tidy, he took me around to Walmart when I needed to get groceries. He gets a 10 from me all day
Vince
2016-09-01T00:00:00Z
We stayed there only for the weekend but it was realy nice. The place is in a nice neighborhood, right next to the university. The night of our arrival, I was worried because of the traffic we arrived late, but Sage was really flexible.
Océane
2016-10-02T00:00:00Z
Tipus d'habitació
Casa/pis sencers
---
Tipus de propietat
Pis
---
Capacitat
2
---
Dormitoris
Flint, Michigan, Estats Units
Fully furnished one bedroom, full bathroom apartment with living room, dining room and kitchenette. Quiet neighborhood with lakes, wooded property with canal access. Discount monthly rate
Great size private, fully furnished apartment.
Beautiful neighborhood.
Excellent accommodations.
Jeffrey
2016-08-01T00:00:00Z
Great place, very quite.
Emily
2017-01-02T00:00:00Z
Excellent hosts. Will definitely recommend and stay again if needed. Thanks guys...
Mark
2017-03-16T00:00:00Z
This place is great! We stayed here recently for a second time. Courtney is super to work with, readily available and friendly. The place is located in a serene, secluded and safe neighborhood. It's not easy to find a place that also has a twin bed, private entrance, kitchenette, etc. so it's a rare gem!
Leslie
2016-08-26T00:00:00Z
The apartment was perfect for our visit for a wedding at the Michigan Renaissance Festival. It was spacious, clean and had everything we needed. Courtney was so nice and communicative so check in was super easy. The neighborhood is beautiful! We would definitely stay here again.
Rachel
2016-09-19T00:00:00Z
Courtney is an excellent host. The house is in a quiet, lovely neighborhood and is cozy, private, clean, comfortable and functional. Courtney and Justin made me feel welcome and enusred that everything was perfect.
Vin
2016-03-25T00:00:00Z
Outstanding experience as Courtney & Justin were so warm & welcoming. Beautiful neighborhood and great location. The place is quiet & relaxing and exactly as presented. Definitely would come back to stay ...and just may since we are in between homes!
Diane
2015-07-03T00:00:00Z
The place is exactly as advertised and Courtney was easy to work with. I slept like a rock!
Timothy
2016-11-13T00:00:00Z
Tipus d'habitació
Casa/pis sencers
---
Tipus de propietat
Pis
---
Capacitat
3
---
Dormitoris
Clarkston, Michigan, Estats Units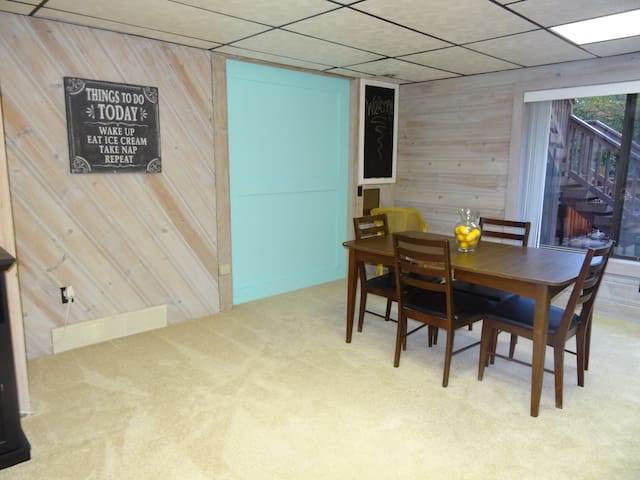 There is a dining room with wood floor; a family room with a bay window; a small kitchen; a bathroom; and a bedroom with a queen-size bed. There's a beautiful pool within a short walking distance and a community garden on both ends of the complex.
There's plenty of various food places ranging from diners, to restaurants, to fast food. Don't worry about general stores, as Meijer and Walmart are both within 2 miles on either side. There 2 major freeways within 2 miles of the apartment, so you're not far from any destination! I do have two cats that stay with me, they're very friendly and won't do anything to you. I'll give you all the small amenities like, toilet paper, shampoo, towels, and breakfast, all included. And yes, I have of course have air and heat. You can use anything of mine that I have including, the fridge and oven, along with the microwave and dishwasher. Anything you need I can get, no problem!
I've never had a single problem here with anyone, literally. Everyone looks out for each other and this has been the most respectful community I've ever lived in. For that reason, I renewed my lease.
Tipus d'habitació
Habitació privada
---
Tipus de propietat
Pis
---
Capacitat
2
---
Dormitoris
Grand Blanc, Michigan, Estats Units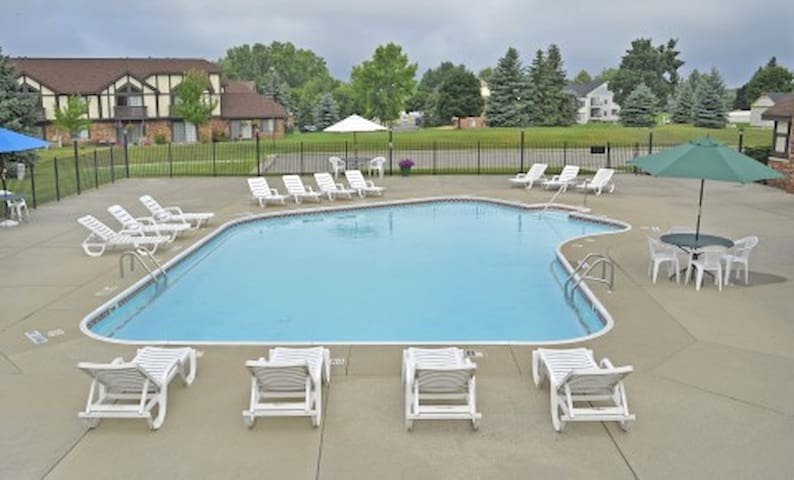 Newly renovated private entrance apartment offers a new kitchen, comfy bedroom and quiet backyard. Only 5 minutes to highways (96 & 23). 4 block walk to active downtown restaurants and shops. Cable & WIFI. Fully furnished kitchen and a washer and dryer too. Office could sleep added guest(s).
Central heat and air keep this space comfortable. Its clean, open and bright. New kitchen, new flooring, new TV, new bed, big yard, charmingly modern space is cozy but spacious not cluttered!
Our proximity to downtown activities is the biggest draw here. Of course convenient to Ann Arbor, Detroit suburbs as well as Lansing all in under an hour. Friendly people are everywhere you look, and we have GREAT restaurants!
Excellent.. Always perfect stay here.
Robin
2017-02-17T00:00:00Z
Enjoyed the accommodations. Comfortable, affordable, great amenities like washer/dryer, dishwasher, coffee pot, kitchen, cable and more. We had a wonderful and relaxing stay. Would definitely do so again :)
Brittany
2017-02-07T00:00:00Z
Always a great place to stay! Perfect!
Robin
2017-01-19T00:00:00Z
Harold was a great host! He came outside to greet us, the house is beautiful. He communicated well with us. We were able to park in the driveway, that was super convenient. We felt so comfortable because everything is so clean, we will be happy to stay again. We definitely recommend this host
Tehilla And Yoslandy
2015-07-20T00:00:00Z
What a perfect place! Great location and excellent hosts. Everything is immaculate
Robin
2016-10-27T00:00:00Z
Harold and his family were perfect hosts, very respectful of privacy and procative to answer any questions I had. The apartment is beautiful and well taken care of, little slice of luxury in brighton :) the pictures are exactly as shown. And The Pound wings are amazing. Felt safe and secure in this area and home :) will be back!
Marissa
2015-07-26T00:00:00Z
We were welcomed by Harold as we arrived and made to feel very welcome for our stay. Everything was clean and orderly. We hope to return in the summer of 2016 and hope we can once agIn book with Harold.
Ann
2015-12-22T00:00:00Z
I stayed here for a week in May. Location is perfect for walking to Downtown Brighton, and access to the express way is just a few minutes away. The apartment was immaculate, comfortable and private. I was greeted when I drove in and Harold showed me around the apartment, and answered any questions that I had . The apartment had everything I needed and more. I would definitely stay here again and recommend this place to my friends or family. Cindilou
Cynthia
2015-05-14T00:00:00Z
Tipus d'habitació
Casa/pis sencers
---
Tipus de propietat
Pis
---
Capacitat
3
---
Dormitoris
Brighton, Michigan, Estats Units
Enjoy a nice night in a brand new bed! A great location right off of the highway. Private bedroom with your own bathroom for you to enjoy.
Stayed here for work. Perfect place to buckle down and get things done. Loved having the desk in the bedroom. Bathroom is attached right off the bed room very convenient. Hosts are very accommodating and friendly. Would stay here again.
Nathanael
2017-03-29T00:00:00Z
Tipus d'habitació
Habitació privada
---
Tipus de propietat
Pis
---
Capacitat
2
---
Dormitoris
Grand Blanc, Michigan, Estats Units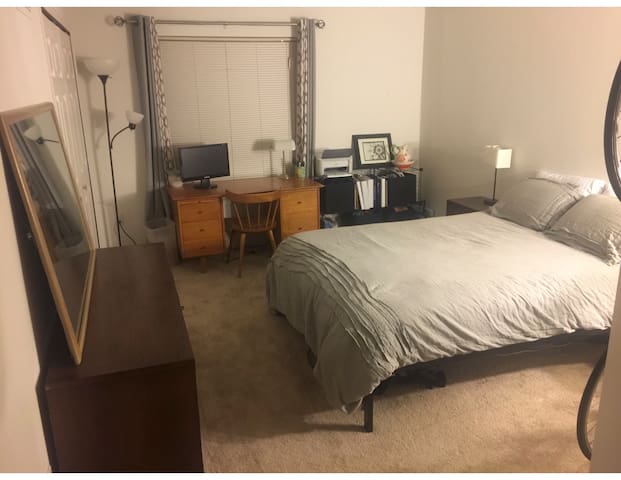 Two bedroom apartment close to Tanger Outlet and multiple shopping areas.
Tipus d'habitació
Casa/pis sencers
---
Tipus de propietat
Pis
---
Capacitat
5
---
Dormitoris
Howell, Michigan, Estats Units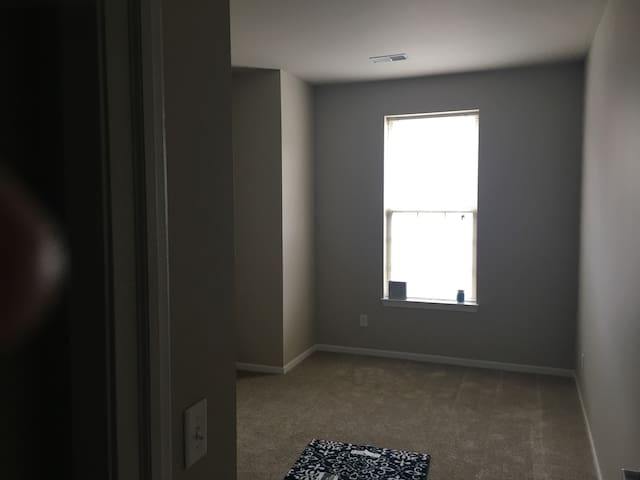 Location, Location, Location. Two bedroom, two bathroom apartment in heart of downtown Rochester. A short three block walk down 3rd or 4th street to downtown and a short walk down Wilcox to the park. This historical building was completely renovated in 2012 and is an exception rental property with everything updated and new.
This apartment is located in Downtown Rochester Michigan. Is located three blocks from main street and three blocks from the downtown park. It is designed and laid out for long term stays in Rochester for either business or personal visits. This apartment has a small yard with a nice patio and BBQ grill available for your use. There is ample storage areas for bikes and has two on site parking spaces for your use.
This is a historic building in a residential neighborhood. The location is probably this units biggest asset and you can easily blend into this dynamic neighborhood as you go about your business.
New, clean and very comfortable place to stay. John was outstanding in helping with any questions or issues.
james
2017-03-10T00:00:00Z
This was a great place, it was very spacious and very clean. And John made sure that the house was ready earlier on request. The house had plenty of towels, and amenities like toothpaste, soap, etc and he was able by text. It had everything we could possibly have hoped for. The price was better than most and reasonable. Recommend 10/10
Kevin
2016-12-19T00:00:00Z
John's apartment was an excellent place for us to stay while visiting our son in the area. The well stocked kitchen provided the necessary gear for my wife to make a few home cooked meals for my son, the cozy living room was a comfortable place to hang out and visit with the bright, bay windows. The beds were comfortable, the bathrooms and kitchen were well stocked, plenty of extra towels. John was a conscientious host who notified us in advance that some windstorms had caused a power outage. He went the extra mile to make sure the house was ready, even bringing over a generator to do the cleaning to have it ready. We would gladly stay here and with John again on a future trip.
Gary Scott
2017-03-15T00:00:00Z
John's place is a perfect home-away-from-home. Our party of three was able to spread out during our week in Rochester, and the apartment had everything we needed. I loved walking to the bars and restaurants of downtown Rochester. We had a great stay!
Lexie
2016-12-30T00:00:00Z
Wonderful apt, comfortable beds, great stay!
Sylvia
2017-02-25T00:00:00Z
Extended 5 more days till we got our permanent place. We miss this apartment, our home for 2 months.
Vishal
2016-12-01T00:00:00Z
This apartment is fantastic! The place was clean and John made sure that all the little details were taken care of to make us feel welcome. The location is right next to downtown with easy walking access to restaurants and other amenities, yet it is quite enough that road noise is non-existent. We love it so much, we are extending our stay here.
Vishal
2016-10-31T00:00:00Z
Beautiful, stylish apartment. Has everything you would need.... 2 Comfortable beds, 2 bathrooms (one with a walk in shower) , full kitchen, a Keurig coffee maker (important on my list) , 2 TVs, and it's close two several restaurants and stores. This was our first experience with Airbnb and we loved having our little apartment to go back to each night. We enjoyed it so much we spent a whole day there just relaxing. John was very prompt in answering any questions we had. He really is a super host. We highly recommend this place.
Joanne
2017-03-05T00:00:00Z
Tipus d'habitació
Casa/pis sencers
---
Tipus de propietat
Pis
---
Capacitat
4
---
Dormitoris
Rochester, Michigan, Estats Units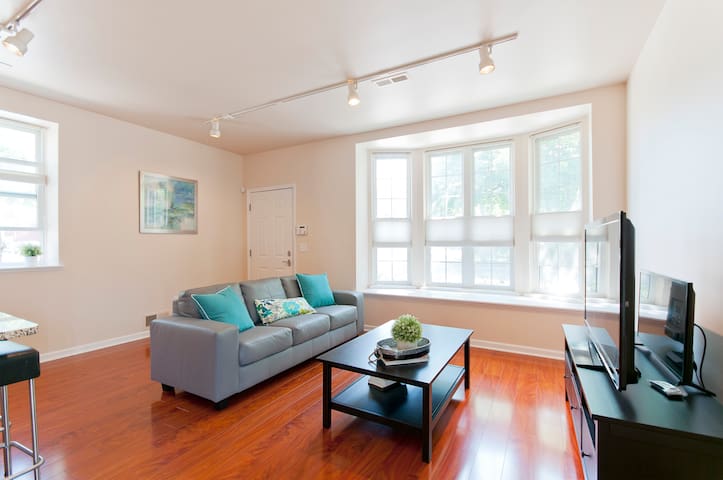 Good rooms
Tipus d'habitació
Casa/pis sencers
---
Tipus de propietat
Pis
---
Capacitat
2
---
Dormitoris
Rochester Hills, Michigan, Estats Units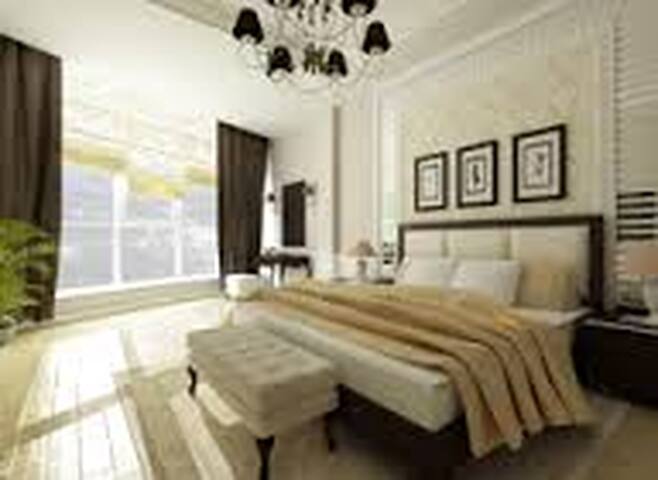 I have a really nice 2 bedroom apartment with 1-bedroom for guess I also have free Wi-Fi where I live at it's close to the malls the freeway movie theater and restaurants there's a lot to do hope to have you as my guest
The host canceled this reservation the day before arrival. This is an automated posting.
Megan
2017-01-02T00:00:00Z
The host canceled this reservation the day before arrival. This is an automated posting.
Ahmad
2017-02-18T00:00:00Z
The host canceled this reservation the day before arrival. This is an automated posting.
Juan Alberto
2017-03-03T00:00:00Z
Tipus d'habitació
Habitació privada
---
Tipus de propietat
Pis
---
Capacitat
2
---
Dormitoris
Pontiac, Michigan, Estats Units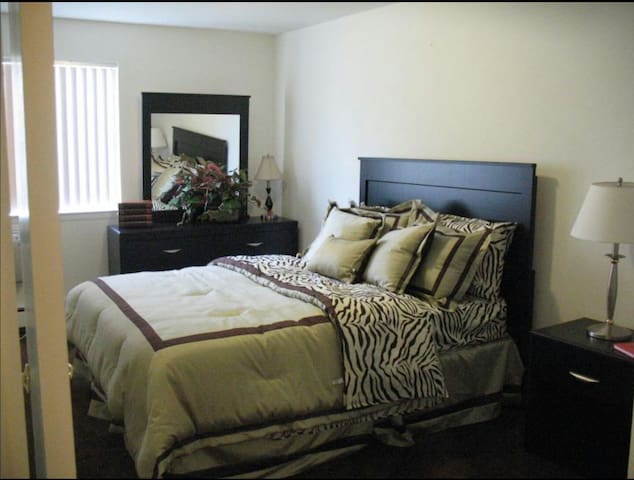 This is a great homey 2 bedroom, 2 bath 3rd floor apartment in the heart of Fenton. 2 bedrooms with queen beds and walk in closets. Living room with red leather queen sofa bed and loveseat, walk in pantry. Lights, Gas, and Wifi included.
The living space is open and airy. Bedrooms are on opposite side of the apartment to offer more privacy.
Fenton possesses the unique quality of remaining close to the things that matter. Generations of families live together in Fenton neighborhoods; the business community is cohesive and supportive. Through the preservation of historic architecture and the natural resources of the many lakes, parks and forests, Fenton retains visible ties to its roots and values. It is a community as close to genuine Americana as they come. Communities in surrounding areas may think they know what Fenton, MI is all about from zooming by on US-23, or by passing through now and again, but residents know that the true Fenton is best understood from the inside out. For those who want to connect to something real, to feel a genuine sense of togetherness with a true community, Fenton invites you to Be Closer.
Tipus d'habitació
Casa/pis sencers
---
Tipus de propietat
Pis
---
Capacitat
6
---
Dormitoris
Fenton, Michigan, Estats Units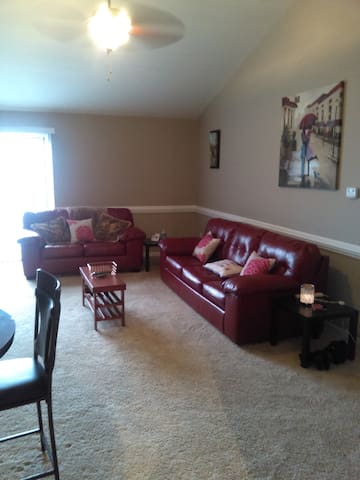 A premier residence at Brownstones Apartments truly offers the best in luxury apartment living. With its convenient location and easy access to all the area's primary freeways and expressways, Brownstones is just minutes from Novi's retail!
Our apartments are professionally managed, giving you a comfortable environment. Every apartment is fully furnished and professionally cleaned between residents.
This was a great place Perfect for a multi week stay
Jeff
2016-04-05T00:00:00Z
Good place to stay if like us and are moving and need an inbetween .
Becca
2016-12-17T00:00:00Z
Tipus d'habitació
Casa/pis sencers
---
Tipus de propietat
Pis
---
Capacitat
4
---
Dormitoris
Novi, Michigan, Estats Units
Clean
Joann was a fabulous host. She communicated well and made me feel at home. She provided all the basic needs and was so friendly and great to chat with. I felt safe in her place, the area, and had ample parking. The room was clean, very large, with a comfortable twin sized bed, and the perfect sleeping temperature for me. I highly recommend her.
Gisela
2017-02-08T00:00:00Z
Tipus d'habitació
Habitació compartida
---
Tipus de propietat
Pis
---
Capacitat
1
---
Dormitoris
Owosso, Michigan, Estats Units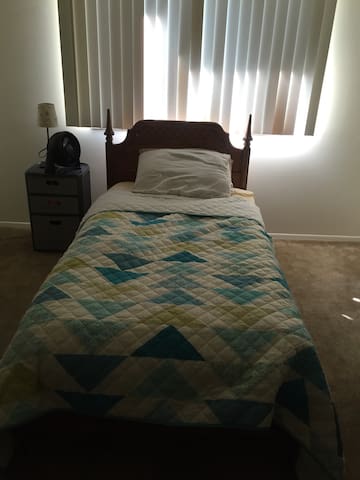 Enjoy your own garden apartment with great sunset views, and a private sandy beach on a clean spring fed lake. Great for a weekend retreat, or for longer stays. 15 min. from Birmingham, 20 min. to our Fabulous Ferndale and Royal Oak, 30 min. to Detroit.
Feel free to use our canoe, dock and swim raft while your here. We have a couple of Stand up paddle boards that are great fun on the lake. The kitchen is stocked with the basics, utensils, pots pans, dishes, and basic condiments etc.
Thanks!
Nicholas
2016-10-16T00:00:00Z
I'll be back. Let me know if anything opens up. Thanks again!! Jeff
Jeff
2016-10-21T00:00:00Z
I've stayed here twice and both times it was exactly what I needed. The space is perfect as is the location. I will definitely be back!
Darren
2016-10-04T00:00:00Z
This is my second visit here. Terrific hosts!! Thank you Patti!!!
Jeff
2016-10-03T00:00:00Z
We had a great time using the SUP's and we were close to bike paths. We had a great weekend and The inn under the sunset was a great place to stay.
Adam
2016-09-25T00:00:00Z
Nice, clean, cozy. A nice get away, Patti and Michael were great and the property was beautiful. I would definitely stay again :)
Walter
2016-11-21T00:00:00Z
Awesome place in the midst of lake district. Nice folks!
Andrew
2016-10-22T00:00:00Z
Michael and Patti were great hosts to my girlfriend and I. I asked for a bit more privacy and they respected my wishes, but when I did ask for a blender Patti was more than accommodating with my request. The sunset is my fondest memory of this home, as it was more beautiful in person. Thank you for a great stay!
Jeremy
2016-09-03T00:00:00Z
Tipus d'habitació
Casa/pis sencers
---
Tipus de propietat
Pis
---
Capacitat
2
---
Dormitoris
Bloomfield Hills, Michigan, Estats Units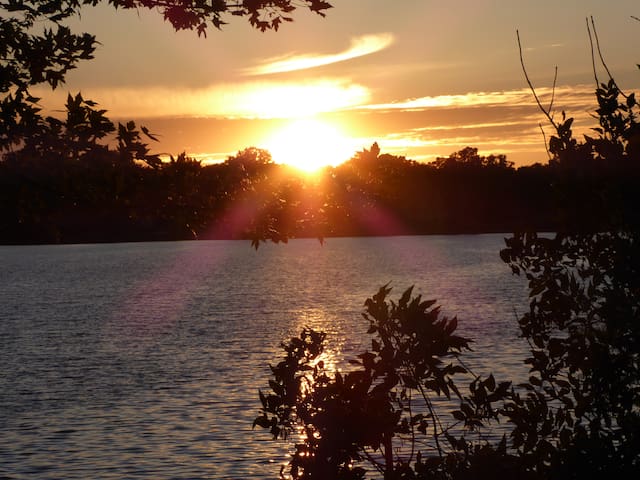 My fiance and I will be using the master bedroom and bathroom. There two large guest rooms that both include a desk and closet and one room has a mini fridge. You will have access to the laundry room, kitchen, full bathroom, gym, pool, and parking. We ask that guests be respectful of our two cats and keep the apartment clean, as well. The Great Lakes Crossing Outlet Mall is 6 minutes away and includes LEGO land and SEA LIFE Aquarium. We are 15 minutes away from the beautiful Rochester Hills.
We prefer to only offer one room with a full bed for 1-2 people. We are willing to offer the second room under the condition that guests keep their doors cracked so our cats can enter their own small room off of this second bedroom.
Tipus d'habitació
Habitació privada
---
Tipus de propietat
Pis
---
Capacitat
2
---
Dormitoris
Pontiac, Michigan, Estats Units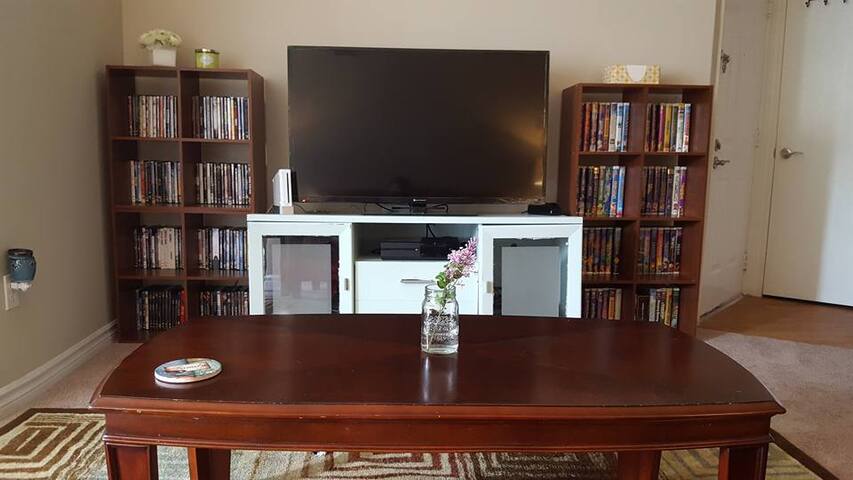 Simply furnished 2nd floor 1 bedroom apartment. with a separate private exterior entrance, private bathroom, kitchen, and a secure fenced in parking lot. Brand new full-size beds with fresh linens. 126mbps high speed wifi and utilities.
The space is about 550 sq ft. and is available furnished with a new bed, fresh bedding, a sitting area, all appliances, dresser, a desk, and all basic kitchen and bathroom utensils and furnishings. TV . Units are pretty modest, nothing fancy, but are private, clean, and in a quiet building in a peaceful neighborhood. The house is an older Victorian originally built in 1920. Across the street is the horse stables where the city's first fire department used to keep their horses. All the houses on the street are of a historical nature. House as been updated but preserved as much of the original architecture as possible.
Central Park neighborhood is centrally located and walking distance to everything: museums, Whiting Auditorium, farmers market, and both UofM-Flint, and Mott College campuses. Walk to downtown bars and restaurants, office buildings, Hurley hospital and McClaren health systems 5 mins drive.
Sage was friendly and helpful without being intrusive. He is clearly more used to hosting students, rather than an elderly couple, as evidenced by the paucity of kitchen equipment (but he had thoughtfully provided teabags and kettle for us, as British guests). Sage put this right immediately it was pointed out. The room was a bit scruffy, and two comfy chairs would have been a useful addition. The house is very well positioned, giving easy access to downtown Flint and the University, as well as museums and art galleries. Very easy access to interstate highways make this a good place from which to explore Michigan. The house is situated on a quiet tree lined cul de sac, with ample parking to the rear. Good luck for future settings Sage. Peter and Jane
Peter
2016-05-25T00:00:00Z
Sage was a great host and always available for help. In spite of what you hear about Flint, this neighborhood is very quiet and peaceful. And the price and amenities were great. There are a number of units in the building, so there may be some variability. Ours worked great, kitchen, bath and bedroom. Stairs to our unit were a bit steep which may be a concern for some. It's clear puts time and effort into upkeep and improvements.
Paul
2016-06-07T00:00:00Z
Sage is a great host, very prompt at responding to questions and flexible with accommodations. My apartment was neat, cozy, and quiet : )
Julie
2017-03-10T00:00:00Z
I was staying in Flint for 2 weeks in total and this place was perfect for me. Everything shown in the pictures was actually there and the Chromecast provided with the TV was an absolute delight. The apartment was clean, there was enough cutlery/plates/mugs to even have some friends over. When I arrived I noticed that sage even provided some bodywash/shampoo for the shower, including enough cleaning appliances to clean the apartment, which was definitely a nice touch. I was out and about a lot, so I wasn't home much during the day. Nevertheless Sage would message me once every few days to see how everything was going and if I needed anything. That definitely gave me the feeling that Sage really was trying to make sure that his guest were comfortable in the apartment. Even before I actually touched down in Flint, Sage offered to come and pick me up from the airport if needed. The transport was already taken care of but it was a really nice gesture. So to sum it up; the apartment was great, the host was great as well and I definitely would recommend staying here if you're passing through Flint. Thanks Sage!
Andra
2016-08-04T00:00:00Z
The location was great, especially being so close to the Farmers Market and Flint Institute of the Arts. It is definitely an older house but we felt safe and it was a quiet and private. We were there during the summer, so I can't speak to what it is like when classes are in session. We did meet some of the other tenants who were all cordial. Sage is flexible, welcoming and accommodating - everything you'd want in a host.
Jennifer
2016-06-27T00:00:00Z
Sage's apartment was a great place to stay while in Flint. It was a completely private apartment with full amenities and a private entrance. You do have to climb a fairly steep flight of stairs to enter, which wasn't a problem for us but could be for someone with physical limitations or large suitcases.
Megan
2016-08-22T00:00:00Z
Sage was present during our arrival and made sure we had everything we needed. The place looks just like it does in the pictures, and is easily accessible to the Flint Cultural Center as well as the freeways I-475 & I-69.
Simon
2016-07-06T00:00:00Z
I had a lovely visit to Flint. I have come every year for the last five years to run the Crim and visit friends. I love being so close to downtown so I can walk in for all of the Crim events, especially since parking is so crazy during the Crim. I did have a rental car as well for traveling to friends a little farther away and I appreciated that there was convenient parking right out back. This place was exactly as advertised. It is a neat, clean, but sparse studio apartment. That is all I really need because its just my home base for showering and sleeping when I am in town. Most of the time, I am out gallivanting. Sage was very accommodating, answering all of my questions and flexible with check in - check out times. The neighbors that I met were very nice, one even offered to help me carry my luggage up the stairs. I would definitely stay again in the future.
Corriedawn
2016-08-31T00:00:00Z
Tipus d'habitació
Casa/pis sencers
---
Tipus de propietat
Pis
---
Capacitat
2
---
Dormitoris
Flint, Michigan, Estats Units
2,000 square foot apartment in walkout basement of our home has private entrance from garage parking, kitchen, 2 bedrooms with queen beds, 3rd queen bed (inflatable) available. 1.5 baths. Direct private access to lakefront patio area with grill. $25 fee for additional persons applies, even for 2 guests, when 2nd bedroom is used.
This exclusive home can accommodate up to 9, including this 2 bedroom 1 1/2 bath apartment with 2 foam queen beds and 1 queen inflatable, and a separate listing "2 Rooms with a View" that can sleep 3 more in memory foam comfort. Expect to see deer, heron, swans, fox and other wildlife on scenic site. We're near quaint shops of downtown Milford, not far from hiking & riding trails, water park & other amenities of Kensington Park. Outdoor patio & gazebo on the water, canoe, kayak & fishing poles. Private entrance from parking garage to large deluxe apartment with 2 TVs, WIFI, Pool table & Ping Pong, full kitchen with coffee maker, dishwasher, oven, microwave, cooktop, wine cooler & full fridge. Dishes & cookware, utensils & glassware. Soaps, shampoo & fluffy towels. Just ask if you don't find everything you need. We're always available for any needs, but know you value your privacy as we do ours. Happy to help with directions, recommend destinations for shopping and exploring or restaurants. Very quiet area where nature abounds; adjacent wooded area is home to family of deer we see most every week. Excellent fishing lake to explore in our paddle boat, canoe or kayak. Close to quaint village of Milford for shopping & many restaurants. No public transport We have a small non shedding hypoallergenic Shitzu, Bailey, who loves people. Your small well trained non shedding dog is also welcome upon approval.
Very quiet area of luxury homes; adjacent wooded area is home to family of deer we see most every week. Excellent fishing lake to explore in our paddle boat, canoe or kayak. Close to quaint village of Milford for shopping & many restaurants.
The space was exactly as described. It was the perfect location for our business retreat weekend. Anne and Steve were accommodating to our requests. Communicating with them about logistics was smooth and easy. I plan on returning and I have already recommended this space to friends and colleagues. Thank you Anne and Steve!
Susan
2014-11-23T00:00:00Z
The host/hostess greeted everyone at the door, and made sure we all knew where we were going, and even guided some later arrivals. They were friendly & willing to help in any way possible.
bernadette
2015-08-24T00:00:00Z
Steve & Anne are really nice hosts. They greeted us, told us about the area especially where to get groceries! The apartment is large, modern & very comfortable complete your own parking space in their garage and with ping pong/pool table & access to their canoe & paddleboat should you desire. The area of their house is in a gorgeous area right on the lake.
Barbara
2015-07-30T00:00:00Z
The apartment is as clean and bright as the pictures show. Steve & Anne are cheerful and helpful hosts who responded quickly to any of our requests. It is a lovely, quiet lakeside retreat. It came as a surprise to us that it is not in a rural setting but part of a subdivision located around the lake. That being said it is still a beautiful area, as is Milford. It was too cold for us to enjoy Milford but it is a very walkable village with lots of interesting things to explore. Guest suggestions: We did not let Steve & Anne know that we are allergic to feathers. They provided lovely feather pillows. Unfortunately our first night was a bit difficult as we didn't realize until very late in the evening. In future we will tell hosts AHEAD of time about our allergies, etc. Steve & Anne provided pillows within minutes the next morning after we talked with them.
David
2016-01-12T00:00:00Z
This is our second time staying with Steve and Ann. This visit we stayed for a week. Steve and Ann are wonderful hosts. There were holiday touches around the apartment. They checked with us everyday to see if we needed anything. The apartment is beautiful and everything you may need is provided.
Nancy
2014-12-28T00:00:00Z
Nous avons découvert un petit paradis pendant quelques jours auprès de Steve et Anne, des personnes adorables et attentionnées qui ont bien voulu partager de bons moments avec nous. Leur superbe maison est idéalement placée, dans un parc au bord d'un lac où nous avons pu découvrir des chevreuils, écureuils et tortues au moyen de leur pédalo. Merci pour ce beau séjour.
Xavier
2015-08-14T00:00:00Z
Steve and Anne welcomed us warmly and were prepared to do anything they could to help us enjoy our stay in the lakefront apartment. They have a beautiful house and we enjoyed staying in the walk out basement apartment with wonderful views of the lake. We are usually very private people and were wondering how this would work staying in someone's house. Steve and Anne were great. They gave us the space we needed but were a text away in case we had any questions. The space itself is large and the Wifi was reliable. We enjoyed using the small kitchen and the outdoor area. We saw deer come past and the fire flys were everywhere at night. We even got a prime view of the local Commerce Township 4th July firework celebration the night that we arrived. Thanks for a great week Steve and Anne. Hope to be back again when Emily is a little bit older.
Daniel
2016-07-10T00:00:00Z
The hosts were very welcoming! We met the hosts and their cute little dog, Bailey the first night. They made sure we had what we needed and were very accommodating. Everything was very clean and well kept. It was a very comfortable and spacious place to stay. We also appreciated how the hosts welcomed our dog to stay with us. We enjoyed ourselves and would definitely stay again.
Jordan
2014-12-01T00:00:00Z
Tipus d'habitació
Casa/pis sencers
---
Tipus de propietat
Pis
---
Capacitat
6
---
Dormitoris
Commerce Township, Michigan, Estats Units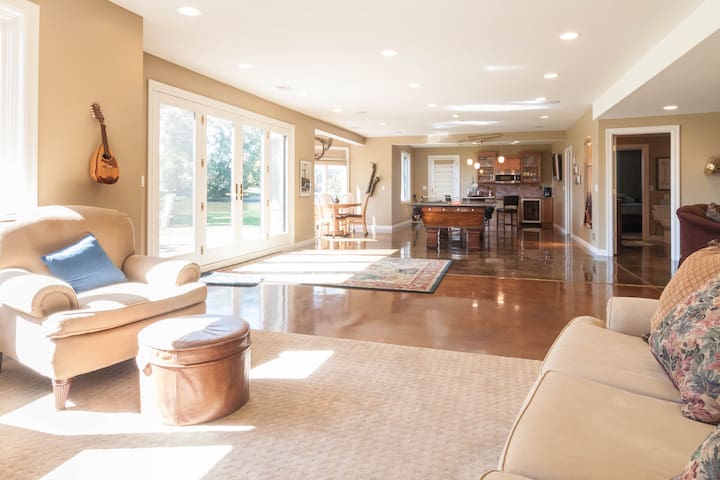 cool and clean
Tipus d'habitació
Habitació compartida
---
Tipus de propietat
Pis
---
Capacitat
2
---
Dormitoris
纽约, Michigan, Estats Units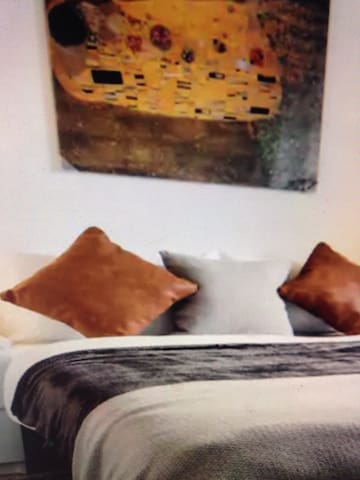 1

-

18

de

32 Lloguers de cases
Introdueix les dates per veure el preu total. S'aplicaran tarifes addicionals. És possible que també s'apliquin impostos.