Mé místo se nachází v blízkosti centra města a parků. Zamilujete si svoje místo, protože na atmosféru a venkovním prostoru. Mé místo je dobré pro páry a sólo dobrodruhy.
Nice Appartment and Host!
Fabian
2016-07-29T00:00:00Z
I didn't end up staying with Maja because of some travel date errors per my fault. I was doing a foot race & got the dates wrong. But I do want to comment on my communication with Maja. She is very responsive & easy to coordinate with. Very sweet & honest!
Heather
2017-04-10T00:00:00Z
Posizione ottima, centrale, casa pulita e con tutto l essenziale per un soggiorno. E poi dulcis in fundo padrona di casa coi fiocchi! Grazie Maja
Caterina
2016-09-09T00:00:00Z
Maja was a wonderful host! The Apartment is exactly as described, clean, small and cute! Thank you!
Birgit
2016-09-18T00:00:00Z
Really great accomodation, one of the best in Umag. Maja is wonderful host as well! It is very clean and comfortable. Open air kitchen makes the great atmopshere. We had great communication and I would recommend this host definitely.
Borjan
2016-08-11T00:00:00Z
Very nice and confortable place, extreemly close to the center and the marina.
Corina
2016-08-16T00:00:00Z
Appartamento molto bello in posizione strategica. Host molto gentile e disponibile.
Riccardo
2016-08-12T00:00:00Z
Appartamento comodissimo per due persone, molto carino e ottimo per la posizione. host super disponibile e gentilissima!
Giulia
2016-08-28T00:00:00Z
Tipus d'habitació
Casa/pis sencers
---
Tipus de propietat
Pis
---
Capacitat
2
---
Dormitoris
Umag, Istarska županija, Croàcia
Ovaj studio Stan ima jednu spavaću sobu s bračnim krevetom, te je idealan za parove. Ono ima dobro opremljenu kuhinju, i sigurno ćete uživati u idiličnoj zajednički vrt mnogo više od svog doma dnevnom boravku. Parking je osiguran za goste, kao što je Wi-Fi i zaštitu od znatiželjnih pogleda.
Tipus d'habitació
Casa/pis sencers
---
Tipus de propietat
Pis
---
Capacitat
2
---
Dormitoris
Umag, Croàcia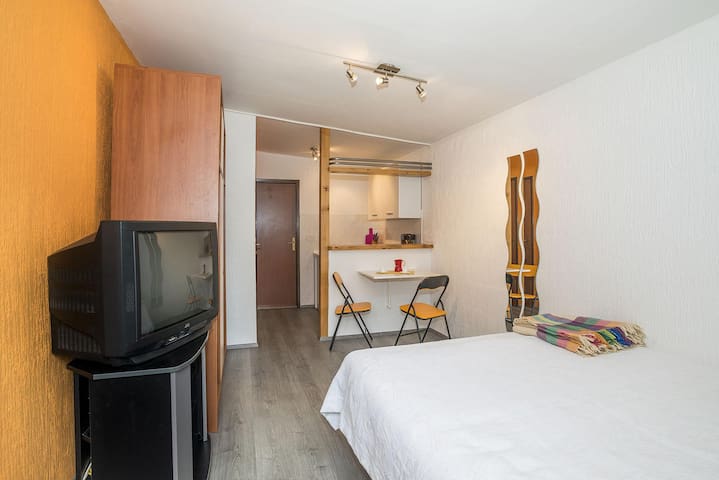 Výhled na moře klimatizovaný apartmán s kabelovou TV, internet zdarma, vybavenou kuchyní, koupelnou s walk-in sprchou. Jedna ložnice pojme 2, prostorný obývací pokoj s posezením a TV, krásnou terasu s jídelnou a posezením, lehátky pro slunění a relaxaci, pohodlná houpačka pro sezení. Jaderské moře je jen 10 metrů od hotelu. Nebudete muset jít na pláž, jste prakticky na pláži na svém vlastním pohodlnou terasou.
The appartment was very nice and clean, directly at the sea (though entry to the sea is some 50m away). The bay is cool, with paved area to lie on.
Braňo
2016-08-29T00:00:00Z
A casa di Stefano siamo stati bene. A pochi passi dal mare con una vista bellissima. Casa pulita, ordinata e molto accogliente.
Mimmo
2017-01-07T00:00:00Z
perfect location, great value, i would definitely stay again!!
Stefan
2017-02-21T00:00:00Z
Tipus d'habitació
Casa/pis sencers
---
Tipus de propietat
Pis
---
Capacitat
4
---
Dormitoris
Umag, Istarska županija, Croàcia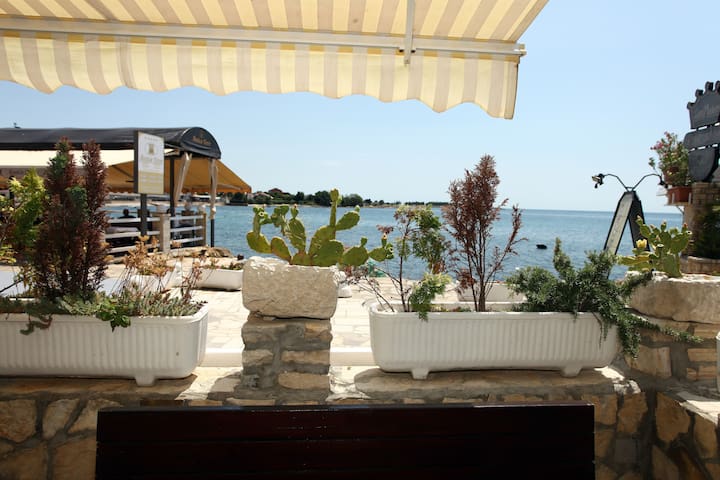 Mé místo je vhodné pro rodiny s dětmi (s dětmi) a chlupatými kamarády (zvířata).
The host canceled this reservation 175 days before arrival. This is an automated posting.
André
2017-02-13T00:00:00Z
La casa del Sig Brajkovic è confortevole e a breve distanza dai più bei parchi dell'Istria Il Signor Brajkovic è una persona molto attenta e disponibile per ogni necessità legata all ' alloggio
manuela
2016-08-20T00:00:00Z
Super apartment, not far from the center of the town. Very friendly and hospital host. Best recommendations
Irina
2017-04-09T00:00:00Z
Tipus d'habitació
Casa/pis sencers
---
Tipus de propietat
Pis
---
Capacitat
5
---
Dormitoris
Umag, Istarska županija, Croàcia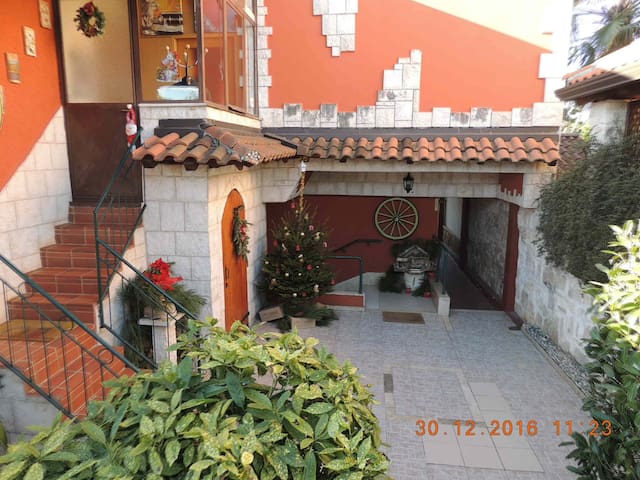 Studio apartman idealan za par ili malu obitelj (2 + 1). Pomoćni ležaj dostupan je na zahtjev. Mirno susjedstvo i terase u dvorištu. Smješten u centru grada, sve je u neposrednoj blizini; trgovine (500m), plaže (500m), ljekarna (500m), restorana (500 m).
Čerstvě natřené byt se spoustou přirozeného slunečního světla.
Sve što želite ili trebate za savršen odmor je withing pješačke udaljenosti. Doslovno nekoliko minuta hoda do centra grada gdje možete pronaći tržišta, trgovine, ljekarna, ambulanta, autobus, restorani i sve ostalo što vam je potrebno.
The studio was nice. It is near to the city centre and the beach. And you can park your car easily!
Ilythia
2016-08-05T00:00:00Z
We had a great short stay at Branka's studio! Perfect for just a couple days getaway or week long holiday vacation. Close to the Umag old city center, the beach and everything one needs. Branka was very hospitable! Thank you!
Grega & Anja
2016-09-11T00:00:00Z
Accoglienza ottima la casa pulita e vicinissima al centro.
Elena
2016-08-15T00:00:00Z
Sehr sauber und ordentlich. Super nette und hilfsbereite Gastgeber. Die Unterkunft ist Zentru(SENSITIVE CONTENTS HIDDEN)ah und wir haben uns bei Branka und ihrer Familie sehr wohl und wilkommen gefühlt.
Andreas
2016-08-29T00:00:00Z
Esperienza molto positiva, casa piccolina, molto accogliente, in ordine e pulita! Durante la vacanza ho conosciuto il marito della Sig.ra Branka, persona gentilissima e disponibilissima! Se avrò occasione di tornare a Umag contatterò sicuramente sempre lo stesso host.
Kaltoum
2016-07-23T00:00:00Z
Branka and her husband were great hosts. The flat is nice and clean, fully equipped and furnished (the kitchen was fully equipped for cooking, even salt-sugar, cofferr makers and so on). The only our concern is that the sea-side according to the description seemed to be closer. Branka and her husband were very welcoming hosts and even didn't mind us staying with our dog at their place. thank you we had a great holidays!
Olga
2016-09-09T00:00:00Z
It has been my best Airbnb experience at Branka's home. She and her husband were wonderful hosts and did everything possible to make me feel comfortable. I can strongly recommend Branka as a host! :-) Thank you, Branka, and Nenad for your hospitality and welcoming me at your home!
Atanas
2016-07-18T00:00:00Z
Sehr freundliche Gastgeberin - unkomplizierte, zentrale (<5 min Zentrum) und ruhige Unterkunft. Danke für 3 schöne Tage in der Sonne!
Dajana
2016-07-13T00:00:00Z
Tipus d'habitació
Casa/pis sencers
---
Tipus de propietat
Pis
---
Capacitat
2
---
Dormitoris
Umag, Istarska županija, Croàcia
Nedávno zrekonstruovaný, světlý byt s (jeden dvoulůžkový a jeden rozkládací pohovka), zcela nová kuchyňská linka koupelny velké ložnice a. Nachází se v klidné rezidenční čtvrti Umagu, a je jen pár set metrů od nejbližší pláže a Stella Maris tenisového centra.
Ideální základnou pro prozkoumání Umag a celá Istrie, tento byt je vybaven vším, co potřebujete pro odpočinkovou dovolenou. Klimatizace a vestavěnou sítí proti komárům v průběhu zajistí, že nemáte žádnou bzučení kolem uší, jak si zdřímnout ...
Byt se nachází v klidné rezidenční ulici. Pláže jsou v docházkové vzdálenosti, tam je malý bar a obchod v dolní části ulice. Nejbližší supermarket je pět minut chůze.
I have been there for the whole November, which is an unusual month, but I needed some time off. The appartment was very good for that purpose and I can imagine that it is very nice in summer too. Jelena is a very warm and amazing host. She takes care of everything you need. The appartment is good equipped, very cozy and only about 2 minutes away from the sea side. I have to recommend it!
Nils
2016-11-29T00:00:00Z
Das Appartement war super-gemütlich, die lage war sehr schön, nur ein katzensprung vom meer entfernt! Jelena ist eine tolle gastgeberin, wir haben uns rundum wohl gefühlt!
Anja
2016-10-03T00:00:00Z
Jelena is an incredibly friendly person. It was easy to reach her which made booking, check-in and check-out that much easier. Several times she asked us if we needed anything else but that wasn't even necessary. The apartment was clean, large and offered everything we needed in terms of amenities. It was only a short walk to the beach and Umag turned out to be a good location from which to venture inland and to other places along the Croatian and Slovenian coast. Can definitely recommend a stay with Jelena.
Anniek
2016-08-09T00:00:00Z
Sehr ansprechend und gemütlich eingerichtetes Appartement genau nach bestehenden Vorgaben. Jelena war super nett und hilfsbereit bei der Ankunft und hat uns mit allem Wissenswerten versorgt und uns sogar kühle Getränke bereit gestellt. Grill und Kohle standen bereit und durften wir nutzen. Haben uns sehr wohl gefühlt und können die Unterkunft sowie die Betreuung uneingeschränkt weiterempfehlen.
Nici
2016-08-22T00:00:00Z
We stayed at Jelena's place for two weeks in March and we have nothing to complain about. Jelena is super nice person and it's really easy to communicate with her. The place is very close to the sea but calm. Thanks Jelena!
André
2017-04-01T00:00:00Z
Jelena war sehr hilfreich ,das Apartment ist groß genug für zwei Personen es ist alles was man braut im (URL HIDDEN) Dank an Jelena. Michael und Barbara
Michael
2016-10-18T00:00:00Z
Prijetno vzdusje in prijaznost Jelene pri prihodu je bil krasen uvod v pozne poletne počitnice. Apartment je zelo funkcionalen, moderno opremljen in popolnoma ustreza slikam, prikazanim na netu. Čistoča na visokem nivoju, drobna oprema ustreza modernemu interjerju...male pozornosti- napisano ime gosta na tablici z dobrodoslico, zive rozice v vazici in pijaca v hladilniku prijetno preseneti ob prihodu gosta. Lega apartmenta je v blizini obale, zadosca nekaj minut hoje do plaze, kar je zelo prakticno. Je pa tudi dobro izhodisce za raziskovanje okolice Istre. Jelena je zelo prijazna oseba, brez problema je potekala komunikacija in ko je bilo potrebno, se je odzval tudi njen oce. Priporocam ta apartment in Jeleno kot gostiteljico ne samo za poletne case, ampak tudi izven sezone.
nina
2016-09-03T00:00:00Z
The flat was perfect. We were traveling with one year old child and Jelena got us a baby cot and feeding chair, which was really, really nice of her. The rooms were perfectly clean, and we really felt just like home. There's really nothing more you can expect from a host. I truly recommend this flat!
Piotr
2016-07-24T00:00:00Z
Tipus d'habitació
Casa/pis sencers
---
Tipus de propietat
Pis
---
Capacitat
2
---
Dormitoris
Umag, Istarska županija, Croàcia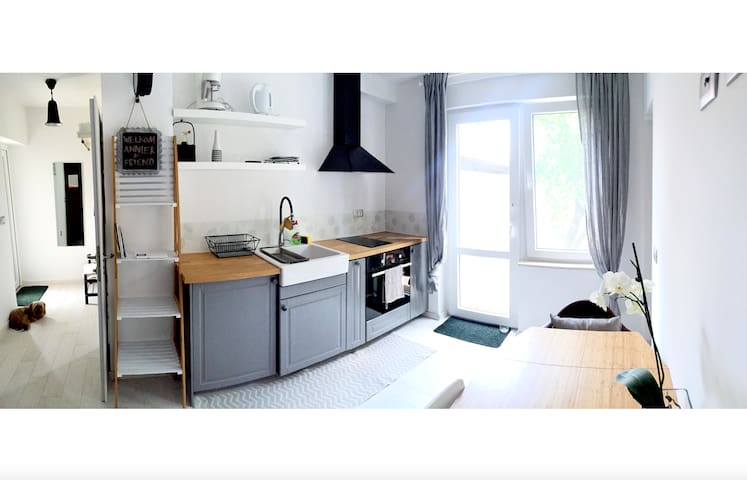 Můj ubytování se nachází v blízkosti parků, supermarket, restaurace, pláž cca 900m. Můj ubytování vám bude líbit pro: pohodlí postele, kuchyně a intimity. Moje ubytování je ideální pro páry, osamělých dobrodruhů, obchodní cestující a rodiny (s dětmi). Byt je nový, moderní, ve druhém patře, se vším, co potřebujete pro odpočinkovou dovolenou. Ložnice, obývací pokoj se sedací soupravou, kuchyň s myčkou nádobí, mikrovlnnou troubou, pračkou, klimatizací, Wi Fi, parkování zdarma.
The experience was great. The place is cozy, clean and perfect for a family. The host was very nice.
Alexandra
2016-07-31T00:00:00Z
Tipus d'habitació
Casa/pis sencers
---
Tipus de propietat
Pis
---
Capacitat
4
---
Dormitoris
Umag, Istarska županija, Croàcia
Komfortní byt v centru města, 20 metrů od pláže, s výhledem na pláž a stejný starý town.everything potřebné se nachází v bezprostřední blízkosti bytu. Obrazy a odpovědět na otázky i`m odeslání na vyžádání.
byt v centru města, s výhledem na moře ... se nachází na 2. patře ... Dům na jedné straně první řadě u moře a městské pláže ... na druhé straně domu centra města ...
Moře, pláže, obchody, nábřeží, restaurace, kavárny, pošta, ehm ... jen 20 minut chůze podél nábřeží tenisové kurty, bazény, písečné pláže, betonová pláž, kamenité pláže, diskotéky, sportovní centra, ATP stadion,
Adriana was a wonderful host! She received us warmly although we arrived quite late in the evening and we were later than we said we would (almost 11 p.m.). She was very helpful and informative, provided us with a card for reduced-price parking. The appartment is exactly as in the pictures - completly modernised, very very clean and tidy, everything (mattress, wardrobes etc) is brand new. You can see the sea lying in the bed in the bedroom! And hear it in the living room! Kitchen is well-equipped. The appartment is exactly in the heart of the old town, all kinds of restaurants are nearby. As to the beach - our experience is that the nearest beach is not the best, it's better to go somewhere outside of Umag. The parking is max. 5 min away from the app., and you go along the waterfront. Thanks Adriana!
Jagoda
2015-06-07T00:00:00Z
Mi sono trovata benissimo. Il posto era davvero quello che si vede nelle foto, a 4 metri dal mare. L'ospite è molto gentile e cortese, si è mostrata molto affidabile e sempre rintracciabile. La casa era pulita e dotata di tutto il necessario riguardo lenzuola, salviette e asciugamani. Anche la cucina era ben fornita di tutto il necessario per cucinare. Comodo per 2 ma anche per 4 persone. Davvero bellissimo. Il centro e il porto di Umag si trovano a 100-200m dall'appartamento. Consigliatissimo
Denise
2015-08-23T00:00:00Z
This must be one of the best located apartments in old town. It is convenient to get to, is in a traditional building (now renovated), and has the most beautiful view of the sea and the rest of old town. The host was exceptionally friendly and helpful. She went out of her way to make sure that my stay was great. The apartment was newly renovated, spacious, and clean. The wifi was fast and worked great. The parking was near by (in either a free or a paid lot). Be sure to map the address and and check it on your GPS in advance if you are driving. My GPS took me to the wrong place at first but a simple call to the host resolved that with no problem. I liked that the apartment is right in the old town in an area with plenty of historic character. It is near a bakery, restaurants, and shops. Those who like swimming (or seaside dining) will love the beach that is directly in front of this building. I would definitely stay here again.
Damir
2016-05-23T00:00:00Z
I liked everything, it was perfect
Tibor
2015-08-24T00:00:00Z
Nice Appartement with a Great Location in Umag! We had some small problems but She had always a resolution. All was clean and check in AMD checkout was no problem. We come back
Eg
2015-07-29T00:00:00Z
bellissima la location, gentilissimi e sempre disponibili gli host. Spero di tornare presto loro ospite
antonia
2016-07-01T00:00:00Z
Vše bez problému. Skvělá lokalita. Pomoc s bezplatným parkováním. Skvělá domluva. Kdo má rád severní Istrii, tak doporučuji :-)
Jiří
2016-10-01T00:00:00Z
Adriana is a great host, she had everything covered! The apartment is really nice, very clean and in a great location!!! Everything was perfect!! We will be back!!
katrin
2015-07-03T00:00:00Z
Tipus d'habitació
Casa/pis sencers
---
Tipus de propietat
Pis
---
Capacitat
4
---
Dormitoris
Umag, Comtat d'Ístria, Croàcia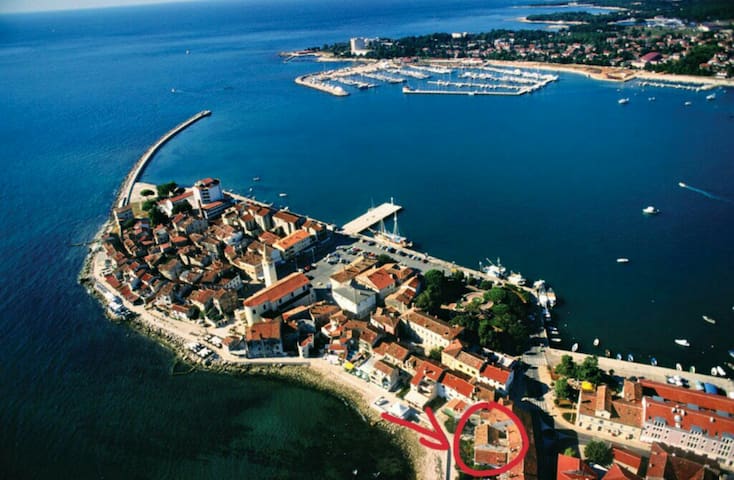 We are 300 meters from the nearest beach and 500 meters from the city center.
Appartamento vicinissimo al centro, pulito e spazioso, molto cortesi i proprietari da ritornarci.
Michele
2017-04-09T00:00:00Z
Tipus d'habitació
Casa/pis sencers
---
Tipus de propietat
Pis
---
Capacitat
4
---
Dormitoris
Umag, Istarska županija, Croàcia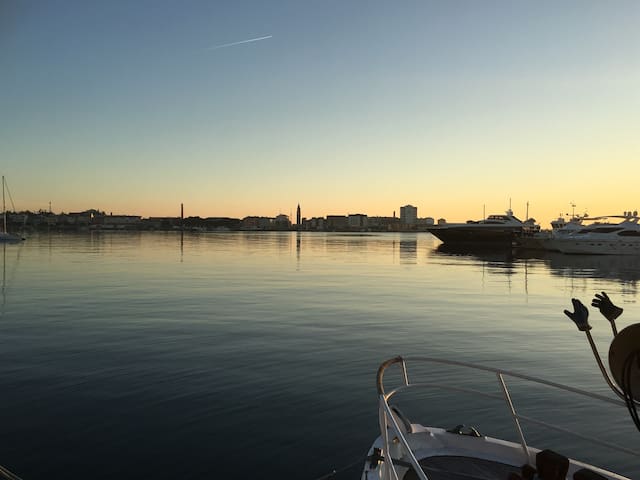 Our place is close to the city center and beach. You'll love our place because of the peaceful location, good place to rest and recharge, like a good sleep oasis :-) All the rooms are individual and fully equipped, each with own private bathroom. Our place is good for all - couples, solo adventurers, business travelers, families (with kids), big groups, and furry friends (pets), both for short or long stay.
Enjoying a quiet location 2 km from the center of Umag, Apartments & Rooms Barbara are set a few-minute drive away from the nearest pebbly beach. Our place is surrounded by greenery. Free Wi-Fi is provided. All rooms are air-conditioned and feature a safe and satellite TV. The lush and well-kept garden with a shaded seating area and barbecue facilities invites you to relax. In addition, there is a children's playground close to the property. Bio-energetic treatments, massage and GoodSleep Oasis products are available upon request. The nearest restaurant is only 50 m away, just across the street while the grocery store can be reached within 1 km. Various biking trails can be found in the vicinity. We have few bicycles for you free of extra charge. Tennis courts can be found 2 km away and golf courts are 6 km from the Apartments & Rooms Barbara. The Main Bus Station is at a distance of 1 km. Pula Airport is 80 km away and a pick-up can be organized. Free private parking is provided on site and on other free and safe parking area.
Tipus d'habitació
Habitació privada
---
Tipus de propietat
Bed & Breakfast
---
Capacitat
3
---
Dormitoris
Finida, Istarska županija, Croàcia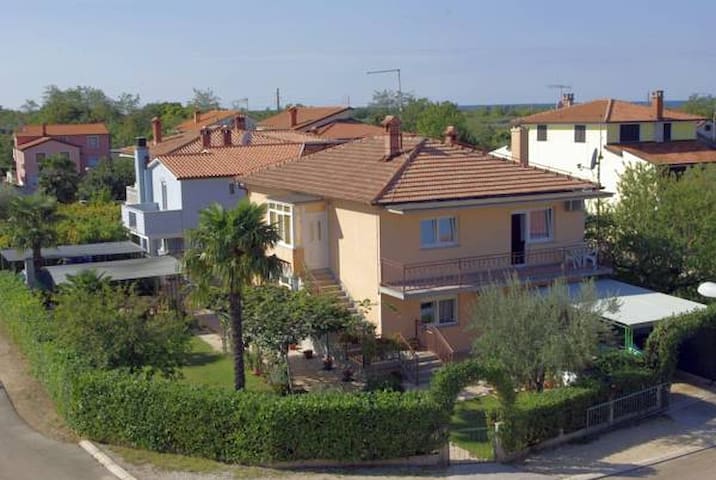 schöne Wohnung im ersten Stock mit Blick auf den Innenhof. Schlafzimmer mit Doppelbett , ein geräumiges Bad, ein großes Wohnzimmer mit zwei Sofas .Komplet ausgestattete Küche und einen schönen Balkon. Im Haus befindet sich ein Restaurant, in dem Sie das Frühstück oder andere Mahlzeiten verzehren können . Wir sind 15 gehe Minuten vom Zentrum Umag entfernt.Haustiere auf anfrage .
Tipus d'habitació
Habitació privada
---
Tipus de propietat
Casa de vacances
---
Capacitat
4
---
Dormitoris
Finida, Istarska županija, Croàcia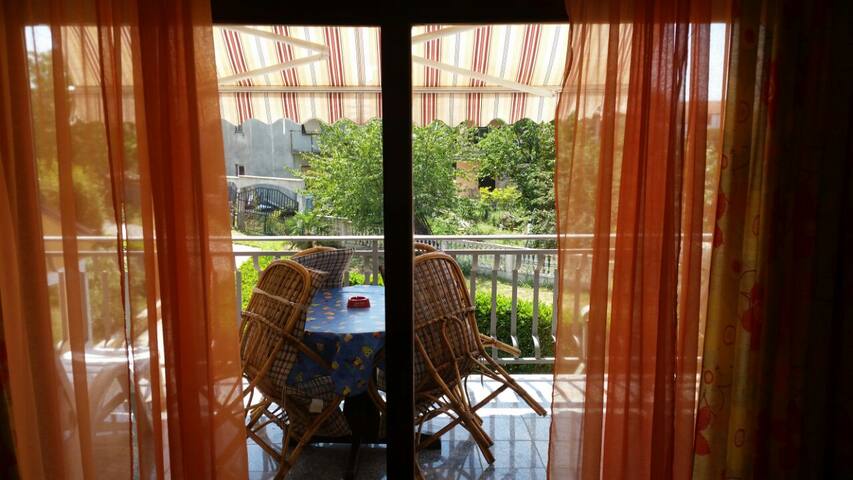 Aplikace. pro 3-4 osoby.
Naše aplikace je pohodlný pro 3 osoby, ale na krátkou dobu iv 4 je v pořádku. Supermarket se nachází v blízkosti (cca 150 m), pekárna, cukrárna a tržiště je v přední, 50 m od veřejné pláže, centrum města (kostel) je 250 m. Všechny druhy restaurací jsou v blízkosti.
Nette kleine Wohnung im Zentrum. Voll-ausgestattete Küche (inkl. Geschirrspühler), kleines Bad, netter Wohnraum. Tolle Lage - direkt im Zentrum, gleich neben Markt und nicht weit weg vom Meer (1-10min je nach Strand). Tolle Gastgeber - arbeiten direkt gegenüber und antworten sofort auf Fragen und Anliegen.
Paul
2015-08-17T00:00:00Z
We spent a fantastic 8 days there, everything important (beach, market, main square) was a few min walk. The app was clean and well equipped, Alan's communication was super fast. Highly recommended!
Sandor
2016-08-22T00:00:00Z
Alen ist ein super netter Kerl, die Wohnung ist super zentral gelegen und Alen ist sehr hilfsbereit und umgänglich. Eine gemütliche kleine Wohnung mit witziger Terasse.
Dieter
2016-07-28T00:00:00Z
Danke für die nette Unterkunft, wir hatten sehr viel Spaß!
Tanja
2015-06-29T00:00:00Z
It was a very nice stay! So much to see! Umag is very nice and the market in front of the house is just perfect. Thanks to Alen and Lisa for making it a wonderful stay!
Frederic
2015-08-08T00:00:00Z
L'appartamento è nuovo, ben arredato e ben equipaggiato. È in posizione centrale ma in una via defilata e tranquilla. Si parcheggia facilmente, sia a pagamento che non (questi ultimi sono un po' più lontani). È un appartamento davvero piccolo, adatto ad una coppia, in più persone si sta stretti.
Antonella
2015-05-24T00:00:00Z
For me it was good place because few meters was market with fruits and konzmum. The beach ner the house was not so good you need to walk a about 5 minutes to another place. But the bars and restaurant were very good form me and about 2 minutes by walk. - they do not have wifi in the apartmant - they do not have private parking
Martin
2016-07-04T00:00:00Z
The apartment is very nice, small but perfect for two/three people. Umag center is maybe 15m far and the market is just in front of the building! Everything is so near! Alen is a very nice guy and he speaks also italian. Completely recommended! :)
Diana
2015-02-07T00:00:00Z
Tipus d'habitació
Casa/pis sencers
---
Tipus de propietat
Pis
---
Capacitat
4
---
Dormitoris
Umag, Comtat d'Ístria, Croàcia
Světlý a přátelské apartmán se dvěma terasami.
Skládá se ze dvou ložnic s king size postelí, koupelnou a kuchyňským koutem s velkým kulatým stolem, skládací pohovkou a TV. Najdete zde vše, co potřebujete v kuchyni, k výrobě své vlastní jídlo, takže se můžete cítit, jako byste se u vás doma. WiFi internet v bytě s přístupem k routeru, klimatizace jsou zdarma. Prádlo a 2 ručníky na osobu na vás čekají v bytě. Nechceme účtovat poplatek za úklid, ale očekáváme, že dům má být ponechána ve stavu, to bylo nabídnuto.
Chůze na ... Nejbližší supermarket: 2 min. Umag přístav: 8 min. Umag středisko: 16 min. Pláž: 15 min. Tenisové centrum, domov ATP Croatia Open: 15 min.
We spent two months at Bozica's apartment and were very happy with the experience. It is a loverly two bedroom apartment, quite large and very clean. It is located in a quiet part of Umag only a 15 minute walk from the old town and beach. Bozica was a fabulous host always going out of her way to help us and ensure we were comfortable and happy. We would certainly use the apartment again if we return to Umag and I recommend it to you. Thank you Bozica, we had a great time. Ray and Merryl
Ray & Merryl
2015-05-30T00:00:00Z
We had a great time in Bozica's apartment. For 3 of us, it was more than enough. Everything is clean and very practical. The apartment is about 15 minutes to the beach on foot, but that is not a problem at all. Supermarket is in 3 minutes walk. Nice, airy balconies, simple and big rooms, comfy beds, crispy , fresh sheets. We enjoyed our stay a lot, and would come back any time. Highly recommended.
Monika
2016-08-24T00:00:00Z
Zu fünft waren wir für 5 Tage in Bozicas Appartment, welches dafür ausreichend groß, gemütlich und geräumig war. Die Ausstattung ließ ebenfalls keine Wünsche offen. Bozica empfing uns sehr herzlich und stellte uns Informationsmaterial und eine Umgebungskarte zu Verfügung, sodass wir uns in Umag sehr schnell zurecht finden konnten. Bozicas Appartement kann ich (können wir) jedem weiter empfehlen und werde selbst auch gerne wieder darauf zurückkommen.
Alexander
2016-09-06T00:00:00Z
Big flat ,very clean and close to sea..nuce week end
federico
2016-08-28T00:00:00Z
we liked Bozica's place and we are looking forward to come back.
Klara
2016-07-25T00:00:00Z
Everything was perfect and even better than we thought before our arrival. Bozica is a very nice and helpful person. We had a really good time there. Thanks.
Zoltán
2016-08-16T00:00:00Z
Great value for price.
Florjan
2016-09-11T00:00:00Z
Nice and comfortable apartment. We have a lot of space for 4 adult persons. Nearly supermarket and a small shop with a fresh fish. Bozica is very friendly and hospitality. Nearly are old town, tennis courts, see.
Eugene
2015-09-17T00:00:00Z
Tipus d'habitació
Casa/pis sencers
---
Tipus de propietat
Pis
---
Capacitat
4
---
Dormitoris
Umag,, Istria, Croàcia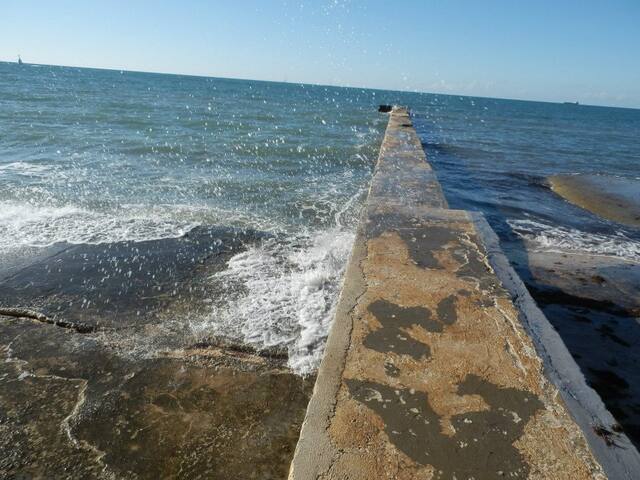 Apartment Stefi is in the countryside, 1 km from the beach and city center Umag. Enjoy friendly Mediterranean atmosphere in green garden drinking wine or trying the best olive oil. Out door is suitable for children and pets. The neighborhood is nice and quiet, there are mostly private houses in the street and nice sport playground and children playground, as well . There are all kinds of beach - sand, rock beach, bar for parents with kids, bars for young people. The position is perfect for bike!
The apartment Stefan is situated in the countryside, 1 km from the beach and city center. The place is situated at the ground floor of the house and has a separate entrance and separate terraces from the rest of the house. It is special because it feels like you rented the whole house and the garden. There are 1 large bedroom with 1 bathroom (there is possibility to put extra bed in the room). Kitchen and living room are separated from the bedroom. There is a grill in the garden, water sink and terrace. Children are welcome.
The neighbourhood is nice and quiet, there are mostly private houses in the street with a nice sport and children playground. The beach is 1000 meters walking distance and there are all kinds of beach - sand beach, rock beach, bar for parents with kids, bars for young people,... Few words about the area: Istria The peninsula of unspoiled nature, a step away from central Europe, at the foot of snowy Alps, across the undulating fields of lavender, vineyards and olive groves to the endless blue of the Adriatic. The mild Mediterranean climate, medieval towns, church facades, the old rural households, traditional local dishes, romantic fireplaces and smells of wine cellars - and this is Istria. Everything is warm-hearted and friendly here: nature and people. Umag City The historic core of the peninsula and the newer part of the land developed at the foundations of Roman remains, in the Middle Ages, feudal estate of the bishop of Trieste. The narrow, winding streets and picturesque squares, center, shows a typical medieval urban architecture. The surviving parts of the city wall from the Middle Ages. The Baroque parish church built in the 18th century, the organ in it are from the 1776th year.
The host canceled this reservation 14 days before arrival. This is an automated posting.
Sabine
2017-03-15T00:00:00Z
Tipus d'habitació
Casa/pis sencers
---
Tipus de propietat
Pis
---
Capacitat
4
---
Dormitoris
Finida, Istarska županija, Croàcia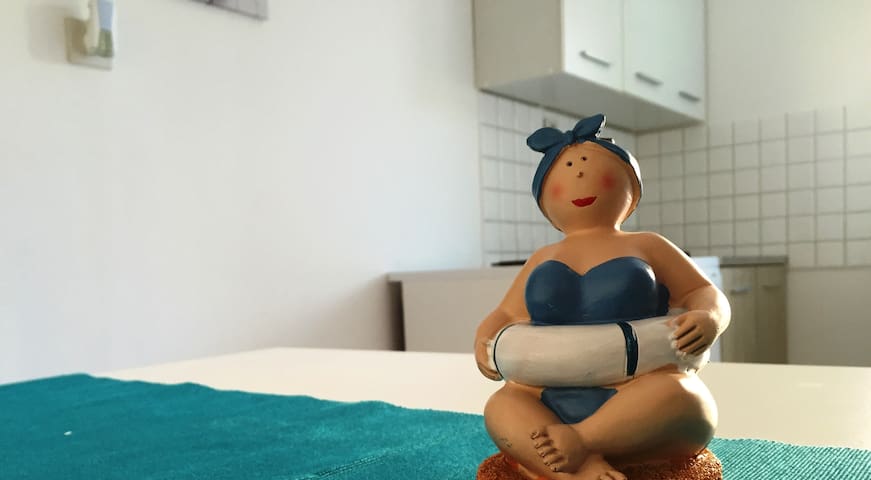 Tout nouveau petit studio avec terrasse. Accepte deux. Premier étage d'un plus grand bâtiment à côté de la mer. Wi-fi et de la climatisation. TV SAT plusieurs langues. Beach 4 min à pied, le centre-ville 6 min à pied.
Ce petit mais confortable studio de seulement quelques mètres du port de Umag. Il est entièrement climatisé et la télévision, un canapé-lit, cuisine et les meubles sont tous neufs (Avril 2016).
Le bâtiment donne sur le port, et il faut 10 minutes à pied pour rejoindre le centre-ville. Parking disponible.
Host was very polite. Flat corresponded to the description, very comfortable, great location, awsome two days in Umag!
Valerija
2016-07-08T00:00:00Z
Nice and clean little apartment. Next to beaches, restaurants and shopping possibilities. We enjoyed our stay in umag.
Franziska
2016-08-11T00:00:00Z
very good welcoming. Goran picked me up at the busstation.
Erik
2016-05-11T00:00:00Z
The apartment was just as described, very clean and cosy, just enough for 2 persons. The neighborhood was quiet and the location is good. The beach, as well as the city center, are just few minutes walk and you can reach some other interesting places within 15 minutes by car. The host was great and the communication with him as well. He was available at any time. All in all I would recommend it! :)
Suzana
2016-06-29T00:00:00Z
Goran was the perfect host and made sure we had a very enjoyable and comfortable stay!
Zane
2016-07-01T00:00:00Z
Goran and his cozy studio were perfect. The studio has good, strategic location - near see, near city center, near beaches, near a supermaket. Goran is very very welcoming, kind and always willing to help. Absolutely recommended for a couple.
Jan
2016-06-20T00:00:00Z
We spend there very nice time. Apartment is super clean, comfortable, cozy and very close to the sea and town. Goran is very kind and educated. He recommend us the restaurants in Umag, lend me an iron with board. Visit Goran´s apartment, you will be satisfied - great host. Thank you very much once again.
Roman
2016-05-31T00:00:00Z
Gentilezza e cortesia sono il marchio di fabbrica di Goran, sempre pronto ad esaudire tutte le richieste. La casa - pulita e ben arredata - é in una posizione strategica, a due passi dalle spiagge e dal centro di Umag. Un soggiorno bellissimo. Consigliatissimo sotto tutti i punti di vista!
Francesco
2016-08-21T00:00:00Z
Tipus d'habitació
Casa/pis sencers
---
Tipus de propietat
Pis
---
Capacitat
2
---
Dormitoris
Umag, Istarska županija, Croàcia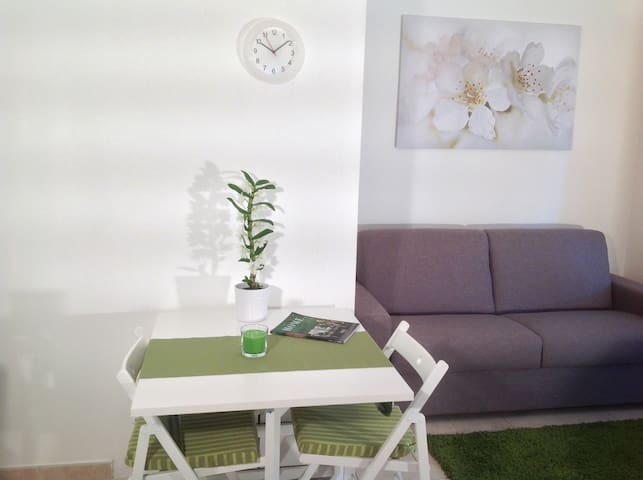 Roztomilý slunný podkrovní byt nedaleko centra města Se nachází v prvním patře v prostředním vchodu do bytového domu, se mnou žít vedle. Docela tichá lokalita, se vším, co leží v bezprostřední blízkosti: pláž, restaurace, lékárna, supermarkety, sport, zábava ...
Studio je asi 26m2 velikosti, vhodné pro jednoho, dva přátelé, pár nebo malou rodinu (1, 1 + 1, 2, 2 + 1). Místo je plně funkční, klimatizovaný, komár chráněna, s plně vybavenou kuchyní, jídelním koutem, TV s plochou obrazovkou kabelovou Smart TV a Wi-Fi připojení na internet. Spící mohou být uspořádány v rozkládací pohovkou pro jednu nebo dvě osoby a navíc v rozkládacím gaučem pro 1 osobu. Tyto sedací soupravy jsou postele jako ty. Představovat sprchový kout a pračku v koupelně také přichází s vysoušečem vlasů, za předpokladu, ručníky a toaletní potřeby zdarma.
Vanda è stata gentilissima e molto accogliente, nonostante siamo rimasti solo una notte. Ci ha aiutati a trovare il posto e ci ha dato preziosi consigli su Umago. Assolutamente ineccepibile!
Matteo
2016-07-10T00:00:00Z
My stay in Vanda's place completely met my expectations. Vanda was pleasant, helpful, considered host. The apartment as well as the building interior was immaculately clean. The location is very good with bakery and a coffee shop right down the block, major supermarket short walking distance and a 5 minute walk to the center of Umag.
Jan
2016-09-21T00:00:00Z
Vanda's apartment is a real gem! It is beautifully decorated and it is very clean, safe and functional. You can tell it was decorated with lots of love. There is everything you might need in the apartment and more. It was exactly as described and we had a blast staying there. Thank you once again for a wonderful stay!
Nina
2016-07-19T00:00:00Z
I stayed at Vandas place with my boyfriend for a weekend. The stay at her apartment was perfect with everything we needed. The apartment has wifi, smart tv, air conditioning, free parking for car is also available. The location is great with walking distance to the city centre, beach and grocery stores. Vanda was really nice, friendly, she responded to our messages quickly and answered all our questions. She also welcomed us with some fruit and juice when we arrived. I would highly recommend stay at her place!
Nika
2016-06-26T00:00:00Z
Perfect communacation, all clear nice like on photos. Wellcome drink and some detail than make our stay perfect.
Petr
2016-07-11T00:00:00Z
Vanda was a great host! The apartment was clean and cozy and she even filled the fridge with fruits, juice and champagne to celebrate our honeymoon. She responded very quickly to our messages and helped us to orient in the neighborhood. Overall it was a great vacation and I recommend this apartment to anyone else.
Ondřej
2016-08-07T00:00:00Z
Vanda ist eine gute Gastgeberin.
heinz-ulrich
2016-08-07T00:00:00Z
Studio apartment is close to the beach, supermarkets and old town of Umag. Vanda was a great host, we had a welcome drink juice and fresh fruits upon our arrival. All in all, Vanda's studio apartment was perfect for our 2 day stay and I would definitely choose it again when we come to Umag.
Marjan
2016-07-21T00:00:00Z
Tipus d'habitació
Casa/pis sencers
---
Tipus de propietat
Pis
---
Capacitat
2
---
Dormitoris
Umag, Istarska županija, Croàcia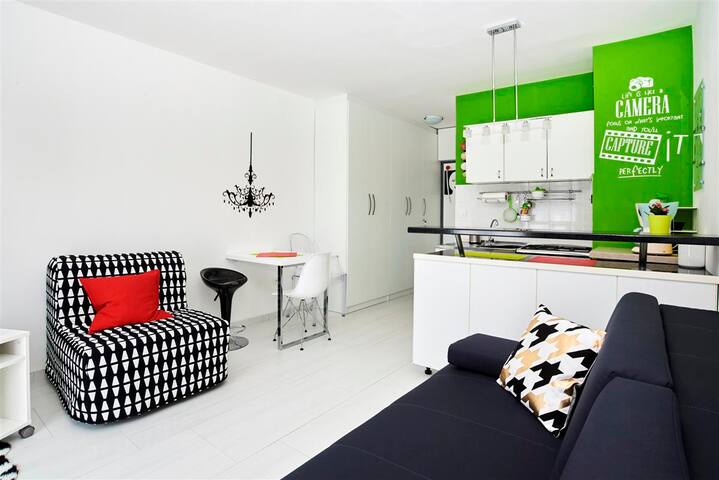 V bytě "Lea" se nachází ve velmi výhodné poloze, která splňuje podmínky, které poskytují velmi relaxační a příjemnou dovolenou. Pobřeží chodník je vzdálena jen 150 metrů, a můžete dostat do centra města za 10 minut příjemnou procházkou, přes parky se nacházejí v blízkosti moře. Pokud se rozhodnete jít na opačnou stranu, během 10 minut chůze, budete dostat do první pláž, jedna z mnoha různých plážích najdete podél pobřeží chodník. Tržní, banky a drogerie jsou všechny v okolí.
Interiér je kombinací moderní, minimalistický design s detaily vztahující se k oblasti Istra. Prostor se používá nejpřirozenější barevné kontrasty modré a zelené barvy, což jistě zklidňuje a zvyšuje svůj pocit uspokojení. Nálady světla jsou k dispozici v rozích je obývací pokoj pomocí vypínače, takže je možné pro vás vytvořit perfektní atmosféru, kdykoli ji budete potřebovat. Exteriér je obehnán zdí a posuvná vrata s dálkovým ovládáním, což zajišťuje maximální soukromí a bezpečnost, protože jsou oba pevné, bez jakýchkoliv otvorů vidět skrz. Nebudete starat o zvědavýma očima. Na terase terasa nabízí krásné místo s polyratan sadou pro jakékoliv relaxační aktivity v průběhu dne a noci. To dává pohled na vyhřívaným bazénem 2.5mx 2.5mx než 0,8 (obrázek ukazuje Vířivka, ale my postaven betonový bazén v roce 2017. - brzy fotografie) s podvodními sezení. Bazén se nachází na trávníku poblíž olivovníku.
Byt je s výhledem na opačnou stranu od hlavní silnice, takže to není hlučný. Policejní stanice je blízko a okolí je označen jako velmi bezpečné. V každém případě, nejsou tam žádné nehody, je to klidný městem přátelských lidí.
Perfekt place!
Branislav
2017-04-10T00:00:00Z
Tipus d'habitació
Casa/pis sencers
---
Tipus de propietat
Pis
---
Capacitat
4
---
Dormitoris
Umag, Istarska županija, Croàcia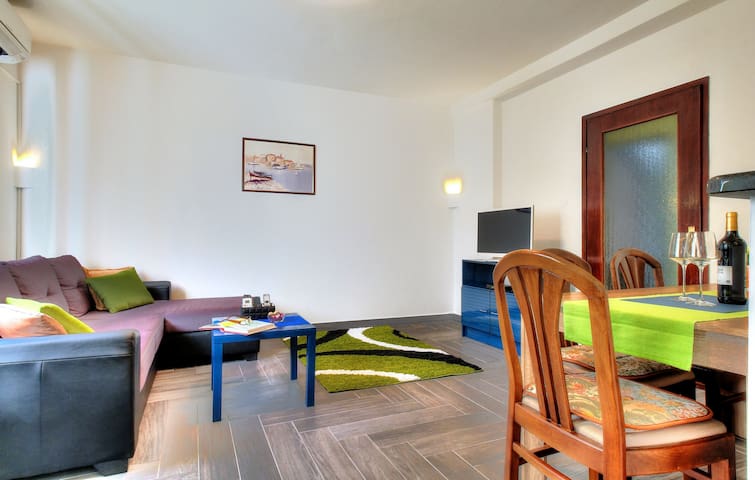 1

-

18

de

Més de 300 lloguers
Introdueix les dates per veure el preu total. S'aplicaran tarifes addicionals. És possible que també s'apliquin impostos.