Villa del Poggio is located in the Sabina hills in Poggio Mirteto in the north-eastern part of Lazio just 50km from Rome and offers a huge pool for your private use with garden, a cozy patio, 2 bedrooms, a bathroom, a kitchen,a huge living room with a private parking fenced in.
Villa del Poggioin the Sabina Mountains offers the perfect location for a relaxing and exciting Italian holiday with all the amenities. You can enjoy the beautiful garden or relax at the huge swimming pool (20m from the villa), you can walk to the medieval village or visit the nearby attractions, the beautiful Sabina hills or Rome by car and train, having at hand all the services of the village of Poggio Mirteto. The Country style house features 80 square meters on a floor with wooden beams and terracotta floors furnished with antiques, and offers 1 double bedroom, 1 bedroom with a French size bed (width 1.40m), air conditioning, a large living room with fireplace, SAT-TV, comfy double sofa bed, dining table and chairs, fully equipped kitchen with fridge and freezer, electric oven, gas stove, microwave, kettle, bathroom with shower / toilet, washing machine, hairdryer; small veranda and a private garden of 200 square meters around the house with garden furniture and umbrella. Free Wi-Fi in the house.
The house is in the heart of the beautiful Sabina hills near to Rome, famous for its production of Extra Virgin Olive Oil and excellent food. This territory is still authentic and untouched by mass tourism. Its landscape of gentle hills where agriculture is in perfect harmony with the surrounding nature, offers churches and abbeys to visit, Roman villas, medieval castles, medieval villages, excellent restaurants and shops with local specialties, hiking trails in the crystal clear waters of the Farfa river or in Sabina mountains as well as a Natural Park with bird watching, fishing, northern walking, biking and horse riding near the Tiber river. Near the house there are indoor and outdoor tennis courts, at 500m the center of Poggio Mirteto with shops, bars, restaurants and supermarkets.
We have just returned from our 2 week stay in Alessandro's beautiful villa. The photo's don't do the place justice. The villa is fantastic and the outdoor area fabulous, everything has been thought of. Peaceful, private and comfortable.
Margaret
2016-09-04T00:00:00Z
We stayed in August and had a wonderful time . Villa del Poggio is beautiful, Alessandro and Eugenia are fantastic hosts and very friendly. From start to finish our holiday was perfect and we will be back again soon!
Emma
2015-09-09T00:00:00Z
Beautiful house in a beautiful setting. We took our 1 year old baby away with us and the hosts had set up a very comfy looking cot, provided a play matt and high chair for him, plus a cake on arrival for us! We had a lovely stay and would highly recommend it.
Jason
2016-09-24T00:00:00Z
We had a wonderfull time in Villa Poggio! Our youngest was absolutely sure that it was our king's and queen's residence. Alessandro and Eugenia are fantastic hosts. The pictures do not meet the fantastic accomodation. It is much bigger, better and more beautifull than can be captured in a picture. We had a wonderfull time. It felt like a winning lottery ticket!
Reinold
2016-07-23T00:00:00Z
Tipus d'habitació
Casa/pis sencers
---
Tipus de propietat
Casa
---
Capacitat
6
---
Dormitoris
Poggio Mirteto, Lazio, Itàlia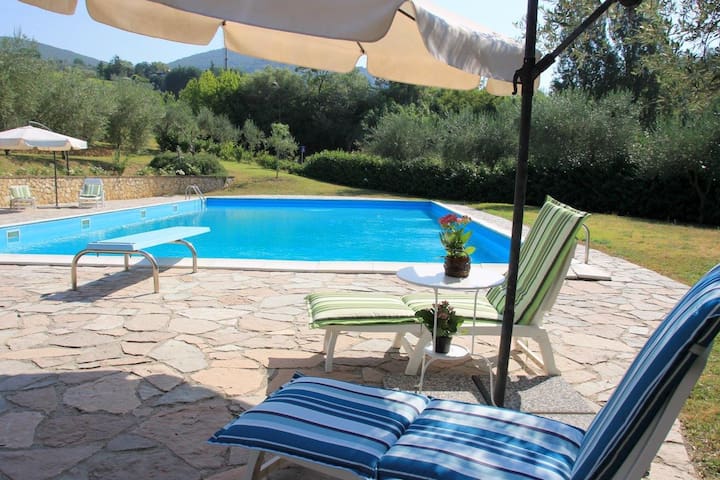 Questa stanza allegra e spaziosa si affaccia sulla piazza principale di Poggio Mirteto. Ho vissuto molti anni in Asia per questo la camera ha un tocco orientale. L'appartamento e' stato ristrutturato in modo divertente e originale...
Si tratta di un grande edificio storico nella piazza principale di Poggio Mirteto. La camera è molto accogliente e vi farà sentire subito a casa. E' un buon posto per i ciclisti che passano per le colline della Sabina - c'e anche uno spazio dove potrete parcheggiare le vostre biciclette durante la notte.
Poggio Mirteto está en el corazón de la región de Sabina con sus hermosos olivares y pueblos medievales cima de la colina. Es sólo un corto paso de Roma, pero es otro mundo y una gran escapada de la ciudad. El apartamento es un buen lugar para los ciclistas que pasan a través de las colinas de la región Sabina - También tengo un espacio seguro donde se podía poner sus bicicletas durante la noche.
Sally's house is beautiful. She made me feel very welcome and introduced me to the lovely area around poggio mirteto. Immaculate and homely. Lovely balcony overlooking the village square. Sally went the extra mile to help me on my way to a yoga holiday up the road. Would recommend highly
Janice
2015-06-19T00:00:00Z
Все было просто чудесно! Англичанка, сдающая супер комнату в супер доме с 26 ступеньками в трехуровневой квартире в самом сердце милого городка... это стоит увидеть!
Elena
2015-09-15T00:00:00Z
Un delizioso appartamento nella piazza del paese.. Caldo, pulito e molto confortevole e ciliegina sulla torta, Sally... Una padrona di casa 5 stelle!!
Francesca
2015-12-13T00:00:00Z
Sally has a wonderful home :) we met her daughter who was super lovely :) she picked us up from the train station as we arrived quite late at night and was very accommodating to us ! The morning of our stay we were treated with a lovely breakfast :) the house is also very lovely ... you can tell sally puts a lot of love into her home... we felt immediately comfortable there ... the bedroom was lovely and an awesome view of the main square :) Wish we had stayed longer :) xxx
Alexandra
2016-07-16T00:00:00Z
Una camera deliziosa in stile orientale, con parquet e balconcino sulla piazza principale di Poggio Mirteto. Sally è una forza della natura, ci ha fatto sentire a casa, abbiamo chiacchierato e ci ha preparato un'ottima colazione con cornetti freschi, frutta etc... Non ho trovato neanche un difetto, consiglio questo host a tutti!
Arianna
2017-03-23T00:00:00Z
Салли - очень гостеприимная, отзывчивая и порядочная хозяйка. Мы ощущали себя желанными и любимыми гостями. Не пожалеете!
Анфиса
2016-07-11T00:00:00Z
Sally was a wonderful host and the bedroom was exactly what we needed! We have been travelling for months and have stayed at a lot of airbnbs, this one was the best so far! The bed was super comfortable, the whole flat beautifully decorated with furniture from all over the world and everything was lovely and clean. Breakfast was delicious, we were served fresh orange juice, mueslis, toast, coffee, tea, etc... and Sally even drew us a super helpful map when our GPS led us astray and gave us tips and tricks for parking in Rome! Absolutely recommend!
Austin
2015-07-28T00:00:00Z
Sally is a great host! She has a very nice flat, the bedroom is very spacious and the bed very comfortable. She was very helpful and we had a very nice evening with her and her friends. We will definitely come back to her place is we need to stay near Rome. Kim & Michael
Michael
2015-06-20T00:00:00Z
Tipus d'habitació
Habitació privada
---
Tipus de propietat
Bed & Breakfast
---
Capacitat
3
---
Dormitoris
Poggio Mirteto, Lazio, Itàlia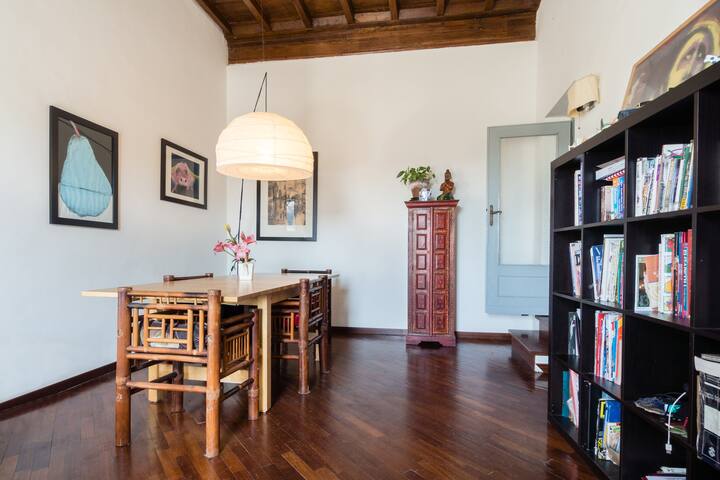 The old farmhouse on "Paradiso" hill is located in the ancient Sabine region about 4 kilometers from the ancient Farfa Abby, one of the most beautiful areas in the vicinity of Rome with a rich historical background and full of medieval villages. This is where the Romans came and seized the women when there was a shortage in Rome. It is at 45 minutes from Rome (45 km to the centre) and is conveniently connected to the city by bus and rail and to the airport. It is the ideal place for people who want to visit Rome and its magnificent surroundings (Spoleto and other Umbrian cities, Tivoli Villas, Viterbo etc.) and yet would like to leave the hustle and bustle behind in the evening and go back to a quiet and cooler place. The house itself lies on a hill with a breathtaking view of the surrounding villages within a 5 hectares park. It is at the end of an 8oo meters up-hill country lane from the local road immersed in a big park with a bio-lake pool, a tennis court, a ping-pong table, table-football, outside barbecue and oven; all this in the middle of olive groves. The house is furnished in an elegant rustic manner. Inside, on the ground floor there is a kitchen, a big sitting room, a dining-room and a bathroom (with shower). The double fireplace is between the kitchen and the sitting room. Upstairs there are four bedrooms (with 8-10 sleeping places) and a bathroom (with shower and bath). Facilities: Tennis court, swimming-pool, ping-pong table, table football, outside barbecue and ovens, washing- up machine, central heating, satellite Tv, internet wi-fi. How to get there: By train: There is a train from Fiumicino airport and from Tiburtina Station (the centre of town) which go to Poggio Mirteto Scalo, six km from the house. The coach also leaves from the centre of Rome and stops at Poggio Mirteto. A twenty minute walk from the bus-stop will get you to the house. But it is advisable to have a little car to get around in to savour the local sights, get to the station to take the train into Rome (the best way to go into the city). By car: From Rome take the road towards the autostrada to Firenze. Exit at Fara Sabina/Rieti and follow the signs to Passo Corese, From there follow the signs to Poggio Mirteto Scalo (which is the station of Poggio Mirteto 6 km from the town itself). Through Poggio Mirteto Scalo up to Poggio Mirteto town. Before the town take a right turn to Bocchignano/Mompeo and after about eleven bends on a right hand bend there are two gates on the left hand side of the road; the left one is open and that is the one you need to take right up to the top of the hill until you get to the gate which you have the key to.
Une grande maison au bout du monde. Un environnement paisible. Soleil et chaleur tous les jours!!! Une piscine extraordinaire, un vrai atout pour cette maison décorée avec beaucoup de goût. Des hôtes disponibles, très sympathiques... Un lieu parfait pour accueillir deux familles et très bien équipé pour les jeunes enfants. En plus il est facile de se rendre à Rome en train pour la journée. Une adresse à garder dans ses petits papiers!!! Fantastique...
Jean-Mathieu
2016-08-04T00:00:00Z
Tres belle maison dans la campagne, au nord de Rome. La description de la maison est conforme à l'annonce et nous avons été agréablement surpris à notre arrivée car la villa est même mieux que sur les photos. Le jardin est très beau et très agréable et la piscine est assez grande, avec 3 paliers, ce qui était très pratique pour nos enfants de 2 et 5 ans. Nous étions deux familles avec des enfants en bas âge et les 4 chambres à l'étage étaient bien organisées pour nous tous. La maison était également très calme et le court de tennis un plus pour notre séjour. Merci à Gerardo et sa mère pour leur accueil et nous faire sentir à la maison!
Stephanie
2015-08-15T00:00:00Z
Tipus d'habitació
Casa/pis sencers
---
Tipus de propietat
Casa de camp
---
Capacitat
9
---
Dormitoris
Ferruti, Lazio, Itàlia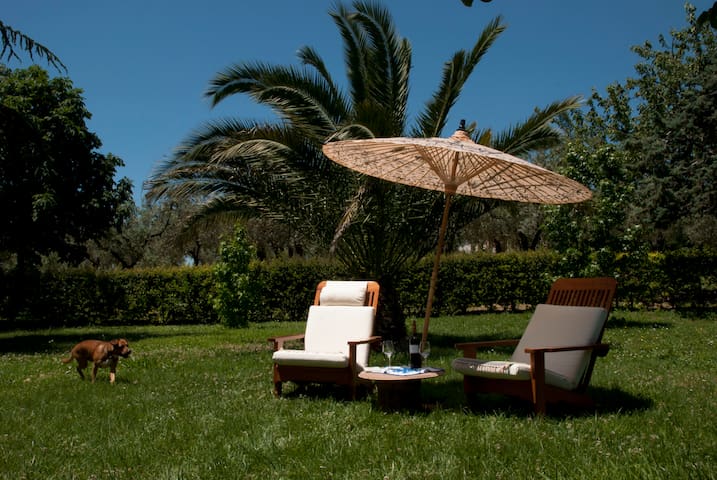 Stylish, fully restored, studio apartment with kitchen and shower bathroom. It was described by several guests as being even more beautiful than the pictures suggest. Located near the top of an unspoiled medieval village, which is untouched by mass tourism. It is the perfect place for a tranquil visit, away from noise and pollution and in beautiful hill country.
'Le Scalette' (studio apartment) Includes a kitchen area with cooker and full sized frig-freezer. There is a portable, steel frame narrow bed available on request, and suitable for a child or for an accommodating adult. .
Bocchignano is an enchanting village, remarkably unaffected by the modern world. Guests can enjoy lovely walks in nature, both in the village and at the Oasi del Farfa. The Abbey of Farfa, one of the finest in Europe, is only a short drive away. All is explained in the guest booklet in the apartment.
Abbiamo soggiornato in appartamento unico, in totale simbiosi con il paese di Bocchignano. L'appartamento è una perla. Molto consigliato per chi ama la tranquillità e la vita a misura d'uomo. Le persone sono squisite come i nostri Host. Torneremo molto volentieri! Un caloroso saluto da me ed Ersilia!
Fabrizio
2014-10-27T00:00:00Z
WOW!! WOW!! WOW!! This was NOTHING like we (URL HIDDEN) was BETTER!! We saw the beautiful arch in the picture, but never imagined we would be staying within the walls of such an amazing place. We had no trouble getting access to the place. Communication was great with our hosts (they gave us great advice regarding our visit to Rome and things to do in the surrounding area). The hosts left water, snacks and even made banana bread for us. That was so wonderful after traveling for so long. We had a WONDERFUL experience and would've loved to spend more time there and talk more with the hosts. I would recommend this place to everyone!!!
Kimberly
2015-06-18T00:00:00Z
Se sentite il bisogno di fare delle passeggiate immersi nel verde rigoglioso della Sabina e volete dormire sonni tranquilli senza il disturbo delle auto, l'alloggio di Annamaria ed Edward è consigliatissimo. Noi per esempio presto toneremo!
Marzia
2017-03-12T00:00:00Z
We had promised to come back and we did. The flat is really charming and so is Bocchignano. We were lucky to be there for the Jazz festival which was a great surprise!
Valerie Francine Josephine
2016-06-06T00:00:00Z
The B&B itself is sooooo cute and put together! It is situated in a medieval village in Bocchingano Italy, and the feel and atmosphere is so cute, quiet, and calm. After a hot hectic few days in Florence this place was perfect to relax. Ned and Annamarie are super adorable and friendly, they went out of their way to make our stay a pleasant experience. Rome is only a 3$ euro and 40min ride away; however it is HIGHLY suggested that you have a car with you. The town is tucked away about 3km up a mountain, while the views are gorgeous, it is not easily accessible without a vehicle. I would definitely come back! The people are lovely, the apartment is clean and fully stocked with all you need for a cozy getaway.
danielle
2015-08-18T00:00:00Z
It's a beautiful and well equipped studio apartment, in a breathtakingly mediaeval village. All of the recommendations about what to do and where to eat are great and very helpful. Thanks!
David
2016-10-22T00:00:00Z
This place is great. The interior makes you feel right at home. Everything was spotless. We didn't meet the hosts, because we came in very late after 22h and we left very early. But even though we didn't meet them, we're sure that Edward and Annamaria are wonderful people as they did anything to help us out. And they have a very fast response time. We send in a booking request around 12h asking if we could spend the night in their app and we got an answer right there and then. We loved this cosy place but keep in mind that there is little to no cellphone coverage inside the apartment and no WiFi. My bf and I didn't mind as we don't feel the need to stay connected 24/7 especially when asleep.
Shauni
2015-07-06T00:00:00Z
Ci siamo trovati benissimo, l'alloggio è molto bello e ricco di fascino, inserito in un contesto altrettanto suggestivo. L'ideale per una pausa rigenerante.
Sandra
2017-01-06T00:00:00Z
Tipus d'habitació
Casa/pis sencers
---
Tipus de propietat
Pis
---
Capacitat
2
---
Dormitoris
Bocchignano, Lazio, Itàlia
Bienvenue dans notre appartement calme et coloré proche de Rome
Salut à tous! Federico et moi, vivons à Poggio Mirteto, une jolie petite ville à côté de Rome dans la région de Sabina. Federico Franco-Italien et moi française avons cet appartement qui autrefois était une pharmacie et à été rénové afin qu'il devienne une jolie maison mélangeant les horizons et les cultures. Notre appartement sur deux étages est situé sur la place principale de la ville. Il se compose de deux chambres, une cuisine, un salon, 1 salle de bain et deux grandes terrasses qui dominent tous les autres bâtiments environnants, qui permet d'admirer un paysage magnifique ensemble de la vallée du Tibre. Nous louons les deux chambres, la cuisine et le salon. Poggio Mirteto est un endroit stratégique qui permet de satisfaire tous vos souhaits. Il est à environ 45 km au nord-est de Rome (40 minutes en train), il est connecté à la station locale par un service de navette qui part toutes les 30 minutes. Si vous décidez de louer une voiture vous mettrez une 40-50 de minutes pour arriver à Rome ! (ce qui est une vraie bonne idée une location de voiture ou la sienne)
Poggio Mirteto est un endroit stratégique qui permet de satisfaire tous vos souhaits. Il est à environ 45 km au nord-est de Rome (40 minutes en train), il est connecté à la station locale par un service de navette qui part toutes les 30 minutes. Si vous décidez de louer une voiture vous mettrez une 40-50 de minutes pour arriver à Rome ! (ce qui est une vraie bonne idée une location de voiture ou la sienne) Si vous préférez profiter d'un séjour enveloppée dans la verdure et le calme, une ville de vie construit pour les gens, il y a plusieurs organismes qui offrent de nombreuses activités telles que: randonnées à pied, à vélo ou à cheval, les activités d'orientation, escalade, monter le rivière en bateau, et d'autres loisirs en contact avec la nature. Il est également possible d'organiser des excursions et des visites guidées en montagne et environnements naturelles, ou visiter les sites historiques et artistiques intéressants telles que: L'abbaye de Farfa dans le coeur de l'ancienne Sabina (au pied du mont Acuziano), Le Sanctuaire de Poggio Bustone , la cascade de Marmore, etc Tout au long de la région de Sabina, depuis les rives du Tibre jusqu'à la Sibillini, il ya une gastronomie riche et variée avec d'excellents produits allant des vins et de l'huile d'olive extra-vierge (le premier à recevoir la reconnaissance AOP) pour salamis qui ont donné le nom de "Norcineria", c'est l'art de la transformation de la viande de porc; excellentes viandes d'agneau ou de bœuf comme le célèbre Chianina. Sur la place principale où se trouve l'appartement, il y a des magasins, des cafés, des ateliers d'orfèvrerie, des pubs, des librairies, épiceries qui véhiculent un mode de vie familier et une ambiance animée. En été, il y a beaucoup de fêtes dans cette région, un véritable échange culturel entre les villages environnants, qui offrent la possibilité de découvrir certaines traditions et coutumes de l'Italie centrale antiques.
Casa in posizione centralissima, proprio sopra la piazza principale. Due letti matrimoniali disposti su due piani differenti, quindi abbastanza isolati dal punto di vista acustico. Dispone anche di terrazza con vista panoramica. Jnica nota dolente la pulizia, non impeccabile (vedi bagno superiore e qualche ragnatela qua e là). Nel complesso soggiorno positivo.
Michele
2017-03-05T00:00:00Z
Semaine superbe dans le chaleureux et bel appartement de Mélody et Frédérico ! Merci pour l'appartement chaud à notre arrivée, les guirlandes de Noël, le bon vin de Toscane sur la table : on s'est régalé de vivre 7 jours à Poggio Mirteto, petite ville vivante, animée ET calme... Les Monte Sabini sont une très belle région, collines, oliviers, cyprès et villages perchés... La terrasse est somptueuse, et grâce au temps anticyclonique parfait, on en a profité pour y manger le midi quand on n'était pas en ballade ! La vie est belle dans la "Nostra casa sulla piazza" !
sophie
2017-01-03T00:00:00Z
Melody's place is in a lovely spot in the centre of a nice small town near Rome. The flat is very uniquely furnished and provides ample of space for two to four people. What we loved the most was the terrace on top of the house which provides wonderful views across the countryside! Communication was great and we can highly recommend this place.
Doris
2017-02-05T00:00:00Z
We were received in this beautiful, very personally decorated apartment with bed room, bathroom, living room, kitchen and even roof terrace by the mother of the owner, Corinne. There were beautiful fresh flowers on the table in the living room. Two bottles of mineral water were put in the fridge. In the night, some extra tips followed, for a restaurant, with wifi codes, etc. Summarizing: it's a really nice play to stay, right in the centre of Poggio Mirteto!
Gerbert
2014-07-16T00:00:00Z
Hi guys. Just a quick thank you for all your help. Corinne was always at hand, even left a bottle champagne for New years. Grazie. We absolutely loved the apartment and the old rustic look and will surely tell all our friends and family back in Ireland and South Africa about it. And we'll be back! Au revoir
Etienne
2016-01-06T00:00:00Z
Beautifully located, beautifully decorated a nice touch of France in Italy. The panoramic views from the rooftop were breathtaking: perfect for overseeing the life of the piazza below or appreciating the rolling green hills.
Daniel
2016-10-26T00:00:00Z
Delizios centralissimo e confortevole appartamento, sito in una palazzina storica proprio nel cuore di Poggio Mirteto. Melody ci ha accolto con grande disponibilità. Consigliatissimo
gea
2016-03-23T00:00:00Z
we hebben 3 heerlijke dagen gehad . We werden heel hartelijk ontvangen met een fles wijn en een lavendel plant. Het huis, wat op de derde etage ligt, is erg gezellig ingericht,leuke verlichting, en heeft een prachtig dakterras. Vanuit de slaapkamer en keuken heb je een schitterend uitzicht over de bergen en vanuit de huiskamer kijk je uit op het levendige dorpslpein. Melody was goed bereikbaar als we vragen hadden . In de bar onder het appartement kun je koffie met iets lekkers krijgen! 1 klein minpuntje was dat er geen douche aanwezig is maar een zitbad. Als wij nog eens in de buurt zijn komen we zeker nog eens langs! groeten van Peter,Lucienne en Floor
Lucienne
2016-09-17T00:00:00Z
Tipus d'habitació
Casa/pis sencers
---
Tipus de propietat
Pis
---
Capacitat
4
---
Dormitoris
Poggio Mirteto, Lazio, Itàlia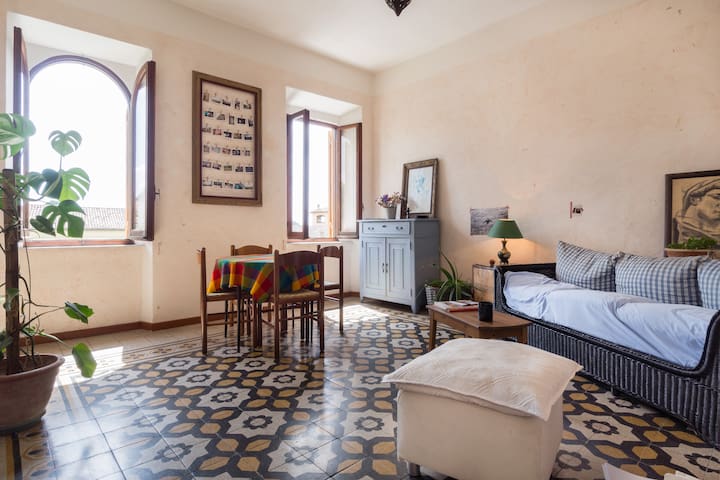 Spacious countryside villa on a hilltop. Surrounded by olive and fruit trees. Wonderful view from the swimming pool on the old village of Poggio Mirteto and Tiber Valley. Far 50 km from Rome, easy to reach by train.
Ho alloggiato nella villa per due notti a capodanno, insieme ad altri 8 amici. La casa è grande, ben divisa e dotata di molti più comfort di quanto ci si potrebbe aspettare in una casa di campagna. Le numerose stanze da letto e la grande sala da pranzo permettono di accogliere molte persone. Essendo inverno non abbiamo usufruito delle strutture all'esterno come la piscina o il barbecue, che erano tuttavia ben tenute e curate, così come tutto il resto della casa. Carla è stata gentilissima ed ospitale, sia prima che durante il nostro soggiorno: sia per me che per i miei amici è stata una delle migliori esperienze su Airbnb.
Emanuele
2016-01-02T00:00:00Z
Maison conforme à la description. Rome est à 50 mn de train (si pas de retard
Fanny
2016-07-31T00:00:00Z
La casa è molto bella con una vista panoramica notevole ,i proprietari sono stati molti disponibili fin da subito È stata una bella esperienza,da rifare sicuramente
matteo
2017-03-25T00:00:00Z
Il titolo "villa con piscina" e riduttivo!!! Perché dovrebbe essere villa con piscina, biliardino, con tavolo da ping pong, con forno esterno, con barbecue, con piscina, con giardino immenso e curato, con diversi spazi all'esterno e all'interno per mangiare, con vista mozzafiato, con quiete rilassante... E tanto altro! Esperienza meravigliosa, forse tra le più belle. Al nostro arrivo siamo stati accolti da Carla e il marito che ci hanno fatto sentire a casa neanche scesi dalle macchine. Abbiamo organizzato un compleanno di 30 nella loro villa, Una meravigliosa villa aggiungerei e vedere tutti gli invitati sbalorditi del posto, delle camere da letto, della casa,delle attrezzature presenti e dell'ospitalità di Carla è stato un vero piacere. Il giorno dopo nessuno che voleva andare via, ma ci siamo promessi di ritornarci, perché è stata per tutti una delle esperienza più belle.
Antonietta
2015-09-13T00:00:00Z
casa Stupenda. i Proprietari deliziosi. un' accoglienza meravigliosa. Sono stato con dei miei amici 2 giorni in pieno relax. il posto merita vista stupenda. Piscina pulita e tenuta bene. consiglio vivamente questo posto.
Luigi
2016-07-04T00:00:00Z
la casa è accogliente e spaziosissima. Siamo stati in più di dieci amici ed è stato un vero piacere. Abbiamo avuto un piccolo problema con l'acqua ed i proprietari sono subito intervenuti anche se era domenica. Veramente una gradevole esperienza assolutamente da ripetere, vicinissimo a Roma ed immersa tra le bellezze della Sabina.
Emiludopietro
2016-09-06T00:00:00Z
Abbiamo passato un week end in questa casa per festeggiare una laurea, ed è stato stupendo, divertimento assicurato. La casa è ottima ed è perfetta per un week end di relax o per una vacanza estiva insieme a tanti amici. Carla insieme a suo marito sono gentilissimi e molto disponibili. L'unico peccato è esserci stati solo due giorni.
Giacomo
2016-04-04T00:00:00Z
Carla und ihre Familie sind sehr nett und hilfsbereit. Wir hatten leider unsere Kreditkarte zuhause vergessen, sodass wir Probleme mit der Mietwagenfirma bekamen. Vor allem Carlas Sohn hat uns so viel geholfen und mehrmals mit der Firma telefoniert. Da wir unser Auto erst 2 Tage später bekamen, hat uns ihr Sohn zum Bahnhof gefahren und uns angeboten auch in das Dorf mitzunehmen. Danke nochmal dafür ! Das Haus ist riesig und der Pool ist um die Jahreszeit eine willkommende Abkühlung.
Lisa
2016-08-07T00:00:00Z
Tipus d'habitació
Casa/pis sencers
---
Tipus de propietat
Casa de camp
---
Capacitat
12
---
Dormitoris
San Luigi, Lazio, Itàlia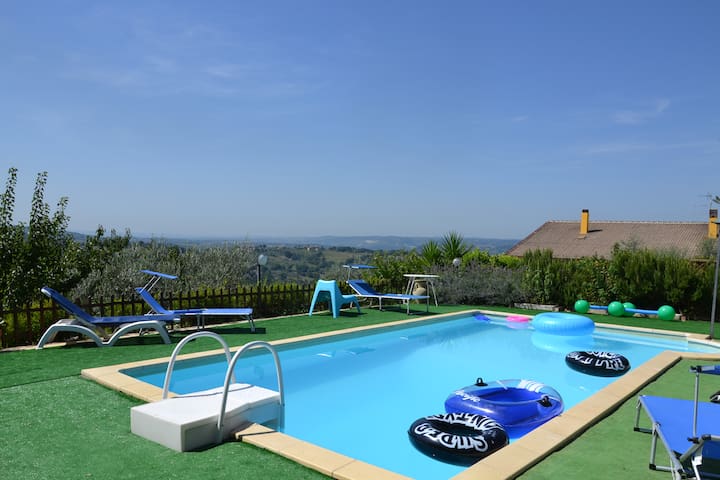 Une superbe demeure située en haut du village médiéval de Catino. La maison a été rénovée avec le soucis de préserver son caractère unique. Les matériaux et les fresques du 17é sont d'origine Une vraie vie de château vous y attend!
La maison est située en haut de Catino, superbe village médiéval entièrement piéton. On y accède par un escalier en pierre de 60 marches. De ces 3 terrasses, la maison offre une vue panoramique sur toute la région. Vous serez surpris par la beauté des fresques du 17 é siècle et le caractère unique de sa décoration. La maison peut accueillir 8 personnes. Elle est parfaite pour 2 familles par exemple. Le 1er étage se partage en 5 chambres séparées par un grand salon. Le RDC est une suite de 2 salons, une salle à manger et la cuisine.
Catino est un village plein de vie, face au Monte Sorrate, vous aurez le loisir de déguster de délicieuses glaces au café de la place du village; Le panorama y est unique!! La sabine est une région à découvrir! Riche d'une histoire médiévale méconnue, de nombreux villages, abbayes, monastères du 7é ou 8é siecle sont à visiter Nombreuses activités à proximité: Baignades dans des piscine d'eau douce, rivières, cascades et lacs Randonnées équestres au bord du Tibre Escalade, vélo… Nombreux sites architecturaux et villages médiévaux à visiter, Orvieto, Le Palais Farnese de Caprarola, la ville lacustre souterraine de Rieti, l'abbaye de Farfa datant du 7é s..(URL HIDDEN) Promenades dans la forêt et les montagnes avoisinantes
Dit is een heel speciale woning in een gebied dat vele reizigers nog links laten liggen. De woning straalt veel authenticiteit en charme uit en is een echte aanrader voor wie van oude historische woningen houdt, gelegen in het prachtig kader van typisch middeleeuws vestingstadje. Het huis heeft prachtige kamers en een mooi uitgeruste keuken met een oude haard, die je tevens als BBQ kan gebruiken. De communicatie met Eliane, die er naast woont, was fantastisch. Ze gaf ons een warme ontvangst en deed alles om ons er direct thuis te voelen. Een echte aanrader!
luc
2016-10-05T00:00:00Z
We had an incredible time at Olgiati's House. Staying here was truly a unique and beautiful experience - like staying in a museum. The countryside is beautiful and the town is very charming. We ended up spending our entire vacation relaxing and enjoying the house and village, and we were already fantasizing about our trip back next year before we left and definitely hope to return!
BJ
2016-07-13T00:00:00Z
Si vous aimez les maisons d'artistes, cette adresse est pour vous. Nous venons de passer quelques jours enchanteurs avec le sentiment que découvrir cette maison était un privilège. La maison quoique magnifique a la simplicité des belles choses et Stephanie a rédigé un petit guide très astucieux pour découvrir la région qui regorge de merveilles. Le tout, sans un touriste en vue... Une vraie plongée en Italie. Mémorable ! Merci encore de partager cette maison dont nous garderons l'adresse précieusement... A très bientôt !
Yaël
2015-04-23T00:00:00Z
Incredibly charming and unusual, our stay at the Olgiati manor was like a brief visit to the Italian Renaissance period, yet with all the conveniences of modern times, The house's location in Catino enables one to easily visit Rome, the historical town of Orvieto as well as the beautiful countryside of Umbria with its rolling hills and olive orchards. Stephanie, the owner as well as her friendly neighbors are available to give the right advice to each kind of traveller. We highly recommend it!
Mariko
2015-07-29T00:00:00Z
La demeure de Poggio Catino est une bien belle maison avec cette décoration d'époque comme en attestent les photos... Pour autant, la maison est simple et convient tout à fait à la vie de famille ! Nous avons particulièrement apprécié les petits déjeuners pris sur la terrasse face aux falaises de calcaire. Quels décors ! Admirer le ballet des aigles... Le village est charmant et les vues sur la vallée sont splendides. La région est très belle et assez peu touristique. Rome est à moins d'une heure en train, et par ailleurs la campagne alentour recèle des trésors. Merci à Stéphanie pour la mise à disposition d'un petit guide de la région qui nous a bien servi. Merci à Eliane, la gentille voisine qui est toujours ravie d'aider…
Stephanie
2015-05-04T00:00:00Z
Tipus d'habitació
Casa/pis sencers
---
Tipus de propietat
Casa
---
Capacitat
8
---
Dormitoris
Poggio Catino, Lazio, Itàlia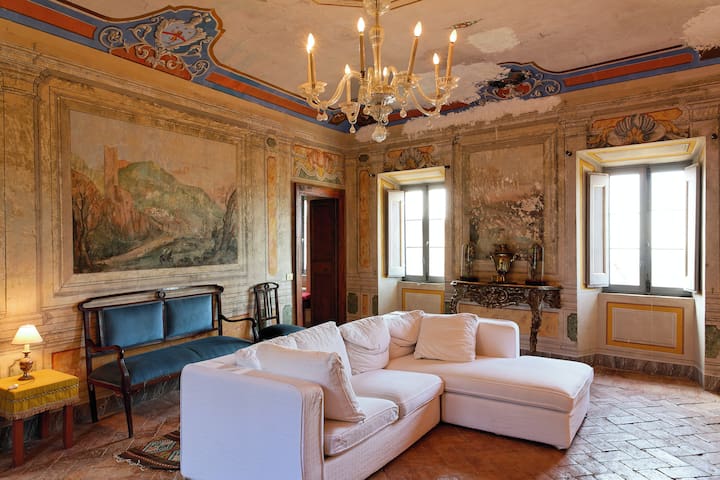 una casa grande, fatta con il cuore. Villa Ettorina offre 2 appartamenti con capienza di 4/5 posti letto cadauno, si può prendere l'intero appartamento o solo una stanza con l'uso dello spazio in comune dell'appartamento (salone, cucina, terrazza)
New apartment in a nice villa, ideally located on a hill dominating the centre of the village of Poggio Mirteto, the heart of Sabina region, which extends at 50km upnorth Rome. The house is only 5 minutes walk from the main square of the town, the place is quiet and sunny, you can enjoy your meals on the terrasse and having rest listening to the wind and the sound of trees. The SABINA area is still almost untouched by mass tourism and keeps all its untouched charm with its medioeval micro-villages and its green hills covered by olive trees. All LAZIO's attractions can be easily reached, among others: FARFA ABBEY (10 min.) ROME (45min.); BRACCIANO and BOLSENA LAKES (50min.); CASTELLI ROMANI (60min.); RIETI and THE VALLE SANTA of S. FRANCESCO D'ASSISI (60min.); Mountain TERMINILLO (60min.) DIFFERENT ACTIVITIES NEARBY: trekking; jogging; mountain biking; golf; horse-riding.... POGGIO MIRTETO and the SABINA are waiting for you to live a real countryside holidays! Don't hesitate to contact me in order to ask for further information and details. Hope to hearing from you soon! Michela
Appartement ligt aan een fraai, kronkelend straatje dat uitkomt direct op het plein van Poggio Mirteto. Mooi gelegen dus. Het appartement zelf is ruim met veel voorzieningen. In de keuken konden we prima een uitgebreide maaltijd bereiden. En eten op het ruime terras met uitzicht. De moeder van Michela ontving ons. Ze is een schat, bescheiden en vriendelijk. Ze bakte zelfs een taart voor ons! In Poggio Mirteto een paar keer goed gegeten.
Tita
2015-06-10T00:00:00Z
L'appartamnto è molto carino e pulito a due passi dal centro del paese. Michela e la madre sono state molto gentili e disponibili. L'unico svantaggio è che quando siamo stati noi stavano ancora ristrutturando le stanze quindi non c'erano tutti i confort come la tv per il resto siamo stati accolti molto bene.
cristina
2016-02-16T00:00:00Z
Tipus d'habitació
Casa/pis sencers
---
Tipus de propietat
Pis
---
Capacitat
4
---
Dormitoris
Poggio Mirteto, Lazio, Itàlia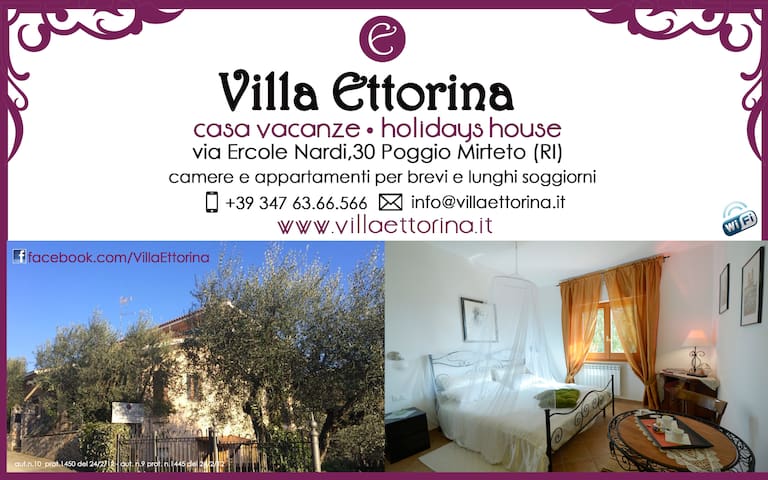 My place is close to Rome, restaurants and dining, family-friendly activities. You'll love it because of the swimming pool, the river, the green lawn, the peace, and the cicadas.
Tipus d'habitació
Casa/pis sencers
---
Tipus de propietat
Casa
---
Capacitat
10
---
Dormitoris
Montopoli di Sabina, Lazio, Itàlia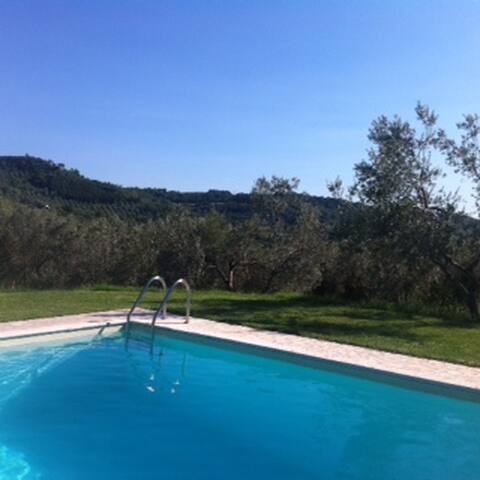 Monolocale posizionato nel mezzo di un uliveto,nella valle del Farfa, vicino a borghi medievali. Collegamenti: ferrovia Fiumicino Aereoporto-Orte,Via Salaria, A 1 Il prezzo e' riferito a persona Room with kitchenette, sofa bed, loft with two single beds, bathroom, small closet , garden. Positioned in the middle of a,, olive grove in the Farfa valley, close to medieval villages. Access: railway-Rome Fiumicino Airport -Orte, Highway Rome Florence, Highway Salaria, The price 'refers to the person
Tipus d'habitació
Casa/pis sencers
---
Tipus de propietat
Pis
---
Capacitat
4
---
Dormitoris
Montopoli di Sabina, Lazio, Itàlia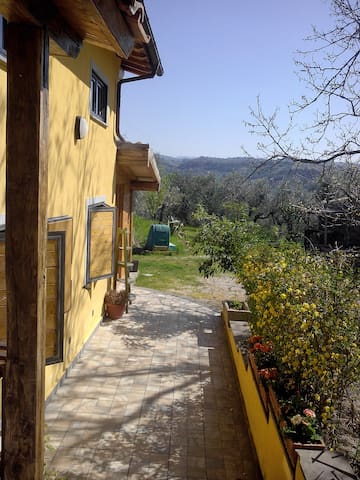 Newly renovated apartment located in an ancient building in the main square of Poggio Mirteto, that can accomodate up to 6 guests. 3 bedrooms (one with fireplace), 2 bathrooms, large living room, dining room, fully equipped kitchen. The house is in the very heart of Poggio Mirteto and has been completely renovated and furnished in February 2017. A/C in the living room, Wi-Fi, dishwasher, washing/dryer machine are provided
You will be in the very heart of Poggio Mirteto, in the main square full of bars, restaurants and shops. Rome is reachable either by car (approximately 45 minutes) or by train in 50 minutes. Thanks to the strategic position of Poggio Mirteto, you could easily reach by car most of the best spots in Lazio and Umbria: 20 min - Abbazia di Farfa 40 min - Orte 45 min - Roma 45 min - Rieti 1 h - Orvieto 1 h - Viterbo and Terme dei Papi 1h and 20m - Civita di Bagnoregio 1h and 30m - Spoleto 1h and 45m - Perugia, Assisi, Spello, Foligno
Tipus d'habitació
Casa/pis sencers
---
Tipus de propietat
Pis
---
Capacitat
6
---
Dormitoris
Poggio Mirteto, Lazio, Itàlia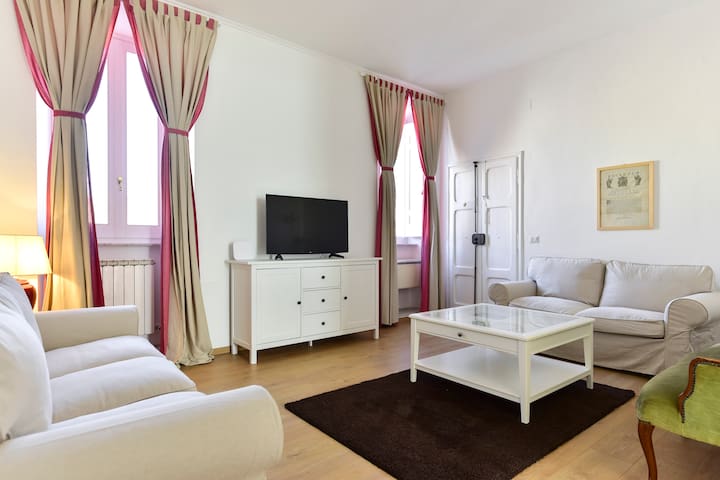 És un xalet adossat al poble al llarg de la carretera principal, que ofereix un fàcil accés en cotxe o en autobús. és una casa en 2 nivells amb amplis interiors. la cuina i el bany són completament funcionals i disposició dels hostes. Des del balcó es té una bonica vista de tota la vall de Farfa. Està ben comunicat amb el transport públic per arribar a la propera localitat de Poggio Mirteto i Roma.
És una casa amb grans habitacions netes, lluminoses i tranquil·les. totalment moblat.
És un barri tranquil i segur
Persone molto gentili e disponibili. Casa spaziosa su due livelli con ottima vista sulle colline della Sabina. Unica pecche sono gli impianti elettrici obsoleti e un po' pericolosi nel bagno (interruttore nella zona della vasca ad esempio) le reti ed i materassi di vecchissima generazione ma tutto sommato abbastanza comodi. Rapporto qualità prezzo eccellente.
stefano mario
2016-08-12T00:00:00Z
Persone cordiali e molto disponibili casa vicina al centro del paese e ai servizi essenziali ottimo punto di appoggio per chi vuole visitare Roma ...
Federico
2016-08-15T00:00:00Z
Tipus d'habitació
Casa/pis sencers
---
Tipus de propietat
Casa
---
Capacitat
5
---
Dormitoris
Montopoli di Sabina, Lazio, Itàlia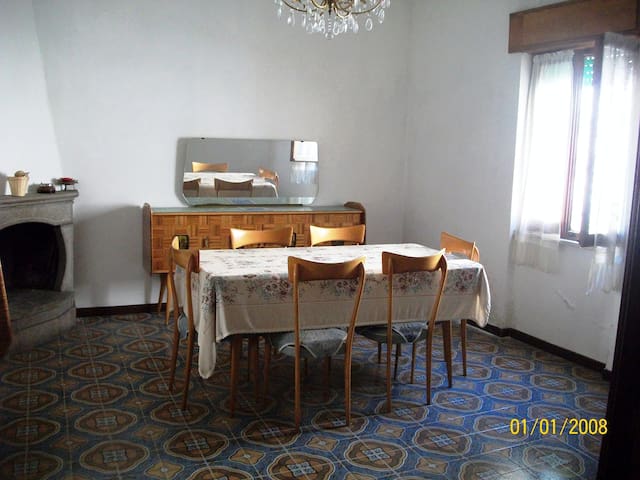 Spacious modern Villa in the Sabine Hills just 35 mins from the center of Rome by train. Hill top position, lovely views of vineyards and olive groves. Private swimming pool with pergola and teak garden furniture. Large dining loggia with fantastic views. Great location to visit Rome. Golf nearby.
A very comfortable modern villa, just 35 mins from the city centre of Rome in the ageless landscape of the Sabine Hills. Villa l'Uliveta sits on a hilltop north-east of Rome gazing at a rolling patchwork of vineyards, olive groves, field and woods that has likely not changed in centuries. Tastefully furnished and well-designed for a large group, the villa offers two living areas, both with fireplaces, that open to the garden. Terraces at three different levels offer quiet, sunny spots for contemplating the view, which is perhaps best enjoyed from one of the loungers around the private swimming pool just below the house. The villa is beautifully located for exploring the Sabine area with its lovely old villages but the fantastic advantage of this house is that there is a train running every twenty minutes in the morning that takes you into the centre of Rome in just 35 mins for just 4 Euros. To the west of Cantalupo in Sabina are the most important sites of the Etruscan civilisation; to the east is the mountainous area dotted with abbeys and monasteries founded by St. Francis of Assisi. Tennis, golf and horseback riding are all available within a few minutes' drive.
In lush farmlands at the foot of the Sabine Hills, just east of the Tiber Valley. 2.5km/1.5 miles from the village of Cantalupo in Sabina with its museum-castle and 5km/3 miles from medieval Forano. Touring options include Viterbo, 30 minutes, the gorgeous abbeys of Farfa and Vescovio and the four sanctuaries in the Valle Santa connected with St. Francis of Assisi. Tivoli and Orvieto are both reached in less than 1 hour. A day trip to Rome is made possible by a direct rail link from a small town nearby.
Tipus d'habitació
Casa/pis sencers
---
Tipus de propietat
Casa de camp
---
Capacitat
8
---
Dormitoris
Poggio Catino, Lazio, Itàlia
Ti piacerà il mio alloggio per questi motivi: la luce, la comodità del letto, i soffitti alti; si trova ai piedi della montagna del Tancia e facendo bellissime passeggiate immerso nella natura puoi incontrare reperti archeologici; la città eterna, Roma, si trova a un'ora di macchina e la puoi raggiungere anche con mezzi pubblici.. Il mio alloggio è adatto a coppie e famiglie (con bambini).
Tutto nuovissimo!!! All new: apartment and furniture.
La collina, la montagna, le anse del Tevere e Roma. Mountains, hills and arts.
La casa è completamente nuova e ristrutturata, piccola e con soluzioni molto gradevoli e ingegnose perché non manchi nulla. Sala da pranzo cucina camera da letto bagno, tutto attrezzato in maniera efficientissima (piastre a induzione, TV, scaldabagno gigante...). Si trova a poco più di 1 km da Poggio Mirteto su una collina che domina la valle, un poco sotto il monte. Grazie Angelo!
Alessandra
2017-02-13T00:00:00Z
Tipus d'habitació
Casa/pis sencers
---
Tipus de propietat
Casa
---
Capacitat
3
---
Dormitoris
San Valentino, Lazio, Itàlia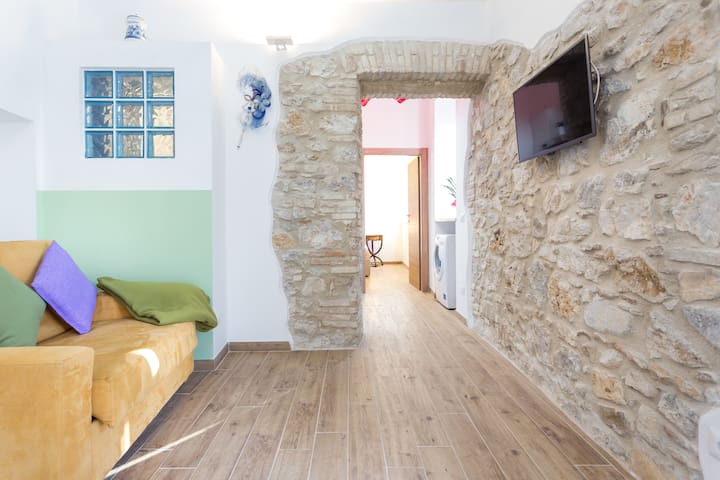 'Casa Poggio' – the house on the hill – is a serene stone farmhouse with glorious views set in 5 acres of organic olive groves and orchard, 3km from the pretty hilltop town of Poggio Mirteto. Spacious, tastefully restored, supremely comfortable. Sleeps 8 in 4 bedrooms
Casa Poggio – 'the house on the hill' – is set in a peaceful olive grove in the Sabine Hills, just 40 miles north of Rome. The views are spectacular – bedrooms face the Umbrian mountains, the living room overlooks the Tiber Valley, and from the dining terrace you can make out St Peter's on the horizon. The renovated house has thick stone walls, antique terracotta floors, chestnut beams and whitewashed walls. Furniture is simple and comfortable; reading lights good and bookshelves well stocked. Beds are super-king sized and linen luxurious; the large kitchen is equipped for serious cooks. Ideal for exploring Sabina's sleepy hilltop towns (with the excellent foodie centre of Poggio Mirteto 10 mins away), and for day-trips to Rome (45 mins by train). Orvieto, Viterbo, Spoleto, Assisi and Perugia are also within hitting distance – if you can tear yourselves away from the terrace, the endlessly compulsive views and the birdsong. This is a place to truly unwind. A new and spectacular full-size pool will be ready 1 June 2017. Come and take the first dip!
From the house you can see eight hilltop towns, all within a half hour drive. The closest is Poggio Mirteto (5 mins drive, 30 mins pleasant walk), with excellent food shops and a Friday market. An organic farm shop is a 15 minute walk from the house. Rome is 45 minutes on the train, or an hour's drive. Orvieto, Viterbo, Spoleto, Assisi and Perugia are within an hour to two hour's drive away. Summer in Sabina is a whirl of village festivals and food 'sagras' with trestle tables and live music, while the Romanesque Farfa Abbey hosts weekly concerts. Sabina's little towns give a rare glimpse of old-style Italy with their tiny butchers shops, market days and cobbled alleyways. For isolated walking, the Monti Sabini mountain range which flanks the house is stunning, with some hearty eating opportunities. A 20 minute drive will take you up to the start of many hiking trails. You can also rent bikes, indulge in discounted designer shopping, swim in thermal pools or wade down the Farfa river shallows. We provide detailed notes on the area, including restaurant suggestions. Local town Poggio Mirteto (5 mins away) has banks, pharmacy, supermarket, police station and restaurants.
Tipus d'habitació
Casa/pis sencers
---
Tipus de propietat
Casa de camp
---
Capacitat
8
---
Dormitoris
San Luigi, Lazio, Itàlia
A pochi chilometri da Roma, contornati dalla storia e dalla natura, a 900 metri dal paese di Poggio Mirteto, in un'ala di un antico casale, si trova il nostro appartamentino.
C'è una bellissima veduta panoramica del paese antico e si è immersi nella natura. L'appartamento è a piano terra, ha un parcheggio davanti all'entrata, nel cortile interno. L'antico casale di cui fa parte appartiene da diverse generazioni ai proprietari. L'appartamento è fornito di: una camera da letto con bagno privato munito di vasca, salottino con zona pranzo e angolo cottura e un bagno con doccia. Il casale è occupato dai proprietari che vi risiedono. Tutto intorno vi è un giardino da poter condividere con i proprietari.
Pur essendo immersi nel verde, volendo, si può raggiungere con poco il centro abitato. I padroni di casa abitano nell'edificio ed in caso di necessità sono a disposizione degli ospiti.
Tipus d'habitació
Casa/pis sencers
---
Tipus de propietat
Casa
---
Capacitat
3
---
Dormitoris
Poggio Mirteto, Lazio, Itàlia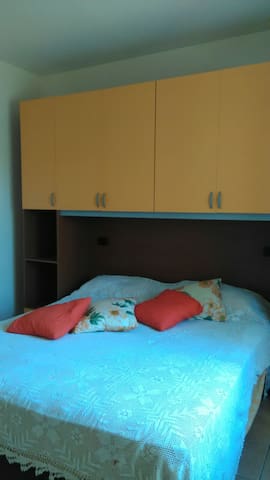 (URL HIDDEN) Casaletto Country House is the perfect mix of nature and history, between colors and harmony between freshness and relaxation. The house, nestled in the Sabine olive groves, retains all the typical features of the home of a time.
Visit (URL HIDDEN) page
Siamo stati 3 giorni al Casaletto ed è stato un'esperienza fantastica. Il posto è incantevole, curato nei minimi dettagli ed Edoardo è davvero disponibile e cortese. Perfetto per chi ha un cane e vuole passare alcuni giorni nella tranquillità più assoluta. Super consigliato.
Daniel
2016-07-04T00:00:00Z
Se vuoi vivere una favola o un sogno vi consiglio di andarci casa curata e bella in ogni singolo dettaglio Edoardo e suo fratello educati e disponibili passato un natale meraviglioso in un luogo meraviglioso ci ritornerò molto volentieri
Paolo
2015-12-28T00:00:00Z
Tipus d'habitació
Casa/pis sencers
---
Tipus de propietat
Casa
---
Capacitat
5
---
Dormitoris
Poggio Mirteto, Lazio, Itàlia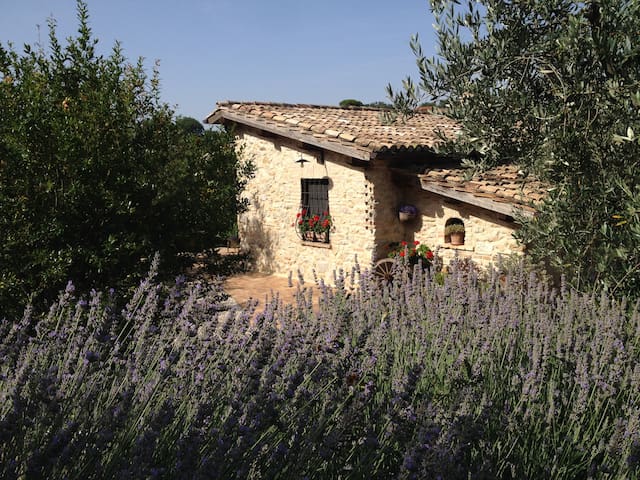 Villa in the beautiful Sabina area, just outside Rome. Modern villa with breathtaking views from a mountainside overlooking picturesque hills, villages, olive groves, and Rome - only 1 hour away by car and train. Perfect for a relaxing retreat, or use as a base to explore Rome, the Sabine Hills, Lazio and Umbria. The villa is surrounded by forest and enjoys total peace, quiet and privacy. Great for couples but spacious enough to accommodate up to 5 people + 2 more on a comfy sofabed
WELCOME TO VILLA DEGLI ARMENI A unique holiday rental in the Sabine Hills, near Rome. WHY CHOOSE OUR VILLA? ONE WORD: LOCATION! The views are, literally, breathtaking: perched 500m up on the side of the mountain commanding views across the picturesque rolling hills of the Sabina, distant mountains, the Tiber Valley and on to Rome itself, on a clear day you can see the Dome of St. Peter's on the horizon. The villa is surrounded by forest and enjoys total peace, quiet and privacy. The villa and grounds are for the exclusive use of our guests and are not overlooked by neighbours. It's hard to believe all this is just a little over one hour from the hustle and bustle of Rome, but by choosing Villa degli Armeni you get the best of both worlds. A UNIQUE HOME The villa itself was built in the 1960s and retains many original mid century features like the stone fireplace, lofty gabled ceilings, arches and ironwork. There's an abundance of windows to let in natural light and to look out on the forest and spectacular views. The villa is full of art and other objects we've collected over the years, we like our guests to feel they are in a real home with its own character and history. SPREAD OUT AND RELAX It's a spacious house capable of hosting a larger party of family or friends as well as being a great relaxing retreat for a couple. Plenty of space means that everyone can find their own private spot, or get together in larger groups for a leisurely meal or chat. The large living and dining room is a cool and comfortable retreat in the summer and the cosy heart of the house in the cooler months, with its stone fireplace. Connected to the living room by double doors is another sitting room and studio, the sofa in here folds out to provide a small double bed if needed. OUTSIDE SPACES A variety of outdoor areas around the villa means you'll always find a sunny spot for sunbathing, or a shady spot for reading, somewhere. Outside on the porch and balcony you'll find tables and chairs for al fresco dining, deckchairs, a sofa and lounger. Below the house is a grassy area bordering on the forest with another large table. POOL In the summer months (usually mid June to mid September) we put up the frame pool, it's over 4.5 metres across and 80 cm deep and while hardly olympic size it's perfect for kids to splash in or for a leisurely float as you contemplate the infinite blue of an Italian sky. BEDROOMS WITH A VIEW There are two large double bedrooms: the one at the front has three arched windows with incredible views to wake up to. The second double bedroom looks out onto the tree canopy and has it's own ensuite bathroom (with bath) and terrace, it can be set up with a double bed or two singles. In between is a smaller room with 1 single bed, also opening onto the terrace, and another bathroom with a shower. All rooms except the small bedroom have ceiling fans, there is no need for air con. GET COOKING The spacious kitchen is equipped with dishwasher, microwave, fridge freezer and state of the art oven, granite worktops, small table and everything you'll need to cook with.
LOCAL AMENITIES The village of Poggio Catino is 5 minutes drive away, where there is a village shop for staples, a pharmacy, a butcher's shop and, perhaps most importantly, a bar with excellent gelato and outdoor tables to enjoy the view. Supermarkets, other shops and a busy weekly market can be found at Poggio Mirteto, 15 minutes drive away. RESTAURANTS The area is well served with restaurants of all kinds, during your stay you should definitely head further up the mountain to Cisterna where they prepare simple food served at tables under the trees. Also very close is the restaurant Ortobio which is rapidly gaining and excellent reputation for creative cooking using fresh organic ingredients they grow themselves. GETTING INTO ROME 20 minutes drive away is the train station of Poggio Mirteto Scalo. From here trains go regularly into the centre of Rome, a journey of 50 minutes. If you want to visit Rome city centre taking the train means you'll avoid traffic and parking problems. The same train will take you all the way to Fiumicino Airport, passing Tiburtina (metro connection), Ostiense (Rome pyramid area) and Trastevere, the Rome nightlife centre (change train here for the Vatican). LOCAL ATTRACTIONS Close to home you can enjoy a number of paths through the forest and picnic areas, don't miss the secluded hermit's cave Grotta di San Michele. The surrounding area of Sabina is pretty in the extreme, with its rolling hills, woodlands, hilltop villages and olive groves. Two of the prettiest local villages, Casperia and Roccantica are about 15 minutes away but there are many more to explore. In the summer months local villages all hold festivals with music, dancing and most importantly food and wine! Other local sites not to miss include the Farfa Abbey, the Romanesque cathedral at Vescovio, the Tevere Nature Reserve and the Soratte Nature Reserve. DAY TRIPS We've already mentioned that Rome is only an hour or so away. At about the same distance you'll find the picturesque city of Rieti and it's surrounding Franciscan monasteries, Mount Terminillo (skiing!), Viterbo, Orvieto, Terni, Narni, the baroque Monster Gardens of Bomarzo, the Marmora Falls, Tivoli (Villa D'Este and Hadrian's Villa) or, for a complete change of pace, Rainbow Magicland, one of Italy's leading theme parks.
Zeit zum Entspannen.... Wir verbrachten 7 erholsame Tage im Hinterland von Rom. Das Haus ist sehr grosszügig mit 3 Schlafzimmern, 2 Bädern einer vollausgestatteten Küche und mehreren Terrassen. Die Einrichtung ist sehr geschmackvoll, neben vielen Büchern sind auch Brettspiele für Kinder vorhanden. In der Küche gibt es alles was zum Kochen und Backen gebraucht wird. Wir haben uns hier rundum wohl gefühlt. Insbesondere die Lage mit einem tollen Panorama war beeindruckend. Es gibt weder Verkehrslärm noch laute Nachbarn! Kate ist eine sehr gute Gastgeberin immer hilfsbereit auch Tips zu Ausflügen und Sehenswürdigenkeiten hat stets vorrätig. Wir können einen Aufenthalt bei Ihr ausdrücklich empfehlen.
Andre
2016-03-31T00:00:00Z
Très belle maison à la vue imprenable sur toute la région. Des merveilles à visiter tout autour. La petite piscine est bien agréable pour se délasser après une journée bien chaude.
Yaël
2015-08-13T00:00:00Z
The VIEW is incredible! We stayed for one night and ate and drank Italian wine on the terrace and watched the sunset. A magical experience!!! Best villa view we have every seen. Master bedroom has the beautiful views too!
LJ and Tom
2016-06-08T00:00:00Z
Abbiamo soggiornato,purtroppo,solamente una notte.mai stato in una pace simile!la casa è avvolta dal bosco ma dalla veranda si ha una veduta stupefacente su tutto il reatino.gli interni sono favolosi e molto curati,la casa è molto accogliente e ben organizzata...sicuramente torneró.
Alessio
2015-09-13T00:00:00Z
Tipus d'habitació
Casa/pis sencers
---
Tipus de propietat
Casa de camp
---
Capacitat
5
---
Dormitoris
Poggio Catino, RI, Itàlia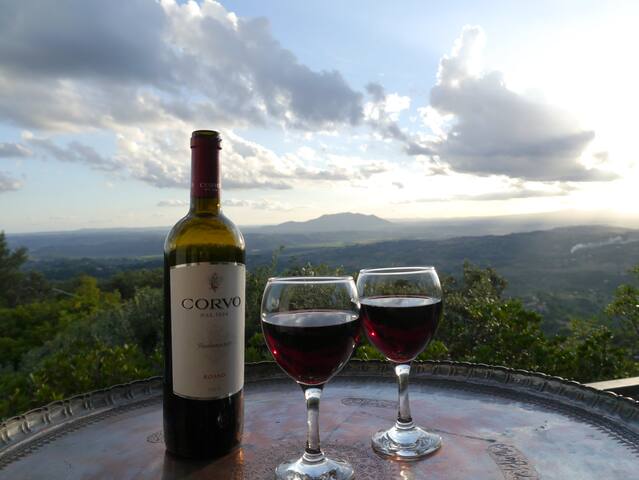 Ferruti - Airbnb
:
Mitjana de

4.5

estrelles sobre

5

a partir de

112

avaluacions d'hostes