Décor tranquille ambiance très douce et naturelle. Appartement équipe et grand . Proche de porte de namur et flagey cette chambre est très bien placée pour la possibilité davoir des commerçants proches et des bars . C'est un lei de vie convivial et à proximité du centre. Nous proposons la chambre tout ce mois d'avril. A 150 euros la semaine.
The room was clean and comfortable...And very conveniently located. The hosts were very kind and considerate.
Amanda
2017-04-02T00:00:00Z
This place was exactly as pictured. Close to the city center and very nice. Would stay here again
Brittany
2017-04-07T00:00:00Z
The host canceled this reservation 10 days before arrival. This is an automated posting.
Sun-Dong
2017-04-01T00:00:00Z
She is very nice and helpful And the apartment is close to restaurants and shops
Nikolas
2017-04-03T00:00:00Z
Super séjour, l'appart est bien situé et les filles très sympa !
Victor
2017-04-06T00:00:00Z
The host canceled this reservation 12 days before arrival. This is an automated posting.
Caroline
2017-04-01T00:00:00Z
Tipus d'habitació
Habitació privada
---
Tipus de propietat
Pis
---
Capacitat
2
---
Dormitoris
Elsene, Brussels Hoofdstedelijk Gewest, Bèlgica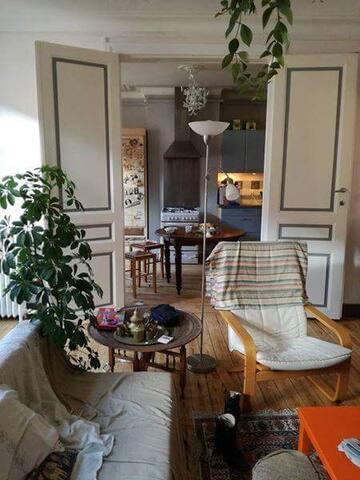 Spacious apartment next to place Jourdan and EU institutions. Two bedrooms - 1 with a double bed and the other one with a sofa bed. Big living room with a huge garden, kitchen and bathroom! I live here myself but rent it out occasionally! Enjoy my place! :)
Huge living room with a 80 square meter garden with a grill!
Place Jourdan has many great places - bars and restaurants! On Thursday evenings you can go for a drink in place du Luxembourg (5 minute walk). Other interesting areas around - Matongé (African restaurants and bars ) or Place St Boniface ( various restaurants ) - both about 10 minutes walk . You can get to the historic centre by metro from Maalbeek or Schuman and get off at Gare Centrale or De Brouckere stations.
The apartment is great and has everything you need. Triin was very helpful from the begining, even before we arrived solving some doubts we had about the city. The location is good, not too far from the city center. A goog choice if you are travelling to Brussels!!
Jon
2016-05-10T00:00:00Z
We really enjoyed our stay in Triins apartment, it is spacious, neat and tidy, and situated in a very quiet area. Would definitely stay there again :)
Brynjar Fredus
2016-11-20T00:00:00Z
I arrived late and found the instructions to be quite easy and straightforward. Nice secure entrance. Fantastic living space with patio and garden area out back. Only wish I could have stayed over a weekend to enjoy it more. Very well located.
Dennis
2016-10-12T00:00:00Z
An absolutely amazing apartment, with a very friendly and communicative host. If I ever have the pleasure of visiting Brussels in the future, I would not hesitate to book Triin's place immediately.
Paavo
2016-02-27T00:00:00Z
Appartement très propre bien équipe et avec un adorable jardin dans quartier tres sympa L hôte est tres prévenant et généreux Je recommande tres vivement
michel
2016-06-04T00:00:00Z
The flat looked exactly as per the pictures, if not even better. It's bright, decorated with taste, and with a lovely, quite big (for Brussels) private garden with a view of the common building's garden. 2 mins away from a large public parc, super markets, restaurants, etc. 1 min away from a kids' play ground and 30 sec' away from the Sciences museum. I really loved it. The street is very quiet (it's a small dead end streed) so the bedrooms were calm despite their location (ground floor with windows on the street). The best part of this flat definitely is the bright livingroom / kitchen / garden aisle. Triin was very reactive and proactive, and hyper flexible in terms of key arrangements. I definitely recommend.
Charline
2016-07-21T00:00:00Z
Triin was great! She organized everything very well, and made sure we could get into the apartment at any time, since we weren't sure when we would be able to come over. She was very welcoming, and it was a shame we could only talk over the airbnb chat due to our busy schedule. As for the house - it looks fantastic and the terrace is really big. I would say it's even better than the pictures! I can definitely recommend Triin to anybody, and in fact I hope to return to this lovely apartment in a few weeks.
Steef
2016-04-25T00:00:00Z
tres bel appartement situé pres de la maison Antoine (meilleures frites du monde) et d'un carrefour market. tres agreable quelque soit le temps. belle terrasse
patrice
2017-02-24T00:00:00Z
Tipus d'habitació
Casa/pis sencers
---
Tipus de propietat
Pis
---
Capacitat
4
---
Dormitoris
Bruxelles, Bruxelles, Bèlgica
Lovely recent one bedroom appartment in Ixelles, in a lively student neighborhood. Well-connected, close to VUB and ULB, to parks, restaurants and bars. Washing machine and dryer available.
Tipus d'habitació
Casa/pis sencers
---
Tipus de propietat
Pis
---
Capacitat
2
---
Dormitoris
Ixelles, Bruxelles, Bèlgica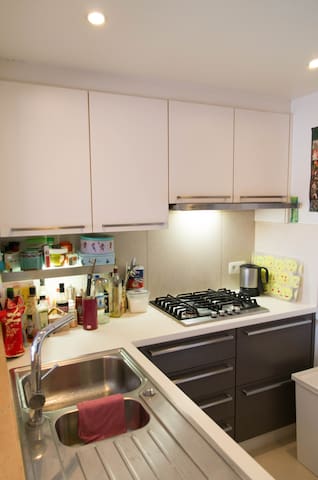 In the lively, historic and lovely area of Flagey there is a cosy room waiting for you! The house is a century old but it's nicely renovated: luminous and spacious bathroom, balcony, great view, wooden fire in the living room and open kitchen :)
People usually find the place to be peaceful, full of light and warm... :). The room is ideal for two persons but it can fit up to 4 (it's crowded but very cheap then :).
People who don't know Brussels stay in the center. People who know Brussels' hidden treasure stay in the Flagey area :). It's known by youngsters for its lively bars, restaurants, cinema, concert place and by the families for its weekend open market, the lake, the beautiful abbey and Art Nouveau houses...
Très bon accueil de Martin. Le rendez-vous a eu lieu à l'heure déterminée et l'appartement correspond tout à fait à la description faite sur le site. Appartement bien placé à Ixelles.
Duval
2015-10-24T00:00:00Z
Il posto di Martin è molto bello, come descritto da airbnb. Ci siamo sentiti a casa. Martin è stato molto gentile e preparato. Sicuramente ci ritornerei.
Cezar Gabriel
2016-11-19T00:00:00Z
Super séjour chez Martin, appartement très spacieux, lumineux, aménagé avec goût. La chambre sous les toits est idéale pour les grasses mat'. Merci à Martin pour les conseils sur la ville!
Justine
2015-03-09T00:00:00Z
Merci pour toutes les informations fournies en amont. La chambre est cool. Le matelas chauffé encore mieux. La douche est cool. Pour ceux qui ne sont pas très à l'aise pour grimper à une échelle, réfléchissez deux fois. Martin a été très dispos et m'a très bien accueilli.
Benoit
2016-02-19T00:00:00Z
The room is very cute and spacious. It's very nice place and nice bedroom under the roof. Martin is very nice host.
Phannee
2016-10-06T00:00:00Z
I would recommend staying here with Martin. He is very friendly and always willing to give advice on the area, or for my case, where to visit in and round Belgium. Even though I did not get to see him much during my stay I enjoyed meeting him. In regards to the house, it is very well presented and full of character. It is in a very nice location within the chic area of Ixelles, with easy access to he city center and everywhere else.
Rob
2016-04-02T00:00:00Z
Awesome place to stay! Not only nice and comfortable but also offered by a great host. Highly recommended!
Johann
2016-04-28T00:00:00Z
Thanks Martin. Lovely stay in Brussels.
Maxime
2015-03-16T00:00:00Z
Tipus d'habitació
Habitació privada
---
Tipus de propietat
Pis
---
Capacitat
4
---
Dormitoris
Ixelles, Bruxelles, Bèlgica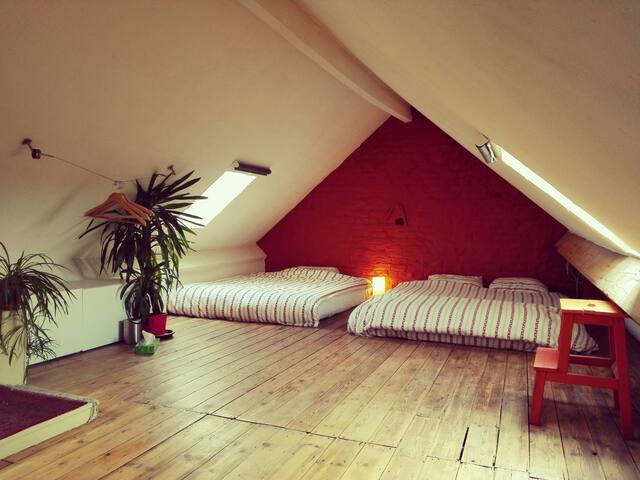 L'apartament està situat a 3 minuts del Parlament Europeu i de l'estació de Trône, es pot anar a totes les seves activitats parlmentary o turístics en menys de 25 minuts a peu Berlaymont, Stéphanie, Louise, Flagey en 10 minuts - Parvis de St Gilles, Grand Place, de fusta de la Cambre en 25min La Place de Londres / Sant Bonifaci; Ofereix molts restaurants, bars, cafeteries, bars per a tots els gustos i preus.
Apartament al 2n pis cozzy amb el seu gat molt amable
A 5 minuts a peu del Parlament i el metro de Trône
La estadia en lo de claire estuvo muy bien. El apartamento es muy amplio y comodo. El dormitorio es realmente lindo. Ella es muy amable asi que estoy agradecido.
Juan Manuel
2016-08-08T00:00:00Z
el portal está lleno de mierda y papeles, el ascensor no tiene luz. Al entrar me recibe claire que me muestra el salon, baño y habitacion. No me dejo usar la cocina y me dio un vaso sucio para que lo llenara en el baño. Hay partes de la casa sin luz. En la habitacion las paredes estan sucias, las cortinas rotas, el lateral de la cama muy sucio al igual que el interruptor. Intente contactar con airbnb pero no fue posible el mismo dia, tuve que estar alli y me puse malo de la tripa. He hecho fotos y contactare con airbnb por que sea o no mejor una casa tiene que estar siempre limpia. Claire no estaba nunca en casa, era imposible hablar con ella. El wifi en la habitacion no funciona. El salon esta sucio y lleno de pelos de gato sin limpiar de mucho tiempo. El suelo de madera esta sucio y roto en la casa. No volveria nunca. No puedo calificar a claire por que no hablamos ni 5 minutos.
David
2016-07-20T00:00:00Z
I only stayed one night at Claire, but everything was nice. her apartment it's clean and cosy. thank you!
Costina
2016-10-26T00:00:00Z
A good place to stay for a few days, especially if you are travelling solo. Clean and quiet room and bathroom. And a very nice hostess. If I go to Brussels once more, I'll try to stay in the same place.
Agnieszka
2016-05-24T00:00:00Z
I can recommend Claire as a nice and friendly host. The room has a comfortable bed. It was functional and I haven't missed anything during my short stay. Thumbs up.
Stefan
2016-10-27T00:00:00Z
I had a good stay at Claire's apartment. Location is perfect, apartment is really clean... Everything was as it was described. I totally recomend her apartement to stay in Brussels.
Serge
2016-07-12T00:00:00Z
Everything was as described. Very welcoming and peaceful. The small cat in the house is incredibly adorable.
Cristian
2016-06-17T00:00:00Z
The host canceled this reservation 14 days before arrival. This is an automated posting.
Beniamino
2016-04-01T00:00:00Z
Tipus d'habitació
Habitació privada
---
Tipus de propietat
Pis
---
Capacitat
1
---
Dormitoris
Ixelles, Bruxelles, Bèlgica
This is a very bright and spacious spot to visit downtown Brussels located between Flagey Square and Avenue Louise.
Voici un bel appartement récemment remis à neuf par mes soins un peu décoré un peu créatif, dans une maison de maître à Ixelles, quartier très animé, commerces à proximité, tout près de l'avenue Louise, de la Place Flagey et non loin du centre ville. Cuisine, salle de bain, chambres et living-room et terrasse privatives. Aussi le booking comprend des cafés Nespresso, jus de fruit frais, ... pour vous et votre compagnon de voyage! N'hésitez pas à me contacter si vous avez des questions ou si vous besoin de quelque chose je vis non loin de là ! Sympathique et animé quartier avec commerces, supermarché, bars, banque et poste sont situé à proximité. Metro : Porte de Namur (ligne 2 et 6) Tram : Bailli (81, 83, 93 et 94) Bus: Fernand Cocq (71) Train/ Gare de Bruxelles-Midi (2 km) METRO / Porte de Namur (1,2km) Stations de tramway/ Bailli (400 km) Bus/ Fernand Cocq (350 km) Bike-sharing (Villó) (350 km) . On trouve facilement un parking dans la rue mais celui-ci est payant et sinon parking privé payant à 50 m. De(s) l'aéroport(s), vous trouverez des liens directs (bus et trains) vers Bruxelles-Midi toutes les 30 minutes. La gare de Bruxelles-Midi est à 20 minutes en transport publique. Le tram 81 et 83 vous permettent d'arrivé directement sur place. Rappel, l'appartement est au premier étage.
Nice, lively and safe neighborhood where supermarket, shops, post, bars, bank are close.
Antoine was a grear host! Very friendly, easy to reach and always helpful. The apartment is nice, the area peaceful but well connected. And near the trendy Place Flagey. Highly recommended!
Anu
2017-03-05T00:00:00Z
Very comfortable Flat
Leopold
2017-01-19T00:00:00Z
El piso es mejor que en las fotos, es muy agradable, mucho espacio y muy cómodo. Tiene paradas de autobús muy cerca. 100 % recomendado para pasar unos días en Bruselas, sin ninguna duda me volvería a quedar.
David
2017-01-07T00:00:00Z
Logement spacieux propre et très agréable dans un quartier très vivant avec tout à proximité. Je recommande sans hésiter et en plus Antoine et sa voisine sont super sympa !!!
Marina
2017-01-22T00:00:00Z
Although I did not meet Antoine during my stay, his apartment was everything and more than I was looking for. The photos do not do it justice, everything about the place was great! The apartment is round the corner from a supermarket and some good bars and restaurants. Although I walked everywhere there is a bus stop opposite the supermarket and the metro is not too far away either. I would 100% stay in Antoine's apartment again and would recommend the same to anybody else looking to spend some time in Brussels!
Jonathan
2015-07-05T00:00:00Z
Super séjour, un appartement génial, bien situé, lumineux et très agréable. Je recommande. Merci encore pour votre accueille et bonne année !
Mathilde
2015-01-01T00:00:00Z
Tout s'est bien passé, c'était très agréable d'avoir des oranges pour un jus de fruit frais le matin. Antoine est très sympathique. L'appartement est bien situé proche du centre ville et du fritkot de la place Flagey.
Gilles
2014-12-25T00:00:00Z
Un bon séjour. On passera sur le côté tête en l'air d'Antoine qui peut faire sourire (ou pas). Hormis ça, un endroit simple et agréable avec le charme d'un appartement bruxellois.
Thomas
2015-05-17T00:00:00Z
Tipus d'habitació
Casa/pis sencers
---
Tipus de propietat
Pis
---
Capacitat
4
---
Dormitoris
Ixelles, Bruxelles, Bèlgica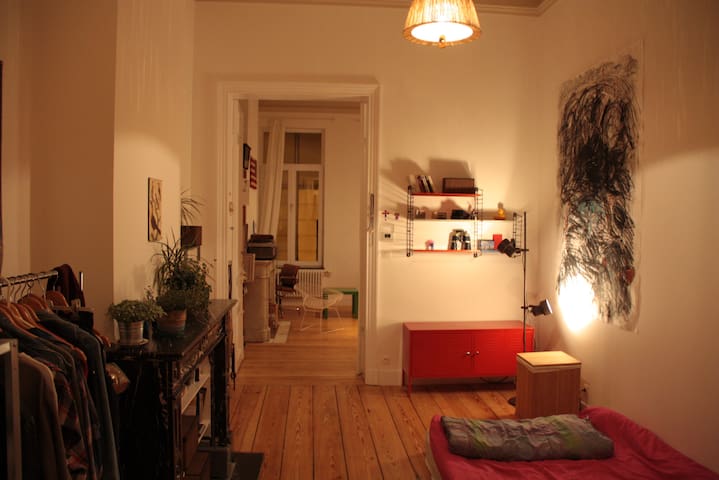 Grand appartement familial dans le quartier animé de la place Eugène Flagey. Spacieux et convivial, il s'adapte facilement aux couples ou à une famille. Vous apprécierez le jardin, l'espace à la fois pratique, moderne et chaleureux, décoré de pièces uniques glanés lors de nos différents voyages. Le quartier propose nombreux restaurants, bars, lieux de concerts et de sorties (Belga, Marni, Studio4), et se situe tout près des beaux espaces naturels des étangs d'Ixelles et du Bois de la Cambre.
The place to be ;) Quartier animé avec de nombreux endroits pour sortir: salles de concerts, restaurants, bars et bois de la cambre aux lacs d'Ixelles.
We had some great days at the apartment. It´s great! So much space and a great family atmosphere. Good communication with the hosts and easy going key delivery. Thanks a lot!
Mirjam
2017-03-04T00:00:00Z
The house is amazing, the neighbourhood is great and you can easily go everywhere from there.
Alexandra
2017-02-27T00:00:00Z
Tipus d'habitació
Casa/pis sencers
---
Tipus de propietat
Pis
---
Capacitat
7
---
Dormitoris
Ixelles, Bruxelles, Bèlgica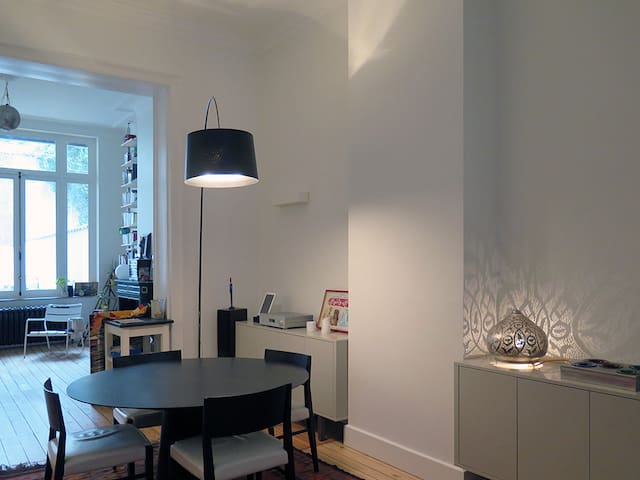 Nice renovated apartment located 10 minutes walk from : - Place Jordan - Schumann square and the EU Parliament - The wonderful park of cinquantenaire The apartment include : - 1 bed room with a double bed - 1 shower and toilet - kitchen and Salon - Wii-fii - Laundry room (to share with 3 other apartments - no coins needed but your own laundry products). Marclo, (handyman), will be happy to welcome you upon your arrival, assiste you during your stay. Saar will book and answer.
The apartment is fully renovated. It is located on the -1 floor where you have a window on the street side, but it is a very calme and residential neighborhood.
Place Jourdan is a vivid square next to the EU Parliament. You can find there many coffee shops, bakery, supermarket, restaurants and of course the famous "Maison Antoine" - one of the most famous Belgian frises stand in all of Brussels. Schumann square is the Heart of Europe with all the European institutions, where you have next to it the wonderful park of cinquantenaire.
The apartment has a good location, it's near the cincuentenaire park, around 5 minutes walking from subway. I think that the apartment is good and have everything you need to be a few days in Brussels. The pictures of the apartment aren't the same to the real apartment, it's similar but it is not like the reality.
Christian
2016-12-13T00:00:00Z
Great place, good value for money!
Yvonne
2016-12-23T00:00:00Z
A pesar de ser un apartamento muy pequeño, es muy acogedor y sencillo, recomendable para aquellos que tengan la idea únicamente de estar en él para cenar y dormir. No hemos tenido ningun problema, todo limpio y una buena atención al llegar
Lydia
2017-02-04T00:00:00Z
Saar очень помог нам, когда мы поздно прилетели и не знали как добраться до апартаментов, он все точно нам объяснил, вплоть до времени последнего трамвая)) Квартира вполне хорошая, все самое необходимое есть, довольно таки чисто, нам не повезло только с тарелками))) их пришлось перемывать) проездные мы купили сразу, поэтому проблемы добраться до центра и прочих мест не было. Супермаркет в 10 минутах, остановка трамвая в 3 минутах. Район спокойный, тихий.
Elena
2017-01-06T00:00:00Z
The place is good if you are traveling for 2-3 days. Beds are super comfortable, the kitchen and bathroom are well cleaned and spacious. The only bad thing I can say and it's very common in this kind of buildings is that sometimes you can hear everything from the neighbors...or smell the food they are cooking hahaha. But we only went for sleeping which was great to be honest. There's too much activities around the city to stay at home!! Marcelo and Saar were very kind :) thank you!!
Danie
2017-01-16T00:00:00Z
Logement simple, en sous sol donc pas très lumineux. Nous n'avons pas été accueillis par l'hôte mais celui ci nous avait bien expliquer toutes les choses à savoir. Logement bien placé pour découvrir le centre ville de Bruxelles. Les produits de base ne sont' pas bien nombreux et nous avions qu'une serviette pour deux. Bon rapport qualité prix.
Sarah
2017-01-01T00:00:00Z
A pleasant basement flat close to Place Jourdan and La Chasse. Suited me perfectly for my short stay and was useful to have the kitchenette too.
Kate
2017-03-30T00:00:00Z
.
Quique
2017-02-20T00:00:00Z
Tipus d'habitació
Casa/pis sencers
---
Tipus de propietat
Pis
---
Capacitat
2
---
Dormitoris
Etterbeek, Bruxelles, Bèlgica
Furnished studio, great location next to European institutions, park Cinquantenaire, metro Merode, shopping Tongre. Washing machine, TV, microwave, armored door, alarm, WiFi, terrace.
Julia's place is adorable, clean, comfortable, near to the shops and restaurants, and about a few min away from Merode station. It is a really conviennent place that I really recommend . Julia was very welcoming and friendly. She hasn't hesitated to provide me with some extra items that i needed for my stay at the studio.
Emily
2015-11-10T00:00:00Z
My mother staied 1 month in Julia s place, everything was perfect. Clean and comfortable Julia was very nice
Federica
2016-04-01T00:00:00Z
Excellent host. Very kind and friendly. Studio quite spacious.
Nikolaos
2016-09-08T00:00:00Z
Everything was perfect! Julia was friendly and nice to us. the house is really beautiful and is located at a strategic point to reach all parts of Bruxelles. The House,Also, is very clean e and there was everything you need. I recommend this house to all for a wonderful trip to Brussels.
Valerio
2017-03-27T00:00:00Z
La casa es perfecta para pasar unos días de vacaciones en Bruselas. El barrio es muy tranquilo, con supermercados y cervecerias, a 15 minutos en metro del pleno centro, y a 5 minutos andando de los edificios europeos. Tuvimos problemas con el vuelo y Julia mantuvo en todo momento comunicacion con nosotros para adaptarse a ello. Recomendable sin duda!!!
Sergio
2017-03-14T00:00:00Z
Great location. Nice, clean, cosy flat, with everything I needed for my stay in Brussels. Julia was super flexible about check-in and check-out (much appreciated).
Ketty
2016-02-08T00:00:00Z
It was nice to stay at Julia's studio. We had a great time. The studio is reaaly clean and big. It was nice to have breakfast on the balcony ;). Moreover, Julia is a really nice person!
Roselyne
2016-09-10T00:00:00Z
I had a wonderful stay at Julia's place. It is comfortable and the location is perfect for commuting to the city. Julia is a fantastic host. She is very friendly, helpful, and quick to respond. Highly recommended!
Sunai
2016-06-13T00:00:00Z
Tipus d'habitació
Casa/pis sencers
---
Tipus de propietat
Pis
---
Capacitat
4
---
Dormitoris
Etterbeek, Bruxelles, Bèlgica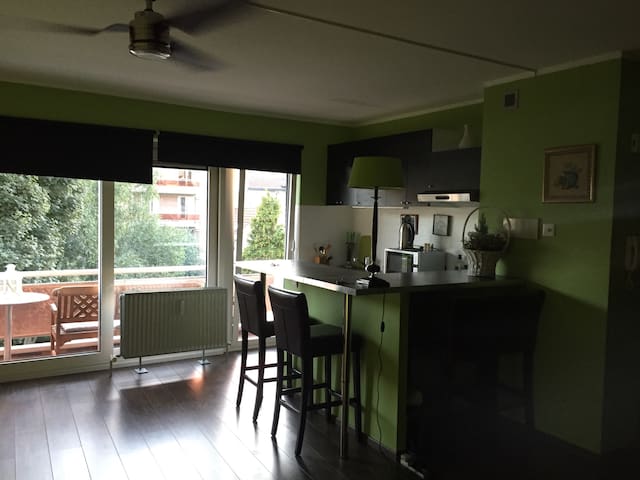 THE APT IS MODERN AND IDEALLY LOCATED IN BRUSSELS: BETWEEN FLAGEY SQUARE LOUISE AVENUE AND FERNAND COQ The apt has been fully renovated with new kitchen and bathroom. THE AREA: Ixelles is one of the nicest districts of Brussels - The area features excellent restaurants, bars, shops, supermarkets, café belga, etc. - Place Flagey and the ponds are down the street and avenue Louise is up the street. Easy access to all public transportation Happy to provide recommendations
L'appartement a été complètement rénové avec une nouvelle cuisine et une nouvelle salle de bain - Salle de séjour : salon et salle à manger, contient une table à manger, un sofa qui peut se transformer en lit double. - Cuisine équipée: toutes les machines sont nouvelles (lave-vaisselle, four, cuisinière, large frigo et freezer, machine à café et toaster. - Grande chambre: lit double Deuxième étage: - Salle de bain, baignoire, évier et toilette - Petite chambre contenant 2 lits simples - Wi-fi
Ixelles est un des quartiers les plus vivants de Bruxelles. -Pour les amoureux de la nature, les étangs d'Ixelles et le bois de la cambre sont à deux pas de l'appartement. Parfait pour une promenade ou un jogging -Le quartier est plein de bar, restaurants ou magasins en tous genres. -Musée, théâtres ou cinémas sont accessibles en quelques minutes à pied
L'appartement est situé dans un quartier très agréable, avec des commerces non loin, et de quoi sortir le soir pour manger, boire un verre, sans retourner vers le centre de Bruxelles. L'appartement était propre, lumineux. Nous étions 6 à l'occuper. Les lits à l'étage semblent être plutôt fait pour des enfants que des adultes... le confort s'en ressentait. Seuls petits bémols : n'ayant pas de volets dans le salon, le couchage dans le canapé est fait pour les lève-tôt (ou prévoyez des masques!) et l'escalier est raide, il faut être vigilant en le descendant.
Sabine
2017-03-26T00:00:00Z
C'est le collègue d'Isaac qui m'a accueilli et il était très sympathique. L'appartement était propre et fidèle aux photos. Il se situe au dernier étage d'un immeuble sans ascenseur (ça n'a pas été un problème pour nous, mais peut être bon à savoir). Mes amis et moi avons tous bien dormi et avions le nécessaire pour le week-end. Comme nous n'avions pas d'ordinateur, une télé aurait toutefois été chouette pour les moments de repos à l'appartement.
Florence
2016-10-16T00:00:00Z
Une bouteille de bon vin nous attendait. Isaac est très sympathique et arrangeant ; expérience à renouveler pour nous car appartement (URL HIDDEN) nos proches !
Euriel
2016-10-09T00:00:00Z
My friends and I had a lovely time staying here! Our host Isaac was very easy to communicate with and gave us a warm welcome. Although the space is smaller than it appears in the photos, it was still a nice space to be in. The only drawback was the long flight of narrow stairs up to the apartment (not ideal if you have a big suitcase!) and the fact that the rest of the building is still being renovated. Also, there is one bathroom and the door does not lock or close properly so there is a lack of privacy. However, overall it was a pleasant experience and we were very comfortable!
Sabina
2016-11-20T00:00:00Z
Great place to stay! Centrally located but also feels private since the apartment is not on a busy street. You're within easy walking distance of the city. Isaac was a great host and we greatly enjoyed our stay here. Highly recommend!
Katie
2016-11-27T00:00:00Z
Isaac is very nice host !
Sarah
2016-12-02T00:00:00Z
Nice place in a charming quarter, can easily fit 3-4 people. The kitchen has everything you need. Isaac is a perfect and forthcoming host, flexible with check in and out times. You should however be sure-footed if you book this place. The staircases going up to the apartment are narrow and steep, as is the one inside the apartment you have to climb to get to the bathroom. Older people might find it difficult to do that. Also, the bathtub is situated below the roof pitch, which means you cannot stand but only sit in it. Altogether a great place!
Valentin
2016-10-21T00:00:00Z
Good for a weekend stay in Brussels. Walkable to public transportation with restaurants and shopping in between. Only thing that was off-putting was the construction being done on the hall to the apartment, but the apartment itself was comfortable and as advertised.
Hope
2017-03-15T00:00:00Z
Tipus d'habitació
Casa/pis sencers
---
Tipus de propietat
Pis
---
Capacitat
6
---
Dormitoris
Ixelles, Bruxelles, Bèlgica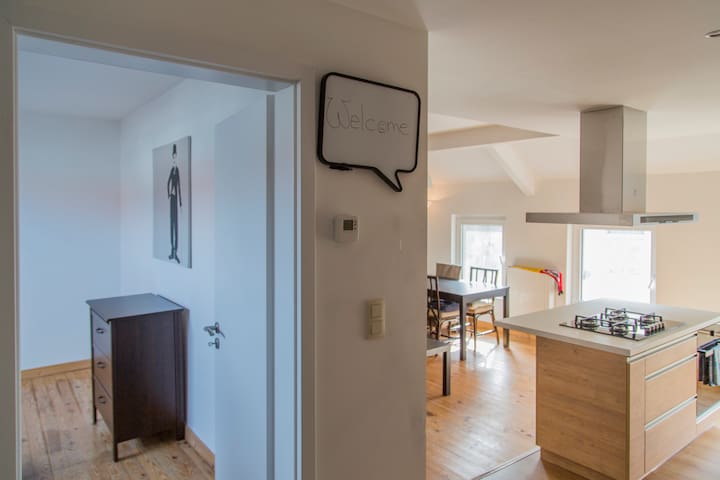 Super appartement avec jardin complètement restaurer et bien meublé près de la place Jourdan
Charmant appartement avec jardin a deux pas de la place Jourdan pouvant accueillir jusqu'à 4 personnes.
Giovanni est sympathique et arrangeant pour les horaires. L'appartement est joli, grand et possède un super balcon avec vue sur les toits de Bruxelles.
Elodie
2016-05-09T00:00:00Z
Le logement est lumineux et spacieux ! Il est facile d'y arriver depuis l'aéroport en utilisant la ligne 12. L'appartement est situé entre deux parcs cela permet de bénéficier d'espaces verts en ville. Petit bémol pour ce logement : la poussière ! Un grand ménage permettrait d'améliorer le confort. Giovani a facilité les choses pour que l'on puisse récupérer les clefs en toute simplicité.
Amélie
2016-04-14T00:00:00Z
Het appartement van Giovanni was zeer goed. Ruim appartement met alle voorzieningen. Zeer snelle communicatie. Alles top!
Siel
2017-02-20T00:00:00Z
Buona.Struttura funzionale. Pulizia migliorabile
Marco
2016-10-16T00:00:00Z
Excellent apartment, great location. Host was hard to reach, but the place is great!
Tom
2016-11-26T00:00:00Z
Great place, worth its value. Nice host, answers fast.
Andrew
2017-01-15T00:00:00Z
Accueil bien organisé. Logement spacieux et lumineux. Tout ce qu'il faut.
Sebastien
2016-04-08T00:00:00Z
la situación era buena, en un barrio bien comunicado. pero la casa era otra cosa. la casa no estaba limpia, tenía suciedad acumulada de mucho tiempo. En el cuarto de baño no te puedes duchar, porque el techo es táctil bajo que no puedes ponerte de pie. En el dormitorio tampoco te puedes poner de pie. Es muy incómodo. También estaba falto de enseres. Y para una de una semana, tan solo dejaron dos rollos de papel higiénico.
Maria
2016-07-01T00:00:00Z
Tipus d'habitació
Casa/pis sencers
---
Tipus de propietat
Pis
---
Capacitat
4
---
Dormitoris
Etterbeek, Bruxelles, Bèlgica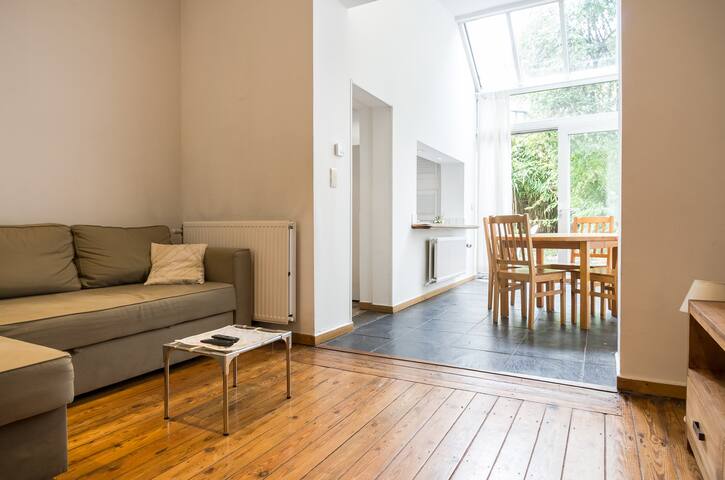 J'habite un studio au 3 ème Etage d'une maison Bruxelloise. Je vis ici depuis 4 ans pour mes études aux Beaux Arts de Bruxelles. L'immeuble est assez ancien et a beaucoup de charme : le plafond est haut, les murs en briques blanches, le sol en parquet, et on s'y sent assez bien. Il se situe dans un quartier idéal et plein de vie. Je serai ravie de vous partager mes bonnes adresses. N'hesitez pas si vous avez des questions :)
Tipus d'habitació
Casa/pis sencers
---
Tipus de propietat
Pis
---
Capacitat
2
---
Dormitoris
Elsene, Brussels Hoofdstedelijk Gewest, Bèlgica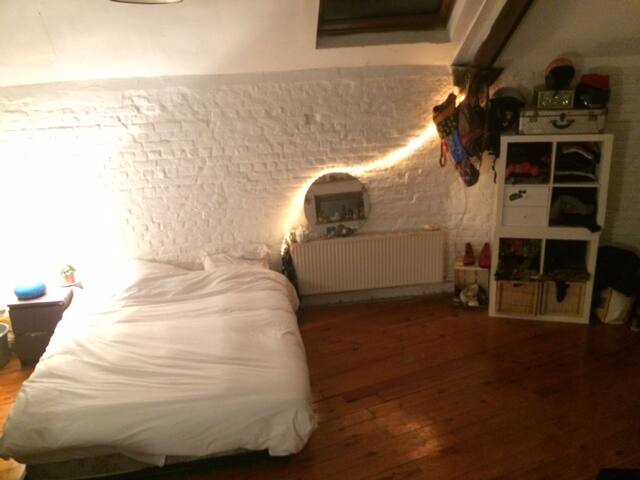 Hello! We would like to welcome you in our bright and comfortable apartment in the center of Brussels. This is your perfect choice for a city trip! There is a sunny bedroom with a private bathroom, which is separate from the rest of the apartment. We are located in the city center of Brussels, just a couple of minutes walking to the historic center of Brussels and various transportation (metro, train, bike and bus are all within walking distance).
The large bedroom has a large double bed, two bedside tables with night lamps, an open closet with coat hangers and large windows with double glazing (very quiet). You have your own private bathroom with a modern shower and toilet. Your bed- and bathroom can be closed off with a sliding door for more privacy. We offer you fresh towels: washed, not ironed :-) You are free to use the green terrace with a nice, open and calm view.
The apartment is located within the city center, very close to several nice restaurants (Bar Bik, Beaucoup Fish, Balls & Glory,...) and cultural highlights (KVS, Kaaitheater, musea,...). You can walk to the Grand Place (approx. 10 min) and the historic sights. The Dansaert area with all its trendy shops and bars is only a couple of minutes walking. There's plenty to see and do!
Tipus d'habitació
Habitació privada
---
Tipus de propietat
Pis
---
Capacitat
2
---
Dormitoris
Brussel·les, Brussels Hoofdstedelijk Gewest, Bèlgica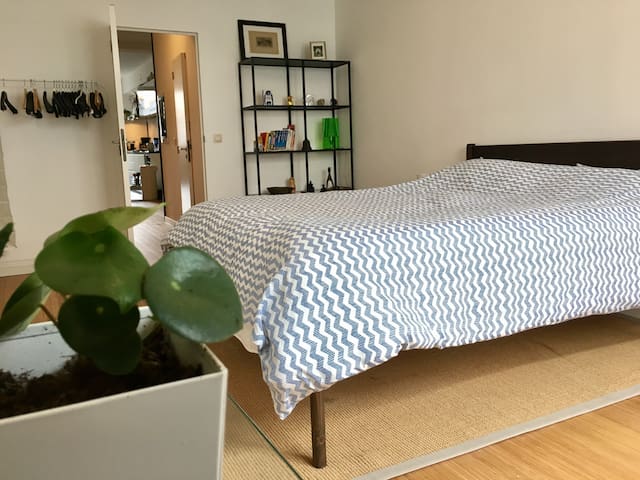 Gran, agradable i acollidora casa a Brussel·les, capital d'Europa. Totalment moblat i prop de tots els punts d'interès (bars, restaurants, supermercats, botigues, museus, gimnàs ....). Estem a prop de la Chatelain (el lloc per estar a Brussel·les) i del Bois de la Cambre (un de la zona verda de la ciutat, ideal per córrer, caminar o fer un pícnic) Tramvies 81, 92, 97, metres i "bicicletes d'autoservei" fora de la casa.
L'allotjament es completa a relaxar-se al saló (amb projector de pantalla gran, reproductor de discos, jocs de taula, llibres, revistes ...) oa la terrassa en una de les cadires FERMOB que tenim, després d'un llarg dia i aprofitar una copa entre la cuina friends.The és el lloc on ens agrada trobar en si; aquest es trobi totalment equipada per preparar un bon àpat. Tenim una cuina de gas gran i un gran forn per preparar especialitats. També hi ha màquines Nespresso, rentat i assecat, que pot utilitzar. Els diumenges de l'estiu, és el dinar i es pot gaudir de la barbacoa. La seva habitació és perfecte per a una curta o una llarga estada; ben equipada (llit gran de 140 x 200, possibilitat d'afegir un petit llit (nadó) armari, escriptori, prestatgeries ...) - vostè és com a casa. Som fan de disseny, de manera que vam poder trobar alguns mobles de disseny. Tot està fet perquè tingui una bona estada a casa nostra.
Un lloc ideal per anar de compres, per a un sopar, per degustar un dels meravellosos gelats de Brussel o simplement per prendre una copa entre amics - Benvingut al país
Friendly and helpful host. It was a great stay. Although some renovation was taking place, the room was clean and comfortable.
Yihuan
2016-11-03T00:00:00Z
A lovely family with a very cosy and spacious flat. You can literally walk out from your room into a little back garden with a table for a delicious morning breakfast, a coffee or a cigarette. Decorations are very chic with a bit of a Paris hint, it's got a very home-like feeling :). What I loved about it is that it's very well connected as well: you've got tram 81 outside your front door and Horta station at a 10 mins walk. Cute and friendly pets as well :). All in all i had a great weekend in Brussels staying at Laure's
Claudiu
2016-08-22T00:00:00Z
Очень приятные хозяева, общительные, милые. Место хорошее - на одной из центральных улиц - можно за полчаса спокойно дойти до всего исторического центра. Дома много домашних животных :) и апартаменты в процессе "ремонта" (что не мешает жителям). Все удобства доступны.
Maryia
2016-10-26T00:00:00Z
La casa es muy linda y confortable. La habitación es grande y cómoda así como también. Lo único que el baño esta subiendo las escaleras pero solo eso. Laurie es muy simpática y te ayuda con lo que necesites.
María Florencia
2017-03-10T00:00:00Z
Super!
melodie
2017-01-31T00:00:00Z
I had a great time at Laure's place. She and her husband were very friendly, welcoming and helpful, giving me tips as to where to go for dinner and breakfast. The room is cozy and comfortable, and the house is really warm. The tram stop is less than 1 minute awat and the subway is 5 minutes away, so it's very easy to reach the city centre (a little over 15 minutes). Unfortunately I didn't have time to explore the surrounding area as I was busy with a conference, but from what I've seen it looks full of cool places to eat and drink. I will definitely choose Laure's apartment if I ever go back to Brussels!
Martina
2016-10-29T00:00:00Z
Atención cordial, buena ubicación y lugar acogedor
Heidi
2016-12-01T00:00:00Z
Laure and her partner were very nice and the room was lovely with good localisation.
Glauber
2016-12-17T00:00:00Z
Tipus d'habitació
Habitació privada
---
Tipus de propietat
Casa adossada
---
Capacitat
2
---
Dormitoris
Saint-Gilles, Bruxelles, Bèlgica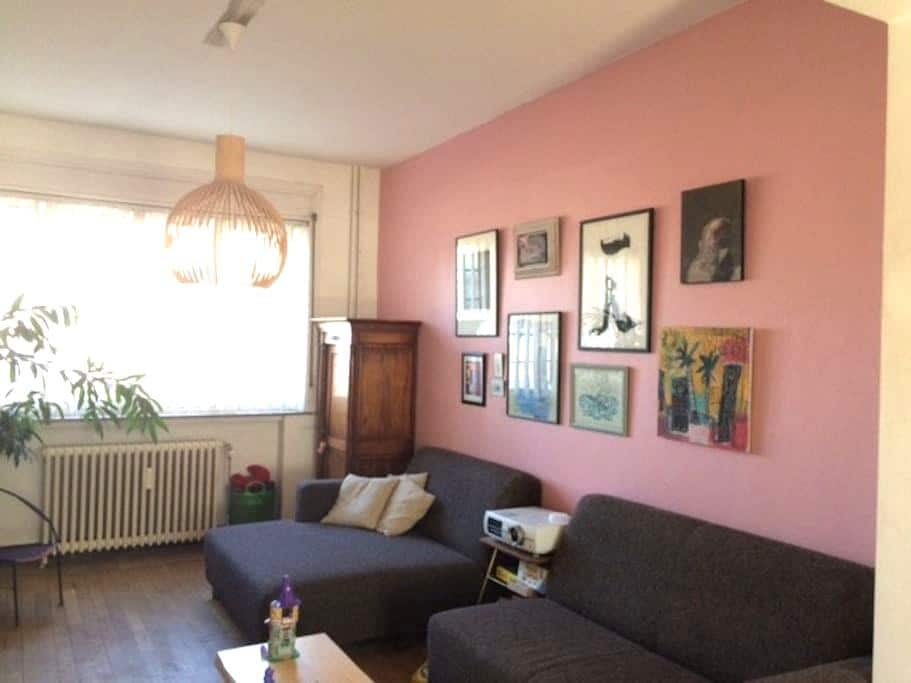 Very central Appartement in the hip quarter Ixelles, Matonge, with a lot of bars and restaurants, shopping streets, etc.. The appartement is quiet and perfect for three friends (one couple and friend f.e.). You can reach Place Central and European Quartier by walking (15 minutes). The appartement is very cosy, has one double bed and a bed-sofa in the living room. You find ecerything you need for living there.
Tipus d'habitació
Casa/pis sencers
---
Tipus de propietat
Pis
---
Capacitat
3
---
Dormitoris
Ixelles, Bruxelles, Bèlgica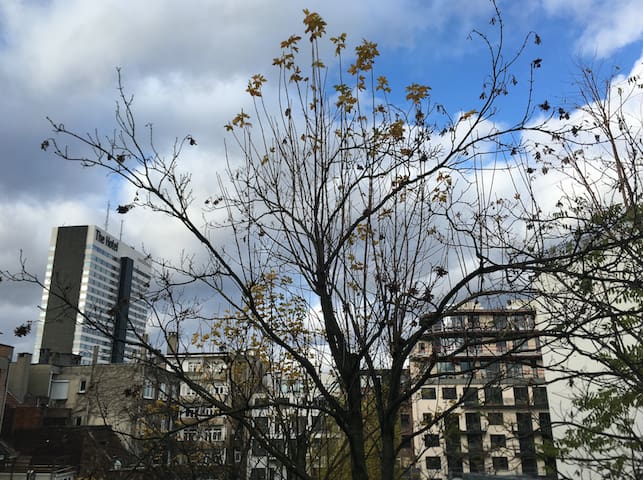 Nice two bedroom apartment in the middle of the well known Ixelles area. The apartment has a double and a single bedroom, a bathroom, a fully furnished kitchen and a large and bright living room with a nice view on the famous Place Flagey and its ponds. The apartment is really easy access with public transports. Place Flagey is the surrounded by lots of trendy bars and restaurants, located at walking distance of the flat. For the weekend or longer trip, this is the place you need
Appartement bien situé et facile à trouver. Proche des transports en communs et des bars/restos. Super vue sur la place Flagey. Génial pour un petit week end
Nadia
2017-03-05T00:00:00Z
Idéalement situé, parfait pour visiter Bruxelles!
Shirley
2017-02-12T00:00:00Z
The host canceled this reservation 46 days before arrival. This is an automated posting.
Johann
2017-01-23T00:00:00Z
Unfortunately, shortly before our arrival there was a flood from the neighbor above the apartment. As a result there some marks on the walls and smell of the humidity. Doors to the bedrooms, bathroom and toilets can't be properly closed. However, the location is perfect. Not far from the "Old town". Fascinating view from the windows to the nice square (with weekend market on it) just in front of the building.
Vladislav
2017-02-26T00:00:00Z
I'll try to book this place again as the location/view was fantastic! Antoine was very nice & relaxed. Added to the experience.
Max
2017-03-04T00:00:00Z
Antoine's brother met me and let me into the flat. It was a great stay and I would definately stay at the flat again.
Shakia and William
2017-02-06T00:00:00Z
Tipus d'habitació
Casa/pis sencers
---
Tipus de propietat
Pis
---
Capacitat
3
---
Dormitoris
Ixelles, Bruxelles, Bèlgica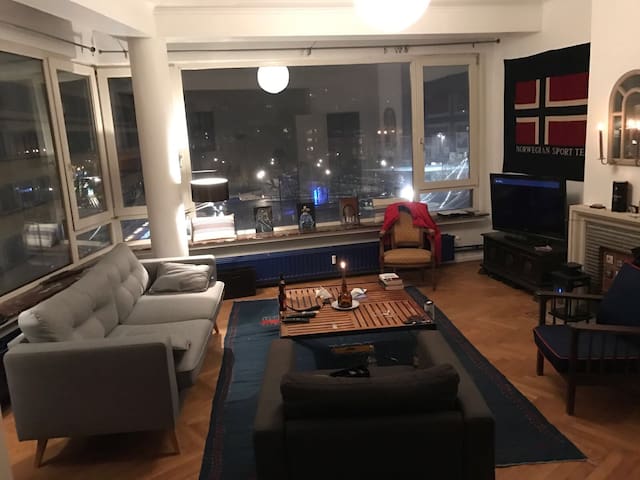 Our place is a modern and spacious apartment right in the center. It is in a quite street with a well known and safe neighborhood. And, most great places like Sablon, Warrande Parc, Royal Palace, La Bourse, Grand Place.. are in walking distance!
Our apartment can easily host 4 guests. During the week we even live there with 4 people. The open kitchen with our bar and living room attached to it creates a nice and relaxing atmosphere. The bar is used everyday by us, I think it is our favorite spot! If you want to relax, you can do this in the big sofa or one of the double beds. And after relaxing you have two bathrooms to fresh up. all in all we love the place and I think you will do too
Our neighbourhood is lovely as we live in a quite and safe area in the European district of Brussels. On top of this it is located in the very center of Brussels, close to the central train station, de Big Market, Manneke Pis,.... in the evening there are plenty of restaurants to visit, bars to have a drink and clubs to go out.
L'appartement est très agréable, propre. Le quartier et le bâtiment est calme. Facile à ce parquer. Je le recommande.
Estelle
2016-09-11T00:00:00Z
The host canceled this reservation 67 days before arrival. This is an automated posting.
Brad
2016-09-21T00:00:00Z
Me recibo la roomie de Annouck, muy amable y fue muy flexible a mis horarios de llegada. El departamento esta muy bonito y con todos los servicios en una zone segura y muy cerca del metro.
Katia
2016-09-18T00:00:00Z
Annouck was a great host. She provideda comfortable stay for us and made sure that we had everything we needed. She also gave us great suggestions on where to go and what to see in brussels. It was altogether a very nice visit. Thank you for hosting us!
Gabriela
2016-10-23T00:00:00Z
All the (SENSITIVE CONTENTS HIDDEN) were very helpfull and we could make a good arrangement to transfer the key. They were flexible about the check in time. The flat is very close to the city center though it is very quiet to sleep. One small remark would be that we expected the flat to be more clean. Ideal stay for a few nights to discover Brussels.
Jeroen
2016-10-30T00:00:00Z
Nous avons été agréablement surpris par l'espace et le confort qui nous ont été proposés lors de notre séjour chez Annouck. Tout ça si proche du centre ville. Nos hôtes nous ont accueillis avec gentillesse et sympathie et sont restés disponibles si besoin tout au long du séjour. Merci pour tout !!!
Elodie
2016-11-27T00:00:00Z
Je remercie à Annouck, notre week-end s'était tres bien passé. Le logement est bien et proche du centre ... Bruxelles est une tres belle ville ! Je le recommande !
cecile
2016-09-25T00:00:00Z
Nous avons passé un superbe week-end à Bruxelles avec nos amis. L'appartement est très spacieux,bien équipé et propre. Il est également très bien situé. Nous n'avons pas rencontré Annouck ni ses colocataires mais elles étaient toujours disponibles si nécessaire. 200% recommandable!
Alice
2017-03-19T00:00:00Z
Tipus d'habitació
Casa/pis sencers
---
Tipus de propietat
Pis
---
Capacitat
4
---
Dormitoris
Brussel·les, Brussels Hoofdstedelijk Gewest, Bèlgica
Located on the ground and first floor of a typical Brussels'house ; our apartment is very central, but in a quiet street in the middle of EU quarter. It can host comfortably 5 people (max 4 adults). The quarter is very nice : Schuman station, Cinquantenaire Park and the famous Place Jourdan (where you can eat the best French fries of Brussels) are at 10' walk. You will feel like home in our family apartment !
It is a cosy 115m2 apartment on two floors. On the ground floor : entry hall, toilet, fully equipped kitchen, dining room and living room area (with a two persons sofa bed), terrasse and garden. On the first floor : 2 bedrooms (you have to go through the children room to access the other room), 1 bathroom, 2 toilets, 1 office room (you have to go through the two rooms to access the office room). Space has all you need : dishwasher, induction cooking plates, big fridge and freezer, washing machine (in the cellar), bathroom with shower/bathtub, wifi, bed linen and towels and soap. 1 bedroom with big mattress (2 persons), 1 bedroom with a one person bed and a baby bed. Possibility for two guests to sleep in the living room on the sofa bed.
The apartment is located in a quiet neighborhood, but also in the center of the European quarter of Brussels, close to the European Commission, Council of the European Union. Schuman station is a the closest railway and metro station (1km). Place Jourdan is 800m away from the apartment, the place where you can eat the best Belgian French fries in the world ("Chez Antoine") and where there is a big market every Sunday morning ! Closest Metro Station : Schuman (1km) or Merode (1km) Bus and Tram lines (3 minutes away): 34 (stop La Chasse or Fetis), 36 (stop Louis Hap), 81 (stop Acacias). Many bars, restaurants and shops at walking distance from apartment. Interesting places to visit nearby: Many touristic attractions nearby (5 to 10 minutes walk away) Royal Museum of Art and History, Autoworld, Army and Military History Brussels Museum, Cinquantenaire Park, European Commission, Council of the European Union, Square Ambiorix. Touristic sites to visit in Brussels: Atomium, Mini-Europe, Parlamentarium, Natural Sciences Museum, Oldmasters Museum, Royal Museum of Fine Arts, Bozar, Comics Arts Museum, MIM - Musical Instruments museum, Les Marolles, La Grand Place, The Manneken Pis, Magritte Museum, Royal Museum of Fine Arts, The Belgian Centre for Comic Strip, The garden of the Mont des Arts, Sablon, the Galleries de la reine... If you need any advice please do not hesitate to contact us, we will be glad to help !
Appartement très fidèle à la description. Au calme, les grandes pièces et le petit jardin étaient parfaits pour les enfants.
Fabrice
2016-12-25T00:00:00Z
Tipus d'habitació
Casa/pis sencers
---
Tipus de propietat
Pis
---
Capacitat
5
---
Dormitoris
Etterbeek, Bruxelles, Bèlgica
1

-

18

de

Més de 300 lloguers
Introdueix les dates per veure el preu total. S'aplicaran tarifes addicionals. És possible que també s'apliquin impostos.