The Hayloft is an attractive apartment in an old stone barn with a gym, further indoor seating area and pretty patio. It's in a peaceful position on the Welsh/English border and ideal for couples, solo travellers, walkers and cyclists. The apartment and the many footpaths leading direct from the property offer superb views of our outstanding, wild countryside. Access to the famous Offa's Dyke Path is just down the hill. Hay, town of books, is close and ideal for an afternoon's browsing.
You'll be staying in a quaint but well-modernised and warm stone-built barn which is converted from the original stable, hayloft and groom's quarters into a lovely apartment upstairs and with a gym, seating area and patio downstairs. The apartment is in a very peaceful position off a small lane on the Welsh/English border. We have lived in the Victorian house across the courtyard for over 30 years and converted the barn a few years ago - before that many years ago, it housed my horse and a lot of house martins, too! There is polished oak flooring throughout the apartment, which has a nice kitchen with plenty of equipment. The bedroom has a good view across to Hay Bluff, and a kingsize bed. The dressing table, with separate mirror, doubles as a desk, and one of the four dining chairs can be used as an office chair.
The Hayloft is just an 8-minute drive from Hay-on-Wye, town of books (and it also now has a cinema, plenty of nice places to eat, and lots of antique/food/fashion shops) . A bit further afield are the foodies' favourite town, Ludlow, Hereford with the Mappa Mundi in the Cathedral, and Abergavenny, well worth a visit. You may also like to fish in the River Wye, or just walk along its banks - nearest access point is about a mile away. About 9 miles away is a beautiful National Trust waterside garden, especially lovely in spring and autumn, and the Owl Centre and Small Breeds Farm near the market town of Kington is a fun place to visit. Near to home, there is a great local farm shop, as well as a garage which is also a general store and newsagents, and two pubs - one on the banks of the river and the other an old inn with good food. One of the reasons we love living here is the abundance of wildlife. Birds to spot include red kite, buzzards, wagtails and we have very occasionally seen a sparrowhawk. There is an owl living in the big tree at the bottom of the garden, usually heard and not seen! Our bird table often has visits from a family of greater spotted woodpeckers, nuthatches, various finches, as well as long-tailed tits, coal tits and the more ubiquitous breeds of course. A short, quite easy walk away, over footpaths only, is a high area of common land from where you can see all the way to the Brecon Beacons in the west, east to the Malverns, north to Clee Hill in Shropshire and south to the Black Mountains and Hay Bluff.
I booked for my in-laws and they had a fantastic time
esther
2017-02-26T00:00:00Z
Lovely place just down the road from Hay-on-Wye; ideal location to explore from. Excellent wifi, very clean, tidy and a helpful host who even pointed us in the right direction for a walk! Would recommend to friends & would stay in again.
Steph
2017-03-26T00:00:00Z
The tips for writing this review says to let the next guests know what we loved. I would need a book.........we loved every part of it :) Judith's apartment is a secluded oasis in beautiful countryside. It is extremely well appointed and wonderfully warm. The towels and bedding soft and there were even dressing gowns for us to relax in. Judith had provided milk, tea & coffee, fresh coffee which is a lovely treat, fresh bread & butter along with handy staples such as cling film, salt & pepper and cooking oil. She had thought of everything. Best of all was the way we were looked after, from the time of booking, the directions given, the very warm welcome,the helpful tips, through to the wave bye bye, we immediately felt at home. This may well become our 'little place in the country'. We would love to go back and spend longer next time
Bill and Yvonne
2017-02-19T00:00:00Z
Tipus d'habitació
Casa/pis sencers
---
Tipus de propietat
Pis
---
Capacitat
2
---
Dormitoris
Hay-on-Wye, Wales, Regne Unit
18th century cottage - Sleeps up to 3. Children welcome. Situated on the Offa's Dyke path, three minute walk to shops & restaurants. Kitchen, dining area and lounge on the ground floor. Bedroom and ensuite with large walk-in shower on first floor. The kitchen is well equipped with a fridge/ice compartment, cooker, oven, toaster and cooking essentials. Private parking, free Wifi, TV/DVD in lounge & bedroom, DVDs, board games, hair dryer, shaver point. Linen & towels provided.
Tipus d'habitació
Casa/pis sencers
---
Tipus de propietat
Pis
---
Capacitat
3
---
Dormitoris
Kington, Anglaterra, Regne Unit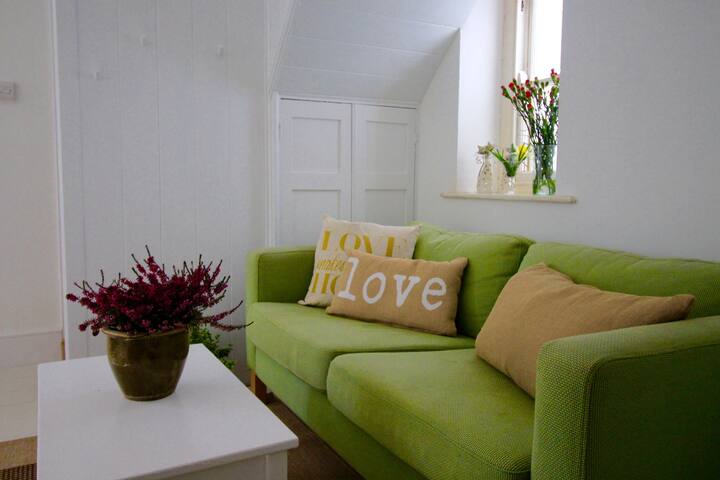 **** accommodation for 2/4 guests in oak framed barn with views from balconies over woodland and Black Mountains. A bird watchers paradise. Close to Hay on Wye, Offas Dyke, Brecon Beacons, golf, riding and canoeing. Children dogs, horses welcome.
Keepers, at Greenfield Farmhouse is accommodated in an oak framed barn, recently built to a high specification to provide comfortable stay. The accommodation is of one double bed room but there is double sofa bed is in the living area. The shower room has under floor heating.
The village of Huntington is in the beautiful countryside of North Herefordshire. There is a pub, The Swan which is known for its huge log fire and friendly welcome. There is the Church of St. Thomas a Becket which is hidden in the fields and the United Reform Church which still has the old pews which turn over to become desks. We are a short distance from Offa's Dyke and the Marches, full of history. Golf, canoeing and horse riding is available near by.
Keepers was exactly as described and we were made to feel very welcome. Great response on email which is always reassuring. The cottage is spacious and in a truly lovely location. Amazing walking from right outside the front door and only 15 mins to Hay on Wye, 20mins to Leominster and 30mins to Ludlow. I would thoroughly recommend Keepers as a great place to stay, with super local pubs, towns and all you could want if you want a night in as well!
dominic
2015-12-06T00:00:00Z
We had a warm welcome and were made to feel at home immediately. Keepers was exactly as described and an absolute delight. The location is exceptionally peaceful and restful. We were blessed with four warm, dry days and lots of avian visitors. We enjoyed walks and visits to local attractions. Herefordshire is such an unspoiled corner of the country and Kington like stepping back 50 years.
Kit
2016-06-24T00:00:00Z
Marilyn was very friendly and helpful. The setting of keepers was stunning overlooking the surrounding countryside and a woodland for short walks. We loved our stay.
Jonathan
2014-07-07T00:00:00Z
Marilyn and her husband were the perfect hosts. Keepers is a very private, peaceful and comfortable maisonettes with awesome views. We'll definitely be coming back next year!
Syma
2015-05-26T00:00:00Z
Beautiful place- the photos don't do it justice. The surrounding villages are lovely with lots of cafes, local pubs and other activities to do. Would definitely come back.
Michael
2015-08-31T00:00:00Z
Lovely Hay Festival home from home, beautiful setting, very comfy and charming hosts. Fiona
Fiona
2015-05-31T00:00:00Z
A beautiful tranquil place to stay - the best sort of bolt hole. We will Definately be back!!
Sue
2015-11-22T00:00:00Z
Marilyn and Peter are very kind and welcoming - thank you both so much. It is such a lovely cottage: cosy, yet spacious, light and airy with wonderful views into the trees and across the countryside. It had everything we needed for a restful week including a comfortable sofa and chairs, comfortable bed and even great pillows - I can't tell you how rare that is! It's quiet and peaceful - no planes or cars to be heard, just the birds. And there is so much to do in the area that we are looking forward to doing on our next visit which we have already booked!
Philippa
2016-06-05T00:00:00Z
Tipus d'habitació
Casa/pis sencers
---
Tipus de propietat
Pis
---
Capacitat
2
---
Dormitoris
Kington, Herefordshire, Regne Unit
Ground floor studio apartment in the centre of the picturesque village of Dorstone. 6 miles from Hay on Wye. Sleeps 2-4, double bed and double sofa bed. Well equipped kitchen area, TV, WiFi, bathroom with shower, views over the village green /Pub
The accommodation has been costed on 2 adults sharing the Double bed. If you require the Sofa bed to be made up, then there is an extra charge of £10 Ideally the property is suited to 2 adults and 1 child(or 2 young children). 3 Adults or 2 couples could be possible, please contact us if you wih to book for 4.
an ideal small flat with double bed; sofa bed and breakfasting area; small but well appointed bathroom. Dorstone is a small lost village (don't try to find it without satnav!) with green, church, stream, pub which serves very good food (serving the elegant Indian runner ducks which grace the back yard) - we were made welcome by the nieghbours as we wandered about, more than matched by our host Bill who was a model of courtesy, helpful and welcoming. We'll be back :-)
Michael
2015-10-13T00:00:00Z
simply fab! the studio is a gem, right in the centre of a nice village, opposite a nice pub..excellent communication from brian and very warm welcome from ingrid. we spent 3 fabulous days there and would like to go back soon!
lucia
2016-06-07T00:00:00Z
We stayed at Brian's flat last weekend and it was perfect. Brian and his wife were very friendly and the flat was comfortable and clean. The price was very good value and I would highly recommend staying there.
Euan
2015-06-14T00:00:00Z
Lovely cottage with everything you could need. Very clean! Beautiful location
Jennifer
2015-09-28T00:00:00Z
Really lovely, functional and beautifully appointed little apartment in a charming and very quiet village close to Hay and the Welsh border. Our hosts made us feel very welcome and pointed us in the right direction for local walks and drives. Lovely village pub across the road, serves meals - otherwise no food shops, for which we were well prepared.
Mary
2015-08-31T00:00:00Z
We had a nice stay in the studio. It's properly equipped, quite spacious and clean. The host is very welcoming. Highly recommended!
Yingjie
2015-08-24T00:00:00Z
We had a fantastic few days staying here while we visited the Hay festival. The studio is perfect and the village has a great pub and some excellent walks from the front door. Thanks for a great stay.
Melanie
2016-06-04T00:00:00Z
Well-equipped flat, very clean, good lay-out, friendly hosts & flexible check-in/out. We really enjoyed our stay. Beautiful quiet countryside location. Good spot to escape the city, but plenty of country pubs nearby. Hay-on-Wye is a nice town, about 6 miles away, worth a visit.
Sarah
2015-07-13T00:00:00Z
Tipus d'habitació
Casa/pis sencers
---
Tipus de propietat
Pis
---
Capacitat
4
---
Dormitoris
Dorstone, Herefordshire, Regne Unit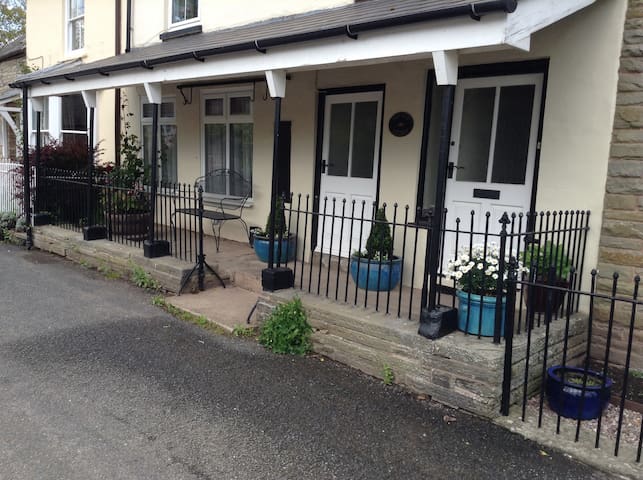 Large room with King size bed and views of Hay Castle. Close to bus stops, a bank and also the Offa's Dyke Path. The town centre is less than a 2 minute walk away.
Guest parking for one vehicle is available at the property.
Lovely town with lots of bookshops and plenty to do and see, and lovely country walks.
Chrissy met me from the bus stop and went the extra mile to find out the Sunday bus timetable as it wasn't listed at the stop. All details of the room were thoroughly explained so I had no question on where things were or how to use them. I popped to the town for some lunch and when arriving back at the room to get ready for the evening the heating was already on as she knew I was planning a shower - very thoughtful! Chrissy even found items needed so I could wrap the gift I had bought for the wedding. The next morning I had a lovely breakfast and chat with Chrissy, she definitely added so much more to my weekend than would have been achievable staying in a standard hotel. I wish Chrissy all the happiness in the world and would love to stay again!
Joanna
2016-10-30T00:00:00Z
Chrissy is super nice. You'll never regret staying here. Also Hay-On-Wye is so lovely town!
Jamie
2016-07-08T00:00:00Z
It was a great experience to stay at Chrissy's home. She is so nice and she help us in everything we needed. The room is nice and clean. Hay on why is a very nice place to visit and nicer if you stay at Chrissy's home.
Sofía
2016-07-03T00:00:00Z
Chrissy is the perfect host, so welcoming and friendly! Breakfast was lovely and she literally had everything we needed for comfortable stay. We had a wonderful stay and look forward to staying with her again :)
Mel
2017-02-19T00:00:00Z
We spent a lovely night at Chrissy's place. The room was clean with all the amenities needed. Chrissy couldn't be more welcoming, kind and generous, she put lot of effort in ensuring we were as comfortable as possible and that we had everything we needed. Thanks a lot Chrissy!!
Mireia
2016-10-28T00:00:00Z
Chrissy was an amazing host who really made me feel at home on my short stay in Hay. She met me at the bus stop when I arrived and was a great help with recommendations of where to go and what to see. The room was perfect! Large, clean and with an amazing view, and Chrissy had it stocked up with an assortment of tea and coffee. I had the most amazing stay, and it was in large part thanks to Chrissy's amazing hospitality!
Siobhan
2016-11-05T00:00:00Z
We slept one night in Chrissy's place and everything was good. Chrissy was nice, advising us about pubs and restaurants in the village and offering us a breakfast, even if it was not written in the her post in the website. The room was cosy, clean and spacious, I loved all the different qualities of tea provided. Location was simply great, next to the Hay-on-Wye castle and within few minutes walking from all the books shops.
Giada
2016-08-27T00:00:00Z
Nicely central, easily reachable, cosy room and great tips about Hay-on-Wye and area.
Anathe
2017-02-26T00:00:00Z
Tipus d'habitació
Habitació privada
---
Tipus de propietat
Pis
---
Capacitat
2
---
Dormitoris
Hay-on-Wye, Wales, Regne Unit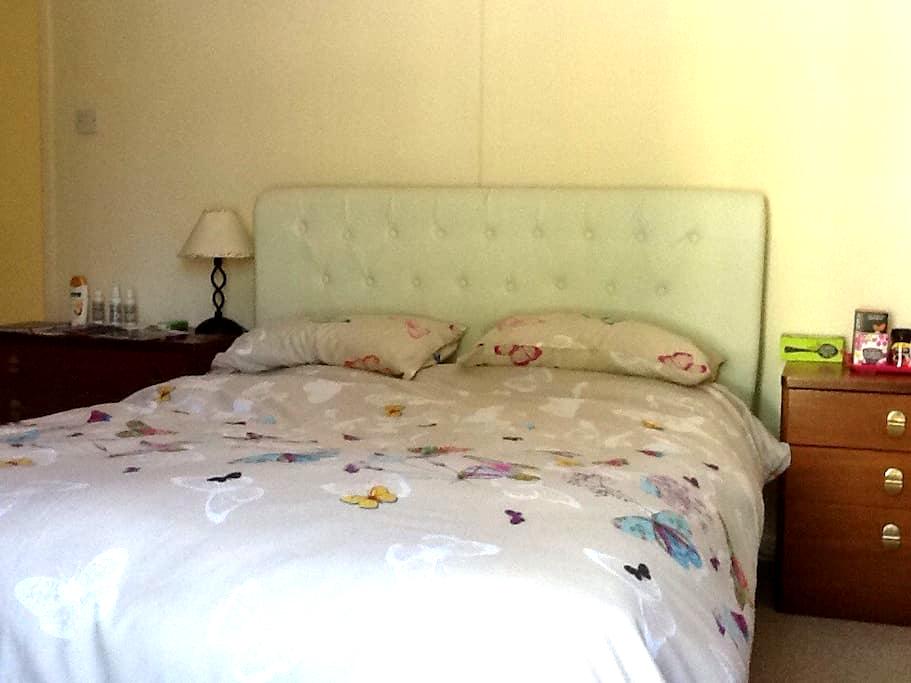 Luxury apartment in the book town of Hay-on-Wye, two mins from the town centre. Super-modern, very comfortable and well equipped accommodation. Two bedrooms, two bathrooms, private parking and a lovely balcony for relaxation and al-fresco dining.
Our apartment in the famous book town of Hay-on-Wye is just a couple of minutes from the town centre and offers super-modern, very comfortable and well equipped accommodation. Ideal for up to four, with two bedrooms, two bathrooms, private parking and a lovely balcony for relaxation and al-fresco dining. There's also wifi internet access. Haybreaks is on the first floor of the recently completed Millbank, a desirable address on the edge of this picturesque town in the Wye Valley.
Why visit Hay-on-Wye? It's a vibrant small town where there's plenty going on, dropped into a lovely riverside setting, overlooked by imposing mountains. Around is the countryside of Mid Wales, the Brecon Beacons and the Welsh Marches. It's the nearest thing you'll find to unspoilt in the UK. In the town itself, a cluster of ancient streets surround the hill on which perches Hay Castle, part Norman ruin, part Jacobean mansion. Right on the English-Welsh the border, Offa's Dyke runs through Hay. There are lots of scenic footpaths, pretty well from the front door, so no need to drive if you prefer not to. There's also a fab choice of take-aways, pubs, cafés and restaurants. For food shopping there's a marvellous deli, two good butchers and a greengrocers in town, and a wider choice still to be had on the Thursday market. There's also a good Co-op on the edge of town, open until 10pm Mon to Sat, and a Spar shop. In town are plenty of places to eat out. Our favourites are the café in Booth's Bookshop, Tomatito's Tapas Bar, the Old Black Lion and, for a tasty and good value breakfast bap, Hay's Kitchen (also known as Ange's Cafe).
Ben was prompt in communication and the flat was represented accurately on the website. The flat was offered in immaculate condition and is a modern, clean and comfortable living space located in a quaint, historic village. Everything you need is in walking distance and the flat has all of the comforts and amenities a guest could desire. We would definitely stay at Haybreaks again.
Daniel
2015-03-21T00:00:00Z
We had the most wonderful time. Ben's wife Kate met us at the flat and told us about all the things to do in the area. The place was exceptionally clean and had all the things necessary to ensure a perfect stay. The location was great. It was just one block to town and three blocks to a market. We had a fantastic time and would absolutely recommend it to our friends.
Darlene
2015-09-22T00:00:00Z
The flat was exactly as described. It was also lovely and warm. Kate had been very thoughtful and provided essentials including a bottle of Prosecco. A wonderful weekend.
Margaret
2016-03-08T00:00:00Z
Ben's Apartment was just perfect! Very clean, welcoming and the beds were very comfortable. I can recommend Ben's place to all. The three Tuns pub just a couple of doors up served some great food and the chips are especially good too. So if Hay is the destination then you should make Haybreaks your home. Many thanks for everything including the treats you left for us. Take care.
sam
2016-04-25T00:00:00Z
We were made very welcome by Kate. The flat was perfect for our family and had everything we needed. It was in an ideal location for the town centre and the parking space was much appreciated.
Helen
2016-09-26T00:00:00Z
Kate was very welcoming and helpful. The flat was clean, modern and well presented. The location was excellent for exploring the town and local area.
Jennifer
2016-08-05T00:00:00Z
Ben, in various ways, helped us feel welcome. He stayed in touch about how to get to Haybreaks, was flexible about meeting us, and, once we met, gave us all the information we needed to get around, feel at ease, and have fun in Hay-on-Wye.
Sharlene
2015-07-10T00:00:00Z
First of all Ben replied with lightning speed to our last minute request, which we were very grateful for. It was Kate who was in touch after that as she was to open up for us. She was lovely & friendly reassuring us not to stress as we were running late when arriving (due to bad weather & flooding in our local area). When we did arrive Kate was just as lovely in person even providing us with a some fresh food necessities and a few welcome gifts, a very nice touch we thought. The location was great if a little noisy, we guessed the walls of the apartments were pretty thin and of course you are right on the main road through Hay-on-Wye so nothing the hosts could do differently. When we did encounter a few issues, these were dealt with swiftly and with profuse apologies. All in all though we did feel perhaps the space may be suitable for 3 rather than 4 people (only space for 3 people to sit comfortably in the lounge area), we would definitely recommend staying here, in this well kitted out & centrally located apartment. Thanks for everything Ben & Kate!!
Donnerly
2015-10-14T00:00:00Z
Tipus d'habitació
Casa/pis sencers
---
Tipus de propietat
Pis
---
Capacitat
4
---
Dormitoris
Hay-on-Wye, Regne Unit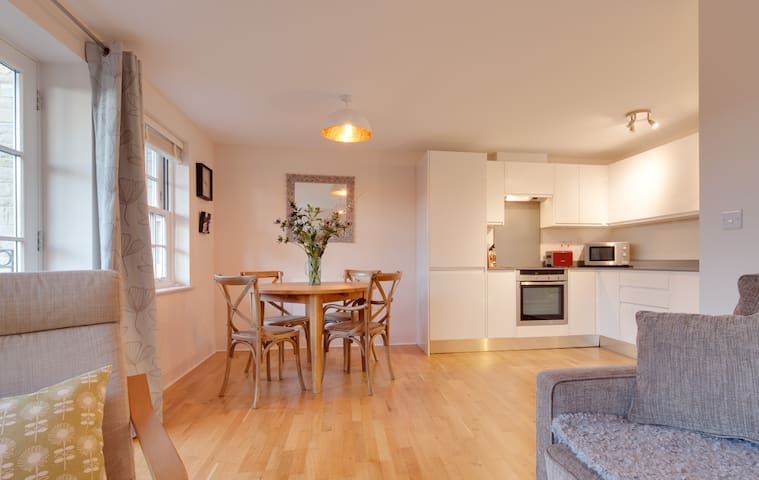 A self contained apartment adjoining a beautiful and historic Edwardian home that is set in substantial private gardens . Only a delightful 10 mins walk from Hay and yet enjoying the tranquillity of the Herefordshire countryside with superb views.
About this listing Rothbury is a beautiful and historic Edwardian home set in substantial private gardens . Only a delightful 10 mins walk from Hay and yet enjoying the tranquillity of the Herefordshire countryside with superb views. This is a recent extension to Rothbury, built on the site of the original Coach house which has long since been removed. The new Coach House apartment has been constructed very much in keeping with the main house design and offers the best of modern facilities whilst retaining elegance and tradition. The apartment has its own entrance separate from the main house which leads onto the staircase providing access to the apartment. The Rothbury Coach house consists of: Living Room A bright and airy room offering simply stunning views to two sides, it overlooks the fields to the rear of the house with unbroken view over the Cusop and Mouse castle hills. It is comfortably furnished and the seating includes a sofa bed for when extra sleeping space is required, there is also a dining table and chairs. There is a large Flat Screen TV (Freeview) with DVD player. Kitchen Leading off the lounge there is a modern kitchen with all the facilities you would expect including fridge, double sink, electric hob and oven, toaster and microwave. The kitchen comes ready supplied with the basics such as spices, sauces, cooking oil, tea and coffee. We also provide a welcome pack and we can arrange for other items to be provided as required, please contact us for further information. Bedroom This is very spacious with metal frame double bedstead and Laura Ashley furniture of a traditional style. The bedroom also has windows to two sides offering views over the garden and field to Hay and the Wye Valley with the Radnorshire hill beyond. There is also the option to put an additional single bed in the bedroom or living room. Bathroom A lovely en-suite room with walk in shower, toilet, washbasin and heated towel rail. We provide all the towels and bed linen inclusive in the price. Other Facilities All services, bed linen and towels are provided within the price. Off the main entrance there is a utility room shared with the main house with washing and dryer facilities and these are available for use. The apartment has its own iron and ironing board. There is also an area for the hanging of wet weather gear, coats etc. All the facilities of the main house and garden are also available to those staying in the apartment. It is also possible for those staying in the Coach house to arrange for breakfast in the main house. Pets – we may be able to accommodate pets in the apartment by prior arrangement. Please contact us for further information. The Coach House has WiFi and like the main house is No Smoking.
Rothbury is in Cusop - the English part of Hay on Wye. We are perfectly located being only a delightful 10 mins walk from Hay and yet enjoying the tranquillity of the Herefordshire countryside and best of all with superb views across to Cusop Hill and over Hay.
This is a fabulous apartment in a very beautiful part of the country. Our hosts were excellent and very easy to communicate with. It was an easy walk into town, where there are lots of shops and places to eat. The apartment is beautifully appointed, with everything you need if self catering is your thing. We were lucky to have some sunshine and really enjoyed relaxing in the garden, which is also beautiful. We would definitely stay again - if you'll have us! Best regards Tim and Denise
Denise
2016-07-08T00:00:00Z
What an excellent weekend we had at the Rothbury Coach House. A beautifully presented, spacious, home away from home, on the outskirts of Hay on Wye. The views from Rothbury we're breath taking and what made it really special were the little touches such as sprigs of lavender on the bed and towels. Rothbury is literally a 15 minute walk from Hay, although do take a torch as there are no street lights and it can get very dark indeed. We will be coming back to Rothbury; for a week next time though :-)
Steve
2016-05-09T00:00:00Z
A really superb place to stay (the photos don't do it justice). The accommodation was perfect and both Cusop and Hay are absolute gems. Communication was excellent throughout. Can't recommend it enough.
Rachel and Kevin
2016-05-16T00:00:00Z
The Rothbury Coach House was the perfect little getaway. The apartment is situated in the midst of green fields and pure tranquility. However, it is still only a 10 minute walk (across the fields) or 15 minute way (on the roads) to Hay on Wye, which is full of delicious restaurants and many book shops. The apartment is even better than the photo's, with plenty of space and home comforts. Jane was a delightful host and very welcoming. We were provided with a selection of maps and walks of the local area, milk in the fridge and even a chocolate on our pillow. I would recommend the Rothbury Coach House to anyone staying in Hay on Wye.
Caroline
2016-10-30T00:00:00Z
The host canceled this reservation 11 days before arrival. This is an automated posting.
Ty
2016-02-07T00:00:00Z
Lovely stay in a peaceful location. The apartment was in perfect condition, with all the home comforts needed for a comfortable stay. It is well situated for rambles in the surrounding countryside, with lots of useful information on walks and other attractions. We particularly enjoyed a very picturesque walk up the valley, passing lots of waterfalls. NB. It's a little bit out of Hay, which is nice but of course means there is a bit of walk to the centre (about 15mins via the road path). This only became a slight issue when walking back at night in the dark (it was -4c on one night too!). However, Jan provides a torch which is very handy!
Gavin
2016-01-22T00:00:00Z
Jan and her husband gave us a warm welcome at the coach house for a restful and peaceful new year. The apartment is spacious, peaceful and immaculately cared for. The highlight is the stunning view of the countryside visible from the comfort of the sofa!
James
2017-01-01T00:00:00Z
What a lovely place to stay for the weekend. Warm, cost and spacious flat surrounded by beautiful Countryside and the lovely town of Hay. Took a day trip to Brecon then did the waterfalls walk at Tal y bont Resevoir. Amazing. If you also have time driver over the Gospel Pass for a great view of Lord Herefords Knob! Thanks very much Jan
David
2015-11-01T00:00:00Z
Tipus d'habitació
Casa/pis sencers
---
Tipus de propietat
Pis
---
Capacitat
2
---
Dormitoris
Hay on Wye, Anglaterra, Regne Unit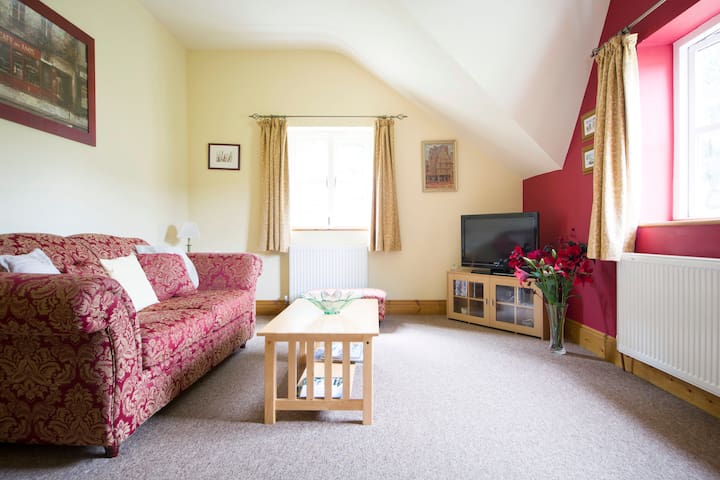 A very large self contained contemporary 1 bedroom vaulted cellar apartment in our Georgian townhouse. It opens out onto our riverside terrace and gardens yet is only a 5 minute walk from most of Hay's facilities.
it was a fantastic stay - I would highly reccomened this quaint basement flat - right by the river, very quiet, lovely big bed. great for a couple!
jamie
2014-08-19T00:00:00Z
On our early arrival Johnny was very helpful and welcoming. He gave us a tour of the property and appliances . When asking about the local area and restaurants he was knowledgeable and sen us in the direction of a great tapas restaurant (Tomititos). The property was as described and and was a nice environment to be be for our short stay in Hay. The area was great for us as we like to wander. close to local pubs and just across the river from where we kayaked from. A very convenient location and only a short walk to the free car park.The property had lots of character and we would recommend this for people to stay.
Tom
2014-08-26T00:00:00Z
Johnny is an excellent host having been very helpful throughout the booking (and offering advice on places to eat, where to park etc.) and this beautiful apartment is an excellent space to stay in. All the items and facilities you could want are there, in very comfortable surroundings and right at the heart of the town. We thoroughly enjoyed our stay and expect to be back!
Alexander
2016-04-05T00:00:00Z
We were greeted by johnny who took us to the apartment, gave us a mini tour and then he left us to it. A nice little extra was the pint of milk in the fridge! The apartment itself is lovely and well-kitted out. It was certainly better than anticipated and more than we actually needed! And it felt very homely! The property is also minutes from the castle and shops.
Samantha
2016-11-06T00:00:00Z
Really welcoming, and just a great place to stay
Keith
2016-10-16T00:00:00Z
Great stay! Very unusual, beautiful and modern
Alexandra
2017-04-02T00:00:00Z
Lovely little flat right in the heart of Hay. Spacious, warm & well equipped with some gorgeous touches. Highly recommended!
Anna
2017-02-26T00:00:00Z
Johnny was a fantastic host, due to our late arrival we were able to speak on the phone with him giving details on the property. We managed to find it without a problem and the map provided was easy to use to park away from the property with no issues of its location. List of places to eat were a real help as having only recently found out about a Gluten allergy its always a worry but most places catered for it. Its a very relaxing space, with all you need for a break in such a beautiful part of the country, only on leaving did we realise that we had been past in a canoe earlier in the year! Great place, thank you so much and look forward to staying again!
James
2017-01-16T00:00:00Z
Tipus d'habitació
Casa/pis sencers
---
Tipus de propietat
Pis
---
Capacitat
2
---
Dormitoris
Hay-on-Wye, Regne Unit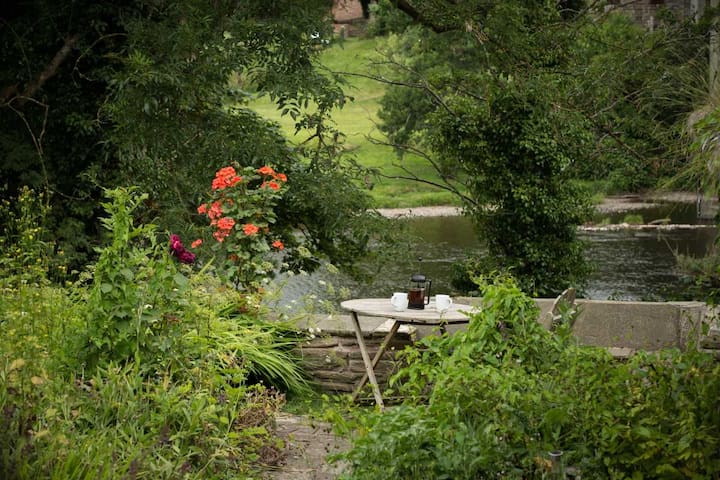 Situated in Hay On Wye, a fascinating Welsh/English border town. In the centre of the quirky town of books, this elegantly rustic pad is the perfect country bolt hole for two or a cosy apartment for a small family. You'll be comfortable and relaxed in this romantic rustic hideaway.
Just off the centre of Hay-on-Wye the home of the Hay Festival of Literature and the Arts, the flat sits above a small art gallery on a quiet pedestrian pavement. The Pavement Palace is a unique one bedroom guesthouse, nestled amongst the shops and amenities of Hay-On-Wye. The Pavement Palace sits at the heart of the town, close to fabulous restaurants and cafes serving locally sourced fine produce. The guesthouse is accessed via a passageway and leads into a fully equipped kitchen and utility area with washing machine and tumble dryer for those keen to take advantage of the walks or local fishing. The bathroom features antiqued mirror lined surround for the bath and shower. Upstairs in the bedroom a stunning super king-size bed sits beneath vaulted ceilings. And for those cozy evenings the lounge includes a wood-burner, comfy sofa, chaise longue and sixties swinging reading chair. The guesthouse oozes a unpretentious rustic style and includes many of the original features, but benefits from contemporary heating and furnishings. A relaxing and comfortable bijou town house, suitable for a small family with up to two young ones or one teenager. Equally ideal as a romantic retreat for two.
Hay is located in the Brecon Beacons National Park with it's beautiful rivers and fantastic hill walks. Famous for it's bookshops and International Literary & Arts Festival and now fast gaining pace as the best kept secret holiday destination of England and Wales. The town it self a maze of winding streets and alleyways all lined with curious retro and antique shops, clothes shops and galleries. The town is a rare thing these days being predominately independently owned businesses with not a chain store insight. Strolling on through the winding streets of this popular town on the edge of the Brecon Beacon National Park, you will find a glorious a bounty of bookshops, local crafts, Booths bookshop cafe, a luxurious independent cinema, great cafes and coffee shops, mouth-watering ice cream, plenty of vintage/antique stores and a fabulous deli.
James' place is absolutely heavenly - right in the middle of Hay on Wye and extremely cosy, with everything you need for your stay ready and prepared (even little extras like olive oil). Would definitely go back, and highly recommend the place to anyone thinking of visiting Hay on Wye for a few days!
Hollie
2014-09-10T00:00:00Z
Staying at James' place was fab. Really delightful apartment and perfect for a few days exploring Hay. Would HIGHLY recommend it to anyone else wanting somewhere not to big with tons of character right in the heart of the "action" :)
Mark
2016-04-08T00:00:00Z
Thank you so much for letting us stay, the flat was perfect. Everything was clean and fresh and designed with care and attention to detail. Would love to come again if only to swing in the chair again with a good book!
Gill
2016-06-24T00:00:00Z
Pavement Palace is a fabulous cosy apartment with all the amenities you could need for a few days away, First time staying in Hay on Wye and we couldn't of picked a better place to stay, great to have a log fire in the evenings after a great walk in the Black Mountains and dinner in very welcoming local pubs, would def stay again,
Samantha
2016-12-30T00:00:00Z
Great location, great accommodation and a very helpful host. Highly recommended if you are planning on staying in the area.
Bruce
2015-08-09T00:00:00Z
The Pavement Palace is quite simply , stunning. Very comfortable, well equipped and in the heart of Ross on Wye. James is a great communicator and a caring, friendly host. Would love to return.
Jan
2015-07-20T00:00:00Z
This was the best AirBnB I have stayed in. The accommodation was impeccably clean and luxuriously decorated making it feel like a real treat to be staying there. The location is also perfect being central in the town. I would highly recommend staying here and hope it is available the next time I come to visit Hay.
Dominic
2016-06-16T00:00:00Z
The host canceled this reservation 257 days before arrival. This is an automated posting.
Emma
2016-09-16T00:00:00Z
Tipus d'habitació
Casa/pis sencers
---
Tipus de propietat
Pis
---
Capacitat
4
---
Dormitoris
Hay-on-Wye, Regne Unit
Our Airbnb is a beautiful two bedroom flat in a traditional stone terrace. It's full of original features such as beams, staircases and stained glass, whilst benefitting from a tasteful modern refit. Situated on Castle Street, our flat gives you walking access to bookshops, river walks, cafes and pubs in just minutes, yet its elevated position means you'll have a peaceful, multi-functional space if you prefer to stay in.
The flat is set across three levels. When you open the door, you'll be greeted by a winding wooden staircase, which takes you up to the large and airy kitchen diner. The kitchen is fully equipped with all the equipment you'll need whether you're planning a roast dinner or quick breakfast. There's an oven, grill, hob, microwave, toaster, and even a dishwasher should you need it. We also provide basics such as tea, coffee, salt, pepper and various condiments, which you'll find in the cupboard above the all-important kettle. Just off the kitchen, a few steps take you up to the large bathroom, which has recently been refitted with a new suite and shower that has great heat and pressure. Next door to the bathroom is a roomy twin bedroom. Back down to the kitchen diner, and another characterful wooden staircase transports you up a level, to a good-sized living area. With armchairs and a sofa bed, the room can be transformed to a sleeping space. You'll find French doors and a balcony, which overlook the beautiful local countryside and is ideal to catch the sunset with a bottle of wine on clear days, or greet the morning with an alfresco cuppa. The master bedroom with skylight can be accessed through the living area, via a few steps. Please note that the flat has multiple stairs (some steep), and low windows – if you have mobility issues or small children, you should consider whether this property is suitable for you.
Hay-on-Wye is a pretty market town abundant with distinctive character. It's famous as the town of books, and for the annual Hay Festival. But it is also an excellent base for serious walking with two national trails, the Offa's Dyke path and the Wye Valley trail passing through the town, and the protected countryside of the Brecon Beacons National Park on its doorstep. Whilst the town is a dream for book lovers as its fame suggests, it has lots more attractions besides. There are great cafes, pubs, restaurants, a craft ale bar and bottle shop as well as a deli and chip shops, so your foodie needs are more than covered. The town has lots of great independent clothes shops, vintage shops, a fair trade store and galleries, as well as practical shops for walking gear, wellies or hardware. The Globe Theatre hosts a wide variety of events from live music and cinema nights to plays and a philosophy festival. A large common and River Wye walk are situated just behind the flat, perfect if you bring your dog or just need to stretch your own legs, and you can of course access the serious walks from your Hay base. After sunset on clear days, Hay on Wye is the sort of place where you can see the stars.
Great flat with a contemporary decor and in a great central location. Having even a small balcony is a great little bonus. The place was clean and tidy and certainly cosy during our chilly October visit. One small niggle is that storage for guests is extremely limited, most of our clothes had to remain in bags on the bedroom floors and likewise our food had to remain in bags on the dining room floor.
Barry
2016-10-16T00:00:00Z
Tom and Lara's apartment is a beautiful place to stay. It was the perfect sanctuary to come back to after a day out in the cold in Hay-on-Wye. It is right in the middle of the town, close to shops, cafes and the sights. The apartment itself was so cosy but stylish and well decorated. Tom and Lara were perfect hosts: very welcoming and more than happy to help with anything we needed. I could not reccommend this place enough! I miss it already.
Chloe
2017-02-27T00:00:00Z
We stayed at Tom's place with four adults and a toddler. It was warm and comfortable, and met our needs perfectly. It was the perfect location for exploring Hay - I would fully recommended spending a day in the town, and try to visit on a Thursday when a market takes over many of the streets. Be prepared to park a couple hundred metres away, and to pay £3.20 per day, though it's relatively easy to park close to the flat for loading/unloading (free for one hour). Also, the listing says there's just a bath, though there is now a shower, which was nice to find :) If you're tall (I'm 6'6''), be prepared to do some ducking for low doorways and a low pitched ceiling if you sleep in the double bedroom. We'd happily recommend Tom's place, and we'd stay here again without hesitation.
Cameron
2017-02-17T00:00:00Z
Such a lovely flat, and great location for walking, checking out the book stores and relaxing. Kitchen is very well equipped making it easy to be self sufficient.
Sarah
2017-01-16T00:00:00Z
This is a beautifully presented apartment, very spacious and SO convenient! We have already recommended to friends! We'd love to go back!
Rebecca
2017-02-21T00:00:00Z
This is an excellent flat from which to explore Hay - it's central, cosy and good value.
Angela
2017-02-06T00:00:00Z
Great
Lynsey
2016-09-26T00:00:00Z
This amazing property was perfect for us. It had everything that we needed and was perfectly situated in the heart of the most beautiful town. The balcony was a bonus with fabulous views across the picturesque countryside. The property decor was enhanced perfectly and had charming character. The addition of a washer and dryer was so convenient. A godsend. We would love to come again soon. Just perfect!
Simon
2016-08-20T00:00:00Z
Tipus d'habitació
Casa/pis sencers
---
Tipus de propietat
Pis
---
Capacitat
5
---
Dormitoris
Hay-on-Wye, Regne Unit
Duffryn Granary is situated within Cusop Dingle, with only a 20 min walk to Hay-on-Wye. A great base for exploring the surrounding countryside with the Black mountains and Offas dyke path close by.
A converted granary with kitchen, living room & bathroom upstairs with a quirky spiral stairs down to the bedrooms. Accommodation is part of our working family home with our dog. We will be going about our daily routine and hope not to inconvenience you during your stay.
A quiet and secluded part of the countryside with a local market town of Hay-on-Wye close by, with its literary festival, many bookshops and traditional pubs and restaurants.
Tipus d'habitació
Casa/pis sencers
---
Tipus de propietat
Pis
---
Capacitat
4
---
Dormitoris
Hay-on-Wye, Herefordshire, Regne Unit
Lovely ground floor flat in 18thC Grade II Listed character property in the heart of Hay-on-Wye, the Second-hand Book Capital of the World. Close to all amenities and activities. On Offa's Dyke Path and Wye Valley Walk. Parking. No hidden costs.
The apartment is self-contained with a spacious double bedroom with king-size bed which can be converted to a family-room, if required, by adding a full size single bed. There is a sofa-bed in the sitting area which can sleep a further one or two persons and a cot and high chair is also available. (If you require beds, other than the king-size bed, please let me know when you book.) There is a good size shower room with Mira Sports Shower. A comfortable open-plan living area with fitted kitchen, dining area, and sitting room is enhanced by old oak beams, wooden floors and stone fireplace. The kitchen is well equipped with electric oven, hob, microwave, toaster and fridge, together with Britta Filtered water on tap. There is an iron and ironing board and also a hair dryer in the bedroom.
There is a good variety of eating places in Hay. Just across the street is the 'Blue Boar', a quaint pub ideal for lunch or an evening out. If you are looking to have a breakfast cooked for you, 'Cafe Hay', a few yards up the road, is the place to go. Take tea in 'The Old Stables Tearoom' and enjoy delicious award winning cakes and preserves. There is so much on offer in this 'little old town' of Hay-on-Wye.
En meget varm velkomst fra Pat og Jim møtte oss i Hay on Wye. Leiligheten var godt utstyrt og meget godt rengjort. Utmerket beliggenhet sentralt i landsbyen. Ferskt brød, smør, melk, te og kaffe lå også og ventet på oss, fantastisk. Vi kan gi våre varmeste anbefalinger.
Leif Erland
2016-07-04T00:00:00Z
Absolutely perfect trip.. a most warm welcome on arrival by our best hosts so far. The town is clean, idyllic with all the local quirky shops you need. The walks have wonderful views and to return to the cosy flat is super.
Chloe
2016-04-25T00:00:00Z
Really enjoyed our stay here. It was conveniently located, very clean and a nice flat. Jim was also a great host. Thanks
James
2017-02-12T00:00:00Z
We loved staying at Jim's place. Everything was great and Jim was happy to offer advice and go above & beyond to make our stay personal and enjoyable.
Connor
2017-02-19T00:00:00Z
We had a perfect two night's stay in Hay. Pat and her husband couldn't have been more helpful and the flat was really lovely. It's exactly as it is in the pictures - completely pristine and with lots of nice touches including some very welcome breakfast things. Thanks! We'd love to come again next time we're in the area.
Juliet
2016-08-08T00:00:00Z
Jim's 'town flat' provides an extremely comfortable and well equipped base from which to explore Hay on Wye and the surrounding countryside. Hay itself is a fascinating place to visit, for history, unusual shopping and lovely walks. Everything was as described and definitely came up to expectations.
Caroline
2016-12-27T00:00:00Z
Cosy, modern accommodation with very comfortable bed. Excellent location to explore Hay and surrounding areas.
Colin
2017-01-02T00:00:00Z
Jim's place was in a great location right in the centre of the town. The place itself was well equipped, clean and tidy; it was a great base to go walking in the mountains and chill out in before exploring the town in the evening. Jim was very friendly and knew the area very well. I would definitely stay here again.
Jonathan
2017-03-05T00:00:00Z
Tipus d'habitació
Casa/pis sencers
---
Tipus de propietat
Pis
---
Capacitat
5
---
Dormitoris
Hay-on-Wye, Regne Unit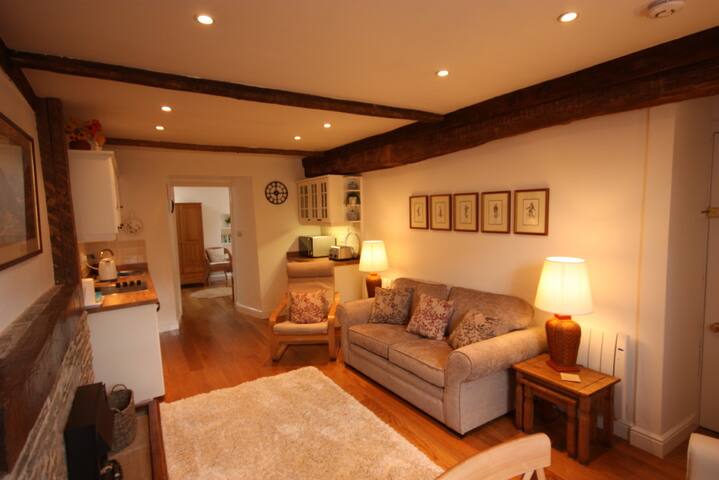 Character beamed Old Welsh Stone Flat located in the centre of Hay on Wye just 1 Minute walk from the Main Car Park & immediate access to the town centre facilities. Nestled under Hay Castle Wall this first floor flat has its own separate access.
World renowned for its second-hand book shops, the famous annual Hay Literary Festival and beautiful, breathtaking scenery, Hay-on-Wye is situated just on the Welsh border between England and Wales. Hay is an excellent base for exploring two National Trails, Offa's Dyke path and Wye Valley trail that pass through the town. Or if you fancy something a little more adventurous, paddle on down the picturesque River Wye in a canoe or kayak. Hay-on-Wye Market is every Thursday. Tours of Hay Castle are also every Thursday at 11am From 20th April 2017 onwards and cost £5 per person for approx 60-minute tour. And when the sun goes down and the sky is dark, the stars come out and you can actually see them! Venture up to Hay Bluff or to the Brecon Beacons National Park which has been awarded an International Dark Sky Reserve for stargazing. There truly is something for everyone.
Well equiped, clean and cozy flat right in the Hay town centre. It is just across the street from the town parking. It was great that the kitchen was stocked with essentials like cooking oil, salt, pepper, tea and coffee. The size was just perfect for us with our 4 year old son. Hay town is full of charm; we had a wonderful time wandering in the shops and finding little gems. We would strongly recommend a stay in Ian's flat.
yeeling
2016-08-07T00:00:00Z
It's exactly as advertised and very central.
linda
2017-04-06T00:00:00Z
It's tiny, but adorable - very cozy. The bathroom is pretty huge though, so that was awesome. The location is also great - we were right across the street from a little sandwich shop, practically on top of a Spar grocery store, and basically staying in the shadow of the castle walls. Hay is a tiny town, and the apartment is within easy walking distance of everything.
Heather
2016-09-28T00:00:00Z
A great little apartment - well equipped and in a fantastic location. Everything you need for a short stay in Hay.
Rosie
2015-08-28T00:00:00Z
Nice new year break.apartment had everything we needed and is really handy for the shops /pubs
Gary
2016-01-02T00:00:00Z
Ian's place was fantastic. Great location, great apartment, great host. I personally liked the fact that we didn't need to meet Ian to settle into the apartment (althoug he did offer to greet us if we wished). He promptly responded to all requests. Overall a wonderful experience.
Erin
2016-08-18T00:00:00Z
The apartment is comfortable and in a very good location in the centre of Hay. The main downside is a lack of any real view out of the windows so you feel a bit closed-in.
Andrew
2016-07-16T00:00:00Z
I had a lovely time at Ian's apartment. He was helpful, punctual, and kind. The apartment was very clean, the bed very comfortable, and there were fresh flowers in the kitchen. The location was perfect for exploring the town and for hiking outside of town. I would definitely stay here again!
Rebecca
2016-11-23T00:00:00Z
Tipus d'habitació
Casa/pis sencers
---
Tipus de propietat
Pis
---
Capacitat
4
---
Dormitoris
Hay-on-Wye, Powys, Regne Unit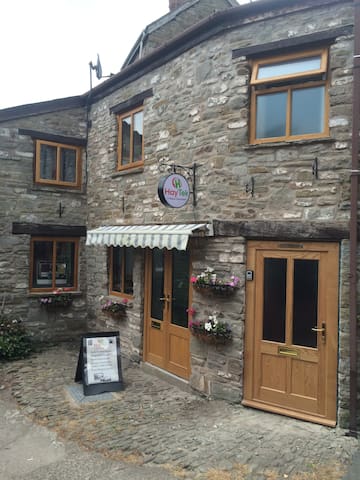 Our luxury one bedroom apartment mixes the style and charm of Georgian character with modern luxury. Quietly located in the centre of Hay-on-Wye, just a stone's throw away from the market square and Hay Castle.
We are confident that our accommodation offers superb value for the quality on offer and as so are keen to establish a warm relationship with the Airbnb community. Hay Retreats at 12 Market Street offers a luxury apartment quietly located in this quaint part of Hay on Wye, tucked above the pedestrianised area around the medieval Butter Market, near to the market square and Hay Castle. This is an architect designed Georgian town house renovation offering soft décors, colourful paintings, warm rugs, and stylish furniture blending together to create a sense of harmony, comfort and relaxation. Butter Market has one double bedroom, and features a spacious open plan living, dining and kitchen area, with three beautifully restored Georgian sash windows creating lots of natural light and offering lovely views of the Butter Market below. Facing west, the living room makes the most of the afternoon sunshine and sunsets, and as the daylight fades there are lots of lamps and lighting systems to suit all moods and occasions. For home entertainment we provide flat screen, wall-mounted Panasonic TVs and DVD equipment, with excellent high definition FreeSat programming. So even on rainy days our guests can make themselves at home and enjoy quality TV entertainment. There is Broadband Wi-Fi and cable service available in living rooms and bedrooms offering the best possible internet connection for guest with personal equipment. For playing music we have a docking system for iPods or iPhones. Bed linen is Egyptian white cotton with feather pillows and a choice of hollow-fill for those who suffer from allergies. The bathrooms include separate walk in showers and baths. Access to the apartment is via a well-lit doorway at 12 Market Street up the wide staircase. There is separate space outside to hang coats and to leave shoes. There is no parking in Market Street, so once guests have deposited their bags, they need to use the easily accessible carparks nearby. For more information about parking, just ask and I can email you a map of Hay where I have marked the main parking areas. Hay-on-Wye, a thriving Welsh border town, is a popular destination for country holidays in Wales. Located on the borders with England, Hay-on-Wye attracts visitors from all over the world. Renowned as the largest centre for second-hand books, the town also boasts the internationally famous Hay Festival that attracts thousands of visitors for ten days in late May and early June. There is plenty on offer within the town with cafes and gastro pubs for food and drink, bookshops galore, galleries, quality gift and craft shops and historic buildings including our medieval castle. Nearby are a number of excellent restaurants. Hay is also a good base for the Brecon Jazz Festival in August, the Abergavenny Food Festival in September, and the Hay Winter Literary Festival in December. A half hour drive away is Hereford Cathedral with the Mappa Mundi and Chained Library Exhibition that is open all the year round. There are also a few weekends during the summer months where you can visit Hay Fayre hosted at The Globe at Hay, just a couple of minutes' walk from Hay Retreats. Hay Fayre is a monthly festival of live music, talks, workshops and delicious food and drinks alongside mad and mysterious market stalls. You can easily book a canoe for a half- or day-trip, starting in Hay. Alternatively, you can begin your journey upriver at Glasbury, and make your way downstream to Hay. The local canoe company organises necessary drop offs in the morning or a pick-ups in the afternoon. Hay-on-Wye also offers walks on both banks of the river Wye. A good quality footpath leads upriver to the Warren, a natural riverside stone beach with good pools for swimming in. On hot days, locals and visitors to the town make their way to the Warren for a picnic, a game of frisbee or a swim. This is a wonderful year-round stroll for those looking for fresh air and beautiful views. Not to mention the surrounding hills and mountains that are part of the Brecon Beacons National Park.
An incredible experience and stay. The flat could not have been situated in a better position. Bang centre of Hay, a stones throw away from all book shops and main eating areas. The flat is perfect. It's new & modern but yet cosy and, as they say - idyllic. The photos don't do it justice. For those that like cooking - the Kitchen is fully stocked, immaculately clean and very spacious. At night the flat is silent and the bed is very comfy. We didn't meet Callum and Poppy but I had multiple text and email exchanges prior to our arrival, and they even helped arrange a surprise in advance! Thank you!!
Bertie
2014-05-06T00:00:00Z
Neither of us had been to Hay on Wye before and we absolutely loved it. Lorna was very helpful before our holiday and after arriving late on Friday evening we were so happy to see we had been left fresh eggs and other treats! The flat is a cosy, comfortable retreat right in the centre of Hay and we had everything we needed to enjoy our weekend. I can't wait to go back!
Helen
2014-07-22T00:00:00Z
Excellent and spacious flat, centrally located. Well-appointed kitchen, comfy sofas, good-sized bedroom. TV, DVD player and iPod dock all welcomed. All was in immaculate condition and the supply of bread, eggs and other essentials very welcoming. Highly recommended.
Robert
2014-08-26T00:00:00Z
Thanks for a great stay the location was perfect and the apartment was exceptional I enjoyed our short stay very much - the profile dose not do it justice highly recommended We will be back
Thom
2016-10-18T00:00:00Z
Lorna was very accommodating and gave us plenty of information on the flat, its location, access and of course Hay-on-Wye. The flat was really lovely, perfectly located in the centre of the town, very well equiped and extremely comfortable. We really enjoyed being able to shop at the local market on the Thurdsday and cook in the flat. It was also lovely to find bread, eggs, butter and marmalade on arrival at the flat! We would definitely stay there again when visiting the area.
Chloe
2014-07-14T00:00:00Z
Lorna was very efficient and answered our enquiries promptly and helpfully. The apartment was everything we hoped it would be; beautifully furnished, immaculately clean. The kitchen had everything you could possibly want if you felt inclined to cook a meal. The welcome pack was a nice surprise. We visited the tapas bar, which had a great vibe and St John's Restaurant, which was exceptional. The apartment is in a really good location, very central. The surrounding area was lovely for walking, there's several opportunities for canoeing or cycling on the River Wye too. The only thing that was did struggle with was parking in Hay on Wye, it's very difficult to find anywhere to park for longer than 4 hours during the day, even on Saturday and Sunday.
Steve
2014-08-04T00:00:00Z
Listing was accurate, pictures probably did not do the place justice. highly recommended.
tom
2015-08-17T00:00:00Z
Tipus d'habitació
Casa/pis sencers
---
Tipus de propietat
Pis
---
Capacitat
2
---
Dormitoris
Hay-on-Wye, Wales, Regne Unit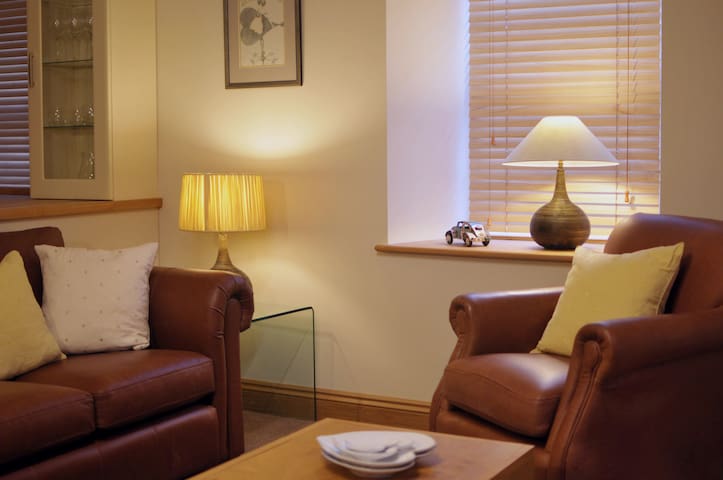 You'll find us along a quite lane in the beautiful Brinsop valley. We believe that the combination of location, comfort and hospitality make this a special place to relax during your visit to Hereford and the Welsh Marches. Find us on the internet at White House Brinsop.
Dees Cottage is named after Eric Dee who was born at the White House in 1923. Accessed directly from the garden, this is a bright and inviting ground floor stone cottage, conveniently arranged on one level. It has an open-plan format to provide an inclusive feel. This quaint property is well equipped with flat screen TV/DVD player, games, books, and a wide selection of maps and DVDs if desired. It benefits from central heating, a fully equipped compact handmade kitchen and a spacious modern shower room with provided toiletries. There is one bedroom with double bed. Egyptian cotton bedding, towels and toiletries are supplied.
The property is situated in the rural hamlet of Brinsop miles from the centre of Hereford. The Church of St George with Wordsworth connections is a short walk away and we overlook the Iron Age Hill Fort at Credenhill. We are close to Offa's Dyke and the Brecon Beacons National Park whilst the towns of Hay on Wye, Ludlow and Leominster are nearby.
We were given a lovely warm welcome by both Tim and Abby upon arrival. The accommodation was excellent and the weather enabled us to enjoy the lake and surrounding area. In a word ... 'excellent'. We will come back. Superb, thank you.
Dussadee
2016-07-05T00:00:00Z
We had a wonderful stay at Dee's cottage, Tim and Abbey were so welcoming and accommodating - we had a flat tyre and they very kindly lent us a pump. Abbey had made us a fresh loaf of bread and there were a few basics in the fridge to get us started which was perfect. We had everything we needed for a weekend, the cottage was warm, cosy, clean, lovely views, wish we could have stayed longer. As a bonus they also have two gorgeous labradors! Thank you Tim & Abbey.
Nikki
2016-03-09T00:00:00Z
Dee's cottage is a wonderful find. It is in a delightful peaceful location and even better than it looked on the photos! It was a lovely retreat and Tim was a very welcoming host giving clear instructions for arrival and even leaving a freshly baked loaf of bread for us!
Katy
2015-12-01T00:00:00Z
Our time in Hereford was lovely and we can't thank Tim and Abby enough for making us so welcome. The cottage is so pretty and well looked after but still with all the traditional touches. It has beautiful grounds and interesting history. It even came with Abby's homemade bread. It had everything we needed and was an ideal location, close enough to Hereford and nearby towns but also had a lovely secluded countryside feel which left us with lots of options of places to stroll. They gave us great suggestions of places to visit. We wish we could have stayed longer. Would highly recommend to friends and family. Thank you so much for a lovely weekend celebrating our anniversary.
Tania
2016-03-29T00:00:00Z
A Really warm welcome from Tim and Abby, the cottage was lovely and had everything we needed. A perfect get away, just like we wanted! Thank you, great people!
Jade
2016-04-07T00:00:00Z
Gorgeous place, very welcoming people.... A delicious cake and goodies in the fridge were left for us. Charming
Paul
2015-06-02T00:00:00Z
Tim and Abby were wonderful hosts who made us feel very welcome. The cottage was lovingly restored and the gardens surrounding it were an absolute treat. The bus service into Herefordshire one way and Wales the other gives non-drivers a fantastic choice between town and walking country. We would heartily recommend it to anyone considering spending some time in Herefordshire.
Thomas
2016-03-23T00:00:00Z
Tim and his family are lovely hosts,on hand if you need anything and prompt when replying. The accommodation is perfect for two with all modern amenities. The gardens /land are fantastic, we didn't want to leave, we definitely recommend.
david
2016-08-17T00:00:00Z
Tipus d'habitació
Casa/pis sencers
---
Tipus de propietat
Pis
---
Capacitat
2
---
Dormitoris
Hereford, Anglaterra, Regne Unit
The Cider Press is quirky, comfy, full of character with views and location to die for. Whether you are looking for a romantic get away from it all or a base from which to explore Herefordshire and the Welsh Marches youll find us hard to beat. Find us on the internet at White House Brinsop.
Reached via an external stone staircase, the Cider Press has a secure and cosy feel due to the original oak timbers that are visible in every room. The cottage which sleeps 3 in two bedrooms has lots of character and is centrally heated and furnished sympathetically and traditionally, yet well equipped with flat screen TV/DVD player, games, books, and a wide selection of maps and DVDs. Egyptian cotton bedding, towels and toiletries are provided.
The property is situated in the rural hamlet of Brinsop near to Hereford. The Church of St George with Wordsworth connections is a short walk away and we overlook the Iron Age Hill Fort at Credenhill Park Woods. We are close to Offa's Dyke and the Brecon Beacons National Park whilst the towns of Hay on Wye, Ludlow and Leominster are nearby.
The host canceled this reservation 363 days before arrival. This is an automated posting.
Jackie
2016-05-29T00:00:00Z
Easy to find; beautiful countryside all around; great views from the "Cider Press"; fantastic welcome with flowers and home-baked bread as well as all we could need to start our holiday; wiFi was fine. Hosts were charming and welcoming, while in no way overwhelming us. We are hoping to return later in the year. Only 15 minutes into lovely Hereford city - a mix of old and modern. Interesting books to read. Often such 'conversions' have low ceilings, whereas the "Cider Press" had lots of space, height and light. Lovely gardens to stroll through.
Sam
2016-03-06T00:00:00Z
My Mum & I spent a lovely three nights at the Cider Press and it was a great experience. Our hosts Tim & Abbey were most hospitable and generous and the accommodation was first class with everything you could think of provided. I would highly recommend you stay here.
Suzanne
2015-12-02T00:00:00Z
The welcome only made the departure even harder! We could not have asked for me, well maybe a longer stay! Thank you for making our first trip to Herefordshire so memorable. Highly recommend The Cider Press to everyone.
Bernard
2016-03-23T00:00:00Z
The great sympathy and courtesy of our hosts, the charm of the accommodation and the beauty of the region, enabled us to have a great time. The equipment and housing decoration are perfectly suited to its use. The garden and the pool are particularly pleasant.
Christophe
2015-07-21T00:00:00Z
Lovely location and cottage with welcoming hosts. Food for breakfast was an unexpected treat.
Jessica
2016-11-06T00:00:00Z
The Cider Press at Brinsop is truly a very special place. The location is perfect--off the beaten path but very easy to find and a great launching point for exploring the area. The scenery was breathtakingly beautiful--from the gardens, pond and surrounding hills to the gorgeous home itself--we could have stayed on the grounds all day and been happy. Tim and Abby were incredibly gracious hosts and went above and beyond to provide everything we needed and more (the homemade lemon drizzle and proper cider left out for us were only the beginning of unexpected extra touches). The cottage was clean, comfortable, well-stocked and tastefully decorated. We are so happy we found this place and would recommend it to anyone without hesitation. Thank you again Tim and Abby for helping to make our trip so memorable!
Jenny
2017-03-20T00:00:00Z
We had a great stay and the place is really cute. The hosts were lovely and really looked after us (breakfast supplies provided and freshly home-baked bread on arrival). Place was fully equipped and set in lovely countryside location. Highly recommend
Joseph
2017-02-12T00:00:00Z
Tipus d'habitació
Casa/pis sencers
---
Tipus de propietat
Pis
---
Capacitat
3
---
Dormitoris
Hereford, Herefordshire, Regne Unit
An amazing first floor cottage with fantastic views from every aspect. Cozy log burning stove, contempary style kitchen, large living area with superb balcony and terraced outside area and great gardens, with walks through the Dingle and fields.
On arrival Beverley was very accomodating, our sat nav was playing up and so we had to ring for directions. She was easy to reach and patient with us. During our stay she provided great general information about the area and was warm and friendly each time she popped around. The area of Old Bear Barn is gorgeous and tranquil, tucked away from the busy main road and hustle and bustle of the town itself - but close enough to everything you need. The barn itself was spotless, spacious and cosey. It was perfect for our small family getaway. Beverley even provided a bottle of wine, which was gratefully received. This place was definitely above and beyond our expectations.
Jessica
2016-09-18T00:00:00Z
This is a beautiful flat with a wonderful view. Really comfortable and homely and Bev was so friendly and accommodating. Highly recommend!
Tara
2016-11-27T00:00:00Z
Very convenient for us as have relatives in the immediate vicinity - would have liked to be able to smoke on balcony.
Vanda
2016-12-27T00:00:00Z
Fantastic hosts, fantastic property, fantastic location. Look no further if you are considering staying in the Hay-on-Wye area.
Steven
2016-08-31T00:00:00Z
A lovely second floor flat in a converted barn just 5 min drive from the town of Hay-on-Wye. Beverley was easy to contact at all stages of the booking, arrival and stay and did her utmost to make us feel welcome. Immaculate flat with a spacious lounge, balcony overlooking the Brecon beacons and fully-equipped kitchen. Great base for exploring Hay and the surrounding area.
Leon
2016-10-16T00:00:00Z
From the moment we stepped out of our car to our sad good bye; Beverley and her family were the sweetest, most thoughtful and attentive hosts I've ever met. The accommodation was very cosy and the views from the balcony - stunning. Hoping to make a return visit ASAP!!! My friends and I would highly recommend the 'Old Bear Barn'.
Lavinia
2016-08-21T00:00:00Z
Beverley was warm and welcoming. She responded quickly to my messages and provided her number if we needed it. The property is beautiful and has a stunning view of the countryside. The flat is very clean and comfortable and I imagine the fire would be wonderful in winter. The bed was comfortable and the bath was a welcome addition afyer kayaking down the river. We also had all the amenities to cook a meal and plenty of restaurants within close driving range. Thanks for the delicious homemade biscuits!
Nicola
2016-08-09T00:00:00Z
Made to feel really welcome here. Beverley was a superb host, readily recommending places to eat nearby . (The river cafe in Glasbury and the YAkida down the lane were superb btw!) Great place to stay - has everything you need.
Jo
2016-08-29T00:00:00Z
Tipus d'habitació
Casa/pis sencers
---
Tipus de propietat
Pis
---
Capacitat
4
---
Dormitoris
Hay-on-Wye, Regne Unit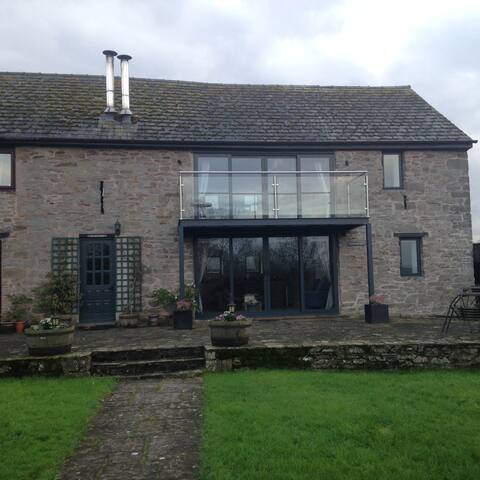 The flat is a fully equipped, self contained, private part of a larger house. It has been finished to a high specification and includes a spacious bedroom, kitchen/diner, shower/toilet room, and hallway. It also has a private outside patio/garden some of which is a covered area.
Privacy is important to most people. Whilst the ground floor flat is part of a larger grade 2 listed building it has been designed to ensure that visitors have privacy. It has its own separate entrance, outside patio/garden space, and is separated from the rest of the house by a locked door. Heavy curtains either side of that door help to increase 'sound privacy'. The bedroom has a good quality comfortable double sofa bed and a fold down single futon. Both the external and internal space has been tastefully decorated and restored. The kitchen/diner area has all the usual home features including cooker, sink, fridge, toaster, kettle, new central heating gas boiler, iron, hair dryer and is fully equipped with pots/pans/crockery and cutlery etc. All the items listed are new as at April 2016.
Presteigne is one of those special locations that has remained largely unchanged for many years. A rural location on the border of Mid Wales and England means that it has escaped many of the not so good 'developments' of recent times. It's a small historic town that is surrounded by beautiful countryside. There are many places of interest within the area including other historic towns such as Hay on Wye and Ludlow, as well as wonderful mountain ranges such as the Brecon Beacons and the Black Mountains. The route of the 8th century Offas Dyke passes nearby. The 'flat' is situated in the conservation area close to the centre of the town (about a two minute walk). If you prefer going out for meals, the town centre has a wide choice of cafes including the recent 'Moroccan' addition.
We had a very nice stay at John's place. All as described, would recommend to anyone visiting Presteigne.
Fred
2017-02-26T00:00:00Z
John was friendly and helpful. The flat is comfortable, has lots of great books and the kitchen has all the utensils required. Ground coffee a real bonus! Thank you.
Fionnhula
2017-01-09T00:00:00Z
Gorgeous, cosy flat and perfect place to stay.
Helen
2017-02-11T00:00:00Z
Perfect! Walking distance to everything and a very cozy and comfortable flat. Wifi is a bit weak-hard to stay on it for long, but that is a small detail for such a wonderful air bnb experience!
Adam
2016-12-01T00:00:00Z
Great little place to stay on a short break or stopover like we did. John was a great host, highly recommended.
Daniel
2017-03-04T00:00:00Z
Perfect again! Great accommodation & host, perfect location
Laurence
2016-08-21T00:00:00Z
We had a lovely stay in the woodcutters flat. John was helpful and accommodating.
Florence
2017-01-16T00:00:00Z
We had such a lovely time at the Wood cutters flat. It is gorgeous and John is such a kind, considerate host; he even bought me soya milk and special biscuits because he knew I was vegan. The flat is warm and inviting and felt like a little home from home. John had put out toys for my daughter and she loved discovering the hidden dinosaurs in the wood pile! John was so friendly but also gave us complete privacy. We will absolutely stay here again. Thank you John! X
Alexia
2016-11-06T00:00:00Z
Tipus d'habitació
Casa/pis sencers
---
Tipus de propietat
Pis
---
Capacitat
3
---
Dormitoris
Presteigne, Regne Unit
1

-

18

de

21 Lloguers de cases
Introdueix les dates per veure el preu total. S'aplicaran tarifes addicionals. És possible que també s'apliquin impostos.