It is just 1 km from the town of Doi Saket, with mini markets, wet market, banks, restaurants and District hospital. The resort has a swimming pool, spa and a pavilion for yoga. It is fully landscaped with traditional Lanna decor and architecture. Close to major shopping malls and golf courses this is an ideal place to relax and enjoy peace and tranquility. This Suite is on the upper floor of a 2 story bungalow. It has a bath, 2 shower room, with 2 toilets, kitchen overlooking ponds and temple
The 2 bedroom suite has an area of 110 meters in size. It has a balcony for dining and great views. The kitchen is fully equipped with microwave, hot stove with oven, toaster and the host will provide any additional cooking utensils. The Master bedroom has a king size bed the the smaller room has a queen bed. Ideal for up to 4 persons. There is a bathtub, 2 shower rooms and 2 toilets.
Enjoy the sights and sounds of rural Thailand. There are many restaurants within cycling distance. Every Tuesday is the Doi Saket walking street and on Saturday the district market has additional stalls. This accommodation is inside the Jasmine Hills Villas and Spa.
Ho soggiornato presso lo Jasmine Hills con il mio compagno e una coppia di amici a capodanno. Quando siamo arrivati Paul e sua moglie ci hanno accolto con gentilezza e simpatia! Inizialmente avevamo prenotato una casa per 4 persone ma una delle camere non aveva il letto matrimoniale. Paul e sua moglie ci hanno subito offerto di cambiare alloggio e ci hanno messo a disposizione 2 bungalows vicini ma separarti per avere maggiore relax e intimità senza chiederci alcuna maggiorazione di prezzo. La struttura è incantevole, immersa nella campagna e arredata con gusto! Oltre alla possibilità di fare una bella passeggiata o un giro in bicicletta, si può spender un tempo piacevole a rilassarsi in piscina! Inoltre è possibile fare massaggi su richiesta (ovviamente a pagamento). Paul è sempre disponibile a dare un passaggio in auto fino alla fermata del bus diretto a Chang Mai che purtroppo finisce il servizio alle 18:00. Paul e sua moglie sono stati sempre disponibili e hanno cercato di risolvere ogni esigenza (Paul cucina benissimo!!). Inoltre sono stati dei piacevoli amici con cui intrattenersi a parlare! Torneremo sicuramente!!!e lo consigliamo a tutti!!!
Alessia & Stefano
2017-01-02T00:00:00Z
We spent a wonderful week in the apartment. It all voted to our satisfaction. Apartment is ideal for 3 or 4 guests. The complex has very well maintained tastefully equipped with stalk. Had even a covered car park. Gladly we come back to spend some relaxing days. Kind regards
Andreas
2017-03-16T00:00:00Z
Very warm and welcoming hosts. We felt going to uncle Paul and Aunt Dolly, extremly helpful and charming. We felt amazing!!! Highly recommended!
Shalva
2016-08-18T00:00:00Z
这确实是一个不错的体验。 除了交通位置不太好找之外,住的真的很舒服。面朝池塘边,房东甚至还开车十几公里带我们去吃晚餐。下次来还住这里。
Han
2016-08-29T00:00:00Z
Tipus d'habitació
Casa/pis sencers
---
Tipus de propietat
Hotel boutique
---
Capacitat
4
---
Dormitoris
Doi Saket, Chiang Mai, Tailàndia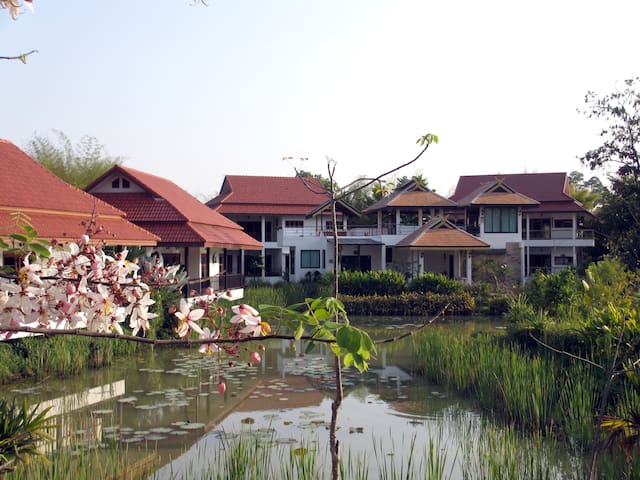 Very beautiful brand new home. Including: Full Air conditioning (every room!) Internet wifi Refrigerator Honda Click Automatic 110cc scooter !! Two bedrooms Two bathrooms Washing machine Kitchen Microwave Eventually Honda pcx150cc for rent 200bath/day for skilled drivers with drive license Excluding electricity: 3.7 Bath per unit (normal price) ..
The rent is EXCLUDING electricity: 5,3 Bath per unit. Please write down the amount on the upper meter in front of the house. In hot season max 1500 bath per month when use both aircon's . In the cold season (December-February) around 350 bath per month, for you don't need the aircon's The airco's (latest generation) are very quiet and lower on electricity use. When you like fishing is this the best spot you can get. The house is Only 800 meter from Bo Sang fishing park. Famous for their enormous catfish up to 50kg! Fishing gear available
The Host is great. Renting a house with motorbike is a bargain. Although the area is little far from heart of chiang mai, but with a transport its very easy to go around. Thanks dolf!
Supatchaya
2016-08-13T00:00:00Z
I stayed 2 weeks at Dolf's place with my husband and ma children. Dolf answer quickly to all our questions. communication with him is esay and great, althought he leaves in another country. The house was big enough for us all (5 people), a lot of windows, we did not use de aircon at all, but there are 2. The kitchen allows to cook a lot a things, the yard is great for kids to run and play. The beds were comfy and the rooms spacious. We were there to work remotely and slow down the pace of travel. The neighborhood offers a bit a eveything, but I should say it is not the best place to be with children (cars a running fast, not a lot of things for them). Having a scooter is a great idea if you want to stay there and visit Chiang Mai too.
Bianca
2016-03-13T00:00:00Z
The contact with Dolf was flawless, he's a good host ! The house is beautiful and the scooter is pretty new and strong ☺️ The bed in the small bedroom was a little uncomfortable for me but if you like it a little harder, you'll like it. The other one was really nice tho. We didn't have to use the aircon, it was cool enough. The Windows have a good protection from insects and you can sleep with open windows, listening to the beautiful night. It's not really central, you need to ride a little with the scooter to get inside Chiang Mai but for us it was really nice. The streets are great and it's much fun to ride there. Nice bathrooms with nice hot shower. Great big living room/kitchen with some speakers to listen to your favorite music. Had some small problems, which really weren't that bad. We found a solution for everything within minutes. I would definitely come back !
Philip
2016-02-21T00:00:00Z
Very nice house in a nice neighborhood of Chiangmai, just up the road from the umbrella factory. Dolf is great to work with - he answers questions very quickly and wants to make sure his guests have a good stay. For the price, the house is great. It's clean, spacious, and the furnishings are new. The scooter rides really well and there are 2 helmets. We had a great stay!
Megan
2015-10-26T00:00:00Z
Absolutely perfect. We had a great welcome by the housekeeper Somchai and his Gf. My girlfriend and i had each its own bathroom which was great and a huge bed. Wifi was blazing fast, Kitchen and living room great to hangout at. The free motorscooter was very comfy to get around and we even drove to doi sunthep a great wat and mountain nearby. Helmets were provided of course. The house was also equipped with a gas cooking and microwave. For laundry needs there was a basic washing machine behind the house. 10 of 10 points Rating! We enjoyed our 7 days very much. Be sure to go to buak ped soi 5 in bosang, right after the yellow pedestrian sign turn left into the soi. Chok dee!
Martin
2015-08-18T00:00:00Z
Dolf was beyond a great host! From the time we inquired he was very helpful and the whole process was simple and easy. He even organised a driver to pick us up from the station! The property it self is exactly what you see in the pictures and it has everything you need to aircon in all rooms and fully equipped kitchen (we loved the blender). It is about a 40min ride to the city via public transport (bus right at the end of the street for just 15 baht) but with the free use of the scooter it makes life very easy. Bo Sang is a wonderful area, mainly made up of locals but has everything you need from great food, local markets, public transport and many attractions near by. This space is great for families (plenty of room), people who need to work from home as the wifi is very good and anyone who wants to get away from the city. We hope to come back one day!
Vanessa
2016-04-19T00:00:00Z
Well what can I say here that has not already been said in the reviews about this holiday house,everything was perfect we did not want to leave.The house is very well secured but the area is so quiet and safe it leaves you totally relaxed.
garry
2016-06-28T00:00:00Z
The host canceled this reservation the day before arrival. This is an automated posting.
BREE
2017-03-21T00:00:00Z
Tipus d'habitació
Casa/pis sencers
---
Tipus de propietat
Casa
---
Capacitat
4
---
Dormitoris
Chiang Mai, Chiang Mai, Tailàndia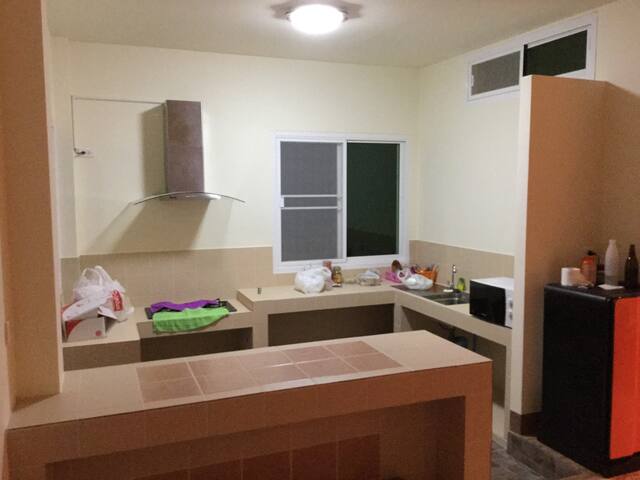 Awesome Space In A Small Town, CM A room is on the first floor of the house with a spacious outdoor area where you can go walking around or hanging with friends. You will love it here! Amenities: TV Cable TV Air Conditioning Parking Washer Family/Kid friendly Highlight Tweechol Garden The botanical garden was begun with the dream of its being a place to study the old way of life of the Lanna people, Lanna culture. One of its most interesting features is Centre point which has four domes displaying orchids, wild orchids, bromeliads, fern , anthurium, philodendron, cacti and succulents. The manmade water fall and tropical plants rely on a humid ecosystem. There are many other areas of the botanic garden to enjoy, from the palm garden with over 107 varieties of palm trees from around the world to the topiaries, expertly crafted into countless animal shapes such as dinosaurs, rhinosaurs, giraffe, camels, king kong, birds. The numerous lakes gives the visitors a felling of space, with even pedal boats provided to explore further. Thank you for visiting my listing page. Please simply message us if you want to ask anything or need any clarifications.
Tipus d'habitació
Habitació privada
---
Tipus de propietat
Casa
---
Capacitat
1
---
Dormitoris
San Sai, Chiang Mai, Tailàndia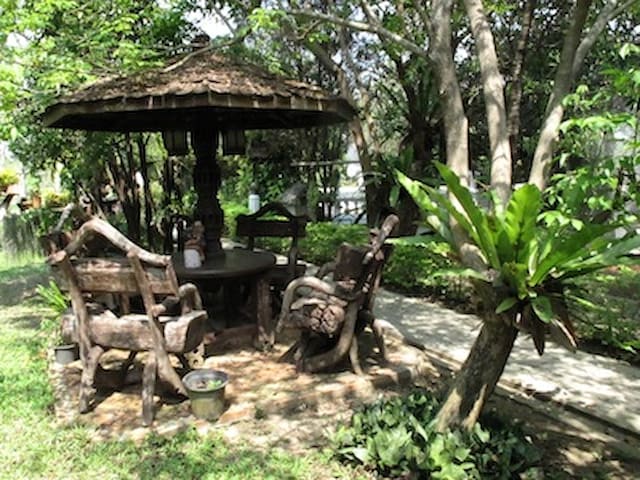 This charming riverside cottage is the perfect mountain escape from the city, located in the lush Mae Kam Pong Valley at an altitude of 700 mabsl and only a 1 hr drive east of Chiang Mai city. Perfect for both families and groups of friends.
The house has been fully renovated and now boasts 3 modern bedrooms all of which have there own private bathrooms. The house is also fitted out with a modern kitchen and dining area. The spacious outside deck and lounge area on the ground floor overlooks a small mountain river as well as a small waterfall, perfect for kids to swim in. Entrance to the house is from the top floor, where the kitchen, dining room and 2 bedrooms are located. The middle floor is comprised of the largest bedroom and has wraparound windows overlooking the surrounding forests. The ground floor is occupied by an outdoor terrace and adjacent lounge area. The folding glass doors on the ground floors are able to be fully opened, allowing for great air flow and ease of access for large groups. The house also comes complete with an outdoor fire-place, perfect for keeping you warm during the cool winter nights Nov' – Feb'. The house is best suited for those of you who are either on holiday in Thailand or on a long weekend break and want to escape the hustle and bustle of the city and spend a couple of nights relaxing in a tranquil setting and exploring the local area. Perfect for both families and groups of friends. Catering: In terms of eating at the cottage there is a microwave, fridge and basic gas stove. We can easily arrange for cooked Thai food to be sent to the cottage upon request. Should you require self-catering then please notify us before hand so that we can provide you with the correct cooking utensils. Transfers and Tours: Transfers from any location in Chiang Mai city can be arranged. We can also provide a few privately escorted tours in the local area, these include; hiking to local waterfalls, hot spring visits, hill tribe village tours and zipline canopy tours. Prices for all of the above depend on the amount of people in the group. If you have any other requests then please notify us when making a booking.
Tipus d'habitació
Casa/pis sencers
---
Tipus de propietat
Casa
---
Capacitat
7
---
Dormitoris
Chiang Mai Thailand, Chiang Mai, Tailàndia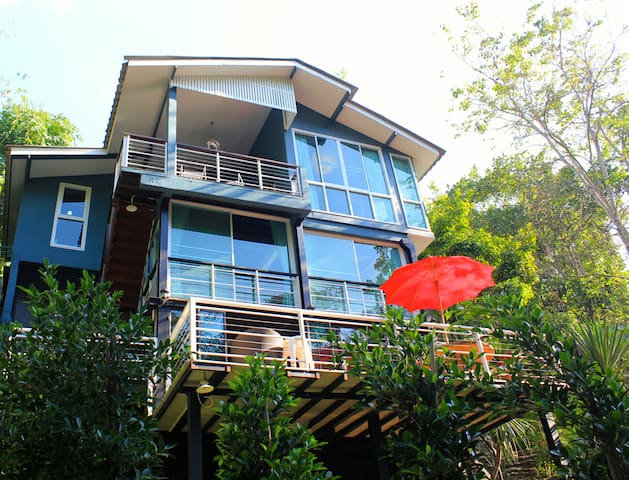 Grass roof wooden house on the pond surrounded by rice fields. Enjoy with us the lifestyle of a rice farm. Be a farmer or just sit back and enjoy! Either way, we'd love you to share a few days with our family in our home and farm.
Fully furnished, two story grass roof cottage, with veranda overlooking pond, living room, upstairs bedroom with balcony, extra bedroom downstairs, bathroom, and kitchen. Cozy inside but with an outdoors feeling.
Rural village atmosphere of Northern Thailand.
Bodge and Kanya are the most amazing, amazing hosts and more importantly, they are just wonderful people. We had such a great time staying at their farm stay. We had dinners some nights with them and their 2 daughters, Jessica and Maylee where we got a chance to sample Kanya's delicious cooking. It was just so nice to sit down and chat with them to get a sense of the real Chiang Mai and not something that you read from some guide books. The house is so cozy and well decorated, and I am already missing chilling in the living room overlooking the pond! The beds are very comfortable and we had never slept so well in such a long time. The farm and surroundings are absolutely breathtaking, rice fields against the backdrop of the mountains. Bodge took us around the farm and it was so interesting to see how rice gets processed and also the different fruit trees and crops they have on their wonderful farm. For runners, the surrounding area is great for running and exploring. There were a couple of days where we did not leave the house as everything that we wanted was here already. But if you need to get into town, it is really not a hassle with the local "bus" for 15 baht. What we got from this experience was a sense of how the locals live, and also a chance to interact with them on a more personal level. At the end of the trip, we felt like we were saying good bye to friends. Kanya and Bodge, thank you s(PHONE NUMBER HIDDEN) much for your amazing hospitality , everything from picking us up from the airport, to getting up at 6am to make sure that our transport was there to pick us up for the elephant sanctuary. You guys have definitely made our trip to Chiang Mai even more so special.
Danny
2017-01-17T00:00:00Z
We liked everything :) You must try!
Alice
2016-12-10T00:00:00Z
Love the house, enjoyed every minute there
Jennifer
2017-02-16T00:00:00Z
Nous avions choisi ce logement en partie lié aux commentaires élogieux. Et bien nous n'avons vraiment pas été déçus !!! Une véritable et sincère gentillesse qui a commencé dès le départ en venant nous chercher à l'aéroport. Ils nous ont aidés tout au long du séjour ( location d'un scooter , essence , conseils de visite , prêt d'un Telephone au cas où nous aurions un problème, pain et croissants pour le petit déjeuner...etc; visite de sa ferme et explications des différents arbres et plantes , explication du triage du riz ... Et grâce à Djodge, on a pu prendre le bus pour TaThon qu'on aurait sûrement loupé sans lui ! Quant au logement, il est juste exceptionnel, au milieu des rizières, la terrasse surplombant un étang avec de gros poissons ( pas de moustiques !!) et des canards. Un grand espace avec cuisine, salle de bain et chambre à l'étage. Endroit exceptionnel, à 20 min du centre ville mais ça se fait vraiment très bien !!! Un grand merci à eux pour cet excellent séjour parmi eux. À recommander sans aucune hésitation !!! Sophie et Jean
Jean
2017-01-02T00:00:00Z
这家民宿是我住过最满意的民宿了 环境特别有feel 要不是旅行的时间不够 我都愿意在那里住很久 哪怕只坐在那里发发呆都会很舒服!房东一家人的这的超级好 很热心 做的早餐也好好!总之超级推荐!!!
诗意
2016-12-17T00:00:00Z
My favourite so far! For us, Kanya and Bodge's place was everything and much more than we hoped for. After just a day, all our stresses had dissolved away. It was wonderful to sit and eat with the pond and its various wildlife so close by. The mozzies weren't too bad at all. We tended to apply repellent late afternoon and that did the job. Some days we went out to see elephants and raft etc but we also spent many days lounging around at home. The kids were keen to hang around the farm biking or swinging in the hammock. As others have said, Kanya and Bodge are lovely and were so helpful during our stay, though always respectful of our privacy. Our oldest daughter is coeliac, so we were keen to self cater. There are food markets as well as a Tesco lotus walking/biking distance from the house and the kitchen was really well equipped. We even found various gluten free pasta at the Central Festival plaza. We have wonderful memories from our 10 days at Lanna sunrise. Thank you Bodge and Kanya for creating and sharing such a lovely place.
Nikki
2016-12-07T00:00:00Z
I can't say enough great things about Bodge and Kanya's farmstay. Our experience was unforgettable. Bodge and Kanya are welcoming, helpful, and charming hosts. This is a great place to choose if you want a local, unique experience that is out of the way. Location is definitely rural, so it's best if you are fine with a 20-30 minute travel into town. We ended up liking the farm so much that we hung around during the day and went into town twice to get dinner or massages. Hosts are helpful about telling you how to get to the night bazaar - we got the total experience waiting for the green taxi (pick up truck with seats in back) and paying 15 baht to the right stop and walking to night bazaar. We didn't have any problems. The property and house is undeniably one of the most charming and unique aspects of the farmstay. The huge pond and sounds of the rice fields, as well as private kitchen area, was amazing. We loved staying up lying by the pond with candles. Kanya made us a lovely breakfast every morning. The internet was awesome. I was able to work and do video calls pretty reliably, all while sitting by the pond. Mosquitos were not a problem - MUCH less of a problem than any of the places we stayed in Bangkok or our other place in Chiang Mai. The value of this farmstay is a steal, and the experience was amazing. We're so grateful to have found it!
Andrea
2017-01-05T00:00:00Z
A wonderful experience with Bodge and Kanya. They were the most gracious of hosts, making our stay easy, and pleasant. We will certainly miss Kanya's cooking and joviality, and Bodge's conversation and energy. The house and farm are beautiful, and very relaxing. A quick trip from town often facilitated by the hosts. Highly recommend.
Evan
2016-07-17T00:00:00Z
Tipus d'habitació
Casa/pis sencers
---
Tipus de propietat
Bed & Breakfast
---
Capacitat
3
---
Dormitoris
San Sai Luang, Chiang Mai, Chiang Mai, Tailàndia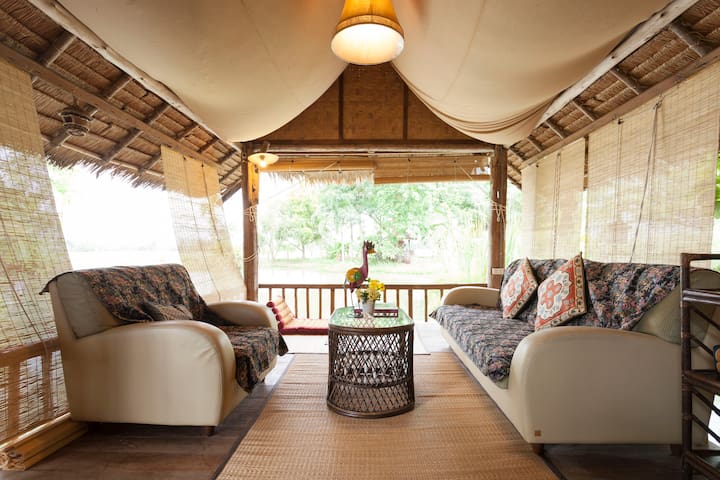 This is an ideal location for both one-week stay and long-stay for people who like a quiet, inspiring and natural environment with a large swimming pond and tall shady trees. It is located in the non-touristic rural countryside, only 15 km off City.
Private: Interior living area 58 sqm. 1 bedroom (queen-size bed with mattress 5 × 6.5 ft = 152 × 200 cm, air-condition and ceiling fan, room safe, built-in wardrobe). Living and dining room (sofa and sitting area, ceiling fan), fully equipped kitchen with electric stove with 2 hobs (an optional additional gas stove with 1 hob at extra charge), extractor hood, sink, refrigerator with freezer, microwave, hot water kettle, coffee machine, toaster. WC with Western type toilet and hand-wash basin. Bathroom with Thai type toilet, hand-wash basin, and hot shower. Laundry cabinet with washing machine. Private garden area with terraces. Shared: Most of the 7,000 sqm large community garden can be explored and used for recreation. Large natural pond, 7 meters deep, can be used for swimming and boating. Free: WiFi Internet, accessible interior as well as throughout the property. Tap water. Parking (1 car or 1 motorbike) within the property. Using the boat on the big pond. Using barbecue equipment in the garden. At charge: This home is offered for self-catering, but food can be offered occasionally, e.g. breakfast if ordered in advance. At charge (long-term rent only): Electricity. All other utility charges are included in the rental rate.
We are located just between two rural villages, hence neighborhood is distant.
Staying with Sammi and Dieter was one of the best things we did in Thailand. Their property is a little outside the city, which was a nice change of pace for us after traveling for several months. It also felt a little more authentic than staying in the super touristy parts of a city. It has a big beautiful garden and pond, and a gazebo which was great for relaxing at. As a host, Sammi helped us with all aspects of our stay including helping with tours, renting motorbikes, and even cooked us barbecue dinners a couple times. The bungalow itself was perfect: clean, spacious, a full kitchen and beautiful. We cannot thank you enough for our great stay, Sammi! We'll see you the next time we're in Thailand.
Madeline
2016-01-05T00:00:00Z
Sammy and Dieter are great host! They were very welcoming, very nice. We had great times together chatting over coffee and tea. They all made sure that we had all we needed and welcomed us warmly. The place is peaceful and quiet, perfect for people who want to avoid the crowded city. However, the place is 20km away from the city so if you prefer to hang out all the time in the city, this place might be a long commute for you and expensive since it is not easy to get public transport to go there, except if you have a motorbike like we had, which makes life easier. The house is large and great, especially if you want to cook as well. All the furnitures and amenities are there. We had a great stay. There are some local shops around to get food and snacks. The area is great and peaceful. We will go back to Sammy's next time we go to Chiang mai! We recommend this place!
leia
2016-12-24T00:00:00Z
Tipus d'habitació
Casa/pis sencers
---
Tipus de propietat
Bungalou
---
Capacitat
2
---
Dormitoris
Pa Lan, Chiang Mai, Tailàndia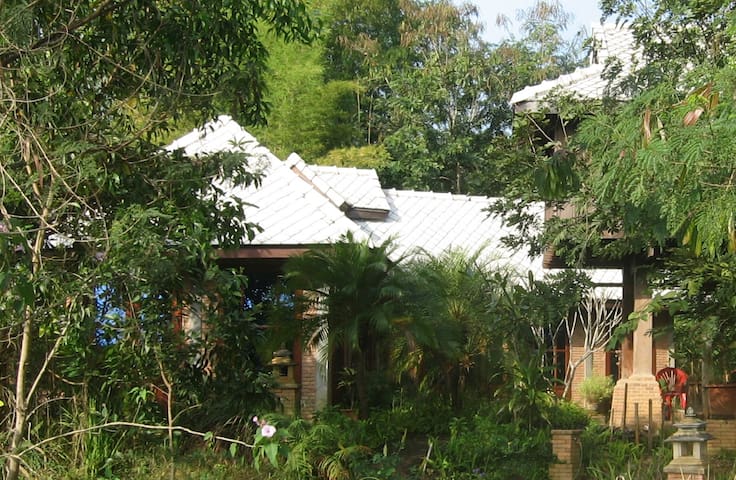 EACH ACCOMMODATION at Enchanted Garden is uniquely different. We offer 12 units---individual rooms and free standing bungalows. Please look at all the listings to choose which is more appropriate for you!!! (Click on Wanchai's photo; then click "REVIEWS." On the left side you can view all his listings.) Let your mind wander now to Enchanted Garden as you read the detailed description of Bungalow One for it's specific features.
This very special bungalow overlooks the salt water massage pool, a gently flowing waterfall and lush gardens. Features all modern conveniences including queen bed, ample clothing storage, comfortable seating area, air conditioning, kitchen with micro, refrigerator and stove top, high speed internet, computer work area, and outside lounges. It's beautifully furnished and very quiet and private.
Chiang Mai is perfect for digital nomads, still one of the least expensive places to live in the world. You get a lot for your money here, people are extremely nice, and it's very safe. We have modern infrastructure, great health care, and wonderful local foods. Enchanted Garden Bungalows is in a traditional Thai village approximately 20 minutes from Chiang Mai...depending on traffic. Our retreat provides a tranquil, peaceful retreat perfect for relaxing after a busy day sightseeing in Chiang Mai. A two minute walk down a quiet shady lane brings you to a Thai style general store that carries just about everything. There are also Thai style noodle shops and restaurants within walking distance. Our local temple is a 3 minute bike ride away. Transportation to and from the city is readily available, and transportation on arrival to the resort is complimentary!! Our resort is excellent for couples, solo adventurers, digital nomads and business travelers. Both pools are salt water; one has massage jets. We have several internet servers, (just in case one goes down) The 2 fastest are 60 mb. Our WIFI extends across the whole property. So wherever you find your favorite spot in the gardens, your computer will work there. We built each bungalow for long stay users, each one has a fully equipped kitchen, lounge area, computer work area, very fun bathrooms. They all have wonderful garden views. The garden area has Thai salas perfect eating, conversation or a late night glass of wine. A dedicated massage / yoga platform sits in the forest shade, where you will only hear the sounds of nature and our many water features.
Steve and Wanchai were great. They met us at the airport, took us to the bungalow and made sure we were fed. Steve briefed us on the area and Wanchai took us to see Thai boxing the next night. Steve made breakfast every morning that was delicious! They are both so hospitable and the guests they attract make the stay even more enjoyable.
Miranda
2016-05-13T00:00:00Z
Fantastic! What a gem of a place. Wanchai and Steve were perfect hosts, from meeting us at the airport, to arranging a trip for us and then a tuk tuk when ready to leave. Breakfast was lovely, and Steve's home baked bread and cake were delicious. Our Bungalow was just lovely and very unique. Great pool, and the use of the bicycles was brilliant, meaning we could cycle around the very pretty surrounding area. The whole of Enchanted Gardens is in a beautiful setting, so relaxing, we didn't want to leave. When my husband fell over and hurt his leg (completely my husbands fault) Wanchai was great, and took him to the pharmacy on his moped to get a bandage or two. We really can't praise the place and Steve and Wanchai enough. We don't usually return to a place but would definitely go back here.
Stug
2016-11-12T00:00:00Z
What a wonderful experience my husband and I had at Enchanted Gardens! Something that stood out most was the warm welcome and community feel of our stay. We got picked up from the airport, given welcome uba - Thai flower garlands, and our lunch was already being prepared! Wanchai had ordered us Khao Soi, a signature dish of the northern Chiang Mai region, from a local favorite shop. The property was beautifully and thoughtfully created with trees, sitting spaces, pools, waterfalls and a sense of zen. Breakfast was family style in the main building with other guests (homemade bread, fresh fruits). Bikes, scooters, travel guides, and high speed internet were all available at our fingertips. The private hut was comfortable and had AC. Although the bathroom is charming, be warned that it is Thai-style where the roof is open to the outdoors so bugs and mosquitos were a little closer than we would have preferred. Bottled water is always available which we loved and needed. We went out with the other guests to see live music and go dancing- it was so fun meeting other travelers and exchanging stories. There is a wonderful cooking school just a walk away from the airbnb that we highly recommend called Little Kitchen. Wanchai suggested a night out to see Thai boxing. He got us front row seats and we loved the experience! Janie is an American who is their on-site driver who was very helpful during our stay. We were very tight on time and had a lot we wanted to see and do. She helped us strategically plan our days, offered suggestions, and would wait if we had an extra stop to make at the market. She made transportation easy and convenient (AC, speaks English!, and was accommodating). Wanchai was happy to assist with making arrangements by making calls and speaking Thai. Enchanted Gardens is a special place with lovely people who make you feel like family. We wish we could have stayed longer!
Julia
2016-02-23T00:00:00Z
I adore my hosts...They made the place even more fabulous . The place could sell itself based on its location, the grounds, the unique bungalows, beautiful pools, ..But what makes it really come together is Wan Chai, Steve and Janae :they make you feel so welcome and are so attentive..Its like being part of a little community with a great mix of other travelers.. The place has the most chill and happy (URL HIDDEN) looking forward to many more stays in the future..Big Up to Enchanted Bungalows !!!
Susan
2016-03-08T00:00:00Z
Wanchai, Steve and Janie made us feel so welcome! They were easy to communicate with and made us feel very special - with the big and little things that they did. The place is as described and even lovelier than in the photos. Even on days with so-so weather, the property has lots of places for lounging and enjoying yourself. The location is also nice because it is in a remote area, but one with a coffee shop nearby and a short ride from Chiangmai. You will not want to leave this little slice of paradise - especially the pool!
Yelena
2016-09-16T00:00:00Z
Превосходные три дня в Чианг-мае благодаря прекрасным хозяевам Steve и Wanchai! Мои самые лучшие воспоминания связаны с этими хозяевами и отличным бунгало.
Иван
2015-12-30T00:00:00Z
We very much enjoyed our stay here! We were picked up at the airport by Steve & Jenny who gave us so much info about Chiang Mai & made our arrival that much less stressful. The bungalow we had was fabulous and stayed very cool with the air con at night. We loved the pool out front as well. Beautiful & relaxing but a bit far from town so depends what you're looking for but we were very happy to have stayed here & would def do so again. Hands down most helpful host we've ever had & best airbnb experience.
Lisa
2015-10-11T00:00:00Z
Wir hatten eine tolle Zeit in den Bungalows. Es ist eine sehr schöne Anlage mit sehr netten Menschen
Sebastian
2016-06-10T00:00:00Z
Tipus d'habitació
Casa/pis sencers
---
Tipus de propietat
Cabana
---
Capacitat
2
---
Dormitoris
A. Doi Saket, Chiang Mai, Tailàndia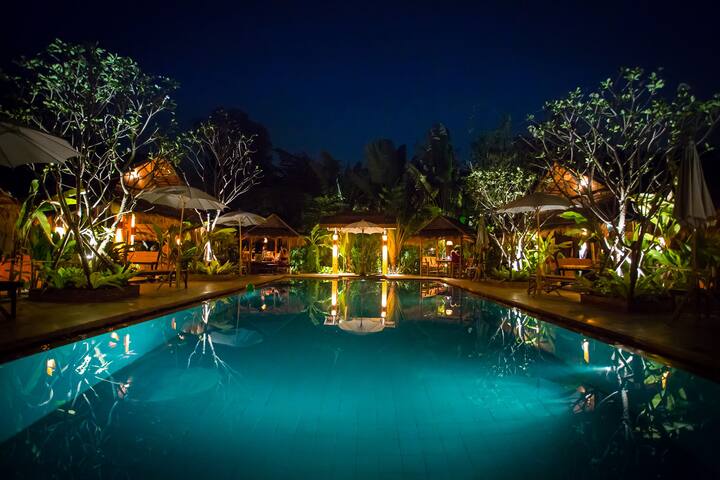 Diese Haus ist Ausgestattet mit großem Kühlschrank neu , Herd mit Backofen, warm Wasser in der Küche, Waschmaschine , Flachbild TV 32 zoll, 2 Bäder, 2 Schlafzimmer Toaster, Wasserkocher, Geschirr , Gläser,Pott und Pfanne alles da Wohnzimmer
info Alle Nebenkosten sind im Preis enthalten, wie STROM,WASSER,Endreinigung, Müllentsorgung, WIFI. Wir sind eine kleine Familie mit Deutschen EHEMANN 63 , der in Deutschland lange Jahre ein Gästehaus betrieben hat, meinem Sohn 21 und mir selbst 43 Jahre .Wir bieten ein ganzes Haus an, auf Wunsch bieten wir Urlaubern auch Abendessen gegen Gebühr an. Oder sie kaufen bei mir die Tiefkühlgerichte die ich alle selber herstelle und versorgen sich selber ( 600g Bolognaise 110 Baht, nur noch Nudeln kaufen und fertig ). Außerdem können sie den POOL mitbenutzen. Billiard spielen nach Absprache auch möglich. Wir leben ca.18 KM von Chiang Mai entfernt in einem kleinen DORF und ca. 2,5 KM von DOI SAKET entfernt . Es gibt öffentlichen Busverkehr nach Chiang Mai von DOI SAKET aus , die sehr oft fahren für 20 BAHT.Bei uns kann man sich ein MOPED AUTOMATIK (KM-Stand JUNI 2015 sind 13000KM ) für240 Baht pro Tag oder eine Kawasaki 150 cc CROSS KLX (7000KM Stand 06.2015) für 450 oder eine Suzuki Automatik 180 Baht mieten oder ein Fahrrad Kostenfrei pro Tag. Der Transfer vom Airport-Bahn-Bus-Terminal kostet für 21 bis 31 KM (PHONE NUMBER HIDDEN)ht. Nach Absprache können auch Ausflüge mit dem Auto gebucht (URL HIDDEN) DOI SAKET gibt es einen ITALIENER als RESTAURANTE. und viele THAI- Garküchen. Wenn man gut essen will in nur 4 KM Entfernung von uns gibt es das PALMRESORT wo ich gerne essen gehe , die Preise sind nicht zu teuer dort und sehr sauber und gut ist es auch noch. Wer nach dem Essen noch eine Runde Billiard spielen möchte der ist bei uns genau richtig, falls kein Partner da ist spielt gerne mein EHEMANN mit IHNEN. Ein FRÜHSTÜCK oder ABENDESSEN können sie bei uns auf Wunsch natürlich auch bekommen. Mein Mann backt Brötchen und Brot selber. Es gibt deutsche Küche oder Thai, nur keine Thaiportionen , man wird garantiert satt. Für das Abendessen muss die ORDER bis 14 UHR erfolgen , weil wir ja dann alles frisch einkaufen. Nur wer bei uns wohnt sollte mobil sein mit Moped, das wer schon ideal.Getränke kann sich jeder selber mitbringen .
Ballonfahren, Drachen fliegen, Doi Internon, ZIP LINE, Rafting und vieles mehr.
We loved our stay at Atchara's house. The pool was amazing, all the pictures were accurate and our host was very helpful. Since you are in Doi Saket you do need a ride to the bus to get to downtown Chiang mai or a ride straight there, so it was a bit far but in return you get to be closer to nature and away from the craziness. I was worried about not having AC but the fans were more than enough for us. I would definitely recommend this house to anyone visiting Chiang Mai.
becca
2016-08-20T00:00:00Z
The neighborhood was perfect! It was quiet and serene. The pool and natural environment had tons of beautiful trees, butterflies, and flowers. There was a free shuttle to town or a 20 minute walk. Our hosts were fantastic!!! They helped us set up excursions to play with elephants and go ziplining. This was an outstanding home for our family of four! We would recommend it to anyone.
Jennifer
2016-07-07T00:00:00Z
We had a great time at Atchara and Wolli's place, they really are super hosts who communicate well in English (even better in German and Thai) and are always ready to help with advice for activities or events around the area. The guest house is very nice and private and looks even better than in the pictures, the kitchen is fully equipped and the spaces are really ample. The terrace overlooking the garden is a great spot to have breakfast and the food Wolli prepares and provides if requested, at a very reasonable cost, is really good. We also enjoyed the pool area very much and we even got to experience a Thai "fish massage" on the adjacent fish pond. There are many places to explore nearby with a bike or scooter and the trip to Chiang Mai takes about 45 minutes but is very easy and convenient on the public mini buses from Doi Saket (which you can reach in a few minutes by bike, scooter or Wolli's "shuttle"). All in all, this was a great Airbnb experience for us and we recommend it wholeheartedly. Excelente estancia! Atchara y Wolli son realmente super anfitriones que se pueden comunicar muy bien en Ingles, (ademas de Aleman y Tailandes) y que siempre están disponibles a ayudar con actividades y eventos en el area. La casa es muy bonita y privada y se ve aun mejor que en las fotos, la cocina está muy bien equipada y los espacios son muy amplios. La terraza con vista al jardín es un muy buen lugar para desayunar y la comida que Wolli prepara y provee bajo pedido, a un costo muy razonable, es realmente excelente. Tambien disfrutamos mucho de la piscina y de un masaje de peces tailandés en el estanque adyacente. Hay muchos lugares en los alrededores que se pueden explorar en bicicleta o motoneta y el viaje a Chiang Mai toma unos 45 minutos pero es muy sencillo tomando el minibus desde Doi Saket (a donde se llega en pocos minutos en bici, moto o bien en el auto de Wolli). En suma, esta fue una gran experiencia de Airbnb y la recomendamos sin reservas.
Gaby & Juan
2017-01-20T00:00:00Z
It was Great! Wolli and may have a really nice place. It is really quite. Amazing place for chill Out. Chiang mai center is 40 min away with The local bus for 20 bath each. Just perfect! Wolly drove us every day To the next village return for freue. There is a amazing restaurant! Wollys food is really delicious!just amazing!
Jule
2017-04-08T00:00:00Z
C'est l'endroit ou aller dans le Nord!! Tout était parfait. La villa très confortable, la piscine charmante et très propre. Le jardin vraiment magnifique. De plus Wolgang est un hôte très accueillant et très sympathique et c'est un super cuisinier! Vraiment enchantés par notre séjour là-bas, je recommande vivement.
christelle
2016-08-06T00:00:00Z
Awesome house in serene neighborhood. As a family we loved the convenience of the amenities (washing, cooking, use of motorbikes to get to town) and the host was really friendly and welcoming to us.
Phillipa
2016-07-31T00:00:00Z
We have been traveling with our two teenage boys for 7 months and have booked most of our accommodation through AirBnb. We have stayed with many wonderful hosts but Wolli and Mai top our list! They are gracious, kind, funny and instantly make you feel like old friends. We loved every minute of our stay! Their property is beautiful and peaceful, just what we needed after a few days in congested, busy Bangkok. It is located on a rural road and surrounded by farms and forest, so each night we fell asleep to the calming sounds of crickets and tree frogs and woke to beautiful birdsong and other wonderful sounds of nature. It is close enough to Chiang Mai to take day trips into the city (30-40 minutes) but away from hussle and bussle. Free use of the bikes is nice to get into Doi Saket village (2.3 km away) for market trips, food, lotus lake and wats. Motor scooters were available and nice to use for travels to other nearby (Chiangmai Celadon, umbrella village,etc.) and reasonably priced. Wolli is a fantastic cook and will sell some of his meals for a very reasonable price---his bolognese is the best we have ever had anywhere! If we let them, our boys would have ordered Wolli's meals everyday! His fresh baked breads were also delicious. The pool was also a big hit with the family. Thanks Wolli and Mai. We hope to return to your beautiful home soon!
Alison
2016-02-25T00:00:00Z
Wir haben für 5 Nächte in Doi Saket im Haus gewohnt, es hat uns an nichts gefehlt! Mit dem Roller waren wir einkaufen oder haben Ausflüge gemacht (Grand Canyon, Bergtour, Aquarium), 2 Tage waren wir für kleines Geld mit Wolli unterwegs zum Rafting und Klettern im Hochseilpark. Ich habe jeden Tag für 180 Baht gefrühstückt/gebruncht, dabei ist alles was das Herz begehrt (Spiegelei/Rührei, Wurst, selbst gebackenes Brot, Butter, Marmelade, Kaffee und wer mag bekommt auch Fleisch oder Currywurst). Das Frühstück kann natürlich auch kleiner ausfallen, wie man mag. Wir konnten die ganze Anlage nutzen, haben gegrillt und auf der Terrasse gegessen. Alles was man an Hilfsmittel benötigt, bekommt man sofort zur Verfügung gestellt (Axt, Karton, Holz....) - Wolli und Mai sind wirklich ganz liebe Leute und jederzeit da! Ich durfte auch gratis die Kokosnüsse vom Baum ernten und vernaschen :-) Mir hat es sehr gut gefallen und ich werde bestimmt wieder kommen - und dann länger bleiben!
Martina
2016-11-06T00:00:00Z
Tipus d'habitació
Casa/pis sencers
---
Tipus de propietat
Casa
---
Capacitat
4
---
Dormitoris
Doi Saket, Chiang Mai, Tailàndia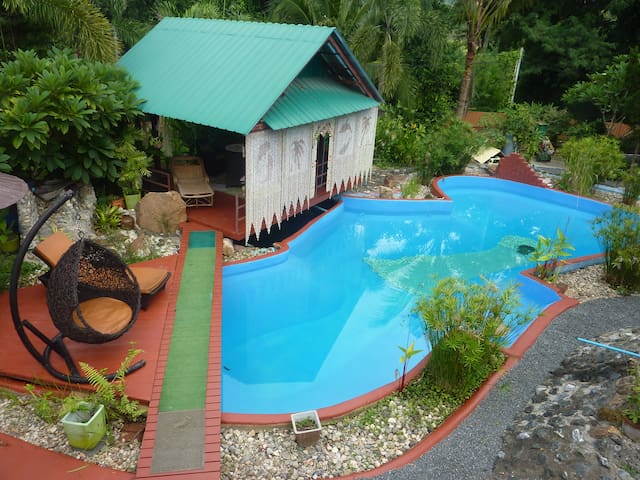 Our Spacious Two Bedroom Appartment is located 10 minutes from city centre(taxi 20 bt) Nestled amongst Restaraunts Freshfood markets pharmacys etc laundry service.Close to Chiangmai's latest Shopping Centre. Comfortable stay without B/P experience.
Large spacious apartment ( 65 sq m) 2 bedrooms 2 bathrooms 2 toilets Modern kitchen microwave fridge/ freezer induction cooking. All new beds mattresses flat sceen t v. WiFi cable and satelite tv. 2 Airconditioners. Dvd player even kichen radio Balcony Soffa writting desk Very Comfortable Appartment.
Our neighbourhood is friendly secure and close to all amenities We have a convienient store near reception also 24/7 laundry Near Great Freshfood Markets 3 pharmacys 7/11 hairdressers We have motor scooter for rent 100bt per day.
매우 늦은시각에 예약을 하고 즉시 이용을 요청했음에도 호스트는 아무런 문제없이 친절히 체크인을 안내해주었습니다. 아이와 아내가 함께 열흘간 머물면서 두개로 나누어진 방구조는 이용하기 편리했고, 기존의 태국식 가구에 세련된 유럽식 구조를 통해 더욱 이용이 편리했습니다. 준비된 취사도구와 다량의 접시 등. 꼼꼼히 마련된 주방용품으로 다양한 요리를 편하게 만들어 먹을 수 있었습니다. 말콤이 준비해둔 웰컴 푸드는 매우 다양했고, 체크아웃까지 몹시 유용했습니다. 최근 이용해본 에어비엔비 중 가장 기억에 남는 곳이고, 매우 친절하고 배려심 많은 그는 치앙마이에서 매우 바쁜 나날을 보내게될것같습니다. 말콤. 1월에 다시 만나요!
Youngchil
2016-11-19T00:00:00Z
My wife, son and I stayed at Mal and Oh's place here in Chiang Mai for twelve days. We loved this place! Only 10 mins from the CBD, fresh food market across the road from the apartment block and a convenience store inside the complex. Mal is a wealth of knowledge on the surrounding area and knows some great places to eat. The other occupants are friendly and my son gained three new friends while here. Thanks for the hospitality Mal and Oh.
Anh Thu
2016-11-08T00:00:00Z
The host canceled this reservation 53 days before arrival. This is an automated posting.
Zhibin
2016-11-30T00:00:00Z
Mal's place was great! Great price for a large living space! It had nice western enemies, and Mal was engaging and helpful. He came and picked us up from the bus station too! Area is a bit run down but the space and rooms were very nice and clean. Mal let us rent his scooter for a great price! The apartment has a 24 hr security guard at the entrance so we felt very safe. They also have washing machines in the lobby that are pretty cheap. They even have someone there to wash your laundry if you want, no dryers though, so we hung our clothes in our room. It's about a 20-30 min drive from the main city area, however, there is a nice large market across the street. Mal and Pav are great hosts and very knowledgeable about the area.
Jeff
2017-03-26T00:00:00Z
Mal is the perfect host. From the minute he picked me up at the airport I knew this guy cared about his guests. The apartment is a great size, lovely and clean and has everything you would possibly need and more. Mal goes out of his way to make sure your stay is great and his local knowledge is invaluable. I highly recommend staying at Orchid Place.
Chris
2016-12-27T00:00:00Z
Having stayed in many different places in Chiang Mai, this was such a pleasant surprise. We paid less than half the amount for our previous trip and had a much better room. It took us a little time to find the place, the surrounding area isn't the most beautiful, the accommodation is on the top floor of the first of 4 large tower blocks, but once inside it was perfect. The whole block was clean and cared for with adequate parking underground. The room itself was actually two rooms stuck together with an adjoining door, a double bed and bathroom in each and one room acting as the kitchen and one as the living room. We were pleasantly surprised by the amount of space we had and the friendliness of the host. We only stayed one night but would not hesitate to stay longer if we need to next time. Mal was a lovely guy and you are in safe hands should you choose to stay here. At this price, you will not find better accommodation!
Laura
2017-02-12T00:00:00Z
Big apartment , 2 Beds , 2 showers, good kitchen, safety place, very helpful owner, good wifi 24/7 (uploading some videos in youtube was fast) water filtersystem for drinking water, fridge, 2 airconditions, close market 2 minutes walking, cheap scooter rental by the owner, quite area/neighborhood, laundry in the building, little supermarket with eggs, little snacks and water in the building, 30 minutes scooter driving to old town , i would definitely come back here :)
Matze
2017-02-26T00:00:00Z
Tipus d'habitació
Casa/pis sencers
---
Tipus de propietat
Pis
---
Capacitat
4
---
Dormitoris
San Na Meng San Sai, Chiang Mai, Tailàndia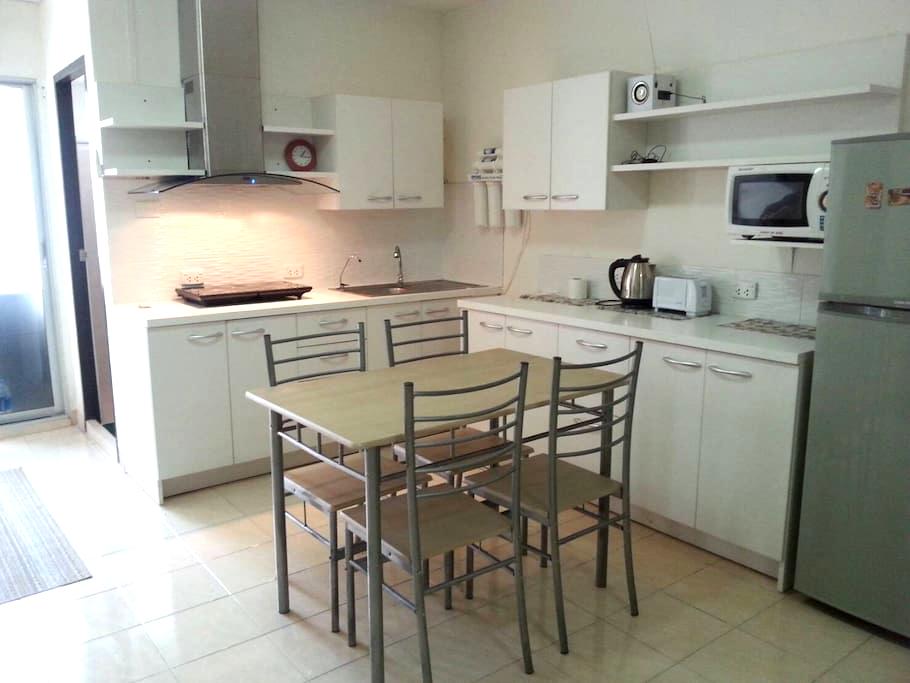 My place is close to Doi Saket town which has convenience stores, banks, large local market, district hospital, clinics, local restaurants and shopping. It is typical of rural Thailand. It is 15 minutes from the cultural shopping district of Bor Sang and 20 minutes from major shopping malls. .
Tipus d'habitació
Casa/pis sencers
---
Tipus de propietat
Pis
---
Capacitat
2
---
Dormitoris
Chiang Mai, Chiang Mai, Tailàndia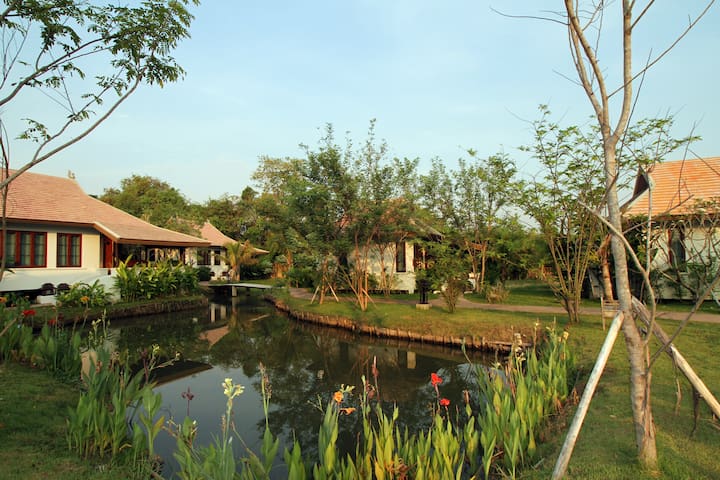 花园别墅有两层,三个卧室,大双人床,三个卫生间,全新的热水器、电视、空调、冰箱,家私家具。别墅坐落在清迈二环路上,距离清迈makro、bigC、大商场十公里
花园近500平米,绿化好。家私家具、电器全新
安静、舒适、温馨、干净
非常棒的住所,用具几乎都是全新的,离古城大约有12公里远,很安静,非常适合一家子居住。院子里种了很多芒果树。女主人很热心~
natasha
2016-01-07T00:00:00Z
房间很宽敞~也还干净 设备齐全。房东很客气,人好
River
2016-09-05T00:00:00Z
Our host was wonderful. We were a few hours late due to the map on airbnb being wrong (careful when you try to find the house), but our host still greeted us with a big hug. The house was beautiful. Fits 3 couples comfortably. Air conditioners in every room including the living room. The complex was very quiet, with a security guard to the entrance. It's a little out of the way, though. Expect 20 mins driving to get to any sights. There was no washing machine, but there was a coin operated machine within 2 mins of driving. Overall, we were very pleased and would definitely stay there again.
Kyle
2015-11-28T00:00:00Z
房子住的很舒服
Huanghe
2016-08-28T00:00:00Z
Good
li
2017-01-23T00:00:00Z
Tipus d'habitació
Casa/pis sencers
---
Tipus de propietat
Casa de camp
---
Capacitat
6
---
Dormitoris
清迈, 清迈, Tailàndia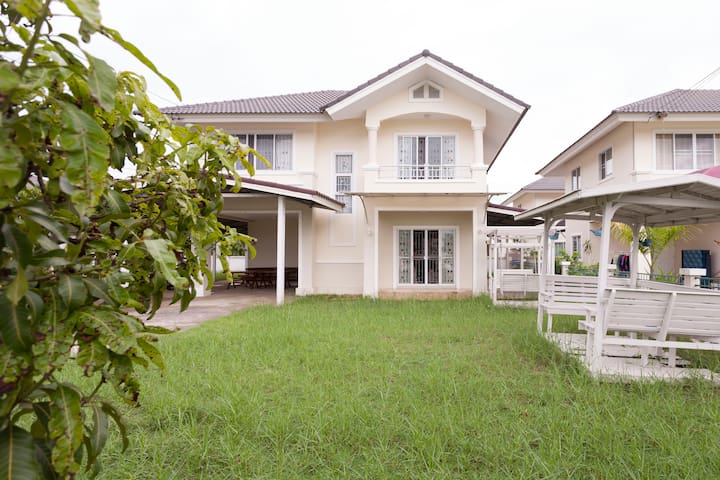 Jasmine Hills Villas and Spa is a boutique resort with Lanna Style (Northern Thai) inspired furniture and architecture. It is 22 km from the city centre, but there is a small town of Doi Saket only 2 km from it. There are free bicycles which our guests can use to the restaurants, local market, 7/11, Tesco, banks, pharmacies and local bus terminal. Tours and golf can be arranged with pick up from resort. The resort is tranquil and surrounded by the sights and sounds of nature in rural Chiang Mai.
Tipus d'habitació
Casa/pis sencers
---
Tipus de propietat
Hotel boutique
---
Capacitat
2
---
Dormitoris
Chiang Mai, Chiang Mai, Tailàndia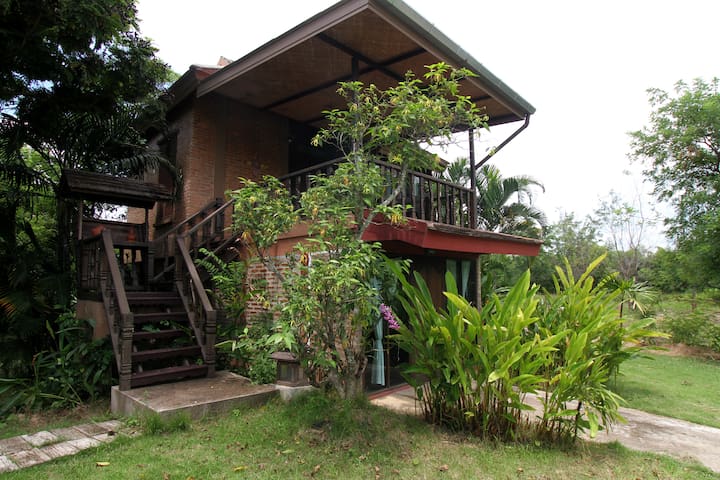 My apartment is 10-15 minutes outside of the CBD. It's a new apartment I designed myself. Everything is brand new however my apartment tower is old. San Sai has lots of coffee shops, bars, restaurants and a massive shopping centre 10 minutes away. You can drive 15 minutes to the city or 15 minutes to the mountains and hot springs of Doi Saket. I have a huge TV, fast internet, printer, microwave, bluetooth stereo, sofa bed and huge king bed.
Western boutique studio apartment. Custom built to feel like a hotel room. Won't find this quality outside the city. I like to be outside of the backpackers and traffic to enjoy all sides of Chiang Mai. Enjoy the extra features of my apartment : black board wall with chalk, wall mounted bottle opener, beer holder in the shower, black light in shower, custom lighting for entire apartment as well as dimmer switch for main light. Please note I had cats previously so that may be a problem if you have a cat allergy.
Clean fresh air, cheap local prices and quick access to city and mountains
The apartments is as describe, well looked after in a nice neighbourhood away from the hustle and bustle. Its clean, modern & comfy, I enjoyed staying in the area. I had to work inbetween, so it was good to have reliable internet and tables to work on. Was nice coming back to the apartment to chill after exploring all day. Thanks for letting me stay at your place Adam.
Wah
2016-11-22T00:00:00Z
The host canceled this reservation 20 days before arrival. This is an automated posting.
婕
2016-11-25T00:00:00Z
We stayed at Adam's place for a long time, for 2 months! =) We saw pictures and fell in love with it! Everything is very comfortable in the apartment. First of all, there is great Wi-Fi and for our work it's very important. There is TV with Android box for movie and music (we liked it), there is huge bed, enough working space, fully equipped kitchen, microwave. Adam is very nice amd communicative. He met us, showed everything inside and outside. And always connected for any questions! Location is not in the city centre, but if u have motorbike there is no problem to get anywhere. Location is very quiet, cheap cafes and shops around. There are not many foreigners aroud so u can communicate with real local people to know their culture.
Irina
2016-12-15T00:00:00Z
Замечательная современная квартира, прекрасный общительный хозяин
Olga Olenina
2017-03-06T00:00:00Z
It was great staying at Adam's place, although it may seem a bit far from the city - it really isn't, if you have driven a Scooter before then it is best to rent a scooter as it is quite cheap - but if you do not want that, fear not - as public transport can take you to the city for as low as 20 baht per person per trip (takes 25-40mins, depending on traffic) (btw ask Adam for tips on how to get best rates on public transport :D). Place looks awesome as it looks on pictures, it has an android tv which we found really nice addition (thinking of buying one haha) and bluetooth speakers which we also enjoyed. Adam was extremely helpful and for every our concern he was there so we felt absolutely like at home.
Andrej
2017-02-14T00:00:00Z
For those 2 months this apartment was really like our home! It was so comfortable, cosy there: tv with youtube, enough space for working, dining and rest, good kitchen, fast internet - everything for comfortable long stay! And very chilling - we didn't use aircon and it was so good not to cry about hit =)
Irina
2017-02-05T00:00:00Z
Didn't realise i would love that place so much. Nice Condo with parking, studio is modern and really cosy. The host, Adam, is friendly and really cares if you enjoy your staying. 10 min to the Town if you have a car, or bike, and the marketplace across the road. Lots of food and fair prices for locals) I recommend!
Vasiliy
2016-12-05T00:00:00Z
Tipus d'habitació
Casa/pis sencers
---
Tipus de propietat
Pis
---
Capacitat
2
---
Dormitoris
Tambon San Na Meng, Chang Wat Chiang Mai, Tailàndia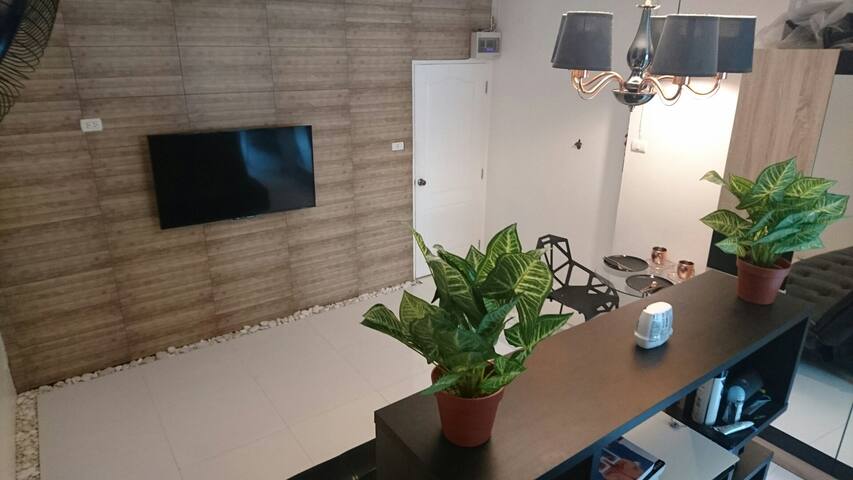 Two 42 square meter-rooms for rent, each decorated with old Thai Burmese style furniture in a privately-owned colonial style house located 30 minutes from the city of Chiang Mai. Breathtaking view on the rice fields and mountains from the house and from the deck of a 15 meter infinity salt-water outdoor pool. Each room with private terrace,free WIFI, satellite flat screen TV, tea/coffee making facilities, air conditioning, refrigerator. Bicycles free. Public transportation next to the house.
You will enjoy the relaxing atmosphere of a private colonial style villa decorated with Burmese and Lanna funiture, the 9,000 sqm garden and its infinity salt pool, only 30mn from downtown Chiang Mai and most excursions. Our two 42 sqm bedrooms offer all international standard hotel equipment.
Tipus d'habitació
Habitació privada
---
Tipus de propietat
Casa
---
Capacitat
1
---
Dormitoris
Chiang Mai, Chiang Mai, Tailàndia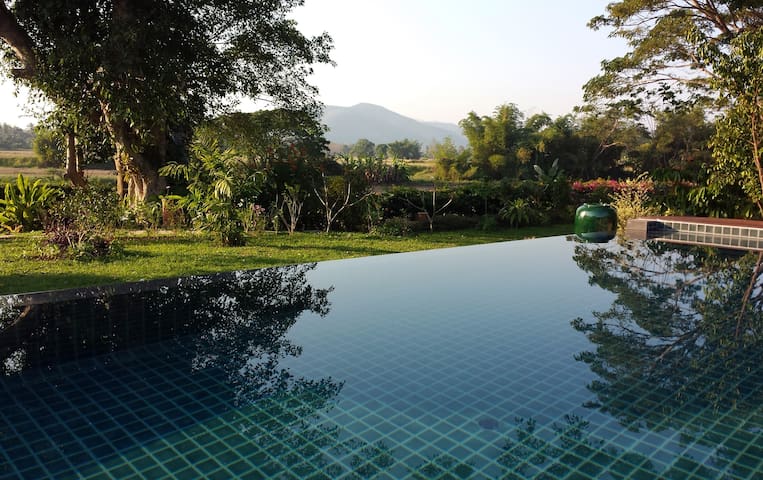 TWO LUXURY ROMANTIC VILLAS. LISTED SEPARATELY ON AIRBNB! UP TO 5 ADULTS, 2 CHILDREN Full Breakfast is included. Dinner from Maya's Kitchen available. The TEAK VILLA has awe inspiring views across rice fields and mountains from its 2 metre wide viewing balcony. The BAMBOO VILLA is 72 sqm. Both are separate from the main resort house with private entrance Please message to obtain best price offer. The villas share a 'mineral water' swimming pool, botanical gardens and teak wood art
The property is wide open to you our guests. Swimming pool, gardens, exercise area, are yours to enjoy as you wish. The main house deck is were meals are served and where you may relax and enjoy the view.
Rice and Zen is a serene location in the beautiful Thai countryside surrounding Chiang Mai. Fabulous views over rice fields and mountains and within the resort you can enjoy our botanical gardens, lakes and waterfalls.
Michael was an amazing host! My boyfriend and I are extremely happy that we chose to stay here. Although it rained quite a bit during our stay in Doi Saket, we still really enjoyed Rice and Zen Boutique Resort. The pool and food was great, and the view was beyond our expectations. We felt so pampered the entire time. Thank you so much to Michael, Maya and Arnold!!
Meghan
2016-11-12T00:00:00Z
Beautiful place, peaceful environment, lovely people, spacious villa, very comfortable bed, perfectly clean, good food, free scooter to visit,... I do not have enough compliments. Thanks a lot Maya and Michael, we wish to come back.
Wei Jia
2016-11-16T00:00:00Z
Over expectations. We clearly recommend to everyone who wants a premium experience.
Alex
2017-01-29T00:00:00Z
It was the best 7 days spend on thailand countryside! Michael is very warm, carrying and friendly host and his villas are absolutely amazing place! Better than the pictures :)
Alice
2016-12-07T00:00:00Z
My husband and I stayed 2 nights for our wedding anniversary. We enjoyed the environment. Maya's kitchen provided tasty food. Michael created a fantastic place for the people who would like to relax and rest well in Chiang Mai.
YANMIN
2017-01-20T00:00:00Z
Tipus d'habitació
Casa/pis sencers
---
Tipus de propietat
Casa de camp
---
Capacitat
2
---
Dormitoris
Tambon Sam Ran Rat, Chang Wat Chiang Mai, Tailàndia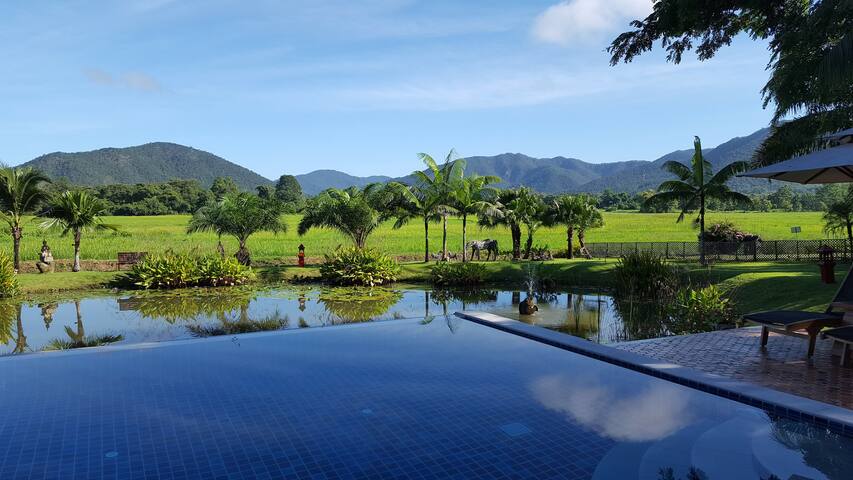 This is for those who like it a little calmer. Our guests are looking forward to enjoy the unadulterated simplicity of real village life out here in the rolling countryside. Some are digital nomads who need to work on-line with as little distraction as can. Others simply want to relax and recharge the batteries. We live in Doi Saket Hot Spring at an altitude of 500 m. A gentle breeze from the mountains warrants the cool of our evenings here. Internet: detac 4G rcmd. Languages: NL, GB, F, D, TH.
entire private guestroom spacious 22 sqm apartment private entrance private fridge private hot water shower private toilette all doors and windows do have mosquito nets
The internationally renowned Tao Garden Health Center is just down the road. Our visitors who have booked some of their programs love to recalibrate mind and body for a couple of days prior to attending treatment. Not all of the Tao Garden courses necessitate that you become a resident there. So for those who prefer staying with us for the duration of their enrollment it will be our pleasure arranging for daily transport to and from the Health Center if you want us to.
Mit Abstand die besten Gastgeber auf unserer Reise durch Thailand. Ein Ort zum Entspannen & Genießen - eventuelle Wünsche werden einem von den Augen abgelesen. Wiederkehr garantiert!
Placid
2017-02-11T00:00:00Z
The best Airbnb experience we've had yet. Jess and I woke up Saturday morning not sure where we would be staying that night so we logged onto the website. We knew we wanted to visit hot springs near Chiang Mai so Gert and Aris' place looked perfect for our needs. They couldn't of been better hosts if they tried, their hospitality was second to none. From the moment Aris picked us up from the city and took us food shopping for anything we wanted, to the moment we got dropped off at our next hotel was fantastic. We were fed exceptionally well (they're both really good cooks) and their advice on where to visit was great. On one of the days Aris even took us to Chiang Mai to visit an organic market, the Royal study centre and even showed us the traditional bucket shower at the hot springs. Their home is a wonderful piece of architecture and the room was clean and had everything you needed. For anyone wanting to experience the countryside and learn more about the local culture then a stay here is a must. The value for money is exceptionally good, We look forward to hopefully one day coming to stay again, many thanks both, Jess and Rob
Robert
2016-10-24T00:00:00Z
One of my best Airbnb experiences ever. I came here to work without distractions in a calm environment. I was extremely productive and still felt like I was on vacation. Arisara and Gert were the perfect hosts: giving me space to work, but always being there should I need anything. I had the privilege to join them for three de-li-cious home-cooked meals a day, and there was always so much fresh fruit I had trouble eating it all. Arisara kindly showed me some sights around, and arranged a lady from the village to come to the house and give me Thai massages. They even went out of their way to buy my favourite Japanese green tea for me. The house is in a beautiful, somewhat remote place and the only sound during the day is birds singing and leaves falling off the trees. I worked outside on the terrace all day every day, with nice views and fresh air. I bought a dtac prepaid SIM card in advance and had rock-solid, high-speed 4G connection all the time. I miss Gert and Arisara already and really hope to come back some day.
Vita
2017-01-08T00:00:00Z
Million thanks to taking care of us. The first time I decided to stay for one night at Doi Saket in New Year period. I really glad and very impressed to stay here. Aris and Gert make me feel at home, they are kind friendly and considerate us all the time while stayed. They always ask me "May I help you?" "You need Breakfast or Lunch or Dinner" more and more assistance. Their home is private and clean room, spacious terrace, good surrounding, silence place, and very beautiful view from terrace like their home name "Amazing view on the rice field". This home isn't not business, they make it with heart, ideal and passion. When I was here I feel them like relative and make me feel relax body and mind. So I'll come back here again. I really appreciate. Thanks a lot Aris and Gert. ขอบคุณพี่อริสและคุณเกิร์ทมากๆ นะครับในการได้เข้าพักผ่อนบ้านหลังนี้ เพียงแค่คืนเดียวก็รู้สึกถึงความประทับใจในการดูแล การเอาใจใส่ เหมือนเราได้พักผ่อนอยู่กับบ้านเราเอง ที่พักอาจจะเดินทางเข้าไปลำบากนิดหน่อย แต่มันไม่ใช่ปัญหาสำหรับเราเลย เพราะเราเช่ามอร์เตอร์ไซต์จากตัวเมืองเชียงใหม่ เพียงขี่รถแค่ 30 กิโลเมตร ก็จะถึงที่พักที่แสนจะอบอุ่นและเป็นกันเอง สิ่งที่คุณจะได้รับนั้นมันมากมายซะยิ่งกว่าการได้นอนหลับ แต่คุณจะได้ใช้เวลาพักผ่อนที่นี่ ที่ๆ ไม่วุ่นวาย เงียบ สงบ บรรยากาศดี ล้อมรอบไปด้วยต้นไม้ วิวแม่น้สายเล็กๆ และที่สำคัญได้ชมวิวทุ่งนาที่สวยงามอีกด้วย เจ้าของบ้านทั้งสองไม่อยากจะค้ากำไรจากการทำ Air BNB นี้ แต่ทำด้วยใจ ทำด้วยความตั้งใจอยากให้คนมาพักผ่อนที่บ้าน มาพักแล้วรู้สึกเป็นกันเอง มาพักแล้วเหมือนได้อยู่บ้าน มาพักแล้วเป็นเพื่อนบ้านที่มีเรื่องให้พูดคุยแลกเปลี่ยนเรื่องต่างๆ ซึ่งกันและกัน แล้วเราจะกลับมาพักที่นี่ใหม่ ขอบคุณมากๆ นะครับ
Chanapai
2016-12-31T00:00:00Z
Great experience ever! I call it real living experience in a little paradise. The atmosphere is quiet and peaceful with very easy access. You oversee the rice field and doisake hot spring from the terrace. Gert and Irisara gave us the warmest welcome throughout our stay. We've had homemade b'fast and dinner in the house everyday and they are delicious. We go to have hot spring everyday and we've even had massage in the house. We'll only need to tell our preference and we'll get it beyond our expectation. They receive one group of guests one time, so that to give exclusive experience. Definitely recommend for couples, small family and single traveller who wants to have a good escape and be yourself all the time. And it's really value for money. I don't think they make money from the business but more or less looking for a lifestyle by sharing the joy and peace. We've already decided to visit again and to spend more time next time. 最好的一次体验,短短几天仿佛置身世外桃源。环境幽静但不偏僻,阳台上望出去是稻田和不远处的doisake温泉。我们每天在家吃早餐和晚餐,每天去泡温泉,房主甚至安排了上门服务的按摩。总之,你只要告诉房主你的期望和愿望,得到的一定远远超出你的期望。房主每次只接待一批客人,所以整个体验很私密自在。强烈推荐!夫妻、小家庭,或一个人旅行,希望好好休息又能自由自在的,那便再适合不过了。消费也是物超所值的。我觉得房主不赚钱,可能更多是希望与各地的游人分享宁静安逸的生活方式。我们已经决定下次再去,并要多住几天。
Gina
2017-02-02T00:00:00Z
My stay with Arisara and Gert was absolutely perfect. Their house is very new and located in a quiet environment, if you're looking for a place to relax and do nothing for a few days this is perfect. You can walk over the rice fields to the hot springs and get food there, or you can eat with Aris and Gert, who are both great cooks.
Janosch
2017-01-29T00:00:00Z
Both hosts looked after me very well in a very clean modern home. Ideal place to relax. They made me feel like I was part of the family. Even though Chiang Mai was a one hour drive away, the host was prepared to provide transport.
Thilay
2016-12-16T00:00:00Z
My stay at Gert´s and Aris´ house felt like coming back home to see family, if you now live far away. Their hospitality is amazing! I was looking for a place to work and study without distraction. Gert´s and Aris´ terrace is the ideal place for this. Besides that they took over all mundane things that complicate life (offered to do my laundry, made my heart jump with amazing food every day), gave me quiet when wanted and were always available to give advice, have a chat when needed. Everything about their house is just lovely, done with so much heart and consideration, giving a feeling of home.
Janina
2017-02-18T00:00:00Z
Tipus d'habitació
Casa/pis sencers
---
Tipus de propietat
Bed & Breakfast
---
Capacitat
3
---
Dormitoris
Doi Saket , Chiang Mai, Tailàndia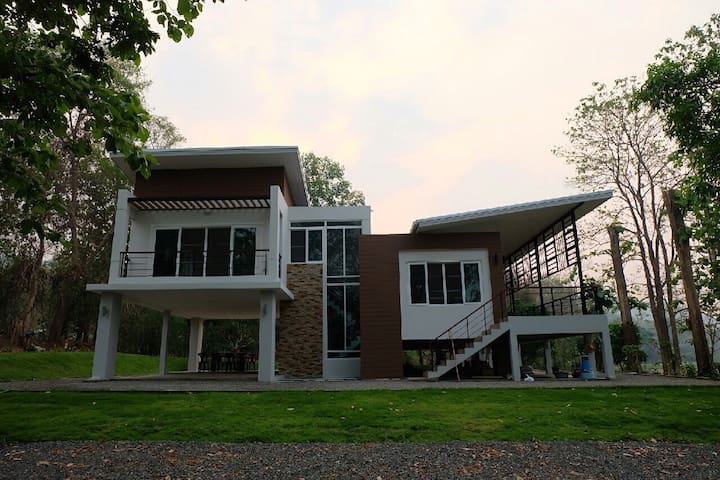 บ้านพักเชิงเขาที่เงียบสงบในสวนเกษตร บนถนนสายเชียงใหม่-เชียงราย ไม่ไกลจากตัวเมืองเหมาะสำหรับครอบครัวและหมู่คณะที่ต้องการความเป็นส่วนตัว
เป็นบ้านสองชั้นทรงเอเฟรม ห้องนอนชั้นล่างเตียงขนาด 5 ฟุต ชั้นบนเป็นห้องใต้หลังคาวางฟูกตามจำนวนผู้เข้าพัก
เขื่อนแม่กวงอุดมธารา ศูนย์พัฒนาห้วยฮ่องไคร้
Tipus d'habitació
Casa/pis sencers
---
Tipus de propietat
Casa
---
Capacitat
4
---
Dormitoris
Chiang Mai, Chiang Mai, Tailàndia
chambre avec sdb et balcon privee donnant sur une grande piscine situer a 15 km du centre de chiangmai endroit ideal pour se reposer a la campagne tout en etant pas loin de la ville nous sommes entourrer de rizieres ideal pour les ballades a velos un golf a proximite pour les amateurs marcher traditionel thailandais dans le village ou vous pourrez appreciez lart culinaire et la culture thailandaise du nord.endroit ideal pour les excurtions du nord de la thailande. au plaisir de vous voir
ce sont des chambres spacieuses 30 metres carre avec salle de bain 8 metres carre ameublement en bois de teck vous trouverez tout le confort disponible. televisions wifi
nous sommes dans un village tipyquement thailandais ou vous pourrez vous melangez a la populations locale vous pourrez visite les temples autour de chez nous en vous promenant a velo mis a votre dispositions
Tipus d'habitació
Habitació privada
---
Tipus de propietat
Bed & Breakfast
---
Capacitat
2
---
Dormitoris
Tambon Nong Yaeng, Chang Wat Chiang Mai, Tailàndia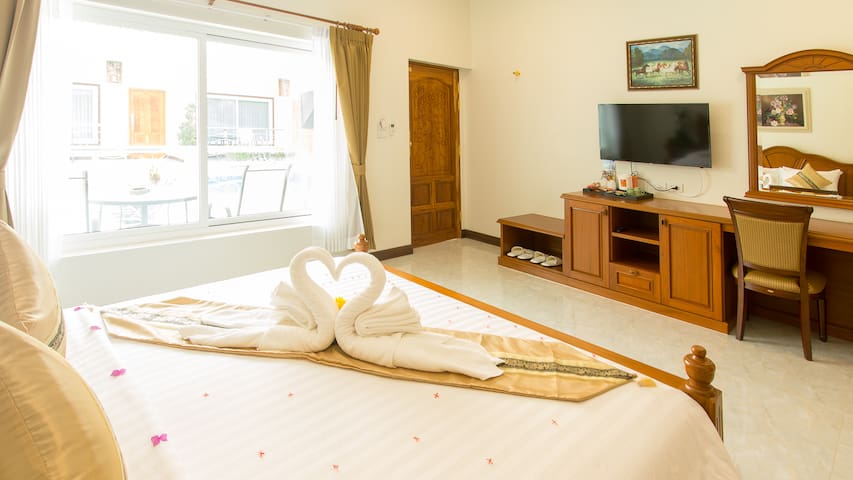 Introdueix les dates per veure el preu total. S'aplicaran tarifes addicionals. És possible que també s'apliquin impostos.