La maison est située entre les villages Murroe et Cappamore dans le comté de Limerick; à la fois Limerick et Tipperary sont à proximité. Regardez sur une vue sur les montagnes Galtee du salon ou des jeux tout en profitant d'une cuisine entièrement mis en place et le feu ouvert.
Una casa confortable, ben equipada i en un entorn de tranquil.litat absoluta. Molt recomanable per a voltar pels comtats irlandesos de Limerick, Clare, Tipperary i Cork
MARA
2016-07-22T00:00:00Z
Many thanks for providing the perfect home from home, for a wonderful relaxing long weekend away from the hustle and bustle of England. The description of the bungalow is spot on and we loved the firewood pack to start us off. It was very light and spacious, as well as beautifully clean. The kitchen was so well equipped it was a joy – I loved the two ovens! The beds were comfortable with beautiful bed linen. And a view to die for! We discovered Clare Glens very close to the house with its stunning series of waterfalls providing breathtaking scenery. We also had a wander through the extensive and beautiful gardens of Benedictine Glenstall Abbey. Next time we will arrange to have a tour of the abbey. We discovered the most delightful garden at Knockpatrick which is maintained by the retired farmer and his wife. I think it was the most stunning garden I've ever visited. The Flying Boat Museum at Foynes is just down the road and was fascinating. Their cafe serving lunches and teas was also excellent - all home made. We loved Limerick and managed to get to see the impressive St John's Castle and also the surprisingly good Hunt Museum. We would highly recommend an excellent lunch in their restaurant downstairs (they sell a superb strawberry roulade) and the afternoon tea at the Castle was delicious. Being vegetarians we were delighted to discover the The Grove vegetarian kitchen on Upper Cecil Street in Limerick. The food is freshly cooked daily by a mother and daughter team. We were advised to get there early as all the food sells out by 2pm. It was amazing and all for 9 Euros! We packed an enormous amount into our short time in Ireland and will definitely be going to this area again for a longer stay as there is so much more to do and see AND we will definitely book to stay in Kathryn's gorgeous bungalow.
Pat
2015-12-14T00:00:00Z
Everything was perfect. Kathryn is a great hostess. Everything was perfect. Beautiful house with everything you need. Responds really fast. Would strongly recommend.
Lynn
2016-07-28T00:00:00Z
Great stay. The place was more than big enough for four adults and a toddler. The house is set in a lovely location with lovely walks near by.
Jess
2016-10-27T00:00:00Z
Kathryn's house couldn't be any better at all. She didn't miss any detail, had everything we needed to feel absolutely comfortable. Although we didn't meet her she left a welcome pack with things we would need for breakfast which we really appreciated. The house has a lot of rooms, very comfortable beds and was very clean. But the views from the living room were probably the best of all. Would certainly repeat if I ever go back to murroe! Thank you so much Kathryn
Elsa
2016-05-24T00:00:00Z
Clean, comfortable and perfect for a few days visiting family around Limerick. Plenty of space and everything we needed and more. Great host, will be recommending to family friends!
Marie
2017-04-02T00:00:00Z
Kathryn's house is amazing place for a great vacation in Ireland. The house is very super cozy, cute and has everything you need for a comfortable staying. The views from the windows are picturesque, the house is located in a very quiet and peaceful place. Highly recommend it for all airbnb users who plan to explore Ireland.
Ainur
2016-06-28T00:00:00Z
Kathryn's home was perfect. I was visiting with four family members from the states and the house was a great size for us. The house was clean and Kathryn was really easy to work with.
Karen
2016-10-07T00:00:00Z
Tipus d'habitació
Casa/pis sencers
---
Tipus de propietat
Pis
---
Capacitat
7
---
Dormitoris
Murroe, Limerick, Irlanda
Guest bedroom is spacious, with wifi and solo use of bathroom. Close proximity to UL, parks and amenities as well as walking distance from M7 express bus stop. Any Questions feel free to ask.
Excellent location, within walking distance to the M7 dublin express and city buses, safe quiet neighbourhood.
We couldn't meet the hosts in person as it was Christmas and they were away. Our communication was flawless and we spend great time in the lovely neighborhood and their lovely house. We were surprised by some chocolates and Guinness beer left for us :-)
Bistra
2016-12-24T00:00:00Z
A lovely modern, comfortable and clean house with helpful hosts. A nice stay, would recommend!
Aisling
2017-01-18T00:00:00Z
Very friendly couple, I really enjoyed my stay here.
Alex
2016-12-01T00:00:00Z
Very calm place. Friendly hosts.
Fabien
2017-04-07T00:00:00Z
What a lovely host and very communicative, directions to the house were very clear and concise. The house was immaculate and the bedroom was gorgeous. Slept like a log. Ian and Lisa are very welcoming and I would recommend this to anyone who wishes to stay in limerick for a few nights. Bus service was a few minutes walk from house, as were a local gastro bar and restaurant, supermarket. The neighbourhood and surroundings is gorgeous. Very private and it felt very homely. I had a pleasant stay and woke up feeling rested and relaxed. Thank you Ian and Lisa for having me to stay at your gorgeous house. Definiately would stay again, very friendly and inviting. Thank you both for a lovely stay and for being very accommodating!! Best Regards, Patrick X
Patrick
2016-11-12T00:00:00Z
Ian was super friendly and helpful and made check in a breeze despite our very last minute booking.
Matthew
2017-03-25T00:00:00Z
The best host and accommodation. They are so kind and nice. They provided us with everything we needed. We felt like at home. The house is very clean and has everything you need. We are very happy with this host. Thank you for everything :)
Goran
2016-11-23T00:00:00Z
Lovely peaceful place. Very Clean, comfortable bed, lovely bathroom and shower. Would recommend.
Anita
2016-12-04T00:00:00Z
Tipus d'habitació
Habitació privada
---
Tipus de propietat
Pis
---
Capacitat
2
---
Dormitoris
Castletroy, County Limerick, Irlanda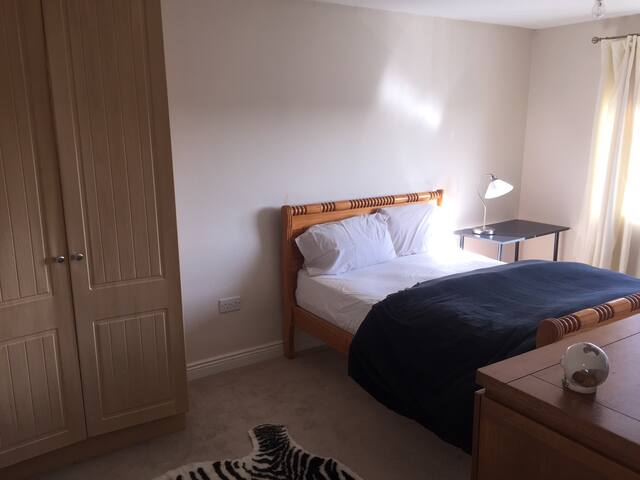 Mein Platz ist an der Universität von Limerick, Stadtzentrum, Einkaufszentrum, Technologieparks, Industriezentren in der Nähe. Sie werden meinen Platz wegen der Lage lieben, die Einrichtungen, haben Sie Ihr eigenes Haus mit niemand über den Austausch mit Sorgen zu machen. Mein Platz ist gut für Paare, Solo-Abenteurer, Geschäftsreisende, Familien (mit Kindern) und große Gruppen.
The host canceled this reservation 4 days before arrival. This is an automated posting.
Noah
2017-03-21T00:00:00Z
Tipus d'habitació
Casa/pis sencers
---
Tipus de propietat
Pis
---
Capacitat
2
---
Dormitoris
Limerick, County Limerick, Irlanda
Executive letting; close to the University Of Limerick and the city Center . My place is good for couples, solo adventurers, business travellers. families with older children
Safe neighbourhood, within walking distance of the University , shops, bars and places to eat. Best area of Limerick by far :)
The apartment is a joy to stay in the Host has fabulous taste. We stayed for three days and really enjoyed and relaxed there. I would recommend this apartment to anyone. Thanks Kate for letting us stay.
Sandra
2017-02-26T00:00:00Z
We had a great time staying at Kate's place. The apartment is spacious and beautiful with a great location close to University of Limerick. Kate was a gracious and helpful host.
Todd
2017-03-16T00:00:00Z
Kate was a fabulous host! The location could not have been more perfect and the size of the house was larger than the photos suggested. Thank you so much!!
Cathy
2017-03-29T00:00:00Z
Tipus d'habitació
Casa/pis sencers
---
Tipus de propietat
Pis
---
Capacitat
4
---
Dormitoris
Castletroy, County Limerick, Irlanda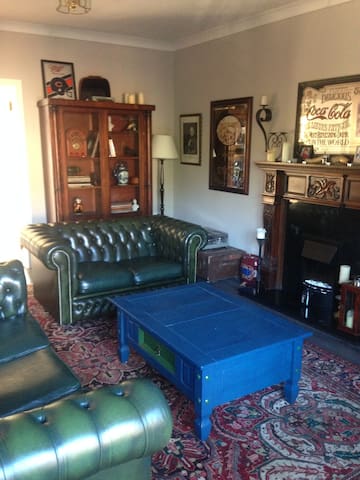 Modern, warm, bequem Doppelzimmer mit Bad Schlafzimmer Ihr eigenes Bad haben. Wif Breitband. Küche für alle Ihre Küche und Waschmöglichkeiten für Ihre Kleidung. 2 Minuten von Bushaltestelle und der Nähe zu allen Annehmlichkeiten, wie Stadtzentrum
Bewachter Parkplatz, Wi-Fi, private Doppelzimmer mit Bad Schlafzimmer, modernem warmem Gebäude
Tipus d'habitació
Habitació privada
---
Tipus de propietat
Pis
---
Capacitat
2
---
Dormitoris
Groody Park, County Limerick, Irlanda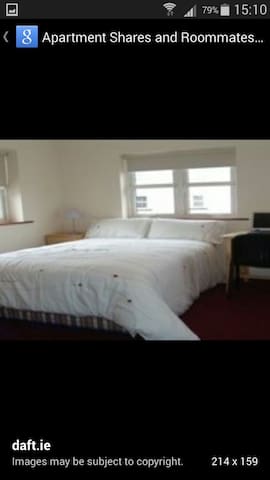 Unsere fantastisch gelegen moderne Wohnung ist alles was man braucht. Es gibt eine Tür aus dem Schlafzimmer zu einem Balkon, die Sie sitzen können und den freien Blick auf den historischen Rock of Cashel genießen! Smart-TV, Wi-Fi, Waschmaschine, Trockner alle im Zentrum dieser fantastischen touristischen Stadt auf halbem Weg zwischen Cork und Dublin. Alle Bedürfnisse gesorgt! Ich verspreche, frische Milch zu haben, zusammen mit Teebeuteln und Kaffee zur Verfügung!
Ich verspreche, frische Milch zu haben, zusammen mit Teebeuteln und Kaffee zur Verfügung! Es wird auch vielleicht Getreide in der Pressen für einen Mitternachtssnack sein! Ich habe auch in der Stadt leben und arbeiten so können jederzeit wieder treffen Zugang zu bieten!
Cashel ist für seine gute Küche bekannt! Es gibt viele Orte innerhalb eines 2-3 Minuten zu Fuß von der Wohnung zur Auswahl. Es gibt Feehans Bar für ein fantastisches Mittagessen. Es gibt Baileys Hotel Kellerbar für eine Füllung Abendessen. Es gibt ein Michelin-Sterne-Restaurant Chez hans gleich um die Ecke, sowie Cafe Hans für ein Mittagessen. Viel mehr!
Great apartment with a great view! Highly recommended
Christin
2017-04-08T00:00:00Z
Tipus d'habitació
Casa/pis sencers
---
Tipus de propietat
Pis
---
Capacitat
3
---
Dormitoris
Cashel, County Tipperary, Irlanda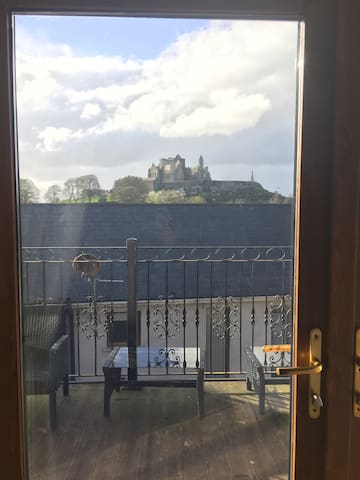 Tipus d'habitació
Casa/pis sencers
---
Tipus de propietat
Pis
---
Capacitat
2
---
Dormitoris
Limerick, County Limerick, Irlanda
Ahoj! Chtěl bych nabídnout pěkný pokoj ve velmi slunné a velmi dobře udržovaný byt u řeky. Velmi blízko do centra města - jen pár minut chůze od The Locke, Janův hrad nebo Arthura Quaye. Věnován hlavně pro lidi, kteří hledají klidné a pohodlné místo k pobytu. Tento pokoj je vybaven vlastním sociálním zařízením, kde najdete šampon, sprchový gel a zubní pasty. Najdete zde také jednoduchou snídani a dobré kávy v dopoledních hodinách :)
Jednoduchá snídaně v ceně. Wifi hotelu. Ručník a šampon zahrnuty.
We stayed at Anetas place for two nights. We really enjoyed it! The room is confortable, we had a private bathroom and the view was just incredible. Aneta and her boyfriend were very nice and were always ready to answer our questions. We would go back here any time!
Elisabetta
2017-04-05T00:00:00Z
Aneta was so sweet and her place was super clean and cozy! We really enjoyed talking to her and she was super helpful with recommendations for landmarks and pubs =)
Briana
2016-11-30T00:00:00Z
Agréable séjour chez Aneta, qui nous a bien accueilli et conseillé pour nos sorties. Les horaires d'arrivée sont larges ce qui est très appréciable. La chambre offre une charmante vue. Le quartier est bien situé.
Maxime
2016-10-13T00:00:00Z
It is very difficult to find despite maps provided by the host. The place was lovely but could do with some more comfortable pillows
Alyssa
2017-04-11T00:00:00Z
Nice room with great view over river.
Cerys
2017-02-15T00:00:00Z
Host was very welcoming and made us feel very much at home.
Bernadette
2016-09-25T00:00:00Z
Nice, clean, private room with lovely ensuite. Aneta and her partner made checking in very easy, even though we were an hour late. Convenient for city centre but too long a walk for us at night.
Elizabeth
2017-01-21T00:00:00Z
Everything like expected, little delay was no problem. Would recommend!
Stanley
2017-02-19T00:00:00Z
Tipus d'habitació
Habitació privada
---
Tipus de propietat
Pis
---
Capacitat
2
---
Dormitoris
Limerick, County Limerick, Irlanda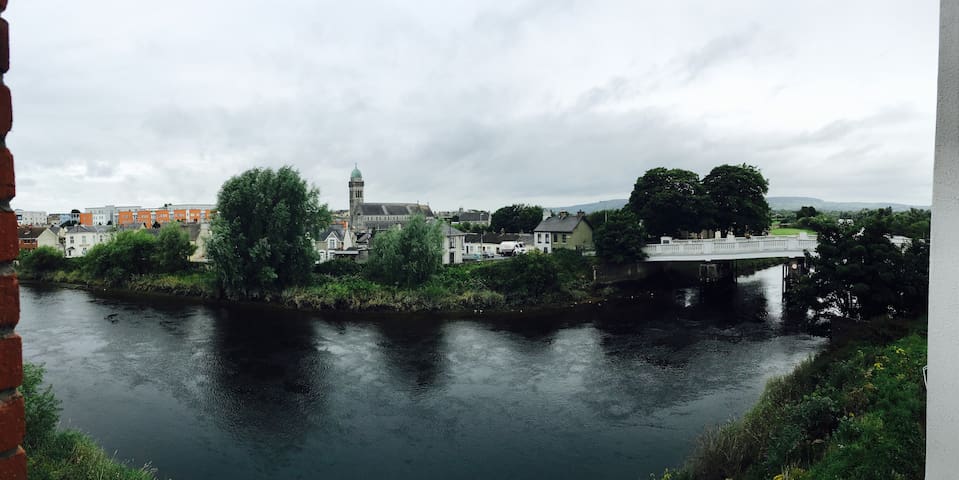 Private Doppelzimmer in gemütlicher 4. Stock Wohnung. Im Herzen von Limerick City; Sie sind immer nur 5 Minuten zu Fuß von allem und alles weg.
Qristina and Paddy were very welcoming and easy-going hosts. I felt very comfortable staying in their apartment. Would recommend!
Joël
2017-04-09T00:00:00Z
Great Airbnb in the City centre and amazing, lovely hosts! Qristina and Paddy made me feel very welcome immediately and also gave great advice on what to see and where to go in the City. It was a pleasure staying there (will miss especially the view on River Shannon!), and I'd always go back. The room was clean and tidy and big enough to easily store a large and a small suitcase in there, and I was also offered a refrigerator shelf for the time which was very nice. The Apartment is max. 2 minutes away from Henry and O'Connell Street where lots and lots of Bars, Pubs and Shops can be found.
Margret
2017-04-03T00:00:00Z
Tipus d'habitació
Habitació privada
---
Tipus de propietat
Pis
---
Capacitat
2
---
Dormitoris
Limerick, County Limerick, Irlanda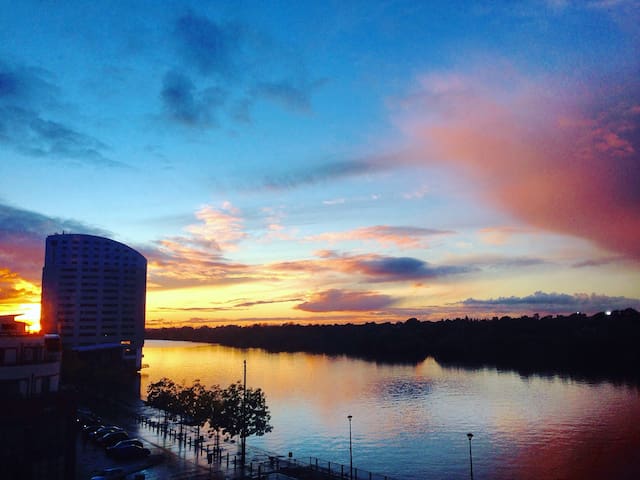 Doté d'une connexion Wi-Fi dans tout l'établissement, Troy Holiday Village - Summer Apartments est situé à Limerick, à 1,9 km de University of Limerick. Un parking privé limité est disponible sur place. Doté d'un balcon, l'établissement dispose d'un coin salon et salle à manger. Toutes les unités disposent d'une cuisine équipée avec four et micro-ondes. Il y a une salle de bains privative avec une baignoire ou une douche dans chaque unité. Le linge de lit est fourni. Ces appartements disposent de 6 chambres équipées de lits doubles et ensuites.
Troy Summer Village est l'endroit idéal pour vos vacances d'été, avec un grand confort à un prix abordable. Gîte avec tout projet de loi inclusive dans nos tarifs. Vous pouvez louer une chambre ou tout l'appartement. PM pour plus de détails
Hébergement universitaire relevant de l'Université de Limerick
The host canceled this reservation 45 days before arrival. This is an automated posting.
Carla
2016-05-25T00:00:00Z
This apartment is clean and comfortable. It is extremely close to UL, which has a fantastic gym and sports arena. It is also only 5 minutes from the city centre. It has everything you need and with on-site assistance it is handy and flexible with check in times. We were very happy with our stay here.
Michelle
2016-06-25T00:00:00Z
Tipus d'habitació
Habitació privada
---
Tipus de propietat
Pis
---
Capacitat
2
---
Dormitoris
Limerick, Limerick, Irlanda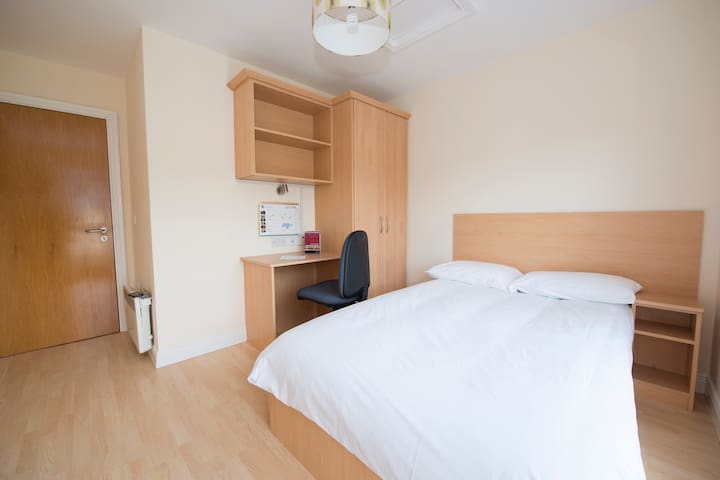 Tipus d'habitació
Habitació privada
---
Tipus de propietat
Pis
---
Capacitat
2
---
Dormitoris
Groody Park, County Limerick, Irlanda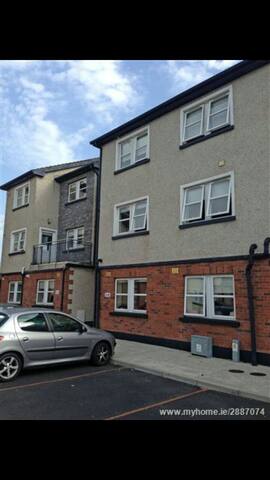 Brand New Self contained Studio Apartment. Full Kitchen with Microwave,Hob, Fridge/Freezer Self Catering, with welcome breakfast package supplied on arrival. Coffee,Tea & Condiments supplied for entire stay En Suite with Shower Central Heating WiFi Hotel Quality Bedding and Towels USB Charger 5 minutes from Ballina & Killaloe Villages
It's brand new and if you check my reviews you know you won't be disappointed
Quiet surroundings with great views and privacy
Dorothy was very accommodating in my time of arrival. She took time to show me everything I needed to know to make my stay easy. There were little treats left for me i.e. sweets and biscuits. She had put on the heating earlier so it was very cosy from the moment I walked in. She was very thoughtful in letting me know before I travelled that there would be a large funeral taking place the day I was arriving and how I could get past any road closure, this helped me in my journey planning. She made it clear she was available any time if I needed her. There are lovely views from the property which were a joy to wake up to. It is very private and is in a very nice quiet rural area yet is within 2km of town with restaurants, shops and peaceful river walks and only half an hour from Limerick. I also had the bonus of meeting Dorothy's daughter and horse. The property has everything I needed and I was very happy with it and would stay again if I am in the area.
Colette
2016-10-23T00:00:00Z
Dorothy is a great host who is very determined to make your stay a pleasant one. Her little cottage is very cute and her kitchen well equipped . The bed folds into the wall and is actually very comfortable. We had a great time with nice talks to Dorothy and would definitely recommend staying here :-)
Lucas
2016-07-30T00:00:00Z
Thanks Dorothy for the beautiful accom. Clean, tasteful and thoughtful.
Caitlin
2016-09-20T00:00:00Z
Beautiful, cosy place, very clean. Great location, ideal for a couple visiting the lovely town of Killaloe. Dorothy was an excellent host and provided everything we needed.
Mariah
2017-02-12T00:00:00Z
I highly recommend this spot. Dorothy was very welcoming and the house itself was fantastically equipped with all manner of kitchen utensils and anything really that I could possibly have needed. Really above and beyond!
Finnán
2016-07-04T00:00:00Z
A lovely house and a lovely family... It was our first place in Ireland and we feel so good...
Cristina
2016-08-25T00:00:00Z
A great relaxing spot
Peter
2016-06-16T00:00:00Z
Great host, lovely place. Thank you
Kayleigh
2016-08-28T00:00:00Z
Tipus d'habitació
Casa/pis sencers
---
Tipus de propietat
Pis
---
Capacitat
2
---
Dormitoris
North Tipperary, Tipperary, Irlanda
Imaginez-vous vivre dans un château que le roi de Munster utilisé pour vivre. C'est aussi proche que vous pouvez obtenir !! Une chambre appartement autonome. trois dort. balcon fantastique avec une vue imprenable sur le rocher de Cashel. Cashel se trouve à une heure de route des aéroports de Cork et Shannon. Les villes historiques de Kilkenny, Waterford et Limerick sont également à moins de 60 minutes. Cashel est situé juste à côté de la principale autoroute Dublin-Cork. M8.
Nous pouvons organiser pour répondre à tout moment raisonnable pour accéder à l'appartement.
Les habitants aiment interagir avec les touristes si elles le souhaitent. L'hôte vous donnera des détails si vous le souhaitez. La Guinness est super!
Tipus d'habitació
Casa/pis sencers
---
Tipus de propietat
Pis
---
Capacitat
3
---
Dormitoris
Cashel, County Tipperary, Irlanda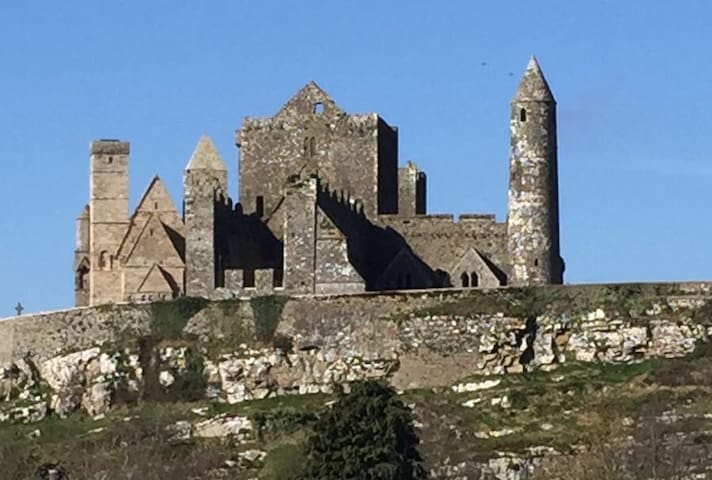 In zentraler Lage. Ruhige Wohngegend. Verfügt über einen privaten Parkplatz. Mein Platz ist gut für Paare, Solo-Abenteurer und Geschäftsreisende.
Ein Schlafzimmer en suite Selbstversorger-Apartment mit Küche / Wohnbereich. 5 Minuten zu Fuß ins Stadtzentrum, König Johns Castle. Treaty Stone, 25 Minuten vom Flughafen Shannon entfernt. 50 Minuten von Cliffs of Moher
Ruhig ruhigen Gegend.
Annemaree was very welcoming when we arrived and the flat was excellent; near enough in the city centre yet still a calm and relaxing setting by the river Shannan. The flat was very well prepared. There were towels laid out, instructions for accessing the internet and several maps and leaflets for things to do in the local area. Overall a very pleasant stay in Limerick.
Jamie
2016-08-02T00:00:00Z
My girlfriend and I stayed here for a week and everything was great! Annemaree was a incredibly accommodating and the flat is just a stone's throw from the city center. I would definitely stay here again next time I'm in Limerick!
Aaron
2016-11-06T00:00:00Z
Annemaree's place is easy to get to, very comfortable and convenient for the centre of Limerick. We were staying there while visiting family and it was great to have somewhere easy and comfortable to stay.
Jennifer
2016-12-29T00:00:00Z
Perfect location , ample parking ,
Gerard
2016-11-11T00:00:00Z
Really good location, very clean and good furnitures. Annemaree was very welcoming! Thanks for everything :)
Charlotte
2016-07-10T00:00:00Z
Booked at short notice. Annemaree was very accommodating. 2 minute walk into the centre of town. Great spot.
KD
2016-11-23T00:00:00Z
Great location!!! Great little apartment attached to her house. Easy to communicate with. House looks just like pictures (probably a little bigger).
Greg
2016-07-21T00:00:00Z
Annemaree was a very friendly and helpful host. The apartment was neat and spacious. We stayed here for four nights and really enjoyed what Limerick and Ireland had to offer!
Leah
2016-07-17T00:00:00Z
Tipus d'habitació
Casa/pis sencers
---
Tipus de propietat
Pis
---
Capacitat
2
---
Dormitoris
Limerick, Limerick, Irlanda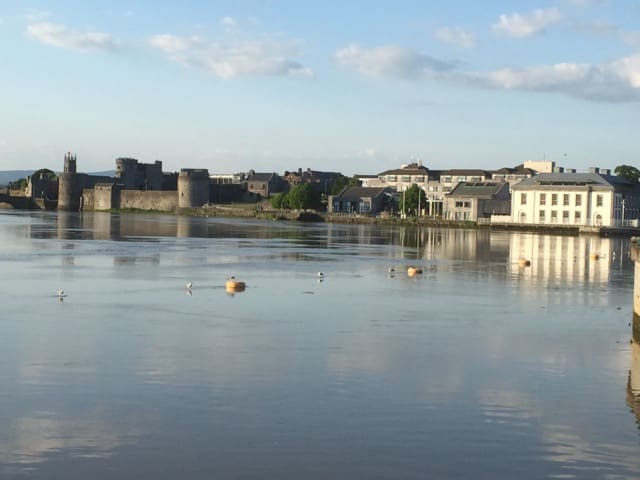 Le meilleur endroit à Limerick! En plein centre-ville, à moins de 1 min à pied du marché du lait et des pubs bien connus. endroit propre avec toutes les bases fournies. Cuisine avec des appareils flambant neuf: micro-ondes, cuisson, machine à laver / sèche-linge, etc. Salle de séjour confortable et deux personnes sympathiques vivant dans :-)
Tipus d'habitació
Habitació privada
---
Tipus de propietat
Pis
---
Capacitat
2
---
Dormitoris
Limerick, County Limerick, Irlanda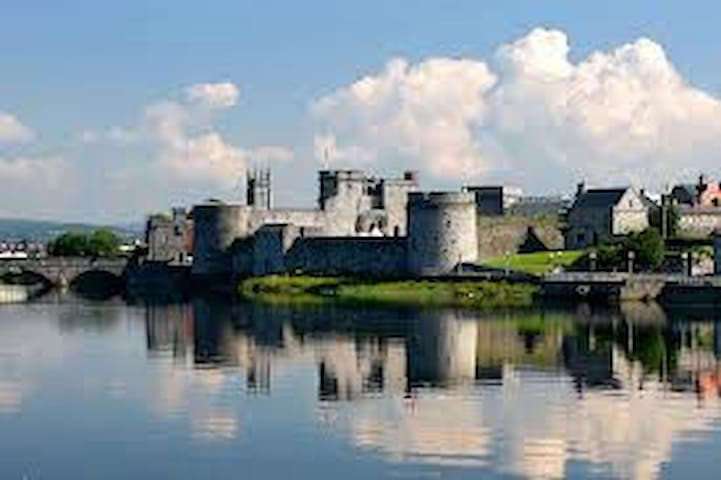 Unsere saubere moderne Wohnung ausreichend Platz 3 in unseren Privatzimmern. Es befindet sich in einem kleinen Gebäude haben wir in der obersten Etage. Gleich um die Ecke von dem historischen Milchmarkt, ein kurzen Spaziergang zum Stadtzentrum einkaufen, die Jagd Museum und 2 km vom Thomond Park. Unbegrenzte WiFi für den Gastzugang zur Verfügung. Elektrische Dusche und frische Bettwäsche garantiert.
Dachgeschoss-Wohnung im Zentrum der Stadt, gibt Holzböden einen sauberen Abschluss.
Wir sind 2 Minuten von dem schönen Milchmarkt gehen voll mit frischen landwirtschaftlichen Produkten. Es gibt schöne Restaurants in unmittelbarer Nähe, und es ist so einfach für ein schnelles Pint herausspringen in einer der vielen Bars um die Ecke.
Brigid and Jeffery were great hosts. Communication was great and the location was perfect for our few days in Limerick.
Hannah
2017-03-23T00:00:00Z
Quiet location but so close to the city. Hosts were so, so kind and accessible, flat was immaculate. If you're a picky sleeper, the mattress may not suit you, but there's no better value for young, tough travelers.
Emily
2017-03-29T00:00:00Z
L'accueil a été très chaleureux, l'appartement est grand et bien aménagé. Je remercie Bridgid et Jeffrey de m'avoir hébergée avec autant de sympathie et de bienveillance! :)
Lea
2017-03-02T00:00:00Z
Bridgid and Jeffrey are very kind and friendly. I only stayed in their appartment for a night but they made everything to make me feel at home. The flat was very clean and well located to visit Limerick and its surrounds.
Maxence
2017-02-16T00:00:00Z
Bridgid and Jeffrey are a really welcoming young couple who leave you to your own devices. However, they were extremely helpful with advice and easy to contact when required. I felt that I could come and go as I please and felt very comfortable with the fact that I could use the kitchen when I required.
Lucy
2017-02-19T00:00:00Z
Tipus d'habitació
Habitació privada
---
Tipus de propietat
Pis
---
Capacitat
1
---
Dormitoris
Limerick, Munster, Irlanda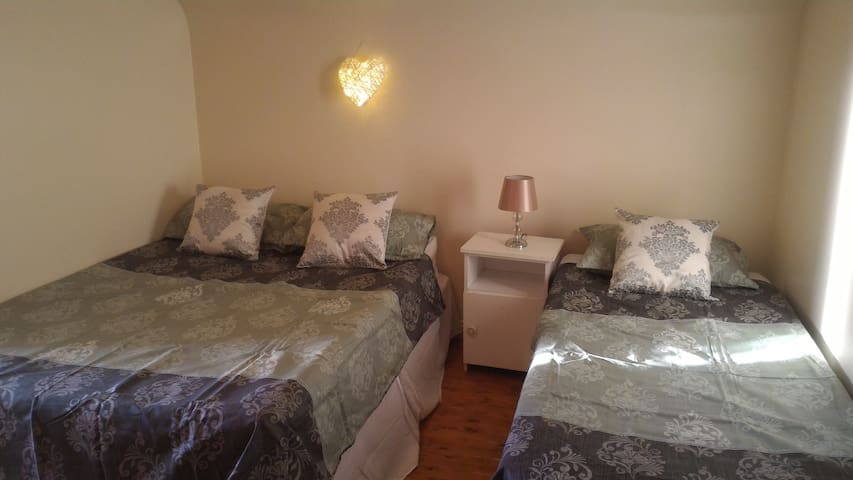 Mi lugar es bueno para los aventureros y viajeros de negocios en solitario,
Tipus d'habitació
Habitació privada
---
Tipus de propietat
Pis
---
Capacitat
1
---
Dormitoris
Limerick, Limerick, Irlanda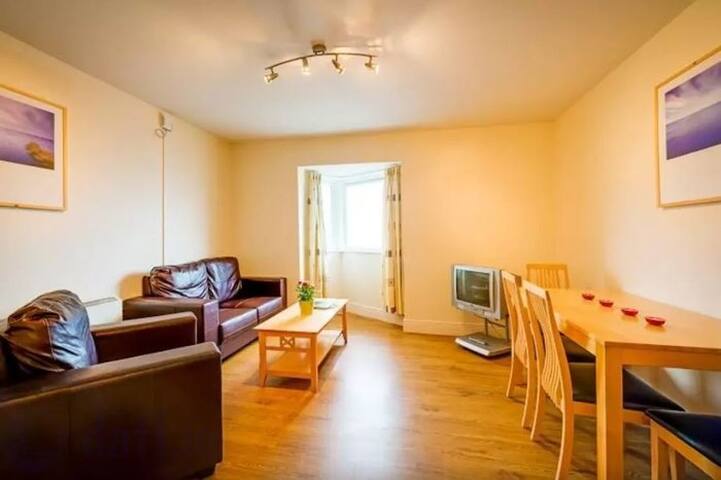 Helle moderne Studio, in einer ländlichen Umgebung von Milchfarmen umgeben, mit Blick auf die schöne Lough Derg das Vergnügen Sees Fluss Shannon. Killaloe Ballina unter Irlands malerischsten Städte betrachtet, sind die kleinen Städte von einem 300 Jahre alten Brücke Steinbogen verbunden und ihre Geschichte zurück bis ins 10. Jahrhundert zurückverfolgen kann. Es ist der Geburtsort von Brian Boru Hoher König von Irland. Die Umgebung bietet viele Freizeitaktivitäten wie, Angeln (geführte Touren stehen zur Verfügung) Segeln, Wandern, Radfahren (Fahrradverleih vorhanden) und Golf. Unsere lokalen Park verfügt über ein Open-Air-beheiztes Schwimmbad (Sommermonate) mit kostenlosen Außenfitnesseinrichtungen. Die Städte genießen ein beliebtes Restaurant-Szene von Bistra zu den traditionellen Bereich Irisch, Italienisch, Chinesisch und Inder. Es ist eine lebendige Kneipenszene mit Abende der traditionellen irischen-Musik und Tanz. Wir sind gut mit einem lokalen italienischen Deli / Kaffee-Bar, Bäcker, Metzger, Bio & Gesundheit Lebensmittelgeschäft, und Supermarkt serviert. Der Sonntag Bauernmarkt ist eine wunderbare Quelle für frische Produkte, Brot, Fleisch, Gemüse, Käse und Fisch, wenn verfügbar. Willkommenspaket von Bestimmungen zu erlassen, sind Tee, Kaffee, Milch, selbstgebackenes Brot, Konserven, Getreide, Öle, Butter usw. Je nach Jahreszeit frisches Gemüse / Salate sind aus dem eigenen Garten Handtücher, Bettwäsche, Fön und Bügeleisen zur Verfügung gestellt. Die Wohnung ist offen, mit einem Mezzanine-Schlafzimmer (oben nur einige für die 6ft erforderlich Ducken oder mehr Stufen zu verhandeln.) Das Gebiet mit einem Doppelbett, mit viel Platz für Kleidung, die auch als perfekter Ort verdoppelt für ein Babybett. Von Ihrem Bett aus haben Sie einen schönen Blick auf den Garten und auf den See und die Clare Hills. Das Erdgeschoss verfügt über eine geräumige Dusche und WC. Der Haupt Wohn- / Essbereich verfügt über Doppel-Türen, die auf einen Wintergarten führt auf den Garten und Blick auf den See, die mit einem kleinen Tisch und Stühlen eingerichtet ist. Außerhalb dieser, haben Sie Ihren eigenen Terrassenbereich mit Gartenmöbeln, möglich eine Hängematte perfekt für Träumerei und Sterne zu beobachten. Die offene Einbauküche verfügt über einen Herd, Backofen, Kühlschrank, Gefrierschrank und Mikrowelle, mit viel der Zubereitung von Speisen und Geschirr. Es gibt WLAN, TV und DVD-Player mit einer kleinen Auswahl an DVD'd. Bücher und Zeitschriften sind ebenfalls erhältlich. Die Waschmaschine ist im Hauswirtschaftsraum des Haupthauses und gemeinsam genutzt wird. Der Garten ist geräumig und mit reichlich Sitzgelegenheiten / Lounging & Restaurants. Die Verwendung von Grillgeräten. Kalte Taschen, Flaschen, Klappstühle etc. für weg Tagesausflüge und Picknicks. Der Abstand vom Haus an der Brücke, die das Zentrum der Städte ist ist eine Meile, es ist ein einfacher Weg, für den ersten Teil der Wanderung Sie auf einer Landstraße sind, ist es mit den lokalen Verkehr teilen - Autos, Lieferwagen und Landmaschinen - nach einer halben Meile erreichen Sie Fußwege. Ich empfehle einen hohen nämlich Jacke trägt, habe ich diese zur Verfügung. Für Killaloe / Ballina nehmen 27 Junction an der Autobahn M7. Die M7 verbindet Dublin (2,5 Stunden) und Limerick (30 Minuten). Shannon Flughafen ist 45 Minuten entfernt von der Autobahn. Dublin Airport verfügt über einen direkten Zugang Autobahn und kann in ca. 2 Stunden erreichbar Es gibt ausreichend Parkplätze. Gut erzogene Hunde sind willkommen nach vorheriger Absprache und gegen eine Gebühr von 5 € pro Tag, der Garten ist groß und sicher. Ich habe zwei Hunde ein reservierter ältere whippet und ein frecher energetische Spaniel-Mix. Geheizt wird mit Öl-Zentralheizung und wird für entsprechend am Ende des Aufenthalts in Rechnung gestellt, es ist sehr vernünftig. Siehe Hausordnung. (versteckte Website) (versteckte Website) (versteckte Website) (versteckte Website)
We were greeted warmly by our host and made to feel very much at home The light filled studio had everything you could possibly need for your stay Its location in a beautiful garden with views across the lakes was ideal It was a joy to wake up and see the mist burning off the hills on the opposite side of the lake This followed by Mary's delicious home made brown bread for breakfast made it hard to leave when our departure date came This was our first experience of Airbnb and the bar has been raised very high
Ursula
2016-08-27T00:00:00Z
This review is difficult for me to write, I feel words can not truly justify my fiancé and I's experience here. I guess starting with the basics is easy- the studio. spacious, VERY clean, comfy, and a perfect location if you are looking to see the quiet side of Ireland countryside with a great view of the Shannon. We woke up to cows mooing in the morning and spent the evenings in Mary's beautiful yard with Jess ( the dog.) The feeling I struggle to describe is the overall general warmth and comfort we felt- in a strange way we felt like we were visiting a distant Aunt! Mary- to start we turned in out rental car and she was gracious enough to grab us ( and drop us) at the bus stop. We had already been traveling for 12 days or so and her gift of making us feel comfortable allowed us to relax and take a breather in the comfort of the studio. The studio felt warm and inviting to us. Mary was always available for small talk or to ask questions and provided great recommendations for the area. She is a very honest woman and tells it how it is ( which is refreshing.) She is also very thoughtful and provided us with reflector jackets to walk into town with. Thank you Mary for such a wonderful stay! Your place was the perfect middle stopping area and helped us with much needed regrouping for the second half of our journey. Next time we are back in Ireland we will most defiantly be coming to visit!
Tayla
2013-08-15T00:00:00Z
Het was een heel leuk huisje, mooi gelegen met prachtig uitzicht. Het meer is tussen de bomen door te zien. Ondanks dat het dicht bij een doorgaande weg ligt, is het heel rustig. Mary is een zeer vriendelijke gastvrouw. Bij aankomst stonden er scones en sodabread klaar die ze voor ons had gebakken. De koelkast was gevuld met spullen voor een ontbijt en allerhande andere spullen die je kon gebruiken. Vanuit bed op de vide op de eerste verdieping heb je een geweldig uitzicht op de bergen. Het is heerlijk ontbijten in de serre. Het huisje is sfeervol ingericht, wij voelden er ons direct thuis. De honden waren heel lief en we hadden er totaal geen last van. De pubs en restaurants in het dorpje zijn op zo'n 2 km afstand. Wij hadden onze (elektrische) fietsen bij ons, dus dat was geen probleem. Er zijn een aantal leuke restaurants en pubs in de beide dorpen. Al met al een zeer aangenaam verblijf dat we iedereen kunnen aanraden.
Lianka
2016-10-10T00:00:00Z
Mary is the most amazing host. She is really friendly and welcoming. Her studio is immaculate, sunny and really comfy. It is well equipped with everything you could possibly need for a short or long stay.
kevin
2015-08-26T00:00:00Z
We couldn't have asked for a better host than Mary! She is warm and welcoming and makes you feel at home from the moment you arrive. She's very helpful with advise for places to visit in the area and she even dropped us of at a nice restaurant so we could celebrate our anniversary! The house is high standard and more than you can wish for, a beautiful view over the lake right from your bed. Could and comfortable bed, fully equipped kitchen and bright windows overlooking the lake. We will definitely visit again!
Cefas
2016-06-17T00:00:00Z
Thank you Mary for a gorgeous 3 night stay in your beautiful studio. We would highly recommend this perfect spot for a getaway. We were treated to great pre-stay attention from Mary and when we arrived, we were so impressed with the cakes, bread and other treats that Mary had for us. So unexpected! The space is perfect. It's peaceful and modern and bright and everything was spik and span. It was lovely to meet the friendly dogs and chat with Mary as she pottered in her garden. Just a 2 hour drive from Dublin, its an ideal location for a getaway but it's also close to nice pubs and restaurants and there are plenty of lovely walks and drives. We loved it and didn't want to leave. Thank you Mary!
Zoe
2016-07-14T00:00:00Z
We had a great time staying at Loch Derg at Mary,s Studio,the market was great at Killaloe on Sunday,we drove & had a day driving the ring of Kerry,beautiful scenery,also a visit to Cork & a town called Dunmanway,where my Mother was born,Mary is a geat host and now friend who I hope will visit us down under ! Both dogs kept us entertained,great place to chill out & relax,thank you Mary !
Marian
2014-07-19T00:00:00Z
Staying with Mary/in her studio was a fantastic experience. Communication before was always quick and when I arrived she greeted me at the bus stop with one of her three dogs. I immediately felt welcome. The studio is amazingly bright and spacious and nicely decorated, waking up every morning with the view over the lake to the hill was beautiful. Thanks so much for everything - the bike, the beer in the fridge, the homemade bread and the chicken soup when I felt I caught a cold and - last but not least - for curing me from me fear of dogs. The four weeks passed so quickly I would have happily stayed longer. I really couldn't have made a better choice in terms of accomodation ...
susanne
2016-11-13T00:00:00Z
Tipus d'habitació
Casa/pis sencers
---
Tipus de propietat
Pis
---
Capacitat
2
---
Dormitoris
Ryninch, Tipperary, Irlanda
Derry - Airbnb
:
Mitjana de

4.85

estrelles sobre

5

a partir de

281

avaluacions d'hostes
1

-

18

de

48 Lloguers de cases
Introdueix les dates per veure el preu total. S'aplicaran tarifes addicionals. És possible que també s'apliquin impostos.