Unique, waterfront, self contained couple's studio with the most awesome private views. Enjoy a swim in your own private 10m infinity pool and sip a glass of champagne in the jacuzzi whilst taking in the BEST VIEWS IN THE WORLD. Contemporary, private, clean and very comfortable. Complimentary welcome gift and free champagne on arrival. Cook a gourmet dinner or order in take-way food - so you never need leave this amazing place. It's the perfect base away from the crowds, but very close to town.
The panorama will spellbind you - There is really is no other place like it! The amazing view is constantly changing with the flow of the tides, the tropical weather, passing boats coming in and out of the harbour and the beautiful World Heritage mountains. You may be able to catch sight of sea turtles, whales, dolphins and dugongs. It's so beautiful you simply won't want to leave! Go on, spoil yourself and enjoy the privacy, romance and serenity that Whitsunday Retreat offers! Less than 8km to the cafes and restaurants of AIRLIE BEACH. ****Two night bookings available on request at our discretion.
This is the perfect and peaceful place to base yourself while exploring all the treasures that the Whitsunday region has to offer. There are many places to visit and things to do: an abundance of national parks, turtle spotting, sailing, sea kayaking, mountain biking, shopping, swimming in the local waterhole at the base of Cedar Falls, rainforest walks, crocodile safari, and enjoying the many cafes and restaurants. But make sure you take the time to simply stay home, have a massage beside the pool and enjoy being in one of the most spectacular locations on the planet. The local markets are held every Saturday and Tuesday mornings on the foreshore in Airlie Beach, where you may find handmade crafts, nic nacs, fruit and vegies and wonderful snacks. NOTE ON THE WEATHER The Whitsundays enjoys a tropical climate of hot, humid summers, warm winters and bright spring and autumn days. Average daily temperatures range from around 23C in the winter months of June and July, and up to 30C in December and January during the height of summer. Water temperatures remain a welcoming 25C most of the year round. The tropical wet season: (January to March) Days can be steamy and the summer heat is often broken by tropical rain at night. Please ensure that you are prepared for tropical rain during this time, particularly February. Cyclones can also occur around February-March.
Outstanding unit offering the most amazing views over the water. Very secluded spot, which we wanted, so make sure you have a vehicle available to see the entire area. We would recommend the unit to everyone and hope to return in the near future.
Michael
2017-01-28T00:00:00Z
What a beautiful place to stay! The house had everything we needed and more. There's nothing like having your own private infinity pool!
Spencer
2016-01-15T00:00:00Z
We had a wonderful stay at this lovely place in the Whitsundays. The location was pure peace and tranquility and the views were breathtaking. The accommodation was clean and well kept with everything we needed for our stay. The absolute stars of the show are the hosts Cathi and Ron..... they made us homemade bread and left lots of little personal touches which made us wish we could stay for longer. We couldn't recommend this place enough and hope to return again soon.
Ash
2016-12-26T00:00:00Z
For day one, Cathy was beyond helpful, providing us with recommendations on activities and excursions. Cathy and Ron's hospitality was incredible and we felt as if we were staying at a BnB instead of an AirBnb. They helped us with our luggage, had a cold bottle of champagne and hand written note waiting for us, and even baked us homemade bread. They were just amazing. The unit was out of this world beautiful. The pics don't do it justice. The outdoor pool and hot tub were used daily and it was so relaxing. I've stayed at many airbnbs and this was the best one by far. It was a once in a lifetime experience.
Lauren
2016-12-06T00:00:00Z
This place is nothing short of paradise! We stayed for a week over New Years and it was incredible, the photographs of this view do not do it justice! The place is larger than I had expected and extremely quiet and private. We enjoyed drinks by the pool every day, had a BBQ almost every night and chose to stay at the house over going out a lot of the time as it was too good not to. We took the ferry to Hamilton island one day which was great and I would also recommend the day trip to Whitehaven beach - incredible! Cathi's communication was excellent and our stay was made so simple. Thank you again for having us and we will 100% be back!! Warm regards, Emily and Luke
Emily
2017-01-02T00:00:00Z
The most beautiful place I have ever retreated to. A must see for yourself! Cathy was extremely helpful and welcoming even though she was away at the time. Could not have dreamed of a better location to enjoy my time away.
Martina
2017-02-17T00:00:00Z
This place was amazing, photos don't even do it justice. Waking up to that view every morning is something you could never get sick of. Very private and excellent value. Remember if you are staying in Shute Harbour it is best to have a car as taxi's are limited and expensive.
Shane
2016-10-23T00:00:00Z
We had an amazing stay, the view is stunning from the infinity pool, the owner is really kind and friendly. We really enjoyed our honeymoon here and would definately recommend it.
Andrigo
2016-09-22T00:00:00Z
Tipus d'habitació
Casa/pis sencers
---
Tipus de propietat
Pis
---
Capacitat
2
---
Dormitoris
Shute Harbour, Queensland, Austràlia
Located 11 km from Conway National Park and 12.5 km from Abel Point Marina. Whitsunday Airport is 4.9 km away from the property. With an easy 10 minute drive from the heart of Airlie and still close enough to enjoy everything Airlie has to offer without the hustle. Bushwalk to beautiful Coral Beach, and watch the boats come in with amazing sun-sets. Beautifully appointed bedroom and the most amazing views in Shute Harbour.
Comfy bed and beautiful linen, space to store your gear - the bedroom is beautifully appointed and relaxing. You have a stunning view of Shute Harbour and the National Park from your window. Elizabeth (your host) is a qualified Remedial Massage Therapist with over 15 years experience and offers a range of therapies that you can enjoy and take advantage of during your stay.
We have a lovely, quiet neighborhood.
'Liz was waiting to greet us on our arrival and gave us a tour of their lovely house. She and her husband made us very welcome in their home and we enjoyed their company...and that of Ella and Wicket, their two dogs. They suggested places to eat, to walk and to visit during our stay. They had a wide knowledge of the local area and this was greatly appreciated. The accommodation was clean and comfortable with lovely views. They were certainly the most hospitable of hosts. Thank you
Ian
2016-11-14T00:00:00Z
It's a wonderful place with a stunning view! Liz and Andy are very helpful and friendly hosts. The room and the whole house is very clean and beautifully furnished.
Isabella
2016-11-24T00:00:00Z
We only booked it for one night as we were catching a water taxi early the next morning to go to Whitehaven beach to kayak and camp. We arrived later in the evening and were leaving early the next morning. Elizabeth and Andy were extremely welcoming and helpful. If we ever end up back in the area we would definitely book a longer stay as they were great, the house was beautiful, and their dogs were super friendly.
Alexandria
2016-09-20T00:00:00Z
My boyfriend and I decided to spend a last minute stay at Airlie beach and we contacted Elizabeth. She was very quick to respond and was very welcoming to let us stay a night. The room was very clean and cosy, the bathroom was very neat and hygienic. It's everything the pictures have shown. Elizabeth and Andy were also very considerate, they made us a hot drink since my Bf had a cold. The muesli Elizabeth made for breakfast was definitely one of the best we've tasted. It is a very beautiful home to stay at and we highly recommend it. P.s. Their dogs are really cute~~
Belinda
2016-08-15T00:00:00Z
Una casa espectacular, cómoda, limpia y acogedora. Los dueños son muy amables y atenciosos. Aunque está un poco apartada de la zona de restaurantes se llega muy rápido y fácil en coche, además de haber autobús (yo no lo usé) y compensa por la tranquilidad y las vistas
Pablo
2016-11-18T00:00:00Z
Elizabeth and Andy are very nice, and gave us sufficient privacy during our stay. The room is cozy and beautiful exactly like the photo shows. The dogs are very lovely too, we like them very much. This place is quite far from the mainstreet so do not try to walk there. You can easily call a taxi at any time at 131008 instead. Therefore the distance will not be a problem. We were happy there. Thank you, Elizabeth and Andy~
Morgan
2016-09-26T00:00:00Z
Fantastic place and quite location. As long as you are driving, there is no problem to reaching Eliza's house. she is so kind to provide laundry service as well. Would recommend who do want to relax and stay away from the Crowd.
Cici
2017-01-05T00:00:00Z
I had such a wonderful time and though it was short, it was the perfect mini getaway to recharge :) Elizabeth's house is beautiful. The location is secluded and the view stunning! She has 2 extremely adorable dogs and is a very welcoming host who really engaged me with our conversations! She suggested local walks around Shute Harbour which were perfect to explore - both Swamp Bay & Coral Beach and I thoroughly enjoyed my trail run even in the sweltering heat. The breakfast she prepared was delicious- all made from fresh ingredients from berries, milk and her homemade muesli. She even gave me her homemade muesli recipe!!! I also enjoyed a massage. Would highly recommend the experience to everyone!
Izzy
2016-12-04T00:00:00Z
Tipus d'habitació
Habitació privada
---
Tipus de propietat
Casa
---
Capacitat
2
---
Dormitoris
Shute Harbour, Queensland, Austràlia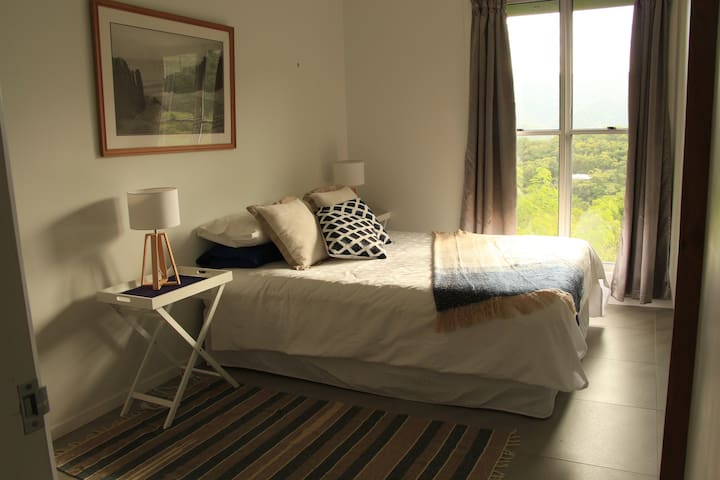 Beautiful Holiday Home in Shute Harbour, sleeps 20 guests! 6 bedrooms. Private Pool
Holiday home in Shute Harbour quiet with beautiful views. This home has two suites upper suite with pool both with large decks with beautiful views. Walking path down to the ocean and treks in the area. Quiet neighbour hood but close to Airlie.
Shute Harbour is 10Km east of Airlie Beach. It is highly recommended that you have a car.
Quite residential area, beautiful sceneries, very good for group of peoples.
Saju
2017-01-18T00:00:00Z
Tipus d'habitació
Casa/pis sencers
---
Tipus de propietat
Casa
---
Capacitat
16
---
Dormitoris
Shute Harbour, Queensland, Austràlia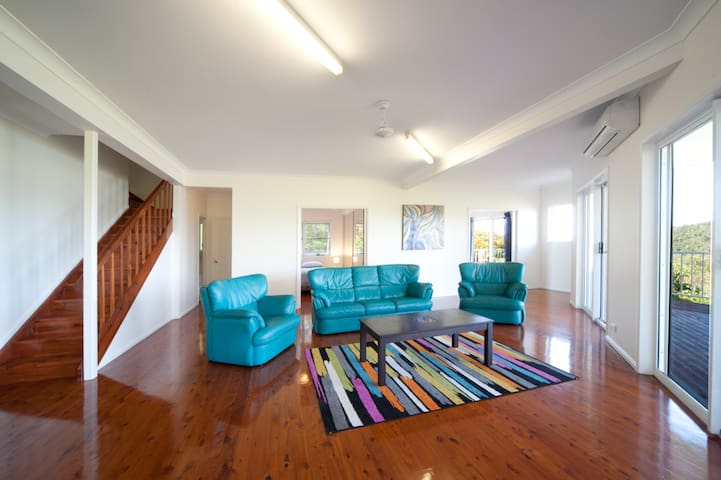 We are located on the waterfront in Shute Harbour, 5mins. walk from bus and ferry terminal. The unit has it's own entrance, a balcony overlooking islands and ocean view, lush tropical gardens, infinity pool for your use. Bbq facilities and laundry.
Our studio only accommodates 2 adult and there is no capacity for another bed.
Tipus d'habitació
Casa/pis sencers
---
Tipus de propietat
Pis
---
Capacitat
2
---
Dormitoris
Shute Harbour, Queensland, Austràlia
Holiday home with two self contained suites in Shute Harbour 10KM from Airlie Beach. Each suite sleeps 8 and can be rented individually or together. The Whitsunday Suite is on the upper level and has a swimming pool. This home has beautiful views!
Holiday home in Shute Harbour quiet with beautiful views. This home has two suites upper suite with pool Whitsunday Suite and lower suite Shute Island Suite. Enjoy both suites with your extended family sleeping up to 16! Please enquire for rates.
Shute Harbour is 10Km east of Airlie Beach.
Tipus d'habitació
Casa/pis sencers
---
Tipus de propietat
Casa
---
Capacitat
8
---
Dormitoris
Shute Harbour, Queensland, Austràlia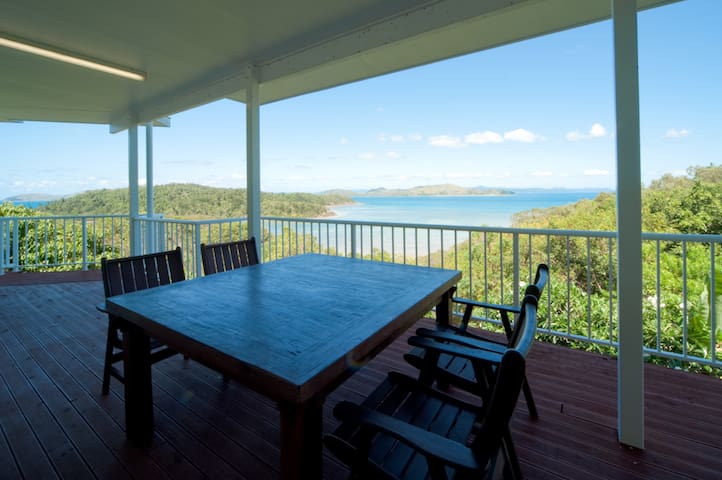 Introdueix les dates per veure el preu total. S'aplicaran tarifes addicionals. És possible que també s'apliquin impostos.