Beautiful custom-built carriage house located just 7 miles south of Middlebury, offering privacy and expansive views of the Green Mountains. This private home is just a short drive from Middlebury College.
Newly built and furnished with quality and luxury in mind. Heat your towel for a cozy end to a relaxing shower in the downstairs large slate shower that features a rain spout. DirectTV is available for your viewing on the 60 inch television. A queen bed is located in the bedroom upstairs. There is also a futon couch upstairs as well as two day beds located on the first floor for additional sleeping arrangements.
Amy and Colin's carriage house is even more beautiful than the pictures. It is lovely, yet very comfortable and easy to feel at home. There is lots of attention to detail from the well-stocked coffee solution to the towel warmers. We had everything we needed and more. Staying here is definitely a must to have that quintessential Vermont experience - a pastoral, restful setting but with easy access to the town of Middlebury and places to hike and explore.
Terri
2016-07-03T00:00:00Z
I loved my stay at the carriage house! The house was well stocked with everything I needed and with lots of nice touches like lots of books, breakfast items, and bath products. It truly exceeded my expectations, wish I could have stayed longer! Thanks Amy and Colin
Kelly
2016-09-04T00:00:00Z
Amy & Colin's carriage house is like staying in a cozy upscale boutique hotel in the middle of bucolic Vermont. My husband and I spent his birthday weekend in VT, just hiking, cooking and museum-going. Our first delight in arrival was the swing hanging from the ceiling. We also appreciated how convenient the house is to Middlebury an easy 10 minute drive to groceries, bakeries and restaurants. The interior is brand new and immaculate. They have great taste - everything feels thoughtfully designed and is well finished. I was obsessed with the spa California shower, and my husband was psyched about all the breakfast supplies, bathroom amenities, music and book selection (there's a record player!). Amy was very responsive and checked in once during our weekend - but of course, we had nothing else to ask for. Great experience - definitely the best Airbnb I've ever stayed at.
Cynthia
2016-09-06T00:00:00Z
This place is way more adorable than even the pictures show it to be !! It's so charming and comfy!! And very well equipped :)!
lindsay
2016-12-29T00:00:00Z
My family spent 4 nights at the Carriage House and had an exceptional stay. Accurately described, this gorgeous home was furnished with luxury and relaxation in mind and we believe the hosts' greatest achievement was creating a space that gave off a sense of approachability upon arrival. It was inviting rather than a place where you could "look but don't touch". We especially appreciated this and other gestures made that helped ensure this was a vacation enjoyed by every member of our family. It was comforting to have ready for us upon arrival coffee, tea, butter, milk, fresh eggs, granola and individual cereal choices. Having fully-stocked toiletries was also an amazing touch. The hosts wowed us with additional goodies—nuts, gummie bears and the laugh-out-loud game of Bean Boozled. After exploring nearby Middlebury and Bristol Falls (our favorite swimming hole) we looked forward to returning to the Carriage House to play the many board games the hosts had provided for us and then settle down to watch a family movie on the 60 inch television. Indeed, the large rain shower and heated towel rack was a special treat within the main bath, as was the unsung hero of the home in my opinion—the upstairs bathroom that featured a decent sized tub and lavender bath salts for soaking. I mentioned to Amy that taking a long, warm soak during my vacation was top on my list and believe the bath salts were left just for me : ) The home was extremely clean and the hosts were great communicators. Thoroughly enjoyed our stay.
Cynthia
2016-07-28T00:00:00Z
I enjoyed my stay. The Carriage House was fabulously clean and comfortable.
Susan
2016-11-01T00:00:00Z
Amy and Colin's cabin was lovely. The space is well designed, comfortable, and in such a scenic location. Being able to check in any time is a big plus and they were very prompt with communication.
Alison
2016-10-16T00:00:00Z
Amy was great to deal with and kept in communication with me prior to arrival and shortly after arrival. She gave ideas of activities in the area, which was helpful. The house is very quiet, cozy, and updated with great amenities (USB outlets throughout the house). We felt very welcome during our two nights and didn't want to leave. Thanks for a great stay and cute house!
Linda
2016-09-26T00:00:00Z
Tipus d'habitació
Casa/pis sencers
---
Tipus de propietat
Pis
---
Capacitat
4
---
Dormitoris
Cornwall, Vermont, Estats Units
Our guest room in the very center of town will charm you for sure. We are the top floor of a large house. The guest room even has a nice view of Otter Creek! Shared listing is for 1 room in our 2 bedroom apt.
This is a great location if you are visiting the college or exploring Middlebury. You can literally walk to anything in town! Very close to college too - 5 min walk. The room has a double bed and desk for your use. The room also has a window that overlooks Otter Creek. Fresh towels and sheets provided for you. Free parking in the public lot next door. There is fast and free wifi throughout the house.
Directly in the center of town, all our guest comment on how great the location is!
I came back to stay with Meg because of my positive experience with her and her apartment last year. I would totally recommend her place to anyone visiting Middlebury - the location is awesome with a huge parking lot right next to it; apartment itself is very clean and comfy; Meg was very friendly, and the cat, Nubbins, is always a huge plus!
Yiling
2016-05-23T00:00:00Z
Great stay in Middlebury. Meg is great, helpful and friendly. Look forward to staying again.
Kathleen
2015-09-27T00:00:00Z
My son stayed in Meg beautiful and cozy apartment, room is very clean and location is perfect, is short walk to every where. Meg is super friendly and made us feel like home the moment we walk in. We definitely come back next time we are in town.
Vicky
2016-06-01T00:00:00Z
What a super location for a visit to Middlebury. Meg's loft is right in the middle of everything and walking distance to the college and downtown. Room was neat and clean and Meg was a great host.
Eva
2015-11-08T00:00:00Z
Easy, open, friendly, organized, great host! I needed a place for some respite and her place was perfect. The apartment was neat and great for my visit, especially since it's so central to everything in Middlebury. Meg was welcoming and great to talk to, even her cat rocked! I highly recommend chilling at this sweet pad!
Season
2015-09-22T00:00:00Z
This place was EXACTLY as described. Excellent location if you're spending time in the MIddlebury area. You can walk to restaurants, stores, bars, etc. Apartment was very clean and Meg checked in a couple time to see if I needed anything. Nubbs the cat is a great roommate! I highly recommend this listing.
Rob
2016-02-07T00:00:00Z
Wonderful person. Great stay. Very convenient to Williams College and bus stop. Meg was a great host; we had a lot of laughs. Would highly recommend this airbnb.
Terry
2015-10-21T00:00:00Z
Meg was a great host and her place is amazing and clean! The location is great too! She replied to our last minute request very fast and made our stay great. Only her second weekend hosting people and she already has little details ready for her guests. Loved it!
Stephanie and Moran
2015-08-09T00:00:00Z
Tipus d'habitació
Habitació privada
---
Tipus de propietat
Pis
---
Capacitat
3
---
Dormitoris
Middlebury, Vermont, Estats Units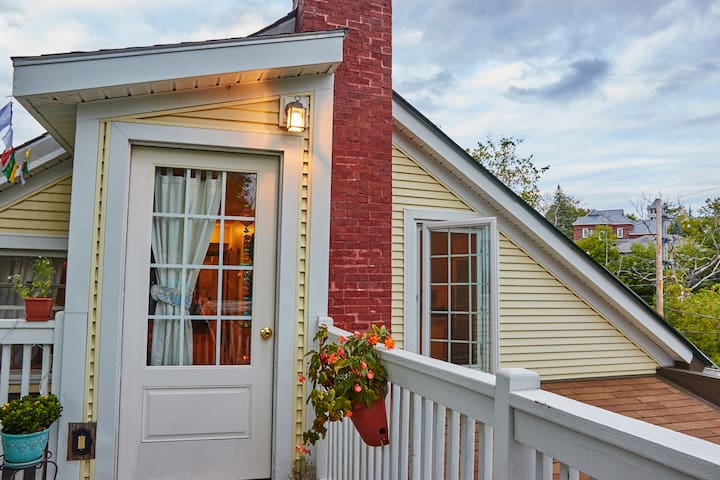 Lot's of light in this comfortably furnished studio in downtown historic building. Minute's walk to restaurants, shops, markets, parks, college. Easy drive or bus to ski. Large windows with beautiful view. Free Wifi.
Very beautiful,comfortable, and serene, with high ceilings, large windows with fabulous view, well-equipped kitchen. Comfortable queen size bed. Quiet and peaceful for a good night's sleep.
Apartment is located in historic downtown building. Extremely convenient location in the heart of Middlebury. As one of my guests said, " In 30 seconds you can be ordering a cup of coffee at Carol's Hungry Mind Cafe. In 2 minutes you can be browsing the fiction section of the Vermont Bookshop. In 3 minutes you can be listening to live music at 51 Main. In 4 minutes you can be sipping a Switchback Amber Ale at Two Brothers Tavern and Restaurant. In 5 minutes you can arrive at any number of good places to eat. In 6 minutes you can be on the beautiful Middlebury College campus."
Theresa was fantastic! Amazing location, perfect space... can't say enough about the stay and Theresa! Would absolutely stay here again. :)
Elizabeth
2016-08-29T00:00:00Z
This was our first AirBnB experience and the same for Theresa. It was beyond expectations. First, Theresa met us at the door. She left some beautiful bread and cheese for us. She is wonderful and an accommodating hostess. The condo is fantastic. A very large studio, perfect for two people. The light is amazing and the views superb. Not a fold out couch for third person so best for couples. Right in downtown Middlebury, steps from fun restaurants and bars and shops. Great spot to stay and spend the weekend visiting Midd students. Shower was great, and overall, really enjoyed it. Note: no TV but that was fine with us.
Bob
2015-10-05T00:00:00Z
Everything about my stay at Theresa's apartment was perfect! The location allowed me to walk everywhere, the apartment was comfortably furnished and spacious, and Theresa was available immediately for anything I required. I know Middlebury very well and this visit went by way too fast because I had the ideal place to stay. Thanks, Theresa! I will be back!
Cookie
2016-08-07T00:00:00Z
Had another great weekend at Theresa's very large and very serene studio. Middlebury is in a beautiful location and there are surprisingly few hotels where one has a room with a view. Theresa's place is the exception! Also with full kitchen, comfortable bed, laundry room across the hall if you need it, great water pressure and Carol's for coffee and breakfast just down stairs. Thanks again!
Katrina
2016-05-24T00:00:00Z
Theresa was very accommodating and communicative, and the apartment was completely ready for my arrival. It's charming from stem to stern—hardwood floors, a high ceiling, a full kitchen, a nice sitting area, two work / eating tables, and a comfortable bed. And if you want to be in the heart of the village, consider this: In 30 seconds you can be ordering coffee in Carol's Hungry Mind Café; in two minutes you can be browsing the fiction section in the Vermont Book Shop; in three minutes you can be listening to live music at 51 Main; in four minutes you can be sipping a Switchback Amber Ale at Two Bros. Tavern and Restaurant; in five minutes you can arrive at any number of good places to eat; and in six minutes you can be on the Middlebury College campus, which is as beautiful as college campuses come. If none of that appeals to you, I can't help you. I highly recommend this place.
Rosemarie
2016-06-09T00:00:00Z
The space was very charming and everything is exactly as seen in the pictures. Theresa was timely with her responses and provided all the necessary information to make the stay comfortable. Theresa even left fresh eggs from her farm in the fridge too :) The location is top-notch too; right in the middle of town with ample parking and plenty of places to eat. Highly recommended if you are staying in Middlebury.
Shigeki
2016-06-20T00:00:00Z
We loved our stay at Theresa's. The place was perfectly equipped and even had great toys for my 3 yr old daughter. The extra touches like the local bread (my absolute favorite in VT!) and the fresh eggs made our stay quite lovely. Theresa was also very accommodating when our arrival time was delayed. A wonderful place to stay in Middlebury!
Marla
2016-05-14T00:00:00Z
The host canceled this reservation 229 days before arrival. This is an automated posting.
hilary
2017-02-26T00:00:00Z
Tipus d'habitació
Casa/pis sencers
---
Tipus de propietat
Pis
---
Capacitat
2
---
Dormitoris
Middlebury, Vermont, Estats Units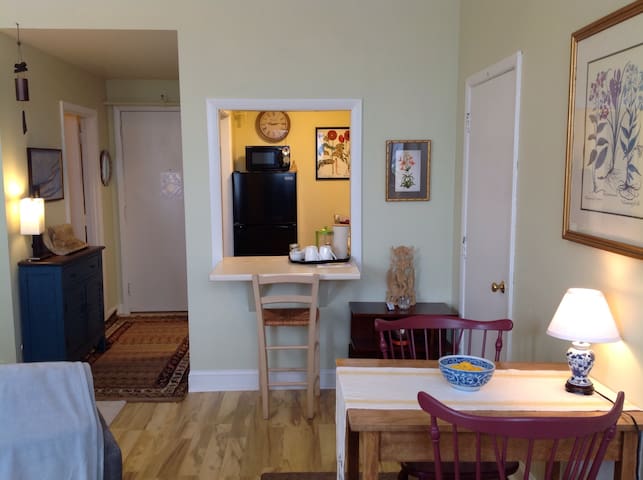 My place is close to the little city of Vergennes, Basin Harbor, Lake Champlain. You'll love the location for opportunities to kayak, fish, ride a bike, golf, and go to a museum. The space is good for couples, solo adventurers, and furry friends (pets).
We are located directly on Otter Creek 1.5 miles from Lake Champlain adjacent to the Lower Otter Creek Wildlife Management Area. The finished apartment above our garage has been recently renovated. Formerly it was the overflow space when family and friends visited. It's still a work in progress with the garage slated to be painted in the summer of 2017. There is a parking spot for guests and private entry.
Our neighborhood has nearby homes, a farmstand, other dogs and cats, and our chickens reside in the yard facing your entrance to the apartment.
Clean, neat spot with lovely views & a flexible & communicative host.
Christopher
2016-09-30T00:00:00Z
I had to change my trip at the last minute and Deb was so understanding and lenient. She was also amazing about check in and check out times! Her hospitality it was amazing and I would most definitely come back again!
Rissa
2016-09-25T00:00:00Z
We're definitely coming back. The apartment and the location were lovely, convenient, and comfortable. There are not many places comparable in the Lake Champlain area. Deb also went out of her way to accommodate our trip. So glad we came.
Wendi
2016-09-06T00:00:00Z
We had a great stay at Deb's apartment! It was completely private and secluded - and so quiet! It was lovely to wake up to listen to the birds and peace. It was great to have our own kitchen area to make meals and breakfast, especially a coffee maker and toaster. There's also an organic farmstand on the corner for fresh veg! It's a little distance from town, however I enjoyed taking a Vermont country road ride to town to get groceries.
Christine
2016-08-23T00:00:00Z
Cute little apartment! Far enough from everything to be quiet. Short drive to Vergennes which is a great little town. Deb was great about communicating what we needed to know for our trip.
Julie
2016-10-16T00:00:00Z
The apartment was very nice, peaceful, perfect for a couple. We had everything we needed and Deb was very kind and welcoming. We haven't had any trouble with our big dog. The place is beautiful with the creek right behind the house. I wish I had stayed a bit longer to enjoy all the good products Vermont has to offer !
Laura
2016-08-29T00:00:00Z
Very comfy, cozy, relaxing loft style rental with a beautiful river view and everything we needed! Very clean, peaceful and truly a Vermont treasure. Will definitely stay again if available! Central to Middlebury, Burlington, and the bridge to NY. True Vermont style and beauty.
Karen
2016-08-05T00:00:00Z
Deb's apartment was perfect. It was close enough to Burlington and hiking trails, but rural enough that it felt peaceful and relaxing. The apartment was just like the photos, had enough space for the two of us and was very clean. We arrived later than we thought, but Deb's directions were easy to follow and she left the lights on so that we could find our way to the door. She also had prepared a helpful welcome packet and suggested an excellent place for breakfast. On our last morning we enjoyed our coffee in the yard and hung out with the chickens. We would definitely stay here again. Thanks Deb!
Joshua
2016-07-18T00:00:00Z
Tipus d'habitació
Casa/pis sencers
---
Tipus de propietat
Pis
---
Capacitat
2
---
Dormitoris
Vergennes, Vermont, Estats Units
My place is minutes to Middlebury and close to Burlington, craft breweries, wineries, skiing, hiking, kayaking, biking, great views, .. You'll love the outdoor space, full private kitchen and bath, private entrance.. We can accommodate couples, solo adventurers, business travelers, families (with kids), and well behaved dogs.
Newer home in a quiet country setting. Spectacular views with many attractions and activities nearby. There is a queen bed in the bedroom, a comfortable queen pullout couch, and another full sized couch.
Christine and her family were extremely welcoming. The apt was clean, cozy and comfortable. Basic food items were in the refrigerator, freezer and pantry and even welcomed us with homemade pumpkin muffins. They offered to drop us off at a river near by to use their kayaks and use their fire pit at night. It's about a 10 min drive to downtown Middlebury and they had a lot of land you could walk around and admire nature. We will definitely go back and recommend it to anyone looking for a place in the area!
Joe
2016-10-17T00:00:00Z
We were more than pleased by every aspect of our stay. The space was bigger than anticipated/than it seemed in the pictures. Christine was so accommodating regarding our breakfast requests, and it was so easy to cook both mornings as there was nothing wanting. We absolutely loved her home (and those muffins), and wish we'd been able to stay longer - what a beautiful spot on Otter Creek. We recommend a hike to the Falls of Lana and Rattlesnake Cliffs which were beautiful. It was only 20 min over to Bristol for dinner at the Bobcat Cafe (and yummy ice cream from Lulus). It is also easy to get to Middlebury College within 10 min.
Betsy
2016-11-13T00:00:00Z
Staying at Christine's apartment was perfect for our quick visit to Middlebury. The apartment is spacious, clean, and peaceful. The bed and linens are very comfortable. The kitchen was perfect for preparing food. Christine provided everything and more that we might want to cook for breakfast including already made muffins and fruit upon our arrival. Christine was very friendly and offered to help us with whatever we might need. I would highly recommend staying at this wonderful country apartment. It is perfect for short or long-term stays.
Angie
2016-10-19T00:00:00Z
Staying at this apartment was an amazing experience! We felt at home the minute we had arrived. The Newkirks went out of their way to make our stay as enjoyable and as pleasant as possible. Needless to say, they completely succeeded. The location was great as we were looking for a nice spot by the country from which both quaint towns and natural landmarks were accesible. The accomodation itself was very cozy and clean. Everything was in great condition. The fridge was fully stocked with local, high quality products and then some. There was not a single moment where we felt our needs were not being met. Perhaps most importantly, the generosity of the Newkirk's themselves was unprecedented. They were very warm and welcoming with us from the moment we had arrived. We spent our first night sitting with them by their firepit (which we had access to), gazing at the stars. Great people.
Tasos
2016-10-10T00:00:00Z
Great place, great folks... The apartment is as described - a downstairs apartment that opens out onto a patio, spacious back yard, and fields that extend down to Otter Creek. The apartment itself is nice, a good-sized one-bedroom, with ample light in most rooms despite being a downstairs apartment. The Christine and Mike are very friendly and helpful, and they keep the place very well stocked with breakfast stuff, coffee, etc. Location provides easy access to Middlebury, hiking (very short drive to Snake Mountain...), and the other amenities of central VT. Nice views of the surrounding hills, which were bright with fall foliage during this late October stay. I have nothing negative to say (my only regret is that I'd liked to have stayed longer...), but a couple minor details to add to what's already in the description and comments. The fold-out couch in the living room is new and the mattress is comfortable. Cell coverage is pretty minimal (near zero?) due to surrounding hills and rural location, but the house wifi is good and fully functional. Also, it may be worth noting that the floor separating the apartment from the upstairs house doesn't block a ton of sound, so some sounds from above do make it through, and I assume vice versa as well.
Seth
2016-10-23T00:00:00Z
Chris was an amazing host! She thought of every detail from fine linens to a smooth arrival and a stocked kitchen for our Thanksgiving holiday. The property is stunning with a view of the creek and walking trails. The apartment is much bigger than it appears in the listing, and it's very spacious for a winter or summer getaway. Chris was very flexible and made sure we had everything we needed, including a delicious homemade coffee cake upon arrival!
Laura
2016-11-27T00:00:00Z
Everything was perfect. Christine came right out when we arrived, gave us a warm welcome, showed us around, and made herself available if we needed anything. We had a very quick trip planned, and she was very accomadating. She had great food in the fridge, muffins on the counter and a stocked Keurig machine. Her home was so cozy, she checked on us after the first night to make sure we were happy with everything, including the temperature. As far as location, easy drive to Burlington, and the view is absolutely beautiful. Would definitely recommend staying here!
andie
2016-11-07T00:00:00Z
Fantastic accommodation. More than enough space for myself, my sister and our two kids, and Christine's place is super-homey with literally everything you could want. Full kitchen with dishwasher, access to laundry, pet-friendly, food in the fridge and homemade baked goodies upon arrival. Christine is friendly and more than happy to recommend things to do/places to eat during your stay. The best stay of my life, for sure (really, not an exaggeration). If you can book here, do it!
Jessica
2017-02-24T00:00:00Z
Tipus d'habitació
Casa/pis sencers
---
Tipus de propietat
Pis
---
Capacitat
4
---
Dormitoris
Weybridge, Vermont, Estats Units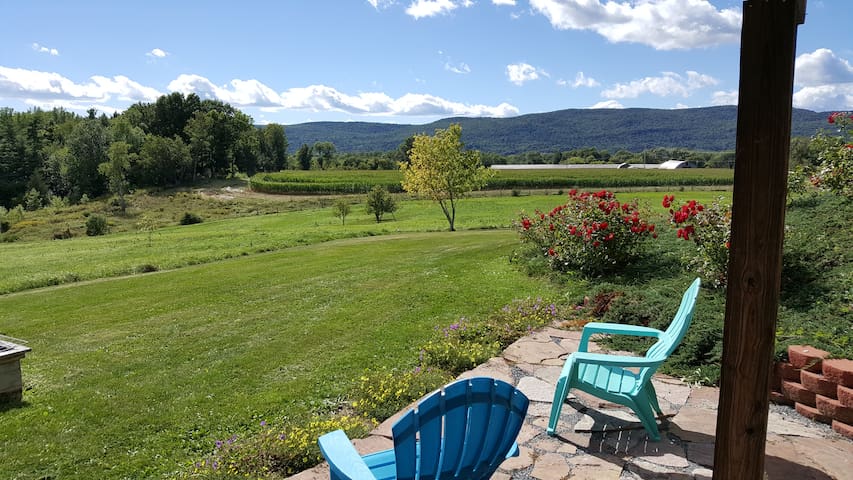 This comfortable, in-town apartment is the perfect place for a weekend or weeklong stay in Middlebury. Just a few minutes walk to all of the town's best offerings: restaurants and coffee shops, Town Hall Theatre, Middlebury College, and the Middlebury Natural Foods Coop. A turn-of-the-century home renovated with an architect's keen eye, the space is lovely and accommodating, with a well-stocked kitchen, a comfortable bedroom, and a loft space for yoga.
The apartment is on the 2nd floor of a two-story home on Court Street, in the mixed-use residential and commercial district in Middlebury. The 550-square-foot apartment is cozy and welcoming, with a well-equipped kitchen for those who want to eat in. Just blocks from downtown and a short walk to Middlebury College, with great woods walks and bike riding available out the door. A short drive or bus ride from in front of the house will get you to the Middlebury College Snow Bowl for skiing.
Susan is an amazing host and her Middlebury apartment is adorable. It's an upstairs home that is decorated nicely and has a lot of light. It was also nice to have a full kitchen of our own to use. Her home is close to Middlebury College and all of the surrounding restaurants and coffee shops. Susan provided us with great ideas about the area, including a couple restaurants that we tried and loved.
Nick
2016-09-07T00:00:00Z
Our stay here was fantastic. Susan was so good about communicating with us prior to our arrival and provided helpful information to make our stay very smooth and enjoyable. She left us a loaf of freshly baked bread and jam, and put coffee out on the counter for us to use. Small things - but a very nice touch. We loved the house and found it very relaxing and cozy. It's an easy 10 minute stroll into the heart of Middlebury. Highly recommended.
Nicolas
2016-09-26T00:00:00Z
Susan has a beautiful place in an idyllic VT town. The house was exactly what I hoped for in a nice VT weekend getaway.
Sarah
2016-11-23T00:00:00Z
The accommodations and location were perfect for us. The apartment has a really great vibe and was fully stocked with essentials, including core cooking ingredients. What a nice surprise! Susan was great to work with and we will definitely stay here again when in the area.
Denise
2016-10-10T00:00:00Z
Susan was a fantastic host. She was very easy to stay in touch with and was prompt with responses. She also was very helpful with the area and assisting us with some of the plans we had made but weren't 100% sure on some of the logistics. Her space during a snowy week was clean, quiet, cozy, warm, and had ample parking that was plowed so that we didn't have any trouble getting where we needed to be. The space was within walking distance to the downtown area, a few restaurants, and a great market. We only stayed for two nights, but would definitely like to try and stay again.
Benjamin T.
2016-12-31T00:00:00Z
This place is an amazing find! Very comfortable, light, warm (a must in winter!) and filled with extra touches that make this more like a home than a rental. Susan was a gracious hostess who went out of her way to ensure our comfort and satisfaction. We could not have imagined anything better for our trip to Middlebury.
Steve
2017-02-05T00:00:00Z
Great house in a great location! I really enjoyed my stay and would highly recommend. Susan is very kind and responsive!
David
2017-01-30T00:00:00Z
My first Airbnb experience in Middlebury, VT was very pleasant and was enhanced by our host's welcoming reception. Susan was very professional and made us feel at home by providing us with fresh bread, coffee and a variety of herbal teas. In addition, the fridge was stocked with eggs, butter, jams, and cream. Susan provided us with a list of locations tailored to our interests and provided detailed directions to ease our travels. The apartment was very cozy in the frigid temperatures of Vermont in early January. Susan was very accessible and valued our privacy. The location is walking distance to restaurants, parks and shopping areas. My wife and I definitely look forward to staying here once again in the near future!
Pedro
2017-01-08T00:00:00Z
Tipus d'habitació
Casa/pis sencers
---
Tipus de propietat
Pis
---
Capacitat
2
---
Dormitoris
Middlebury, Vermont, Estats Units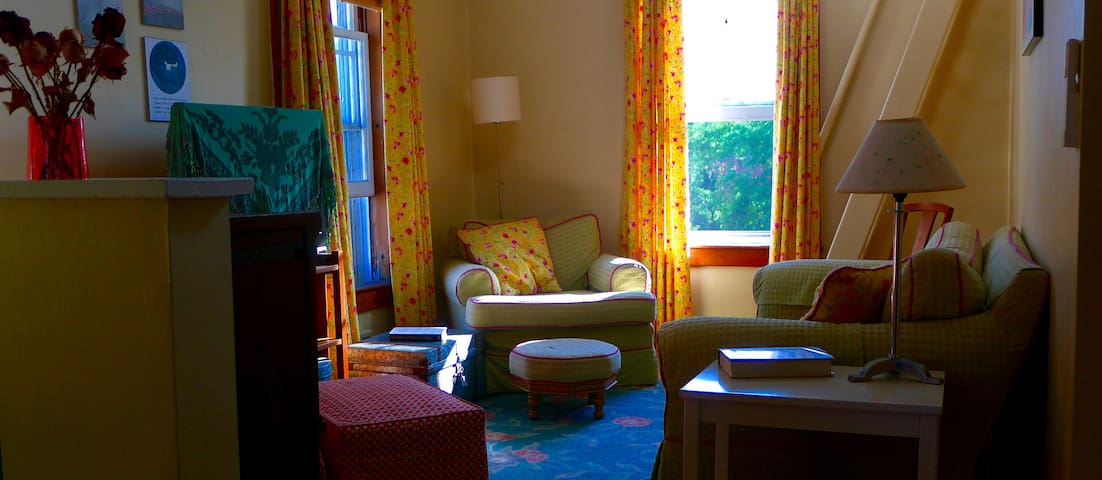 Just 5 mins from Middlebury, this apartment easily sleeps 4 people in the 2 queen beds; one on main floor and one in loft. Make yourself at home in the full size kitchen and enjoy the stunning mountain views. Bathroom has separate shower and bathtub.
One of the wonderful things about this apartment is the expansive view of the Green Mountain National Forest that also includes the local farmers' hay & corn fields, their grazing pastures, and the old hedgerows. In addition, the wildflower meadows and transitional wetlands make great wildlife habitat and add color to the landscape. Enjoy all of this from the deck while relaxing in the two rocking chairs. If you want to avoid the restaurant crowds, cook your own dinner where you have the choice of eating on the deck or inside. Both dining tables seat 4 people each. I like to stock the kitchen with staples you may need in small quantities. Everything I offer is clean and fresh, so you can feel safe using it. You can expect.... coffee & tea salt & pepper flour & sugar oil - olive & vegetable vinegar - balsamic & red wine butter ketchup & mustard honey & lemon juice basic spices like... garlic powder, onion powder, Italian seasoning, and red pepper flakes. In the bathroom you'll find the basics like ... towels soap & bubble bath shampoo & conditioner cotton balls & Q-tips hair dryer
Although I'm only 2 miles from Middlebury, my location is very private. Views from the apartment show off Vermont's working landscape, changing seasons and dynamic weather patterns. No need to use the blinds as the neighbors are few and far between. Middlebury is 5 min away with many good restaurants, shops and grocery stores. Some favorites are The Storm Cafe and Two Brothers Tavern. Best cup of coffee is Carol's Hungry Mind. My two favorite sandwich places are Costello's and The Grape Vine Grille. My favorite breweries in town are Drop-in Brewery and Otter Creek. Woodchuck Cider and Vermont Hard Cider have tasting rooms, as does Lincoln Peak Winery. Main street has a nice smattering of shops, including clothing and jewelry, along with galleries and bookshops. If you plan to cook while you are visiting, we have conventional grocery stores and a great natural foods store referred to as 'The Co-op." Farmer's Markets on Wed and Saturday morning at the Marble Works area near the Otter Creek river.
2nd time staying at Monica's beautiful place while attending Middlebury events. The location is only a couple of miles outside of town but you feel like you are in the country. The house/appt is perfect, clean, comfortable, sunny and Monica took great care of us again.
Janice
2017-02-10T00:00:00Z
This place sets the bar high for other Airbnb's
Ben
2017-01-29T00:00:00Z
Monica's home is lovely- very clean, comfortable and welcoming. Monica herself is a model host, even providing what we would need to cook a romantic meal for two (the other couple we were going with bailed last minute). Monica is attentive, responsive and respectful. We asked to use the washer/dryer after a long day outside so we wouldn't have to pack dirty clothes and she graciously let us use the facilities (in a laundry room feed from the apartment). The kitchen had all the basics that you would need other than your food, the apartment was clean and the views are AMAZING. We woke to the most picturesque Vermont view that we have ever seen- it was fantastic!
Brittany
2015-09-13T00:00:00Z
The apartment itself was an amazing find. At the end of a gravel road, this space felt like home the minute you walked it. It was very close to both Cornwall and Middlebury, so we had easy access to all the things we wanted. But it was also private and felt like a true get-away. The whole place had an amazing view of VT mountains as well as a great deck that we ate breakfast and dinner on. Monica was a wonderful host! The apartment was very clean and tidy, yet cozy. From the planning phrase to arrival coordination and throughout the stay, Monica was extremely responsive to questions. She set us up with little treats like a bottle of wine and a few biscotti! My friends and I plan to book this apartment any time we are back in the area! We absolutely loved it! :)
Gina
2016-05-02T00:00:00Z
Monica was a great host. She communicated well with us and was very accommodating as we ran an hour late. The apartment is lovely with a beautiful ambience and views of the Green Mountains. She had great recommendations for places to eat and grab a drink. We had a great stay!
Michelle
2015-10-21T00:00:00Z
Monica is a great host and provided a fantastic first airbnb experience! Her apartment has a gorgeous view of the mountains, fully equipped kitchen, and bright and homey feel.
Kate
2017-02-20T00:00:00Z
The host made us feel very welcome, initiating and following up on necessary communications related both to our stay and to construction work that was unexpectedly being done on the exterior of the house while we were there. She met us in person soon after we arrived, gave us personal restaurant recommendations, and provided clear written information on use of the property. The apartment is very nicely laid out and furnished, exceptionally well provisioned and maintained, and beautifully sited. The deck is an extraordinary amenity, especially for morning coffee. We enjoyed our stay tremendously and would return in a heartbeat. Monica takes a lot of care and pride in this property and in her hosting responsibilities. Very easy access to the town of Middlebury, yet a serene rural location.
Wendy
2016-08-29T00:00:00Z
Our vacation at Monica's appartment was wonderful. The appartment is very clean, well furnished and fully equiped. Monica is a very generous host and she did everything possible to make our stay memorable. The 180 degrees view from the deck is amazing. We just could not get enough of it. The place is very close to Middlebury which is one of the most beautifull little town in Vermont. We will be back for sure !
Roger
2016-08-17T00:00:00Z
Tipus d'habitació
Casa/pis sencers
---
Tipus de propietat
Pis
---
Capacitat
4
---
Dormitoris
Cornwall, Vermont, Estats Units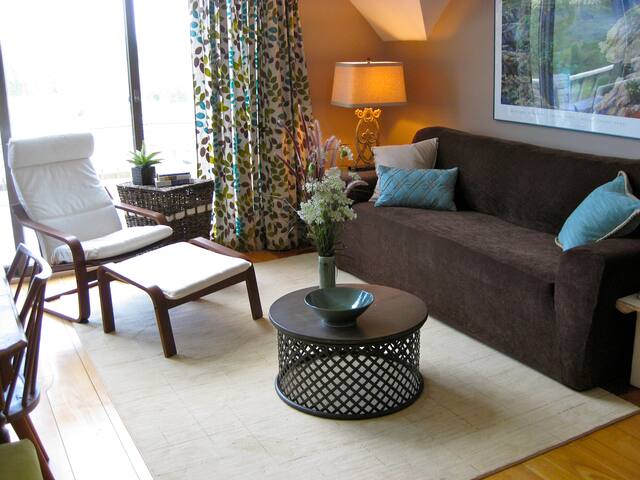 Mid 1800s farmhouse in-law suite with views of the Adirondack mountains and modern amenities. Private entry with covered sitting porch, first floor living space/kitchen, propane fireplace. Two bedrooms and a full bathroom on the second floor.
Private, newly renovated 700 square foot apartment has an entry from the front porch. The entry leads into a mud room with coat racks. The door on the left in the mud room enters the apartment. The door on the right will be closed and locked from the host's side. On the first floor is a kitchen, desk area, couch, TV, propane fireplace, and a kitchen table. Upstairs, there is a full bathroom at the end of the hall and two bedrooms each with queen size beds and sitting areas. We strive to keep the apartment comfortable and as clean and fresh as a hotel room. Coffee, tea, half and half, milk, sugar, and seltzer are provided in the kitchen for you. The kitchen also has olive oil and salt and pepper along with pots and pans and cooking utensils should you wish to cook a meal while you're here. Easy access to kayaking (on Lake Champlain or Otter Creek), road biking, fishing, boating, local hiking and more! Located 1.5 miles from Button Bay State Park and 1 mile from two Lake Champlain boat launches (Panton Town Beach and Button Bay boat launch), 3 miles from Basin Harbor Club, and 6 miles from the quaint town of Vergennes which has several restaurants and boutiques.
We love the beautiful country setting 3 miles from Basin Harbor Club, 1 mile from Lake Champlain (and 2 boat launches), 6 miles from the town of Vergennes, 17 miles from the town of Middlebury and Middlebury College. We are an hour or less drive to Burlington and Burlington International Airport and have easy access to great outdoor sports like hiking, biking, boating, fishing, and sailing.
Very clean and comfortable, We like the very much.
Pingwei
2016-10-10T00:00:00Z
Lovely appartement, adorable decoration and friendly hosts! The beds we so conformable too! Great experience
caroline
2016-09-11T00:00:00Z
I cannot stop talking about this lovely listing and its amazing hosts. Devin and Jeremy are truly kind and warm. The In-Law Suite is exactly as described and more. Clean, charming, perfectly stocked and relaxing - it was just what we needed. I love the location, just outside of Vergennes, but close to Shelburne and Vermont. We enjoyed our week with our gracious hosts and can't wait to come back to Vermont!
Elena
2015-08-30T00:00:00Z
This lovely 2 bedroom apartment is really as beautiful as pictured. What the photos cannot capture is the charm of the location, the relaxing feel of sitting on the front porch and the graciousness of the hosts. Hope our daughter goes to UVM so we have an excuse to return soon.
Cynthia
2015-07-16T00:00:00Z
Devin and Jeremy are terrific hosts. Everything was set up exactly as described. My family really enjoyed their stay and if ever in the area again will definitely return. Perfect location for any families visiting Middlebury College. Thank you for making my graduation weekend even better for my parents and grandparents.
Liam
2016-05-31T00:00:00Z
I've benefitted from Air BnB around the world, and Devin and Jeremy's in-law apartment is why Air BnB is so wonderful. An ideal site for a country get-away weekend. Highlights included logistical ease - quick and easy communication in advance of our arrival, flexibility with changes in our arrival schedule - and an apartment whose decor and small details highlight the very caring touch of its owners. Extremely clean and appointed as you would hope a VT countryside apartment would be, with tiny details that make guests feel welcome: fresh local milk and half-and-half in the fridge, basic kitchen amenities (tea/coffee, sugar, aluminum foil, ziploc bags, etc.), a beautiful bulletin board with suggestions for many local outings, fast and easy wi-fi. Bedrooms were cozy with hardwood floors, pastel walls, simple decor, and very comfortable bedding (cozy downs and clean, soft sheets). This site ranks as one of my favorites in the world, both because of ease-of-booking/friendly communication with the hosts, and the other-wordly simplicity and quaintness of the site. Many thanks, Devin and Jeremy!
Lisa
2016-05-03T00:00:00Z
We loved Devin and Jeremy's place! We are Middlebury grads and have been coming to stay in the area each Fall for the past 5 years. This was better than any other place we have stayed. The apartment is incredibly clean (and trust me that we have very high standards for a clean space). Everything is immaculate and very simply decorated (in a good way). They have thought of everything you need - from coffee and milk in the fridge to a little first aid kit if you need a bandaid. The beds are comfortable, the towels were super soft and the wood stove made a great cozy atmosphere to hang out at night. We liked that the space was separate from their main living space, which made it feel like we had privacy and were in our own house. All of the restaurants in the area are amazing, but we LOVED Vergennes Laundry and went both mornings for coffee and scones. This is a great place to stay - we are already planning our trip back to Devin and Jeremy's for next year!
Jamie
2015-09-28T00:00:00Z
We had good communications with the Hosts. The location was lovely and the apartment was beautiful. Very easy to get to Middlebury and Lake Champlain from the house.
Bradley
2016-06-16T00:00:00Z
Tipus d'habitació
Casa/pis sencers
---
Tipus de propietat
Pis
---
Capacitat
4
---
Dormitoris
Vergennes, Vermont, Estats Units
Sunny apartment in the Adirondacks 3 miles to Lake Champlain, 15 minutes to Vermont. One hour from Lake Placid and Lake George. Lots of hiking trails nearby. We are pet friendly! We are also a working farm so we rise early to tend to the animals.
The living spaces on this 10 acre property were carved out of a barn originally built in 1844 and a former milk processing plant (the farm was once a dairy).
We are the last farm left on our road. While it is a main road it is a quiet spot with great views and good neighbors.
We truly enjoyed our stay. Lisa, is an excellent host; available at a moments notice. The apt was clean, bright, comfy and welcoming. The country charm of the apt and the area was perfect. It was exactly what we were looking for so that we could bring our dogs with us.
Rhonda
2016-02-28T00:00:00Z
Lisa's first floor apartment on the horse farm was exceptionally clean and homey. She was very sweet and stocked the kitchen with eggs, milk, bread, juice, apples, coffee, etc. - everything you could possibly need for a hearty breakfast. The wifi connection was poor, but we did have cell service so it wasn't a big deal. Overall, we had a lovely experience. Lisa was a very kind and helpful host.
John
2016-10-16T00:00:00Z
We very much appreciated this clean, comfortable and pet friendly location in a somewhat remote, but lovely part of the Adirondacks
Gabriel
2017-03-08T00:00:00Z
Nice apartment. Clean, and quiet. The location was great- country, but near many things at the same time. Would highly recommend renting to anyone.
Lynne
2017-04-03T00:00:00Z
Cozy first floor apartment, exactly as listed. Everything was nice and comfy and there was coffee and food in the kitchen. Exactly what we needed!
David
2017-02-05T00:00:00Z
Glenn
2017-02-19T00:00:00Z
What a wonderful spot! Comfortable furnishings, everything is super clean, and the fridge is stocked. Most importantly Lisa is a terrific host and super friendly, welcoming, and interesting to chat with.
Josh
2016-07-30T00:00:00Z
Lisa, her husband and her mom were great hosts! We felt very comfortable and welcome on their farm.
Shanyn
2016-08-17T00:00:00Z
Tipus d'habitació
Casa/pis sencers
---
Tipus de propietat
Pis
---
Capacitat
3
---
Dormitoris
Moriah, Nova York, Estats Units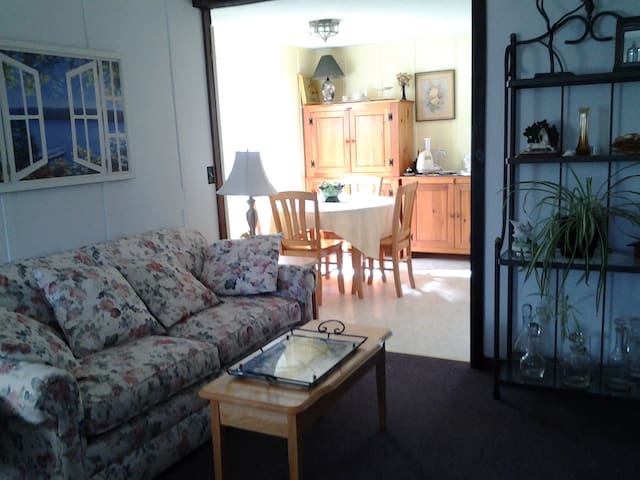 Spacious, fully furnished 3 bedroom apartment in the heart of historic village in the Adirondacks. Short walk or drive to Lake Champlain beaches and marinas, and easy access to outdoor activities in Keene Valley and Lake Placid, and Vermont. Now includes WIFI!
The apartment is in the heart of the village, and while you can walk to the grocery store, restaurants, and wine shop (among other places) it is at the foothills of the Adirondacks, so most streets are on a steep hill.
Foote's Port Henry Diner is one of the oldest surviving diners in the country. Built by Ward & Dickinson in 1926, it has been in the same location in Port Henry (next to the Mac's grocery store) since 1933. It was renovated in 2000 and received an award at that time from Adirondack Architectural Heritage. Don't miss it for breakfast or lunch, open Wed-Sun, 7-2.
Susan was fantastic. She greeted us warmly and offered up suggestions for places to go and how to get there.
Terri
2016-08-01T00:00:00Z
Susan was an amazing host and the house was awesome. I would highly recommend staying here if you are interested in the Lake Champlain area
Willyum
2015-10-13T00:00:00Z
Susan was a great host!! She was very welcoming and friendly. The apt was neat and clean and conveniently located near lake champlain. The apt had good set of clean linens and cutlery for all of us to use. I wold definitely recommend her place to stay if anyone is coming to visit lake champlain or lake George
Kanan
2015-09-06T00:00:00Z
I enjoyed the apartment and it was great for our family.
Bruce
2016-08-14T00:00:00Z
My boyfriend and I stayed at Susan's place for three nights and had a wonderful time! The apartment is very spacious and clean. Susan also including all the amenities you may need including the basics like towels and dishes as well as some extras like nice soaps and coffee for the morning! It is within walking distance of a grocery store and the lake and within driving distance of all the sights you might want to see. All in all, this was a great place to stay and Susan was very welcoming and friendly. We'd love to come back again!
Kathleen
2015-08-03T00:00:00Z
Susan was an amazing host! She was very responsive, kind, and helpful. This cozy apartment is right above her shop selling work of local art and craft. It's exactly as described and perfect for our group of 4. We loved the second story porch to relax and watch the quiet little town. There is a very nice beach just a short drive away, a very cute little diner just around the corner, and a grocery right next to that. If you are looking for a quiet place to relax, or as a base to explore the Adirondacks, we would highly recommend Susan's apartment.
Mark
2016-06-20T00:00:00Z
We stayed with our two small children for a wedding on the VT coast. The apartment was in a good location for us, as it was an easy (and beautiful) drive to the Middlebury area. The apartment was very clean, had a nice patio to relax on, and was in a quiet neighborhood.
Meghan
2016-07-05T00:00:00Z
Me and my friends had an amazing experience at Susan's place. It was perfect for the three of us. We each had a room. Extra towels. Cable TV. Kitchen and grocery store across the street. We went to the diner fur breakfast and enjoy the many attraction nearby. Susan was easy to communicate with and we felt welcome. Defiantly one of the best AirBnB experience in the last four years. Great value and we are looking forward to coming again.
Jonathan
2015-07-13T00:00:00Z
Tipus d'habitació
Casa/pis sencers
---
Tipus de propietat
Pis
---
Capacitat
6
---
Dormitoris
Port Henry, Nova York, Estats Units
Very cozy, large private apartment with kitchenette and bathroom 10 miles from Middlebury College Vermont. Lake Champlain, ski resorts and other outdoor activities within 20 miles. Burlington, Albany, Montreal, Boston, New York only 1 - 4 hours away.
MIDDLEBURY AREA - Totally renovated, separate new apartment, very quiet and private - unobstructed views of Adirondack and Green Mountains A private entrance leads to this 650 sqft (60 sq.m) loft apartment which extends over the entire side wing of our new farm house that was built in 2004 and is located on a 5 acre organic apple orchard. Our house and property have been featured in the 2011 September/October issue of Yankee magazine. For your privacy, the apartment and your personal bathroom with shower and tub are both physically separated from the rest of our house. Large and fully operational kitchen, sleeping, lounging and working areas make this living space a relaxing and energizing experience. The beautiful, unobstructed 360° panoramic views over Champlain valley, the Adirondack and Green Mountains will undoubtedly complete your Vermont countryside adventure. And star gazing during clear nights makes you want to touch stars and the Milky Way in particular, a spectacular display of the universe enhanced by the lack of intrusive city light. The apartment is completely furnished, a queen size and a single bed are available and so are linens, towels and supplies for your convenience. Amenities include air conditioning, free and wireless Internet as well as 250+ TV channels on DishNetwork and parking is plentiful and free. Both apartment and bathroom have individual thermostats with heat and electricity included in the rental. Sorry, no pets or smoking. We are located 10 minutes south of the town and college of Middlebury. The closest ski and snowboard resort is less than 30 minutes away as is lake Champlain. It will take you less than an hour to Killington, an hour to the airport and city of Burlington, 2 hours to the airport and city of Albany, NY, 3 hrs to Boston or Montreal and 4.5 hrs to New York City. All in all, this is a great location that offers the choice of abundant outdoor activities, finding peace and quiet or access to city life and cultural entertainment. PLEASE NOTE: Sorry no pets allowed. We only accept reservations from people with completed profiles. Great discounts for weekly or monthly rentals.
Our 5 acre property is located in a rural, very quiet Vermont setting 10 miles south of Middlebury, VT. Our property is located on a ridge with a wonderful 360° view over the Champlain Valley, the Adirondack and Green Mountains.
My wife, son, and I had a wonderful relaxing weekend and Peter and Graziella were so friendly. Love the dog and cat at the house! If you're looking for a rustic getaway in a beautiful environment this is the place. Graziella's art work is very creative and inspiring - check it out!
Vincent
2015-08-11T00:00:00Z
Very welcoming hosts in a superbly peaceful location with good food and interesting things to see and do all around. The apartment was clean, comfortable, well-appointed and of ample size, making it ideal for the week.
Alex
2016-07-03T00:00:00Z
The apartment was spacious, clean, comfortable and well equipped, from bedroom to kitchen to full bath. In the hosts' attention to detail, such as supplying spices, maps, soaps, games, and fresh food for breakfast, is a welcoming interest in visitors as people. The location is quiet and sublime. There is excellent rural road biking through the area. Twenty-five minutes west by bike is the ferry crossing to Ticonderoga, New York. Fifteen or twenty minutes east by car is Green Mountain National Forest. Ten minutes north by car is Middlebury. Graziella and Libra, her happy and playful dog, treated us immediately as friends on their apple orchard. We would gladly return.
David
2015-06-22T00:00:00Z
We had a wonderful time staying at 360* Mountain views, making our first experience with airbnb most memorable and unique . The countryside car ride leading to the home was breathtakingly beautiful, and was equally matched by the home's pristine grounds and beautiful setting. The host, Peter, was gracious, most accommodating, informative and thoughtful. The interior of the home was exquisitely furnished and generously stocked. We were able to rest, relax and enjoy the pleasures of tranquil rural living. Finally, the occasional appearance of the adorable and friendly cat and dog added a welcome bonus to this magical place.
Dalia
2015-08-16T00:00:00Z
We enjoyed our weekend stay at Peter and Graziella's apartment very much! Unfortunately we did not get the chance to meet Graziella, but Peter was very welcoming and even waited up for our late arrival. The apartment was fantastic; very spacious, clean, bright and the decor was unique yet cozy. It was also private (with our own entrance) and was equipped with everything you could need. They even stocked the mini fridge so we could make breakfast :) Peter and Graziella's property is beautiful, surrounded by apple trees and gardens with great views of the mountains - a perfect getaway, really. We enjoyed the bright, starry sky at night and drank our coffees on the apple orchard in the morning. Definitely a 5-star rating! We hope to go back someday soon!
Kelsey
2015-09-07T00:00:00Z
If I could leave a higher rating I would! Peter and Graziella are not only exemplary hosts but they are just all round wonderful people that anyone would be lucky to meet. They aren't just offering an amazing place to stay either, they are offering a home away from home. Somewhere that makes you feel grateful and relaxed to be there and a sweet sorrow to have to part with! Now for the finer details... I stayed in the apartment for a little over three weeks even though my original stay was scheduled to be for 11 days. On a bit of a whim I decided to disconnect myself from the chaos of city life so that I could focus specifically on getting some important work done and just taking some time out to enjoy a new environment. I had a 5 hour drive up from New England and basically due to the hurricane, some of the roads along the way were out and I was also not used to driving on the East Coast and long story short, I got lost, it was night and I was exhausted. I called Peter and he talked me through the whole thing, gave me directions to the nearest town and not only that but he even drove out late at night to meet me and lead me back!! It was such an incredibly kind thing to do and as soon as we arrived back and I saw the place my nerves about the drive were totally pacified. FIrstly, the apartment is much bigger than it looks in the photos and it just has the best feeling to it, it is clean, warm and inviting and something about it feels very personal. Their house itself is gorgeous, and wonderfully decorated, it has a lot of style and every tiny little detail has been considered. Their home is built on a beautiful piece of land that is at the top of a slight slope so that it gets the most beautiful view that sweeps down across the land and captures the most stunning sunsets. The main road that they are off is also a straight shot right into the heart of Middlebury which is a wonderful little town that will provide you with everything you need. There is a great little organic food co-op as well. Peter and Graziella were incredible. I arrived to a fridge with a variety of goodies already stocked in it and the best part of it was the constant influx of organic fruit and berries and flowers that they would so kindly leave at the front door. You will have all the privacy you could ask for but if you ever need a thing, there's a good chance that Peter will have responded to you before you can even hit the refresh button! You won't be left wanting, trust me. Peter and Graziella were both so helpful with everything from suggestions about places to go running through to helping me figure out how to extend my stay. Which I did do... twice as a matter of fact! When I had a friend come through town for a night they even waived the fee. They were so kind and supportive and while I was sorry to have to leave I couldn't be more grateful for the time I did get to spend there. I will end on the note I began with and simply say that this is an amazing place to stay whether or not you have a specific reason to go to Vermont. I would encourage anyone to go and stay with Peter and Graziella and enjoy their wonderful home.
Alexandra
2011-10-07T00:00:00Z
This is our second visit to Peter and Graziella's lovely and very comfortable apartment. Their personal touches such as a birthday card waiting for our arrival and biscottis sitiing atop our pillows really made us feel welcome. Lisa and Robert
Lisa
2012-03-12T00:00:00Z
We have been to many Airbnbs now, traveling all through the USA, and Peter and Graziella's Whiting paradise was truly the best place we've stayed. Set on an idyllic farm, Graziella is an artist and her creativity abounds from the art on the walls of the open, light and welcoming Airbnb to the beautiful gardens with exotic flowers and artistic arrangements of plants and wonderful found treasures everywhere. We loved spending our mornings walking in the gardens. Peter and Graziella were wonderful hosts and thought of everything we might want or need while staying here , including lots of extra treats in the kitchen. We enjoyed our stay here so much we looked at our travel plans, made a few changes, and made sure we stayed again on our way back to California. A gem. We would highly recommend their place to friends, family, everyone.
Judie
2016-07-21T00:00:00Z
Tipus d'habitació
Casa/pis sencers
---
Tipus de propietat
Pis
---
Capacitat
3
---
Dormitoris
Whiting, Vermont, Estats Units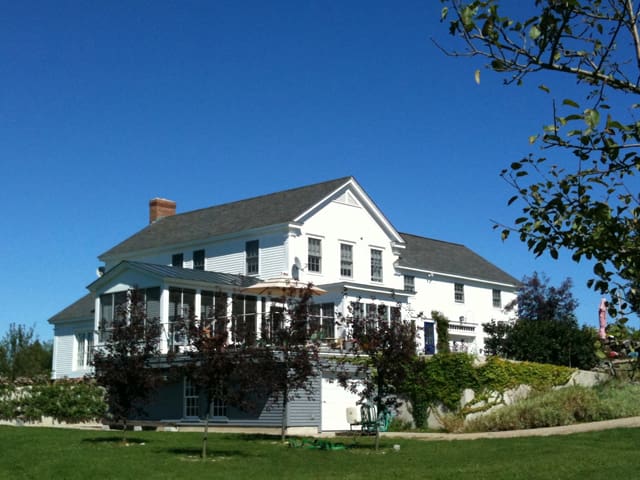 My place is in a country setting on a small horse farm, 10 minutes from Middlebury, Vergennes, or Bristol, 40 minutes from downtown Burlington. Great views of the Adirondacks and the Green Mountains, 20 minutes from Lake Champlain, 7 miles from Middlebury College, restaurants and dining, family-friendly activities.
Catherine's studio loft was amazing! She was very welcoming and made us feel right at home! Her property, the views, the horses, everything was beautiful!! Wish we could've spent more than one night! I will definitely be renting this listing again! Thanks Cathy!!
Rafael
2016-09-11T00:00:00Z
Very friendly and accommodating hosts! They provided juice, milk, bagels, local cream cheese and coffee all for free at no expense. The location was very rural and exactly what we were looking for. The pictures were exact to what we experienced and it was an overall phenomenal rental. Highly recommended!!
Greg
2016-10-01T00:00:00Z
This place was wonderful! The apartment is located over their spare garage, but it amazingly warm and cozy. I don't know how, but the pictures on here don't do the place justice. The lighting is cozy and romantic, and the space is nice and balanced. The ladder to the bed is a little difficult, but luckily there's a futon bed as well! Catherine and Jim also helped us loads with providing us with some snacks, kitchen items and enough basics to get us through the trip. Wonderful.
Nikki
2016-11-27T00:00:00Z
This is a magical place to stay! The spacious apartment is located opposite Cathy and Jim's home. Jim welcomed us when we arrived late in the evening and gave us a quick tour, then they left us to it the three nights we stayed. The apartment is warm and cozy, with comfy seating to hang out in the evenings and a great little kitchen if you want to cook. I imagine in the Spring and Summer the place feels light and breezy as there are two large windows and sliding doors at both ends of the apartment which lead to lovely balconies. I spent our first morning watching the sun come up over the mountains: it was spectacular! You can hear the horses whinny and not much else, the place feels wonferfully remote. Cathy and Jim left us tea, coffee, milk, apple cider, butter, apple butter (which was so delicious I finished it all!), cream cheese, bagels and fruit for us which was so thoughtful. We used the apartment to explore, driving to Middlebury (check out Drop In brewery), Burlington (check out Shelbourne Farm on the way; Pho Hong, delocious, unassuming Vietnamese restaurant in the city) and Duxbury (check out Cold Hollow Cider Mill; Cabbot Annex; and the Prohibition Pig bar). I would stay here again without question, we very much hope to return before long!
Verene
2016-10-11T00:00:00Z
Cathy and Jim's studio apartment is absolutely stunning. My friend and I went for a quick two nights to get away from school during our spring break. We loved the simplicity of the loft and cozy feel the whole place has to it. Every window has a gorgeous view of some sort, whether it is the horses or the mountains in the distance. Cathy and Jim were extremely friendly, helpful, and accommodating. I surely wouldn't hesitate to go back.
Abbie
2017-03-14T00:00:00Z
What a beautiful property off the beaten path. The apartment itself was cozy, clean and everything we needed. Cathy was so sweet and welcoming and encourages exploration of the area. Unfortunately we had such a quick trip and didn't get to spend as much time walking around. Thanks for the hospitality!
Allison
2017-04-02T00:00:00Z
Great scenic location close to restaurants, hikes, etc;friendly host, well equipped kitchen. Highly recommended for anyone looking to stay in the area!
Carolyn
2016-12-28T00:00:00Z
Cathy and Jim's lofted, light-filled, open, cozy, sparkling clean, uplifting post and beam space was a PERFECT space to spend a few days. Cathy went above and beyond as a host, and yet we felt completely independent and 'left alone' to enjoy our retreat.
Moira
2016-12-26T00:00:00Z
Tipus d'habitació
Casa/pis sencers
---
Tipus de propietat
Pis
---
Capacitat
2
---
Dormitoris
New Haven, Vermont, Estats Units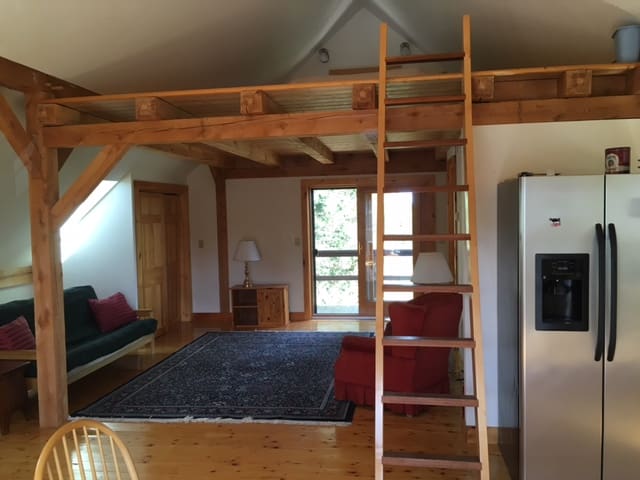 Loft apartment overlooking Otter Creek Falls in downtown Vergennes, VT. High ceilings, lots of natural light, gourmet kitchen, private yard. Walking distance to revitalized downtown and ideally located between Lake Champlain, the Green Mountains, Burlington and Middlebury.
A unique loft apartment in a 100 year old, former water powered spark plug factory. Extraordinary views of the Otter Creek Falls and the Adirondack Mountains. Gourmet kitchen, two bedrooms and two baths on the main floor with a loft bedroom and den. Hardwood floors, extensive natural light, air conditioned if you require.
Vergennes has a population of 2600 and offers a National Register of Historic Sites revitalized downtown with local eateries and shops, an Opera House and the Bixby Memorial Free Library, the most beautiful library in the state. The area offers a rich history of both the Revolutionary War, the War of 1812 and the Civil War. Farm to table eating is a must with local farms, markets and restaurants. Sixteen beweries, wineries and cideries are located within one hour.
We had a wonderful stay in Vergennes at the Old Mill Loft Apartment. The home is comfortable, bright, and beautiful (as shown in the pictures) and the setting is too -- right on a waterfall and within walking distance to great places to get breakfast and coffee in downtown Vergennes. Bill was an exceptionally considerate and accommodating host. I would definitely recommend staying here to anyone traveling to Vergennes!
Carolyn
2015-08-31T00:00:00Z
Bill was a fantastic host and helped to make our trip relaxing and fun. He left a detailed guide for Vergennes and the surrounding area, which was incredibly helpful and thoughtful. He even provided small shampoos and soap, which was very sweet. The loft is spectacular and surpasses the descriptions online. We had such a nice time, and really enjoyed every aspect of our stay.
abi
2015-09-08T00:00:00Z
Bill was great, bottle of chilled bubbly in the refrig, my casa su casa. Very interesting space with lots of windows overlooking the waterfalls. Air conditioner worked well. Lots of individual and comunal space with a huge well stocked kitchen. The only reason that I did not give a 5 star rating was that the mattress in the master bedroom was old with sagging in the middle. Probably okay for 1 person but but not for 2. Any movement by either my wife or I resulted in the whole thing bouncing. We both had to position ourselves on the edge of the mattress in order to ger any sleep.
Donald
2016-08-28T00:00:00Z
Bill was an excellent host and the property was better than you could describe. Beautiful views very private the place felt like home from the moment we walked in. We can't wait to come back next year!
Guy
2016-09-06T00:00:00Z
This was the perfect place to stay in Vermont. Bill was great. The town was extremely charming with everything within walking distance. The loft had everything you would want and it really did feel like half cool loft / half museum with all the art and Vergennes history on the walls. If I'm ever back up in the area I will definitely stay here again.
Scott
2015-09-28T00:00:00Z
The photos don't do this apartment justice! Lovely spot just at the end of the Village, amazing apartment that we didn't want to leave. Such thoughtful hosts, there was a kind gift to us and total privacy. A great place to explore the Green Mountains and Burlington from, and great places to eat in your return home- or cook yourself as the kitchen was amazing! Thank you so much Bill and Kristin.
lance
2015-10-08T00:00:00Z
Our stay in Vermont was perfect. From the initial communication to the moment we arrived to some tasty treats in the fridge. The Loft Apartment is absolutely stunning with bright windows and beautiful antiques. The kitchen is great for making meals. The location is in a small town about 40 min south from Burlington. The town itself is very quaint with great restaurants and shops. It is a short drive to visit many fun things to do in the area. We really enjoyed staying here!
Kristin
2015-06-22T00:00:00Z
The loft is a great space and Vergennes is a nice quiet small town. Bill and his wife were gracious hosts and were very easy to deal with. Communication was great. Overall a great trip.
K.C.
2016-10-07T00:00:00Z
Tipus d'habitació
Casa/pis sencers
---
Tipus de propietat
Pis
---
Capacitat
6
---
Dormitoris
Vergennes, Vermont, Estats Units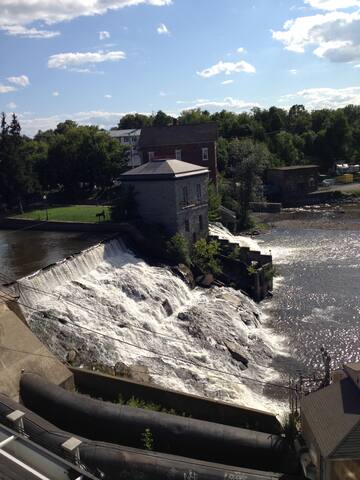 Our home is centrally located, in a neighborhood, near downtown Middlebury. Our little studio has a separate entrance, which allows for privacy. You can walk to downtown Middlebury in 10 minutes and we are 1.4 miles from Middlebury College - It can be a nice 30 minute walk to the College from our home.
Our studio apartment is located in a friendly neighborhood, walking distance to the town of Middlebury (about 10 minute)s and walk to Middlebury College (about 20-30 minutes); with a 20 minute drive to the Middlebury College Snow Bowl. We are about 45 minutes from Sugarbush and Killington. Our cozy studio apartment includes internet, cable TV, propane stove for heat, bathroom with shower, kitchenette and queen size bed. The space is about 350 square feet. There are plenty of great eateries, in Middlebury. But, if you choose to stay in, our kitchenette allows you to cook your own meal for a nice night at home. there is a laundry facility and grocery store less than a mile from our house, and we offer on site parking too! I work from home, so if there is ever a question, I am easily accessible to assist.
We live in a quiet neighborhood, with shortcuts to town. We are happy to share detail of walking trails around our home, as well.
Our stay was fantastic! A great space, really bright and well maintained. Wendy was wonderful - really kind and super responsive to any questions.
Michael
2016-08-15T00:00:00Z
We enjoyed our stay at Wendy's home. It was very private and quiet. The apartment was well stocked and comfortable. If passing through beautiful Middlebury again, we will rebook.
Susan
2016-08-02T00:00:00Z
Wendy was a very good host! Very nice and comfortable space. And walking distance to downtown. I'll go back next time I visit Middlebury.. Thank you Wendy!!
John
2016-06-06T00:00:00Z
We had a really lovely stay at Anna's place in Middlebury. She was very helpful and the place was warm and cosy.
Jacob
2016-01-25T00:00:00Z
What a great space, location, and value for our nephew's Middlebury graduation weekend! The weather was unseasonably hot, but our host provided us with extra fans that cooled the space nicely. She stocked the kitchen with local foods and suggested dining spots. The studio was impeccably clean. Thank you, Wendy, for the great experience!
Stephanie
2016-05-31T00:00:00Z
The room was private and had everything we needed. Wendy provided us with some snacks and breakfast foods which was a nice addition to our stay.
Georgeanne
2016-10-10T00:00:00Z
Wendy was a great host who was friendly and helpful. I arrived to find a quiet, private apartment stocked with breakfast food, snacks, and coffee. There was a private entrance around the back of the house which allowed me to come and go as I pleased without disturbing anyone. I visited for a week in July when the weather was beautiful and the temperature was comfortable. The apartment has a ceiling fan which I found to be enough to keep the place cool at night, but there is an AC unit if it gets warmer than that, which was the case on two of the nights. As for location, I found that everything in Middlebury is close so it was convenient in that regard. The neighborhood that the house is in is also quiet, with sidewalks everywhere so I was able to go on a 2-mile run during my stay starting and ending from the apartment. When I come back to Middlebury in the future I would stay here again.
Marisa
2016-07-16T00:00:00Z
The little apartment on the back of Wendy's house is adorable. A perfect getaway if you need to stay in Middlebury for a few nights. The kitchenette had everything needed for making breakfast and I easily could have cooked other meals if I had brought groceries and chosen to do so. The bed was comfy and I slept well.
heidi
2016-09-24T00:00:00Z
Tipus d'habitació
Casa/pis sencers
---
Tipus de propietat
Pis
---
Capacitat
2
---
Dormitoris
Middlebury, Vermont, Estats Units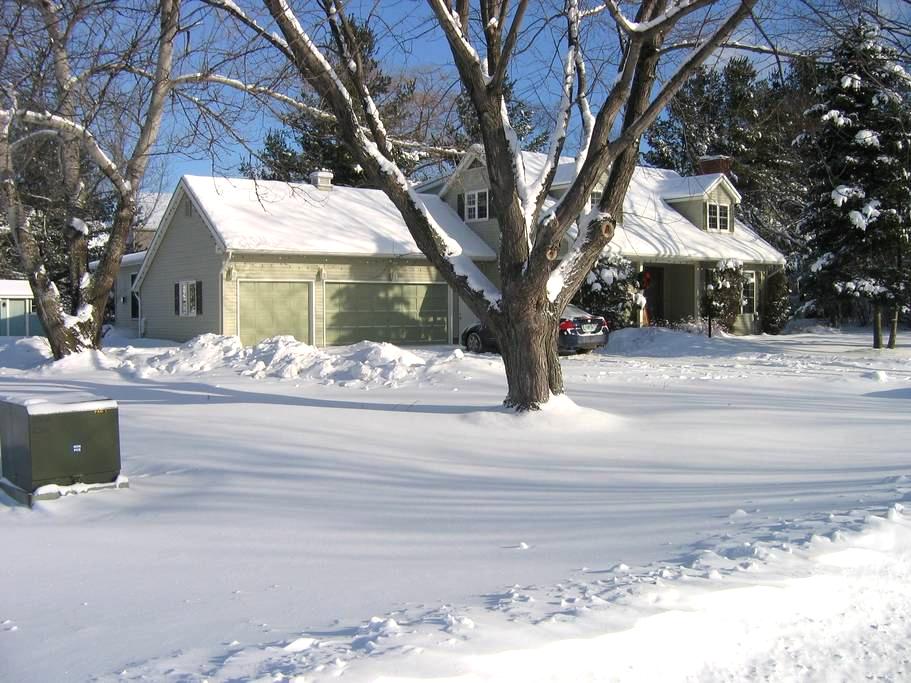 Newly renovated upstairs studio apartment in the heart of downtown Middlebury, adjacent to Middlebury College, across from the Otter Creek Bakery and the new Middlebury town park. This charming space occupies 800 square feet above an optometry office in a Greek Revival home originally built circa 1856. It provides plenty of privacy and is within walking distance to all the restaurants and downtown shopping. A queen bed in the bedroom, and a pull out couch in the living room accommodates 4.
Dan, Diane, and Emmy's place was fantastic! Perfect location for visiting Middlebury College as well as the town. They were very responsive and kind. I will definitely try to book here again next time I visit.
Cate
2017-02-20T00:00:00Z
Tipus d'habitació
Casa/pis sencers
---
Tipus de propietat
Pis
---
Capacitat
4
---
Dormitoris
Middlebury, Vermont, Estats Units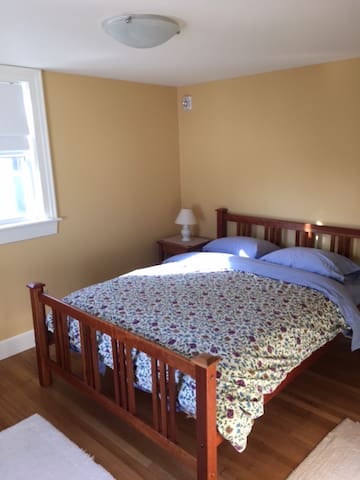 This is available as an economical alternative for overflow guests of the cabins, which are rented throughout or for a couple. The space has its own thermostat for heat and an air conditioner available as well for a the summer, or a private place during fall and winter as guests that stay during the fall/winter season will have access to the beach and lake. In addition, the property has Satelite TV, movies and DVD player, as well Wifi. A/C and a thermostat make it comfortable All year long.
Lake access for boating, fishing ice fishing and swimming with 100 feet of private beach shared with 2 other cabins, or private if after Columbus Day through Memorial Day weekend. Amenities include satellite TV + HBO channels/DVD w movies Refrigerator Coffeemaker Microwave
The atrium room was the perfect cozy get-a-way from the hustle and bustle of manhattan. Quiet town, but the most beautiful views. We loved it there!
Stephanie
2017-01-02T00:00:00Z
Nice place and good value Perfectly secluded location right next to the lake. Has all the amenities needed for a perfect weekend getaway!
Christopher
2017-03-05T00:00:00Z
The A frame room is great! Spacious room, hot shower, and great views of the lake. Relatively easy to find, about 15 minutes easy drive to the town of Schroon, about 45 min-1 hour to the Adirondack high peaks. The lake is beautiful and would definately love to come back in the summer and enjoy it! Melissa quickly responded to answer any questions I had, and thoughtfully put together a binder of everything you need to know about the area. Highly recommend.
Julie
2017-01-15T00:00:00Z
Melissa was a great host and very accommodating, And responds very fast if you message her! The surrounding area is very beutiful and quiet! Really the biggest issue: wifi is a bit slow
Gina
2017-03-19T00:00:00Z
Staying at the Atrium Room was wonderful!!!! First of all, the area is gorgeous-- there's a beautiful lake out front, with beach access and a dock, and several great hiking trails are just minutes away! The room itself was perfect for my sister and me. It was very clean, cozy, and very comfortable. We really enjoyed ourselves and will be back again for our next Adirondack adventure!
Elise
2016-10-10T00:00:00Z
Melissa was very hospitable and informative, gave us directions, and there was even a guide to local activites/sights/restaurants. Space was as we expected, it was very cozy and clean. Short walk to water, beautiful area, would love to go back. Thanks for everything, Melissa!
Meaghan
2016-10-23T00:00:00Z
Melissa was very informative in the weeks leading up to our stay, and everything was as described in her listing. The neighborhood was very quiet and peaceful, and was in a great spot to easily make our way to the neighboring towns.
Kassaundra
2016-09-19T00:00:00Z
Me enjoyed our stay at the cabin. We were able to take advantage of kayaks. Beautiful lake surrounded by mountains . At night time we made a camp fire as temperatures plunged to 34 degrees Unbelievable experience Thank you Melissa !
Anastassia
2016-09-26T00:00:00Z
Tipus d'habitació
Casa/pis sencers
---
Tipus de propietat
Pis
---
Capacitat
2
---
Dormitoris
Schroon Lake, Nova York, Estats Units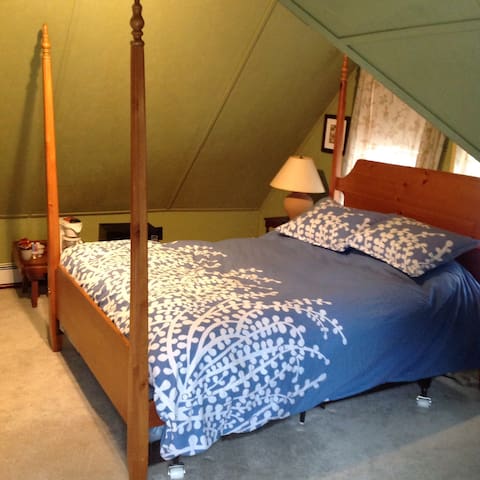 Beautifully appointed apartment attached to our 2007 custom built vermont lakefront country french home located on the shores of Lake Champlain. Breath taking westerly Adirondack views offer dramatic sunsets and lake views of Button Bay.
The apartment is approximately 750 square feet and is accessed from a private entrance. The space consists of an open living area and charming kitchen, dining area, There is a large bedroom with queen size bed, and a large 3/4 bath with a spacious walk in tiled shower. Two sets of French doors lead to a private balcony overlooking lovely gardens and of course the beautiful lake. Gas grill and seating area on the deck.
The Button Bay Area is a vacationers paradise. We are located on the Vermont bike way with all of its amazing scenery. Basin Harbor Club is just 2 miles from our front door offering golfing , dining and other resort amenities. Button Bay state park is one mile with trails and picnic sites. Lake Champlain Maritime Museum is 2 miles offering extensive history and exhibits of the lake. Downtown Vergennes is a12 minute ride and offers a great selection of award winning restaurants and shopping.
My wife, 14 month old daughter and I spent 4 wonderful nights here and loved every minute. The apartment is very large, clean and comfortable for a one bedroom giving my daughter plenty room for running around. The grounds and view are absolutely perfect. You wake up to mist and fog over the lake and then can watch the beautiful sunset from the apartment patio or walk down and sit on the Adirondack chairs by the water. Walk down to the lake and jump right in or paddle away on the paddle boards. It is also an easy 35 minute drive to Burlington, which has a wonderful down town area and bike path along the lake. Cheryl was a wonderful host, always out in the garden and happy to give tips on where to go and restaurants to try in town. Would have loved to stay longer.
Ryan
2015-07-26T00:00:00Z
Wonderful location. Wonderful property. Tastefully decorated and fully equipped. Delightful hosts. Definitely coming back.
Chris
2016-09-25T00:00:00Z
The stay at Cheryl's was quite simply amazing. The pictures on Cheryl's profile barely capture how beautiful the setting is and what a stunning job Cheryl has done decorating the apartment and all of her property. She truly has a magic touch when it comes to making guests feel like they have stepped into another world. The house is literally located on Lake Champlain, you can walk down to the private beach and step right into the water for a swim! Cheryl has paddle boards (I think that's what they are called) available for guests to use and there is a lovely patio that they have build that is right on the edge of the water with Adirondack chairs to sit in while contemplating the beauty of the lake and the Adirondack mountains across the lake. The apartment is very comfortable with a little kitchenette and nice living room space and a very big bedroom. Impeccable taste in decor that also included books to read and board games for family time. Cheryl also provided a little guest welcome gift of local chocolate and crackers! The bed was very comfortable and the blissful quite on the lake was wonderful. Cheryl is a wonderful and friendly host who provided us with great recommendations for where to eat and suggestions on sights to see in the area. The little town of Vergennes had a couple of nice restaurants and it was a very short ride to any other restaurants in the area form casual dinning to more upscale fare. There is plenty to do in the area such as visit the many state parks on the lake with swimming and fishing and other activities for adults and children such as kayaking, take a bike ride along the Lake Champlain lake trail (which I did) or a short ride up to Burlington to take in the local restaurant scene and many local breweries in the area. There is also a local winery that provides tours. I think this was one of the most stunning parts of the country that I have been in and I highly recommend visiting and being hosted by Cheryl. Thank you so much for such a lovely stay and we hope to be visiting again in the future with our little baby girl.
Sarah
2015-07-04T00:00:00Z
This is a beautiful place in an spectacular location. The apartment is very tastefully decorated and the views are amazing. Cheryl and Roy are great guests, providing everything you may need and more. The area is also nice, with good restaurants in nearby Vergennes, and not a long drive to Burlington and many other VT locations.
Maria
2015-08-23T00:00:00Z
We were received by both our hostess and host. They stocked some provisions as we had requested before our arrival. The apartment was beautifully decorated and very clean. Their attention to detail and little "extras" was more than expected. THe area is very quiet and rural, a perfect place to relax. We had the freedom to walk and use the different areas of the property, all beautifully kept.
donald
2016-08-13T00:00:00Z
Cheryl and Roy were great hosts and were more than accommodating. They made sure that we were comfortable and that we enjoyed our stay. The apartment was extremely clean and prepared for our arrival. The recommendation to stay for the sunset Friday night was a great idea. The sun setting over the mountains across from Lake Champlain was incredible. The fresh cheese and food we enjoyed in Vermont was even better. Perfect getaway for the weekend!
Alina
2016-05-23T00:00:00Z
We had a wonderful stay celebrating our son's graduation over Memorial Day weekend. The setting and views of the lake and mountains are even more beautiful than the listing conveys. The apartment is 100% self-sufficient with a kitchenette, sitting and dining area. Cheryl and her husband are gracious hosts. We hope we'll have the opportunity to visit again.
Rusty
2015-05-24T00:00:00Z
Gorgeous location. Beautiful and well appointed apartment. Gracious and helpful host.
Anthony
2016-07-17T00:00:00Z
Tipus d'habitació
Casa/pis sencers
---
Tipus de propietat
Pis
---
Capacitat
2
---
Dormitoris
Vergennes, Vermont, Estats Units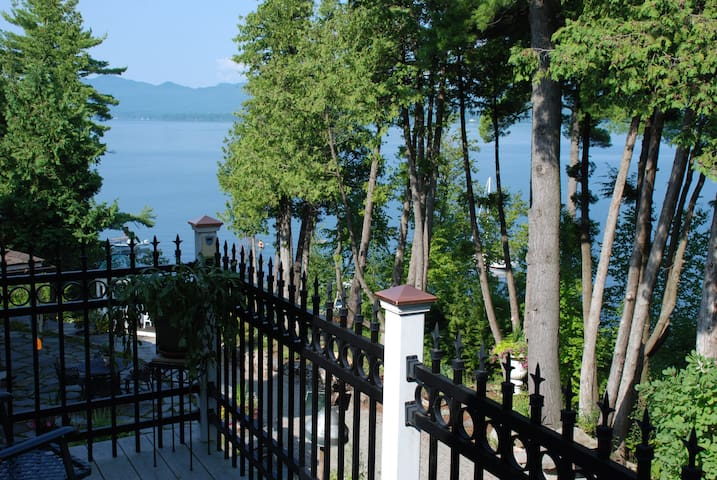 My garden apartment is located downtown Middlebury right along the banks of the Otter Creek, just a stones throw from Middlebury College's campus in scenic Froghollow. The apartment is located on the ground level of a law office so there is no tenant noise at night. The location is both tranquil and idyllic yet so convenient to the campus and all college social and athletic events. It also is nestled right off the Main Street from a number of restaurants and the movie theater.
Jane's place was clean and perfectly located near town and college! Great spot!
Jamie
2017-02-04T00:00:00Z
Jane was a terrific host. Great communication leading up to and throughout our stay. She was very welcoming and helpful throughout our visit. Jane's apartment was warm, comfortable and beautifully furnished. Jane even left cheese, crackers, muffins and fresh fruit for us. Would definitely stay again.
Joanne
2017-01-22T00:00:00Z
We had a wonderful stay at Jane's place. It was the clean, comfortable and a short distance from the arena. Jane was the perfect hostess... she left us muffins and fruit for breakfast :)
Shannon
2017-03-19T00:00:00Z
Wonderful place to stay!
Elizabeth
2017-03-05T00:00:00Z
A charming, college memorabilia filled house located near the center of a lovely New England town. Jane was a wonderful host and the space was lovely and well equipped with wifi, toiletries and even muffins, orange juice and fresh fruit. Would definitely stay there again.
Dennis
2017-01-15T00:00:00Z
I came up with my teenage daughter to visit Middlebury. The college was in walking distance which made it very convenient for us to visit the campus. Jane's house is on a quiet street with views of Otter Creek with sounds of the falls nearby. She made us feel like we were family.
Randy
2017-02-27T00:00:00Z
Wonderful place. Jane was a great host!
Samantha
2017-03-12T00:00:00Z
The location and accommodations were perfect for us. We needed two separate sleeping areas and the apartment layout worked quite well for this - each area felt private and comfortable. When not sleeping, the living room was a nice, spacious and comfortable gathering spot. Jane was an excellent host and her knowledge of Middlebury helped us find the right spot to eat. Our stay was short and the apartment location was perfect for an immersion experience.
Denise
2017-01-08T00:00:00Z
Tipus d'habitació
Casa/pis sencers
---
Tipus de propietat
Pis
---
Capacitat
4
---
Dormitoris
Middlebury, Vermont, Estats Units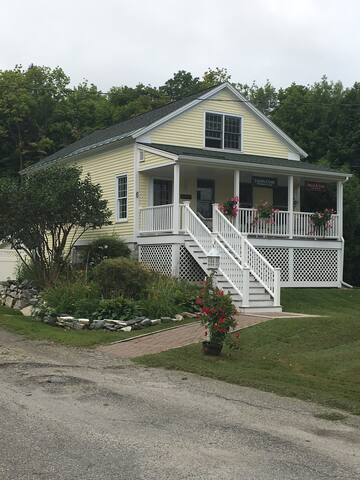 Crown Point - Airbnb
:
Mitjana de

4.94

estrelles sobre

5

a partir de

701

avaluacions d'hostes
1

-

18

de

33 Lloguers de cases
Introdueix les dates per veure el preu total. S'aplicaran tarifes addicionals. És possible que també s'apliquin impostos.